Radio for your smartphone without Internet is a myth or reality? We made for you, quite an interesting selection – applications that allow you to listen to the radio without connecting to the Internet.
Sometimes such a function will be useful, for example, in nature, where there are no available Internet connection networks. So, have a look!
iHeartRadio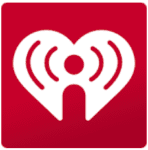 iHeartRadio is an online radio with more than 1500 radio stations. In addition, this program has collected many podcasts that are constantly updated. The application can be customized by adding music to your favorites, or you can set a "melody to wake up".
Capabilities:
providing access to more than 1.5 thousand radio stations and personal channels of popular stars;
creating bookmarks for your favorite songs;
add favorite radio stations to Favorites for automatic opening when the program starts;
listening to podcasts offline when there is no connection;
switching between your favorite songs, radio stations;
switching between downloaded podcasts;
create your own playlist.
In the application, you can select the radio according to different parameters: location, genre, popularity, etc. After setting the necessary characteristics to activate a station that is suitable for the parameters, you just need to click on the scan button. While listening to streaming radio, it is possible to mark the track you like, what will affect its rating in the global playlist.
Registered users can listen to a certain radio station with the songs of selected artists, as well as create their own playlist for work, leisure, travel, sports.
Pros:
free;
convenient filtering and sorting radio by certain parameters;
support for different devices;
the formation of a playlist of 18 million songs without ads;
news of show business;
musical recommendations of songs, genres, and performers based on user preferences.
iHeartRadio is a quality application for playing streaming music from a well-known online radio giant.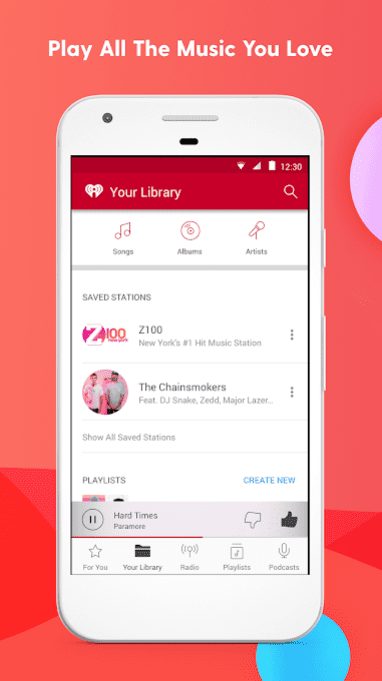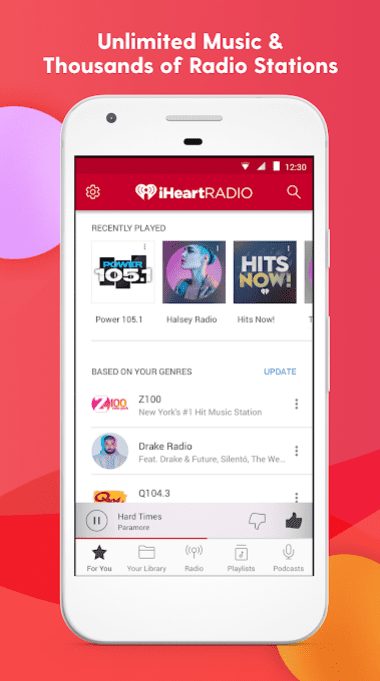 Downloads: 50000000 +
Customers rating:  (4.7 / 5)
You can also check: 17 Best apps to listen to music without Wi-Fi for Android
TuneIn Radio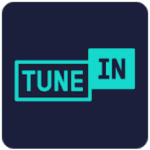 TuneIn is a streaming radio service with which you can listen: music, news, sports, podcasts (this is a very convenient way to listen to audio content, they can be put on pause and rewind) and audiobooks. According to TuneIn, the service is used in 230 countries, the audience of TuneIn consists of 60 million users, 100 thousand radio stations and 4 million podcasts, broken down by categories of different nature. In addition, the application is completely free of annoying advertising, and also has a recording function for the listened content and it has a pleasant interface with the modern style.
In the main menu, a fairly detailed catalog is available – this includes local radio, recently listened stations, and trend channels that have extreme popularity. Thematic stations are also available to the users – music, sports, news, conversational podcasts and regional channels with extravagant genres. The choice is really extensive and limited, it seems, only by the imagination of users.
In the Tuneln Radio settings, you can specify the buffering time and buffer size, as well as the preferred broadcast stream. This will allow you to adapt the broadcast to the current Internet speed.
New TuneIn Radio uses standard colors, located on a white background, in the main menu and gray when playing music. A system of demonstration of covers is thought out interestingly – in TuneIn Radio for Android there are images for popular artists, as well as links to Google Play to purchase the whole album. If you do not want to buy, try to record, the button is next!
There is a paid web version of TuneIn Premium, whose subscribers get access to direct sports broadcasts of NFL, MLB and NBA, music stations without ads, audio books and language learning programs. The price may vary depending on the country. The paid version of TuneIn Radio Pro does not have graphic ads and allows you to save everything you have listened to through TuneIn for offline playback at any time.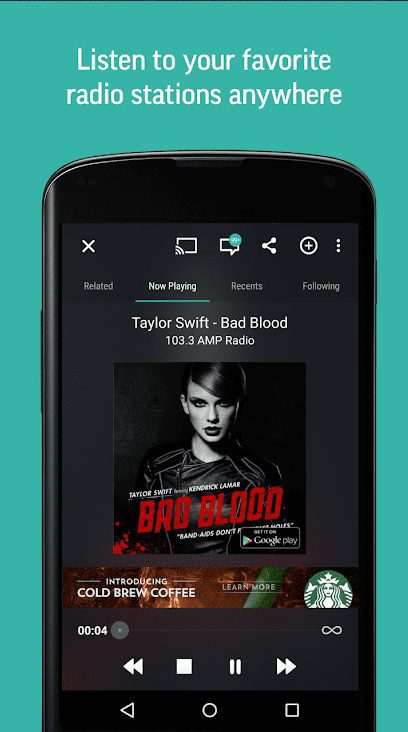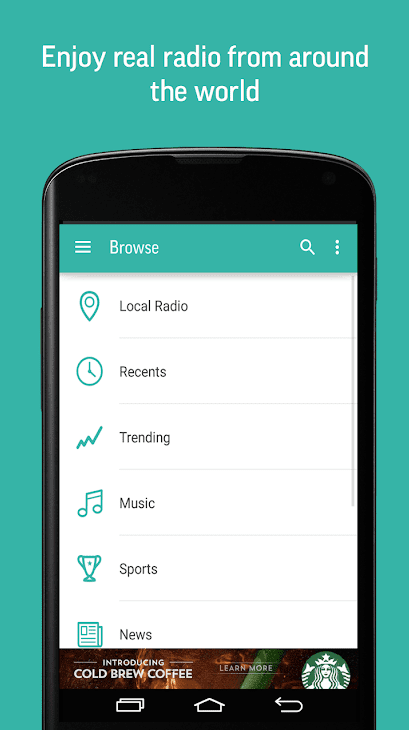 Downloads: 100000000 +
Customers rating:  (4.4 / 5)
Simple Radio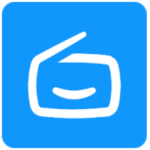 Simple Radio is an amazingly simple service for listening to the radio on your smartphone. In the memory of the application, more than 25 thousand stations are stored. Simple Radio is the first application that combines a number of advantages of modern online radio with the amazing simplicity of classic radio tuners of the past.
Simple Radio has a user-friendly interface, which helps to optimally set up the radio and find various radio stations quickly and easily. It also provides the ability to automatically search for all sorts of radio stations, automatically select the best settings, and save personal. In the application, there is a combined block of access to the selected stations. One tap on the screen is able to switch the user between favorite stations. It is very simple and convenient to use. The application is optimized for active daily use to be smooth and convenient in various situations.
Simple Radio application by Streema today is used by more than five million active listeners every month, because this radio has an unrivaled level of reliability and stability, and it is as convenient and simple to use at home, on the road and even at work.
Simple Radio features:
Simple Radio makes it as easy as possible to find radio stations and set up an airtime. At the same time, other radio applications are difficult to control, especially with regard to filtering radio stations according to various criteria.
Set radio and access to your favorite radio stations in one click. Simple Radio application is convenient in switching in any conditions – a trip by car, bicycle and so on.
No buffering or breaks in the sound. The company Streema serves more than 5 million listeners a month, while the radio has an unrivaled level of stability and reliability.
Listen to hit radio stations, keep abreast of the news, listen to sports broadcasts, theatrical performances, political discussion, and music. You can connect to any frequency without interference. The application does not require registration, download it and connect to your favorite station!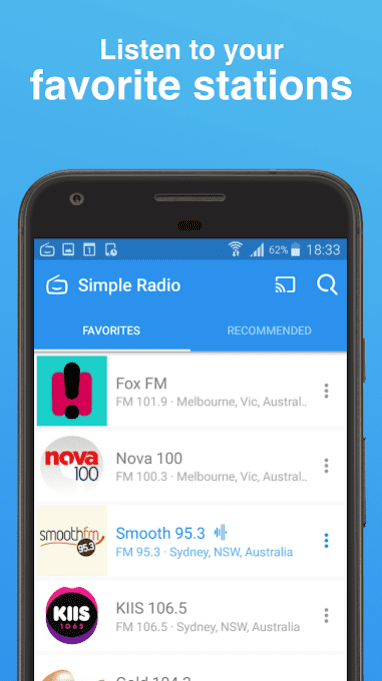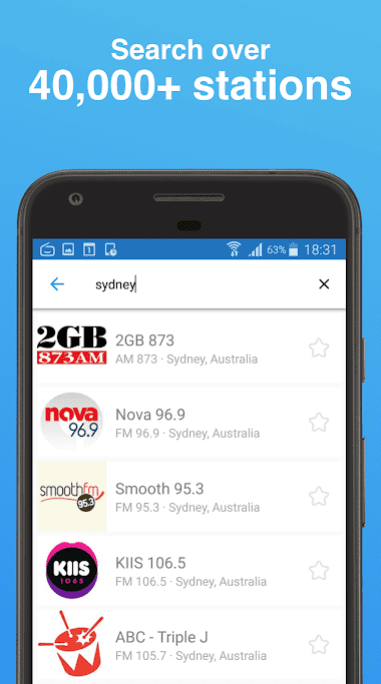 Downloads: 10000000 +
Customers rating:  (4.5 / 5)
NextRadio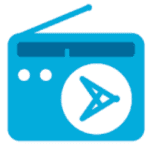 The NextRadio application contains new flagship Samsung smartphones in its database, so you can download it, plug in headphones as an antenna and enjoy local radio stations without having to spend mobile Internet traffic or have a cellular connection.
The process of setting up this program is extremely simple: just install the application and make sure that it is supported by your mobile device, after which you can start searching for radio stations. Many developers intentionally turn off tuners on their devices. This tactic is used to get you to connect to the Internet and use more traffic. The official site NextRadio has a complete list of compatible devices.
The modern consumer is already accustomed to the fact that he is always given a lot of options to choose from. However, NextRadio offers users only a limited number of available stations located in the nearest area. This application works only with some models of phones that are equipped with special chips.
The NextRadio application only works if you have wired headphones connected. If you use Bluetooth headphones or phone speakers, the program simply will not work. The signal quality offered by NextRadio is no better than ordinary FM receivers. Instead of a quality digital sound, you get a signal with interference, which can be compared to an ordinary car radio. The only unquestionable advantage of the tuner in front of digital stations is the lower battery consumption, due to the absence of the need to connect to the Internet.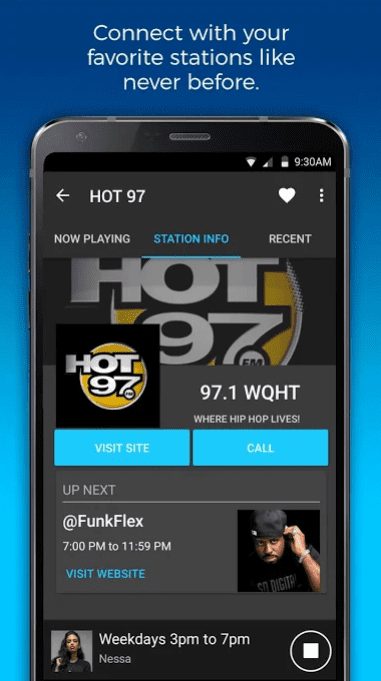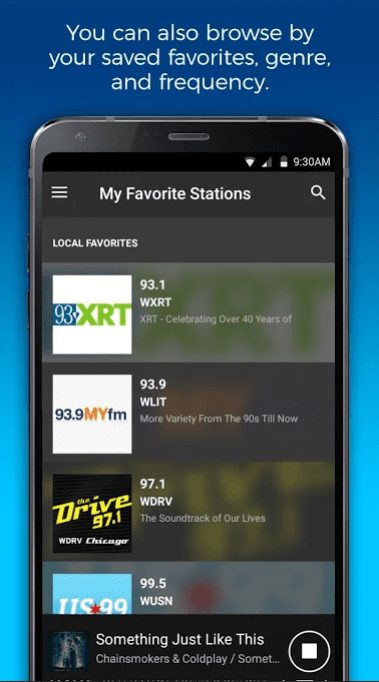 Downloads: 10000000 +
Customers rating:  (4.2 / 5)
PCRADIO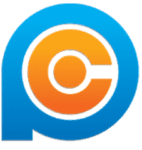 PCRadio is a very practical client for listening to Internet radio on Android devices. The application consumes a minimum of Internet traffic, and to play music from FM-stations it is enough to have an Internet speed of at least 24 kbit/s. At least, so the developers say. Obviously, such requirements directly affect the quality of broadcasting of FM-radio stations and streaming music.
In the PCRadio application, you can change the quality of the audio stream through parameters. Respectively, by increasing or decreasing the consumption of mobile traffic.
The client supports several hundred worldwide Internet radio stations, they are available immediately after installation. For convenience, you can narrow the broadcast to one country. Also, the air in PCRadio is sorted by genre and other groups – from rock and pop music to cultural, sports, children's or news FM-broadcasting.
The only annoying moment – PCRadio does not work without the Internet. However, the ability to save the stream is present. Of the useful functions of this radio program, we note the ability to record audio directly during the broadcast and setting the auto-shutdown timer. However, these functions are only available in the full version of the PCRadio application. To fully listen to the radio on Android, you need to subscribe to the services: for a month or a year.
The positive aspects of the PCRadio program include:
a large multinational set of Internet radio stations
low Internet speed requirements
economical consumption of mobile traffic
the arrangement of FM-radio stations by groups and genre, convenient filtering of radio stations
the ability to record broadcasts for offline listening (the function is only available in the full version of the application)
a convenient system of notifications (displaying the name of the song at the top of the screen on the home screen).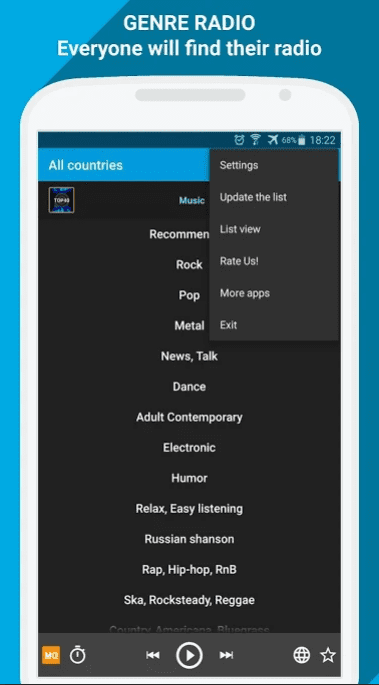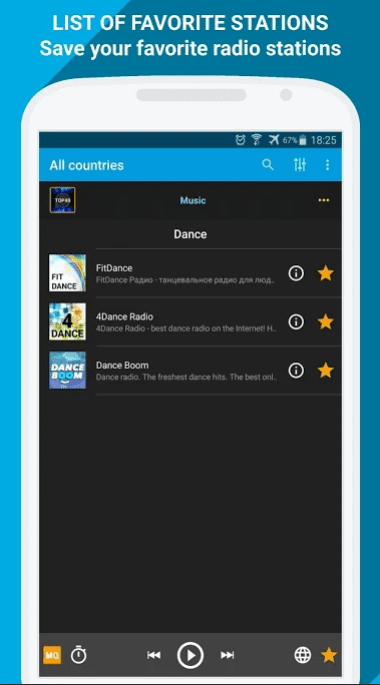 Downloads: 10000000 +
Customers rating:  (4.7 / 5)
It was our selection of the best radio stations for Android. Yes, there are not many applications for listening to radio offline. If your phone is equipped with a built-in radio receiver but does not have a stock application that would allow access to broadcasts, it is recommended to select one of the apps listed.  For some applications, you need the Internet connection, but you can always save the stream and then listen to it.