For those who believe that the world is full of secrets and mysteries, paranormal phenomena, and otherworldly beings, special applications have been developed that can locate clusters of energy and detect ghosts.
The Play Market features a large number of utilities from a variety of developers who are able to catch ghosts. We bring to your attention an overview of the most interesting of them.
Ghost Detector Radar Simulator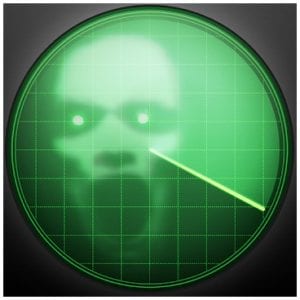 Ghost Radar is a program for detecting paranormal activity. If you are not given the laurel of the ghost hunters from the movie of the same name and the animated series, then installing Ghost Detector Radar Simulator application on your Android device, you will be able to repeat their adventures.
After all, don't say anything but there are ghosts everywhere. In your home, and at school, and at work. Do not believe us? Turn on the device and see for yourself.
How it works. Start the application and allow camera access. Then walk slowly through the room in which you are now. The radar will show you where the ghost is at the moment. You will see the direction and distance to the entity.
You will be even able to enter into contact with the subtle entities, find out what they want, that you can do for them, or even just communicate with them. Of course, if you have enough spirit.
 Features of Ghost Detector Radar:
Realistic images and scary sounds;
Locate supernatural entities;
Communicate with ghosts right in the application;
Read ghost stories (daily updated).
However, it should be noted that despite the plausibility of the device and realism, the application is purely entertaining. Don't use it in your scientific activity but just entertain yourself and amuse your acquaintances. Don't miss the opportunity to arrange a real hunt for ghosts, and to scare your friends.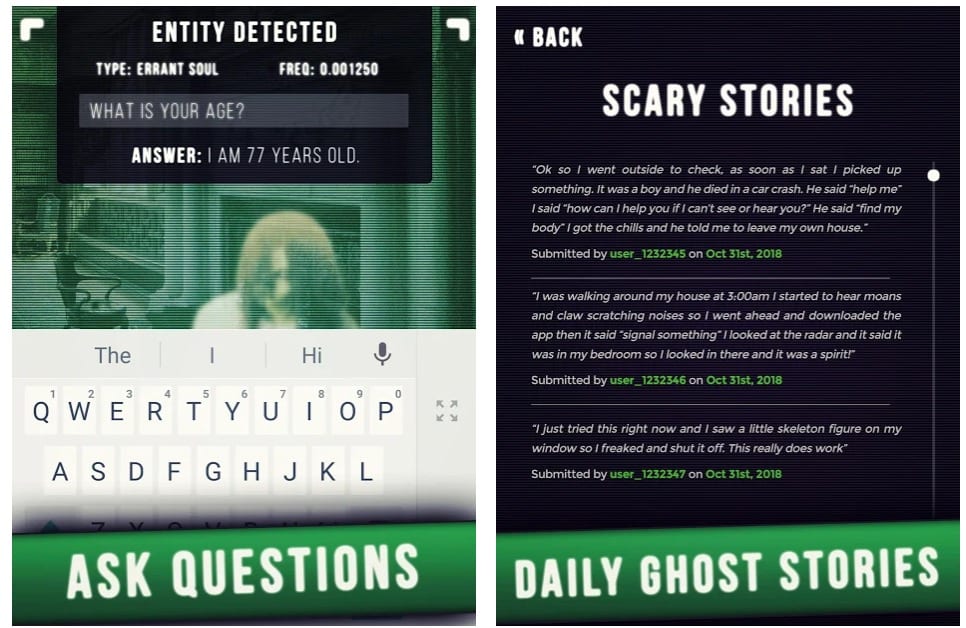 Downloads: +5000000
Costumers rating:  (3.9 / 5)

You may also like: Best scary stories apps for Android
Real Ghost Detector – Radar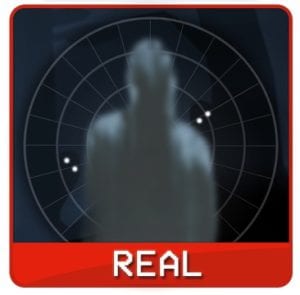 Are you bored? Don't know what to do with yourself? Install Real Ghost Detector – Radar and you will not even notice how quickly the mood will improve! You will not be bored with this application in any case!
Real Ghost Detector allows measuring electromagnetic field radiation levels through ghost detector app radar. It uses your mobile device sensors to measure radiations at different bandwidths, which could indicate the presence of paranormal activity, ghosts, entities, other energies.
Scare a friend, slipping into his hands mobile phone and, incidentally, telling that it can now detect nearby spirits. Information about the presence of a number of creatures from the other world will pop up on the screen in the form of colored orbs. Be sure that others can not remain indifferent to such a statement!
Install this fun program on your mobile device – and you can feel like a real ghost hunter! The application finds paranormal activity and demonstrates it through indications that are displayed on the screen.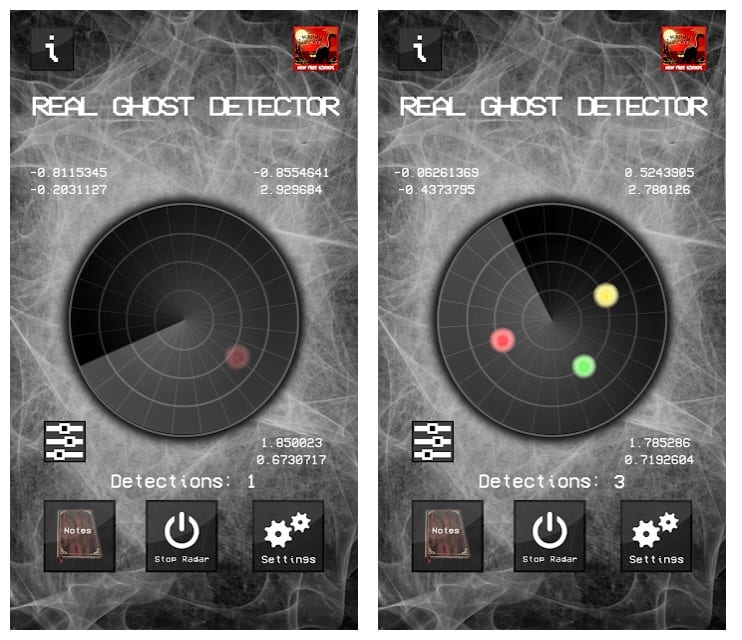 Downloads: +1000000
Costumers rating:  (4.2 / 5)

SpecTrek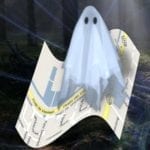 Probably all of you watched the movie "Hunters for ghosts," all remember the tough uncles with fantastic vacuum cleaners, which every now and then rid the world of evil ghosts. Many times you wanted to be in their place, and clean someone's house of the ghosts. Most of us do not believe in ghosts and in every way try to convince the one who believes in them and even is afraid to go to drink water at night, and suddenly, from nowhere in the dark corridor a terrible monster will appear. But with the help of the Spectrek application, all who have always been sure of the existence of ghosts will be able to prove this to those who laugh at this!
The application for Android Specterk will help you in finding the most terrible, and maybe quite the opposite, pretty sweet ghosts. For this, you do not need a fantastic vacuum cleaner like that of Ghostbusters, yet we live in a world of digital technologies, and your Android, which will keep in touch with the Internet and function GPS, will be able to replace the vacuum cleaner. The game uses your GPS and in order to find the ghosts just turn on the camera. Select the location of the cast on the map and go to the desired point, and then expel the cast. We, for example, first of all, would check for ghosts the dark space under my bed.
The game has a great design, a beautiful clock in the classical style, and the possibility of three modes of application for the Android.
Specterk features:
The first-ever game Specterk with which you can catch the cast.
Magnificent graphics and sound, the colorful transmission of the terrain will create an impression of reality.
The use of the GPS function and camera will be necessary for you when catching ghosts.
Convenient control will not complicate your search, and an excellent combination of 3 functions in one application Specterk will not force you to additionally install something on your phone. Do not worry about your traffic on the Internet, the application is small and to catch a small ghost it will not eat all of your monthly traffic, so time will remain so that you can also travel a lot over the vast web!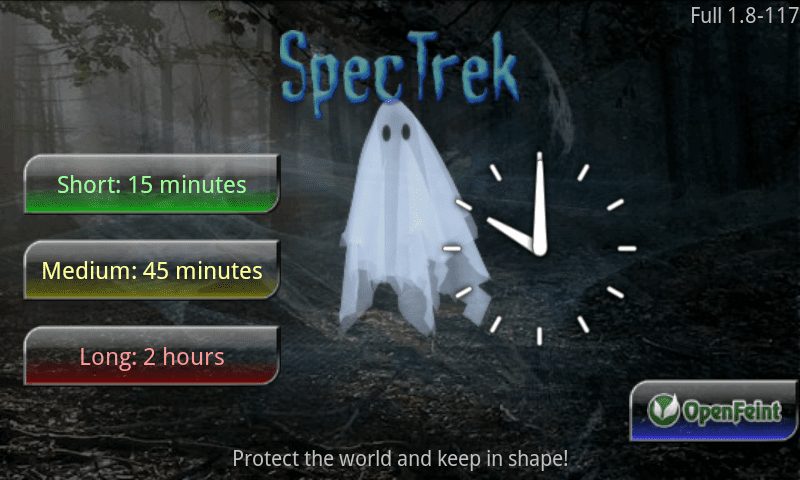 Downloads: +5000
Costumers rating:  (4.7 / 5)

Ghost Hunting Tools (Detector)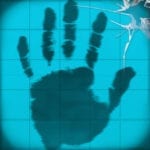 Ghost Hunting Tools offers all the tools for catching perfume, such as detectors of electromagnetic fields and electronic sound phenomena, "super sensitive" microphone, "ghost radar", built-in camera, photo analyzer, and even quantum flow detector (working, according to information, only on phones, which contain such a detector). It displays its readings in different colors, depending on the axis along which the field fluctuations are detected, giving you a more accurate idea of the direction of the search.
For a real lover of the other world there will be no excuses anymore if, having such applications in the telephone, he wants to sit quietly in his favorite chair, having heard suspicious sounds from the attic or a heart-rending howl in the street … Now, holding the smartphone in the palm of your hand, just go ahead, on the hunt for ghosts!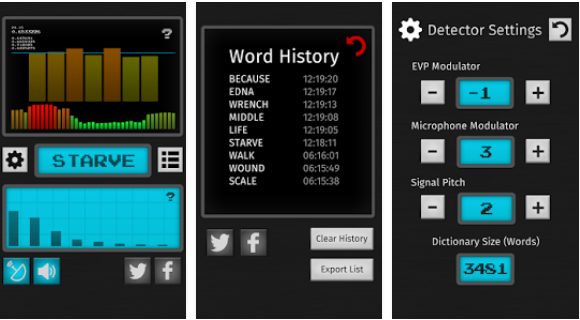 Downloads: +1000000
Costumers rating:  (4 / 5)

Ghost Detector Fun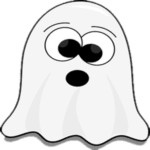 If you like the theme of houses with ghosts, then you will like this app. Ghost Detector Fun will turn your smartphone into a real device for detecting paranormal activity.
The application uses smartphone sensors to detect ghosts, and when it detects them – displays on the screen. Therefore, you can determine with high accuracy where the poltergeist is located. In addition, you can enter into a dialogue with ghosts …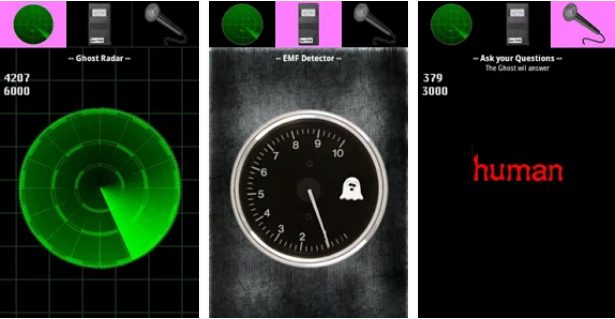 Downloads: +1000000
Costumers rating:  (3.5 / 5)

SV-1 SPIRITVOX CLASSIC FREE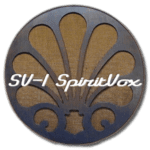 The phenomenon of the electronic voice is the voices of the dead who are supposedly able to communicate with the living with the help of various electronic devices. Often for this purpose mediums use radio, playing between stations or other sources of random noise. Some people reported that in the midst of this disturbance one could hear words or phrases.
The SV-1 Spiritvox application creates various noises to search for the electronic voice.
It is worth noting that Bill Murphy uses this application in the transmission of Factor Faked, Barry Fitzgerald, and Robb Demarest from the TV show Ghost Hunters International.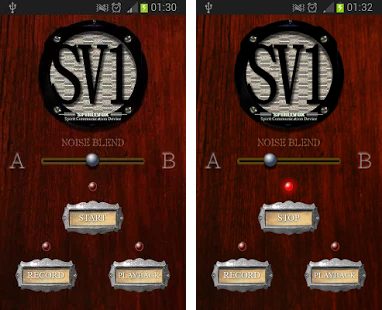 Downloads: +100000
Costumers rating:  (3.5 / 5)

Ghost Detector – EM4 Sensor Radar for Pranks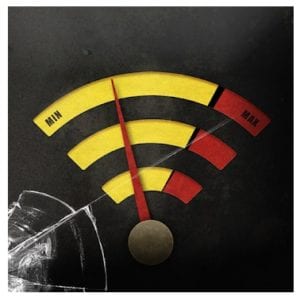 An application for determining increased paranormal activity. According to the creators, the application uses various detectors and sensors of the phone to actually determine if a ghost is next to it. Experienced users can even follow their movements!
EM4 algorithm is accurate and sensitive. It enables us to measure the nature of the paranormal entity.
You can use the application for yourself or just prank your best friend.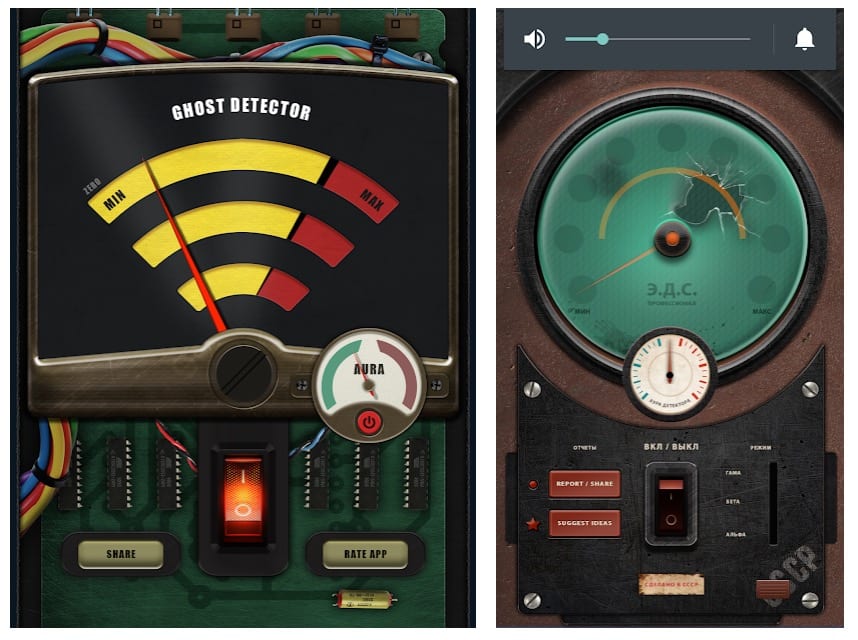 Downloads: +1000000
Costumers rating:  (3.7 / 5)

Ghost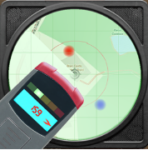 Ghosts & Spirits is a curious little application for Android that detects paranormal activity around using various possibilities.
The tool covers different areas and combines various types of equipment that is used by ghost hunters, including recording a PEG, a multi-channel recorder that shows a straight line if there are no ghosts at a certain distance, and a radar that helps to detect them on the map.
In addition to all this, the application includes two more tools that you can use for free only for a while. If you want to continue using these tools, you will need to purchase the Pro version. Among them – a tool for measuring the electromagnetic field and a camera that will help convert the measurement of sensors in the image.
Of course, none of these methods are scientifically proven. You can use this app for both entertainment and serious intentions – it all depends on your personal views.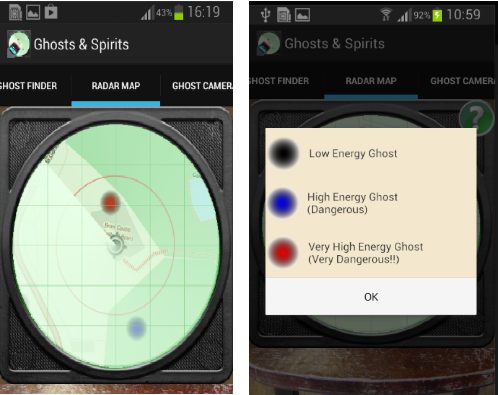 Downloads: +10000000
Costumers rating:  (4.1 / 5)

Ghost Detector – Real Radar Prank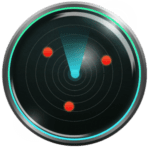 Are there ghosts at all, or are they just horror stories? Are there any ghosts in the world? You say, all this is fiction… But they really exist! And the Ghost Detector app will prove it to you! Run the application and find out if the otherworldly creatures live near you.
Ghost Detector – Real Radar Prank will help you:
play friends;
find out if there are ghosts in your house;
plenty of laughs and great scared.
The application scans the frequency and magnetic fields, uses EMF, EMV sensors to detect ghosts.
Ghost Detector – Real Radar Prank – the most terrible jokes in your phone! Check your friends and acquaintances and find out which one is really a ghost!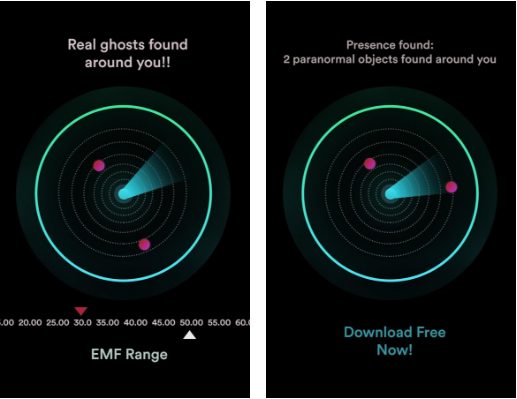 Downloads: +1000000
Costumers rating:  (4.1 / 5)

Ghost Detector Pro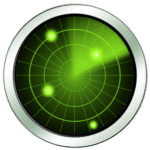 Many people believe in the existence of the afterlife, and with it – in the ghosts. The Ghost Detector Pro application was created specifically for them, as it is literally a ghost detector.
Finding a ghost in the immediate vicinity of the user, the program will notify you with a green dot on your radar. However, the application sometimes fails – one user decided to try it in the cemetery, and it did not find a single ghost there.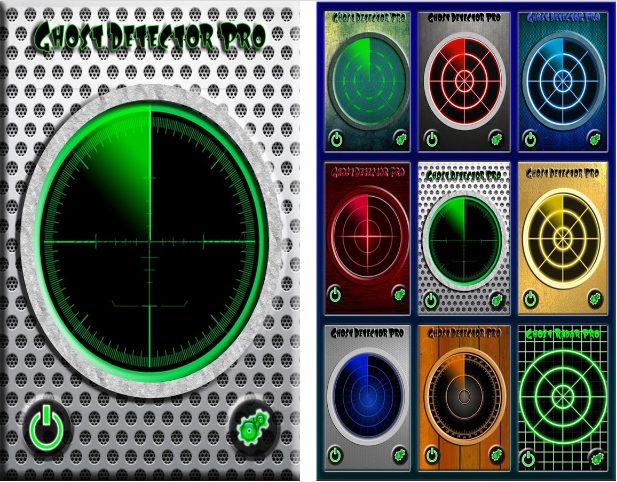 Downloads: +5000000
Costumers rating:  (3.8 / 5)

Ghost Observer: Ghost Detector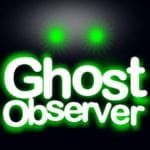 Ghost Observer: Ghost Detector, with which you can turn your mobile phone into a ghost sensor! Scare your friends so that they are deprived of the gift of speech. Download the application for free on your mobile phone and start playing friends. This is a real mobile ghost sensor.
The program is designed for more or less modern mobile phones that have a built-in camera. All you need is to install the application and run it. Startup field, the screen will appear a picture resembling a motion detector from Aliens.
Moving the phone, you are giving the signal to the application and it puts a point on the screen where, supposedly, a ghost is sitting. In addition to the radar, the phone application uses EMF and EVP sensors. No ghost will not get away from you! So be careful.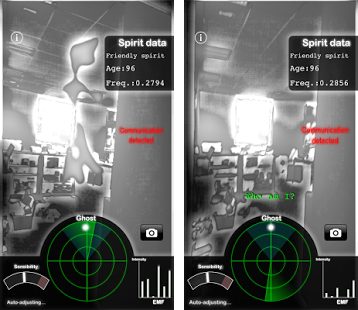 Downloads: +1000000
Costumers rating:  (3.7 / 5)

Ghost Detector Spectrum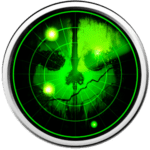 Another interesting ghost radar for Android. This application uses a built-in radiosonde. They allow conducting a study of the nearby space for the presence of clots of paranormal phenomena.
The utility has an expanded functionality, which is its advantageous feature. The device displays a radar, on which you can view the results of scanning the space. At a time when otherworldly energy is detected, the screen will display points representing a radiation source.
It is important that when the device scans the space for alternating magnetic fields, the radiation from the electronics is not taken into account in any way and is not displayed on the screen.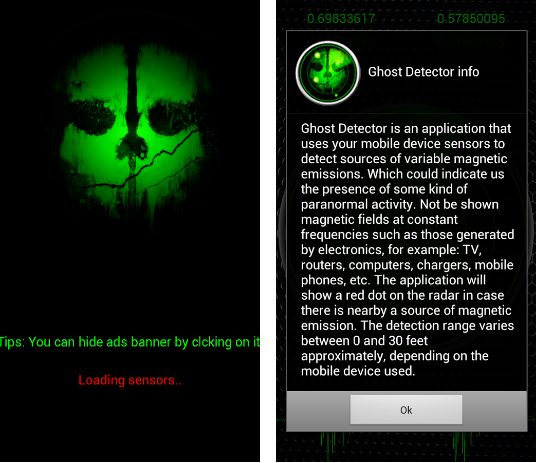 Downloads: +1000000
Costumers rating:  (3.8 / 5)

Ghostcom™ Radar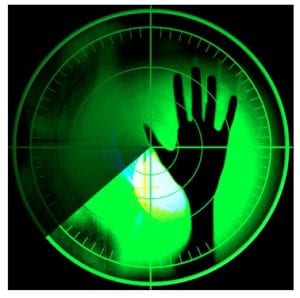 If you want to have a spooky night today, download the application Ghostcom™ Radar now! Hunt ghosts together and have fun!
The work of the application is based on a simple technology. It generates a large string of random numbers. And internal algorithms translate this string into all of the words and stats that are displayed on the screen.
You will see the location of ghosts and other supernatural entities as well as the distance to them. Also, you can read mysterious messages on the screen of your device. Read spooky statistics: zodiac signs, spirit types, emotional states, etc. This night you will remember for a long time!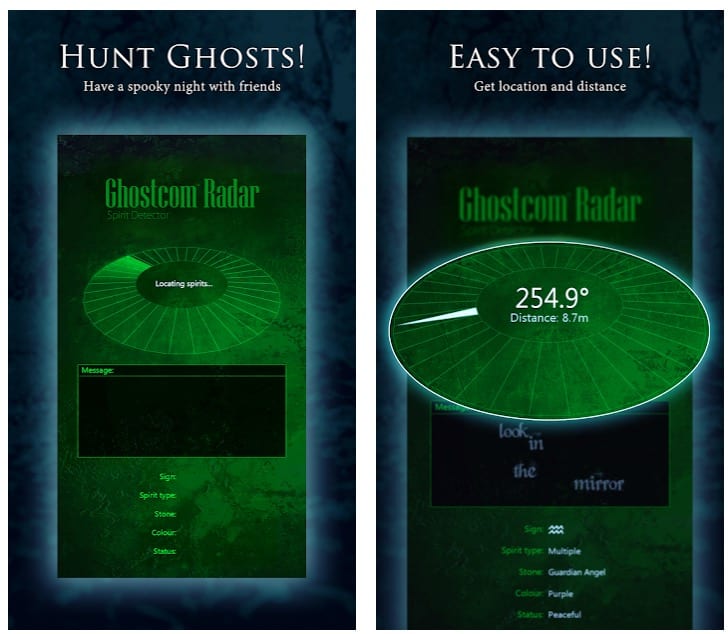 Downloads: +500000
Costumers rating: (4.1 / 5)

Ultimate EMF Detector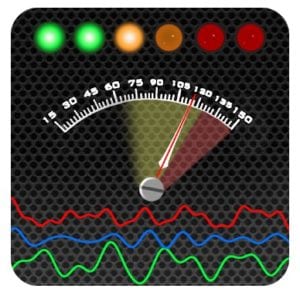 Ultimate EMF Detector is a simple application that detects electromagnetic fields, metals, and devices. Many people believe that sudden changes in the EM field might indicate the presence of paranormal entities. So, this way, you can amaze your friends.
The interface here is just great. It's simple to measure magnetic fields even for inexperienced users. The theme offers great accuracy, graphs of the displayed readings, and even the ability to calculate and show the auxiliary field H which is calculated from the magnetic field.
There are several measurement units: microTesla, Gauss, and milliGauss. The program uses the magnetic sensor (compass) and displays the reading with a line of LEDs and a classic needle meter.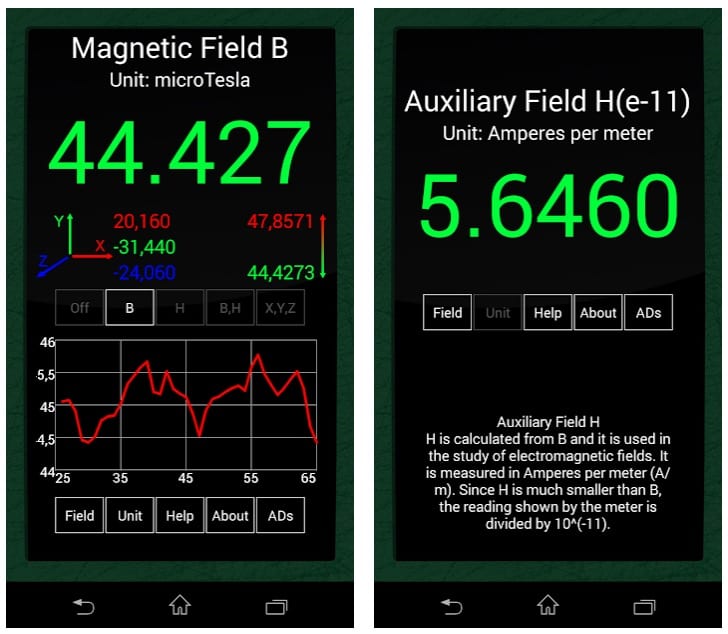 Downloads: +1000000
Costumers rating: (4.1 / 5)

Ghost Pet Detector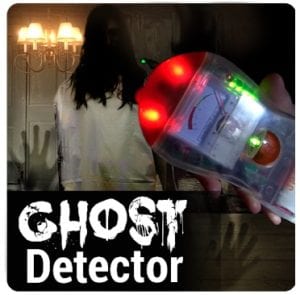 Ghost Pet Detector is an interesting application that detects electromagnetic fields to indicate the presence of energies from the pet spirits.
If there are signs of electromagnetic radiation, the app will show colored shapes that are designated to a specific high ghost pet energy or spirit animal.
They can indicate many things depending on the animal shown. Open Notes in the Ghost Pet Detector app and read about it.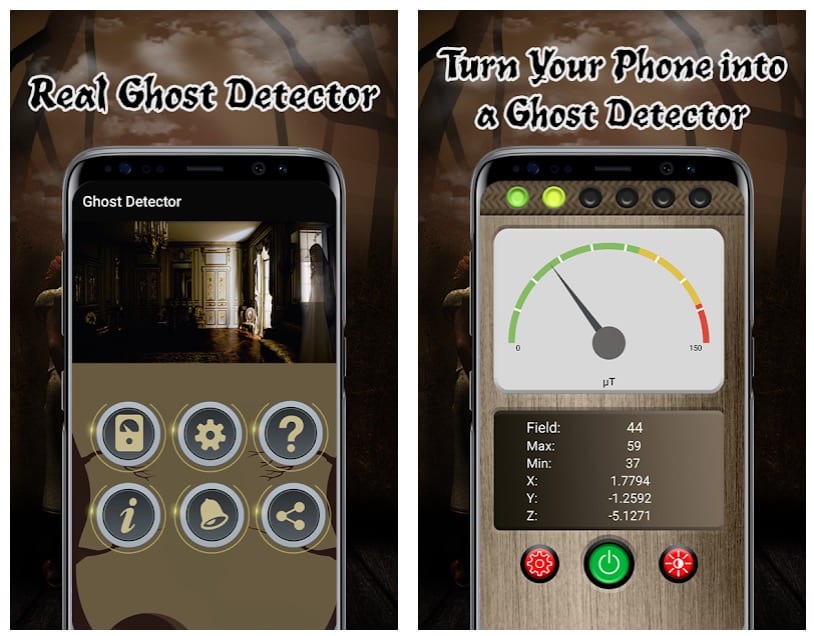 Downloads: +50000
Costumers rating:  (3.4 / 5)

You may also like: 11 Best survival games for Android
Ghost EMF Detector – Paranormal Activity Meter Pro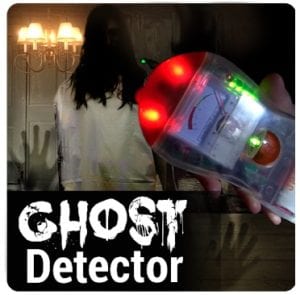 Ghost EMF Detector – Paranormal Activity Meter is a great scientific tool that can be used anywhere because it doesn't require the Internet for sensing ghost activity. It is a good detector of electromagnetic fields. It will find any paranormal activities around you.
Ghost EMF Detector can also detect cameras, microphones, and mobile phones if they are even hidden. So, if all the house, forest, and river spirits are caught, and phantoms are expelled, Ghost EMF Detector can be used as a metal detector and you can go with it to search for treasures.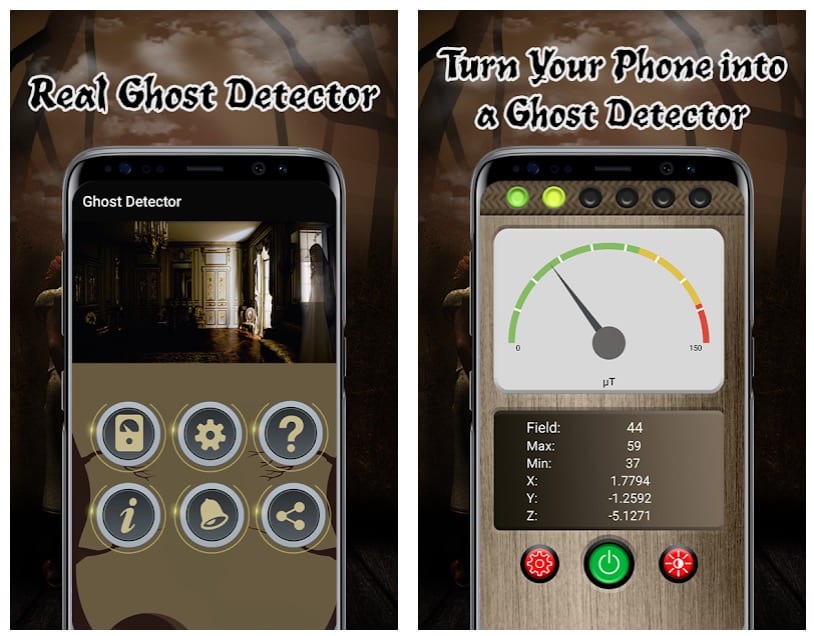 Downloads: +100000
Costumers rating:  (3.9 / 5)

The considered applications are of an entertaining nature. The data they provide cannot be used for scientific purposes. However, some users claim the reliability of the information received from the radar.
Utilities of this kind have a simple interface. The applications themselves and the functionality they offer are simple. Therefore, problems with their use, as a rule, do not arise.