[thrive_custom_box title="" style="dark" type="color" color="#b1d698″ border=""]
The Snapchat application is very popular among young people all over the world, especially in North America. The idea of a messenger from the category of social networks is rather frivolous but it is in demand. The price of shares is growing, the number of new users is increasing. Although the service is free, only on advertisement one can live and develop further.
Competitors and envious do not slumber. And if before the uniqueness of the Snapchat software was in the automatic removal of the poisoned file after viewing by the recipient for a short time, now all those who are not lazy have this function introduced into their products of mass consumption.
Among mobile applications that can be considered analogs to Snapchat, there are both very popular and not very common. Let's look at these applications.
[/thrive_custom_box]
Also, check the article [thrive_highlight highlight='#81d742′ text='dark'] 9 Free apps to download videos from Instagram. [/thrive_highlight]
Wickr Me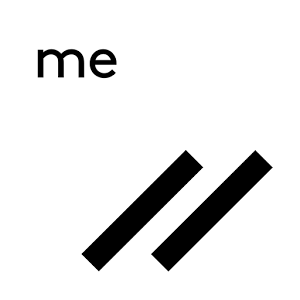 Wickr is positioned as an application that leaves no traces. It destroys your messages not only on users' smartphones but also on servers. In addition, the program itself has a function of full and final erasure, after which the messages cannot be restored even by special means.
Wickr encodes almost all types of content, including images, audio, and video. It does not allow you to copy or forward messages or content to third parties, and also prevents the shooting of screenshots. The authors promise an army level of encryption.
In general, we can say about such features:
The program is free and you will not find any advertising.
Absolutely all the possibilities of a regular messenger, including emoticons and creating groups.
The security of this application is very high.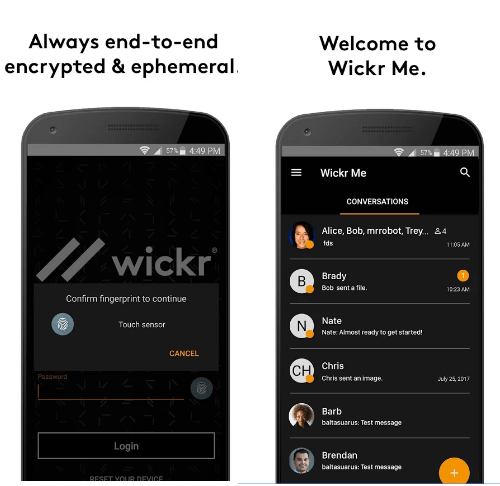 Downloads: +1000000
Costumers rating: (4 / 5)

Dust Messaging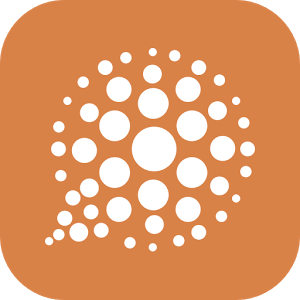 This service is very similar to Snapchat, which brought to their creators more than 22 billion dollars. Combining their advantages, Dust Messaging provides its users with the highest degree of protection for their personal data.
Thanks to Dust Messaging, all the information received will leave your smartphone after only 30 seconds after opening. This is the principle of the application.
The main advantage of the messenger is that it's a great way for a user to protect the privacy of their information. Since the messages on the Dust Messaging server are not saved, it means that after the removal they cannot be easily tracked, restored, and used.
Dust Messaging service will give the user a new way of communication without fear of being caught in some actions. A fully secure application for smartphones will help you stay connected and feel safe. With it, you can:
quickly send text sensitive messages;
share one's secrets;
send personal photos and pictures;
send texts and photos to several friends at once;
instantly receive answers;
feel comfortable chatting.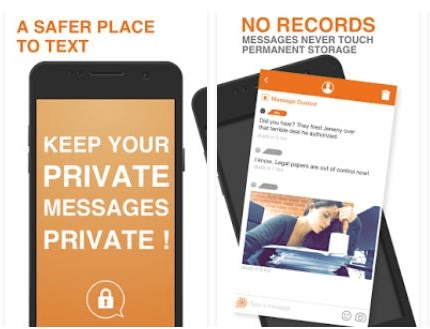 Downloads: +100000
Costumers rating: (3.8 / 5)

SNOW
SNOW – Selfie, Motion sticker – an instant messenger with the ability to send funny pictures and short videos to other members of the service. The application is a kind of analog Snapchat, where users can share their photos and clips that were created through the program and processed with the help of the built-in editor. Here you can also add fun stickers, smileys, and labels to the images.
It is noteworthy that the created photo and video materials can be saved on the device, as it can be done in any other editor. Otherwise, a typical messenger for sending messages with the self-destruct function for text and attached files appears in front of the user.

With the help of the SNOW program for Android, you can easily decorate your face or just a photo with animated emoticons, thereby making them more interesting and fun. In addition, you can create your own small video and even GIF-animation, which you can send to a friend in the social network.
The developers of the program position their child like a social network in which any user can share their own short videos with friends, however, this fact limits the possibility of using the program without registration. If you want, you can use a social network account or go through a simple registration process with an e-mail address. Once the program is launched, you can immediately select an emotion, an animal's muzzle, a funny creature or an object that will automatically overlay your photo in real time.
Downloads: +50000000
Costumers rating: (4.3 / 5)

MSQRD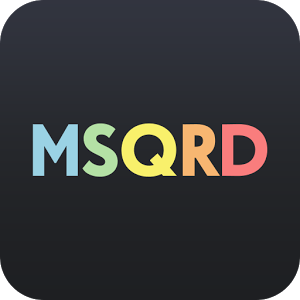 This application is similar to Snapchat in that it also makes it possible to make animated images and short videos using a mobile phone camera. Just like Snapchat, Masquerade has a large set of filters for creating animations and made short videos can be broadcast live via Facebook.
MSQRD is a program that converts faces through the camera of your smartphone or tablet on Android in real time. Try realistic masks – these are different animals, celebrities, and just unusual images. The peculiarity of the application is that the overlaid images are not static: the muzzle of the monkey will change, depending on what kind of expression you have. MSQRD generates a huge amount of fun – you can laugh heartily alone or in good company.
The application works on gadgets with Android OS 4.3 and higher.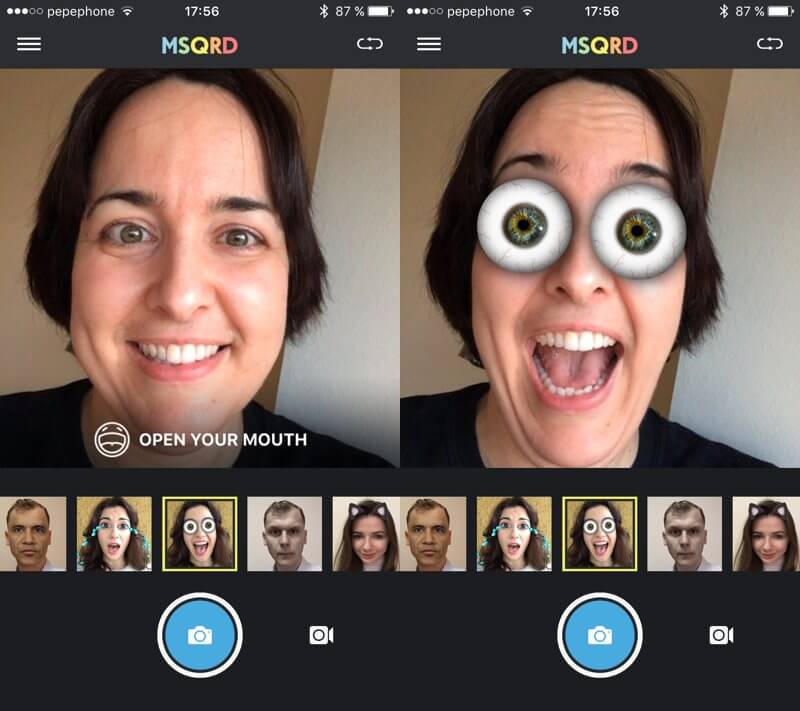 MSQRD is made in a simplified and friendly way for users – you do not need to make settings because the application analyzes facial features in automatic mode.
Application Features
There are several categories of masks for changing your appearance:
People. This category includes the faces of famous musicians, actors, and other celebrities.
Animals. From the lion to the monkey – the collection includes many animals, which are constantly updated.
Masks. The category includes carnival images and unusual make-up.
Emotions. Recently added effects allow you to change your emotions, adding tears, a funny smile.
The free MSQRD application is constantly updated, so new masks for all categories appear in the collection. The result of your fun experiments can be saved in a photo or video, and then share it on social networks through private messages or a blog.
If you wanted to find the right image for the holiday, try on the face of famous actors and musicians, feel yourself in the shoes of a chimpanzee, a lion or a panther, then you definitely should download MSQRD. Create funny photo or video selfies and send them to friends – the application allows you to quickly and easily send the result to social networks.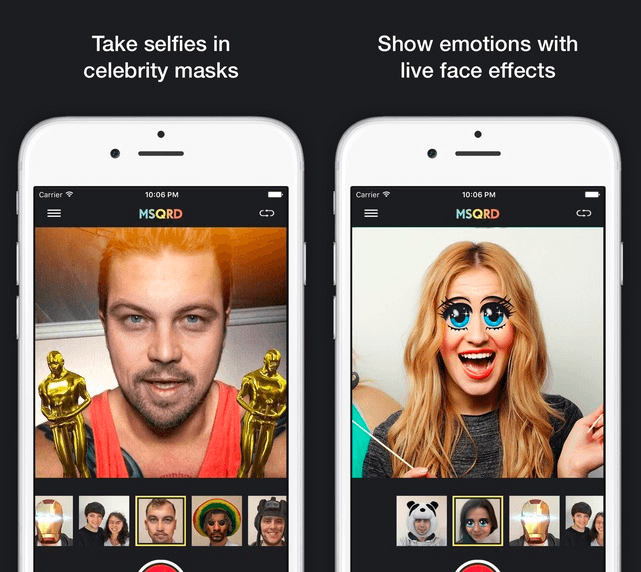 Downloads: +10000000
Costumers rating: (4.3 / 5)

YouCam Perfect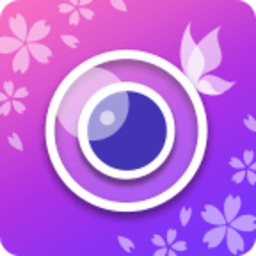 If you wish an alternative to Snapchat that can ensure you with a better selfie shot, try this one. YouCam Perfect is a tool for Android, with which you can modify the photos to your taste. A wide spectrum of capabilities of the software will assist to realize your creative ideas and fantasies, correcting images. There are a lot of ways to alter the photo.
Functional advantages
Tracking the situation. You can track what is happening in the fashion world, isolate stylistic trends, adding new information to your "piggy bank" of knowledge. The application provides an infinite space in terms of studying trends and trends.
The skin tone. You can make the skin radiant, add stylish visual effects. You can smooth the skin or lighten them, remove any flaws, add blush. Now, in order to make an aesthetic and chic photo, you do not even have to spend time on make-up: just make a few clicks.
Eyes. You can alter the appearance of not only the skin but also the eyes and the area around them. If necessary, you can enlarge the eyes, remove the bags underneath them, remove the unpleasant effect of the "redness" of the pupils.
General. You can work not only with a specific but also general: the program provides the classic functions of the video editor. Do you wish to substitute the background from behind, cut out the volume – all this can be done without any effort.
Social sphere. You can not only process photos but instantly send them to those you want, leave comments, share your experiences and learn from other people's experiences.
Pleasant trifles. It is hardly possible to list the full range of functions within the framework of one article: there is also the possibility of creating an aspen waist, lengthening the legs, creating a smile, and automatically improving, and much, much more.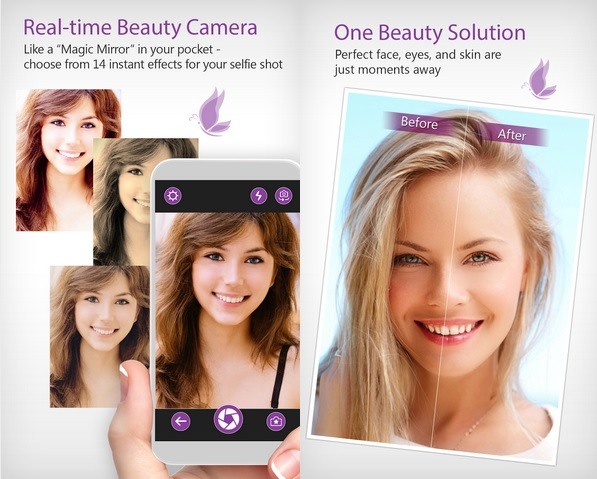 YouCam Perfect for Android has no competitors in its field – it's an advanced program that has taken the best from analogues. Functionality is combined with uncomplicated management (it will not be difficult to deal with everything) and aesthetic and pleasant design. These factors also determine the popularity of this application, known throughout the world.
Downloads: +50000000
Costumers rating: (4.5 / 5)

Also check:
19 Best apps to get more likes on instagram
Camera360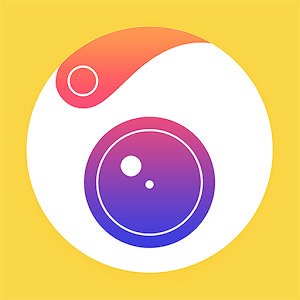 Camera 360 is a well-known camera on the mobile Android device. Using it, you perform simple operations, and the result is fantastic effects. The application combines a camera for selfie and an excellent photo editor.
The world-famous Camera 360 has received the support of over 700 million users who adore this photo editor + camera. The program has a wide spectrum of tools that make it possible to make pictures quality and beautiful, maximally improving them. And the camera settings will assist you to get the photo in good quality initially. Among other things, this application for a smartphone will help create beautiful collages from your pictures. Use the camera to create selfie, and in the future, you can apply amazing filters, take advantage of stylized effects, add text and stickers, as well as other comic attributes.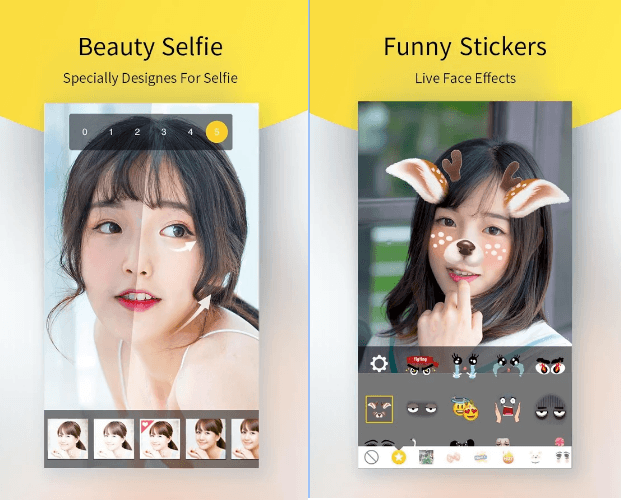 To date, the Camera 360 is not just a photo editor but a whole social network that you can employ to share your moments from life. Studio PinGuo can competently combine the functions of applications in the category of "photography" for both beginners and professionals. Immediately after the release of Camera360 took the lead and holds them to this day, thanks to built-in features, an intuitive interface and constantly emerging new products and filters. One of the latest updates involves the function of storing pictures in a free cloud.
Features of Camera360 on Android:
quality photo editor;
landscape mode;
large selection of filters;
aligning the tones of the photo;
pruning;
change of size;
stylized effects;
beauty tools will make a beautiful manicure, perfect make-up, long eyelashes and fix cosmetic defects;
the world from a different angle using the Tilt-shift function;
creation of collages;
add text, emoticons, and stickers;
instantly upload processed photos to social networks.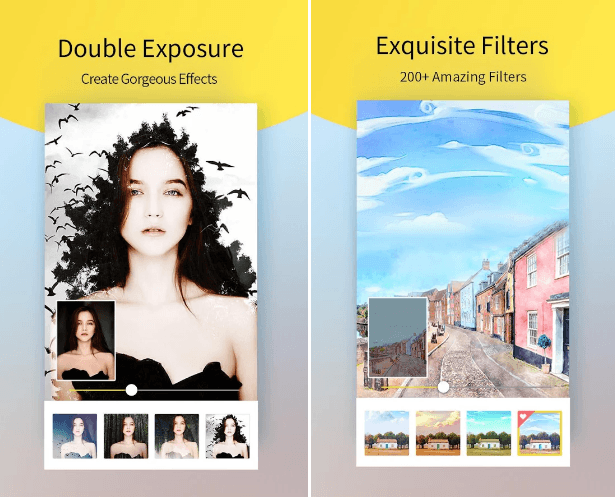 Downloads: +100000000
Costumers rating: (4.3 / 5)

Face Swap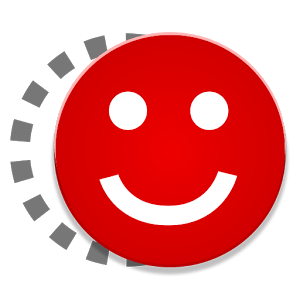 Face Swap quickly became one of the most popular applications-photo editors! Thanks to the extensive collection of various special effects, which is constantly replenished with the release of new updates, it is now easy to process your photo. Also, many users are especially supportive of the feature that permits you to apply the effect to the image from the camera without the need to be photographed (like in Snapchat). Face Swap is closer to the augmented reality part of Snapchat.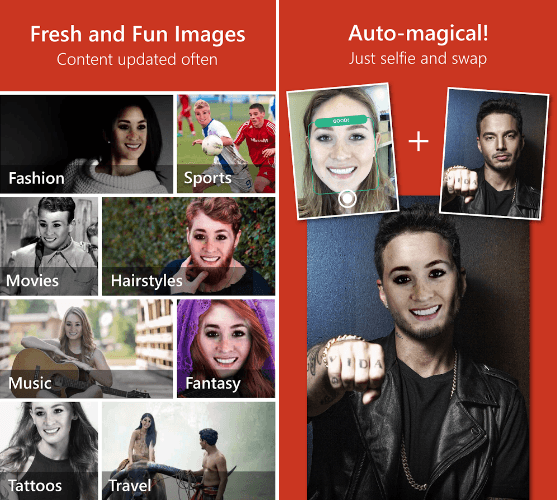 This application is used at most as an entertaining photo editor, so it does not have the majority of functions such as dimming and many others. Create an imitation of professional photography will not work, however, you can impose special effects from the cartoons, change the face, adding the ears of animals, for example. Thanks to such funny stickers, Face Swap on Android has become so popular. Also, the application allows you to change the faces of people in the photo, change their places, and add special effects in the form of animals and so on. The main advantages of this application are a small amount of space on the drive, as well as low system requirements that make it possible to download Face Swap to Android one of the most popular and unusual photo and video editors.
In addition, it should be noted that this program is a completely free version, the licensed version of which is available for download in Play Apk. The program also works on all devices with an existing webcam and Android, the minimum version of which reaches 4.3. The popularity of the application found almost immediately due to its comic character, as well as new features that have not been in any photo editor until now.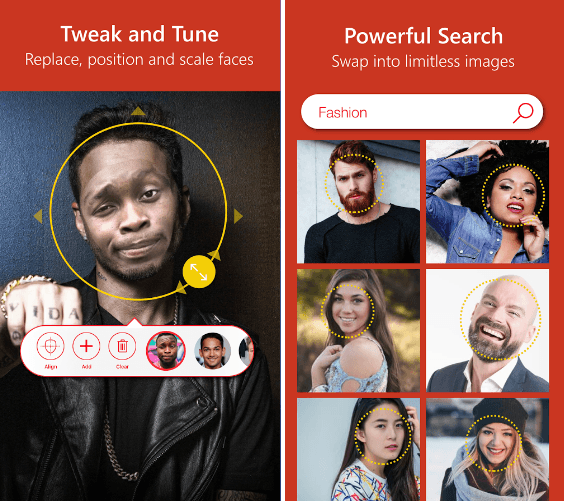 Downloads: +50000
Costumers rating: (4.2 / 5)

BOO! – AR Video Chat Camera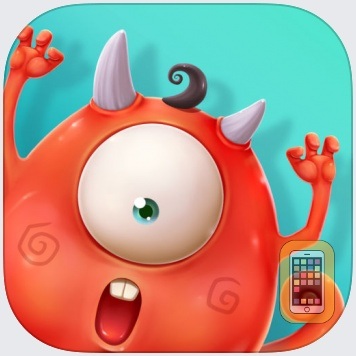 Of course, the application is worthy of your attention. With it, you can create animated messages and send them to your friends. And you will have the opportunity to conduct an online broadcast. So, like in Snapchat, you will have the opportunity to draw something in a photo or video. The application has its own community, and if you are an active member, you will have access to limited filters.
All correspondence is private and safe. Control is carried out with the help of one finger only.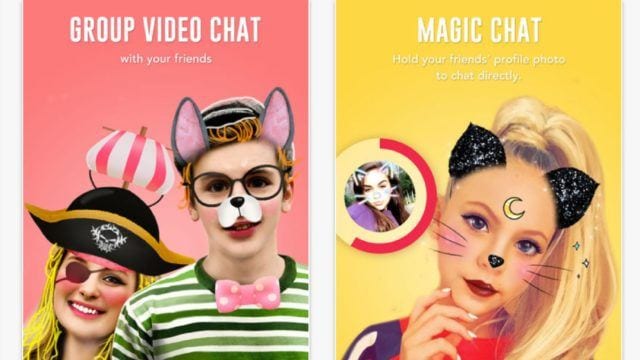 Downloads: +500000
Costumers rating: (3.4 / 5)
Yovo – Social Storytelling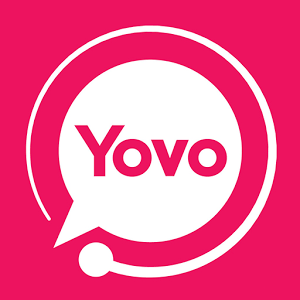 The similarity of this application and Snapchat is a safe correspondence. The utility uses the D-fence method, the meaning of which is to send a statistical wave of distortion, which erases all sent screenshots. So, no one will be able to see your photos and videos in the correspondence.
Nevertheless, this is an excellent application for managing individual and group chats with the ability to send live photos and videos. You can supplement the multimedia with various smileys, inscriptions. Share the best moments with loved ones using the Yovo application.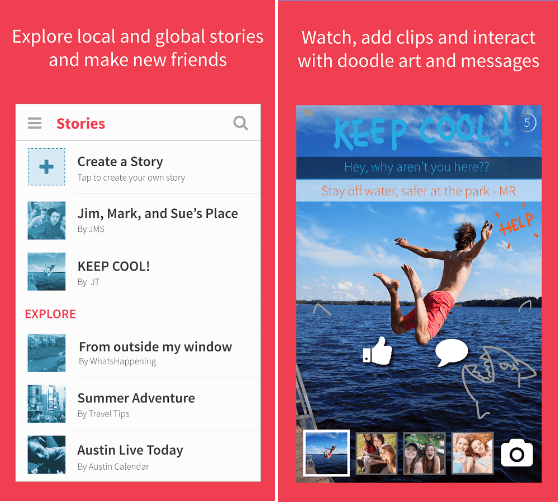 Downloads: +1000
Costumers rating: (2.3 / 5)
ClipChat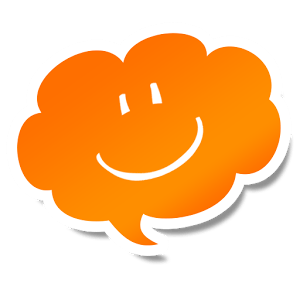 Stay in touch with loved ones, send them instant messages, including photos, videos or animated content. Installing the ClipChat application, you will have the opportunity to create a group chat for up to 200 people. Support for pdf, epub, doc, apk formats for sending. Convenient function Secret chat allows you to set the time after which all your SMS messages will be erased. Also, you can send your location.
Features:
Save data in the cloud.
Support Android Wear.
The ability to encrypt SMS.
The possibility of correspondence even with the low availability of the Internet, etc.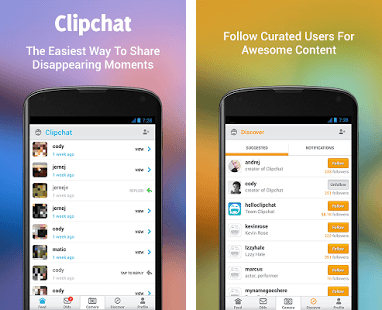 Downloads: +1000
Costumers rating: (3.7 / 5)
[divider style='full']
This is not all the analogs of the Snapchat. Some developers managed to achieve that phenomenal uniqueness, which is so difficult to replicate or copy. Some applications are too similar to the original. Applications like Snapchat will appear again, and we will try to give you the most detailed review of these programs.