In the institute at a lecture, in lines or public transport, during long trips and moments of boredom in travel – it is impossible not to fall in love with multiplayer games (MMO) on Android with a friend and living people. Especially cool sessions are obtained when everyone gathers in one place and arranges some battle over the network via Wi-Fi or Bluetooth in multiplayer. Many applications are distributed free of charge, they are easily downloaded to the phone or tablet and run online directly from the mobile network anywhere. The best of them will be discussed in the article.
[divider style='split']
You will certainly like articles about:
[thrive_highlight highlight='#81d742′ text='light']
11 Best survival games for Android
20 free fashion games for Android
21 Cool farm game apps for Android
[/thrive_highlight] [divider style='split']
[page_section template='1′ position='default']
[thrive_headline_focus title="RACING GAMES" orientation="center"]
[/page_section]
GT Racing 2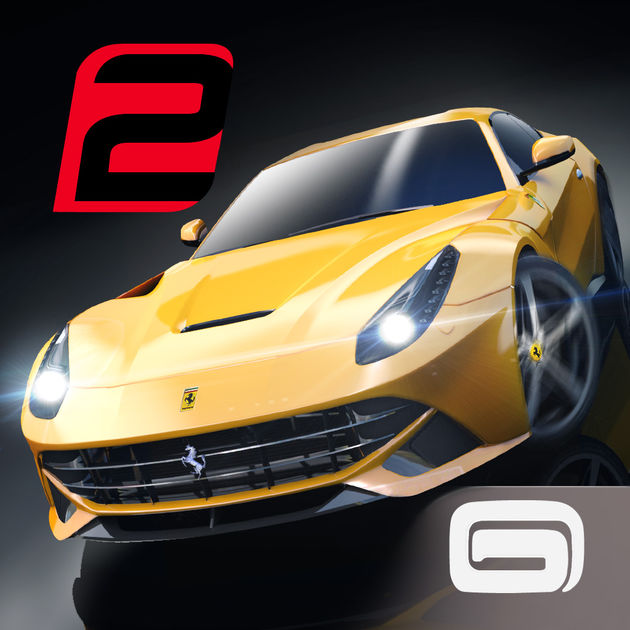 If you want to take part in realistic races, then this game is just for you. It will please the players with a frantic drive and a huge number of the best sports cars in the world. This is an excellent racing simulator. Developers in detail worked out its gameplay.
Game process. This game is sure to please all fans of quality racing. You will be able to drive the most prestigious cars in the world. However, exclusive supercars will have to start earning money. You will be able to test your strengths in both single and multiplayer games. In the latter case, you can compete with other players for the title of champion.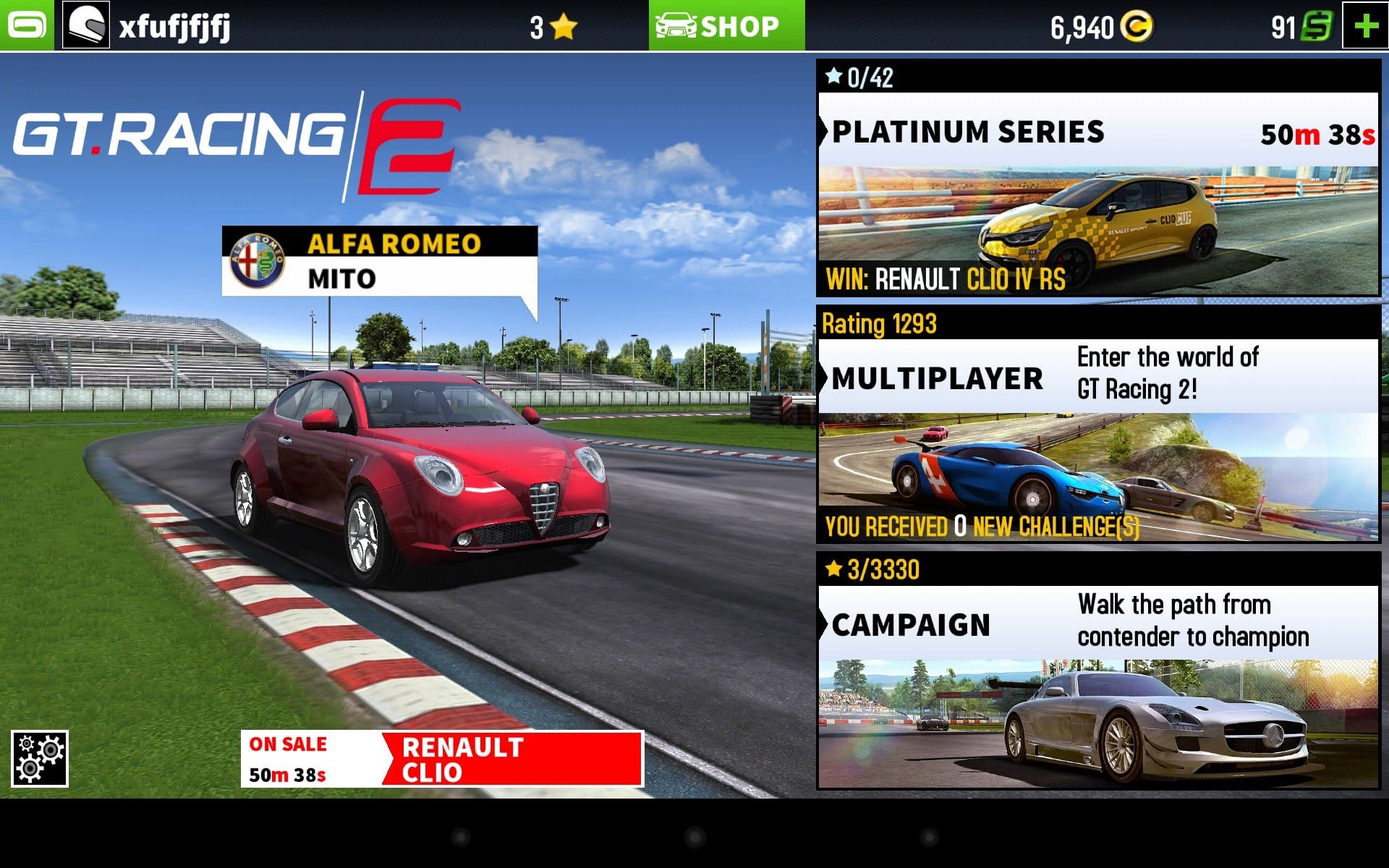 In the beginning of the game, you will be given a little training. In the course of it, you can choose the most optimal type of control. Presented only four options, so if any of them do not suit you, then you can always change it. The game is remarkable for a truly huge car fleet. Each vehicle has certain characteristics that must be taken into account. Having accumulated a sufficient amount of in-game currency, you can buy the best sports cars in the world.
Decor. The graphics component of the game is realized on "Excellent". However, it is worth noting that it is for this reason that the application weighs a lot. Absolutely all vehicles look beautiful and realistic. High-quality reflections will not leave indifferent even the most sophisticated players. The scenery and the tracks are also superbly detailed.

Downloads: +10000000
Costumers rating: (4.3 / 5)

Raging Thunder 2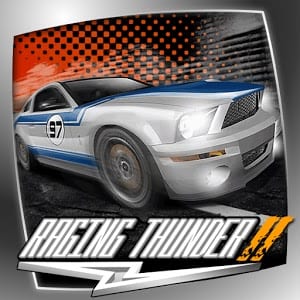 The classic version of the racing arcade for Android. Here, among other things, you will find real three-dimensionality, excellent soundtrack, and very good picture quality. Available as a single game, and over the network. In a single race there are several types of races: on time, on survival, career and fast stars.
In race mode for a while, you yourself, without rivals, drive through the track. Here you can get acquainted with different routes and train in their passage in minimum time. In survival mode, you should try not to go last, as the last car periodically drops out of the race. In a fast race, you randomly pick up the track and car, so you do not know in advance on which car and which track you will be racing on. Well, the basic mode is the career mode. Here you will find many trails, prizes, the possibility of buying new cars.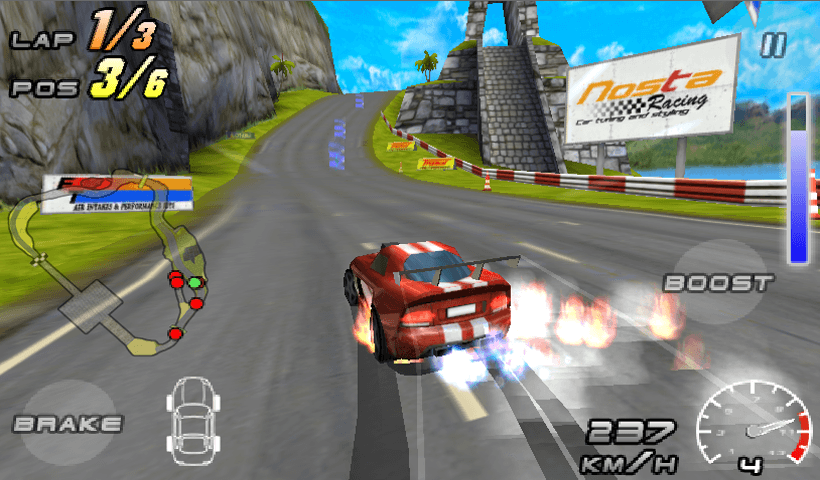 The game Raging Thunder 2 differs from other races by the presence of arcade elements. So, you can choose different bonuses and usefulness during the race. For example, accelerators, additional protection of the machine from collisions, money, stars for tricks, repair points, and so on. During the next run, you almost physically feel how the blood boils. It is remarkable implemented chases and excellent transmission of the effect of speed – the key features that distinguish the game among themselves.
And other aspects of the game do not lag behind – a large number of tracks, lots of cars, a variety of modes, and good graphics, as well as a mountain of bonuses for dessert. Also, the undeniable advantage of Raging Thunder 2 are the tracks – they are absolutely insane, with a huge number of hidden sites and secret paths. Raging Thunder 2 – just what you need in order to feel the speed.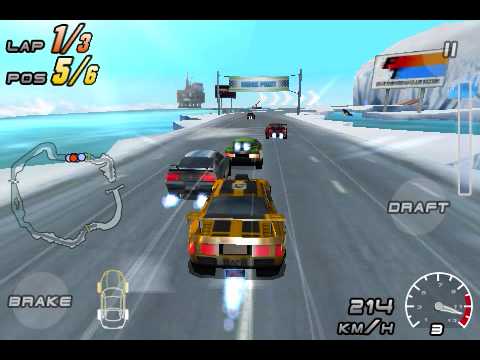 Downloads: +10000000
Costumers rating: (4.3 / 5)

Asphalt 8: Airborne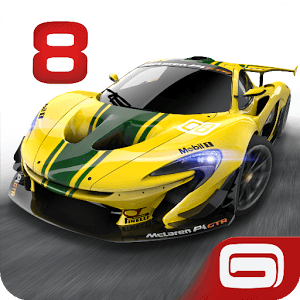 Many fans of racing heard about the popular series, which was recently supplemented by the continuation of Asphalt 8: Airborne. Its fans will be pleasantly surprised to get acquainted with the updated version of their favorite game. This time they are waiting for improved graphics and new features that make the gameplay as realistic as possible.
The game collected 47 unique cars, which are represented by world manufacturers. Gamers can not only drive them but also perform amazing tricks, such as jumping from a springboard, maneuvering in the air, and full coups during the flight. All this will take place on one of the nine colorful lines, which were copied from the most beautiful places on our planet.
The game offers to get acquainted with its main features:
Participation in crazy races that cannot do without deadly stunts.
The appearance of abbreviations on tracks.
The presence of a mirror mode in each of the locations.
Career mode, which contains almost two hundred different events.
The presence of multiplayer mode, which makes it possible to simultaneously play eight gamers.
Licensed soundtracks from the best musical groups supplement the atmosphere of the game.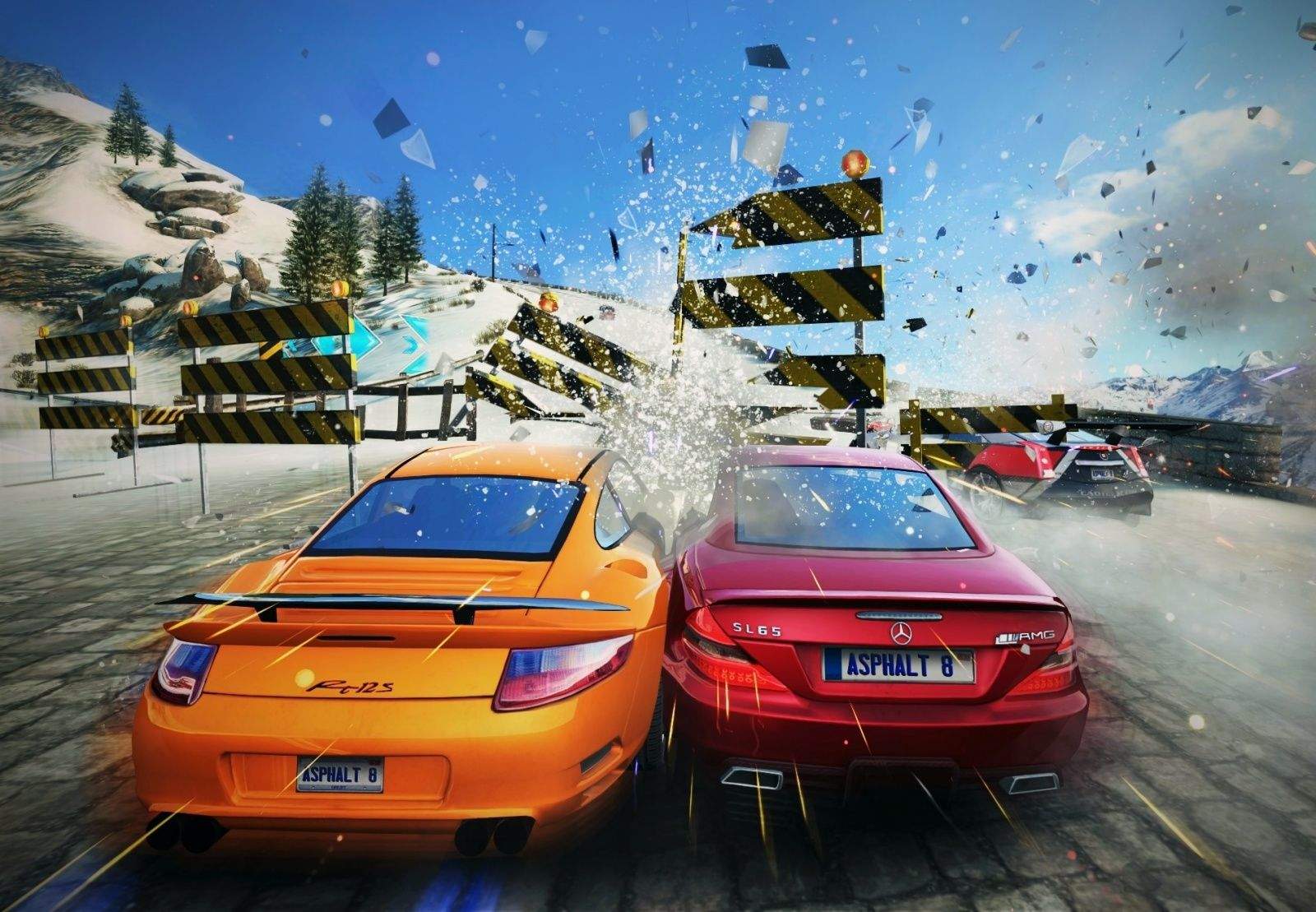 Downloads: +100000000
Costumers rating: (4.5 / 5)

Mini Motor Racing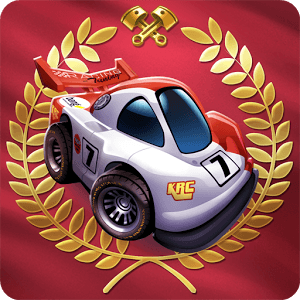 Mini Motor Racing – by name you can guess that you have to manage in small radio-controlled cars, on the same miniature tracks. In fact, there are a lot of similar games in the Play Market. Manufacturers have worked hard on this game – high-quality graphics and a magnificent drawing of machine models. All of them are performed in the style of cartoon graphics, so the fans of "Cars" will be happy with this application.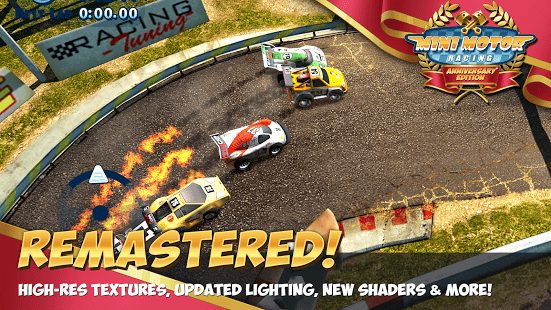 The game has three game modes: fast race mode, career, and multiplayer mode. All trails in the career mode are divided into 2 categories: bonus and standard. For occupied places in this or that mode, we receive monetary compensation. The races themselves will be serious, with clashes, jumps, and drifts. Each race is attended by 2 to 6 riders.
Unfortunately, the tracks are few, there are not more than 20 of them, but due to the fact that the camera angle and the direction of the ride are constantly changing, it seems that there are more of them. During the race you will find money and bottles of nitrogen on the track, various bonuses and obstacles will give acceleration or vice versa, your car will slow down. In Mini Motor Racing, a full sense of speed, great graphics, and views of the landscape, like even a skeptical player.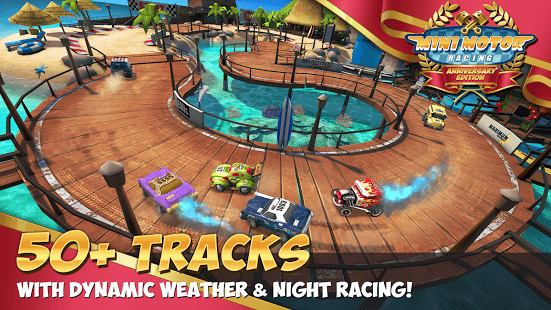 Downloads: +100000
Costumers rating: (4.2 / 5)

Mini Racing Adventures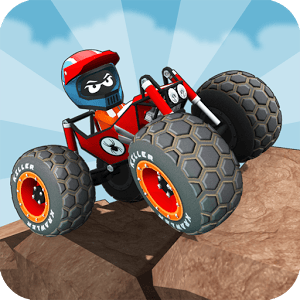 In the game Mini Racing Adventures, you can once again make sure that the size of the vehicle is not important, it all depends on the power of the engine. If under the hood is a cool engine, then you can overcome any distance. In this fascinating application, you can feel like a great rider who easily overcomes dangerous routes. And you will have a large selection of vehicles. Do you want to ride an SUV? No problem! Or maybe you like a motorcycle? Excellent! Sit on it. There is also a variant of trucks, buggies, etc. It all depends on your desires.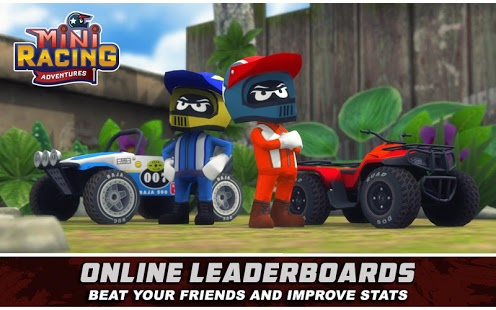 In the game Mini Racing Adventures, you need to take part in different races. And you will enjoy a variety of trails, in the form of green plains, snowy roads, and other colorful fields for racing. Obstacles will be on your way practically on every meter, these are big stones, potholes, hills, etc. In addition, the transport needs to perform various tricks, jump, and take off on the trampolines. To increase the technical characteristics of your iron friend, you need to get points. Also, thanks to the bonuses, you can buy a new vehicle.
Mini Racing Adventures game features excellent graphics, the ability to compete with other online players, a dynamic game process, a rich selection of cars with cool upgraded details, and five game fields with an interesting design. Good luck to you!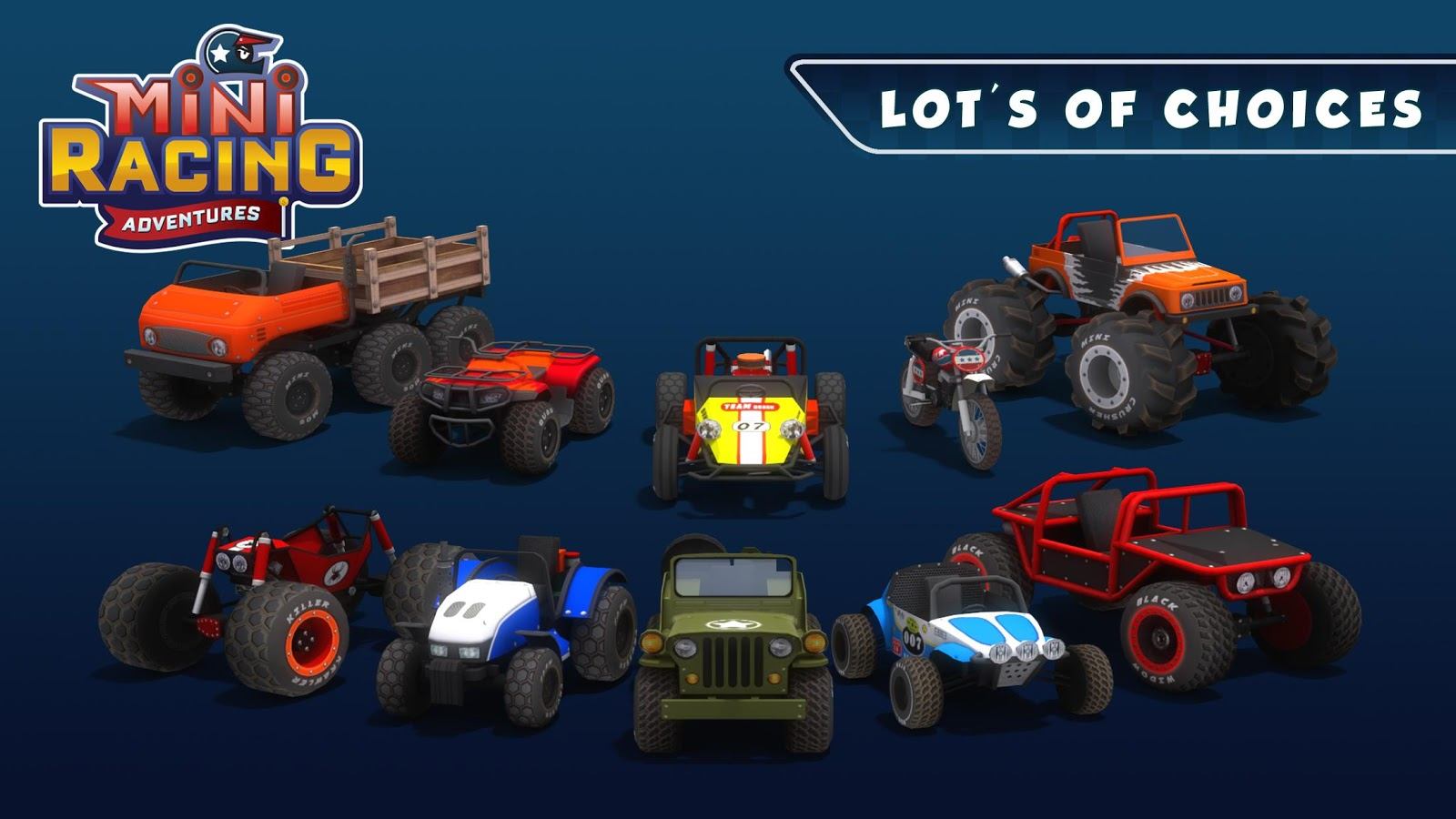 Downloads: +10000000
Costumers rating: (4.3 / 5)

[page_section template='1′ position='default']
[thrive_headline_focus title="SHOOTER GAMES" orientation="center"]
[/page_section]
Modern Combat 5: eSports FPS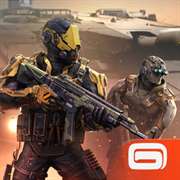 Modern Combat 5: Blackout is an action-packed shooter for Android from Gameloft. The race and shooting are obtained excellent from these developers, and each time the quality bar rises higher. The game has excellent three-dimensional graphics, elegant special effects, and great sound, allowing each cell to feel the atmosphere of what is happening.
Among other things, the shooter received a rather interesting story. The main character, being a hired Spetsnaz officer, is forced to visit several hot spots in order to eradicate the terrorists and their leaders. However, something tells him that the command is playing a double game. From shooting here you cannot escape, but you need not only to survive but also to unravel a conspiracy, questioning the legality of actions of management.
Gameplay Modern Combat 5: Blackout differs really crazy pace. Although the commander of a military unit is a player, he often will have to catch up with his subordinates. True, even this does not guarantee the safety of the protagonist. You can shoot here not only from the M-16, which is available initially but also from captured weapons.
You will hardly be able to manage various equipment but to ride a helicopter, a boat or a car, pouring persecutors with lead from a large machine gun. Despite the high dynamics, there are places in the game where you can catch your breath. Just stay for a while in the part of the area where you just made a successful sweep. Without you, the soldiers are unlikely to run far, but your fingers will be able to cool down during this time. Yes, the phone heats very much, and the battery also gets good. Playing outside the house, it's easy to stay unconnected.
The game has 4 modes of the network game. So you can defend the country with your friends or oppose them. Try this, the game tightens.

Downloads: +50000000
Costumers rating: (4.3 / 5)

Call of Duty: Black Ops Zombies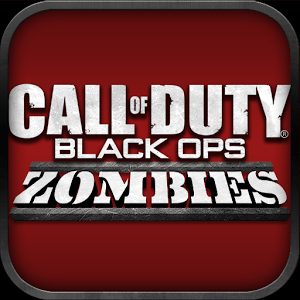 Call of Duty: Black Ops Zombies – one of the best zombie shooters with a first-person view.
The game was completely transferred from the game consoles, so do not be surprised by such a high-quality graphics and breathtaking gameplay, in which you sink from the first minutes of gameplay. You must face the whole army of bloodthirsty zombies alone, shooting them with the help of powerful machine guns, throwing grenades, and cutting their half-rotten bodies with sharp objects. Go through several cities and clear them from the army of monsters.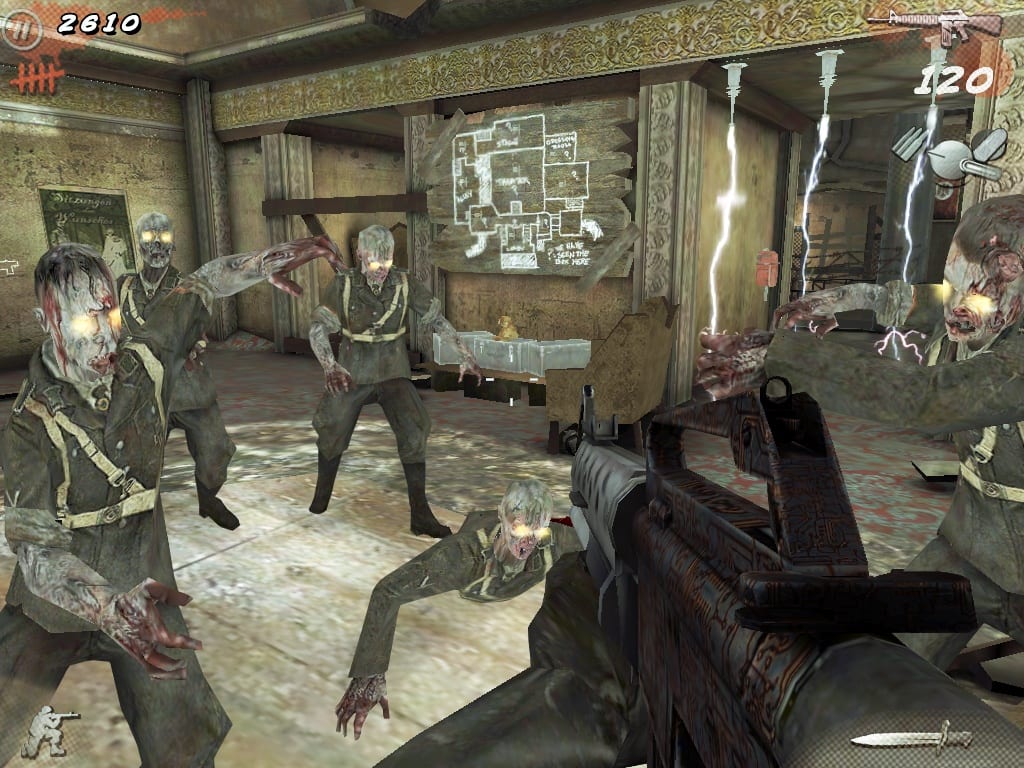 The game suggests us several scenarios for the development of the story: a single company or a game with mates up to four people using a shared Wi-Fi network. Of course, first, you should try a single game, deal with management features, understand what types of zombies are and how to kill them better, what weapons to employ and what to do when you see huge mutants. And after that, you can enlist the support of your playmates and, together with your common efforts, destroy all those who dare to stand in your way. For convenience, the game has a voice chat, allowing you to quickly communicate with your friends and jointly solve common problems.
Each level you need to hold out a certain number of waves of zombies, which will attack us from various sides. Using pistols, submachine guns, rifles, flamethrowers, and grenades, you can give a zombie rebuff. To manage our hero is simple. You also need to lock up windows and doors to stop the flow of zombies and prevent them from getting to you.
The graphics in the game are three-dimensional but its quality is not the best. The zombie and weapon models are not bad but we would like better detail and dynamics. In the main, if you prefer shooting, you will like the game.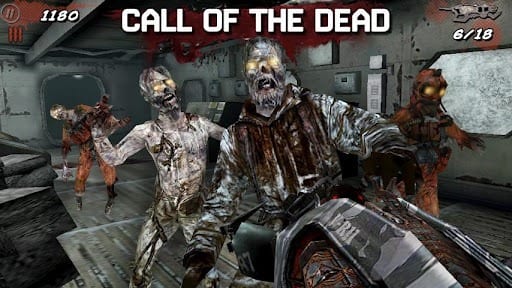 Downloads: +100000
Costumers rating: (4.1 / 5)

SHADOWGUN: DeadZone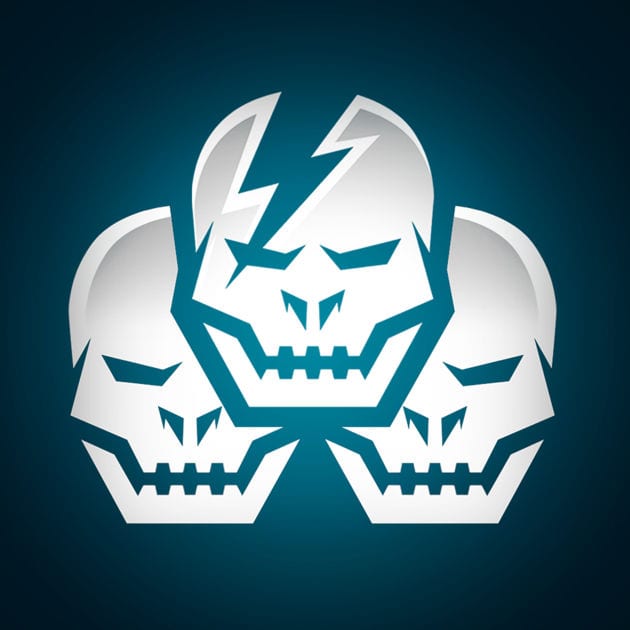 A beautiful online shooter from MADFINGER Games on Android, in which you can properly kick your friends back in multiplayer battles. To do this, you need to select one of 10 characters and connect to one of the game locations. Here you will experience new weapons and combine battle tactics. The higher your level of play – the more dangerous weapons and additional battle you can use.
Choose your favorite game mode, starting from a deadly fight and ending with the seizure of territories. Also, you will be able to communicate with the players using the game chat, which will make the games more realistic. And thanks to the unlocked premium account you can even more quickly pump out your character. Become the most dangerous bounty hunter in SHADOWGUN: DeadZone, who will be feared and respected by players from all over the world.
Get the experience of intensive tactical combat in multiplayer with 12 online players.
Choose from two popular game modes, Deathmatch and Zone Control, with different cards and 10 game characters.
As the ranking of the character increases, new elements will be opened that will become available during the gameplay.
A wide arsenal of upgradable weapons Vega (Attack Rifle), Big Boy (Machine gun), Spate (Plasma Rifle), Mace (Shotgun), Osog (Sniper), S *** Storm (Rocket Launcher).
Talk to your friends in real time! Enjoy the new service – voice chat.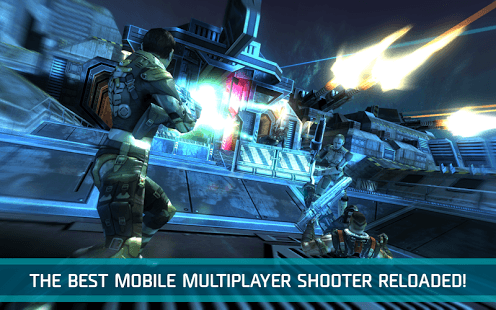 Downloads: +10000000
Costumers rating: (4.4 / 5)

Brothers in Arms 3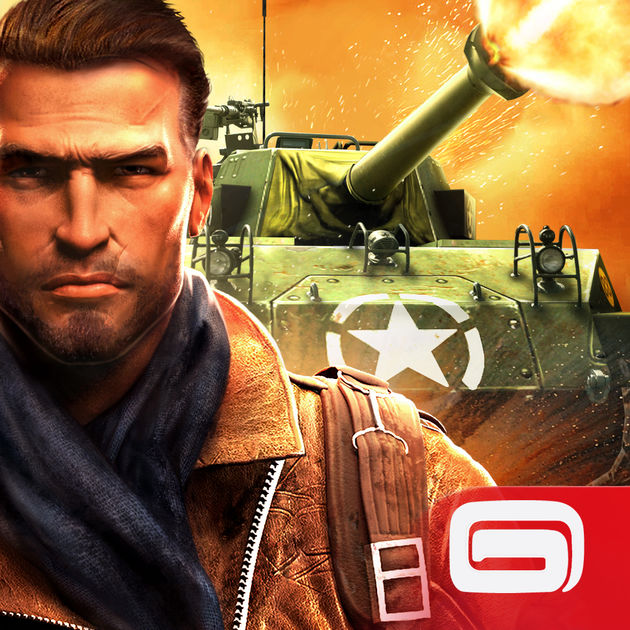 The long-awaited continuation of the whole well-known series of games about the Second World War. You will find an interesting shooter with exciting gameplay. Prepare for a dynamic shootout, beautiful foreshortening deadly blows, and a large arsenal of various weapons, including experimental. You have to play the role of Sergeant Wright, who needs to go through this whole war.
His whole story begins with the landing in Normandy, where he will meet the first mate. He has an additional power strike that will help you in the battles. Later you will receive new members and their special abilities. Use their super strokes wisely. You will become a real team if you choose the right weapon and partner. For each type of task, you will be given a choice of a certain class of weapons and additional special equipment, such as grenades, cocktails of hammers, knives, and other weapons. Also, you will play in survival mode, where you need to defend yourself, protect someone with a sniper rifle, or shoot down all the planes.
Interesting features of the game:
Incredibly high-quality graphics of the new generation with the latest graphics technology.
Opportunity to play against other players and pump your rank.
A large number of missions, which are quite diverse.
Interesting mission to shoot down the aircraft.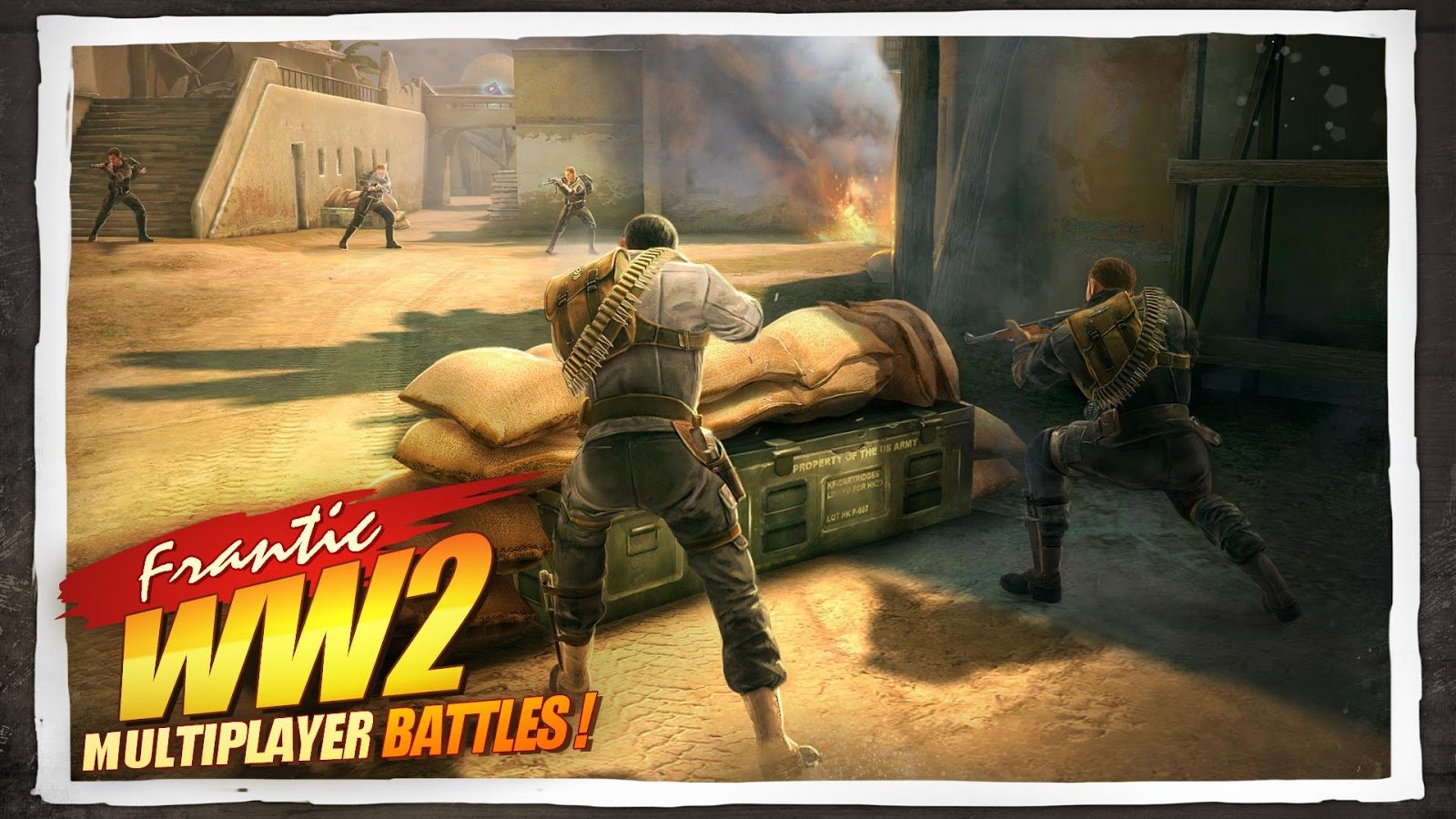 Downloads: +10000000
Costumers rating: (4.5 / 5)

Neon Shadow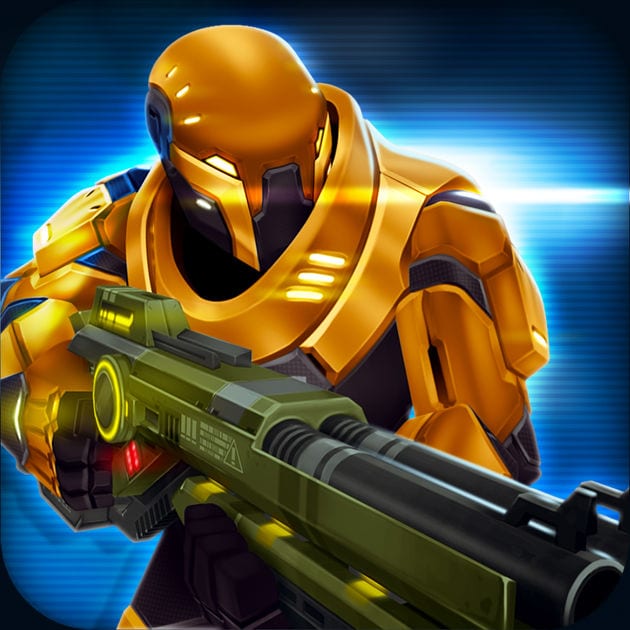 Neon Shadow – is a classic 3D first-person shooter. The game is made in the best traditions of Quake and DOOM.
In the game, you are waiting for two modes: the company and the network game. In the company, you have to go through a small storyline of the game and get acquainted with the basics of management. The plot is simple, so do not count on much. In terms of gameplay, the game is a very high-quality shooter, which is interesting and fun to play: the management is convenient and pliable, a wide arsenal of all kinds of weapons.
But the coolest thing about Neon Shadow is the network mode! In it, the game shows itself completely from a new angle:
Very dynamic battles.
Ability to play with friends from one device.
Beautiful and thoughtful maps.
Neon Shadow – a quality shooter, the main bias in which is made for dynamic and interesting contractions, graphics do not go to any comparison with Modern Combat 4 but this is more than offset by the dynamics and simplicity.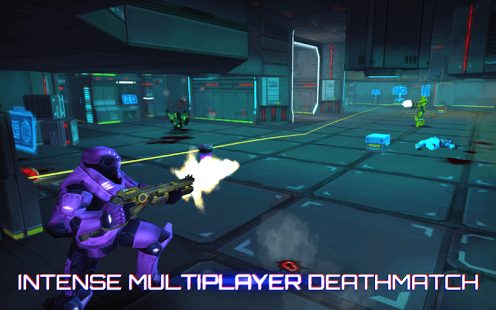 Downloads: +1000000
Costumers rating: (4.3 / 5)

Special Forces Group 2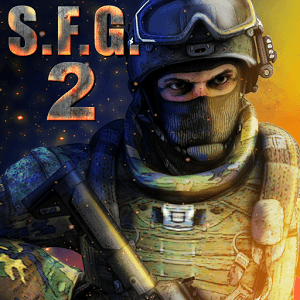 Special Forces Group 2 – the continuation of an exciting game dedicated to the tough confrontation between terrorists and special forces soldiers. The new series received two dozen different maps, new weapon modifications, an extended modernization system so that every fan of thrill could realize their abilities in a dangerous fight. Before the fighting begins, the gamer will have to decide on whose side he wants to fight: in the application, you can choose the role of a terrorist or a special commander.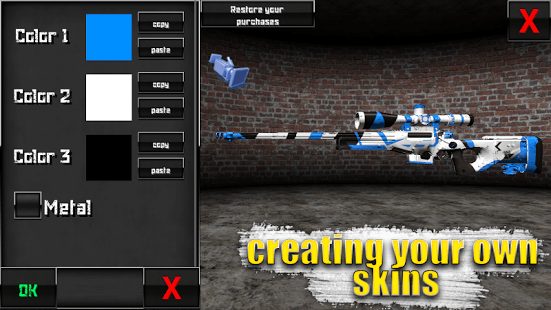 The presence of a variety of locations that send users to different parts of the world, make an element of surprise in every combat mission. After all, the gamer will have to take into account the peculiarities of the terrain, choose the safest and most convenient position for firing at enemy territories, facilities, and bases. Special Forces Group 2 will be the most effective and fun way to diversify your vacation: participating in an incredibly dangerous, dynamic adventure forces you to mobilize all forces to achieve victory.
To survive in a fierce struggle different skills, accuracy, caution, and forethought will help. Five game modes will make the fight process incredibly exciting. In this application, users will have the opportunity to prove themselves: the place of military operations will be cities and deserts, abandoned military bases, and highlands. A correctly chosen position, a firm hand, determination, and accuracy will be the basis of victory. The multiplayer mode will allow us to form detachments of desperate and fearless heroes in order to jointly cope with the most experienced enemy.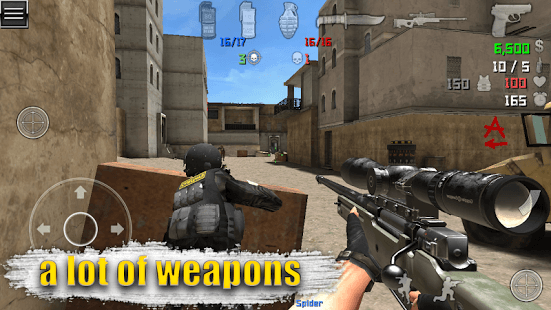 Downloads: +100000000
Costumers rating: (4.6 / 5)

[page_section template='1′ position='default']
[thrive_headline_focus title="FIGHTING GAME" orientation="center"]
[/page_section]
MORTAL KOMBAT X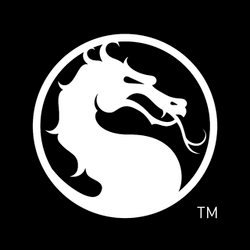 This is an adrenaline-filled fighting game, migrated to mobile platforms with Android OS in the format of a colorful slasher. You are invited to plunge into the world of bloody battles, ending with powerful special techniques and brutal scenes. Immerse yourself in the greatest battle going on between the two worlds for thousands of years.
Important characteristics:
A huge number of new and old characters.
Impressive opportunities for pumping heroes.
A unique system of group battles.
Convenient control, adjusted for the touchscreen.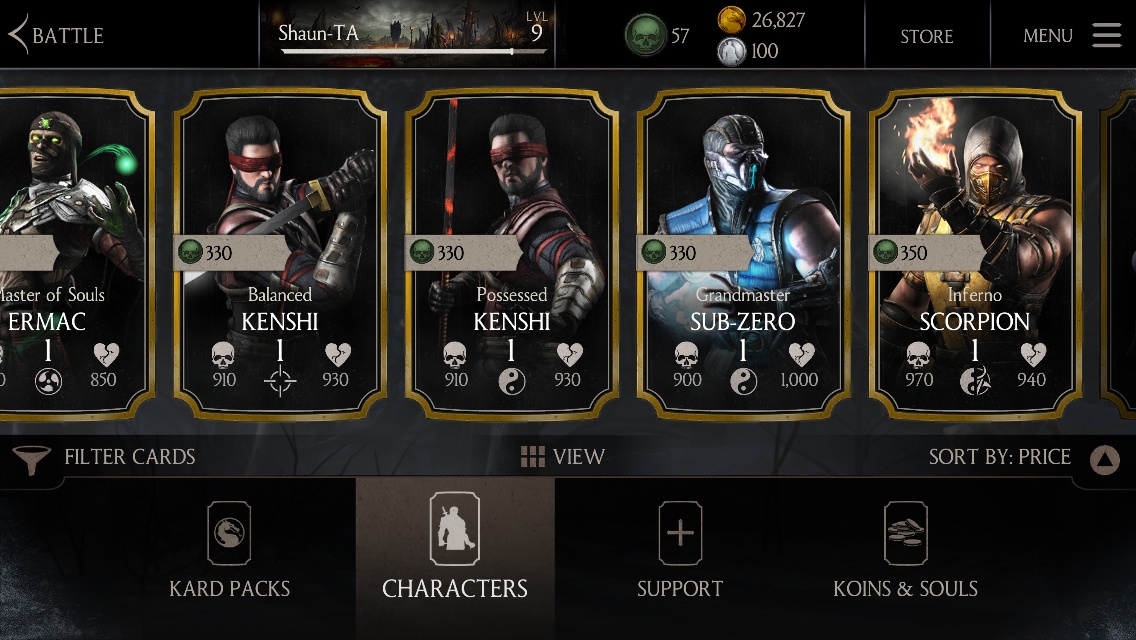 Classics lovers will like the legendary characters, such as Scorpio, Sab-Zero, Kung-Lao, and other familiar personalities. The developers did not stop at them only. The player can earn and buy cards with the image of the heroes, and after using new creatures during the fight.
Interesting features of the game
Unlike many games of its genre, Mortal Kombat X works without connecting to the network. This means that you can safely enjoy it with the Internet turned off. Collect units up to 3 people and switch between them in the process of a deadly battle.
Do you want to live battles? Begin the war factions, going into the eponymous mode. Compete against other players, increasing rank and climbing the leaderboard. After each battle in Mortal Kombat X on Android, the user receives money that can be spent on character development. Buy improved strength, passive skills, and even items – weapons, armor, accessories.
As you pass, you will be able to unlock various bonuses, having at your disposal special heroes, such as Scorpio from the old versions of Mortal Kombat. The player is also offered to perform tasks, independently selecting the team required for their implementation.
The graphics are excellent. We are invited to plunge into the colorful world with stunning scenery. Everything is done in the classical style, which was present in versions for consoles and PCs. Developers have saved the all-time favorite X-ray effect. Watch in slow motion, as the enemies break bones, hearts burst, brains fly out.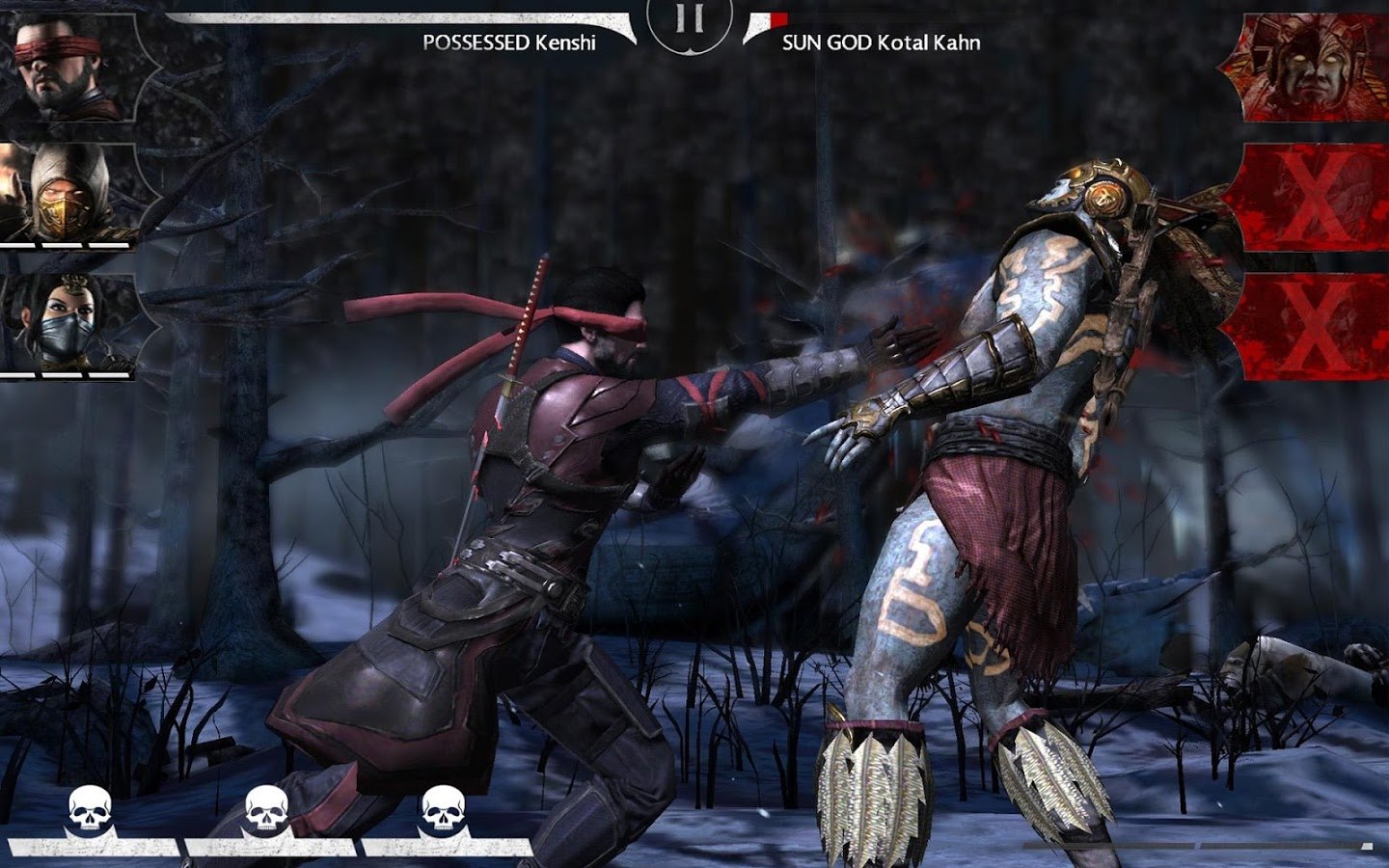 Mortal Kombat X is a modern affordable entertainment for Android owners. Despite the huge investment of developers, the application is distributed free of charge. It allows everyone to immerse themselves in classic battles that make blood boil.
Downloads: +10000000
Costumers rating: (4.4 / 5)

[page_section template='1′ position='default']
[thrive_headline_focus title="SMART GAME" orientation="center"]
[/page_section]
2 Player Reactor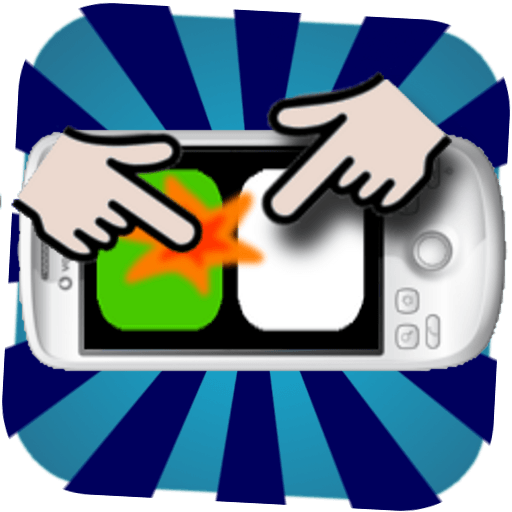 The game for Android will allow you to train with someone from friends or co-workers in a game form. The application contains a lot of comparative tests and games to test you and your opponent logic, attention, and reaction. The tasks in the game are fairly simple, which makes the game even more attractive.
This game is free and is designed for two players. There is a version for four players (4 Player Reactor), it is paid, but contains more minigames and opportunities. This game will already allow to organize whole tournaments and team competitions 2 on 2.
Each player has his own playing space, as well as a short message about each of the future levels. When passing the next task, you see the results – a short comment and the number of points earned for the task. In 2 Player Reactor there are 19 modes, in the free version available 12. Mode is a task. In this game, there are such tasks as color names, labyrinth (you need to help get your mouse to cheese), assignments in mathematics, geography, and others. The first person to respond gets points.
With the help of settings, you can set the number of points to be added, preferred game modes (easy, complex, medium difficulty), as well as the sequence of appearance of games – random or orderly.
2 Player Reactor – fun, exciting, and useful game that will provide the spirit of competition and the development of reaction and logic.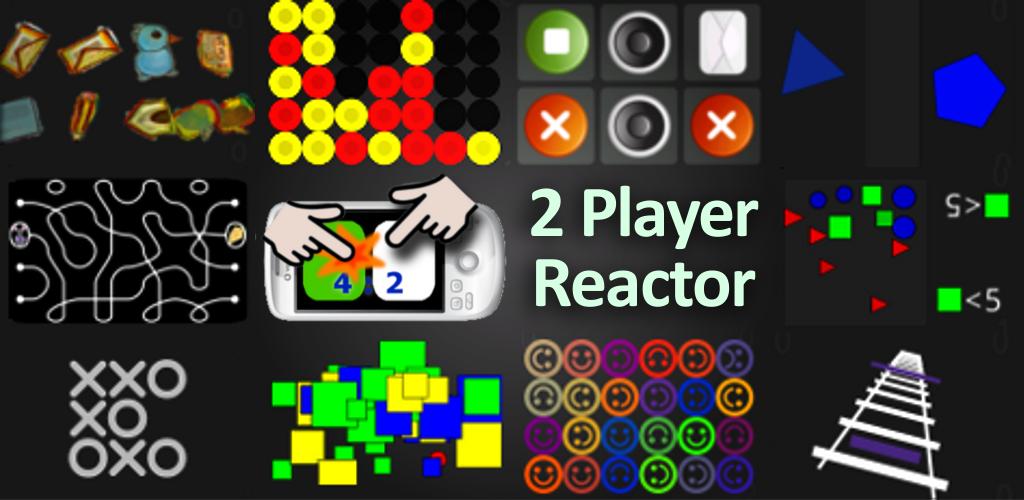 Downloads: +10000000
Costumers rating: (4.1 / 5)

[page_section template='1′ position='default']
[thrive_headline_focus title="SPORTS GAMES" orientation="center"]
[/page_section]
8 Ball Pool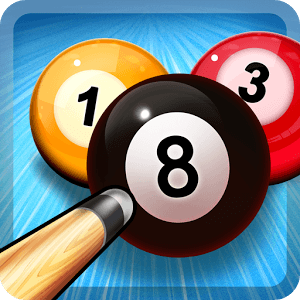 It is an interesting game, capable of dipping you into the exciting world of professional billiards on the Android device. The game has become a real hit in its genre, as evidenced by the huge number of downloads and positive feedback.
Features of 8 Ball Pool:
The maximum realism, thanks to which you can easily imagine that you are playing real billiards.
Several options for the game, which allows you to choose the mode that suits you best.
The ability to challenge your friends and show who is the real "king" of billiards.
Convenient, not overloaded interface, so that every user can cope with 8 Ball Pool.
The ability to find a rival in the network or improve their skills in a single game, where your opponent will be Android.
The opportunity to acquire new items, with which you can increase your skills.
The application is absolutely free, not demanding on system resources.
Moreover, the application can give you the opportunity to fight with the real legends of billiards, but for this, you will have to sweat fairly and win several dozen tournaments, which will allow you to accumulate the necessary number of coins needed to open new gaming halls.
If you are a fan of billiards, want to be able to enjoy it anywhere and anytime, 8 Ball Pool is your choice.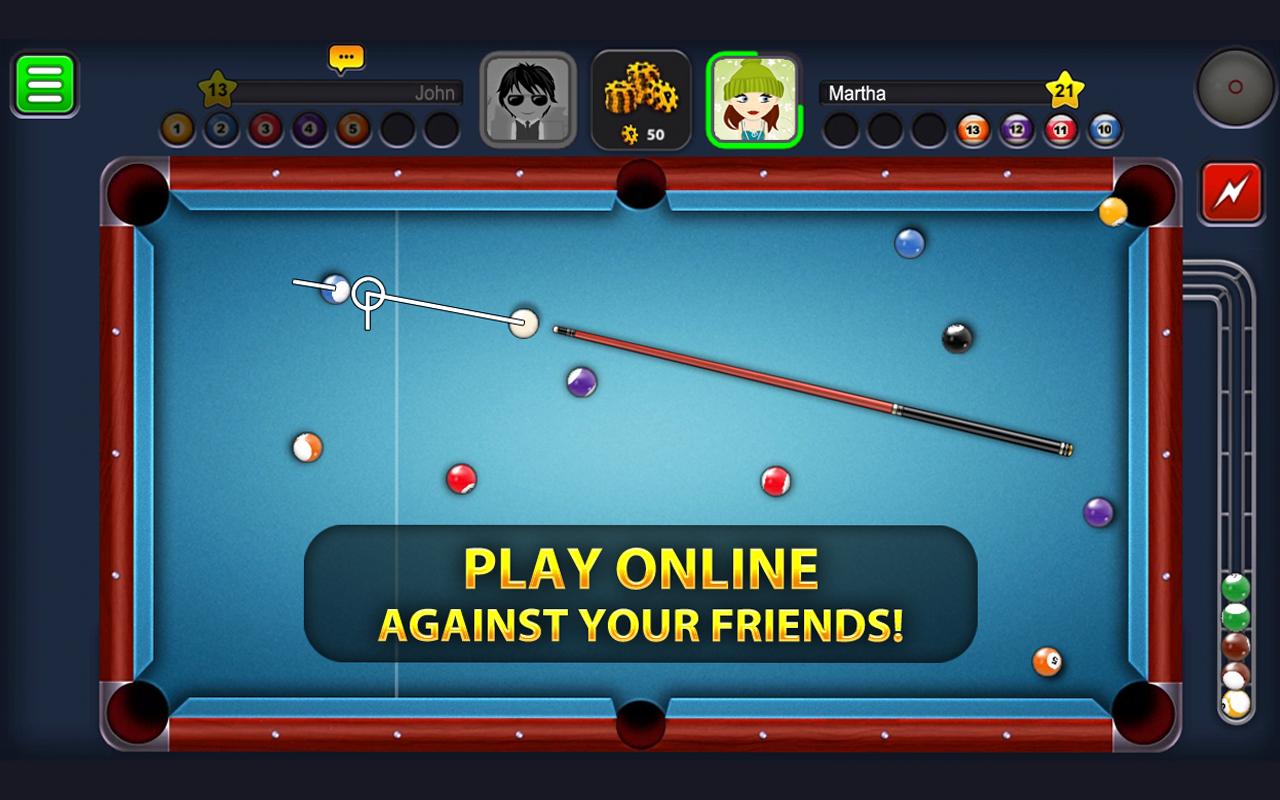 Downloads: +100000000
Costumers rating: (4.5 / 5)

Volleyball Hangout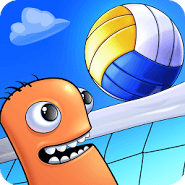 On the shore of a sandy island surrounded by green palms and red-hot stones, a net is strained – not fishing or hunting, but volleyball because it is here that competitions are held between nimble worms for the championship of the beach area. The struggle is serious – the participants fly out one by one, and the competition day is nearing the end, who will be able to take the first place? Players who clicked to download Volleyball Hangout on the Android or specially trained computer intelligence, which rushed all the hard for the prize podium?
The Volleyball Hangout application is represented by an arcade parody of volleyball – there are only two players in each match, instead of ten, there are no referees, and all the blows are allowed to be made solely by the head, and how do worms have hands? However, the remaining rules are preserved and fully functional, despite the joke of the gameplay – three touches of the ball in a row are awarded a foul, a blow to the ground – a point to the opponent. Fight with rivals in a single company, look into a multiplayer mode or call friends – in Volleyball Hangout for Android time to challenge always there!
Volleyball Hangout is characterized by such features:
Multiplayer or mirror mode of the game, which are created for the fun of the players.
Option to choose one of the proposed multi-colored worms for active actions.
Opportunity to compete with your friends to determine the strongest player.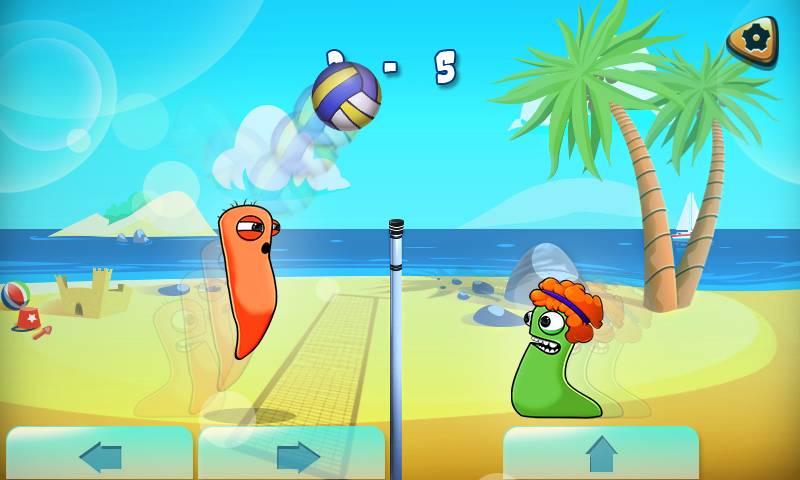 Downloads: +1000000
Costumers rating: (3.7 / 5)

NBA JAM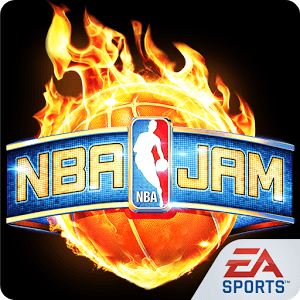 Fans of basketball, exult: from now on, in order to enjoy this sports game, it does not necessarily to go to the stadium! Download the NBA JAM by EA SPORTS Android app and get a real basketball court right in your own smartphone or tablet!
The application is made in the genre of arcade simulator, in it, you have to participate in competitions with the real gurus of this wonderful game. In one team with you will play real stars and world-famous personalities. With such like-minded people it is impossible not to win, so install a simulator, and let you get Lucky!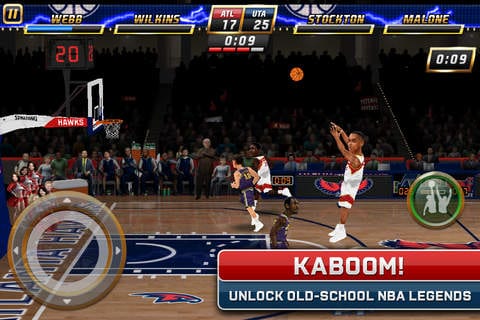 In addition to open, in NBA JAM by EA SPORTS there are still hidden players, all of them are three but they are not available immediately, only after passing several levels. Who will it be, you will find out if you demonstrate the proper level of skill and prove that you deserve the title of the best basketball player.
There are several modes in the application:
Campaign – in it, you can make a dizzying career from beginner to real guru.
Quick game, allowing you to choose one opponent and gain experience.
Local multiplayer, in which you can compete with friends through a Wi-Fi connection.
Well, are you ready to choose any of the presented teams and lead it to victory in the Champions League, having won all conceivable and inconceivable goblets? Then do not waste time in vain – install the toy and enjoy its rich gameplay and high-quality graphics execution!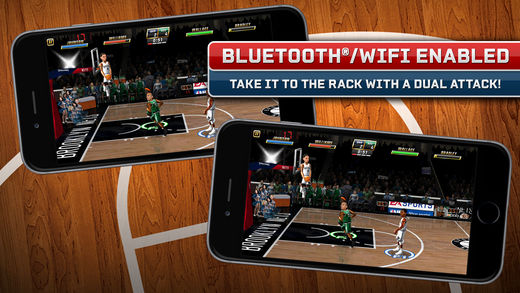 Downloads: +500000
Costumers rating: (4.3 / 5)

[page_section template='1′ position='default']
[thrive_headline_focus title="ROLE-PLAYING GAMES" orientation="center"]
[/page_section]
Order & Chaos 2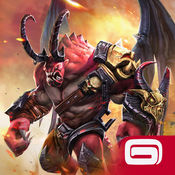 This is a new multiplayer role-playing game for Android, where you have to take the path of redemption along with thousands of players around the world!
The epic story opens a new chapter in the world of endless chaos and dilapidated order, about which legends are composed. A terrible mistake of the past threatens the existence of an entire universe, and only true heroes can stop the curse of the Primeval Heart! A fascinating adventure begins with the creation of a character, which will be represented by one of 5 powerful classes and 5 races. The classical representatives of Elves, Humans, and Orcs are supplemented by very unusual beastlike Mendels, as well as arrogant Kratans. Representatives of the factions can be both excellent melee warriors, and mighty magicians who draw strength for spells from mana.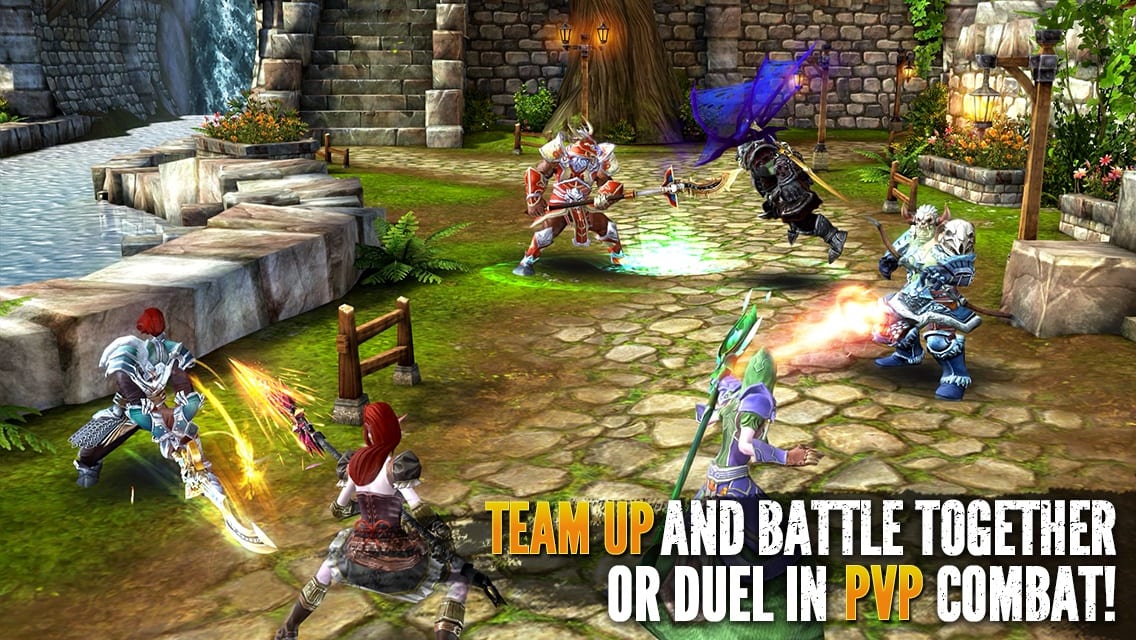 After choosing a protagonist, you can safely proceed to perform hundreds of single-player missions, as well as sweep numerous dungeons. The abyss of incessant battles and horrors of Haradona is supplemented by fights with monstrous bosses, which promise a royal award. In between battles, you can study professions and create excellent equipment. The multiplayer component of the game is represented by a joint sweep of the dungeons, as well as trading in the auction, but no one forbids to challenge the opponent to a duel or fight other characters in PvP. The game is distributed on a free basis, which involves the presence of a donat, which affects the overall balance of the game.
Management of a fearless hero is adapted for touchscreen displays of Android devices.
A large-scale role-playing game for Android possesses excellent three-dimensional graphics and excellent animation. Fantastic locations of Haradona are distinguished by the detailed scenery, as well as a large number of all kinds of mobs. All visual effects require a lot of resources so that you can enjoy the picture only on powerful mobile devices.
Order & Chaos 2: Redemption is one of the best MMORPGs for the Android platform.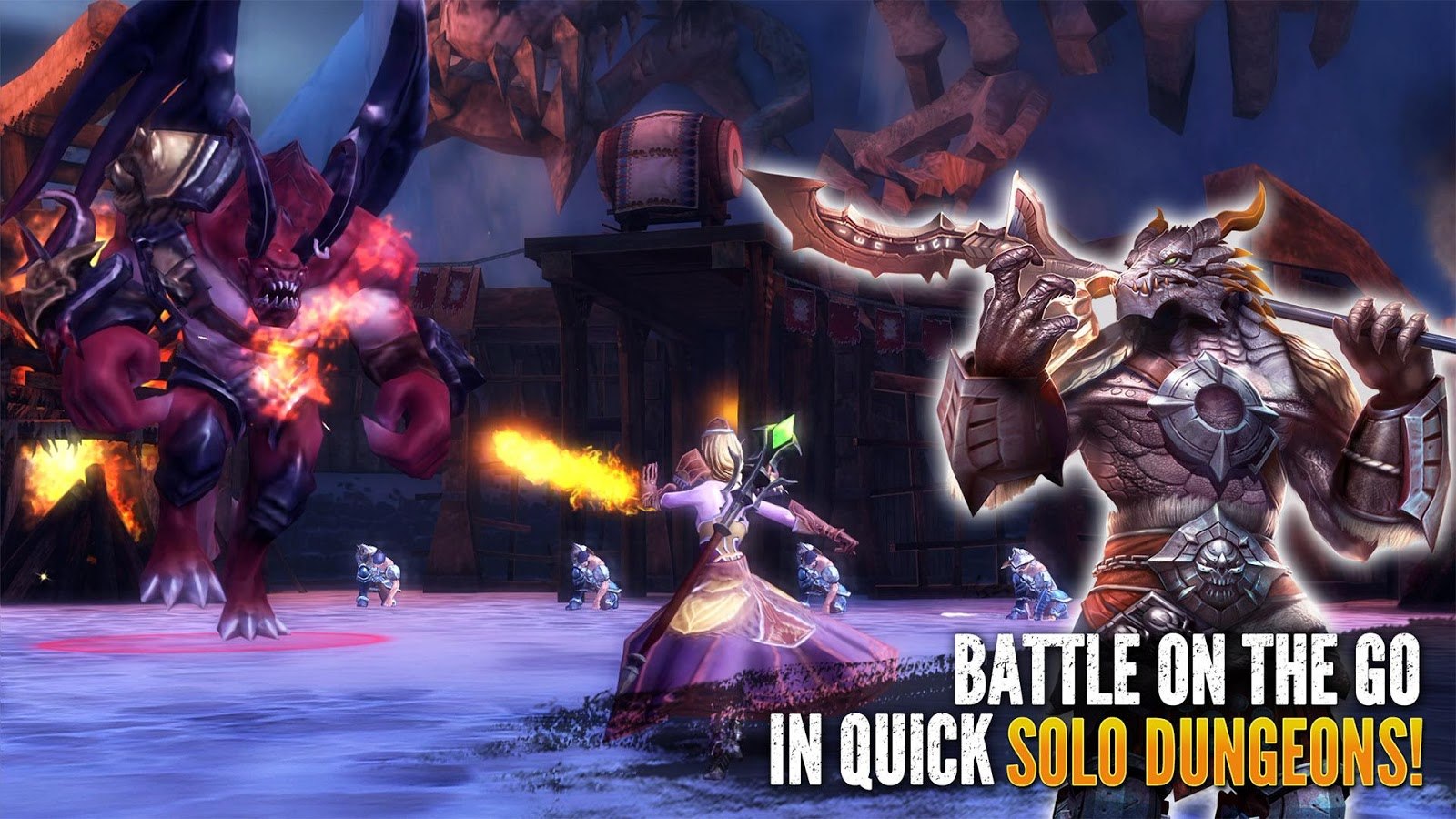 Downloads: +5000000
Costumers rating: (4.1 / 5)

Arcane Legends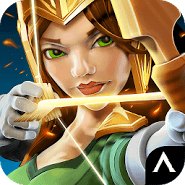 A fantastic kingdom was captured by soldiers of evil forces – most of the village settlements were grasped, another part was burnt or looted. Now the territory of the kingdom of foreigners is closed – insidious warriors built dangerous defenses, destroying any brave man who appeared in the abode of evil forces. Residents hope only for the brave warriors, able to unite in the strongest alliances, and finally, to smash the enemy's camp in the application Arcane Legends: MMORPG for Android.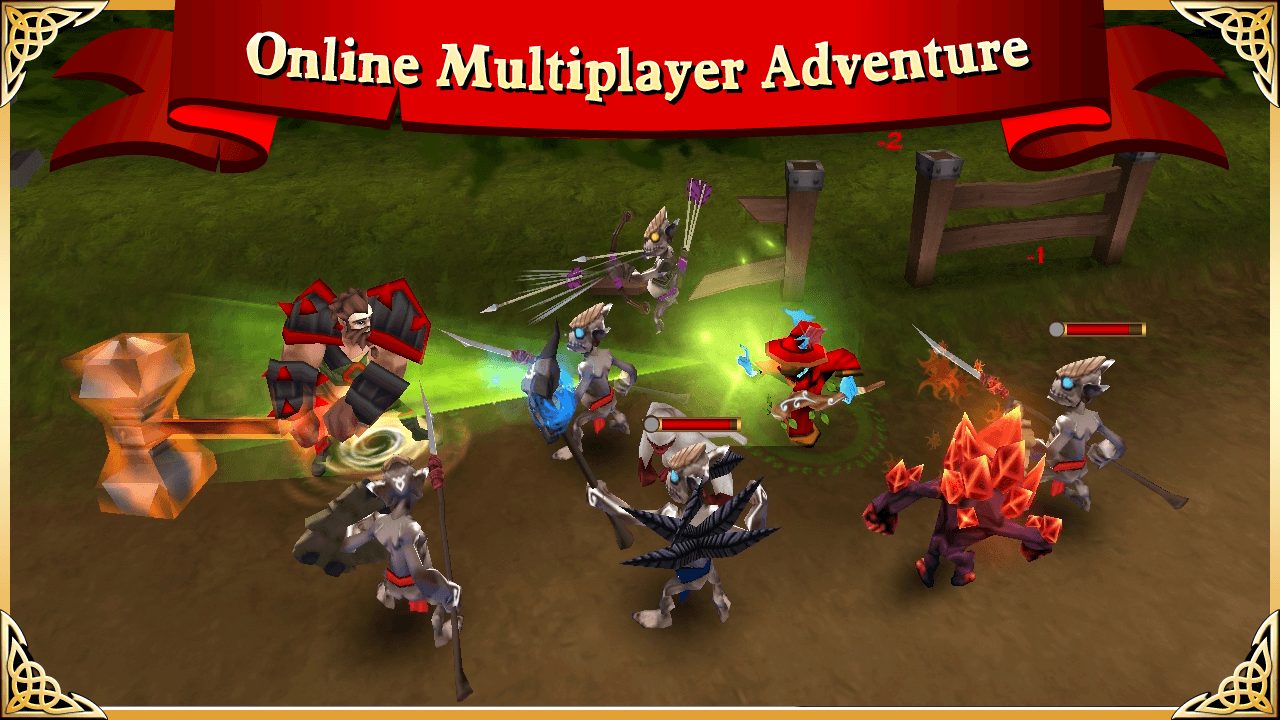 By its nature, the Arcane Legends application, created by the Spacetime Games studio, is performed in the genre of a multiplayer role-playing game, containing both a single passage of the storyline and cooperation with the capabilities of PvE and PvP battles. Before the start of the journey, the players have to choose the class of the main character from the three available: a magician capable of using spell power, a thief who knows the vulnerabilities of any opponent, and a warrior who breaks the sword and shield. Choosing the hero and going into battle, players will get new levels, points of characteristics, and unique equipment, increasing the chances of winning. Hurry up to download Arcane Legends: MMORPG on Android and plunge into the atmosphere of multiplayer adventures!
Features:
a lot of pet-minions who will help you in battle;
the game in single or cooperative mode;
presence of PvP mode;
the storyline and a lot of wallpapers.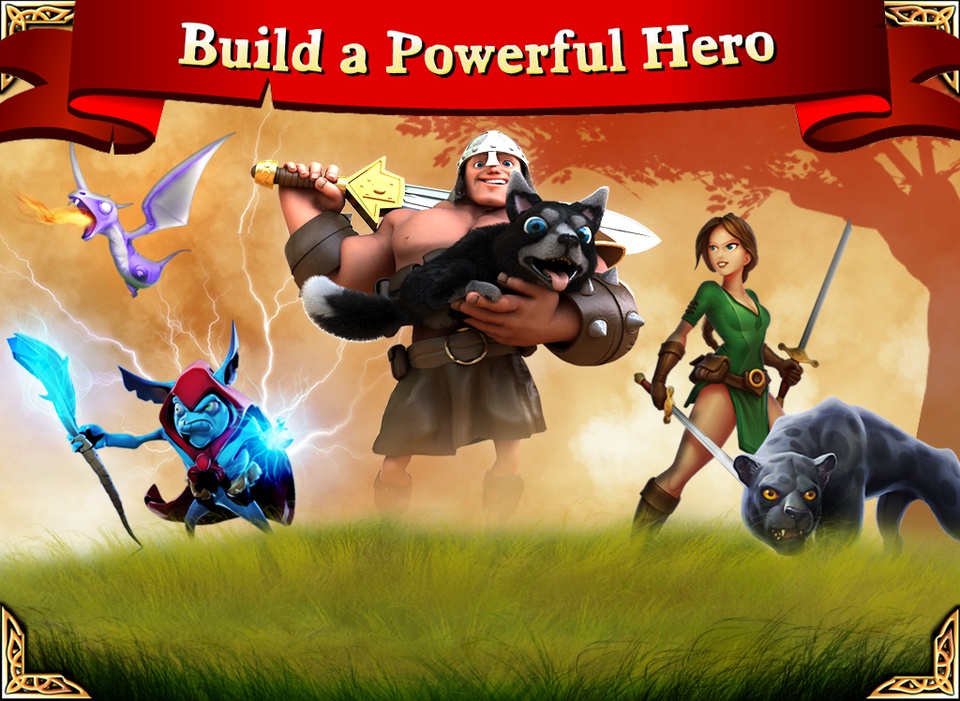 Downloads: +10000000
Costumers rating: (4.4 / 5)

Krafteers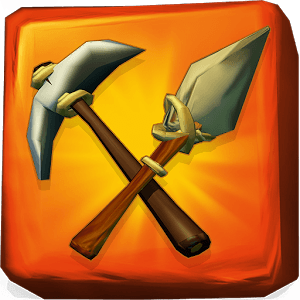 Krafteers – Tomb Defenders – first-class entertainment for everyone who appreciates maximum freedom of action and wants to try themselves in the creative field. With the help of this application, participants will receive new impressions and useful experience because you can implement any ideas here. Gamers are offered an unusual designer, from which it is necessary to collect not only their own world but also the scenario of the events taking place. This became possible thanks to the interesting concept of a thoughtful game dedicated to creativity and creation.
The game has convenient management, it presupposes the consecutive fulfillment of a whole series of tasks with the help of which it is easy to develop analytical skills and a creative approach. The main characters of the plot invented by the gamer will build, fight, extract gold and food. The ability to manage this process will please ambitious players: success depends on the correctness of actions, the ability to make the right decisions and act contrary to unfavorable external circumstances.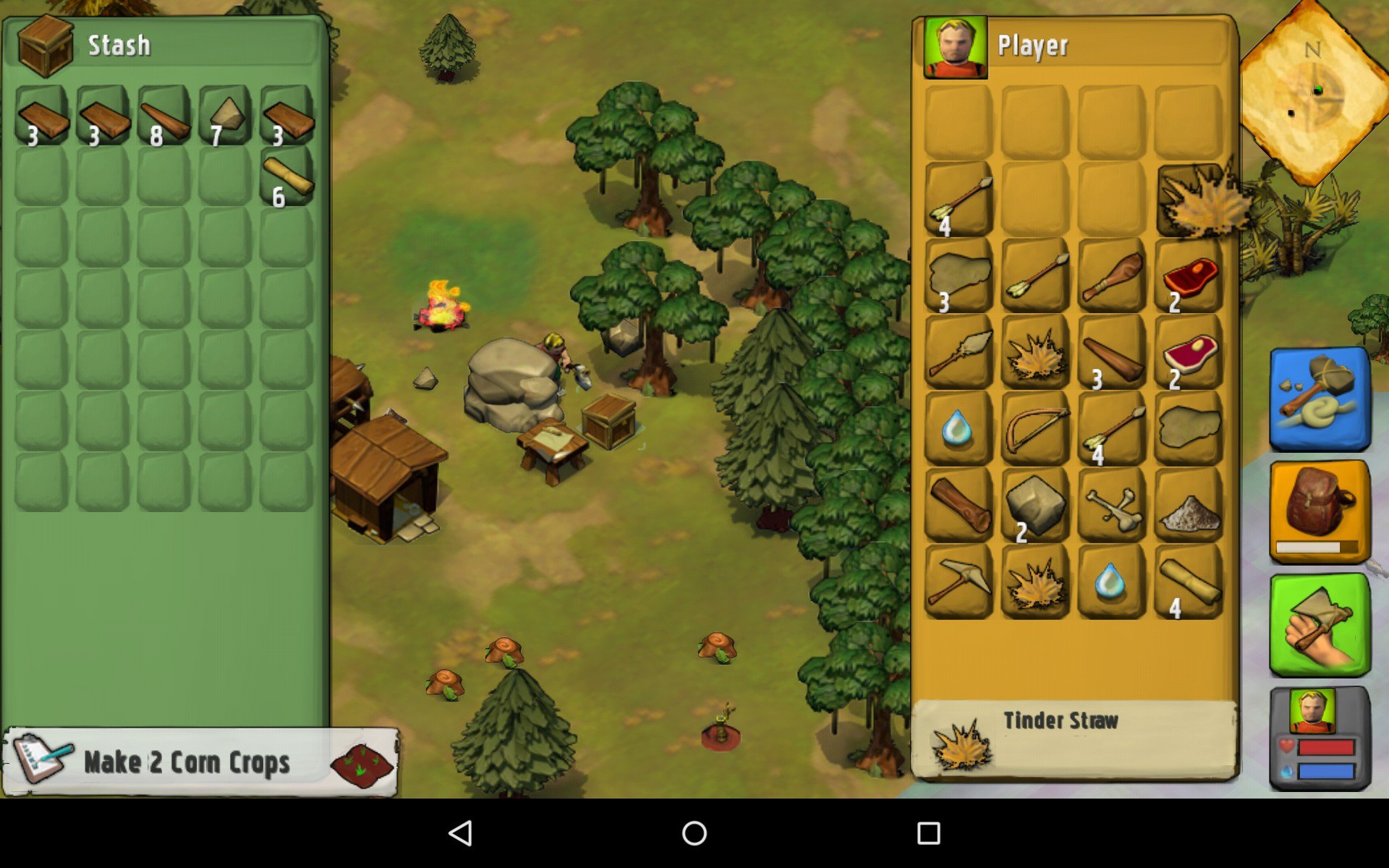 The Krafteers application has several modes that in many ways determine the course of events, excellent opportunities for creative self-realization. Fans of extreme sports this game will provide a chance to check the strength of their character and strength of nerves because the number of enemies here is just off the scale. And only on courage, enterprise, the speed of decision-making will the victory depend.
Krafteers will make the creator of the wonderful world every Android user, who is ready to take responsibility, showing his best qualities. The game provides a multiplayer mode to involve other participants in the colorful adventure and make the virtual world even more vivid and eventful.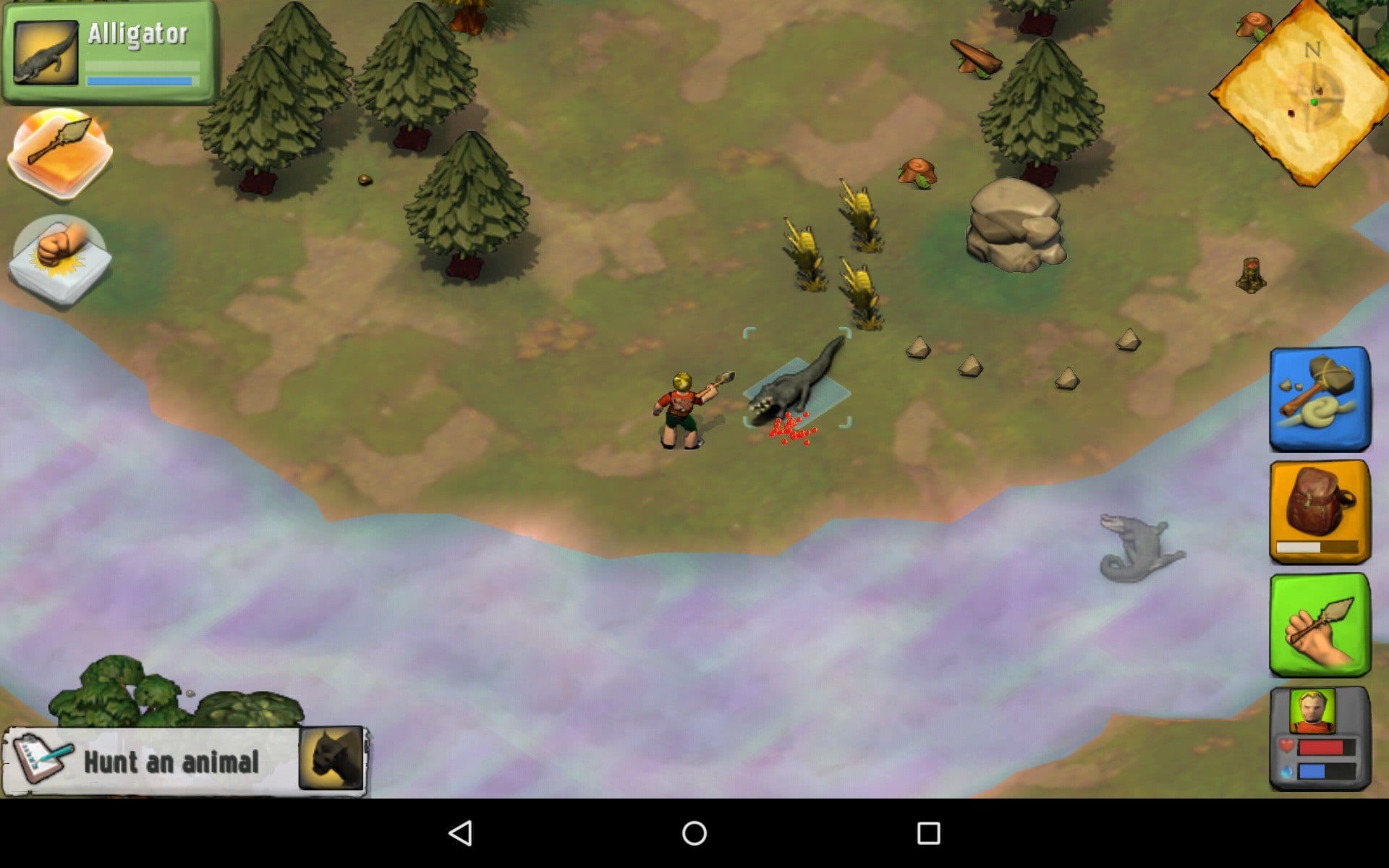 Downloads: +1000000
Costumers rating: (4.2 / 5)

[page_section template='1′ position='default']
[thrive_headline_focus title="ARCADE GAMES" orientation="center"]
[/page_section]
Fruit Ninja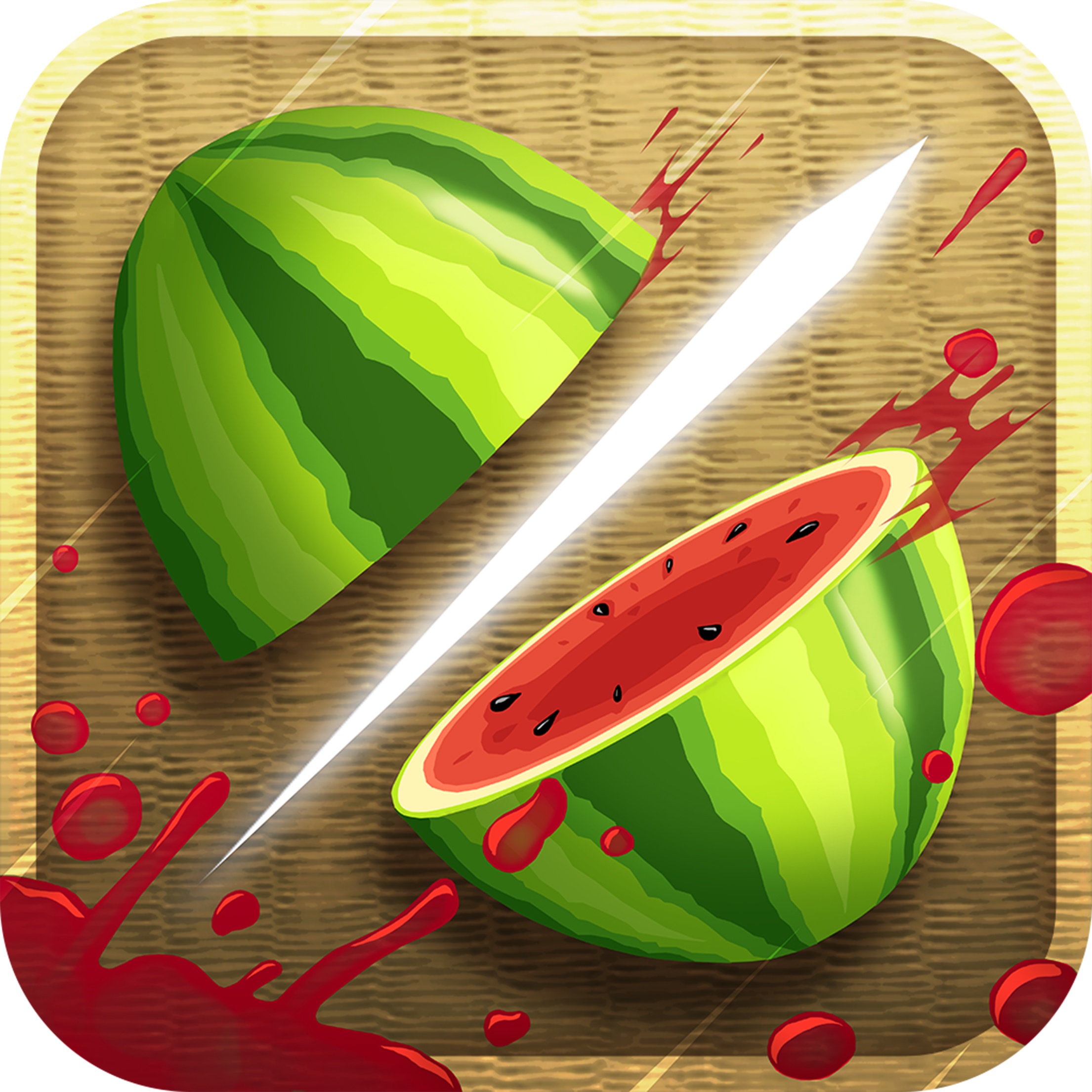 Fruit Ninja – a game published by Halfbrick, which only during the first year was uploaded by nearly 20 million users. Such popularity of the application provided a unique gameplay, the presence of several modes, and multiplayer.
So, with what to fight, after you decide to download Fruit Ninja on Android? With nothing else like angry fruit!  To avoid a dangerous collision can be only one way – by cutting a unfriendlily adjusted fruit in half. To do this, a sharp, like a razor, samurai sword is offered. In the battle with bananas, oranges, watermelons, and pineapples, you can master the skills of a Japanese warrior and hone calligraphy skills. In this case, it is worth to sharpen attention and intuition because often instead of fruit you will miss bombs, – you can not cut them in any case, otherwise, you will get injured from the explosion and will not be able to continue the fight, you will have to make hara-kiri.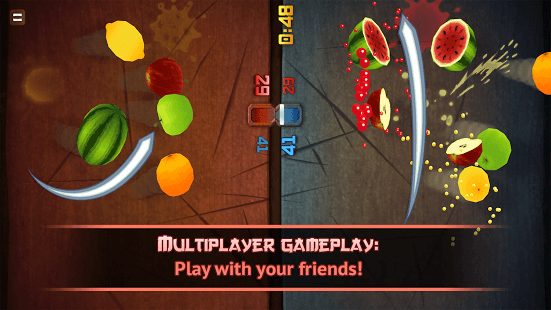 It is important to take into account the fact that the more accurately and quickly you will deal crushing blows, the higher your rating will be. In the application, there is a so-called leaderboard, where the result is displayed. In addition, by typing a hundred points, you get an extra life.
There are three modes available in the game – "Classic", "Zen" and "Arcade". In addition to exciting missions, the game "Fruit Ninja" can safely boast of a good drawing of details and colorful graphics. For example, by cutting a fruit, you can see its flying parts and the resulting juice.
Wishing to become the best in speed cutting of evil fruit, hurry to install the application Fruit Ninja. Discover the speed of the ninja's reaction – and BANZAI!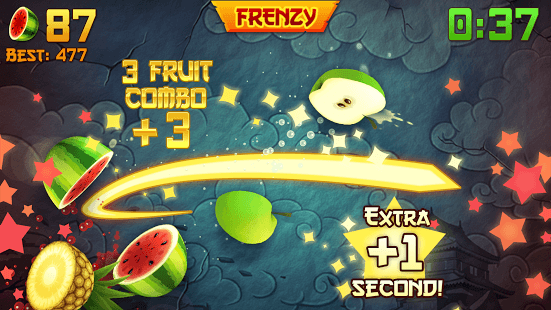 Downloads: +10000000
Costumers rating: (4.3 / 5)

Glow Hockey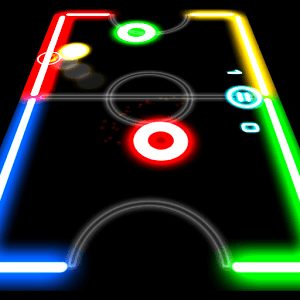 This is a familiar "hockey", performed in a very unusual form. As an ice field (skating rink), there is a space with neon fences, and in the role of players, there are two neon balls that chase a bright meteor across the field, trying to drive it into the gate.
The game is very bright and perfectly copes with the task of "killing time". It does not have a storyline and does not imply an arcade passage. All that is required is simply to launch the game and play with the opponent, who can set a difficulty level that directly depends on your skills.
Features of the Glow Hockey game:
Bright graphics with beautiful effects. Every detail in the world of Glow Hockey for Android interacts with your actions. For example: when the puck strikes the board, they are highlighted, and the puck itself leaves a realistic flight effect, repeating the trajectory.
Smooth physics and well-designed gameplay will certainly cause delight for every player. Due to this, each motion occurs smoothly and without "hangs", even on the weakest devices.
In Glow Hockey for Android, there are two game modes. In the first, you have to play with a robot, whose abilities have four variants of complexity. In the second option, you can challenge your friends.
Your attention is offered several options for gaming (currently available four sets), the field, washers, and neon "donuts", which replace the players on the ice.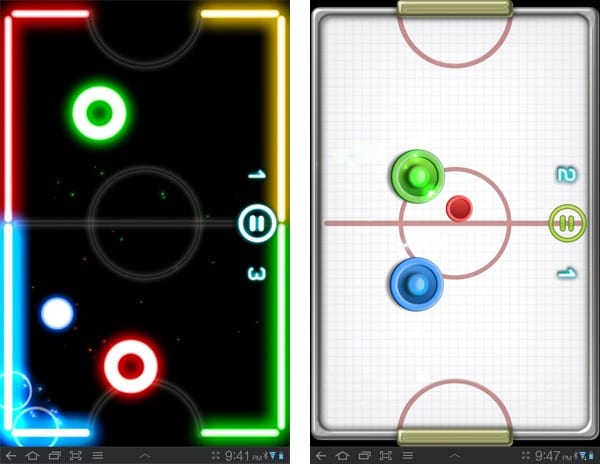 Downloads: +100000000
Costumers rating: (4.1 / 5)

Fun Run – Multiplayer Race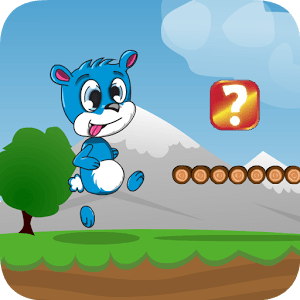 In the bloody runner Fun Run – Multiplayer Race every gamer will need to take part in a number of deadly races. Prepare to destroy your rivals and overcome a variety of obstacles. You need to throw all the forces to make yourself a legend of the forest, always finishing first. Pleased with the fact that you can fight not only with casual players but also with your own friends. In the race at the same time, no more than 4 people can take part. It is worth noting that there are no rules.
The fluffy hero will rush headlong through the multitude of volleys of firearms, through the circular saws appearing on his way. Be sure to use bonuses, which, of course, will affect the final result of the race. You can choose for yourself a speed amplifier or a flying knapsack. In addition, do not forget that you can attack your opponents with a variety of weapons. Every gamer is waiting for a lot of spectacular scenes with the dismemberment of animals, so it is better to remove children from monitors. Each race will be rewarded with gold coins, allowing you to purchase new heroes and accessories.
In the application Fun Run – Multiplayer Race, you can hone your skills with computer opponents but it's best to fight against real players. It's more interesting and exciting. Control is carried out with the help of several virtual keys. With management, you will understand quickly and easily. Appreciate the cute drawing with lots of bright effects, enjoy the soundtrack, fascinating gameplay, and a number of other features of the bloody runner. Move forward to your goal!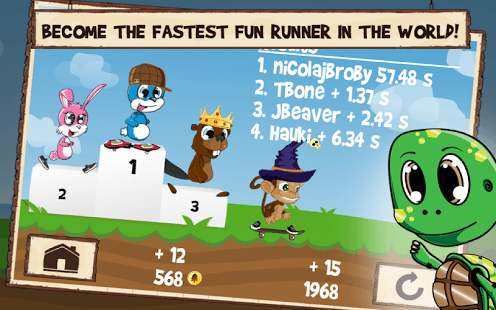 Downloads: +10000000
Costumers rating: (4.4 / 5)

MineCraft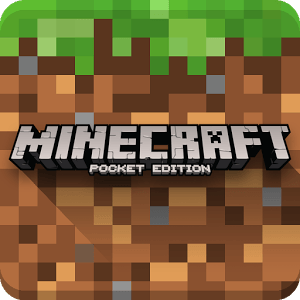 Minecraft is the leader of all the multiplayer online games on Android, which is worth downloading to everyone. Minecraft – Pocket Edition –  is a popular Android game, in which you will become a real builder of your own world. In the Minecraft game, you can do absolutely anything, actions are limited only by your imagination and fantasy. By starting to play Minecraft on Android you will simply be stuck for many months in it, building the world you want to see yourself. Create beautiful corners of nature, change the landscape to your taste, build buildings of any complexity, extract and create any resources and objects, make weapons, and attack enemies.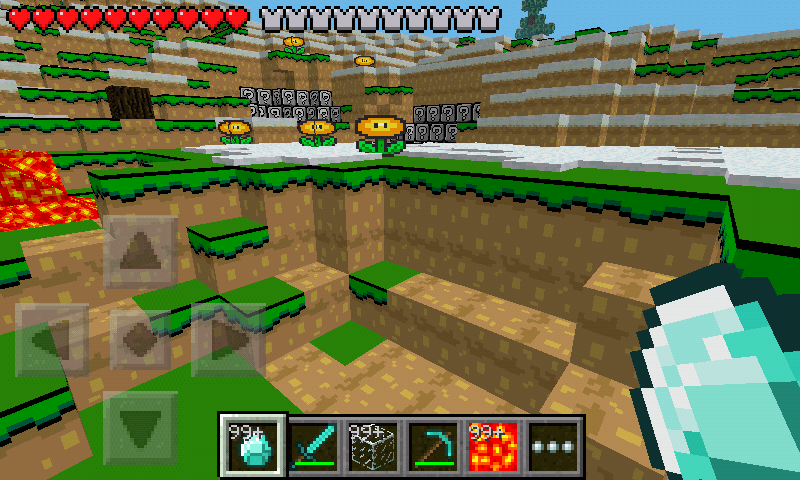 The game is rich in game modes, you can choose a creative mode where you can calmly build and develop your world, or you can choose a survival mode, whereby everything you have to fight for your life. Still there are interesting modes of hardcore and adventure, in general, choose the one that is right for you, each of the modes is unique and interesting undoubtedly.
The graphics in the game is cubic in a pixel style, it's just perfect and creates simply inexpressible impressions – when you look at it, you get the impression that the game world consists of a designer. In general, thanks to its capabilities without any restrictions, as in this life, Minecraft on Android will not let you be bored, you'll spend months playing in the game, so it's interesting.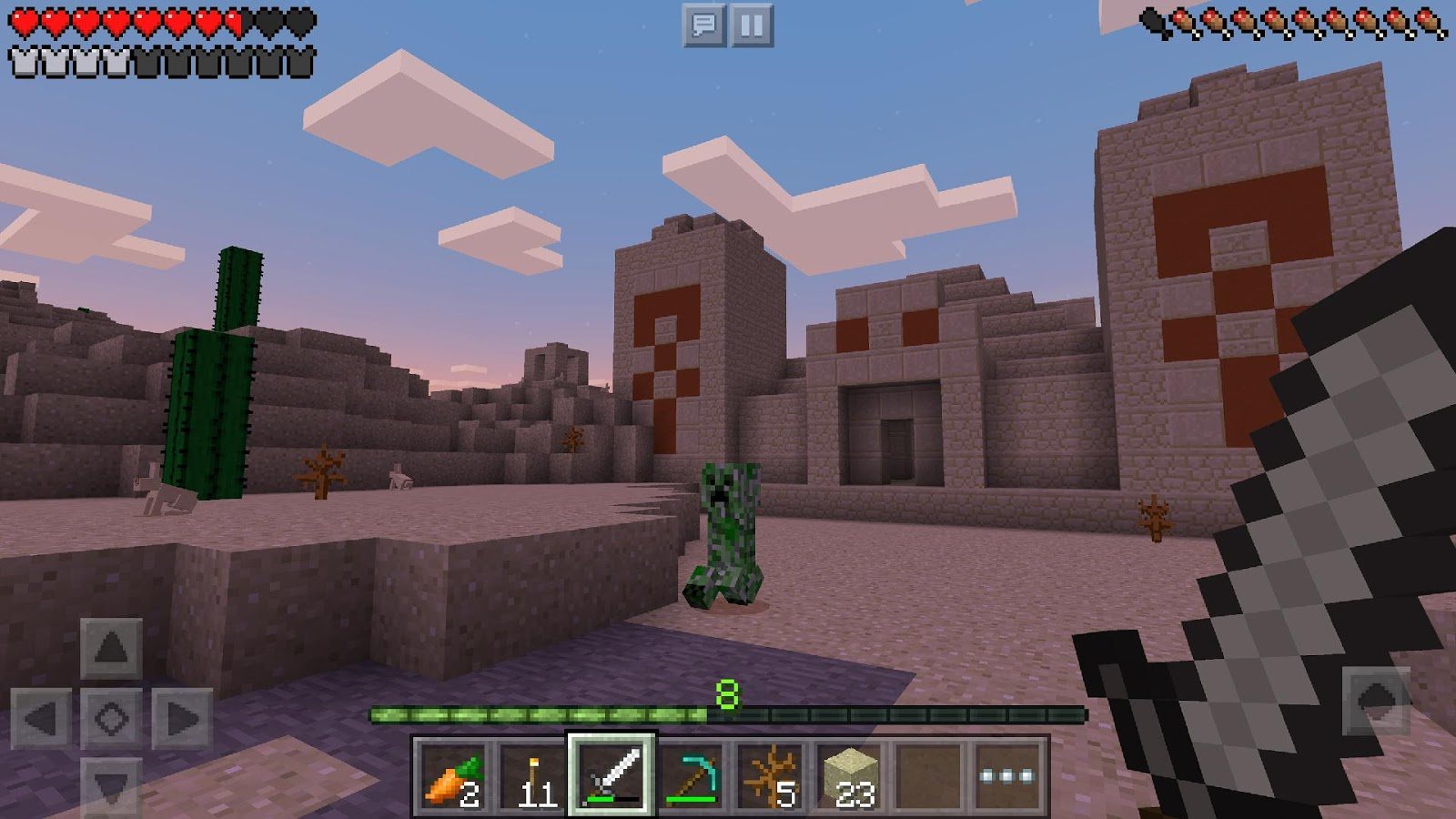 Downloads: +10000000
Costumers rating: (4.5 / 5)

Osmos HD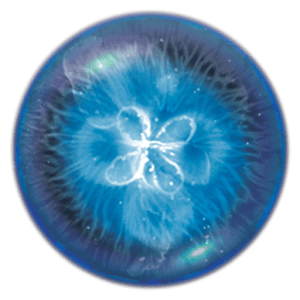 Osmos HD is a mysterious arcade for Android, which instantly gained popularity among users of mobile platforms. The project received many well-deserved awards for the best design and unusual gameplay.
In the center of the plot is a unicellular organism that seeks to survive and grow in size, devouring less fortunate creatures and becoming stronger. Movement control is by tappa, while the microorganism throws away its own particles from behind, moving forward due to this peculiar repulsion. Two touches start the next level, three – open the main menu. No extra buttons – just a multitouch and a clean screen.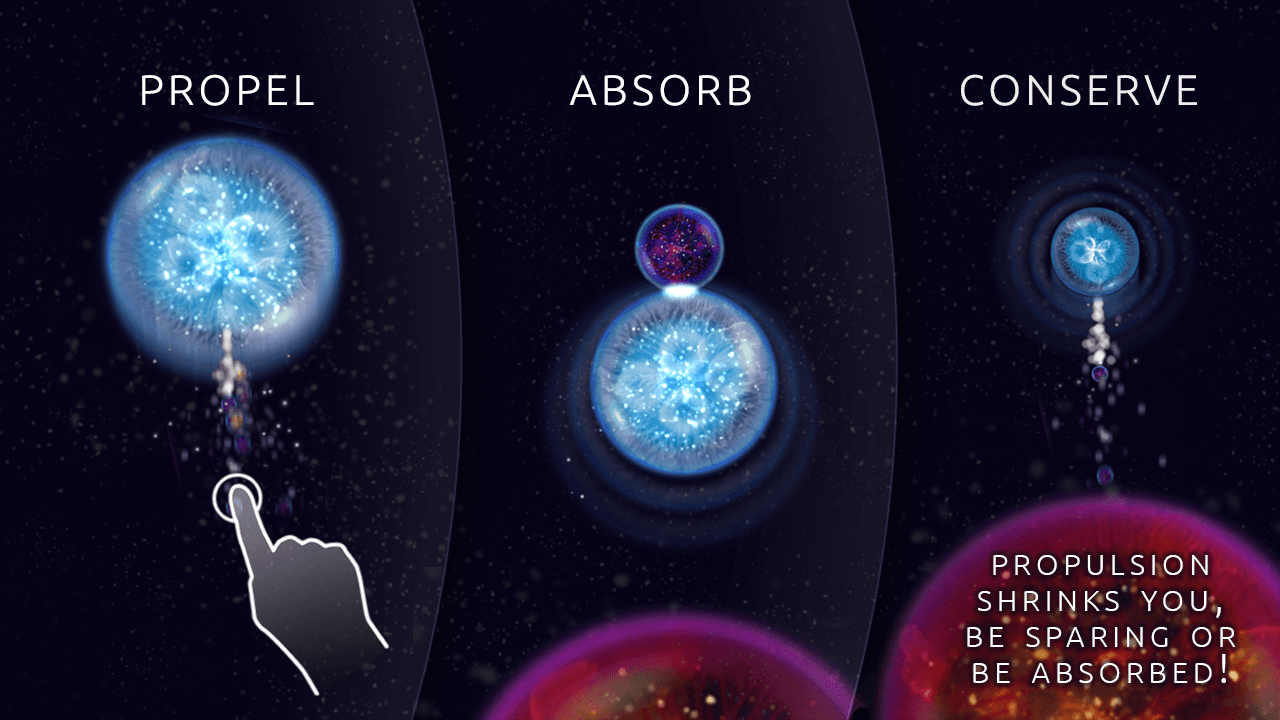 The character will need to absorb a lot of small creatures, increasing proportionately eaten. Dangerous opponents are easy to recognize by red coloring – they are larger and in contact can attack. First, they are best rounded and return already a large predator.
Fortunately, the gameplay of Osmos HD is not limited to devouring and fleeing. Each of the numerous levels has its own characteristics. One of them will have to compete with the same ambitious bacterium, hurrying to swallow everything edible and grow before it. To win, you need to act quickly and dexterously. In another location, the main danger is the huge organisms that attract all living things like a black hole. Moving around in this monstrous crater, you need to hurry up and prepare to rebuff the gluttonous enemy at the time of the collision. In total, such modes are 72, and conditionally they are divided into two types: arcade and Odyssey. The first is ideal for getting to know the game, moving to the second is recommended already ready to face tasks of high complexity.
In addition to the exciting gameplay and laconic interface, Osmos HD boasts an excellent soundtrack. For complete immersion in the atmosphere, it is desirable to connect the headphones.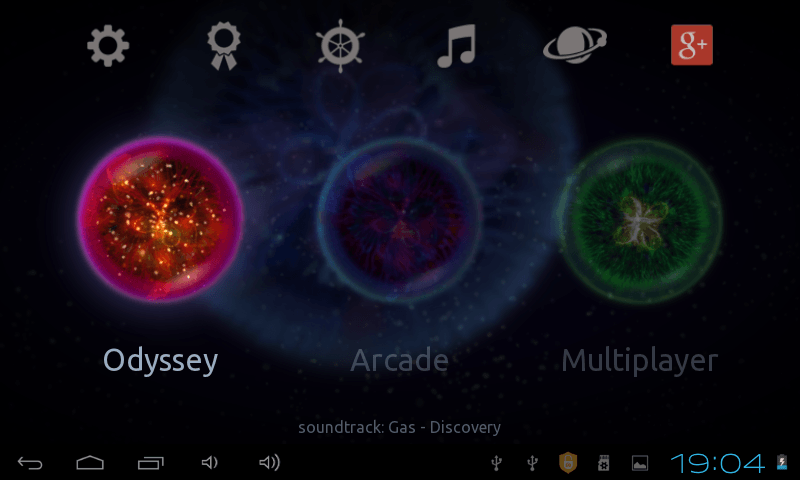 Downloads: +500000
Costumers rating: (4.7 / 5)

Worms 3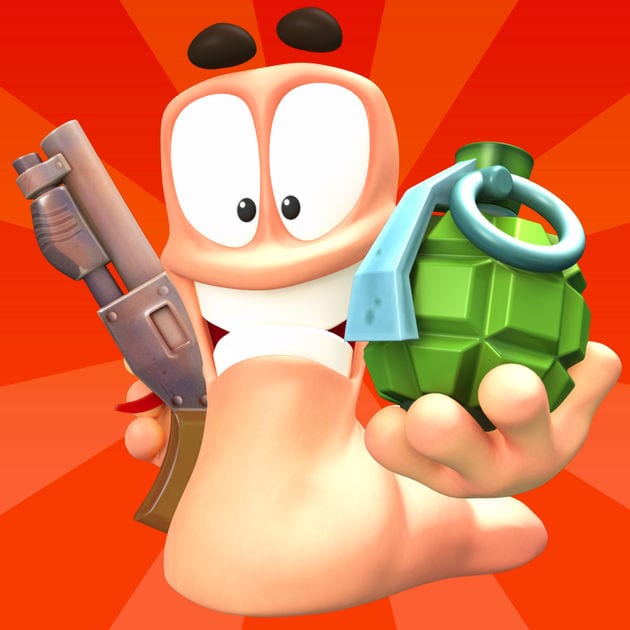 You will lead a troop of brave and valiant worms, ready at any moment to rush into battle. The main task of your team is to defeat the opposing team of worms. Presented are two modes: single and multi-user. The first includes more than 25 exciting missions, which are sorted into different sections according to their subject. As for the multiplayer mode, it can be called without exaggeration the most important advantage of this arcade. It is significantly different from single battles: players can take part in ranked battles and asynchronous battles.
In a single campaign, fights are held in a step-by-step mode. In order to defeat the opposing team, realize the possibilities of your worms to the maximum. In the third part of the epic battles, the arsenal was significantly expanded: in addition to the main weapon, at your service are poisonous burps, explosive grandmothers, and much, much more.
And what is the online mode without personalization? Therefore, the developers have added the ability to select the appearance of worms, the possibility to select an avatar with the flag of the country, and much more.
The capability to play as one against the computer, and with friends from one phone.
Online mode, where you can play with random players or friends (only if you buy the game on Google Play).
Extensive personalization options.
Excellent graphics optimization (more convenient to play on the tablets) and control.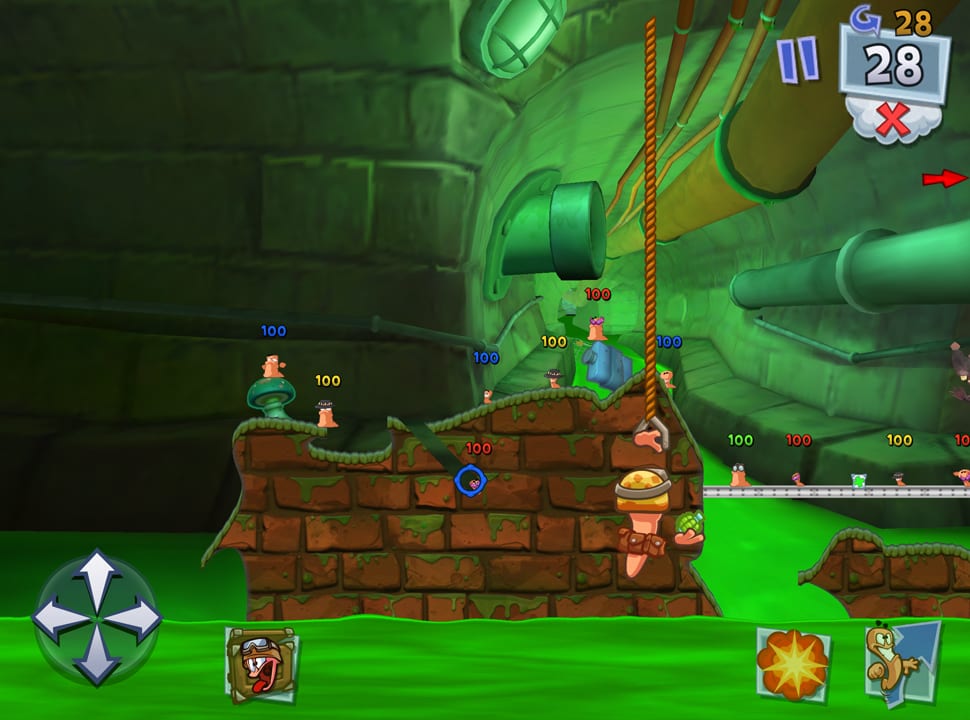 Downloads: +500000
Costumers rating: (4.2 / 5)

Gentlemen! (multiplayer!)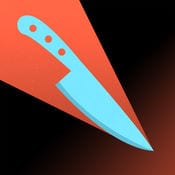 Our heroes are two absolutely perfectly educated, with Royal habits and the corresponding English type gentleman who can proudly be called Gentlemen!, as well as the eponymous game about them for devices based on Android. Their speech is impeccable, habits are worthy of admiration, but for their honor, they are ready to stand appropriately.
Perhaps they entered this duel, which we will observe in the game, for some special reason, or maybe they have immortality and just behave like children, running and jumping on intricate tracks in order to kill the opponent. Yes, that's the purpose of the game. But the main feature is that the game is created for two, i.e. you and your friend on one device can indefinitely engage in killing each other in this funny gentleman's uniform. The tools of murder are knives, bombs and even postal pigeons, but the last word is your ability to move around the playing field using your own gravity.
Gentlemen! – a new and unlike the others, the game of two not quite adequate citizens who are worn one after another over many levels and are counting the murders of each other.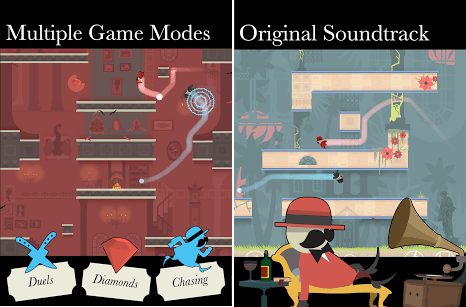 Downloads: +1000
Costumers rating: (4.2 / 5)

BombSquad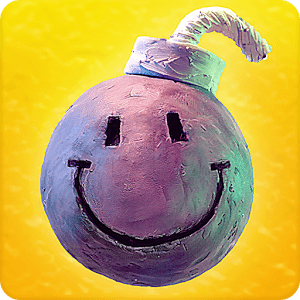 BombSquad – an arcade about the little funny men who try to undermine each other in all available ways. In this game, you have to fight on small, multi-level arenas with both "bots" and live players. The whole gameplay here is to pick up bombs and other weapons in time on the battlefield and, of course, hurry to use it against enemies. In order to make a "big boom," you need to pick up a bomb, run away as if you are participating in competitions in throwing a spear and send it straight to the enemies. The game arsenal includes "standard" bombs, dynamite, Velcro, and mines. If you pick up anything from these pieces you are not fortunate enough, then you can go to the enemy hand-to-hand. To beat the enemy with your fists is no less fun rather than watch his casts blast wave, or how he accidentally hits a mine.
At the game arena, up to eight people can simultaneously fight. Especially it's fun to do in the company of friends. Set up a separate gaming session, the future "blower" can up to the smallest things – starting the game mode (survival or capture the flag) and ending with the soundtrack accompanying the gameplay. Together with your friends, you can also play small mini-games, like racing and battle and a mode of weightlessness and slow motion.
The management in BombSquad is quite convenient but still, we recommend using plug-in controllers. With a gamepad, you can feel the dynamics of this extraordinary arcade. Moreover, to connect the controllers, the developers have created a separate program BombSquad Remote, which, like the game itself, is distributed to the Play Market for free. But the map editor is "sewn" directly into the gaming client. With its help, you can not only create game arenas but even send them to friends.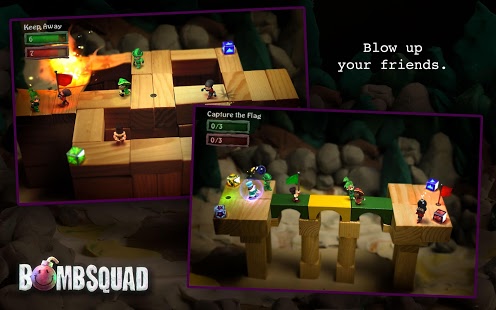 Downloads: +10000000
Costumers rating: (4.4 / 5)

[page_section template='1′ position='default']
[thrive_headline_focus title="ADVENTURE GAMES" orientation="center"]
[/page_section]
BADLAND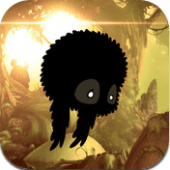 In the game, one nice creature has to go through the enchanted fairy forest, full of dangers and clever traps, having overcome many obstacles along the way.
This explosive cocktail from such genres as side-scrolling, arcade, action, and puzzle, as they say, simply "broke" the gamer audience, and the number of fans of the game has already exceeded ten million. To describe the game is simply useless – it is necessary to play it yourself.
Badland Features
90 unique game locations.
Regular updates to the campaign.
Exciting gameplay.
A well-thought-out, convenient control system.
Stunning physics of the gameplay.
Multiplayer for 4 people.
Badland combines all the qualities of an ideal game, and in the most accurate proportions. So it will not become an adventure at once because you will want to play it again and again. The developers are not giving the fans get bored and constantly throw fresh updates.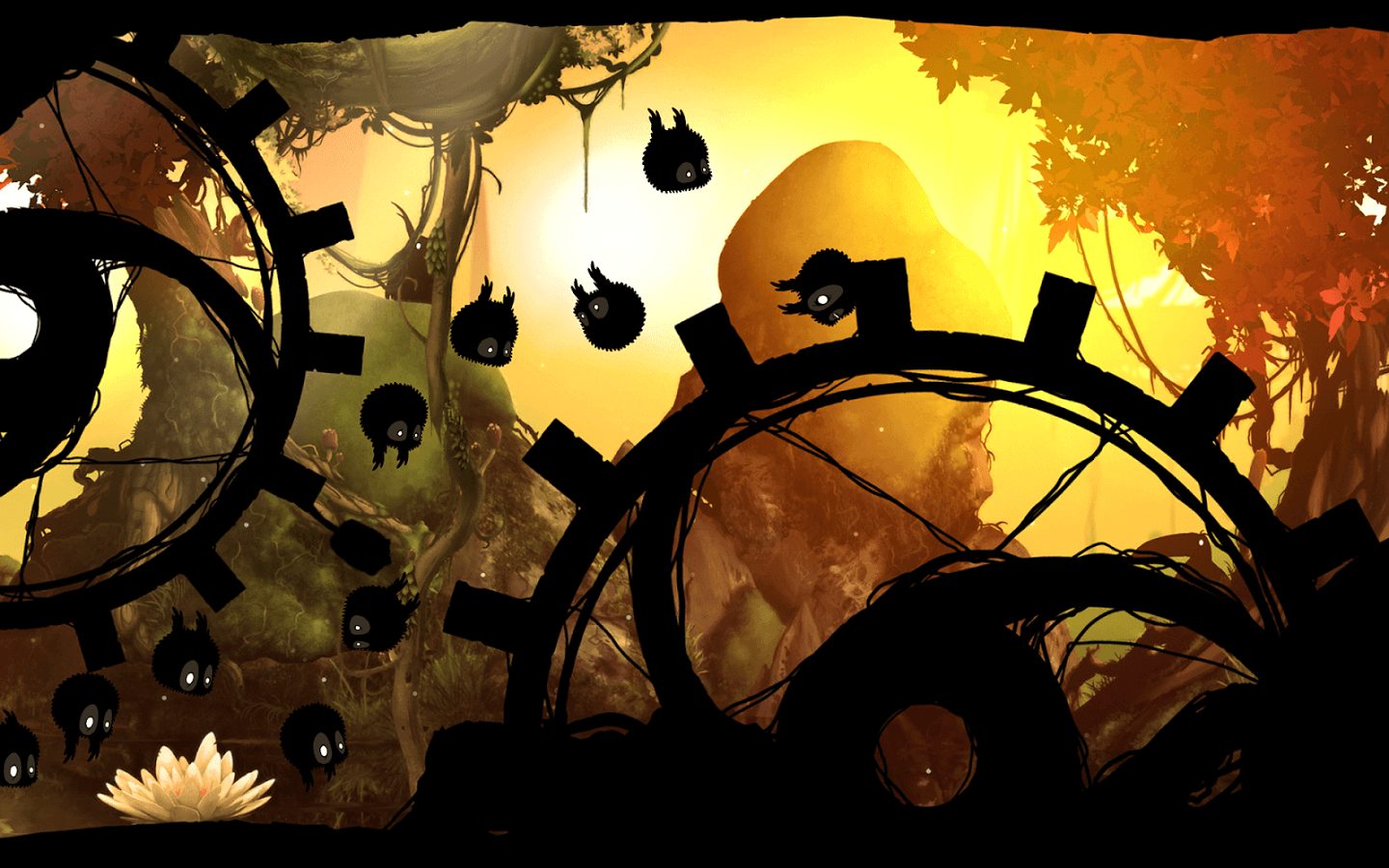 Downloads: +10000000
Costumers rating: (4.5 / 5)

Candy Cave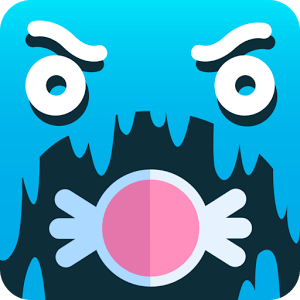 The caramel cave is the sweetest, most interesting but also the most dangerous place in the world. Many children know about it and dream to get there but they are stopped by rumors about the terrible monsters that live there. By creating your own character, you will go there to collect all the sweets of the world and destroy the terrible monsters, so that all other children could visit there. Equip your hero with a sword, shield, and cloak, pump and buy new items, explore dangerous sweet kingdoms as it does in classic RPGs with dungeons. You will be able to play independently and with your friends over the local network, dress, and change the hero and do much more!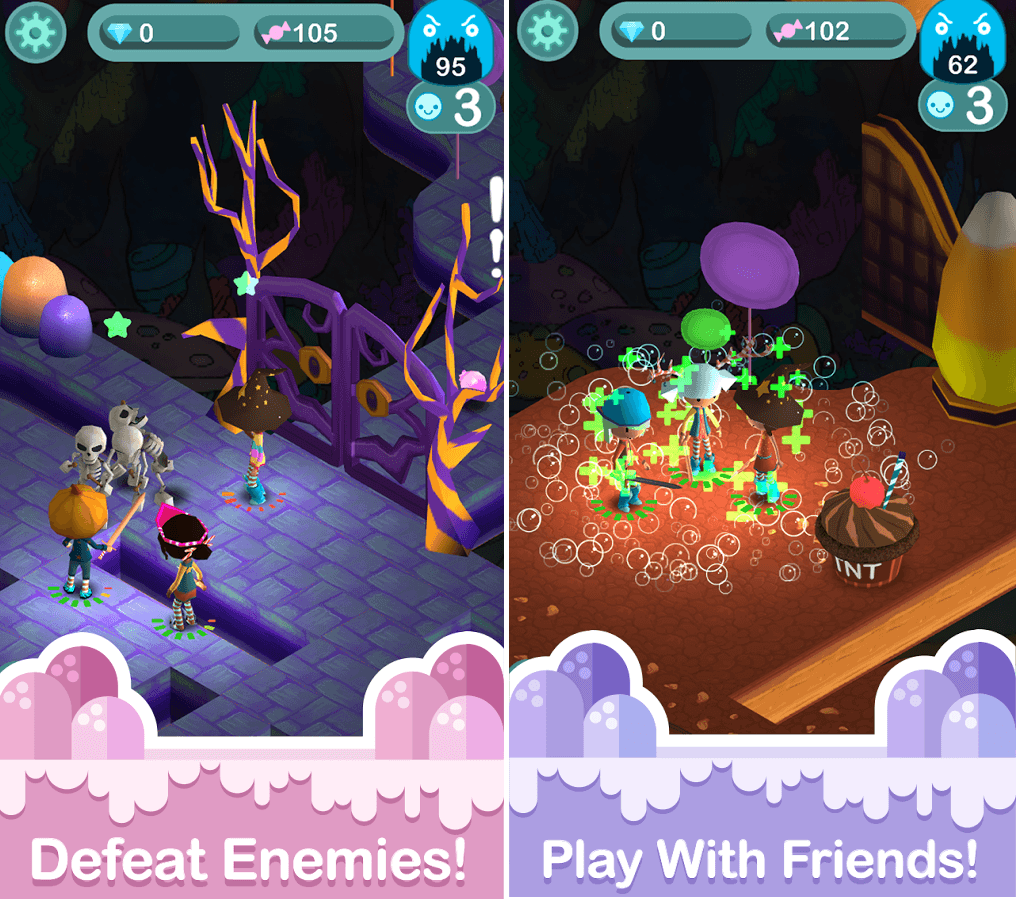 Downloads: +10000
Costumers rating: (4.5 / 5)

[page_section template='1′ position='default']
[thrive_headline_focus title="ACTION GAMES" orientation="center"]
[/page_section]
Sea Battle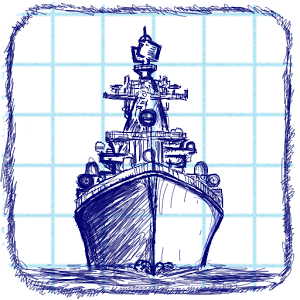 Sea Battle for Android is a great way to entertain yourself and remember the good old game. We present to your attention a very exciting and very famous game Sea Battle. Everything is like in life, a sheet in a box, a blue pen and forward. The standard fields for placing your fleet will not lead you into a stupor. You will have the opportunity to turn ships and place them absolutely in any places on the map. You and your opponent will alternately strike on hidden ships. It makes no sense to talk about the rules of the game, as everyone knows this and it does not need explanations. Download Sea Battle on your Android device and become the best in military battles at sea. In this application, there is no cache, this greatly facilitates the installation process. All you have to do before starting the game is click on the link below the description, and then install the application on your phone.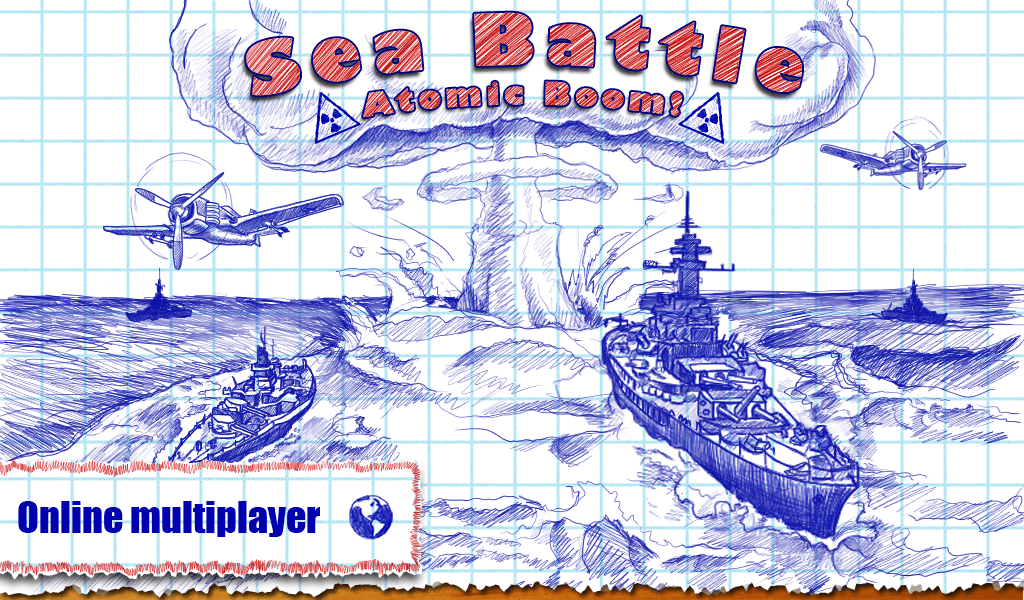 Downloads: +10000000
Costumers rating: (4.4 / 5)

Real Steel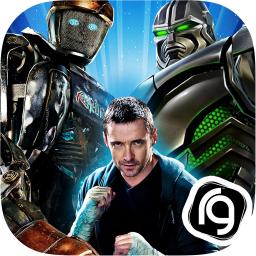 Real Steel – a great action for Android. The game was created based on the popular movie "Living Steel", in which the story is based on boxing fights between robots. The user will have to manage steep robots, competing for the championship in the world tournament. The game is developed by Reliance Big Entertainment, which specializes in games based on popular films.
The gameplay is a bit like classic fighting games. The player gets to use the robot, however, it is very weak and unreliable. You should take part in battles with opponents who are on the same level so that the chances of winning are high. A game currency is awarded for the win, for which you can improve your ward, pumping protection, agility, and energy. The last option includes the ability to perform combos and fatal tricks, which gives a significant advantage in the ring.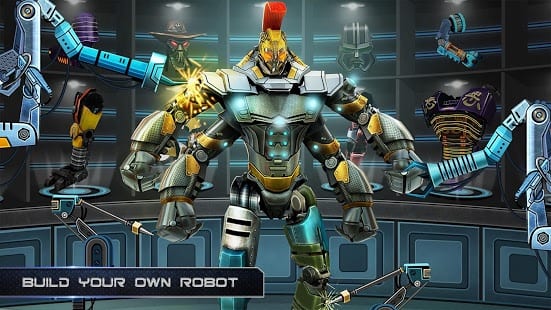 Real Steel includes several modes. A tornado is a kind of career. You need to pump your fighter, participate in world championships, which ultimately can bring the title of the best boxer in the world. Arcade mode includes several levels, which need to face the best robots face to face. At the last stage, it is necessary to defeat the boss, for the victory of which a large number of bonuses is accrued. Also, there is a team command mode, free sparring, survival, and multiplayer.
Management is simple and convenient. Real Steel is a worthy action-arcade with high-quality graphics and entertaining gameplay. The app will appeal to fans of the genre, as well as to users who simply like to pass an hour or two off the screen of a smartphone or tablet.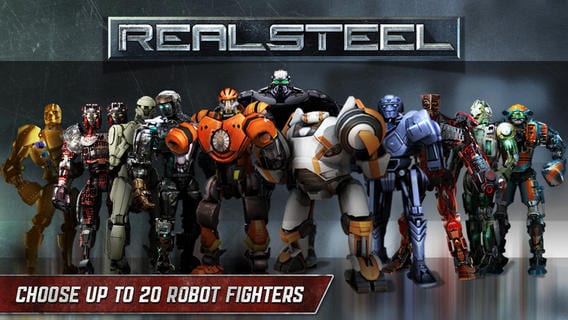 Downloads: +100000
Costumers rating: (4.1 / 5)

Skullduggery!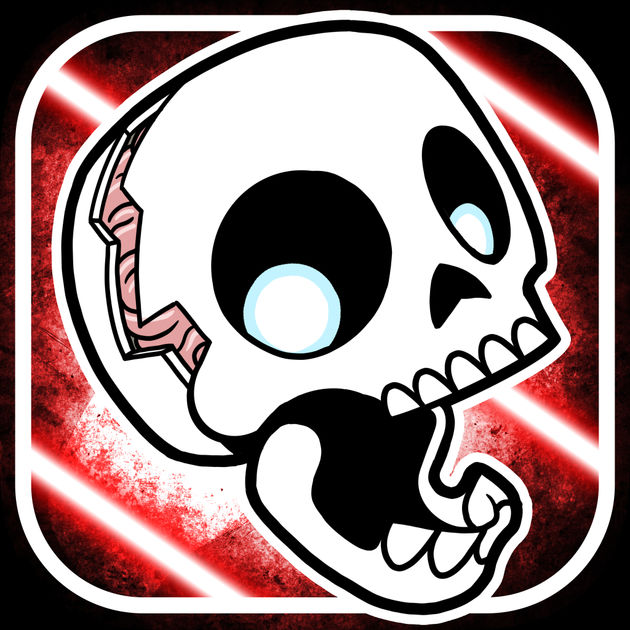 Skullduggery! – a game in which your hero will become a skull, traveling through an abandoned world. You will go to the afterlife and act as a tax collector in the so-called department of the world. In this case, you have no body and this does not bother anyone, the main thing is that the head is in place. To be exact, only the skull remained from the head, which actually is the protagonist.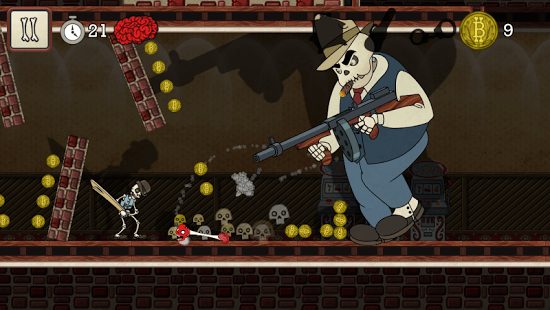 There are many levels in Skullduggery!, they are small and with several tasks. As a rule, you have to collect valuable items, the necessary amount of money, use some item and keep it on time. Moving the skull will be with the help of the brain, they serve as a rubber band, you should hold your finger in the right direction and you will see the flight trajectory. Once the finger is removed, the skull will rush in the chosen direction. Without the danger, the game has not done. You will encounter a guard that can be destroyed by a blow from the skull from behind. Another danger will be mechanisms, the collision with which is fraught with death.
The Skullduggery! play is quite complex because the developers added three levels of complexity. Collected points, you can spend on a new skull, which is represented in large count. There is a rivalry mode for several players with 8 arenas.
The game is designed quite simply but extremely interesting, so it's impossible to say anything bad about it, in general – it turned out to be unusual, interesting, and addictive.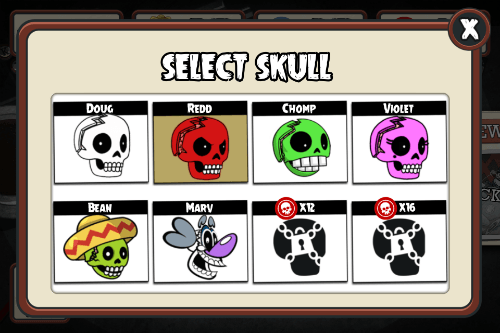 Downloads: +100000
Costumers rating: (4.4 / 5)

Doodle Army 2 : Mini Militia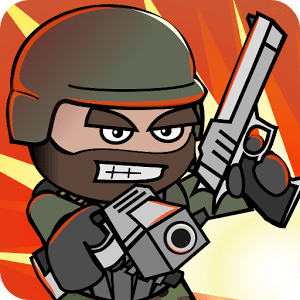 Doodle Army 2: Mini Militia – this is a very interesting application for lovers of insane battles. This game is able to lure you not for one day. Here you have to destroy a bunch of opponents who will try to do the same with you. Check which of you will survive. Here you can choose any hero you like. The developers took care of this and created for you a large selection of different warriors. The Doodle Army 2: Mini Militia provides the function of the game online. You can invite your friends and fight in the same team.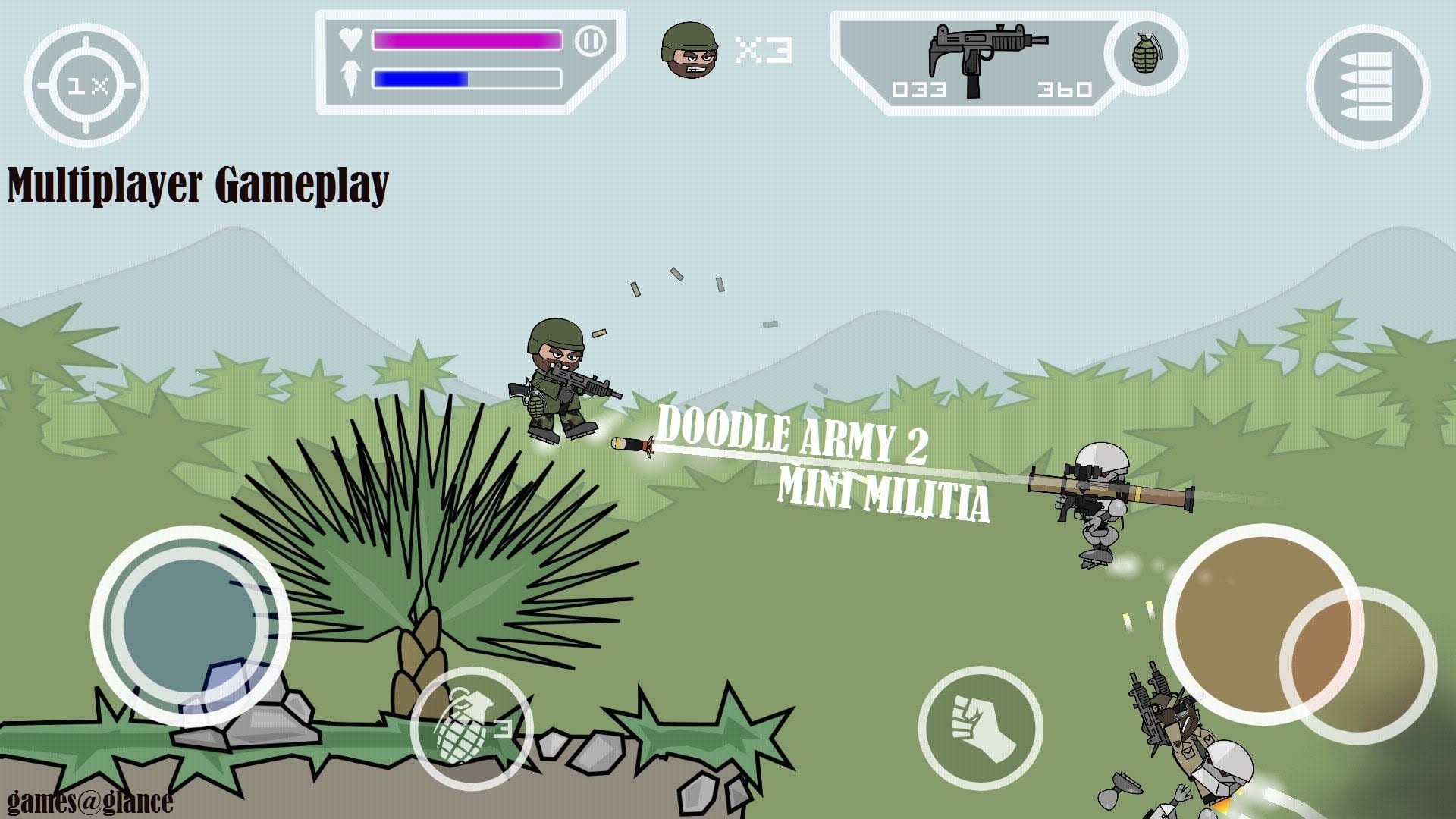 Management is quite interesting here. You will have to play with both hands: the left will be responsible for the movement of your character, and the right one for conducting the battle. Another interesting feature of the application is that each of the characters will have jet shoes that will give the opportunity to fight not only on the ground but also in the air.
Thanks to the cartoon graphics and heroes, reminiscent of the characters of colorful comic books, a dangerous adventure provides a drive and a great mood. Here, even the hottest battle scenes are perceived as a vivid and dynamic action designed to bring out true leaders.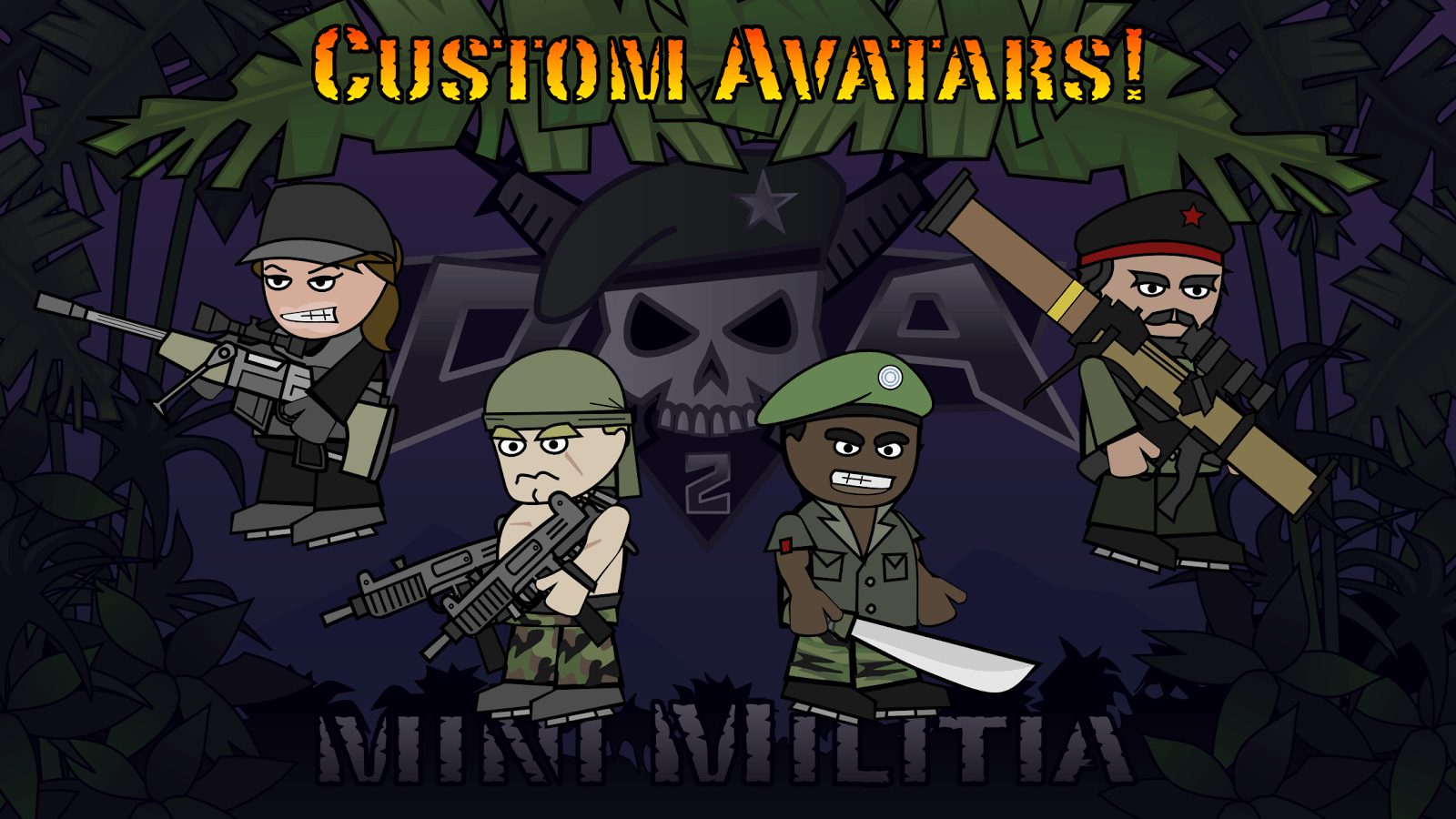 Downloads: +10000000
Costumers rating: (4.5 / 5)

[page_section template='1′ position='default']
[thrive_headline_focus title="STRATEGY GAMES" orientation="center"]
[/page_section]
Warlings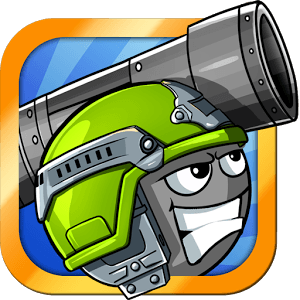 The game is a terrific turn-based strategy, made in 2D. You will need to command a detachment consisting of funny, round soldiers. Will you be able to defeat the strongest rivals? For this, you need to exercise courage, strength, and endurance. You'll have to fight on a lot of different cards with a lot of obstacles. Do not forget that you need to equip soldiers with good weapons. Arsenal of weapons, by the way, will be said, quite large. Here there are not only ordinary pistols but also submachine guns, rockets, and bombs. In other words, there is something to equip soldiers. Each turn will give the chance to control one fighter, shooting at enemies or moving different heroes. You can ruin your designs and objects on the field with your shots. You can also drop opponents down. When it is your move, aim better, try to shoot accurately. Think about your moves, think over the strategy because it will allow you to effectively attack your rivals. Here you can play alone or with your friends. Be sure to invite friends because they play very fun!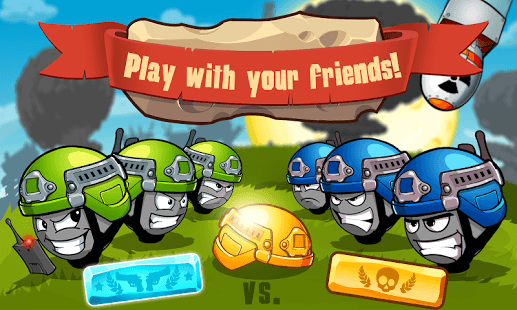 The developers envisaged 4 types: a single game against artificial intelligence, a game against a friend on one smartphone, a game via Bluetooth, and multiplayer via the Internet.
In the breathtaking game, you will be pleased with the presence of funny characters, 10 interesting maps, as well as 29 different types of weapons. The long-awaited victory awaits you when you completely destroy all the necessary locations. Believe us, you will spend a very pleasant time here. The developers have tried to make high-quality graphics, picked up a good sound and music. Battles are only up to you, so take better care of your own fighters. Good luck!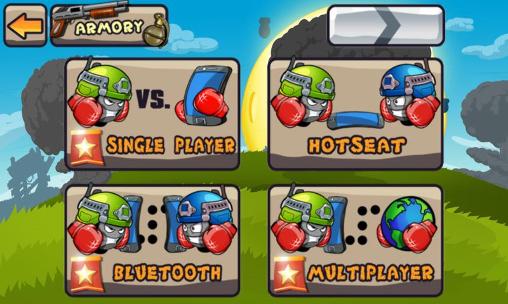 Downloads: +10000000
Costumers rating: (4.2 / 5)

Clash of Clans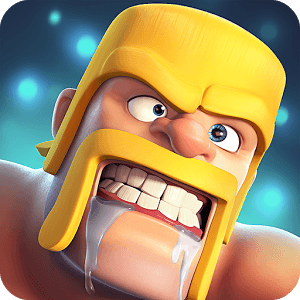 The main advantage of Clash of Clans for Android, in front of other strategies, is a bright and very qualitative traced graphics. Great animation and visual effects cast in the eyes immediately, which are perfectly displayed, even on fairly weak devices. In addition, the well-thought-out gameplay and full "free" game please. If desired, you can make real money to buy different items and game currency in order to quickly achieve greater heights in the game but it is not necessary.
It all starts with a small piece of the game world, in which you must lay the first foundation of your mighty, combat camp. In the process of learning, you will learn in detail what is what, build the first mine, the barracks, the warehouse and test your combat skills. After training, you will have to come up with "Nick" for the further game because apart from a single campaign, you are destined to fight online, with real players, from around the world! But before fighting against real players, we advise you to understand all the intricacies of the game, strengthen your camp, and create a good army.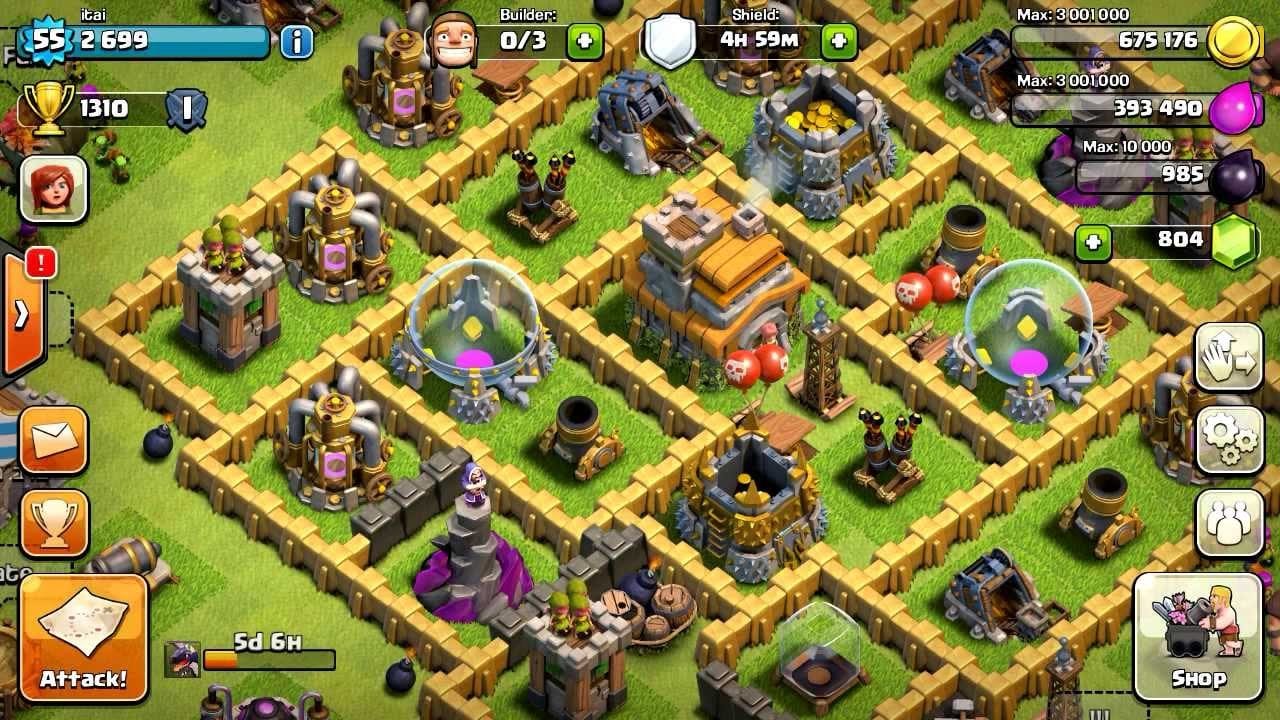 Features of Clash of Clans for Android:
Fine-tuning of all elements allows you to create complex structures in the construction of defensive facilities, which helps to create a unique village.
Epic battles in real time – this is always an unpredictable outcome, the price of which – the complete rout of one of the parties.
Join a clan or create your own, in order to with the comrades to resist the enemies, and also to measure strength with other clans.
In Clash of Clans, you are waiting for 15 unique units of buildings, with the possibility of modernization.
Depending on the level of development of this or that building, you will get increased profitability.
As a defensive means, a huge arsenal of various guns: guns, bombs, traps, mortars, towers with archers, and many other items that will make the walls not criminal for the enemy.
The technical optimization of the game for each device helps players who possess both powerful modern tablets and budget Android phones to experience the beauty of bright animation.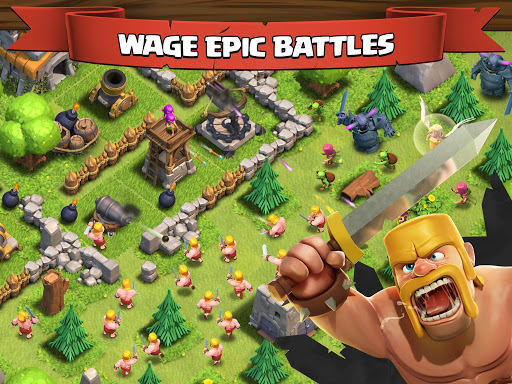 Downloads: +100000000
Costumers rating: (4.6 / 5)

[page_section template='1′ position='default']
[thrive_headline_focus title="CARD GAMES" orientation="center"]
[/page_section]
Uno Friends
The possibilities of the classic family game are expanded in this version so much so that you can now count all the people who play in UNO & Friends as a member of your family. That is, it could be any owner of the Android device. Because the game has become a network and its fans can join your family via 3G or Wi-Fi, join you via Facebook Connect or link via Google.
To date, this is one of the most numerous gaming communities in the world, where network matches are arranged, and the rating of the best players is conducted. If you've never played before, it's no problem to learn. The problem will be later – it's hard to break away. First, practice alone in the classical version, read the basic rules for combining colors, numbers, etc.
But when you learn how to fold first, you can try your hand at online tournaments, where the rules are significantly complicated. But the cards are completely identical to the classical version: 4 colors, numbers from 0 to 9, cards "Take a move", "Skip a move", "Order a color", "Empty", etc. Your task – as soon as possible put cards on the deck, combining them in color or numbers. And in the end, the most important thing is to tell UNO in time, while others have not done it for you.
The game looks just fine, a beautifully crafted interface will have much taste! Plus, you can always personalize your workspace by changing backgrounds, card shirts, and even a variety of visual effects!
Features of the game UNO & Friends:
The famous card game is now available on mobile devices!
Learn the rules and play very easily but then it will be hard for you to stop!
Challenge your friends and millions of other users from all over the world!
Updated game chips, to build your strategy game!
Personalize the application interface for you, change the wallpaper, style of card shirts, and additional visual effects!
Play online using a 3G or Wi-Fi connection!
Join the game through Facebook Connect and Google Plus!
Downloads: +50000000
Costumers rating: (4.1 / 5)

Hearthstone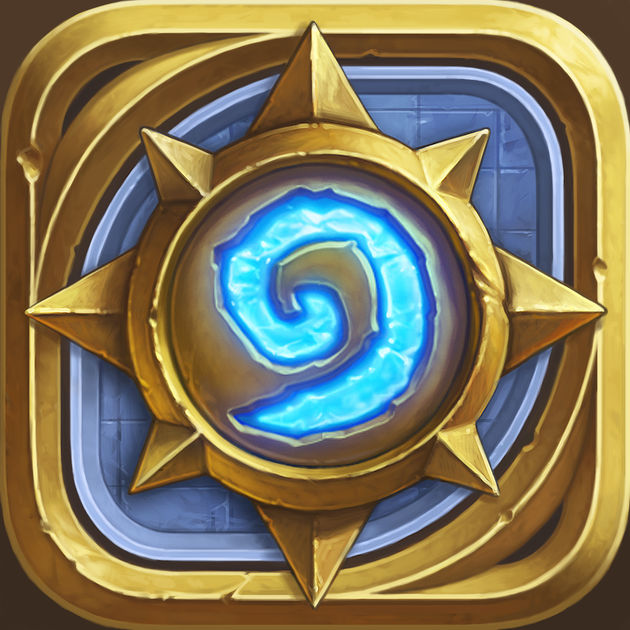 This game can rightly be called the best card collection game for Android. In it, you will find a huge number of interesting maps, adventures, arena mode, and constant updates. The game was created based on the popular multiplayer game Warcraft, to be more precise, heroes are taken from it. There are a lot of cards in the game and each time they become more and more. In addition to classic maps, there are maps from the add-ons, and soon a new addition will be released, "Black Mountain", where new maps and bosses will be presented.
The battle takes place in interactive locations, where players alternately expose the creatures on the field and try to destroy the enemy character. You need to think a lot, as the players come across different, some try to control the table, others beat everything "in the face". If you get tired of the normal game mode, you can go to the arena to fight an accidental hero and a randomly assembled deck. Depending on the number of wins, you will receive a reward: booster (a set of cards), gold, and dust (to create new cards).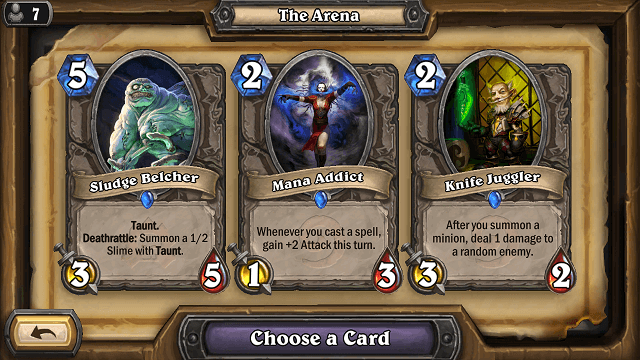 Not only the gameplay in the game carries away, but also the graphics part, which is made simply gorgeously. Each map, location, character, and the menu itself are drawn in the best way. Animation during the playing of spells or maps, interactive locations, all this – attracts the attention of millions of players from around the world. Music and voice acting in the game are amazing, Blizzard's company treats with trepidation its products, that's why their games are so qualitative.
Hearthstone is currently the best collectible card game for Android. Excellent graphics, sounds and voice acting, many maps, adventures and constant updates. The game works both on smartphones and on tablets, is distributed free of charge, and as a donation, it is offered to buy access to the arena or a set of new maps.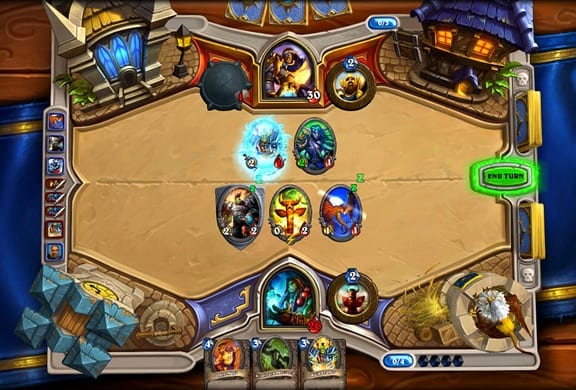 Downloads: +10000000
Costumers rating: (4.4 / 5)

[page_section template='1′ position='default']
[thrive_headline_focus title="BOARD GAME" orientation="center"]
[/page_section]
Pandemic: The Board Game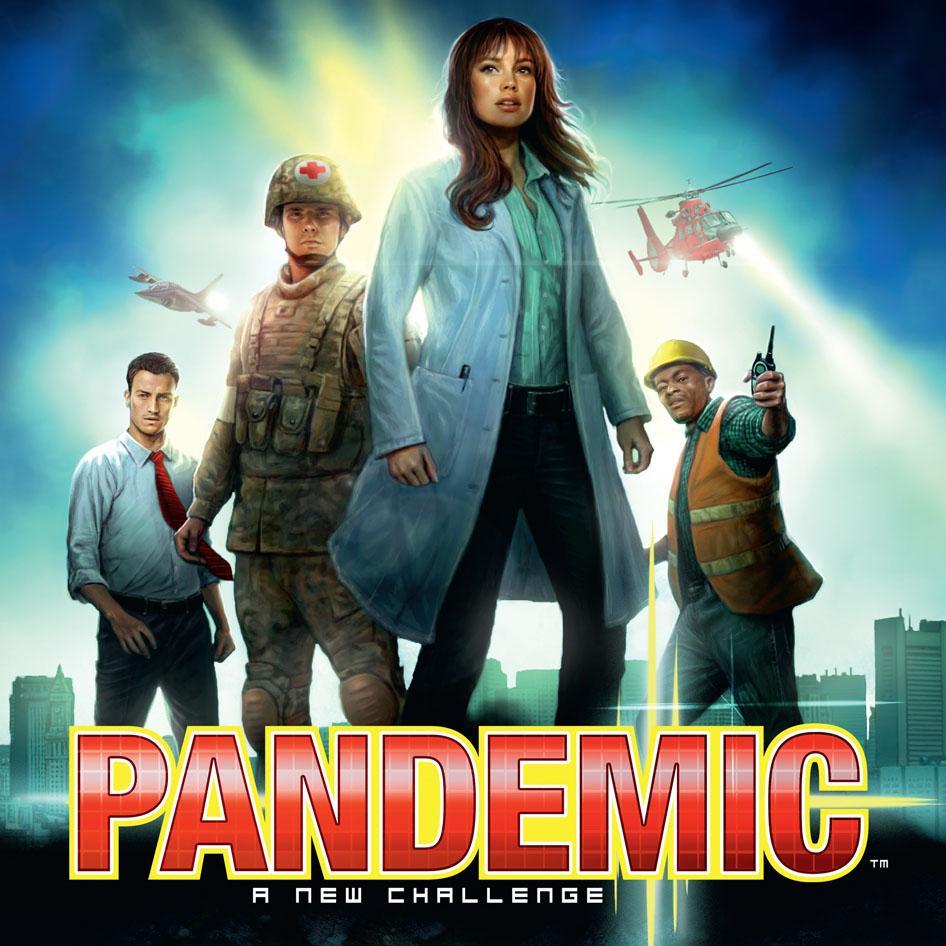 Pandemic: The Board Game for Android is a very interesting game in which you will have to fight 4 dangerous viruses. They came to the ground quite recently and from them, there is no medicine, so while it is being created, you will need to restrain the wave of illnesses in any way. Under your control, the whole planet is and only on you depends on whether the earth will live. Travel the world of the game Pandemic: The Board Game and destroy any virus found, and immediately try to find a medicine from it because this will speed up the process of people's recovery.
For the board game – graphics are simply gorgeous, with all sorts of visual attributes. And the effect of constantly changing colors is incredibly enjoyable. Against the background, dynamic music sounds. A very interesting and free game for Android.
Features of Pandemic: The Board Game on Android:
Excellent game with an interesting gameplay.
4 diverse and strong viruses.
Travel the game world and find the right medicine.
Save the earth from epidemics.
Multiplayer with the ability to play simultaneously up to 4 people.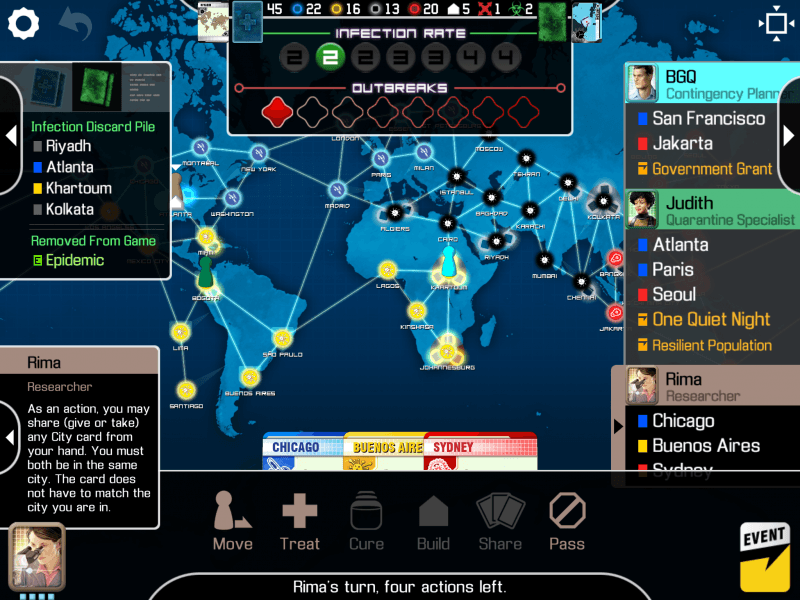 Downloads: +50000
Costumers rating: (4.7 / 5)

GUN BROS MULTIPLAYER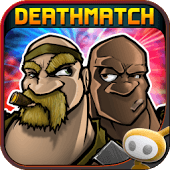 GUN BROS MULTIPLAYER for Android is another super-entertaining shooter that was developed especially for you! The amazing dynamics of this fantastic game will be a pleasant surprise even for experienced gamers, so be prepared for the fact that this game application you have to allocate more than one day while putting all your other affairs in a "long box".
Download GUN BROS MULTIPLAYER on Android and enter into battle with real people, not with a computer or ordinary and unremarkable robots. Your rivals will be people, exactly the same real players, to foresee each step of which will be almost impossible. Each opponent in his own way thinks, reflects and builds his own, strictly individual tactics of the game so that it will be unfortunate to defeat him! Consequently, the toy will require you to make maximum efforts but the pleasure will be incredible!
If you cannot independently overcome the enemy, enlist the support of friends because the together play is not only much easier but also much fun! Collect your own team, arrange a match, and prove to others who are in charge of this incredibly exciting and original toy.
Features:
Ability to organize command for the defense and destruction of the enemy on Facebook.
Perfect 3D graphics with detailed characters and levels.
Dynamic gameplay.
Earn points and money to buy weapons.
Variety of weapons, armor, and bombs.
Convenient control system – stickers at the corners of the monitor.
Downloads: +10000000
Costumers rating: (4.4 / 5)
Dungeon Hunter 4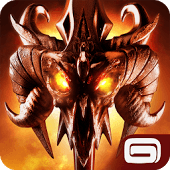 Dungeon Hunter – this is one of the most exciting games for Android in the genre of RPG. Its manufacturer is the famous division – Gameloft. Millions of users have already downloaded the game and went to the warpath with various epic monsters to defend their honor and save the world from evil.
It's not hard to guess that the popularity of the game Dungeon Hunter for Android is caused by a list of specific features, among which:
A mind-blowing graphics that allows you to feel yourself part of the events on the screen.
Several different characters, each of which has its own unique abilities and characteristics. User can act as Warrior, Fencer or Guardian.
A large list of equipment that you can both purchase and earn, winning online fights or passing the game in quest mode.
Wide opportunities for the development and upgrading of characters, so that your character will become even stronger and more enduring.
Opportunity to compete with friends or fight with other players.
Availability. Dungeon Hunter is a free application, however, some unique items can be purchased using unique price offers and special promotions.
Convenient, intuitive controls, which makes the gameplay even more fun and fascinating.
Separately, it is worth noting the ability of the player to build their own team and try their hand at fighting against other users from around the world.
Set the Dungeon Hunter game on a tablet or smartphone and plunge into the world of adventure, fearless warriors, and various epic creatures. Prove that it is you who deserve to be the best!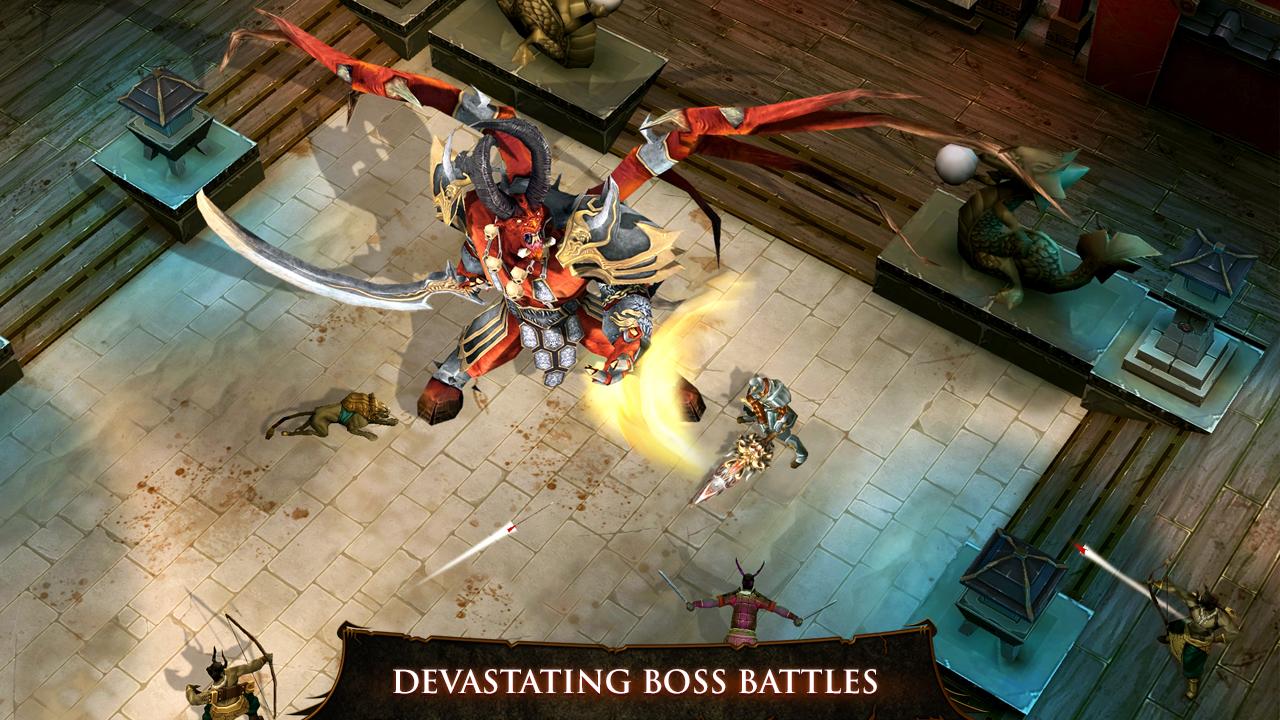 Downloads: +10000000
Costumers rating: (4.5 / 5)
Ready Steady Bang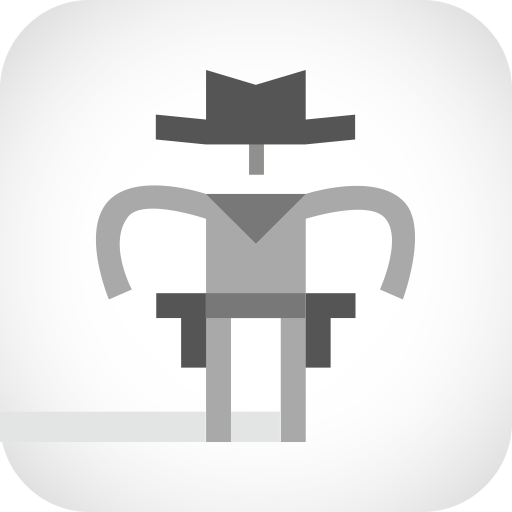 Ready Steady Bang is a very interesting game about the Wild West. In it, you have to prove yourself at the fastest arrow. Because the gameplay is to get you in a duel with the enemy and shoot first. You need to do this on command, so you'll have to wait a bit for the enemy to be taken by surprise. However, the game is not as simple as it might seem at first glance. The whole point is that all criminals with whom you will fight, have a different degree of complexity. It depends on their reaction speed. In other words, how fast they can react and shoot you after the command.
Also, you do not just need to click on the screen at a certain moment, you need to do this in the place where the enemy stands. Otherwise, you will miss and you will not be able to hit him first. A huge number of levels and achievements will please you with its diversity. That's why a huge number of players from around the world are happy to fight in this game.
Thanks to its unique game mode, this puzzle game was able to win a huge number of fans. All of them speak about it only positively.
As a result, Ready Steady Bang turned out to be a unique game about pistol battles. You can do it both with a computer opponent and with your friends. So safely download the game to your smartphones and start getting the sheriff's badge.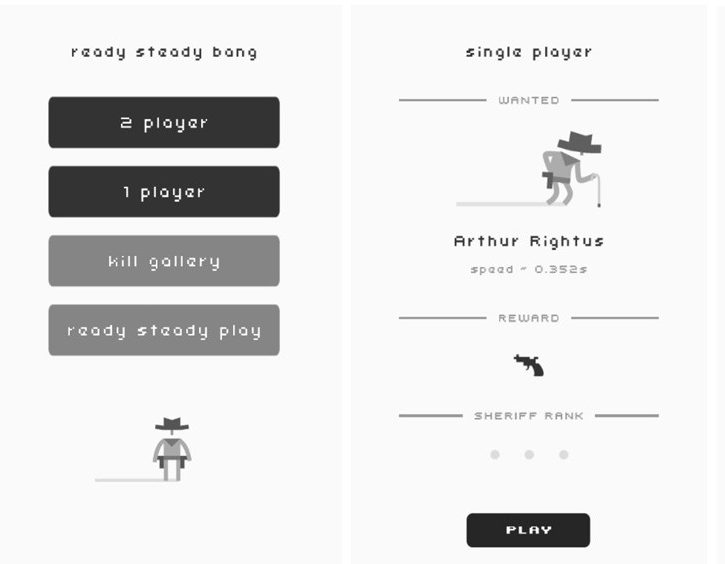 Downloads: +1000000
Costumers rating: (4 / 5)
[divider style='full']
With games from this collection, an exciting time is guaranteed to you. And even if you get bored with multiple missions in solitude, then switching to the multiplayer mode, you always find yourself a company of like-minded people and fans of this game. After all, what can be more interesting than the competition in agility, dexterity, and cunning with a real rival? No artificial intelligence can compare with a man. At least, until…