Some of the pranks go out of fashion with time, some become the classics, and one of the examples of such practical jokes is a prank played on the phone. This type of prank stood the test of time and go back decades.
Nowadays there is a myriad of useful applications for your mobile device, which can help you to generate any voice you can just imagine and take your pranks to the next level. Sounding like a ghost, a celebrity, a child, or your version of the opposite gender can help you to break the monotony of your friends and family's life.
1. MagicCall
With this amazing app, you will definitely have lots of fun. The interface is simple and names, as well as illustrations, for each of the filters are added. There are two ways the sounds can be changed: you can only change your voice or also choose between different background effects.
The app provides you with such voices as male, female, kid, elderly, or cartoon characters, and some others. Plus, the app contains a few "famous" voices, which everyone would recognize, for example, politicians, actors and actresses, singers, and well-known characters.
Background noises include Raining Noise, Happy birthday Noise, Concert Noise, and some more. You can pretend you are stuck in heavy traffic or having fun at a secretive party.
Moreover, you can play emoticon sounds here, for instance, to add a kiss or a clap during your conversation. This effect will mislead anyone you chose for calling and they will never guess where you really are until you tell them.
For using all these functions you need to register with the app by entering your phone number and giving access to your contacts. When registered, you can choose a voice, a background noise, and an emoticon sound, test the final result, and then make a call on the app.
During the phone call, you can easily change filters for your voice and speak with another voice or return to your natural one every time you want to.
The main features:
You can create your own voice filters
It is possible to test how you sound before making the call
You can both change your voice in real-time and record it and send via messengers
When your friends download the MagicCall, you are given special prizes on the application
It is the cheapest way to make a phone call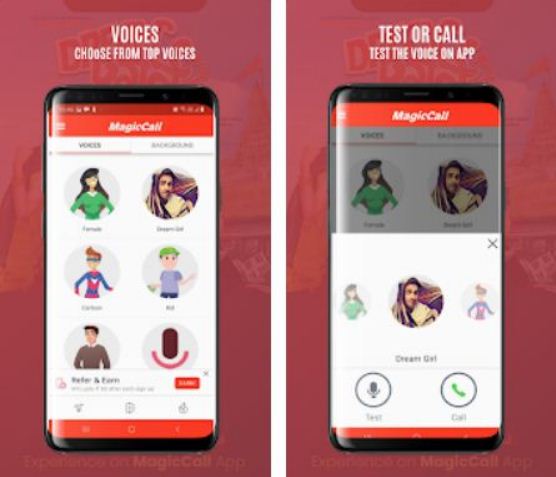 Downloads: 10 000 000+
Customers rating:

(3.2 / 5)

You may also like: 9 Best Map Maker Apps for Android
2. Funcalls
From the name of the app, it can be concluded that it was created for playing pranks and having fun. The app offers different paid versions, so you can select which one suits your needs best.
If you choose to sign up, more than 150 countries are available for low-cost international calls. You can phone your friends wherever they travel or live!
You can apply the following filters on your original voice: Helium balloon, Male, Female, Funny, Scary.
The Funcalls also have various background effects. One of the distinctive features of the app is animalistic effects as background noise. These effects include domestic and wild animals and even some supernatural ones, as Werewolf.
All effects, mentioned above, can be easily applied and switched between during your phone call. You can alter your voice or turn on various noises and go back to your natural voice and real background noise any time you wish to.
This app also has a function of a test call. You can first record how you sound, modify something or play additional tools if needed, and then phone somebody using those effects, which you have chosen.
Another great benefit about the app is the fact that it allows calling any number you want to, it is not connected to your contacts. So you can a person who is not on your contact list!
The main features:
A free Demo call before staring the conversation
Different packages of the paid version
Cheap international calls are available on any of the paid versions
The app contains a video tutorial and detailed information about using of the app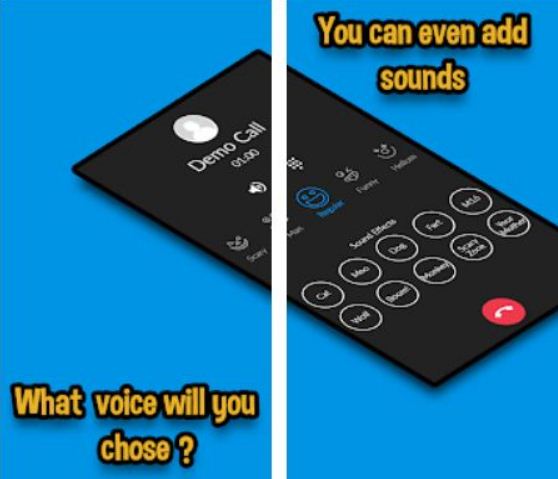 Downloads: 1 000 000+
Customers rating:

(2.9 / 5)

3. VoiceFX
This application is one of the most popular among voice changers and recorders. It is similar to others in terms of function: you can modify your voice in real-time or record it and apply numerous effects to the audio.
The VoiceFX allows you not only to add an effect but combine them and use several ones at the same time! You can also apply a playback effect along with others. This will help you to create a unique sounding of your original voice, which then can be shared via social media.
The voices which are provided in the app are human, animalistic, or robotic. That means when your friend or a member of your family picks up the phone, they will not realize what creature is speaking now, a human, an animal, or a robot.
Even if you have chosen a human voice, there is plenty of variations within this sound. It can be male or female, drunk, slow, fast, mask and others.
The main features:
You can record your natural voice with the filters applied and get the final result immediately
You can apply numerous effects at the same audio
You can save a new audio and share it
You can play back your previously recorded audio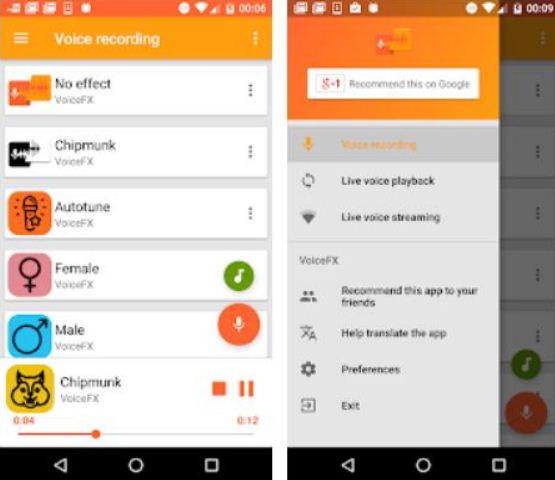 Downloads: 5 000 000+
Customers rating:

(4.2 / 5)

4. Boomrang
Boomrang is a mobile application that allows you to create funny situations. Want to prank your friend with a call? No problem, this app is exactly what you need! Get ready to treat your stomach after you burst it with laughter.
One of the main functions of the application is the ability to call your friends, relatives and prank them with a call.
You have ready-made conversations with different characters from different categories at your disposal, as well as the ability to create a call with artificial intelligence – in this case, the prank becomes unpredictable, which makes it even more funny.
This application is a fun option to pass the time and decorate your gray everyday life with laughter. Don't forget to apologize to your friends after the prank when you've laughed enough
Application features:
A good way to prank friends and loved ones
Lots of characters and categories to choose from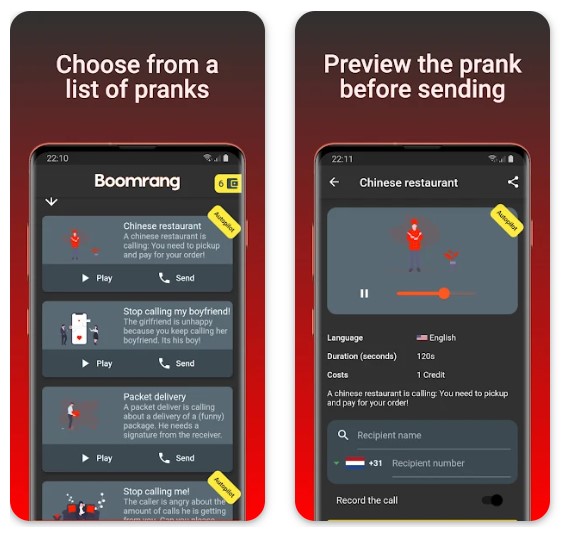 5. Voice Changer Prank Calls
This app was first named Voice Changer Calling Allogag, then the name was changed, but all the functions remained the same. The Voice Changer Prank Calls offer users a myriad of effects for voice altering and background noise adding.
On this application, you can make a choice between the voices of Darth Vader, an alien, a baby, a man, or a woman, and more. Among the background noises, you can find not only different locations or facilities but also various eras, such as a dinosaur background effect.
The design of the menu is clear and pictures of the effects are added. While calling you can switch between the voices and effects without any difficulty.
One of the greatest advantages of this app is that it works with a mobile Internet connection. You can make phone calls if you cannot use wireless Internet, this does not affect the quality of the call.
All the calls are free on this application. When you download it, you are given a few free minutes for speaking on the phone, and then you can get more free minutes without any purchases. You can just complete sponsors' offers on the app for earning them.
The main features:
This application is very lightweight
All calls are absolutely free of charge
A Demo version of your modified voice is possible for your judging
You can use the app without WIFI, with your mobile Internet connection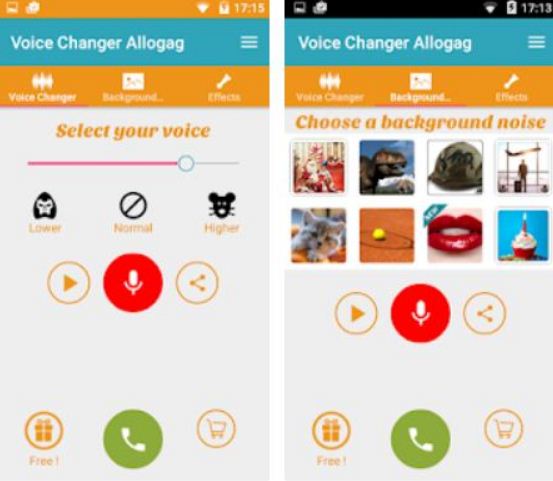 Downloads: 1,000,000+
Customers rating:

(2.5 / 5)

6. Prank Dial
The app is focused on pranks on the phone. It offers you everything which is connected to these practical jokes. You can alter your voice in real-time or record your voice with filters and then play this version during the phone call.
All the calls you make on the app are recorded too. That means you can play them later to enjoy the conversation together with your friends or family members or share them on social media.
A unique feature of Prank Dial is that it offers its users plenty of previously recorded monologues, which can be used as calls. These prank calls will sound like a real person and have an emotional conversation with a person, who is completely unaware of the fact that he is speaking to a machine.
Main features:
You can both change your voice during the phone call and play an audio, which was recorded before
The app allows users to record the whole phone conversation
You can play the recording you have made as many times as you want and also share it via social media or messengers
You can select a machine recorded monologue from the collection of the app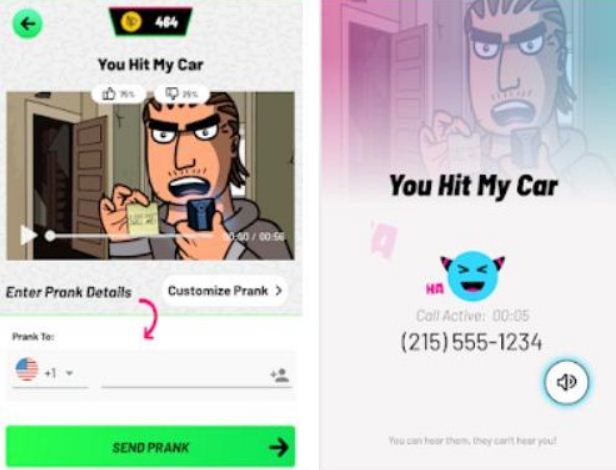 Downloads: 1,000,000+
Customers rating:

(3 / 5)

7. Call Voice Changer
This application has several voice filters for modifying your voice. Applying these filters you can completely change the way you sound that it will not be possible to recognize you.
This app is perfect for those who are not experts at using modern technologies. It will be easy for them to understand a user-friendly design and menu.
Among the effects which can be played, there are such classics as a transfer from male to female, a high-pitched tone, or a low one. Although the variations are not very rich in choice, the quality of the recording can satisfy most of the users.
Main features:
The app is simple in using
The design is clear and user-friendly
The modified voice is hardly possible to recognize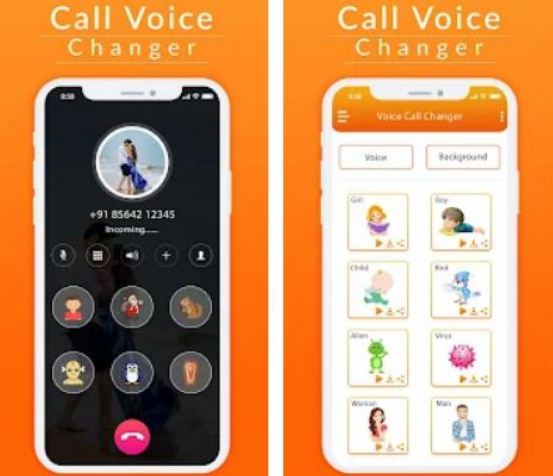 Downloads: 1 000 000+
Customers rating:

(3 / 5)

8. Super Voice Editor – Effect for Changer, Recorder
This application will help you do the impression of several famous characters and hide your identity. You are able to change your voice according to the disguise you have chosen and slightly modify it to the version you like best.
The app is great for everything which is connected to audio files, recordings, and music. It offers much more than a simple voice changer.
Super Voice Editor allows you to change not only a new recording, but it also involves changing all audio you have on your device. One of the benefits of the app is its intelligence, which helps it to realize whether the sound is a voice and only apply selected effects on voices within the audio file.
You may also cut a voice from audio and get a pure voice recording without any noises or sounds. This option works with music files, too. You can change the format or play your song or a part of it in a different way.
Moreover, you can sing your favorite song on the app, and it will help edit your voice after it was recorded. You can sound like a professional singer with the help of Super Voice Editor.
Main features:
This app is amazing with editing all audios and recording on the device, which you wish to
You can edit any audio file, whenever you have recorded it
A completely new melody can be created with the help of the effects of the app
Those audio files, which you have altered, can be used as a ringtone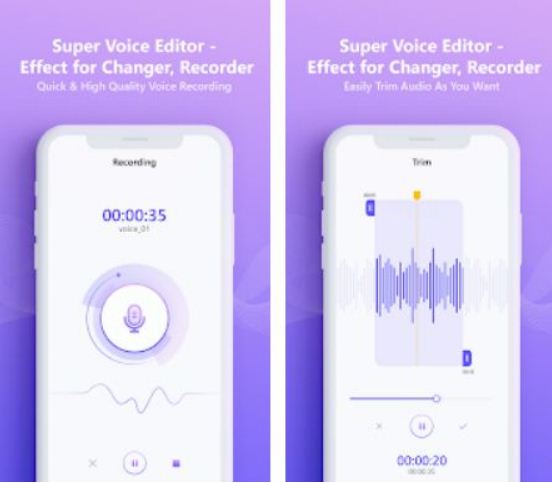 Downloads:10 000+
Customers rating:

(3.8 / 5)

9. Voice Changer in Call
This app is extremely simple to use. It does not have a lot of functions, because it was created for the only purpose – make a phone call with a modified voice of the speaker. You can change your voice during the call, switching from your natural voice to one with effects on.
It is possible to record your voice first and then apply filters to it. The recording can be shared on social media as an audio file.
For using these functions purchases are not necessary. All mentioned options are available for free, once you have installed the app. For its correct work, you need to give it access to your contact list. Having done this, you can call anyone you wish directly on the application.
Main features:
Multiple filters for modifying a voice
Simple usage of the application
All function are available on the free version of the app
Recordings can be saved and shared on social medie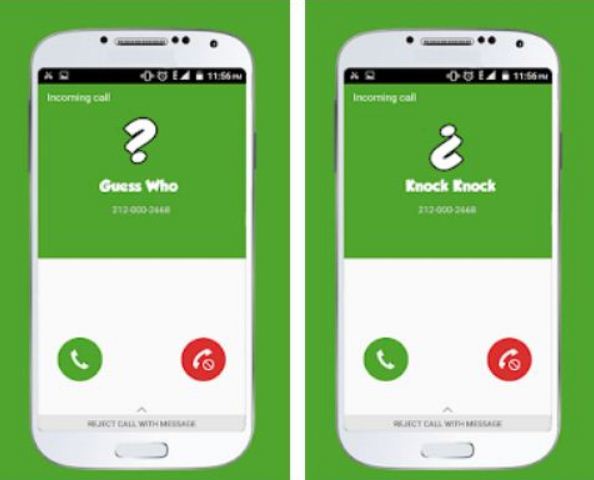 Downloads: 1,000,000+
Customers rating:

(3.6 / 5)

You may also like: 9 Best Phone Usage Tracker Apps for Android
10. Call Voice Changer Prank
This app focuses more on the recording audios function. You can easily record your voice or any other sound and play different effects on it.
You may also play the final recording during your phone call and make-believe it is another person or a character is speaking. Your original voice will be completely changed, so there is no chance you are going to be recognized.
The app offers you such voices as Male, Female, Child, Drunken, or Duck. Besides these filters, you can modify your original voice with other tools, making it sound deeper, higher, lower, scarier, or vice versa, funnier.
All these effects can be applied by touching a few buttons on the screen; the filters and tools are easy to find and try on your voice.
Main features:
A wide range of variations of your modified voice
Tools can make your changed voice even more unique
You can fast and easily switch between various tools or effects
A simple and clear intrerface of the application
During the conversation on the phone you can play an audio, which has been recorded before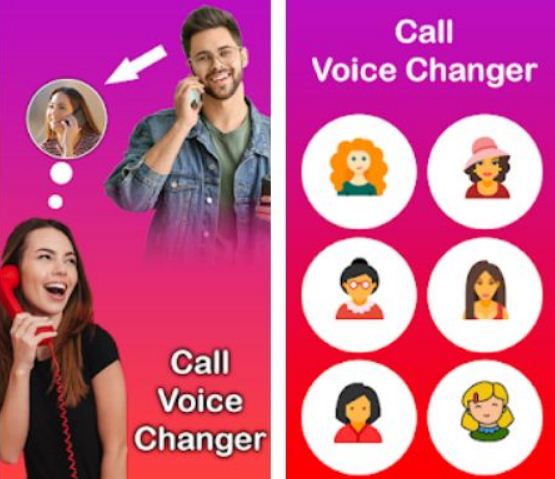 Downloads: 100 000+
Customers rating:

(3.6 / 5)