One of the most popular online services continues to gain popularity. Today, only the lazy do not view photos with favorite stars, celebrities, football clubs, etc. in Instagram.
In 2013, Instagram allows you to upload not only photos but also video, which has long since become established and has become an integral type of content on this social network. However, like many social networks and video hosting, Instagram does not have built-in tools for downloading videos. Therefore, you need to use third-party services and programs for this. We will tell you about the best.
InstaSave Instagram Downloader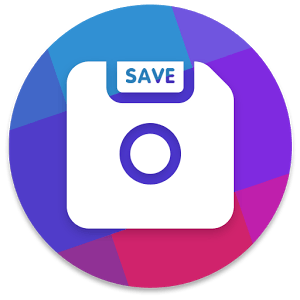 Every user who wants to download, save videos and photos, placed on this popular social network Instagram will want to load InstaSave – Instagram Downloader app for Android. The fact is that Instagram forbids the export of files from the site to their devices, however, they can be added to the bookmarks.
Features:
With ease, you will be able to save everything you like from the Instagram.
A convenient interface will add your favorite materials to your smartphone or tablet.
Search by pictures.
You can create a backup photo.
The interface is well thought out and designed so that its use is simple and understood. With the help of the search, you will get the opportunity to find friends, certain files, and it is very convenient for those who are interested in something specific. A utility will be interesting for those users of Instagram who want to fill their smartphone or tablet with content from this resource.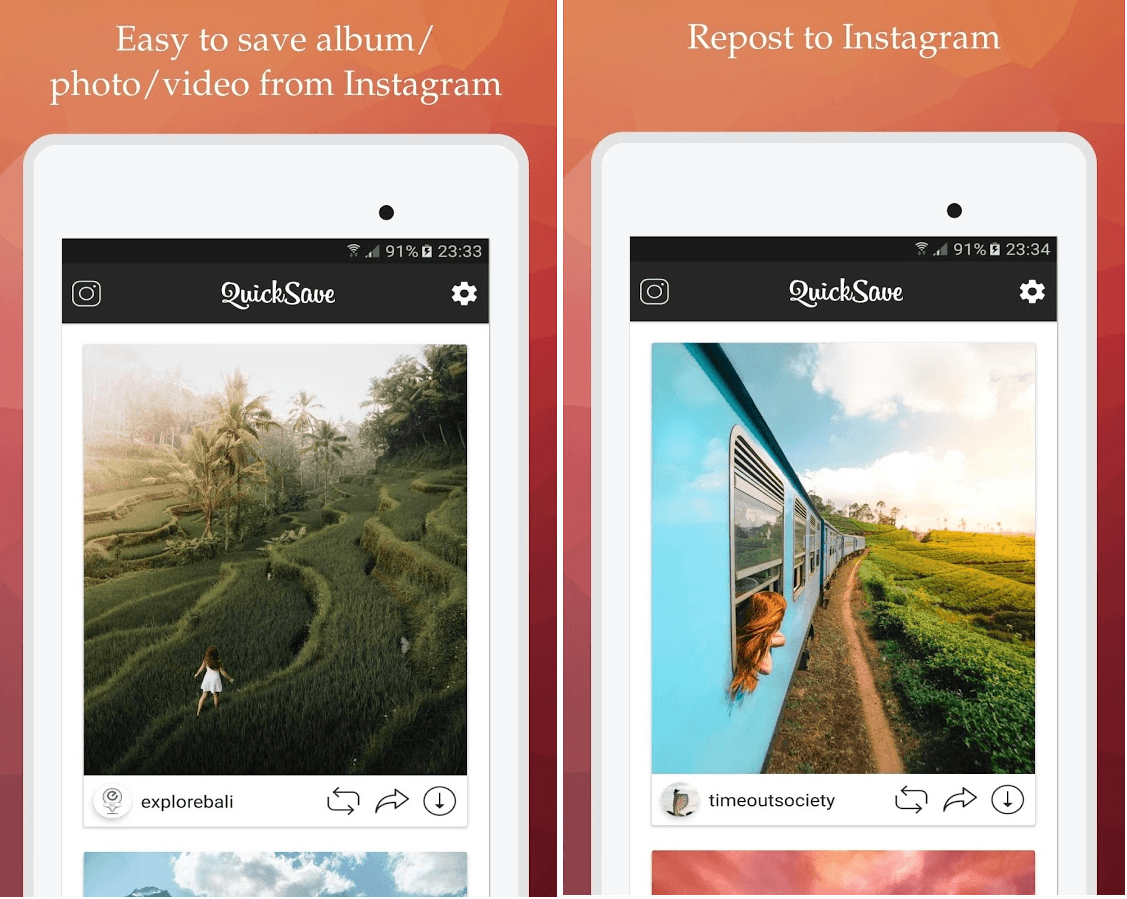 Downloads: +10000000
Costumers rating: (4.4 / 5)

Inst Download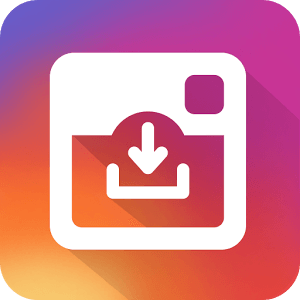 This program works without entering the Instagram! You just need to copy the link of the photo you like in Instagram and insert it into Insta Download. After that, the application will automatically download the file to itself, and then you will only have to keep it to the phone or tablet gallery.
Alternatively, you can immediately share a photo (or video) in your Instagram profile (that is, make a repost) or in one of the social. networks, for example, Facebook or Twitter.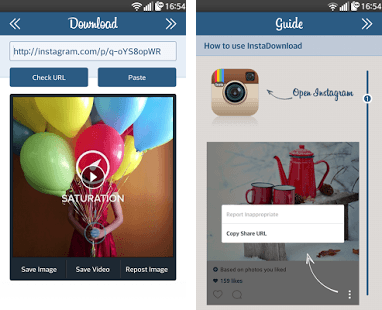 Downloads: +5000000
Costumers rating: (4.5 / 5)

Agree, the application for downloading videos from Instagram is very useful. We offer an overview of our other valuable articles:
Get more Instagram likes with these apps (19 best apps)
11 Best Vine editing apps for Android
Regrann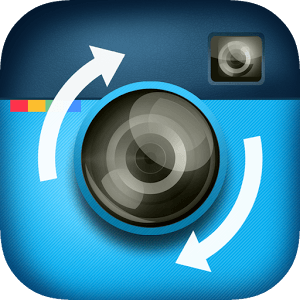 Regrann is more an application for reposts but it can also save. This tool is interesting because it works in the background (login is not needed!) and you do not need to leave Instagram to make a repost. All you need to do is click on Copy the link in the Instagram when you view the photo or a video, Regrann is activated and will offer you one of the following options:
to make a repost;
save for repost at another time;
save a photo or video to your mobile device's gallery;
share in one of the proposed social networks.
What else we like about this application is the ability to make a rep without a watermark. The program automatically inserts the author's name in the description to the photo. We think it's very convenient and does not spoil the photo itself, plus it does not violate copyrights!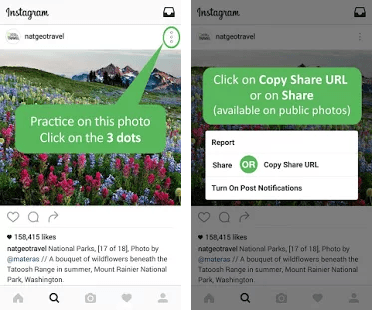 Downloads: +5000000
Costumers rating: (4.6 / 5)
Instdown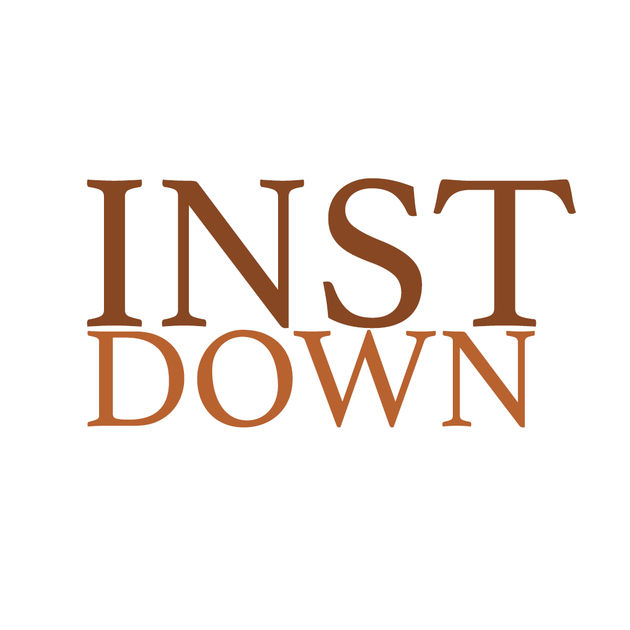 By installing the Instdown application, its user gets a fairly convenient way to save original photos and videos from the popular Instagram network.
All that is required from the Instadown program owner is the presence of the Instagram application in your own smartphone, as well as the presence of the URL link to the required multimedia content from the Instagram network. To get it, go to any page of interest in Instagram and copy the URL of the open image or video clip. After that, the user needs to return to Instdown and simply paste the copied URL link into a special field.
If everything is done correctly, just below there is the multimedia content download button when you click on it, the program will very quickly load the photo or video into the folder "Instadown" created in the smartphone. It is worth noting that the quality of the saved video or images corresponds to the original pictures published by users in the Instagram network.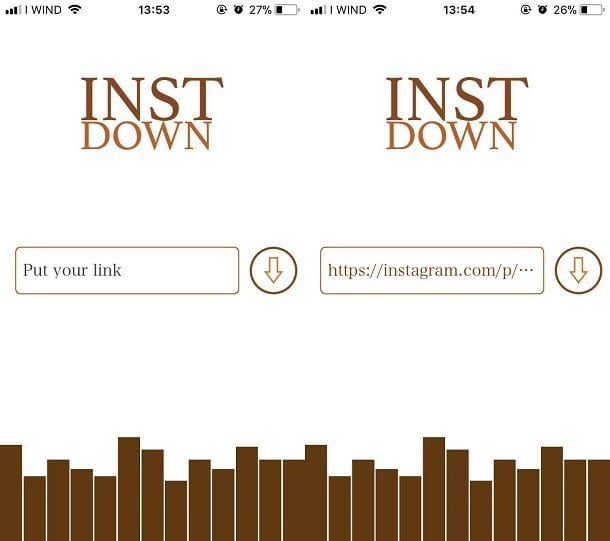 Downloads: +100000
Costumers rating: (4.6 / 5)
iGetter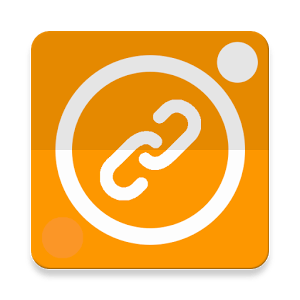 The iGetter for Instagram application on Android is a very focused program, with which you can easily download any photo or video from the popular social network Instagram.
In order to start the load of the file, you need to go to a web browser and find the Instagram profile you like with beautiful photos or videos that you would like to get yourself onto the device, after which you need to copy the address of the picture or video. Then you just need to insert this link into a special line in the program menu.
After a while (depending on the speed of the Internet connection), the picture appears on the screen of your device. Then you can save the image or video to the device's memory, or simply save the address to this content so that you can immediately open it in the program without any problems.
The program is very simple and easy to use thanks to the minimal interface. All photos or videos can be reposted, for this, there is a special button on the left side of the display. If you want, you can share the downloaded photos or video with your friends by clicking on the special "Share" icon. In general, it's easy to use the program, so there should not be any problems with this.
iGetter for Instagram is a handy application with a simple design for all lovers of the social network Instagram. If you are constantly looking for beautiful photos and want them to be on your device, then safely download this program. The program is free but it contains built-in advertising.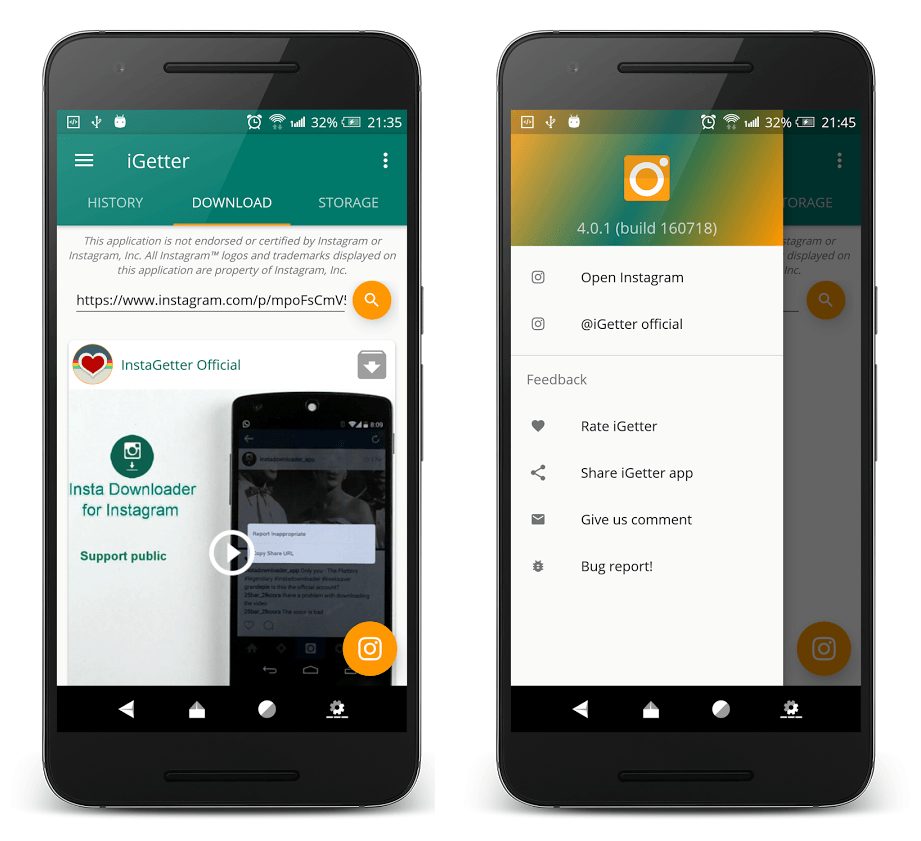 Downloads: +1000000
Costumers rating: (4.2 / 5)

Video Downloader for Instagram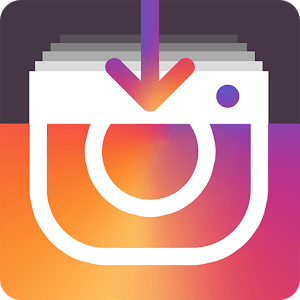 The application allows you to quickly and easily upload your favorite videos and photos from the social network Instagram. Easily copy tags from Instagram or Vine.
You only need one click to download or repost the video. And most importantly, the program is absolutely free.
The ability to download and repost video from Instagram and Vine.
Save photos from the social network.
Storing downloaded files to the smartphone gallery.
Ability to share videos you like with other users.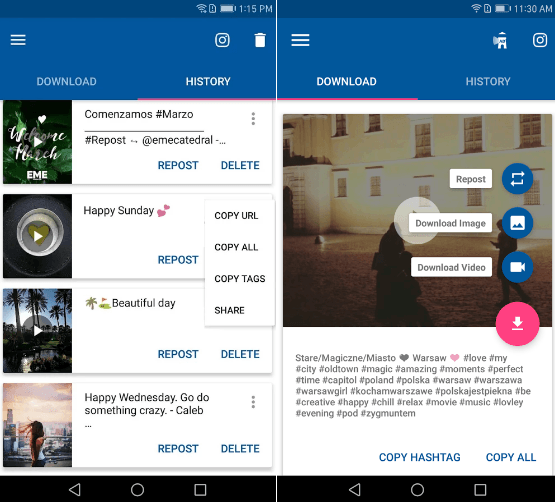 Downloads: +10000000
Costumers rating: (4.8 / 5)

Repost IG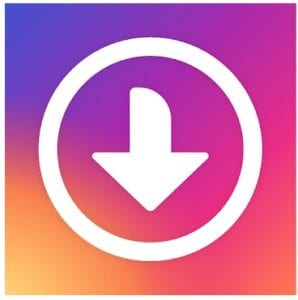 Repost IG is a useful program that doesn't require an authorization, with which you may easily and rapidly keep and repost photos and videos on the social network Instagram. The application will allow sharing the content from Instagram with users through other social networks.
Repost IG has a very simplified interface. If you have Instagram closed, you can open it by pressing the Instagram button in the application. After you copy the Instagram post link, this publication will appear in the Repost IG preview screen along with some parameters. Now you can repost from here to your feed, messages, or use the application for reposting Stories on your Instagram. In Repost IG, you can only copy tags or a full header.
Install and try this great Instagram download tool.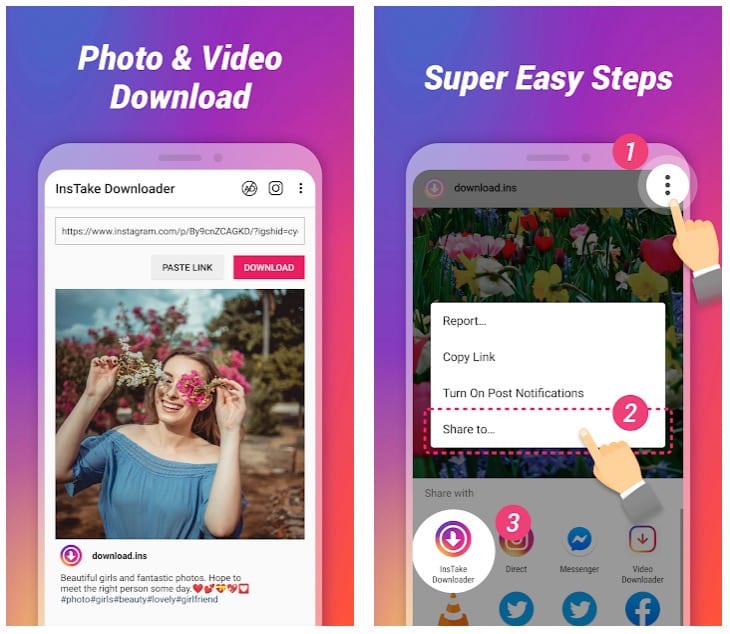 Downloads: +10000000
Costumers rating: (4.8 / 5)

FastSave for Instagram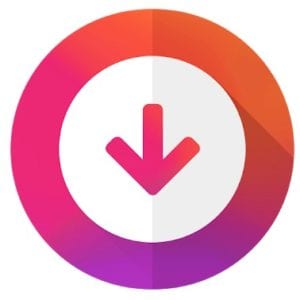 With FastSave, you can save images and videos from Instagram to your device, as well as share downloaded files with friends.
All you have to do is activate FastSave from the main menu and then open Instagram. Now all you have to do is click the 'share URL' button to download any photo or video from any Instagram account you subscribe to. All your downloaded content will be saved directly in your photo gallery.
InstaSave is an excellent application for downloading photos and videos from Instagram. It is very convenient to use and, unlike other similar applications, it integrates perfectly into Instagram. Thus, you can not only use Instagram as before but also get the opportunity to download any photo or video from this network.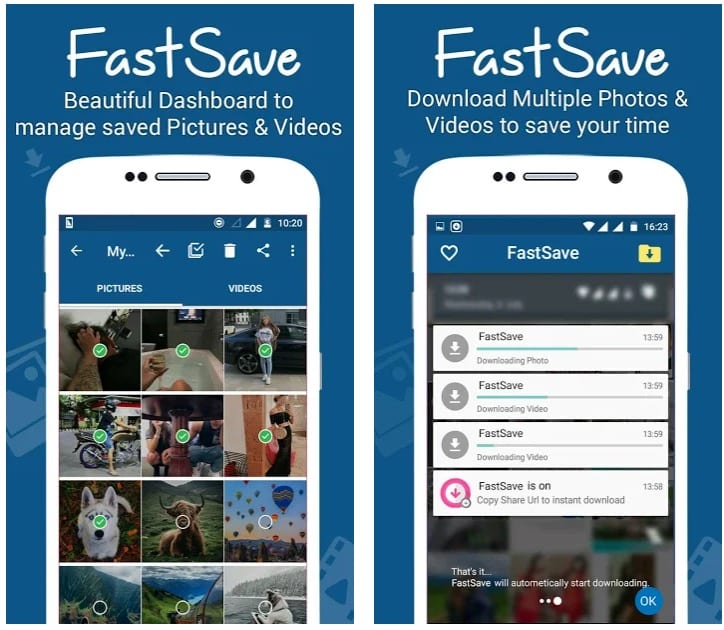 Downloads: +10000000
Costumers rating: (4 / 5)
You may also like: How to download YouTube videos on Android
Video Downloader for Facebook and Instagram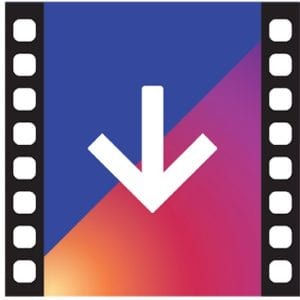 With Video Downloader For Facebook & Instagram, you can download any photos or videos uploaded to Facebook and Instagram if the user has an open profile.
Using Video Downloader for Facebook & Instagram is very easy, considering that there is only one button. You only need to copy and paste the URL to the photo or video you want to download.
If you are on Instagram and found a video you like, all you have to do is copy the link and then open this application, paste the URL into the corresponding field and click on the download button. After that, you will be able to view your video at any time.
The photo or video will be downloaded in a few seconds, so you will get all the desired photos and videos in no time. Video Downloader for Facebook & Instagram has no download restrictions either, so you can download as many things as you want unless of course, the authors of photos and videos have private accounts closed.
This app even simplifies the process by allowing you to view Facebook & Instagram from the main application window, simply select what you want to watch and download whatever you want in the process.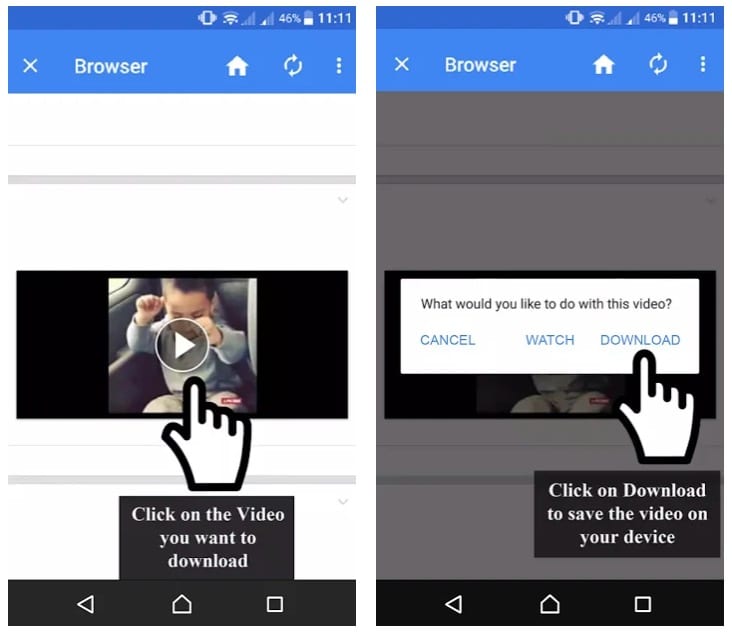 Downloads: +1000000
Costumers rating: (4 / 5)
We hope that our article was useful to you. Using the above-described applications, you can upload videos to your smartphone and view them at any time. Pleasant use!