[thrive_custom_box title="" style="light" type="image" image="https://androidappsforme.com/wp-content/uploads/2017/10/Безымянный-148.png" full_height=0]
We all know what a spam is. A mailbox full of all rubbish and time spent cleaning it can be very unpleasant but even more unpleasant when such spam comes not by e-mail, but by mobile phone. How so? It's very simple.
Promotional SMS or calls from people we try to ignore – isn't this some kind of spam? The mail program can be closed, the computer can be turned off but the phone, as a rule, people try to always keep enabled. The situation is certainly not hopeless, it's very simple to solve the problem, just as for this purpose there are programs that automatically block undesirable calls and text messages from specific numbers.
In this short review, we suggest that you familiarize yourself with the 11 best Android applications for SMS blocking, which will save you from irritating phone spam and make your life calmer. [/thrive_custom_box] You will surely be interested in reading an article [thrive_highlight highlight='#81d742′ text='dark'] 9 Best Ad Blocker apps for Android. [/thrive_highlight]
Calls Blacklist – Call Blocker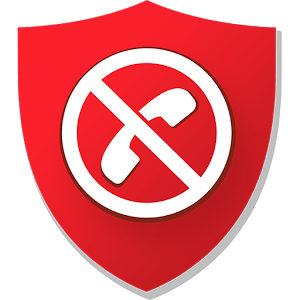 The Call Blacklist program permits you to block calls and messages from any number – from the list of contacts, from the system log "Phone" and entered manually. No matter how many they call or write, your device will not make a sound, since the blocking occurs before the first dial tone.
Features:
Maintain black and white lists. Black contains a list of numbers, calls and messages from which are blocked at all times. Numbers from the whitelist, on the contrary, are never blocked.
Create a custom lock schedule. Locking can be enabled, for example, only at night or during a meeting.
Blocking of hidden and unknown numbers.
Blocking a group of numbers by the first few digits.
Full blocking of all calls and SMS.
Logging of blocked calls and SMS.
Notifications of rejection of calls and messages (can be customized if desired).
Save the blacklist to a file and download it from the file (convenient for transferring to another phone).
Turning the lock on and off with a single button.
If you are using Android 4.4 and later, you will need to send the SMS processing function to the program, otherwise unwanted messages will not be blocked. This is not an application error but a limitation of the operating system itself.
The Call BlackList starts working immediately after the phone is turned on, consumes a minimum of system resources and does not "callolize" the user's eyes with any alerts (of course, when the notification function for blocked calls is disabled).
If the program suddenly stops performing its tasks, make sure that it is not disabled. You or the cleaners could accidentally disable its autorun.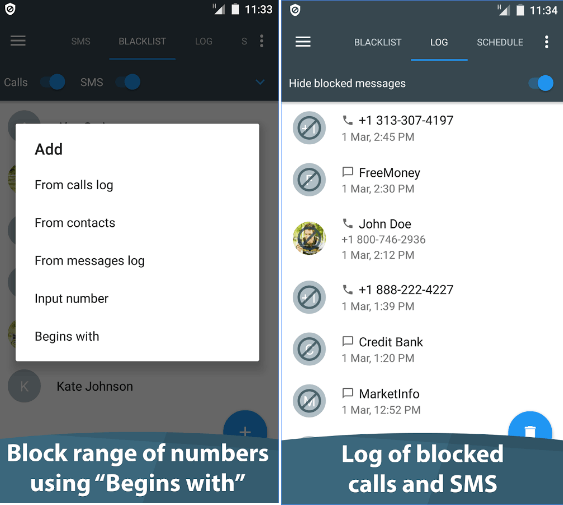 Downloads: +10000000
Costumers rating: (4.5 / 5)

Root Call SMS Manager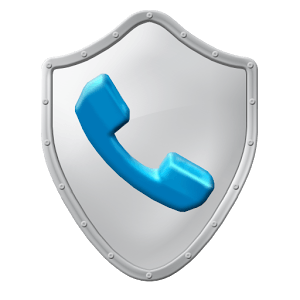 Features of this application will be appreciated by the owners of phones with two SIM-cards. Unlike analogs, Root Call SMS Manager allows you to create two blacklists – your own for each SIM. In addition, on Android 4.4 and later, it does not require you to assign yourself as an SMS handler, but it also successfully blocks spam in SMS and MMS messages.
Other features:
Two ways to block: reset the call without the first beep and mute the sound ("no answer" mode).
White and black list modes. When employing the whitelist, all numbers that are not included in it are blocked. For numbers in the blacklist, you can set individual lock parameters.
Block SMS by both numbers and text filters (the latter is available for both incoming and outgoing). Filtering on the text is convenient to use if from one number you receive both useful messages, and annoying advertising.
Blocking of groups of numbers by masks and templates.
Quickly lock and unlock all incoming calls.
Disadvantages of Root Call SMS Manager – it is mandatory for the user to have root-rights and limit the count of numbers in the black and white lists. In the free version, they are allowed to create only 2 entries.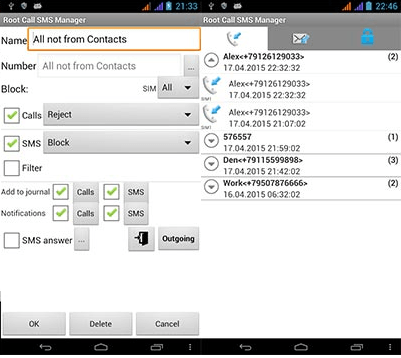 Downloads: +50000
Costumers rating: (4.5 / 5)

SMS Blocker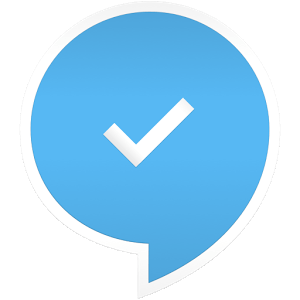 The name SMS Blocker speaks for itself – it is designed to block text spam messages. The user has several selection criteria:
telephone number or group of numbers;
sender name;
phrases and words contained in the text;
the number of locks is unlimited.
The program store blocked SMS in a separate folder where they are located until the user deletes them. Here you can read them and, if desired, restore them. In addition, the user can export locked messages to a text document and view them in notepad.
For correct operation on Android 4.4 and in newer versions, SMS Blocker should be assigned by the application for processing SMS by default.
SMS Blocker is not the only free spam blocker in messages. On Google Play, we read about three dozen such programs, but this, according to many, is coping with its task better than others. Although, do not argue, you may have another opinion on this matter.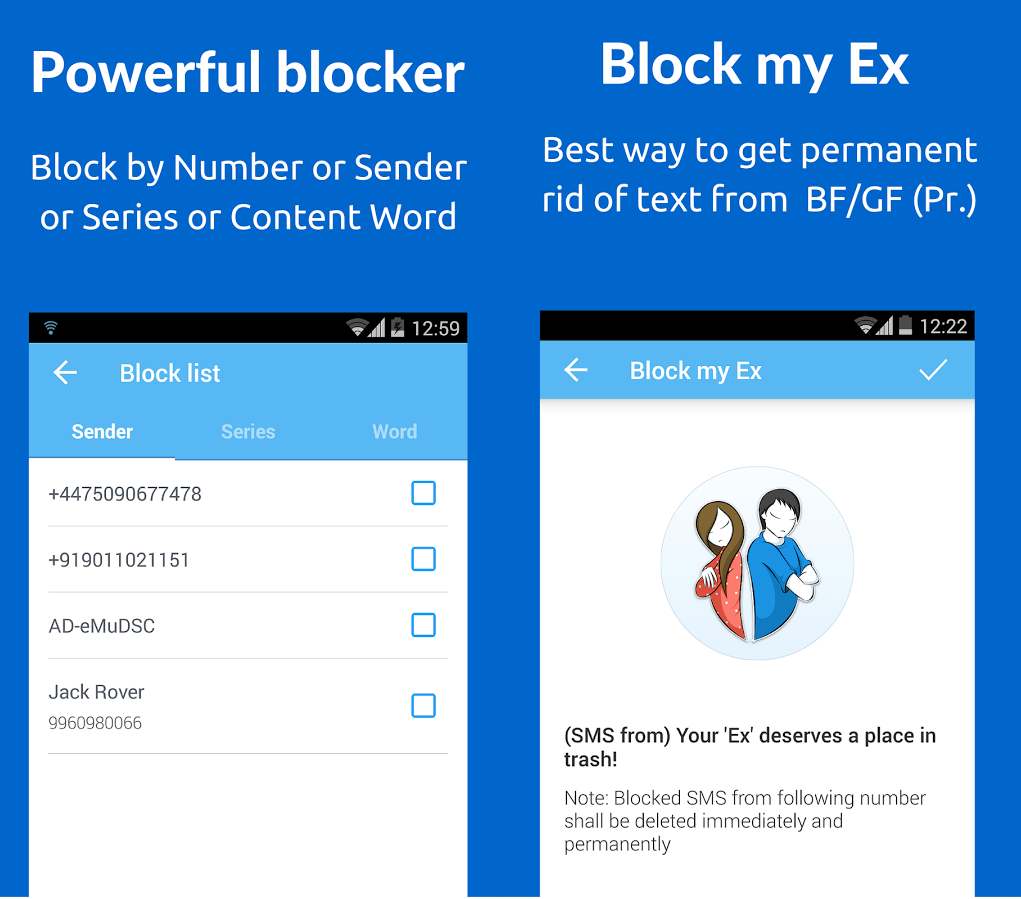 Downloads: +1000000
Costumers rating: (4.4 / 5)

Call Blocker Free – Blacklist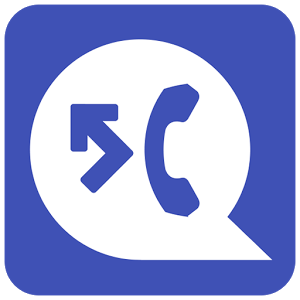 Call Blocker Free – with this program for Android-smartphones you can automatically negate undesirable calls and SMS, create and restore backup copies of contacts. The "blacklist" settings permit you to deny calls from listed numbers, from unfamiliar numbers, as well as from all numbers in a row. A backup copy of contacts can be created both on the device's memory card and on the server on the Internet. The latter option is more preferable, as it gives a complete guarantee of saving the contact list in case the phone is lost or stolen.
The private area permits you to hide from prying eyes SMS-correspondence and the history of calls with some contacts. The function of safe driving is also interesting. The tool independently determines your speed and when you reach a certain (configured in the settings) level mechanically includes the rejection of all incoming calls.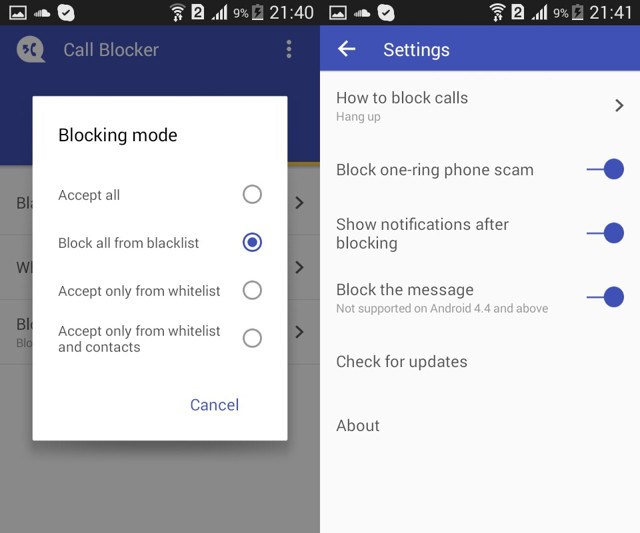 Downloads: +10000000
Costumers rating: (4.4 / 5)

Postman – Spam Blocker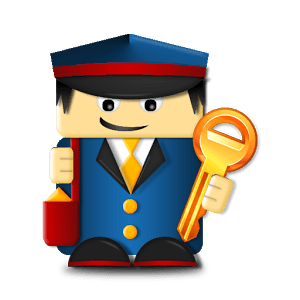 The Postman – Spam Blocker application blocks messages from those numbers that are not in your trust-list (you need to create one yourself). It is possible to set a low or high level of protection against SMS. At a low level of protection, the application works as usual, and at a high level, it blocks SMS from all unknown numbers.
Benefits
You can completely disable spam alerts.
Automatic removal of spam from the application folder after 45 days.
Frequent updates.
Disadvantages
It filters only on the "white list", if your friend or relative changes the SIM, the message from the new number can get into the spam.
In the application, there is an advertisement.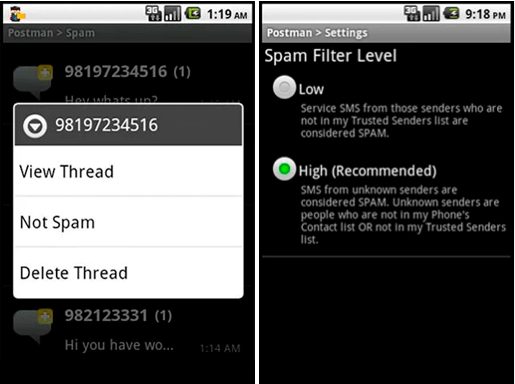 Downloads: +1000
Costumers rating: (4.2 / 5)

BlackList (SMS/calls blocker)

Blacklist is a very useful program for any modern person. What do we see first, by inserting a new SIM card into the new phone? A whole bunch of useless and not informative SMS! With this program, you can block these SMS! To do this, go to the section "Filter words" and specify the words with which it is necessary to block SMS. The main thing is not to overdo it. And then you can accidentally filter and the necessary SMS. But even if this happens, inside the program, you can see what it has blocked.
But SMS blocking is only a small part of the program's functionality, its most useful function is to create a Blacklist!
By creating a blacklist and putting the numbers of certain people in there, you will permanently get rid of their obsessive calls and SMS! If at some point you change your mind, you simply remove people from the list and they will be able to call you again and write SMS.
Attention! The blacklist is saved even after the application is deleted!
To completely remove the changes that the program has made, you need:
Go to the application management menu.
Find Blacklist (the name may be somewhat different).
Click "Clear data" and only then delete the application.
Now the program is completely deleted and all who have been on the blacklist again will be able to write and call you.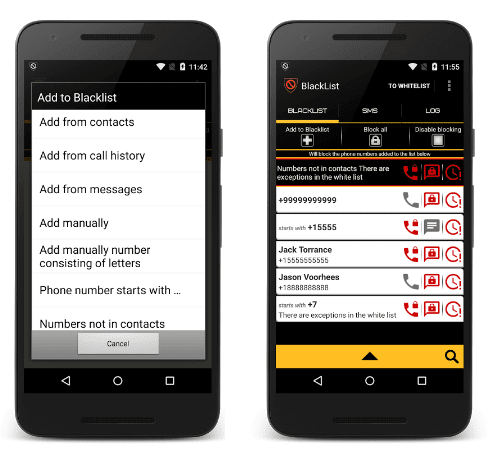 Downloads: +100000
Costumers rating: (4.3 / 5)
Ultimate blacklist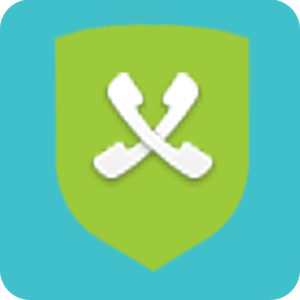 Ultimate Blacklist is designed to protect you from the unnecessary attention of spammers or simply obsessive people who do not understand that you do not want to communicate with them. Now you will not need to waste your time on empty conversations or reading advertising SMS.
In the blacklist, you can append numbers from the phone book or enter manually but the distinguishing feature of this program is the ability to block calls that are subscribed not by a number but by alphabetic characters. Usually, this is how different banks and shopping centers are defined, which are known for obsessive advertising at the most inopportune time.
You can block calls, MMSб and SMS both at the same time, and one thing. You may also defend yourself from calls from numbers using anti-detection. A list of rejected calls and messages can be viewed if necessary.
Unfortunately, the utility has one drawback, the caller will just hear short beeps will be able to fully understand that your number is free and is simply ignored. But, nevertheless, Ultimate Blacklist is a quality program that will stand guard over your peace of mind.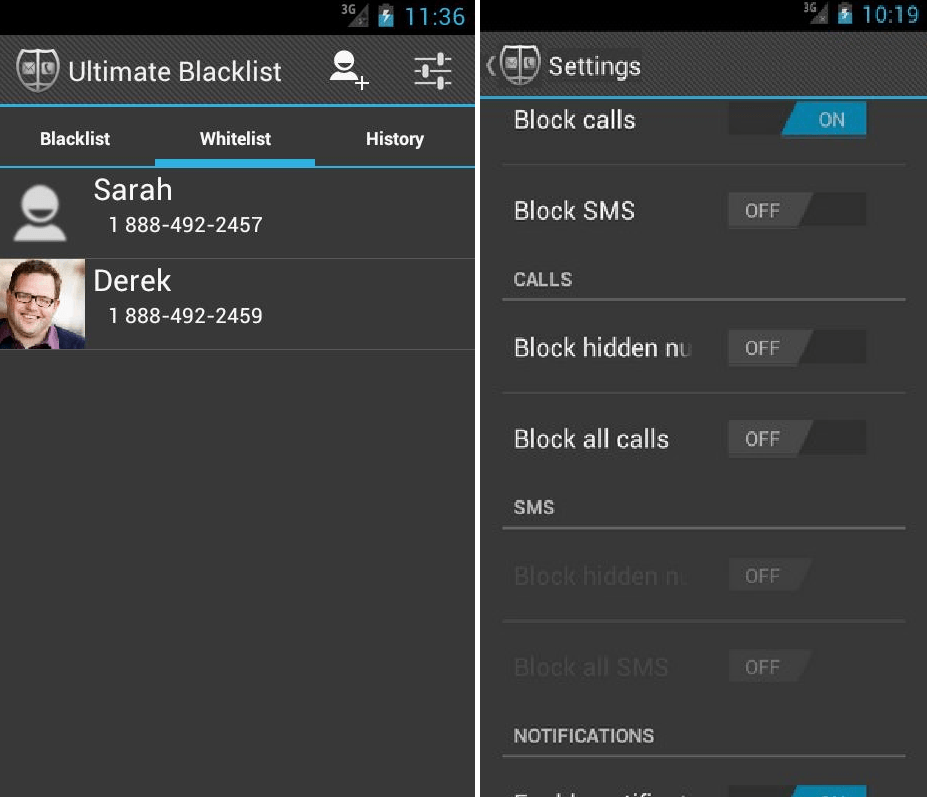 Downloads: +1000000
Costumers rating: (4 / 5)
Blacklist Plus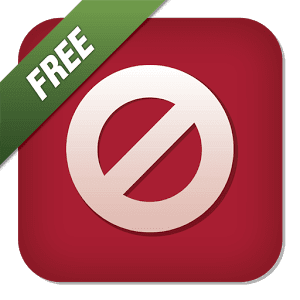 Blacklist Plus is a slightly augmented version of the previous program, created by the same author (Vlad Lee). In addition to the previous set of functions, here the user has the opportunity to choose the method of blocking – reset the call or mute the sound. The second option will appeal to those who want to hide from the subscriber your reluctance to hear his voice in the handset. For example, if it's a relative or a boss. Information about rejected calls is saved only in the history of the application. It does not enter the phone's log.
If you suddenly want to make a call or write an SMS to a blocked number, open the history of rejected calls in the application, tap the desired phoneб and select "Call" or "Send message" in the menu that appears.
Another useful "chip" of the Blacklist Plus – hiding the icon in the status bar. This can be done through the settings menu.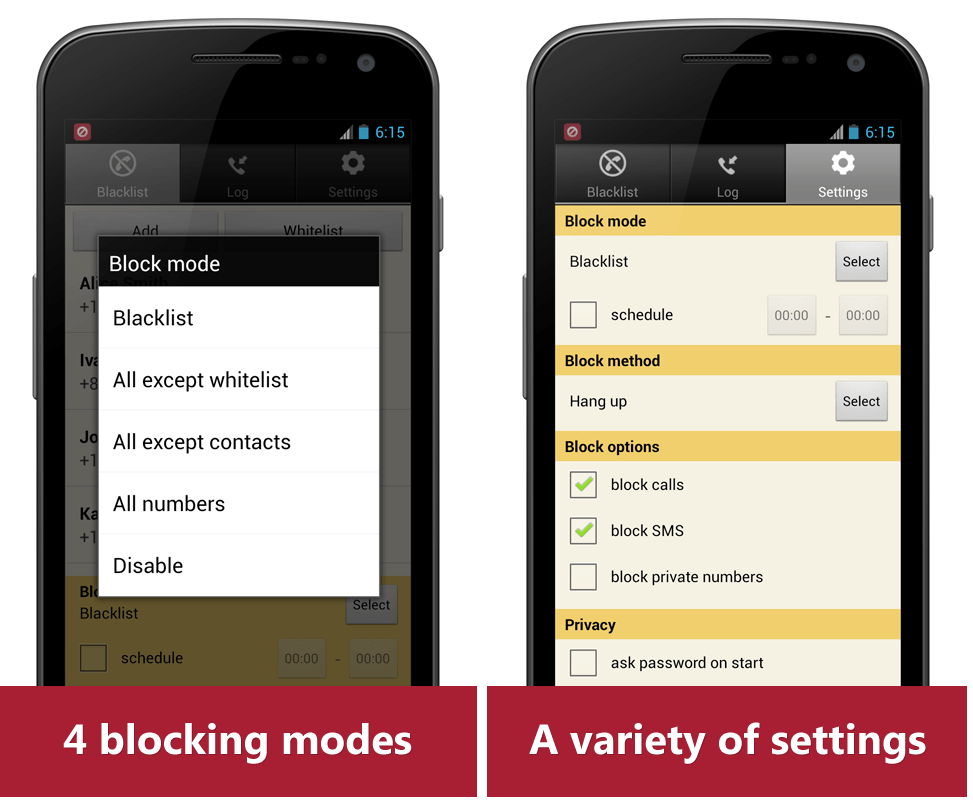 Downloads: +1000000
Costumers rating: (4.3 / 5)
aFirewall call and SMS blocker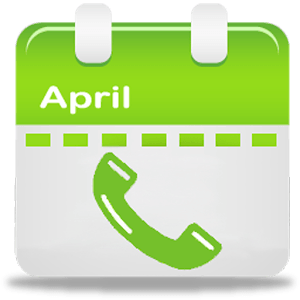 In the life of each person, sooner or later people who do not want to hear appear and the program call & SMS blocker will help you in this.
The main function of the program is to create "black sheets" of contacts, calls from which you do not want to receive. Of course, this basis is accompanied by many additional features, for example, you can not to even receive a notification that you called, or you can look at the history of undesirable calls and SMS. And maybe you want people from this list not to bother you only for a certain period of time? And then the application will come to the rescue by offering to create rules for receiving calls on time.
But this is not the only possibility of the program, you can also create a private list of contacts, people from which will not be displayed in the general directory as well as calls and messages received from them, and access to this information can be obtained only by entering the password in the program itself.
Call & SMS blocker deserves attention not only for its rich functionality but also for its excellent customized menu and its ease of use.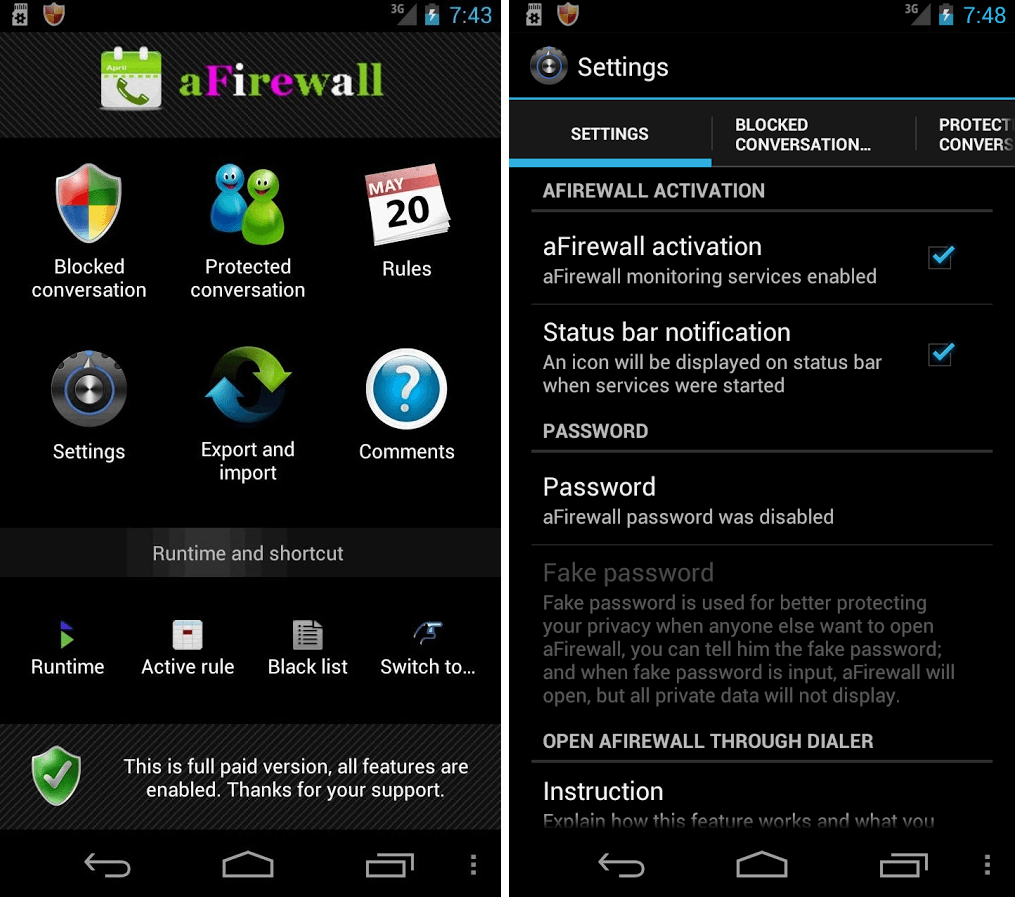 Downloads: +1000000
Costumers rating: (4 / 5)
Call blocker, SMS blocker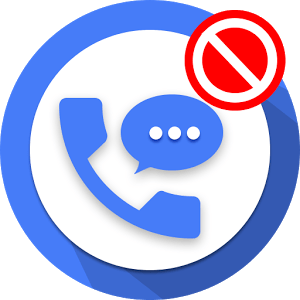 Call Blocker, SMS blocker is a program that allows you to add numbers to the list of blocked for SMS and calls.
The project protects the user from SMS spam and unwanted calls, the lock of which can be configured for a certain period of time. Also, it is possible to add a designated text to the list. In this case, does not exclude the viewing of blocked information through the history of locks. There is a standard for Android 4.4+ limitation: for the utility to block messages, it is necessary to define it by default as an SMS application and to send messages – use the corresponding tab.
Before starting the program, it will require the right to read the SMS, and a system warning appears that this may result in the transfer of personal information to third parties. However, the developer assures that further user data devices do not go away.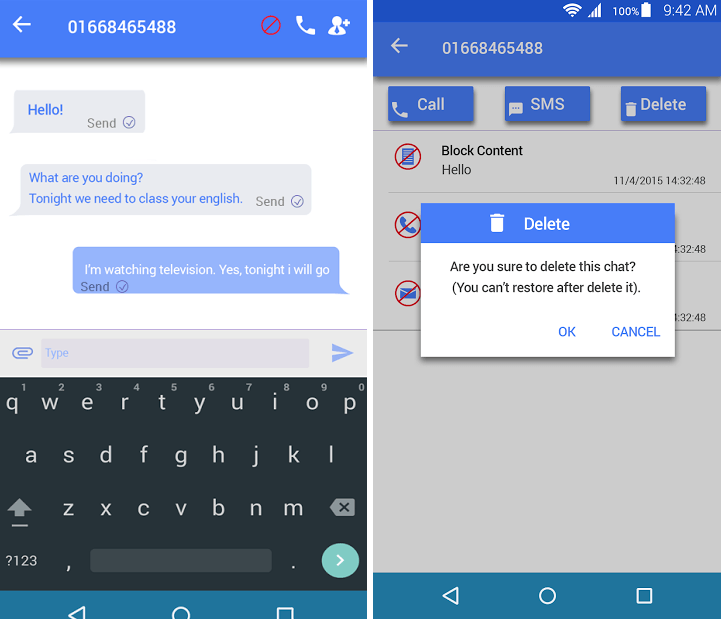 The interface is not complex, basically, there are pleasant tones of blue and white. The launch is accompanied by confirmation of the replacement of the utility for exchanging SMS for the service in the application. The menu contains 3 tabs – SMS, blacklist, and locked history. In the settings window, there are options for setting a password, blocking calls and messages, as well as information about the application. The search is integrated, which should facilitate the orientation in the history of messages.
Language tabs are not provided. Advertising is completely absent. The size of the utility is small, also, "lags" are excluded, the performance of the device does not fall, as is the consumption charge.
Performing the role of a service that prevents unwanted incoming calls and texts, the utility is well designed and put into operation, practically without any complaints when using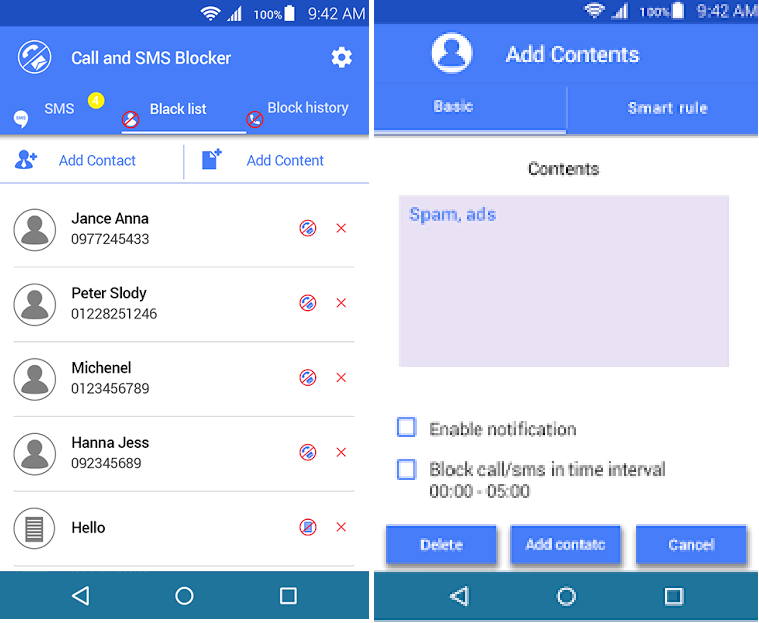 Downloads: +100000
Costumers rating: (4.4 / 5)
Extreme Call Blocker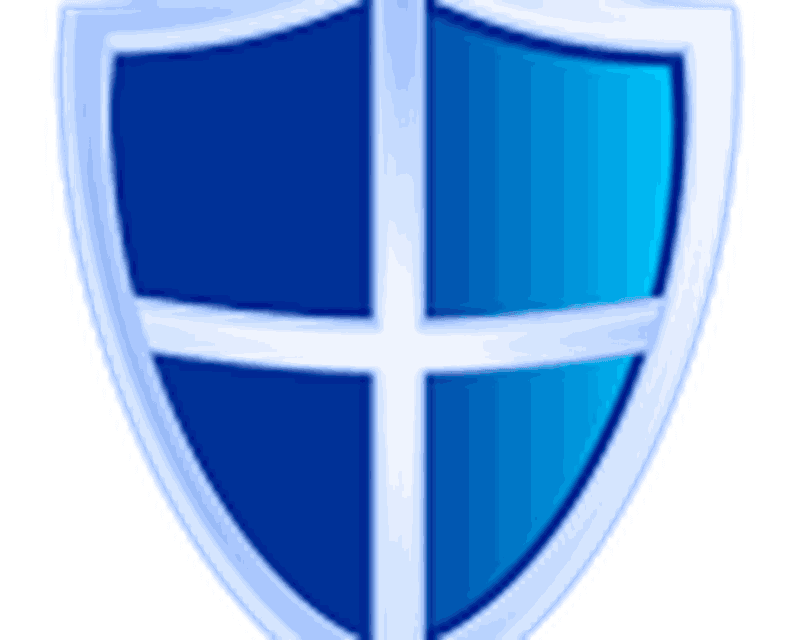 Extreme Call Blocker is an application for multi-level locking and protecting your device from unnecessary messages and calls. To maximize the protection of your phone and completely remove access to unnecessary numbers, you should take a closer look at the Extreme Call Blocker application, which has long won the sympathy of regular users of applications from the category of calls and SMS.
In addition to a pleasant design with convenient controls, you will see a good functionality, which each time trying to maximally supplement. Blocking incoming calls and messages just the tip of the iceberg, with Extreme Call Blocker you can set a timer to block all calls or any specific number, block outgoing calls, to prevent any misunderstandings in the future, filter messages using your own filters.
What's New:
Added a new feature for more convenient backup.
Fixed minor bugs.
Increased speed.
No need to suffer from unpleasant calls and messages, just download Extreme Call Blocker for Android, which in a few seconds and completely free of charge will make your number inaccessible to an annoying user.
Downloads: +50000
Costumers rating: (4.2 / 5)
[divider style='full']
Constant calls from unknown numbers or annoying messages can greatly spoil the person's life and nerves. To get rid of this problem, there is a blacklist in the phone but this function does not always work properly and often misses messages to the user on the phone, despite the prohibitions. For this, there are applications, about which we talked in this article.
Which of these tools is the best – you be the judge. Everyone, as they say. There may be many factors affecting the performance of the application. This is the brand of the phone and the version of Android, and who knows what else.