Want to bring your kids an incredibly breathtaking and exciting foreign language learning adventure? Offer them the application "Is the Witch in Love?". This is a book, cartoon, and game packed together.
The application is intended for children from four to ten years old. But if your guys are learning English or French as a foreign language, then they can benefit and enjoy it, even if they are older.
If you like playing simple and calm games, you can also try the Hexagon puzzle games.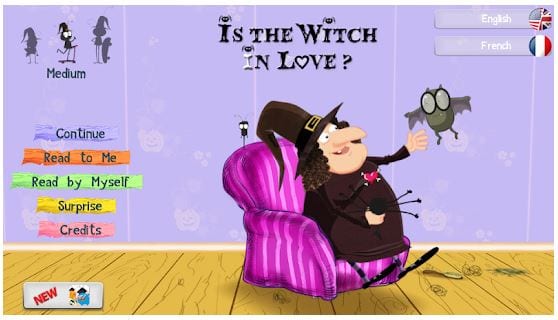 Having opened the application, children are involved in the narration of a story of the Witch, who thinks she is in love with Merlinor, the wizard. To attract his attention, the Witch tries to change her appearance, get a more luxurious broomstick, and learns the manners adopted in Merlinor's society.
To help the heroine achieve her goals, the child must win a series of games. Battle of magic spells, fairy puzzles, memory, and observation games are awaiting.
And perhaps most exciting, the fast racing broomstick races! There is also a "surprise game". But to unlock it, the player needs to solve four challenging puzzles.
So, how will this story end? And is this real love, if for the sake of it you need to change yourself so much? The answer to this question will probably save your child many bitter experiences in the future.
The game-book has three difficulty levels; choose one depending on the child's age. There are also two reading modes: Read to Me and Read Yourself.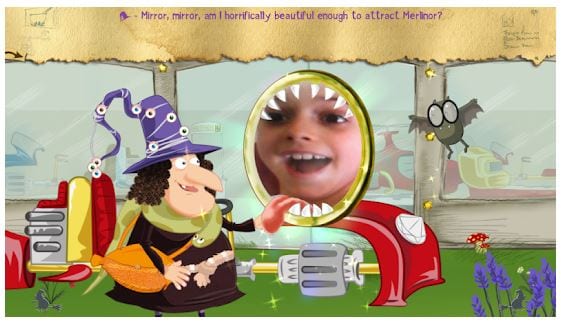 Make the Magic Mirror have the face of the kid using the devise camera. And also many other interactive and engaging moments.
Take your child with "Is the Witch in Love?" while you are busy. Or share the adventure with him or her and have quality time together. You will appreciate the addictive story, beautifully designed pages, and interesting characters. Voices and text in English and French are also commendable.
Kids will also be interested in the pet shop game apps. 
So, learning languages, developing memory, logic, and reflexes, as well as solving a moral problem awaits your little hero. Well, is the Witch in love?