A standard gallery application doesn't differ in the variety of functions. The system utility allows you only to start a slideshow, group pictures, send photos by mail, and also contains the simplest photo editor. Fortunately, the Google Play store has many handy and free photo gallery apps for Android devices. We selected a few of the most popular and practical for our review:
Photo Gallery 3D & HD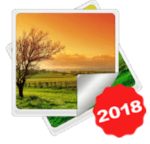 Photo Gallery 3D & HD is a simple and fast application for displaying and editing images stored on your device. Photo Gallery 3D & HD is an easy application with a nice design. It will replace the stock gallery of your mobile device. The program works equally well on both smartphones and tablets, supports all popular image formats.
Photo Gallery 3D & HD works very quickly – you can scroll through thousands of pictures in just a few seconds. The program doesn't lag, it works smoothly and stably.
You can view the images in both the standard zoom mode and launch a slideshow. The application supports basic control gestures: pinch to zoom in or out, single tap and double tap.
The Gallery also has a simple and intuitive photo editor built in, which makes it easy to turn or crop the picture, change its angle or mirror it. The editor also contains the most popular filters, thanks to which the usual photo can be made interesting and atmospheric.
Pictures from Photo Gallery can be installed as wallpaper on your desktop, as well as send via email, SMS and you can share them in social networks.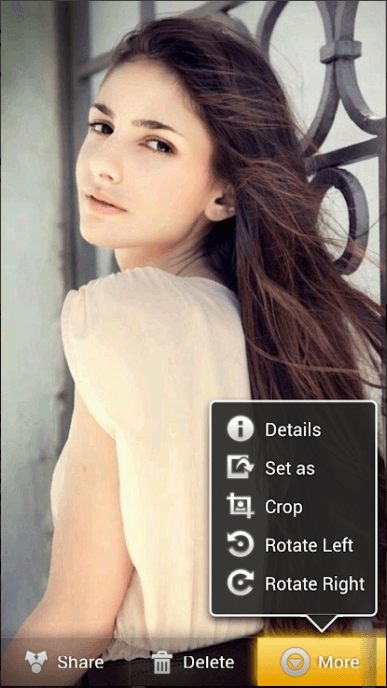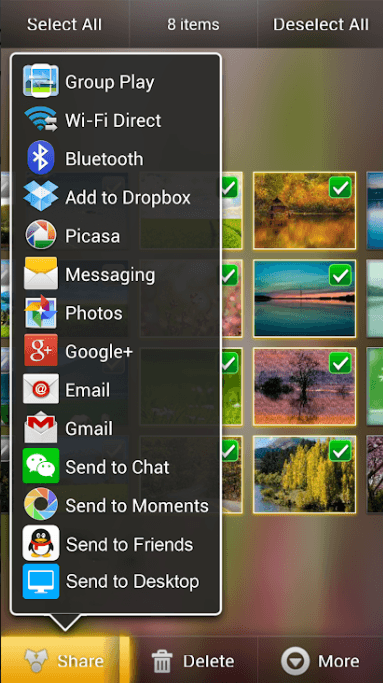 Downloads: 5000000 +
Customers rating:  (4.4 / 5)
You can also check: 15 Best photo sharing apps for Android
Gallery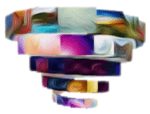 Gallery is a super fast gallery app with stylish wallpaper and the ability to lock hidden albums. It has the best innovative display!
The application is designed to replace the built-in Android gallery. You will be captivated by the user interface and screen capabilities. This is an easy and fast application with an animated gallery. Enjoy three-dimensional styles, create cool images from your photos, improve photos with different functions, use just one touch to launch a beautiful animation.
The program allows you to hide private albums with a password and organize your gallery. Quickly find the photos you need, use the delete, copy and move functions, create a slideshow and install music.
Features of the utility include the ability to automatically change styles, resume viewing photos from the moment at which you stopped last time, setting an image as a background, playing video as a hologram and much more.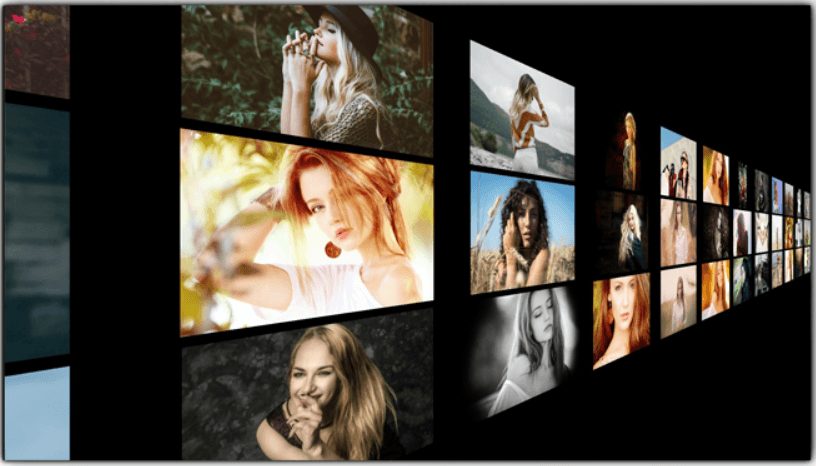 Downloads: 10000000 +
Customers rating:  (4.4 / 5)
Flayvr Media Gallery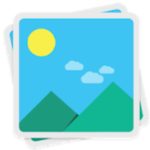 Join the users of the popular gallery for smartphones and tablets. The application supports most Android devices and Android Wear. The app is among the top ten most popular galleries for mobile devices. With it, you can easily replace the myriad folders with photos on a single application to view, search and delete photos.
The application automatically sorts photos and videos (you can set the sort mode – by date, time, location or name), displays all search results by folders on one page, and also allows you to share photos and videos with friends on social networks Facebook, G +, Line, Kakao, WeChat. Also with it, you can quickly create albums for a photo on Facebook.
The system of intelligent alerts will help you to find lost pics in the remote photo and video directory, and the automatic selection of the best photos will increase the pleasure of viewing  (the system analyzes and selects photos with smiles, in good quality, with good lighting and bright colors).
The app is specially designed for smart Android clocks. You can view, delete and share photos directly through your accessory.
For optimal work, the application requests permission to access the calendar (so it can automatically headline your events based on calendar events).
The system does not distribute data without permission. Only the photos and videos you select fall on secure servers so that you and your friends can view the bright moments of life wherever and whenever.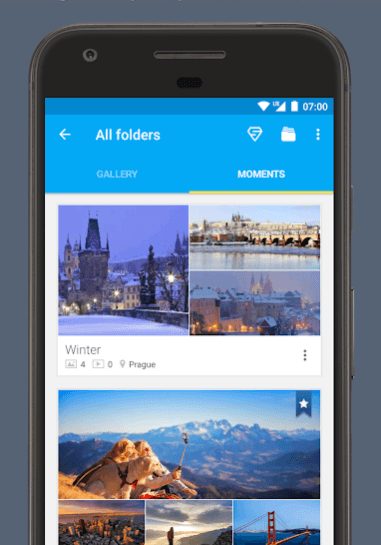 Downloads: 10000 +
Customers rating:  (4.3 / 5)

Amazon Drive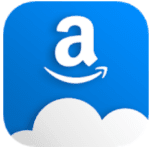 Amazon has released an official application for storing photos, which is interesting, although such an experience of the online store is not new. We are offered backup and photo sharing.
Main functions:
Secure backup for three months;
Autosave of photos;
Built-in store and slideshow;
Ability to share photos through social networks;
Print pictures directly from the application.
Amazon Photos requires mandatory registration, that is, it is not possible to quickly enter using social networks. However, if you have an Amazon account, then you will enter the service without any problems.
We would advise not to start autoloading at once and configure folders because by default the application collects all the images from the device. At the same time, there is an automatic sorting by the date of adding, which, of course, pleases. You can create an album on the disc directly from the program. A batch upload with a selection of individual images is implemented. Directly from Amazon Photos, it is possible to organize a pretty nice slideshow with automatic scaling.
You can edit the photos before uploading. The following tools are available – filters and effects, frames, stickers, a fairly convenient cropping is implemented, focusing, as well as color adjustment. You can share your photos through social networks, sending a link to a friend on an album or a specific photo. Amazon Photos is a great replacement for Google Photo.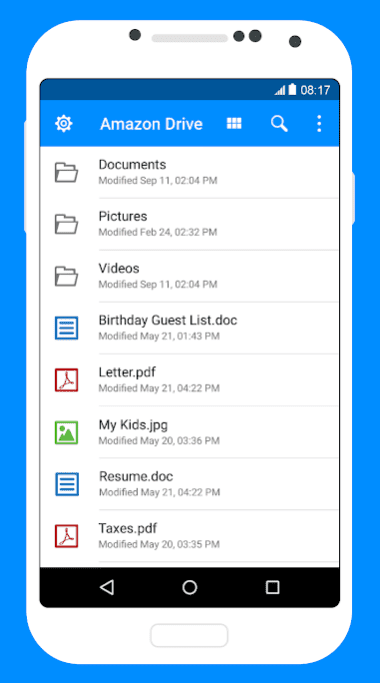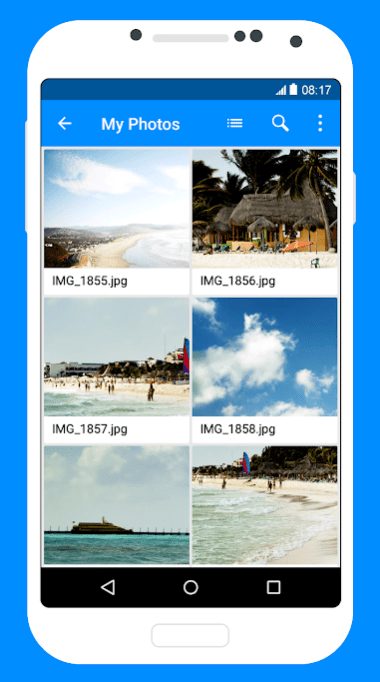 Downloads: 1000000 +
Customers rating:  (4.4 / 5)

QuickPic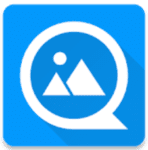 The application features lightweight, integration with all popular photo services and convenient file management.
Main functions:
Colorful themes and modern design, multilayer effects and a unique user interface;
Instant start and a quick preview of thousands of photos;
Easily hide photos and videos from all gallery apps and protect them with a password;
File management functions, including sorting, renaming, creating new folders, moving/copying data and much more;
Back up and restore photos, set a password to protect them.
HD quality: view thousands of photos in high quality with the slideshow function;
Photo Editor
QuickPic does not require any registration but immediately transfers us to its main screen. When viewing, you can enable maximum brightness, scale with one click and set the chess background. By the way, there is also protection of pictures with a graphical password, which we didn't observe in other galleries. In this case, you can hide some folders and assign a separate password to the cloud storage.
A slideshow can be with different animations, you can select an interval, random order, panorama, and zoom. Settings in QuickPic will please. Thanks to them, you can easily and flexibly manage the program, activate third-party services, customize the appearance. In general, to work with the photo gallery is full. Just note the smart search of the program, that is, the application itself tells you what you are looking for. As a rule, these are the last added pictures. In this case, all the photos are divided into events.
Not without editing, but it is primitive. So, it is possible to change the resolution of the picture, there is cropping, rotating the photo, as well as a horizontal and vertical mirror image. If you don't like this photo editor, you can use your own. QuickPic seamlessly integrates with third-party solutions. There are other tools as well – copying, deleting, detailed information, geo-marks, slideshow and the ability to move or copy to a specific place.
QuickPic will suit any user, as it allows you to easily catalog photos and store them both in the cloud and locally. Of the shortcomings – it is not the best editor, but it is suitable for most operations with pictures. Moreover, nobody prevents using third-party applications for this.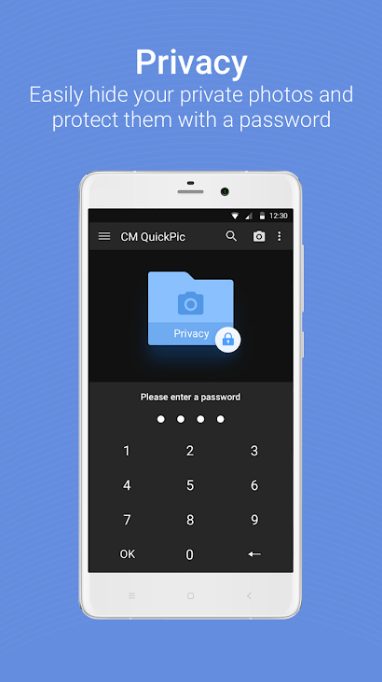 Downloads: 50000 +
Customers rating:  (4.6 / 5)

A+ Gallery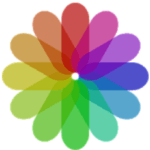 A + Gallery Photos and Videos is a unique application for Android in the style of the gallery of the iPhone. It works with photos, videos and shares them with friends in one click!
The app easily syncs all your photos between popular cloud storage and social networks – Google Drive, Dropbox, Facebook, etc. It combines the best features of the Android and iPhone galleries. The application uses your location, which allows you to mark on the map the place where a particular image was taken.
The application has many useful tools for editing, moving and copying photos, sending them to social networks, setting the wallpaper, contact photos, creating albums and many other actions.
Of the features – the ability to take a picture directly from A + Gallery and clever sorting by colors, shades, if you want. For example, if the photo is bluer, then the corresponding pictures will appear, red – "red", etc. Quite an interesting solution, which can be used for both cataloging and editing.
Look for photos at the place of shooting, the color of the image, play video directly through a quick search (the application implements its own video player), enjoy the excellent design of the iPhone gallery on your Android device and never lose photos and videos again thanks to the function of backing up to cloud storage.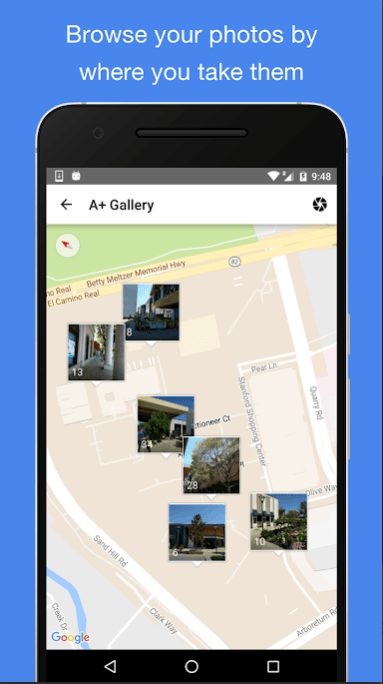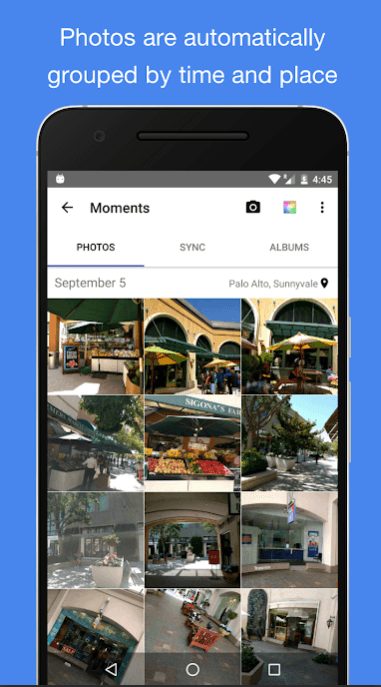 Downloads: 10000000 +
Customers rating:  (4.5 / 5)
Gallery KK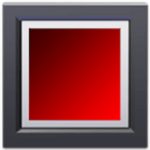 An improved version of the official gallery for Android KitKat. The application received a simple and intuitive interface, many useful functions and settings and its own photo editor. A notable feature is the availability of a photo editor with the ability to apply fast filters, which is useful when processing photos from a smartphone or tablet camera. In the editor, you can rotate the image, crop it, draw an arbitrary shape. In Gallery KK even trimming of a  video is available.
In the application settings, you can specify the mode for displaying thumbnails (the number of columns for landscape and portrait display), sorting (by name and date). Thanks to the support of meta tags, viewing of images by albums, places, dates and other parameters are also available.
Among other features: Gallery KK allows you to determine the size and color of thumbnails, quickly hide unnecessary folders.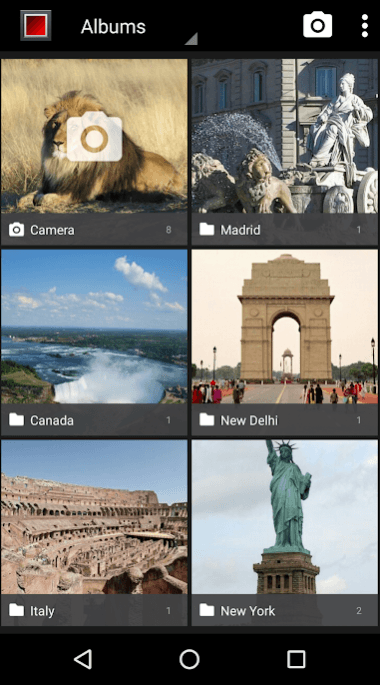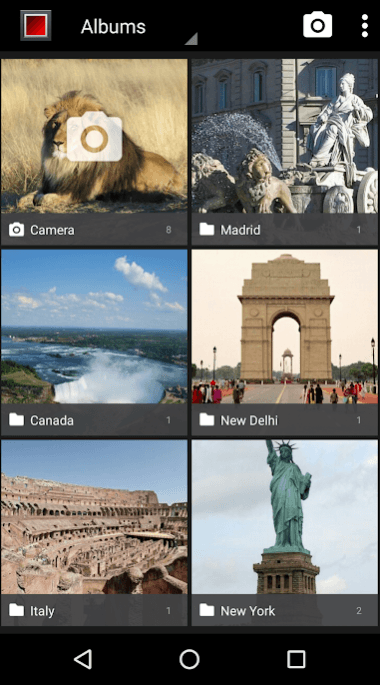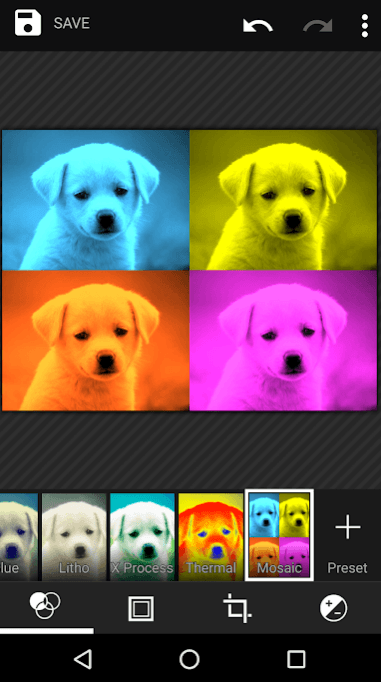 Downloads: 1000000 +
Customers rating:  (4.0 / 5)
Piktures – Beautiful Gallery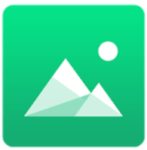 Piktures is a free image and video viewer for Android 4.0 and higher. There is a wide support for gestures, resizing pictures, hiding albums, multiple viewing modes. Separately it is worth noting the calendar display with vertical scrolling. Piktures reads meta tags – so, you can view photos by location (filter by cities).
Regarding social functions, you can send files via Gmail, Facebook, and WhatsApp.
Editing photos in Piktures is possible only through an external editor, but you can resize images using profiles (VGA, HD, Full-size).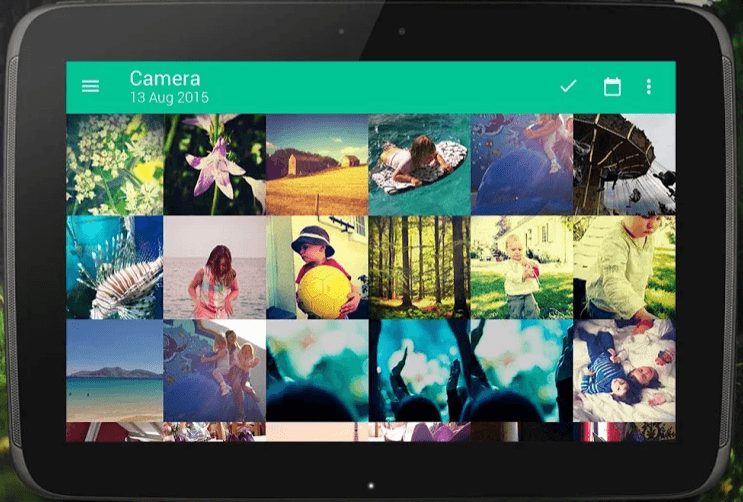 Downloads: 1000000 +
Customers rating:  (4.4 / 5)
Focus – Picture Gallery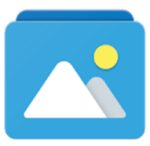 Focus is one of the most functionally developed applications for viewing images on mobile devices. In one click, the user can access tag assignments, add titles for albums, transfer a single snapshot to a closed vault, print or "cloud". This application has several good features, including a lock function that will allow you to protect your gallery with a password from prying eyes. It also has a light and dark theme, additional security settings, and even allows you to change the icon.
On the main screen of the utility, absolutely all images in the phone memory and on the SD card are sorted by certain folders. For example, gif will never be in one album with a video recording. Each album can be protected with a password or a fingerprint. There is no built-in photo editor in the gallery, so you will have to limit yourself to only the framing and zooming functions.
The application gives you most of the features for free, but you can pay the full version.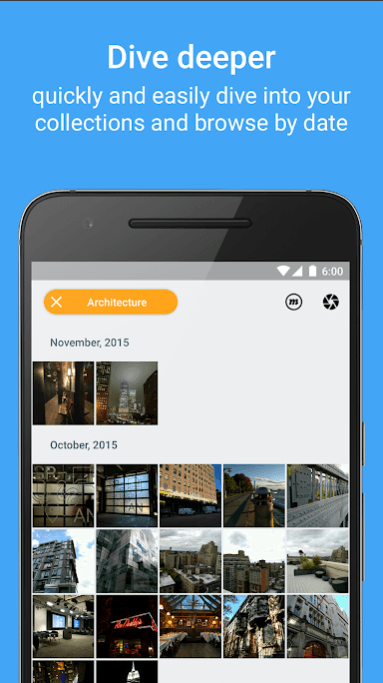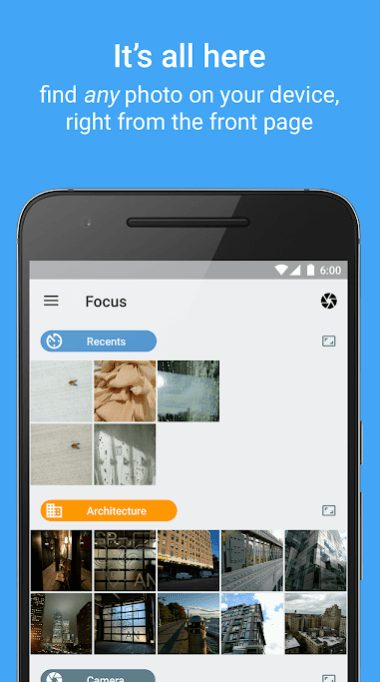 Downloads: 100000 +
Customers rating:  (4.0 / 5)

PhotoMap Gallery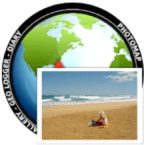 PhotoMap Gallery is one of the most unique photo gallery applications in the list. This gallery is sure to be appreciated by users who often travel around the world. The application works with GPS data, so it is possible to snap pictures to a specific location, and then view them on the map, depending on where you took them. For example, you will need to go to the beach folder to see the photos that you took on the beach. If the trip is long, and there are more than one hundred photos, the gallery will build all the albums by date and route through the GPS-tracker.
Application features:
The function of viewing through augmented reality
Adding notes to each photo, which turns the application into a real photo diary
Saving of digital inscriptions in a metadata
Plug-in widget for the desktop
Managed world map
Geotags for each image
This is one of the more interesting GPS photo gallery applications. You can download it for free or pay for the full version through purchase in the application.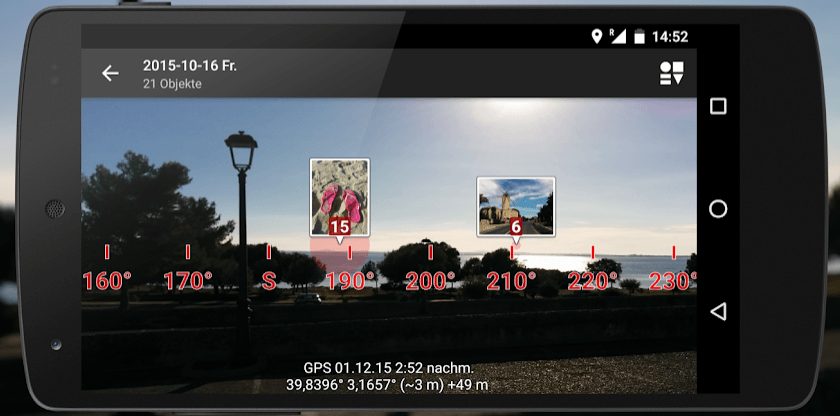 Downloads: 500000 +
Customers rating:  (4.2 / 5)
F-Stop Gallery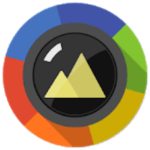 F-Stop Gallery is one of the oldest applications for viewing images, but nevertheless, it has an interface corresponding to the Material Design, with several really interesting features.
F-Stop Gallery allows you to search for photos based on metadata, which is a feature of the application and also add tags to photos to simplify the organization. In addition, F-Stop Gallery allows you to read metadata files (including EXIF, XMP, and IPTC). Another interesting feature is Smart Albums, which will help you sort your images yourself. This is one of the few applications that can play back images in GIF format! In the additional menu, you can set the image rating, edit the tags, rotate, delete, etc. Some of the additional features require a paid version, but the free one is still very functional.
F-Stop Media Gallery is a very fast image viewer on your smartphone or tablet, photo organizer, and private file storage. There is an interesting feature to protect your photos and videos with a password. After installation, no application can look at them without entering a password for closed files.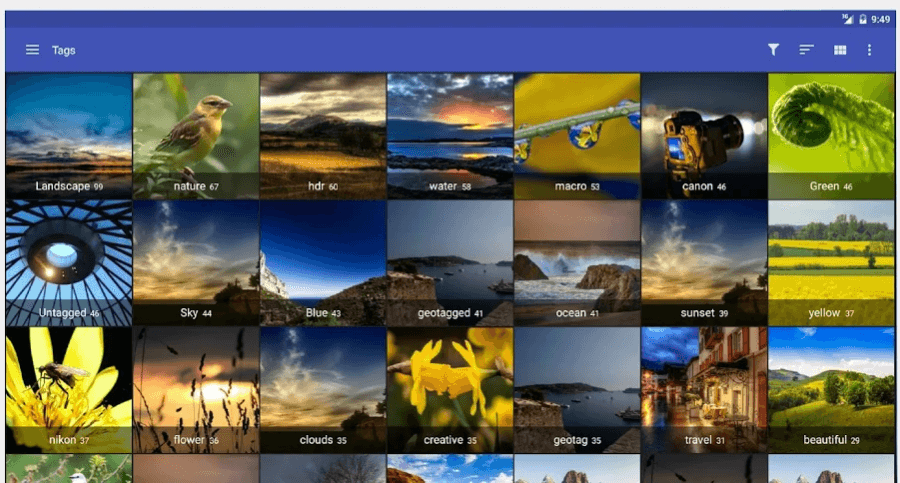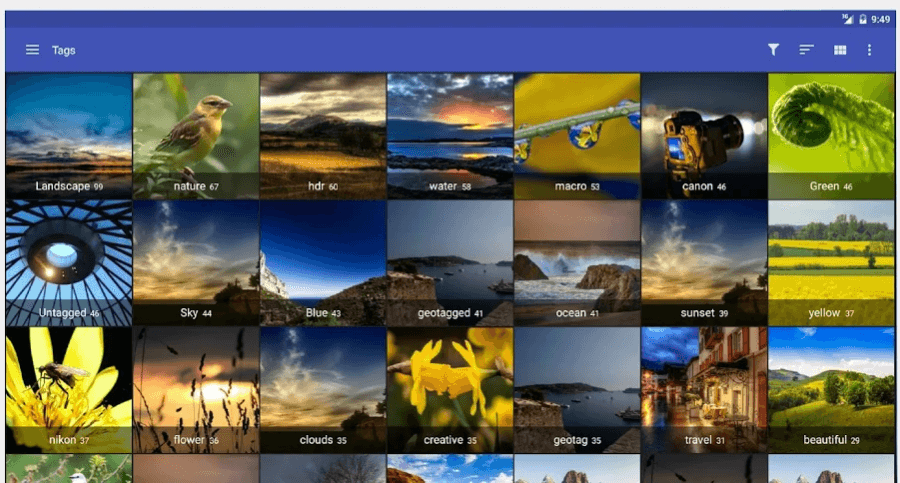 Downloads: 1000000 +
Customers rating:  (4.2 / 5)
Toolwiz Photos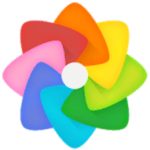 If you do not expect much from the gallery, but it should be attractive and have useful functions, it's worth looking at ToolWiz Photos. The program is very simple, even utilitarian, but it got a couple of unusual and interesting functions.
Immediately after the launch of ToolWiz Photos, we find ourselves in a minimalistic menu, made in white. Then you can see the albums with photos and the search button, go to the camera, sort the content and settings. Actually, there is nothing more in the main menu. It is noteworthy that even such a simple gallery, as ToolWiz Photos, contains a good photo editor. In addition to classic functions, such as adding stickers, drawing, cropping, rotating, etc., there is a color correction.
What does this gallery offer and why did it come to the review? And it is here due to its simplicity and additional functions. On the main screen, there is a button with parameters, which should be pressed. It will give us access to a private album, which is encrypted with a four-digit password, deleted photos, beautiful photo collages and other functions.
ToolWiz Photos can find and clean photos of bad quality in semi-automatic mode and cache of deleted images, duplicate original photos. In addition, the application has a 1 GB cloud storage and a history that indicates the photos taken, their period and quantity.
In this program, everything is simple and minimalistic. ToolWiz Photos – a simple gallery, equipped with cloud storage and several intelligent functions for working with photos. And it is quite clear and practically problem-free software. In short, it's worth a try.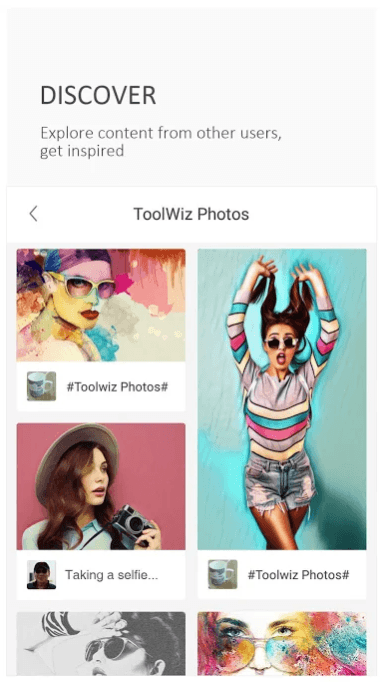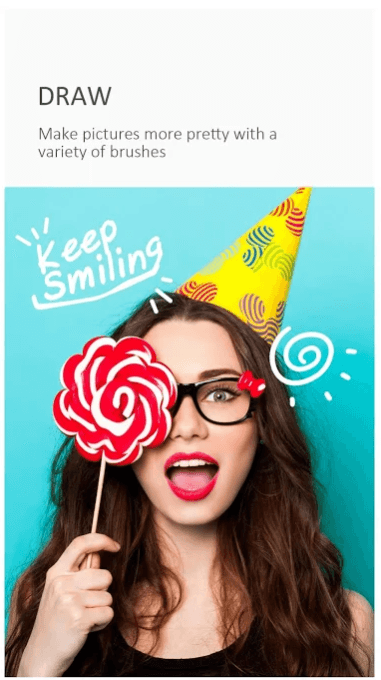 Downloads: 10000000 +
Customers rating:  (4.7 / 5)
FOTO Gallery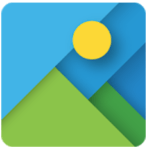 Gallery, what should it be? It's time to take a look at one more application for viewing photos and video – Foto Gallery. Albums look typical, photos are arranged in three columns, regardless of the grid in the menu. And files are sorted, both by date and by creation date. For convenience, we can "enable" the display of the date of creation of each photo.
When viewing the photo, we see the picture itself, as well as its name, the date of creation and other functions. Naturally, any photo can be quickly printed, copied, renamed, set as a background. There is a function of a slide show, but it is not performed in the best way, because it simply simulates flipping. It is clear that this is a simple gallery, but there isn't even an elementary editor in it.
At first glance, Foto Gallery is a typical representative of the "gallery" program. It looks good and is quite convenient. The application also boasts a lack of advertising, even in a free version, which we really liked.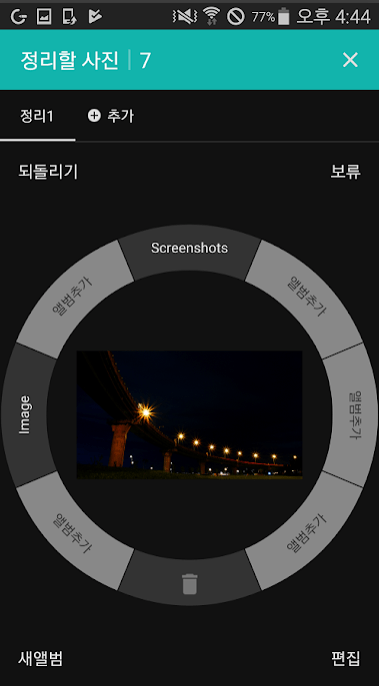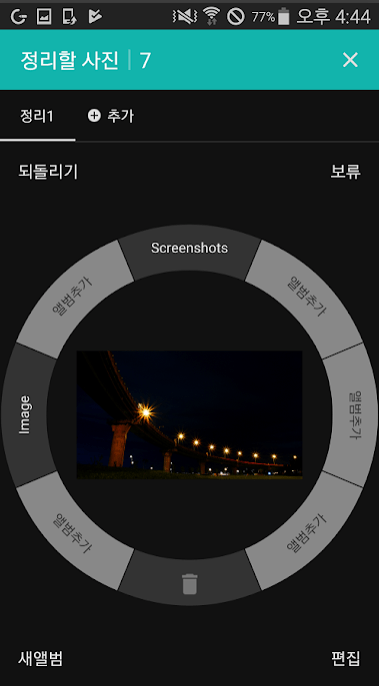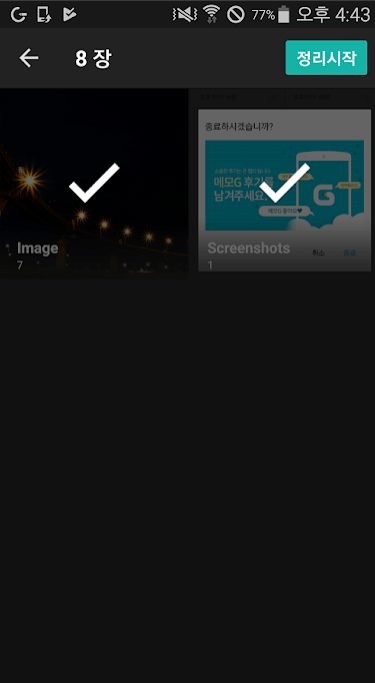 Downloads: 5000000 +
Customers rating:  (4.3 / 5)
Cloud Gallery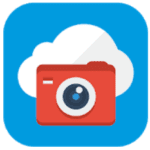 Cloud Gallery is a very small and simple application that is equipped with only a couple of functions – viewing photos and synchronizing with the cloud.
Cloud Gallery benefits:
Places to view and group the exact location where you took a photo;
Always updated product design;
Make a list of thousands of photos in a jiffy, find new photos instantly;
Fully integrated with the G Cloud backup application to copy all your photos and videos to the cloud;
View your photos and videos;
Share in social networks with ease;
View all at once, only photos, only videos, favorites, by tag or by location;
Optimized for large screens, for example, tablets;
View all photos saved in the cloud.
The main screen of the application is presented in the form of albums with different content. There is only one variation of the display of photos and videos, as well as their sorting – two columns on the smartphone. Separately, you can view photos, videos, favorites, as well as photos by location and with tags. As for the cloud storage, it is quite convenient, functional and free.
The menu is pretty enough, we can immediately add a tag to the picture, share it and put "like". And if you visit the menu, you can still delete, rotate, print and view details about the image. Everything, in principle, is good, but Cloud Gallery does not support landscape orientation. That's the real problem.
Cloud Gallery is an easy, stylish and very interesting gallery. It allows you to view pictures, and as an add-on, we can synchronize files with the cloud service and set a graphical password. In principle, nothing more is needed. From the shortcomings of the application, we note the lack of support for landscape orientation and contextual advertising.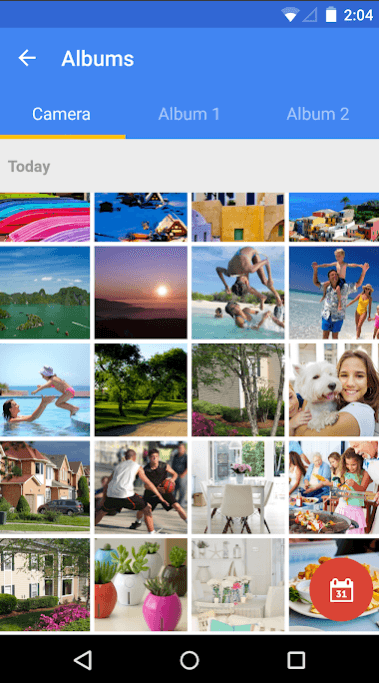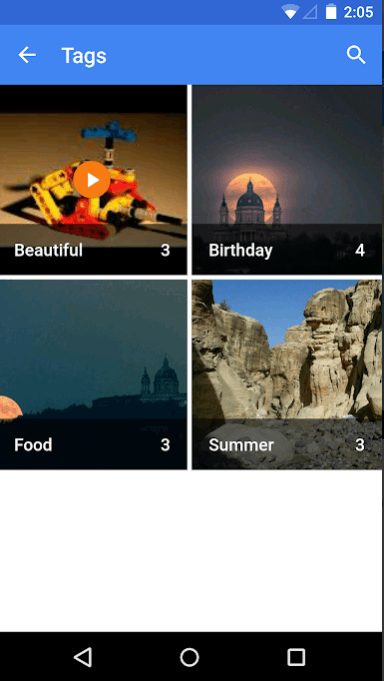 Downloads: 1000000 +
Customers rating:  (4.6 / 5)

Google Photos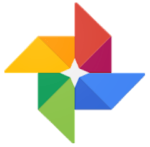 Google Photos is a simple but multifunctional gallery from Google! Save photos, the application automatically backs up photos, edit them and organize them according to the date and location.
In order to use Google Photo, you need a corresponding account. You can turn off automatic backup of photos and videos. You can only download high-quality images. Access to the photo is opened through any device using your account. Your photos will be protected and hidden from other people's eyes.
Do not worry that the memory on your phone will end. After creating backups, images can be deleted from the phone with a single finger tap. You can search for them in the gallery by photographed people, places and things.
The application creates automatic collages, animations, panoramas, and movies. All this you can do yourself! Use intuitive and powerful tools for photo editing. Adjust lighting, contrast, color, make vignetting or choose from 14 innovative photo filters, so that in just one touch your pictures would look great.
A ready-made photo album can be shared in any accessible way, and also allows you to add pictures to other users, that is, a family album can be combined together. Sharing is activated by the normal slider. Search in the program is carried out using filters. There is an auto-creative – automatic search for unusual in the opinion of Google Photo pictures.
Google Photo is a classic service with stable work, a set of all necessary tools and absolutely free. Manage the application easily, the interface is not overloaded with buttons, there is no advertising.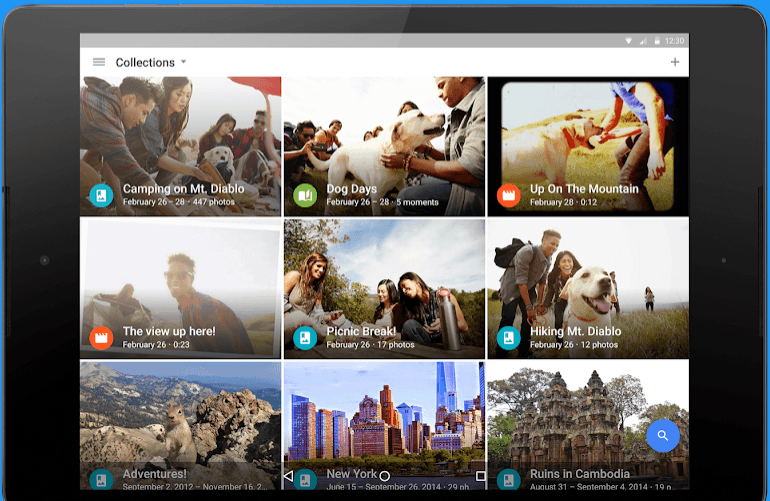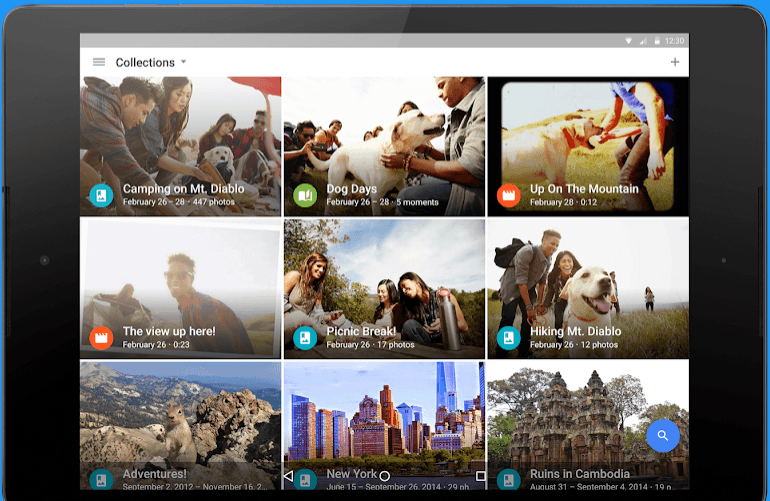 Downloads: 1000000000 +
Customers rating:  (4.5 / 5)