On Google Play you can find hundreds of thousands of sports games, but most of them are designed for a single player. But what if you and your friends want to play a game together?
There are not so many such projects, but they are. We've chosen the best 15 multiplayer sports games for you, which will help you to spend time and have fun.
eFootball PES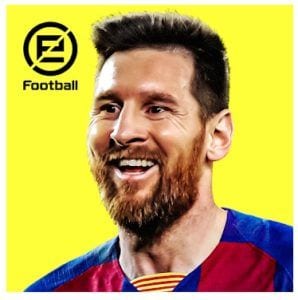 eFootball PES is a mobile game for football fans with realistic graphics and physics. It contains more than 8000 animated players, including legendary football players from around the world.
The program is an adaptation of the world-famous console game for smartphones and tablets. With its help, you will be able to feel and live every moment of the game, thanks to realistic graphics, animation and ball physics.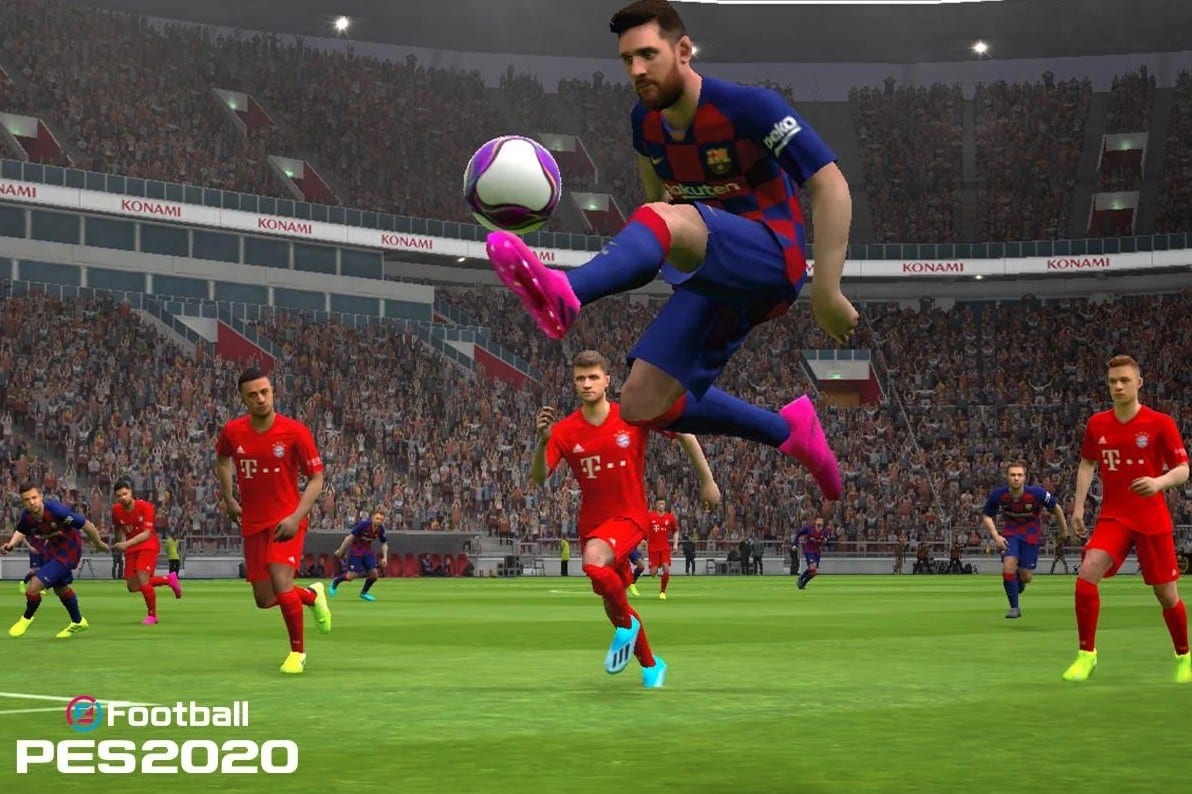 The game has several modes. So you can play with a friend on the same couch in Local Match mode, or you can put together a whole group of friends and have your own tournament in Local League mode.
You can also add users to your friends' list and challenge them in a friendly match, no matter how far apart you are.
Of course, the game also has an online mode, where you can challenge players from all over the world, participate in weekly competitions and receive all kinds of rewards and privileges.
Features of the game:
Over 8,000 animated players.
Football leagues from all over the world, including leagues from Russia, Japan, Portugal, Sweden, Denmark, etc.
Legendary football players such as Beckham, Zico, Romario, Cruyff, Nedved, Gullit, Maldini, and Kahn.
Play online with players from all over the world as well as in local leagues with friends.
High-quality graphics and animation.
Realistic physics.
Added new game styles, individual skills and celebrating goals that will make the images and characters more recognizable.
Use Unreal Engine 4.
eFootball PES is recognized as the best sports game at E3.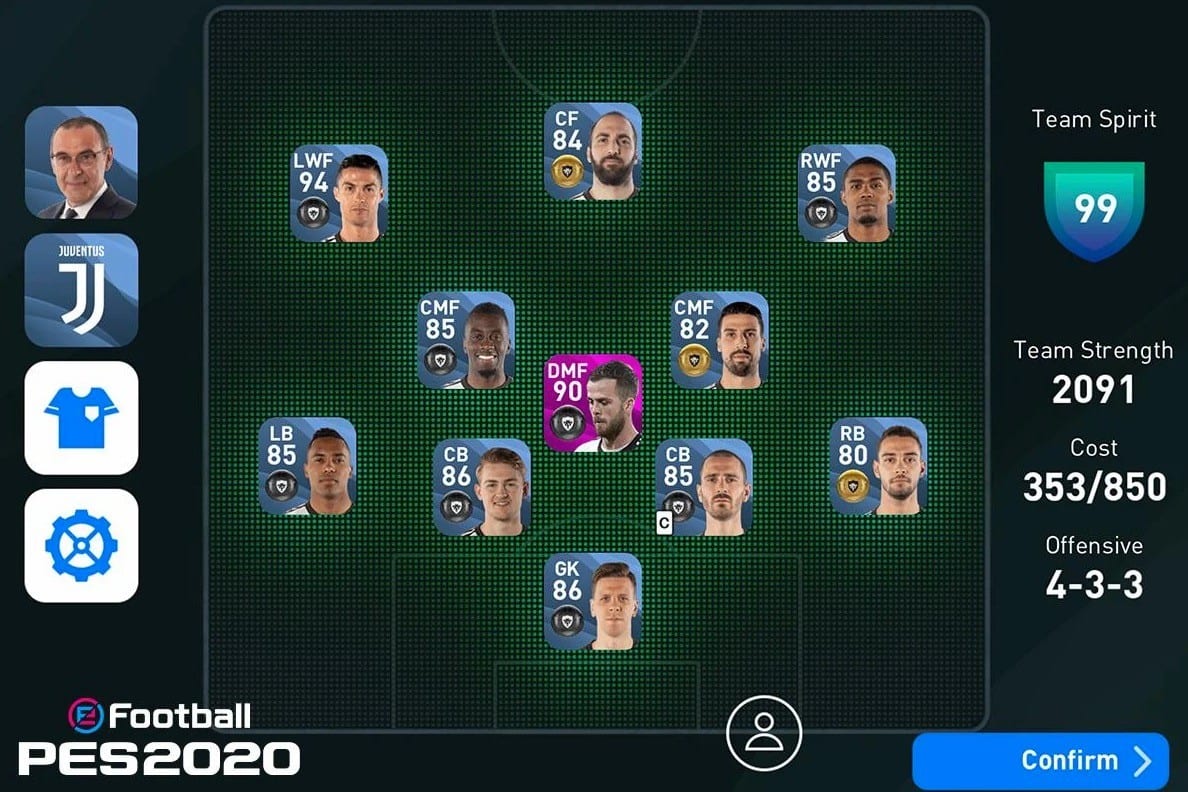 Downloads: 50 000 000 +
Customers rating:

(4.3 / 5)

You may also like: 41 Best multiplayer games for Android
Tennis Clash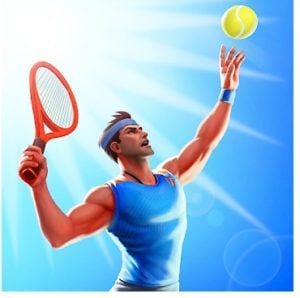 Tennis Clash is an excellent 3D sports simulator for Android smartphones and tablets. The application is free, but there are built-in purchases.
The main feature of the gameplay is that the rivals on the court will be real players. It's necessary to take part in tennis matches, try to win them and gradually grow in the ranking, gaining access to new rivals, stronger and more experienced. Thus, you can get enough experience and become the best.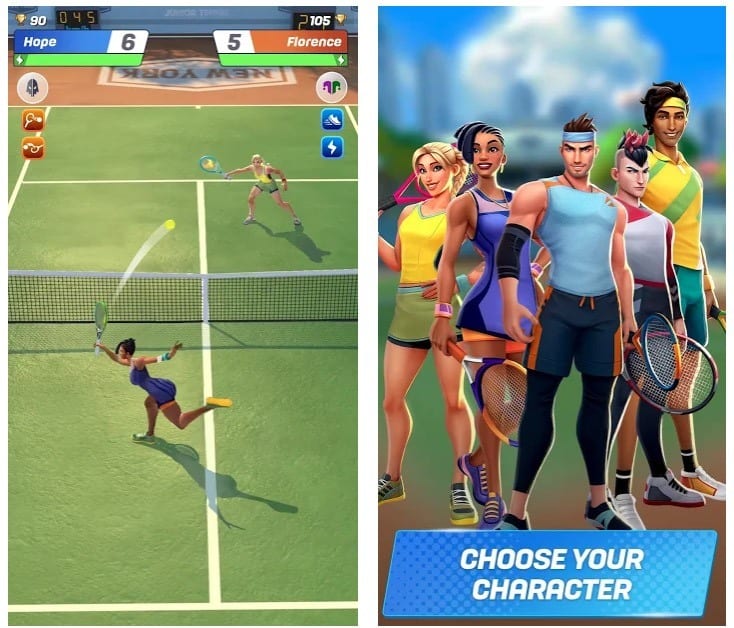 Matches are held for three minutes each. The trajectory of the ball will be shown on the screen with a yellow arrow. In between games, you can train your team, which has even a coach. The team can grow in levels, gradually becoming better, stronger and faster, which will give an advantage over opponents in the next competition.
You can spend your earned money on rackets, clothes and other things. You can gradually open new world arenas in France, the USA, and other countries.
Tennis Clash graphics are detailed, vivid and high quality.
Features of Tennis Clash:
Interesting gameplay;
Real rivals;
Good graphics;
Several locations and modes;
Convenient control.
Tennis Clash is sure to appeal not only to tennis fans but also to fans of dynamic sports simulators.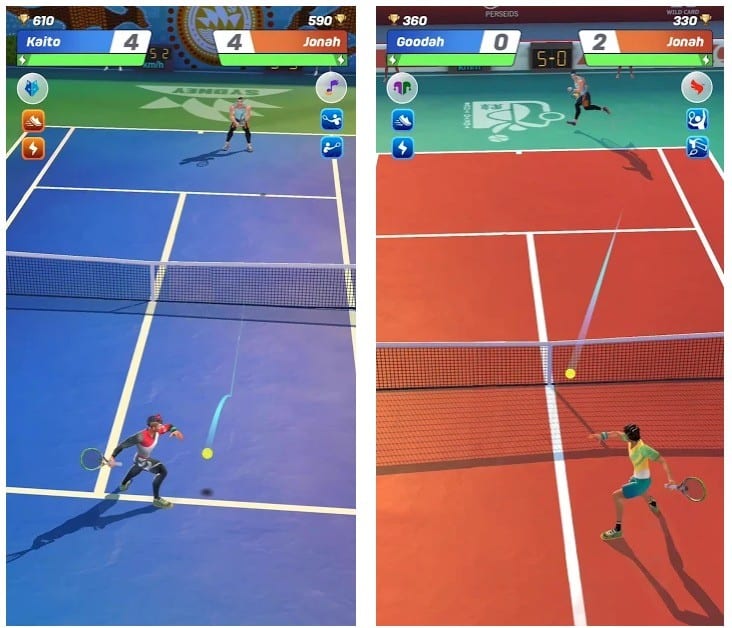 Downloads: 10 000 000 +
Customers rating:

(4.2 / 5)

FIFA Soccer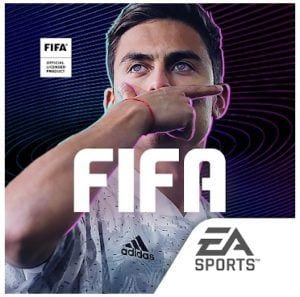 FIFA Mobile Soccer is a realistic football simulator that allows you to develop your chosen team, compete in real time with users from all over the world, and at the same time take the leading position in the overall ranking.
You will have to start your career with training – and start from the basics. The computer assistant will show you how to interact with the ball, tell you about passes, kicks and standard positions, and at the same time, additional control options.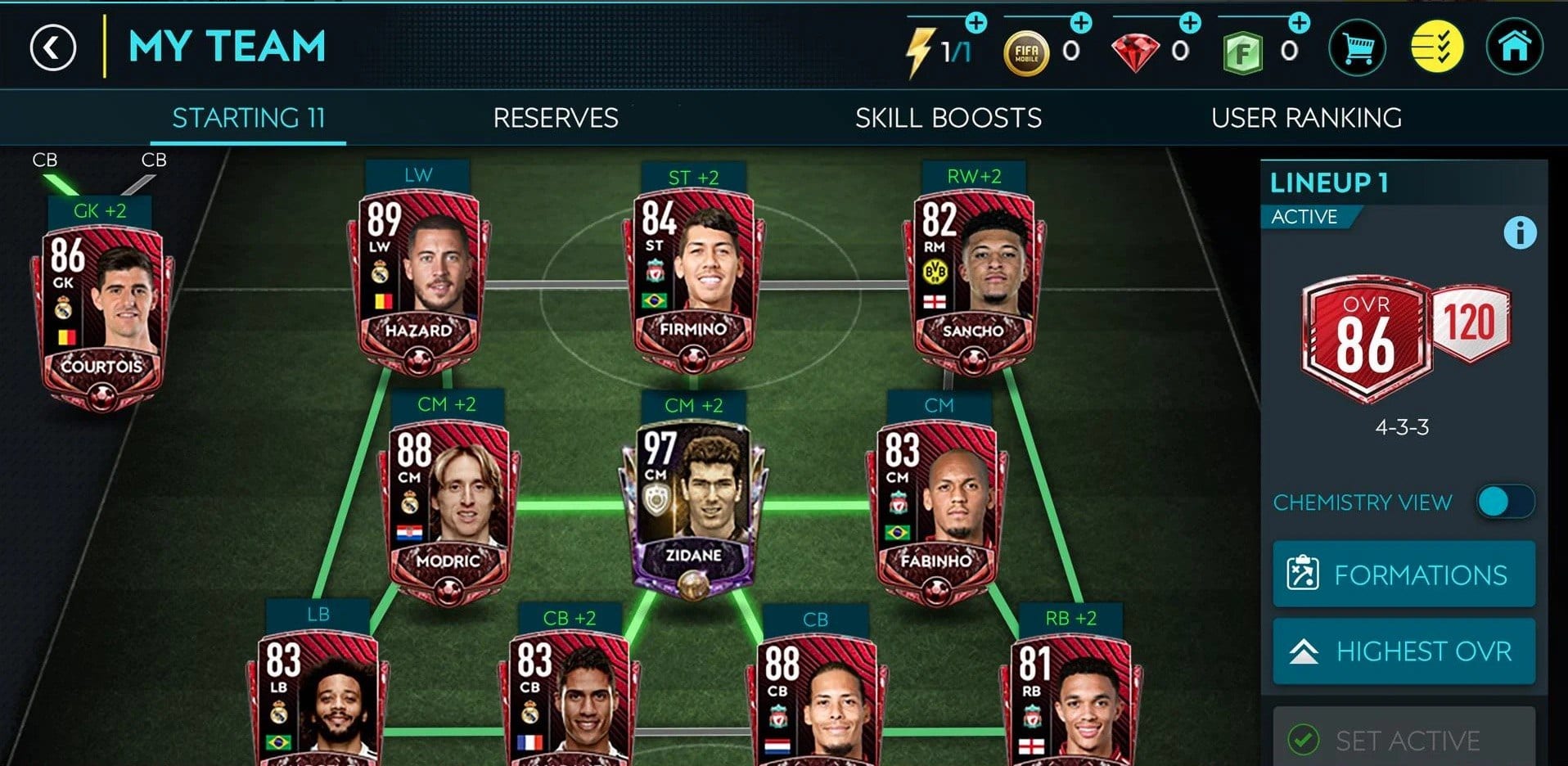 Each match in FIFA Mobile Soccer develops in the standard model of classic football – two halves of forty-five minutes, twenty-two players on the field. The main goal is to win by taking advantage of various features.
If the standard modes are boring, it's better to go straight to the career – there you will have to open sets of rewards for the actions performed, change the team and make improvements, by exchanging items in the store.
Features of the game:
Challenge your friends in real-time 11v11 gameplay;
Play head-to-head in VS Attack;
Build your Ultimate Team using any player from the Premier League, La Liga, Ligue 1, Bundesliga, Serie A, MLS, and more.
Download FIFA Mobile Soccer is recommended to all fans of football – it's a great project, even if you don't know about competitors.
Both graphics and physics are incredible and all modes are perfectly matched. Moreover, the difference from the computer original only in scale – but maybe very soon and this will change?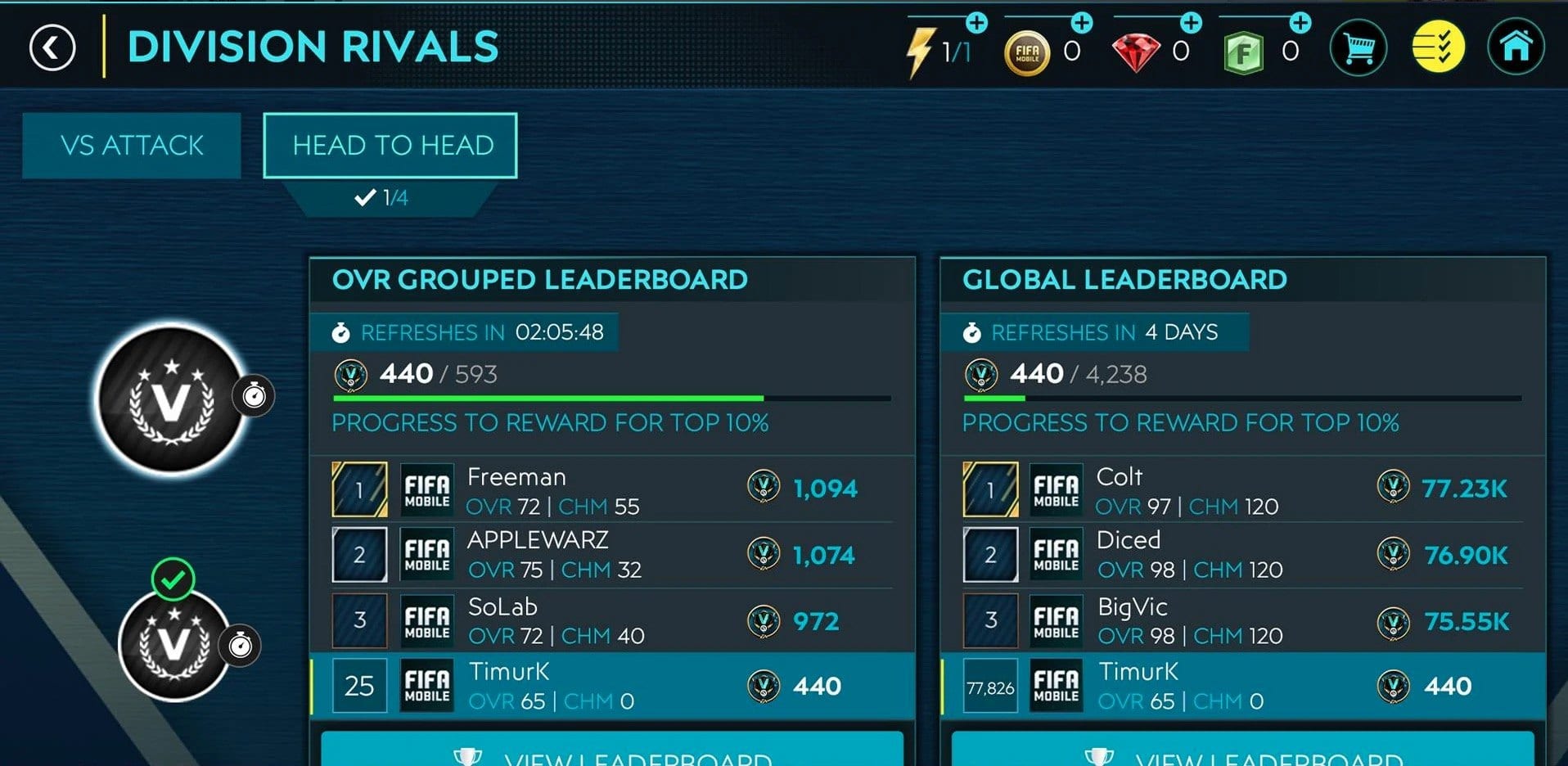 Downloads: 100 000 000 +
Customers rating:

(4.0 / 5)

Volleyball Champions 3D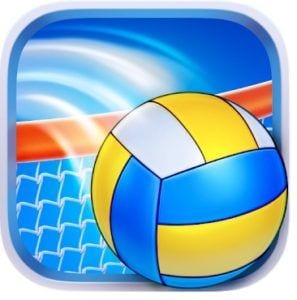 Volleyball Champions 3D has become one of the most popular volleyball games due to its quality graphics, realistic animation, and ease of control.
In Volleyball 3D you will be able to create your own character by choosing his skin color, hair color, eyes and, of course, name. It will be the character you will win matches with, you will be able to improve his qualities and even discover new hairstyles.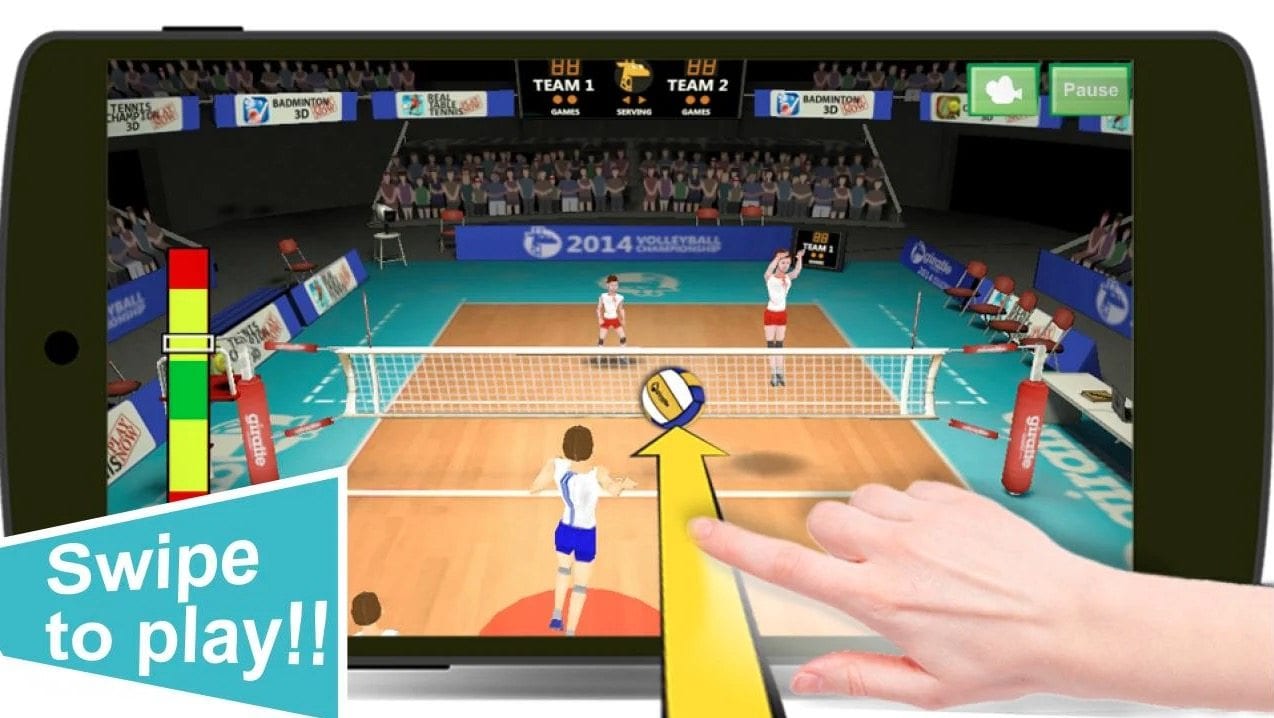 The gameplay is much easier than you might think at first sight. You will have to point your finger in the direction you want to send the ball – but you will have to do it at the right moment.
If everything is done correctly, then the ball will fly in the right direction and with the right force, although even in this case there is every chance that the opponent will beat it.
In Volleyball 3D you can play alone against the computer in different competitions or in multiplayer mode against other real players. One way or another, the game system will be the same.
Features of the game:
Intuitive, one finger controls;
Beautiful graphics;
Online Multiplayer.
Volleyball 3D – a very fun volleyball with excellent gameplay, perfectly adapted for devices with touch screens, and with good graphics.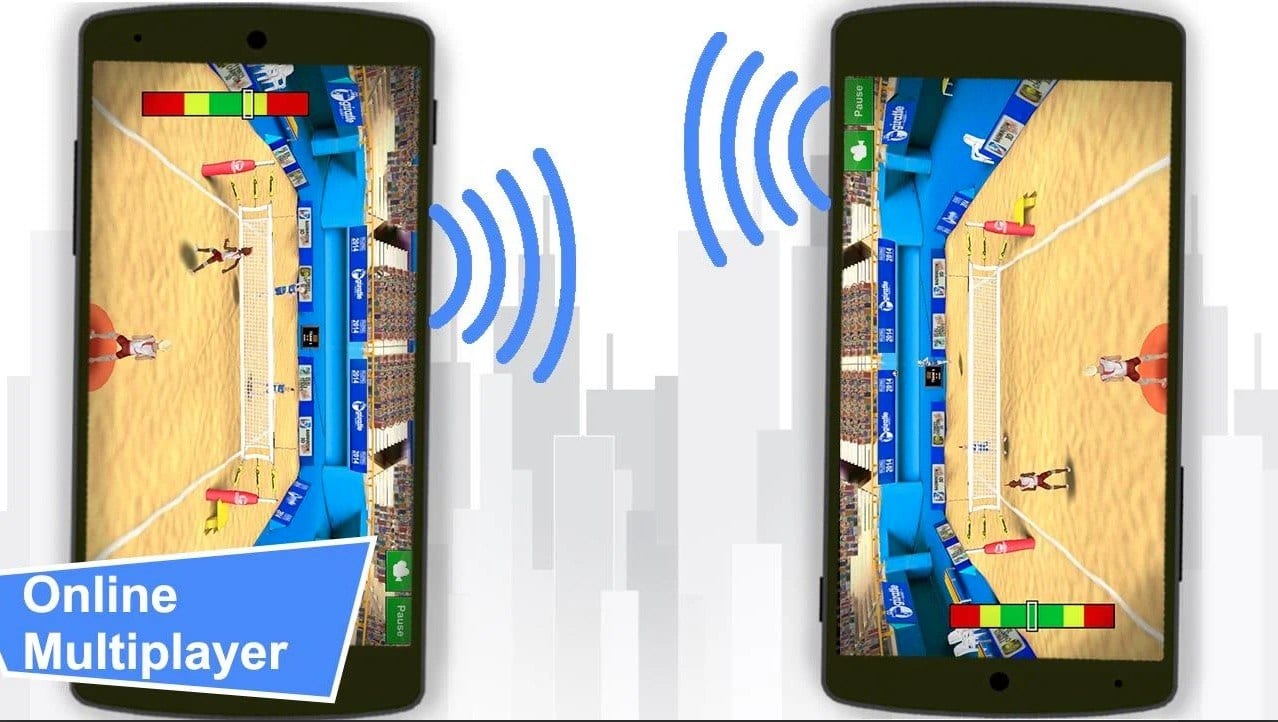 Downloads: 10 000 000 +
Customers rating:

(4.2 / 5)

Football Strike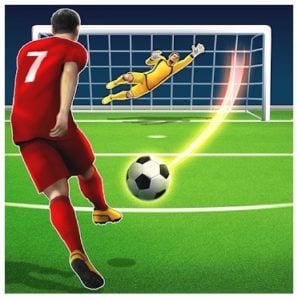 This game will please the fans of the genre with high-quality three-dimensional graphics, realistic location design, excellent animation, and decent sound.
Football Strike – Multiplayer Soccer includes several modes, each of which consists of several sub-modes. However, the latter differ only in the size of the contribution and potential winnings.
Our rivals will be real players from all over the world. And also, depending on the type of game, we will either have to speed to score penalties or kick the ball on targets, or periodically change with the goalkeeper to not only hit the goal, or to protect them.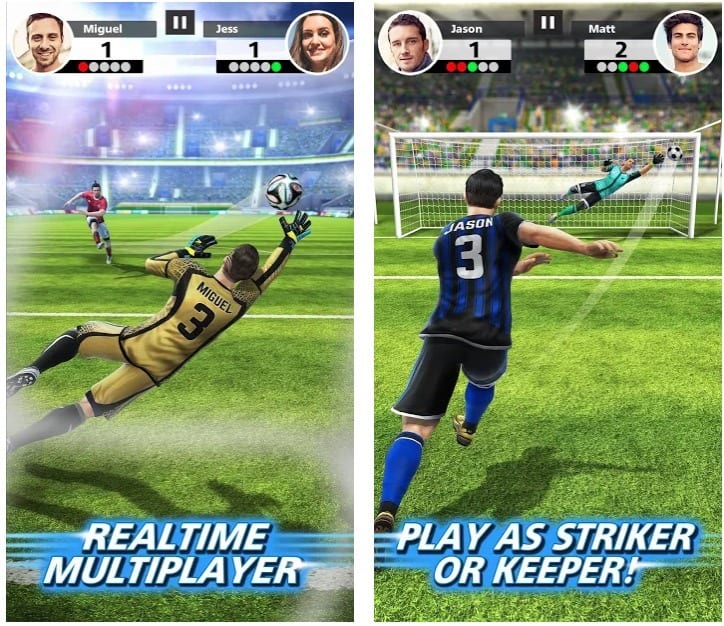 The most interesting happens during an attempt to beat the opponent in real time on penalty kicks. Judge for yourself: in front of us is a gate with several targets and next to it is the opponent.
Whoever scores more goals within the allotted time limit has won. The nuance is that we don't know which target the opponent is aiming at. Of course, he doesn't know about our plans either and that makes the gameplay even more interesting.
Features of Football Strike:
High-quality 3D graphics;
Several modes;
Customization of the player;
Real opponents.
To get access to the new modes, you need to build up your experience and increase your fortune for higher stakes.
In general, the simulator has turned out quite fascinating. Football Strike is a football game that gives you the opportunity to compete with your friends from all over the world at any time.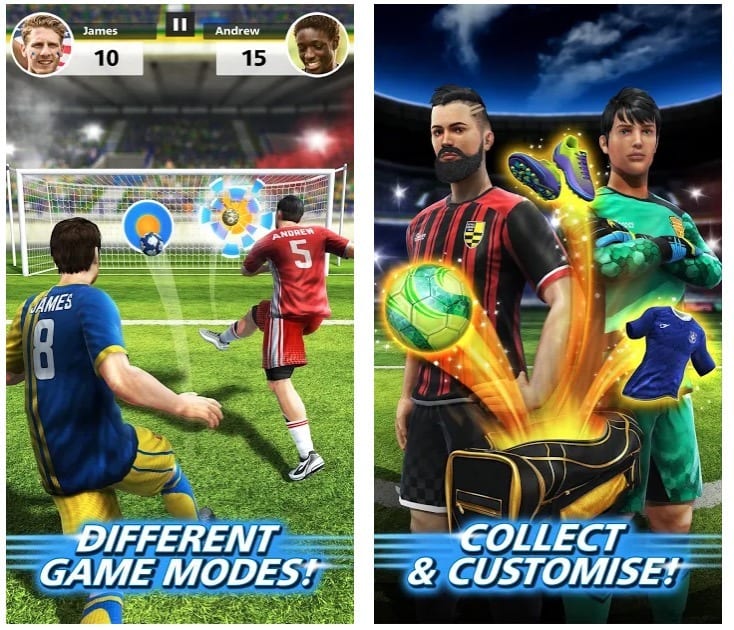 Downloads: 100 000 000 +
Customers rating:

(4.4 / 5)

Ice Rage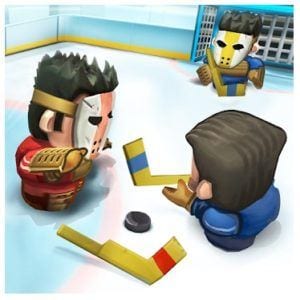 Have you ever tried to get on skates and score a puck in the enemy gate? That's okay because you can also play hockey in Ice Rage for Android.
The game takes place at the stadium, where fans are gathered to support their favorite ice hockey stars, including you. You can choose one of the match modes: single-player or multiplayer, select the color of your team and set one of three difficulty levels.
A small amount of time is allocated for each match, during which you have to score goals and earn game points.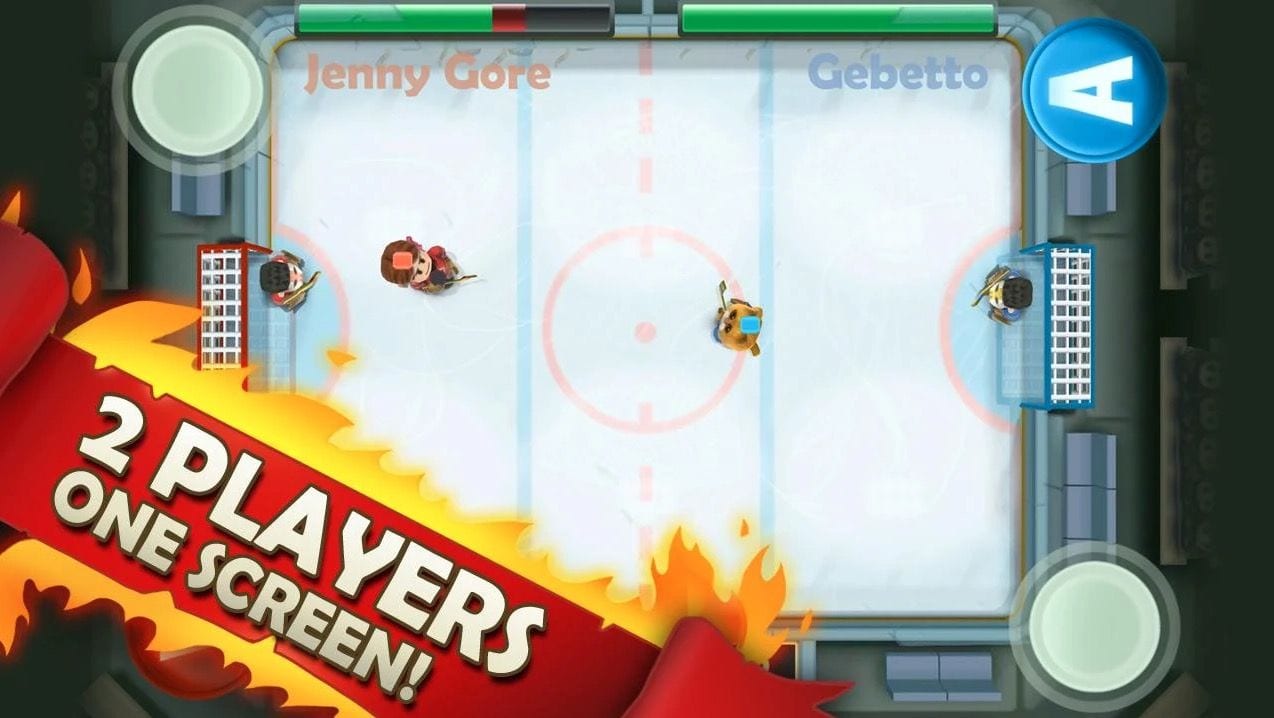 Management is carried out using two virtual keys, responsible for the direction of the player and the kick. Each team has two players in total – forward and goalkeeper, but for a small stadium, this number is more than enough.
In Ice Rage multiplayer mode, you can play with a friend on the same device. In this case, you can choose players of both groups from a wide range of characters. In multiplayer mode, you will not only defeat your opponent with the help of gained points but also damage his health through powerful pushes.
Features of Football Strike:
Controller support;
3D graphics;
Tons of unique characters to choose from.
To become a virtual hockey player, simply download Ice Rage on Android. Arrange hockey tournaments at any time of year!
Downloads: 5 000 000 +
Customers rating:

(4.1 / 5)

Badminton League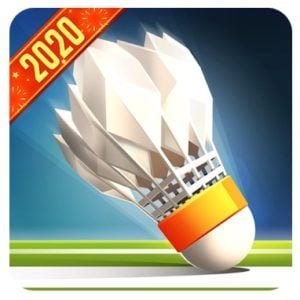 Badminton League – go to the court with your racket and shuttlecock, beat your opponents, acquire special abilities and become a player in the main badminton tournament.
The game has an interesting design, high-quality graphic design in the computer-style, excellent animation and good sound.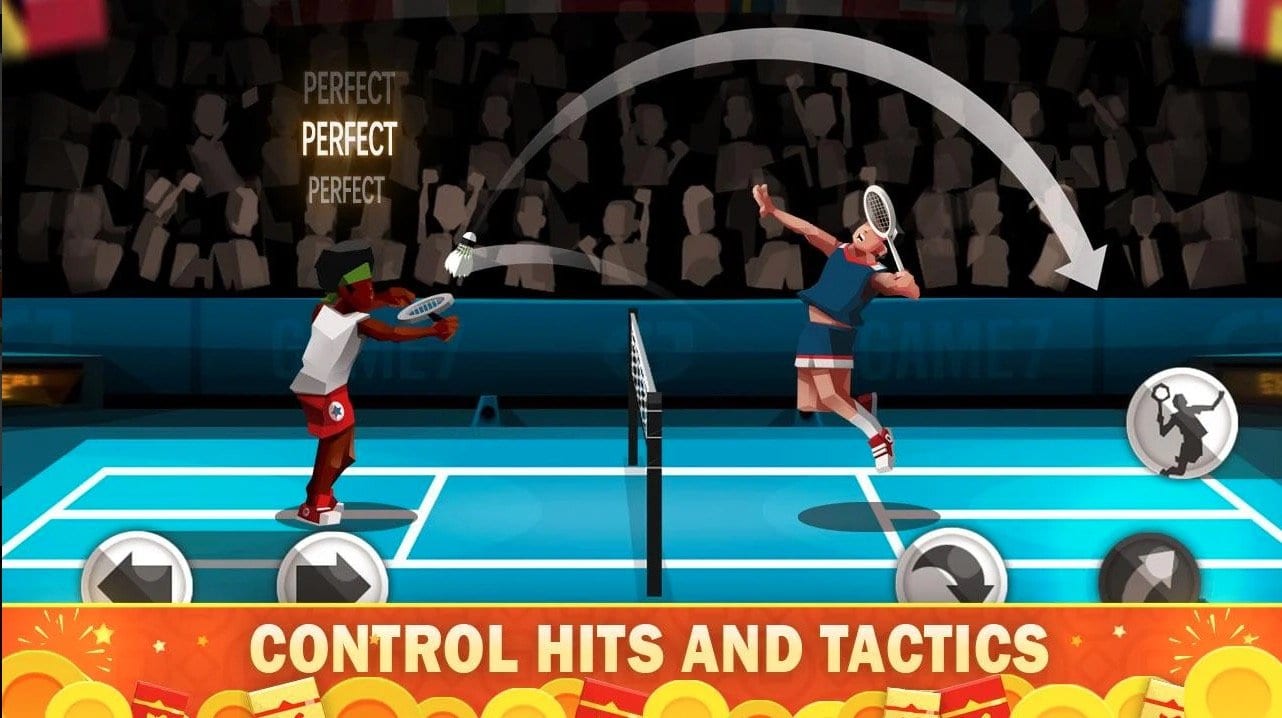 Features of Badminton League:
Interesting gameplay;
Good graphics;
Easy management;
Several modes.
Thanks to the latter you can customize the main character buying clothes and equipment.
The game has a lot of different modes, among which matches, tournaments and local competitions with bots.
You understand that the main and the most fun part of the gameplay is to play with real opponents, right? Try to take the process as seriously as possible and maybe you will get to the top of the tournament table.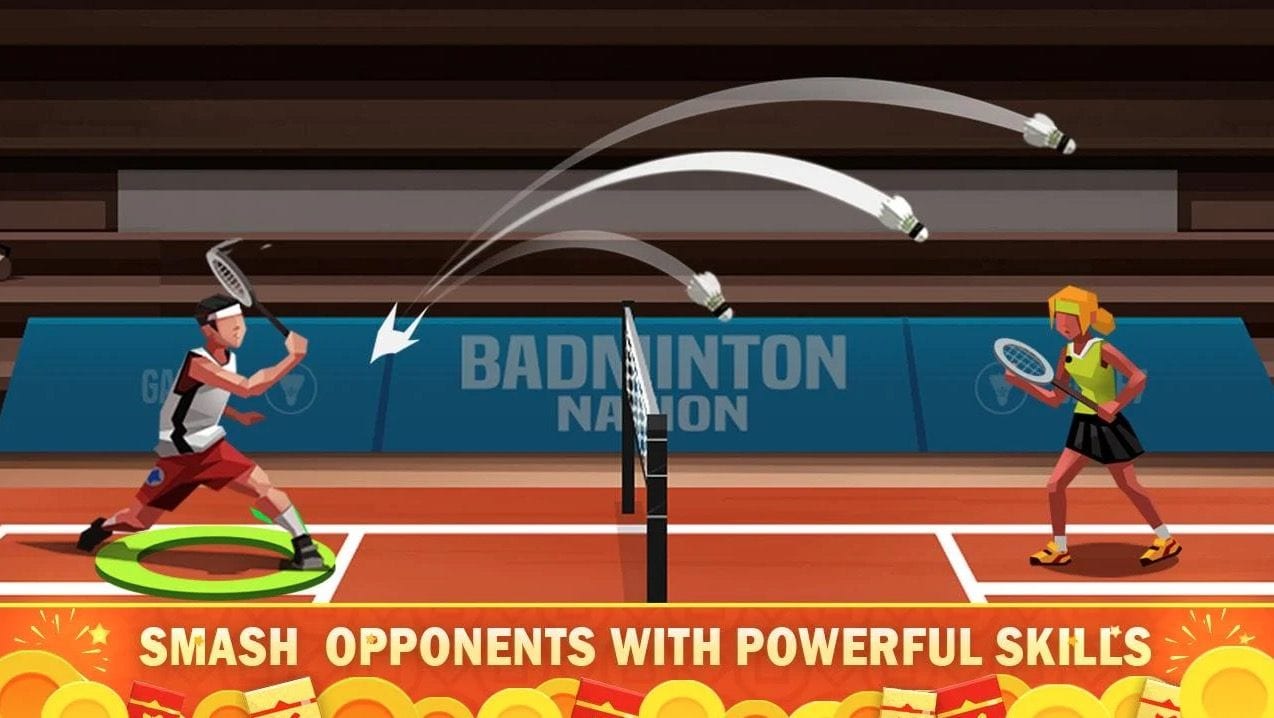 Downloads: 10 000 000 +
Customers rating:

(4.2 / 5)

Basketball Stars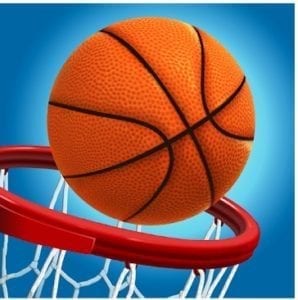 Basketball Stars is the best game of its kind. This is a very high-quality simulator that will immerse you in the fascinating world of basketball from the first minutes and help you develop your character in a fascinating virtual world.
You will take the ball in your hands and surprise everyone around you with your skills. But to gain recognition, you have to go a difficult way from a beginner to a professional athlete. To do this, you will be able to use a special training mode, in which you will perform numerous tasks to improve the character.
Receiving prizes and coins, you will be able to buy your player additional equipment or to randomly improve his skills.
Features of the game:
Thousands of unique looks;
Original gameplay;
Good animation;
Easy management.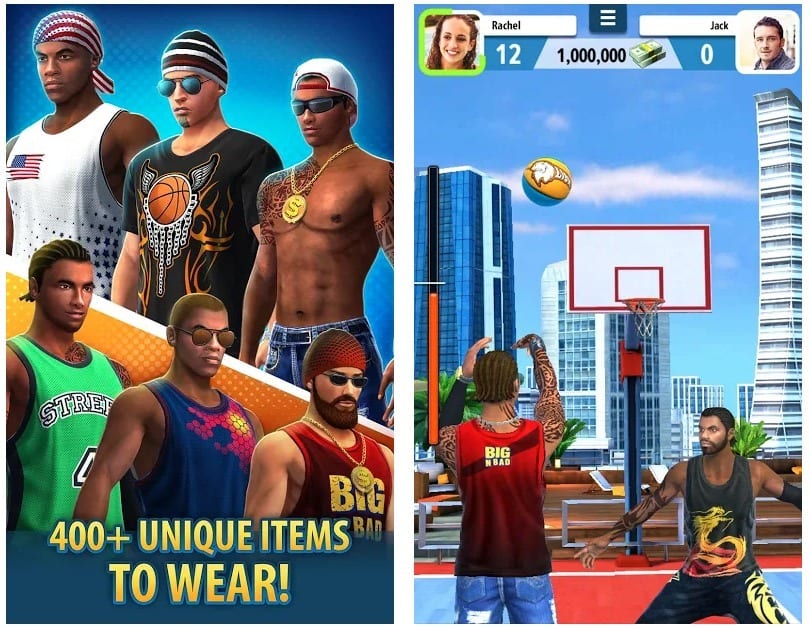 The main feature of the game is the ability to confront real users from around the world with the multiplayer mode. But remember, to be successful, your character must be upgraded as much as possible. So pick up the ball and train.
Additional benefits of the game include high-quality 3D graphics, easy control, and realistic design. All the details of the basketball matches are reproduced in great detail, so each user will have an amazing presence effect. And to control the character, just click on the screen of your mobile device.
Downloads: 50 000 000 +
Customers rating:

(4.4 / 5)

Final kick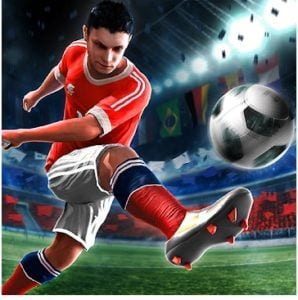 An exciting sports game Final kick will allow you to get a dose of adrenaline and enjoyable emotions. In the story, you have to control the players in the final penalty shootout series, and the victory of your favorite team will depend on your skills.
Thanks to the quality graphics and endless game opportunities, you will be able to score spectacular goals with your own hands and enjoy the result.
Your task is not just to score a goal, but to cheat your opponent with the help of various tricks, which you will be able to gradually learn, getting the gaming experience.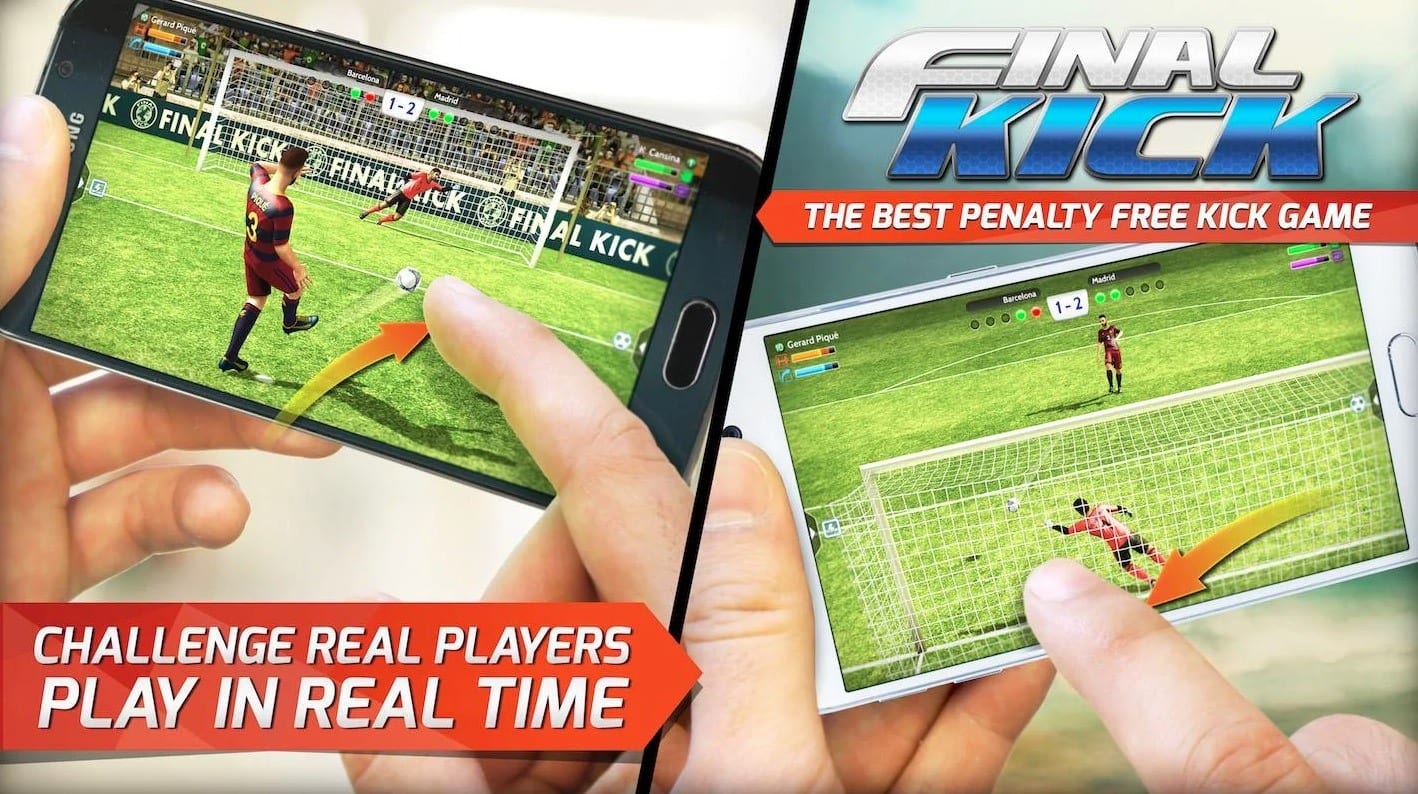 The game Final kick has very high quality, three-dimensional graphics, realistic design, and physics as if transport you to the best football arenas in the world. Only in the virtual world of the game, you can show all your skills, so this application will be a favorite entertainment for all football fans.
All actions of a football player differ realistic physics, so be sure to take into account this fact when the crucial moment of the goal comes. In addition, the application is very easy to manage. To do this, simply touch the screen of your mobile phone or tablet with a finger.
The features of Final Kick:
Excellent gaming physics;
You can customize your character;
Multiplayer, all games will be played in real time;
About twenty different fights.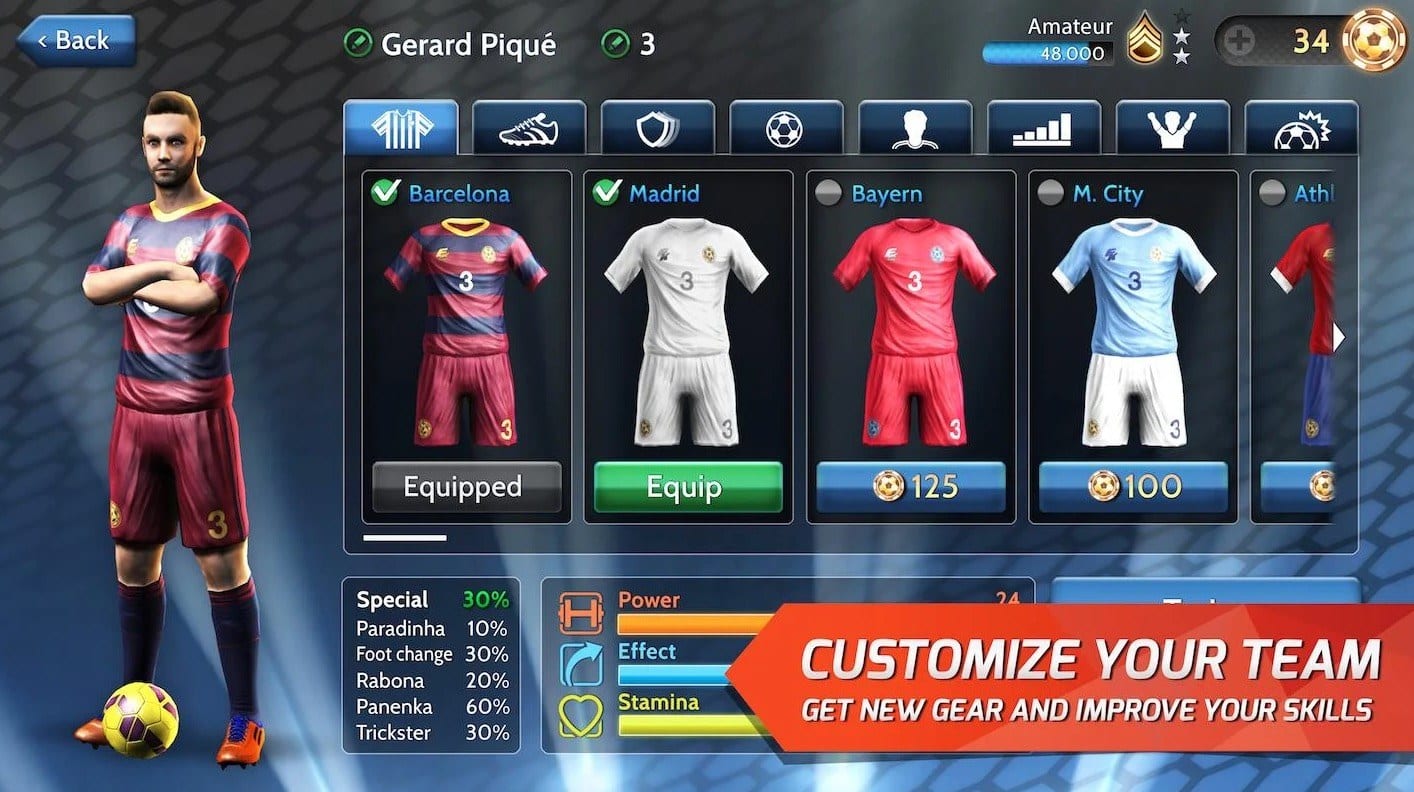 Downloads: 10 000 000 +
Customers rating:

(4.4 / 5)

Bowling King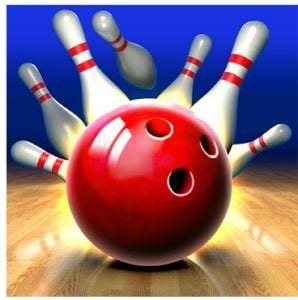 Bowling King is a multiplayer bowling simulator with realistic physics, serious rules and a lot of settings of equipment and visual elements. Totally sporting battles unfold on the courts of Las Vegas, New York, Sydney, and Paris – at stake are multimillion fortunes, valuable awards and, of course, the reputation of an invincible player.
Sports simulator Bowling King surprises by interiors of the sites of different countries – advertising, inscriptions, track colors, pins, and even balls. Moreover, sometimes the interface and option to count the points change.
However, you don't need to hope for automatic innovations in terms of design – the store offers various improvements and purchases that allow you to fundamentally change any outfit.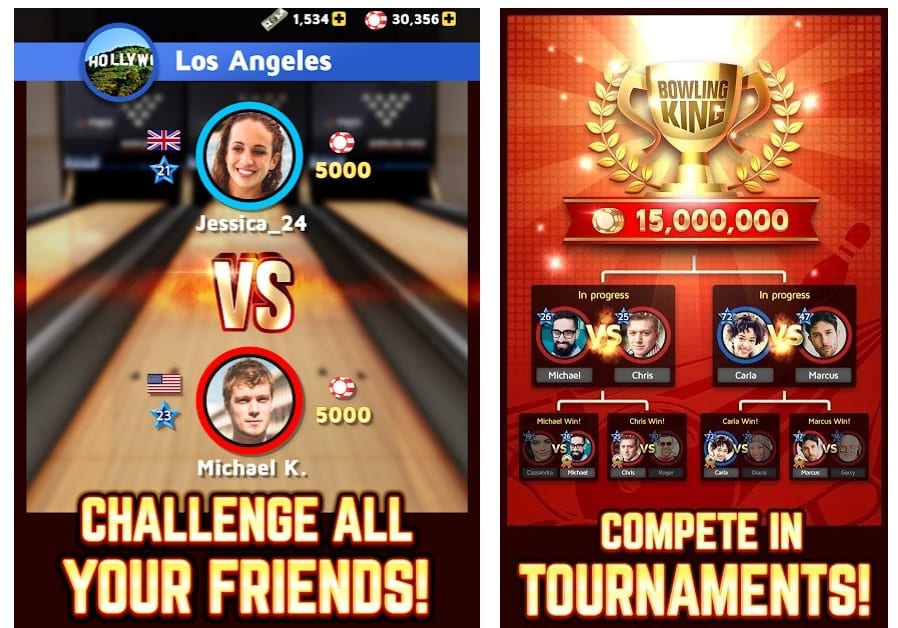 Network battles between friends are not as grandiose emotions as the competition with casual rivals for valuable prizes and money. Even more interesting is the Challenge mode, where you will have to pass levels to complete the most difficult tasks. Players even have to win at roulette and several slot machines!
Interesting features of the game:
The ability to change the management to suit your needs;
Cool graphics, which in some places is just terrible, but also well optimized;
Plenty of mini-games.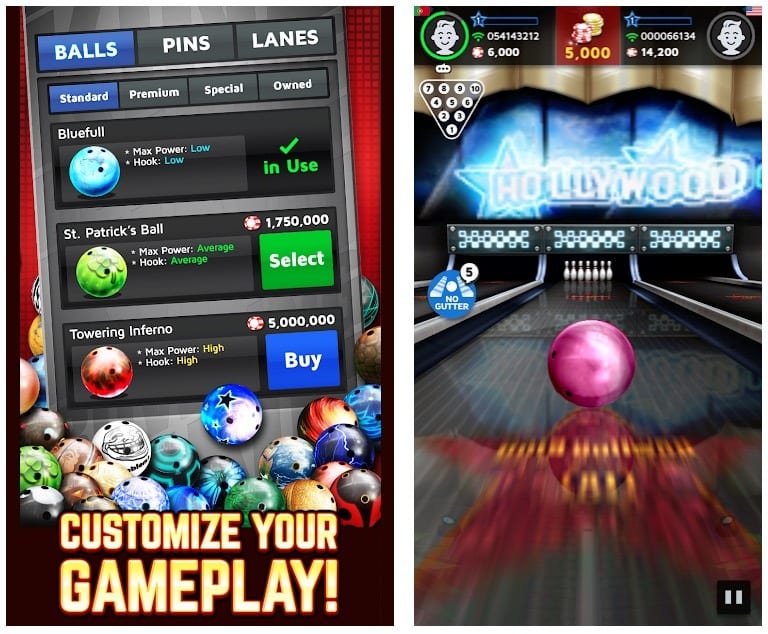 Downloads: 10 000 000 +
Customers rating:

(4.6 / 5)

WGT Golf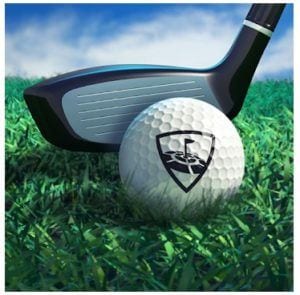 WGT Golf is a real gift for all fans of golf.
This is a high-quality simulator that gives all golf enthusiasts a wide range of opportunities. Here you can manage the most famous golfers in the world, take part in world-class competitions and even develop your own career.
Starting to play the role of a beginner, you will gradually perform various tasks that will bring you gaming points and useful items that will help you reach the desired level of professionalism.
And if you already consider yourself a fairly experienced golfer, you can switch the game to multiplayer mode. In this mode, you will be able to compete in real time with other users from around the world.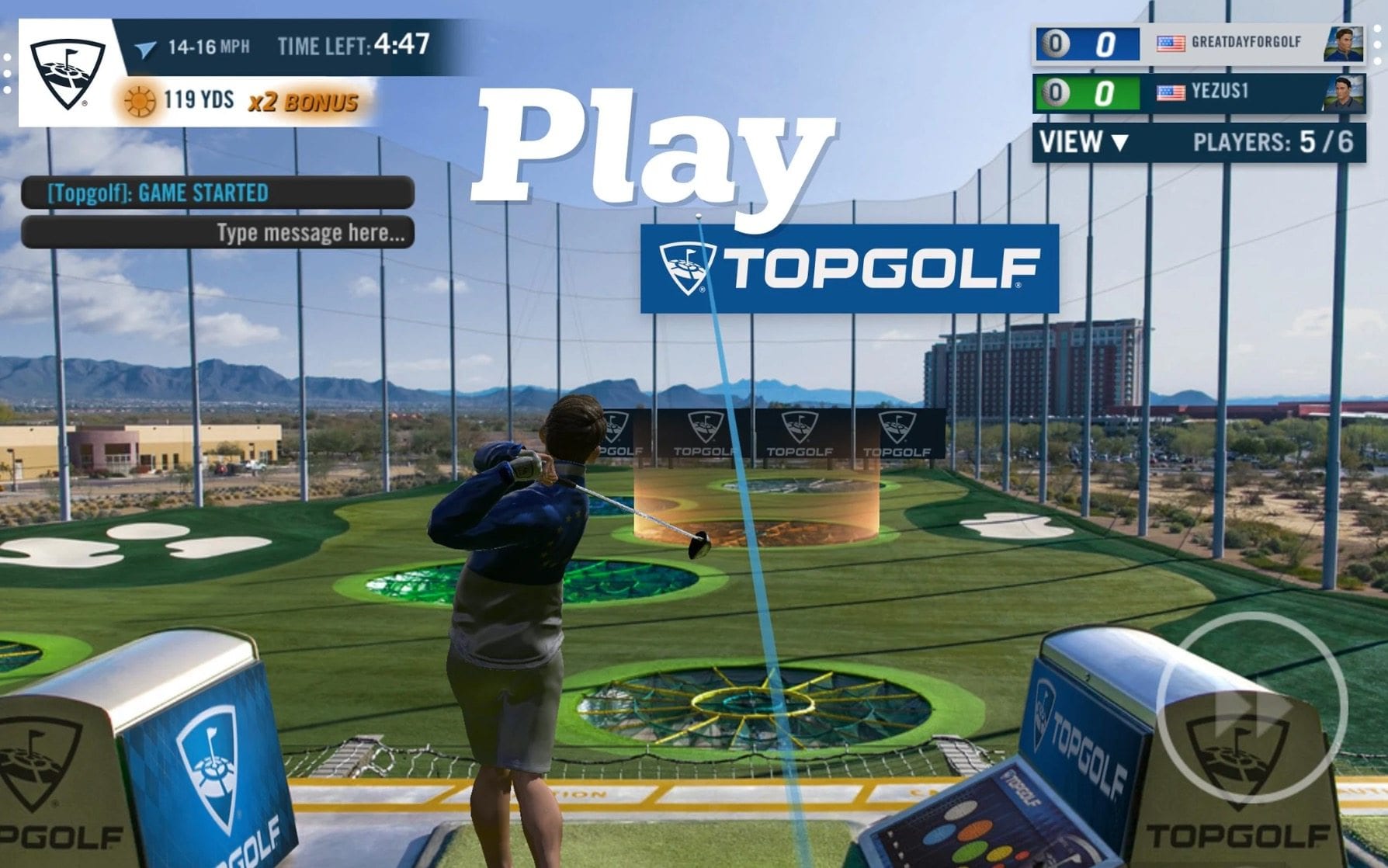 WGT Golf features very high-quality graphics, and all instruments and equipment are reproduced with stunning precision. In addition, the character is very easy to control by simply touching the screen of the mobile device.
Features of the game:
Excellent physics and mechanics;
Various locations, landscape features;
Experience more than 15 championship golf courses.
The app is free to download on all types of mobile devices and includes additional paid content.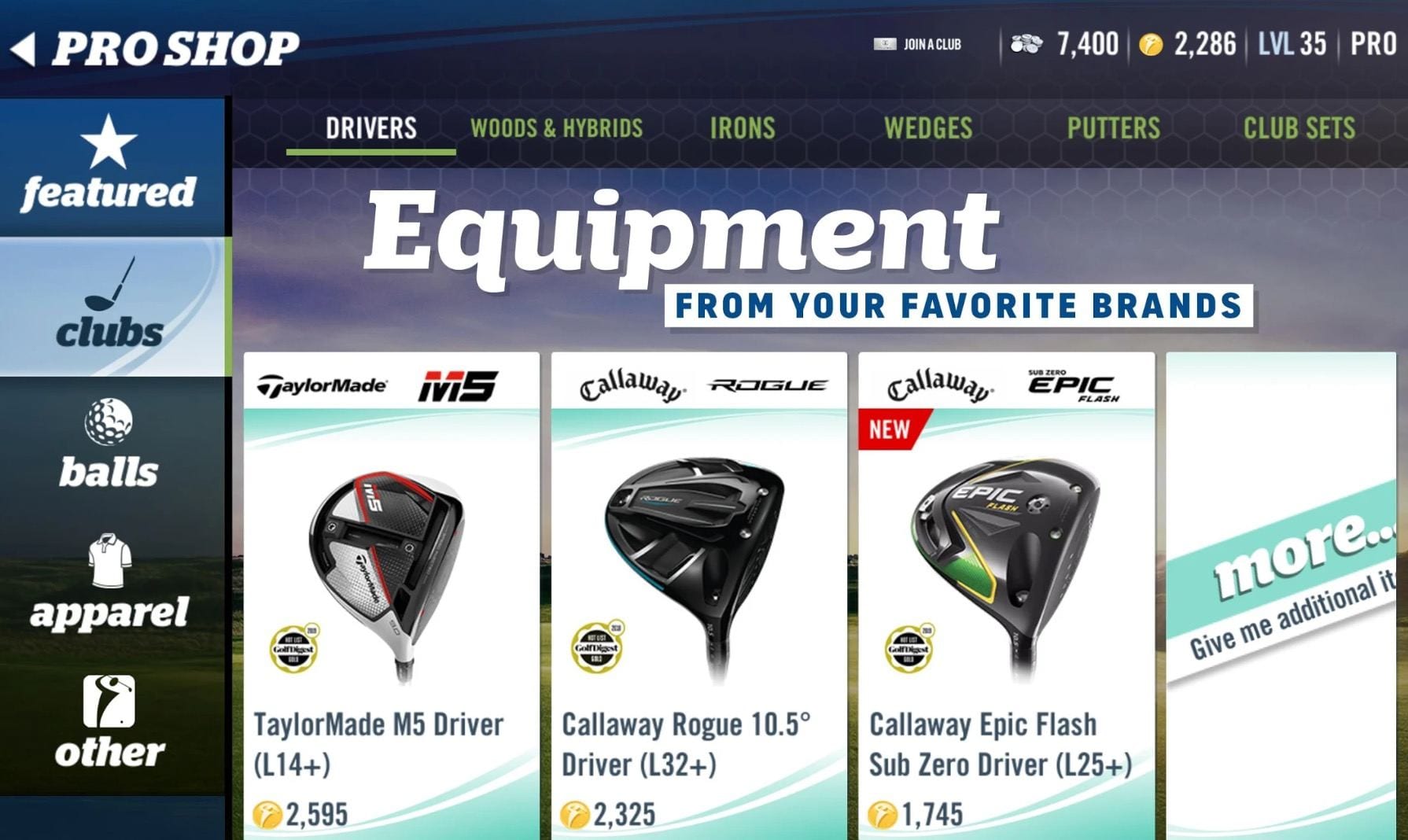 Downloads: 10 000 000 +
Customers rating:

(4.2 / 5)

Pro Darts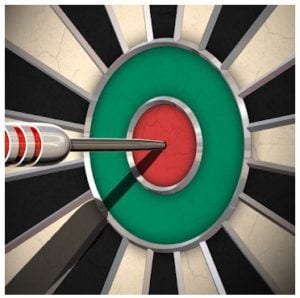 This game is a work of gaming art from iWare Designs Ltd. It's designed specifically for those who like to throw darts in a photo of the boss or someone you don't like. So if you have one, download Pro Darts to Android and enjoy the gameplay.
There are interesting competitions and championships available. Thanks to them, you can try your hand with another player or with three dozen different from each other, the style of play, computers.
In the online version of the game, you can choose opponents. There is also the ability to make throws for time or speed. For training a single mode is ideal.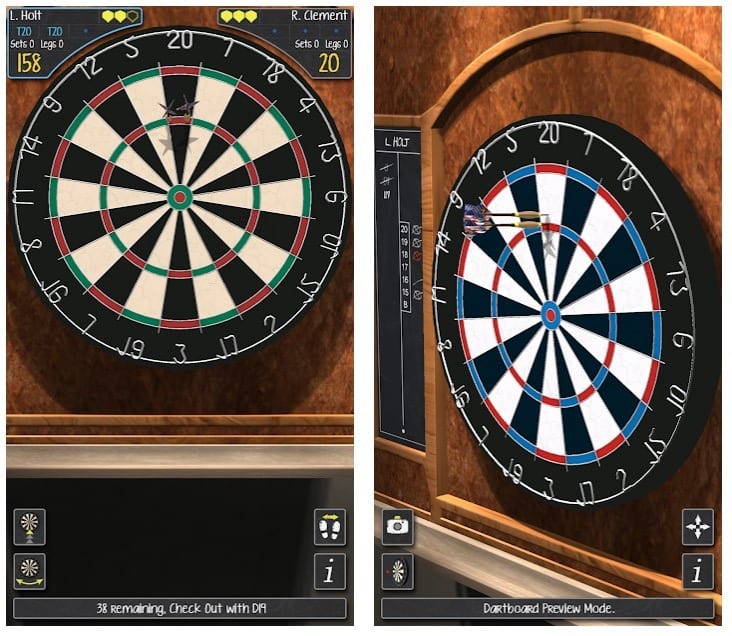 The design is replete with darts in the most original color scheme. Also, the board has its own skins to choose from. However, they differ not only in appearance, but also in rules, each has its own, but interesting, so you will not be bored.
Mechanics in almost everything copies the real throw and sound of hitting the board. To throw the dart, you need to make a swipe on the display. 3 cameras will help you to better navigate and choose the necessary trajectory and force of the throw.
Each victory promises to reward you with a new cup. To open new levels, you need a certain number of points and the necessary cup availability.
Features of Pro Darts:
3D textured environments;
Over 10 unique dart boards;
Multiplayer game modes including 'pass and play'.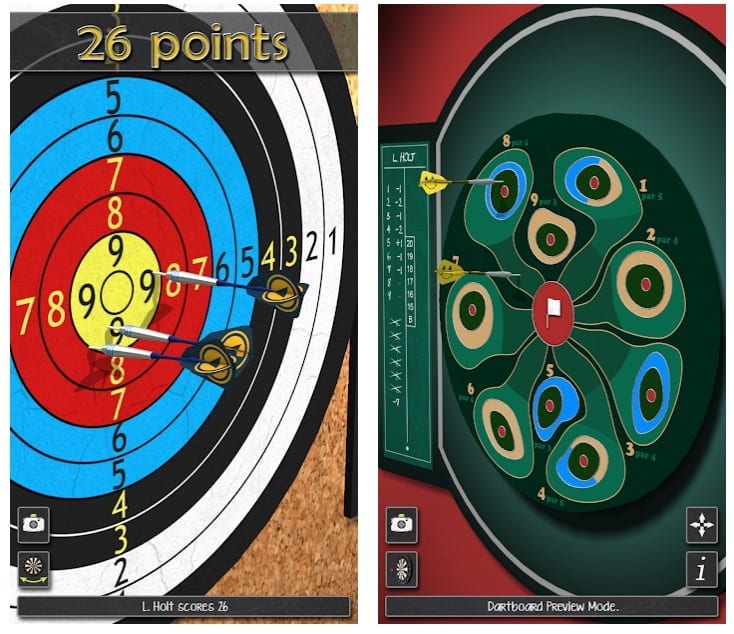 Downloads: 5 000 000 +
Customers rating:

(4.2 / 5)

Darts Club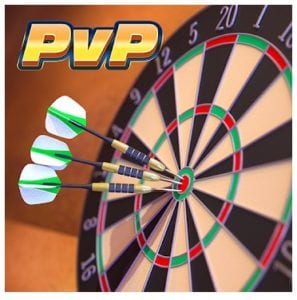 Darts Club is an arcade game where you throw darts in different environments to prove your skill in darts. You can also play with other players from all over the world to be motivated by the spirit of competition.
Exercise your accuracy in a realistic 3-dimensional graphic environment. All you have to do is calculate the trajectory of the dart, and then swipe your finger on the screen of your smartphone to throw.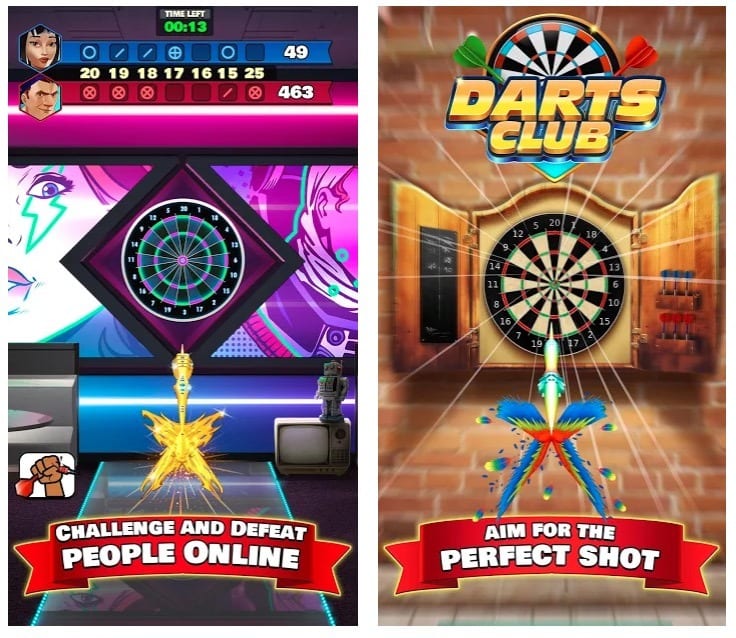 The Darts Club's main menu offers a variety of darts locations to choose from. And for the rewards you've won, you can customize the design of your darts and give the games a unique ambiance to hit the bull's-eye and get the highest score.
Features of the game:
Qualitative gameplay;
Pleasant graphics;
Real rivals;
Adequate Random;
Easy management.
Darts Club is one of the games where you can test your accuracy by throwing darts at targets. It's a great game that gives you a sense of realism and will keep you fascinated for a long time.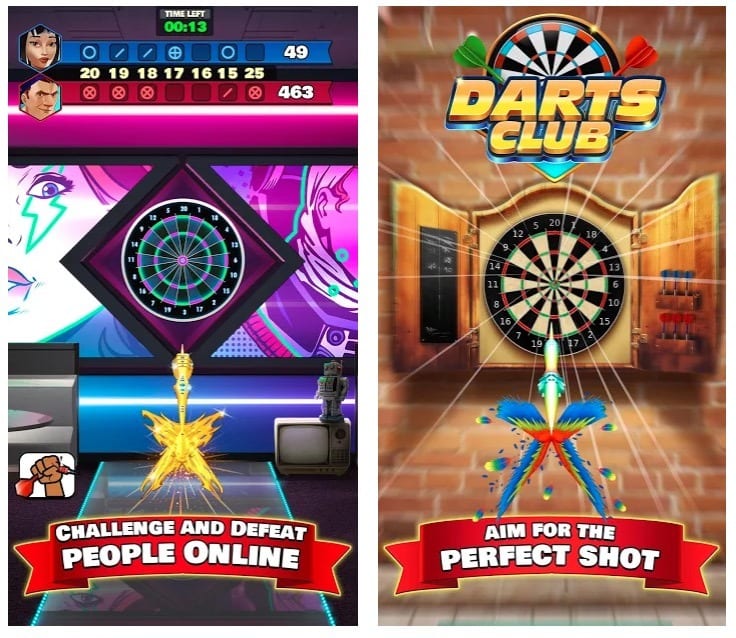 Downloads: 5 000 000 +
Customers rating:

(4.5 / 5)

Bocce 3D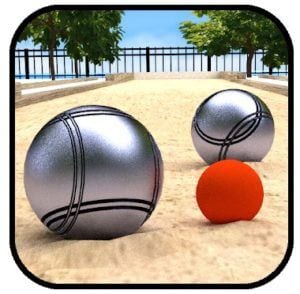 Bocce 3D is a bocce simulator with beautiful graphics, logical controls, and four game modes. Feel the realism and atmosphere!
Play for one of the 13 available countries. 3 tournaments and 4 modes will add variety to the gameplay.
Compete with your friends in a multiplayer on one device or multiple devices. The latest update has simplified the connection procedure for multiplayer games.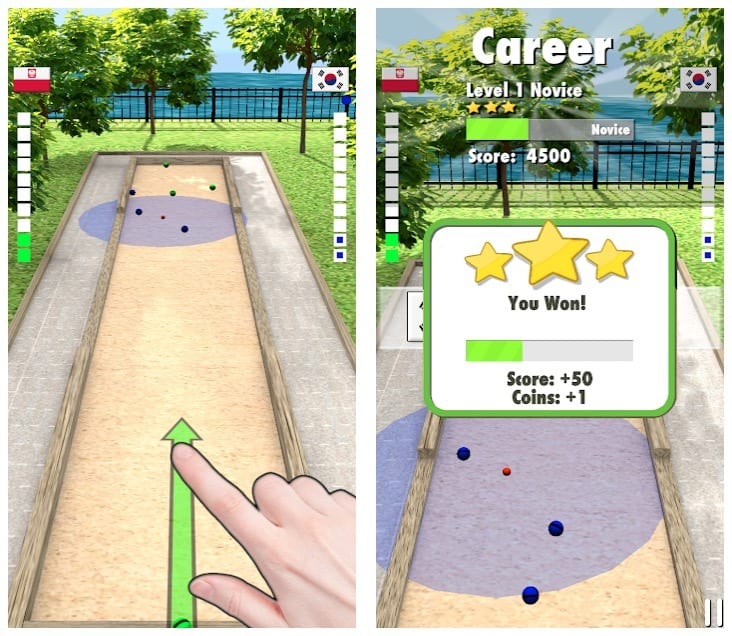 Features of the game:
Online multiplayer;
Lots of active online players;
Career mode.
Users note the fascination of gameplay, especially games with friends, as well as modern product design. You should try to immerse yourself in an extraordinary and exciting game called bocce.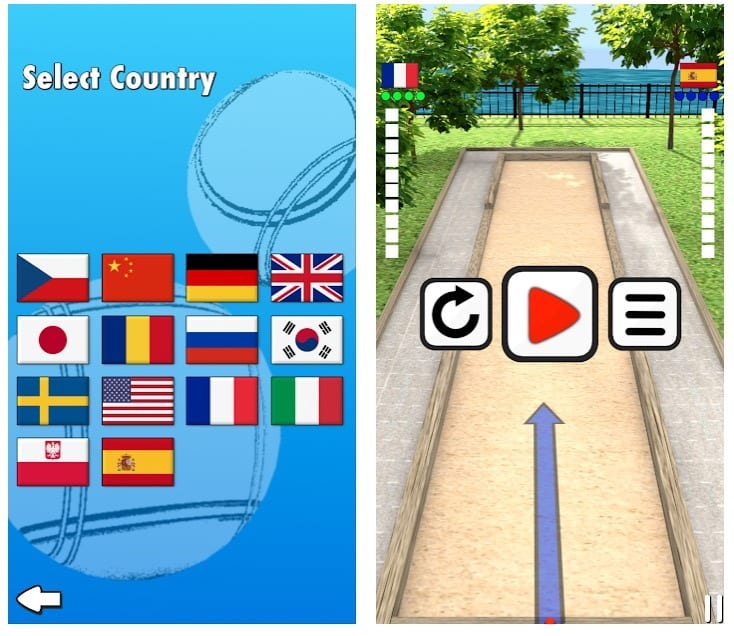 Downloads: 10 000 000 +
Customers rating:

(4.0 / 5)

You may also like: 17 Best Free racing games without WiFi
Virtual Table Tennis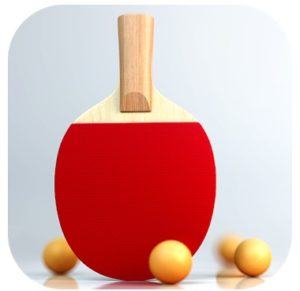 Virtual Table Tennis is the only mobile application with high-quality 3D graphics and a unique multiplayer mode that works in real time.
By downloading the application, you will be able to take part in real table tennis matches, competing with different players from all over the world.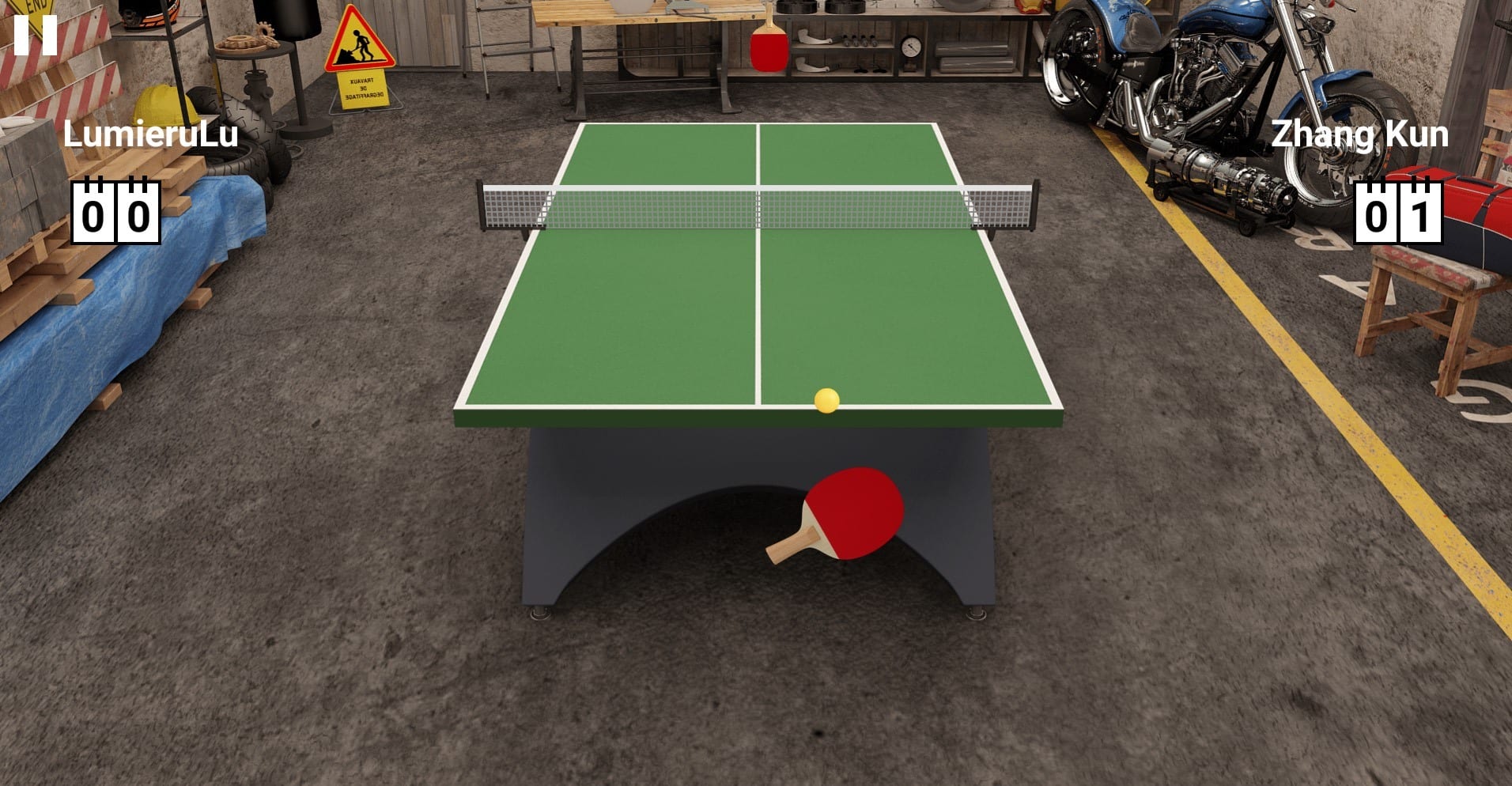 Thanks to the quality three-dimensional graphics, all the actions of your character and the movement of the ball have amazingly realistic physics. In addition, by participating in competitions and receiving gifts for victory, you will have the opportunity to improve your character, improving his speed, reaction and other indicators that play an important role in table tennis matches.
Get ready to fight against opponents of different qualifications, so try to upgrade your character as much as possible. To do so, you can use other modes that allow you to train and hone your skills without having to compete in real time.
The game also features high-quality sound effects, and you can share your achievements with friends using the access buttons on the most popular social networks.
Features of Virtual Table Tennis:
Different levels of complexity;
Different tables and lots of different rackets.
Play with artificial intelligence or with other players online.
Downloads: 10 000 000 +
Customers rating:

(4.1 / 5)