For someone, card games are a great way to relax. It's a part of the morning trip to work or an essential attribute of the evening pastime. The fact that you can play such games on your phone offline is just great. You can play alone, or you can fight with opponents in a virtual gaming space at any time of the day or night. Here is a selection of the best offline card games for Android:
Gin Rummy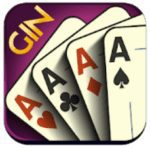 Many know about such a card game as Gin. But if you aren't one of them, then quickly try to download Gin Rummy Offline on Android. This is one of the most famous gambling in the world. Now it can be used directly from the screen of a mobile phone.
Now it's possible to play your favorite game anywhere, the only thing you need is a free time. It doesn't matter whether you have a trip on subway, train or sit at the station waiting, the game will give you the most impressions absolutely anywhere. Now you don't need to gather friends around the table for this simple gamble.
Artificial intelligence will act against the player. There are several playing tables. Each has its own design, which will cause the players only positive emotions.
The game will delight you with pleasant graphics with excellent picture quality and smooth animation. Several design options for gaming tables and cards diversify the game interface, and the additional functions provide a comfortable game that brings only positive emotions.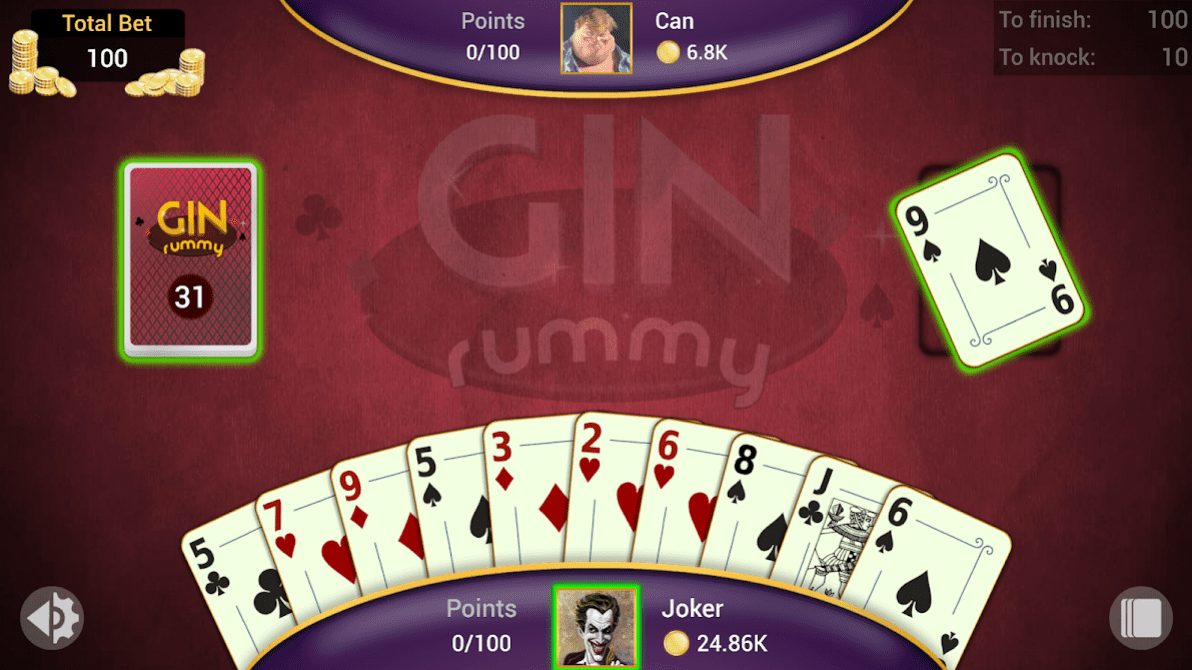 Downloads: 1000000 +
Customers rating:

(4.5 / 5)

You can also check: 21 Free Offline Action Games for Android
Poker World – Offline Texas Holdem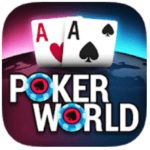 Poker is the most popular card game that has gained popularity around the world. If you are one of those who constantly trains playing skills, then don't forget to download Poker World – Offline Texas Holdem on Android.
Here everything happens offline, which allows you to set the complexity and visit all the cities where tournaments in this game are held.
To make it even more interesting, the real players who took part in one of the most famous competitions in the world acted as artificial intelligence. Thus, you will sit down at the table with the real professionals.
Features of Poker World – Offline Texas Holdem:
Travel around the world and take part in real-life competitions.
No online component, exceptionally gameplay, created to enhance skills through the observation of the actions of artificial intelligence.
Pleasant visual design.
Simple controls and one-click combinations make this application one of the best in its genre.
You can enjoy card battles using a regular smartphone or a tablet with a large screen.
Play anywhere without an Internet connection.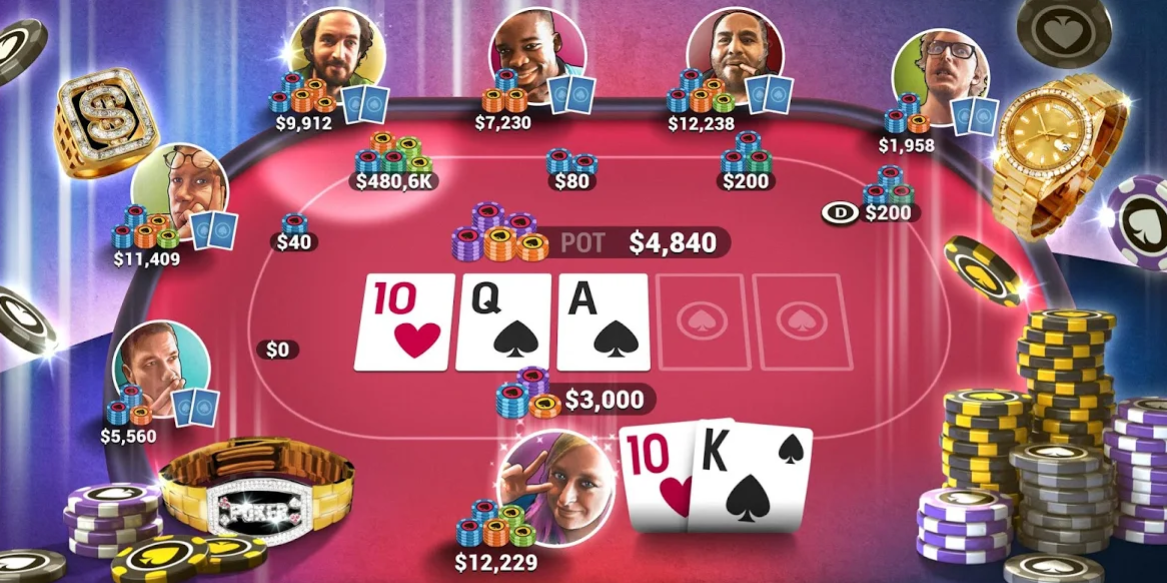 Downloads: 1000000 +
Customers rating:

(4.5 / 5)

Gin Rummy Free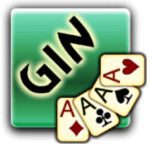 Gin Rummy Free is an extremely popular American two-player card game. It's simple to play it, but it's impossible to break away.
The goal of the game is to form sets of three or more cards of the same suit. Full rules of the game are given in training games that will allow you to become a real expert.
You can play against artificial intelligence with different levels of difficulty, as well as against ordinary people via the Internet.
The game will delight you with pleasant graphics with excellent picture quality and smooth animation. Several design options for gaming tables and cards diversify the game interface, and the functions of promoting and undoing the move provide a comfortable game that brings only positive emotions.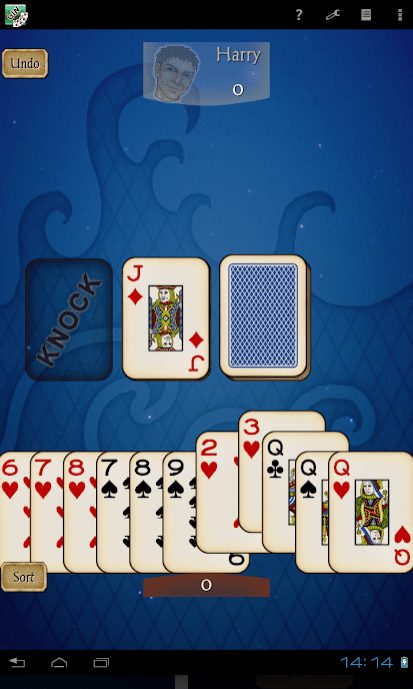 Downloads: 1000000 +
Customers rating:

(4.4 / 5)

Night of the Full Moon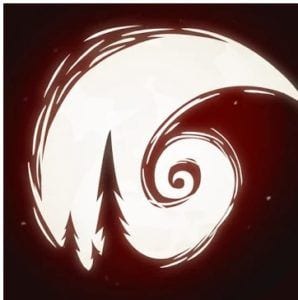 Night of the Full Moon is a very unusual card strategy with gorgeous graphics and a complicated story.
Choose one of the available characters and embark on an amazing adventure, where you will meet monsters and interesting characters. The most important thing is that the ending of the story is completely up to you. Those actions and the path of the character affect the ending of the game, so there can be several.
You will meet with forest elves, witches, ferocious werewolves and other terrible forest inhabitants. Go into a card battle, skillfully picking up cards for magic spells and physical attacks. There are no tedious learning tasks in the game, everything is done at an intuitive level. The end of the story directly depends on the decisions made during the passage.
In general, the game turned out to be exciting and will appeal to all fans of turn-based card strategies.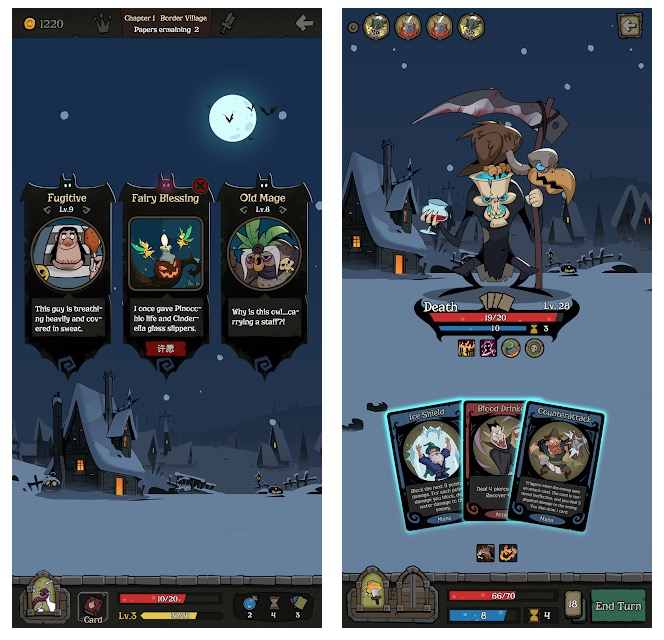 Downloads: 1000000 +
Customers rating:

(4.5 / 5)

Card Thief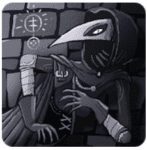 Even if you never liked to play solitaire, you should be familiar with its basic rules.
So, you have a great opportunity to play a card game that has absorbed several genres at once, turning peaks and hearts into irresistible guards and traps. Still, don't understand what was going on? Then it's easier to download Card Thief for Android and try the new card mechanics yourself.
The goal of the game is to pass the dungeon. In the game, you can participate in 4 robberies, where you will test your abilities against various enemies and traps. After successful completion of the robbery, you can improve 12 combat cards, each of which has its own abilities and characteristics.
As it seems to us, this is an interesting idea – to combine stealth and Solitaire.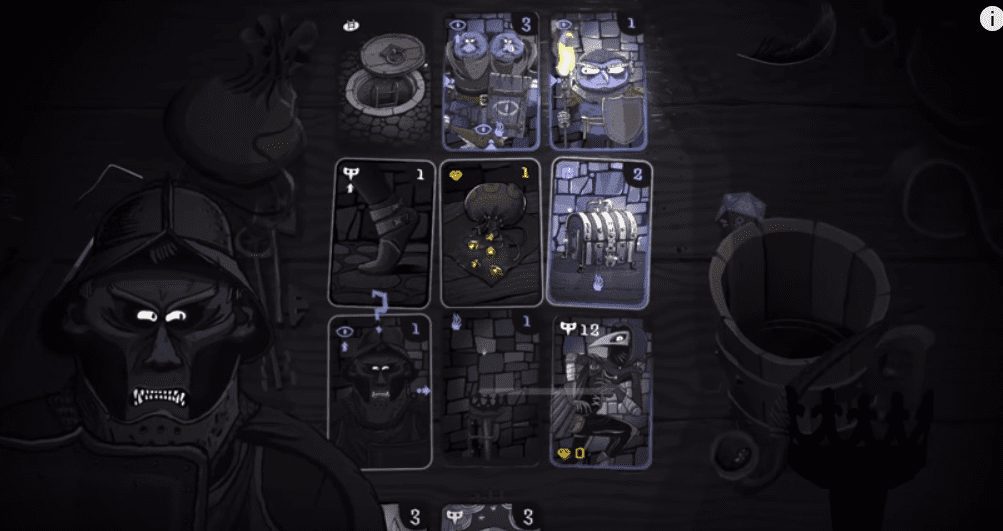 Downloads: 1000000 +
Customers rating:

(4.5 / 5)

Poker Offline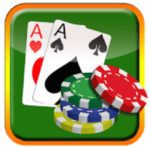 Poker Offline is, rather, the most simple gambling program for free playing poker offline on Android without the need for constant access to the network. It implements the most common poker disciplines, including Texas Holdem, Stud and Omaha.
Depending on preferences, all players are able to customize the game table to the smallest detail, thereby ensuring the individualization of the game. If you download Poker Offline for free on Android and install it on your own gadget, you can play poker without the Internet in training mode.
This game is a great help for novice poker players because it allows you to quickly grasp the subtleties of the card variants and understand the existing game rules.
In addition to the above, users can customize the level of difficulty and play in multi-tabling format, increasing their own skills. The main advantage of this poker software is the ability to play in two modes: offline – with virtual opponents and online – real players. In the latter case, the gameplay proceeds in a somewhat dynamic and unpredictable rhythm.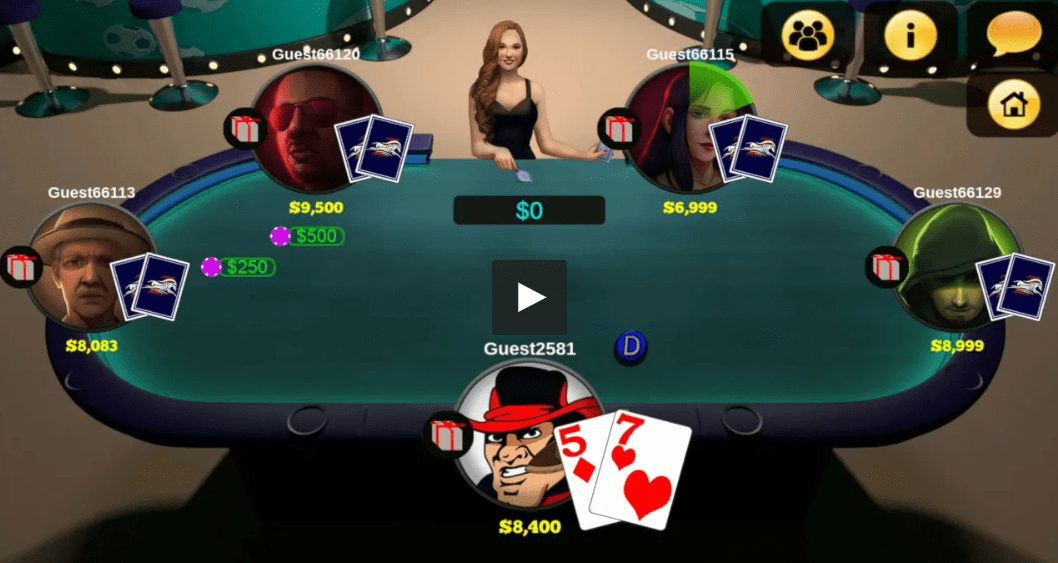 Downloads: 5000000 +
Customers rating:

(4.2 / 5)

Yu-Gi-Oh! Duel Links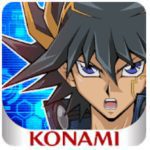 Yu-Gi-Oh! Duel Links is a collectible online card game for mobile phones based on the manga of Kazuki Takahashi.
In the story, once there was magic in the world and only the pharaohs could try it. However, a lot of dark energy burst out to freedom. And then Pharaoh and his six priests sealed the magic in Millennial Artifacts at the cost of their lives. After 3000 years, these artifacts were found and ended up in the hands of people who are fond of Duel Monsters – a popular game created in the world of Yu-Gi-Oh.
In Yu-Gi-Oh! Duel Links, there are colorful anime graphics with an abundance of special effects and a huge amount of content, including more than 700 different cards and more than a dozen duelists with unique skills. You can fight in all kinds of arenas, where for victory we are given experience points necessary for the discovery of new characters, as well as gold, for which cards are purchased. However, new cards and heroes can be purchased in the in-game store for a special currency – "gems". Other features include card trading and good training.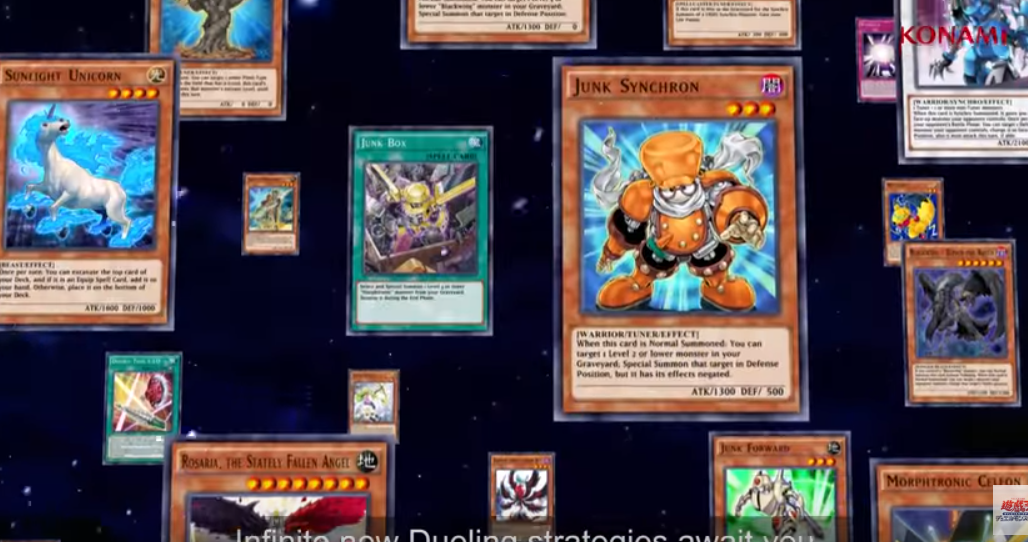 Downloads: 50000000 +
Customers rating:

(4.6 / 5)

Hearthstone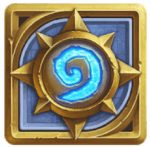 Hearthstone for Android is a free game from the creators of such a virtual monster in the MMORPG, like World of Warcraft. Meet your favorite characters and magical creatures, but no longer in the world, but on the battlefield, where all the characters are cards!
The incredibly exciting game offers to collect a deck of the strongest character cards and crush the enemy in a one-on-one battle, sitting at the same table. An incredibly colorful game – it will appeal not only to fans of Blizzard's creations but also to those who are crazy about card strategies and are in love with games that develop logic and imagination.
Earn gold in battle by completing various tasks and get new decks. You can also make a deck yourself, destroying and creating certain cards. For each character, there aren't only basic, but also a part of specialized cards fitted to his abilities. The ability to use them will provide an easy and confident victory.
A colorful game in which you can fight against the legendary heroes of the world of Warcraft won't leave anyone indifferent.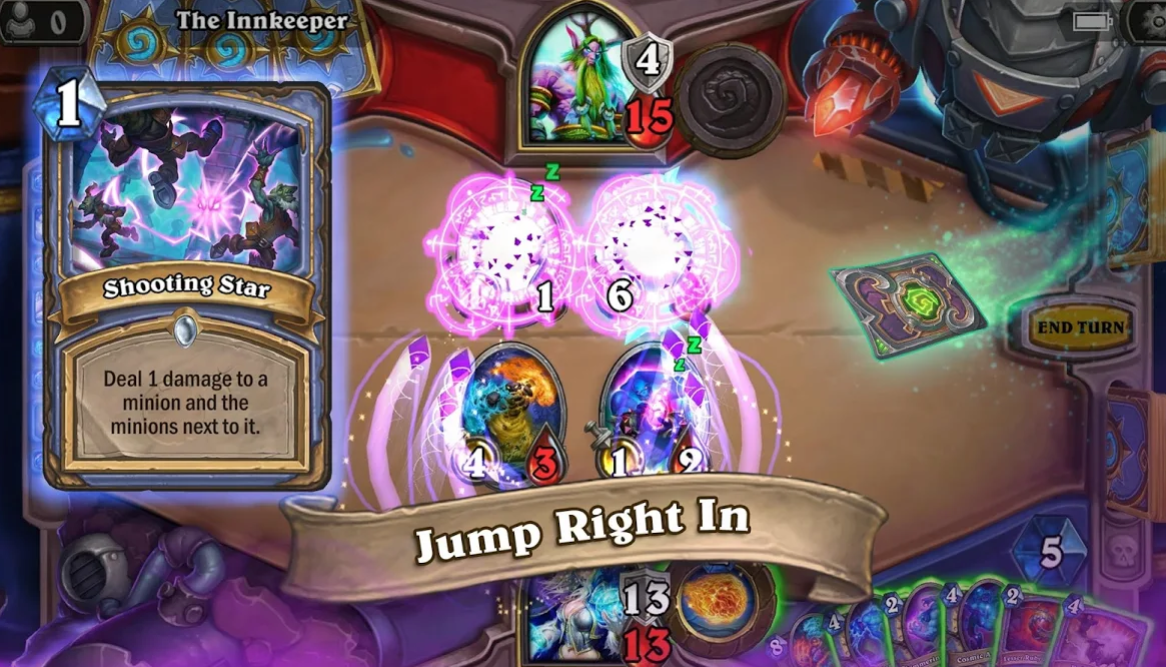 Downloads: 10000000 +
Customers rating:

(4.4 / 5)

Spades Free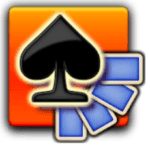 Spades Free is a classic card game for 4 players, featuring beautiful graphics, gameplay without slowdowns and a good scale.
18 levels of difficulty are available in the game. Choose your opponent and start playing spades. Choose one of the suggested themes or use your backgrounds. Track game progress with statistics. In case of difficulties, you can ask for help to the prompts or undo the previous move. The application is optimized for phones and tablets. There are challenging and fast gaming modes. The aggression option adds to the game model of artificial intelligence more actions aimed at the attack.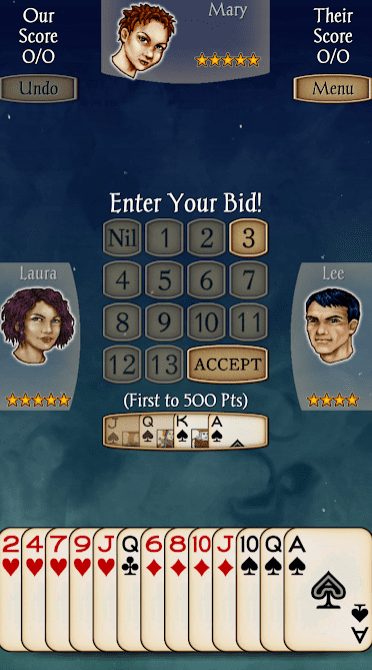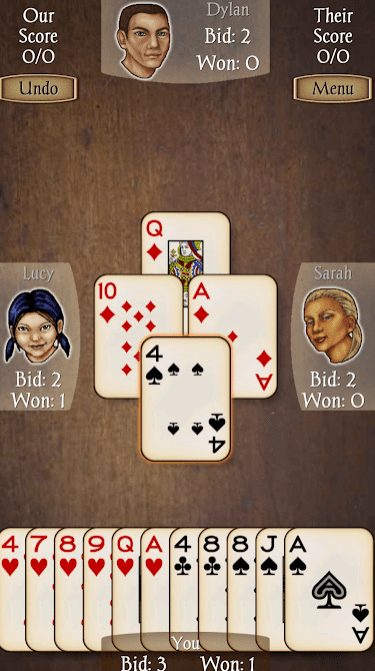 Downloads: 5000000 +
Customers rating:

(4.4 / 5)

Onirim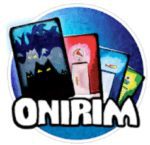 Onirim is a dark board game where you find yourself in the role of a dreamer who mysteriously found himself in a gloomy maze and got lost there. To get out of the mysterious maze you need to open all the doors before your strength runs out. In this case, you will have to stay in the labyrinth forever!
As you progress, you will have to undergo various tests, among which are Nightmares, which brazenly pursue you through the corridors of the maze.
An exciting board game takes you into the wondrous puzzle world where you need to play solitaire. It has long been proven that such card games contribute to the overall development of the brain and help to think faster. If it seemed to you that the game is very simple and you can easily complete all the levels in a short time, then you are greatly mistaken. To win this game you need to develop a unique strategy that will allow you to pass all levels as quickly as possible.
Each round of this game has its own pitfalls that you will face, so be prepared for anything. Win and collect the necessary cards that will open the door of the maze. After all, you obviously don't want to stay in it forever.
The game is very atmospheric and addictive. The dark design makes the game very attractive for new players. Also in the game, there is a detailed statistics of each game, where you can look at your results.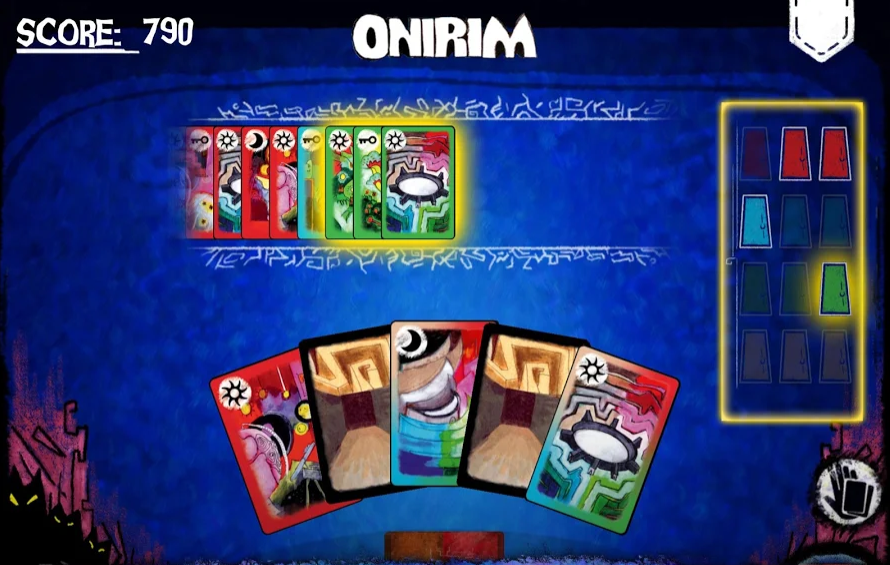 Downloads: 100000 +
Customers rating:

(4.7 / 5)

Card Crawl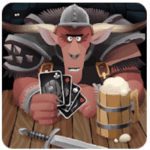 Card Crawl offers us to visit one of the taverns and see with our own eyes how different creatures spend their leisure time. In this case, there will be a very interesting and fascinating card duel between the regulars of this institution.
As you play, you unlock ability cards and clear dungeons to make decks. You can watch your own progress in comparison with other players in the overall ranking of Google Play.
Card Crawl is a game similar to solitaire, which has four different modes. Usually, the games last two or three minutes – ideal to play on the road or kill the time in the queue.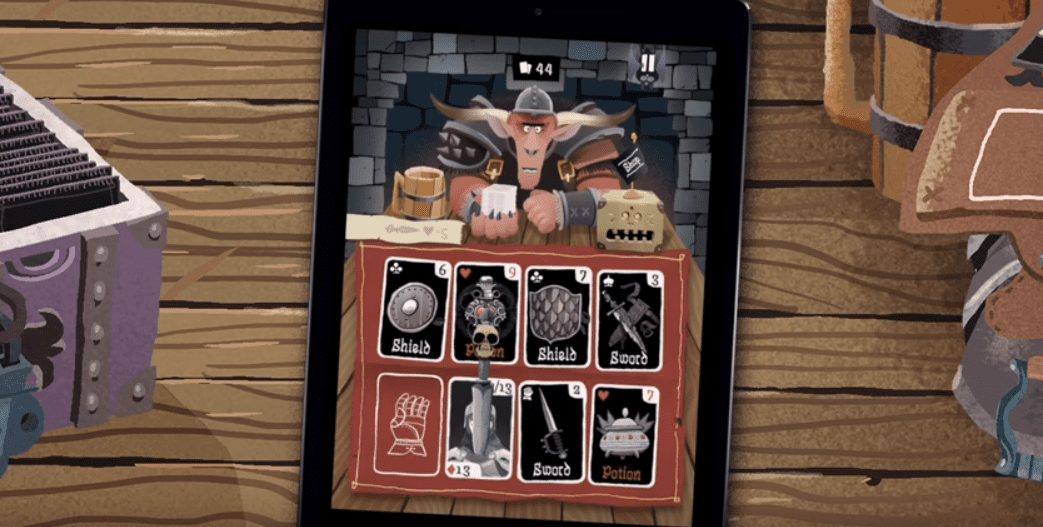 Downloads: 500000 +
Customers rating:

(4.3 / 5)

Solitairica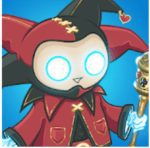 Solitairica is an unusual card game that combines two completely different genres. This game combines hot battles and classic solitaire in a unique spectacle! Prepare your weapon and go to battle with the army of Stuck, the general of which settled in the lands of Myriod and stole the hearts of all its inhabitants. You are the last soldier who wasn't afraid and declared war on the invader. You have to save this world from the heartless destruction! Be brave!
Features of Solitairica:
A brand new combat system
Funny but dangerous opponents
Many magical items and spells to combine
Dynamic character development and unique characteristics.
At first glance, it seems that the random is the main thing here. And this is true, but you have to think a lot. And after a few passages, the game seems pretty strategic.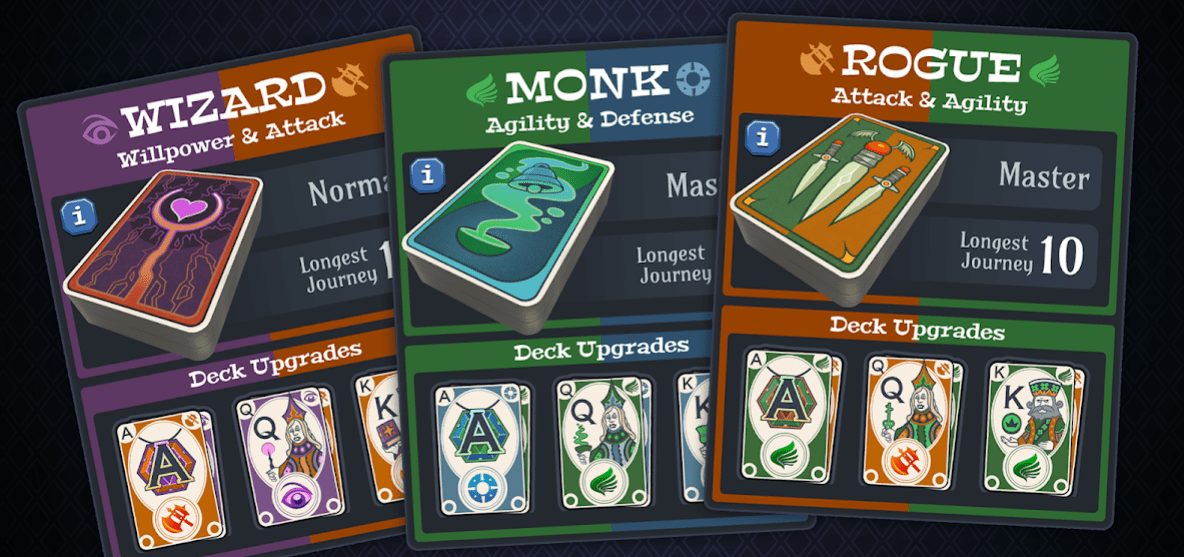 Downloads: 100000 +
Customers rating:

(4.1 / 5)