Why is it necessary to make a video on your smartphone or tablet? Firstly, it is convenient – they are compact enough, light and always at hand, which eliminates the need to carry a bulky "mirror" to the mountains or to the beach.
Secondly, these same gadgets can store tickets, interpreters, routes, and any other information that can come in handy on the trip.
Thirdly, you do not have to transfer the footage from a digital camera to a computer: you can mount the video directly on the tablet and immediately upload it to YouTube or Facebook.
Mobile applications for video editing are not inferior to computer software, they have rich functionality that can create a masterpiece from your video.
In today's article, we'll talk about applications that can be used to add music to your video.
InShot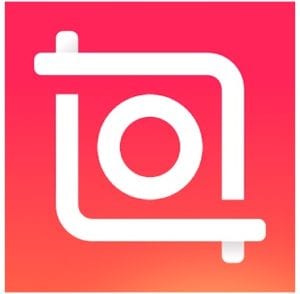 InShot Editor is a photo and video editing application specially designed to enhance the video you want to upload to your Instagram. You can also use the editor to improve your photos and, of course, save the processed files to your device memory.
Video is the first and most valuable section in the application. It's very similar in parameters to desktop video editors: for example:
InShot allows you to unite different videos into one video and conveniently synchronize music/text/stickers with the video.
In this section, you can find the following options: trim, size, filter, music, sticker, speed, background, text, rotation, and flip. It's important to note that here you can edit not only video but also photos (for example, add music or animation sticker).
Add music to the video: 
You can add different sound effects from 13 thematic categories and voiceover on the video. Add your own music to videos
Extracting music from the video is now supported! ( free )
Adjust volume and music fade in/out option, speed up video and overlay music, or combine video with music.
Easily sync audio and video with timeline features.
InShot Editor is a powerful photo and video editor which, although focused mainly on content creation for Instagram, allows you to retouch videos and photos and save them directly to your device memory.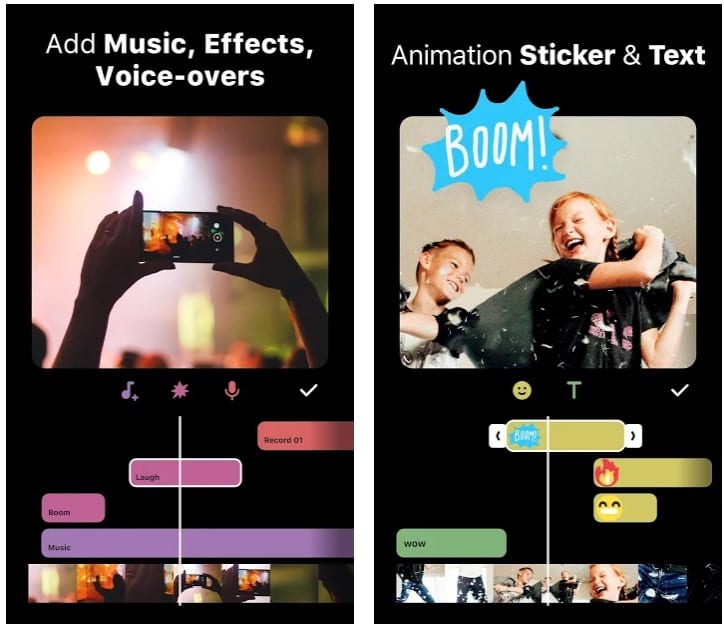 Downloads: +100000000
Costumers rating: (4.8 / 5)

You may also like: 21 Android apps to make your own music
Add Audio to Video
With the Add Audio to Video application for Android, you can easily replace the sound from your video with the one you like best. Now it can be done easily in just one click. It is also possible to mix different music into one with pleasant transitions.
Make from the video what millions of people will see. At the same time, they do not even think about the fact that the video is made in the usual mobile application. It will be difficult for them to imagine that such quality video sequences are now easily made on smartphones or tablets.

It is worth remembering that if your music is longer than the video, then it will be circumcised, so it's worth changing music, or making a transition that will muffle the music in the end. In the case where the sound is less than the video, it will begin to repeat. This is to ensure that the video does not turn out completely without sound.
All operations for merging, inserting music, and cropping videos are done in a very fast time, and the renderer required to create the video is almost invisible. Do you want your video seen by other people?
Or maybe do you want to show off to a friend who is on a business trip to another city and cannot be near you? Send him your video by email or through other social networks message. He definitely should like your creation.
Anyone can download Add Audio to Video for free, everyone who wants to brighten up his gray weekdays by creating the own commercials. Only you can choose what to do: funny, cool or sad video.
Downloads: +1000000
Costumers rating: (3.7 / 5)

Magisto Video Editor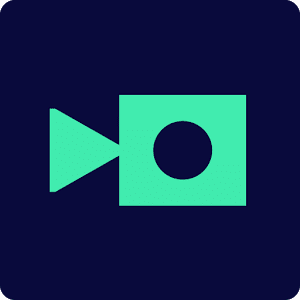 The principle of operation is simple, you select several photos and the application does everything for you. You only need to choose a song or another music file to make the mini-movie look more effective.
The program Magisto for Android is very suitable for those who like to create something like that, or who wants to, but does not like to understand a lot of buttons. It is ideal for you since the buttons here are minimal. Create mini-films dedicated to the holidays, stylish videos about your youth life, movement, extreme, and so on. Use your imagination and creativity.
The Magisto Menu
Popular movies. Here you can find the best videos, made with the help of the application, which gained more views.
Global albums. Popular videos are broken into groups: weddings, birthdays, various events, and so on. You can subscribe to any user and follow his videos.
Create a movie. Choose photos from your gallery or through Google Drive and start creating your first mini-movie.
Magisto Settings
Link your account to other social networks (Twitter, Google+, Facebook), share content, communicate.
Get notified of your movies.
The function Amazing me. Funny opportunity automatically, without your participation, create new videos from your gallery. You can enable/disable this feature.
Select the video quality when editing. Low for fast download to the Internet or better.
Connect your device to the TV and enjoy viewing.
Premium account. Is it necessary?
Undoubtedly you can use the application for free, but it has a number of limitations, connecting the Premium account you will receive:
Storage up to 100 GB, instead of 5 GB.
30 photos per movie, instead of 10.
30 videos per movie, instead of 10.
Free SD-download, instead of $ 1 per movie.
The maximum length of the roller is 2-30 minutes, instead of 1-15 minutes.
Everyone will decide whether all these possibilities are necessary to him. The plus is that the developers do not commit you to anything.
Magisto –  is one of the most popular application to date in this genre. The simplicity of use, qualitative design, and a pleasant result justify the choice.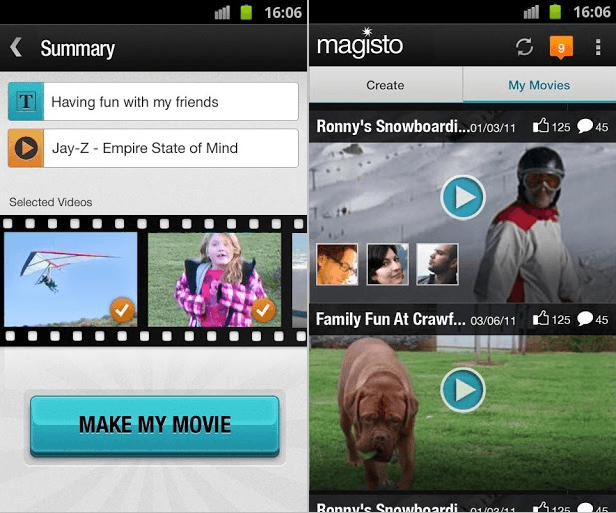 Downloads: +10000000
Costumers rating: (4.3 / 5)

VivaVideo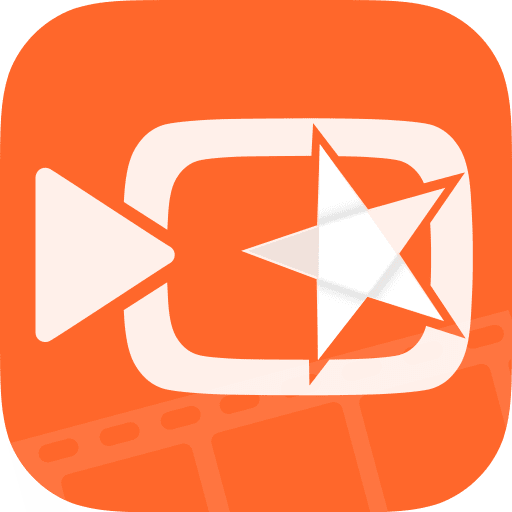 This editor is intended for creative processing of video recordings made on a smartphone or tablet. We recommend downloading VivaVideo to Android to all those who want to try their hand at creating unique clips and presentations. The application also allows you to shoot your own videos with filters and includes other useful options.
Features. A lot of video editing tools – the application allows you to divide the movie into parts, and also mount it in your own way, by cutting or adding individual frames. Video recording can be accompanied by your own soundtrack, decorated with various images-stickers, apply filters, and other special effects.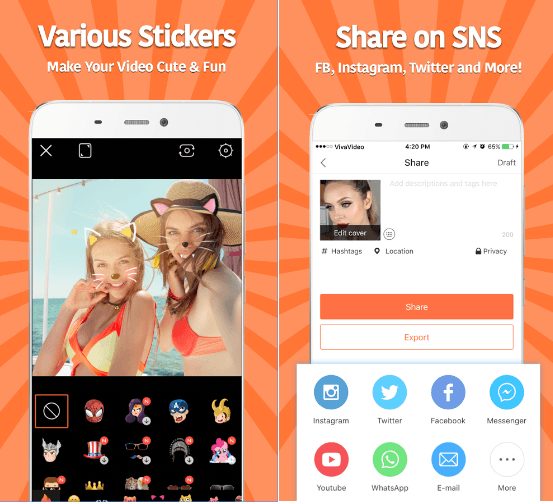 Create photo and video collages and presentations. Anyone who decides to download VivaVideo for Android for free will be able to create their own slideshows from the photos available on the gadget. For creative processing of video collages and photo presentations, you can also use various filters and themes.
Usage of filters at the moment of shooting – the application provides the use of filters at the stage of recording movies. There are several "lenses" that allow you to shoot video in a mirror image or through a "lens" that gives the effect of a door eye.
Ease of use and design. The application has a cute design and simple, intricate controls. In the main menu, the user selects one of the four main sections (video recording, presentation creation, simple or professional editor). Filters and special effects are grouped into lists. You cannot customize them in your own way, and the finished video after effects are marked with a watermark.
Paid content. The user can download additional stickers, filters, and editing tools. Some of them are free, some will have to be paid. There is also a Pro version of the program. It does not limit the length of recorded clips and there are no watermarks on the image.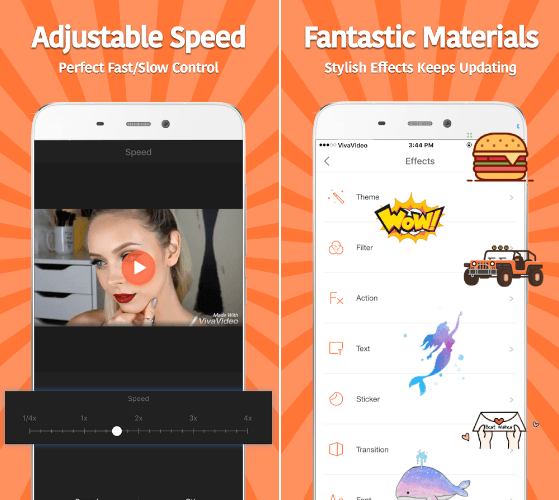 Downloads: +100000000
Costumers rating: (4.6 / 5)

AndroVid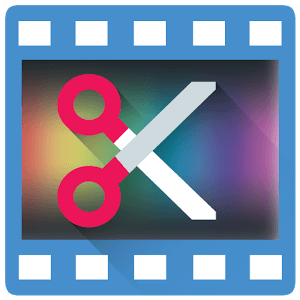 AndroVid Video Editor is one of the best video editors that can not only play movies, clips but also convert to other formats directly on your device. Create your own videos, make a nice gift to your beloved person or friend on your birthday.
The great functionality of the program will please you. Many different effects have been added that will make the video even brighter.
Cropping and gluing video – using the application, you can delete unnecessary frames from a video captured on a smartphone or tablet. It does not matter if they are in the middle, the beginning or the end of the recording, the video camera will cope with any task. Prepared clips can easily be glued to one common, thanks to the Video Joiner function.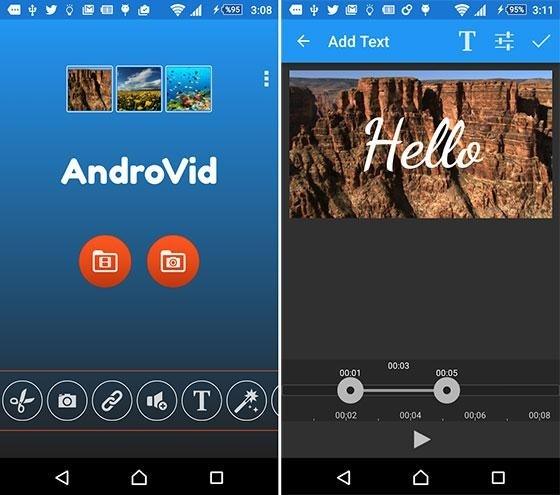 Artistic processing – is an important reason to download AndroVid on Android for free. The editor allows you to rotate videos, add different frames to them, text, process the image to add expressiveness to it. Effects such as video fading, vignette styling, sepia, vintage, and some others are available.
Working with sound – it is possible to add an audio track to the recorded video. It is also possible to save a video clip to an mp3 audio file. You can also change the resolution of the original video file to reduce its size, and save it in a different format.
Ease of use and design. The application has a nice modern design and thoughtful, clear management. The basic operations with the file are available from the toolbar in the main application window. After selecting the source video file, it is located at the top of the screen.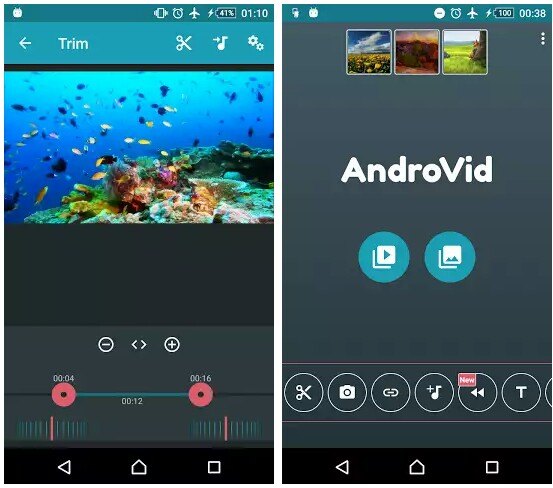 Downloads: +100000000
Costumers rating: (4.1 / 5)

KineMaster – Pro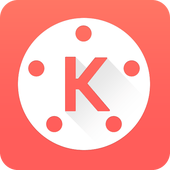 KineMaster Pro is a handy and functional video editor for mobile Android devices, with which you can solve a variety of tasks. In the application, you can apply some professional effects processing rollers, which will produce a fairly colorful material.
Add video layers, create multiple screen effects, "frame in frame", etc. deduce this program to a qualitatively new level. Despite the constant increase in the number of options, the interface remains very simple. All basic operations will be able even to a novice lover to mount and convert clips.
Trimming the video story, additional layers for text blocks and shortcuts increase the usefulness of KineMaster Pro when creating small movies. This development is sure to be appreciated by school teachers and artists, representatives of advertising agencies, etc.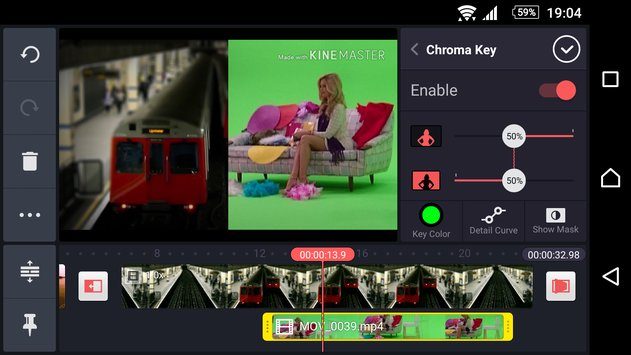 Features of KineMaster Pro
Cutting and mounting in frame-by-frame mode.
Work with videos, as well as with photographs, handwritten text, inscriptions, and labels.
Preview the results at any stage of the content change.
Adjusting the color gamut, as well as the brightness and saturation parameters.
Selecting the optimal speed for demonstrating the material.
KineMaster's diverse themes, animation, visual and sound effects, and the ability to create high-quality video clips using any video, image, and music from your phone give this easy-to-use video editor an advantage.
Another feature that allows you to talk about the video editor as professional software, is a consistent increase in volume and fading sound. In addition, at each specific moment of the video, you can precisely adjust its level. The abundance of themes and effects helps to awaken fantasy and feel like a first-rate video editing specialist. A compact menu with many categories will not cause any difficulties due to clarity and ease of presentation.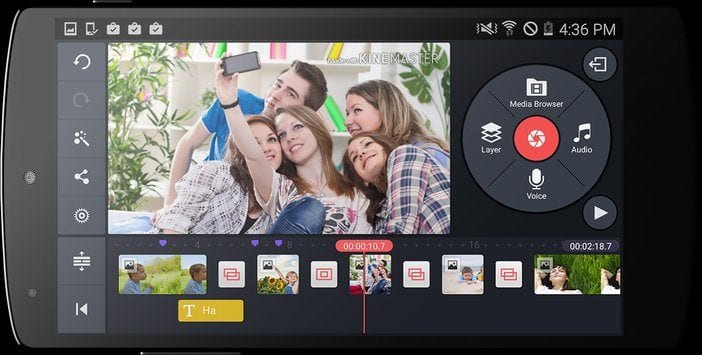 Downloads: +10000000
Costumers rating: (4.4 / 5)

Video Maker Pro
Powerful program Video Maker Pro for the work with videos of any quality can immediately send the results to social networks such as Youtube and Facebook, which is very convenient because you do not need to turn on the computer, editing takes place right on your phone.
You can create your own clip that will be of interest to you and your friends. The functional of the program is very huge, as well as convenient in the work, while it is logical to understand that you do not need to study large instructions in order to master the principle of work.
Also, you can delete any parts of the video that you did not like or just did not work. To divide a video clip into separate frames will be simpler, you just need to press several combinations and put the necessary marks in the places where you need to divide.
Overlay audio and video effects, which in Video Maker Pro are very much, you do not have to look for other analogs. Also, in the new version, you can add your own audio track, and also play the finished clip after processing. Choose the right quality, which suits you in size, judging by the volume of the phone's memory.
Video Maker Pro – an excellent program, through which you can easily be able to mount videos directly on your mobile device. All this allows a person to enter a new level of work with a smartphone.
Downloads: +10000
Costumers rating: (3.7 / 5)

VidTrim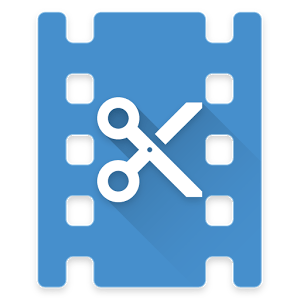 It is the editor and organizer of video for devices on the Android system. This is a simple program that does not require special skills, while it has an excellent set of functions and tools.
The product regularly receives high marks from various authoritative computer publications, as well as from millions of satisfied users.
The program has two versions: paid with full functionality and free, containing advertising. Some functions are available in the free version with a limitation, the program inserts a watermark into the finished clips. Let's compare their capabilities.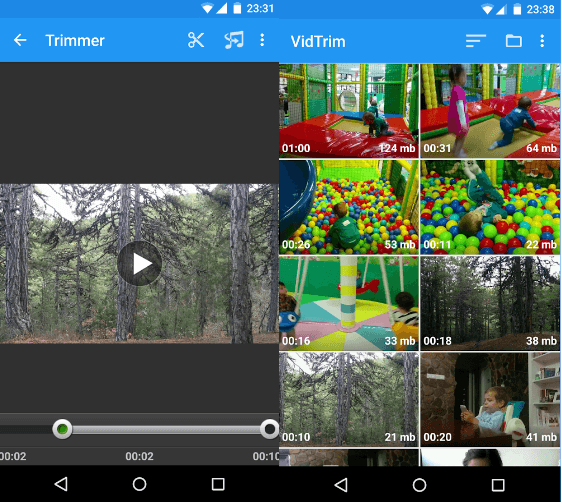 Free version
A quality and advanced handler for video files stored on your device.
Glue several video files into one. For example, you shot a few short scenes but you want to combine them into one film. You can also cut a long clip into several short ones.
Convert the video to the desired format.
Rotate the video 90, 180, 270 degrees. There is a quick turn function without recoding.
Create video screenshots, save files to the device's gallery.
File manager with the ability to delete, move or rename video.
Share ready-made results by uploading them to YouTube, to cloud storage, or by sending them to friends via email or through messaging software.
Support for processors on the ARM and Intel platform in one package. Therefore, the application can be used on any device.
Free functions with watermark overlay
Effects. Use one of the preset effects: black and white image, negative, vintage, vignette, glow, high sharpness, old film, and many others.
Convert video to MP4, change the encoding, size, and bitrate.
Insert any audio into your video, thereby improving its perception.
Paid version
All of the above functions work without any restrictions.
There is no advertising.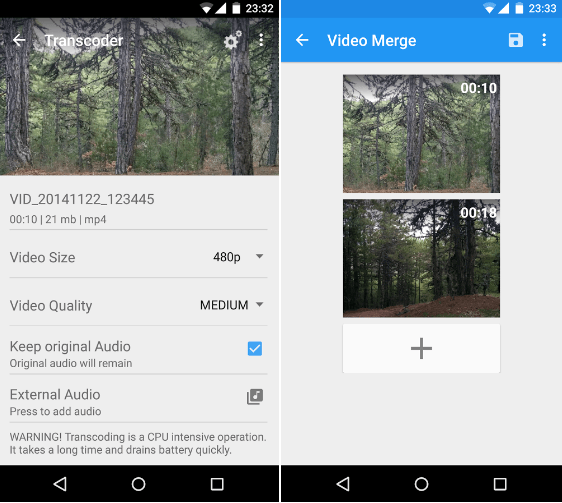 Downloads: +10000000
Costumers rating: (4.2 / 5)

FilmoraGo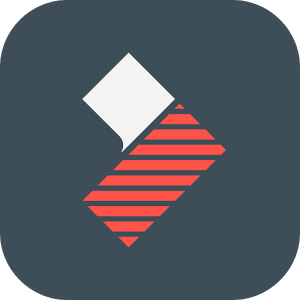 FilmoraGo is one of the best video editors for Android, developed by Wondershare Software, the one that produced an excellent tool for installing Filmora. In the "Go" version, the developers optimized the product for mobile computing as much as possible but at the same time, retaining full functionality for video processing.
FilmoraGo – the creation of a feature film in 3 stages
If you've ever used a product with a PC version, you know perfectly well what it's capable of and what films are produced at the output. Those who do not know – we say that the video is excellent, stylish, consistent with all standards of modern social networks and video hostings. The FilmoraGo application for Android does not lag behind the usual Filmora: there are also no watermarks but all presets, transitions, stylish text are all preserved.
The work is carried out in 3 stages. 1 is the selection of objects. You can choose at least all photos and video files from the gallery, even upload materials from Facebook or Instagram. Adding is one touch, and on the left, you can see the number of added objects.
Stage 2 – editing. All presets, transitions, music, effects – all this is already loaded into the program but if you are going to download FilmoraGo, you can additionally download content from the installation store. Content can be either paid or free, plus, you can view the finished version before purchasing or downloading.
Stage 3 – publication. Once the photos and videos have merged into a single project, once you have completed the work of adding text, effects, and music, then you can immediately publish your work. You can do this on YouTube, and on Vimeo, Instagram, and Facebook. If you do not want to publish the work right away, you can simply save it to your device.
FilmoraGo has many standard functions for editing: combining, cropping, deleting or adding a soundtrack, rotating video, reverse playback, slowing down and accelerating. The program has various templates, themes, and effects for your videos, including a variety of transitions: erasure, dissolution, reduction, shutter, and separation.
Also, in your video, you can add titles and texts with different fonts. There is a whole store of effects, filters, and overlays, in which many things are available for free.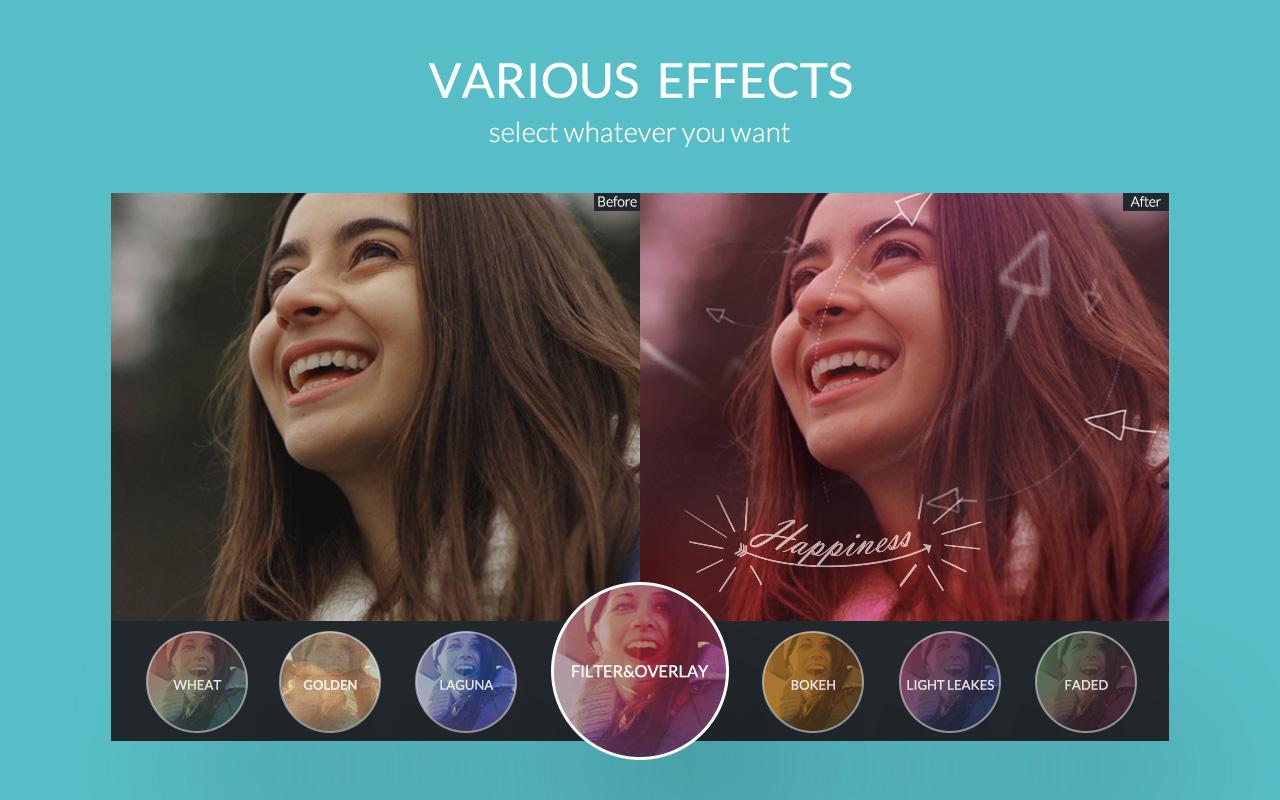 The program is devoid of any settings but this is more than offset by its capabilities. In fact, you get a full version of the video editor, only compressed to a mobile format. And the key plus of the program is its full free-of-charge, the income of the application goes exclusively from purchases of additional themes and other content.
Downloads: +5000000
Costumers rating: (4.3 / 5)

As you can see, all our applications have not only the function of overlaying audio on the video but they also have a lot of possibilities. Only you can choose which application suits you best. Read, understand, and download applications on Android.
If you are interested in video editors, look at the 11 Best Vine editing apps for Android.