Fashion games for free invite all women of fashion in a variety of stories. You can play with dolls or princesses, mermaids, heroes of comic books and anime, picking up clothes for each character, and going shopping to stores. Still, it can be business when you become the owner of a boutique, helping to dress up your visitors.
They come in, and you have to pay attention to each of them, helping with the choice. Or create your own fashion collection and show it on the podium so that the jury can appreciate your efforts. All these games you will find in our selection of the best fashionable applications on Android. Let's start!
You may also like: 17 Best logic game apps for Android
Covet Fashion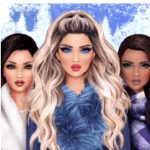 Do you want to realize your glamorous fantasies? The application Covet Fashion will help you to invent an image suitable for a party and make suitable purchases.
With this fashion game it has become much easier and not only because of the diverse assortment and virtual money added to the account but thanks to detailed objects and real brands, existing in life. So, you are able to recreate your fresh ideas in life by working in a virtual workshop!
Gameplay. A global journey into the world of fashionable things and accessories complementing the image begins with a test show – so, try to prepare for the party, using a limited amount of money and brands. Start with small things – a selection of dresses and shoes, makeup, and perm.
After completing the preparation, go to the show, get the money and start a new job with even more demanding conditions. Brands in the application Covet Fashion for Android are only real and available in real life!
Voting. Fashionable and stylish models are often put to the general vote – you can give voice to the ideas created by other players! Customize every little thing and try to invent an incredible image that can surprise others! Download the Covet Fashion game for your smartphone and feel the taste of fashion and style right now, do not miss it!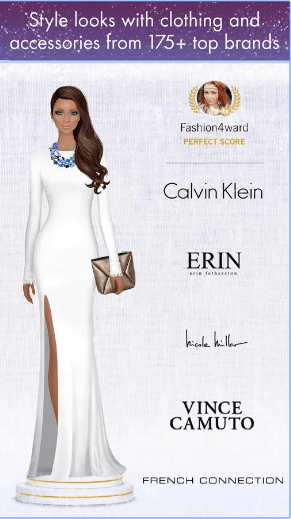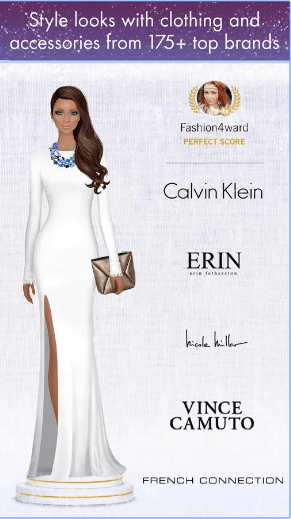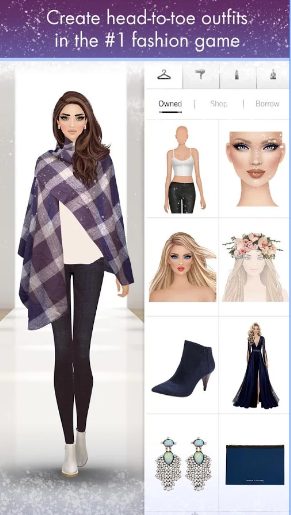 Downloads: 10 000 000 +
Customers rating:

(4.1 / 5)
Shopping Mall Girl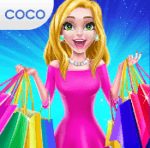 Shopping Mall Girl – already by the name of this game you can understand that it is a real paradise for girls! Because there is everything here to turn a simpleton into a real goddess! Dress up, create a chic hairstyle, a juicy make-up, and shine, swimming in the light of soffits and glory!
In real life, there is very little time and money for shopping. In such conditions, it is difficult to realize your style. The game developers solved this problem. Walk along the most fashionable boutiques of a huge shopping center. Your personal assistant – the stylist will help you. Tell her exactly what style you like and she will help to choose outfits.
You can walk indefinitely, try on different kinds of outfits – sports shorts, classic trousers, a fashionable jersey, or an elegant dress. You can take part in the shows, show your style and get prizes. And do not forget about your hair and makeup. Visit the beauty salon, where you can visit the masters.
Professionals the hairdresser "Chic cuts" will help you to make fashionable haircuts and styling. You can also relax after a long shopping trip during the relaxing massage in the spa center.
The application has a realistic 3D effect and a user-friendly interface.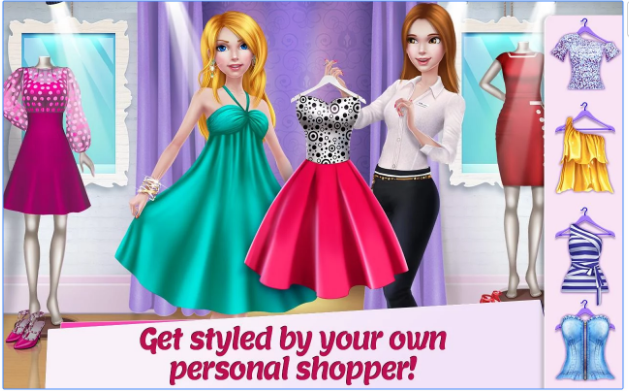 Downloads: 50 000 000 +
Customers rating:

(4.4 / 5)
Star Girl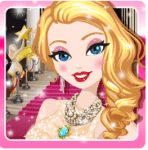 Star Girl is a vanilla online game for Android, created for the female audience. This simulator tells a story about women of fashion, lovers of spending money in stores on new clothes, and about vulnerable women, who are constantly looking for their prince on a white horse.
The gameplay in Star Girl for Android is not as simple as it may seem at first glance, and as a project for a female audience, it is very ambitious. There are a lot of locations, a rating system, various ways to earn money for upgrading your wardrobe, quests, and even mini-games!
Star Girl has an impressive number of places which a player can visit: somewhere you can get a job, in another place you will definitely find your soul mate, and in the stores, there is something exactly to your liking. If there are in-game friends, you can visit their houses and make a couple of photos for memory.
To buy yourself new clothes and accessories, you need to work a lot. Players can work as singers, models, and talented actresses, but in order to occupy a certain position, one must have the appropriate level and experience. In Star Girl, there is an extensive range of options in appearance, as well as selection of clothes and makeup.
Mini-games will help you to earn extra points, and also spend time cheerfully. For example, a mini-game "Carnival", where you need to find a match between the clothes that are now on the character and the one that is in the wardrobe (the time for the task is limited).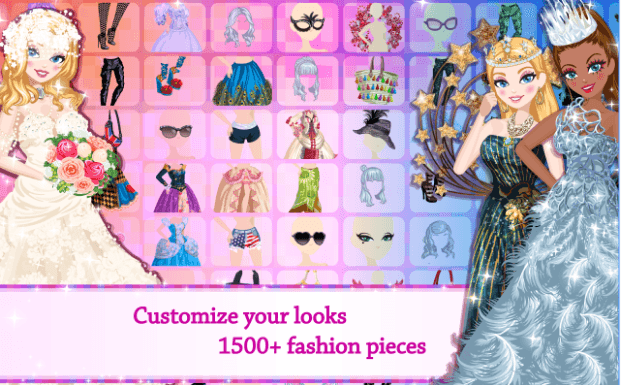 In general, the application is positive: interesting gameplay, beautiful hand-drawn graphics, nice sound. If you are a fragile girl, then you just can not help downloading the Star Girl to Android.
Downloads: 10 000 000 +
Customers rating:

(4.3 / 5)

Fashion Story™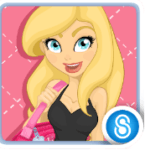 Studio TeamLava Games invites players into the world of business – salons of stylish things. The idea of the boutique game is not just for girls, especially in terms of decorating, planning and the economy it is several times ahead of similar genre competitors.
Gameplay. The first steps in the world of design, popular brands, and high fashion can seem difficult for the players – it is necessary not only to provide fashionable women with new collections but also to improve the premises and equipment: to arrange fitting rooms, cash desks, hangers with clothes.
As the popularity of the store grows, it is necessary to expand the room, again to think over the interior and decor. Of course, it's important to pay attention to things that are available in several styles: everyday, office, evening wear, and luxury accessories. Players will have to make their own collections from various items, and then hang them in the store.
A sufficient number of sales will open additional opportunities, new clothes, and accessories, as well as access to changing the image of the main character: it is allowed not only to choose a handbag, shoes, and a dress but even eye color and a makeup option.
The boutique is constantly developing in the conditions of the social development of the player himself – it is necessary to check the friends' shops, follow the updates, share your own collections and tips. All lovers of beautiful clothes, devotees of economic development, and social life should try this fashion game.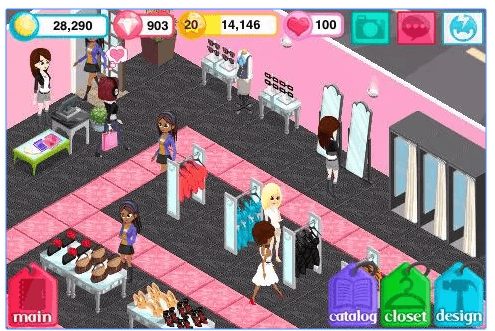 Downloads: 10 000 000 +
Customers rating:

(4.2 / 5)
Princess Makeup Salon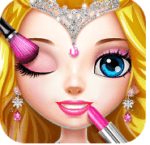 Have you ever dreamed of becoming a professional stylist and learning how to make all the young ladies beautiful and charming? Great! Then we recommend that you practice on the Princess Makeup Salon application, where beautiful princesses who dream of becoming more beautiful are waiting for you. In your hands, there will be the beauty of the princesses, and you can make them unsurpassed.
How to play. Your task is to dress up the heroines and find for them chic outfits. To do this, you can go to the fashion salon and try on different dresses. Also, do not forget to choose stylish accessories for your princesses. To not be bored, go to your prince.
If you get to perform all tasks on the levels, then you will be waiting for bonuses – beautiful outfits for the prince. After passing the levels you are waiting for the next stages, all the more interesting and amazing. To begin, just download the Princess Makeup Salon application and select the princess that you liked. And then just travel with her around the city. In the process, you will have the opportunity to visit spa salons, shops, etc.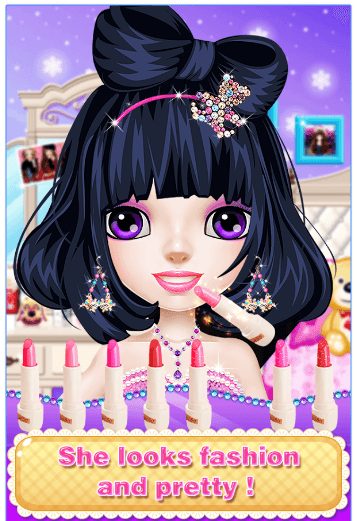 Downloads: 50 000 000 +
Customers rating:

(4.2 / 5)
Fashion Fever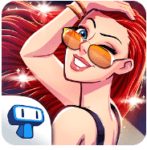 The career of any model begins with exhausting castings, perpetual trials, and mistakes, not serious offers and disgusting conditions. But it is worthwhile to overcome the conditions, and fate will smile, the reputation will grow, and money will increase noticeably.
Simulator Fashion Fever perfectly demonstrates the atmosphere of the model business, where everyone survives and fights for a place in the sun. You'll have to start with photos for a little-known magazine – you'll have to pick out your outfit and makeup …
Tasks and rules. When selecting a suitable outfit for casting, several important factors should be considered. Firstly, the overall style of the costume: if the customer requires a classic, then it is worth throwing all unnecessary things and dressing according to the concept of "white and black". Secondly, a selection of items should be based on color, quality, and price – unnecessary spendings will not lead to success! And, of course, you will have to give all the best in a photo session, picking up the right posture.
Fashion Fever simulator for Android varies depending on the task – sometimes it's a strategy with extensive possibilities, sometimes a puzzle "Three in a Row", and a role-playing epic with rich opportunities to develop the image. Downloading Fashion Fever is recommended to everyone – it's a great way to have fun, and even learn the art of selecting clothes, brands, and accessories!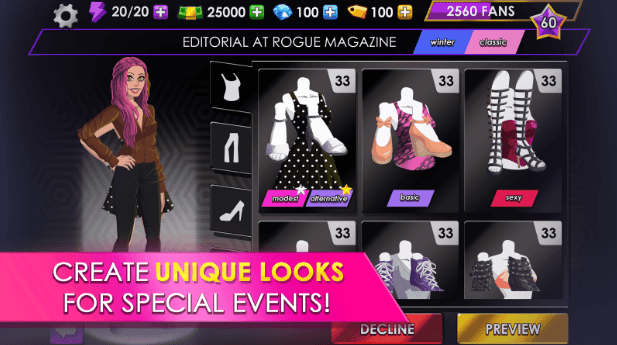 Downloads: 1 000 000 +
Customers rating:

(4.4 / 5)
Long Hair Princess Hair Salon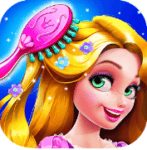 This fashion game is not similar to previous ones. It has its own interesting plot. So, you are in the kingdom of the handsome prince Christos and the magnificent princess Juliet.
The princess has very long fairy hair. Everything is ready for their wedding. But, just before the event, the evil witch came to the kingdom, stole the beautiful Juliet, and imprisoned her in a castle. The witch is very sick, so she needs the energy that the princess's hair has. You need to help Juliet to escape from the castle. For this, it is needed to return the energy of her hair.
How to play. At the beginning of the game, you need to choose your princess from the list of royal persons. Next, you have to choose all kinds of spa treatments, makeup, hairdresser, and clothes. To create the beauty of the princess in the game, there are various items for hair care: a magic comb, hair dye, and curling irons.
Different sprays and accessories can add more beauty to hair. However, the game is not only in the care of Juliet's hair. Also, you have to pick her beautiful clothes, which will, even more, adorn our beautiful princess.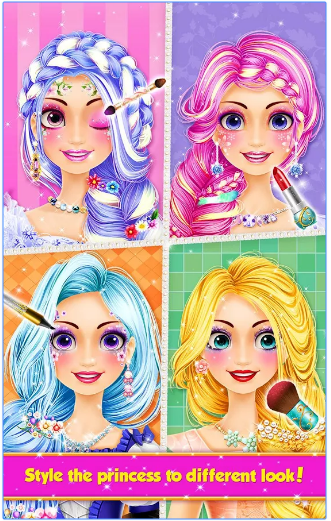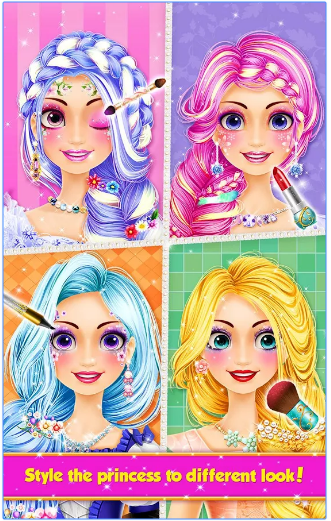 Downloads: 10 000 000 +
Customers rating:

(4.2 / 5)
Princess Salon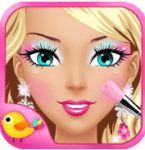 Princess Salon is one of the most popular fashion game apps for girls on Android. You will get a lesson in style, make-up, image by playing this application.
How to play. Choose a beautiful girl and help her turn into a compelling princess with the help of the simplest attributes of beauty. You are invited to choose any of the four girls to transform and turn into a real princess because she has to go to the royal evening.
Opening the application, you see the girls in front of you – it's Elena, Amelia, Thea, and Jenny. You can choose the girl you like by clicking on her name. The girl will go straight to the spa, to a large bath. There you must wash her head and take care of her face. At your disposal, there is shampoo, scrub, mask, tweezers, and powder. Step number two is a hairdo, where your choice is also wide.
With the help of a huge palette of shadows, lipsticks, and mascara you can create unique makeup. Your heroine has a large wardrobe, there are outfits for all occasions, but you need the most beautiful. And do not forget to decorate it with accessories in tone and purse. Now you can go to an important event!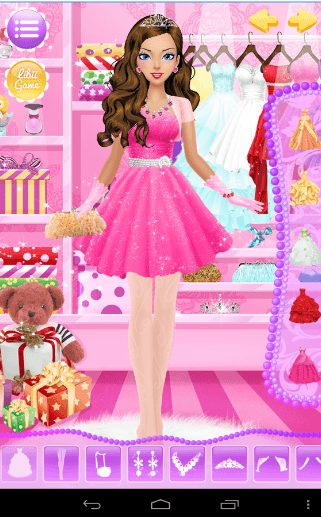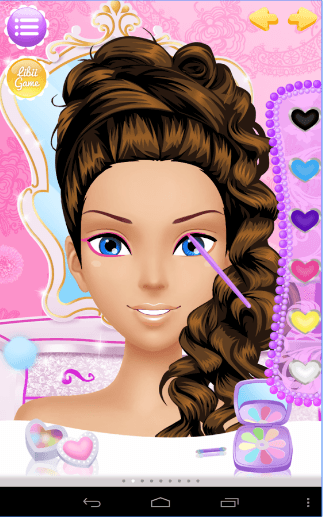 Downloads: 10 000 000 +
Customers rating:

(4 / 5)
Barbie Magical Fashion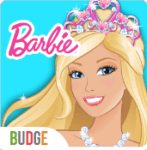 Novelty Magic Fashion Barbie for Android with bright princesses, mermaids, and fairies will amaze you.
Gameplay. Magic Fashion Barbie is full of bright colors, overflows with different colors, shines with brilliance, and deafens sounds. In addition, every game event is described in detail – even the growing player will understand all the additional missions, tasks, and opportunities.
Do makeup, make an amazing hairstyle, refine the image with new dresses and special accessories – turn the heroine into a unique princess!
Download Magic Fashion Barbie on Android is recommended for all the girls – it's a bright, mini-game-filled simulator with a unique set of features. Create an image, complement the beauty with various accessories, add something new in every element of clothing and get an unpredictable finale, go!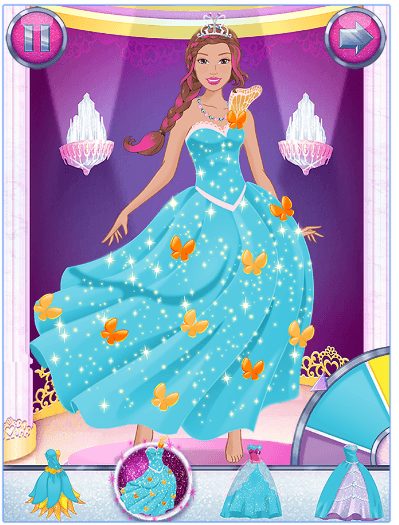 Downloads: 50 000 000 +
Customers rating:

(4 / 5)
Superstar Fashion Girl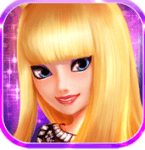 Secular society should always remain in the center of attention, each person should be restrained, educated, well-read, and athletic. Dreamed of becoming a superstar and get to know new people?
There is a chance to turn it in the game Superstar Fashion Girl – a colorful 3D application for the female audience of Android users! Here you can learn fast and simple. And most importantly, you will be taught the right combination of all kinds of outfits, and even come up with a bright and at the same time unique makeup.
All you need to do is to choose the right sport, buy the best clothes and gorgeous accessories to create a chic image, and invite handsome guys on dates!
First of all, it is necessary to decide on a sports career – a choice is offered by dancing, singing, and tennis, and in each one, you have to hone your skills to the maximum! You can participate in amazing mini-games, earn money, and immediately go to the best boutiques of the city for new purchases!
Superstar Fashion Girl for Android demonstrates eternal hangouts, bright adventures of stars, and celebrities. So, start to flirt with the guys, get expensive gifts, develop in all your endeavors, and become a real model, talked about! Join the society of successful and popular people right now!
Advantages of the game Fashion Girl Power:
A huge selection of different outfits for every day;
A large variety of makeup type;
The ability to save your achievements;
Magnificent graphics, which will emphasize your efforts.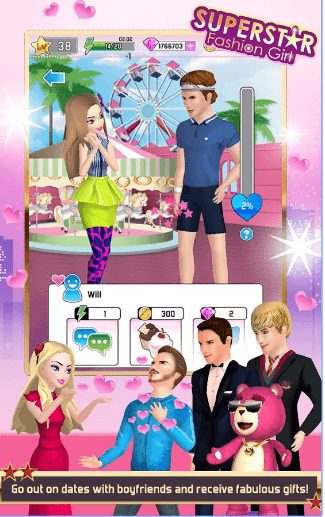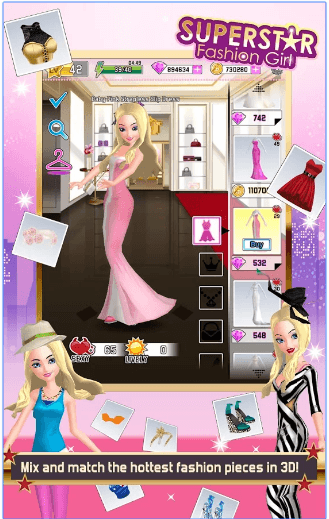 Downloads: 5 000 000 +
Customers rating:

(4.1 / 5)
Super Stylist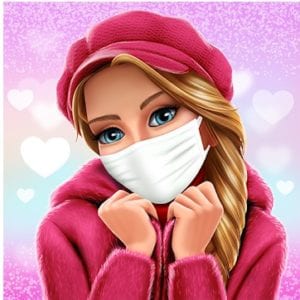 Have you always wanted to be a fashion stylist?
Then you should play Super Stylist – Dress Up & Style Fashion Guru. Users of this game have a unique opportunity to try themselves as a stylist.
The game has a huge number of different clothes, accessories, and makeup so that users have complete freedom in realizing their ideas.
Explore the different styles to find the perfect one for you. Experiment and create new images for your clients. Earn money and buy new items.
For the comfort of users, the authors of the game have implemented an excellent user-friendly interface. With its help, you can very quickly find the object of interest and use it.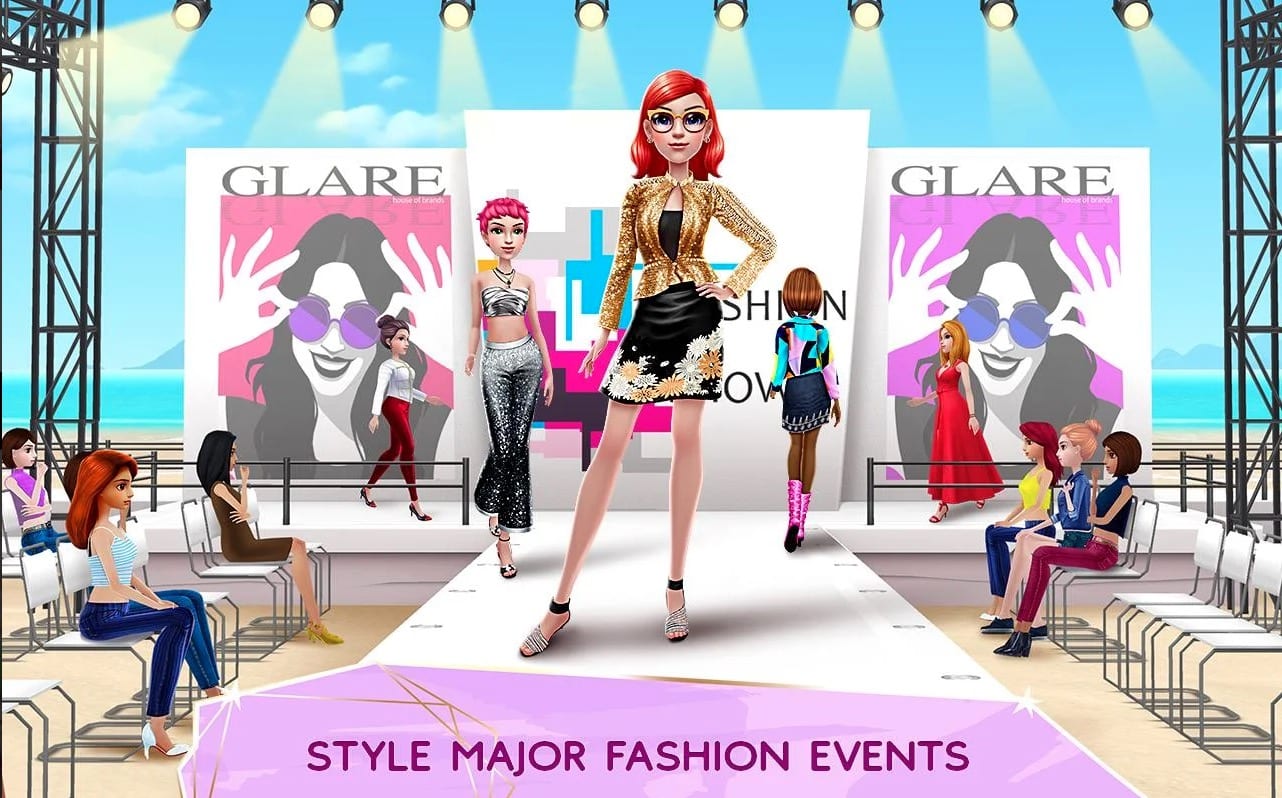 The excellent interface allows beginners to get used to the game very quickly and start getting a lot of delightful impressions from the process. You should take care of your clients if you want them to recommend you to their friends. Dress your clients in stylish and bright outfits, add unique looks with fashion accessories.
Reasons why you should download this game:
Rich choice of clothes, accessories and other items;
The ability to realize any idea you have;
The "save" function, allows you to save the image in the memory of the device.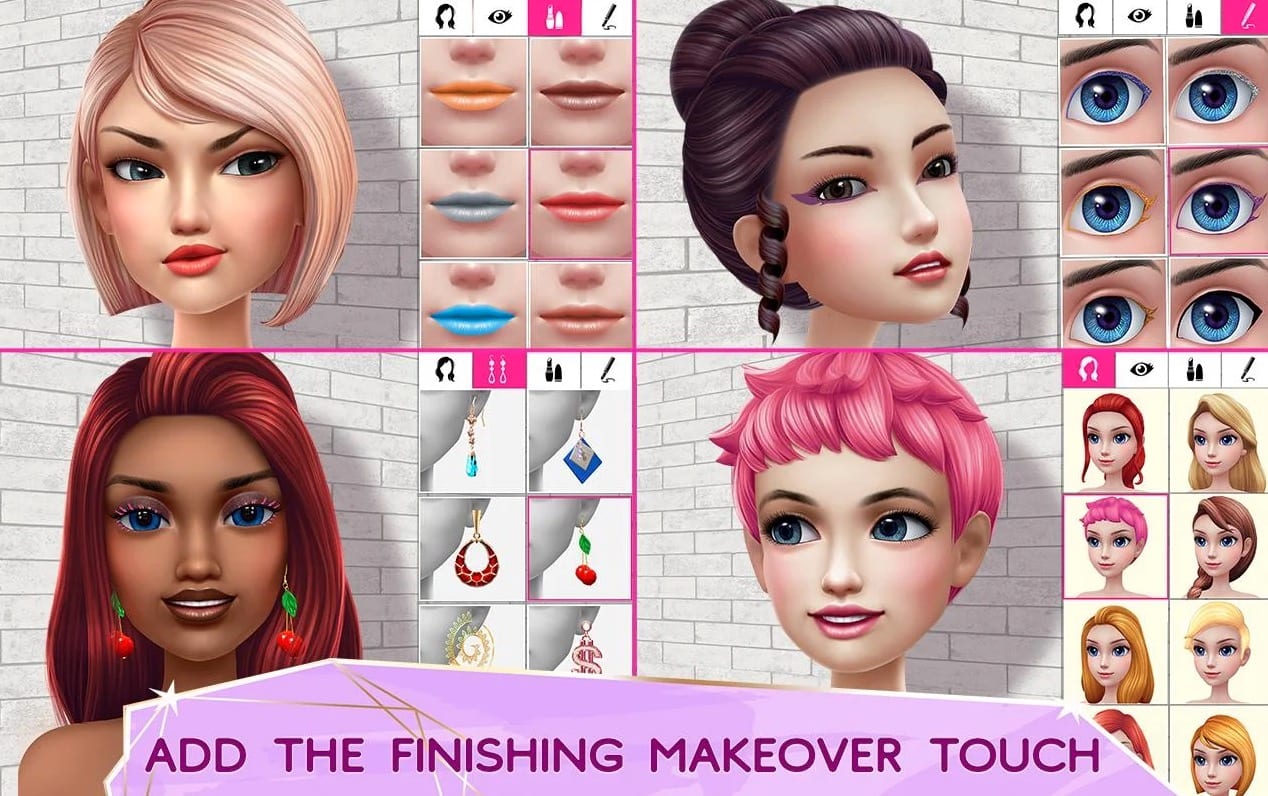 Downloads: 10 000 000 +
Customers rating:

(4.3 / 5)
Fashion Diva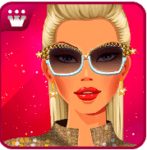 Fashion Diva is a fashion game developed by the creators of the Graduate School of Fashion and many TV shows about fashion. You will be given a chance to get into the modeling business, try not to miss it!
Gameplay. Create your own styles and costumes, experiment, and design new fashion models. To help you the developers sent a huge, just an incredible number of tools for creating fashion.
All kinds of clothes, shoes, hats, accessories, cosmetics, and makeup will be available to you at the stage of creating your models. Use your own style, or refer to the traditional ones: glam rock, sports, vintage style, and so on.
Be ready to listen to everything the jury thinks about your work and about you, too.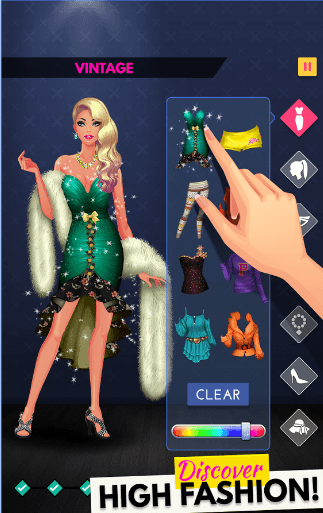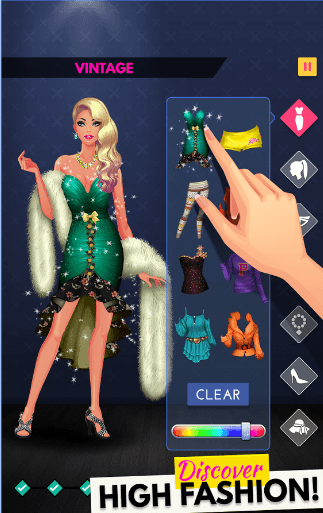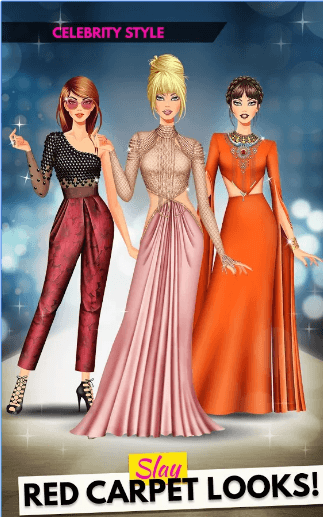 Downloads: 10 000 000 +
Customers rating:

(4.2 / 5)
Design It Girl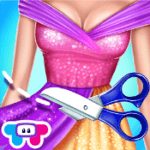 Gameplay. Design It Girl: Fashion Salon is an exciting game. This full-scale casual app for Android captures for a long time! Installing the game, you get into the world of an atelier. Here it is necessary to help the young girl to realize herself as a fashion designer, leading business with her from scratch!
There are many functions, the purpose of which is easy to guess at the appearing prompts. For example, a sketch for future clothing is created with a piece of chalk, and any pattern on clothes can be created with paints and brushes.
The interface in the Design It Girl app is colorful. There is something that is necessary. Also, the game is distinguished by beautiful graphics and animation of its characters. The objects also have pleasant animations. Sounds are quality, the melody on the background sounds nice and does not irritate. All characters speak aloud.
So, try to help the characters with their problems: the bride tore her dress before the wedding! The girl has nothing to wear on a date! Such a wide functionality can not but rejoice.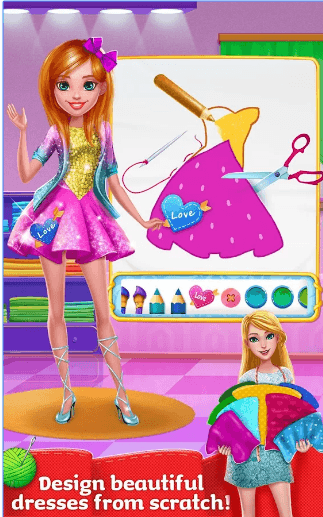 Downloads: 10 000 000 +
Customers rating:

(3.9 / 5)
Little Tailor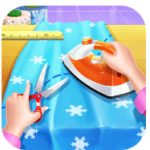 Have you ever dreamed to become a famous fashion designer? Do you want to sew elegant clothes on your their sketches and get a sea of positive emotions from this business? Then Little Tailor is what you need.
Here you will find a variety of fabrics and fashion accessories. You can choose the most appropriate ones for the new design, make a pattern, cut out and run the sewing machine. It makes everything for you. You can sew a ton of varied clothes: chic dresses, skirts of different styles, trousers, autumn and winter coats, T-shirts and other things.
Don't stop on one style, as it is possible to diversify your fashion collection. To complete the image, you can pick up the appropriate accessories: sunglasses, a bag, and other stylish accessories. Then, choose fashionable shoes and make a modern hairstyle. And your customers will be satisfied and grateful. You can also make colorful photos in the game, and share them with your friends.
Show everyone how developed your imagination is. Colorful graphics and an intuitive interface will help you with this.
Do not delay downloading of Little Tailor game on your mobile device and run your fashion shop for tailoring the author's clothes. Enjoy the process!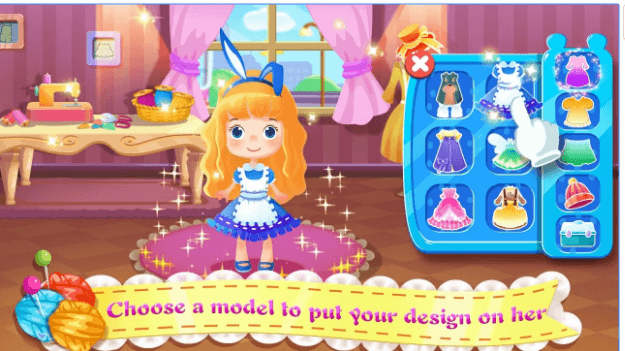 Downloads: 10 000 000 +
Customers rating:

(4 / 5)
Fashion Empire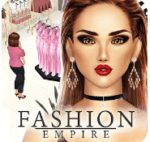 The fashion boutique, which has been opened recently in the mall, immediately attracted the attention of customers. They, first of all, are interested in designer clothes.
However, there is no time to look at the store windows – a shop is urgently needed a manager to open the store, so click on download Fashion Empire – Boutique Sim and take on a new role!
Levels and development. In Fashion Empire most of the time you will have to spend in trying to pick up the perfect clothes for customers. In this case, you need to bring new things into the hall, arrange items, earn and expand production. Properly done work, of course, will bring a lot of money and experience, and this is the main way to get into the big leagues, where unique dresses and shoes from around the world are already waiting.
Awards and purchases. Sometimes access to a secret collection is opened after doing some tasks. For example, you need to sell a dozen of specific accessories or give several customers the same dresses. The further the passage goes, the tasks are more difficult, but the rewards are higher! Try to bypass all competitors right now!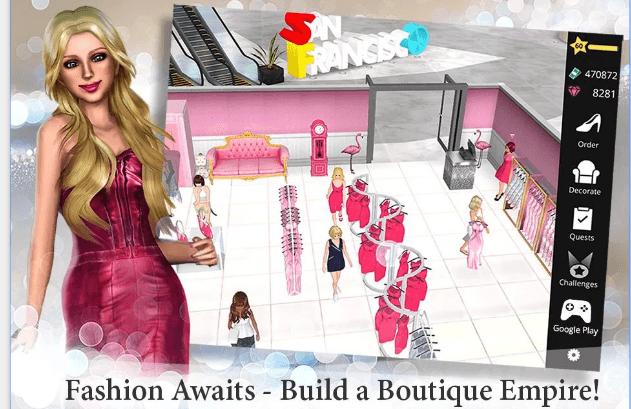 Downloads: 10 000 000 +
Customers rating:

(4.3 / 5)
Fashion Cup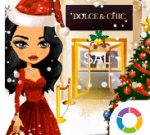 Shopping, world trends, expensive clothes, and unforgettable impressions – Fashion Cup simulator suggests entering into a fashionable contest that reveals real stars among beginners of the stage and cinema.
It's enough to collect the first set of clothes, to create some interesting details and you can start attracting attention! But everything in order – first you need to understand the basics: to learn the rules for making certain shows and learn the secrets of earning popularity.
How to play. Of course, all the nuances are told at the training course. You will be shown how to buy clothes, how to earn experience and money, where to vote and where to get motivation for victories.
In general, the arsenal of opportunities is vast – in addition to a virtual city consisting of various sections, you can go and to the menu of puzzles and direct selection – there it is necessary to choose between the two rival participants.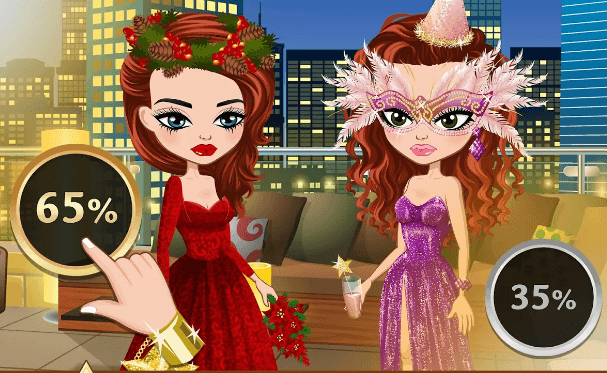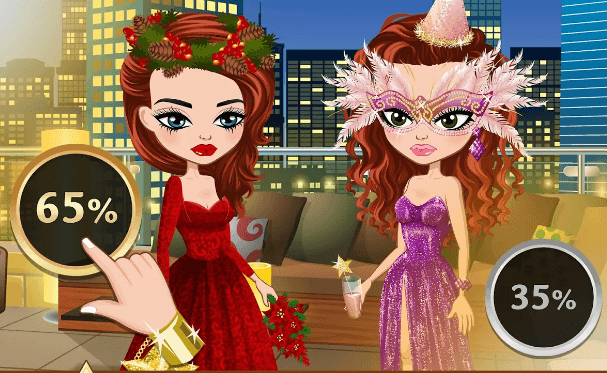 Downloads: 1 000 000 +
Customers rating:

(4.6 / 5)
Hidden Objects Fashion Store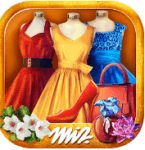 Gameplay. Hidden Objects Fashion Store is an addictive puzzle game for Android gadgets. The user will be moved to the boutique. When you start the game process, you will be offered a small training so that you quickly become accustomed to the game process.
As an assistant, a pretty girl is used, telling a lot of useful information necessary to achieve success in the game. Then the user will see a photo of the boutique in front of him. The peculiarity is that the boutique is full of mess. The gamer will see a lot of scattered things. And your task is to find each.
In the training mode, you will need to look for a calendar, a suitcase, an umbrella, glasses, pine cones, scissors. The assistant girl gives advice, and then just disappears without a trace. From the start, only the first level will be unlocked.
All users can easily cope with the initial level. For the successfully passed locations, you will get game points. Then these points will turn into stars. If you manage to collect at least three stars, you will be able to go to the next level. For gold coins, you can buy tips that simplify the gameplay.
At first, there is no time limit, but later it will appear. Management is very easy. It is necessary to tap on the subject that was found to be automatically disappeared. Enjoy fascinating gameplay and high-quality graphic design. Download Hidden Objects Fashion Store for free on Android-devices.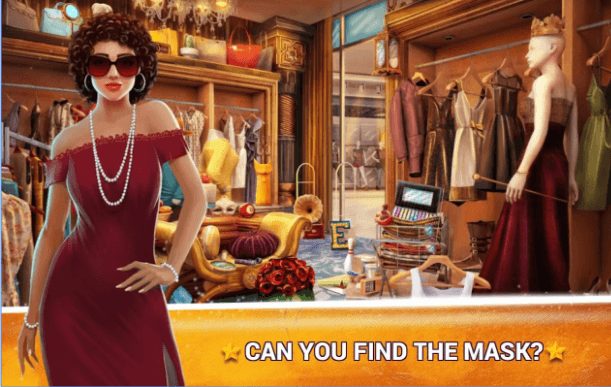 Downloads: 500 000 +
Customers rating:

(4.3 / 5)

Fabulous – Fashion Fever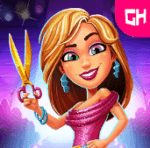 Fabulous – Fashion Fever is a simulator of a lucrative and fashion boutique, located in the shopping center of a large megalopolis. The main character, Angela, dreams to develop her business, and therefore briskly takes up duties!
She meets customers, consults, calculates the revenue, and closes the cashier. The salary received during the passage helps to develop the store and opens up unusual opportunities to turn one store into a whole chain store!
Rules and gameplay. Certainly, you will start from full training, describing all duties, tasks, plot twists, and turns. After the introduction, everything will become clear – the items ordered by customers will have to be brought, gifts – packed, and cosmetics to help choose. Sometimes on levels, there are also curious moments – the poster is damaged, the mirror fogs. Angela will have to fight with all this disorder.
Levels and awards. The game world of the simulator Fabulous – Fashion Fever for Android is divided into a series of episodic chapters: levels in Paris and Las Vegas, meeting customers in Europe and on the shores of the raging ocean. It is necessary to develop your business constantly.
After each level, you have to make a lot of improvements – invite assistants, improve the computer at the checkout counter, change chairs and racks with clothes. So, download Fabulous – Fashion Fever, it will be interesting!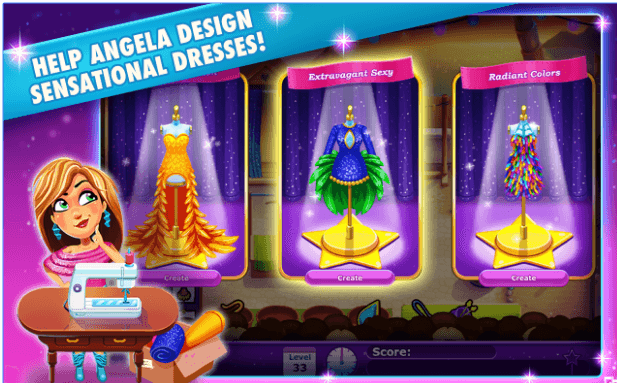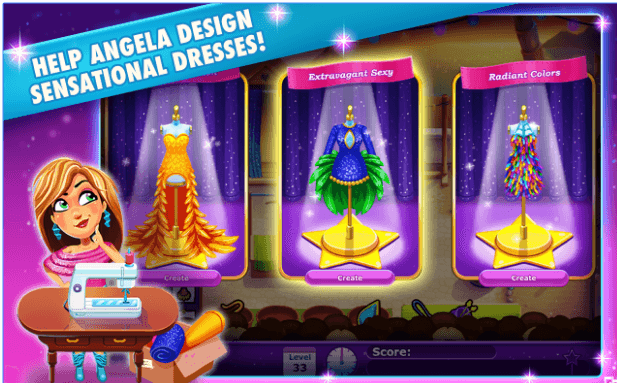 Downloads: 1 000 000 +
Customers rating:

(4.1 / 5)
Fashion Fantasy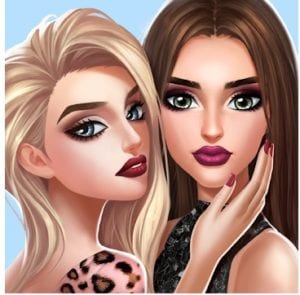 This is an interesting dress-up, in which each player can express his design skills. This can be done by choosing clothes for different dolls. All dolls look like beautiful girls with perfect figures. They look good in any clothes, but you need to find an unbeatable combination.
The player will have to wear a doll. This will require the use of many different things. From dresses to makeup. Here you can find clothes in different styles. From evening dresses, and ending with warmer, autumn collections. All styles can be combined, the game absolutely does not limit the players. Create the perfect image that will please other players.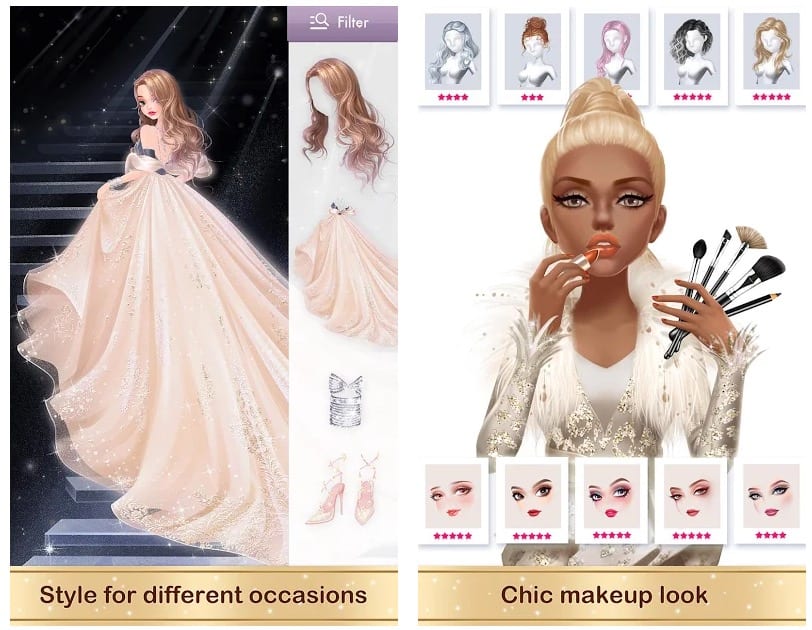 In this application, you can compete with your friends. Challenge your model to collect likes from other players. There are 2 models to compare. They will stand on opposite sides of the room and each has a button for likes.
It is worth noting that initially, the player will not be available to all the clothes. You will need to buy outfits in various boutiques. Most of the things you can buy for in-game currency. But sometimes you need to pay real money. To earn currency, just do the tasks in the game.
You can download Fashion Fantasy for free. This game has several features compared to other similar projects. The main feature is that there is a multiplayer. It makes pastime in Fashion Fantasy more interesting and gambling.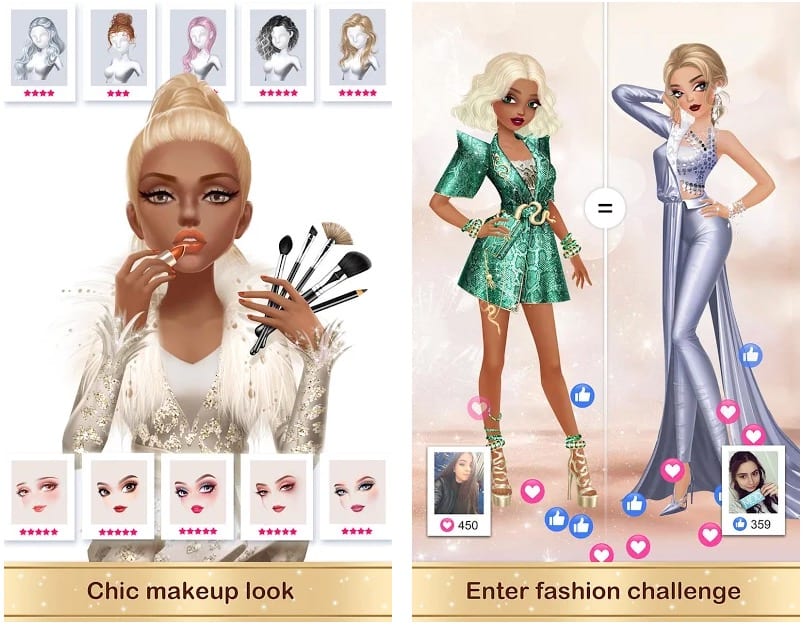 Downloads: 5 000 000 +
Customers rating:

(3.9 / 5)
You may also like: 21 Cool farm game apps for Android
Lady Popular: Fashion Arena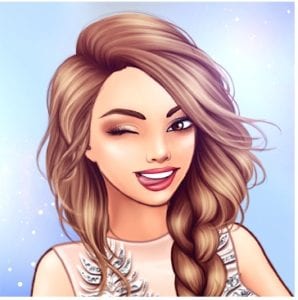 Lady Popular: Fashion Arena is an excellent casual game for fans of the genre and fans of quality, interesting games for mobile devices.
Users have the opportunity to turn all their stylish images into reality. Players have a huge city with plenty of shops selling clothes and ladies' accessories. You need to try on and buy clothes, create images. As you pass, you will open new shops, which will allow players to continue to engage in stylish images.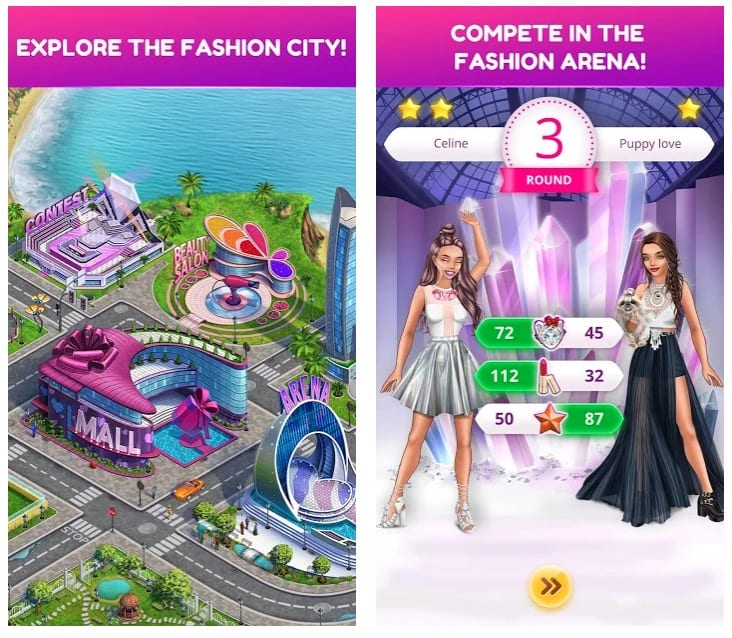 A huge selection of clothes and excellent graphics will keep you busy for hours and give a sea of positive and delightful gameplay experiences. Create images and store them in your mobile device to share your work with friends. If you're looking for a first-class casual game with a huge selection of clothes, then you should definitely download Lady Popular: Fashion Arena to Android.
You will be able not only to get the necessary thing but also to quickly change the character, add the things to your favorites, and buy them. Also, users have the ability to change the appearance of the characters, which makes it possible to create exactly the image that players want. Get complete freedom of choice and create delightful stylish images.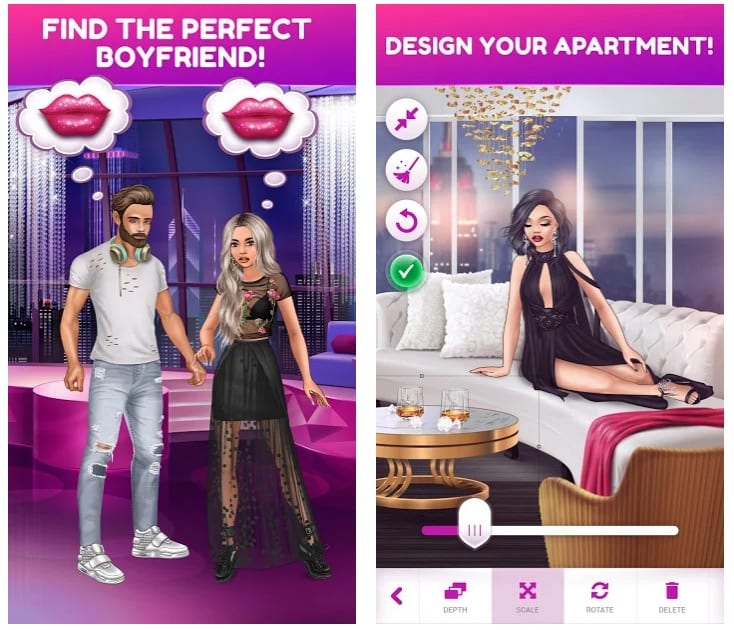 Downloads: 1 000 000 +
Customers rating:

(3.9 / 5)
These fashionable games for Android gadgets will allow you to learn to distinguish styles of clothing and develop good taste. Good luck!