Advertising, probably, makes everyone nervous. Especially if it's pop-up banner that appears during the game or work in the program. Almost all the software that is present on the Google Play Market, shows ads. It is absent only in licensed applications.
And why is it important to disable the advertising?
Saving traffic: any advertising is downloaded to the phone, so it "eats" precious traffic.
Better game performance: the downloading of advertisements is spent on the device's resources, and getting rid of advertising will increase the speed of the game.
Convenience: sometimes advertising is very distracting from your favorite app!
To get rid of advertising, you need to install special programs on your smartphone or tablet that will turn it off. As a result, they will eliminate annoying ads in games, programs, and on websites. But keep in mind that Root rights are required, without which blocking will occur with restrictions, so sometimes advertising will still appear. So, let's go, below are the best ways to block advertising in Android gadgets!
Adblock Browser
The main advantage of the Adblock Browser is the quality blocking of advertising. The first plug-in from Adblock was released back in 2006 and since then the company's products have become available on a large number of platforms and applications.
What does the Adblock Browser stand out against the competition? Externally, it is almost identical to Firefox for Android. The search bar, the organization of tabs, content management – all this is very similar to the famous cross-platform competitor from Mozilla. On the other hand, desktop Firefox at one time was one of the first environments supporting Adblock, so the presence of a large number of similarities cannot be considered surprising.
In terms of blocking advertising, Adblock Browser slightly outperforms competitors. Here the same filters are used as on other platforms, and the list of exceptions can be viewed in the settings.
If we consider the product from Adblock as a full-fledged browser, then there are few differences from Firefox. There is a similar list of settings, tools for managing the search history and selected content, privacy settings, etc. The user can view pages in the incognito mode and erase all data when exiting the program. According to developers, Adblock Browser allows you to optimize traffic usage and save battery power.
Key features of Adblock Browser:
The ability to block advertising on all sites visited.
Presence of private mode.
A built-in download manager.
View your browsing history.
The ability to add favorite sites to bookmarks.
Ability to save articles for later reading.
Setting preferred search engines.
Import bookmarks and history from the system browser.
Adjust the size of the text.
Support for plug-ins.
Full-screen mode.
Presence of the master password.
The ability to automatically delete data on exit.
Setting up ad blocking subscriptions.
The ability to resolve some unobtrusive advertising.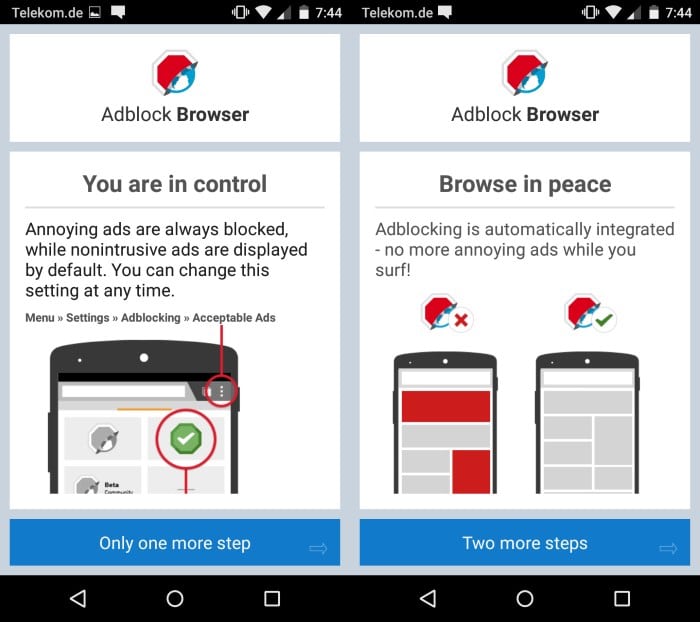 Downloads: +10000000
Costumers rating: (4.1 / 5)
You may also like: 12 Best call blocker apps for Android
Free Adblocker Browser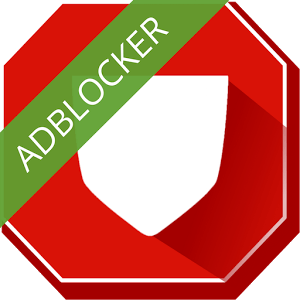 Free Adblocker Browser – very useful application that will save you from advertising banners when viewing virtual pages of the global Internet. You will no longer afraid to miss the right information because of an unnecessary pop-up video.
You can download Free Adblocker Browser on Android using the Google Play app store. It is installed as an add-on to browser programs. Immediately after installation, the Adblock application begins its painstaking work.
It gradually blocks all ads, advertising banners, pop-up videos, and dialog boxes. It does not allow advertisers to track your activity on web pages. And if the application detects malicious software on the global network, it will immediately notify its user about it.
Do not have to worry anymore and constantly shudder at the sudden turning on video or screaming musical tunes. You just need to download the Free Adblocker Browser to Android. In addition to its main purpose, the program significantly saves battery power of the mobile device and mobile Internet traffic. Twice speed up the mobile network. Does not require additional configuration. Clear and convenient interface with minimal buttons and menu items.
The application is distributed free of charge. You do not need to go through endless stages of unnecessary registration or pay money for using the right content. Supports all types of popular mobile browsers.
The program Free Adblocker Browser is designed for those who do not like to be distracted by trifles during surfing on the sites of the global Internet. Only the information you need and important at the right time. Do not need to be distracted by any unnecessary "stuff".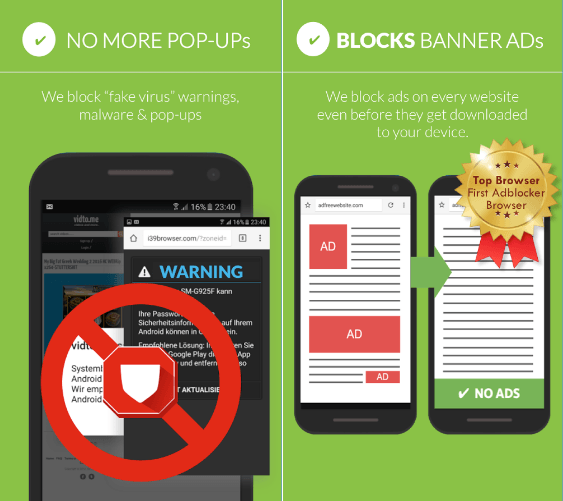 Downloads: +5000000
Costumers rating: (4.4 / 5)
AppBrain Ad Detector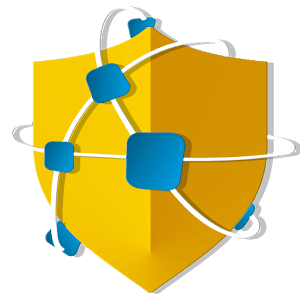 AppBrain Ad Detector is a free Android application that will detect and fix all existing errors on your device, and also prevent the occurrence of erroneous application processes. In addition, the tool performs a number of useful functions that not only do not interfere with the device but are also necessary to it.
The name of the utility speaks for itself, it is an intelligent monitoring system, it is a detector that monitors all the actions of the device, it is the brain center of the device. The application does not require superuser rights, it works without any restrictions on any device model.
On the one hand, the tool is a kind of antivirus that will protect the device from spam, encroachments of suspicious mobile programs on your personal information. On the other hand, this is the manager of active device processes. But unlike the usual antivirus, AppBrain Ad Detector is able to report various system problems that occur on the device, dubious desktop shortcuts, and push notifications, which are of advertising nature.
In fact, all of the above processes occur quite often. Sometimes we are not even aware of the existence of any malicious applications that may pose a threat to the device. For example, we do not know which mobile programs are allowed to access personal messages, accounts.
AppBrain Ad Detector undertakes to control this type of problem, report its occurrence, and prevent it. It is useful to be aware of which services may require money, especially if a particular malicious program manages to transfer funds without your knowledge. A banal request for a location also carries a threat of confidentiality.
Also, access to personal contacts is not welcome. Therefore, it is better to know in advance about possible malicious applications, so you will have time to react and secure yourself. AppBrain Ad Detector justifies its name, we recommend it as a much more functional tool than a regular antivirus and a manager of running processes.
Features of AppBrain Ad Detector:
Detection and elimination of suspicious processes on the device.
Troubleshooting unnecessary pop-up messages.
Processing of malicious shortcuts for the main screen.
Providing a list of applications that require access to personal information.
Uninterrupted operation.
Quality and stability.
Easy to use interface.
Intelligent tracking system.
For all Android-powered devices.
Downloads: +1000000
Costumers rating: (3.7 / 5)
Adblock Plus Samsung Internet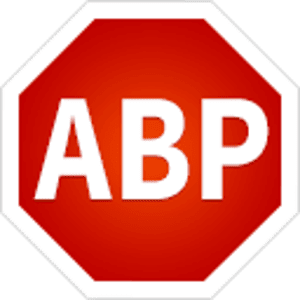 Adblock Plus is a completely free application that blocks the display of intrusive Internet advertising. The program is available in the mobile browser Samsung (Android). Despite the fact that the program AdBlock Plus takes a lot of system resources, it brings a really significant benefit and the result of its work will be immediately visible.
Perhaps, every user is annoyed by the obsessive advertising present in many applications and on the Internet pages, and in order to save you from the need to view it, the AdBlock Plus program is created. In order for the program to start working it is enough to install it, after which the most suitable parameters will be automatically selected, of course, if you want, you can change them but this need rarely arises.
If you have ROOT-rights, then you can filter not only WiFi traffic but mobile as well. If you do not have such rights, but Android version 3.1 and higher is installed, then you can filter only WiFi traffic; if the Android version is lower than 3.0, then the program works as a proxy server and you will have to configure it manually.
Although AdBlock Plus is an excellent program, it can not cope with all advertising and sometimes banners will come across that are too tough for her.
To date, Adblock Plus can be called the most popular ad blocker on most operating systems. Almost in all browsers, this plug-in is the leader not only in its segment but also in principle by the number of installations.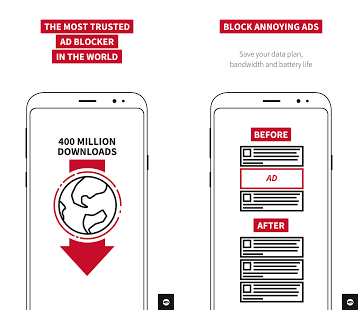 Downloads: +1000000
Costumers rating: (3.8 / 5)
Adguard Content Blocker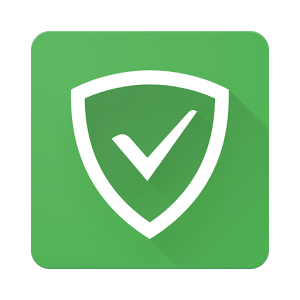 Adguard Content Blocker – a browser-based blocker will help the average person get rid of all the annoying ads, malicious, and phishing sites and other Internet contagions. The application was created for devices on the Android platform. Currently, it is at the beta testing stage and the extension is available only in Samsung Internet and Yandex browsers.
Adguard Content Blocker does not need root-rights to the device. Any user can customize it using 20 available language and general settings. The application has open source, which can be found on GitHub.
Using the application Adguard, you can accelerate a load of pages several times, save mobile Internet traffic up to 79%, and also increase the level of invulnerability of your device in relation to various malicious threats. The speed of the filter does not depend on the operation of the VPN server since it is placed directly on your device.
You can also download the app free of charge on Google Play or in the Galaxy Apps store. To install the extension in a supported browser, go to the extension selection menu, find Adguard Content Blocker in the search, then, by clicking the appropriate button, install the application and restart the browser.
Features of Adguard Content Blocker:
blocking advertising in Yandex Browser and Samsung Internet without root-access to the mobile device;
more than 20 filter settings for accurate and high-quality operation of the application;
open source on GitHub.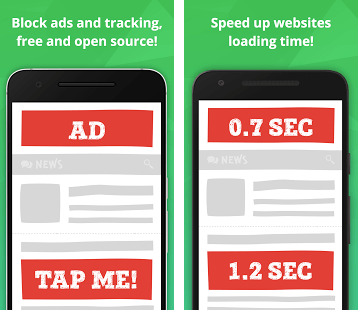 Downloads: +1000000
Costumers rating: (4 / 5)
CM Browser – Ad Blocker
AdBlock is an ideal solution for Android mobile devices. Supports all browsers Chrome, Opera, Firefox, Samsung, and all other browsers!
Make your web browsing faster, safer, and more comfortable with AdBlock!
1. Blocks any advertising, including:
Advertising video clips
Multimedia advertising, in-game advertising
Unwanted pop-ups and background pop-ups
Banners and text advertising
2. Speeds up web page loading and saves bandwidth by removing ads.
3. Helps block spyware, adware, and malware by preventing downloads of virus-infected domains.
4. Helps protect your privacy by blocking third-party tracking systems.
AdBlock is the best way to get rid of intrusive ads and online tracking and to protect your mobile phone from malware.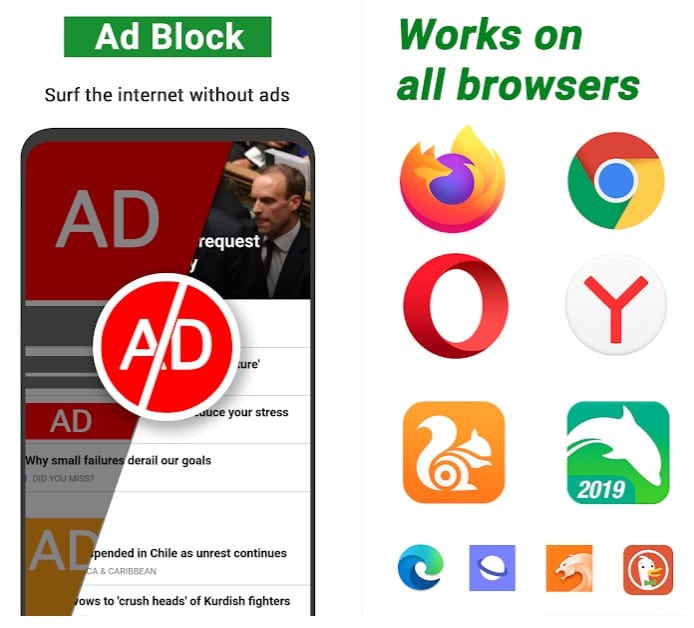 Downloads: +500000
Costumers rating: (4.6 / 5)

Adblock Fast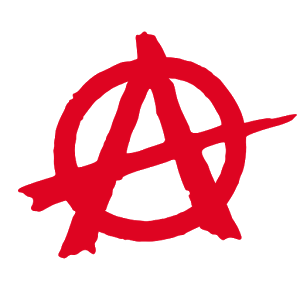 Adblock Fast – make the use of the Samsung Internet browser even nicer and get rid of annoying ads, with the help of this program. Adblock Fast is an addition to the browser Samsung Internet, designed to block advertising. The program allows you to significantly increase the speed of loading pages and reduce the consumption of Internet traffic.
Unlike other similar programs, Adblock Fast for Android blocks all ads without exception, without dividing it into authorized and not allowed. Please note that the program requires Samsung Internet version 4.0 or higher.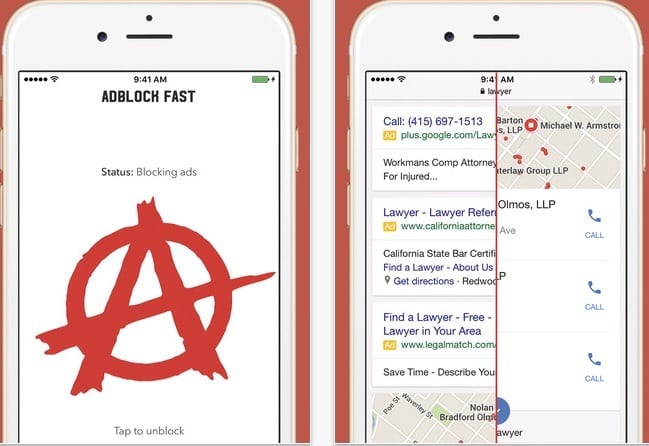 Downloads: +500000
Costumers rating: (3.9 / 5)
Brave Browser: Fast AdBlocker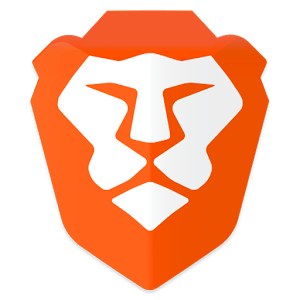 Brave Browser is a lightweight browser that blocks advertising and also simplifies the work with frequently visited resources. The program is able to remove banners from the pages and prevent pop-up windows from appearing on the screen. The second notable feature of the project is the built-in ability to block "trackers" – scripts that track user activity.
For faster access to your favorite portals in the application provides the ability to create "bubbles". These elements are similar to shortcuts, and they are located on the side, or on the top interface panel. Also with their help, you can instantly switch to other programs, for example, to Facebook, to view the content that was downloaded in the background.
Thus, the transition between the application and third-party clients is accelerated at times and does not interfere with visiting the site. In addition, you can open sites using HTTPS, including this feature in the settings. In the rest, the browser completely corresponds to modern standards.
The interface is made in a modern design. Fonts are easy to read. There is a setting that increases the size of the text. There are a night mode and several built-in visual themes.
Brave Browser makes the browsing process more comfortable, and also protects the user from advertising and other annoying factors in the network.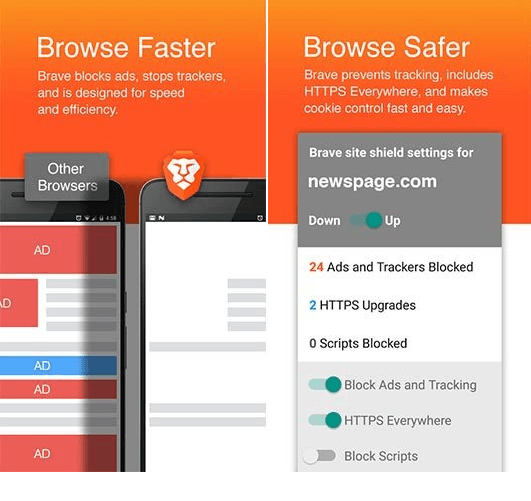 Downloads: +1000000
Costumers rating: (4.4 / 5)
You may also like: How to root Android
NetGuard – no-root firewall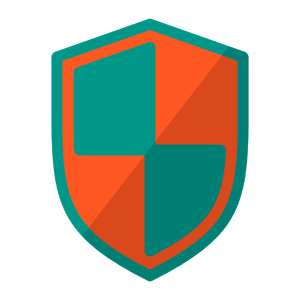 NetGuard is a mobile firewall that can block advertising. The most beautiful thing is that for this, it does not need superuser rights.
The NetGuard application was initially positioned as a software firewall for Android. With it, you can fine-tune permissions and rules of behavior for all applications you have installed. This helps users to reduce the consumption of mobile traffic, save battery power, and protect their privacy.
In new versions of NetGuard, there is an additional feature that allows you to block advertisements. NetGuard blocks advertising in virtually all mobile browsers and in many applications, including system ones. Sometimes for this purpose, it is necessary to disconnect the economy of the traffic. The program cuts advertising banners well but in most cases leaves an empty space on the web page under the advertisement.
NetGuard is able, among other things, to keep a log of network connections, prohibit the connection with certain addresses to notify when an application is associated with the remote server. The program is free, has an open-source code and several different themes.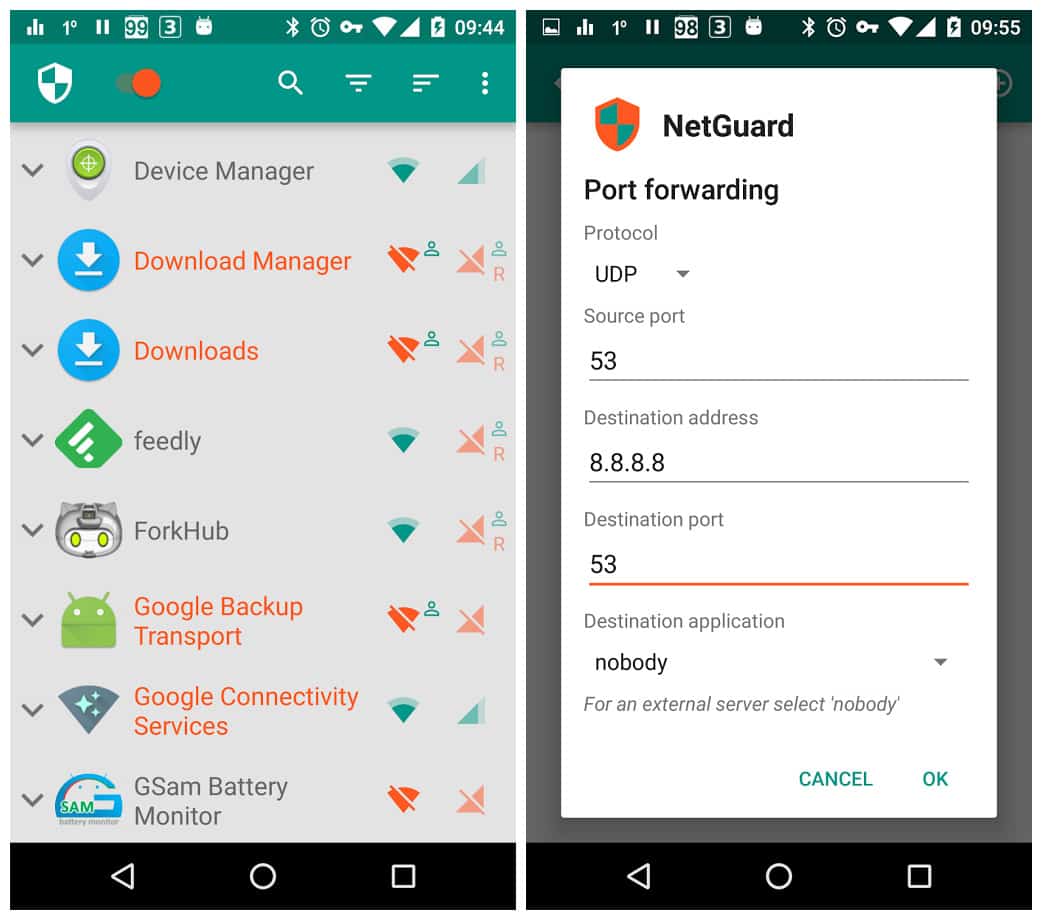 Downloads: +500000
Costumers rating: (4.2 / 5)
As you have already known, in the matter of blocking advertising on devices running Android, you can do without ROOT access. In this case, existing applications for these purposes may be less effective but at least they do work. Write in the comments, whether you use ad blockers on mobile devices, and which of them, in your opinion, are the most effective.
Pay attention to useful articles for your smartphone – 7 Best Police scanner apps for Android, 16 Best Bluetooth apps for Android.