Applications for processing photos and fragments from mobile videos, as well as creating collages are very popular among owners of tablets and other devices running on Android OS. In this article, we'll look at the 11 best, in our opinion, Vine editing apps for processing video on the Android platform.
Such software-editors require quite a wide range of functions: the ability to rotate the image, split the clip into several parts, insert special transitions into it, various additional audio tracks, and titles. In addition, the main requirement is the absence of complexities that turn the user into a shaman, forced to create miracles in his device.
Videoshop – Video Editor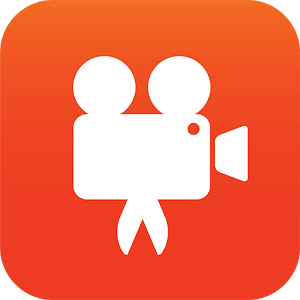 Application for fast and convenient processing of video on your phone or tablet. It has a set of all standard tools for editing, as well as original effects and filters.
From time to time, each user makes a video for Android. But how often in the footage there are shortcomings! Then some guy "not in the subject" will slip in front of the lens or at the end of the shooting hands get tired and start to tremble … In a word, there is always a reason to edit the video recording. Especially when you consider that all this can be done with amusing titles and interesting effects.
Capabilities:
cropping footage or downloaded video;
gluing several clips into one;
a set of sound effects and transitions;
choice of audio recordings as a soundtrack;
acceleration or deceleration of the video being played;
add animated titles;
improvement of quality through filters;
create a slideshow of photos;
import directly into the application;
sending the finished project to the email, YouTube, Instagram or Facebook.
The principle of operation. To work with the application is easy – those who have already dealt with video or even photo editors will quickly figure everything out. The tools are sorted by sections – in one you process the video, then choose the soundtrack, then you apply effects and save or send to the Internet.
Pros:
choice of quality when sent to the post office or social network;
a convenient menu with icons;
import and export of projects;
you can easily download the video editor for your smartphone.
Those who are accustomed to please relatives and friends with phone records, this application is very useful. With it, you'll process the video as soon as possible and put it on the right resource.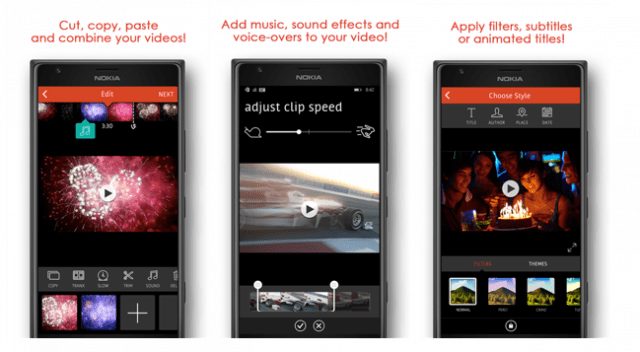 Downloads: +10 000 000
Costumers rating: (4.6 / 5)
You may also like: Add music to your video apps for Android (9 Best apps)
Magisto Video Editor & Maker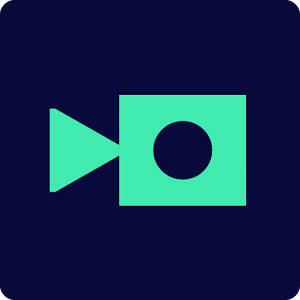 This is one of the easiest to use video editors. Magisto offers the ability to automatically process images using a special filter, equipped with the function of face recognition, and also allows you to superimpose an additional audio track on the video.
Before you start, you must register your account via Google or Facebook. The initial screen displays two functionalities: viewing already created videos and creating new videos. The latter option can work with all available video files on the device, as well as photos.
Additionally, you can also connect files from Google Drive. For stable operation of the application, a stable connection with the Internet is required because video processing and its mixing takes place on a remote server.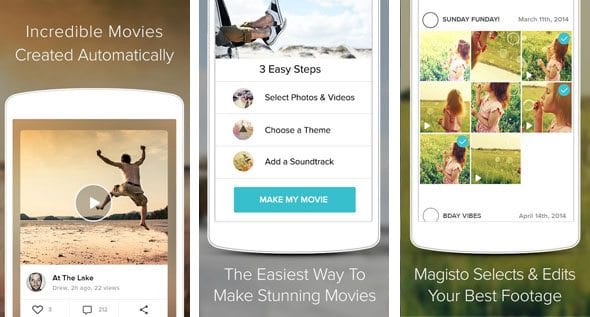 After choosing a video sequence, you need to determine the general background that the video will have. If you don't like the proposed ready-made backgrounds, you can use a special editor of backgrounds and frames to create your own version. As a music accompaniment, you can select an MP3 file available from the user. After that, you just need to give a title to your clip and get the finished result.
Thanks to the simple management and the ability to work in the "cloud", everyone can try himself as a creator of clips, even without special skills and knowledge. In general, this application works fine on all smartphones but received very ambiguous ratings from users: one likes the usability and friendly interface, while others scold this application for "conditional" free of charge (the matter is that for downloading from the cloud of your project Magisto requires a fee).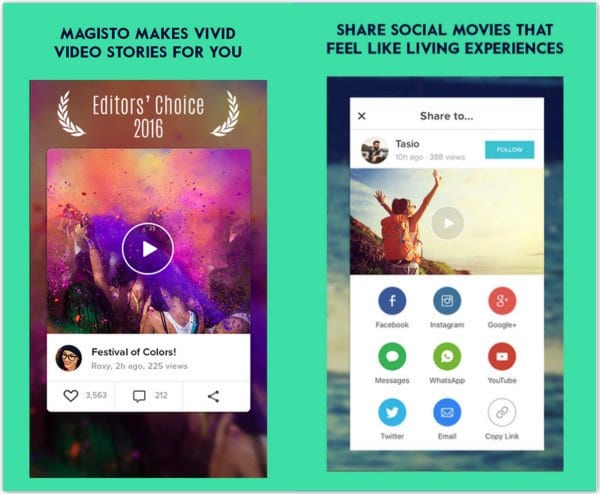 Downloads: +50 000 000
Costumers rating: (4.3 / 5)
AndroVid – Video Editor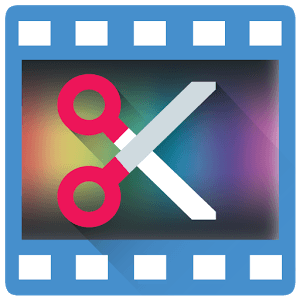 The editor Androvid has paid and free versions, differing in the range of functionality. At the user's request, the application can cut and split one video into several fragments or combine their existing videos into one.
Also, Androvid is able to capture video footage and impose musical accompaniment. In the paid version the functionality is wider: you can rotate video, overlay various optical effects, add one more audio track, and also convert video to other formats.
The general menu reflects the functionality of the application, at the top – the function buttons and receiving information help. The settings are very concise: change the video sort, auto-save function, and notifications. But the background information is presented in an understandable and detailed form.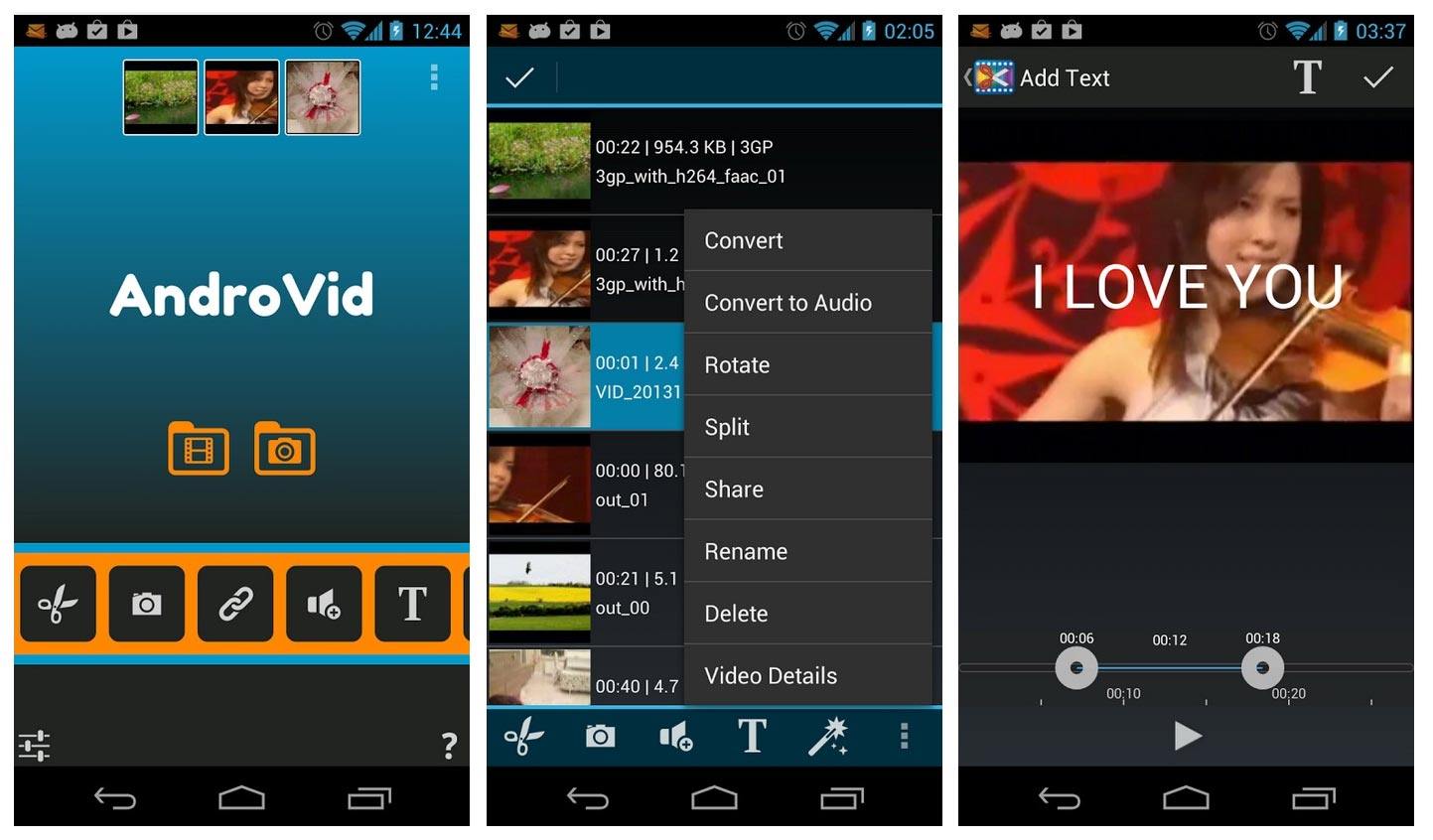 The ability to insert an additional audio track allows you to decorate the video with music. Graphics options allow you to distort the video sequence, change the frame rate, create a mirror effect, and so on.
Androvid allows you to change the format, image quality, as well as adjust the resolution of the output file. In addition, using the application you can share the result of your creativity in social networks. However, there is a minus – it does not allow you to add captions to the video, and also insert screensavers.
In general, Androvid successfully processes the video, some users experience difficulties when working with FullHD-video and rollers lasting more than 30 seconds. Also, when installing a paid version, advertising banners do not disappear.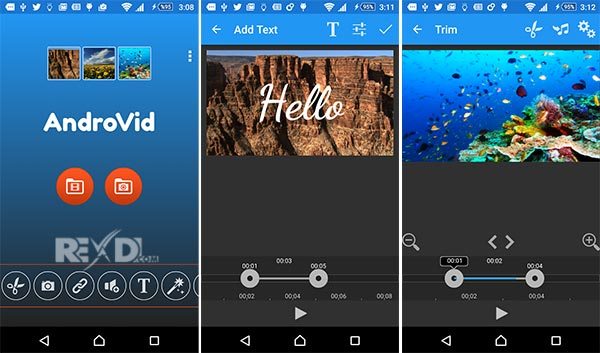 Downloads: +10 000 000
Costumers rating: (4.1 / 5)
KineMaster – Pro Video Editor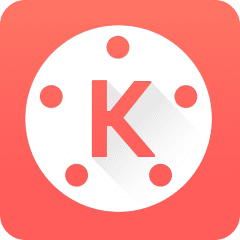 KineMaster Pro is one of the most powerful video editors on the mobile application market. The editor provides ample opportunities for working with files: in the application, you can import video and audio clips, various images, and also modify them, as the user wishes. In order to cut a video clip into separate fragments, you just need to select a special scissors icon on the toolbar.
To improve your clip, you can use the impressive functionality of the application: you can set the brightness, saturation, and contrast of the image, apply the effect of a slow zoom and add a special running text string. To give the clip a more unusual look, you can easily rotate the image, apply transitions scenes, which are enough in the collection of KineMaster Pro.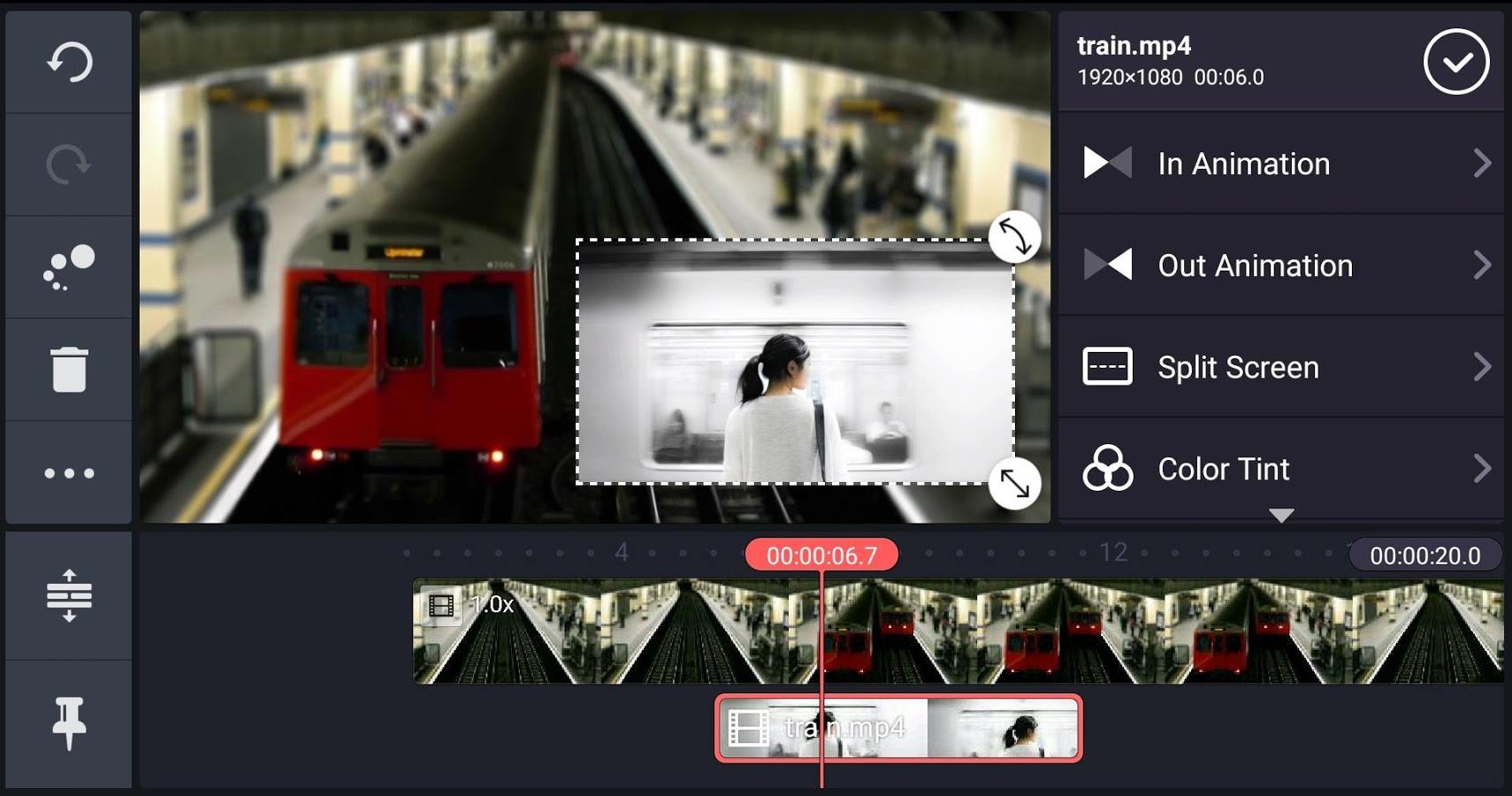 In the settings, there are options for adding multiple audio tracks, inserting sound effects, and voice samples. The built-in function of the "voice recorder" will allow you to superimpose on your video your own comments about the events. You can also add a music track to the project as a background to the main audio track.
An unpleasant surprise for many users may be the fact that the application is supported by a very limited list of devices. A number of mobile devices from Samsung, HTC, Lenovo will "chew" the application, and the owners of devices, say, from Motorola will have to find alternative video editors. Therefore, check to see if the phone supports this application before installing it on your device from Google Play.
Please note that KineMaster has a free and commercial Pro.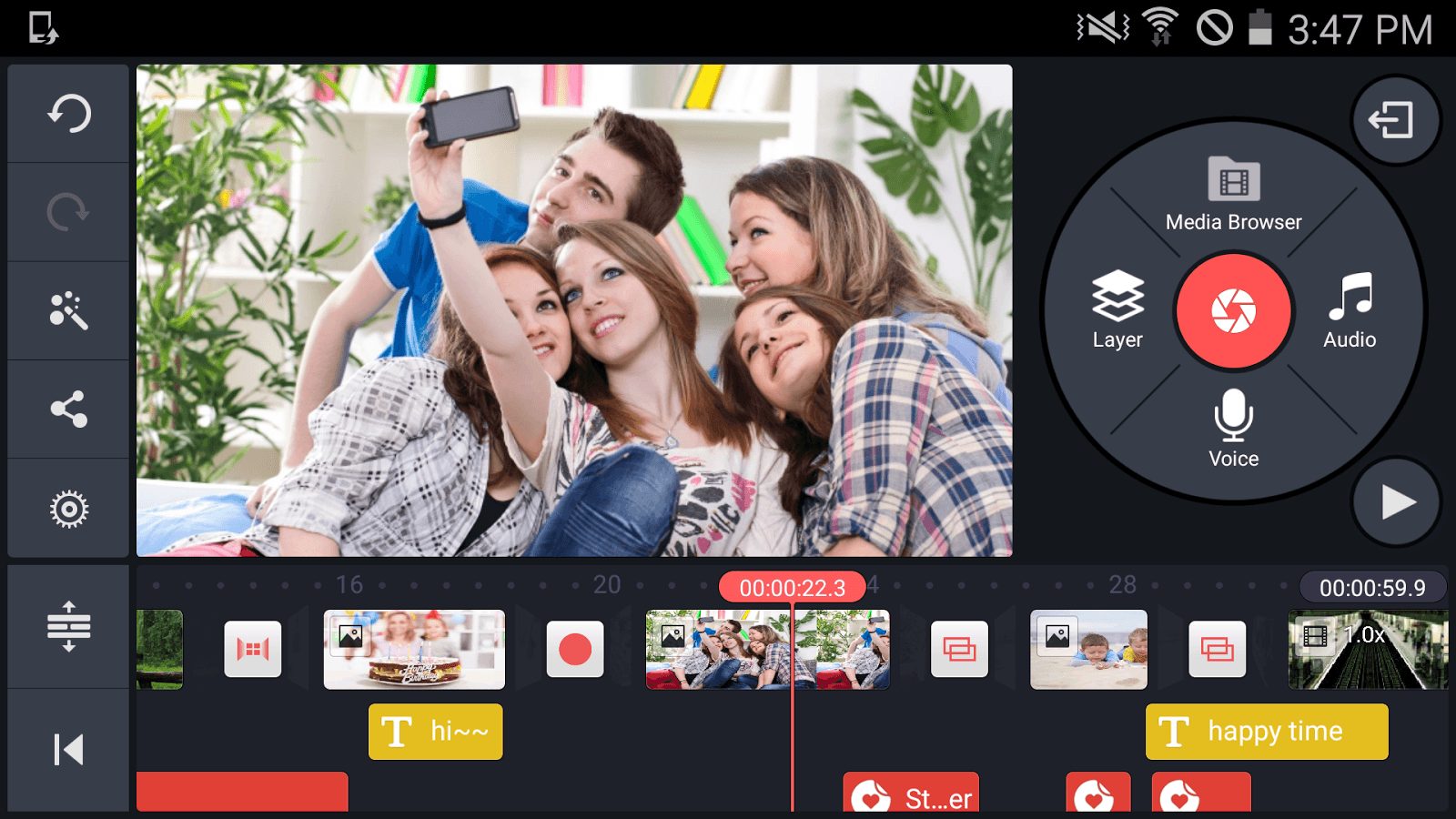 Downloads: +100 000 000
Costumers rating: (4.4 / 5)
VideoShow – Video Editor, Video Maker with Music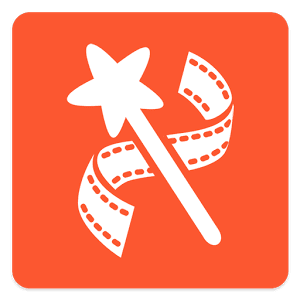 VideoShow is a very convenient and incredibly functional application that can edit any video and apply to it a variety of effects. In addition to editing, the program will help you create your own video, to which you can attach photos and your favorite music.
After running VideoShow on Android, you will see the main window where there will be all the necessary tools to work, for example. To edit the video, you need to choose the "Edit" option, then the program will prompt you to select the desired video, and then a window will open where the selected video and the tools that you actually own will be edited.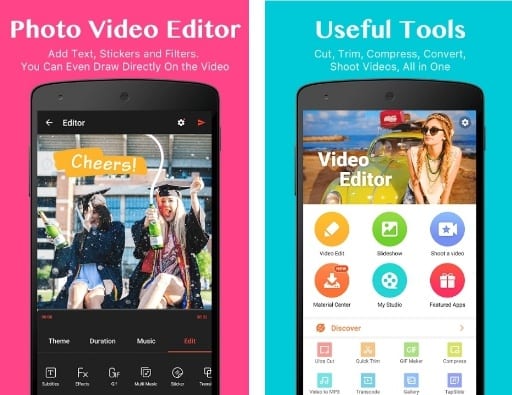 Here you can apply various ready-made themes, apply all kinds of filters, add your texts to your videos, glue stickers, draw, apply various transitions, record and impose voice, and so on, there are a lot of functions. If you want to create your own video or make a beautiful presentation with your photos, then you will need the option "Photo and video", in this section, there are all the necessary tools to help you make a masterpiece.
In addition to all these cool functions, the program has standard tools that will be useful when editing, for example, you can crop and glue movies, rotate them, zoom in or out, and adjust the playback speed.
Recently, the program has a so-called material store, from which you can download free additional themes, effects, stickers, music, fonts, and all sorts of other usefulness. After you make all the manipulations with the video file, it will need to be saved, and the saving occurs both in the normal mode with the maximum quality, and in the compressed mode where the quality will be slightly worse and the weight is much smaller.
Well, on the back of this application, it will help you get a soundtrack from any video clip, a very useful function, for example when you want to pull music from the clip and so on.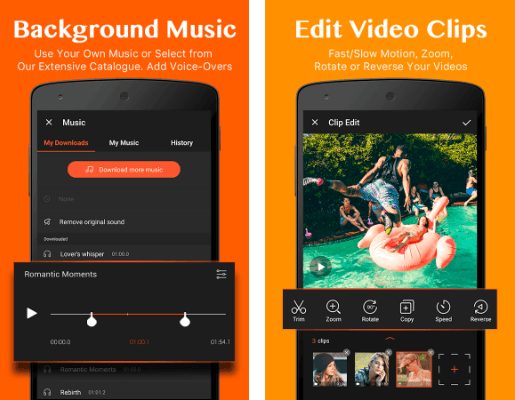 Downloads: +100 000 000
Costumers rating: (4.5 / 5)
VivaVideo – Free Video Editor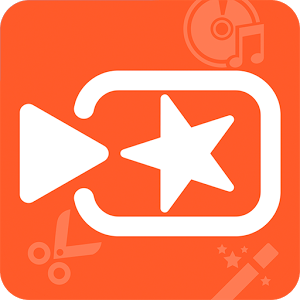 VivaVideo is a powerful video editor. With it, you can quickly make a small video and share it with your friends on social networks. In addition to working with media files from the device's memory, VivaVideo also allows you to shoot on the camera directly from the application.
The benefits of this program include support for various image capture options – selfie, collages, etc. You can shoot specifically for Vine or Instagram, taking into account the restrictions on these services. VivaVideo allows you to combine photos and videos in one clip and add a musical composition to all this.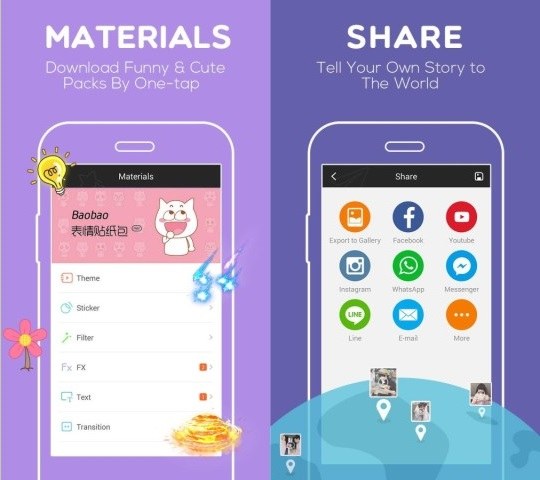 The application has a convenient and intuitive interface. On the main screen, there are icons for shooting, editing, creating collages. In the settings, you can change the codec parameters, the path to save the default files, and much more.
When editing a video, you can add various elements like text and stickers to the screen. Effects and filters are also available, and at the final stage, you can add music. Video can be cut, combined with each other, etc. In total, there are more than 200 special effects, including animated smiles. The resulting videos can not only be exported to the gallery but also shared with Facebook, Youtube, Instagram, and other services.
VivaVideo is considered one of the leaders in its segment. The program is very popular – about 100 million downloads and more than 2 million ratings on Google Play. Convenience and simplicity combined with a large set of features allow VivaVideo to remain one of the most popular video editors for Android.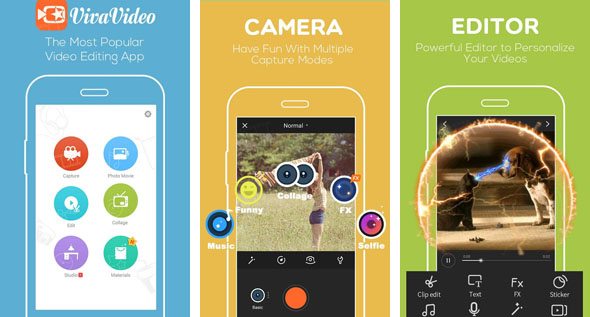 Downloads: +100 000 000
Costumers rating: (4.6 / 5)
FilmoraGo – Free Video Editor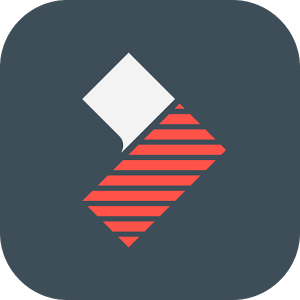 FilmoraGo is one of the best video editing applications. It is completely free and has no restrictions on the duration of the videos, and the image does not overlap with watermarks. Here there are all the tools for video editing, which can be composed both from other clips and from pictures. The received records can be shared with friends.
The main application screen consists of only two items – "Create a new video" and "Projects", where all the user's workpieces are stored. When creating, a camera can serve as a source of materials, as well as device memory and accounts on Facebook or Instagram. To import data, you must log in to any of these services under your account.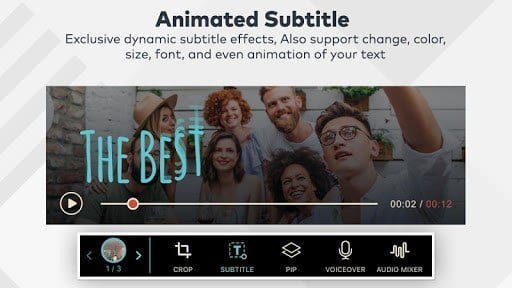 In FilmoraGo it is very easy to manage the process of creating content. It is enough to mark the necessary photos and videos in the list and go to the next stage. To the clip, you can add music, change the theme of the design, or change the format of the image. The video editor contains filters, effects, and the addition of text.
There is the possibility of cropping images, changing the duration, etc. Among the free tools available for download, there are music, filters, headlines, and much more. The resulting record can not only be exported to a memory card but also shared on Facebook, Youtube, Instagram, WhatsApp, and other resources. The application supports about 10 languages, including Russian, English, Turkish, and others.
Despite the low popularity on Google Play, FilmoraGo makes a very pleasant impression, and besides the mobile client, there is also a version for PC. Nevertheless, developers still have something to think about…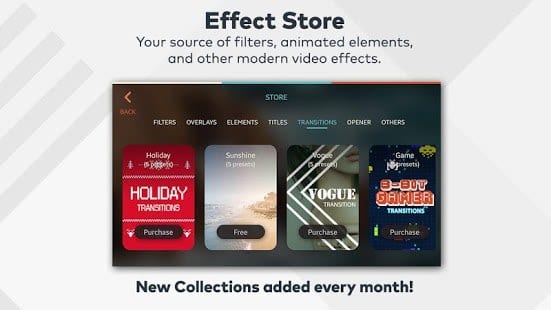 Downloads: +50 000 000
Costumers rating: (4.3 / 5)
Lomotif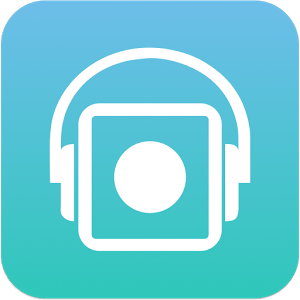 Lomotif is a free Android application that allows you to add music to video in seconds, to square crop, and edit video files.
It is very easy to use the program – just select the necessary video files from the gallery, pick up the appropriate musical series, everything else the program will do automatically. The user will only have to view the result and share the video in social networks or save in his gallery.
Features of the Lomotiff functional:
the editor allows you to instantly process and glue the videos, and impose music;
a large selection of artistic and cinematic filters, the ability to slow video;
the possibility of overlaying titles and stickers on a video;
simple and intuitive design;
choice of square format for Instagram;
create a slideshow of the selected photos.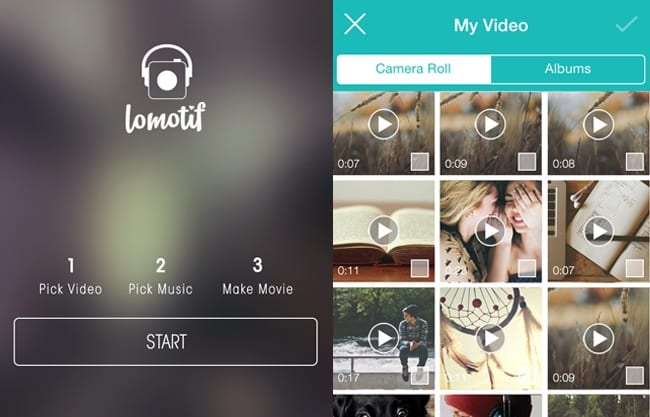 Downloads: +50 000 000
Costumers rating: (3.9 / 5)
YouCut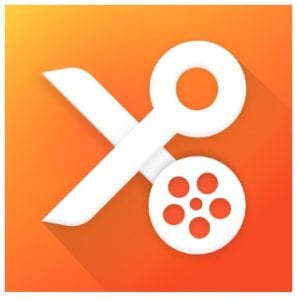 YouCut is a completely free, yet functional and powerful Android video editor that leaves no watermarks on your creations.
Despite the fact that the program is distributed for free, it has a serious enough set of features to help you create high-quality videos.
To use YouCut, all you need to do is select the video you want to edit and then select the fragment you want to work with. For example, you can select the last 15 seconds of a two-minute video. Once you have a video clip you want to work with, you can use a lot of different tools.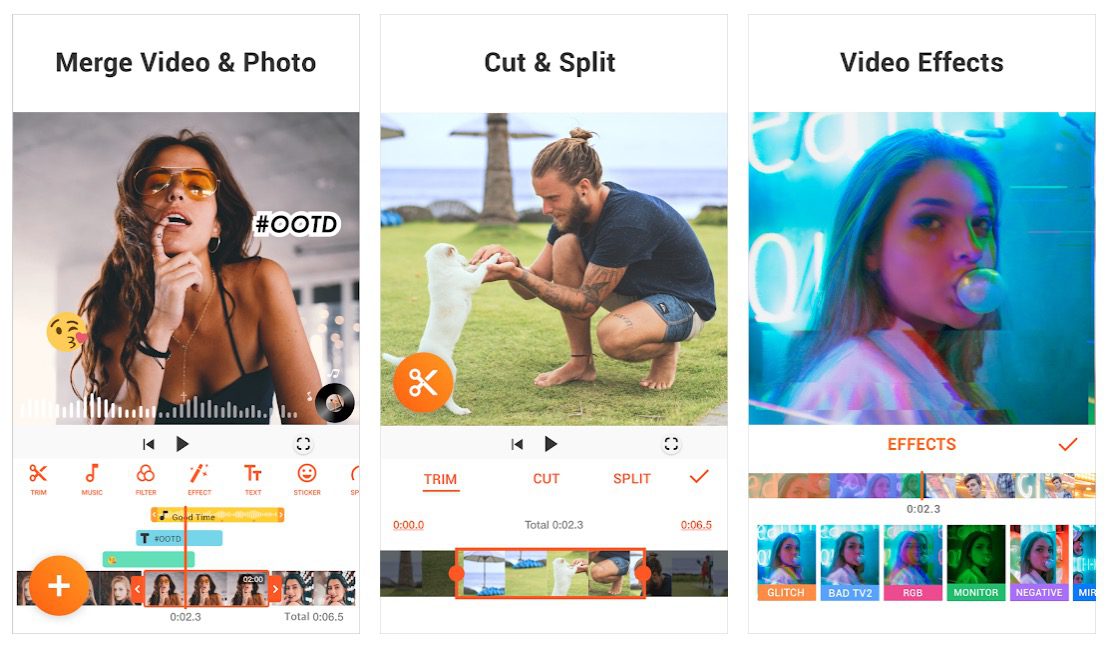 In it, you will find both tools for cropping and merging video, and the ability to add music, speed control, as well as many different video filters and effects to suit every taste. Generally speaking, you'll be able to do everything you need and get a great video in just a few seconds. The videos you create can be quickly shared with friends via YouTube, Instagram, Facebook, and other services.
Basic features of YouCut:
Video trimming and merging;
Video speed control: Slow down and speed up your videos;
Add music from a free library or from your gadget;
Overlay of multiple video filters and effects as well as a color correction;
Change the aspect ratio and rotation of video;
Ability to change the background of video;
Video compression and conversion;
And also many other things.
If you are looking for a free and functional video editor, download YouCut for Android. It helps turn any video on your smartphone into a real movie. The best part is that it's easy, fast, and clear to use.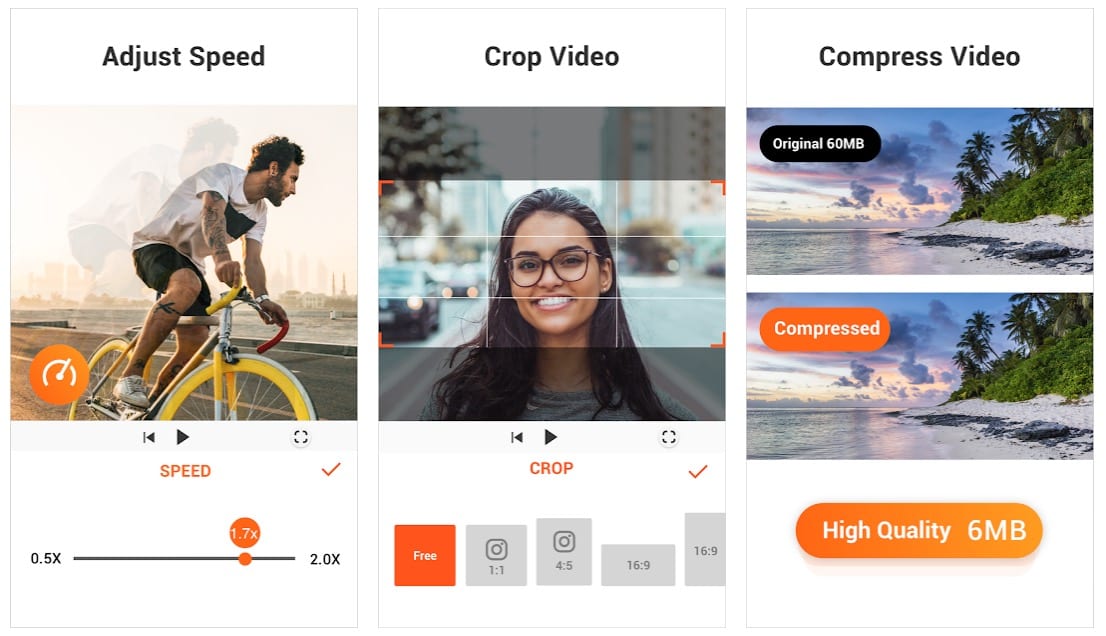 Downloads: +50 000 000
Costumers rating: (4.8 / 5)
Filmigo Video Maker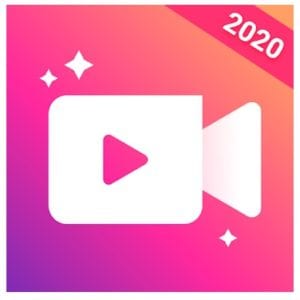 With the Filmigo Video Maker video editing app, you can create amazing movies right on your Android device! Simply use the video clips and images stored on your device to create stunning movies.
All the various functions of Filmigo Video Maker are available in the main menu of the app. Click 'Editor' or 'Studio' to add effects to a clip, merge them into a movie, or click 'Crop' to shorten your video.
Once you select all the images and videos you want to include in your movie, you can start enjoying other features of Filmigo Video Maker. Easily add music, rotate images, or add stunning effects that can turn any video into action!
The video editor offers many interesting effects for editing your videos. A lot of licensed music in the application itself, and you can also use music from your mobile device.
Features in the Filmigo app:
Over a hundred different themes to help you make your video unique.
Music. Plenty of licensed music that you can insert into your video. And you can also use music from your device.
Zoom. You can zoom in and out of your video.
Various emoticons, GIF files, stickers.
Speed up/speed down the video to make a super interesting piece of art.
You can draw in your video clip. Make it individual.
Change the video clip's format and resolution.
Sounding. You can add your own voice and sound effects.
Once you're done with the movie, share your masterpiece with friends and family, or save it on your Android device. In general, Filmigo Video Maker is a video editor for Android with many features that allow you to create stunning masterpieces.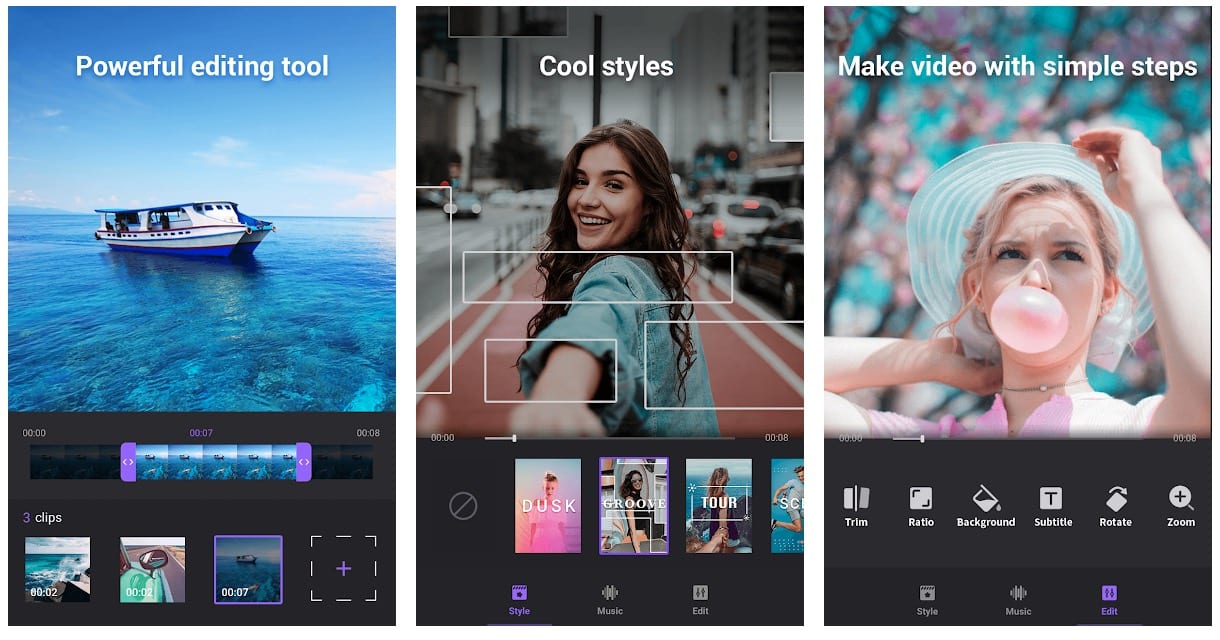 Downloads: +50 000 000
Costumers rating: (4.5 / 5)
You may also like: 9 Free apps to download videos from Instagram
InShot Editor
InShot Editor is a video editing application specially designed to improve the video you want to upload to your Instagram. You can also use the editor to improve your photos and, of course, save the processed files to your device memory.
Using InShot editor, it will be possible to easily crop the desired frames from playback or vice versa to splice up several video fragments.
You will be able to easily process videos and photos. In the video editing section, you will find many interesting tools. For example, if the video was recorded in a vertical orientation, you can choose to center and zoom in.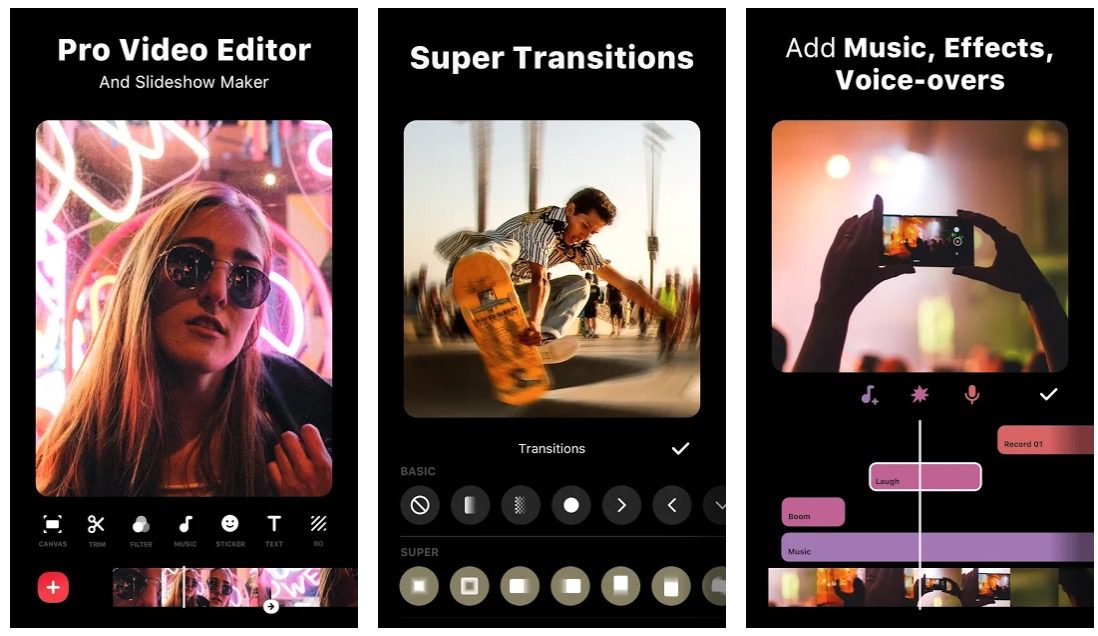 All these features and many more will be permanently on your smartphone. You can add stickers to your video or change the background. It only takes one touch and your file will be unique. Record the perfect video and share it with your friends.
You can now easily add music to your recording to create a video clip. Combining these two fragments, your video will be interesting and most importantly beautiful. Adjust the volume of the environment on the video and music file to muffle the background. These features are not all but a lot of filters for photos and videos.
Thanks to the user-friendly operation and interface, it will be very easy to make your files unique. InShot Editor is a powerful image and video editor which, although focused mainly on content creation for Instagram, allows you to retouch videos and photos and save them directly to the memory of your device.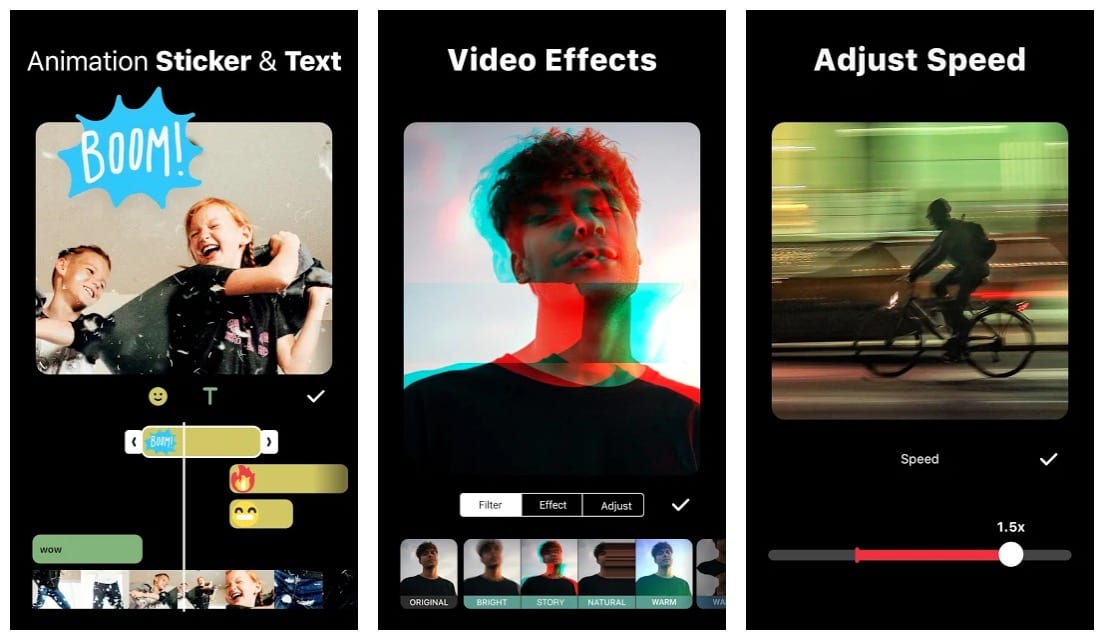 Downloads: +100 000 000
Costumers rating: (4.8 / 5)
When choosing a video editor, you should pay attention to your needs and the functionality of the device. In addition, it is important to consider the consumption of traffic because most of these programs use the resources of "clouds" for their work. The presented 11 vine editors are the most prosperous ones available on the market today. The choice is yours!