Why do you usually copy the text on your mobile gadget? Find the meaning of a word on the Internet? Find the translation? Paste an address or a phone number in a message? Thanks to the clipboard manager app for Android, you can do all these things with a single touch!
Clipboard Actions & Notes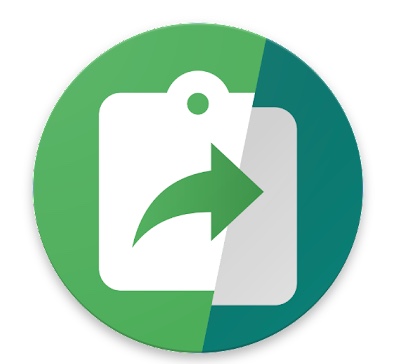 Clipboard Actions & Notes is a simple application for Android mobile devices that automates the most popular clipboard operations. If you need to check some information, find out the translation of a word or share a phone number, you can do it much faster and more conveniently.
Every time you copy a text, link, or picture to the clipboard, the Clipboard Actions & Notes application buttons will appear in the notification panel to launch one or another action.
After installing the Clipboard Actions utility, it's better to take a look at its settings right away. Here you can set the necessary direction to translate foreign words, customize some details of the appearance and behavior of the program as well as define the set of scripts that will appear when copying content to the clipboard. The program offers to activate any of the following possible operations:
Quick download and sharing of images;
Shortening the copied link;
Search for place names on Google Maps;
Creation of a QR code containing the copied text;
Convert the copied price to the currency you specify in the settings;
Call a number in the copied text;
Sending text from the clipboard by email or SMS.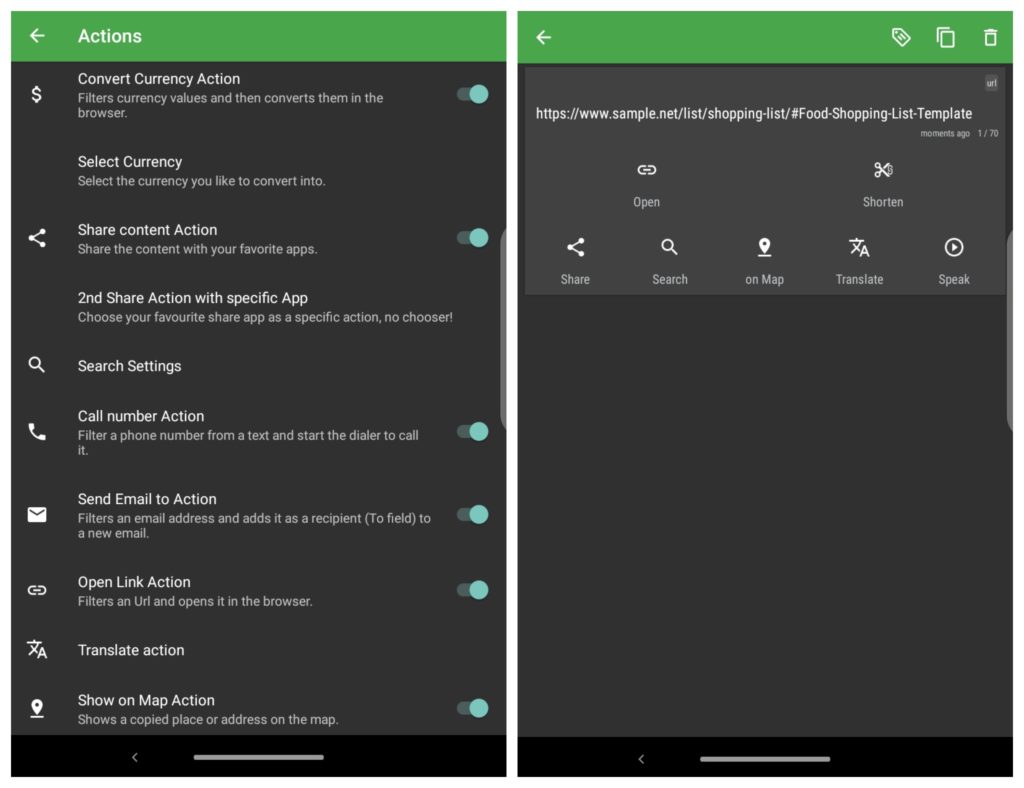 Downloads: 500000 +
Customers rating:

(4.4 / 5)

You may also like: 11 Best Photo & Video Recovery apps
Clipboard Manager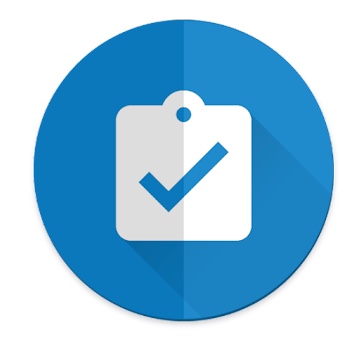 This is a great handy clipboard manager with sorting notes into folders and searching for links on the web. Impressive for its versatility, convenience, and simplicity.
A perfect couple if you use voice typing – keyboards rest.
It saves everything (texts, email addresses, video, which allows you to view and publish to any sites, etc.). You can write text, copy and move to a photo, picture, etc. The app is convenient and versatile, and most importantly easy to use.
Clipboard Manager utility is a useful tool that increases the clipboard's convenience and allows you to perform the necessary actions with the copied text much faster.
An additional advantage of the program is the absence of advertising banners.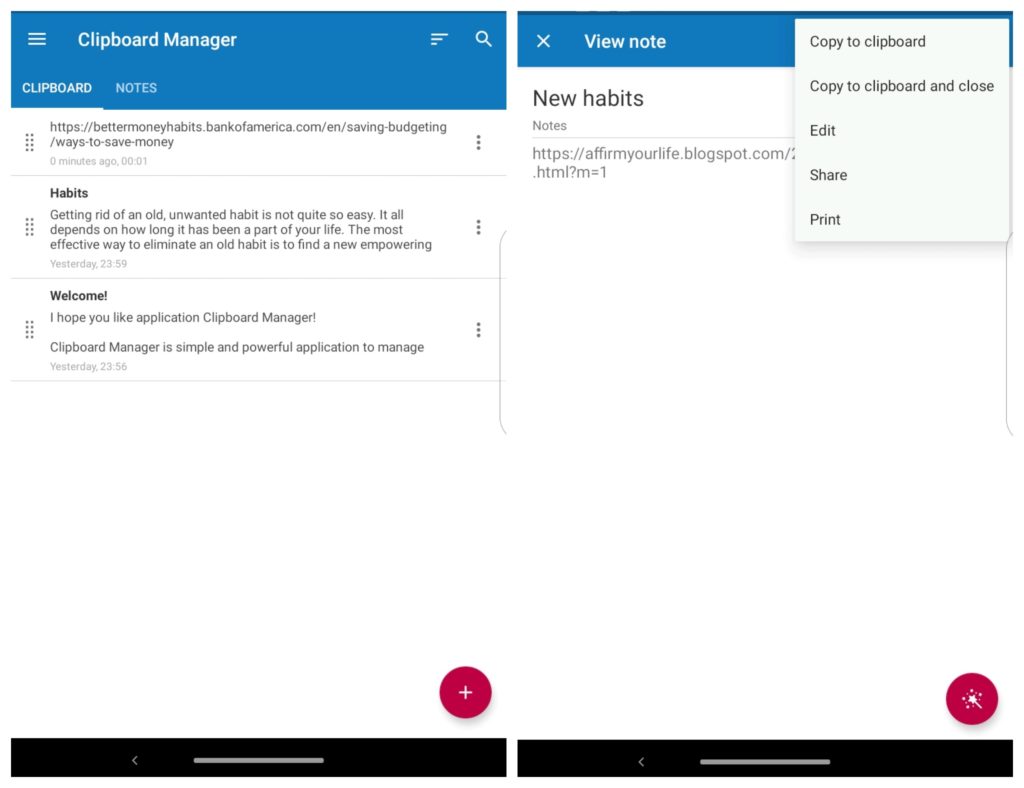 Downloads: 50000 +
Customers rating:

(0 / 5)

Clipper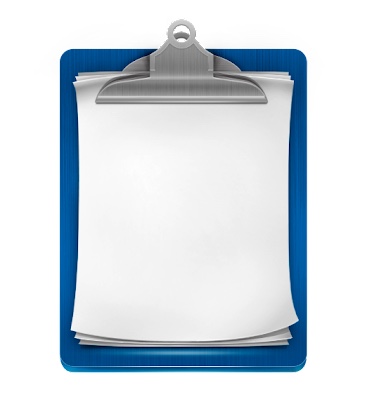 A simple and easy clipboard manager has a number of useful features and provides storage of the entire copying history, quick access to the saved, and the possibility of reuse.
Clipper contains three main bookmarks: Lists, Clipboard, and Snippets. Of course, everything you copy in the automatic background goes into the Clipboard tab. By default, this tab is limited to 20 positions. Exceeding this will delete the oldest entry. You can apply an action to each clipboard position, e.g. view it, edit it and move it to Snippets.
The Snippets serve you well for quick access to specific text. For example, you can set several email signature options for business and personal correspondence, refer to them as needed, and quickly put them on the clipboard. This can also include long postal addresses, details of legal entities, and any contact information.
If you have a large number of snippets, you should group them into lists. Lists are designed to improve navigation and search for the desired text passage. For example, you can put all home, office, and mobile number sets in the Telephones list, and keep links to your resume or portfolio on various web resources in the References list.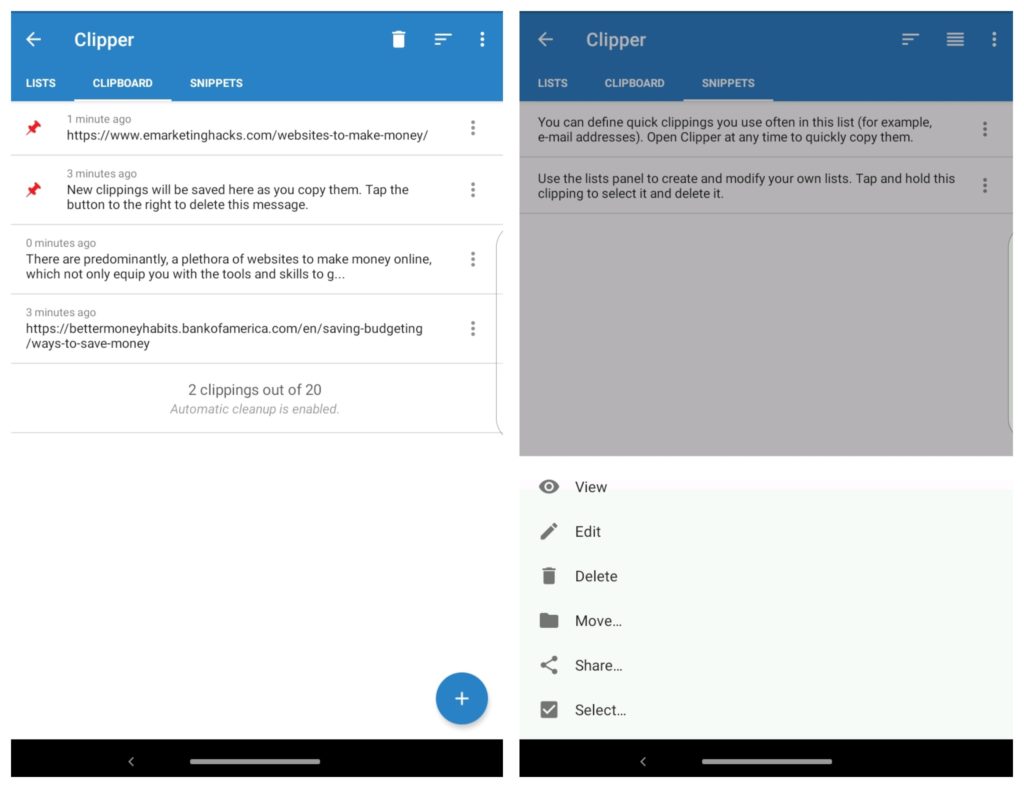 Downloads: 1000000 +
Customers rating:

(4.1 / 5)

Copy Bubble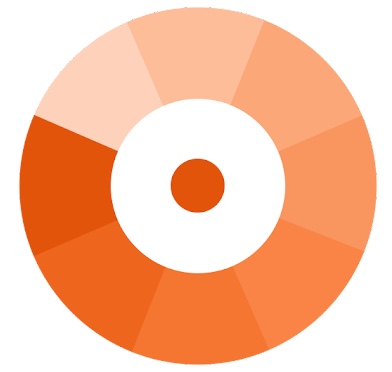 Copy Bubble, an excellent clipboard manager, picked up the idea of quick and easy access to the entire history of copying text and links on your smartphone.
The principle of utility is extremely simple. You can easily select text or links in any launched application, copy them in any quantity, and Copy Bubble skilfully picks up and saves the text for the future. The application icon counts the total number of fixed clipboard fragments.
The utility will primarily be useful for frequent work with a standard set of data. It can be geographic addresses, phone numbers, details of legal entities, links to social networks, and everything that you often enter in online forms, business, or personal correspondence.
Going directly to the Copy Bubble, you can share any saved record, delete it from the general list or put it into the intermediate storage of your smartphone data. The application allows you to work with several records simultaneously, just switch to the appropriate tab Multiple Choice.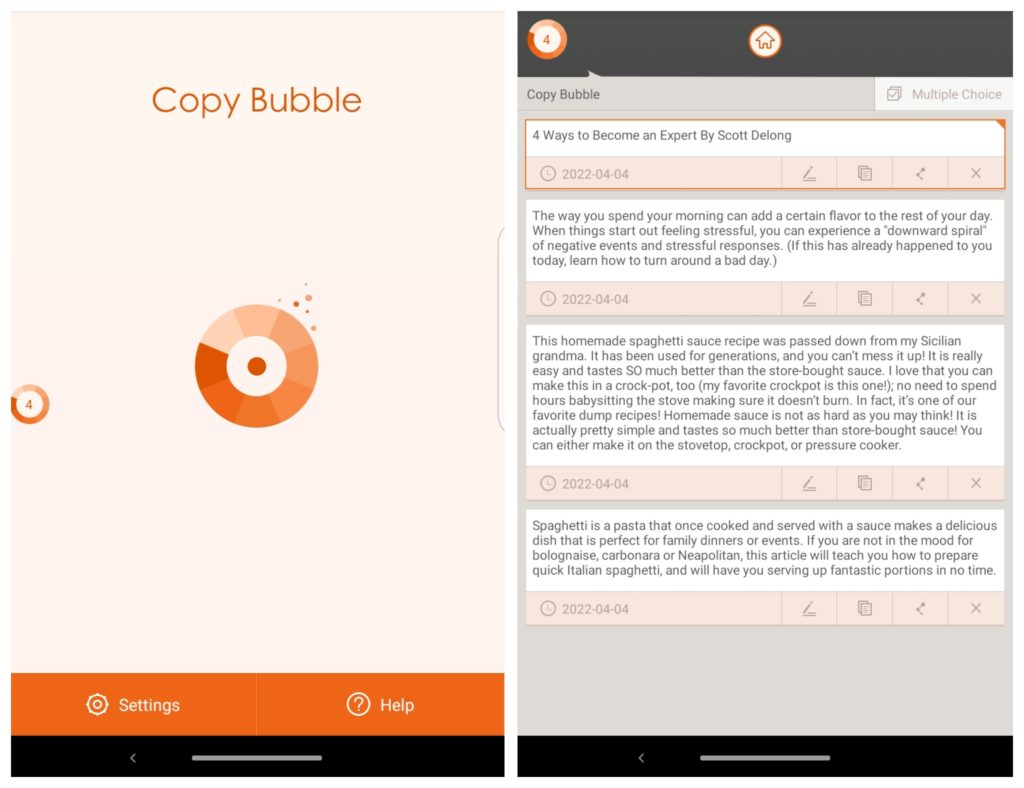 Downloads: 500000 +
Customers rating:

(3.8 / 5)

Clipboard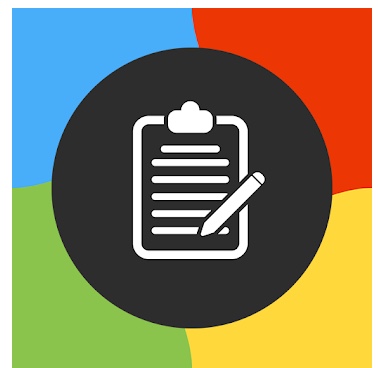 Try the Clipboard manager out and see how easy it is to use. Maybe it's the clipboard manager you've been missing in your work.
HDM Dev Team's simple clipboard app displays the contents and history of the clipboard right on top of the screen (you can minimize it) with the ability to delete, paste, and note items.
Appreciate the convenience of quick access to the previously saved files to the clipboard with this Clipboard manager.
The application won't let any important text fragments get lost and will be useful when working with template documents and frequently filling out standard forms.
In general, it's a small, intuitive app that acts as a text duplicator (by the way, it copies emoticons as pictures). No annoying ads! Of course, it's not a full-featured app that remembers everything (photos, videos, tables, etc.), but you won't lose the copied texts and links.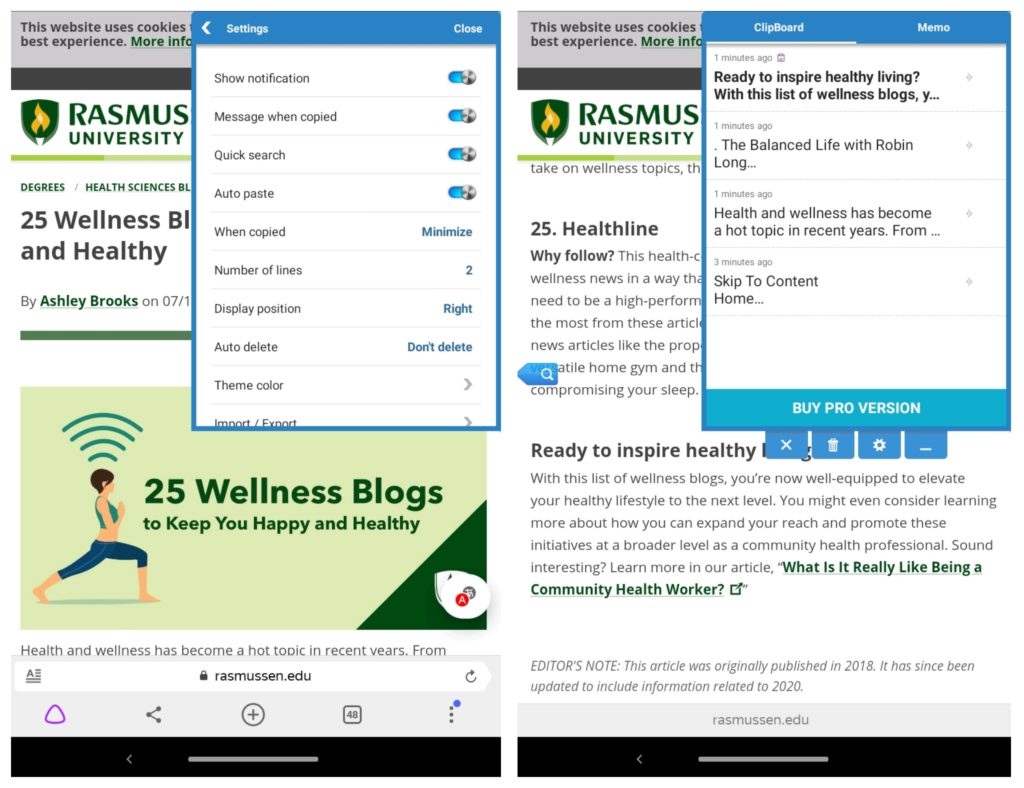 Downloads: 100000 +
Customers rating:

(4.2 / 5)

You may also like: 10 Best Android Apps to Share Big Files
ClipKey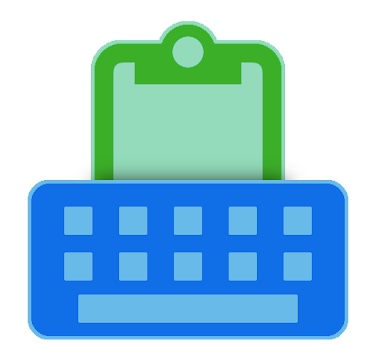 ClipKey is a simple and convenient clipboard tool that works with both default and third-party keyboards.
ClipKey is your device's clipboard manager. Simply put, it will store everything you've ever copied from websites, chat rooms, or games.
ClipKey has a history of what you've copied, which allows you to go back to previously copied information and reuse it. It's very handy for work when you have to communicate with several people/clients from the same device and give them the same information.
Also, in ClipKey, you can add the copied information to the Favorites section and get access to it even after many days. In this case, it's very convenient to store cryptograms or important symbols. Don't copy personal or confidential information to the clipboard, as any application will be able to access it.
ClipKey application features:
Intuitive design;
Easy to use;
Works with any keyboard;
Favorites section.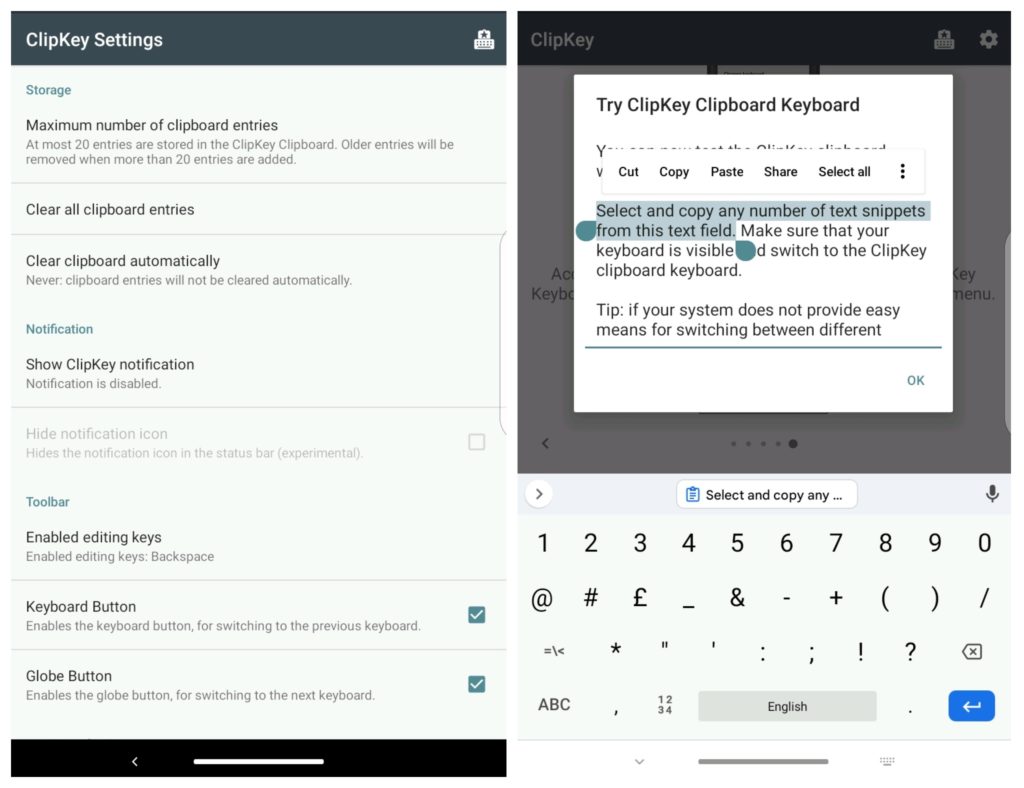 Downloads: 1000000 +
Customers rating:

(4 / 5)

Clip Stack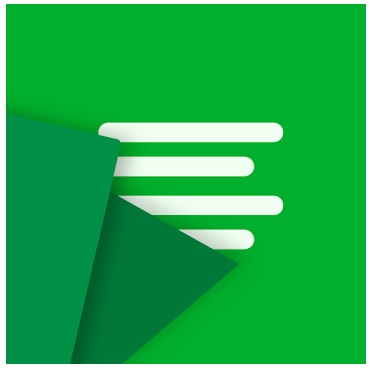 Clip Stack – clipboard manager with the function of editing text data. in Clip Stack, copied data is automatically saved as text notes (for text) and as paths (for files and folders). It supports viewing, editing, deleting, and copying fragments, creating new notes, history backup.
In fact, the app is functional, but not overloaded with details. The main screen displays a list of the last information that has ever been copied or cut. The limit on the number of saves can be set in the settings. Of course, the information can be copied again by pressing the corresponding button; delete by swiping right or left; mark as Favorites.
But, of course, opening the application every time is not very convenient. Therefore, the program can be moved to the notification panel. All quick actions will be available from there, too.
But if you don't want to see Clip Stack every time you open the notification bar, there is a third way to access the program – using the floating button. By the way, the type of display is chosen in the settings. There you can set the situation when the button will be shown (always or only during the text entry), choose the size and transparency.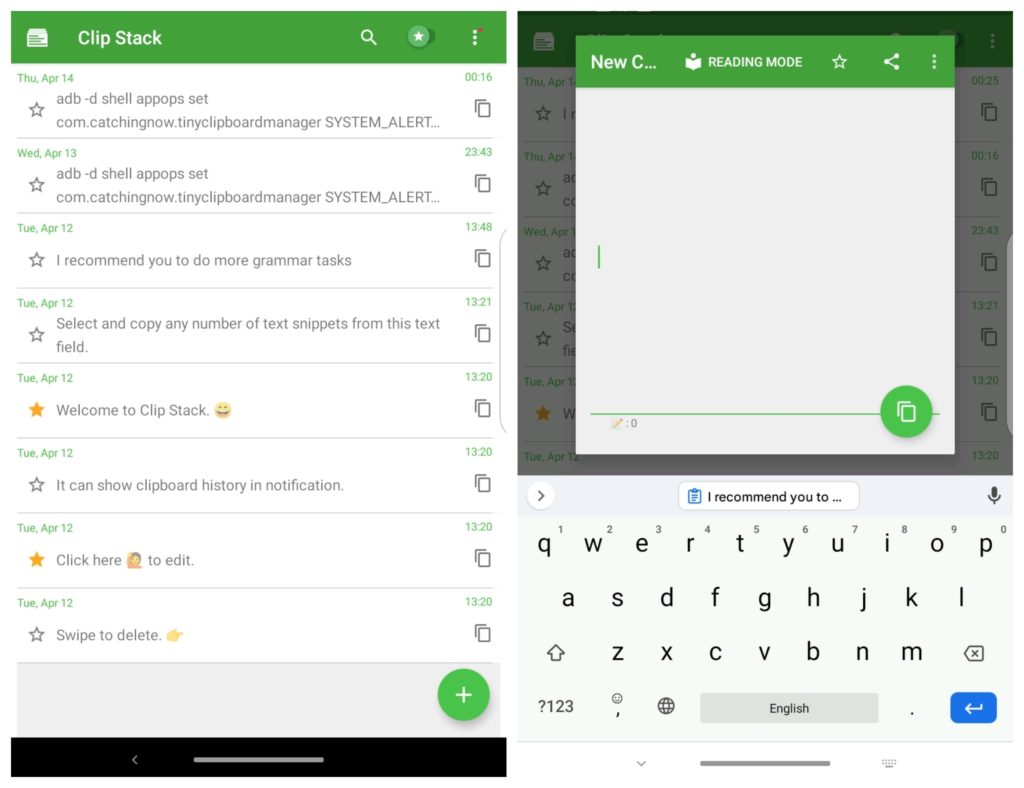 Downloads: 100000 +
Customers rating:

(4 / 5)

CopyBox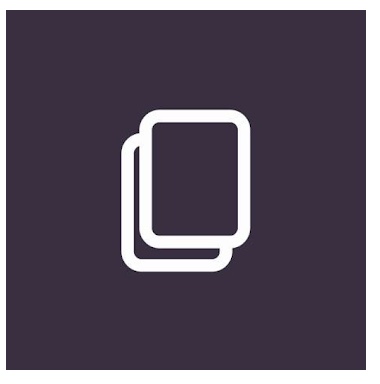 This application, when handled properly, gives you the opportunity to clarify your chaotic crawling around the Internet – to arrange the information on the shelves, as you need it.
In addition, very useful when communicating with a large group of people on the social networks – on the principle of – copy-paste.
Wonderful and unique here is that there is a floating button over the windows, and any, even in the games! At any time, click, copy and paste notes! Minimalism is nice, nothing unnecessary! Pasting is fast, floating element on the screen is not stressful.
Notes can be sorted by category, it's very convenient! I especially like the floating button itself, you can also change its size, color, and transparency!
This is definitely a cool app. Suitable for any kind of activity. Especially for those who do sales scripts, do constant dialogs, and template notes!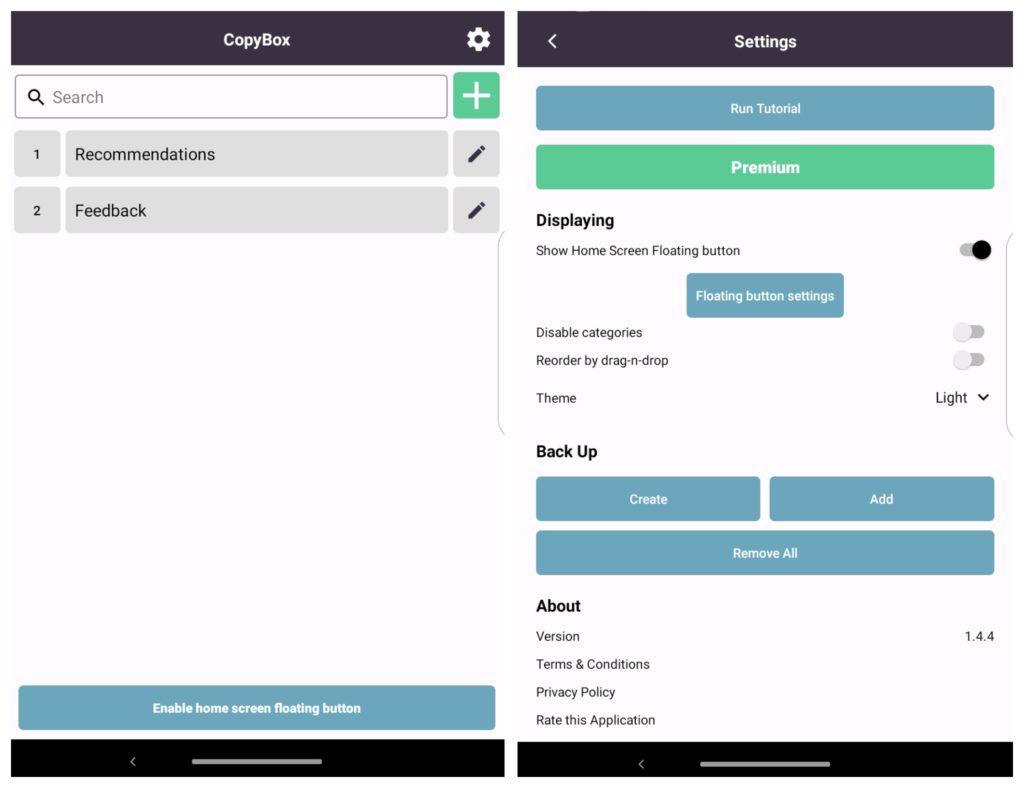 Downloads: 50000 +
Customers rating:

(4.7 / 5)

Clipto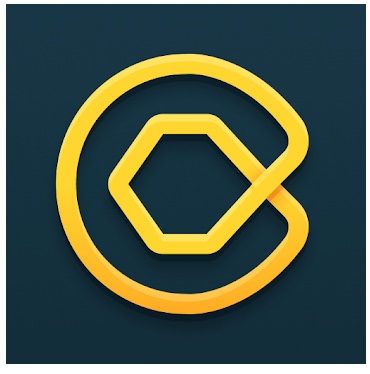 A handy application, especially if you often have to copy and paste texts.
Constantly updated and improved. A lot of functionality that is not available in other applications.
Convenient export and work with the clipboard, but the insertion of pictures – a big minus. Want to insert a picture and see it (ideally with the text), but instead, it's inserted as a link, which must be opened for viewing in another program. It's not convenient. But if you set aside the pasting of pictures, it's a great program for notes.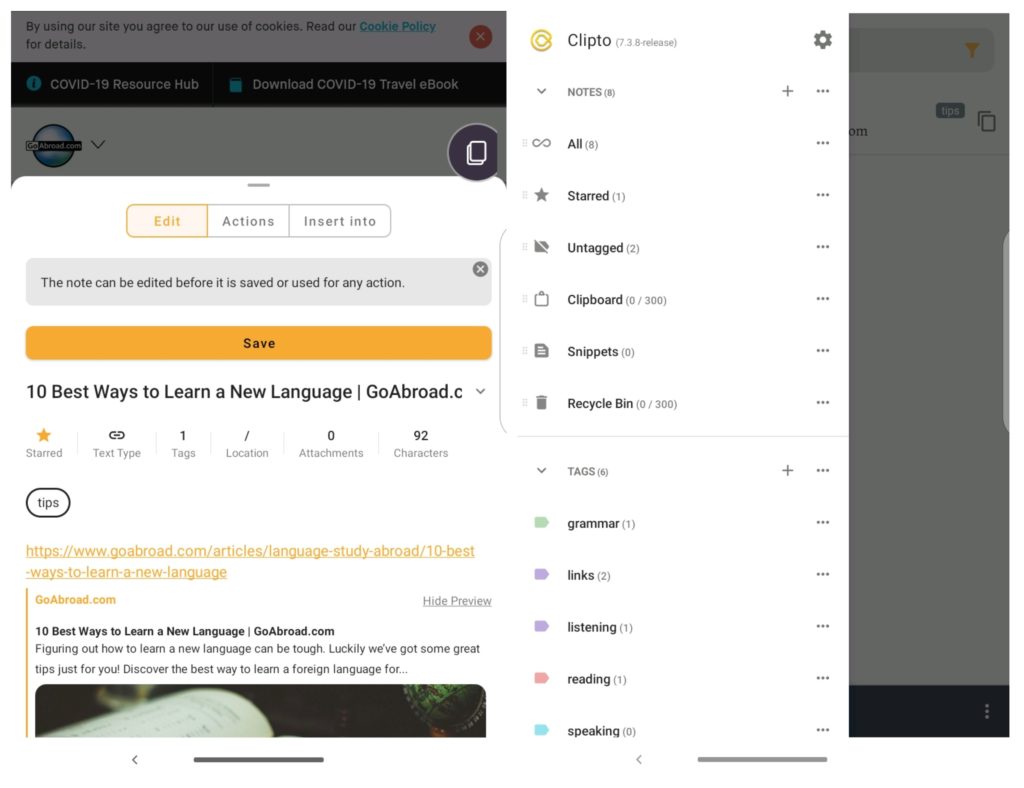 Downloads: 50000 +
Customers rating:

(4.5 / 5)

Clipboard + Notes
Clipboard + Notes is a handy tool with which you can copy several text fragments to the clipboard of your Android mobile device, to use them later.
Any text you copy to the clipboard can be edited and saved to be used later. This way, you can have several different texts at the ready to paste. In addition, you can make changes at any time if necessary.
Plus, the app integrates perfectly into the Android Quick Search bar so you can easily and quickly find the text you want in your clipboard history (handy if you use several different templates). And best of all, the app can save data to the cloud, so if you delete the app, you can still recover the texts.
Clipboard + Notes is an excellent clipboard for Android devices, which will be especially useful for all users who work with various template texts from their phones.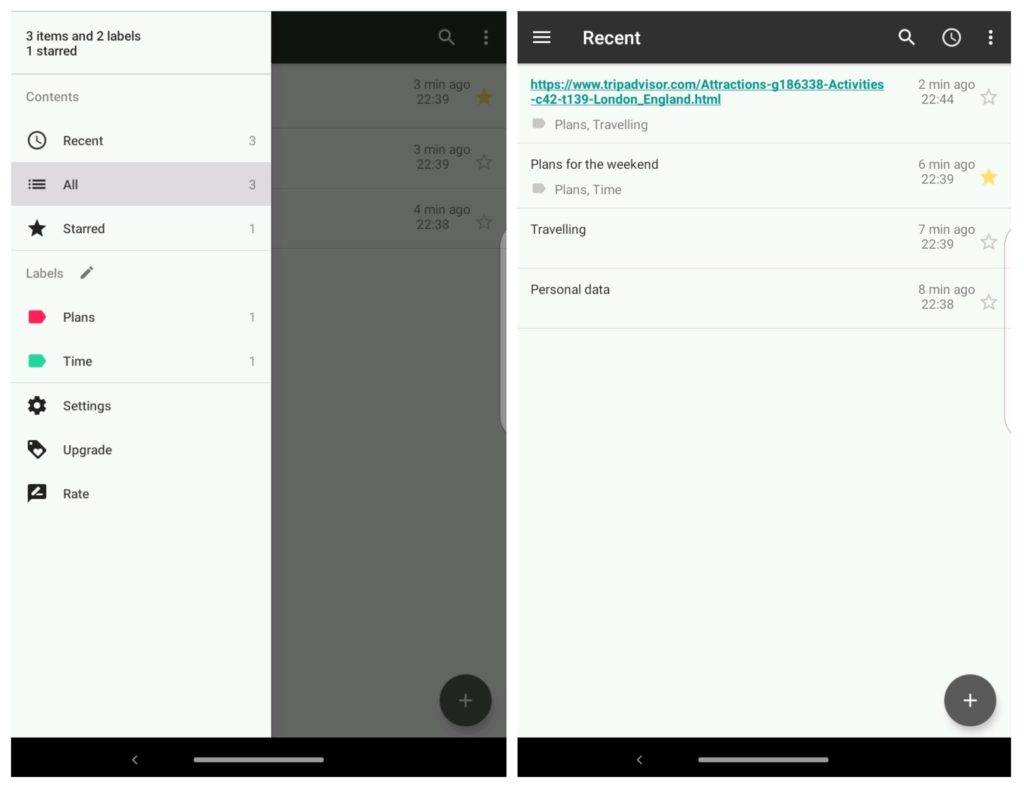 Downloads: 100000 +
Customers rating:

(4 / 5)

You may also like: 9 Best Folder Lock Apps
aNdClip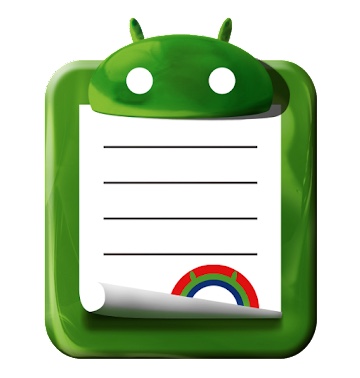 aNdClip is a complete clipboard that allows you to copy as much text as you need to paste it anywhere you want.
One of the handiest programs. It collects text that has been on the clipboard. Then you can paste the saved text fragments, and save them as templates sorting by program folders. You can put a password on some folders (e.g., with secrets).
It's nice that you can select any pieces of text, the application automatically minimizes and you can immediately paste the contents from the clipboard into the desired field.
It perfectly works with the text. I like the way it works with saving – the last folder is remembered automatically – no need to look for it every time. If you get used to it in a certain way – you can look through the text files one by one without doing anything else.
The app also has several personalization settings, for example, you will be able to change the color scheme.
aNdClip is a simple tool that can be really useful for email, for example. You won't have to worry about saving in drafts or having an interrupted internet connection, as you'll already have everything on your clipboard.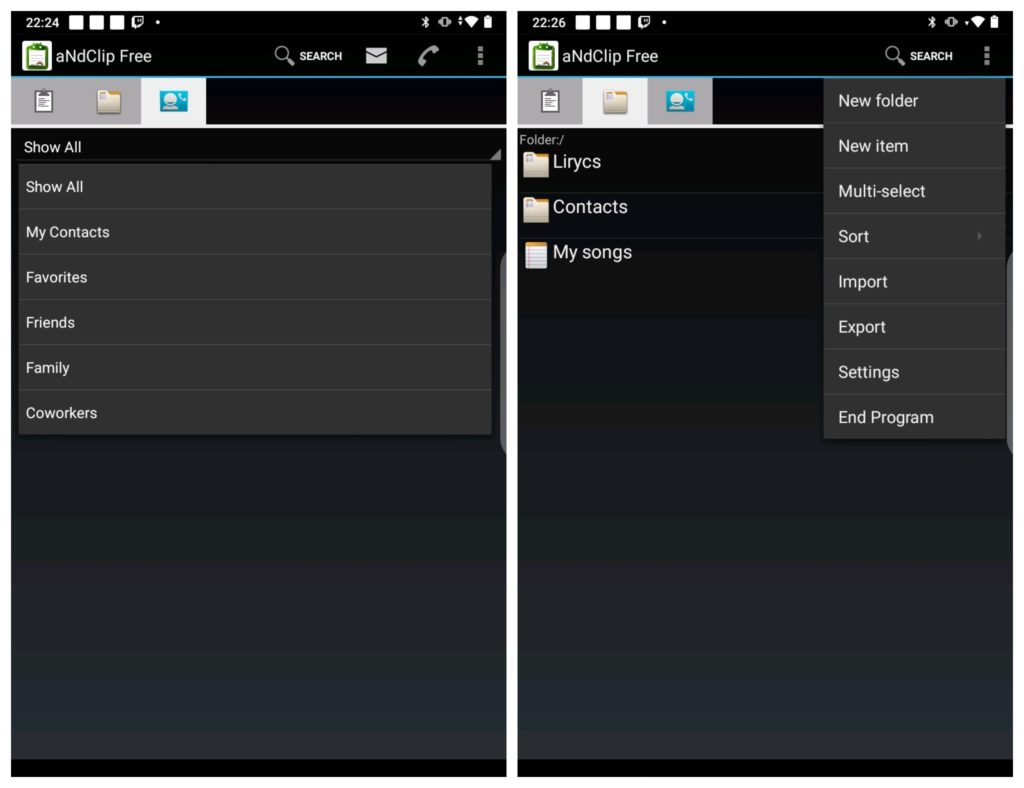 Downloads: 1000000 +
Customers rating:

(3.8 / 5)

Constant work with large volumes of text forces us to resort to various auxiliary utilities. First of all, to the clipboard managers that can simplify the process of copying/pasting text.
So, what clipboard manager is installed on your smartphone?