Regular exercise and proper balanced nutrition are the key to good health, active longevity, and improvement of body mass index not only during the beach season but also throughout the year. There are special gadgets for monitoring an active lifestyle.
A cross-platform application specially created for this purpose will help to monitor the quantity and quality of food consumed, balance, optimize, and diet. Let's take a look and choose which app will best help you gain muscle mass!
1. MyFitnessPal
MyFitnessPal is an application for quick and easy calculation of calories, which will become an indispensable assistant in dieting and simply maintaining a healthy diet. It contains a huge, regularly updated database of products with the ability to search by barcode, and many other extremely useful functions.
Opportunities
Database of products for more than 6,000,000 items;
Search for products by barcode;
Easy and convenient data entry;
Food diary with the ability to add individual products and whole dishes;
Nutritional Value Calculator;
Selection of a diet and a set of exercises;
A selection of more than 300 exercises;
Create your own exercises;
Social component: adding friends, tracking their achievements;
Setting individual weight loss goals;
Tracking progress with interactive reports;
Synchronization with the web version of the service.
MyFitnessPal will help you monitor your diet, make the right diet and choose the right physical exercises, monitor your progress. In short, this app has everything you need to control your calories consumed.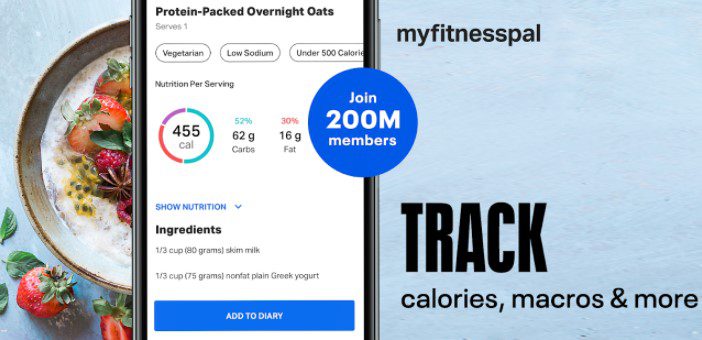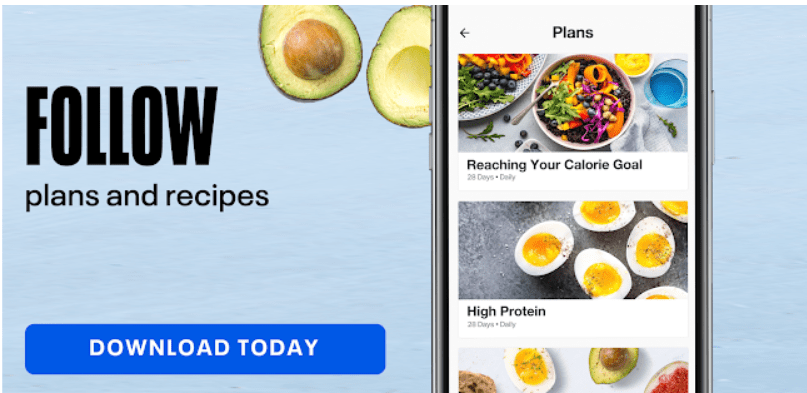 Downloads: 50000000+
Customers rating:

(4.2 / 5)

You may also like: 9 Best Audio Filter Apps for Android
2. Virtual nutritionist FatSecret
If you want to get a personal nutritionist who will professionally calculate the RSC (recommended daily calorie content), PTC (proteins, fats, carbohydrates), and every single calorie, while carefully monitoring nutrition and physical activity, try downloading FatSecret for free first.
Each user of the calorie counting app will receive a daily and weekly report on the amount, balance, and quality of nutrition, the content of important micro-and macronutrients, all the necessary data to change the diet for the better.
Download FatSecret Calorie Calculator for Android. This calorie calculator for weight loss works online, pulling up information about foods and dishes from a huge database on the Internet.
With this software product, you can take into account not almost everything, but really everything, without independently searching for the CPFC of each eaten product and tedious calculations of components difficult to prepare dishes.
The FatSecret program will calculate the KPC of any recipe in a matter of seconds.
Statistics of the free calorie calculator per day, week, the month will allow you to track and identify the correlation of the diet with changes in weight, subcutaneous fat, muscle mass, BMI in dynamics.
In the intuitive interface, you should record your diet daily, indicating the menu for breakfast, lunch, dinner, and snacks.
To search for food, it is enough to type the first few letters, and the application will offer all the appropriate names to choose from from a huge database. You can also choose from recently consumed, most consumed foods and dishes, stored food, and recipes from your cookbook.
The app's built-in barcode detector can recognize the barcode from the packaging and identify a variety of products.
Reflecting on the daily menu, you can see in the reports how much you have completed the RSC. Detailed statistics are divided into three tab pages: calories, macronutrients, nutrients. The statistics of nutrients other than BCG reflect the amount of fiber, sugar, cholesterol, sodium and, potassium.
Fats are divided into saturated, polyunsaturated, and monounsaturated. Wherever appropriate, visual diagrams, graphs, and tables are displayed.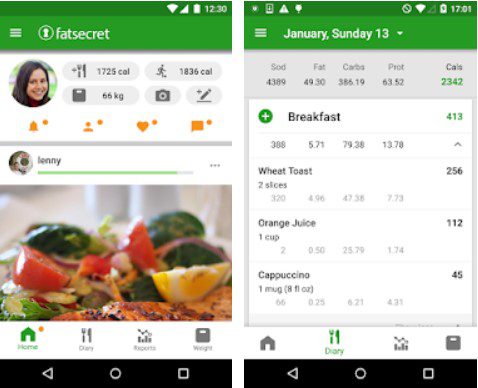 Downloads: 10000000+
Customers rating:

(4.8 / 5)

3. Yazio м
Regular exercise and proper balanced nutrition are the key to good health, active longevity, and improvement of body mass index not only during the beach season but also throughout the year. There are special gadgets for monitoring an active lifestyle.
In short, the YAZIO program acts as something like a diary of the food eaten during the day. It is enough to enter the name of a specific product or dish, or scan its barcode, as the program itself will display the number of proteins, carbohydrates, calories, and fats. It remains only to enter the volume of the portion eaten.
Most of the functionality in this application is available absolutely for free.
The paid version will be required only by the most ardent fans of such programs who want to track changes in body mass index (BMI), adipose tissue, muscle mass, waist circumference, hip circumference, leg circumference at the hip, arm circumference, blood pressure, and even blood glucose levels.
The entire interface of the program consists of modules, each of which contains separate information. So, at the very top, a scale of the products eaten during the day is displayed, and just below it there is a scrolling bar with dates, clicking on which allows you to view statistics for a particular day.
The block below contains more detailed information about how many foods were eaten in one day. In addition, the free version also shows the grams that fell on proteins, carbohydrates, and fats.
This is very convenient, especially when you "get" the flaws in the evening, preferring a dish with high fat or protein content.
Even lower are the blocks: "Breakfast", "Lunch", "Dinner", "Snack", "Sports and exercises", "Body Changes" and several other indicators available only in the paid version. The first four elements allow you to add food within a specific meal, whether it's breakfast or a snack.
This is very convenient because in this case there is no confusion – everything is laid out on the shelves.
Adding products to the YAZIO program is implemented very conveniently. The easiest way to do this is by scanning the barcode on the product label, or in the search for a common database, you can enter its name and choose one of the suggested options.
The disadvantage is that you cannot add images to the products, since the application has pre-prepared templates for meat, dairy, confectionery, and other products.
The wide functionality and capabilities of the YAZIO program are pleasantly surprising. This is one of the best apps that allows you to lose, gain or maintain weight.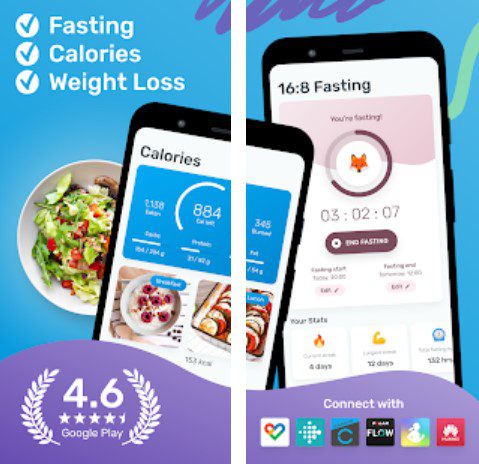 Downloads: 10000000+
Customers rating:

(4.8 / 5)

4. Lifesum
Almost everyone wants to keep their body in good shape, but how to do it most rationally? In addition, someone just wants to lose weight, someone to gain muscle mass, and some just want to keep fit. Accordingly, each user needs a special approach, and the Lifesum application offers it.
The advantage of the paid version of Lifesum:
A large number of diets;
Synchronization with smart bracelets, watches, trackers;
Additional recipes;
Information about all the nutrients of the product;
Tracking the amount of water consumed;
Monitoring of additional indicators (waist circumference, chest, arms);
Diary.
First turn on the app, we see a colorful menu with the goals: to improve your health (support tone), lose weight, and build muscle. In addition, you can simply log in to the application by registering by mail or log in via Facebook or Google+.
Select the item "Muscle building". After that, the application asks to enter all the indicators of your body: date of birth, height, weight and the final parameter is the planned weight.
The program automatically calculates calories and weight that you need to either gain or spend.
The app will ask to enter breakfast (lunch or dinner, depending on the time) to get started from today.
It is noteworthy that the program specifies the sizes of different dishes and the nutritional value of the product consumed. The disadvantage is the lack of pictures and photos. This is puzzling because the application itself is quite beautiful and it lacks only pictures.
Now you can fully use the Lifesum program. By and large, this is a very advanced calorie diary that sets goals for us, and we fulfill them. This is how our weight loss/muscle building or just maintaining good physical shape is carried out.
The application provides reports in the form of diagrams, they are clear and understandable to everyone.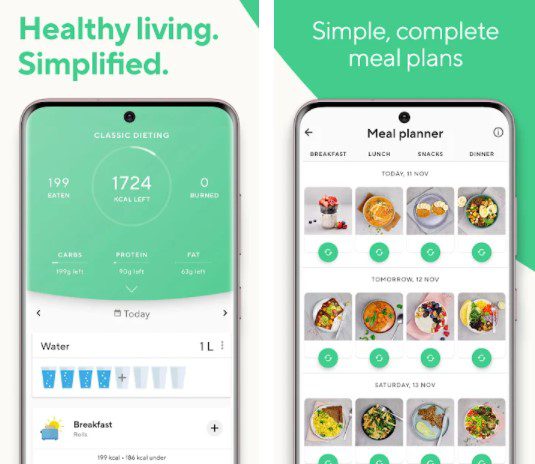 Downloads: 10000000+
Customers rating:

(4.5 / 5)

5. aktiBMI
Bodyweight Diary – aktiBMI – achieve the ideal weight with the help of the manager for tablets and android smartphones. The utility will calculate your personal body mass index and visually display the amount of excess body fat. The diary included in the program is ideal for accompanying your diet.
Charts and graphs will give you a clear idea of excess weight. Log in to the app daily and update your weight so that aktiBMI can keep your statistics. Take care of yourself, because if you learn to love yourself, then you will feel the love of others.
Endless depression will leave you after you start working on your body.
Progress and regression are clearly recorded in the application. Brief notifications will remind you of achievements or a step back from your goal. Maintain the optimal path to the ideal weight by choosing your own rhythm.
Achieve the maximum effect of losing weight, use all the tools and means for this, and the controller will help you with additional motivation.
The graphs show the real picture of the actions that need to be taken to acquire ideal shapes. Nutrition monitoring in the diary allows you not only to lose or gain kilograms but also reflects the entire path you have traveled to a healthy body. Motivation and praise in the program are aimed solely at improving the user's mood.
The app is perfect for those people who care about their bodies and health. Do you want to always be in good shape, as well as tighten your body? Then install the program and it will analyze your physical characteristics in detail and guide you all the way to achieve the goal.
So say goodbye to the extra pounds, but remember that the results depend only on yourself, how clearly you will follow the instructions and not allow yourself to relax too much during the diet.
Features of the Body Mass Diary – aktiBMI app:
Daily weight control;
a toned body is no longer a problem;
follow all recommendations and reminders;
record your results and progress;
The most accurate BMI calculator.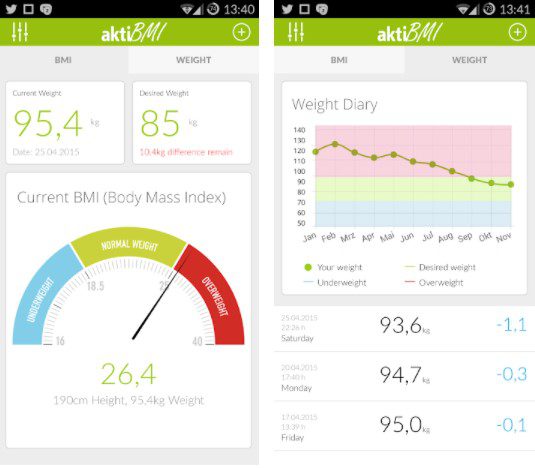 Downloads: 10000000+
Customers rating:

(4.8 / 5)

6. WeightFit
Allows you to record each weighing and evaluate changes.
There are many different weight loss apps available on Android that help you count calories, perform various exercises and monitor your physical activity. All of them provide an integrated approach to maintaining athletic fitness, but sometimes a simpler tool is missing, devoid of a number of unnecessary functions.
Such a tool is the WeightFit application. It does not require account entry and registration. It does not have a step counter and calories. Only the weight that you yourself will contribute when necessary.
To begin with, just specify your age, height, and desired weight. After that, the weigh-ins you make will be lined up in a graph indicating the average weight, target, and actual. The button in the upper right corner of the main tab allows you to view the fluctuations of measurements for the last two weeks, a month, three months, six months, and a whole year.
On the statistics tab, you can evaluate the dynamics for the last seven and 30 days. The body mass index (BMI) is automatically calculated there, your progress is recorded and the number of days before reaching the desired weight is predicted.
The third tab contains a history with all records. If necessary, you can change them or delete them.
In the settings, you can set a reminder for daily weigh-ins. With this frequency, the line on the graph will be smoother, which will allow you to detect unwanted weight gain or decrease earlier.
WeightFit can be synced with Google Fit. There is also a function of backup and recovery of your data using Google Drive.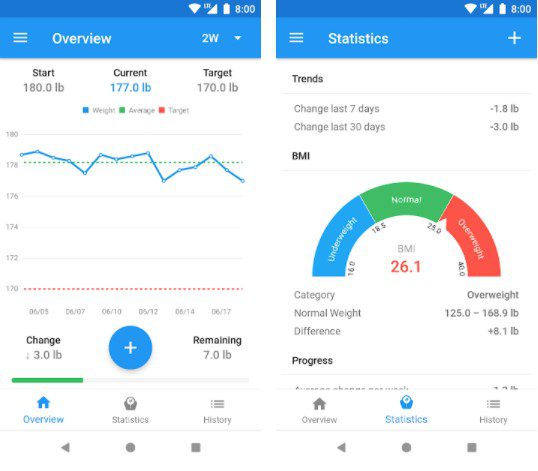 Downloads: 1000000+
Customers rating:

(4.9 / 5)

7. Zero Calories
The application is a fairly easy-to-use fasting tracker. In it, you can compare body weight and fasting time, track your parameters, create a long-term fasting mode (up to 50 days), synchronize data in the cloud, and even print them out if necessary.
Zero Calories users effectively lose about 10% of their total body weight by using fasting plans, of which there are more than 10 in the application.
Each of them is adapted to achieve the best results by both beginners and experienced fasters.
With Zero Calories, you can:
engage in "social" intermittent fasting by joining other groups of participants, communicating with them and sharing successes;
track fasting time;
track weight loss and the amount of water in the body;
create individual fasting programs;
set notifications about fasting stages;
use the body mass index tracker;
monitor the level of glucose, ketones and insulin in the body to starve without harm;
measure and enter the parameters of the waist, hips and chest volumes in the table for a visual demonstration of progress.
In addition to the obvious benefits like weight loss, Zero Calories will teach you to monitor the metabolic processes in the body and use growth hormone, insulin, and testosterone for the most effective and healthy weight loss.
Fasting helps not only to burn fat but also to consume less of it from food, which has a beneficial effect on metabolism. This, in turn, can significantly facilitate the work of the cardiovascular system, improve well-being and overall body tone.
The process of autophagy, which triggers fasting, also activates gene expression, which can positively affect the work of immunity and life expectancy.
The application interface is intuitive: with the help of infographics, you can easily track each of the indicators and make the healing process much more comfortable and smarter.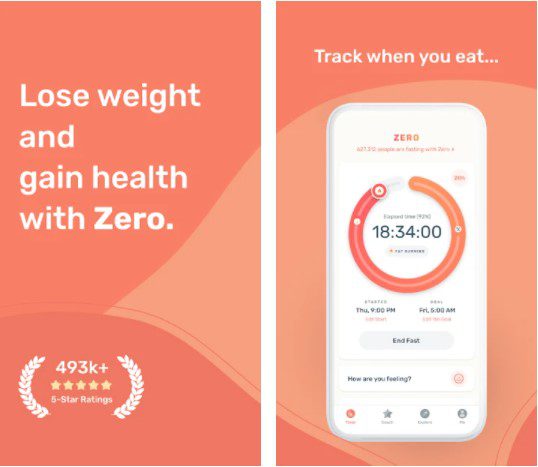 Downloads: 1000000+
Customers rating:

(4.6 / 5)

8. Google Fit
Google Fit is the official Google app designed to help improve your health in a very simple way by reporting the amount of physical activity you receive daily. Users have to set several daily and weekly goals on their own.
This includes everything from 45-minute runs after lunch and up to a 10-minute bike ride to work. Whatever kind of workload it is, it is added to the schedule of your events.
Also, before you start using Google Fit, you will need to enter your height and weight, so you will know if you are losing weight.
Of course, if you have entered all your workout plans in Google Fit, but you are not doing anything, the application will remind you of this, and you will see on your schedule the absence of the necessary load. Thus, it will be your additional incentive for classes.
Google Fit is a very useful application, like almost all Google apps, it can also be connected to your Android Wear device or it can be accessed on the official website.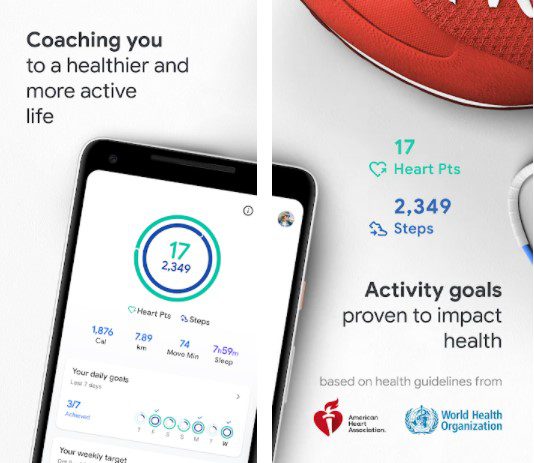 Downloads: 100000000+
Customers rating:

(3.7 / 5)

You may also like: 9 Best Voice Changer Apps During Call for Android
9. MapMyFitness+
The MapMyFitness+ app is suitable for users who play sports and lead an active lifestyle. It can offer you the type of workout, track movement by GPS, and keep statistics. All data is recorded around the clock.
To use it, you need to create an account for yourself. And then MapMyFitness+ will be able to track your cycling, running, walking, gym classes, etc.
The program will show the pace, route, distance, calories burned, sleep data. In addition, the program can sync with Google Fit or MyFitnessPal, as well as with fitness devices.
MapMyFitness+ also has a social side. You will be able to see the progress of friends or other users, as well as challenge them. And you can share your progress on different social networks.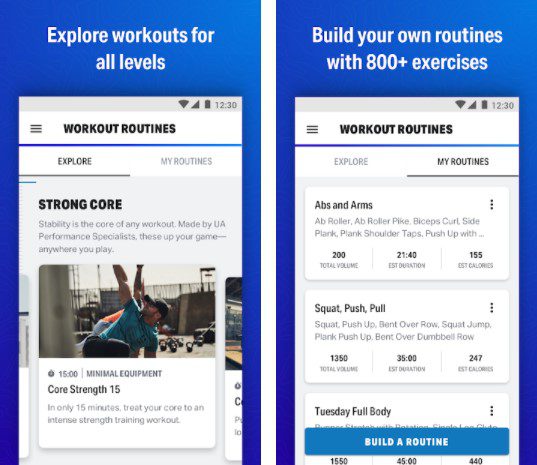 Downloads: 1000000+
Customers rating:

(4 / 5)