Tired of swiping through endless profiles only to find out your potential matches don't share your kink? You've come to the right place!
We've rounded up the top fetish dating apps for Android for all you kinksters out there. These apps let like-minded individuals connect and explore their desires.
Plus, these cater to all ages: from college students dating to people in their forties. And whether you're into BDSM, role-playing, or just exploring your freaky side, these apps are sure to connect you with those who are just as open-minded as you are. Let's get into it!
Kink D
Want to connect with like-minded kinksters? This app can help! Get ready for an electrifying experience that takes your love for fetishes to new heights!
Why pick this one over other apps? Brace yourself! With the app's supercharged search bar, you can find kinky folks locally or globally. Wherever you are, there are kindred spirits just waiting to ignite your passions!
But wait, there's more! The app is not just a community; it's a vibrant mosaic of people from every background. Your race, ethnicity, gender identity, or sexual orientation – they're all celebrated here. From dom-sub relationships to master-switch dynamics and beyond, there's a thrill-seeking crowd ready to explore alongside you!
Connect and chat with ease because the app covers all the essential tools. You get one daily free private chat, plus unlimited chatting with your matches. Just remember: legal fetishes only, please! And make sure you're 18+ because it is adults-only excitement.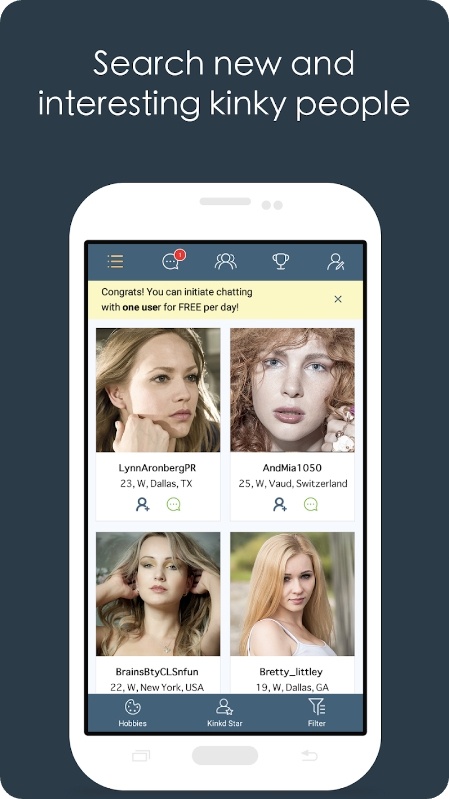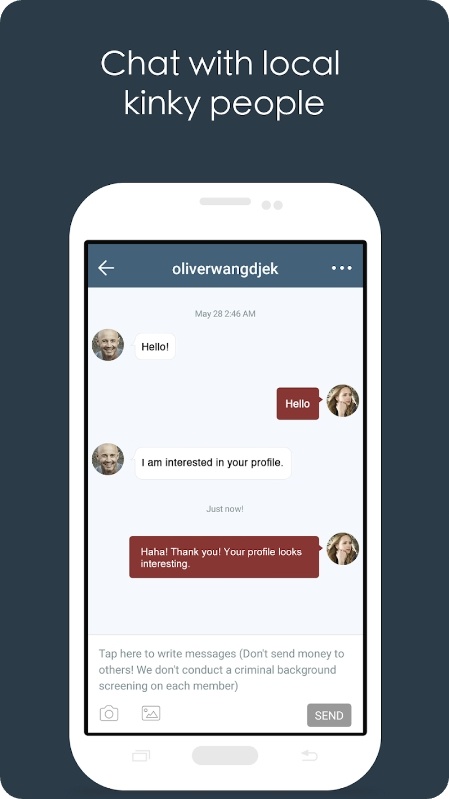 Downloads: 1M+
Customers rating:

(4.3 / 5)
You may also like: 9 Best Midget Dating Apps
3Fun
Are you in hot pursuit of a dating app that caters to your deepest desires and wild prefs? This app is for like-minded individuals to connect and truly explore their sexuality.
Now, let's talk security. With this one, your private pics are under lock and key. The URLs and encrypted APIs shield your precious pics from prying eyes. And guess what? A verified pic tool ensures that your potential matches actually resemble their heavenly headshots (no more awkward surprises!).
Privacy comes first, but the app doesn't stop there. It covers a buffet of tools to keep the conversation flowing. Unlimited private messages? You got it! Sync up with your partner and enjoy some couple chat action. Feeling adventurous? Whip up a group chat and brace yourself for an unforgettable night.
And for those who prefer undercover operations, the app lets you do that too. Hide your distance and acc, blend into the shadows, and still make those meaningful connections. Only your matches get a peek at your snaps, ensuring your intimate moments remain truly private. It stands tall as a safe space for all souls to connect, explore, and be their true selves.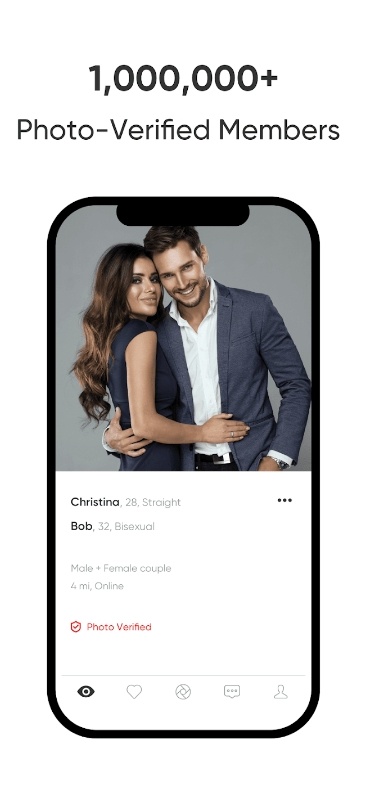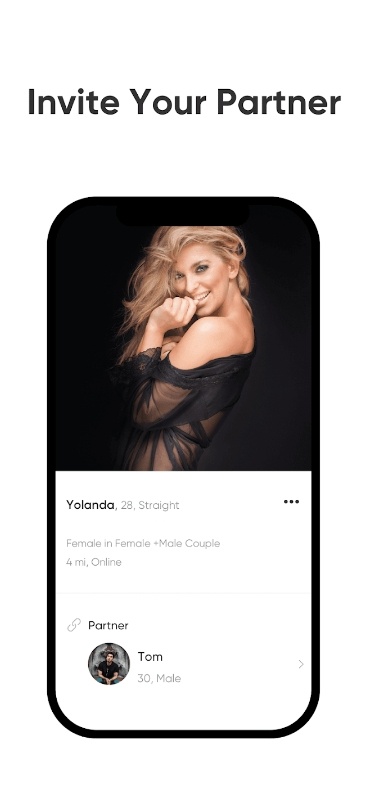 Downloads: 1M+
Customers rating:

(4.1 / 5)
FET
This app is a kinky community that will welcome you with open arms. It's a safe space where your wildest fantasies come to life (consensually, of course!). Whether you're a seasoned kinkster or just curious about dipping your toes into the world of fetish and BDSM, it is the safe and supportive space you've been craving.
With over a third of the population embracing their inner kink, you're never short of like-minded folks to connect with on this app. From finding munches and parties to attend to discovering chat buddies, the community has got you covered.
Ready to unleash your true self? Adjust your acc like a boss, sharing snaps and info about your glorious kinky lifestyle. And with a 24/7 newsfeed, messaging, and live chat, connecting with fellow kinksters has never been easier (or more exciting!).
Remember, when it comes to BDSM and fetish exploration, safety is a top priority. The app encourages that #SSC (Safe, Sane, and Consensual) lifestyle, letting you verify accs for added peace of mind. Plus, signing up with your FB ACC is discreet, too.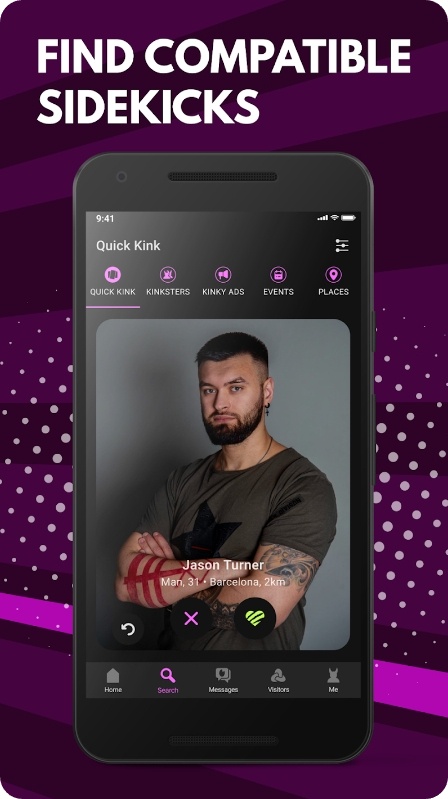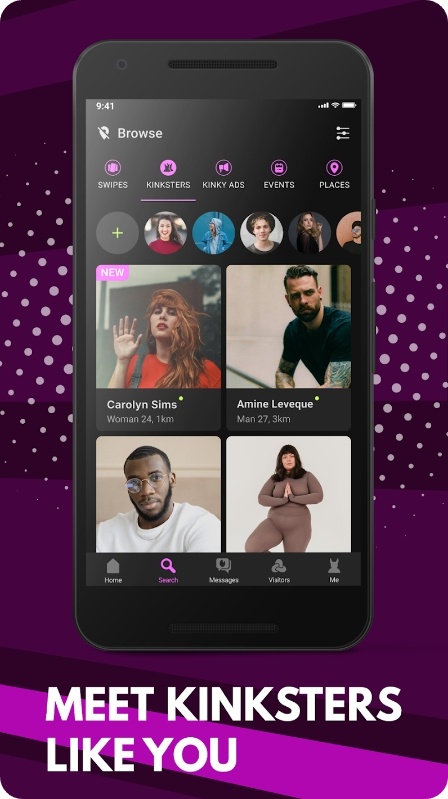 Downloads: 100K+
Customers rating:

(0 / 5)
Kinkoo
Here's a dating app that won't judge your wild desires. As a safe and open-minded community for the fetish and BDSM lifestyle, the app is here to help you unleash your inner kinkster.
Whether you're into bondage, role-playing, or just seeking a partner with the same naughty interests, the app makes it as easy as a safe word to connect with individuals nearby. It has a diverse community from every corner of the globe, you're destined to find someone who shares your passions and desires.
What sets it apart? It's not just a dating app – think of it as a kinky social network. Swap stories, get advice, and embrace the camaraderie of other adventurous members. You can filter your searches by location, role, and even specific kinks, making it easy to find exactly what you need.
Worried about privacy? Fear not, your personal info and conversations are locked down tighter than a set of handcuffs. And the cherry on top? It's free to use, so you can dive into the kinky realm without breaking the bank.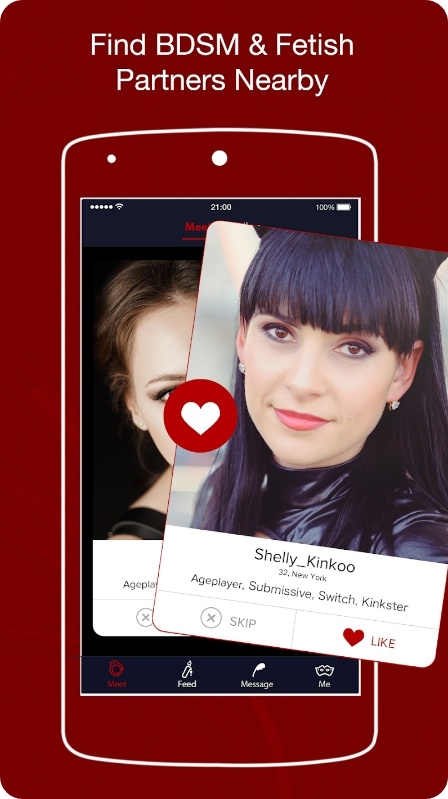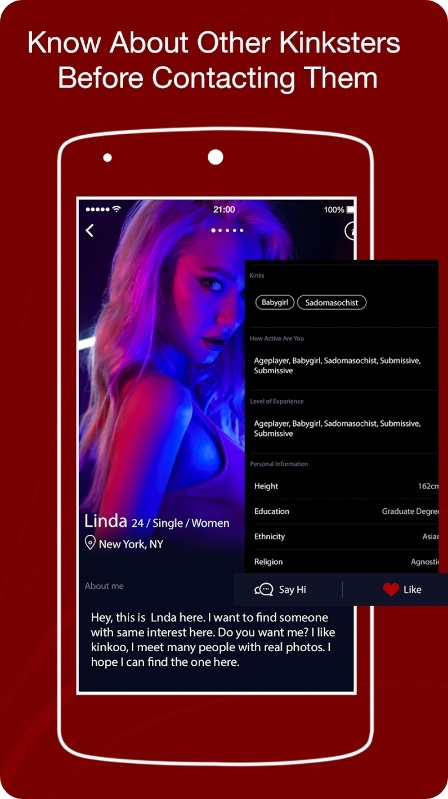 Downloads: 100K+
Customers rating:

(3.8 / 5)
Kink Dating
This app lets you find like-minded kinksters to explore the world of pleasure with. It's the ultimate dating app for all things kinky.
It's user-friendly, secure, and most importantly, packed full of verified kinksters who are just as eager to explore their fetishes as you are.

What sets it apart from other dating apps is its commitment to privacy. You get the ability to add a mask to your avatar and upload snaps to a private album. Thus, you can rest assured that your personal info will be kept safe at all times. And with a team dedicated to verifying every member, you can trust that you'll only be meeting other genuine kinksters who are as passionate about BDSM as you are.

And you'll surely appreciate the range of kinks the app is catered to. Whatever your interests and desires are, there's someone on this app who shares them (even if it's smth entirely unique). And with a Q&A section packed full of tips and advice, even those who are new to the scene can feel confident in exploring their desires.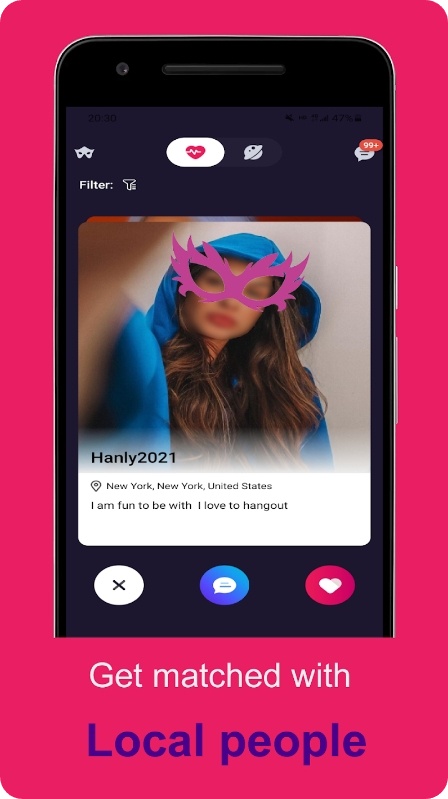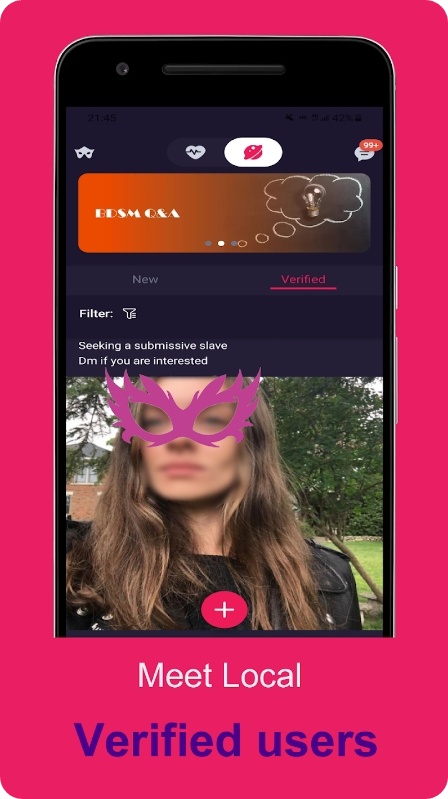 Downloads: 50K+
Check also: 5 Best Virgin Dating Apps
Kink, BDSM & Fetish Dating
This app is made for those wanting to explore their wildest fetish desires in a safe and welcoming space.

First and foremost, it takes the safety and privacy of its users seriously. With strict verification processes and a commitment to keeping your info secure, you can feel confident in your interactions on the app.

But let's talk about the real draw here – the community itself. The app boasts a diverse and active user base, with members from all corners of the globe and all walks of life. Into for a dominant partner to explore your subside with? You'll find plenty here.
Want to connect with others who share your foot fetish or latex fixation? The has got you covered. And the best part? It is both a dating app and a social network, meaning you can connect with fellow kinksters in a variety of ways. From romantic relationships to finding some like-minded mates to chat with, you'll find plenty of options here. But don't take our word for it, try the app and see for yourself what all the fuss is about.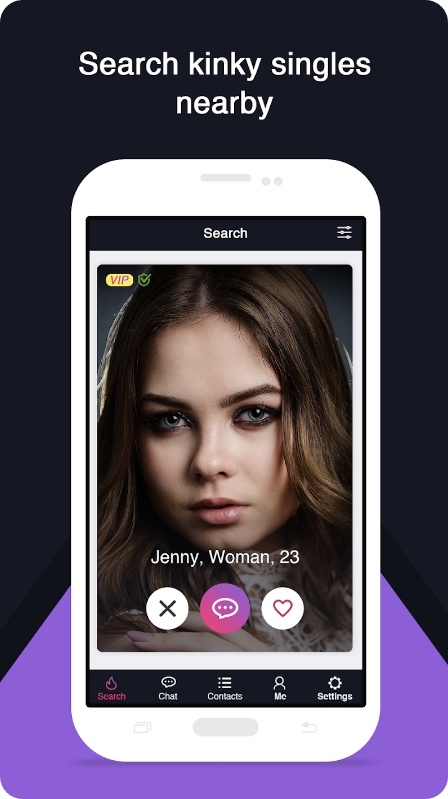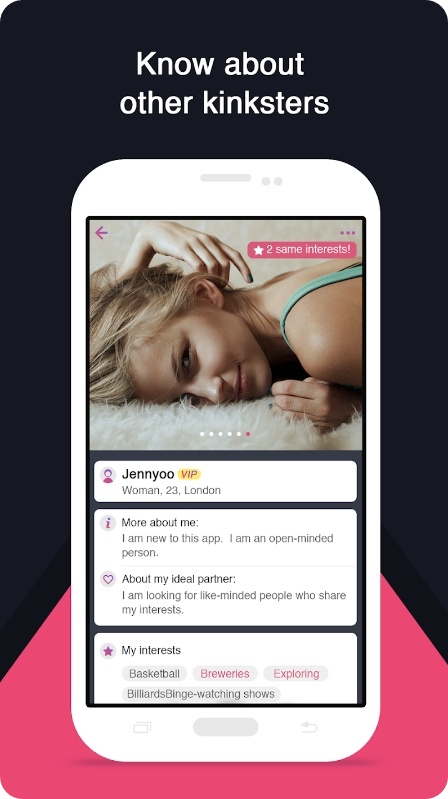 Downloads: 50K+
Customers rating:

(3.8 / 5)
KinkR
Have you ever felt like your interests fall outside of the norm and struggled to find a community that accepts and understands you? Welcome to this app where the kinky and queer unite!
It's not just any dating app; it's your ticket to embracing and exploring your wildest desires alongside like-minded folks. With a simple sign-up process and a captivating acc, you'll be drawing attention from potential matches like a moth to a flame. You can also share your kinky lifestyle and match requirements, or comment on your fave topics.
The app makes discovering your ideal match as enchanting as a magic spell. You can swipe through accs, and view all the ones nearby. Filter options let you find someone who fits your desired gender, age, and role – a recipe for captivating connections.
Feeling hesitant? Break the ice with a cheeky wink or two. And once sparks fly, dive into instant messages for exchanging tantalizing texts, sultry voice notes, steamy videos, and enticing images. It's the safe space to connect and explore with those who truly get you.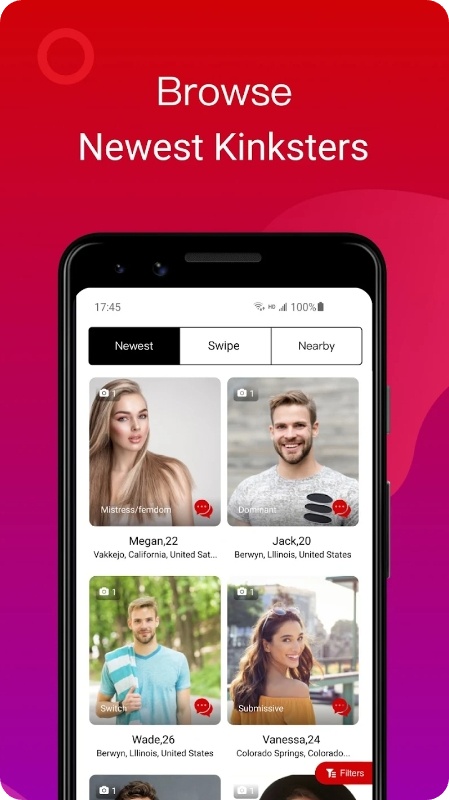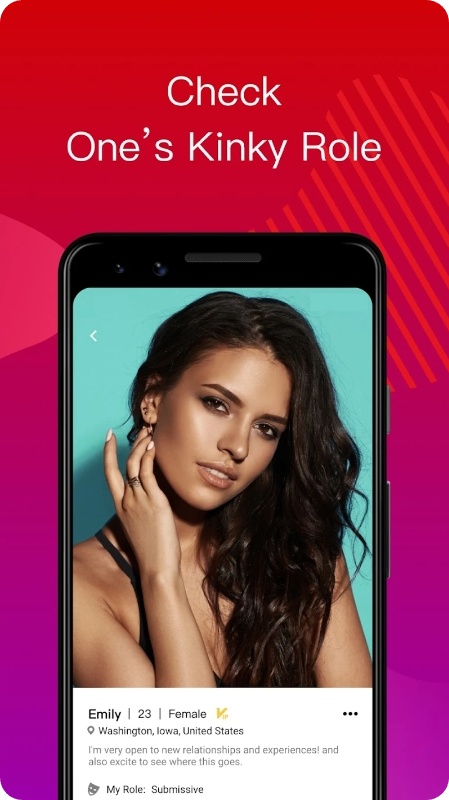 Downloads: 10K+
BDSM Dating
Want to find someone who matches your kinks and passions? This app has got your back! It is tailor-made for the vibrant kink lifestyle community, connecting you with like-minded individuals in your vicinity.
The app covers a cheeky game that takes dating apps by storm. Instead of laying it all out, the app challenges you to guess your potential match's kinky persona based on their nickname and pic. Ace the test, and voilà! You're free to message and video chat with your newfound ideal match!
It adds a delightful twist and ensures you're paired with someone who truly gets you. It also covers an ultimate icebreaker for making friends with benefits. Simply add some playful tags to your acc, wait for the system's approval, and watch as they grace your potential match's screen, accompanied by a clever message.
Craving instant connection? TagChat is your go-to tool! Pick preferred rolling tags and receive lightning-fast replies from like-minded folks. Easy-peasy bonding, right?
And hey, feeling bold? Enter the realm of random chats, where you can anonymously mingle with locals recommended by the app's magic.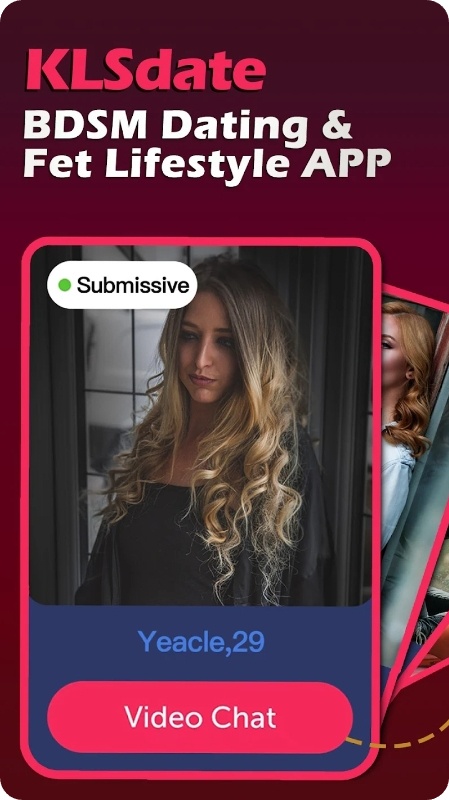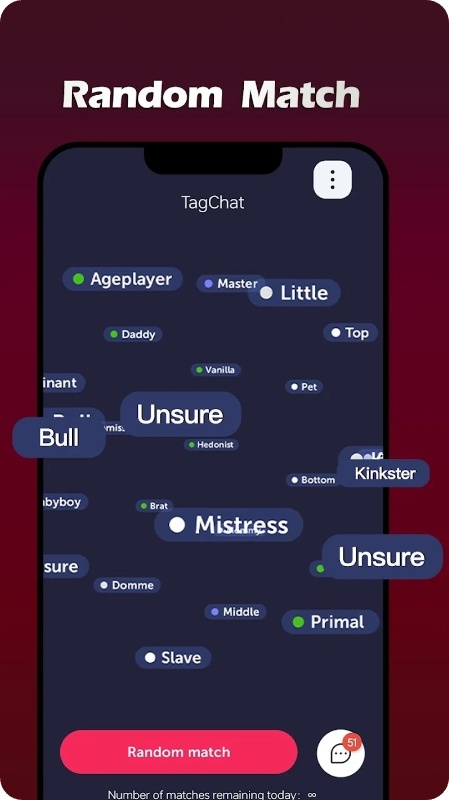 Downloads: 10K+
Kink Fet Dating
This app is for bold and adventurous souls who want to explore their kink lifestyles with like-minded individuals. It's a gem for those who want to explore their kink lifestyle with confidence and security.

You start by uploading a real pic of yourself and writing a bio to verify your authenticity. This lvl of security ensures that you are browsing through genuine accs instead of being bombarded with an onslaught of fake ones. Plus, who doesn't want more attention and matches?

Speaking of matches, the app makes it easy to find someone who shares your interests. Filter your search by gender, age, and dating type to pinpoint your ideal mate. Then, send a wink to break the ice and start chatting with text, voice, video, and snaps.

What sets it apart is its inclusiveness and respect for all individuals. Whether you are gay, transgender, or of any race or color, you are welcome to join the app community. No discrimination here! Plus, the app constantly reviews accs to block any potential scammers.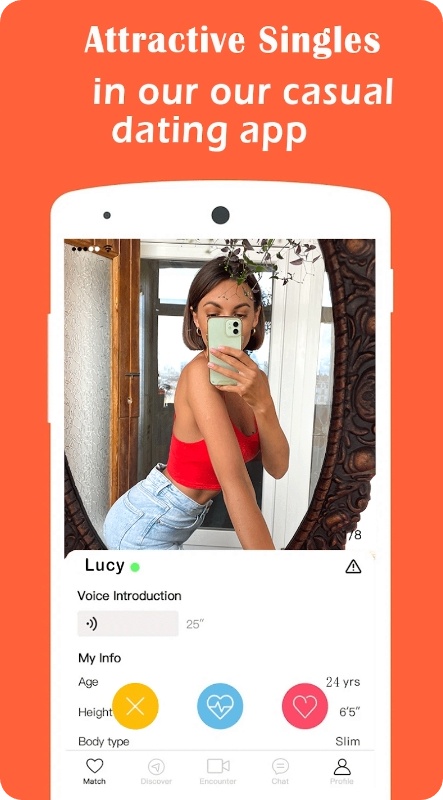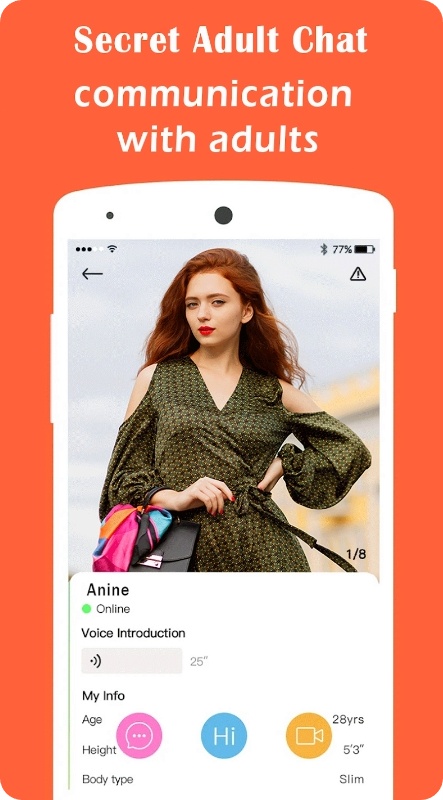 Downloads: 10K+
You may also check: 9 Best Nerd Dating Apps
KinkLife
If you're dabbled in the world of kink, this app is a must-try. It's like window-shopping for potential playmates, but way better because you can actually connect with them. The accs are detailed and often include pics, so you get a good sense of who you're dealing with.

And let us tell you, the variety is impressive. Whatever you're into, you're bound to find someone who shares your interests.

But what if you're not in the mood to leisurely peruse accs? That's where the destiny tool comes in. It's like Tinder but tailored to your kinks. Swipe right if you're interested and left if you're not. And if you're both into each other, boom – you've got a potential playmate.

Of course, finding someone to play with is only half the battle. You can post a date for free and attract others who are eager to explore. This is especially handy if you're new to the scene and unsure of where to start. And if you're feeling ambitious, you can even browse through other people's date ideas and see if any strike your fancy.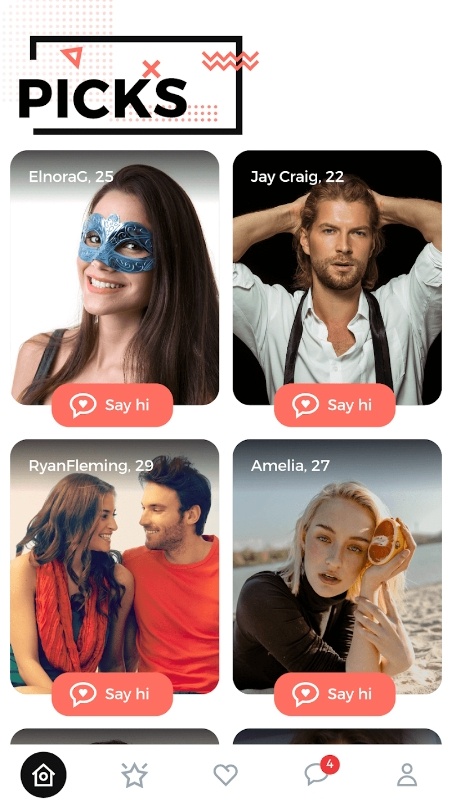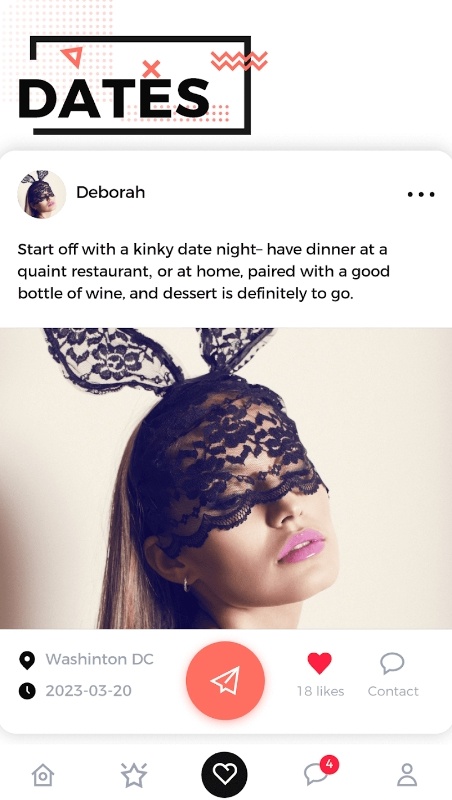 Downloads: 1K+