A lot of photos are taken daily on various mobile devices and professional cameras. Moreover, different pictures are shared on various social media and are downloaded or uploaded almost every second.
Such a vast amount of pictures require a lot of additional space on phones and tablets for doing all these functions. To optimize this users can change bit their photos or images and get more qualitative pictures with less spare space on their mobile devices.
1. Photo Compressor and Resizer
This application is represented as one of the best compressors among Android apps. It will allow you to compress any picture and get a smaller size of them. One of the main advantages of this app is the fact that you will not lose the picture quality is absolutely minimal.
This function is possible due to the intelligent technology, which works on the basis of the app. It only reduces the size of the image but does not affect the actual look of the photo. You can reduce the size of any picture as well as enlarge it.
You will not notice the change of a renewed picture, except for the size of the file! Moreover, the original photo will stay the same, and you can always find it and modify it further or have it untouched.
All original pictures can be replaced by their new versions (reduced or enlarged) if you use the Replace function.
Compression will take place at each of the two modes: auto or specified by the user. The former option is highly recommended for use, however, if you want to specify the desired size of the picture in KB or MB. The following resolutions are available: 1920×1080, 3040×1440.
In both cases, using each of the modes, all files will be compressed to a certain size you will always know how much space on your phone or tablet they will occupy after the adjustment. You can compress multiple pictures at the same time using batch compression.
The Photo Compressor and Resizer application require a few bytes for installing and storing the data. That will save your storage space, as it is much less than having a lot of full-sized photos on your device.
There is another great function here. It is possible to remove unwanted pieces of photos or images and change your pictures in any way you want to. Colors are changeable too, you can take out any color from the picture or add it. There is a built-in palette on the app.
You can convert your images into another format, such as JPEG, JPG, PNG, or WEBP.
The application is absolutely free and you can enjoy all its options without any limits.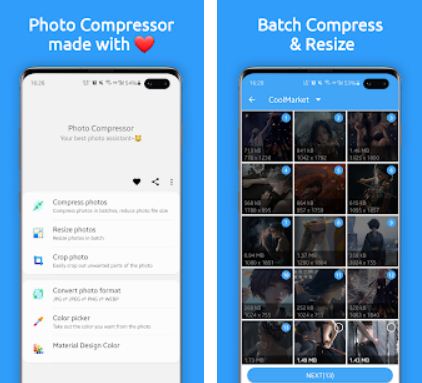 Downloads: 100 000+
Customers rating:

(4.8 / 5)

You may also like: 11 Best Green Screen Apps for Android
2. Image Size – Photo Resizer
This application is great at modifying the size of the chosen picture. It allows its users to reduce or enlarge the size of their photos to any size they would like to (with certain limitations). This can be done fast and on the go, using this app.
The whole process will take about a minute. It includes a few quick and easy steps:
select a picture from your gallery or take a photo on your phone/ tablet;
enter the final size of the photo you want to have;
change the picture with your fingertips;
save the result;
store, send, print or share your output directly from the app.
You can choose the final format among the following measurements: millimeters, centimeters, pixels, or inches.
It is possible not only to change the size of an image but also to modify the picture itself. For example, you can rotate the selected image, add effects, texts, stickers, emoji, and some other things. The original picture remains unaffected, and you will have a changed copy of it.
A lot of functions can be activated or deactivated on the app. The quality, storage, or data can be changed in the settings menu as well. To do that one just need to find the respective options on the app.
The Image Size application is free for users of Android.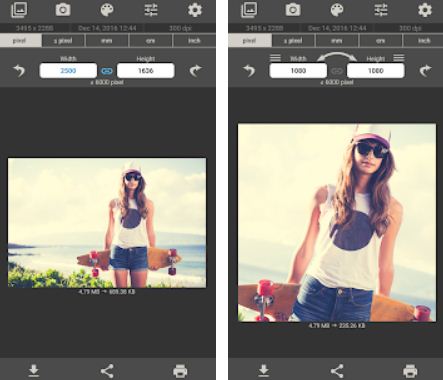 Downloads: 1 000 000+
Customers rating:

(4.6 / 5)

3. Compress Image Chitro: KB, MB, Resolution, Quality
This application also focuses on the compressing feature. It is fast, easy, and very convenient for using on phones or tablets.
You will be provided with a great number of functions, which allow you to keep a balance between the desired size and the high quality.
One of these functions is a button for batch compression. It allows you to reduce the size of several pictures simultaneously. It can help you if you need to get a lot of spare space, which is currently occupied by various images or photos.
Another function allows users of the application to delete the unnecessary pieces of the picture; you can change not only the size but also the picture itself. It is possible to modify ratios in different photos to achieve the best result.
The chosen pictures can be made smaller as well as they can be made bigger. Users of this application can change the size of the pictures as they wish till they are completely satisfied with the final image.
You can also change the formats of your pictures. The following formats are supported on the app: JPG, JPEG, WEBP, and PNG.
There are three modes, which are available on the Compress Image Chitro application:
reduce the size of your picture,
use the given patterns of size for changing it,
choose resolution and quality of the picture.
It is possible to zip pictures after making them smaller. Then you can save the final file, store it or share it via email.
While all these changes are happening to your pictures, original photos do not have any effect. You will have your original image and its copy with a smaller size when you decide to use the application. You can always compare the first and the second versions of the same picture.
There is no limit in the number of pictures, which will be changed on the app. You can use it as many times as you want and modify as many pictures as you need.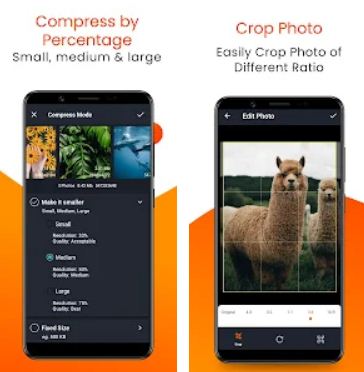 Downloads: 100 000+
Customers rating:

(4.4 / 5)

4. Photo & Picture Resizer: Resize, Downsize, Adjust
This application offers its users a vast number of basic and additional functions. It was created for changing pictures in various ways, and you can get entirely new or a little improved photos after working on the app.
The most important key feature of this application is its quick and easy usage. It will not take you a long time to make all the necessary adjustments, which you want to. All functions are easy to look for and use.
Pictures can be both downsized and upsized. However, not only the size can be changed. It is possible to resize the photo resolution as well. The quality of the pictures will remain the same, so you will not notice the visual changes in a new version.
You can resize your pictures several times. Each time you start the process again, the picture will not lose its original quality. Achieve the best result by downsizing a photo to the desired size. The unlimited number of pictures can be changed on the app.
All changed pictures will be saved in a separate folder on your mobile device as copies of your original pictures. You will always know where to find your modified images and never mix the two versions with each other. You can also put them into another folder after saving them.
The batch function is included in the app, so it is possible to change a few pictures simultaneously.
Among other functions, the app provides you with an opportunity to send your modified pictures via email or share them on social media platforms, such as Instagram, Facebook, TikTok, YouTube, Discord, and to name but a few.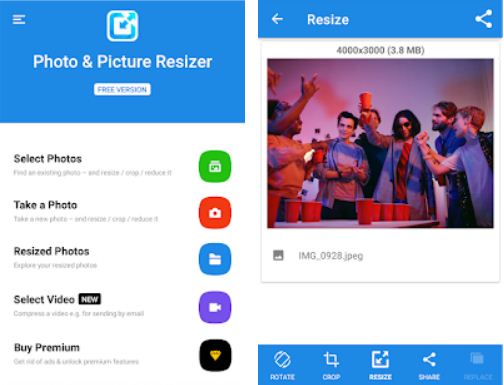 Downloads: 10 000 000+
Customers rating:

(4.5 / 5)

5. Photo Resizer HD
This application is really great at resizing and shrinking pictures. You can adjust different types of photos or images, a single picture or a bunch of them any time you wish.
To do that you just need to select a file or file you are going to change and then upload them to the application. On the app you can choose what option to use: to rotate (left or right), to flip ( vertical or horizontal), to downsize or upsize, to remove unwanted parts, and some other options.
You will never get a low quality, sing the Photo Resizer HD application. The key feature of this app is its intelligence, which chooses the optimal size for saving the same level of the quality of the picture. If the size is not good for a particular picture, you will be notified about this.
You can save the changed images wherever you wish. It is possible to save them on your SD card, for example. You can also share, send or print your images after the change.
All these options are available for free on the application.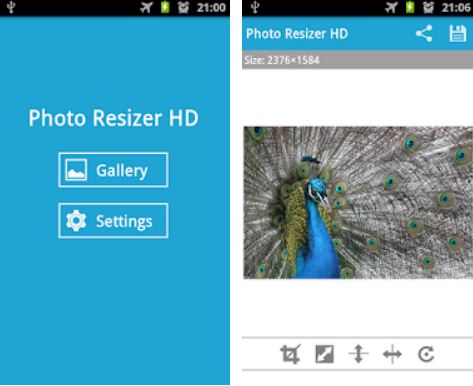 Downloads: 1 000 000+
Customers rating:

(4.1 / 5)

6. Image Resizer Simple – Resize Picture or Photos
This application is well-known as one of the top apps for resizing pictures on Android devices. Its main positives are high speed, simple usage, and a wide range of different options, connecting to modifying images.
This application offers such options as to downsize or upsize a picture, rotate it (not only right or left but in any direction, you would like to), flip it (vertical or horizontal), to crop a picture.
You can apply all these functions to one picture in a few steps, in any order you like. Get a really unique picture for easy sharing, using the Image resizer simple application!
The application works fast, the whole changing process will take you around a few seconds, nevertheless the number of pictures you have selected.
Another great positive aspect of this app is the fact that it can work both online and offline. That means you do not need a good Internet connection for modifying your images. Just select them in your gallery on your phone or tablet and enjoy all these functions.
The app only changes the size of the file and does not affect the picture itself. You can be sure about the quality of the changed images, it will remain at the same level after all procedures.
It is quite easy and simple to use this application. It proves a user-friendly interface and a clear menu, so will definitely find everything you want and use the function you need.
After changing the image, you need manually save it in any folder on your mobile device. This image will be a new cope of the unchanged one, you can compare them after resizing or another change.
Last, but not least is the fact that the application is absolutely free of charge and you can use all mentioned above functions without any purchases.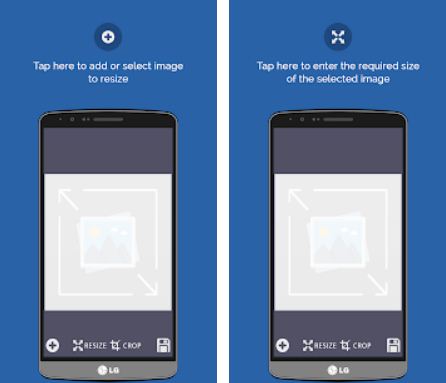 Downloads: 10 000+
Customers rating:

(3.8 / 5)

You may also like: 7 Best Apps to Remove Snapchat Filters on Android
7. Image Resizer
If you are looking for a good and reliable app for modifying various pictures on your mobile device, you can take into account this one. The Image resizer application is quite good at changing pictures, their size, or format.
There are the following formats, which are accepted by the app: JPEG and PNG. Other formats are not supported by this application, and if you have an image of another format, you will not be able to change it with the help of it.
You can change a picture, which is already in your gallery (on your device), or take a photo and then immediately change it. It is possible to upload a picture to the app from any folder on your device.
To make your picture smaller or bigger you need to select it (from your gallery or camera) and adjust it as you want. Along with that, you will need to choose the quality of the changed picture. There are three quality modes, provided by the app: low, medium, and high.
After this process, you will need to save the image on your device. Yiu can save it on your SD card or in any folder you want.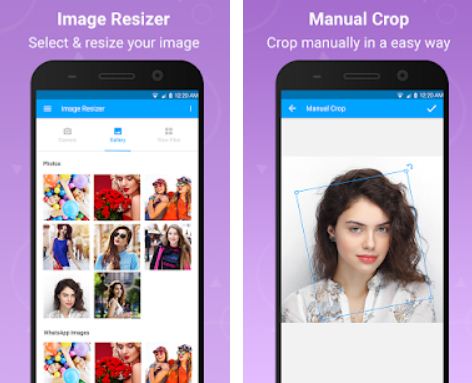 Downloads: 100 000+
Customers rating:

(3.7 / 5)