Do you like making funny videos? Want to surprise your friends with something new?
Especially for you, we have prepared a review of 10 lip singing applications for your smartphone that will make you and your friends have fun.
MuStar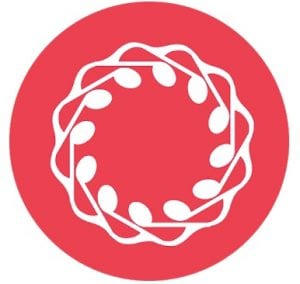 MuStar allows creating stunning music video clips in a matter of seconds. You can choose from millions of songs and lip-synch to songs or dance.
Use your fantasy and special effects (Slow down, Accelerate, Black and White, Shine, and dozens of others) to get more followers and become famous!
This is a great way to attract the attention of millions of users to your social media profile. Obviously, the number of fans has a positive impact on popularity!
MuStar developed unique mechanics of music and dance battles. It offers a huge database of songs and cool video effects are added constantly. Create your own musical or dance masterpiece just in 1 click!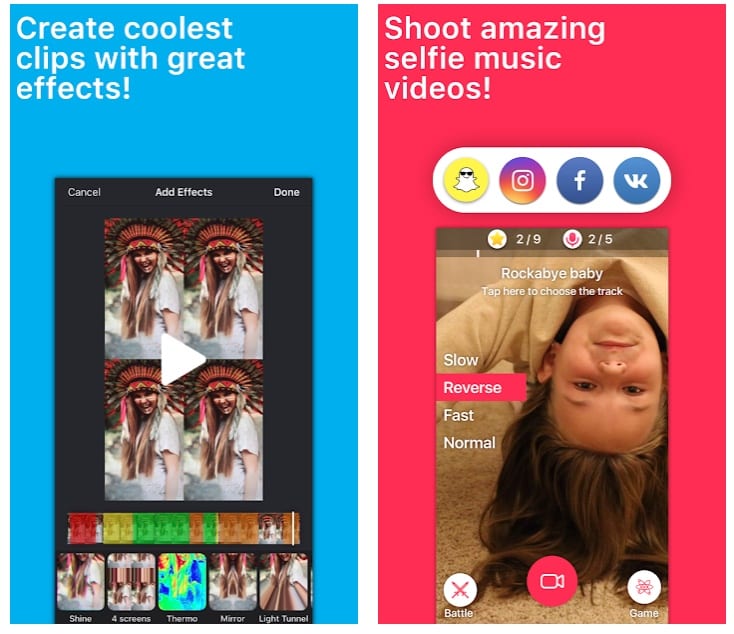 Downloads: 100000 +
Customers rating:

(4 / 5)

You may also like: 13 Best Funny face changer apps for Android
Dubsmash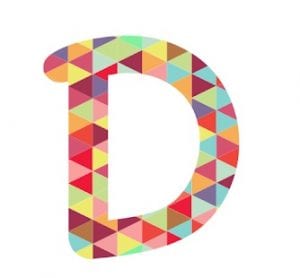 Dubsmash is basically a selfie video application that allows users to create their own videos by synchronizing their lips movements with sound duplicated from any known movie, quotes, song lyrics, etc.
All you need to do is select a sound from the massive library and run the dubbing. Once you are done, you can upload a clip to your smartphone or share it with WhatsApp or Facebook.
You can move your lips artistically, or choose sounds that will be harmonious (or, conversely, ridiculous and therefore funny) combined with the video. The content base is constantly expanding with the efforts of numerous users.
If a huge library of sounds is not enough, you can always record something of your own. And, you can not hurry, and persistently develop your acting talent alone, and then send your family or friends the most successful take.
Fortunately, the application has a very convenient "social" function – it's easy to share your creations through Whatsapp, Facebook, Instagram, or a simple MMS.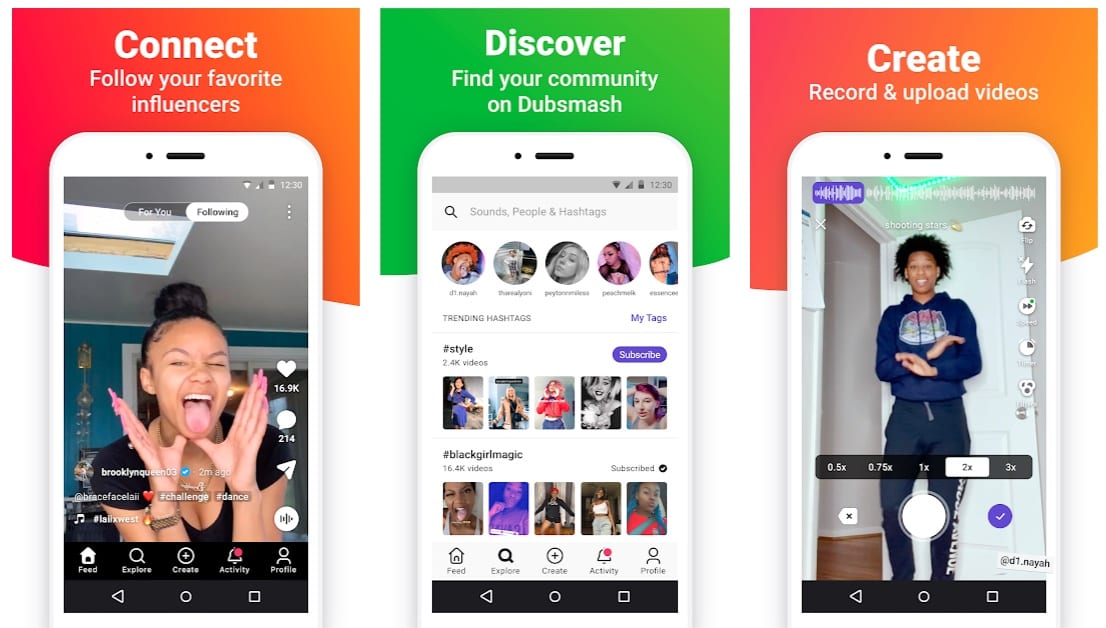 Downloads: 100000000 +
Customers rating:

(4.2 / 5)

Zoomerang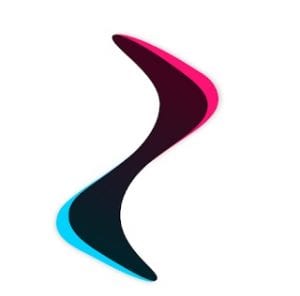 Zoomerang is an application for fans of creating unique simple and short videos. If you're always having trouble shooting a video about what music to frame, or what effect to apply to the finished video, this is a great application that will do all the hard work for you.
It has one great button, which turns the video you shot into a creative video. It will automatically select the appropriate music and put it on the basis of the dynamics of the video and its style. It will also tell you which effect is better to apply to the video to make it look much better.
You can immediately share your footage on social networks such as Instagram and Facebook. Or you can do it later, but Zoomerang automatically saves the footage to your gallery. You don't need to register or start an account to start using the app.
Zoomerang features:
No registration and no accounts;
Wide range of effects;
Automatic saving to your gallery;
Quick and easy editing of the movie.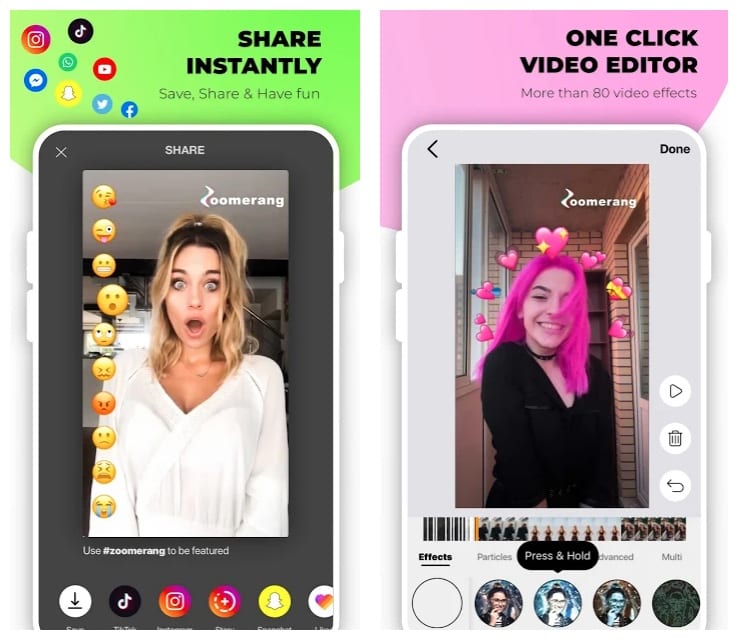 Downloads: 10000000 +
Customers rating:

(4.4 / 5)

StarMaker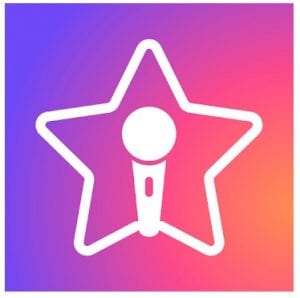 StarMaker is a real online karaoke where you can choose any song, sing it on video and amaze everyone with your talent.
Are you ready to be a star? If not, StarMaker is coming to you! Thousands of the most popular songs and dozens of sound effects will make you a true star. Feel free to be yourself, edit your soundtracks until you're perfect.
For sheer delight, it's worth noting that the app still has features like vocal enhancement with advanced technology, new special effects, clever recommendations, and the ability to sign up for other artists. There are also features that allow you to synchronize the movement of your lips with your melody.
Make friends around the world and sing together! And the smart recommendation feature analyzes the user's taste and style and suggests appropriate content!
StarMaker app features:
Beautiful interface;
Lots of popular songs;
Friendly Community;
Interesting special effects;
Automatic voice enhancement;
Full-screen display.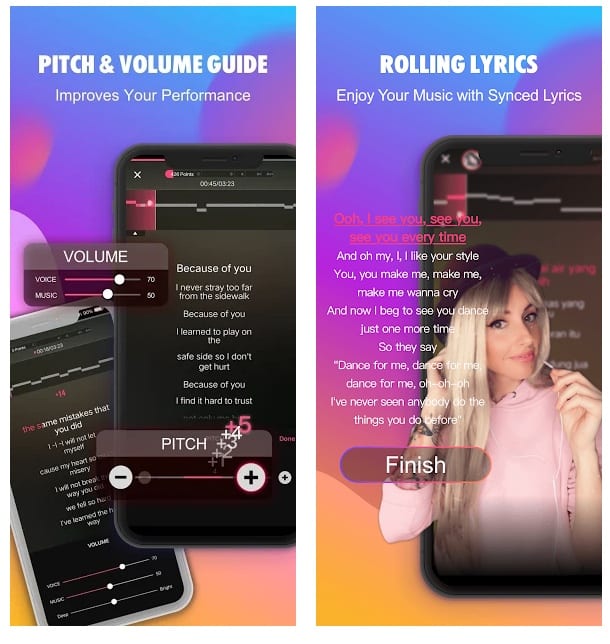 Downloads: 100000000 +
Customers rating:

(4.6 / 5)

Smule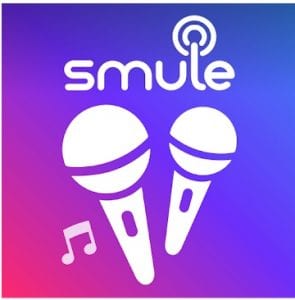 Smule is a full-featured karaoke club on your phone. Sing alone or with friends at any convenient place.
It is a whole music social network that lets you maximize your creative potential. Pick a song you want to sing and make a real hit.
The app will record your performance, and you can record a video too. Play back the recording and add sound effects, post-processing, or voice boosting. Share your recording in the app so other users can listen to it.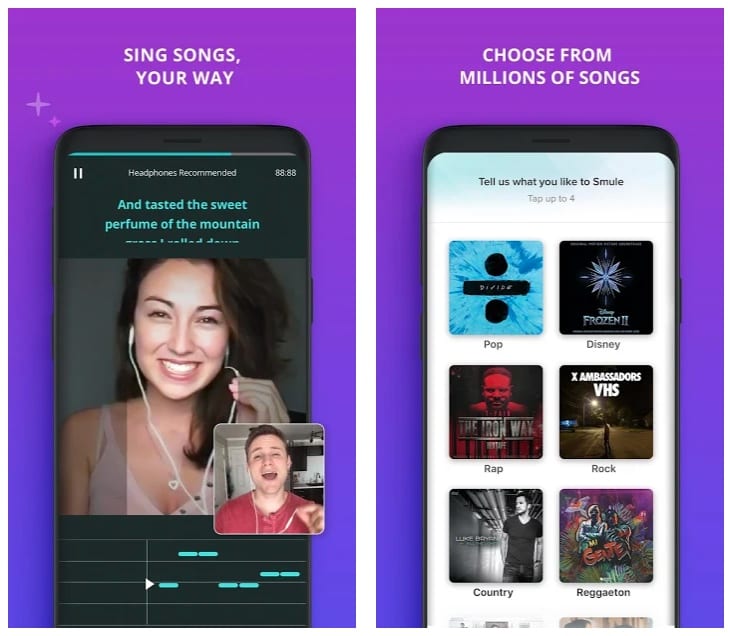 If you want to sing with a friend or even a big choir of friends, you can choose a song and "invite" other singers to join in. Record duets, post choral performances. Or you can join a chorus yourself. Find new friends from around the world and sign up with the singers you like and sing along with them.
You'll find lots of stars on the app so you'll get a real chance to sing along with your favorite singer.
Can't find a song you like? No problem! You can always add your own.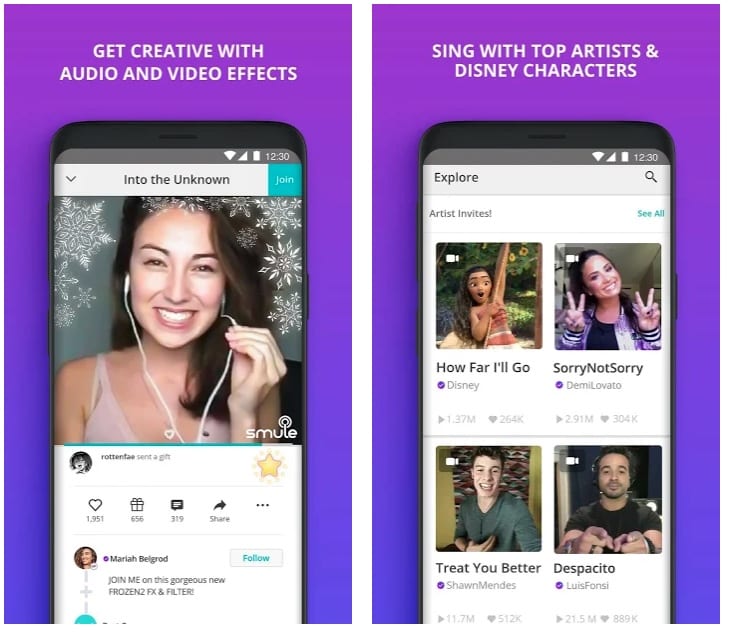 Downloads: 100000000 +
Customers rating:

(3.9 / 5)

MadLipz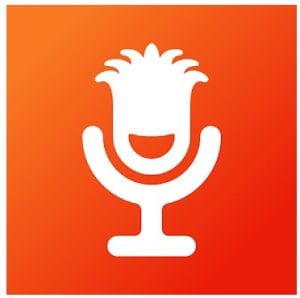 With the MadLipz app, you can use your own voice to dub your favorite popular video clips, which is very funny in itself. Just so you know, the app works a lot like Dubsmash, but MadLipz deals with longer videos, usually up to 15 seconds, and you have the ability to record up to three separate audio tracks.
With the ability to add several different tracks to a clip, it's quite possible to create entire dialogues or more complex original compositions here.
Each track is saved independently, so it's very easy to edit them individually to bring them to your desired state. In general, when it comes to originality, there is no limit to your imagination.
MadLipz is good in that it contains a whole database with a lot of colossal video clips, some of them are simply masterpieces of the Internet. You'll literally have thousands of funny clips from 5 to 15 seconds long with the ability to record your voice on them. In addition, the clips are beautifully organized into well-marked and easy-to-navigate categories.
Once you've finished recording your voice track, you're left to choose the social network you want to upload it to. As an option, of course, you can always save it to your phone for private use.
If that still doesn't seem enough for you, anyone can upload their own clips to the app's database. Be warned, however, that you'll need to type enough text beforehand. To upload your own videos, you'll have to add a proper title and choose a proper tag for your video so that others can easily find it.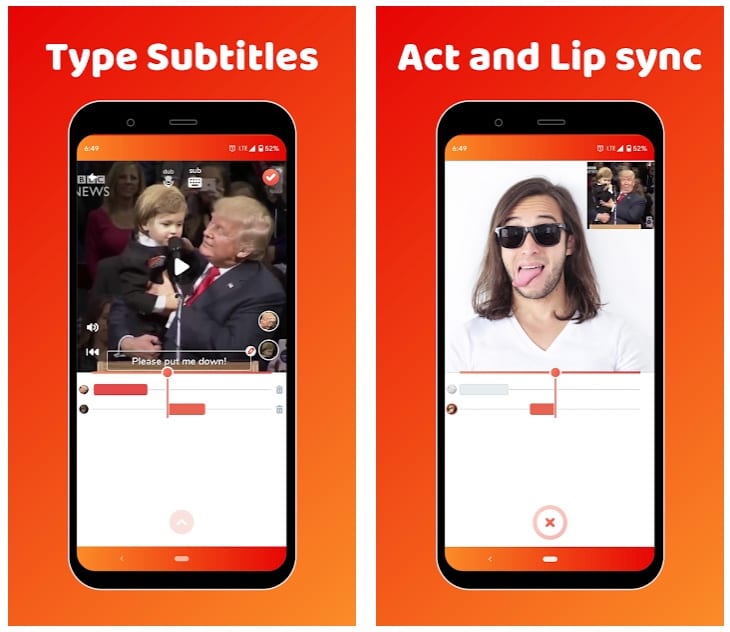 Downloads: 10000000 +
Customers rating:

(4.4 / 5)

TikTok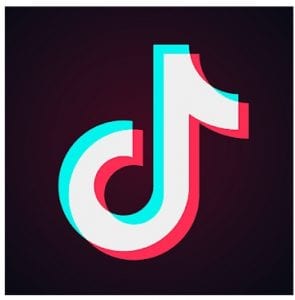 TikTok, a platform where people can upload home music videos with lip sync movement and dance, has become the latest way to attract the glory and wealth to young talents.
Ready to post your own video? First, click on the "Plus" icon at the top of the screen. The camera will open. Before you start shooting, you can add a song.
TikTok offers a range of augmented reality effects. You can, for example, change the color of your eyes or hair. Click on "Effects" and a whole list opens up.
In shooting mode, you will see the 'Beauty' button on the right. It will remove bruises under your eyes. Below you will find a menu with filters. Unlike the Instagram filters, they don't have beautiful names like Valencia; they are simply numbered. The most important feature is a timer, which allows you to shoot video without having to press the record button all the time.
The video lasts up to 15 seconds, but users can combine several clips for up to 60 seconds. You can also upload longer videos that have not been shot in the application.
Once you have mastered the basic functions of TikTok, you can experiment with Duets – they divide the screen into two halves and allow you to sing the same song as another person. To shoot a Duet, click the Share button on the original video and then select the Duet function.
Music is one of the key elements of TikTok; selecting a popular song can make your clip viral.
Here is how to add a track. First, click 'Add a Sound' on the right in recording mode. A streaming menu with performers and songs will appear before you. There are no full-length songs in TikTok; short clips dominate on the platform. This means that if you want to record a video of your favorite part of a song, you may be out of luck.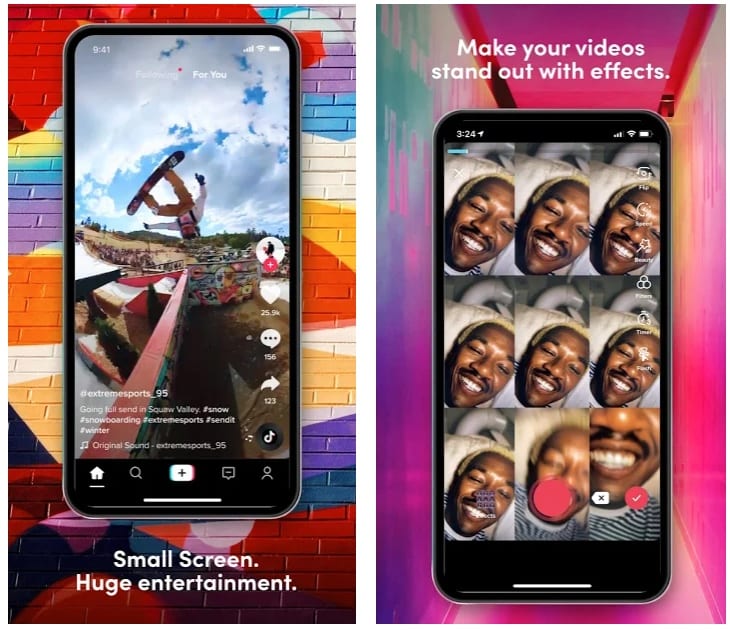 The Duets function is a good opportunity to draw attention to your page, get more followers, and likes. You can record a joint video with yourself, a friend, or an unfamiliar user online and offline.
Downloads: 1000000000 +
Customers rating:

(4.5 / 5)

Likee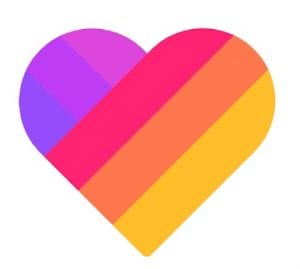 Likee is a leading global platform for viewing and creating short mobile video clips. It offers advanced tools for video recording and editing, with over 2,000 special effects available.
You can choose from millions of songs for your videos and even choose a song saved on your smartphone.
The process of editing a video is simple and doesn't take much time, but it doesn't mean that you will have a little opportunity at all. You can add all sorts of video effects by drawing with your finger right on the screen: fireballs, falling stars, butterflies, etc. With this application, you will be able to add effects in seconds.
You can use the SuperMix function to create a stunning video in a few seconds, or an exclusive music video in less than a minute! The newest FaceMagic facial replacement feature with artificial intelligence will instantly turn you into your favorite superstars or movie characters!
Advanced Music Magic filters will help you create exclusive music videos with special effects that are fully synchronized with the rhythm of the music! Video dubbing: with a collection of dubbing scripts from the most popular movies you can become the star of any movie you want!
It is easy to find interesting people in the community, share your work with them, and look at other people's creations. In this world, everyone will be able to find something bright, exciting, and exciting in just a few clicks, and their lives will never be the same again.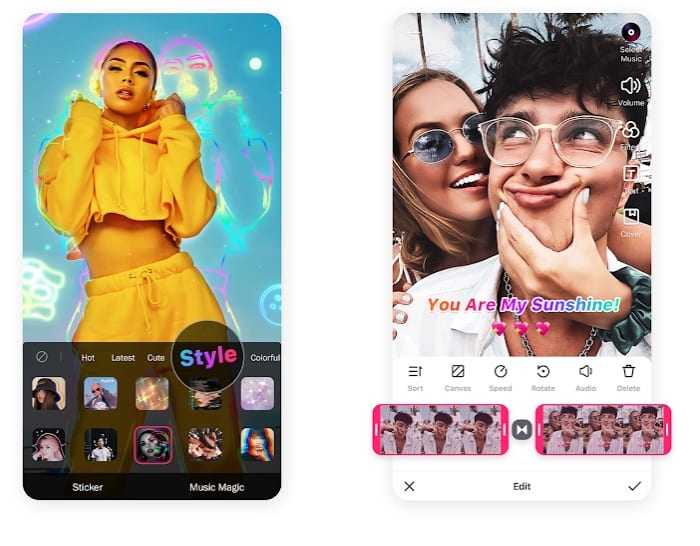 Downloads: 500000000 +
Customers rating:

(4.3 / 5)

Funimate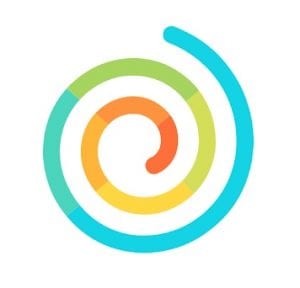 A cool video editor, which is ideal for processing short videos. For example, for TikTok and other similar social networks.  Filters, effects, emojis, text, music, and more. There is also a set of tools, which will be very useful for anyone who wants to record a finely tuned music video.
Funimate is a good alternative to popular social networks based on funny short videos.
The application is much like Tik Tok and Likee, where users are invited to create funny videos, edit them and post them to the public. You don't need to have any knowledge or special skills, you just need to be a creative person and be able to turn your ideas into reality.
To start working with the application, you will need to create a new account or log in to one of the social networks available on the list. The application contains a huge set of tools and tools for creating and editing video clips. You can add text, attach music, various sounds, stickers, use filters and effects, and view them in real time.
Having finished editing the video, you should add a couple of hashtags that will help you sort the downloaded video into the desired category, offering it only to the users interested in watching it. Try the application and make sure that it is easy and convenient to use, and the number of suitable videos is growing by the minute.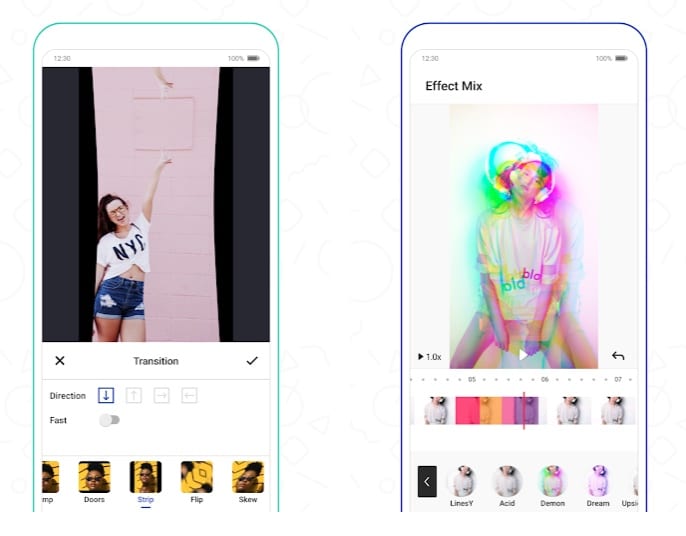 Downloads: 10000000 +
Customers rating:

(4.4 / 5)

You may also like: 12 Best voice changer apps for Android
Triller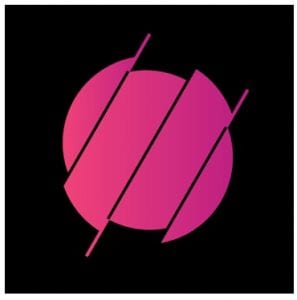 Triller is an amazing application similar to TikTok and Dubsmash. Although it is supposedly a music video platform, it has an excellent AI editing function that distinguishes it from some other applications.
Its main advantages are the incredible video editing features it offers its users, where they can take several clips and link them together to make a music video.
This application provides great opportunities because you don't have to be so talented to look good! Just like TikTok, you can add your own audio or add Spotify tracks to your video. You can also use songs that are currently popular on Triller.
If you have long dreamed of learning how to create cool videos, don't be in a hurry to buy expensive applications and courses. With Triller, you can turn any of your videos into a work of art!
No complicated tools or processes: just shoot a few plans and leave the rest to Triller. Thanks to a modern auto-editing algorithm, you will not have to spend long hours working with effects, tools, and retouching.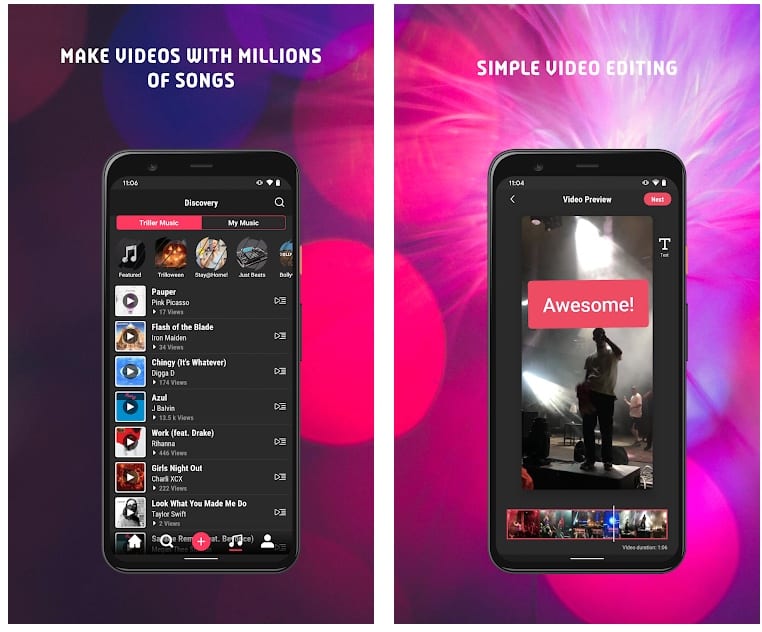 Downloads: 10000000 +
Customers rating:

(3.4 / 5)