In our today's collection, there are several great applications for working with HD wallpaper on Android smartphones and tablets. They allow you to download, install and modify the background for the home screen, as well as for the device lock screen.
Backgrounds HD (Wallpapers)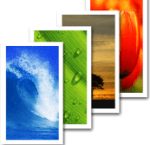 Backgrounds HD is a collection of cool wallpapers for personalizing a mobile phone or tablet on an Android platform. The collection includes over 7 thousand high-quality images in HD. The application will allow you to quickly and easily install the original wallpaper on your gadget's desktop, eliminating the need to search for a suitable image on the Internet for hours.
Features of Backgrounds HD:
Simple and intuitive interface – set the background image in one click.
High quality of the images.
Adapt wallpaper for portrait or landscape orientation of the gadget.
Over 30 categories of images of a variety of subjects – flowers, animals, natural and urban landscapes, cars, space and much more.
Convenient search functionality through related tags, the ability to view popular wallpapers.
Help in selecting – showing similar images to the images viewed.
Daily updating of the wallpaper library with new high-quality images.
The ability to add your own photos for distribution around the world.
Does not discharge the battery – does not work in the background.
The app also has social functions – you can share your favorite pictures on social networks or send them to your friends by e-mail. There is a function of saving certain wallpapers to your favorites. You will also get convenient free widgets – watches after downloading the app.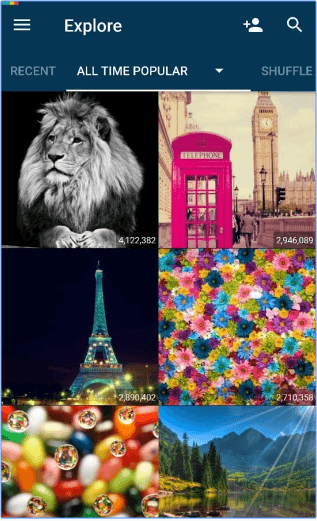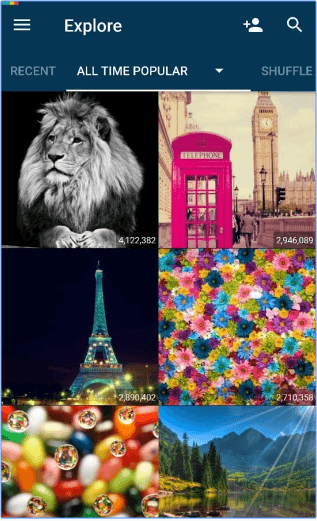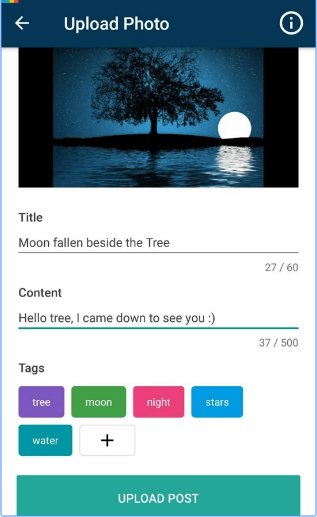 Downloads: 100 000 000 +
Customers rating:

(4.6 / 5)
You may also like: 15 Best Android theme apps
Wallpapers HD Plus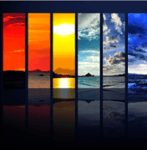 Wallpapers HD Plus – the best offer for Android in the design of desktops with modern high-quality wallpapers. With it, you can make your phone not just unique, but truly original! Wallpaper HD is a regularly updated database which is free for downloading.
A distinctive feature of the app is the built-in photo editor, which allows you to change images to your own taste, as well as the ability to save the ready images on the memory card.
Program Wallpapers HD Plus for Android is:
A simple user-friendly interface.
The application with more than 100 thousand various high-quality images.
Daily update of the database with new pictures.
Extensive catalog of wallpapers sorted by category.
Comfortable search for the desired theme of images.
Free photo editor (you can change the clarity, resolution, image size, cut out part of the image and so on)      
Availability to download to your phone for free, in one click.
Wallpapers HD Plus is a great application that can not only please, but also open new possibilities for the design of premium wallpaper. Pictures on the phone will become more interesting, and the background of each desktop is always up-to-date, all at a minimum of time spent searching and correcting.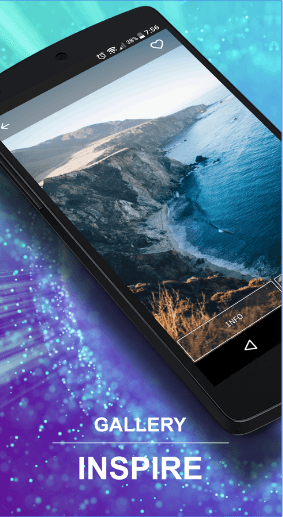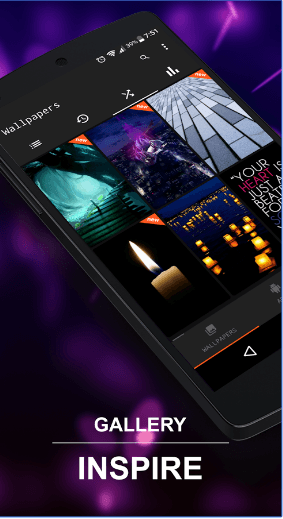 Downloads: 1 000 000 +
Customers rating:

(4.3 / 5)

Backgrounds (HD Wallpapers)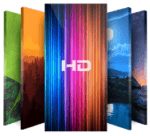 Backgrounds: HD Wallpapers is a free application with a huge collection of wallpapers in HD and personalization of the home screen. Now it is possible to make your phone stylish and unique!
Here are collected various themes for nature and animal lovers, for fans of technical progress, for business people, cartoon and cute themes for girls, and sports wallpapers for boys. In the program, everyone will find an amazing collection for themselves. You can set a special background for Valentine's Day, change themes every month – thematic wallpapers are presented here. You can even load live backgrounds to enjoy various visual effects.
And you can install themes in 3D format to see advanced technologies on your mobile device. The application preset many backgrounds and filters to fulfill your every whim!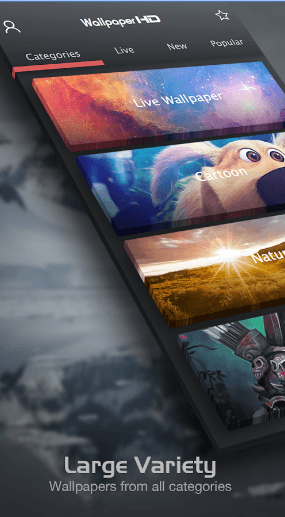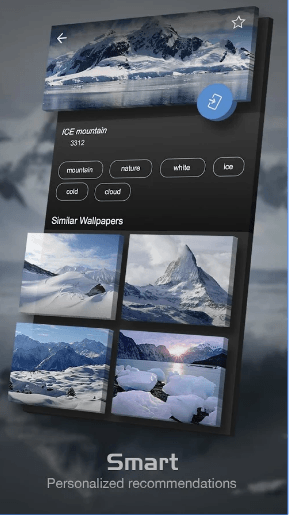 Downloads: 10 000 000 +
Customers rating:

(4.7 / 5)

Kappboom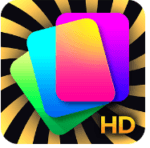 The application Kappboom really has a very large wallpaper base and it is updated every day. The main screen of the application displays a list of previews of 9 pictures. Above there are some buttons: Filter, select wallpaper, and search. Pages with wallpaper can be scrolled with the help of gestures, and with the help of arrows. Using the filter, you can select one of the wallpaper categories (there are 35 of them).
Clicking on one of the pictures you like, you will see a new window in which you can find information about the author who uploaded this image and where the selected image is stored. At the bottom there are 4 control buttons: download, share with friends, add to favorites and close. By clicking on the download, you can either save the wallpaper to the gallery or immediately set it as your desktop wallpaper.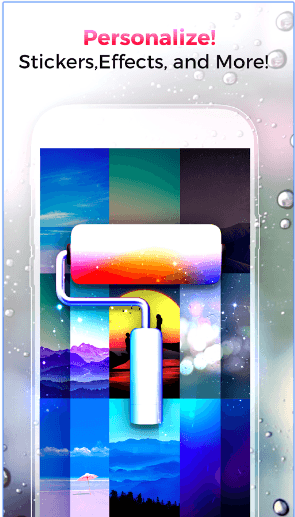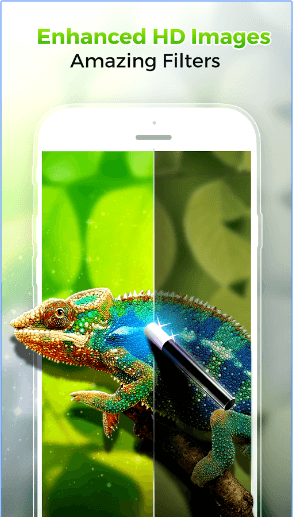 Downloads: 10 000 000 +
Customers rating:

(4.8 / 5)
WALLOOP™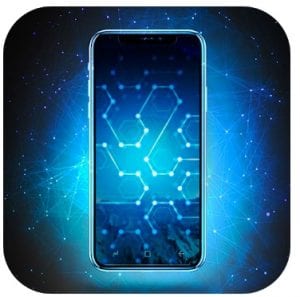 Live Wallpapers HD & Backgrounds 4k/3D – WALLOOP™ is another great personalization project from Walloop, which, like other programs, offers users access to an extensive database of live wallpapers HD.
Large selection of HD wallpapers;
Easy navigation through the application;
Many categories;
Weekly updates.
Distinctive features of the presented elements are high quality of performance and originality. A wide variety of categories and directions, customization of sizes and settings to suit screens and much more will delight anyone who loves detail and impressive animation. Well, a convenient search will help you find exactly what will be ideal for the user.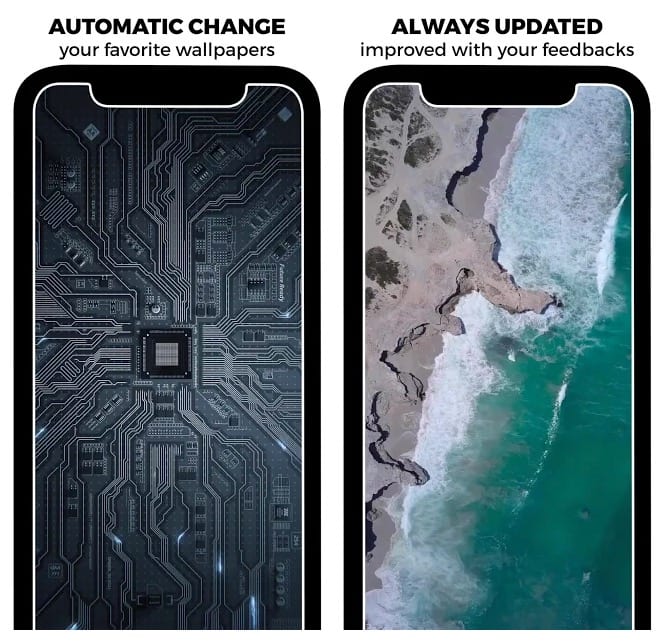 Downloads: 10 000 000 +
Customers rating:

(4.5 / 5)
Best Wallpapers QHD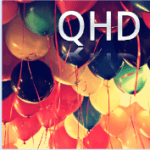 Wallpapers QHD is an excellent collection of wallpapers for the desktop in the highest quality resolution. The application automatically downloads wonderful pictures from the Internet. The user only has to choose the ones he likes. It is possible to sort wallpapers by popularity. You can also view them by category or use a random selection.
To use the application, you always need an Internet connection. Without it, the application will not be able to download new pictures. So, when you open the main window, you will be presented with popular wallpapers for a certain period. Here the juiciest pictures are collected.
If you are at a loss from which category to choose a wallpaper, then a random selection just for this case. The program will quickly spin the wheel and give out an excellent selection of wallpapers from various categories.
In the category tab, images are sorted by specific themes. If this is about space, then there will be images of planets, galaxies, and other cosmic things. Using categories is very convenient to find the desired wallpaper. All of them will be in high resolution. A category Editor's choice should be separately noted. It contains the most high-quality images, marked by the developers themselves.
To summarize, Wallpapers QHD is a collection of wallpapers in high quality, has a competent sorting by category and popularity.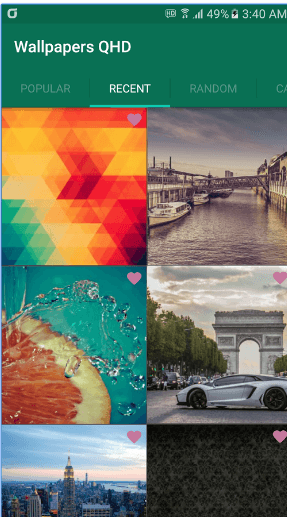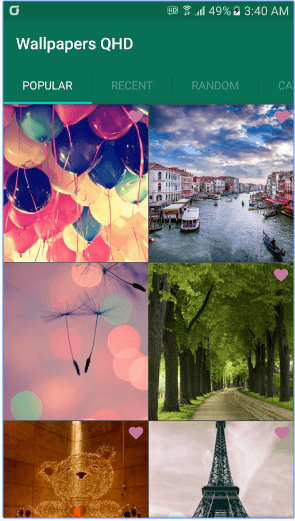 Downloads: 10 000 000 +
Customers rating:

(4.4 / 5)
Wallpapers & Backgrounds for Me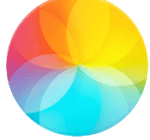 Wallpapers and Backgrounds for Me can be used to decorate your smartphone in a completely new way, thanks to a lot of memorable wallpapers for Android for every taste!
The app is full of images of HD quality. Each of the offered images is unique and was designed specifically for the application. Just slide your finger across the screen and open for yourself many new masterpieces.
The application provides an ideal pixelization of free wallpapers in HD and QHD resolutions. Here you will find thousands of unique pictures in 10 categories: cities, nature, sea, landscapes, animals, fashion, etc.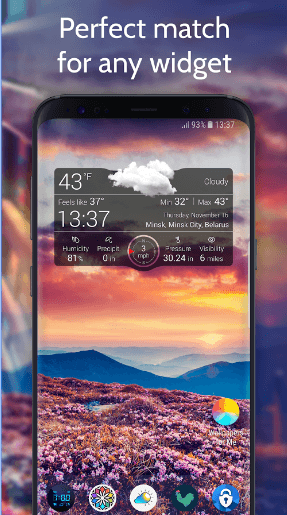 Downloads: 10 000 000 +
Customers rating:

(4.5 / 5)

Walli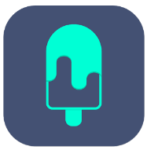 Walli: Wallpapers HD – a cult application allowing you to install on your smartphone based on Android certified wallpapers from popular artists.
Due to a large number of downloads and the high rating among users, Walli has been considered for several months in a row one of the best platforms in its field. This is a delightful collection of quality pictures and wallpapers. The program presents works of different styles and genres, collected from different corners of the planet.
Try Walli now and find out how clear the program interface is. By clicking on the "Favorites" tab you will see the wallpaper that was recommended by the creators of the project. Using the button "Popular" you will find out what works other users like most. The "Recent" tab will show new images that have been added some time ago to the system. Put your likes on the photo and quickly find them in the profile settings.
You will be delighted with a grandiose selection of pictures on different themes. All images are of high quality and will suit any mood. Download "retro" or "hipster", sad, funny or neutral pictures absolutely free.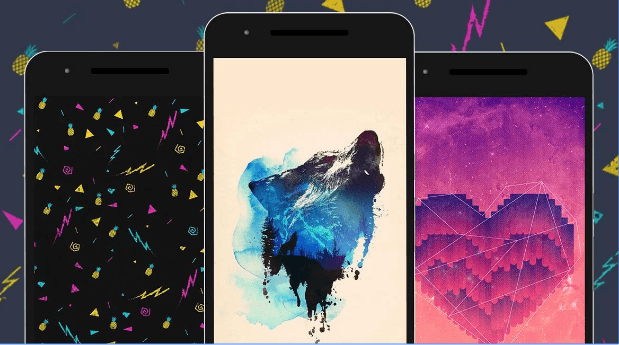 Downloads: 10 000 000 +
Customers rating:

(4.9 / 5)
Wallpapers HD, 4K Backgrounds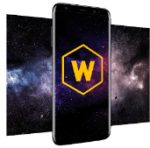 Tired of the boring screen of your smartphone? Let it shine with new colors with Full HD 4K wallpaper for Android.
With this application, you can use a lot of different wallpapers that fit the size of your screen. All images are made of high quality and different resolutions.
No deformation and stretching of pictures – forget about the poor quality of wallpaper. Developers do not add images with a small resolution. All the pictures in the application are cut manually, so they fit perfectly into any screen size. Also, the application allows you to select a different layout for the main menu and the lock screen.
The application is updated with new wallpaper every hour. There are tens of thousands of design options for both small screens and for more modern ones.
Use only the current design – the developers are following the trends in the world. A convenient and simple user interface will allow you to instantly select wallpapers of any theme: abstraction, anime, cars, technology, cities, music, travel, underwater world, animals and much more.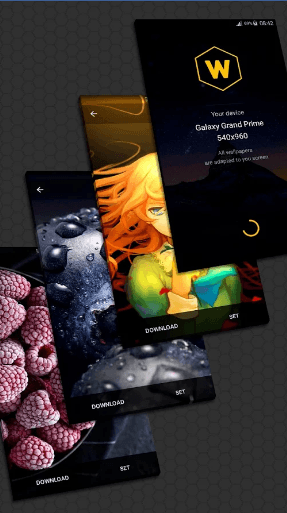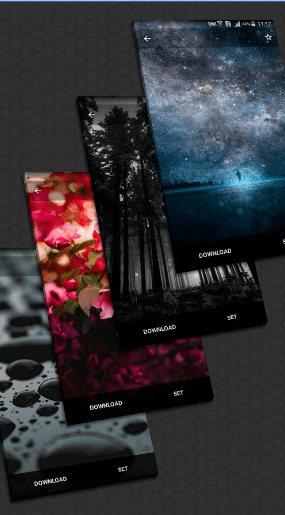 Downloads: 50 000 000 +
Customers rating:

(4.8 / 5)
GO Launcher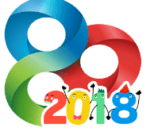 GO Launcher is a fashionable, clever and free application for Android with many themes, wallpapers in HD-quality and a smart set of widgets.
With the help of this tool, you can decorate every corner of your smartphone with themes and wallpapers that you can download from the app store. There are various categories: animals, nature, space, abstract, people, sport and many others. Here you can easily change the wallpaper in the main menu of the smartphone, as well as on the lock screen. Use smart tools, configure widgets for faster access to applications, and also use the function of recognizing gestures.
The built-in program manager allows you to block applications with a password and hide them from other people's eyes in order to protect your privacy.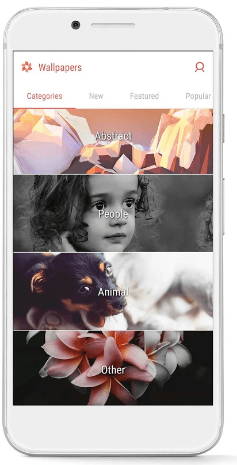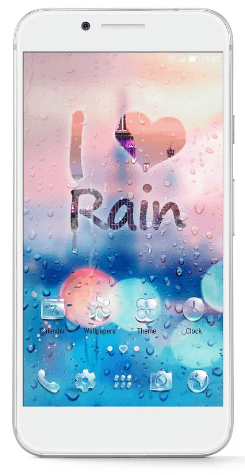 Downloads: 100 000 000 +
Customers rating:

(4.5 / 5)
1,000,000 Wallpapers HD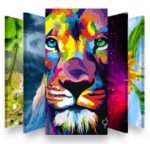 Million Hd Backgrounds is an excellent application that provides access to millions of high-quality backgrounds for your desktop. Here, you can find any picture whatever mood you have and make it look great on the screen of your mobile device. Never before it has been so convenient to work with similar programs because everything is broken down into categories.
Using these categories allows the user to quickly get exactly what he so long waited for. Open the category and get excellent high-quality pictures. Install them very simply, just click on the button in the bottom corner of the screen. This is what allows you to quickly find high-quality pictures for your mobile friend. It is possible to change their size for your screen, so you should try.
As a result, Million Hd Backgrounds is a quality collection with wallpaper of various designs. In its convenient categories, you will find many excellent images for your mobile device.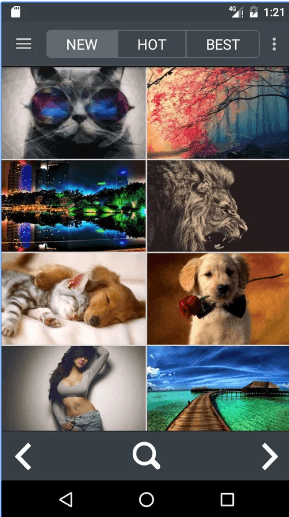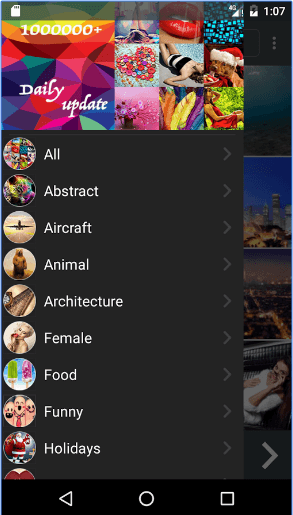 Downloads: 5 000 000 +
Customers rating:

(4.5 / 5)
ZEDGE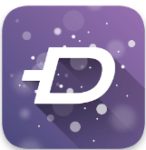 ZEDGE Ringtones and Wallpapers is an application with many wallpapers, icons, widgets and various ringtones. It will allow you to turn your smartphone into a unique accessory.
Look through and choose among millions of wallpaper made in all major resolutions – no deformation, stretching and trimming. Here you can see a huge number of themes: landscapes, abstractions, aphorisms, sports, cars, entertainment, music, animated wallpapers and much more. The application provides the ability to preview and quickly set the wallpaper for both the main menu and the lock screen.
Also, you can set your icon for each app on the device – this allows you to create an unordinary and unique menu. Replace the standard icons of the battery, calendar, communication quality, mail, contacts, set an unusual design for the clock, lock screen, and any downloaded applications.
Thanks to the "My ZEDGE" function, you can easily save your favorite sounds, icons, and wallpapers without downloading them, quickly "reach" them from any device, thanks to a single account, find many exclusive holiday themes for the New Year, Christmas, birthday, anniversary and other events on the calendar.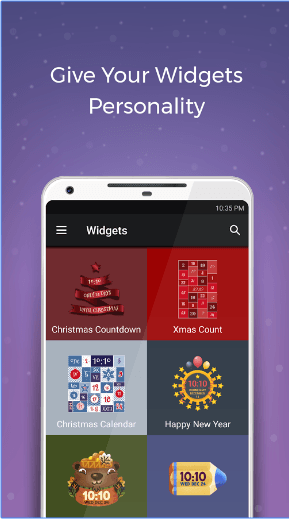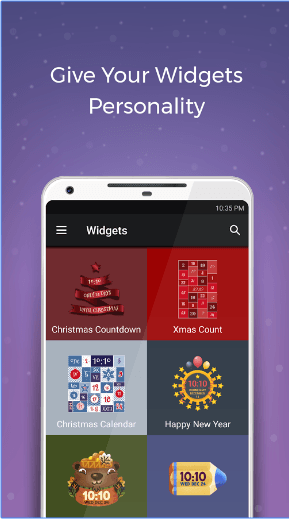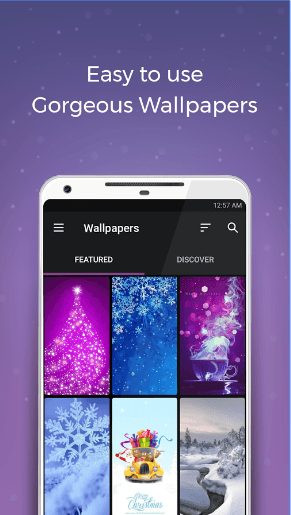 Downloads: 100 000 000 +
Customers rating:

(4.6 / 5)
Neon 2 | HD Wallpapers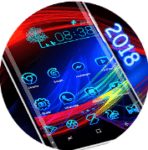 Neon 2, HD Wallpapers is a huge database of images and wallpapers for Android devices with any screen size and only high quality.
With many images in the database, you can easily select the appropriate background image for both the main screen and the lock screen. The list of pictures is updated every day with high-quality images.
Here you will find a variety of wallpapers among the 55 available categories. Boys will choose stylish 3D drawings, cars, sports, and computers, and for girls, there are themes with bright colors, fashion, hearts, etc. In the app, there is everything – mountains and lakes for nature lovers, a variety of breeds of cats, dogs and wild prairie abodes for animal lovers, attractions for avid travelers and much more.
Moreover, the application allows you to mark each holiday in a new way – be it a birthday or a New Year. Check out the holiday collection of pictures and send them to your favorite friend or beloved one.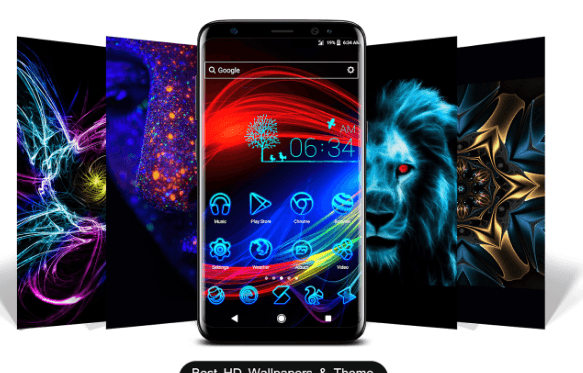 Downloads: 10 000 000 +
Customers rating:

(4.3 / 5)
Wallpapers HD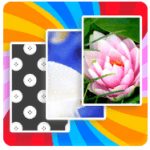 Wallpapers HD is the tool with the help of which you can decorate your gadget with beautiful HD wallpapers.
The application is the perfect solution to get free wallpapers in high resolution, thanks to unique characteristics: only the best pictures, sorting of backgrounds based on your favorite color. You will get thousands of warm and cold colors and all that for free.
New themes are added every week. With the "Lucky" button you will be able to try your luck in randomly choosing themes from an extensive collection of images. You can sort wallpapers by themes: sea, nature, sky, flowers, beach, animals, vintage, textures, etc.
Do you think you want to download it or not? Do not wait, get great wallpapers for free!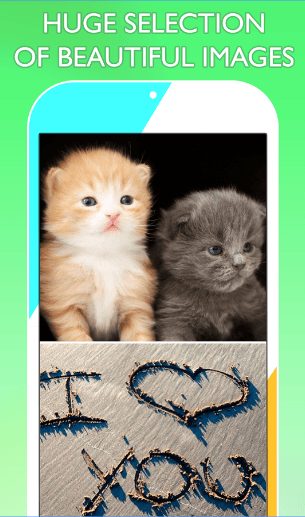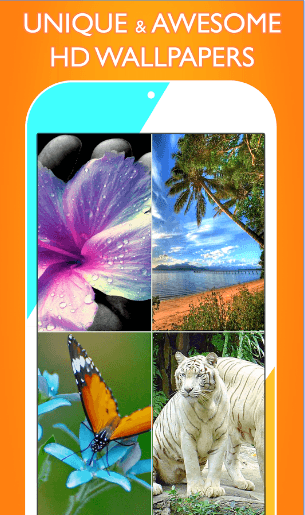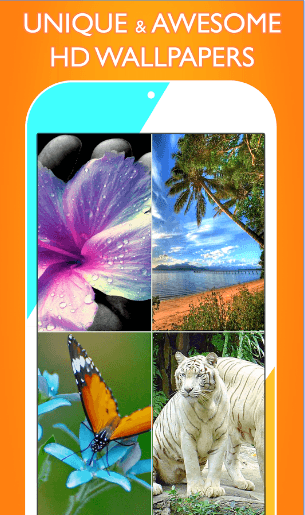 Downloads: 10 000 000 +
Customers rating:

(4.6 / 5)
Walloid: HD Stock Wallpapers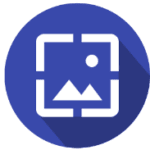 Almost every new significant gadget contains a collection of branded wallpapers. Usually, these collections are carefully chosen by designers, therefore they contain pictures of the highest quality. In the Walloid application, you will find approximately 5,000 background images from 250 devices from different manufacturers.
Install this program if you want to use background images of Google Nexus, Samsung Galaxy, HTC One and other famous brands.
Offline function. You can download images you like and use them as wallpapers for your home screen even if there is no Internet connection.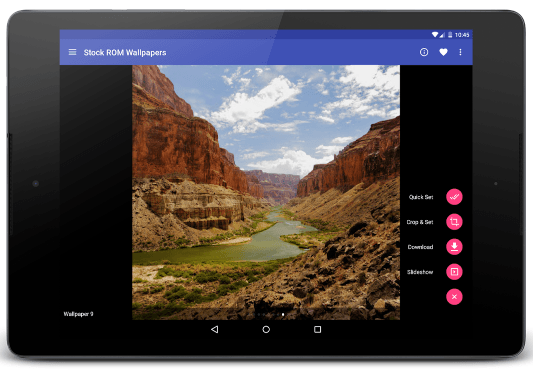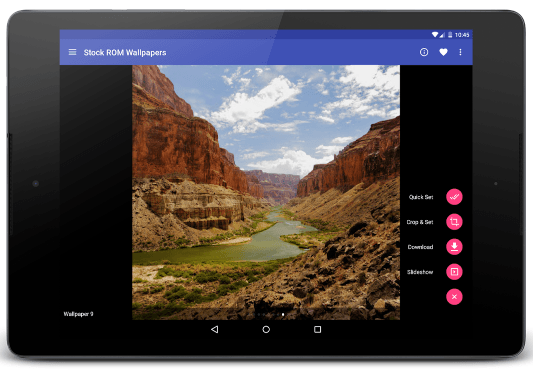 Downloads: 100 000 +
Customers rating:

(4.4 / 5)

Wallpapers HD & 4K Backgrounds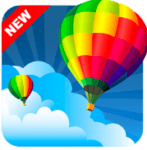 Wallpapers HD includes a good collection of wallpapers for a smartphone in high quality.
It is so simple to work with the application as it has a clear design and user-friendly interface. Just open the application, select the wallpaper that you like, click on the 'set as wallpaper' button and enjoy the new wallpaper on your screen.
You will have a possibility to decorate your phone with the latest wallpapers, share them with your friends. No other application allows you to find new wallpapers so quickly and easily as this.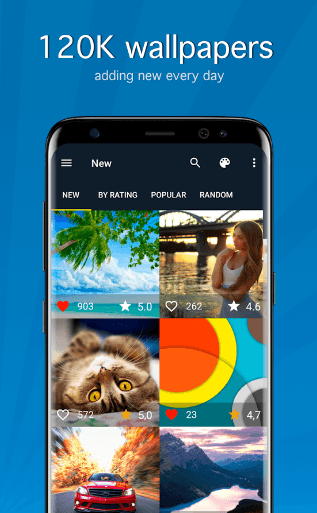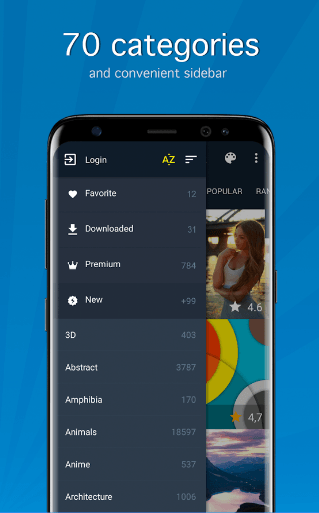 Downloads: 5 000 000 +
Customers rating:

(4.8 / 5)
WallsPy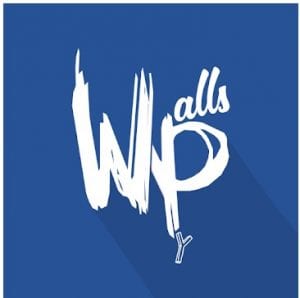 WallsPy HD Wallpapers & Backgrounds is a cool personalization project that offers everyone interested in updating the desktop of their mobile gadget access to a huge base of wallpapers.
High quality, variety, easy search, and installation (both in the usual place and on the lock screen), as well as other features, are sure to please everyone without exception.
Well, you will be able to choose from a variety of categories. Among them, there are designed for AMOLED displays, live wallpaper, as well as much more. More than 8000 options. So anyone will find something that will exactly meet his needs.
Downloads: 100 000 +
Customers rating:

(4.6 / 5)
You may also like: Best photo sharing apps for Android
A modern smartphone user opens his device several dozen times a day. It's hard to argue that beautiful wallpaper and desktop background from professional designers will be able to cheer up and bring a lot of pleasure. Let your smartphone become a source of joy, inspiration, and self-expression!