Many girls are crazy about dolls and putting them in various dresses. Nowadays, it is not necessary to have a huge box with toys, it is enough to install the game on a smartphone. Here you can read about 15 best dress-up games for girls that have the highest rate.
By the way, we have the coolest collection of the best free fashion games for everyone.
Love Nikky – Dress UP Queen
There is a lot to say about this game because its fans are not only school-age girls, but also quite adult children.
Firstly, it is not just a dress-up game. Here you dive into a fascinating plot in which real intrigues flare up in the battle for the throne.
There is also its invented world, the device of which is completely built on fashion and style. It is exciting to learn new things about each kingdom in which you will be able to travel. Each place in the game has its own unique story.
After a small dialogue between the characters, in which you learn something new about the plot, you are given a task, for example, to present a business or romantic style.
You dress up the doll in the appropriate outfit to then take part in a competition with your opponent. The more your look corresponds to a given style, the more chances of winning.
It is also possible to get acquainted with other girls who can live on the other side of the globe. The game has the option of creating alliances to participate in joint fashion missions, as well as a general chat.
Buy beautiful skirts and blouses, create new ones, take part in quests, and also decorate your own house. There is so much to explore here!
Advantages:
Magnificent 2D graphics are a piece of art.
There is a fascinating plot.
Drawbacks:
The game is not suitable for very young children.
There are paid items in the game.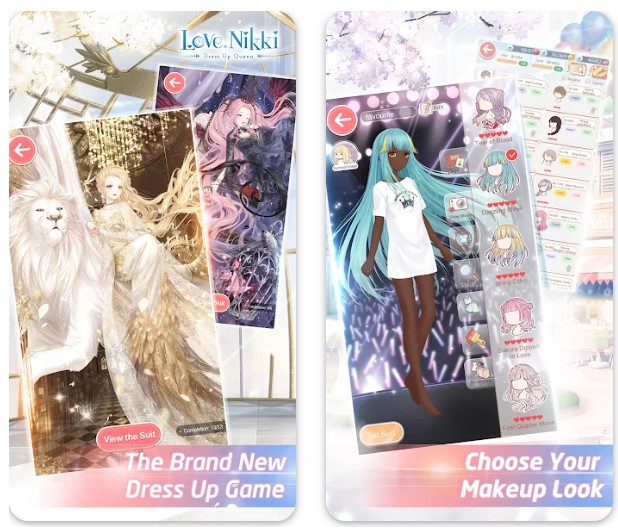 Downloads: 10 000 000+
Customers rating:

(3.8 / 5)

You may also like: 9 Best Fashion Stylist Apps For Android
Covet Fashion – Dress Up Game
Downloading this game is a perfect idea for those girls who like to compete with others and win beauty contests.
You can try the life of a designer. You can either create a new look or repeat a true fashion show because there are plenty of clothes that were used by real models.
The doll can be customized to your liking. Of course, it is essential to do her makeup and hairstyle before allowing her to participate in the competition.
However, you should try to be one of the judges in a fashion contest. Evaluate the work of other players, decide whose outfit is better and what is worse – become a fashion critic!
If you are bored of playing alone, invite your friends and conquer the world of virtual fashion together.
Advantages:
There is an opportunity to use clothes from more than 150 real brands.
Realistic doll appearance.
Drawbacks:
The game has many additional options that are bought for money.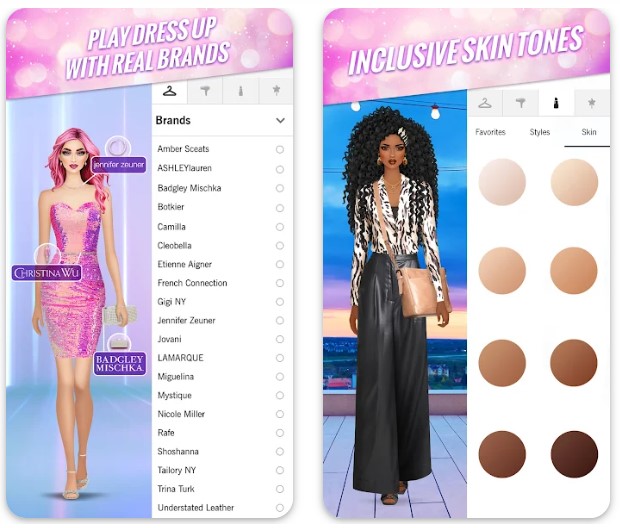 Downloads: 10 000 000+
Customers rating:

(3.9 / 5)

Lily Diary: Dress Up Game
This is a simple and cute game where you can dress up dolls.
You can easily create yourself and your friend or a whole company. Create a look of a girl or a boy.
The developers have added an unlimited number of different wardrobe elements. It is even possible to add a tail or wings to the doll. Keep in mind that the hairstyle is, perhaps, one of the main details of a successful fashion look.
Since there are no complicated fashion competitions or stories in which a girl will have to read a lot of text, you can be sure that this game will suit a small child.
After you are done with the doll outfits, add a suitable background and various cute accessories.
Advantages:
The game is suitable for small children.
There are a lot of clothes to dress up dolls.
Drawbacks: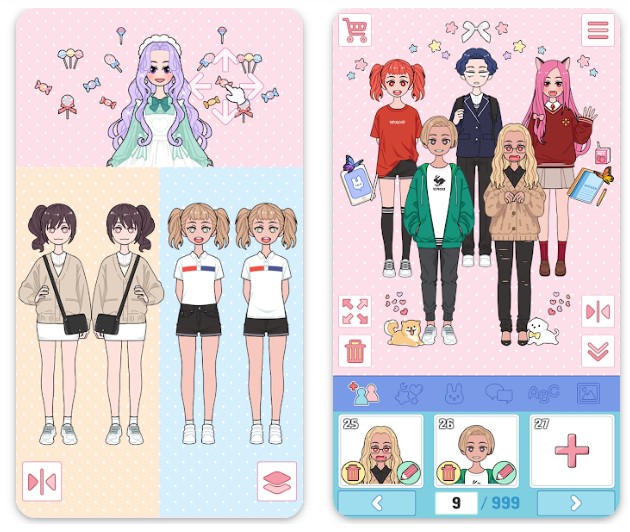 Downloads: 10 000 000+
Customers rating:

(4.4 / 5)

Fashion Fever: Dress Up Game
Develop your sense of style with this game. It will certainly be interesting for both adults and children.
Choose your model and customize its appearance. Her appearance is important. You can make her look like yourself, repeat the appearance of an actress or create a unique doll.
You will be offered exciting quests that set a theme – an outfit for a certain event. It can be anything, a wedding, a party, or a business lunch.
Do your best so that the outfit gets the highest rating because this way you will earn more game money and be able to purchase jeans, skirts, tights, or jewelry. It is always nice to get new clothes, isn't it?
However, it is possible to get coins not only by completing quests. If you want a short break from fashion shows and a race for fame, then take part in mini-games.
These are simple puzzles that will allow you to relax and get some money at the same time.
You will also have to travel to various cities around the world such as Milan, Paris, Sydney and many others. It promises to be an exciting adventure on the way to a celebrity!
Advantages:
Many items of clothing can be combined.
It is possible to play mini-games.
Drawbacks:
There are a lot of annoying ads.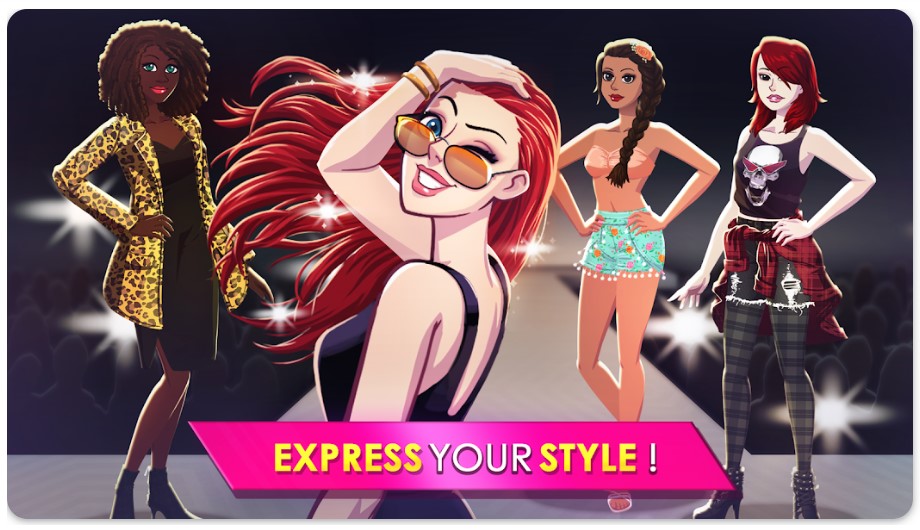 Downloads: 5 000 000+
Customers rating:

(4 / 5)

Moon's Closet dress up game
Those girls who adore bright colors, cute accessories, lace, and stylish jackets and skirts will appreciate this game. There is everything you need to create your unique doll.
Just dress up little beautiful models, and come up with looks for them. It is possible to combine items in completely different ways. Your models can be dressed as princesses, ballerinas, goths, emo, or sportswomen.
Moreover, with the help of this game, you can make your avatar. Make your appearance with the help of various tools as well as recoloring and get your little anime copy.
Children are great dreamers. That is why it would be interesting for girls not only to dress up a doll but also to play with it. It is possible to customize the background, add speech bubbles and decorate the space around the model.
If you enjoyed the doll you created, then you can save the picture. You will receive a special file, which is then installed as wallpaper on your smartphone.
Advantages:
There are more than 1000 items of clothing, accessories, and decor available in the game.
It is possible to set wallpaper with a picture of the model.
There is an option to create dialogues and situations between several dolls.
Drawbacks:
There are ads in the game.
Users can encounter bugs saving ready-made models.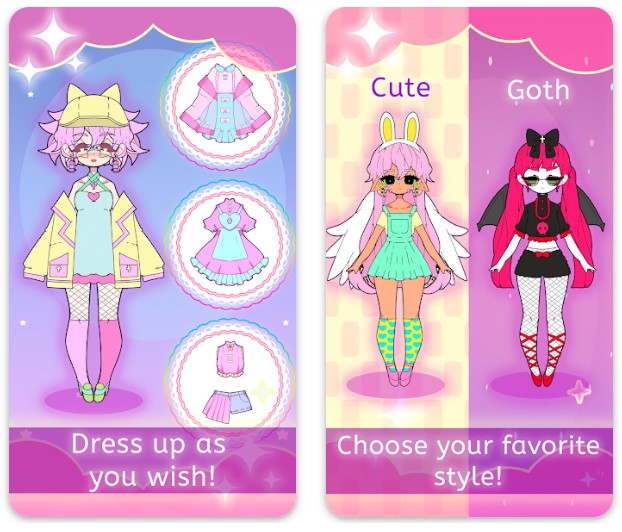 Downloads: 1 000 000+
Customers rating:

(4.4 / 5)

Super Stylist Fashion Dress Up
In this game, you take the role of a fashion stylist. Your tasks include working with clients who are looking for a beautiful outfit for various events, for example, for a date or a business interview.
To satisfy the customer's order, you need to go to a sacred place – your workshop. Here you will create magnificent looks that are sure to drive all people crazy.
First, do the makeup, then pay attention to the hairstyle. These are important components of victory.
The most significant thing, of course, is the clothes. You have a huge number of items to wear that will help you complete the task. The more you play and win fashion competitions, the more new clothes you can get.
After you have completed the creation of a new outfit for the client, you take part in the contest. Your competitors are not NPCs, but quite real people. You can invite your friends to the game to make it more fun.
In addition, the game has attractive modern 3D graphics, which look like a cartoon.
Advantages:
The game teaches children to be attentive to what other people say.
It is possible not only to dress up the doll but also to do her makeup and try on different hairstyles.
There is a system of fashion competitions.
Drawbacks:
Due to the high-quality graphics, the game takes up a lot of space in the phone's storage and may freeze.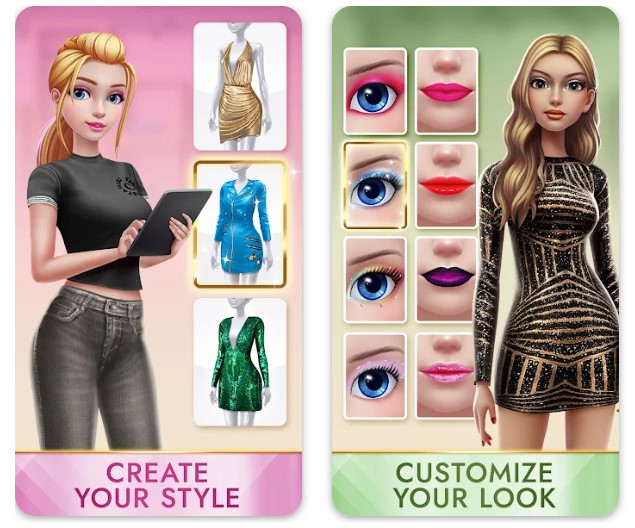 Downloads: 50 000 000+
Customers rating:

(4.2 / 5)

You may also like: 10 Best Short Hair Apps For Android To Try New Style
Momo's Dressup
It is an anime pixeled style game that is also very simple and perfect for little girls.
Create your doll the way you want. It is possible to come up with a unique style for her, as well as to change clothes to your taste. Do not limit yourself to the usual pink dresses. Experiment!
What is more, there are many different outfits in the game, some of them romantic-pink, and others strict and businesslike.
When you explore all the elements of clothing in this area, then start repeating the looks of famous characters such as Alice in Wonderland and many others.
When you create a certain number of outfits for dolls, you will receive a reward – new dresses, skirts, blouses, and so on. Mix as many clothes as possible to get a new one.
Also, try changing the background to put the doll in different surroundings. It is possible to save the resulting image.
Advantages:
The game has pixel graphics.
A large number of elements of dressing are available to players, and this number is constantly being updated.
Drawbacks:
The game can be completed in a very short time.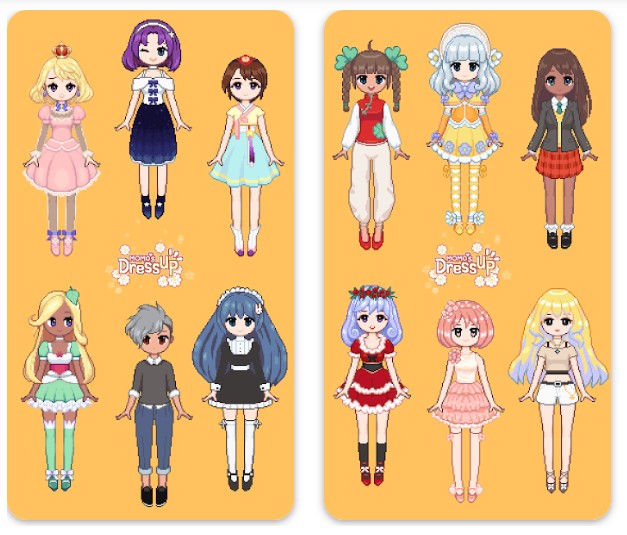 Downloads: 1 000 000+
Customers rating:

(4.7 / 5)

Fashion Nation: Style & Fame
This is an amazing game where you should develop your talent and work as a fashion stylist. Will you be able to go through a difficult path and gain fame?
The game is full of various quests. They last quite a long time, while others are only available during the day.
You should take part in these contests to get more money. It is just like in real life – work brings income. When you save enough coins, you can fill up your wardrobe with various stylish clothes.
That is why you have the motivation to make outfits stunning. And this means that makeup, accessories, and hairstyle are mandatory. Pick up bright lipstick, expensive earrings, and high heels – go to the podium!
After you have finished creating a great look and your model is ready to impress the jury, then go to the competition as soon as possible. Depending on how well your outfit fits the requirements of the quest, you get a certain number of points.
Do everything possible for the jury to give you the highest marks, because it depends on how much game money you earn and what prizes you win.
Advantages:
There is an almost endless list of clothes for fashion experiments.
It is possible to compete with friends.
This game is a simulator of the life of a real model.
Drawbacks:
Sometimes in the game, it is too difficult to win the competition without buying extra clothes for real money.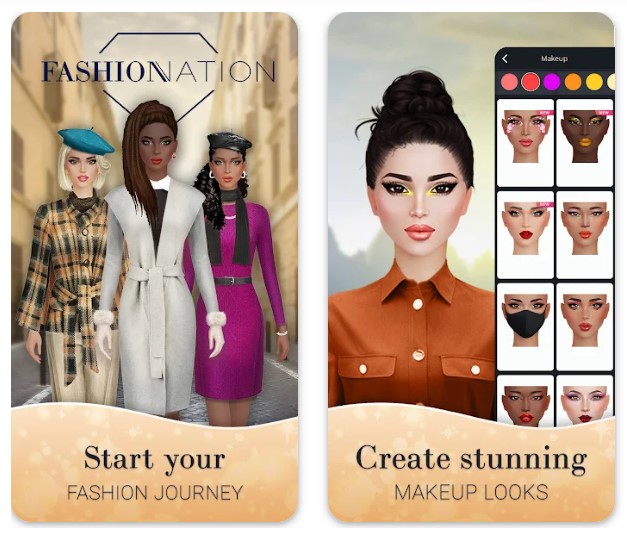 Downloads: 1 000 000+
Customers rating:

(4.5 / 5)

Pocket Styler: Fashion Stars
A gamer has an important goal and this is to have fun dressing up dolls in millions of different costumes. You will also learn what the life of a model is like and what kind of competition awaits you during fashion contests.
Imagine that now you are a fashion trendsetter. It is you who set all the trends and promotes unique fashion ideas. However, so far no one knows about it except you. Well, it is time to show the world elegant and stylish looks.
To achieve this, you will have to work hard. Attend fashion competitions, complete quests, and take part in all the activities that the game offers you. However, not only you are being rated, but you are too!
It is useful and fascinating to look at the work of other participants or even your friends and give them your assessment.
Developers often update clothing catalogs, which is why you can put together an impressive collection of shoes, jumpers, jeans, and other clothes. It is possible to dress up a model in basic, trendy, designer, or just beautiful things.
There are no limits to your imagination!
The doll that you dress up has a unique appearance that you gave her. The color of the skin, hair, the shape of the eyes, nose, and lips – you create a new standard of female beauty.
Advantages:
Beautiful graphics of the game.
There are great opportunities for customization of the models.
Drawbacks:
There are a lot of ads.
Without spending real money, it is difficult to level up.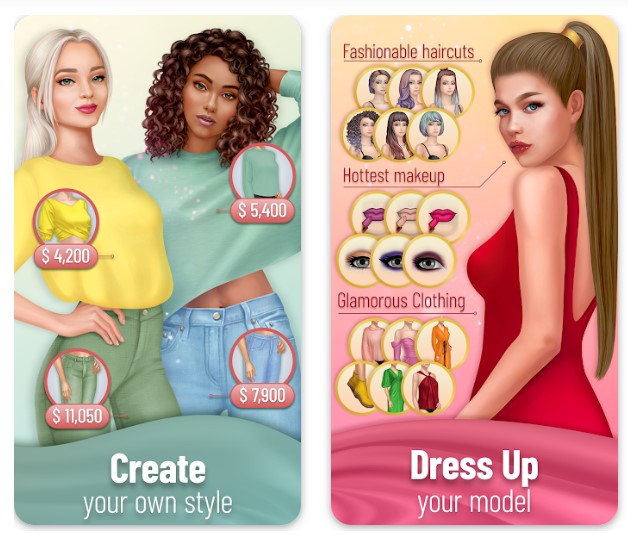 Downloads: 10 000 000+
Customers rating:

(3.3 / 5)

Dress Up Games
This is a simple game for little girls to enjoy dressing up dolls. Since there are no texts and complex tasks here, the game is quite suitable for young children, not just school-age girls.
You can dress up a doll for any occasion that you can think of. A cafe, a date, a red carpet, and even a wedding – there are enough outfits to mix and combine them.
First, choose a model that you are going to dress up. Then you get into the wardrobe, where icons with sections are located on the left side, and clothes on the right.
For example, you want to dress up a doll in trousers. In this case, choose the appropriate clothing department, and then find the pants of your dreams.
There are plenty of clothes in the game – more than 1000 items! You will never get bored of creating looks for your models.
After you finish all the things in the dressing room, send the doll to the red carpet, a wedding, or another event. You should choose a suitable background, as well as add various accessories. It is even possible to let a doll holding a guitar in her hands!
Advantages:
The game has 30 beautiful models to dress up.
Simple gameplay for the little children.
Drawbacks:
There is a lot of annoying ads.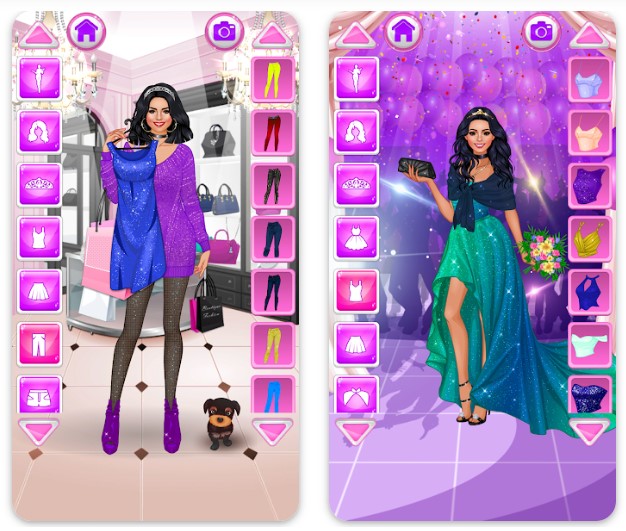 Downloads: 50 000 000+
Customers rating:

(4 / 5)

Alice Closet: Anime Dress Up
This game combines dress-up games, a fascinating romantic plot, amazing painted characters, and an infinite number of outfits.
Be sure, this game perfectly realizes the need for dress-up. There is everything you require for this. It is possible to dress a doll in a million different outfits. Do not limit yourself to one style, because it is so amazing to try new things.
You will find a lot of clothes to create the outfit of a fairy, vampire, warrior, princess, and other fairy-tale characters.
In addition, it is very convenient that the doll has a cozy dressing room. But your home is not one room. That is why the developers have added the ability to customize your house.
This game is kind of a work of art. The artists did their best to make the characters incredibly beautiful.
The game will be interesting to anime fans, as this style is taken as a basis. However, even if you do not know what Japanese animation is, you will still enjoy the appearance of the game!
What is more, you combine dress-up and an interesting story. Girls love fairy tales about princes, and here they can immerse themselves in royal intrigues, travel to different countries, and meet amazing people.
Also, you can open your clothing store. It is not only fun to play but also teaches some economic rules.
The store should be improved and you should welcome guests and listen carefully to their requirements. The more time you give to the business, the more income and rewards you will receive!
Advantages:
Amazing graphics.
Exciting romantic stories.
There are many opportunities to combine outfits and create new ones.
Drawbacks:
The game takes up a lot of smartphone storage.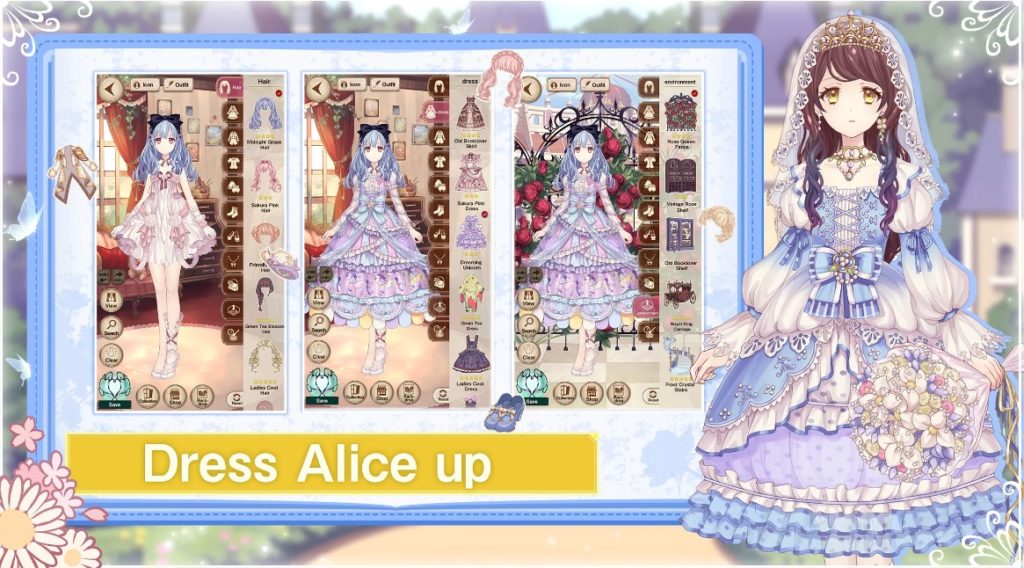 Downloads: 100 000+
Customers rating:

(4 / 5)

Time Princess: Story Traveler
This is a game that quickly became popular among girls of different ages. It is highly appreciated even by adults because the game has many advantages.
To begin with, the magnificent 3D graphics are not worse than console and computer games.
This is a high level of detail as well as bright colors. The game resembles a cartoon with its graphics, which is why you will never be annoyed by poorly drawn lines, monotonous shades, and primitive animations.
Secondly, the plot and dress-up are intertwined with each other. You can choose one of the stories that the game provides. They are designed for children, so the game is safe for girls of any age.
However, the plots are so fascinating that older siblings may well join their younger siblings and play together.
During the story, you have to dress up the doll in various outfits that correspond to a given task.
For example, the prince invited you to the ball. In this case, you should wear a gorgeous dress with frills and an elegant pattern, do your hair, and pick up jewelry.
Then you will impress the prince and most likely your love story will have a happy ending. However, if you are dressed in a gym suit, the prince will be unpleasantly surprised.
The main character has her room, which has a menu function. Tap on the closet to start dressing up. Or click on the book if you want to immerse yourself in a new romantic, mystical, or detective story!
And remember that your choice matters and can change the course of history.
Do not you have a cat at home? But he will be in the game! Get a kitten. You can choose a breed and color, and then play with it anytime you want. Your cats can be sent to get you materials.
Advantages:
Great stories immerse you in different historical periods.
There is a possibility of customization of clothes.
Players can get cute cats.
Drawbacks:
The game takes up a lot of space in the phone's storage.
There is a lot of paid content.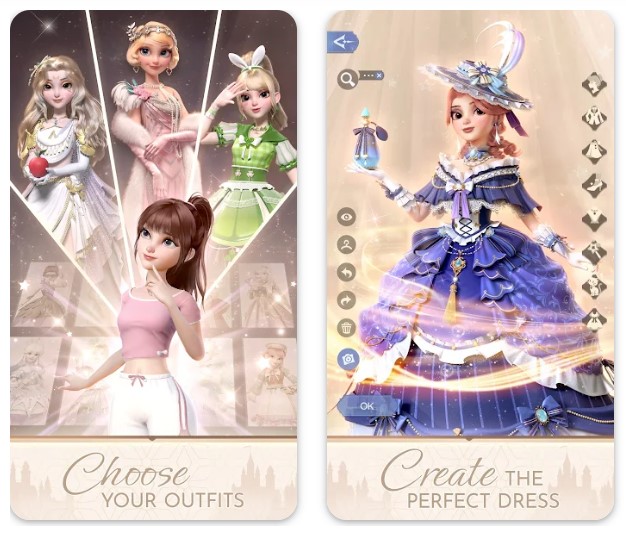 Downloads: 10 000 000+
Customers rating:

(4.7 / 5)

Fashion Empire – Dressup Sim
This is a modeling business simulator in which you will not only dress up models for various events but also open your boutique!
Your main task is to pass the levels by dressing the models and sending them to the podium. You have access to a huge catalog of various stylish clothes. Hundreds of clothing brands are waiting for you to conquer the fashion world with new stunning looks.
When your model has already appeared on the podium, get ready to control her. Adjust poses and take photos to become famous!
Also, it is possible to start your own business and sell fashionable clothes. You can open boutiques all over the world: Milan, Paris, New York, and many others. Create a unique interior for each store and do everything to get more income.
Advantages:
Excellent 3D graphics.
There are many possibilities for dressing dolls.
It is possible to run your own fashion business.
Drawbacks: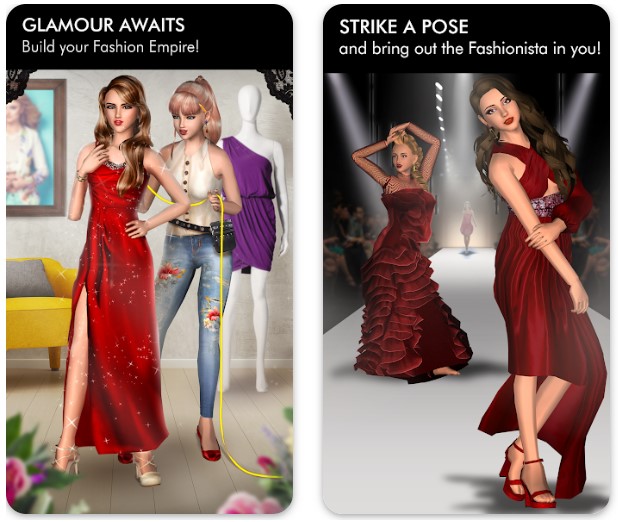 Downloads: 10 000 000+
Customers rating:

(3.8 / 5)

You may find these articles interesting: best dress-up games for boys, best dress-up games for adults
Super Wedding Dress Up Stylist
This is a game in which the gameplay is easy. You have to prepare the girl for her wedding. Make this happy event unforgettable by dressing up the bride and bridesmaids in stunning dresses.
Choose one of the gorgeous outfits for the bride. Keep in mind that some dresses and suits are only available for coins. You can earn game money by dressing up more girls for their weddings.
It is also very important that the bridesmaids should look great too. Pick up looks for them that will be in harmony with the bride's outfit. Do not forget about makeup, hairstyles, and jewelry. Everything should be perfect – it is a wedding!
After you finish working on the outfits and the dolls are ready for the event, you can compete with other players who also dressed up their brides. These are real players, so you should invite your friends to the game to make it more fun.
In the end, you have a chance to take a group photo of the bride, groom, and bridesmaids!
Advantages:
In the game, you can choose outfits from hundreds of different wedding suits.
It is possible to dress up bridesmaids.
Drawbacks:
There are a lot of ads in the game.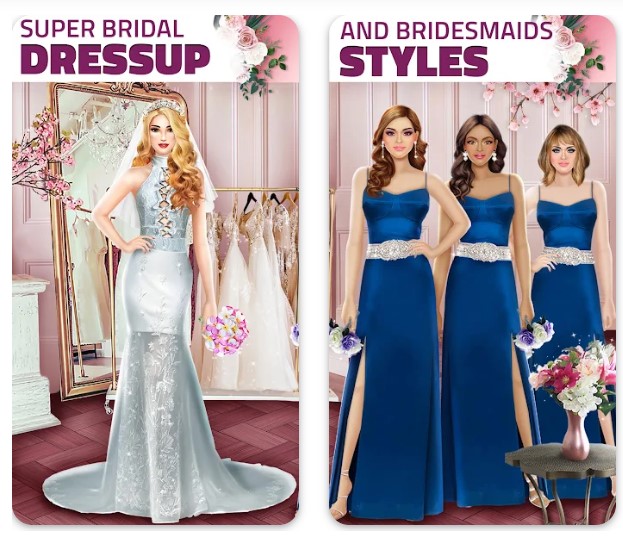 Downloads: 10 000 000+
Customers rating:

(4.3 / 5)

You may also like: 11 Best Ring Design Apps For Android
Girl Globe
In this game, you have to dress as a model, go through fascinating romantic stories and gain popularity and fame.
South Korea and k-pop are getting more and more girls to love. That is why this game will be interesting to them.
You have to go through a lot of quests in which you dress up the model in the appropriate style. It can be rococo, street style, romantic, and much more.
Here you will find an infinite number of clothes for all occasions that a person can only meet in life. However, the most interesting fact is that the game has added elements of clothing that completely repeat the real outfits of models from real life.
Be an ambassador of one of the hundreds of brands represented in the game. It is so exciting when the model you come up with a stunning look, make her a photo shoot, and travel with her now flaunts on the covers of fashion magazines.
In addition to the main story in which you have to play a lot of fashionable challenges, the game also has a lot of additional quests. You will never get bored!
Advantages:
Beautiful 2D graphics with soft colors and shades.
Items of clothing of real brands.
It is possible to immerse yourself in a fascinating story.
Drawbacks:
There can be bugs and freezes in the game.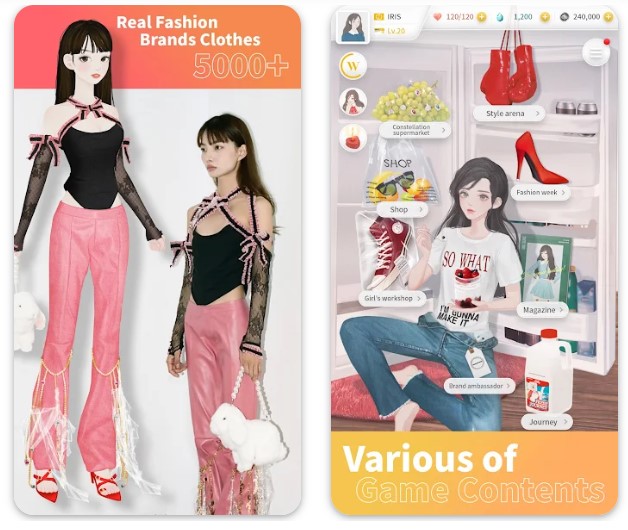 Downloads: 100 000+
Customers rating:

(4 / 5)