If you're reading this, chances are you're a fan of massages (and who isn't?). Well, you're in luck, my friend! We've done our homework and tested out various apps, all for the sake of bringing you the best of the best.
We've rounded up the best massage finder apps for Android apps you could try. These apps are here to ensure you'll be able to relax and unwind, wherever you are. Some of these even let you book fitness appointments and other wellness treatments.
Whether you need of a Swedish massage, a deep tissue rubdown, or even a reflexology session, these apps have it all. You may rather find the nearest massage studio or book a treatment right at your home. Say bye to endless scrolling through reviews and hello to finding the ideal therapist in no time. Let's get into it!
Mindbody
This is an all-in-one app that is here to save your wellness game. This beauty has a UI so intuitive, that it's smoother than silk. You'll be finding fitness classes, wellness services, and beauty appointments like a boss.
And the filters in this app are pure wizardry! They'll help you discover your dream workouts, appointments, and services faster than ever. The app truly has it all, from intense sweat sessions to blissful massages and face-pampering treatments. Plus, it's your one-stop shop for booking everything. Convenience level: expert!
Brace yourself for drop-in classes at special rates – for real! Try out new studios or classes without any fancy memberships. And hey, why not drag your workout buddy along?
Now, let's talk about that activity dashboard. It's like having a personal cheerleader right on your screen, counting calories burned, classes attended, and all your stats. Who needs a personal trainer when you have this one? Oh, did we mention you can sync this app with your fitness tracker? It's like having a wellness sidekick that always has your back. And it doesn't have any additional costs: you're only paying for the services.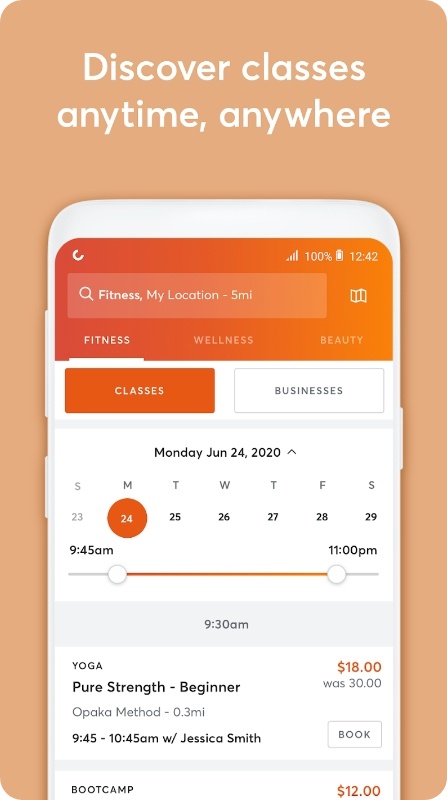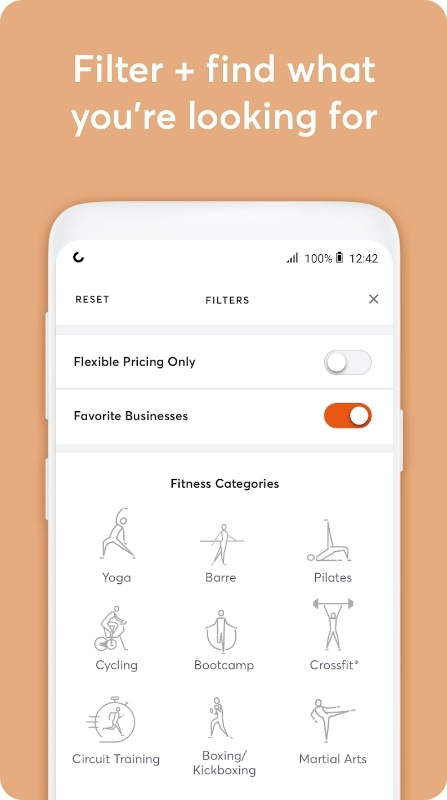 Downloads: 5M+
Customers rating:

(4.4 / 5)

You may also like: 11 Cool Restaurant Finder Apps
Urban
Tired of the appointment hustle and being stuck in boring traffic on your way to beauty services? Say bye to that headache! This app is your ultimate solution to all the chaos.
Here's the deal – the app has a mind-boggling range of over 50 services to pick from! Massages, beauty treatments, osteopathy, and even physiotherapy – they've got it all! No more waiting in queues or worrying about the quality you'll be getting. The app's smooth UI guarantees zero wait times or elevator music.
And these messages are pure bliss, guaranteed to make you forget the world exists. Their pregnancy and sports massages? Absolute game-changers, really! They even provide spa-like experiences through online sessions.
The osteopathy and physiotherapy options are next-level. Need expert rehab and recovery without a GP referral? Urban app to the rescue. And the best part? Pay-as-you-go, making it super accessible and convenient.
You'll be able to get lowing facials and flawless nails, all from the comfort of your own home! Their hairstyling options are salon-grade, but guess what? They come to you! Dreams really do come true!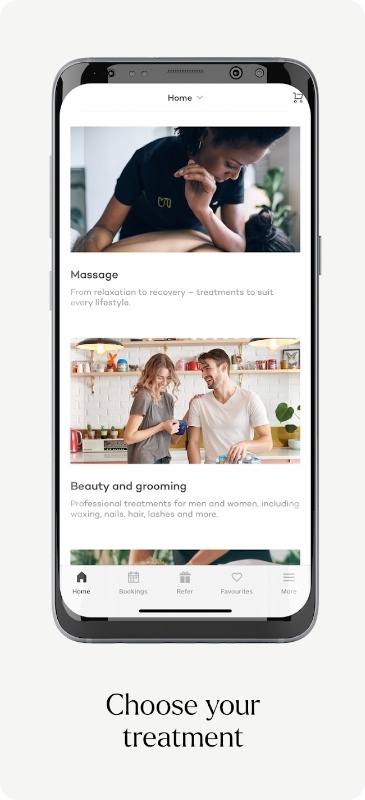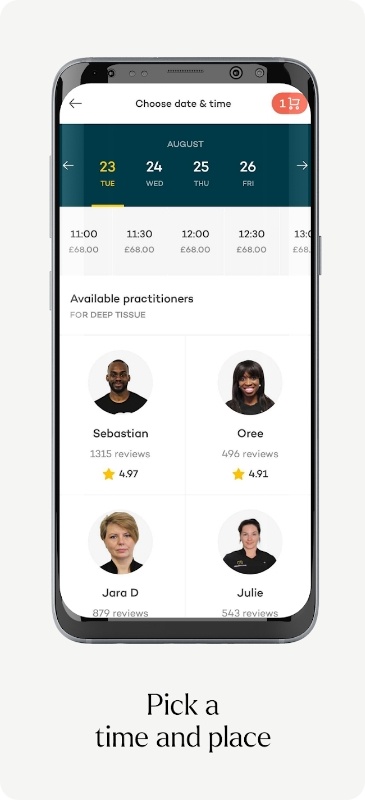 Downloads: 100K+
Customers rating:

(3.8 / 5)

Zeel In
On the hunt for the epitome of in-home massages? Give this app a try, then. It has got it all – 10K+ skilled therapists at your beck and call 24/7 across 85+ major metro areas. And get this, you can even pick the gender of your preferred massage magician!
And the app knows first impressions matter. They'll send you a confirmation complete with your therapist's pic and bio. No unexpected twists here! And guess what? Your humble abode is about to transform into a spa paradise – a massage table and all. Sit back, unwind, and let the magic commence.
It's also all about the safety. The app is even crowned the most-trusted name in massage by US Spa and magazines, so you can rest assured you're in truly capable hands (literally). And if you need an extra dose of reassurance, just read the raving reviews. The app sets the gold standard for both customers and therapists.
And how about a massage membership for the ultimate bliss? Regular massages in the comfort of your own home? Yeah, the app lets you do that too.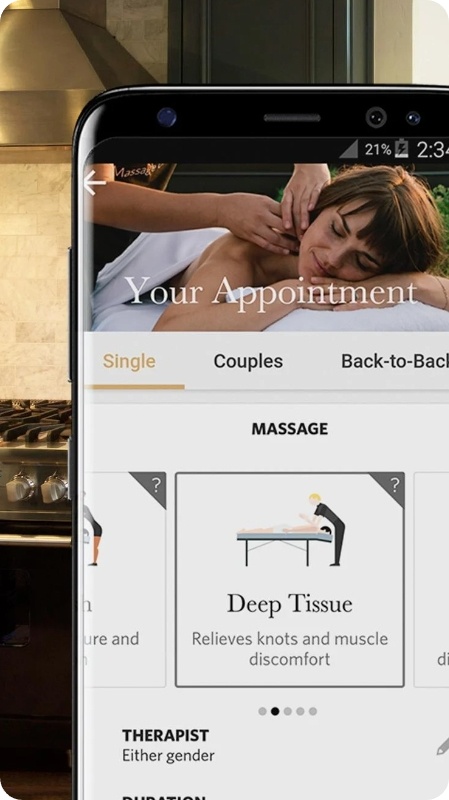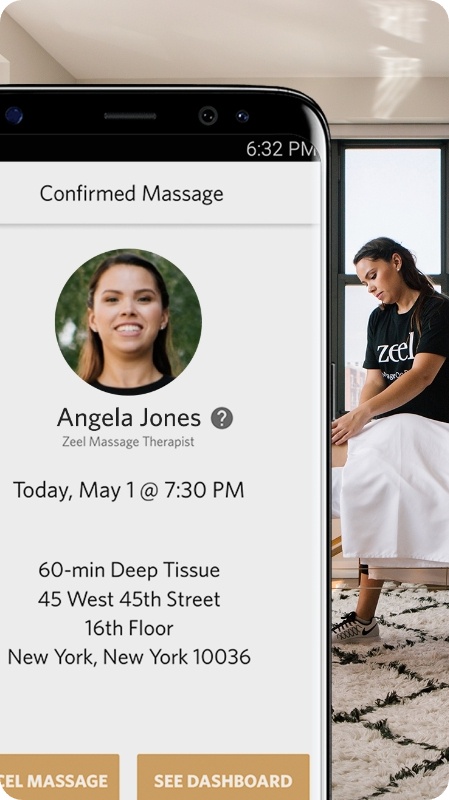 Downloads: 100K+

Soothe
Looking for a luxurious spa experience that comes to you in your pajamas? This app will make all your dreams come true.

This app is like your personal spa matchmaker, making custom and personalized exp just for you. Pick your service, time, and location – and voila! A top-rated specialist will show up at your doorstep, ready to treat you like royalty. It's like magic but with spa treatments!
But what sets it apart from the rest? It's all about the A-team of wellness gurus and their commitment to safety. With a trust & safety team that could rival a breeder of royal corgis (seriously, they're that good), only the top pros make the cut. So you can relax and indulge, knowing you're in good hands.
And the app knows how to take pampering to the next level. Throw a spa party, surprise your pals with gift cards, or earn free services by referring them. You can celebrate a bride tribe or simply spoil yourself rotten with the squad. Go big or go home, right?
They've got all the services you may think of. Need a neck treatment or hot stones that feel like heaven? Done! And they've carefully curated products from wellness providers that are top-notch, too.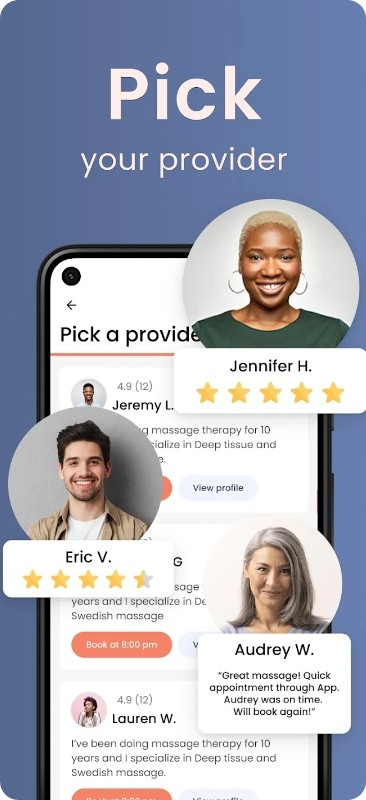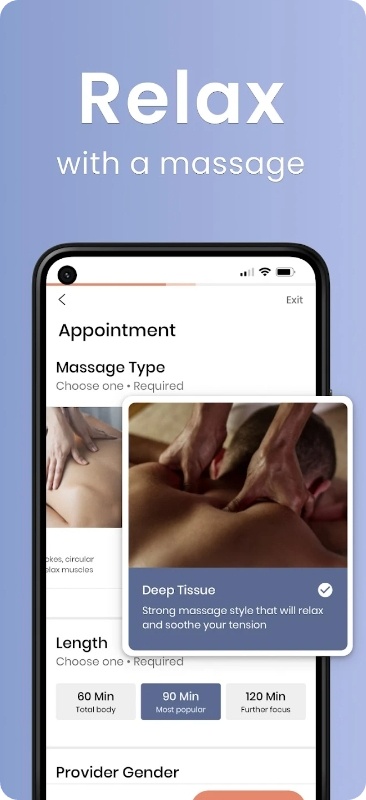 Downloads: 100K+
Customers rating:

(3.8 / 5)

RLAX
Whoever thought massages were just a fancy luxury clearly hasn't discovered this app. It brings massages to your doorstep, hotel room, or even your office cubicle. These therapists work their magic, turning your tense body into a state of pure relaxation and bliss – like wizards with hands!
The app goes the extra mile to ensure their therapists are top-notch. They are trained and accredited, providing the highest quality treatments. And guess what? The app takes care of its therapists too, offering fair pay and benefits. It's a win-win situation!
Now, let's talk about the real deal – the treatments. From dreamy aromatherapy oil massages to skin-rejuvenating facials, and stress-busting head massages – the app has it all. And here's the cherry on top, it's as easy as a few clicks, no more frustrating calls or confusing websites.
But here's where the app truly stands out: its mission is to make wellness accessible to everyone. Busy moms, stressed-out executives, and weary travelers, this app will be a gem for you. And you won't have to pay for anything except for the services.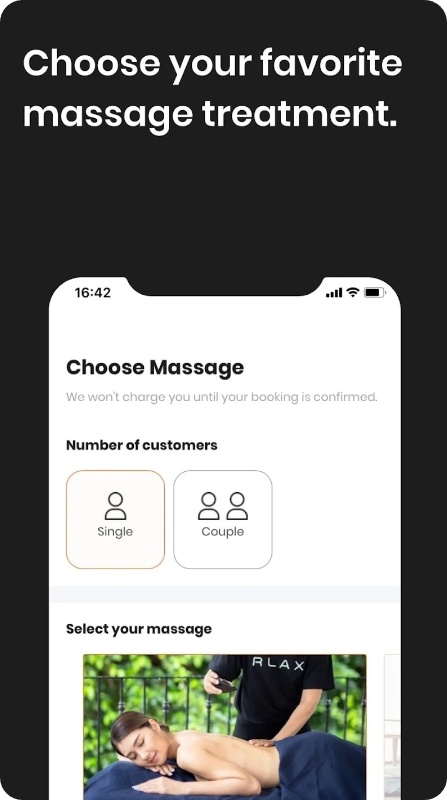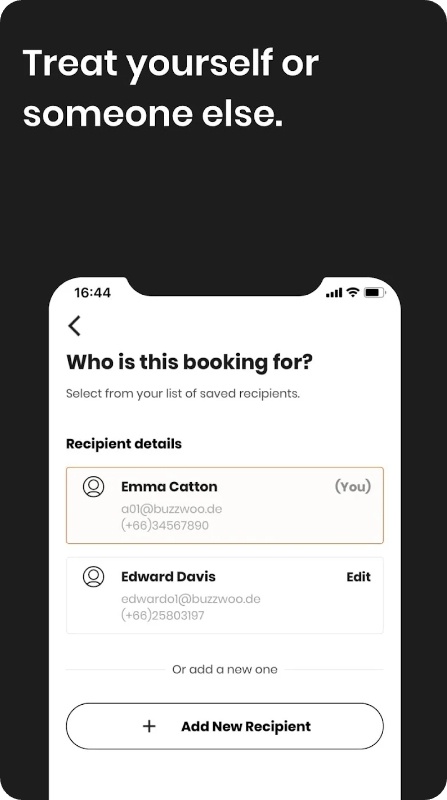 Downloads: 10K+
Customers rating:

(4.5 / 5)

Check also: Top 10 Sleep Talk Recorder Apps
Blys
If you're reading this review, and you love a good massage, then stop everything you're doing and get this app now. Seriously, it's that good.

Let's start with the basics. Convenience is key, and this app nails it. It has over 2K qualified and insured providers at your fingertips, you can find an ideal massage, facial, or yoga session to suit your needs. The app makes it easy to book and pay, and you can even track your provider's arrival in real time. No more waiting around wondering if they'll ever show up.

But what really sets it apart is the level of quality and care that goes into every treatment. From Swedish relaxation to deep tissue, the providers are top-notch. And if you need smth a little more specialized, like a prenatal massage or lymphatic drainage, it has experts in every field ready to help you feel your best.

And let's not forget about the convenience factor. The app providers will come to you, wherever you are. No more rushing to make it to a massage appointment on time, or worrying about parking and traffic. Whether you're at home, in a hotel room, or at the office, the app makes it easy to take care of yourself and feel your best.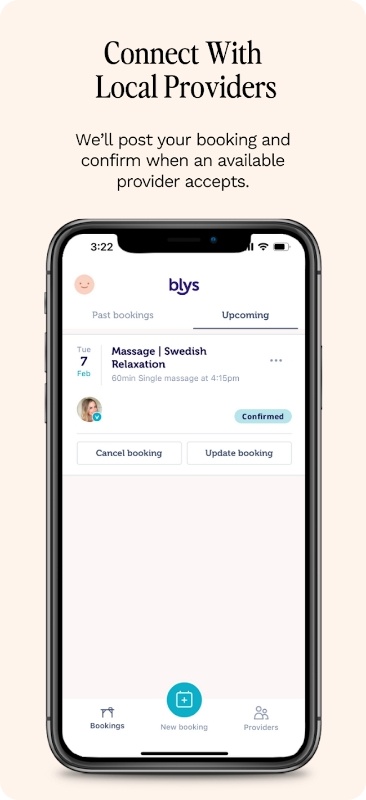 Downloads: 10K+

Relaxgo
This app is the ideal solution for all your relaxation needs. From the moment you open the app, you're greeted by a friendly UI that makes booking a massage a breeze.

First off, let's talk about the variety of treatments available on the app. Whether you're in need of a deep tissue massage to work out those pesky knots, or a soothing treatment to ease your mind and muscles, the app has got you covered. Plus, all of their therapists are certified and insured, so you can trust that you're in good hands.

Another aspect that we love is the seamless payment gateway. No hidden fees, no sneaky charges, just a stress-free transaction that allows you to sit back and relax. And isn't that the whole point of booking a massage in the first place?

But what really sets the app apart is the focus on wellness and self-care. The app makes it easy for even the busiest of people to take some time out of their day to prioritize their well-being. And with reviews from other users readily available, it's easy to find the perfect specialist to cater to your specific needs.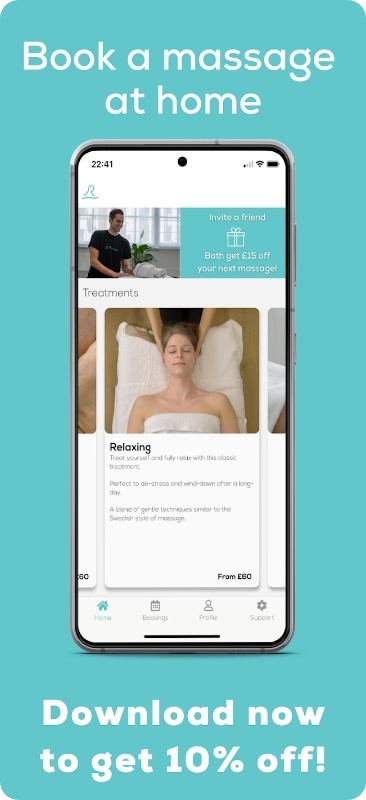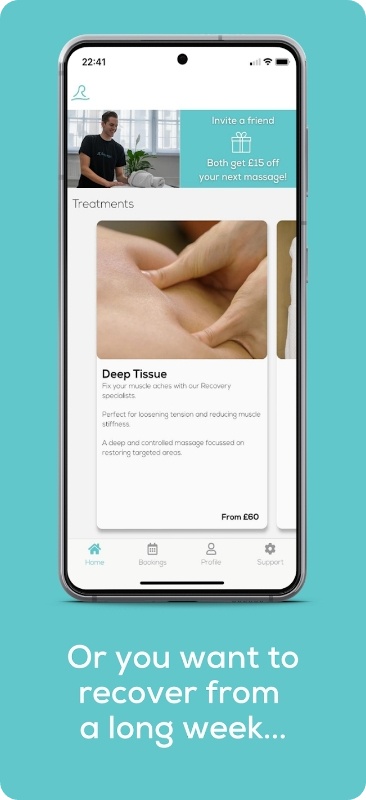 Downloads: 10K+

Massage Therapists in My Area
On a quest for the ideal massage therapist? Pain in the neck, indeed! But this app is here to rescue you! The scope of therapists here is seriously impressive. Scroll through countless profiles, comparing prices, ratings, and specialties until you find the match.
And the best part? No need to share your number! Just use the in-app live chat or VoIP calls to converse with your therapist and schedule an appointment. It's like having a pocket-sized personal assistant!
The app comes with real-time maps and a comprehensive list of all available experts in your area. No more aimless wandering, hoping to stumble upon a spa or massage center. With this app, you'll always know exactly where to go for your next appointment.
And let's not forget about confidence and safety. Read reviews and exchange private texts with therapists before booking a session, so you can confidently make an informed choice. Plus, all therapists are thoroughly checked by the team, putting any concerns about quality and safety to rest. The UI is simple too, so no worries here.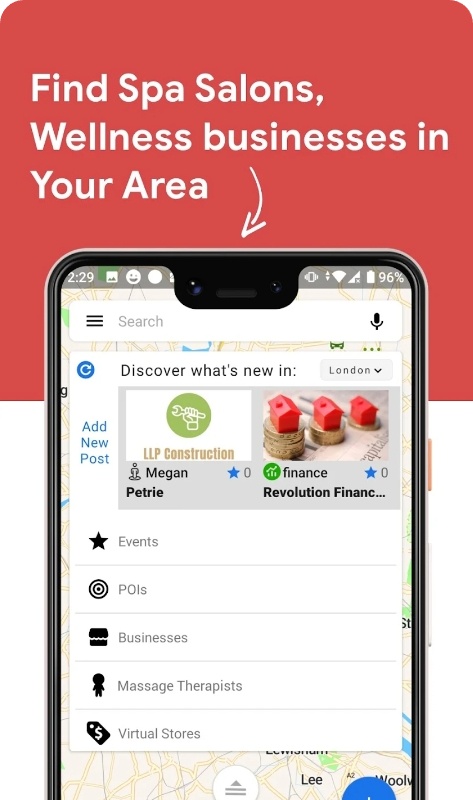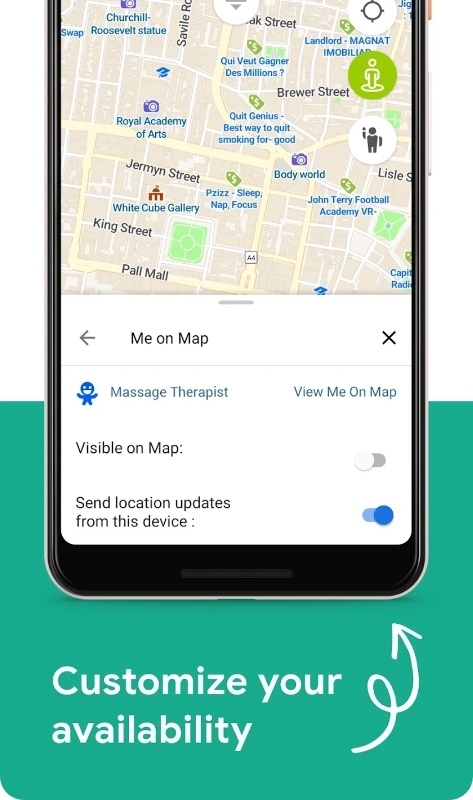 Downloads: 10K+

You may also check: Top 10 Workout Timer Apps
Bigtoe
To wrap up, we have this gem of an app that lets you get to-notch treatments without leaving your house.
The app makes booking a massage therapist or a yoga teacher as easy as it can be. No more phone calls back and forth, no more confusion about the therapist's gender, location, and availability. Just pop in your details, and voilà, you're done!
The providers are super quick in accepting your request which is great if you're in a hurry. And you don't have to worry about being late for your appointment, because the providers show up 5-10 mins early! They could give your punctual friend a run for their money. You just sit back and relax, knowing that you have five extra minutes to enjoy the tranquility of your home before the therapist works their magic.

Now, let's talk about safety. The app has got your back, literally. All providers go through a background check to ensure that they're experienced, certified, and most importantly, safe to have in your home. Oh, and don't just take our word for it, you can read reviews from other customers to see their experiences firsthand.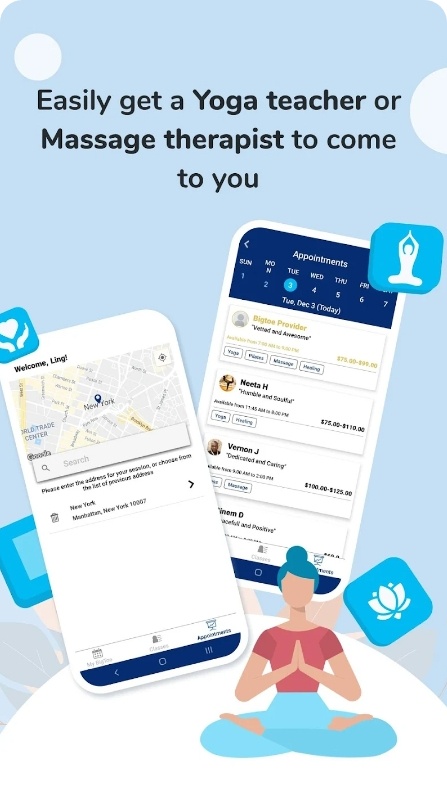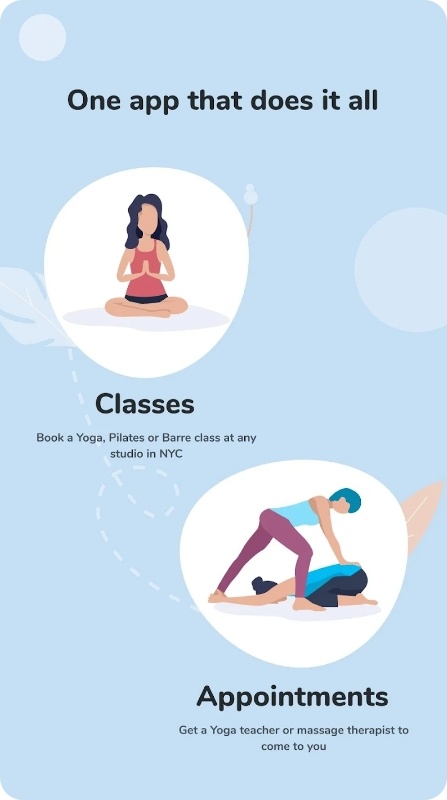 Downloads: 5K+
Customers rating:

(4.4 / 5)