To make your application stylish, you can use a special theme. The theme is a collection of styles that provide a professional and eye-pleasing look to the application. Unfortunately, while using the default Android messenger it is not possible to change its background. So, what can we do? There is a way out, certainly.
You can install one of the most popular texting apps from Play Market and use it by default. Such apps have multiple options including changing message backgrounds. Or it is also possible to download an additional program and with the help of it, you can define your own style and theme for the chosen application. In this post, we offer you those apps that add some amazing themes and backgrounds to your messenger.
You may also like: 11 Best SMS blocking apps for Android
Handсent
The Handcent SMS application is a powerful tool for managing SMS / MMS. The program has just a huge variety of functions, and fine-tuning of the interface and design allows you to create a completely unique design that will suit you.
The ability to interact with the online service (use the vault, create your own records, backup) makes the application the best in its class. The application can be downloaded directly from the Android Market. The application is installed like any other without additional user input. After installation, the application icon is displayed in the main menu of the smartphone and you can start using it as a messenger.
Handcent SMS allows you not just write a short text message, but make it colorful. This application offers a large set of functions that make it easy to create SMS messages.
Handcent Themes – this function allows you to download additional themes for the design of the application. Note that there are a lot of themes and you will be able to find a theme to your liking. There is also a section My themes which allows you to save your own theme and import it at any time. This set of settings allows you to fine-tune the appearance of the application, up to changing the font size and color.
The Handcent SMS program is without any doubt one of the best in its class. When you use it, SMS for you will become something more than just a short message. A huge number of settings and beautiful design – all to the last point pleases in this application. The closest competitor of the application is GO SMS Pro, which is also free and has no bad functionality.
Downloads: 1 000 000 +
Customers rating:

(4.1 / 5)

Messenger for SMS
Messenger for SMS is your best tool for exchanging messages. Messenger for SMS is a simple, intuitive, personalized, and fun application.
SMS theme setup:
Tons of amazing message themes
Customize background as you like
Customize text messages, SMS bubbles, color, font, etc
Use your photo as wallpaper or select wallpaper from photo gallery
Messenger for SMS includes countless themes, fonts, wallpapers, ringtones, call functions, and everything you need, unlimited text, voice, 3000+ new smileys, funny faces, stickers, GIF files.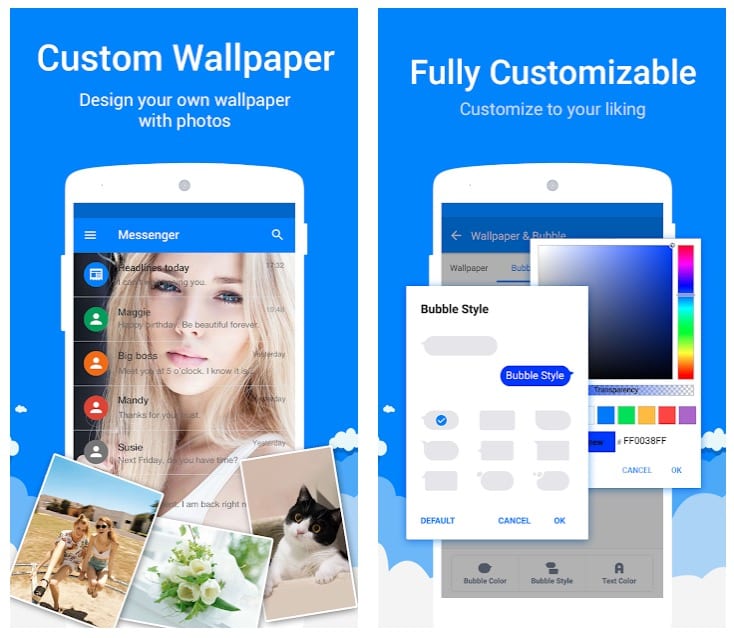 Downloads: 10 000 000 +
Customers rating:

(4.2 / 5)

Go SMS Pro
Go SMS Pro is another advanced SMS-client. It has a greater number of different settings, a large list of downloadable themes (here you will find both paid and free). There are several basic functions: setting up pop-up windows with the ability to respond quickly, blacklisting, sending SMS on schedule, huge options for customizing the interface – you can customize practically everything.
In the settings of changing the appearance of the app, you can select a theme for the application (here is its own theme store), change fonts, and also fine-tune the appearance of the dialog. See for yourself: you can adjust the font size and color of messages, contacts, time, select the distance between lines, wallpaper, and even the color of the message separator.
If you change the settings, the program will prompt you to save them in a separate file. You can change almost every item, up to the location of "bubbles" of incoming and outgoing messages, as well as the automatic turning on of the virtual keyboard (convenient if you go into dialogs only to send a message).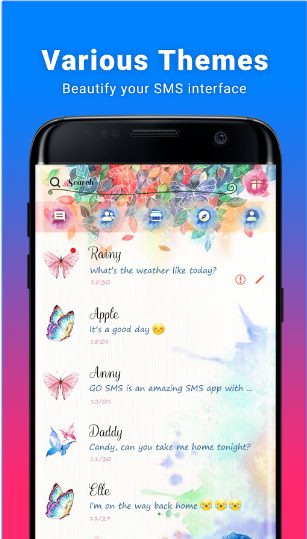 All in all, it is an excellent program, with wide possibilities for customization and a perfect store of its own themes.
Downloads: 100 000 000 +
Customers rating:

(4.4 / 5)

If you still not satisfied with the themes offered in the Go SMS PRO app, you can use an additional program which is described below:
GO Keyboard
The GO Keyboard application is the number one keyboard in the online market for digital technologies and applications for Android devices on Google Play.
GO Keyboard is an application that allows you to use a keyboard with Emoji support, better automatic text correction, and a very user-friendly interface. The keyboard supports more than 60 languages and its database is open for replenishment by other languages according to user requirements. Symbols from the keyboard work with all popular applications.
Colorful themes and useful plugins.
There are already over 10,000 colorful, interesting, and really bright themes on the market that can work with GO Keyboard! And the program is replenished with new free themes every week! This gives unlimited possibilities for individualizing the appearance of the keyboard and the interface of your smartphone as a whole.
Also, the GO Keyboard application has several specifications that make your typing text interesting, and, most importantly, a fast process. It's about the possibility of using voice keyboard control and voice recording. You should try it!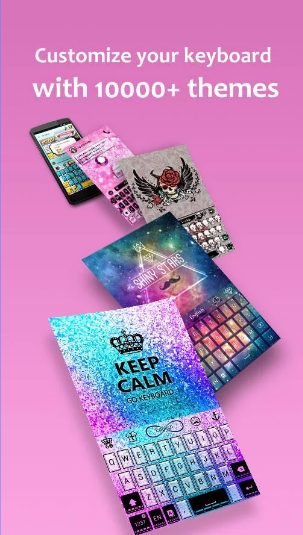 The GO Keyboard application is constantly evolving and supplemented, taking into account the wishes and comments of users.
Downloads: 100 000 000 +
Customers rating:

(4.4 / 5)

Although we have described the most famous additional app for Go SMS Pro, there are a lot of other additional theme apps for Go SMS Pro on Play Market that you can use too. For example:
Clear Water For GO SMS and many others.
Mood Messenger
Mood Messenger will appeal to many. Emoticons, intuitive emoji input by word with the appropriate emotional color, fun interface, themes, and built-in Internet messenger – everything says about it. Mood Messenger must be assigned as the default application for working with SMS.
The application interface is two-windowed with the sidebar on the left. In the first – chain of messages, in the second – contacts, including contacts of Mood. Yes, the application has its own server and it's free. In the sidebar on the left, you can adjust the photo, specify the phone number, create a nickname and upload an avatar. Also, you can set up a blacklist, which is not noticeable, just blocking the subscriber and that's it.
You can choose one of the several themes (they are uploaded separately). The ability to parameterize the theme of the design is also worth noting, for example, hide unnecessary decoration, include UI animation, select a color, etc. You can change the font to any other from the offered and choose its size. By the way, the font sets here are really beautiful. It is also possible to use different wallpapers for each dialogue (there are thousands of them on the Mood store) or you can upload your own pictures and use them as wallpaper too.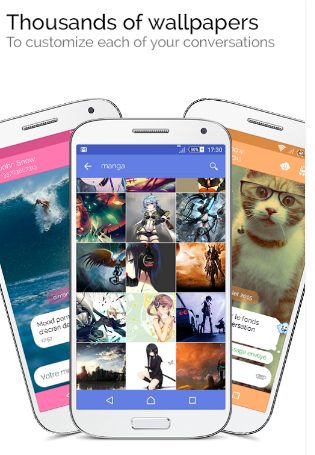 Downloads: 5 000 000 +
Customers rating:

(4.5 / 5)

SMS Themes 2020
Make text messaging more exciting with the new SMS Theme 2020 which turns your standard text messaging application into an exciting messenger! The theme includes HD graphics that will change the look of your text messaging screens.
SMS Themes 2020 is a personalization application designed to customize your smartphone. This free SMS theme works on most versions of Android.
With SMS Theme 2020, you get all the features of the messaging application:
encrypt your messages and protect your privacy,
keyword blocking and blacklisting to filter spam and unwanted messages;
With SMS Topics 2020 you also get:
new free SMS themes,
amazing fonts.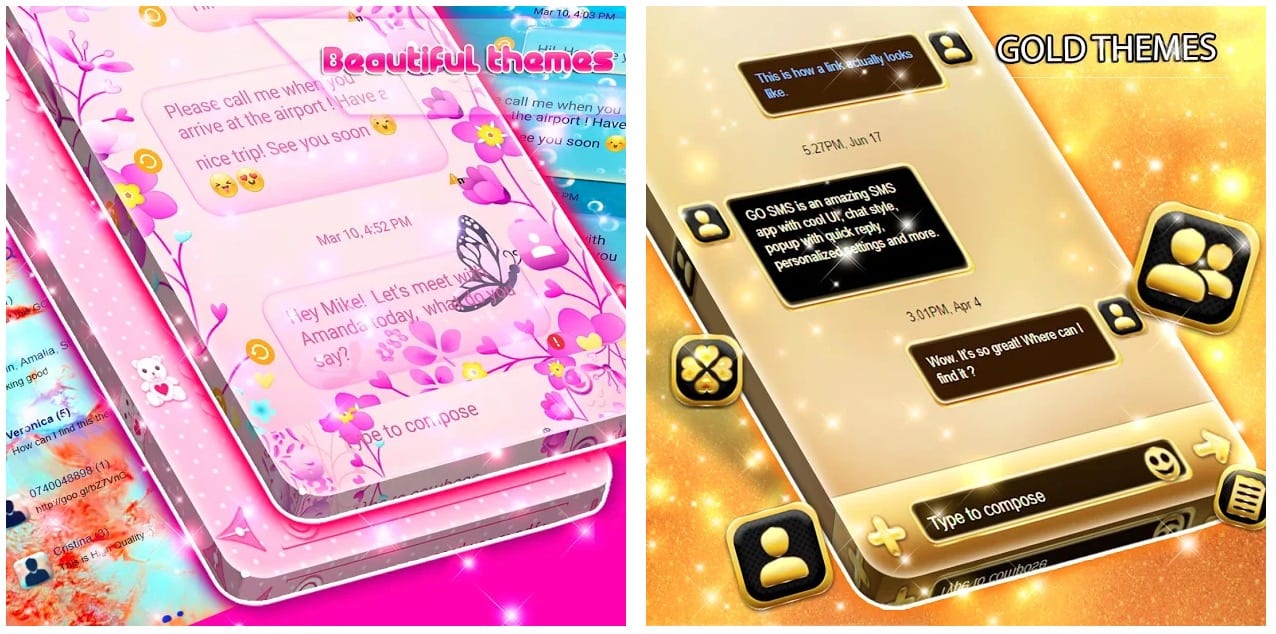 Downloads: 1 000 000 +
Customers rating:

(3.8 / 5)

Textra
Textra has probably everything that can be realized in the SMS messenger: text-blocks, quick response, built-in Internet messenger, smiles and stickers, even the color of the LED indicator can be changed, and much, much more. The application has a stable popularity for several years already.
The Textra interface looks pretty. Dark background, laconic font, smooth moving. Functional elements are placed as in standard SMS messenger, so you will not have to get used to it. In the settings, you can fine-tune the appearance: choose the color of the screen, which also can vary depending on the time of day. And the time of day is adjusted to the current time zone, what is very convenient.
It is also possible to parameterize the theme of the background, choose the main color and even its accent. Presumably, there is a whole palette, what means that the skin turns out to be unique. However, that's not all. You can change the color of the dialog for each contact, as well as the color of the application icon to adapt it to the background of the desktop. The style of the "bubble" can also be customized.
Textra has taken all the best that is in the previously discussed SMS messengers and certainly offers a convenient and interesting way of communication. Also, the program will please the fans of customization, as a special attention is paid to this here.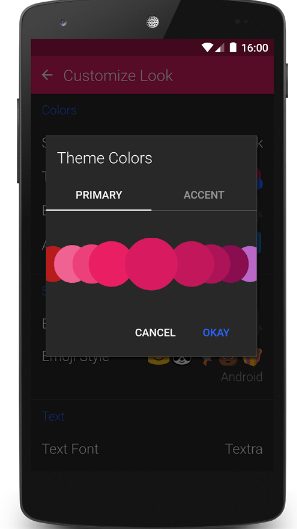 Downloads: 10 000 000 +
Customers rating:

(4.5 / 5)

Hii – SMS Messenger
Hii SMS Messenger is one of the best customizable message apps that includes amazing themes and live chat wallpapers.
Features of Hii SMS Messenger:
Customized chat bubbles
Hundreds of styles chat bubbles for fun
Live chat wallpapers
You can add your own local video or photo to make chat more fun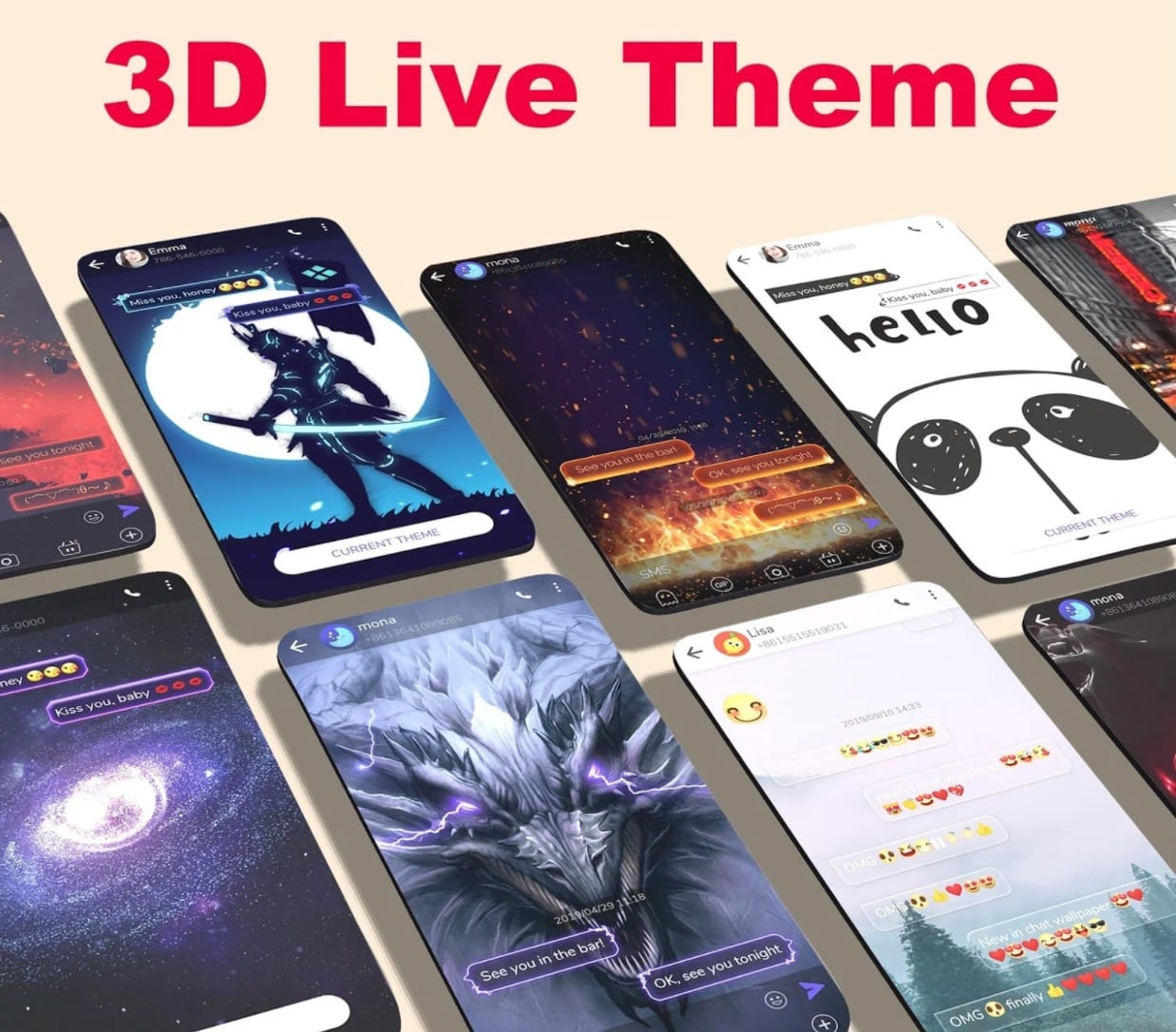 Downloads: 100 000 +
Customers rating:

(4.6 / 5)

In each phone, by default, there is a program for sending SMS, but if it does not suit you for some reason, it can always be changed. In the next review, you will find a description of the most popular SMS messengers that have received the most positive feedback from users in the Google Play: 21 Best SMS apps for Android