Modern smartphones are powerful enough (sometimes more powerful than PCs), which makes them good portable gadgets.
But it is not always possible to play in favorite games, after all, access to the Internet sometimes is not present, then offline games come to the aid.
We have compiled a list of the best free offline games for Android to help you navigate among the abundance of their names on the Play Store.
Join us to explore games of different genres, because we will tell you about all the best games of this year for installation on your phone or tablet. So, let's go!
You may also like: 11 Best survival games for Android
Sniper 3D Gun Shooter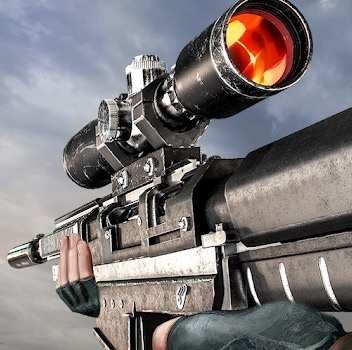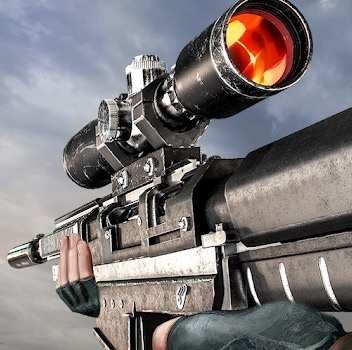 The game Sniper 3D gives everyone the opportunity to feel like a real sniper. The project covers the whole life of a well-aimed shooter. The first launch of the game opens the settings screen.
In the "Packages" section you can always make purchases for the game. This is done using game currency (crystals and coins of gold). You can always improve your weapons. The "Achievements" section provides access to all the achievements that you managed to win passing the game.
Selecting "Play", you immediately go to work as a sniper. You will immediately see the world through the eyes of a real shooter. The first thing that should interest you is the purchase of a new weapon. In addition to the rifle, it's worth choosing improvements for the gun.
The gameplay is very interesting and diverse. There are several missions, opportunities, and locations. For example, at a certain location when completing a mission, you can use only a certain type of rifle.
Sniper 3D – a high-quality 3D shooting range in which you have to get used to the everyday life of a hired killer.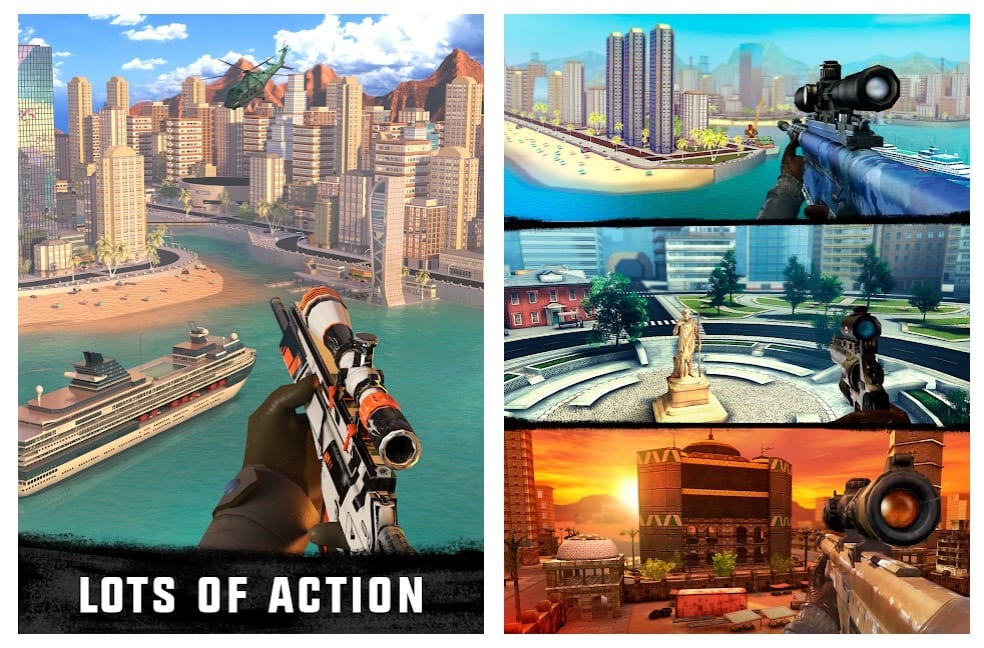 Downloads: 100 000 000 +
Customers rating:

(4.6 / 5)

BADLAND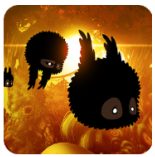 Among the egg-shaped planets, hills, and rocks that rush into the sky, sunsets that scorch the earth, and local inhabitants, a tiny hero barely perceptible in the shadow of huge plants, obstacles, and complex mechanisms flies. Nature did not endow the creature with wide wings, capable to transfer a fluffy body to the edge of an unknown planet with just two swings.
The hero from BADLAND has two practically indistinguishable wings, more similar to the feet of a mole. With the help of them, he has to pave the way for unknown locations, fleeing from premature death and growing fear.
How to play. To manage an unknown creature you will have to use only a few buttons on the screen – a strong swing and the hero rushed to the sky hidden behind the ceilings of the cave, let go of control and the creature of the fallen bird is rushing headlong down. At levels, you will have to save yourself mainly from various mechanisms, giant gates, wooden driftwood, and adobe machines, producing horrific cataclysms.
Gradually other creatures appear at the levels whom the player will not be able to help – their bodies will forever be buried in branchy locations, good, there is a chance to save at least one creature, so download BADLAND on Android and go to a cruel world, not forgiving mistakes.
A hardcore mobile platformer hides behind the beautiful backgrounds and pretty main character of Badland, in which ten deaths per minute – a common thing. But this is the main feature of the game: such a uncompromisingness rarely coincides with visual magnificence.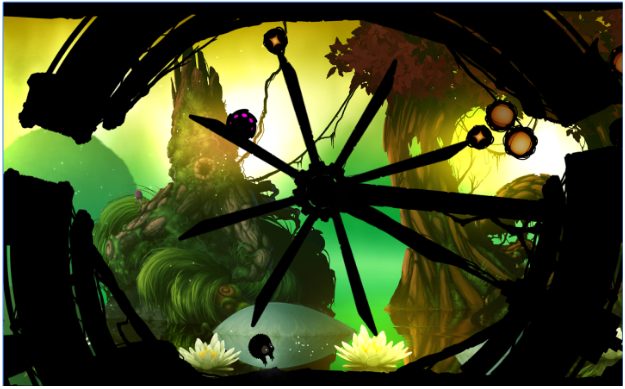 Downloads: 10 000 000 +
Customers rating: 

(4.5 / 5)

Epic Conquest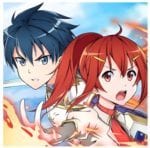 Save the world from chaos and destruction. If you download Epic Conquest on Android, you can become a real hero in single-player mode. Fantastic fights and an exciting rhythm await you.
In one of the cities, a portal was opened that leads to Hell. Crowds of demons and monsters began to climb from there, and now they are trying to seize power in the world. Your task is to save humanity and protect it from dark forces. They united and created a huge alliance, so to defeat them you will need to be a strong and brave warrior.
When you download Epic Conquest, choose one of the two heroes of this fantastic story. The first Alaster – he fights mainly in close combat and perfectly mastered the skills of a warrior. The second is Edna, who uses magic and distance attacks in her battles.
Each of the heroes has their own superpowers and super attacks. During the passage of the game, you have to learn more about them and learn their combat techniques. Meet with unique enemies and Bosses. For winning at each level, the player will receive a valuable reward.
You can get the gold and souls of demons, which are of great value here. The further you advance through the levels, the better the hero's abilities will be. Improve all your skills to defeat enemies as quickly as possible. You will be able to use materials for crafting, as well as to improve equipment. Increase the effectiveness of your attacks and bring the level of the hero to the maximum point. The world will be saved when the hero becomes invincible.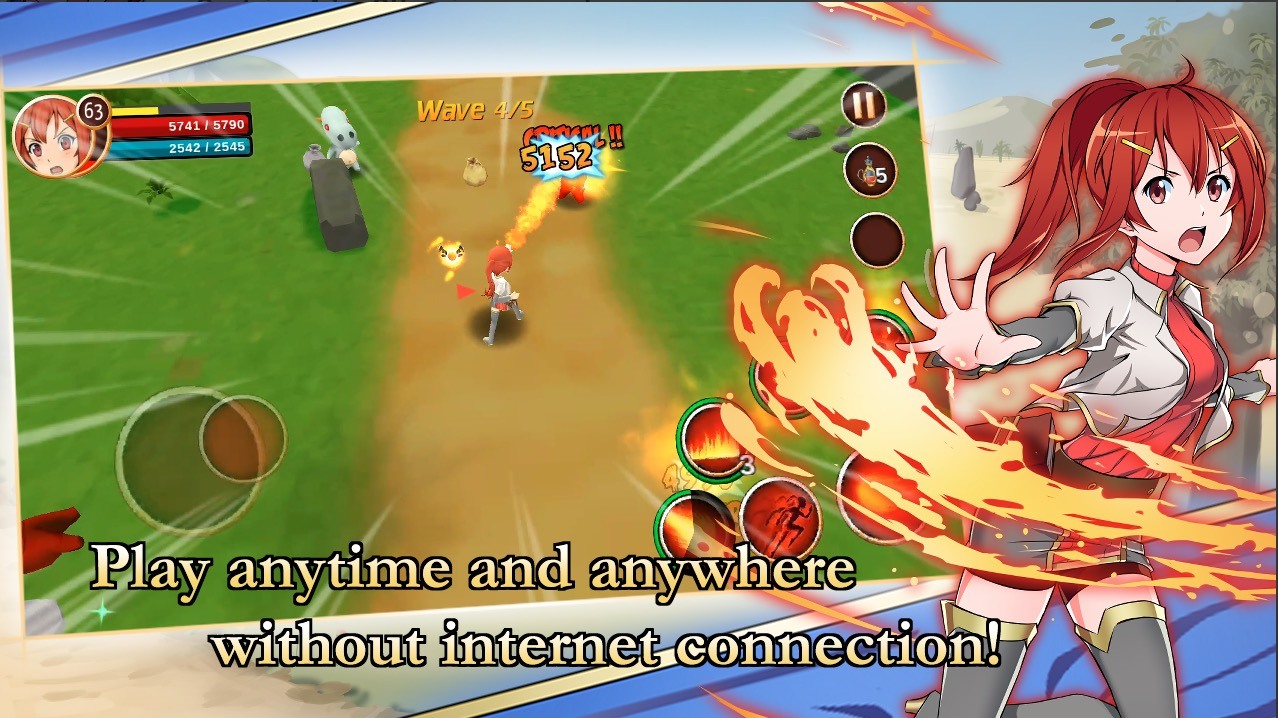 Downloads: 1 000 000 +
Customers rating:

(4.7 / 5)

Last Hope TD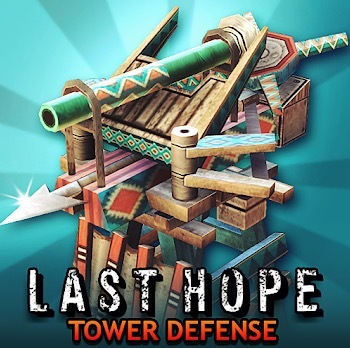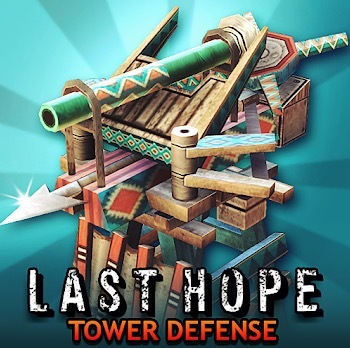 Last Hope TD is a game in which the user has to defend his fortress from zombies. Studio JE Software AB has created a strategy in the genre of Tower Defense and did an excellent job with this task.
For battles, a number of characters with various skills are presented. They will help in difficult battles against hordes of enemies, but their skills need to be constantly improved, otherwise, it will be harder to fight back with each level.
Get ready to spend a lot of time completing this strategy, as there are over 145 levels in a single company. The storyline is quite interesting. The very meaning of the story is to find the reason for the appearance of zombies. For the sake of additional tools and experience, it's proposed to fight in the arena.
Provided 10 completely different characters with their own characteristics and the best qualities. To protect the fortress, you can choose any of the 12 towers. During the passage of a huge map, the player will meet with more than five dozen enemies, but the most difficult test will be passing 5 bosses.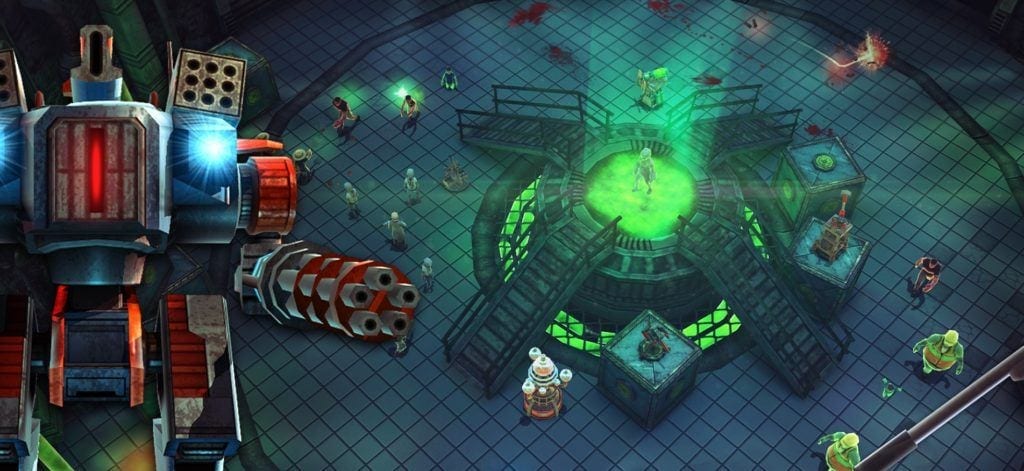 The developers paid special attention to 3D-graphics, which, in combination with a convenient interface, interesting animation, and high-quality sound, will provide an opportunity to relax anywhere and anytime.
Downloads: 1 000 000 +
Customers rating:

(4.5 / 5)

Clockmaker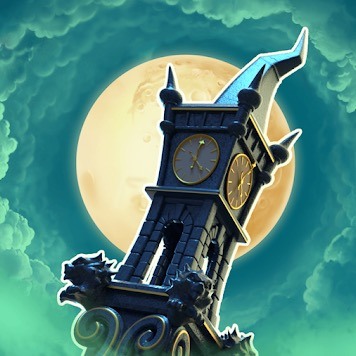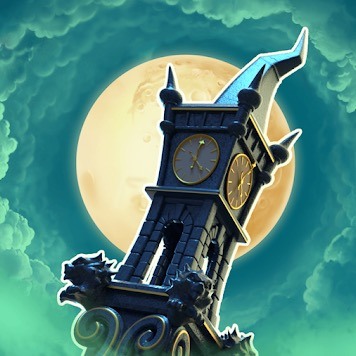 Unlike other similar games in the genre, the game Clockmaker – Amazing Match 3 also has an intricate plot. A gloomy watchmaker didn't like noise and fun so much that he once became very angry with the city dwellers participating in them. It turns out they forgot to invite him to another holiday!
In his insult, the watchmaker cursed his provincial town, stopping the clock on the central tower. But there was someone who wanted to bring everything back. You will help the inhabitants, moving from one house to another and undoing spells from them.
The game has more than four hundred levels, on each of which it will be necessary to remove combinations of three or more magic jewels and gems so that they disappear from the playing field, giving place to others. The more identical gems you can destroy at a time, the cooler a bonus you will get. Each level will have its own task to be completed. And the number of moves is limited, and if you fail to complete the level, you lose one life.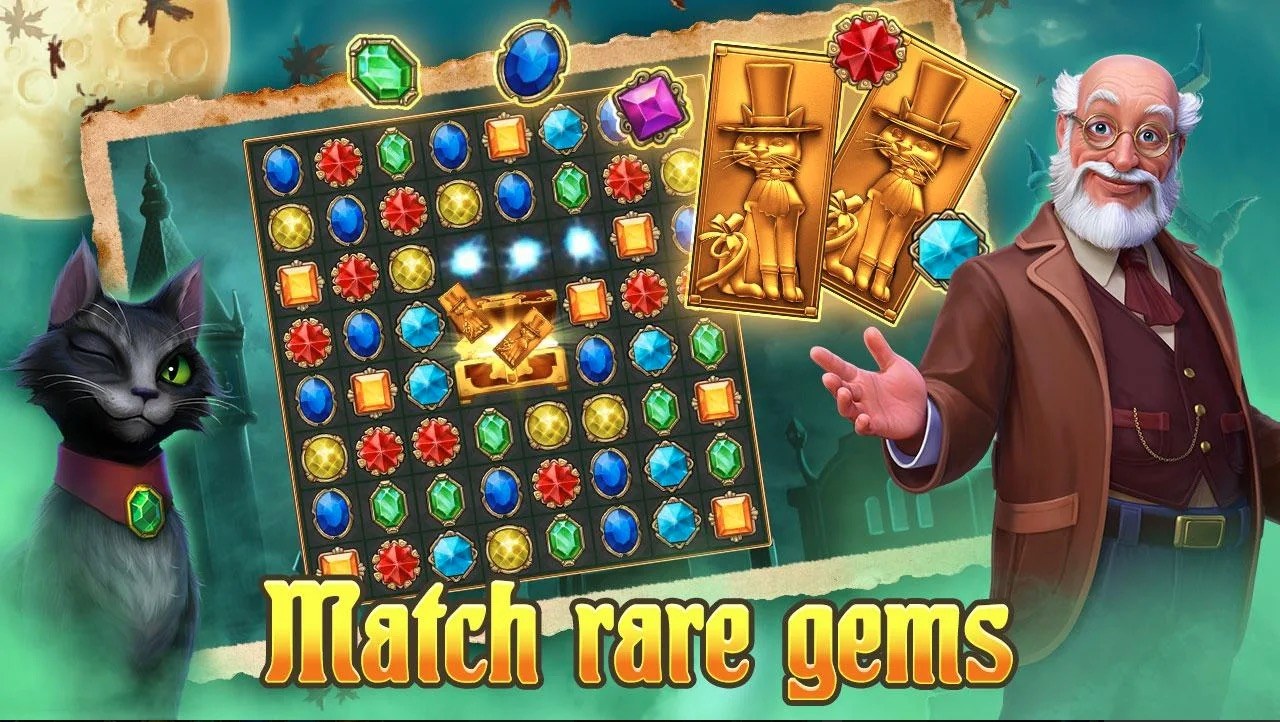 Clockmaker is a puzzle game for Android devices with a very mystical atmosphere. Nevertheless, it will appeal to both adults and children who love puzzles with an exciting plot. Beautiful graphics and detailed objects will only enhance the pleasure of passing this game.
Downloads: 10 000 000 +
Customers rating:

(4.5 / 5)

City Island 3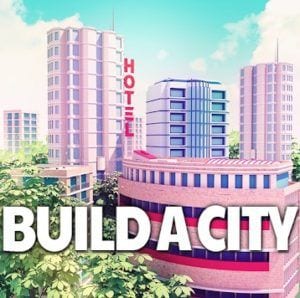 City Island 3 is an exciting application from the creators of SimCity. This simulator is aimed at building a tropical island, its development, and progress.
This island is in your hands and you will have to try hard to get a chic metropolis. It will be necessary to take up the construction of new buildings, which will soon attract a large flow of people and the infrastructure will be developed.
The most common buildings, such as gyms, beauty salons, medical and educational institutions, houses, will make people happier and more and more people will want to live here. Initially, there is nothing like this on this small island. All buildings will also bring good profits, which should be aimed at further equipping the city.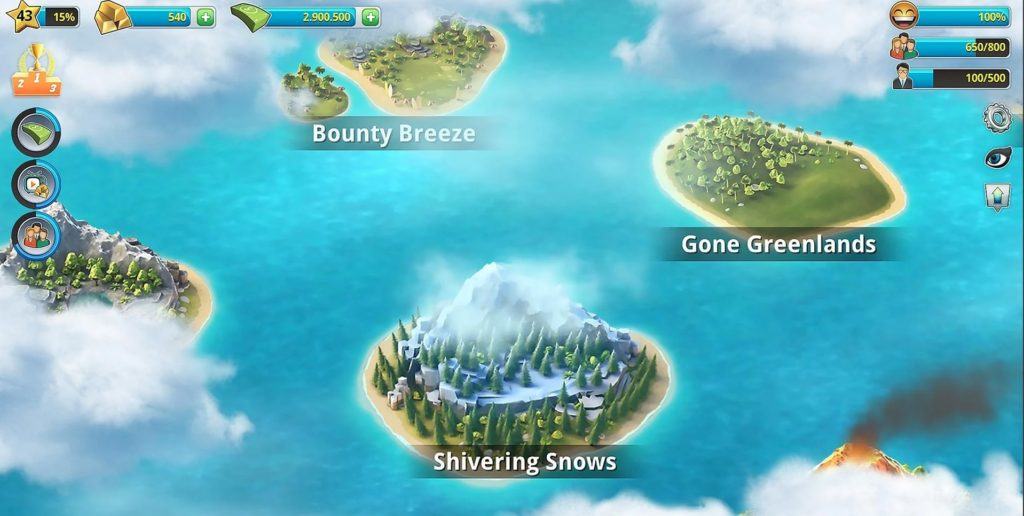 The game has a very high-quality graphics, which maximally conveys the beauty of a tropical island, where it's so warm and good. Also, a pleasant soundtrack will completely immerse you in the atmosphere of the game. City Island 3 is unambiguously considered to be a great city-building app.
Downloads: 10 000 000 +
Customers rating:

(4.4 / 5)

Gems of War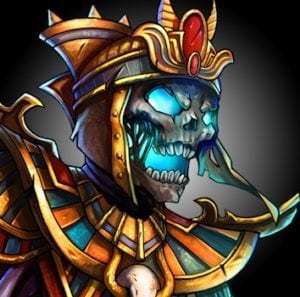 Gems of War is an exciting role-playing strategy. You will be transported into the world of various adventures, choose a cool character and measure your strength with serious opponents from different countries. During the game, it will be necessary to gradually discover new kingdoms, countries, and territories.
You will have the opportunity to recruit a lot of troops in your army. Don't hesitate for a long time – enter into a crazy battle, make a crazy adventure and decide how to become a legendary person.
A wonderful puzzle in which you need to put stones in a row and come up with unique combinations. Gather a close-knit team from more than three hundred types of soldiers present, use unique spells and become a winner.
Play an entertaining mini-game, try your hand at various game modes and collect great bonuses. Explore incredible territories, discover new worlds and complete 350 interesting tasks. Take part in the main battles, complete many tasks and collect cool combos.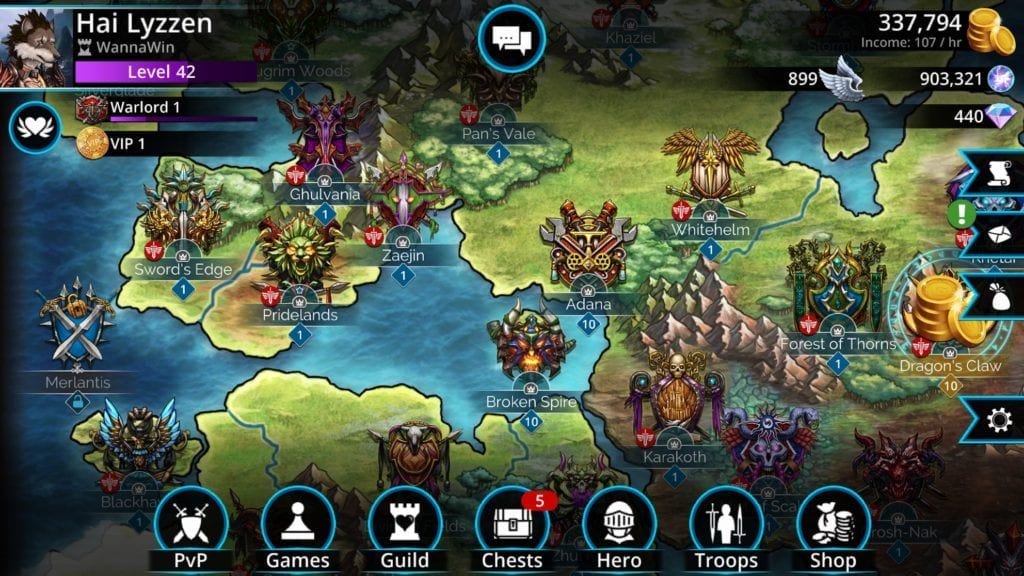 Downloads: 1 000 000 +
Customers rating:

(4.6 / 5)

Dumb Ways to Die 2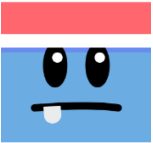 Dumb Ways to Die 2 is a funny game which is a bright continuation of the breathtaking game Dumb Ways to Die. This game will show you many new characters who will participate in the relay race. In mini-games created by developers, these characters will perform various dangerous tasks. This is the manipulation with electric tools, rocket skis, and relay races with dynamite …
If luck will give you a smile, and you will cope with it perfectly, you will receive a bonus – a high rating and the ability to unlock a new character. And in order to complete the game completely, it will be necessary to prove yourself well on twenty-eight levels. Then all the characters will be available to you.
How to play. At the beginning of each level, there are instructions, so that you will not have to learn separately. Also, each level has a time limit. Players need to have a quick reaction to quickly read the tips and immediately apply them in practice, but otherwise, the game would not be so fun. All players need to remember that they have three lives. When they end, the run ends and you have to start again.
The beginning of your journey through the universe begins with getting to know the city. There is both a sports stadium and a train station, from where trains run regularly. Your task is to choose the place where you want to try your hand and avoid imminent death, adjusting to various tests. Of course, at each location, the tasks will be different.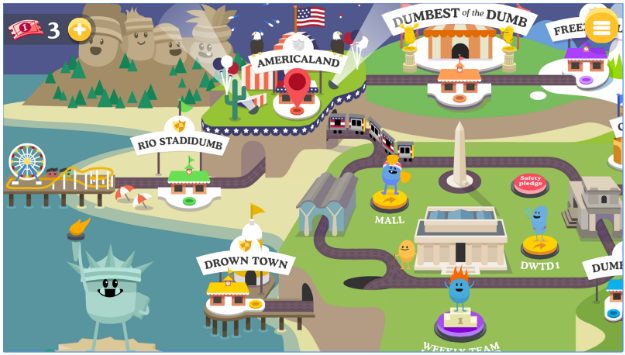 The most important advantage of the application is diversity, which manifests itself both territorially and in the mechanics of performing tasks. Therefore, the user can be sure that in this game on Android he will not have to perform the same actions. In general, both graphics and musical accompaniment leave a pleasant impression.
Even though you don't immediately understand the task at some levels, this does not prevent you from enjoying the game process.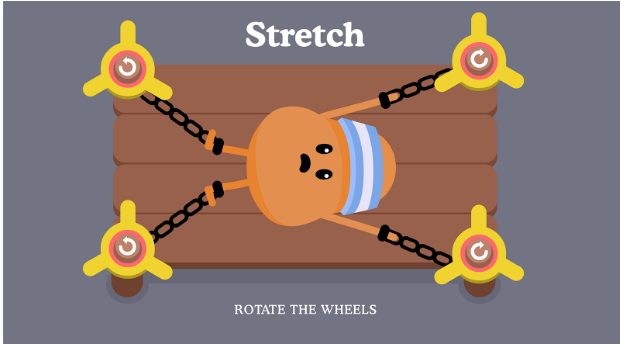 If the application was not "cruel" in some places, it could easily be recommended for young children. And so, we do not recommend as in some games little people die in rather unusual ways.
Downloads: 100 000 000 +
Customers rating: 

(4.2 / 5)

Temple Run 2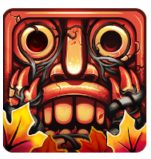 Over one hundred million users around the world have spent time in queues, transport and just at home while relaxing with the game. And now the recently released Temple Run 2 is available to users of the Android platform.
The developers of the game were able not ещ spoil the new game and leave everything in it what for the players loved it: completely free of charge, all bonuses and achievements, and many innovations were made: new obstacles, special character skills and much more.
In this game, you will not see the gloomy surroundings of the first part, wrapped in lianas and swamps … Anyway, we are met by a heavenly castle with tight ropes, wooden bridges, and an endlessly beautiful celestial view. This is not bad: changing the locations allowed to give the game a newness and freshness.
Temple Run 2 for Android has a concept identical to its predecessor: you need to deftly and quickly move away from a strange monkey demon, who is angry that our character stole an ancient idol from an even more ancient temple once again. Graphics in the game also has been changed. It became more clear and colorful.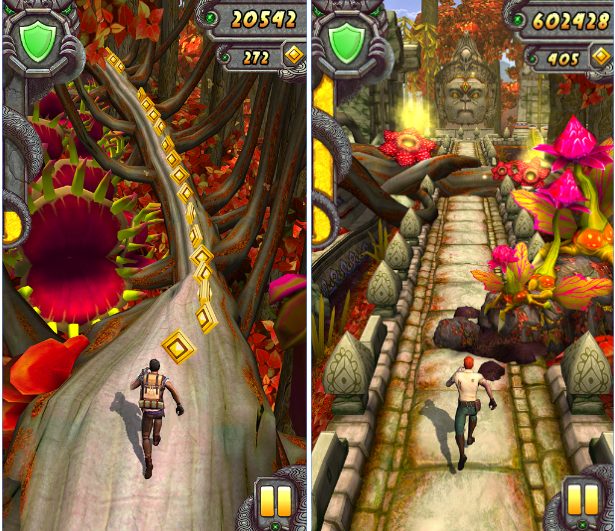 Even if you have not tried the first part of this legendary runner, then still hurry to download the Temple Run 2 to Android, as it has long been ahead of the old game both by the amount of time played and by the number of downloads per device. You will not lose anything if you start to play the second game, and the time spent on this game will leave a lot of pleasant impressions.
Downloads: 500 000 000 +
Customers rating: 

(4.3 / 5)

Dots

It would seem that the creators of the game Dots put the simplest task before you – to connect the dots of the same color. You are given just one minute to complete this mission. Connect the dots, trying to do it within the specified number of moves. But do not rush, because of haste, in this case, is clearly not an assistant to you. It is necessary, to begin with planning tactics of the game process.
You should prove to friends that you are the best player, using a local mode for many users. After completing the game in one of the rounds, you can transfer control to friends who will take your challenge to a duel. Points earned in the game can be used to improve super abilities. Use them without haste, thoroughly thinking about each of the steps to achieve an increase in the score in the game. After each cleared block, you can have a larger number of dots.
All in all, dots is a simple but exciting game. So if there is a long wait ahead or a trip – download Dots, you will surely like it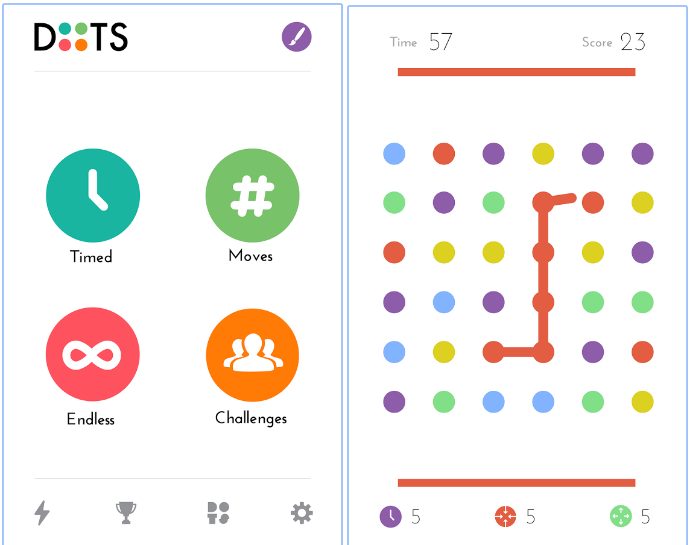 Downloads: 10 000 000 +
Customers rating: 

(4.1 / 5)

Does Not Commute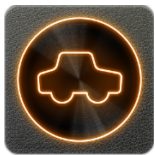 The project Does not Commute, mixed with the genre of "puzzle" and experimental elements based on time, just about to turn the players' minds! The action, by the way, begins in the early 70s of the last century – around empty roads and one car, wading through the dark, reaching the goal, time turns around and now there are two cars, an accident?
The gameplay. The story in this game is covered with gloom, amazing events are on every turn. The game is built on changes in time, which are difficult to understand. Events take place in a small American town.
You have to go in the role of certain characters, not knowing about it and to make the same route that they did. The game starts from the moment when you are asked to drive a simple route from point A to point B. Then, you change a car to a new one and you make another route, but you notice that the car that you were driving initially passes its first route.
After passing the second route, you again change the car and drive through new streets, but history repeats, you again see your first car, and then the second one. You make about 20 routes, and the city is flooded with a variety of cars, and you have already driven them all. With the change of the car, the route becomes more difficult. It is necessary to move thinking through your actions in advance.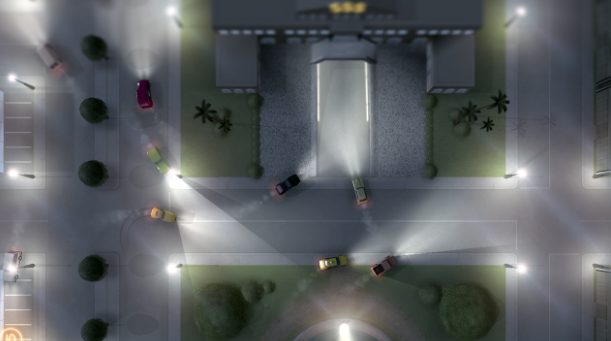 Downloads: 5 000 000 +
Customers rating: 

(4 / 5)

EA SPORTS UFC
Fans of mixed martial arts now can indulge in a favorite hobby wherever they are just having a smartphone or tablet. After all, EA Sports UFC can now be installed on any device based on Android OS and you can play it in offline mode.
The gameplay of the new application will create a complete illusion of presence in one of the UFC championships. The player can choose for himself one of the seven dozen professional fighters, like the legendary pro, and some kind of rising star. Naturally, each of the participants has its own features (fighting style, techniques), and the management of the fighters and their actions is carried out through a system of touches designed specifically for touchscreens.
The graphics of this simulator are three-dimensional and absolutely stunning, as well as animation. The creators worked out models of fighters to the smallest detail and developed several dozen spectacular techniques. Your virtual heroes will writhe after blows, effectively fall into the ring or celebrate the victory. A dynamic musical accompaniment once again will prove that fighting without rules is a cruel and serious matter.
The game can be played by both beginners, and already seasoned gamers. The tension will increase, the level of adrenaline will constantly rise, and the thirst for victory will be so strong that you will rush into battle again and again. Every win will open up new horizons for you, and it is possible that you will be the best of the best.
However, the path to fame is long and thorny, it requires constant work and concentration. Do self-improvement, master new techniques, and skills. The feature of this application is that there are no restrictions (life, time, etc.). That is, you have the opportunity to participate in any number of fights. Of course, the more victories you win, the more rewards (points) you will earn. And then take your rightful place in the pantheon of the glory of the best fighters of mixed martial arts.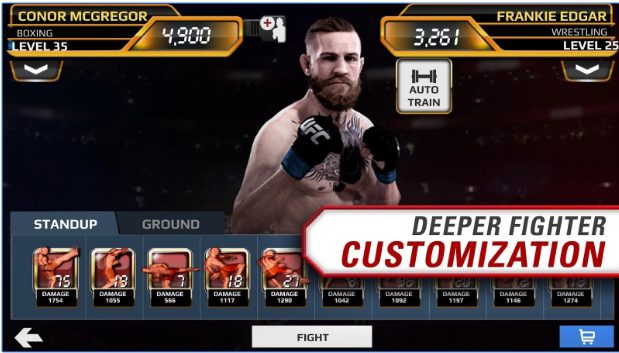 Downloads: 50 000 000 +
Customers rating: 

(4.5 / 5)

Swing Copters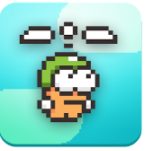 The creator of the well-known mobile game Flappy Bird – Vietnamese Nguyen Dong – released his new creation. The new mobile game is called Swing Copters and, judging by the first reviews, even more, difficult than Flappy Bird.
At first glance, Swing Copters is similar to its predecessor – all the same, unobtrusive and simplistic visual style, reminiscent of the birth of the game era on Nintendo, all the same gate that set the record-setting, all the same conditions of paradoxical complexity.
Of course, there are also differences. Firstly, the players have to move vertically up, and not horizontally, and secondly, the hero has changed, henceforth players control the man with the propeller on his head. And thirdly, management has become more difficult, and the conditions are even more severe! In addition to the killer beams of green, swinging hammers appeared, which can destroy the main character from the first touch!
In general, the game is not bad: it is not much different from Flappy Bird, but at the same time attracts attention with its new gameplay and the high complexity.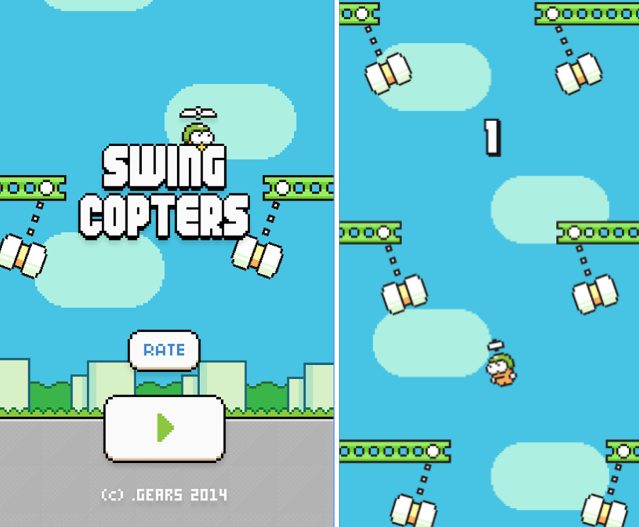 Downloads: 5 000 000 +
Customers rating: 

(3.7 / 5)

Subway Surfers
We present to your attention a worthy imitator of the genre of run-jump-collect – the game Subway Surfers. And in many ways, the game Subway Surfers leaves its competitors far behind! Subway Surfers is a fun dynamic arcade game from the game developer Kiloo Games & Sybo Games. The main task of the hero of this game is parkour at railway stations, which the police do not like very much.
The gameplay. You will have to run along three railway tracks with overcoming obstacles, in the form of standing and moving trains. You should collect coins and do not yawn since the slightest delay is equivalent to losing. Any wrong action and you will be caught by a policeman who, with his service dog, tries to grab you and take you to the station.
The gameplay in Subway Surfers for Android is very dynamic, and the player grows by collecting coins, which serve to purchase bonuses. Coins also can be purchased in an in-app purchase, built into the game. Here is a simple and clear control with swiping on the display in four directions.
Available additions: a board (Hoverboard), for a certain time protecting the surfer from death, hidden bonuses (Mystery Box), jet flight over cars (Jetpack) and bigfoots, for jumping (Super Sneakers) , a magnet (Coin Magnet), which attracts coins, as well as five additional characters.
In general, playing this game, you must run on trains running away from the guard and collecting coins. Everything is simple and quite exciting.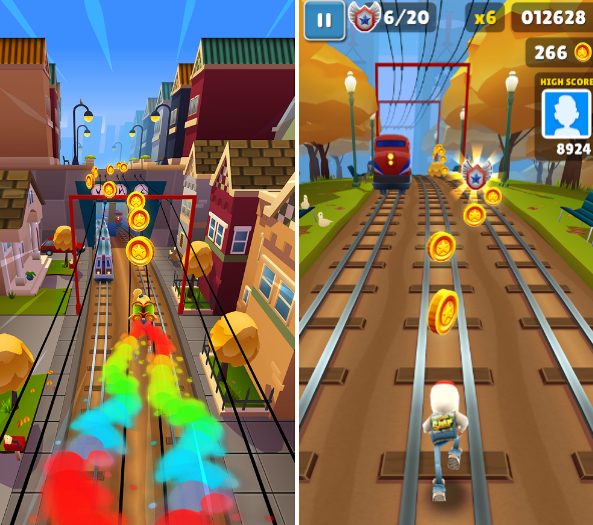 Downloads: 1 000 000 000 +
Customers rating: 

(4.5 / 5)

Fruit Ninja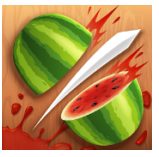 Fruit Ninja allows you to feel like a super-ninja with a samurai sword designed to cut … fruit! The game begins with the appearance of a special board on the screen, and fruit from all sides flies on it: apples, bananas, pears, peaches, strawberries, watermelons, and many other sweet varieties. The simplest control allows you to cut fruit with the speed of an experienced samurai.
Easy movement on the screen, and now the fruit flies into two halves, so you can see a juicy pulp. But you need to do this very quickly because the fruits fly at great speed. In addition to fruit, there are bombs, which in no case cannot be touched, as the game ends. Fruit Ninja for Android has three modes to choose from:
Classic mode.
The player is given 3 lives, which he can lose in case of omission from the sight of any fruit or if he touches the bombs;
The Zen mode.
Bombs are completely absent, but the player is given only 90 seconds to break the record;
Arcade mode.
The player has 1 minute, during which, apart from the usual fruits, there are special ones that allow you to double points, slow down time or increase the amount of fruit. The more fruits you can cut at the same time, the more points are awarded to the player. Some exotic fruits, when they are cut, add more points.
In the game menu, there is also a section of bonuses that allow you to open additional backgrounds and blades. Now you can download Fruit Ninja on Android to become the pride of sensei and arrange a real slaughter for fruits.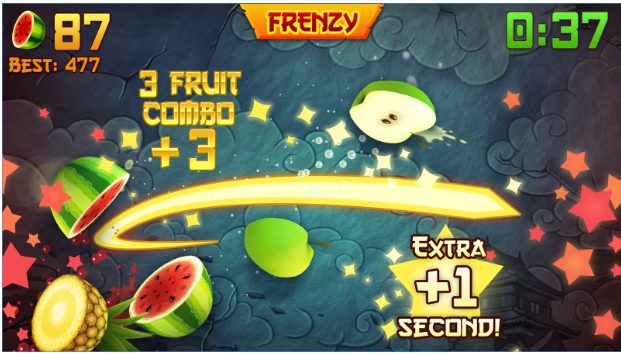 Downloads: 100 000 000 +
Customers rating: 

(4.3 / 5)

Asphalt 8: Airborne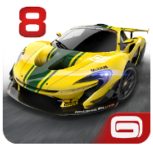 One of the most famous game series created by Gameloft is the epic of racing simulators "Asphalt", in which, as you know, you need to get involved in the competition between high-speed cars. Asphalt 8: Airborne has numerous improvements, new additions, and a new quality level.
The gameplay. Asphalt 8 contains many elements from the predecessors and similar games in the same genre, but in this race, there are also a lot of new additions. In the game, there is no plot but the races themselves play the main role. And they are perfectly realized – the roar of the motor of race cars, the lights of a big city and dizzying tricks on asphalt and earth will not leave anyone indifferent. Plus, there are also various modes here – we will be invited to participate in a classic match with several rivals, play a race for elimination, experience the modes "Slalom" and "Infestation" or fight in a racing duel.
As you completed the race and met the set goals – to come first, push the opponent to the opposite end, or turn around a few times in the air – we are given stars. The more stars – the more racing events we open, in which you can participate. And more events – more cities and countries – more variety in the gameplay! Just be careful – unlike most racing simulators, in this game our car gets much more realistic damage, namely – from a collision head-to-head with a car or a barrier, a big accident will happen. Crazy driving here is not welcome, so be careful.
The most important plus is that Asphalt 8: Airborne is just a great show, which opens with each race. This feeling is achieved thanks to excellent graphics – absolutely all the objects in the game are drawn carefully and realistically.  In a word, for fans of races, Asphalt 8 is just a long-awaited reward!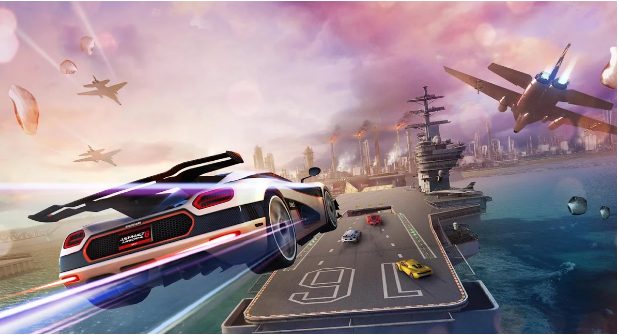 Downloads: 100 000 000 +
Customers rating: 

(4.5 / 5)

Alto's Adventure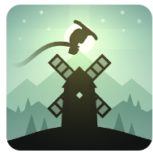 Fun arcade game Alto's Adventure will be interesting for fans of snowboarding. The hero, whose name is Alto, also loves this sport and often goes snowboarding in the mountains. But one day he learned that the lamas, other characters in the game, were in trouble, and they must be urgently saved. Here is such an uncomplicated plot. In principle, this game can be called a runner because of the infinite gameplay.
In the process of the game, you will have the opportunity to ride the mountains, perform many tricks, jump on the trampolines and collect coins to save the lamas. And saving the lama, just drive through it. You do not need to jump over them. Thus, you should save poor lamas the whole game, with whom there was some unknown, but the trouble.
In fact, it's a fascinating runner in the usual format, with beautiful, but simple graphics, with perfect animation and interesting levels. By the way, Alto's Adventure does not have the same levels, everything changes here: landscape, obstacles, time of day, etc. In addition, the game attracts its good physics and dynamic lighting. Also, you will be happy to get acquainted with six characters in the game, which have individual abilities. The sound accompaniment of the application is also very cool. So fly in the mountains and be the best among your rivals!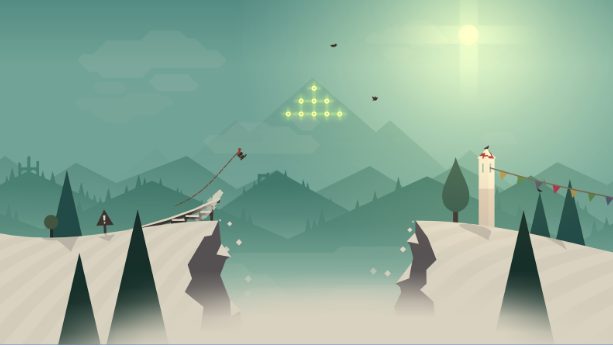 Downloads: 10 000 000 +
Customers rating: 

(4.5 / 5)

Smash Hit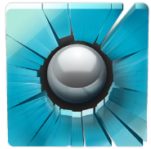 Are you ready to go on an unusual trip? And it will be unusual because you will be transferred to another dimension and all this is accompanied by the original musical accompaniment. The game Smash Hit is a real adventure, and everyone can participate in it.
Imagine that you are flying somewhere far in a certain futuristic world and around you, glass objects are constantly arising. It is up to players traveling to incredible and possibly non-existent worlds to protect themselves from growing obstacles.
The main task of players in the Smash Hit application for Android is to pave the way for an unknown hero going deep into the level across the gradually changing worlds. To do this, the players will have steel balls which can break glass, strange geometric constructions and moving objects, blocking the path.
Any exact hit will not only open the easy way forward but will also demonstrate the outstanding features of the game engine – the glass is broken on thousands of fragments shimmering from any light source and produces millions of echoes of broken structures. An unforgettable adventure built on the mere destruction of the surreal world is available if you download Smash Hit on your Android!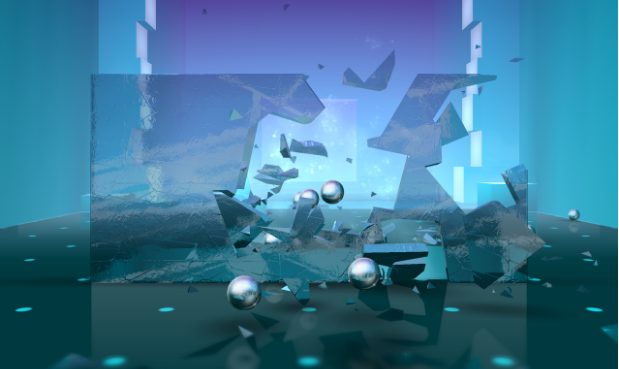 Downloads: 100 000 000 +
Customers rating: 

(4.5 / 5)

Into the Dead

When an army of rabid zombies attacks the planet Earth, and you are the only one who is alive, you do not have to choose: to fight, or to die. You can feel such a powerful atmosphere in the game Into the Dead for Android.
Unlike other adventures with zombies, here you have to constantly run away from the crowd of bloodsuckers coming on you. Dark endless roads will lead to an unknown direction, but as there is no other way out, your only goal is not to fall into the hands of a zombie.
The game offers a choice of three modes, but the last two open only after the first – the classic. Each game mode contains a block of various missions, the successful passage of which gives you gold coins. These coins provide an opportunity to buy weapons in order not only to defend yourself but also to attack.
In Into the Dead, the more distance you can run, the more difficult it will be to evade zombies. Some zombies will come close, while others will accidentally get up off the ground and immediately attack. At the same time, your achievements in the game are awarded. You will be given points that allow competing in the world ranking.
Downloading Into the Dead on Android is recommended for adventure lovers. The game will make you feel the spirit of the apocalypse!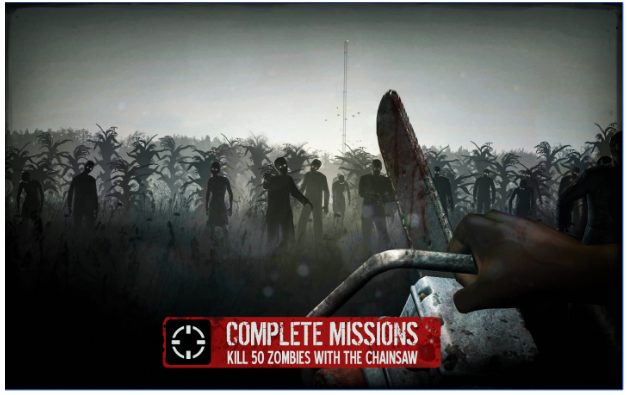 Downloads: 50 000 000 +
Customers rating: 

(4.4 / 5)

Plague Inc.

Creators of the game Plague Inc. has successfully combined the strategy with the realism of the simulator. According to the plot, your hero managed to infect the first earthling. Now you must begin to destroy humanity, using a deadly disease.
Spread the disease everywhere, fight with everything that mankind will undertake to protect them. It seems to be strange as usually, you have to save the world, and not destroy it! Do you want to enter the fight against the world? It will not be possible for all to survive in it.
The magnificence of graphics and the thoughtfulness of the interface makes the game incredibly "contagious". Creators offer to learn more than a dozen diseases, which provides several different strategies for action. The creators have developed many characteristics of diseases, infecting more than fifty states.
All your achievements will be recorded in the leaderboard. Well, welcome to a virtual life in which you will destroy the world! Hundreds of millions of fans have played in Plague Inc. The game has already been recognized as a global hit with a maximum rating.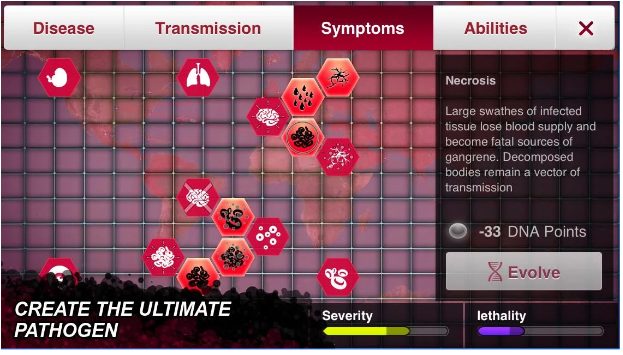 Downloads: 50 000 000 +
Customers rating: 

(4.5 / 5)

Freeze!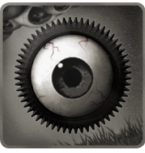 Once upon a time, there was our game character and he enjoyed his life, but here's the trouble – by the will of circumstances he was torn from his habitual existence and now he is locked somewhere on a distant planet. And so he would have to take this evil fate if there is not the hope of your help. And this is quite possible for you.
You just need to turn the world upside down, canceling the force of gravity! Thus, before you an interesting puzzle Freeze! which will make you remember the school physics course because it is based on its laws.
How to play. So, before you, there is your character, and all that is required of you is to smoothly turn the camera around him in one direction and the other. There is also a Freeze button, which you can press to stop the work of gravity. It seems that everything is simple, but it's only in theory, and when you start playing, you will understand that it's not so easy to help a hero escape, as it seemed at first glance. In addition, it is also necessary to compete with lasers and not fall into a deadly trap.
Fans of "physical" puzzles are encouraged to try out a new original game mechanics, and at the same time enjoy the gloomy beauty of graphics and no less notable soundtrack. Pass two and a half dozen unique levels, prove that you are stronger than the force of gravity!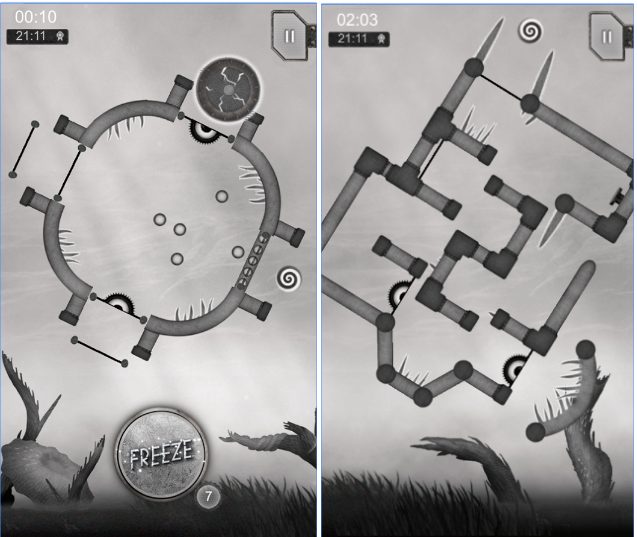 Downloads: 5 000 000 +
Customers rating: 

(4 / 5)

Tank Hero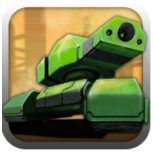 Yes, these tanks are from the future! And they have real laser cannons! And you do not have to drive over various ruins or battlefields, battles take place in small rooms that resemble the compartments of a spaceship, what somewhat simplifies coordination, but removes possible landscapes and other beauty which is not suitable in the war!
The gameplay. To crush the enemies you will have a real arsenal from the future – plasma howitzers, lasers, sound cannons and much more, do not spare the money to equip your tank to cope with an enemy, especially if it's a big boss … Also, if you are bored to fight against a computer, then you can invite your friends to fight, the game supports Deathmatch mode.
Pros of the game Tank Hero: Laser Wars
an excellent engine that involves cool effects, realistic lighting, and some other nice features;
you are waiting for the three unique worlds you need to conquer;
in the game you can collect bonuses for your tank, they will help in any situation;
there is an interesting system of achievements;
four levels of complexity;
great soundtrack.
The game is free and does not have any additional purchases.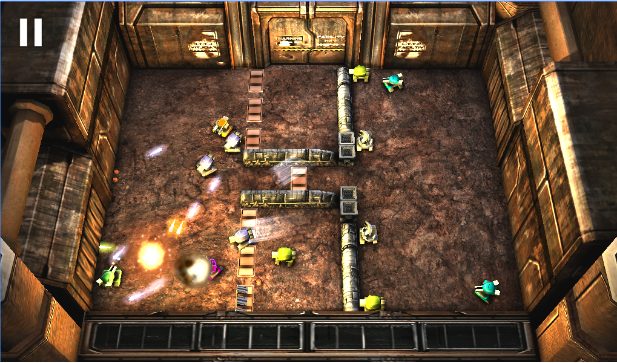 Downloads: 5 000 000 +
Customers rating: 

(4.3 / 5)

2048

Logical game 2048 for mobile devices based on OS Android got a minimal interface. On the screen, you will see only the field, divided into multi-colored cells. In this field, there will be blocks with numbers, which we will need to operate on. The idea of the puzzle is to connect the blocks, increasing the numbers around them. As soon as the player manages to score 2048 points – a victory is in his pocket.
How to do it? It's simple. You should move blocks with numbers up or down, to the right or left, and try to make them stand on neighboring cells with blocks with the same numbers written on. For example, if there are blocks with a number 2 in each of them, then the blocks will merge, and the sum will be doubled. That is, you will get a block with a number of 4. Bring such blocks together and increase their sum. Place the blocks with a number of 32 next to each other and get a 64 block. That's what your task is.
"Pair" blocks by moving them around the field and make so that there are two blocks with numbers 1024 in each of them. By connecting them, you get the number 2048. This will mean that you have reached the final of the game, and if you did it before others, it means you won!
In the process of the game, it is recommended to concentrate as much as possible. Unreasoned moves can lead to the dead-end and so you will lose. Managing cells is very simple – just swipe your finger across the screen in the desired direction. Just keep in mind that all cells will move from this, and therefore the best tactic is to calculate the moves in advance. And remember that there are no tips!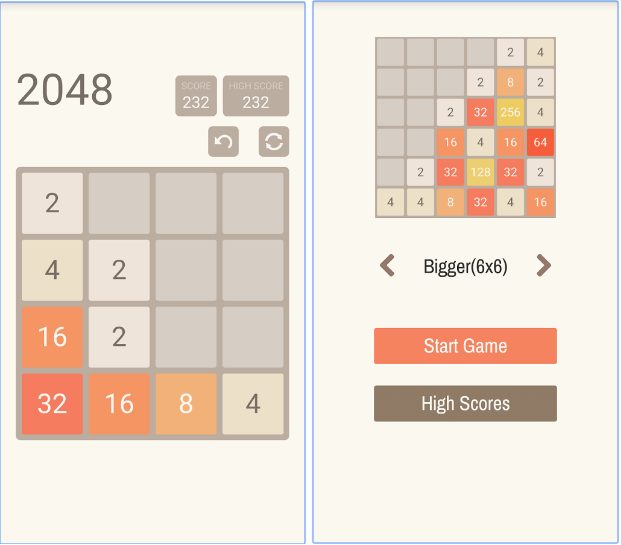 Downloads: 10 000 000 +
Customers rating: 

(4.7 / 5)

West Gunfighter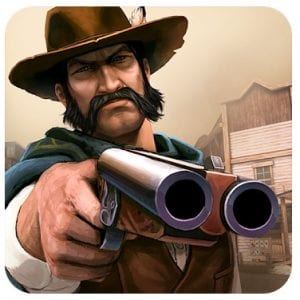 West Gunfighter is an adventure shooter where you need to make your way through the Wild West on horseback and on foot while shooting your enemies and collecting rewards.
If you like to watch classic westerns or modern series like World of the Wild West, then in this game you have the opportunity to experience what it's like to live in the Wild West. The game allows you to acquire new weapons to increase your firepower and kill your enemies in seconds.
West Gunfighter allows you to do more than just shoot your enemies left and right. You can act like a real cowboy and enter saloons to play darts or cards. Control in the game is intuitive, and you can change the angle of view by 360 degrees to better monitor the environment.
Your goal in West Gunfighter is to walk through the city and find your desired hidden treasure. To succeed and survive, you must strive to avoid being shot by other strangers. If you want to go through an exciting adventure in good 3D graphics, West Gunfighter is the game for you.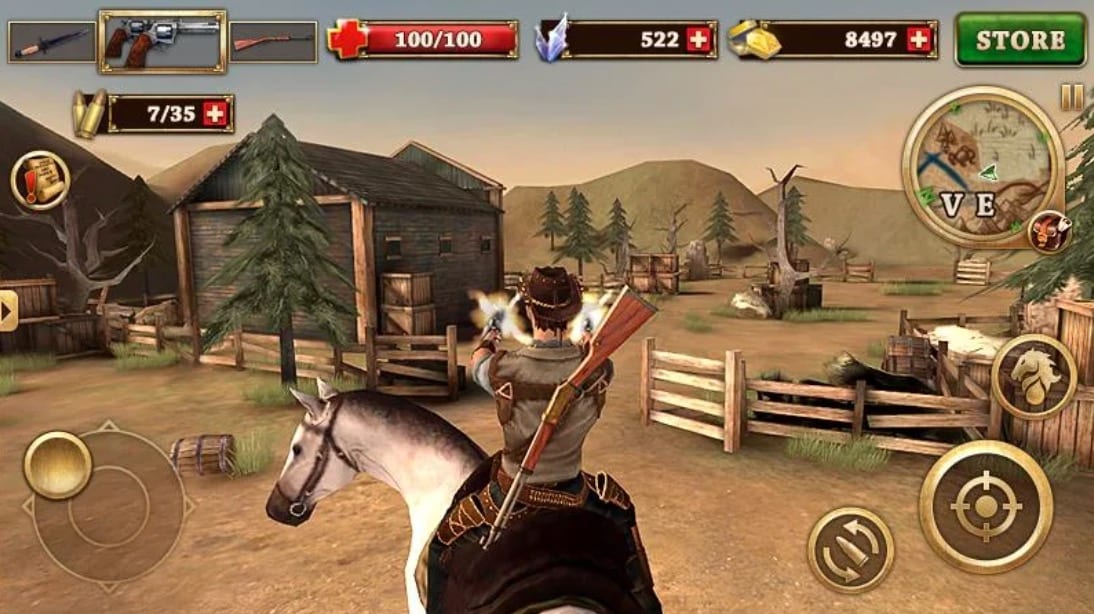 Downloads: 50 000 000 +
Customers rating:

(4.2 / 5)

Hungry Shark World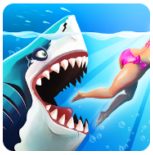 History and places: The shark is a fearless and ruthless predator, able to struggle with a whole flock of fish or a lost tourist in a matter of seconds: books and films, songs and even mobile applications are devoted to cruel underwater masters!
The Hungry Shark World arcade will allow players to walk underwater, devouring everything around them and getting the strength to meet especially powerful opponents. The place of action is the seas and oceans with saltwater and various inhabitants. The goal is to reach the maximum possible score, perform a lot of tasks, and become an exclusive underwater champion.
Hero and enemies: Sharks in the Hungry Shark World arcade for Android are represented by a whole group of predators with diverse abilities, individual skills, and visual qualities: someone has a sharp nose and long fins, someone has a mighty tail and gigantic teeth.
In addition, the choice of shark affects important characteristics – speed, agility, acceleration: indicators, by the way, are allowed to improve, but only for a separate currency collected during eating. Underwater world, by the way, is rich and diverse – fish, squid, people in underwater suits, predators, and underwater mines …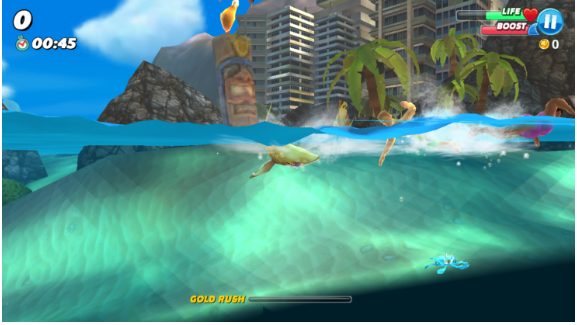 Controls and rules: It is easy to control an underwater monster – one finger is responsible for the movement, the second – to attack or, for example, perform harsh maneuvers associated with going to the depth or with active surfacing to the open air. The main rule is not to bring the life energy scale to zero, otherwise, the shark will go to the bottom. How to avoid death? Eat all in a row, collect fish, escape the shots of harpoons and the kicks of tourists, maneuver under the cloud of squid ink! And in general – look around – there are dangerous traps everywhere!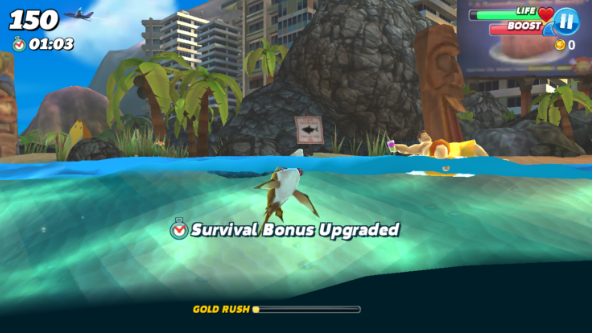 Graphics and awards: The Hungry Shark arcade looks nice – detailed locations, brightly painted scenery, a variety of fish, and underwater inhabitants. The animation is of high quality. And it worth downloading the Hungry Shark World on the Android for the incredibly high-quality gameplay process – dozens of tasks, gradually opened sharks and underwater zones, customized predators and edited complexity. Each player will find a lot of reasons for both a short game in ten minutes and for a long dive during a few hours.
Downloads: 50 000 000 +
Customers rating: 

(4.5 / 5)

Ninja Dash Run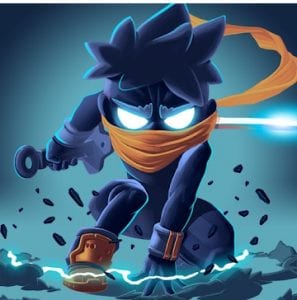 Ninja Dash Run is a game where you control a ninja who takes on various missions, where you have to defeat enemies by collecting coins and sushi.
Controlling your ninja is extremely easy. To defeat your enemies, you can attack them or jump from the top, and collecting sushi will add a little extra life. For coins, you can buy maps or upgrades for your hero. During the game, if your ninja is not fighting, he collects coins. How much he will collect depends on the level of your character and how far you have advanced in the game.
Ninja Dash Run consists of eight worlds, each with its own levels, which were influenced by Japanese culture. Try on a black kimono of a ninja high school graduate and prove that you are ready to become a full member of the fraternity. And you'll have countless options for that. Hordes of demons, enemy infiltrators, sushi thieves, and many other antagonists will gladly experience the sharpness of a variety of weapons.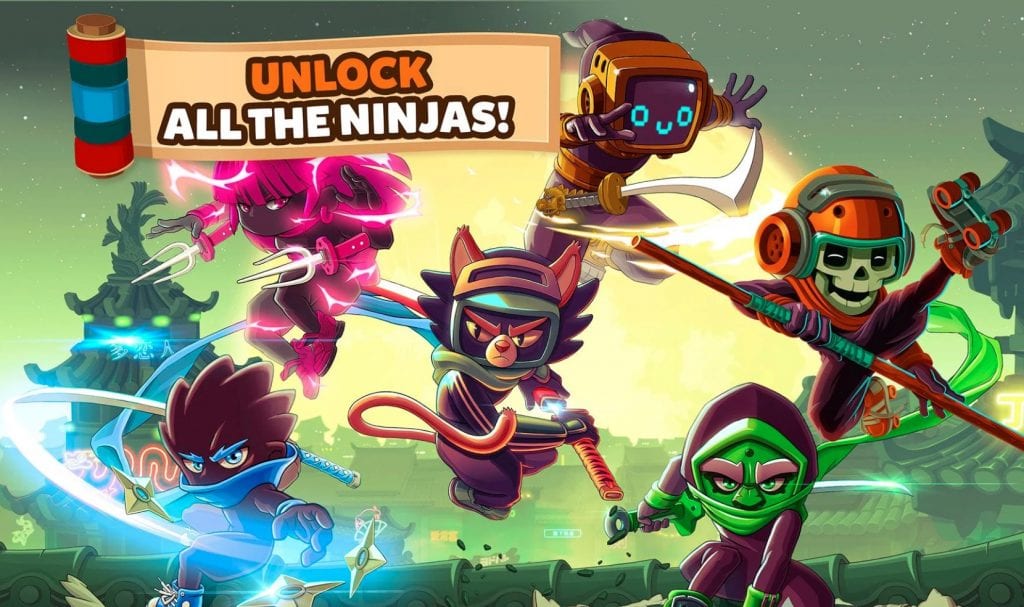 Downloads: 5 000 000 +
Customers rating:

(4.3 / 5)

Cut the Rope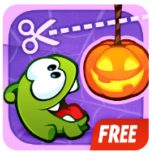 This is one of the few puzzles that never bother and is liked by almost everyone. Cut the Rope is based on the laws of physics, and therefore for apparent simplicity, the exact calculation of the moment and a certain sequence are hidden. You have to cut the ropes with which the candy is tied. And the goal is to feed the cute creature living in the box.
In the game Cut the Rope, more and more opponents in the form of obstacles, and rotating barriers will appear round after round, but at the same time, you will have more helpers. Another location can be opened by buying a key for a certain number of stars collected during the game.
Small stars need to be collected before the candy is eaten. The higher the level, the more complicated the puzzle becomes, and the more difficult it is to collect the stars. There are new interesting details like a soap bubble, blades, electric current and so on.
A huge number of different levels, locations, and complex tasks increase the special interest in the puzzle. Cut The Rope has already been downloaded by hundreds of millions of users around the world, and you can join them. Feed a little animal with candy!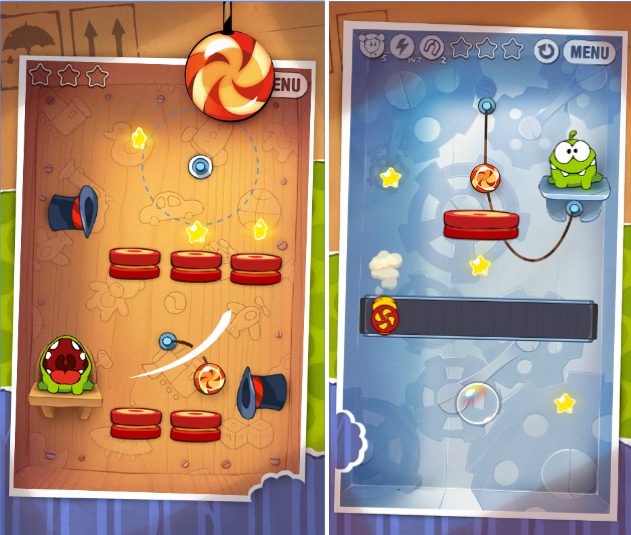 Downloads: 100 000 000 +
Customers rating: 

(4.3 / 5)

Clumsy Ninja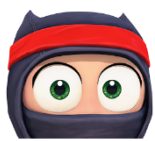 Ninjas are different. Someone is clever and skillful, noiseless as a cat, and someone – awfully awkward. Starting the game you will get such a clumsy beginner, but you can train him. Take care of your ward to develop ninja skills, watch how he reacts to different situations – this is a very interesting activity. You will have a virtual, but a real friend, created with a high degree of realism with the help of modern technologies.
If you get tired of pumping skills of your ward, then you can have fun – tie him to balloons or tickle. Thus, you will help the ninja to find his missing girlfriend. With your help, an awkward ninja will be able to learn all sorts of useful super-tricks. Sensei, who appreciates your efforts, will give the character a new belt – so it will help in the search for a friend of the ninja. Visit different locations, collect game items, get acquainted with other game characters, complete tasks. Check yourself – have you finally become adroit or are you still clumsy?
The game hero will be able to try on different outfits with your help, and you can also demonstrate his freaks to your friends – just take a few photos. This amazing game will please you with a lot of surprises. And what about the use of different interactive objects! In short, there are a lot of reasons for making friends with the clunky ninja.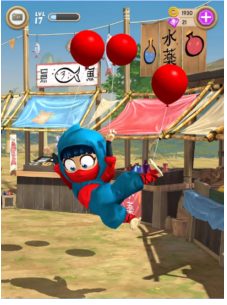 Downloads: 10 000 000 +
Customers rating: 

(4.4 / 5)

ZigZag

ZigZag is a new masterpiece in the game sphere. Especially this game will be to the taste for those who are fans of time-killer games. ZigZag is a quiet, minimalistic game with simple pixel graphics in which you have to control a small black ball rolling forward along a wide wall with many turns and winding paths. However, it can fall, and your task is to go to the end without falling. To do this, you need to demonstrate all of your agility and attentiveness.
Management in ZigZag is not very difficult as in other similar games: to direct the ball in the direction you need, just touch the screen, but watch carefully for the road, because the wall can have too unexpected turns, and the ball can fall down.
On the way, you will need to collect red crystals, and the further you go, the more crystals you will get, and the more points you will be able to earn, which will be shown in your table of records. So download the game right now and enjoy!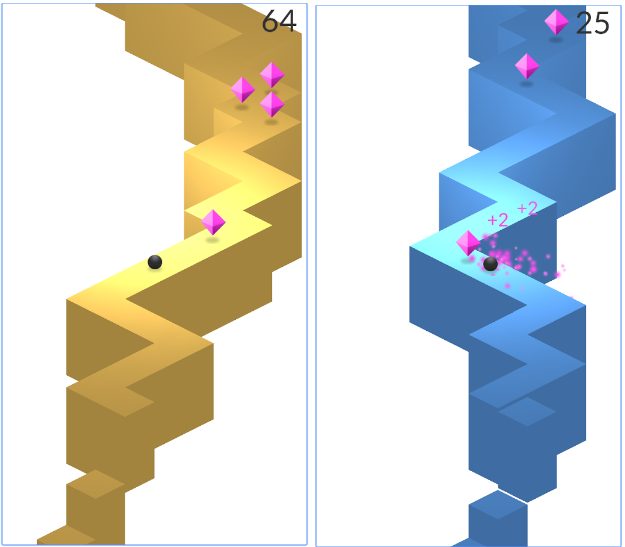 Downloads: 50 000 000 +
Customers rating: 

(4.2 / 5)

Rayman Adventures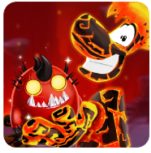 The life in a magical forest was quiet and calm until something terrible happened. The sacred tree began to fade because someone had stolen the ancient eggs called Incrediballs that supported its life. Now they are scattered all over the world, and someone must collect them. This is what your character named Rayman with his girlfriend and assistant Barbara will do – they are Vikings and they are ready for adventure!
The gameplay. The game will offer you a fascinating combination of action with the opportunity to explore the world around you. Your hero will find himself in various unusual places – in castles, where ghosts live, and even on Mount Olympus, where according to myths, Greek gods live …
You will not escape battles – your enemies will be robbers, monsters, and even mythical minotaurs. Look for ancient eggs scattered around the world to bring them home, but until you do, take care of them. On the way, your character will save different creatures – their abilities will be useful to you.
At each level, Rayman and Barbara will have to overcome a lot of obstacles and avoid a lot of pitfalls. Do not delay, if you do not want to be caught up by enemies! And do not forget about earning bonuses that will be useful in the future – with their help you can improve items, and about collecting coins that allow you to "pump" the hero. The more difficult the level – the harder it is to pass, but you will get more bonuses for the passage!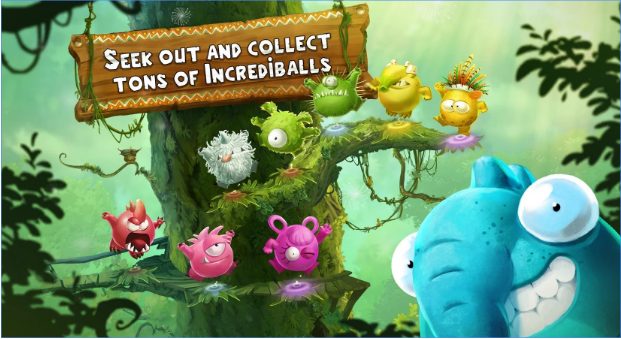 Downloads: 10 000 000 +
Customers rating: 

(4.6 / 5)

Epic Skater

A professional skateboarder can perform up to ten stunts of varying difficulty in one short trip. Then the individual movements merge into a terrific combination, estimated by the application of Epic Skater in thousands of points. Of course, to achieve professionalism, it is necessary to train long and hard, to practice skills in training and to travel around the streets of Los Angeles, but the result will be amazing!
The novelty of Epic Skater for Android is full of energy, adrenaline, and sport – the main character jumps with joy to the railing, makes high jumps from the ramp and gently lands on the ground, continuing the "deadly" combo. At this point, the system calculates all the perfect tricks, evaluates the combination done and adds points to the account.
In total, there are more than twenty-five stunts and every one of them is able to decorate an amazing series! Go from one level to another, earn points and share the results with your friends, trying to climb the leaderboard. You can download Epic Skater on Android right now – do not forget to invite friends for more fun!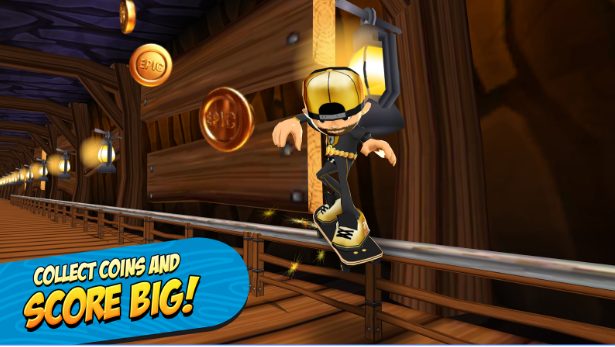 Downloads: 10 000 000 +
Customers rating: 

(4.1 / 5)

Townsmen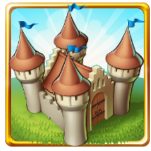 Townsmen is an incredibly exciting city-building simulator for mobile devices. Here you have to move into the Middle Ages and turn an ugly hamlet into a thriving city. Colorful 3D graphics, intuitive interface and truly unlimited possibilities for the gameplay will help to do various tasks.
How to play. You are to create your own empire, which will bring economic benefits and make you the richest and most powerful ruler on the continent. At your disposal, there is a small godforsaken settlement. Choose suitable places for the construction of mines and cultivation of crops. Hire workers and introduce a non-burdensome monetary tax for residents. Build new buildings, arenas for knightly competitions, shopping areas, taverns and much more.
In every possible way improve the infrastructure of the city. Decorate it with beautiful statues, majestic monuments, green spaces, and blooming parks. Make your city cozy and attractive. Build military barracks and hire an army to protect their citizens from bandit raids. Build defensive structures and watchtowers. Turn a village into the greatest empire, whose inhabitants will be pleased with your rule.
Ready to start building the city of your dreams? Then install Townsmen on your gadget and immerse yourself in the indescribable atmosphere of medieval architecture.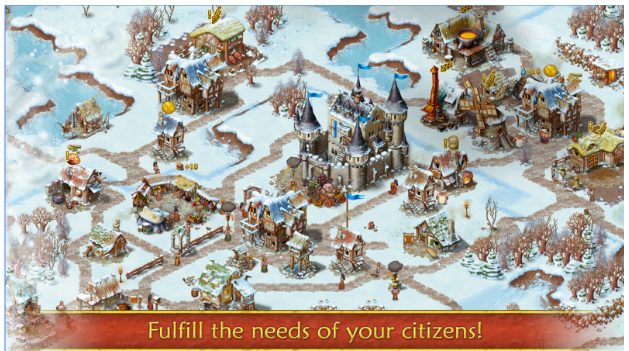 Downloads: 10 000 000 +
Customers rating: 

(4.3 / 5)

Space Frontier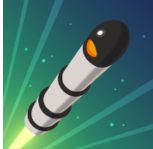 Space Frontier is an exciting project for Android gadgets, belonging to the arcade genre. In the presented game, train your own dexterity, but do not flatter yourself, thinking that it is too easy. Here you will be engaged in the launch of space rockets. The further you run, the better. Management is not difficult. Just click on the device's screen and everything will turn out. Do not overdo it over time, otherwise, there will be an explosion.
If you open the rocket door early, there will be no effect. In other words, look for the golden mean. It is necessary to focus on the height to get more gaming points. Graphics are simple, but the animation is fun. The developers took care that the voice of all themes was unique. Simple drawings are used as a background. You can change only the color. Graphics solutions are simple, but the application still gained considerable popularity. Training is also present. It is interesting for beginners. Users can change topics, upgrade missiles.
Space arcade will not leave you indifferent, it is pleasant that the application is free, and there are no age restrictions. You will learn the rest of the benefits in the course of the game process.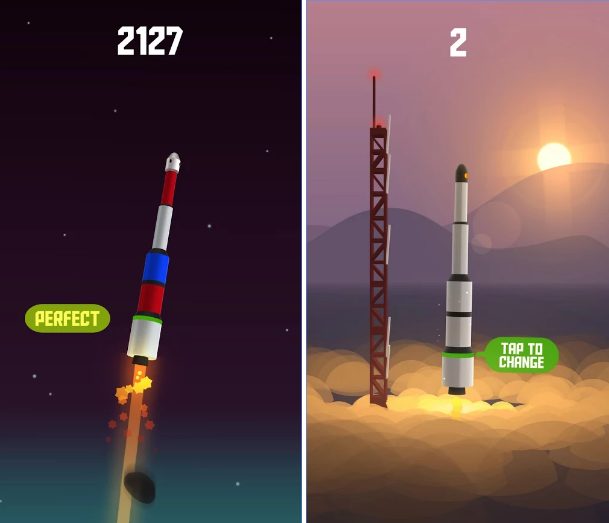 Downloads: 10 000 000 +
Customers rating: 

(4.2 / 5)

Pastry Paradise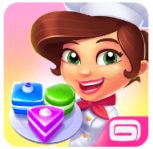 Do you like to treat yourself to baking or something sweet? Then you need to play the puzzle of Pastry Paradise and enjoy the gameplay by building different combinations. Naturally, there must be at least three identical elements in the series. These elements are various sweets that you like so much – sweets, cake, muffins, in short, everything that is needed for a real holiday of the stomach.
How to play. Objects can be moved in any direction, up-down, right-to-left, diagonally. The idea is to score as many points as possible and get the stars. You have to be in different places, in particular, in the waffle forest, gingerbread garden, on the chocolate mountain. There are also delicious competitions where you will need to bake cupcakes or serve customers.
As for the plot, it is as follows. Mr. Moelleux seems to get mad slightly since he set out to feed people with extremely harmful and tasteless products in the form of crappy half-finished products. The chef Hannah, on the contrary, wants to give the world joy, which in her understanding is baked goods and sweets.
And it's you who will help her to cope with the villain and prevent people from spoiling their stomachs with all sorts of rubbish. You are waited by fascinating culinary competitions in the world of cakes and desserts, dialogue with friends and the sea of pleasure from contemplation of qualitative products!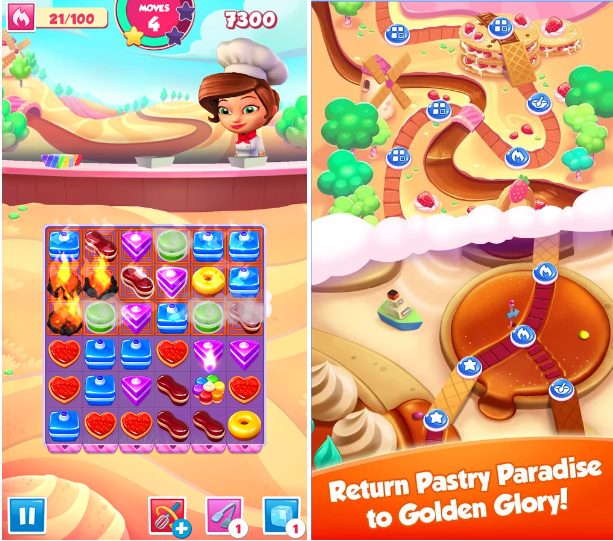 Downloads: 1 000 000 +
Customers rating: 

(4.1 / 5)

Flick Shoot 2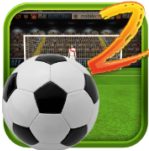 The game Flick Shoot 2 will be to the taste of all fans of football. This application is considered one of the most high-quality simulators, the quality of which has already been estimated by millions of users.
The gameplay. According to the story, you become a football player who dreams of becoming a true legend of this sport. But on the way to glory, you will find many trials. First of all, you have to go through the career mode in order to master the necessary skills, stock up on equipment and useful crafts that will help maximize the character's pumping. When you are completely confident in your abilities, you will be able to participate in multiplayer tournaments.
The game is also characterized by very high-quality, 3D graphics. The original sound and visual effects add realism to the application. The character in the virtual world of football is very easy to manage: to participate in the match, train, and perform other actions, just click on the screen of the mobile device.
The application can be downloaded absolutely free of charge for all types of mobile phones and tablets working on the Android platform.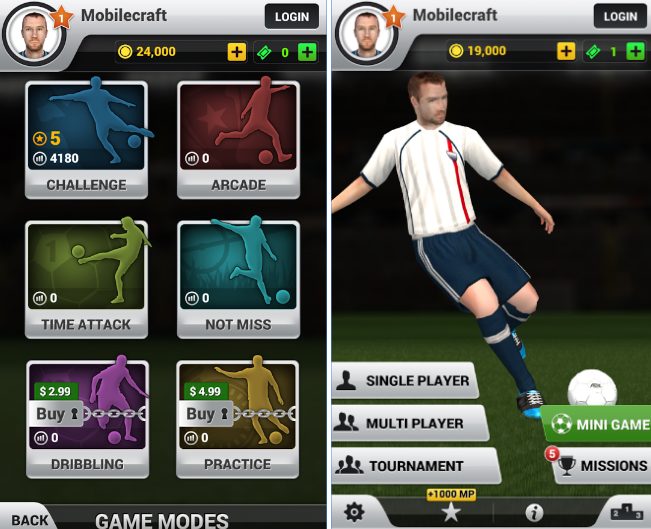 Downloads: 10 000 000 +
Customers rating: 

(4.5 / 5)

Daddy Was A Thief
If you often go to a bank, you know how polite and courteous employees are. But not this time! In the dynamic game, Daddy Was A Thief you will experience an incredible adventure. You will not have time to relax – you need to collect as much money as possible and do not fall into the hands of your pursuers.
It all started with the fact that you were the most ordinary person who was once fired. Worrying about his family, your hero decided to rob the bank. But since he can not be called an experienced robber, he prepared for this very badly. The bank alarm has set off, and now you are fleeing. Next, you discovered an incredible ability to break through the floors and descended down from the roof of the building.
Be cunning and resourceful, running around the labyrinth of rooms, pave the shortest path to escape from the chase, destroy everything you see around. Collect positive bonuses, avoid negative ones, bypass traps, and deftly overcome all obstacles that arise in your way. All control will be reduced to the movement of one finger. Run and collect coins, collect coins, and run – that's all that you need, but how fun it is!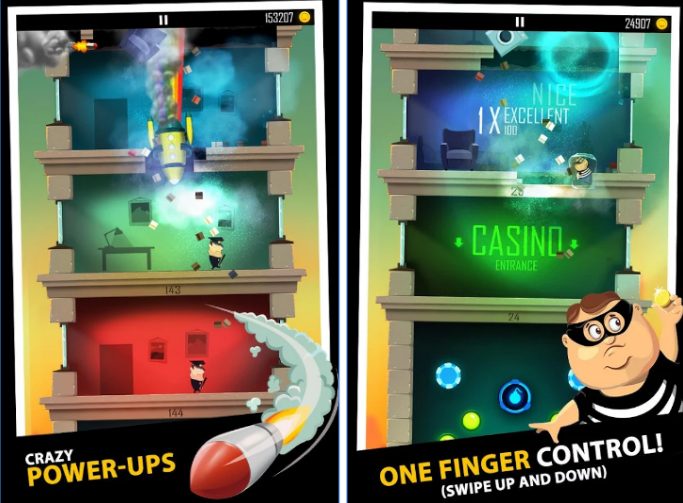 Downloads: 10 000 000 +
Customers rating: 

(4.2 / 5)

The Secret Society®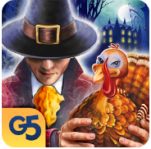 The Secret Society has become one of the most popular games in the world. After downloading the game you get to become a member of the legendary Secret Society and discover new original worlds, each of which has its own characteristics and secrets.
Everyone who enters the Secret Society, including you, has the abilities of a magician. But suddenly one of the members of the society, your uncle Richard, disappears. Now everyone puts their trust in you because using your magical abilities you can find Richard. But, in addition to searching, you have to make a maximum effort to protect the artifact of the Order from insidious enemies.
The Secret Society game has such exciting gameplay that you can play it for hours. As you progress in the game, you will meet more and more new characters, improve your skills and receive unique gifts that will help you in the search for Uncle Richard.
The game has high-quality graphics and design, and all actions are made by a simple touch to the screen of the mobile device. The game is constantly updated, so watch the news to get the opportunity to participate in new interesting quests.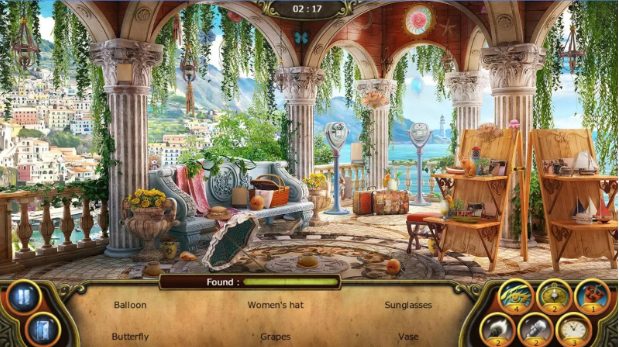 Levels and puzzles: In the Secret Society for Android, besides classic pixel-hunting, there are also mini-games – making pictures, restoring manuals, changing fields, shapes, and objects. In general, start a new game – choose the appropriate location and dare. And remember, only players who decided to download The Secret Society on Android are able to find the brilliant detective Richard!
Downloads: 5 000 000 +
Customers rating: 

(4.3 / 5)

Dead Trigger 2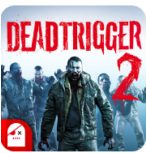 Is it easy for modern heroes to save the world? A game called Dead Trigger 2 can give an answer to this question, where you have to fight against the living dead in the dark era of the zombie apocalypse. There will be no time to bored, because the game is constantly being updated, opening up new and more interesting opportunities.
You will travel to dozens of unique places, armed with an annihilator – your weapon in the fight against zombies. More than six hundred different scenarios will allow you to live different lives in this dark world.
The game provides an interesting development of the plot – you can join the Global Resistance. Each new player influences the outcome of events, and so the game becomes even more interesting. For participating in missions you will receive rewards, for the fulfillment of tasks, a reward in the form of game currency is provided. You will see that saving the world is a very profitable occupation. And you can also become the owner of truly incredible prizes for winning the competitions organized by the developers in the Arena. Having won all enemies, you will win the right to be called a real legend.
The graphics in the game is also on an excellent level. You seem to be in awesome places, in reality, everything is so clear and detailed here, including the characters themselves. Do not think that you can easily cope with the living dead. Zombies are very resourceful and will create a lot of problems for you. But everything is in your hands! Try new weapons and destroy the accursed walkers.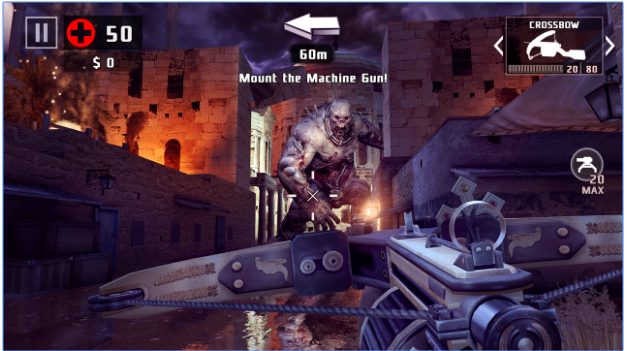 Downloads: 50 000 000 +
Customers rating: 

(4.5 / 5)

Trials Frontier

In the game Trials Frontier, you will begin to explore the vast world, sitting at the wheel of a motorcycle. Fight with friends, finding players from around the world on the list. Experiment with powerful physics when passing a multitude of tracks and beat the records that were set by the best of the riders.
You will find yourself in the midst of incredible adventures, battling with insane heroes on incredibly fascinating routes. You will find yourself in a world full of adventure, meet with the frenzy of the characters on the incredibly exciting tracks designed for racing.
The game is full of cool stuff. You will find yourself in an exciting game process, meeting exciting physics. There are no analogs to the "Ultimate Test". You can do incredible things on your motorcycle – so why not try it?
The game has an excellent plot, combined with a fair sense of humor. You can drive in a variety of locations, against the backdrop of scenic areas, participating in unique races. You are waiting for more than two hundred tasks, which will be performed on seventy routes.
Do not forget to improve your skills by collecting the winner's trophies. You cannot win without improving the parameters of the motorcycle. In the process, try to improve the buildings in the villages, this is necessary to unlock new abilities and receive awards. Drive on nine models of motorcycles, each of which has its own set of improvements. This game is done exactly for those who like the spirit of competition.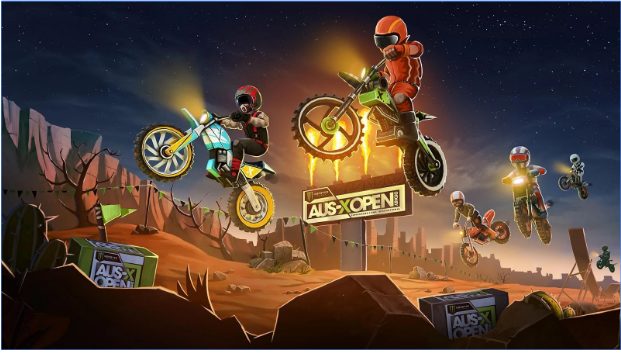 Downloads: 10 000 000 +
Customers rating: 

(4.3 / 5)

You may also like: 11 High graphic games for Android
Doodle Bowling

Doodle Bowling is a simple game that will not require special strategy knowledge. Doodle Bowling will give you a few minutes of entertainment, giving you the opportunity to participate in a game with primitive graphics, as if it was created by a student on a sheet of a school notebook.
Instead of high-quality and realistic HD graphics, in Doodle Bowling, images are reduced to simple drawing lines. Swipe from the bottom up the length of the screen allows you to throw the ball, and swipe left or right during the movement of the ball controls its rotation. It is possible that the Doodle Bowling is not very suitable for long journeys (except if you really adore bowling), but it will certainly make you distracted during a 15-minute trip to work. We add that there are different types of lanes and graphics for selection and unlocking, although the main game remains the same.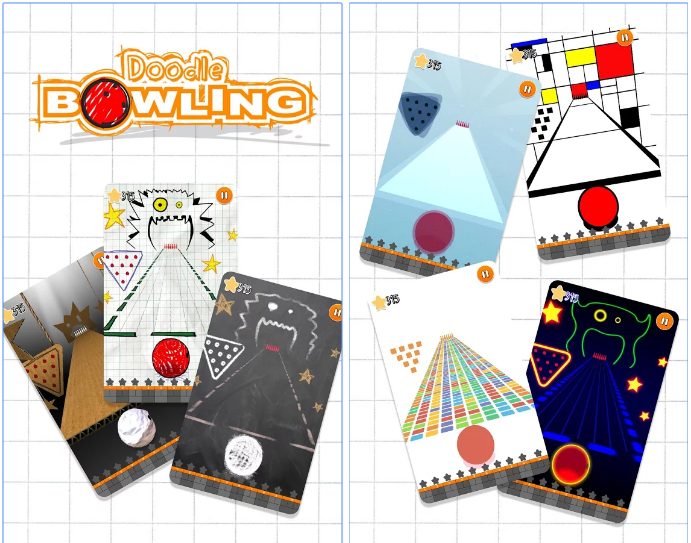 Downloads: 500 000 +
Customers rating: 

(4.2 / 5)