There are tons of dating simulator games on the market nowadays, but let's be honest, because there are so many of them, the majority of those are just a scam. So in order to help you to save time while picking a perfect one, we selected the best dating simulator games that will be trending in the current year.
By the way, we also have a collection of the best anime love games for boys that we recommend you check out.
Destiny: Romance On Your Choice
If you are into love novels now you get the chance to actually become one of the characters of your favorite books. This storytelling game will give you a chance to dive into the atmosphere of romance and love and try to date the most diverse characters from the most exciting stories.
This dating simulator is called destiny. Here you will have an opportunity to choose your own romance. You can choose whether you want to start the romantic story on campus, or in the castle, OR in the bright show business.
You can select if your lover will be a vampire or a billionaire. What house do you want: a castle or maybe you just want to be a college student?
There's no limit to your fantasies here. Just keep the conversations with characters, build the relationship, make choices and just watch how the circumstances are playing in your favor.
All the boys are looking extremely attractive, it doesn't matter if it's a mafia leader or a college professor.
Even we got excited while we were testing this app. So if you're looking for a true dating Simulator game that doesn't have that trivial anime vibe in it then you should definitely check out this game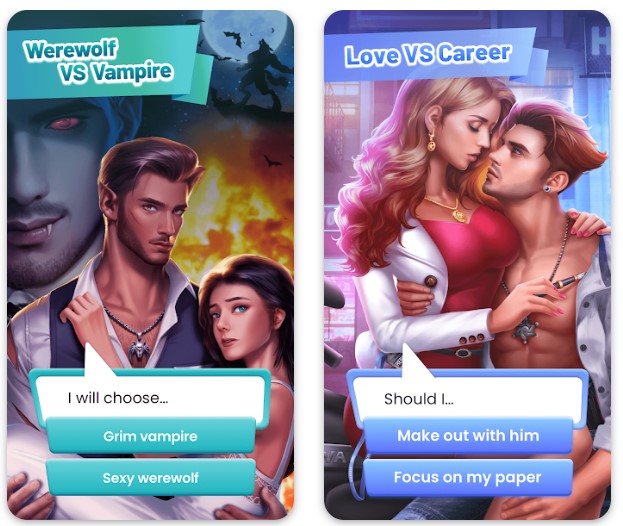 Downloads: 10 000+
Customers rating:

(3.5 / 5)

You may also like: 11 Best Apps to Turn Picture Into Anime Drawing on Android
Episode
Episodes is one of the most popular dating simulator games out there. It's not just a dating simulator, but it's an elaborate and captivating story, that will be evolving according to your choices and your connections.
The game is divided into several parts, where you start off as a freshman. You are moving into a new student room together with two other roommates, you get acquainted with boys, you go to parties, and enjoy your student life.
Of course, there's drama and love gossip spiraling around you, and several boys at once are fighting for your attention. It's only up to you to decide with whom you want to start the relationship.
And of course, you will face the jealousy of your enemies and will have to cope with their revenge!
By the way, the app includes some really spicy choices, like having intimacy with one of the boys right on the first date, but those choices are only available if you buy gems in the game for real money.
To be more precise, we want to say that if you really want to make this game as exciting and unpredictable as it can be, you will have to settle for the inbuilt purchases.
In all other aspects, Episodes is a storytelling game where you just have to conduct dialogues and watch how the story evolves.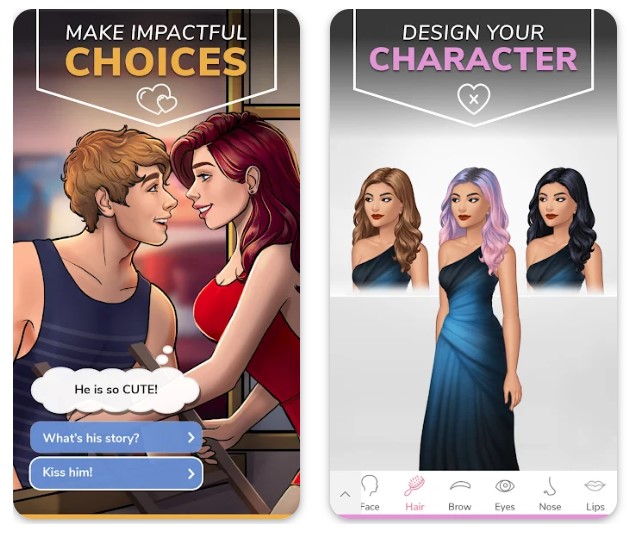 Downloads: 100 000 000+
Customers rating:

(4.3 / 5)

Love Villa: Choose Your Story
Love Villa is also one of the most popular games in this category and it belongs to the Love Island series. The developers here promise more drama, spiciness, and romance than ever before. The idea of the game is based on the TV show "Love Island".
Here you will be playing for one of the girls in the imaginary season of Love Island and you will be choosing how your love summer story will turn out.
Will you couple be the strongest on the show and you win? Will you take the price to yourself or you decide to divide it between you and your new partner?
You will be able to create and customize your own character from the beginning, and the game provides a decent choice of fashion outfits. But this game is not about fashion.
It's about dating, flirting, making decisions, and seeing how the relationship evolves. So this is another storytelling game where you just have to conduct the dialogues with characters and just simply choose which one of the boys you like more.
The only possible drawback of the game is that here you cannot play for a guy.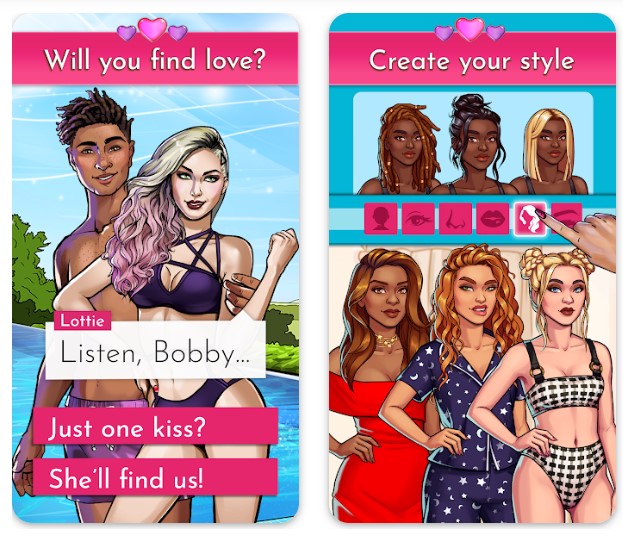 Downloads: 1 000 000+
Customers rating:

(3.9 / 5)

Moon Lovers
For those who are into fantasy love games, Moon Lovers is a perfect option. This is a dating Simulator game that gives you an opportunity to send text messages, have conversations and even call the characters while the story is evolving.
The action takes place in the Supernatural world where you will meet lots of people with superpowers. Witches, vampires, werewolves, and this is not even the whole list of the characters that you're going to meet.
As always, you will be choosing between 4 strikingly beautiful boys. One of them is a cardio surgeon, another is a rich CEO of a company, another one is a mysterious and romantic writer, and the last one is a glamorous rockstar.
The game will be evolving in tons of episodes and only you can choose which way will it go. Basically, the game is based on the same idea as before you just take part in conversations, choose what to say, and just watch the game as a TV series.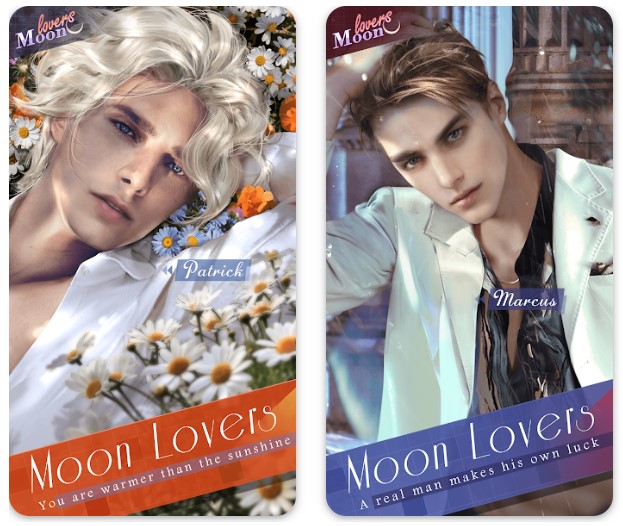 Downloads: 100 000+
Customers rating:

(4 / 5)

Moments: Choose Your Story
Another romantic story dating Simulator game but this time you will not find a fantasy element in it. Here you will be playing for real people in the real world that have pretty classic romantic problems.
You will again become the main character of your favorite novels and the choice will always be up to you. Create your own stories and no one knows how it ends. The story belongs to you and it was created by only you.
You will meet a lot of cute characters and your task will be to evolve relationships with them in order to understand who they are and if they're a good match for you.
With some of them, you will become friends, with some of them you will become enemies and of course, you're going to fall in love with some of them.
One fun part of the game is that you have to choose the outfits for some scenes but because the game just like other ones contains a lot of window purchases, the best outfits are usually only available for crystals that you have to buy in advance.
And if you don't want to pay for crystals you will have to watch a lot of ads.
New chapters are added to the game almost every day so you will never get bored with this dating simulator.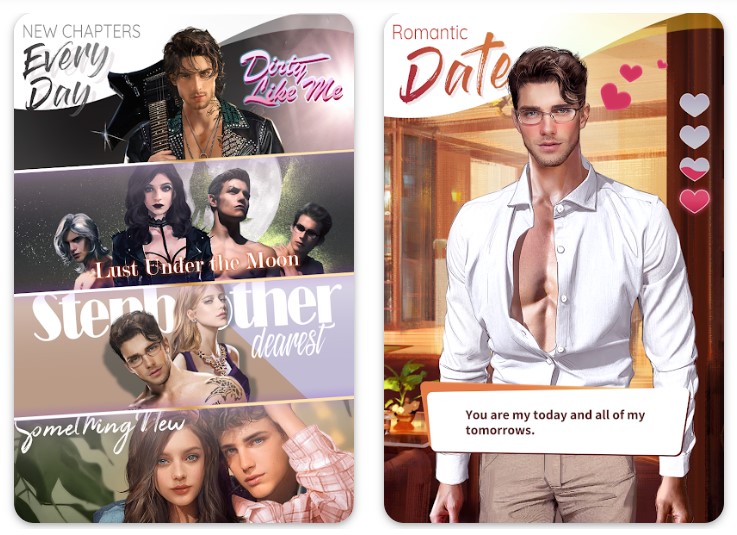 Downloads: 5 000 000+
Customers rating:

(3.8 / 5)

You may also like: 9 Best Offline Indie Games for Android
Play Stories
Play stories is a perfect dating simulator for girls that also contains the element of the fashion game in it. When you start the game, you will have to first choose this style of character.
You will have to select the general look of them, the hairstyle, the outfit, accessories, temper, and so on. One of your main tasks will be to meet cute boys and fall in love, have arguments and then come to an agreement.
Of course, it's always up to you whom you want to date and whom you want to dump. You can take part in several types of stories, including fantasy ones. In one story you will be dating a vampire in another story you will be a famous designer.
There's also a story where you're College students, which is pretty classy and you want to get the attention of the most popular boy in college.
And even in one story you will even become an archaeologist and will go exploring the mysteries of ancient Arabia. As you can see, the game brings you a lot of platforms for creating your personal love story so it's enough to get you playing for hours.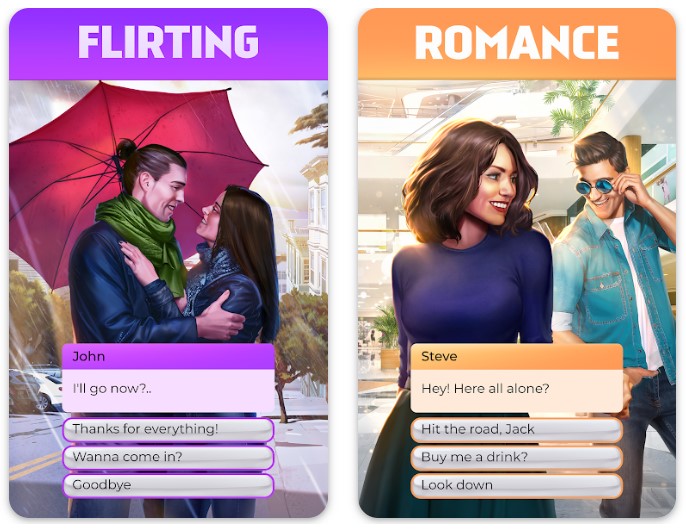 Downloads: 100 000+
Customers rating:

(4.4 / 5)

Love and Passion: Chapters
If you are into love novels and Jane Eyre is one of your favorite romance books ever, then you will find his dating simulator just a perfect option for you. Here you will become the main character of your own "happy ever after" love story.
Fall in love, live through the drama with your lovers, break up, start a new relationship, and enjoy the game. Explore the atmosphere of Victorian England, become part of the higher society and meet the most exquisite gel man and find your perfect match.
As usual, the plot of the game depends on the algorithm of your choices. You will also be able to choose the looks and outfits of your character and hear the game is made in the Victorian era style so if you like that era in history, you will definitely like this process.
In the game you will find the male characters from the most popular love novels, for example, such as Pride and Prejudice, so don't waste your time anymore and start playing this game.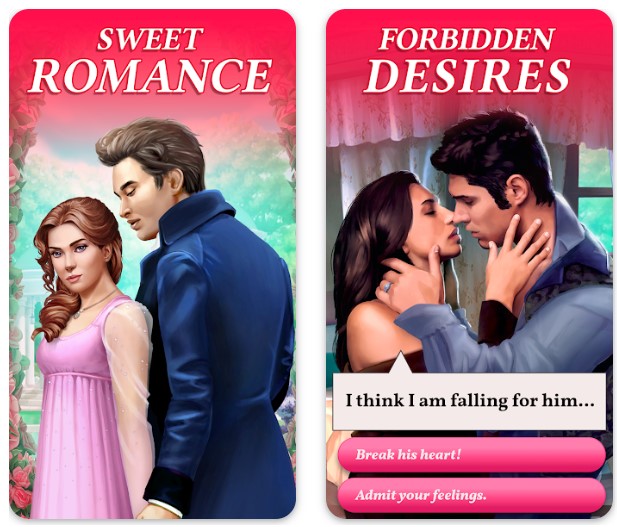 Downloads: 100 000+
Customers rating:

(3.2 / 5)

Scripts: Episodes & Choices
This game basically implies the same idea just like the previous ones, but with the aspect that here it includes the love stories for the LGBT community as well. So here you could also start a relationship with the people of your gender.
And another advantage of scripts is that the action can take place in various worlds, in the fantasy world call Mom in the business world, and so on. The plot of the game will heavily depend on the kind of relationship that you want to evolve.
And keep in mind that they're also BDSM lines and threesome episodes, so this game is for only people above 18. But of course, if you want to stick to the classic scenario, there are special storylines for those preferences as well.
Other aspects of the game are quite the same: you just choose the evolution of the conversation, you choose the answers and just see how the overall game evolves. The game includes in-built purchases.
The only thing is the soundtrack and the overall atmosphere is not really well developed, and lots of users note it in the comments.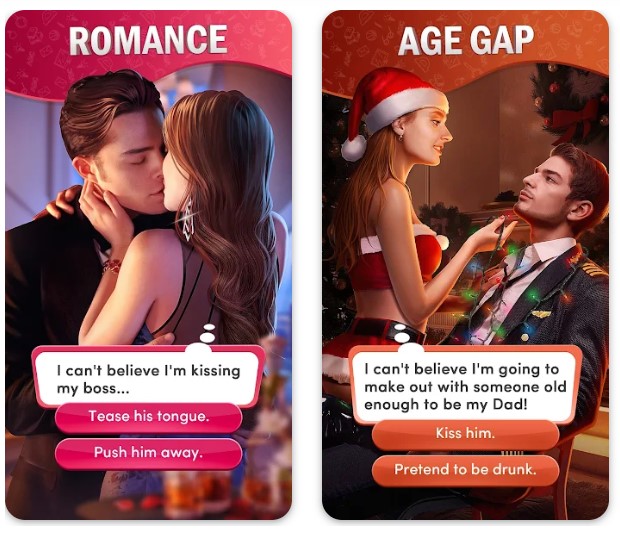 Downloads: 1 000 000+
Customers rating:

(4.3 / 5)

The Arcana: A Mystic Romance
Arcana is quite a standard dating simulator game and it includes some visual novel elements. Before you start a game, keep in mind that it contains a 21-episode story time, different collectibles, and is number of people to romance.
One of the best advantages of this game is its soundtrack and we also found the game art surprisingly decent.
The game takes place in a fantasy world, so dates with different magicians in the castles on the clouds are guaranteed.
Once again, the game has gems that you can obtain by watching the ads or you can buy them for real money and then exchange it for valuable objects in the game.
What is more, Arcana is LGBT-friendly so you can start a relationship with any character that you want. The game doesn't judge.
Arcana is a free-to-play game. We couldn't say that it includes some authentic or extremely exciting storylines, but just playing it for the aesthetics is quite enough.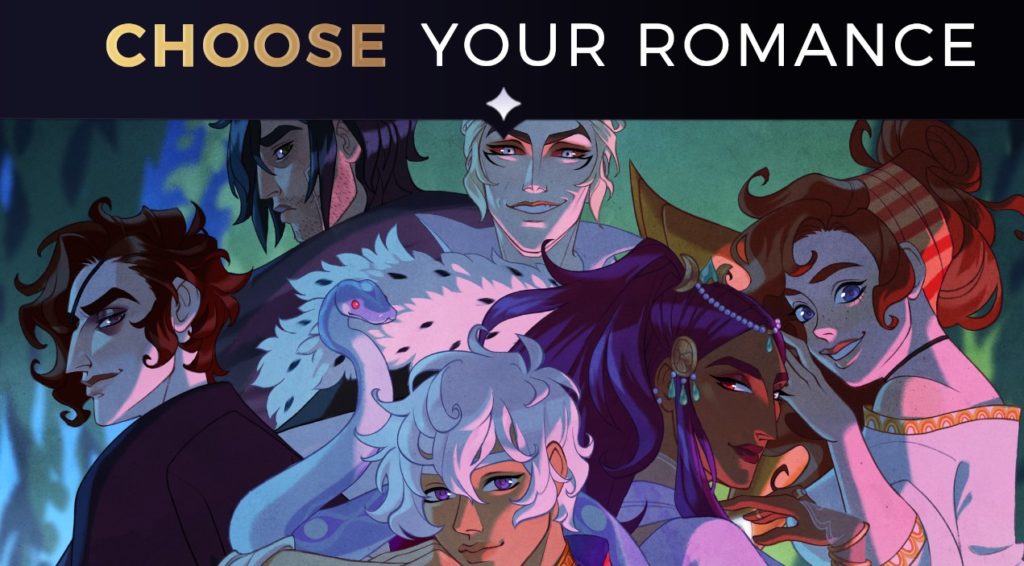 Downloads: 1 000 000+
Customers rating:

(4.8 / 5)

You may also like: 15 Best Gacha Games for Android
Amnesia: Memories
This is another dating simulator with visual Noble elements and it has a lot to offer. The main advantage here is that all characters have voice actors and the storylines are well depicted. The art style is not as good as the previous app, but still, it's quite decent.
This is an otome game so it's mainly for the female audience. All of your dating choices are going to be men. Apart from that, we cannot highlight any special elements or features here since the game is played like the majority of dating simulators.
No surprises here and it's quite easy to play. The main part of the game is free but if you want to get access to some individual episodes you will have to pay something and in order to get the full collection you will need to go for the full premium subscription.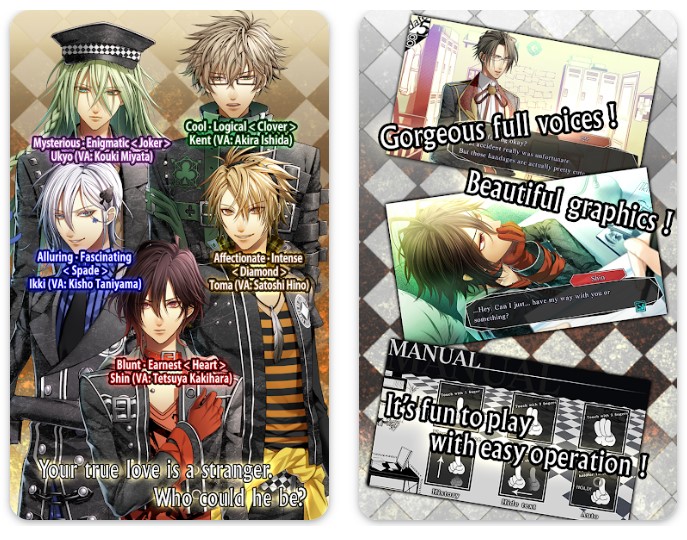 Downloads: 100 000+
Customers rating: unknown

Genius Inc dating games
One more dating simulator novel game with surprisingly decent stories. Genius Inc is a developer on Google Play and you can see that it has a bunch of dating simulators. Some of the most popular options include Yaoi Beast Boys, Mythical Hearts, and Twilight School.
We will not lie if we say that all of those games have similar mechanics and UI elements and it's only up to the user which kind of story they want to play. The game has different styles and there's no need to include every single one on this list.
You'll play through a story, romance the characters you want, and make decisions that will change the outcome of the story and all that stuff. In this particular game, we especially like the trio of Attack of the Dead, Mall of the Dead, and University of the Dead
Obviously, the game is made for the female audience. All in all, this anime dating Simulator game is worth your while when you want to play something romantic.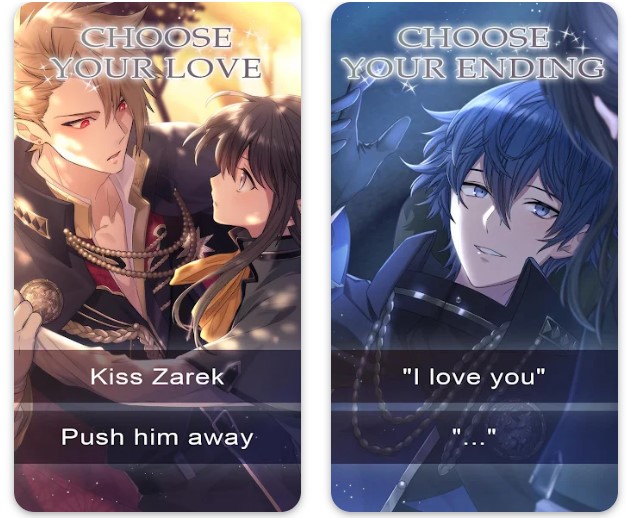 Downloads: 500 000+
Customers rating:

(4.7 / 5)

Mr Love: Queen's Choice
Mr Love is one of the most classic representatives of this genre. It is a solid overall dating simulator. Here you will find the storyline with four different choices for your love interest.
And even though it might seem like a small number but the thing is that the game has a bit more visual novel and here the dating simulator element is not as prominent as in the case with other games.
So if you like romantic games with the main focus of the storyline then this is a suitable option for you. What we really liked about this game is that it includes simple controls and a good user interface design.
It's a fun little visual novel and a dating simulator hybrid. The only possible drawback is that it's quite difficult to make huge progress in this game without acquiring the built-in purchases but if you have nowhere to hurry this is quite a relaxing game.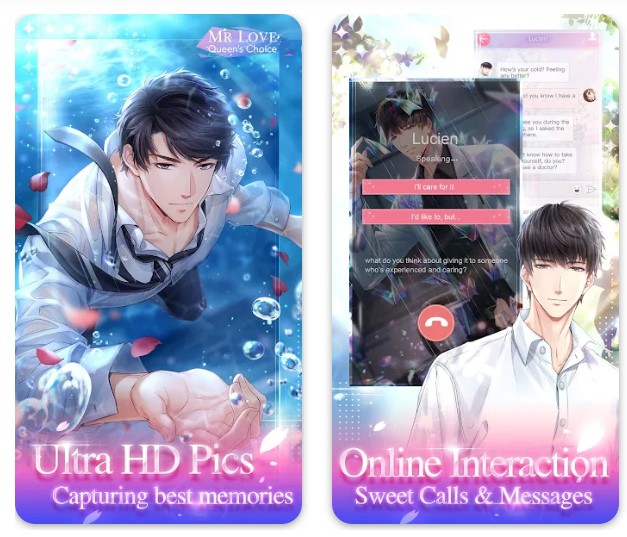 Downloads: 1 000 000+
Customers rating:

(4.4 / 5)

My Rental Girlfriend
Finally, we have a dating simulator game for men on our list. The My Girlfriend series is technically by Genius developers. This is their only game that was developed for the male audience.
What is more, most of their games are known for having identical mechanics and controls so if you've played the games by them before it will be easier for you to navigate here. This game obviously is another visual novel and it includes a mix of a dating simulator.
Of course, that means that you will be having fewer choices, but those who prefer the more in-depth story to it will definitely like it. The free-to-play elements are a bit more aggressive in this case than the automated ones, but it seems like it's not a big deal for the players.
The game is executed in the anime style. Your main task will be dating girls and just hide which one you want to become your girlfriend.
All the girls have different tempers and come from different backgrounds call my aunt you have to explore their story and pick up the only one at the end.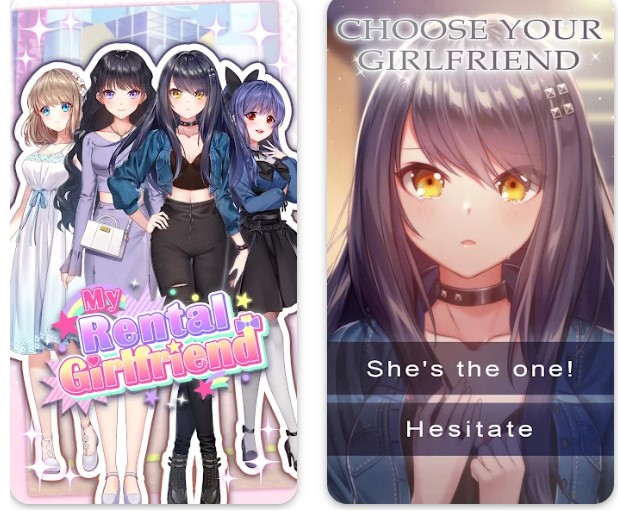 Downloads: 500 000+
Customers rating:

(3.7 / 5)

You may also like: 7 Best Fake Text Conversation Apps for Android
Mystic Messenger
If you like text-based games then this is your choice. Mystic Messenger is a dating simulator that includes a texting game twist in it. The story revolves around the main character who finds and downloads the Mystic Messenger app and then starts her journey of finding a boyfriend.
We're going to be honest with you, the story is a little bit more basic in comparison to the other ones in our list, but since the mechanics of this game are simple and the microtransactions are kept to a minimum, it's a nice choice if you want to play an extremely simple game is just to relax.
The only real gripe is that you are not able to customize the main character to have looks like you. But that's might be not the drawback for everyone. In all other aspects, it's a worthy representative of the genre to explore.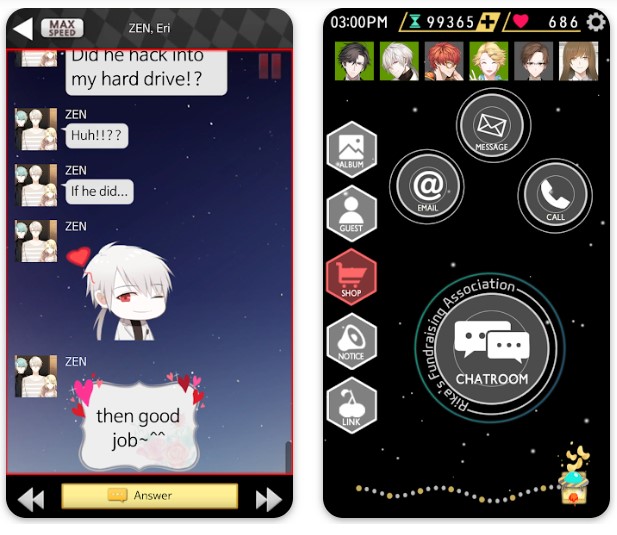 Downloads: 5 000 000+
Customers rating:

(4.7 / 5)

Obey Me! Anime Otome Sim Game
We wouldn't be able to continue this list without mentioning one of the most popular dating simulator games for android. This one actually has quite a few mechanics.
In this game, you will find different tasks that you need to complete, and there are also seven boys that you can choose from to date.
What is more, here you will find even card dueling mechanics. By the way, this part is a little bit tricky if you get to high levels but at the same time the game is friendly enough with a decent story that will keep you interested and you will not quit.
It's obvious that the developers put a lot of thought into this game. It is an Otome genre and it's not really for the male audience but it has an authentic vibe and beautiful visuals so it's a high-quality dating simulator game.
What is more, the characters here are created and developed in the tiniest details, their story, their looks, their temper, that it keeps you captivated till the end of the game and it makes you feel like you're really attracted to real people in the real life.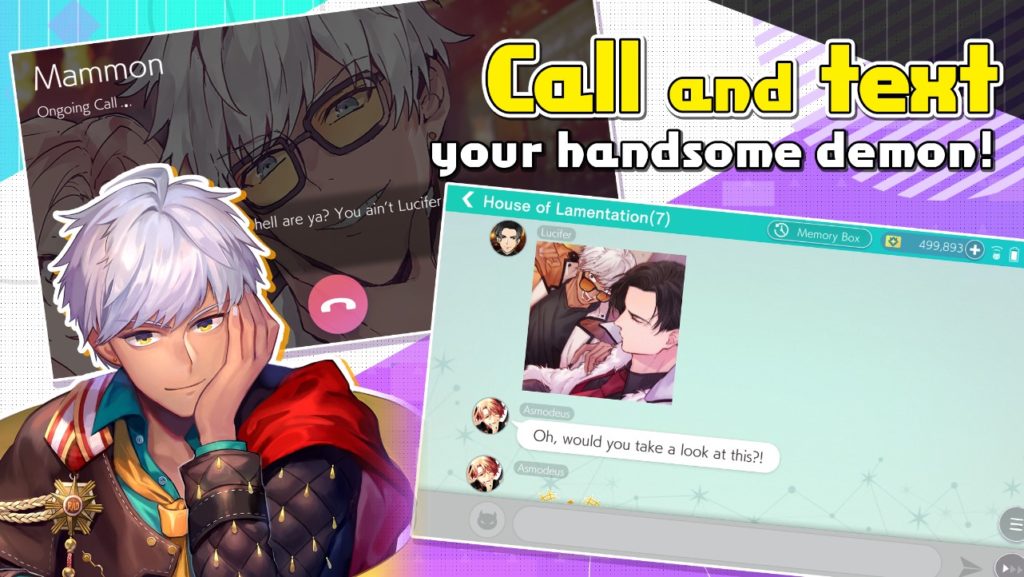 Downloads: 5 000 000+
Customers rating:

(4.7 / 5)

The Sims Mobile
You probably know this game because the Sims is one of the most popular life simulators ever, and this mobile app is quite popular as well. Of course, it's not exactly a dating simulator game, but you can make it one if you want.
Here you can start from scratch, from creating your own character and choosing every detail of their look and then interacting with other characters in the game, with the ones who are already in existence or you create other characters, and therefore you get a dating simulator game.
The only thing is that here the simulator doesn't include any story in it. The story is up to you. This particular mobile app contains a lot of quests and other stuff to keep the players engaged.
We also found that the game is a little bit heavy on microtransactions but in all other aspects, it's a pretty fun one
Overall, we think we don't have to explain every single detail of the Sims to you because you're already familiar with it. So, if you're looking for a dating simulator game without a solid storyline, the Sims is an option for you.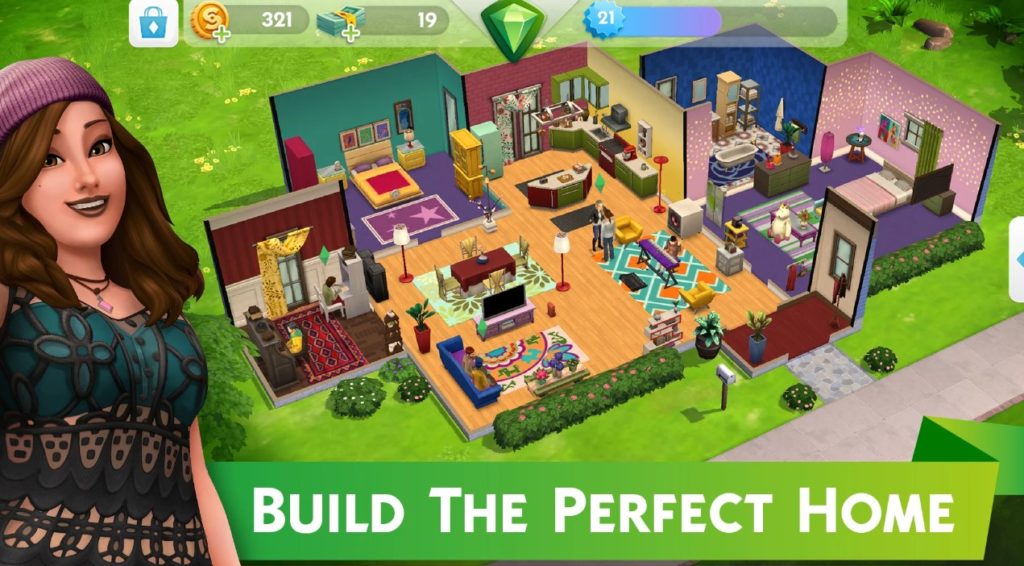 Downloads: 50 000 000+
Customers rating:

(4.2 / 5)

YAGS and ZAGS
This is a Gay Story (YAGS for short) and Zen: A Gay Sequel (ZAGS for short) and these two are considered to be of the best dating simulators for gay men developed by a very delightful indie developer. By the way, they are gays as well.
ZAGS is a direct sequel to YAGS and includes a similar setting, some recurring characters, and even the same main character.
In this both games you will discover more than 200,000 lines of dialogue, different Collectibles and bonuses, pleasant soundtracks, several endings and dating routes, and well-developed characters.
We would definitely recommend you play the first part before starting the sequel because this way you would be able to understand the story better. One of the biggest advantages of the games is that they don't have any built-in purchases.
The game itself is not free, but the cost is not too high. Of course, this is the game not for the broad audience but if you want to explore alternative dating simulators, this is a nice option to go for.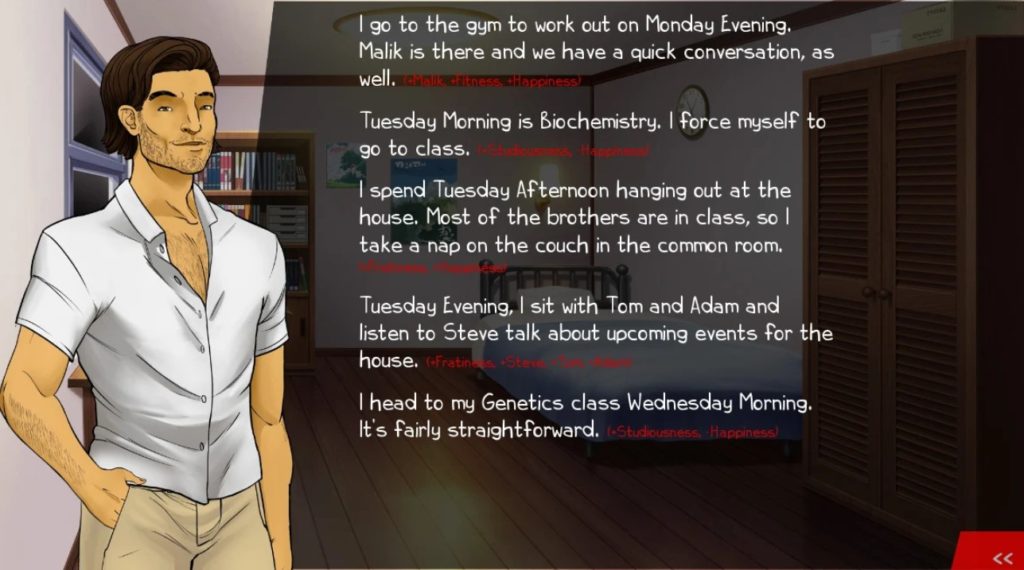 Downloads: 100+
Customers rating: unknown

You may also like: 7 Best Auto-Reply Text Apps for Android
Story Choices – Daring Destiny
And last but not least is another typical representative of the love dating simulators genre that is mainly oriented toward women. This is a storytelling game and the game of choices, where only you determine the outcome of your relationships.
The cool part of the game is that it allows you to create your character right from scratch and it's up to you to decide how you want to look. Also, it's up to you to decide whom you want to seduce – a romantic gentleman or a bad boy?
This particular game has quite average visuals and it might be lacking some details for someone, but the storyline and the overall choice of the people to date are more than decent. There are in-built purchases for the ability to make the spiciest choices, as usual.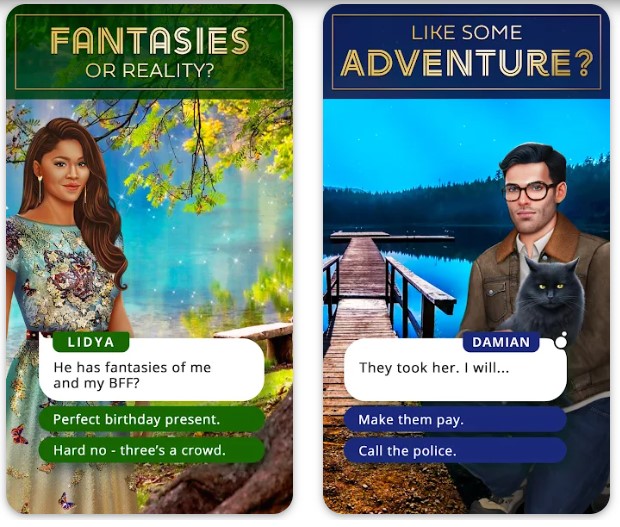 Downloads: 100 000+
Customers rating:

(3.2 / 5)