Using our phones too much is like an addiction. Do notice yourself daily grabbing and staring at the screen for no reason? Then you need to break free from this bad habit. That's why we have collected the best apps to lock Android phone for a period of time.
And if you also want to hide some apps from curious eyes, you will need to check the article about the best apps to hide apps.
Stay Focused
This is one of the most popular and most effective apps for blocking your phone for a certain period of time or for blocking some apps for a limited period of time. You will see how this help will increase your productivity and self-control.
You will find yourself more able to concentrate by limiting the usage of apps that distract you on a daily basis. With stay focused, you can block apps, websites, and even certain words on your terms. You can also set time limits for the usage of the phone in general.
You will be able to control your phone addiction and concentrate on your goals and on time management. Stay focused will help you to reduce your screen time and finally get that digital detox. You will finally find the time for your family.
Now let's talk about the technical part. Despite the fact that the app has so many different features and sections, it's quite easy to navigate in because each section is placed logically.
First of all, you have to choose whether you want to limit just certain apps or websites or phones in general. If you decide to go for the apps, the app will suggest you pick the apps first, then set the time limitations, and so on.
We also couldn't forget to mention the excellent interface design, it looks minimalistically perfect and that's another bonus. The app has great reviews from its users. Sometimes issues can occur, for example, the app can block a website or another app forever, but that ever is rather an exception.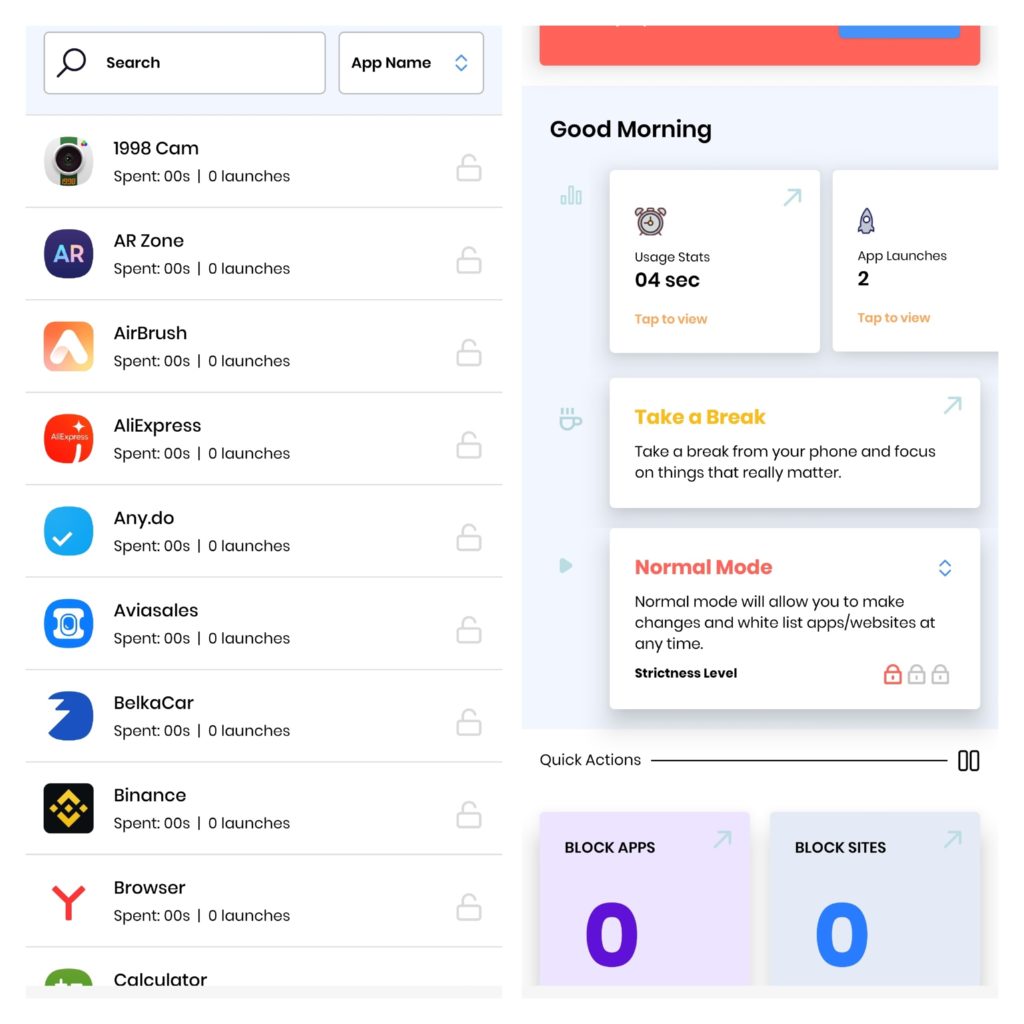 Downloads: 1 000 000+
Customers rating:

(4.4 / 5)

You may also like: 9 Best Auto-Redial Apps for Android
Lock Me Out
This is another great app to beat your phone addiction. It is a more simple app than the previous one, however, it doesn't diminish its usefulness. Before you install Lock Me Out on your phone, make sure that it's compatible with your device.
Now let's speak about what this app can do. First of all, it can block certain apps for different periods of time. And just like the previous app, it can also block certain websites. If you want, you can set limitations for phone use in general.
For all of that, you will need to grant access to the app in the settings of your phone. Therefore, Lock Me Out will be able to block your notifications, apps, websites, news feeds, and so on. The app will never block anything extra or important but you did not tell it to do.
And if you want to have more security, you can set the password for accessing the app so no one but you can limit something. Lock Me Out also includes its own penalty system for breaking the timeline and using the phone more than it was expected.
After a while, the app will compile statistics for you showing whether you were successful or not. And one of the best parts of it is it has no ads. As for the user interface design, here it is more simple than in the previous shop, but it's not bad at all.
It works in almost the same way, you just pick up the apps for limitations, choose the time period for limitations, and so on. If you like the classic Android style for apps, then the Lock Me Out app is for you.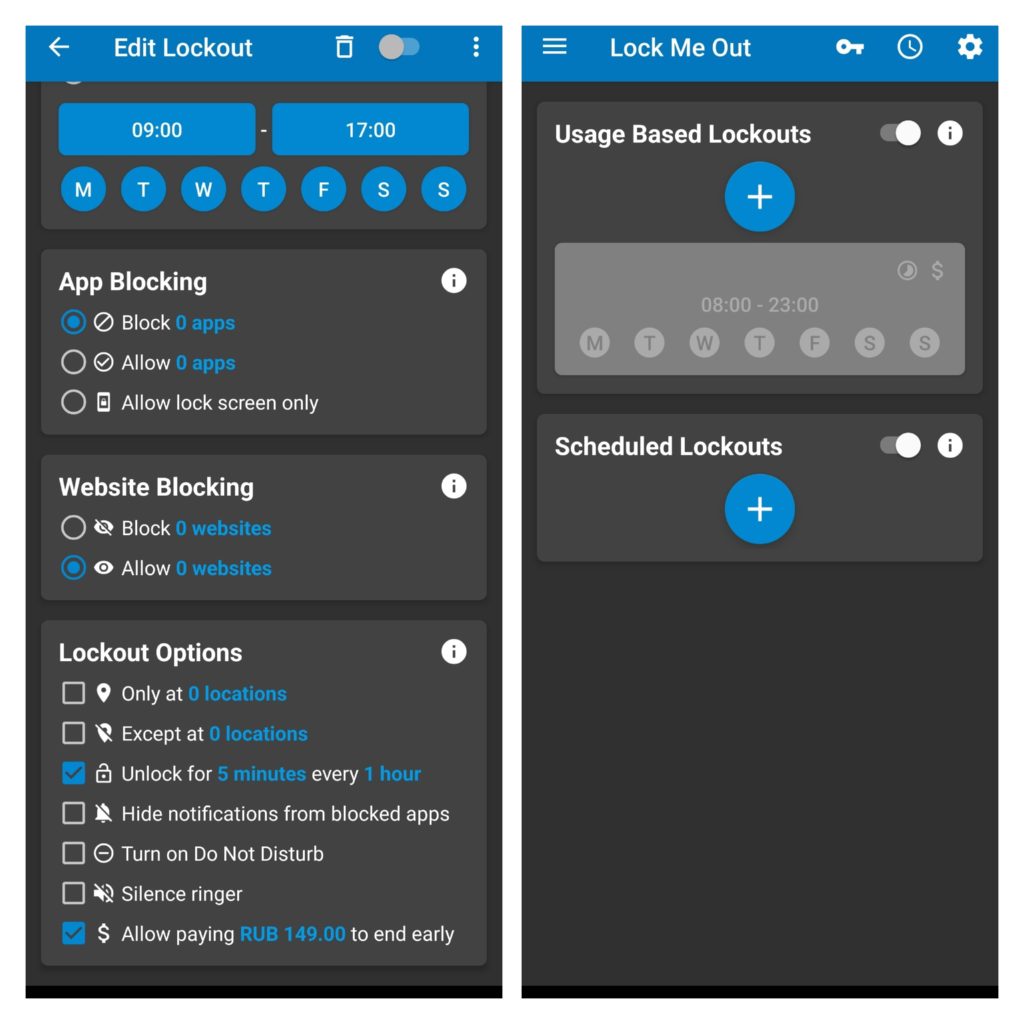 Downloads: 500 000+
Customers rating:

(4.1 / 5)

Stay Free – Stay Focused
Stay Free is probably one of the most sophisticated apps on the market to limit your screen time. It has a number of features and the number of analytics functions so you can beat your phone addiction completely. The app is superior in a lot of aspects.
First of all, when you open the app and give it access to your phone system, it immediately compiles the statistics for you. Stay Focused will show you how much time each of your apps has eaten on the current day. It will also present you with a statistical graph.
After that, you will be able to go to the limiting section and set up the time for when your phone is going to be blocked. You will be able to choose the most accurate time up to a minute.
Another interesting feature here is that you can set up the usage goals for each app and staying free will remind you each time the purpose of this app usage when you lose control and start over using.
Moreover, an interesting feature that cannot be found in other apps is that here you can compare your results to the results of other people from all over the world. This feature was invented to support each other during the struggle with phone addiction and just stay focused.
Another thing is that setting everything up here is so easy. The app has separate sections for apps, time slots, and other settings so you don't have to think about anything, you can just start limiting your screen time.
Therefore, Stay Free helps you to live a more productive and mindful life. And another cool factor about Stay Free is that this is a cross-platform app.
You also can block your phone for sleep mode. Among the minor advantages, you can find motivational quotes and interface theme configurations. All in all, this is a great app that is so easy to use but it's so multi-functional.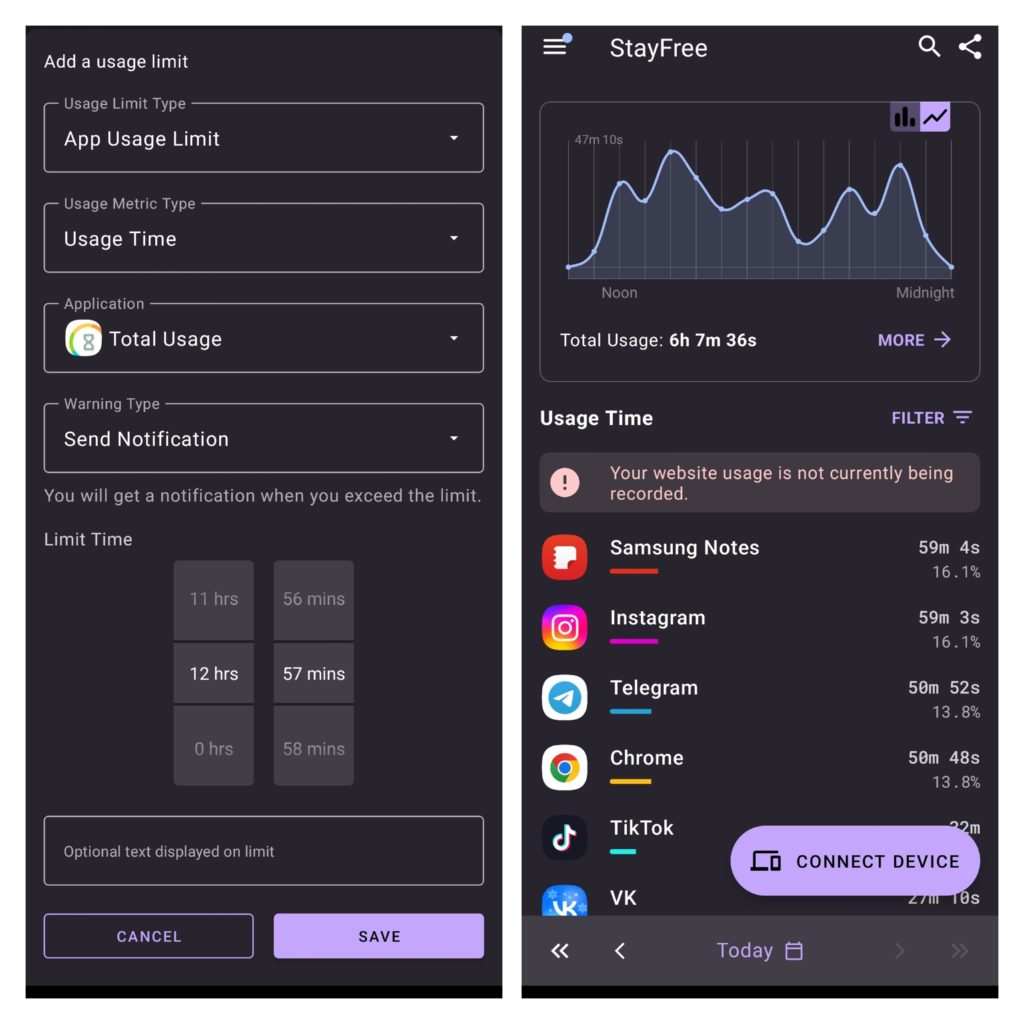 Downloads: 5 000 000+
Customers rating:

(4.4 / 5)

Lock My Phone (Zen Mode)
This is another alternative to the previous apps to limit your phone usage. It is much more simple than the previous ones and it has a little bit complicated on installing process, so keep that in mind before downloading it.
If you don't want to have a bunch of features in the time-limiting app, then Lock My Phone is exactly your choice.
There are only two sections where you can lock the whole phone for a certain period of time you can configure this in the settings, or just lock your phone based on your location.
An interesting feature here is that while the phone is blocked, you can still have the access to the apps on the screen, access phone calls, or make outgoing phone calls.
In case you try to unblock the phone in general during the limiting period is still on, the phone will be blocked again immediately.
The most convenient way to use this app is to schedule the daily phone blocking so you are disciplined in terms of phone usage. All in all, this app is all about simplicity.
Downloads: 500 000+
Customers rating:

(4.6 / 5)

You may also like: 9 Best Visual Voicemail Apps For Android
Screen Time – Restrain Yourself
In general, this app is just a more simple version of the Stay Free app. Just like in there, the app will show you the statistics of how much you're using each app right after you install it, it will present your graph, but here you can only limit the usual apps.
Basically, the graph is the most impressive thing that you can find here. And that's fine if you want to just limit the screen time and use certain apps, but if you want to make it more detailed then that's not your choice.
What is more, we found that the interface design of screen time is a little bit more complicated. When you open the app for the first time it might be tricky to understand where to go and where to click to actually set the limitations and just to figure out how the app works.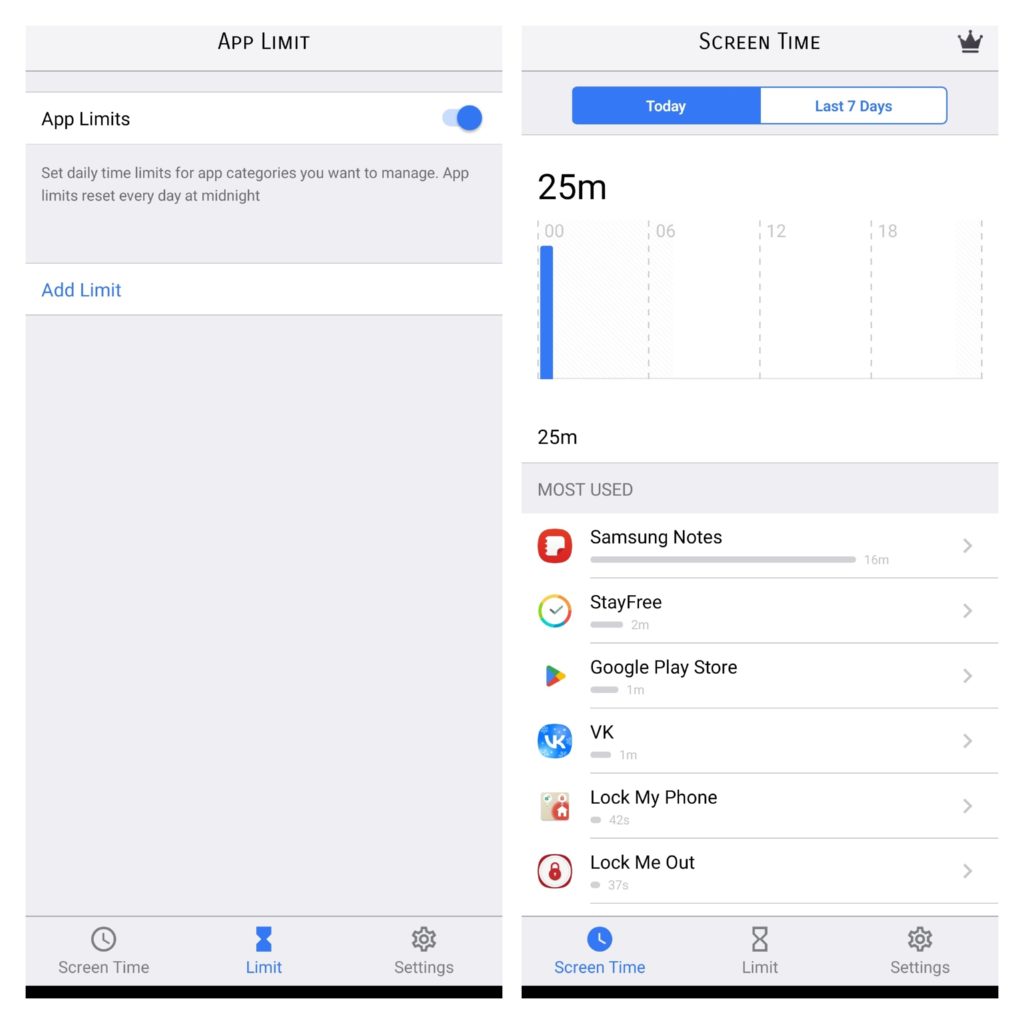 Downloads: 1 000 000+
Customers rating:

(3.2 / 5)

Keep Me Out
Keep Me Out will block your phone for a period of time that you tell it to. Among all the apps that we tested, this was the fastest to handle. Probably, it serves only one purpose, just like it says – to help you to keep away from your phone.
All you have to do is just to select one of two options – to set a one-time block or schedule it so you don't have to repeat it over and over again. It's better to use Keep Me Out to stabilize your sleep so your smartphone doesn't bother you then.
In other aspects, it is a beautiful and easy app with a nice interface design in colors that are pleasant to the eye. For all the minimalism fans – recommended!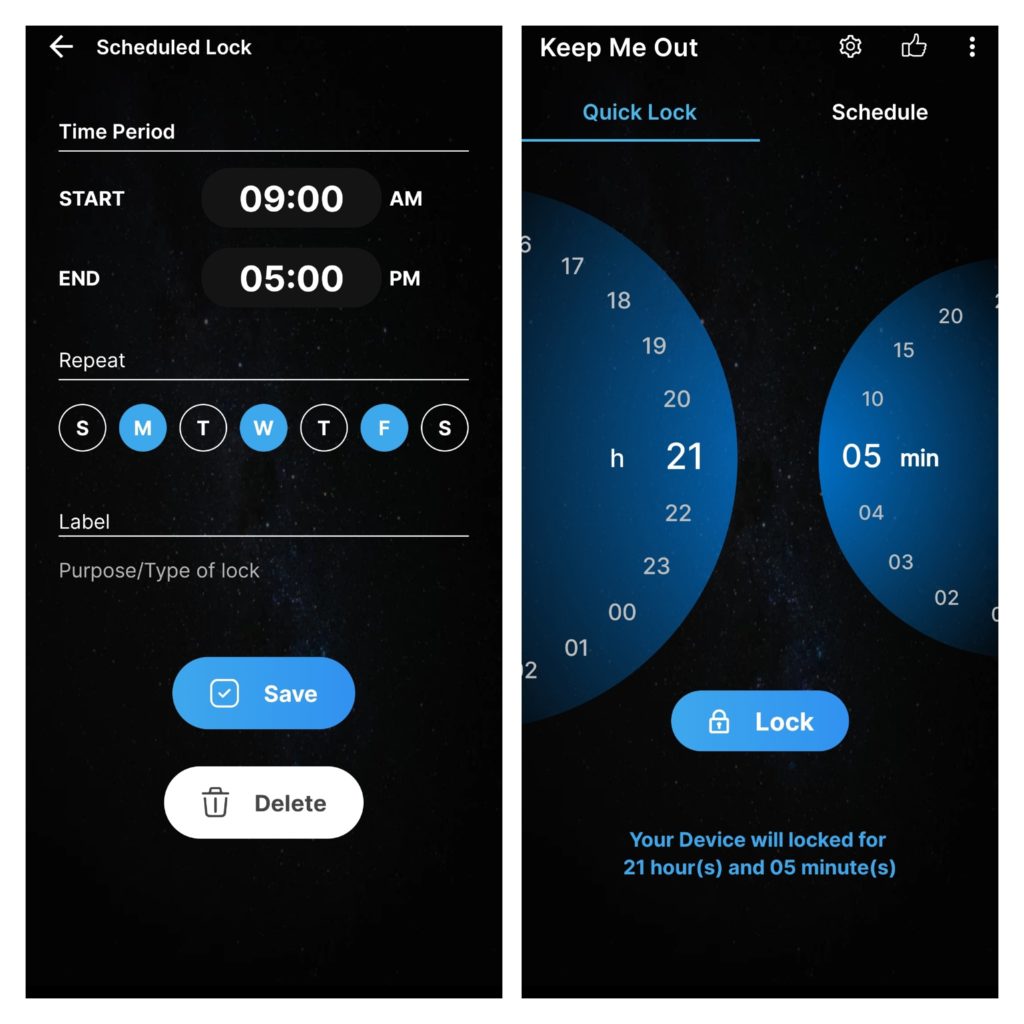 Downloads: 500 000+
Customers rating:

(4.7 / 5)

ActionDash: Screen Time Helper
The first thing that we noticed immediately after we opened this app is its interface design is basically a copy of the Stay Free app. It doesn't demolish its functionality though. In other words, ActionDash will be more suitable for people who like graphs and statistics.
It will show you the statistics on how much you use every single app, your daily screen time statistics, night screen time statistics, and so on.
To be honest, we struggled a bit in order to find that feature that helps you to block your phone. And the blocking here is only available for certain apps, but not for the phone in general. However, if you decide to block all of them, you can't use the whole gadget anymore, right?:)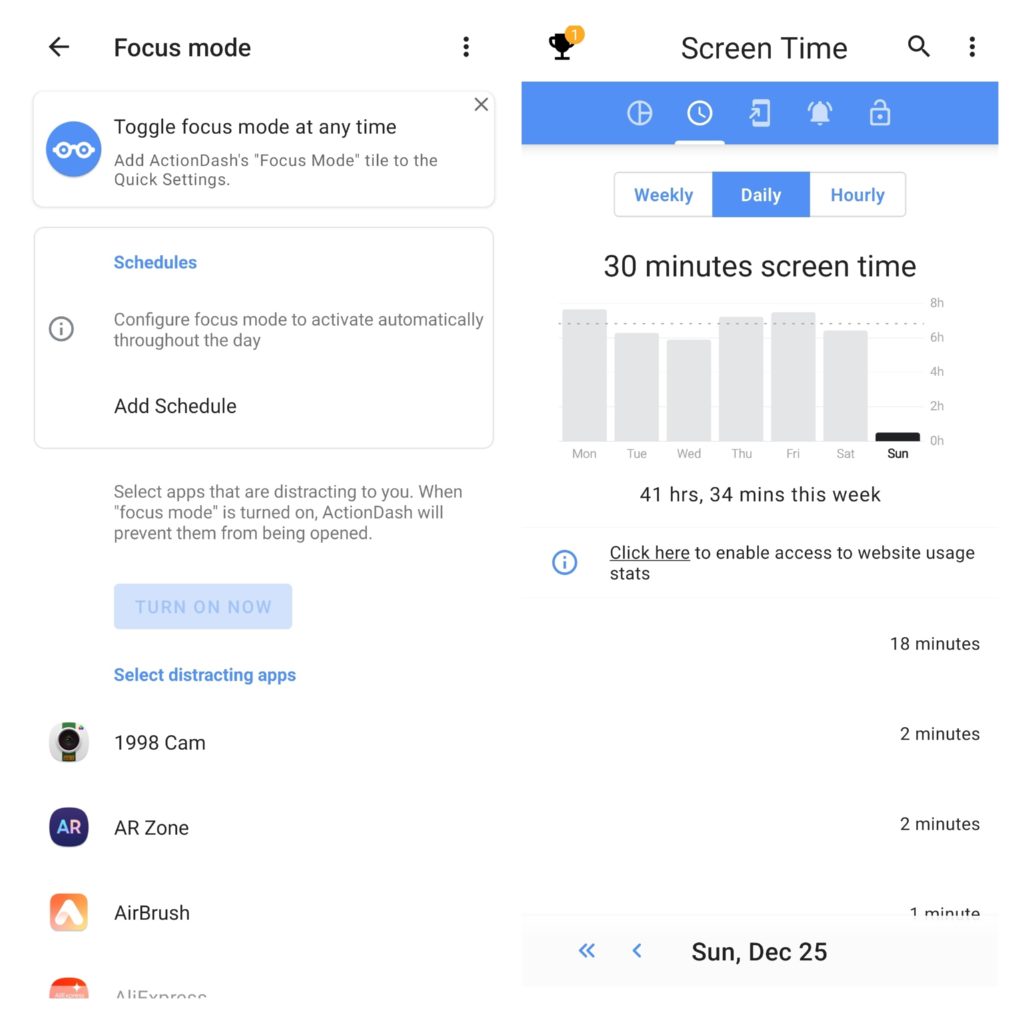 Downloads: 1 000 000+
Customers rating:

(4.6 / 5)

Toddler Lock Timer
As you have already guessed by the name, this app will limit screen time for your kids. All you have to do is to install it on the phone that your children usually use, allow the app access to the system and then choose the duration when the phone is going to be locked.
Therefore, you won't have to worry about your kids' screen time anymore and try to stick them off their phones each time- Toddler Lock Timer will do that for you.
In other aspects, this is the plainest app on the list and it's the first app that we tested that had ad banners. It looks a little bit obsolete overall and obviously, developed haven't updated it for a while.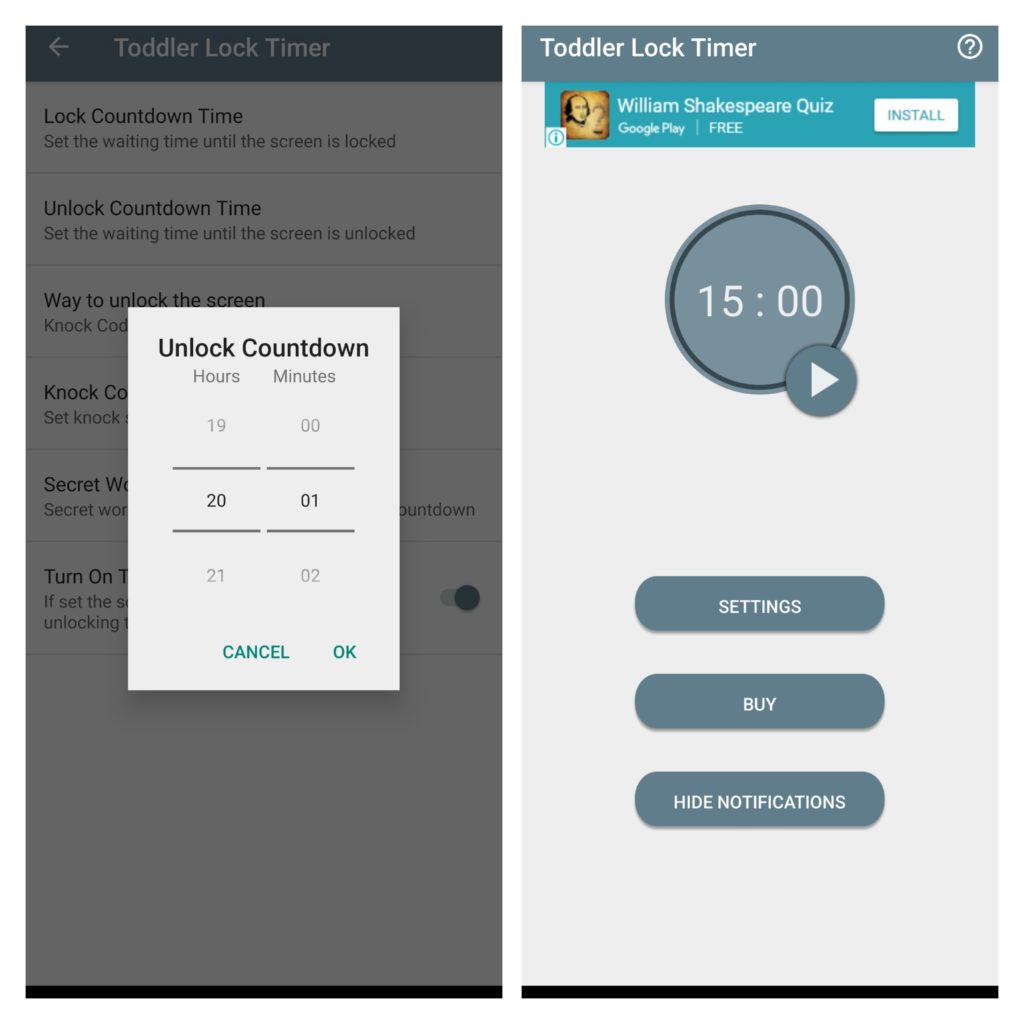 Downloads: 100 000+
Customers rating:

(3.3 / 5)

You may also like: 9 Best Apps to Connect Android Gadget to a TV
Block Apps: Digital Wellbeing
This last app on our list is only suitable for temporary blockage of apps. After downloading it, you have to give the app access to your phone system so it's able to do its work.
By exploring these sections in the lower part of the screen, you can see that you can select whether you want to block the apps, see the statistics on usage, or just overview the usage of the apps in general.
To be honest, we found these sections a little bit confusing, because they all perform more or less the same function. You just select the apps from the list that you want to set the limit for and then you block the apps.
Probably, after a while, the Block Apps app will be able to compile statistics but from first sight, it's a little bit tricky to navigate here.
It's more convenient to come up with a limiting schedule right from the beginning, so you don't have to open the app and block the apps over and over again. In other aspects, it's an easy and cute app. It just doesn't have as many features as its competitors.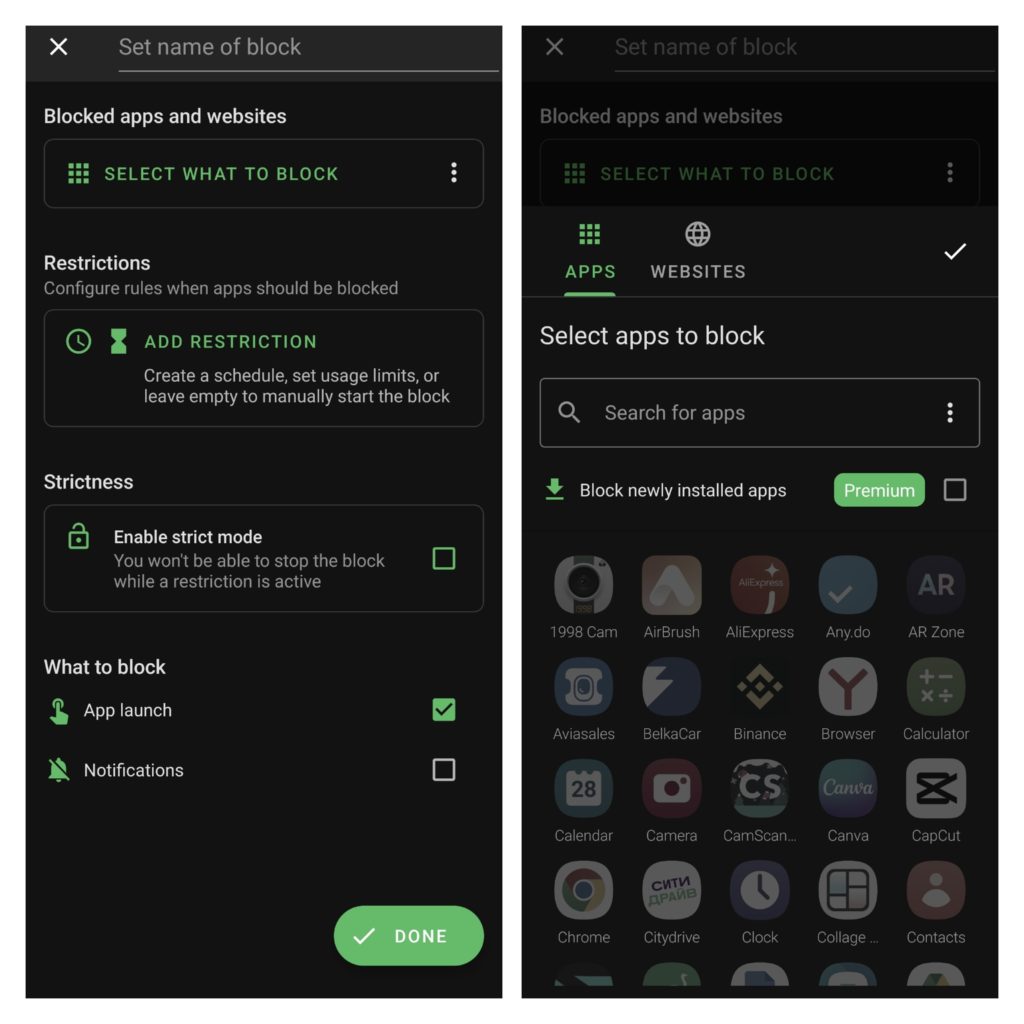 Downloads: 500 000+
Customers rating:

(4.1 / 5)