Do you want to have fun playing your favorite games not only on your game consoles but also on your Android device? You don't have search because in the following article we have gathered all of the best cloud gaming apps for you.
By the way, before you start, we also recommend you check the best VR games for Android without controller.
Stadia
Stadia is one of the most popular apps in the cloud gaming category. Actually, this is a Google gaming platform where you can always play your favorite video games on any screen that you find around you. Well, almost.
Access to Stadia is totally free and the only thing that you have to pay for are the games themselves. You can stream games directly to all imaginable devices including your Android device.
You only need to have Wi-Fi or Internet data and then without waiting for installs, downloads, or updates you will be ready to play. In case you have a Stadia controller and a Google Chromecast Ultra you will be able to play on TV as well.
This app allows you to seamlessly switch from one screen to another. The game will always be ready for you. And one of the best advantages of stadia is that when you buy the game here it's ready to play without any necessity to wait for downloads or game patches.
And the study also updates games behind the scenes and you don't have to waste your time on that. When you buy the Stadia Pro subscription you automatically get a bunch of games that are included in there.
New games are added every month. However, don't forget that for a decent playing experience and proper work of this app you will need a decent internet speed and decent signal.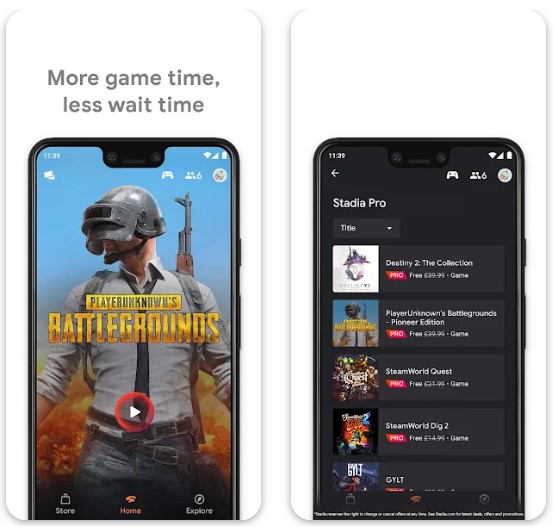 Downloads: 10 000 000+
Customers rating:

(3.6 / 5)

You may also like: 11 Best Android Racing Games With Controller Support
Blacknut Cloud Gaming
Just like in the previous app here everything that you need to do is to get the monthly subscription and then more than 500 video games will be available to you. You will turn your Android device into a gaming console.
Games of all genres will be available to you including puzzles, sports, racing, etc. You can use a Bluetooth Gamepad to play PC games on your mobile device.
All you have to do is just to connect your phone to another console and then you can just choose the games that you want to play. This app was one of the pioneers of cloud game services and it's one of the best in its category.
In fact, the app doesn't require any complex Hardware. You can just play video games on your Android device without anything. New games are added quickly to the collection of your subscription.
What is more, the titles are available for the majority of games that you will find here. There's a gaming catalog that will be suitable for the whole family. And since we talk about the family there are also parental controls for child accounts.
After you've created your account the app will learn your preferences and favorite games and we'll start suggesting custom articles and curated content so you could choose the games to play. Blacknut has quite a standard Android interface but with a fresh look.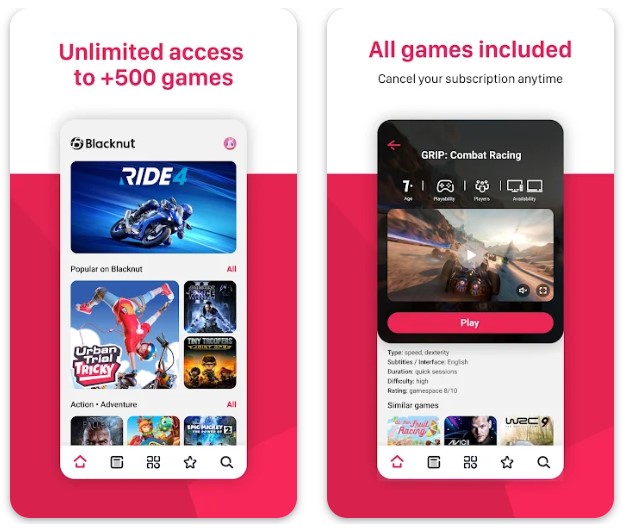 Downloads: 1 000 000+
Customers rating: unknown

Cloud Gaming Pass-pc games
If you want to play your PC games on your Android device then this app is exactly for you. Cloud gaming pass has the most popular 3A Games available. This app indeed includes a giant game library.
For instance, here you will find a cloud gaming pass emulator and there are also games from such consoles as ps4, Steam games, and so on. What is more important, all the games are streamed in aged quality so if you have a stable internet connection no lags should happen.
The app usually collects the most popular PC game information so you will always stay up to date about the updates of the game. This game platform is truly easy to use because it has a comfortable interface design.
The video quality is actually customizable and each user can set it up to the strength of their internet signal. Therefore, this app is less data-consuming and therefore efficient.
Of course, the subscription price here is higher than in other apps and not easily affordable. You only have 10 minutes of free trial and that's it.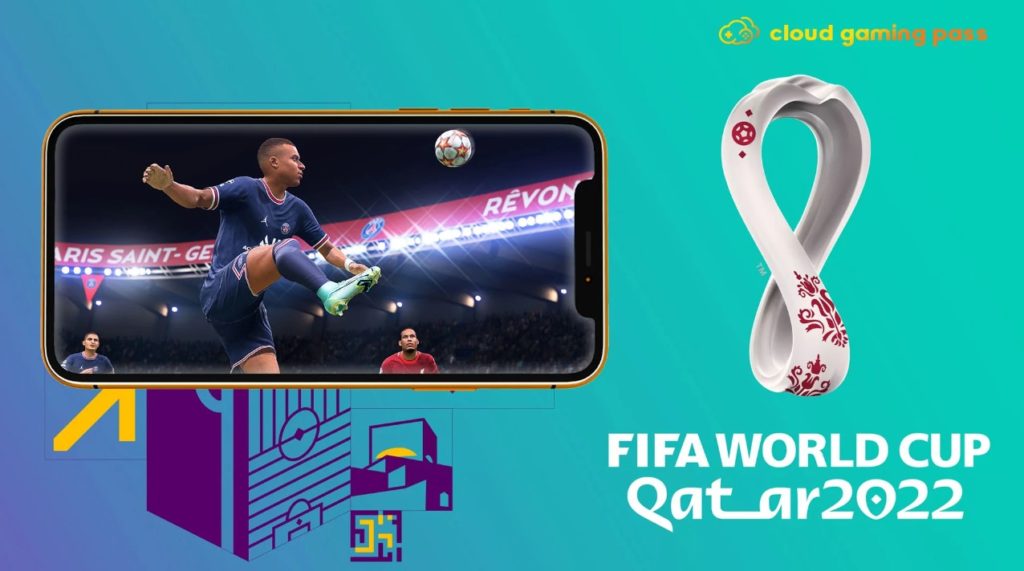 Downloads: 5 000 000+
Customers rating:

(4.9 / 5)

JoyArk Cloud Gaming
JoyArk is also a tremendously popular cloud gaming app on Google play. The motor of the app is that it allows you to play any games that you want whatever you are on any device. It allows you to play high-quality games in the AAA category.
This app will turn your Android device into a powerful gaming console. However, the app itself doesn't require the latest Android models to play the games that are presented here. There are several types of paid subscriptions that you can select from.
With JoyArk you will be able to play your PC games on any device including Android. After a while, the app starts sending you recommendations for games from the game library. Also, in the app, you will find such pleasant bonuses as tutorials, step-by-step guides, and the latest gaming world news.
JoyArk also includes a network of players where you can chat and discuss the latest news with other players from all around the world. The only thing is the functionality of the app is not broad enough.
For some reason, all the games that you played last time won't be visible immediately when you reopen the app.
What is more, the app doesn't tell you how much time is left before the free trial. When you're playing the game. The new games are added regularly but they are not enough in comparison to the previous apps.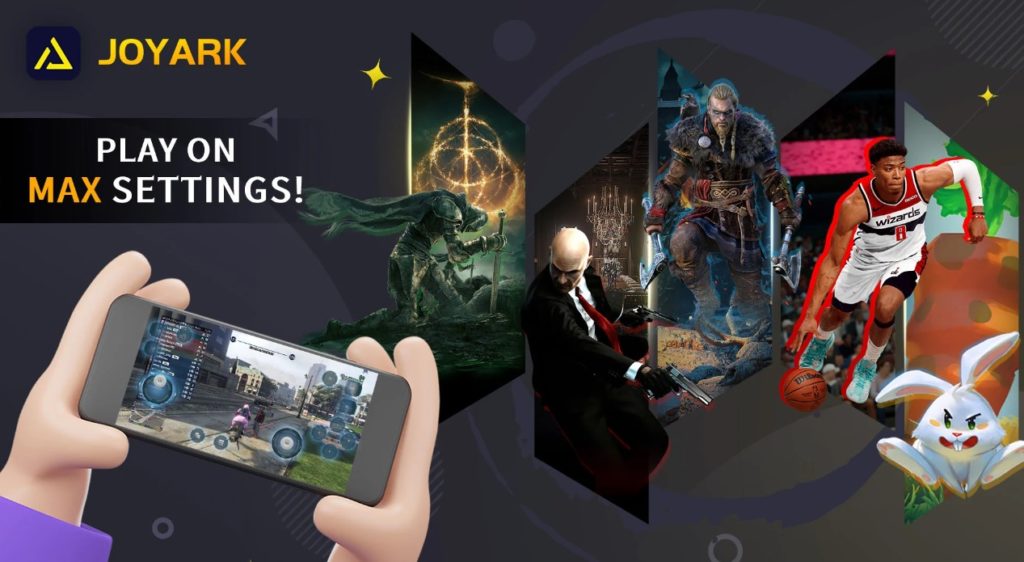 Downloads: 1 000 000+
Customers rating:

(3.9 / 5)

Mogul Cloud Game-Play PC Games
Here is another decent choice for this category. This app allows any device to play the game so the AAA category no matter of its configuration. Here you will find such games as GTA V, EdenRing, Fortnite, FIFA, and others.
This is a unique Mobile gaming app that can stream your PC and console games. The app has quite a broad game library gathering all steam, ps4, Xbox One, and Switch games.
Mogul will allow you to copy your PC games right from the server to your Android device and play your favorite computer games at any time and at any place. The app has all gaming genres so everyone will find something they need.
All you have to do is just to press the start button and instantly start playing computer games without the necessity of downloading them and without the necessity to save the memory of your Android device.
One of the best advantages of Mogul is that its subscription is extremely affordable and it's much cheaper than in the case of other apps in this category. The majority of games here have Bluetooth Gamepad modes and virtual keyboard modes.
You can also configure your own virtual keyboard buttons according to your habits and preferences. The only issues that can occur hair are the issues with ads and subscriptions because sometimes the app tends to lag.
For example, Mogul can tell you that you cannot watch ads anymore and you only have to go for the paid subscription.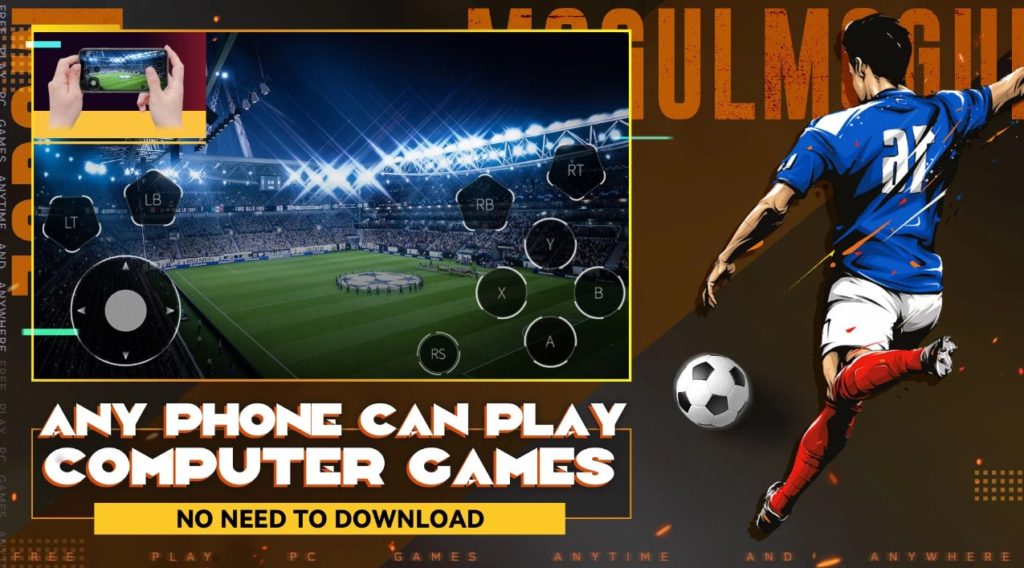 Downloads: 1 000 000+
Customers rating:

(3.2 / 5)

You may also like: 12 Best Multiplayer Racing Games for Android
NetBoom – PC Games On Phone
If for some reason you're not satisfied with the previous cloud gaming apps, you can try this alternative. Basically, it's an analog of the previous app. Here you can also play the games from your PC without the necessity of downloads and all that stuff.
Here the app also has a broad game library and it's updated every week so new games are added and you can enjoy them. One cool feature of NetBoom is that its users can play any game for free.
Of course, you will have to watch ads for that and the gaming time is limited but the fact is really cool. And if you want to play unlimited games you will have to acquire a monthly subscription. You can just download the app and start playing the games instantly.
You won't have to buy any expensive hardware or additional gaming consoles to stream games to your Android device. NetBoom is capable of broadcasting the games without any hangs. The quality of the games is quite decent depending on your Android device.
What is more, you have to have a stable internet signal. The only thing we want to say is before buying the subscription here, carefully read all the peculiarities and all the rules so you are aware of the gaming policy of Netboom.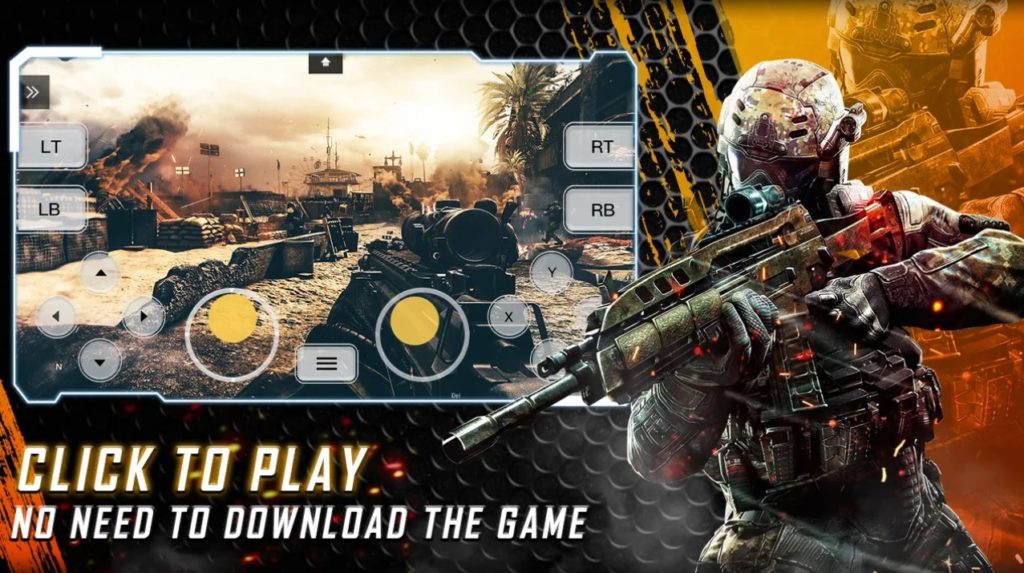 Downloads: 10 000 000+
Customers rating:

(2.3 / 5)

Instant Gaming
This is a relatively new app on the market of cloud gaming apps and it's more simple than the previous ones. However, the last factor makes it also more convenient and easy and use than other competitors.
The main goal of this app is to turn your Android device into a full-scale PC and use it and any time in any way. Therefore, you will be able to play all your PC games on your Android device when you have the shadow app on your phone.
One of the advantages of this app is that it supports its configured resolutions which makes it automatically say the configurations suitable for your particular Android device.
The using of the app is really a no-effort thing: all you have to do is just to download this Shadow app to your PC into your phone, then create an account, then log in on both devices, and then you will have remote access to your PC and you will also be able to play the games.
Disclaimer: before using the app read all the policies and check out the technical configurations of your device because not every single game will run with this app.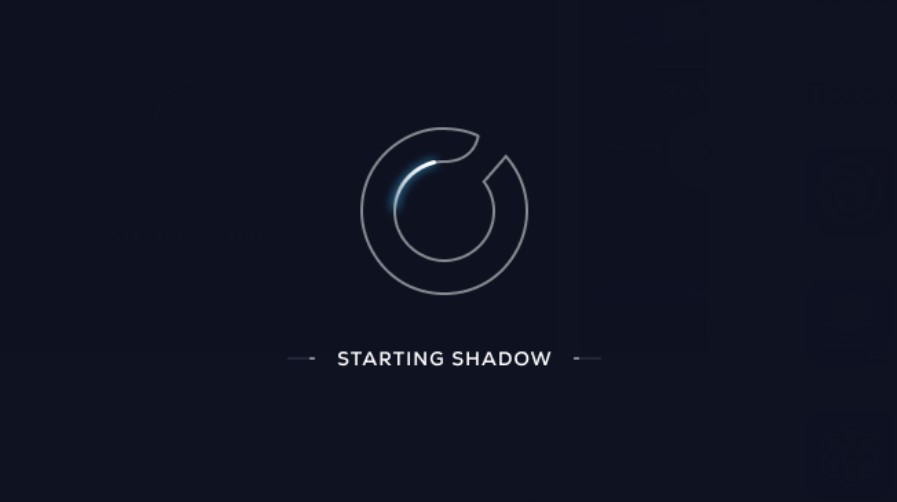 Downloads: 100,000+
Customers rating: unknown

Torquee: Coud gaming
This app positions itself as the universal gaming platform. It claims that it allows you to play any game, anytime, anywhere. An advantage of this app is that it is connected to the five Hg servers and which allows it to provide fast functioning.
Of course, using high-speed Wi-Fi is recommended here however, it is very little is known about this app even though it has more than 1 million downloads on Google Play. We would recommend exploring every detail before committing to it.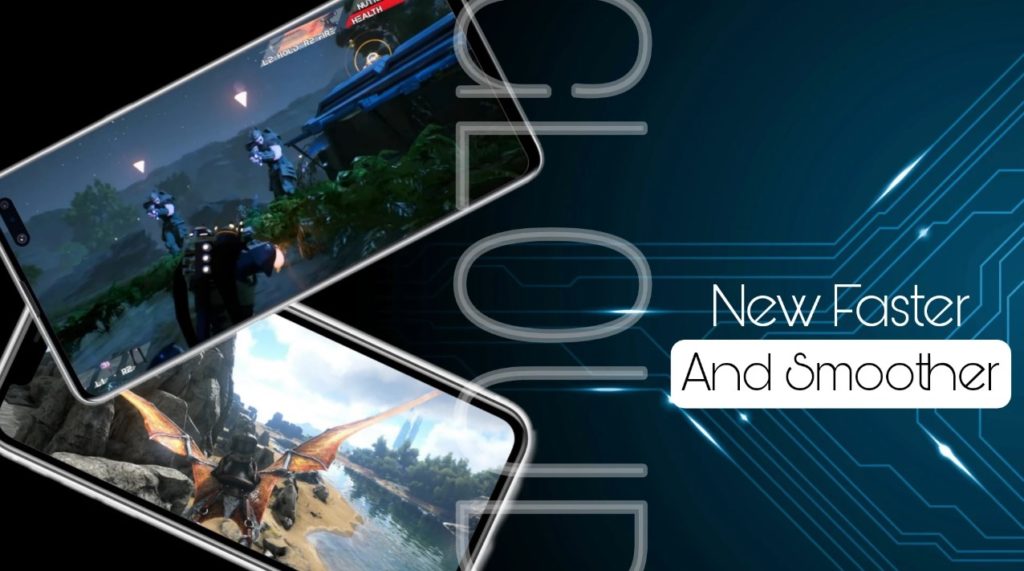 Downloads: 1 000 000+
Customers rating: unknown

Vortex Cloud Gaming
Vortex is another app that will allow you to play your favorite games from PC, Xbox, and other game consoles on your Android device. What is more the subscription to this app is quite affordable.
Of course, the collection of games here is not as wide as in all the previous apps, but for those not-so-picky players, it will be enough. In total, there are more than 100 online games that you can play.
All you have to do is just to download this app and then create your account and, obviously, acquire a subscription. Surprisingly, the app has more than 10 million downloads on Google Play. There is no negative feedback about Vortex.
The interface design here is a little bit better than in previous tabs and it's a little bit easier to handle just because the app doesn't provide that much diversity of games and different genres.
It might be an advantage to someone, for those who just want to play games occasionally without the necessity of committing to too expensive subscriptions.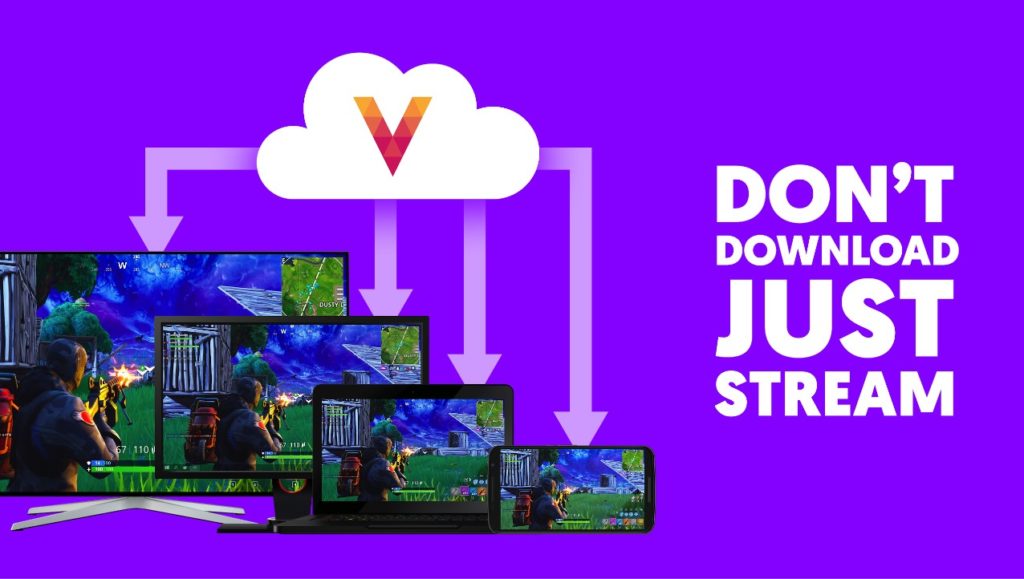 Downloads: 10 000 000+
Customers rating: unknown

NVIDIA GeForce NOW
Probably, there's no need to introduce this famous company NVIDIA. As you can see it also has its own cloud gaming service that can be synchronized with Android devices. In order to use it you have to have your account on G-Force now.
You will need to open your account from your cell phone then find a section for recently played games and then you will be able to continue the game that you've recently played from the place you left it.
But here you have to keep in mind that G-Force now works only on Android smartphones of version 5 or above. For its functioning to be stable it is recommended to use a high speedy and steady Wi-Fi connection.
It is also recommended to use the additional game controllers for your smartphone so it's not really effortless here. However, this is an official service by a famous company and you can be sure that this is not a scam.
On the other hand, the service has lots of disadvantages. Here, in the subscription, you can only play a game for 30 minutes. The file trip.
Only lasts for 4 or 5 hours and it used to be one to three days. And another disadvantage is that even when you have an excellent Wi-Fi signal and everything the games still hang and freeze. But the collection of games is quite decent and you will definitely have what to choose from here.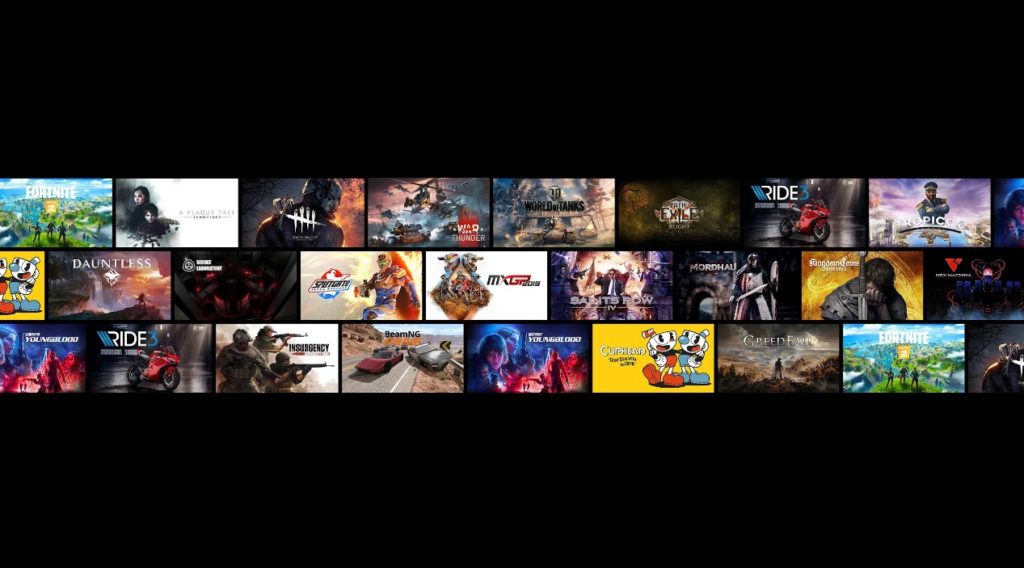 Downloads: 10 000 000+
Customers rating:

(3.3 / 5)

Xbox Game Pass
This is basically an analogue of the previous but from Xbox. Here to service allows you to play all your favorite games which are presented at this particular game console at a lower price for monthly subscription.
The platform is bragging for having the latest game releases and have an old possible game genres. Here you will be able to pass through all the games that you've been dreaming to play.
You will need to download the app so you will be able to play those game from your Android device. The main thing here is to download the game and then you are ready to play. You can leave them downloading in the background mode in a special setting mode.
And if you want the app will be notifying you about the upcoming game releases stuff will be released for Xbox game pass.
Another pleasant bonus that we notified is that the interface and the design of this app is one of the best in this category of cloud gaming apps. It's easy to navigate in the app, I'd have nice looks and comfortable controls.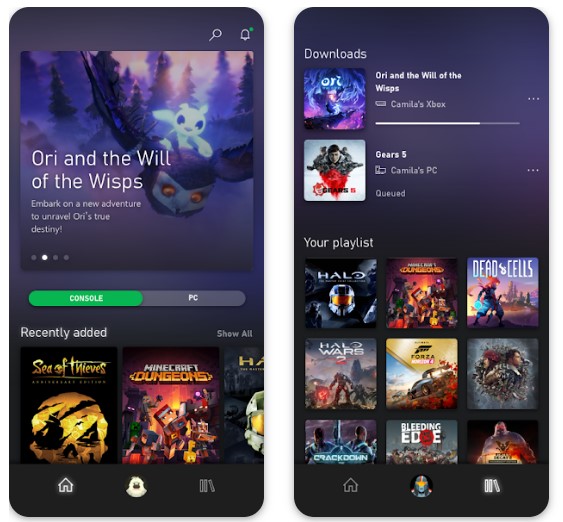 Downloads: 10 000 000+
Customers rating:

(4.8 / 5)

Nware
Another cloud gaming app which is not so popular as the previous ones, but you can try it if you want. The main advantage of it is that it's compatible with all Android devices. You will be able to broadcast your games and play them in the real time mode.
The only thing you need for that is this table Wi-Fi signal. Another Advantage here is that you can synchronize all your games purchased in other stores to this app and then play the mall here. The app is compatible with more than 20,000 video games.
What is more, configuring all the processes I squared easy here and you will be able to play your games at any gaming consoles and even tvs, not speaking about Android devices.
There is a launchers space where are you will be able to get the access to Steam, Epic games, Ubisoft, Roblox and Minecraft launchers.
If you buy the monthly subscription you will find the 100 GB of memory space and every month you will be getting bonuses for using the app and you will get some extra GB as a present. All the games will be synchronized between the devices where you use this app.
However, despite all the facts mentioned above the app has one series disadvantage it's still quite a raw and not working properly.
There's a lot of bugs and legs in the app and lots of Gamers just cannot get an access to that. The app will not run on every device and you first have to try.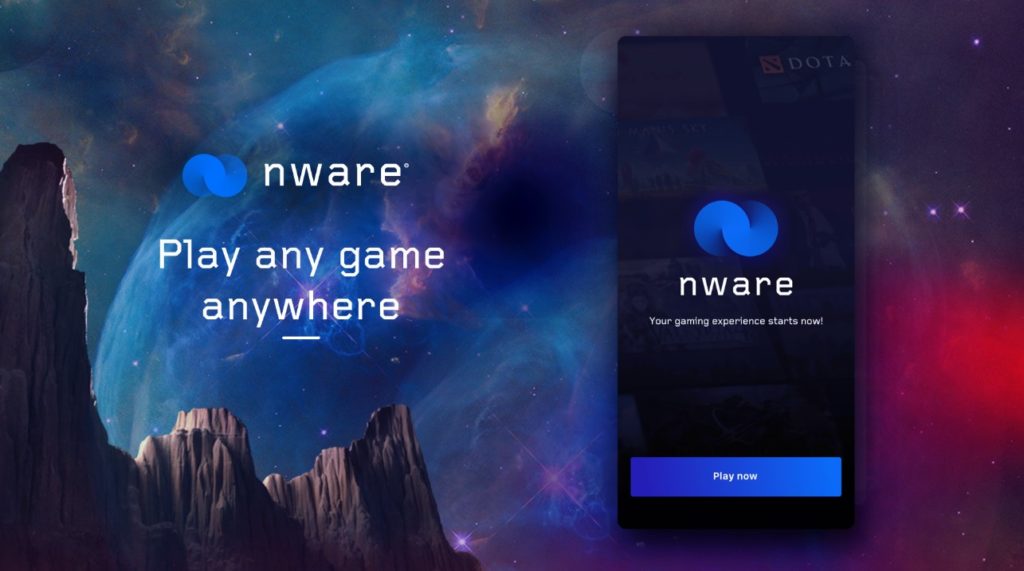 Downloads: 100,000+
Customers rating:

(2.1 / 5)

You may also like: 7 Most Realistic Racing Games for Android
Loudplay
Loudplay claims that it will turn any Android device to a powerful game platform. It claims it has the highest speed server and you will be able to launch any type of the game here.
What is more, the app claims that it doesn't have any hangs or hold UPS but of course you will need the high-speed Wi-Fi connection for that.
It uses the advanced cloud service technologies that exceed the disabilities of the regular computers and therefore you will be able to play any games. You will be able to load the games from any platform including steam, origin, at the games, and so on.
You will also be able to download games from any sources if it's necessary for you. Another interesting fact about this app is that it's possible to be run from any country in the world.
Loudplay is quite popular on Google Play though it is very little known about it. It doesn't have any negative feedback though.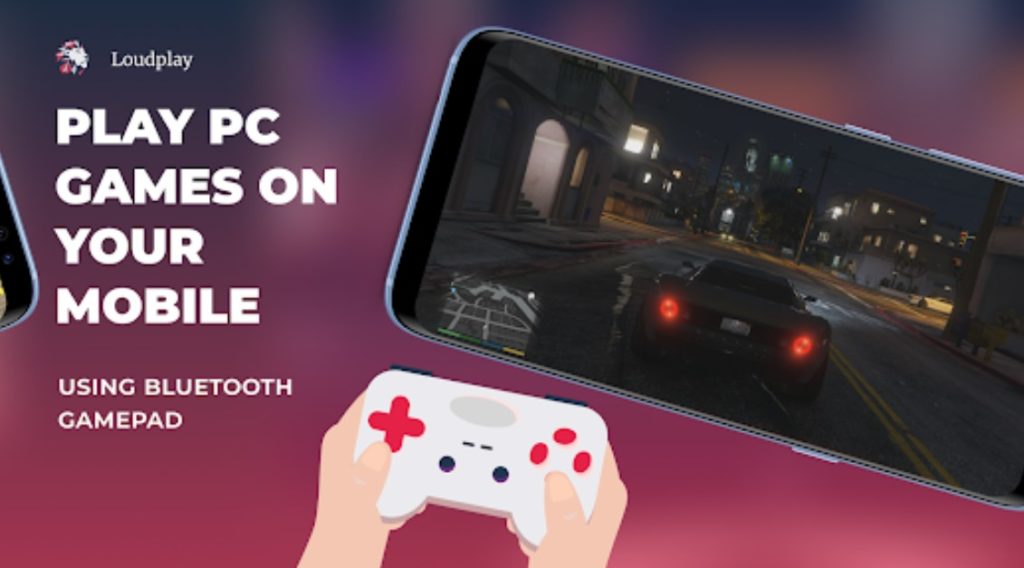 Downloads: 1 000 000+
Customers rating: unknown