Auto dialer system is playing a significant role in the call center and telecommunications industries today. One dials the next number on your list while the other makes calls automatically before you even hang up your previous call.
To help you with the decision we made a list of the best auto-redial apps. Moreover, we recommend checking out our article about the free video call apps in UAE if you want to make your calling easier around the world.
Autodialer by lithiumS
Autodialer by lithiumS is the first in a row. Originally, this app was developed for auto-dialing landlines, international numbers, as well as SIP and IP. Moreover, with this app, you can do scheduled calls.
There are various features for the automatic redial:
you can set a specified time and date;
set the daily repetition or on certain dates, or days of the week at a certain time;
repeating calls after a period of time you set.
There is a possibility to set up a notification to be informed about all the actions that the app does. A great choice for those who need to make lots of calls.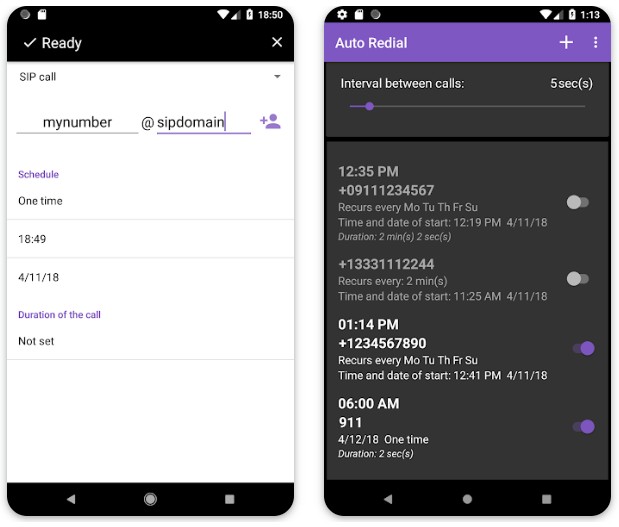 Downloads: 1 000 000+
Customers rating:

(3.8 / 5)

You may also like: 9 Best Voice Changer Apps During Call for Android
Autodialer Expert
If you're someone who has to work with numerous calls every single day, this app will be a suitable choice for you. This is a perfect call manager and auto redial app for all people who has to make lots of calls.
All you have to do is to install this app on your phone to make lots of calls at the same time. The app doesn't require any additional services or protocols you use it just as it is. Therefore Autodialer Expert is an excellent way to reach the subscriber you need.
There are various features of dialing in the app. By using those, you can reach the person you need to. When the subscriber will pick up the phone the dialing process will be stopped.
What is more, the dialing process is customizable, for instance, you can set up the number of calls, duration, the delay between calls, or dialing using the app.
The only drawback of Autodialer Expert is its obsolete interface design, but taking into consideration all of its features, this disadvantage is quite bearable.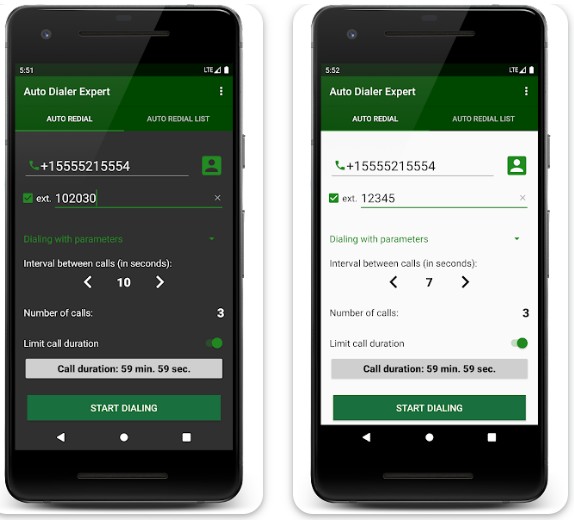 Downloads: 100 000+
Customers rating:

(3.6 / 5)

GoDial
This is one of the best apps for your business. Especially, if this business has to deal a lot with making calls.
Here are some essential features of GoDial:
auto-dialing
mass messages
payment tracking
There are other great features that allow you to set up the configurations for auto-redialing smoothly.
There is an interesting feature of tagging your calls or contacts with voice memos after the call is made. What is more, GoDial can serve as a mini CRM base for your calls, so you can compile their schedule of them and track the statistics. Filter and sort your calls with the GoDial app.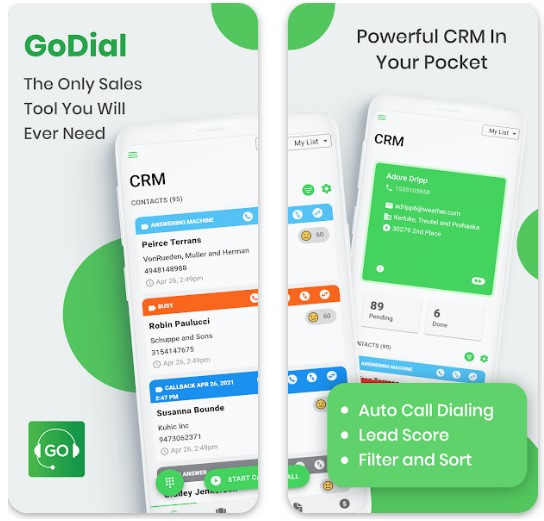 Downloads: 50 000+
Customers rating:

(3.5 / 5)

Calley
We would also recommend the following app for business usage. What is more, it is especially recommended for the usage of the sales teams of different industries. And for those, who work with cold calls, the Calley app is an optimal choice.
There are no geographical limitations in the app. And just like the previous app, this one can also work as a CRM system.
Calley is ready to provide you with the statistics of calls, their frequency of them, the number of responses, and all the similar data. There are also additional features in the app, such as watching the call history, watching comments, making some notes, and so on.
At the same time, we would not recommend this app to regular users because there is only 7-day free trial, and it makes absolutely no sense to buy such an expensive subscription for single use.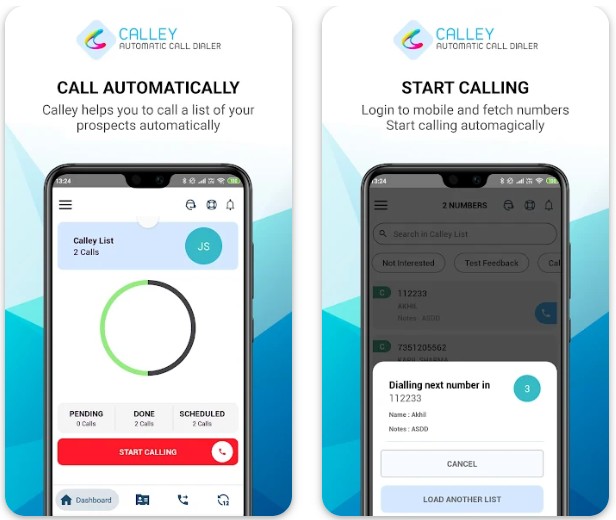 Downloads: 10 000+

Auto Redial by Water Labs
Not taking into consideration the main differences between this app and the previous ones in the features of the interface design, it is possible to say that here you will discover the two SIM cards' support.
Another possible advantage of Auto Redial in comparison to the previous ones is that it's so much easier to use. This can be explained by more simple interface design and fewer features in general.
Taking into consideration all the mentioned above it is now possible to say that it is closer to a regular user than to a professional or a company.
As a rule, the basic settings and configurations for example setting up the duration of redial, the number of redials, etc are here as always.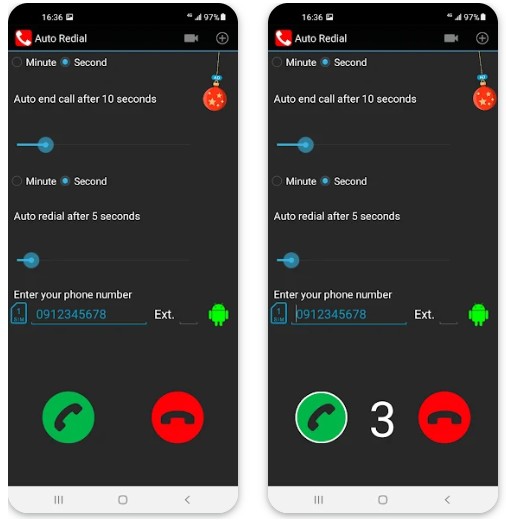 Downloads: 1 000 000+
Customers rating:

(4 / 5)

You may also like: 5 Best Call Waiting Apps for Android
AutoDialFree
This is one of the most popular apps in this category. Various Enterprises use it in their daily work. For example, you can use your app to reach hospitals, offices, or any other institution throughout the workday.
The app is so simple that it will be available to the user of any kind. All you have to do is to enter the phone number into the phone line, set up a repetition of calls, and set up the duration of them.
And there you go, you can start your dialing and redialing. Another advantage of AutoDialFree is that it doesn't include any annoying ads and it has a pretty nice interface design.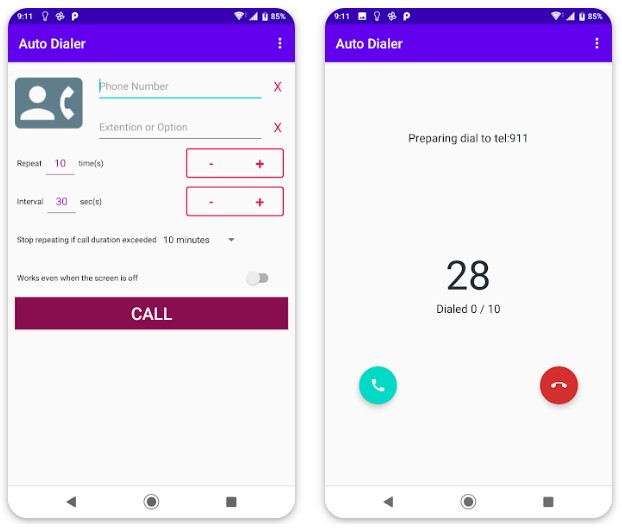 Downloads: 1 000+

Redialer
One of the oldest apps on the market and that's why it looks a little bit obsolete, but in general – it works when it comes to automatic redialing.
The only thing is that this app uses your phone line to make the calls, so make sure to figure out your calling policy before you use Rediler. This app will make as many calls as you need. All in all, there is nothing else to add, Redialer is a simple app.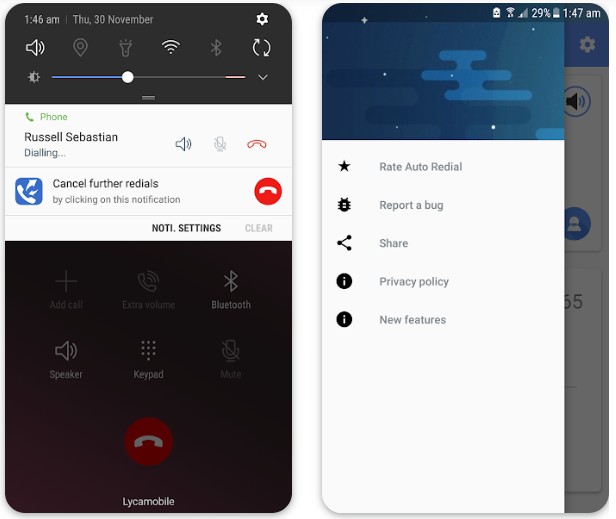 Downloads: 100 000+
Customers rating:

(3.4 / 5)

CallOnTheGo
CallOnTheGo is another autodialer that has quite a minimalistic and stylish interface design. It all starts with making an account on the service's website and importing all your contacts base. Your logged account will sync with the app, since this is a cross-platform app, and you are ready to start.
Therefore, CalOnTheGo is more relatable to the first apps on this list, since it's suitable for business users only. There are no options for single users. But all of those who have used this app before swear by its convenience.
CallOnTheGo automatically skips the people you already talked to during a campaign.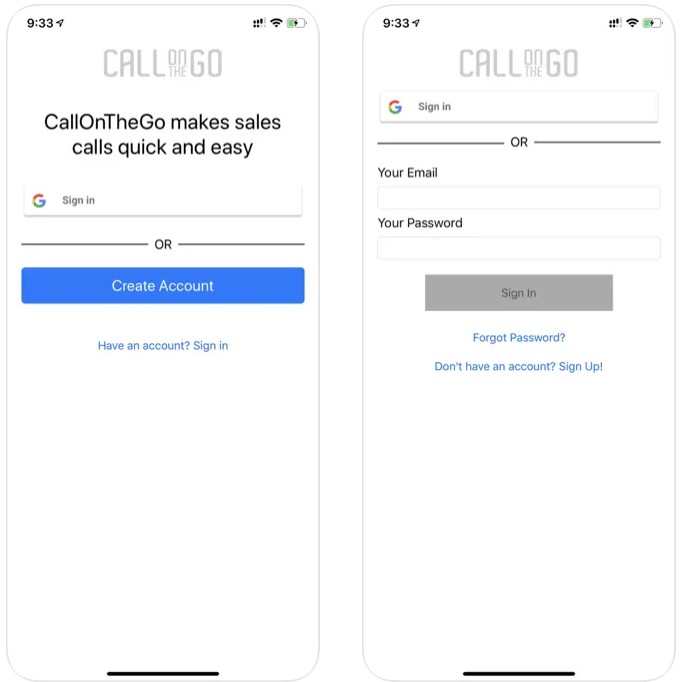 Downloads: 10 000+

You may also like: 12 Best call blocker apps for Android
DCDial
This is one of the most multi-featured apps in the segment of automatic redialing apps. What is more, it has a great UI design and will be suitable for any type of user.
To avoid having to read too much, everything may be simply managed via the use of symbols and graphics, which is very helpful for senior people.
There are various ways to manage the calls, so now you can do several outgoing and incoming ones, and all that stuff.
Before you start using the app, you will need to create your personal account, where you will be able to store your data, track the statistics and make notes about the last calls.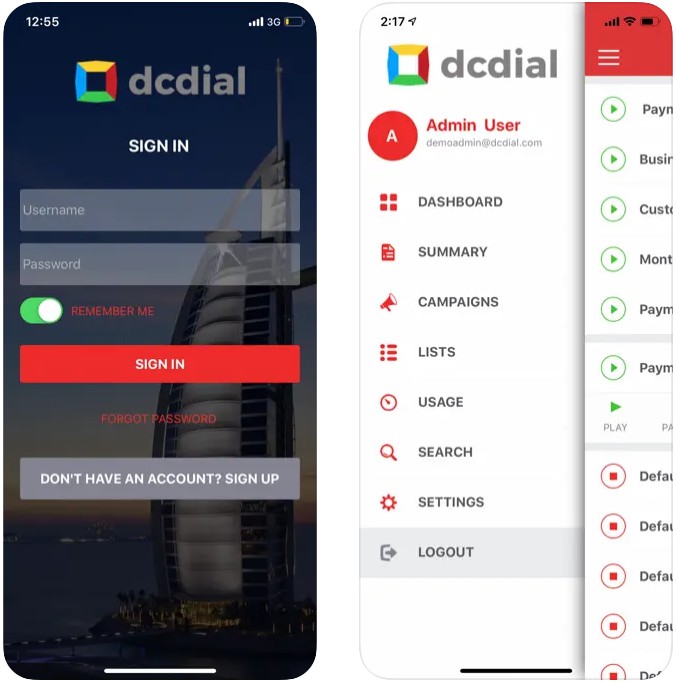 Downloads: 50 000+