Everything looks better if it's shown on a big screen, right? In case you want to prove this theory, we have collected the best apps to connect Android gadgets to a TV in the article down below.
And before you start reading the article, we also recommend you explore our list of the best TV guide apps.
XCast
XCast is one of the leaders in this niche. It's a multifunctional app that allows you to connect your smartphone to any Smart TV. One of its cool features of it is that XCast can work with even older devices.
You just need your phone and the TV to be connected to a single WiFi. If there is any TV available, the app will find it immediately and will send the code for the connection.
After that, you will be able to select what in particular you want to do – is it a screen mirroring, or a broadcast? Or maybe you just want to listen to music? Speaking about the last one – this app can also work as a player – you can create your playlists right in XCast!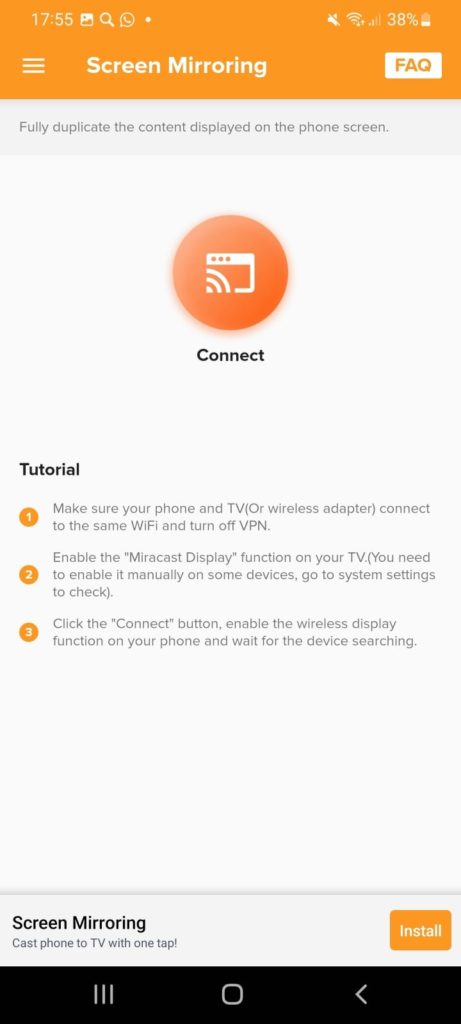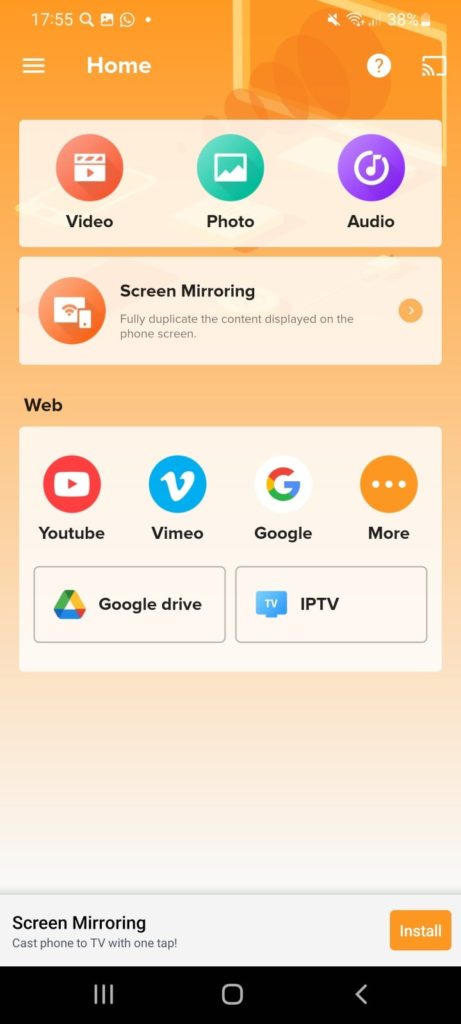 Downloads: 50 000 000+
Customers rating:

(4.7 / 5)

You may also like: 11 Best apps to watch TV shows on Android
Castto
Another decent app in this category. If you are into the more old-school design of apps, this one is your choice. Moreover, it has a calmer color palette in comparison to the XCast.
Overall, there is nothing much to say about this app, because it's super simple – but in the case of the screen casting apps this is more of an advantage. You just open the app and can scan all the Smart TVs around so Castto could connect your smartphone to it.
Another prominent aspect of Castto is the absence of ads.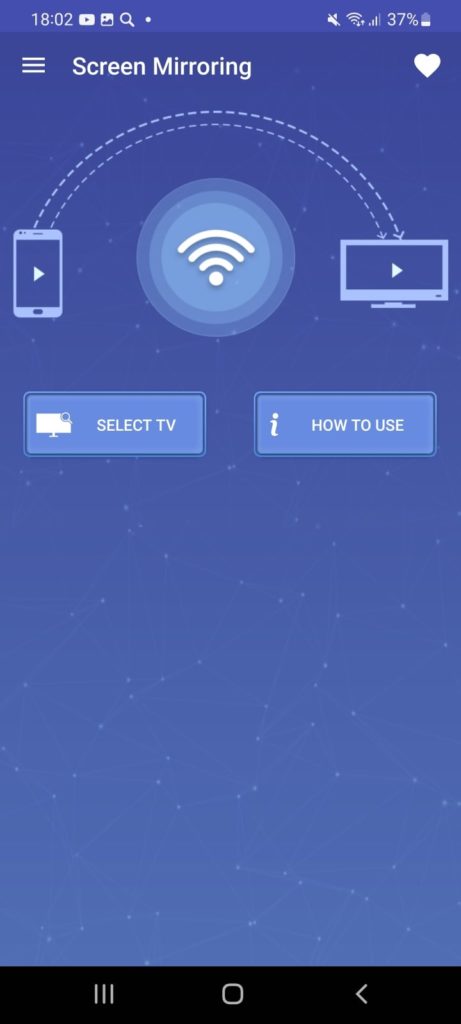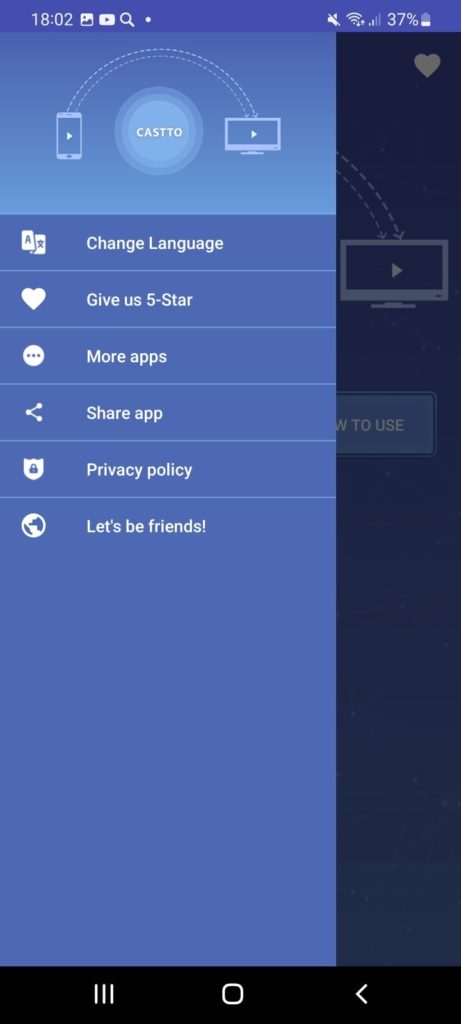 Downloads: 50 000 000+
Customers rating:

(4.6 / 5)

Miracast
Miracast is one of the pioneers of screen mirroring so it's logical to have it on this list. The algorithm of its functioning is similar to the previous app – you need to first allow the app to detect the available TV around for switching.
After the TV is found you can connect to it. However, Miracast won't be able to connect if the device doesn't have the necessary settings or is switched off.
And just like in the case with the Castto, here you got no annoying ads. In order to get access to some extensional features you have to either buy a paid subscription or watch ads, but this is unnecessary.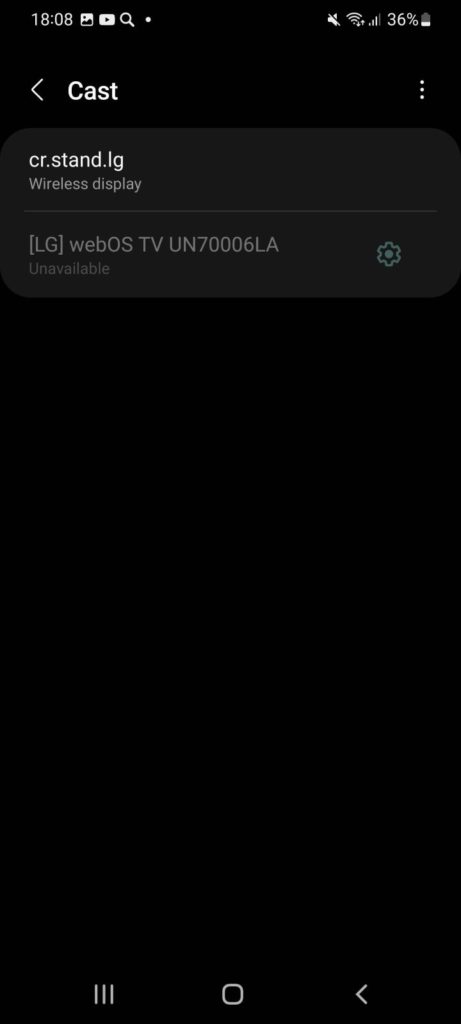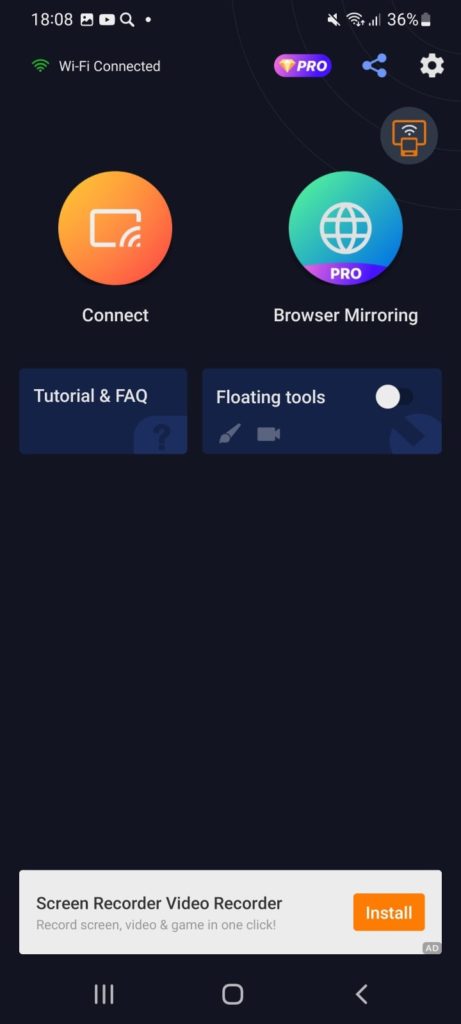 Downloads: 10 000 000+
Customers rating:

(4.6 / 5)

Screen Mirroring – Cast to TV by Zippo Apps
An interesting app that you can also use for connecting your smartphone to a TV. We really liked its animations in the menu – just because screen-casting apps tend to be all the same and any sign of diversity seems to be 10-time cooler.
Besides the traditional screen mirroring and TV search, there is an in-built player in the app that you can use to play music on TV. The only disadvantage is that the app is really annoying with insisting on buying the pro account – the ads pop up literally every minute.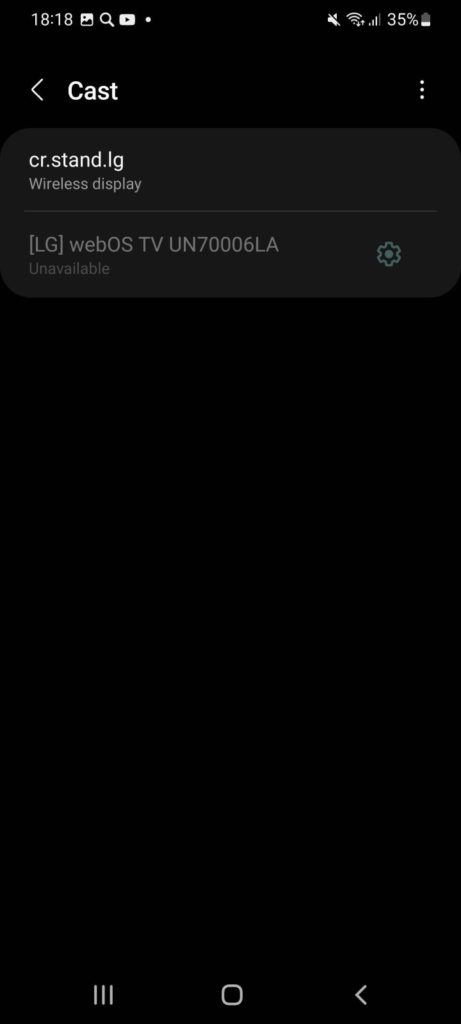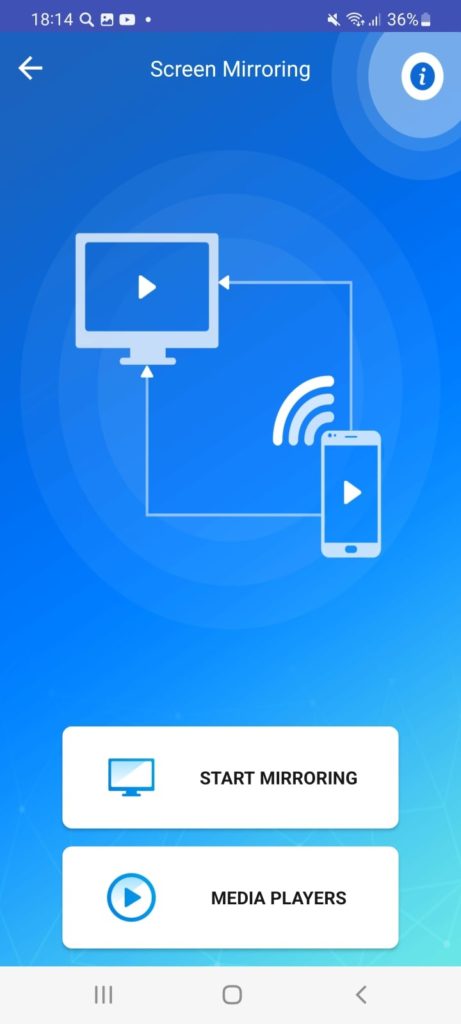 Downloads: 10 000 000+
Customers rating:

(4.5 / 5)

You may also like: 9 Best Video Playlist Manager Apps For Android
Cast to TV/Chromecast/Roku/TV+
This is a more multifunctional app to connect your Android device to a TV. In fact, it has so many features, that you might get lost when you just open the app.
You can connect an Android smartphone to a TV and set it for listening to podcasts, news, and music. There is a feature of screen mirroring an IPTV-watching function. Watching videos from YouTube and other services is possible as well.
You just need to click on the function you want to use. Navigating the app is super easy since everything is presented visually. Moreover, Cast to TV gives you a chance to connect the device to any type of TV, including the Apple TV.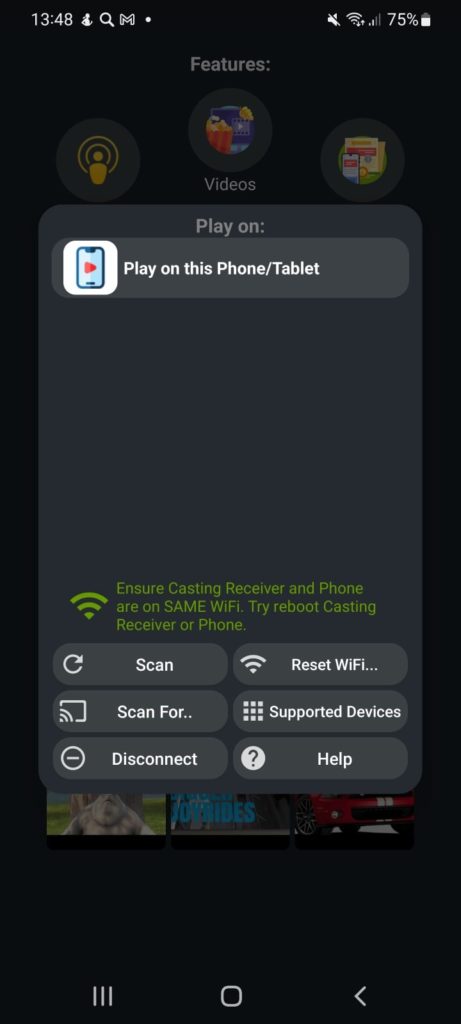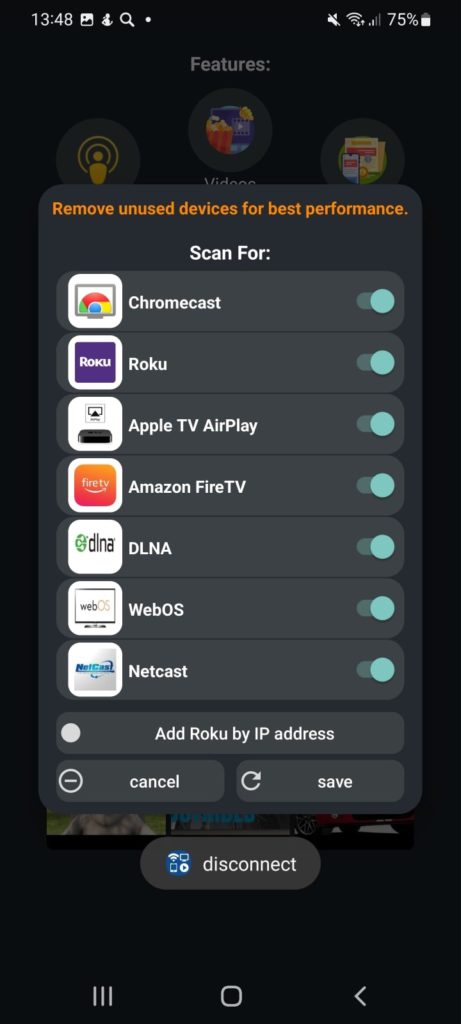 Downloads: 5 000 000+
Customers rating:

(4.7 / 5)

Smart TV Cast Screen Mirroring
In case you want to have a more simple app to connect to the TV, this one might be a nice choice. This simple app won't distract you with ads or anything, but will immediately start searching for the available smart TVs nearby as you launch it.
However, you better make sure that the TV is somewhere in proximity and is totally available because the app has a hard time connecting to it. There are some additional functions as broadcasting your photos and videos to the TV – just like in the previous apps.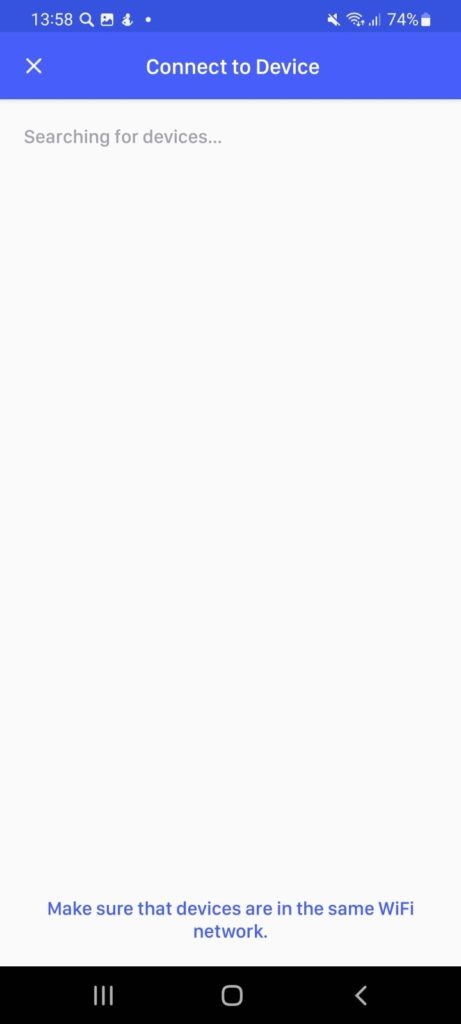 Downloads: 1 000 000+
Customers rating:

(3.8 / 5)

Cast for Chromecast & TV Cast
It's one of the most popular apps for connecting your smartphone to the TV, however, we put it relatively low because unlike others it has lots of annoying ads!
Seriously, before you get access to its main features, you will have to fight with the popping video banners and then wait at least one minute before the app will allow you to proceed.
When you will finally be able to get the main menu, you can see a number of options, including screen mirroring.
When you click on the screen mirroring, you will have to watch another ad. In general, each button you will click on will show you the ad first, and only then you will be able to scan for TVs around you and connect to them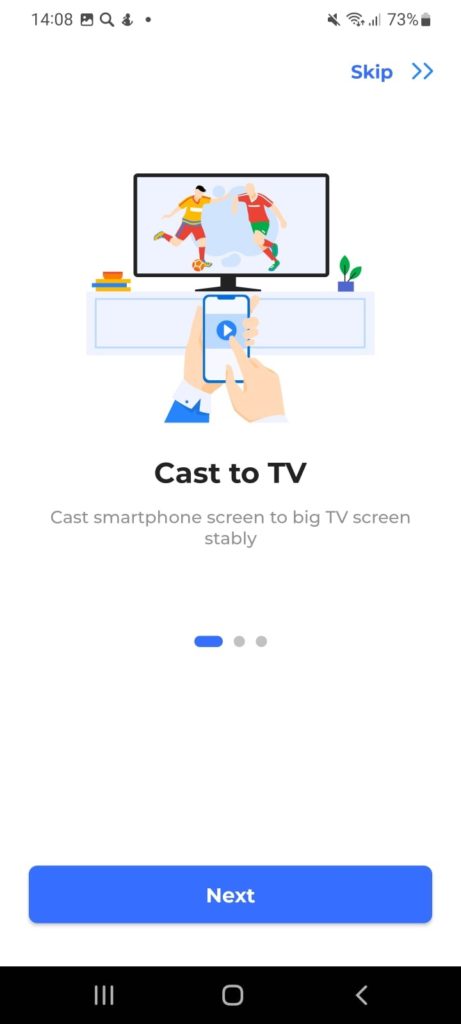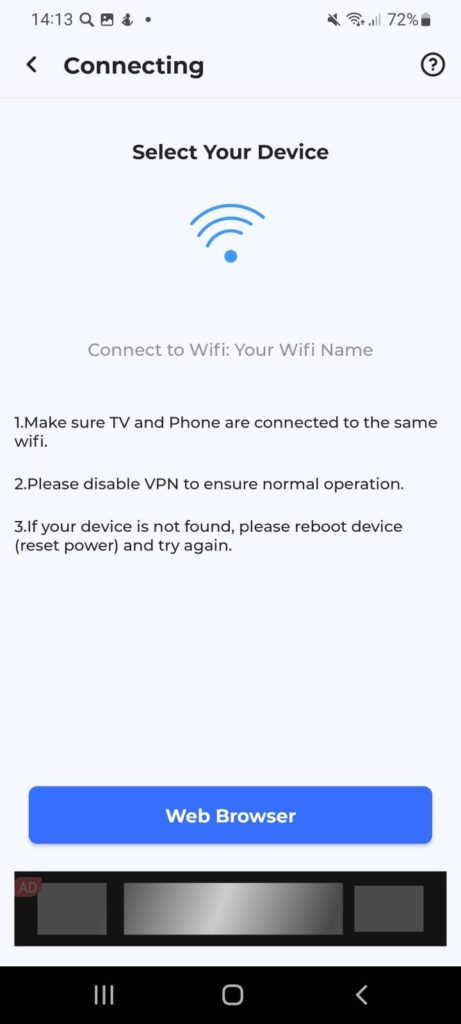 Downloads: 10 000 000+
Customers rating:

(4 / 5)

Chromecast by InShot
This app will be more suitable for those who want to connect their device to a TV in order to watch live channels and live broadcasts. In the main menu, you can find shortcuts to various TV channels, streaming platforms, and YouTube.
Connecting to a TV is easy here – you just need to click on the icon, then the app will detect a TV that is placed nearby, and the rest is just tech work.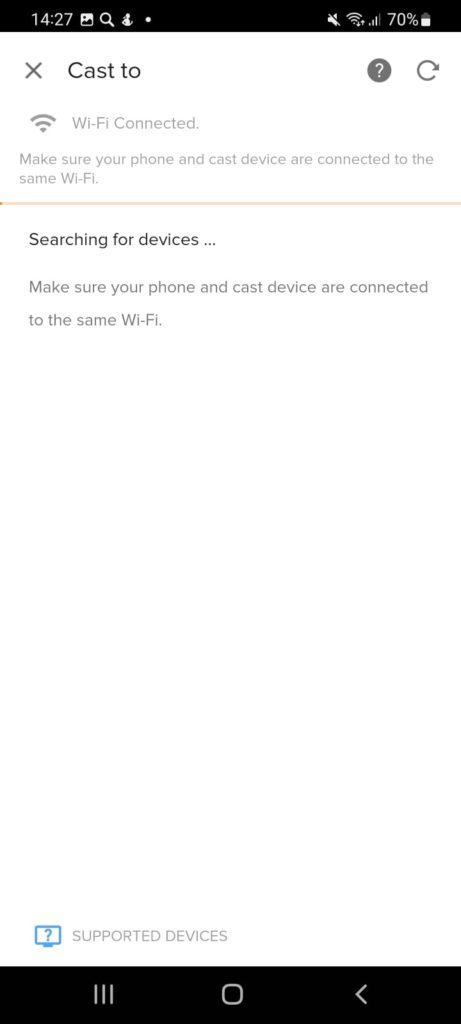 Downloads: 10 000 000+
Customers rating:

(4.4 / 5)

You may also like: 9 Best Video Analysis Apps for Android
TV Cast for Samsung TV
This app has been the leader in all the lists which are dedicated to connecting your smartphone to the TV and we get why. It is super versatile and works without any issues. Moreover, the process of connecting isn't that difficult.
In order to connect you need to first enter the IP address of your phone into the system of your smart TV. Then the connection request will appear and everything will be set.
All types of broadcasting are supported. Moreover, with the help of this app, you can connect your smartphone not only to a TV but to all types of gadgets, for example, PC, laptops, and so on. TV Cast for Samsung TV makes it easy for everyone to do that since it has a wisely projected interface design.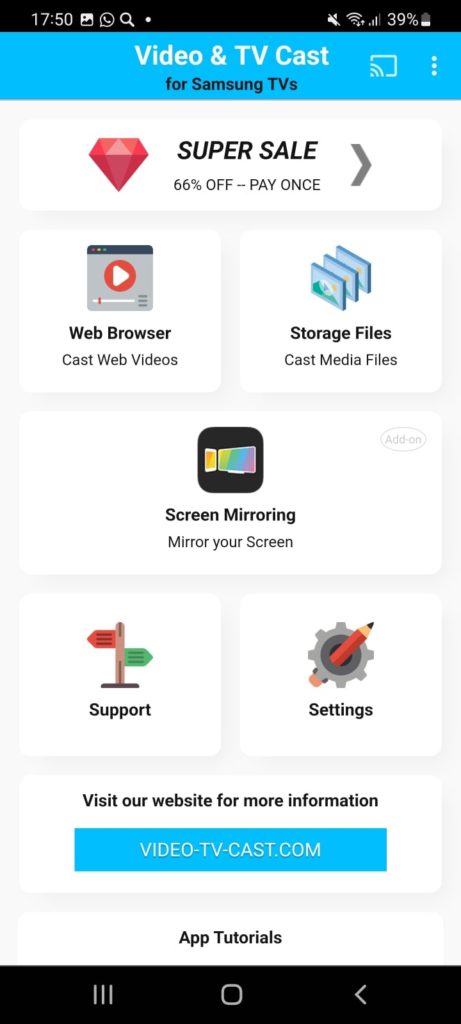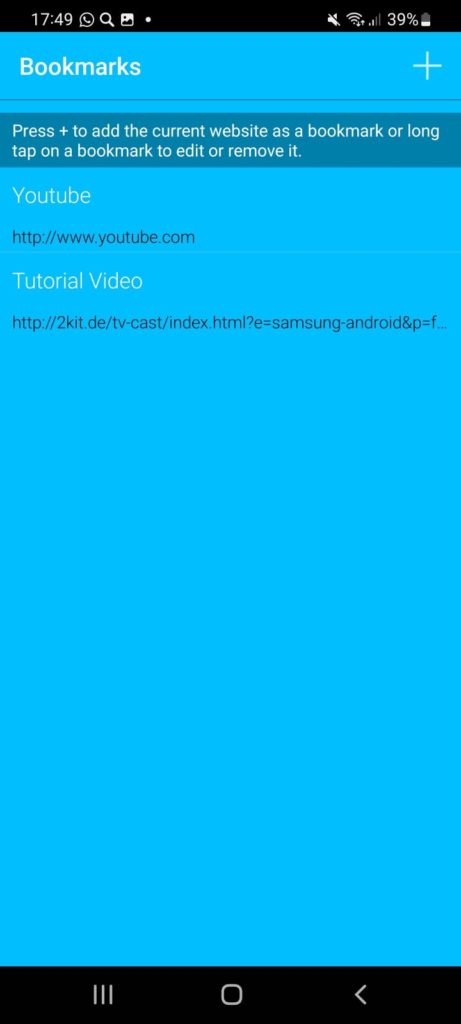 Downloads: 10 000 000+
Customers rating:

(2.7 / 5)