Veterans of mobile devices were only suitable for communication but for the last several decades there was enough for such a huge leap in the development of devices that the exchange of text documents, graphics, video, and media between smartphones does not seem something outlandish at all. Not unimportant role in this is played by the Bluetooth radio module, which is equipped with almost all smartphones, laptops, PCs, and other electronic devices.
The creation of the Bluetooth radio module was marked by the possibility of wireless connection of various devices, eliminating unsuitable cables from everyday use.
Today we will review the 16 Best Bluetooth apps for Android:
Bluetooth File Transfer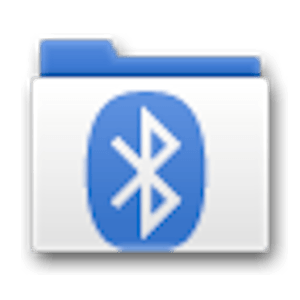 The Bluetooth File Transfer application for Android is designed to transmit information amongst devices: through it, you are possible to send contacts one by one or several at once, in additives, the entire folder can be sent, which can not be done by the standard way.
Of the features of the application, we also note the possibility of sending software that you have already uploaded and even operate with ZIP archives, seek by attributes, and demonstrate thumbnails.
The main characteristics of this product are its versatility and a wide range of integrated various functions targeted at data transfer: in effect, it is a Bluetooth file manager for Android. The OBEXFTP or OBEXOPP protocols are used.
The tool itself looks like an ordinary file manager, or, in other words, a conductor but with a large set of functions for data exchange.
Downloads: +10 000 000
Costumers rating: (4.2 / 5)
Auto Bluetooth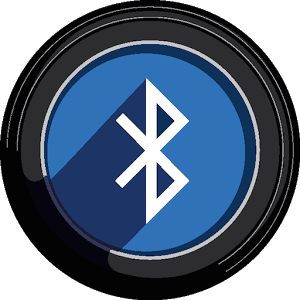 Auto Bluetooth – a great application for Bluetooth, which not only automatically turns off, turns on the Bluetooth connection but also saves your battery's charge.
The program automatically turns off Bluetooth when an incoming call is made, and when it completes, it saves battery power.
Features:
Presence of own widget.
A setting that allows you to display the Auto Bluetooth icon in the notification bar.
Multilanguage program.
A huge number of settings to turn off/on Bluetooth.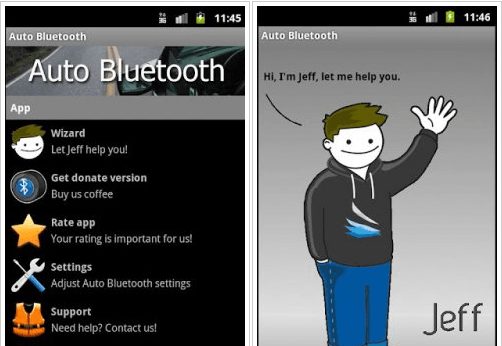 Downloads: +500 000
Costumers rating: (4.1 / 5)
Bluetooth App Sender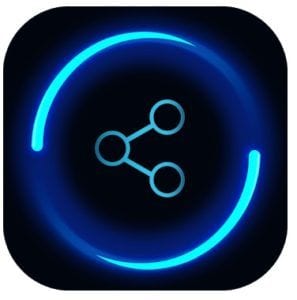 This is a very interesting application that allows you to share any applications with any users using the classic Bluetooth connection.
Using the Bluetooth App Sender is extremely easy. You will only need to open the application, choose what you want to share, and start the transfer.
The most interesting feature of the Bluetooth App Sender is that it has no limits. You can use it to manage all your applications, including removing applications directly from the interface and deleting all unnecessary information, which is completely useless takes up valuable space in the memory of your device.
Share your favorite applications with your friends and return to those good old days when you can send everything through the Bluetooth App Sender.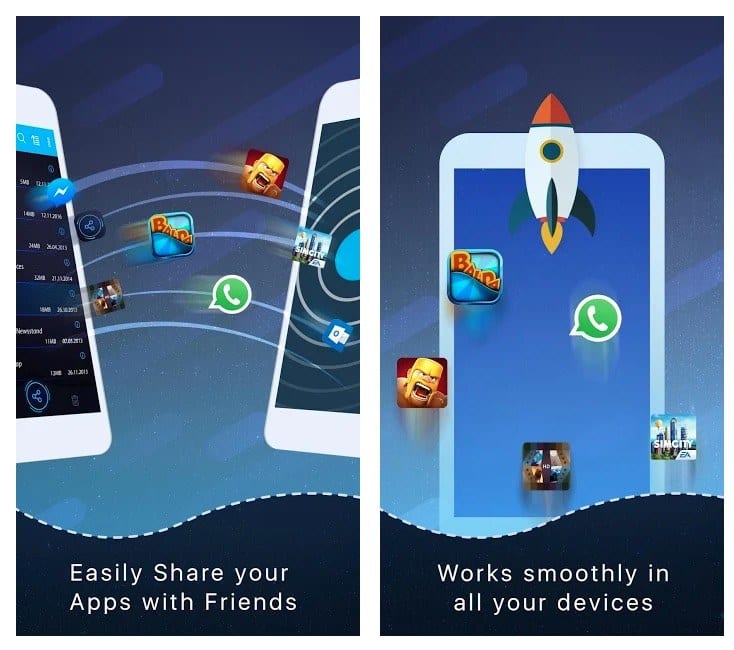 Downloads: +500 000
Costumers rating: (4.5 / 5)
Bluetooth Files Transfer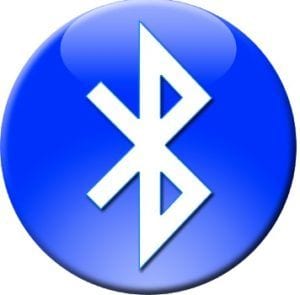 Download Bluetooth Files Transfer is needed for a quick exchange of information.
The Bluetooth Files Transfer utility for Android phones will be useful for quick data exchange. The program allows the transfer of information between smartphones at a short distance.
Experts and users note the convenience of the application. The utility has a smart interface. This is important when dealing with a lot of information.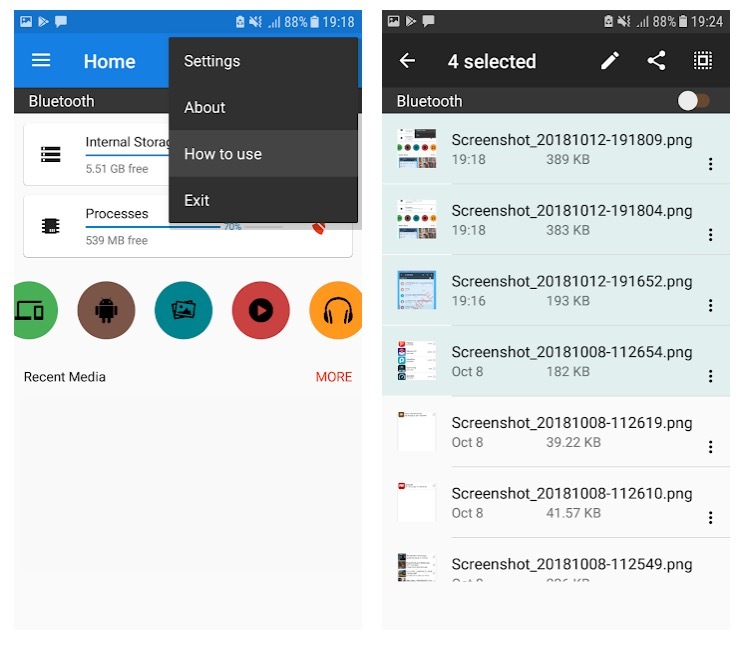 Downloads: +1 000 000
Costumers rating: (4.2 / 5)
Bluetooth Headset Battery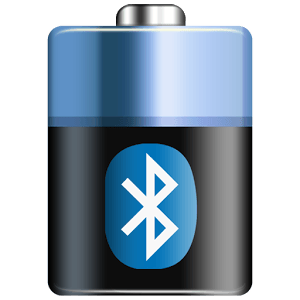 Bluetooth Headset Battery – a mini widget for the Android desktop that shows the battery life of your Bluetooth headset. The design of the widget is made in the form of a BT icon and batteries on a black background.
Before using the program, you need to set it in the Maximum Running Time settings – this time is waiting for Bluetooth to work, you can find out in the instructions on the headset.
The meaning of the application is that it measures the time of the Bluetooth operation and on the basis of this data shows the charge. That is, once you have connected the headset, the countdown starts.
Downloads: +1 00 000
Costumers rating: (3.5 / 5)
Bluetooth Auto Connect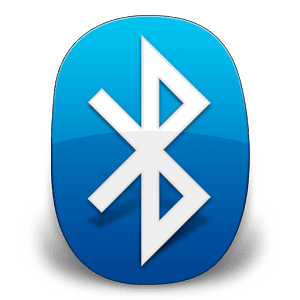 With this plugin, you will very quickly switch between different Bluetooth devices. Just create the right button and forget about the menu and options forever.
It is very convenient in the case when you have wireless speakers all over your house, and you need to connect to them from your smartphone, moving from one room to another. The plugin is completely free.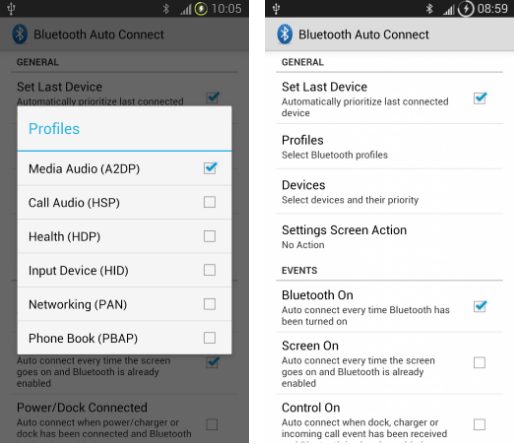 Downloads: +10 000
Costumers rating: (3.9 / 5)

Bluetooth Pair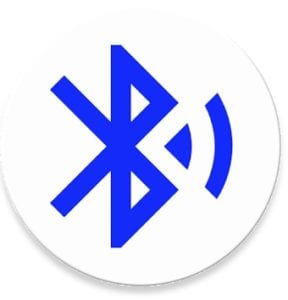 This is a useful application for Android devices that will help to find Wireless headphones, 'earbuds', 'speakers', Bluetooth wearable, Bluetooth phone. With it, you can track down any kind of device!
The functionality of the application is not very broad, but it still has some useful featuresю In the application, you can view the full list of all paired devices. With this app you can locate and find your Bluetooth devices using the received signal strength indication (RSSI), the closer you get, the stronger the signal will be.
Now you can freely toss your headphones anywhere you like because the Bluetooth headset locator will make sure you find them the next time you need them. Bluetooth Pair app works with headphones from many brands.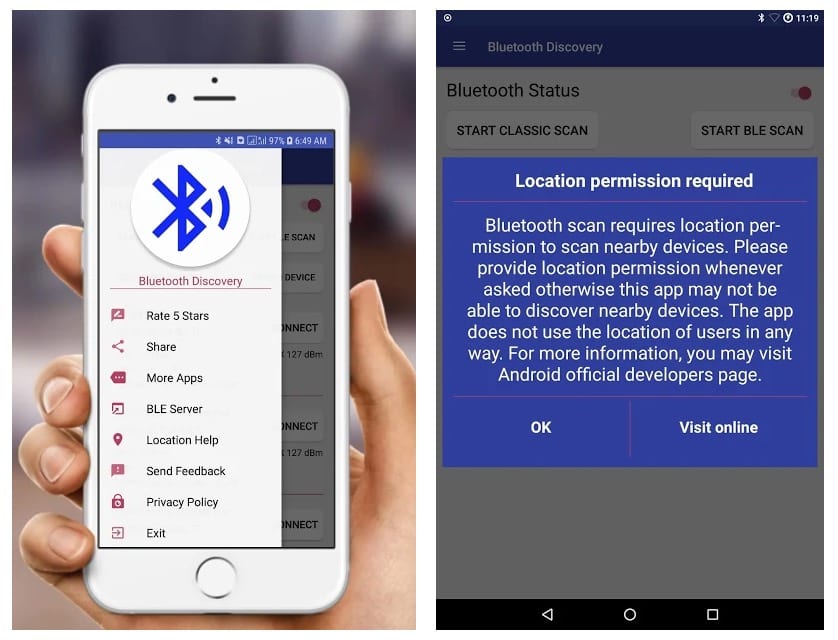 Downloads: +1 000 000
Costumers rating: (4.2 / 5)
Bluetooth Files Share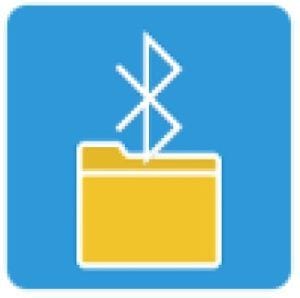 Bluetooth File Share – this program allows you to share photos, videos, music, documents, applications and other files via Bluetooth.
The program has a built-in file manager, which will facilitate the search for the necessary files. The Bluetooth File Share program allows you to turn on Bluetooth without going into the device's settings, create backup copies of applications and share data via Facebook, Gmail, and other applications.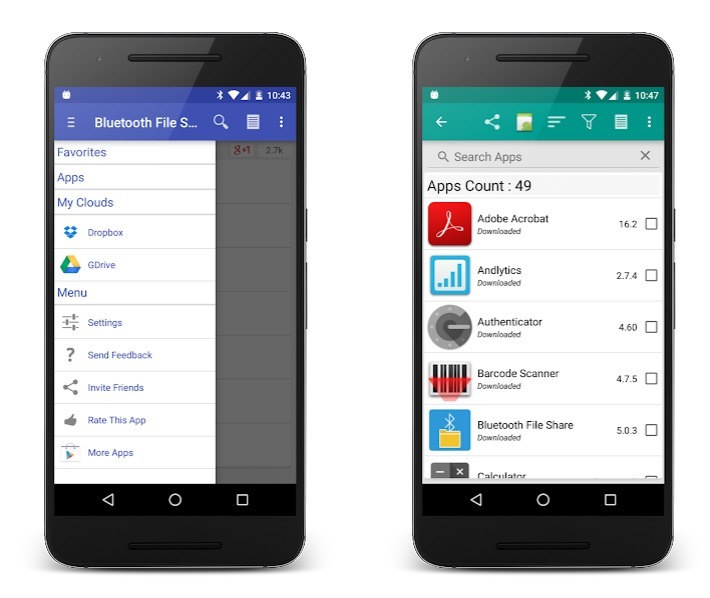 Downloads: +1 000 000
Costumers rating: (4.4 / 5)
Apk Share Bluetooth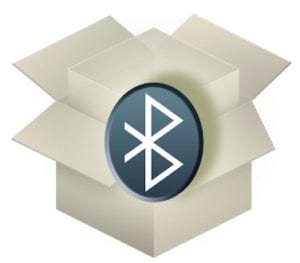 Apk Share Bluetooth is a smart manager that helps to share your apk with everything and anywhere. You can also see app sizes for transfer.
Send multiple apk just in one click! It's compatible with all devices.
Downloads: +10 000 000
Costumers rating: (4.6 / 5)
Bluetooth Autoplay Music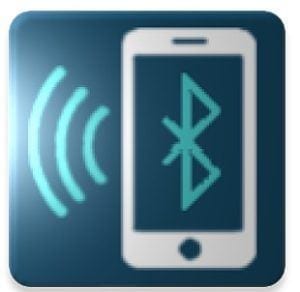 Bluetooth Autoplay Music is an application that allows you to automate a series of actions to be performed each time a Bluetooth device is connected to your Android smartphone. For example, you can automatically open your music player when you connect to Bluetooth headphones.
In addition to opening your favorite music player, you can also use Bluetooth Autoplay Music to leave the screen turned on until the Bluetooth device is turned off, turn up the volume or turn on your smartphone in priority mode.
Another interesting feature allows you to automatically open Google Maps or Waze with specific addresses depending on the time of day when you connect the Bluetooth device. Thus, you can program your smartphone so that it gives you instructions on Google Maps as soon as you get into your car.
Bluetooth Autoplay Music is a very useful application that you will appreciate if you like process automation and time-saving.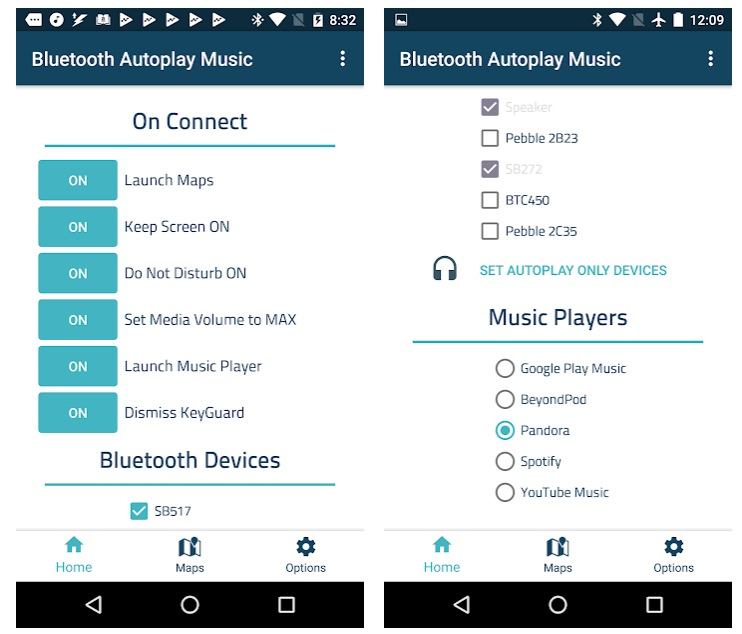 Downloads: +100 000
Costumers rating: (4.1 / 5)
Bluetooth Audio Widget Battery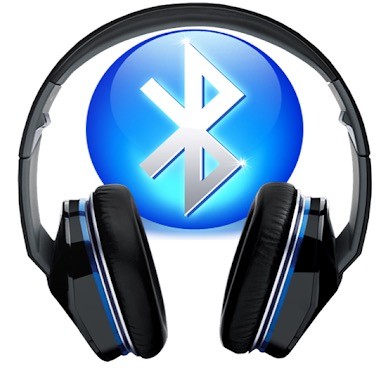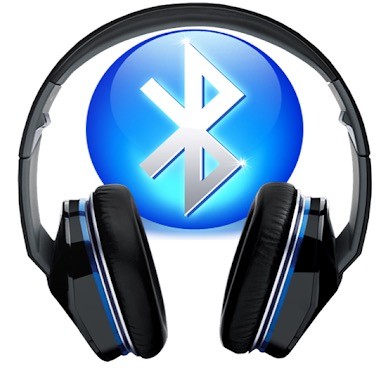 Bluetooth AudioWidget Free is a smartphone-controlled application for any headphones that work via Bluetooth. If you have wireless headphones that work via Bluetooth, then Bluetooth AudioWidget Free can help you use them as conveniently as possible.
With this application, you can control the volume of the headphones as well as the range of the Bluetooth connection. To do this, just turn on the device, click on the device search button, Bluetooth should be turned on, and connect your smartphone with headphones. After that, you can control the volume of your headphones on your smartphone.
If you need an application that allows you to adjust the volume and range of your wireless Bluetooth headphones, then Bluetooth AudioWidget Free is perfect for you.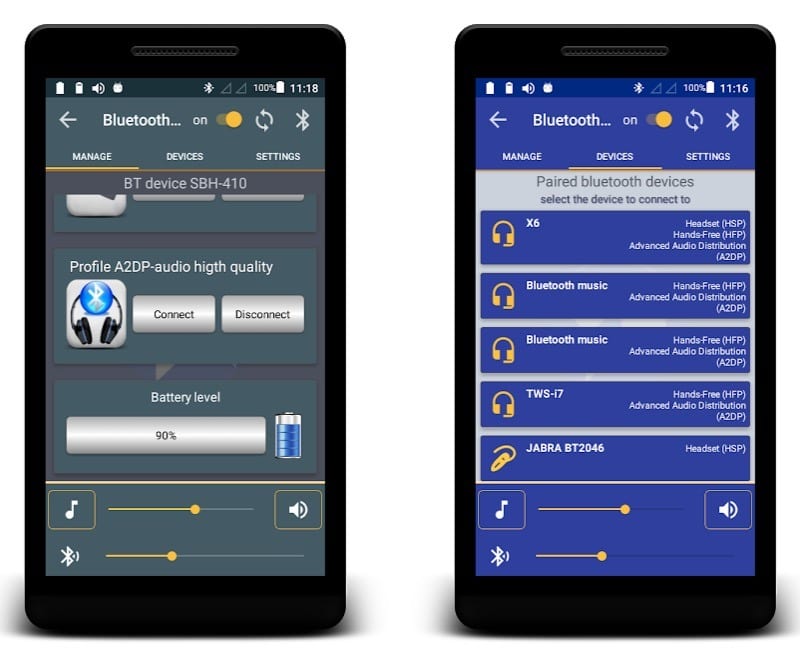 Downloads: +1 000 000
Costumers rating: (4.3 / 5)
Bluetooth GPS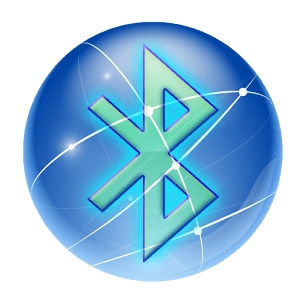 This application will receive GPS data via Bluetooth from the phone provider and deliver them to the operating system of the consumer phone.
In the device list, select the GPS-paired GPS provider and press the "Connect" button. You should see in the fields below the coordinates and other location information. Check the box next to "Enable Mock GPS Provider" to provide this information to the Android system and applications.
Launch your preferred geolocation application to track your location, more precisely the exact location of the phone-provider of GPS coordinates, connected via Bluetooth.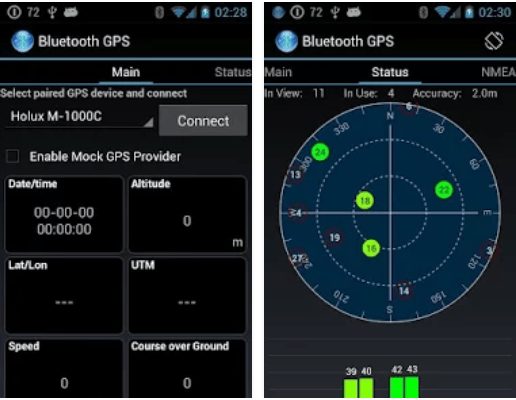 Downloads: +1 000 000
Costumers rating: (4.3 / 5)

Bluetooth App Sender APK Share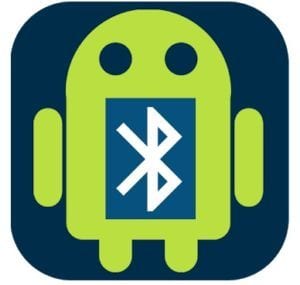 Bluetooth App Sender APK Share helps to share files without individual device settings, that is, it offers an "all in one". For convenience, there is a quick search for programs, as well as batch selection. Not without advertising, which can not be turned off.
Main functions:
Fast transfer and backup of games and applications;
Work with social networks, cloud, and Bluetooth;
View detailed information about the program;
Launch applications directly from the application.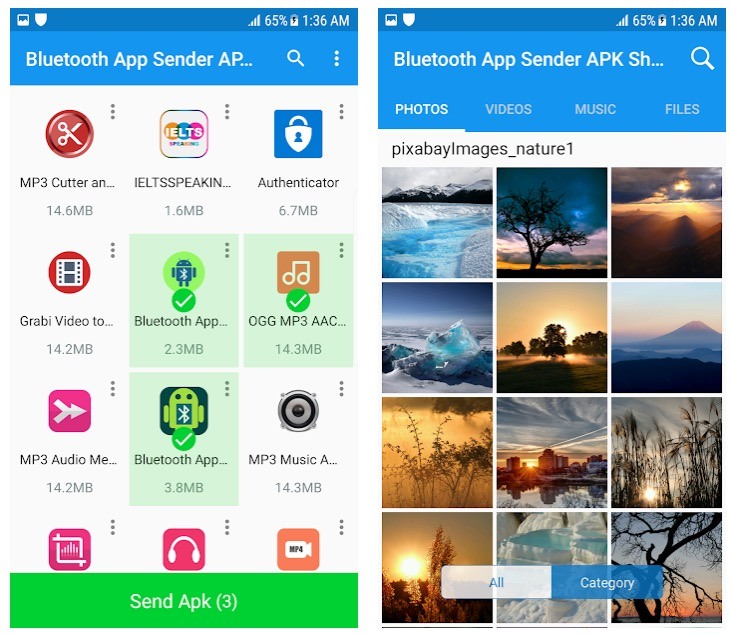 Downloads: +5 000 000
Costumers rating: (4.4 / 5)
BTHeadSet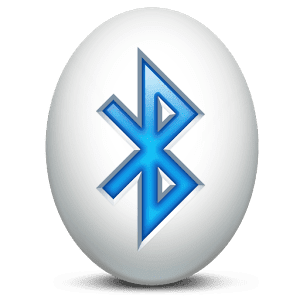 A utility for redirecting sound to a wireless Bluetooth headset (which does not support the A2DP profile). Of course, such a connection option is not very suitable for listening to music but, for example, to receive command voices in the navigator, this scheme is simply ideal.
The program is still at the testing stage, so we ask you to be loyal to possible "glitches" of this unique, unparalleled application.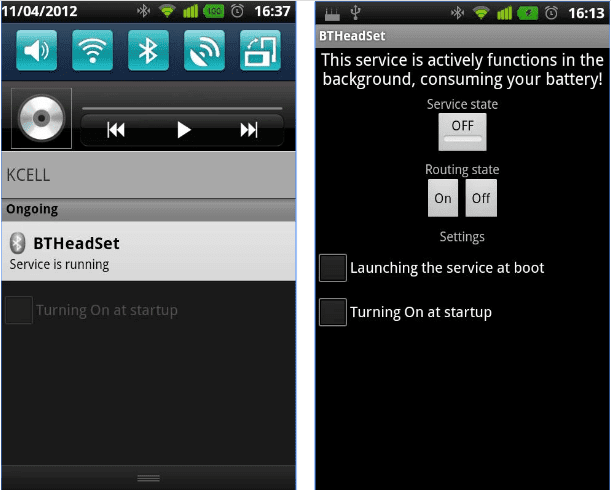 Downloads: +100 000
Costumers rating: (3.9 / 5)
BTmono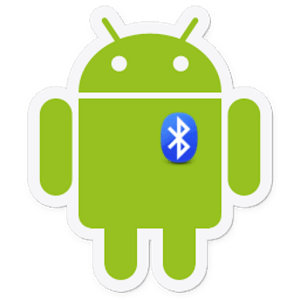 This is an elementary program designed to redirect the audio stream to a Bluetooth headset. You can use it when watching movies, listening to music without using a wired headset. The sound will be immediately transferred to the Bluetooth headset.
There is a premium version of this application that costs one dollar and includes automatic switching after phone calls and a widget. The basic version of the program will be modified, it will fix the identified errors but the main features will be directed to the Premium version.
Application features:
widget (in the premium version);
after a call, an automatic restart (in the premium version);
color adjustment (in premium version);
Status Bar notification when the application is running.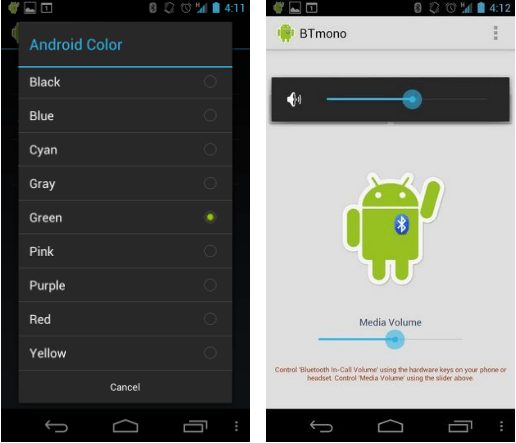 Downloads: +1 000 000
Costumers rating: (4.1 / 5)
Bluetooth Widget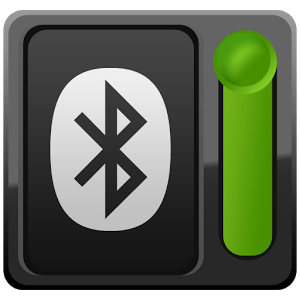 A simple widget of Bluetooth connection status. Displays the status change by modifying the color in a small or extended widget to 1 and 2 cells respectively.
Features:
four different themes;
it is possible to go directly to the Bluetooth settings in the 2-cell format of the widget (extended);
the themes are well-matched with Android OS 2xx-4xx.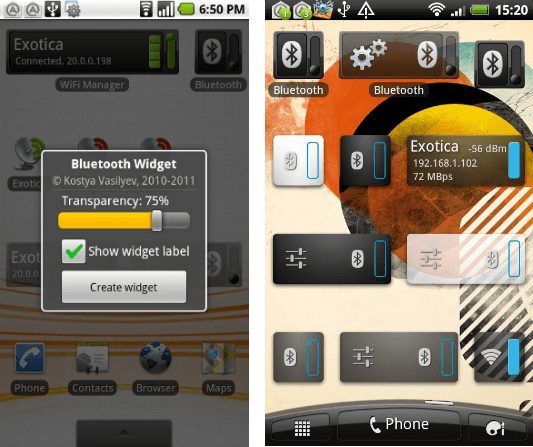 Downloads: +1 000 000
Costumers rating: (4.1 / 5)

Several years ago, many resources predicted the imminent death of Bluetooth but the "old man" is still in the ranks and is not going to leave. All devices, even the lowest class, are surely equipped with a Bluetooth module – to the delight of users.
Note the article 17 Best Sudoku apps for Android. Perhaps it will interest you. You can also try to send someone the liked game with one of the Bluetooth applications in our today's review.