It would seem that the time for Sudoku games has long passed because in the modern mobile world there are a huge number of toys of various genres, ranging from conventional shooters to serious logic games. However, it is the Sudoku games that can really train your brains.
Sudoku on Android is great entertainment that will allow not only to spend time but also to stretch your mind. The game will suit you, f you like figures and are not afraid to rack your brains with complex logical tasks. To download Sudoku on Android is also recommended for those who have never solved these Asian problems – who knows, maybe it suddenly tightens up…
Some of Sudoku's games are based on the laws of mathematics but there are also alternative Sudoku games – we'll tell you all about them today. We picked up 17 Best Sudoku apps for Android.
Sudoku.com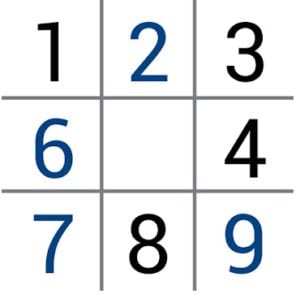 Sudoku.com is an Android game that offers exactly what its name implies: a lot of Sudoku puzzles for solving.
Not only that, but this application has a daily challenge, with a new Sudoku puzzle to solve every day. From the very beginning, it's better to understand the rules and start to pass, using your high level of intelligence and good attention.
There are more than 10 000 Sudoku, divided into four levels:
easy sudoku,
medium sudoku,
hard sudoku,
expert sudoku.
But that's not all of its features: Sudoku also tracks your previous game, including your time, allows you to leave Sudoku in the process and return to it later, and more.
In general, Sudoku is a great Sudoku game with an easy-to-use interface, easy control and plenty of puzzles. It will please both beginners and experienced players.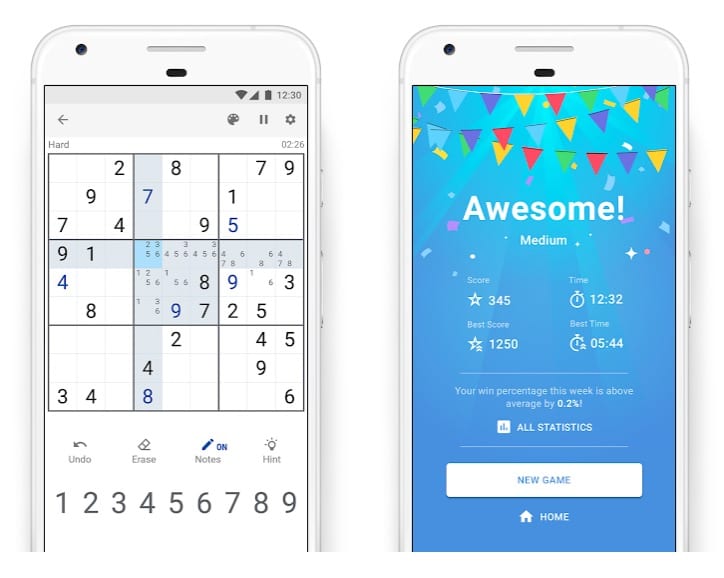 Downloads: 10 000 000 +
Customers rating:

(4.6 / 5)
You may also like: 17 Best puzzle games for Android
Sudoku Free (genina.com)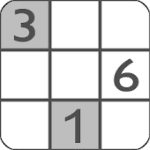 Sudoku Free is one of the most popular board games for logical thinking. Its rules completely recreate the rules and dynamics of Sudoku and allow its fans to enjoy the game in any place.
Tasks of the game. As in the classic game, the player will have to solve puzzles with numbers. Also, in the game menu, there is a section that allows you to learn more about Sudoku and its rules.
Game Modes. Sudoku Free will please beginners and experienced players with four levels of difficulty: light, medium, complex and very complex.
Graphics. The graphics of this game does not have a high level of detail, and background images of its diversity, because this category is not its strong point.
Control. Clicking on the desired zone, the keyboard will appear on the screen, with the help of which the player can select the desired digit, make a note or clear the field. In addition, the game has other useful features, such as retry, cancel the move and others.
Useful tips. If you are a beginner, you should know that the jigsaw has a lot of settings and tips that may asist you deal with the game. Experienced players can turn off all these tips.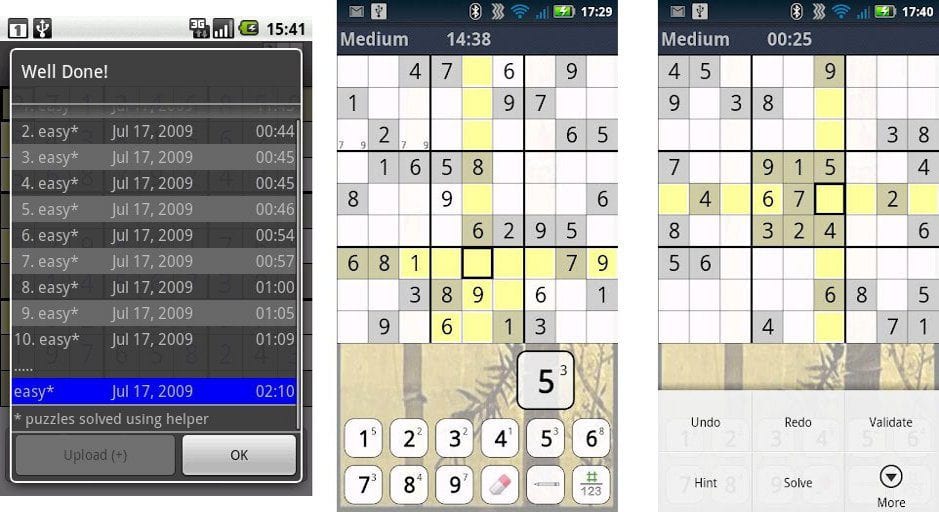 Downloads: 10 000 000 +
Customers rating:

(4.7 / 5)
Free Classic Sudoku Puzzles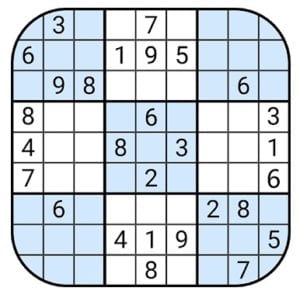 If you are looking for an elegant intellectual game for your phone, then Free Classic Sudoku Puzzles is the best choice. For those who played Sudoku previously don't need to explain anything.
Those who want to try their hand at this game for the first time will be able to begin a special training course. In this case, during the whole game, you will be accompanied by a system of prompts. The hints are valid not only for beginners but also for more advanced players.
Main Features:
New types of Sudoku puzzles, like Killer Sudoku, letter Sudoku, are available;
4 difficulty levels;
Play online/offline;
Different Themes and Dark mode;
Auto-save;
Unlimited undo & redo
Play Sudoku with your friends! Compete in speed! Those who can solve the puzzle faster become leaders and take their place in the global table of records. Free Classic Sudoku Puzzles offers 5000+ challenging Sudoku puzzles every day to train your brain, and adds 100 new sudoku puzzles every week., so you won't be bored, rest assured!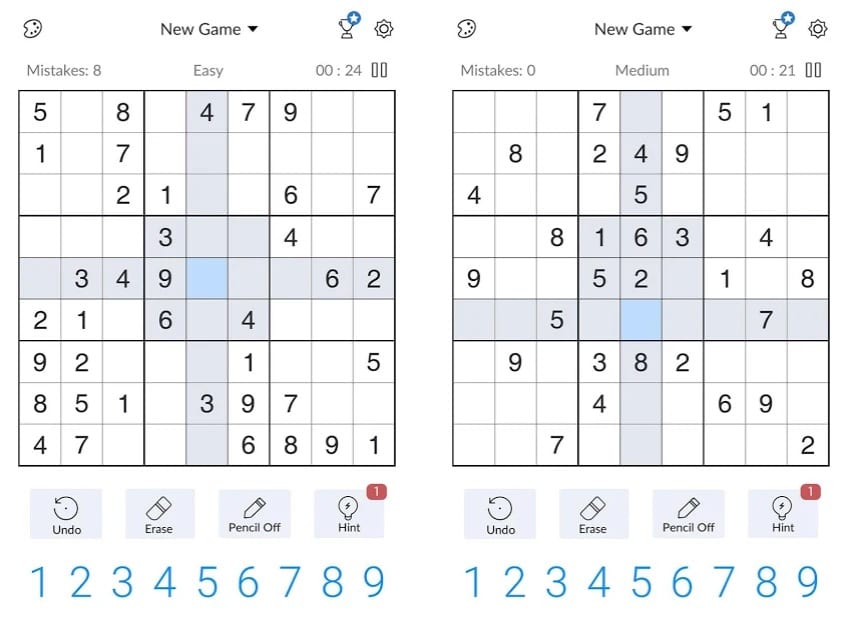 Downloads: 10 000 000 +
Customers rating:

(4.7 / 5)
Sudoku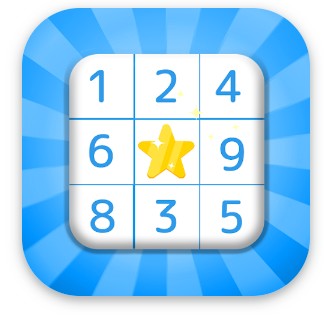 Sudoku is a great way to relax and train your brain.
Install this game on your smartphone and immerse yourself in the world of puzzles! There are more than 1200 Sudokus of different difficulty levels, you will never feel bored.
The controls are very simple. Just insert the numbers in the right places. You can always remove them if you make a mistake and also get hints.
Statistics are kept in the game. This way you can keep track of how many Sudokus were played successfully, how long you spent time on them and how many games were completed at all.
The design of the app is white and blue, but you can always change the color of the theme and adjust the brightness.
If you log in, then you will have the opportunity to appear among the best of the best in the ranking list. Solve Sudoku as quickly as possible and get to the top of the greatest players.
This is an offline game, which means that it is possible to solve riddles even without internet access.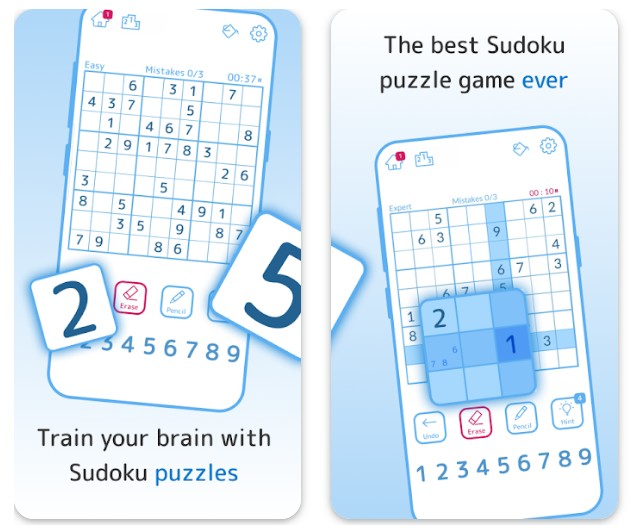 Downloads: 500+
Sudoku 10'000 Free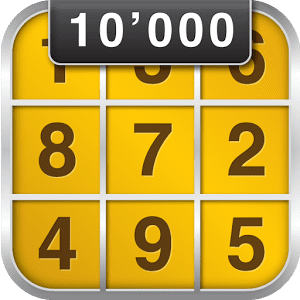 Excellent application with adequate levels of complexity. It's up to you to decide Sudoku for an hour only on hard – in the order of things!
An excellent system of tips, with which you can cool your level up. 15000 puzzles, there are many variants of complexity, so it is suitable for beginners and experienced players. Sudoku is divided into groups, groups are divided by complexities. In general, the developers have tried very hard.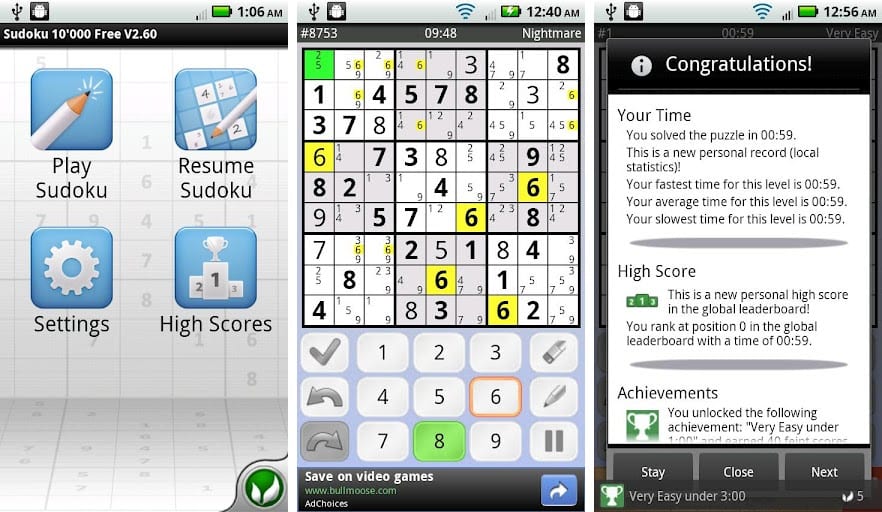 Downloads: 500 000 +
Customers rating:

(4.3 / 5)
Enjoy Sudoku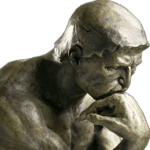 If you are an ardent Sudoku fan, and for a long time seeking out a really handy application that permits you to click numeric heads with maximum comfort, then your searches end on the Sudoku Daily tool. In our opinion, this is the top program for playing Sudoku, ever created by mankind.
Automatic color selection of numbers, a pencil, an unlimited opportunity to cancel moves, several types of prompts, automatic filling of possible candidates – that's just an incomplete list of features of this wonderful application. The pastime is affordable in paid and free versions, free lets you to unravel a day for one puzzle for each degree of complexity.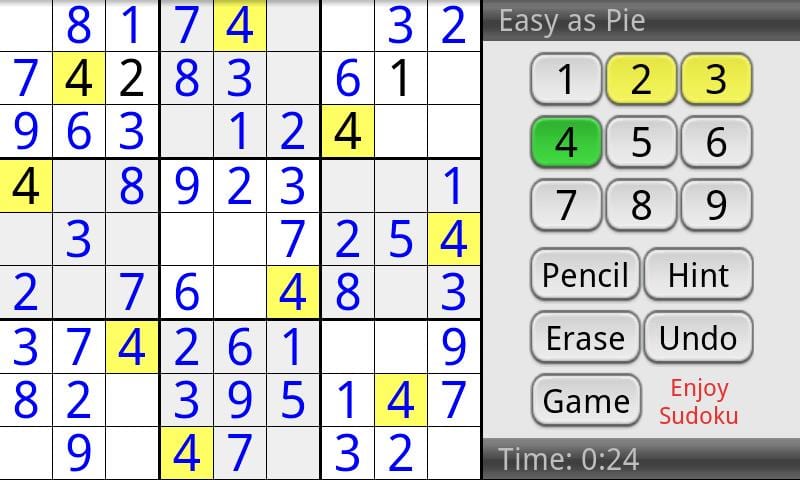 Downloads: 50 000 +
Customers rating:

(4.8 / 5)
Sudoku Free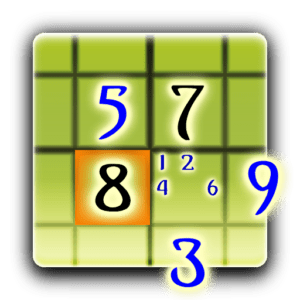 This Sudoku is the most popular in the market. To play in Sudoku Free is very nice and convenient. When you start Sudoku Free, you should select one of 100 jigsaw puzzle, each of which in turn has five levels of complication. When selecting puzzles at the top of the screen, there are time and best areas for fixing the spent and better time of passing this level.
Among the advantages of the application, you may highlight a user-friendly interface, recommendations, and tips for novice players, more than 5 complexity, from the easiest to the most extreme, so you may effortlessly find the right one for yourself.
Also, there is an opportunity to select the coloring of the board and the font, for each level there is separate statistics. In total, more than 500 puzzles are affordable in the application, so that you will be engaged in the game … Sudoku Free – speed up the time for solving Sudoku puzzles.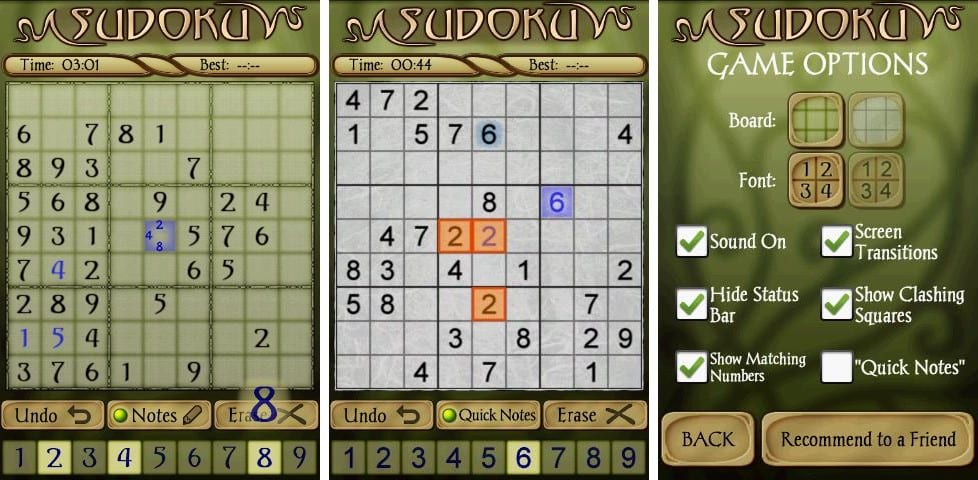 Downloads: 5 000 000 +
Customers rating:

(4.7 / 5)
Sudoku II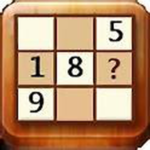 An updated edition of the game Sudoku from the developer Go App. Now you can access as many as six game modes with awesome graphics, like for a similar game, three complexity levels, and countless levels.
Main Features:
advertising availability;
6 kinds of games\modes, including the classic Sudoku;
manual – instruction on the game in the main menu;
you can continue at any time at the level where you stopped or start your let Sudoku from the beginning.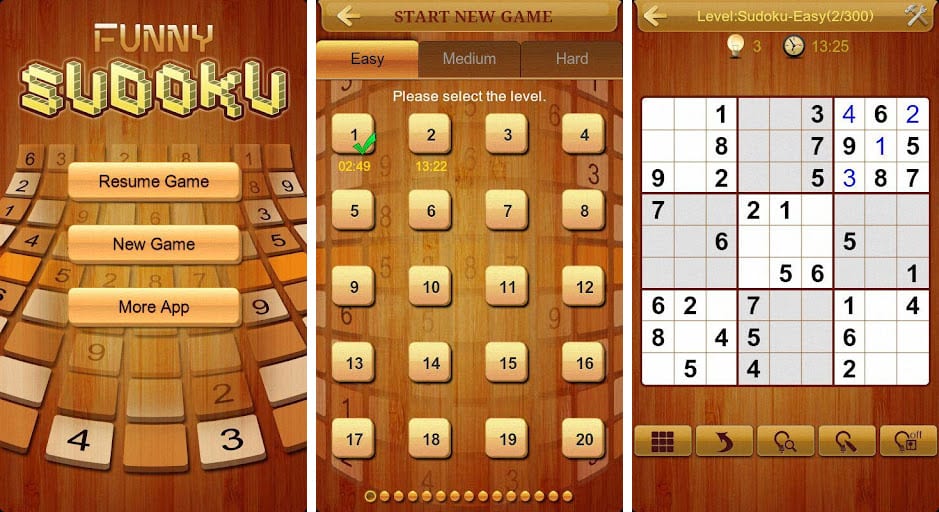 Downloads: 100 000 +
Customers rating:

(4.1 / 5)
Sudoku by Brainium Studios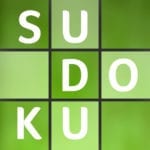 Sudoku is the most famous and breathtaking jigsaw for your appliance. To try this game at least once in life is definitely worth it.
The game will please anyone – both a long time admirer of the genre and a beginner. If you have repeatedly denied yourself the pleasure of playing Sudoku because of the apparent complexity, finally for you there is a solution!
The game is equipped with tips and can easily and thoroughly teach the player the rules of Sudoku. To get advice at any level, click on the Hint button. The system will indicate what to do, with the help of colorful animations and pictures. But do not think that the clues just give the right move: if you do not want to simplify your task too much, within the game the help will only indicate the right strategy. Even experienced players will discover new methods for resolving problems.
The levels of Sudoku in the game are many, enough for many hours of play. You can endlessly repeal and repeat actions. There are five types of complexity. Learn the rules and advance in resolving various puzzles.
The interface of the game is understandable, the font size can be adjusted. The appearance of the game will please you in moments of thought: there are five variants of design and two options for the appearance of cells. The pastime can check errors automatically.
You can play in any position, it supports both types of orientation in space. The achievements of masters from around the world can be found through the results table.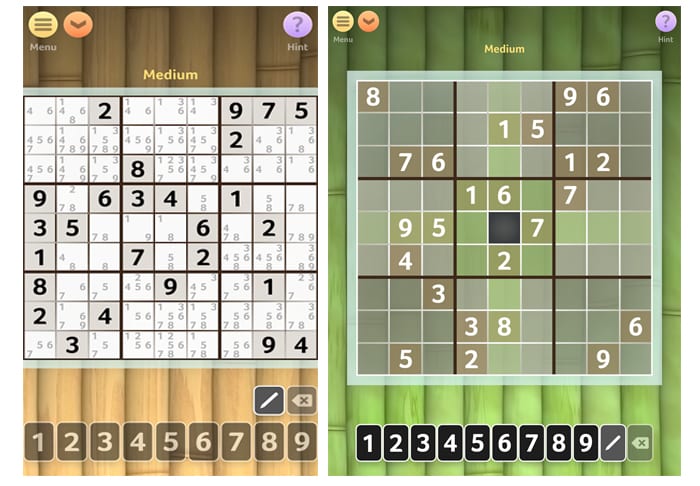 Downloads: 10 000 000 +
Customers rating:

(4.7 / 5)
Sudoku by Pink Pointer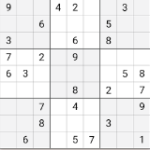 Sudoku is a famous pastime for the development of logic.
A jigsaw for composing combinations with numbers. Game space is a field from the 81st cell. Every 9 cells are separated into a separate mini-field. You should make sure that each mini-field has numbers from one to nine. In addition, each column and each line must also have all the digits from one to nine. To resolve the task is not mere, but it's worth trying!
In the pastime, it is affordable to change complexity. Many puzzles are simple and not very. There is a system of tips. The progress of resolving each puzzle is saved automatically. To cancel and to repeat a course it is feasible indefinitely. After resolving the puzzle the game can show errors. The interface is clean and does not contain anything superfluous, and the colors in the game highlight the necessary objects. The jigsaw is supported on all types of mobile devices.
Start with simple levels and master the famous game with numbers!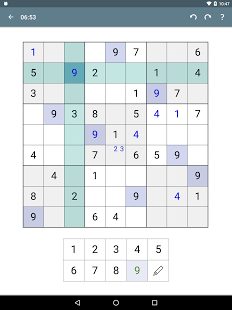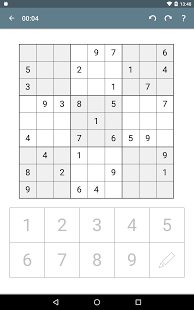 Downloads: 5 000 000 +
Customers rating:

(4.5 / 5)
Sudoku World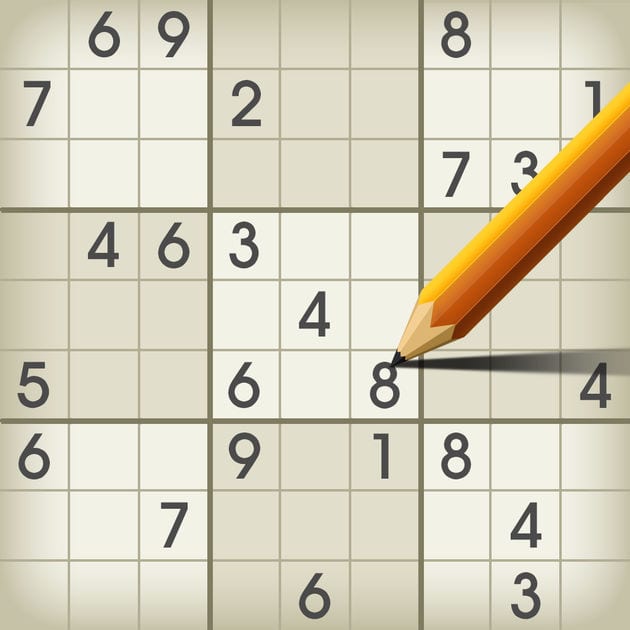 Sudoku World is a logical Japanese jigsaw that develops memory, mindfulness, and concentration, as well as helping to keep your brain in good shape.
Sudoku World will give you more than 8,000 layouts, divided into 4 degrees of complexity. For the usability of guessing, the pastime has implemented the highlighting of the selected number, the designation of the column and the rows at the intersection of which the selected cell is located, the ability to write down possible options of numbers and a hint in the cell.
Also, developers implemented a multiplayer with a table of records and accomplishments.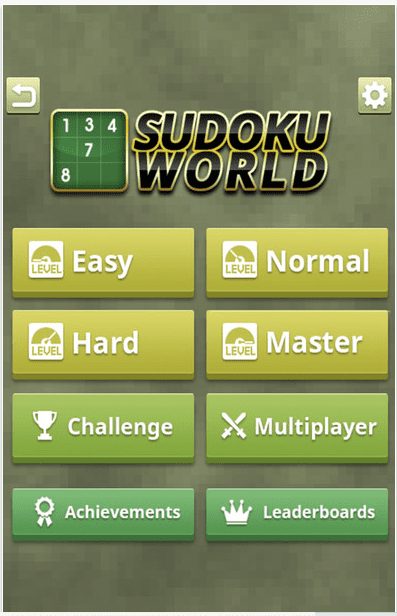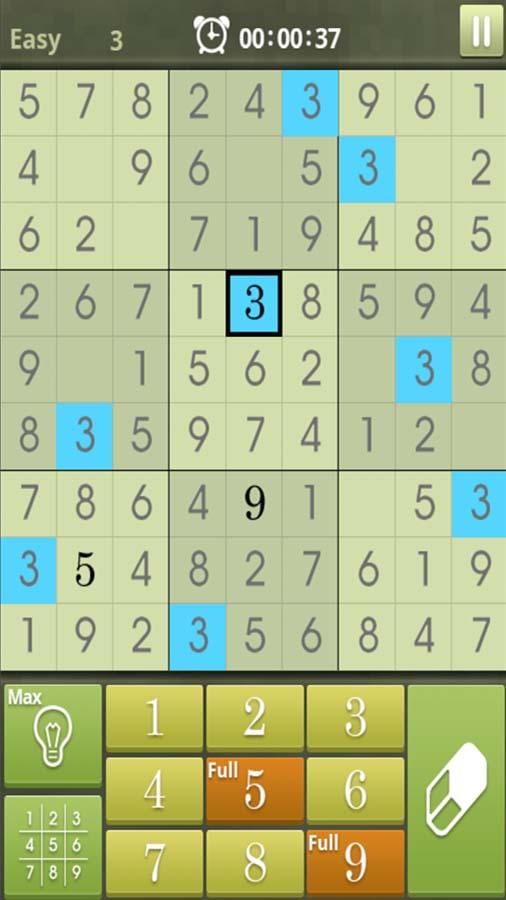 Downloads: 1 000 000 +
Customers rating:

(4.4 / 5)
Sudoku Epic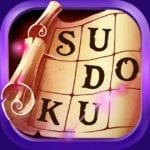 Sudoku Epic – fill the cells of the playing field wi
th numbers from 1 to 9 or letters, depending on the Sudoku option you have chosen. Resolve all the jigsaw puzzles! Develop your logic and intelligence by resolving jigsaw in this enthralling pastime for Android. In classical Sudoku, you should complement the square game board cells so that the same figures are not encountered in rows, columns, and squares of 3 by 3 cells. In addition, you may play unconventional variations of Sudoku, for instance, to form words and letters in rows and columns, etc.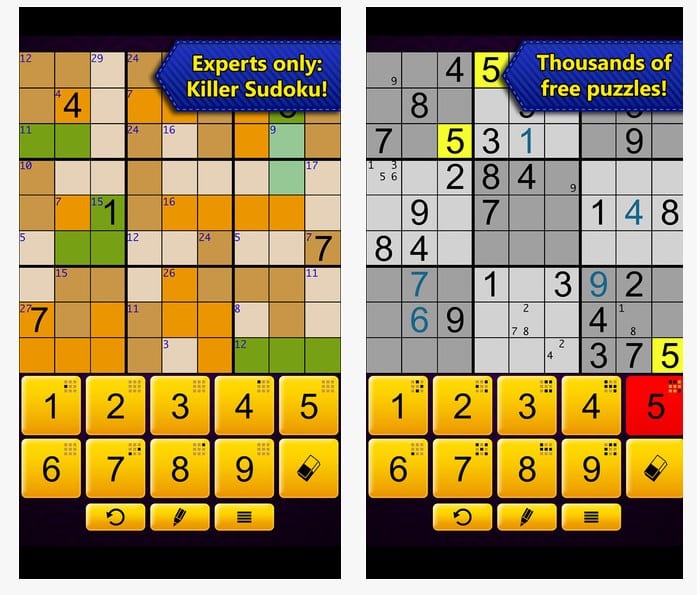 Downloads: 500 000 +
Customers rating:

(4.5 / 5)
Threes!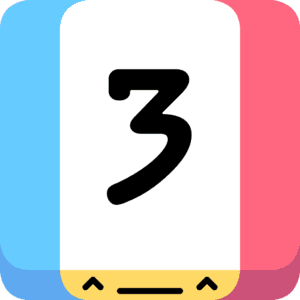 Threes – this is also not a too complicated game but surprisingly addictive. Firstly, it is made in a minimalist style. This means that it is already so interesting even without bright and colorful graphics. Secondly, Threes is an excellent find for lovers of numbers.
So, in front of you is a field of 4×4. First, in some cells, there will be numbers 1 and 3. You will need to connect a unit with a deuce, a triplet with a triplet, a six with a six, and so on. When one digit is layered on the other, the values are doubled. For example, if you combine a triple with a triplet, you get six. Just do not forget that when you move the numbers from the cell to the cell, a new number appears in any free cell. You need to guarantee that the free cells do not end, otherwise, you will lose.
After that, the final result is summed up. Larger numbers are estimated by a significantly larger number of points. That's the whole game. Is it worth mentioning that not the actual description of the pastime captures, but directly the gameplay? It really was on top. The records can be shared in social networks.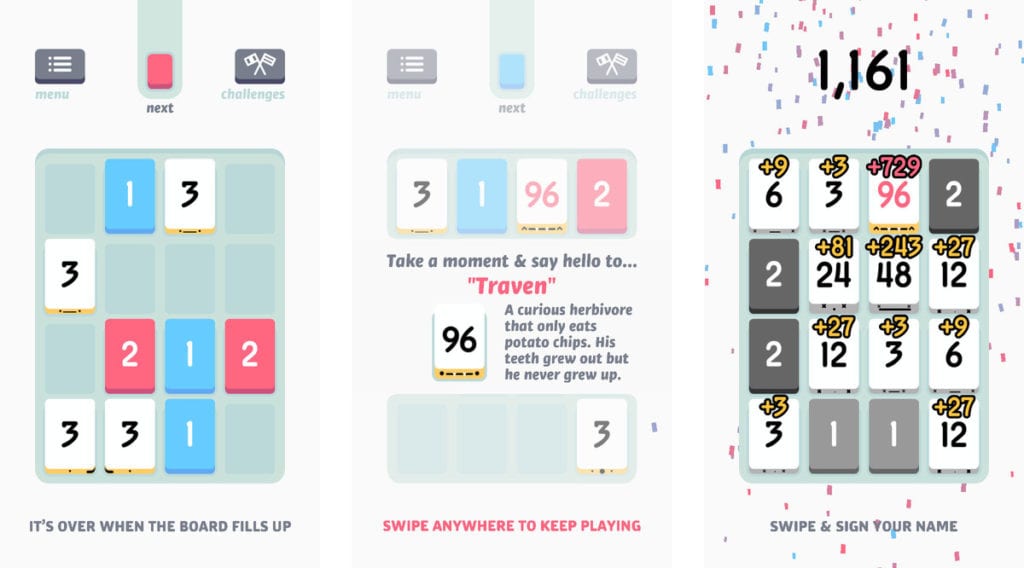 Downloads: 100 000 +
Customers rating:

(4.6 / 5)
Sudoku Quest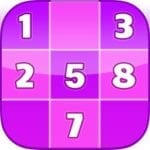 This is the most popular Sudoku jigsaw that exists at the moment. At the beginning of the pastime, you may opt from four degrees of complexity, starting with the level for beginners and ending with the Sudoku jigsaw expert. Sudoku Quest unites many Sudoku variants from around the world. It contains not only quests but also engages the execution of missions.
Sudoku Quest is a revolutionary puzzle where you should append missing numbers. But you need to do this in a slightly unusual way because the rules of the pastime do not tolerate the repetition of numbers on one line. Solve complex puzzles and earn points to develop intelligence and memory.
At each level, special items are available that permit you to pass through any level. For example, if you are stuck during the passage, you can use a tip that will show you where to set the numbers. Special items can be used only once for passing the level.
Due to the fact that the developers used a minimalist style and the usual color scheme, it turned out to be an excellent application in the graphic plan, unlike the black and white original, which bores after several hours of play.
This toy is really designed to replace traditional Sudoku games, and you do not lose anything from it, but only get an irreplaceable experience.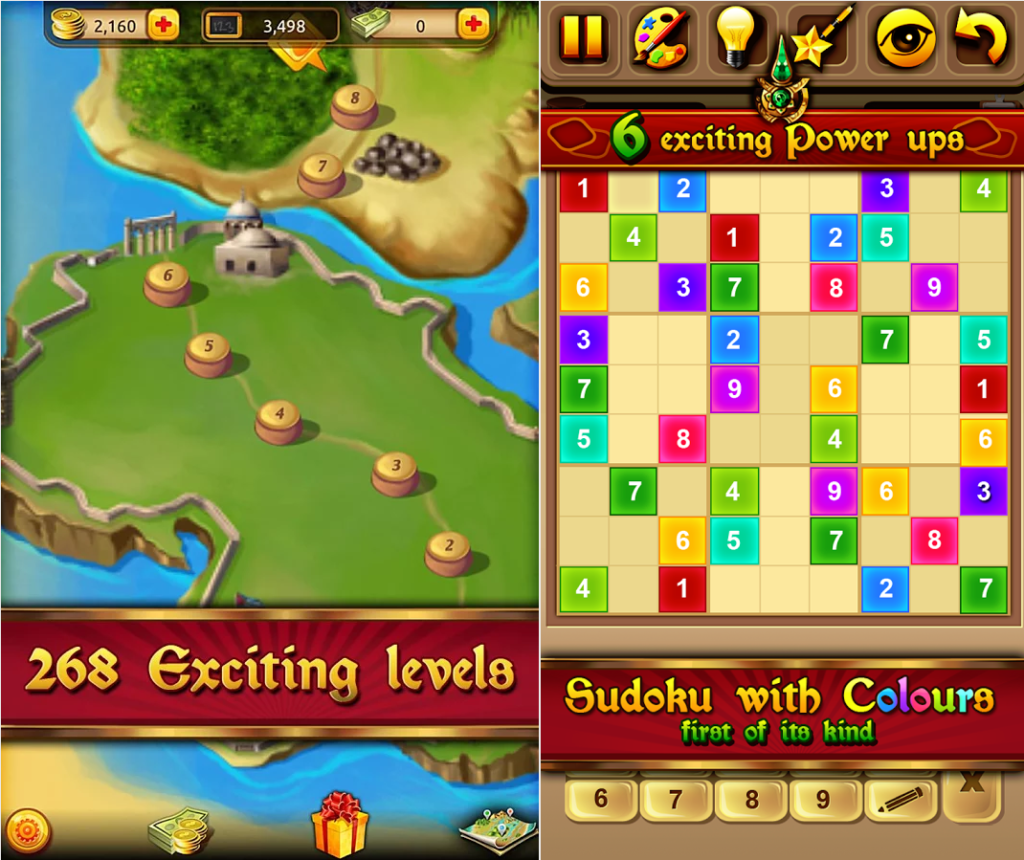 Downloads: 1 000 000 +
Customers rating:

(4.5 / 5)
Sudoku Monsters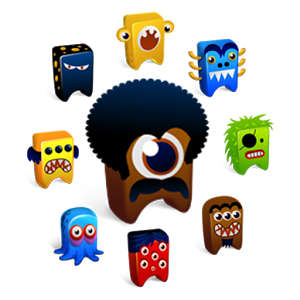 This is a fairly simple game, designed to teach children and beginners the basics of Sudoku in this business. The interface of the game is made in a cartoon style, and in the cells are not the usual figures but colorful monsters, so that the toy visually attracts the children. In this case, in the future, the child will be much easier to play in the present Sudoku.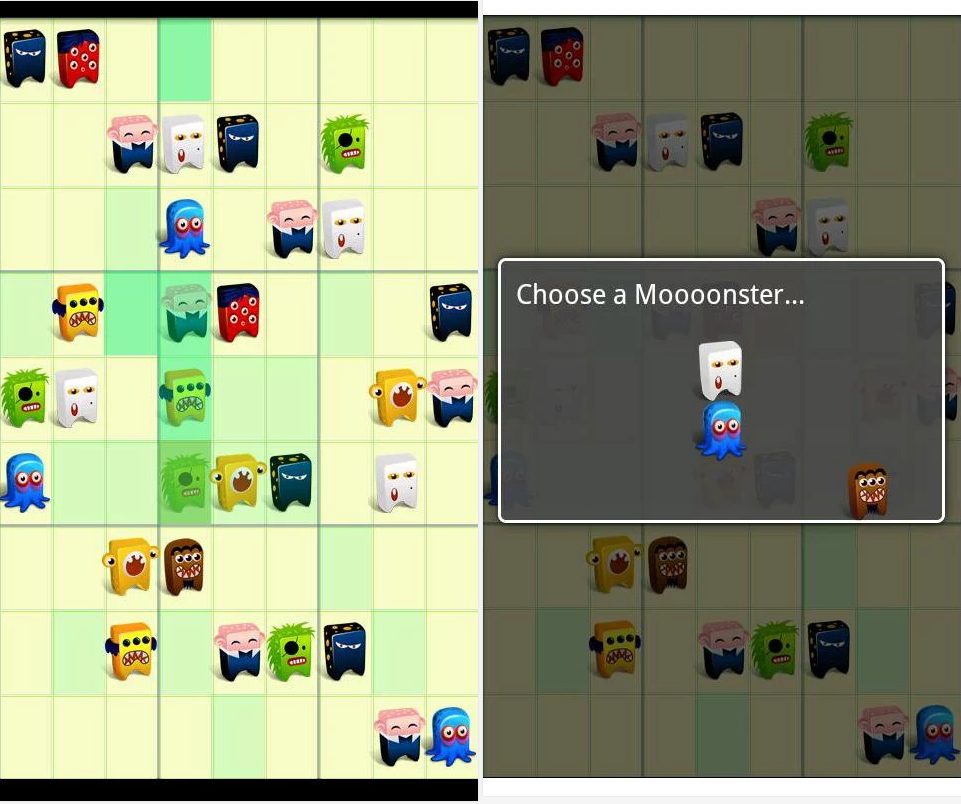 Downloads: 1 000 +
Customers rating:

(3.6 / 5)

Sudoku Adventure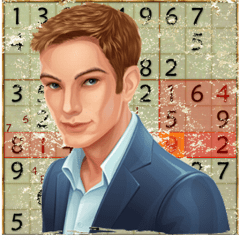 Sudoku Adventure – is a very interesting version of the Sudoku puzzle for Android. There is an Adventure mode in which you need to go through 30 levels, each of which will be more difficult than the previous ones. There is also a free game mode, in which you may opt one of three difficulty levels.
Beautiful graphics, which is opportune for Android-smartphones and tablets with a high-resolution display, the ability to play a free game without a plot, nice music and sound effects.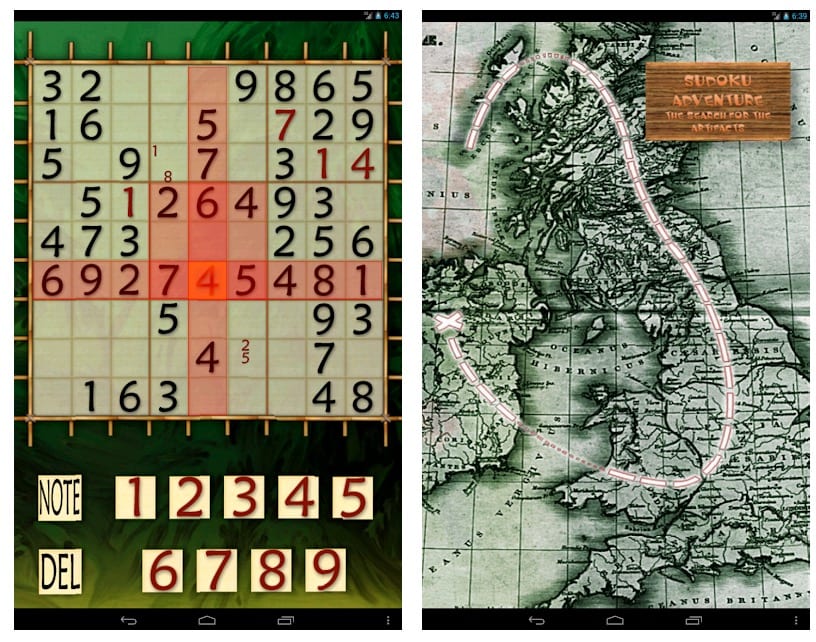 Downloads: 100 000 +
Customers rating:

(3.9 / 5)

Sudoku 2Go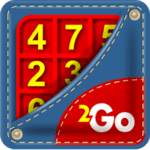 Just a chic edition of Sudoku. There is a possibility to play both in the most ordinary and non-standard fields.
In the game, there is an option to select a field other than 9 squares. Prudent developers took care to ensure that beginners and experienced users were offered tasks of appropriate complexity, so in Sudoku, there are five levels.
Their main difference is how many digits are given to the user at the very beginning of the game. It is worth noting that the game has quite extensive settings – the choice of color, the way of recording numbers, checking sudoku, showing the timer, etc. Still, in the game, there is the ability to save the game.
As for the management, in Sudoku it is implemented quite conveniently: a tap on a certain cell opens a virtual keyboard on the screen, on which there are only those numbers that are missing in this cell. Also, the developers provided an opportunity to make notes on the entered figures, in addition, there is a rating of users.
Sudoku embodied all the qualities of a good logical game, which is also an excellent warm-up for the bored brain. It's like chess, only in Chinese style. The game has a very nice, not distracting interface. So even newcomers will quickly become familiar here.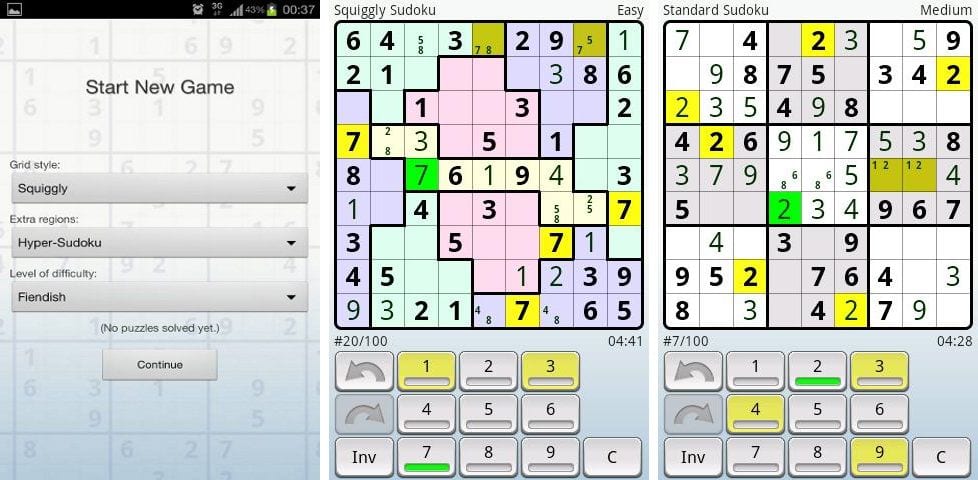 Downloads: 1 000 000 +
Customers rating:

(4.5 / 5)
You may also like: 15 Best solitaire apps for Android
Andoku Sudoku 2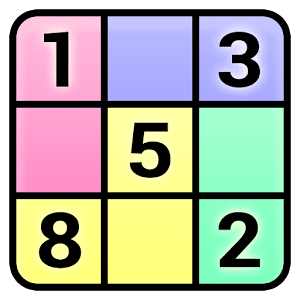 Andoku Sudoku 2 is the second version of the best Sudoku on your appliance. A very good puzzle, according to many, it may be considered the most optimal pastime for Android. In total, the game has 6 different versions of this puzzle, so you may opt the variant that you like best.
In total, the brainteaser has 8 diverse levels of complexity and about 10 thousand levels, so there will be no time to get bored. And you will not need to look for other options of this brainteaser, this pastime will suffice you for a long time. The tasks are many and all of them will be very interesting to Sudoku puzzle fans.
For beginners, there is an easily customizable prompt mode. You may easily customize the game interface as you want. Also, you are able to adjust the degree of complexity, whether you are a professional or a beginner. Andoku Sudoku 2 certainly will not let you get bored.
Downloads: 1 000 000 +
Customers rating:

(4.7 / 5)
In order the game in Sudoku has developed for you as positively as possible, you need to concentrate your attention well, activate your logical thinking and break into battle. Do not worry if nothing works out – logic games are created to develop your ability to calculate in advance what will happen next and develop it.