The great app for raising the level of your erudition is Capitals of all countries of the world – Quiz about cities and countries. We can truly call this app one of the best games of geography!
The app contains the data about the capitals of all 197 sovereign states in the world and 43 dependent territories. Due to a user-friendly interface, you will easily memorize new information. The app has diverse tasks, not just tests. We promise that learning will be interesting and very informative.
You may also like: 7 Best Health Electronic Records Apps for Android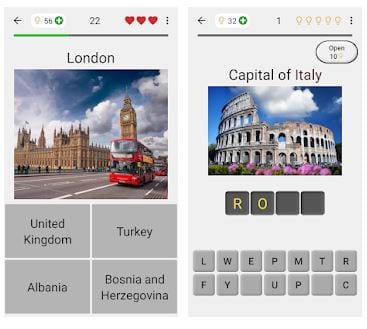 Firstly, you can train by choosing one of two training modes. The mode with flash-cards allows you to look through the flags without guessing, check that you do not know, and repeat later. The mode with a table has an opportunity for searching for a specific city or country.
You can study the flags of each continent: from Europe and Asia to Africa and South America. To start a game, choose a difficulty level. Four levels are provided: the most famous capitals, capitals of exotic countries, capitals of dependent territories, and all capitals. You can choose a game mode on each level.
The first mode offers to guess the word letter by letter. Depending on your knowledge, easy and hard options are offered. The second mode is tested with 4 or 6 possible answers. You will have 3 lives to solve the task. Also, the mode where you need to give as many answers as possible in 1 minute is available.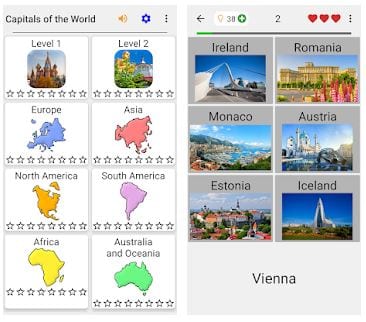 The stars are given for your correct answers, and to win the time game, you need to answer at least 25 questions in a row. The newest model, which we recommend you, is to determine the capital on the map. The app will help you not only learn the names but also know its location on the map.
You may also like: 9 Best Mouth Talking Apps for Android
The developers allow learning countries and capitals in different languages because the app is translated into 30 languages. You will like this app! It combines convenience and efficiency, try it right now!