If you like social networks but you do not dare to share your thoughts, inner emotions, and feelings because of fear of being ignored – the Paralign application is for you. The work in the program is the maintenance of its kind of anonymous journal, any user of this platform can at any time connect to your thoughts to give you support or inspiration for something.
The main idea of utility is built on 6 main functions:
A new thought – is that here users express their feelings and thoughts that they have at the moment. Also, you can share your mood or send an anonymous letter in order to simply throw out all your emotions or intentionally want to get support from others.
My mind – you get the opportunity to monitor your thoughts and feelings for identifying patterns – so you can conduct a deep analysis of your internal state, look at yourself as a person from the point of view of psychology.
Companion – get personal support, for example, meditation lessons aimed at reducing stress, relaxation, etc.
Similar minds – in this sector, you will be connected to another user of the application, whose thoughts and feelings resonate with yours.
Connections – here you will be able to track your comments.
Wandering minds – do you want to know what feelings a casual application user feels? Then you come here. And if this wanderer wishes, you can comment on his thoughts or even make friends.
Do not lean to express your thoughts and feelings and be heard. Who knows, there may be many similar people in the world and they are ready to express their support and inspiration!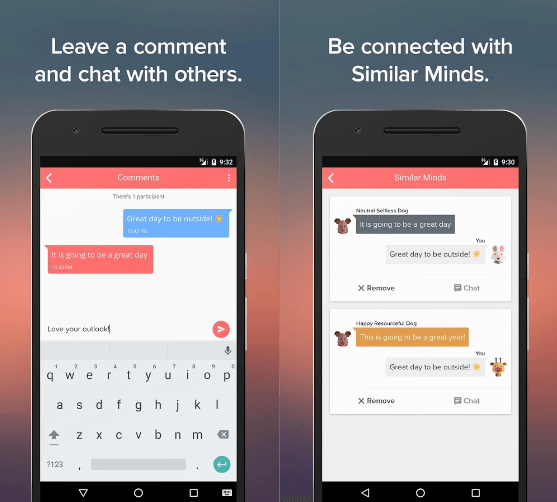 Downloads: +50000
Customers rating: (3.9 / 5)
You may also like: 17 Best virtual girlfriend apps for Android