Medical records are a necessity to help when different doctors contribute to the treatment of patients. To avoid delays and errors, you need to store your tests and monitor your health with an application, which puts some of your medical records online.
We have collected the best, in our opinion, health electronic records applications that can meet the needs of both patients and physicians.
Storage of personal documents and tests, which works as an electronic medical record of the patient, ensures the storage of information: files and documents offline.
MedClin Medical Records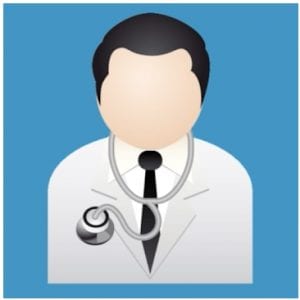 Thanks to the Medical Records app for Android, you can easily save medical records, patient records, and health information.
Functions:
* According to your needs, choose to store medical data in the device memory or in a secure cloud storage where data synchronisation is enabled.
Authentication of user name and password
Export of medical data to Excel
You can attach documents in any format (pdf, word … etc.) or fix them using
camera or video recording
Ability to store the patient's address: latitude, longitude using maps
Possibility to use the navigation in Google Maps to get by car to a saved patient's address
from your current location
Past medical history
Laboratory test module, Radiology module, Appointment module for tracking patient visits
Smart search by name or ID, you can take a picture for your profile.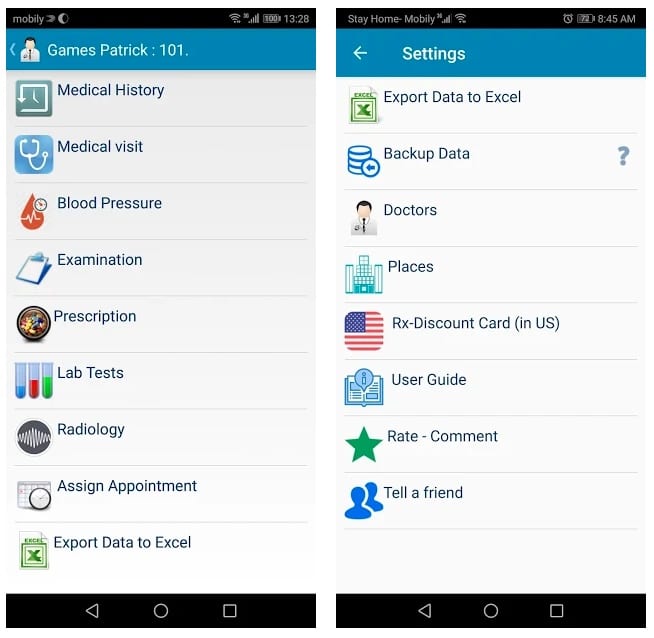 Doctors can use this application as a clinic information system or clinic management system, doctor-patient medical records, mobile patient information management application, and medical records for Android to track patient history.
It's convenient to keep the medical family history of your family members, as it will be easier for your doctor to keep track of your medical history information.
Ability to control blood pressure
PDF reports on your blood pressure
Blood pressure measurement graphs
Measurement of systolic pressure, diastolic pressure, heart rate
Export of arterial pressure reports to PDF or Graphs
Ability to send blood pressure reports to your doctor
PDF reports on your blood sugar
Export of blood sugar reports in PDF or Graphs
Send a blood sugar report to your doctor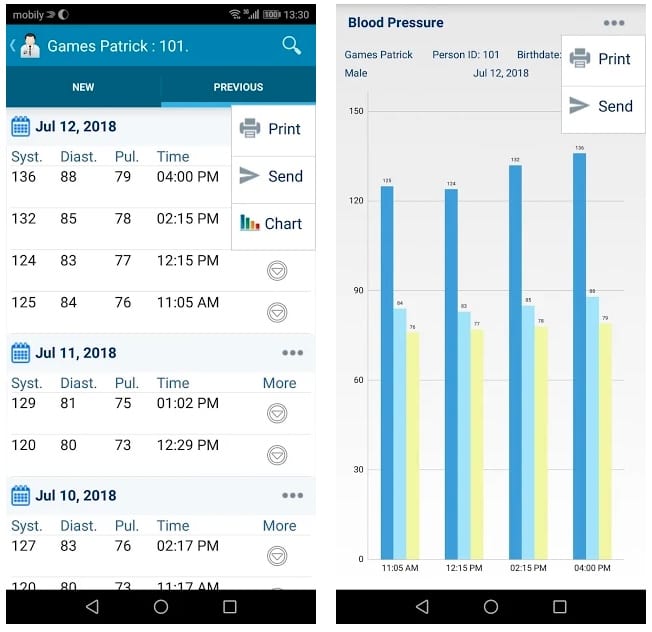 Downloads: 100000 +
Customers rating:

(4.1 / 5)
You may also like: 12 Best Diet Diary Apps for Android
Medical records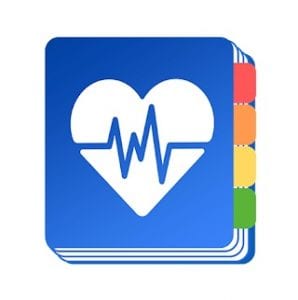 Medical records are a modern application for recording and storing your health data.
It will allow you:
keep the history of your visits to doctors, their prescriptions, referrals to laboratory tests, and results;
remember diagnoses of diseases, dates of operations, names of prescribed medications, and other important medical information;
keep a history of health measurements (sugar levels, pressure, etc.);
collect complete information about your health in one place.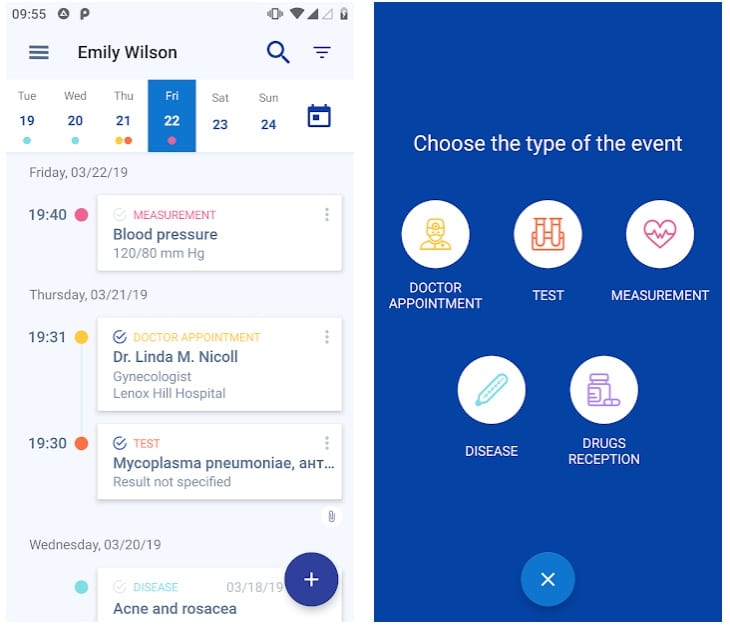 Advantages of the application:
User-friendly, intuitive interface;
easy registration/authorization (using email, social networking, and Google Account);
recording of visits already made and only planned visits to doctors, their appointments, prescriptions, and recommendations;
recording measurements of health indicators (sugar levels, pressure, etc.);
attaching individual medical documents (files in all formats) as annexes to the medical visit;
availability of reference books for entry of medical information (medical centers, doctors' contact details, names of medicines, diagnoses made, types of tests, medical recommendations). This will make it possible to enter the existing medical history into the application more quickly;
a reminder of the time of taking prescribed medication, storage of the history of prescribed courses of medication.
calendar of events (medication taking, visits to doctors, tests);
data synchronization, secure storage of your data on Google servers;
maintenance of several profiles, e.g. you and your family members;
support when working with the application in case of questions/issues with its use.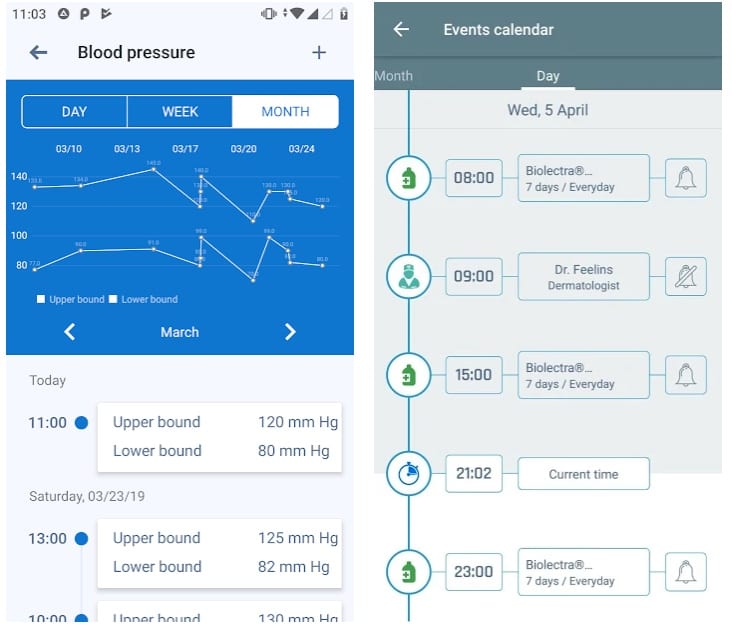 Downloads: 100000 +
Customers rating:

(4.1 / 5)
EHR / EMR Health records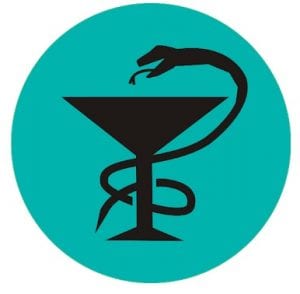 An electronic medical card will help you save tests, take scheduled pills, and keep a health calendar.
Now you can do it anywhere, anytime:
Have all the certificates, blood tests, vaccinations, and sick lists at hand. You can always keep track of the progress of your tests graphically and adjust your health status in time.
Create events such as doctor's prescription, flu, taking pills. These events will help you keep track of your health status.
Introduce general health indicators. Monitor your blood pressure, temperature, heart rate – this will help you to take your medicine correctly and on time.
Create reminders for your medication, pills, and injections. The app will help you take your pills on time. It's possible to create reminders for taking several medicines at the same time.
Keep a medical calendar. You will be able to create your own medical archive and will not miss any important events.
Use a medical calculator. You don't need to waste time on complicated calculations, just do the tests and use the medical calculator to keep track of your vital signs.
Keep a women's calendar and keep track of your menstrual cycles, receive notifications of the beginning of your period, ovulation, and taking birth control pills. The menstrual calendar tells you the right days to conceive a child.
Be healthy and the EHR / EMR Health records application will help you do this.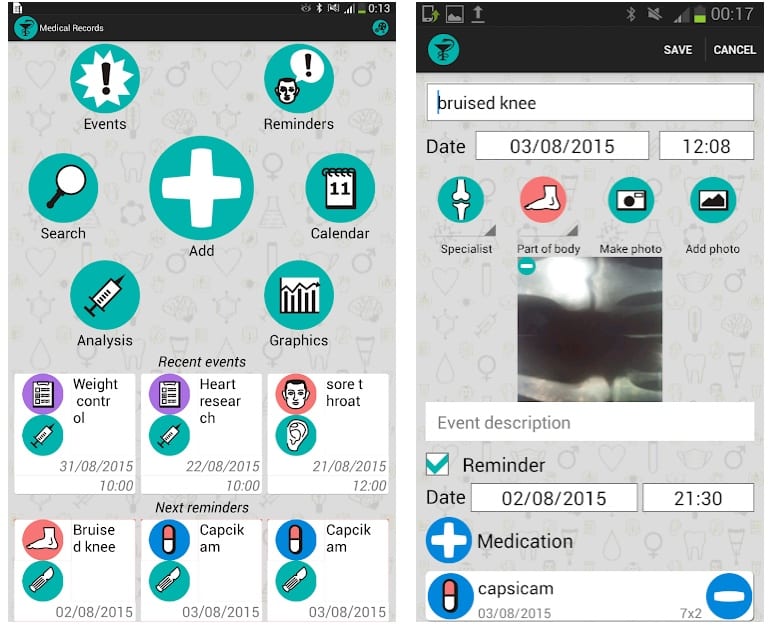 Downloads: 10000 +
Customers rating:

(3.8 / 5)

Multi-Profile Medical Records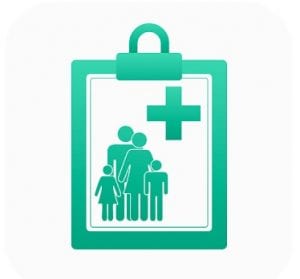 Multi-Profile Medical Records is a modern and useful application for managing and storing medical data about your health and that of your family members.
With this application, you can easily store your medical records, medical history, and information about the health of your family members and yourself, and view all records in one place.
Multi-Profile Medical Records helps to store all your medical history data, history of visits to the doctor, their recommendations, referrals for laboratory tests, test results, and other information in the device.
You can also remember diagnoses of your diseases, dates of surgeries, names of prescribed medications, and other important medical information.
With this application, you can store the medical records of several users and view all medical records in one place at the same time. It helps you to keep the entire medical history of your family and loved ones up to date, and also helps you consult doctors or medical staff by exporting medical data and documents.
With the Multi-Profile Medical Records application, the user can store his own set of relevant medical information on his phone for easy access and sharing. Medical records can be accessed at any time.
Other information, such as details of when to take the medicines, can be saved in the application. It can be considered as an application for medical administration, family health, tracking medical records because ordinary people can use the application to store their personal medical information and family history.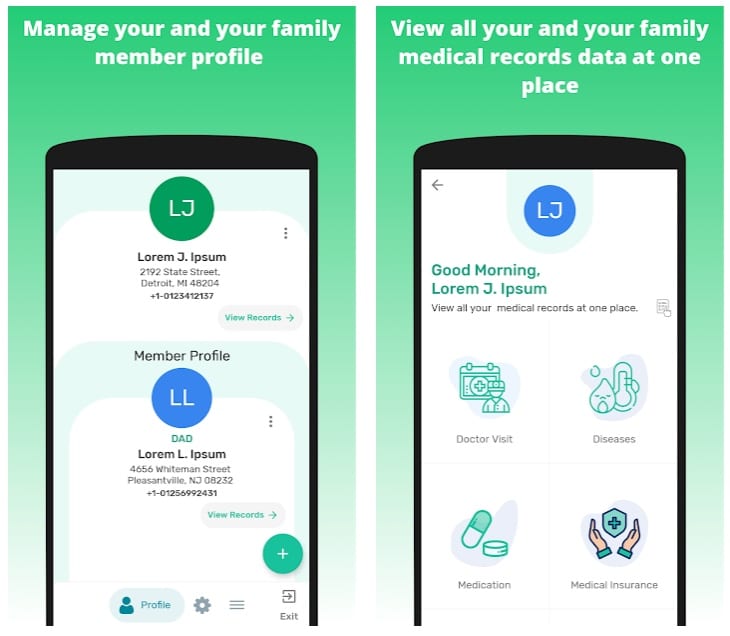 Downloads: 5000 +
Customers rating:

(4.5 / 5)
Dr.Pad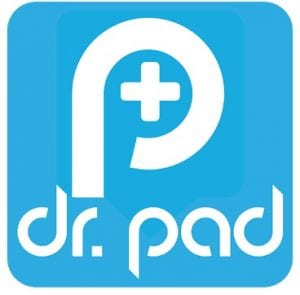 Dr.Pad is a simple application for registering patients, medical records, and billing. Another feature is that it can store patient medical records, such as test reports, as well as X-rays.
Another unique feature of this application is that you can create prescriptions, print them, and give them to the patient.
So with the Dr.Pad practice management application, you can manage all your patient records, such as personal information, medical reports, medications, visit history, clinical notes, medical history, and other notes. As a result, meetings with your patients can be easily processed using the Dr.Pad application.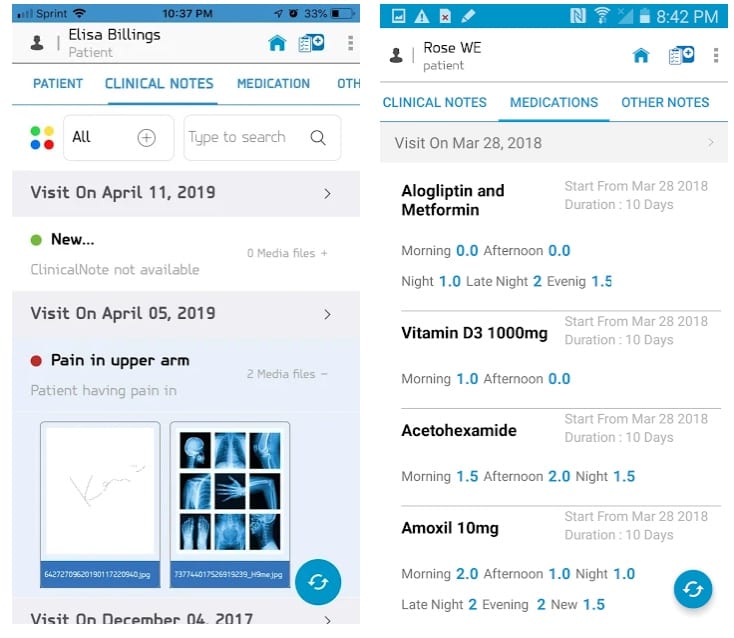 Downloads: 50000 +
Customers rating:

(3.8 / 5)
Medical History – Documents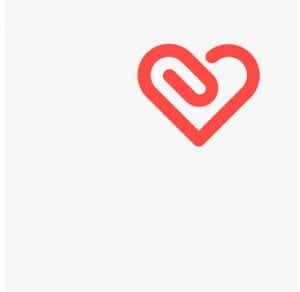 Medical History is a universal application for collecting and storing your family's medical history (laboratory medical tests, doctor's readings, allergies, medical certificates, X-rays, diagnoses).
With Medical History, you not only have access to an electronic medical record with all stored data at any time, but you can also share it with your doctor.
In Medical History, there is no limit on the number of "participants" per account. This means that once you have installed the application, you can store the medical records of all family members: yours, children, spouse, and parents – as many people as you like.
A certain avatar is assigned to each member whose documents you add to the application – for clarity and ease of search and viewing. And you can access data about your mother, grandmother, and youngest daughter at any time – and not mix anything up. The geoposition of documents is also saved. This way, you will be able to see only those documents that are received at a certain place.
Of course, Medical History doesn't replace a doctor, nor does it give you online diagnoses based on symptoms and photos or recommendations – you should only go to medical institutions for this.
A personal medical record online is optimal, convenient, and modern for everyone who needs to monitor key health indicators.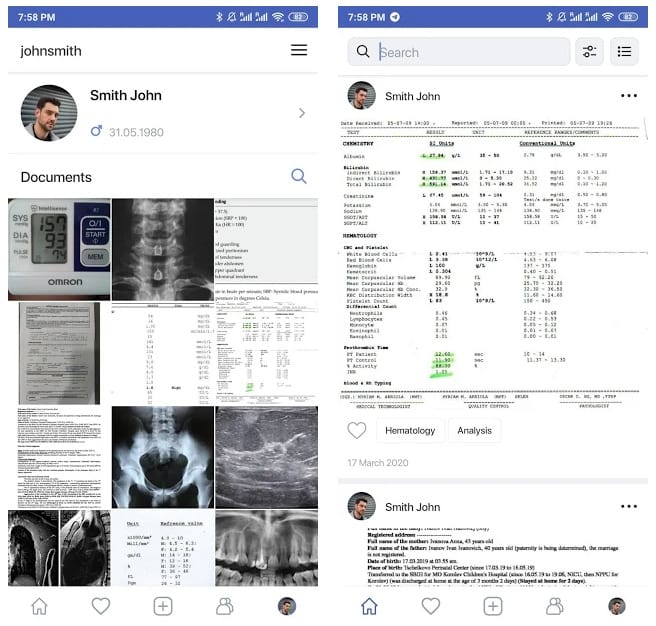 Downloads: 50000 +
Customers rating:

(4.5 / 5)
You may also like: 5 Free Detox Diet Apps for Android
75Health EHR/EMR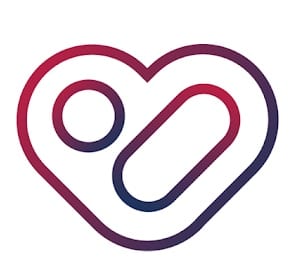 75Health EHR/EMR is a cloud-based EMR software that helps healthcare professionals securely store, edit and share medical information through secure online patient records, unrestricted storage of data and electronic prescriptions, as well as improved meeting planning, customizable billing, and automatic mail dispatch.
With 75Health EHR/EMR users can store important patient information such as medical history, allergies, drug reactions, past surgeries, and procedures. Equipped with relevant patient information, doctors can assess the patient's health and make informed decisions quickly.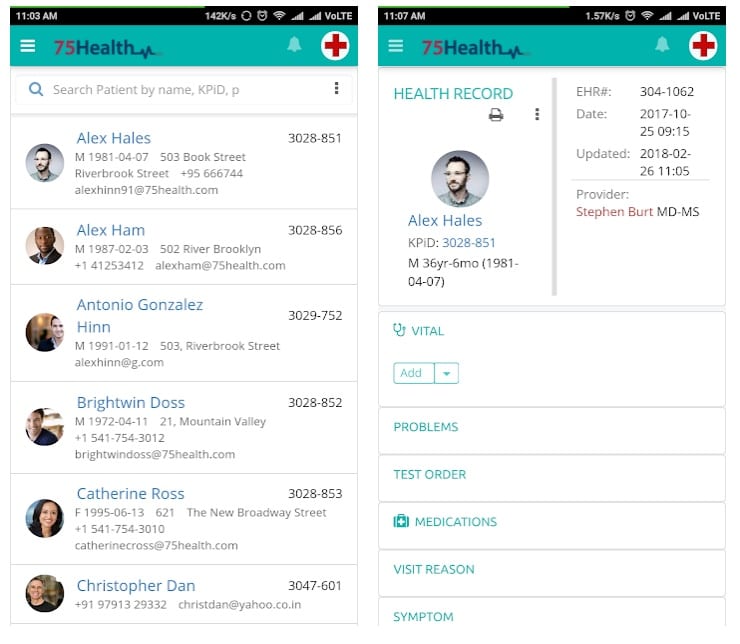 Downloads: 1000 +
Customers rating:

(4.8 / 5)
Bonus: Oniri – Lucid Dream Journal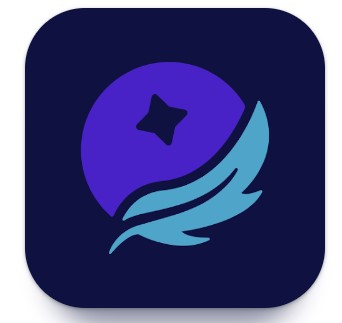 In order to make this list a little bit more exciting and also draw attention to your dreams, we suggest you to start writing down your lucid dreams. It is extremely beneficial for your memory and psychological health.
This app is a useful tool if you want to record your dreams, analyze them and also experience lucid dreaming.
Write down your dream before you forget it. It is possible to make voice recordings as well.
The service allows you to make a complete analysis of your dreams. Remember who was with you, what you did, and where it happened. Your emotions are also very important.
Moreover, you get interpretations of your dreams. The service contains a large number of different explanations and you can find your own.
Besides, the service generates statistics of your dreams as a chart. This function is useful to find out which elements in your dreams are repeated and also what emotions you have most often.
Lucid dreaming is a unique experience that will give you new vivid sensations. Here you will find an audio guide that will help you understand the theory. Various tools such as reminders and alarms are also available to you.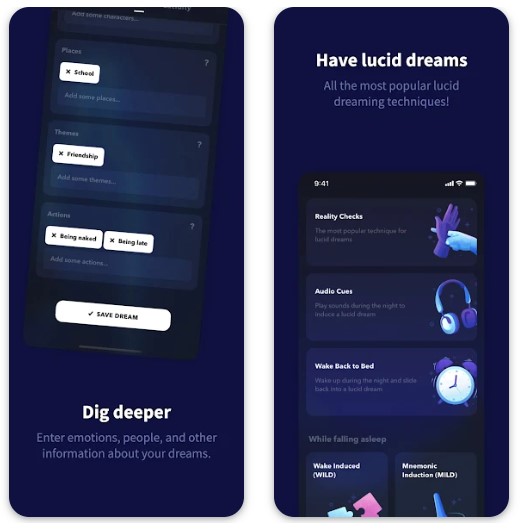 Downloads: 500 +