How to diversify the boring everyday life, spent with friends at work or school? The Challenge game apps for your Android, designed for two or more players and capable of raising a friendly spirit of rivalry to a new level will come to the rescue. So, have a look!
PBA Bowling Challenge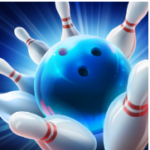 Playing PBA® Bowling Challenge shows that you are among the best experts in your field – bowling masters. Here you will not only be able to roll balls for your own pleasure but also show all the other players in bowling your professional skills.
PBA® Bowling Challenge is an excellent application that opens up unlimited possibilities for bowling. Convenient management and high realism create all conditions for you to feel that you are not on your sofa, but right at the bowling club. On the adjacent alleys, with a heart-rending sound, the balls of other players roll. Your ball is also just about to jump slightly up after a successful throw, gently land on the track, and gliding along it smoothly will go to its goal. A few seconds and pins knocked down. This is exactly what you have been dreaming of for so long!
In addition, the multi-user application mode allows you to participate in tournaments and duels with other players in bowling. Thanks to a convenient online multiplayer, playing with friends on the network, you will get the feeling that the whole company went to a bowling club and spent an unforgettable evening there. In addition, in a single player mode, you can participate in a competition with two dozen of the best bowling players according to the PBA association. Now you are one of its members. Write down a new name in bowling history, along with the PBA® Bowling Challenge for Android.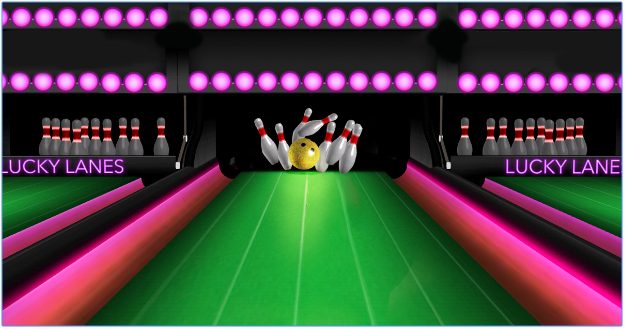 Downloads: 232 500 +
Customers rating: 
 (4.3 / 5)

Challenge Your Friends 2Player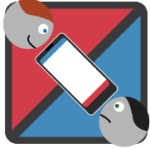 In total there are ten different mini-games in the collection: "Races", "Memories", "Pong", "Squares", "Color Wars", "Number Wars", "Four in a row", "Tic-tac-toe" and "Checkers". The last mini-game is initially locked, you can access it after putting the "I like" mark on the Facebook game page. We will not consider mini-games, the essence of which is clear without explanation, but we will pay attention to those whose names make it difficult to understand their meaning.
Race. Here the player should press the screen as quickly as possible, the one who gets to the red finish line first will win.
Memory. Here, players alternately open two cards. If you open two identical cards, the player gets one point. The winner is the one who will score the highest number of points at the moment when all the cards are opened.
Squares. In the "Squares" you need to connect the points by clicking on the lines between them. The one who connects the four peaks in the square will get a score. In this case, the color of the square will change to the color of the player who received the score.
Wars of color. On the field, there are squares of two colors – red and blue. Players must speed up to fill the squares in their colors. The winner is the one who can paint all the squares in their color.
The Wars of Numbers.  You are given 15 seconds for each example. Players need to correctly calculate the action between two numbers. There are four standard actions available: addition, subtraction, multiplication, division.
Four in a row. The player needs to arrange four circles of their color in one row horizontally, vertically or diagonally.
And this is only part of all the mini-games available in this collection. Before the start of each mini-game, a task appears on the screen, which the loser must perform. You can change the tasks in the section "Change tasks". In general, the Challenge Your Friends game is interesting and pleases with its diversity. There is no doubt that your friends will be happy with the time spent in company with you and your smartphone.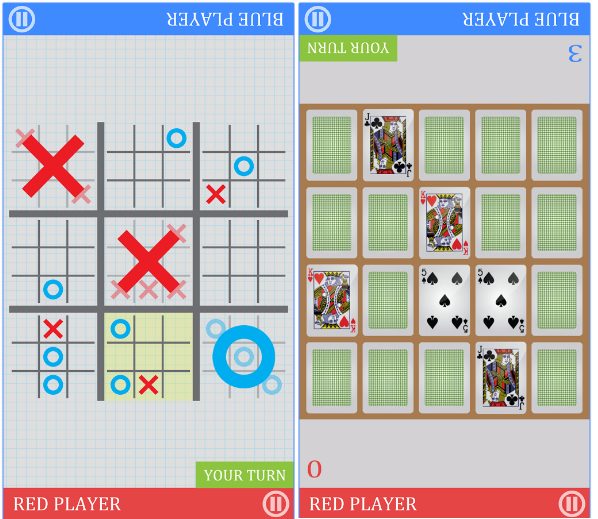 Downloads: 39 700 +
Customers rating: 
 (4.1 / 5)

Red Hands – 2-Player Games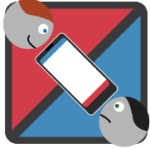 Red Hands is a fun and simple game. It is a great way to spend time with your friends. The game is specially designed for two players, and with it, you can find out who has the fastest and smartest hands.
The essence of the game Red Hands – Two Player Game boils down to the fact that two players act as an attacker and defender. The attacker must attack the opponent, and the other participant must react in time to repel the attack. To do this, the attacker simply clicks on the screen of the mobile device, and the defender must react to repel the attack. If the defender wins three times, he gets bonus points. The winner is the one who will score 10 points first.
Due to the ease of management, the game is suitable not only for adults, but also for children. In addition, the game has no aggression, and confrontation will help develop the reaction and small motor skills of the fingers in children. But that's not all. To make the game even more fun, the developers came up with an interesting function. You can take part in the confrontation not only with the help of a human hand, but also choose other hands, and even paws (for example, the Hulk or the skeleton).
The game is free, takes up little space and does not require paid upgrades or additions.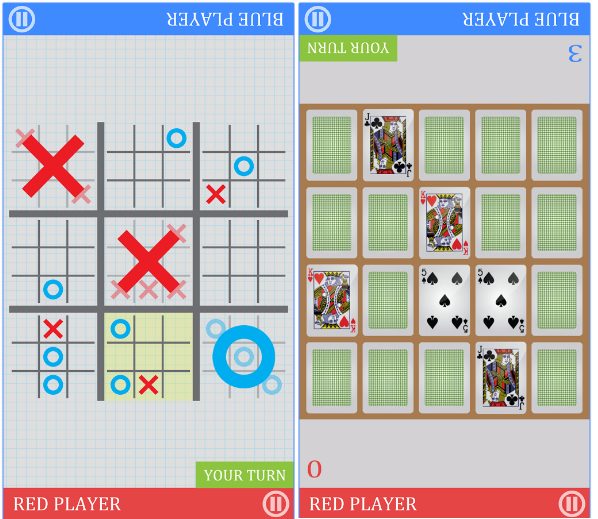 Downloads: 86 800 +
Customers rating: 
 (4.1 / 5)

Glow Hockey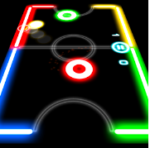 Table hockey on a mobile device is a dream for many players. Especially bright and colorful, like Glow Hockey. This is not surprising, a good idea combined with worthy visual effects is a recipe for success for developers. The game has the opportunity to play together, so you do not have to think long, what to do with friends. You will be engaged in the process for a long time, so prepare your fingers.
The essence of the game is to drive the neon puck into the opponent's goal, while not missing a goal in your own. But this is more than enough to kill time for hours and have fun with friends. Yes, the game has a full-fledged multiplayer, and we must say that the battle against real players is a very exciting activity. In addition, the player has the opportunity to participate in a solo tournament against computer opponents.
If you decide to download Glow Hockey on Android, then you will get a dynamic table hockey in a bright neon style for your smartphone. It looks amazing, it's played too! Various styles of table decoration, pucks and bits can diversify the already rich in the events and adrenaline game process. Neon glow gives the game a nice shade and does not bother the eyes. Playing Glow Hockey is really easy, but can you achieve real skill?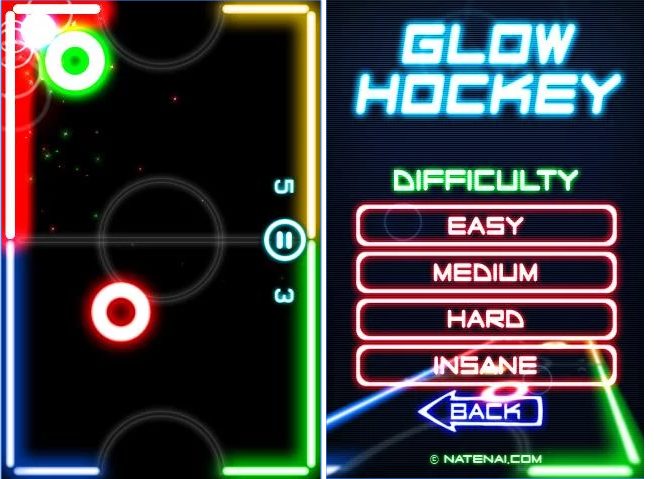 Downloads: 1 644 300 +
Customers rating: 
 (4.1 / 5)

BGC: 2-4 players Party Game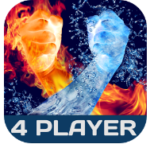 BGC: 2-4 Players Battle Party is a collection of fascinating mini-games that can cheer a small company on a get-together, in a cafe, on a train, in a queue or on a break.
In this collection, you are waiting for a variety of mini-games, suitable for different situations and for different companies. A distinctive feature of this application is the ability to play all together on one device, because it's much more fun than when everyone is playing on his own gadget. Easy to learn games, calm or dynamic, turn-based or in real time. Each of them is designed for 2-4 players and is good in its own way.
And if your friends are not there, you can play in the favorite mini-games of the collection with bots. Or online with other players, if there is an Internet connection. Have fun and enjoy yourself, in parallel improving your reaction, training your thinking, attention, and accuracy. Try it now!
Downloads: 13 900 +
Customers rating: 
 (4.3 / 5)

Four In A Line Free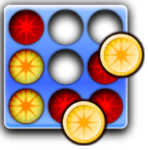 Four In A Line Free is a popular game from the leading developer of 2013! Have you played tic-tac-toe from the very childhood and have already tried all the options and combinations? The old game has nothing to surprise you? It's time to make a big step forward! A game of format four in a row is presented to you!
This time the playing field is much larger, and for the victory, you need not a row of three crosses or toes, but a combination of four balls of the same color. This dramatically changes the possibilities of the game process, adding more variety and unpredictability.
You have to master the game and go through all the levels of complexity, from beginner to expert. Through Google+, you can connect a global table of records and achievements. You can play together with friends from one device. The game has 4 sets of balls of different colors and game boards. All information about progress is recorded. New players will appreciate the functions of tips and cancellations of the last move. The application is optimized for tablets and smartphones.
In the free version, there is advertising. The game on an old basis, but with a new scope.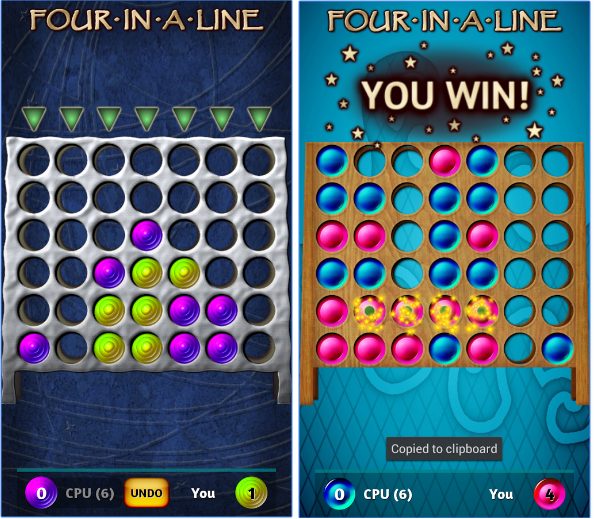 Downloads: 132 900 +
Customers rating: 
 (4.3 / 5)

Pool Billiards Pro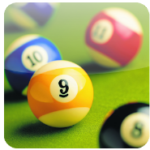 Do you like to play billiards? Or maybe you have never had an hour or two before in this life for this game, but really wanted to? Virtual billiards can be no less interesting entertainment – we are talking about Pool Billiards Pro, and this game is included in the list of the most popular billiards for mobile devices, which means it deserves your attention.
You can play in several modes – with eight or nine balls, with or without rules, or you can test yourself in the game on time, doing as little strokes as possible to get a higher reward. You can compete with the enemy, which will be an artificial intelligence or real player.
Developers have worked well on the physics of the game, so you will see how the balls fly on the right trajectory.  The most accurate players will become the best billiards!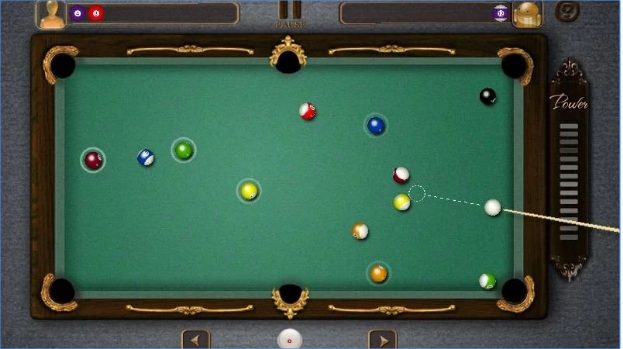 Downloads: 1 360 000 +
Customers rating: 
 (4.2 / 5)

Snakes & Ladders King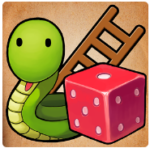 Snakes and Ladders: King is a simple board game on a cell field with cubes – snakes and ladders. To win, you need to go a hundred steps first and arrive at your destination.
The following options are available for you: a survival game in arcade mode with classical rules, play against artificial intelligence in single mode, engage in battle with real people in an online game. You can play with one, two or even three of your friends offline. Invite friends, raise the rating and get achievements for gaming success. You can play on your smartphone and on the tablet without loss in image quality. Remember the game that you play a long time in childhood!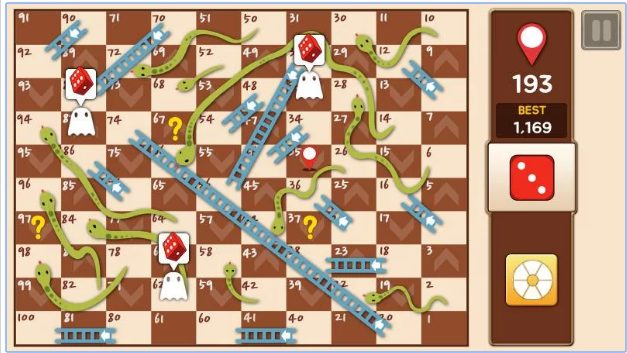 Downloads: 256 600 +
Customers rating: 
 (4.0 / 5)

Tic Tac Toe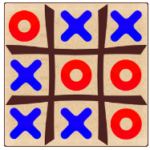 Tic Tac Toe is all familiar to us from an early childhood game. Now the favorite puzzle can be installed on your phone, that means it's always at hand.
You will not have to spend the paper now, just like hastily searching for a pen writing. Train your logic and save the forest. The rules are simple: a grid of 3 * 3 cells is given. You and your opponent "go" in turn, putting in the cells your sign, "O" or "X". The player who has previously managed to place three of his own signs in a right order wins. Hurry up to do it first and stop the opponent putting your symbol on his way.
The game has 4 levels of difficulty. You can choose such an opponent, to compete with whom will be the most interesting. Multiplayer mode will allow competing with friends: whose wits will win?
The game will provide you with a variety of color options. You can choose the one that suits you.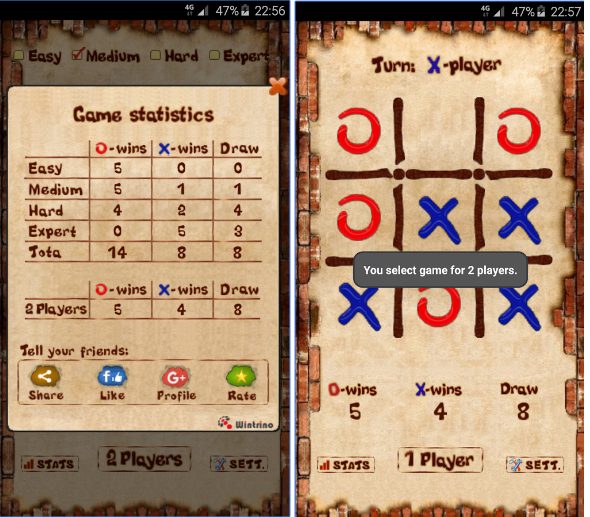 Downloads: 317 900 +
Customers rating: 
 (4.1 / 5)

Spot it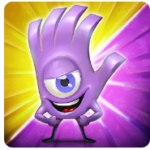 Spot it is a card game to challenge your friends. It is an interesting gaming application for mobile devices on the Android platform, where you will need to find similar elements on diverse playing fields.
Gameplay
A card game to challenge your friends is represented by a time-clicker. In each level, there will be a playing field divided into two round pieces. There a huge number of items and elements will be scattered and each of them has a duplicate on the other part of the field. Players are encouraged to alternately choose paired items and get points for the correct move.
To take the first positions in the leaderboard you will need to draw all your attentiveness and resourcefulness, as well as the speed of reaction and give a decent response to the enemy. To earn the maximum number of points you should try to find objects faster than the enemy. This will allow you to make extra combos and earn prize balls. For the best passage of the next level, you can get an attractive character who has his unique abilities. Collecting the entire collection of characters, the player becomes simply invincible.
Among the attractive features of the game there are:
– Opportunity to become a participant in new events that allow receiving very interesting awards;
– The next passage of a new level helps unlock more valuable rewards;
– The ability to train not only your memory and dexterity but also mindfulness;
– Opportunity to become a participant in this duel with players from all over the world;
– The breathtaking pace of the gameplay;
– Bright high-quality 2D graphics;
– Addictive gameplay.
Spot it is a fun game for challenging your friends – an exciting free application for Android-devices that will please users of any age category.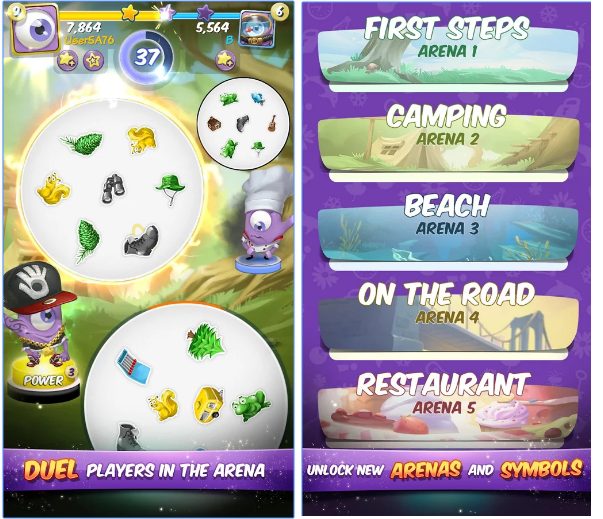 Downloads: 5 700 +
Customers rating: 
 (4.1 / 5)
You can also check: 41 Best multiplayer games for Android
UNO ™ & Friends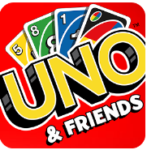 If you have already played a card game called UNO, it does not need to be presented to you. If not, we suggest you try it. Of course, it's best to play this game with friends at the table, having a special deck of cards. However, not always we have such an opportunity. When friends are far away, but you do not give up the desire to fight with them, UNO ™ & Friends will come to the rescue.
The rules of the game are very simple. You sit at the table with your friends or other players and get cards on your hands. The game begins, and each player makes moves according to the rules of the game in UNO, which have little in common with other card games. If you never played it, UNO ™ & Friends is ready to teach you before the first game.
We will not deceive anyone, you will not get the same emotions as playing a real game, but the satisfaction from the victory or the bitterness of defeat are guaranteed. All the details of the game are worked out. They are known only to the most inveterate players and connoisseurs of all the rules. Knowing these very rules and good luck will lead you to victory.
There are also different points, coins, various tournaments and much more. No free game from Gameloft can exist without these details. A nice feature of this application is the ability to choose the color gamut for your taste and mood. Another plus of this application is the ability to play online and take the lead in the online results table. All in all, the game is a quality UNO simulator.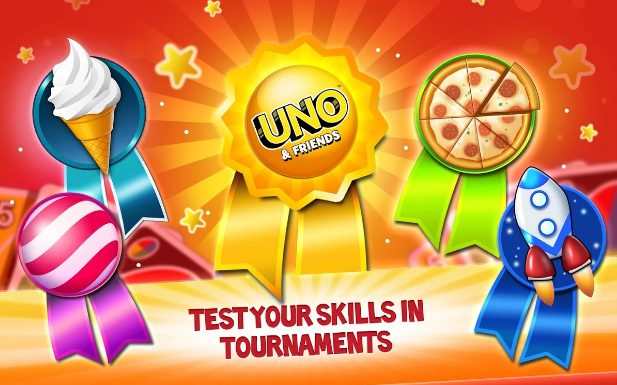 Downloads: 1 640 000 +
Customers rating: 
 (4.1 / 5)