Probably, we've all at least once seen a video with the deepfake effect since it's so tremendously popular now. And the quality of deepfake is improving day by day!
The deepfake video will look even more realistic if it's filmed on the green screen. If you also want to learn to create those videos, then check out the best DeepFake apps and websites down below.
Zao
This is a DeepFake app from Chinese developers, which can undoubtedly be considered one of the best of its kind. The ratings of Zao are amazing because in just a few days this app has become Top 1 in China!
The scale of Zao's popularity can be estimated by downloading this app and posting your transformed photo or video, after which you can become a real celebrity among users!
The uniqueness of this app is the fact that it is able to change not just a face or one photo to another, but also the emotions and facial expressions of the character you need!
The essence of using Zao is that you, as a new user, need to register in the application, then upload your photo and then change your face as soon as you wish!
Have you dreamed of becoming your favorite character from a movie or TV series? Did you imagine how you would look in the place of this hero? Then this app is exactly for you!
The only thing that can make it complex to use this app is the fact that a Chinese phone number is required for registration.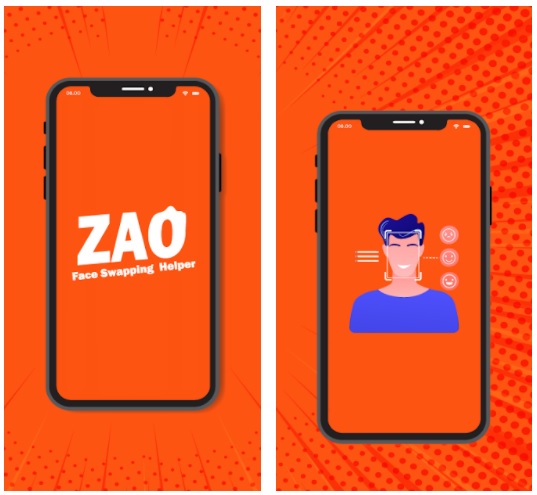 Downloads: 1000 +

You may also like: 9 Best Before & After Compare Photo Apps for Android
Deep Art effects
This is an app thanks to which you will be able to draw in the style of the most famous artists using the latest algorithms, as well as free high-class filters and effects!
The features of this application include high-end resolution (HD, Full HD, Ultra HD), high-speed image processing, the ability to put your masterpieces on public display, and much more!
Truly the most fascinating feature of Deep Art Effects is the opportunity to see what your portrait would look like if it were painted by famous artists in their most recognizable styles!

To do this, you just need to upload your photo to the app, choose the style of artwork you are interested in, and then enjoy the result!
Moreover, Deep Art Effects contains more than forty different art styles that will allow you to create a real unique masterpiece!
This app is an incredible fusion of art, the latest electronic algorithms, and neural networks, which together give you the opportunity to plunge into the world of art and become a part of it! Surprise the public and Internet users with your masterpieces created in Deep Art Effects!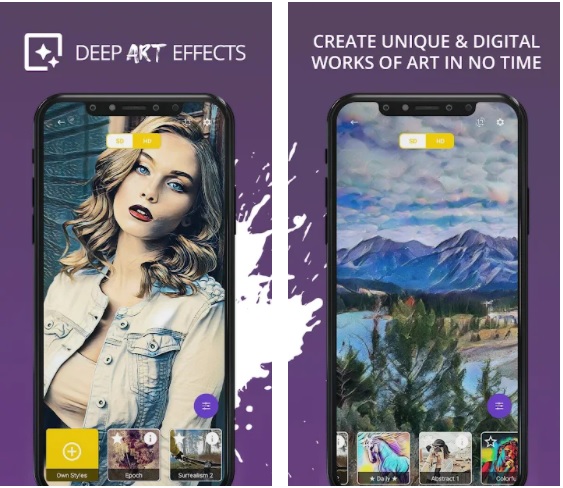 Downloads: 1000000 +

Customers rating:

(4.7 / 5)

You may also like: 9 Best Android Apps for Watermarking Photos
Reface
This is a multifunctional DeepFake App that allows you to perform literally any manipulation with videos and photos with your participation!
You can not only use different face masks or replace them with a celebrity's face, but also create geeks, animate photos, and even voice images and videos! Built-in artificial intelligence will make any transformations as natural and unique as possible!
If you've ever wondered what your favorite movie characters would look like with your face or your voice – this app is your best find!
Moreover, Reface will be able to cheer you up every day! Create funny GIFs, memes, video cards, play with the camera, and countless face masks! Among other things, you can create an entire album that will contain your personal collection of creations with you in the lead role!
A simple photomontage is hardly possible to surprise anyone much nowadays, but the voiceover of any funny images or videos is even better! Such functions are available to every Reface App user!

It's worth noting that this app is in the top 5 face replacement apps in 100 countries around the world!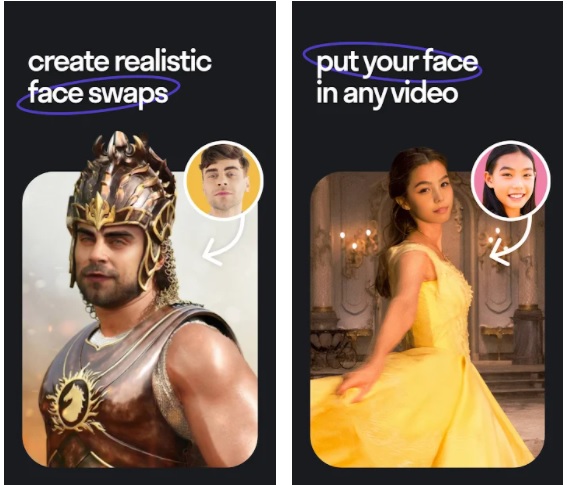 Downloads: 100000000 +

Customers rating:

(4.4 / 5)

Morphin
This is an app that will allow you to create your own unique GIF file with your participation. There are no restrictions here, only an exceptional flight of your imagination.
The principle of Morphin is extremely simple: you need to take a picture of your face, upload it to the app and then add any animations from the great variety that this Morphin contains.
Among the presented animations, you can find templates of animals, celebrities, movie characters, and many others.

After selecting the animation you are interested in, you will need to answer several questions from the app on the selected topic: for example, if you have chosen a hero of a movie, you will be presented with a couple of questions about him.
Moreover, you can share your funny creations on social networks and add subtitles (optional) or text to them. The developers of Morphin guarantee the most natural transformations of your GIF files and the replacement of faces.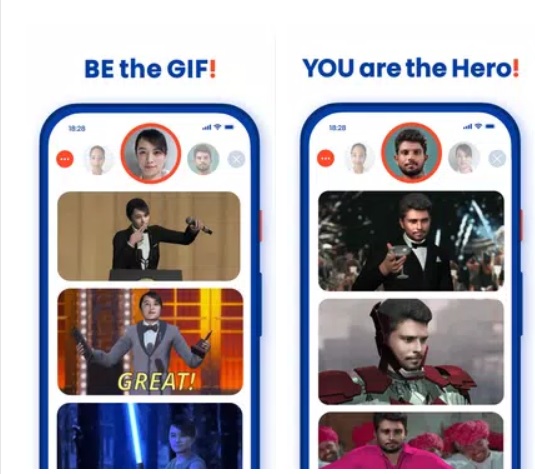 Jiggy
This is an entertaining app that will allow you to actually animate any photo, turning it into a funny dance video. A completely ordinary photo will be able to move in time with the music thanks to the latest tools in this app.
The process of creating a video is extremely simple: First, you will need to choose one of the dances offered by Jiggy, and then select the photo you want to animate from your phone's gallery.
After that, the app will take a few minutes to process the selected photo and dance template. The resulting finished video can be distributed on various social networks, as well as simply save to the gallery of your phone.
There is a certain feature in this app: to turn a photo into a dance video, the picture must be taken in full growth or at least capture the upper part of the body. Portrait photos, alas, will not dance.

The types of movements in Jiggy are sorted into several categories, and there are about a hundred dance templates in total.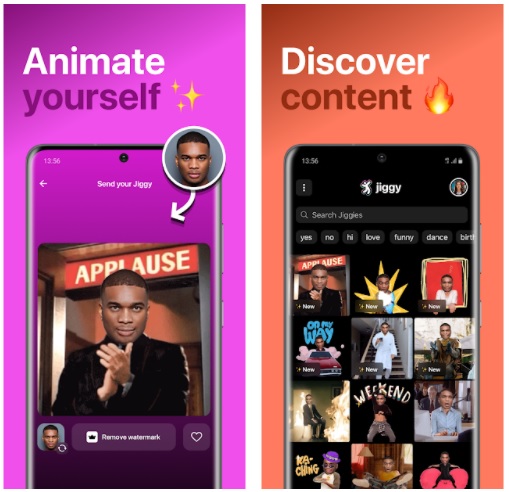 Downloads: 1000000 +

Customers rating:

(4.1 / 5)

FaceApp
This is an app for the most accurate processing of the face, as well as superimposing different faces on top of others. It allows you to carry out not only classical processing but also to change your age: you can find out how you would look decades older or younger.
FaceApp functions also allow you to make even more transformations: apply a beard or mustache, try on a tattoo sketch, change hair color, apply any desired makeup, and even change emotions by drawing a smile or, conversely, move your eyebrows for a more serious facial expression.
Among other things, if you are confused and do not know what will look better, the functionality of this app contains ready-made templates of ideal facial features, makeup, or hairstyles that will suit you exactly.
Moreover, FaceApp developers have created several volumetric blocks with filters to make your photos even more suitable and suit your desires.

The instructions for using FaceApp are generally simple: to get the desired photo-ready, you need to take a selfie or upload the desired photo to the app, and then use any of the suggested tools.

Moreover, the changes from each tool are visible immediately, which will allow you to correct some elements in a timely manner.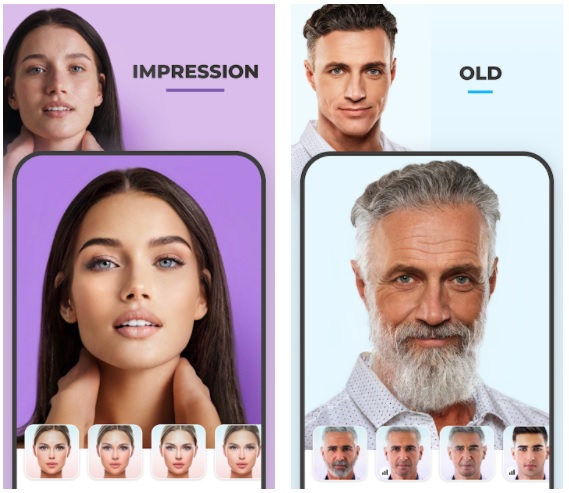 Doublicat
This is an app for processing and replacing faces in GIF files. Doublicat has an impressive catalog with animation templates that you can combine with your face.

This app will allow you to transform into a popular hero from your favorite movie, or appear as a famous celebrity, but with your own face.
The principle of operation of Doublicat is extremely simple: first, you open the app, then take a selfie, and then browse the catalog with animations and choose the one that interests you.

The process of face replacement itself takes no more than a few seconds, after which the GIF file will start automatically.
It is worth noting that the animation templates catalog is divided into categories for convenience: separately superhero characters, separately TV show stars, and so on.

However, there is one feature in Doublicat: you cannot upload animation templates yourself. It is possible to use only those that are stored in the app directory.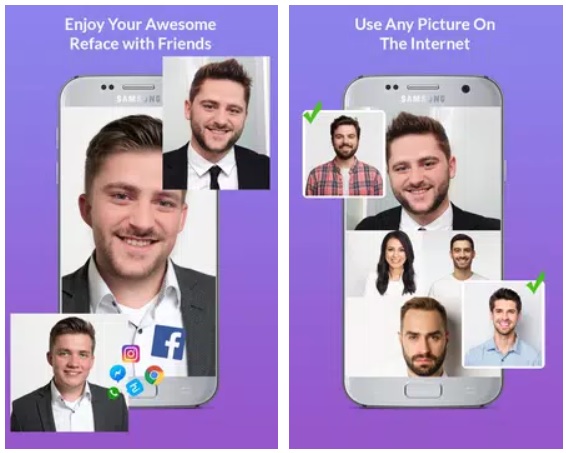 DeepFake
This is a fairly popular app for changing the appearance and replacing faces: users can transform into popular personalities or even animals in a few seconds.
The instructions for using DeepFake are extremely simple: first, you need to install the app, and then give permission to the app mechanisms to use your phone's gallery. Then the conversion menu will appear on the screen: photo or video.

There you upload the desired snapshot and then the app tools, when you click the "Make" button, perform the conversion.
A little bit about the features of the DeepFake app: it is absolutely free, moreover, if there is a network connection, there are no intrusive advertisements. In addition, DeepFake makes it possible to save ready-made converted photos or videos to your phone's gallery.
This application will allow you to create memes in GIF format, change faces with famous characters, change your external gender appearance, share your transformed funny creations anywhere, and much more.
It is very important to remember the angle of shooting your selfie or uploaded photo because the quality of transformations in the app depends on it. For maximum realism, it is better to choose a primary source with a similar shooting angle to the template.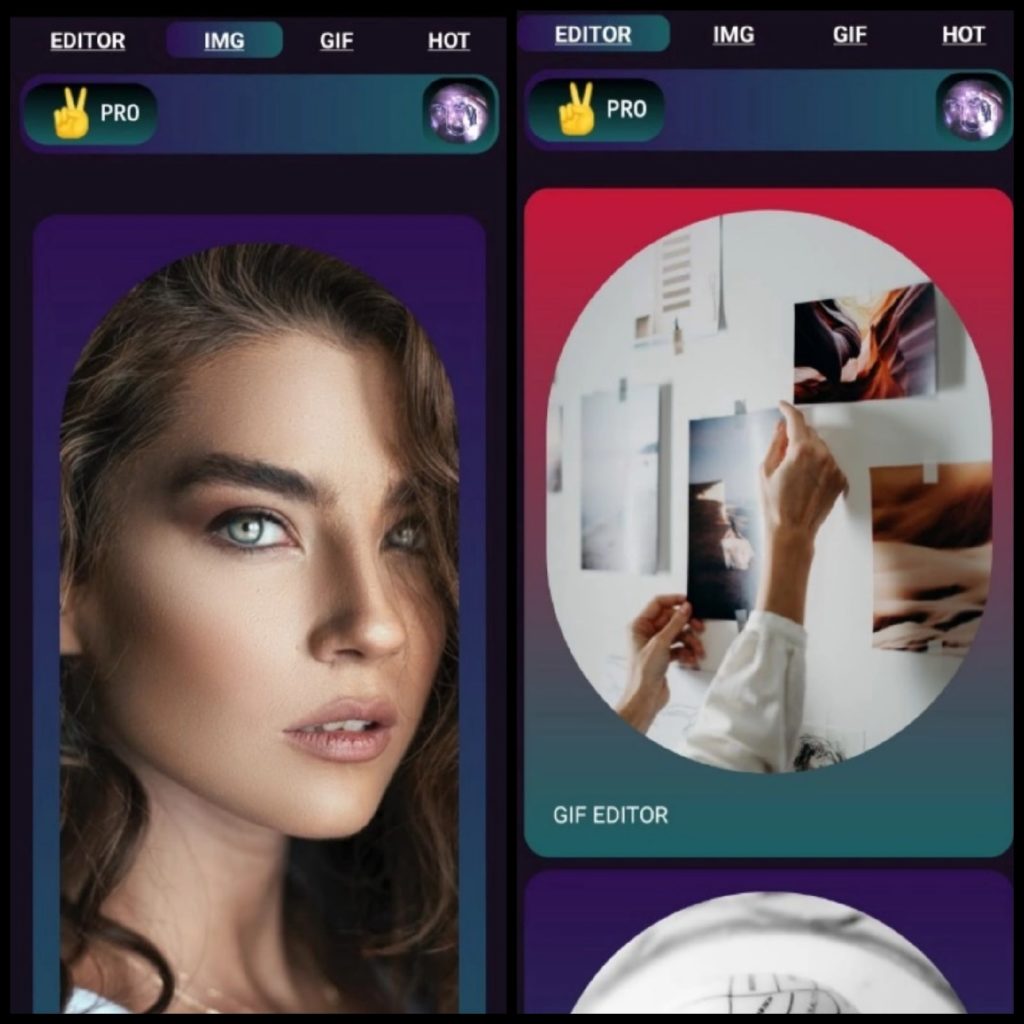 Downloads: 6000 +

Customers rating:

(5 / 5)


Reflect
This is a realistic face replacement app using artificial intelligence technology. This is not just a standard photo editor, but an electronic mechanism that allows you to change facial features, facial expressions, and even emotions for a few seconds.
In addition to replacing the face and its facial expressions, this app also automatically adjusts the desired skin color, smoothes skin irregularities, and improves the person's face as a whole.

Moreover, Reflect makes it possible to combine two faces and see what a person would look like with the facial features of two people.
In addition, do not forget that this app is also entertaining in nature: this means that with its tools you can create memes, transform funny pictures and share them with users of different social networks.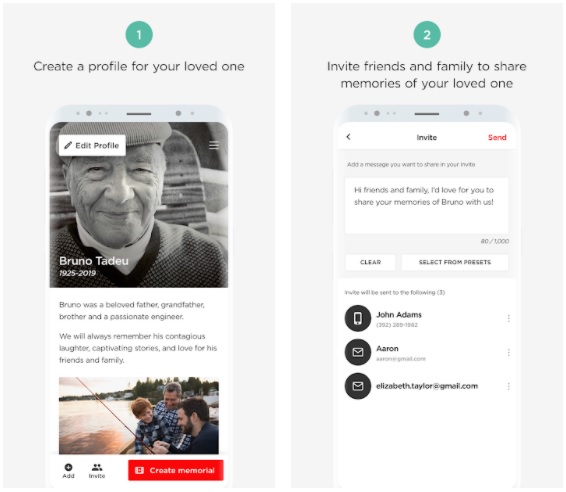 Downloads: 50 +

Face Swap
The Face Swap app exists to replace people's faces in a photo. If there is a clear picture on which the facial features are clearly visible, the replacement turns out to be quite natural and realistic.
To use this app, no training or any special skills are required: you only need to select the desired photo in the gallery of your phone, which shows at least two human faces, and then Face Swap automatically recognizes these faces and swaps them.
To improve the transformed photo, you can use additional editing tools, for example, to emphasize some contours of the face. Moreover, you can also edit the background of the image, as well as experiment with filters and funny stackers, which are also built into the Face Swap app.
In addition to all of the above, this app also gives you the opportunity to change faces or use masks live, that is, directly at the moment of pointing the front camera at yourself.

You can not only edit photos but also record funny videos that you can then share with friends.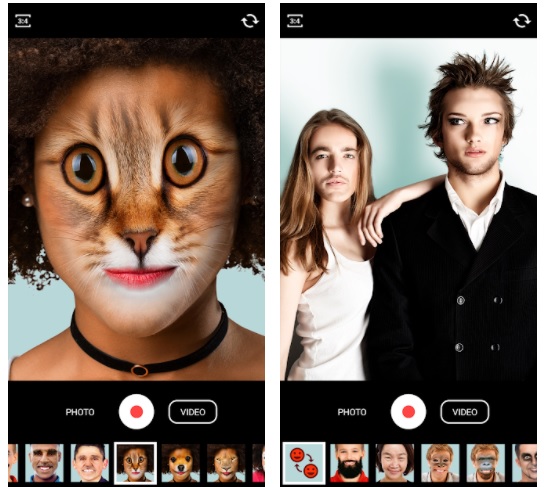 Downloads: 10000000 +

Customers rating:

(3.1 / 5)

My Heritage
This app can be considered truly one of the most interesting on this list. The fact is that it allows you to explore your family tree, find new relatives, find out your roots, and also find out who your ancestors were – all this can be done in the My Heritage app.
The essence of this app is that you can create your own project, that is, your family tree, adding information about your parents, grandparents, or grandfathers there.

My Heritage technologies find matches between the information you have entered and the information of other profiles and offer it to you for consideration. It is this function that can help you find new relatives.
Among other things, you can also use the Deep Nostalgia feature, which allows you to create short animations from your family photos. Deep Nostalgia can also literally bring your relative's photo to life by making them talk and move. It is possible to create a whole video story of your relative.
My Heritage scans not only information from other profiles, but also a huge number of archival documents from which you can learn amazing facts from the life of your ancestors or relatives.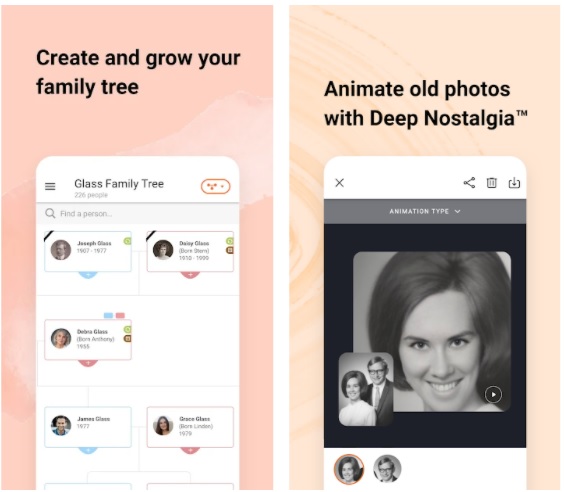 Downloads: 10000000 +

Customers rating:

(4.3 / 5)

Avatarify
This is one of the newest apps in the category of editors and video players. It is of an exclusively entertaining nature and is unlikely to be suitable for professional purposes. However, the number of tools in Avatarify is really surprising.
This is an app for mobile devices that allows you to swap faces in photos, both those that are uploaded from the gallery of your phone, and those that will be taken directly through the Avatarify camera.

You can also combine the faces of celebrities with your photos and edit them at your discretion – the whole process takes no more than a few seconds.
After downloading this app to your mobile device, you will need to register in it and create an account. Next, you will have access to all the functions of the Aviatarify app, as well as the provided instructions for using the built-in editing tools.
The main advantage of Avatarify is that this app is absolutely free. In it you can create funny pictures, memes, and change faces – all this is complemented by a very simple and user-friendly interface.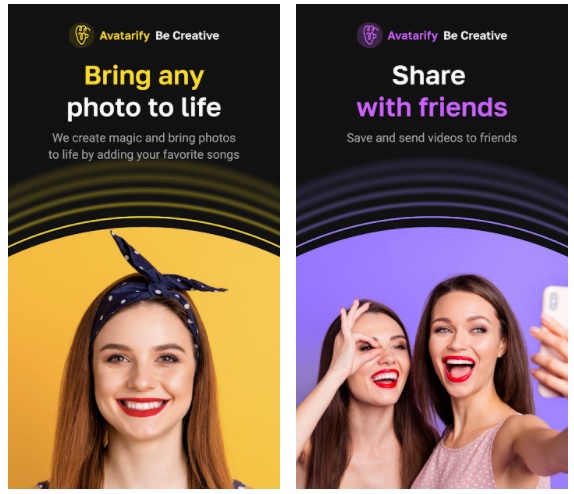 Downloads: 100000 +

Customers rating:

(4.2 / 5)

Biugo
This is a very easy-to-use DeepFake photo and video editing app. It is not designed for professional use, but rather for entertainment purposes.

Biugo features will allow your photo and video memories to sparkle with new colors and turn them into fun creations.
The main advantage of this app is its ease of use: the built-in tools do not require any special knowledge and skills, so a user of any level will be able to use them. Moreover, Biugo contains countless filters, effects, and funny stickers.
In addition to the above, the Biugo app offers users to add built-in music effects and sound effects to the edited videos. Moreover, you can come up with an insert funny text into the video.
In this app, you can not only create unique and fascinating memories but also come up with unique and original greetings with subtitles of your own composition. To do this, Biugo developers have added a set of template models of the necessary special effects for different celebrations.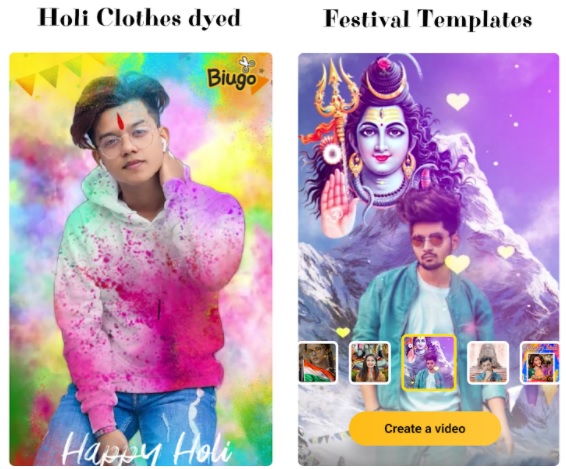 Downloads: 50000000 +

Customers rating:

(4.2 / 5)

Wombo
This is one of the newest apps in the DeepFake format, which attracted the attention of a large number of users. Like the previous two apps, Wombo is not a professional editor, but rather a collection of the simplest tools for creating fascinating memories in video format.
Wombo's editorial tools are based on artificial intelligence technologies: they synchronize the changes you want and transform the uploaded video.

You will need to take a selfie or upload it from the gallery of your phone, then edit the size of the image, then choose one of the whole collection of songs so that your image comes to life and starts singing.
The converted videos will last no more than 30 seconds – it depends on the song you have chosen. The tools of the Wombo app will make your static photo not only sing but also move to the beat of the music, as well as express certain emotions and facial gestures.
After you have uploaded a photo, selected the desired song, and edited the image size, the app will generate all the changes on its own, after which you can save the resulting video to your mobile device, as well as share it with friends on social networks.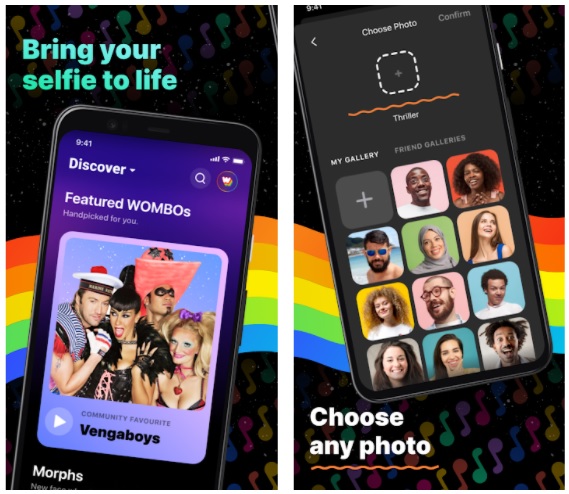 Downloads: 50000000 +

Customers rating:

(4.6 / 5)

You may also like: 15 Best Photo Sharing Apps for Android
FaceMagic
This app is designed for entertainment purposes: you can have fun with friends, take selfies, and shoot videos with fascinating or strange masks and effects, as well as change, faces with each other or generate already famous people all over the world, but with your face.
In addition to funny videos and photos, you can also create memorable GIFs or videos so that you and your friends can cheer themselves up by viewing them.

FaceMagic is based on artificial intelligence technologies that are already known to us, which in a matter of seconds will generate an original source for you, but with the changes you want.
One of the advantages of this app is that it allows you to change not only two faces between each other, but also several faces at the same time. Using FaceMagic, your social networks will cease to be like others and become unique and memorable.
In addition to various changes of several faces and facial expressions, as well as synchronizing your face with scenes from your favorite movies, you can also find out what you would look like if you were born a person of the opposite sex.
Professional skills are not required to use FaceMagic, so you will be able to use all the functions and features of the app to the fullest without undergoing special training.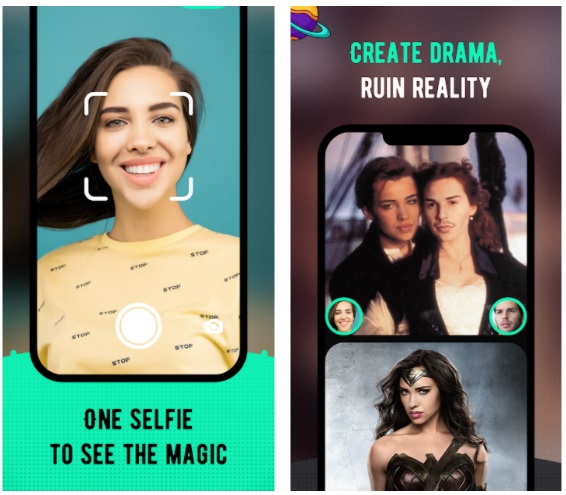 Downloads: 1000000 +

Customers rating:

(4.9 / 5)