Mobile app developers develop not only games, anti-viruses, smartphone protection, and camera enhancements, but also useful software for professionals. A clinometer is considered to be one of such applications.
The clinometer is an instrument used in construction and topography. It is designed to accurately measure inclinations and angles. You can also use it to measure the height of an object.
Clinometer + bubble level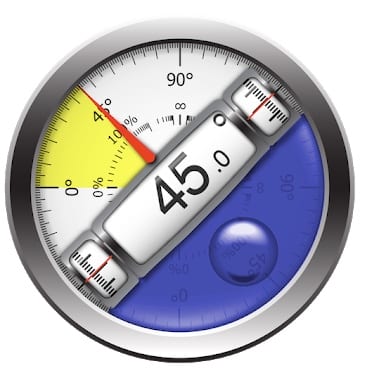 This is a tool for specialists. You no longer need to carry around a whole bag of instruments and buy them at a fancy price. All you have to do is download the software onto your mobile phone.
Application features:
Nice and simple interface;
Nice design;
Controlled by rotating phone and touch screen;
Widely applicable in different areas;
Choice of measurement in settings;
Calculator for calculations;
Different design of device;
Multiple themes to choose from;
It is possible to enlarge the font;
Can be installed as a widget on the home screen.
Clinometer + bubble level is a free app. However, the developers have provided paid features. They help to improve the program. There are ads. You can turn it off in the settings. There is also a paid version.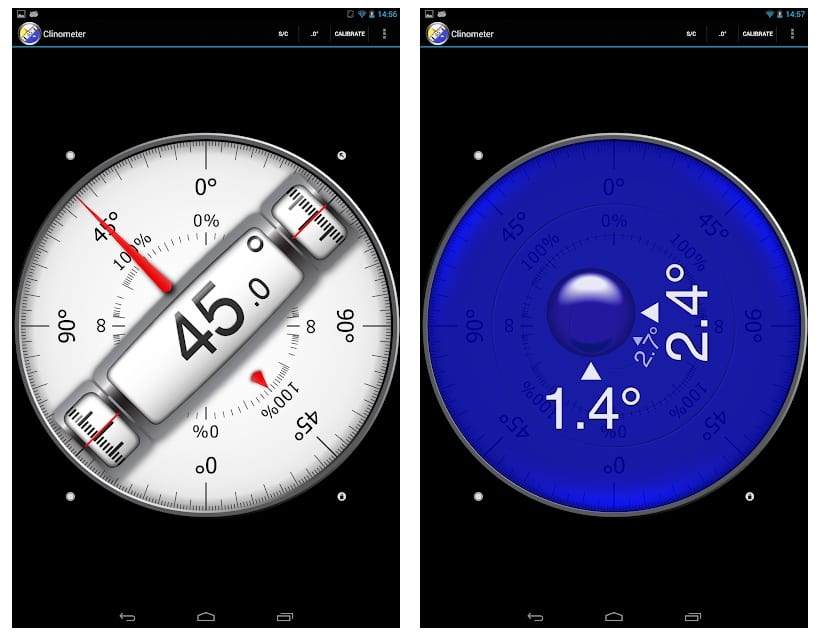 Downloads: 5000000 +
Customers rating:

(4.5 / 5)

You may also like: 7 Best cad drawing apps for Android
Clinometer by Smart Tool Factory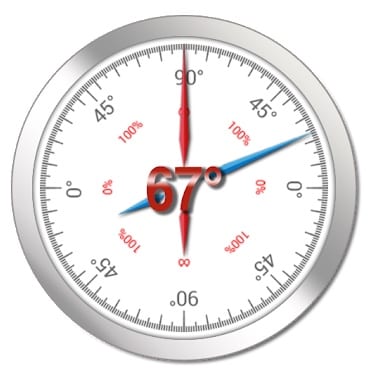 This is a multifunctional measuring tool. Great app, although some smartphones have a protruding camera, which prevents the bubble level from working, for example.
The measuring range is 90 degrees, so you can use either side of your gadget. The measurement can be made in various measurement systems, such as degrees, percentages.
You can visualize your measurements in graphs and display your measurement history on the record screen.
Great app, and most importantly, always at your fingertips.
Judging by user feedback, this is a useful program, simple with a nice interface. For household chores, it's easy and straightforward to use.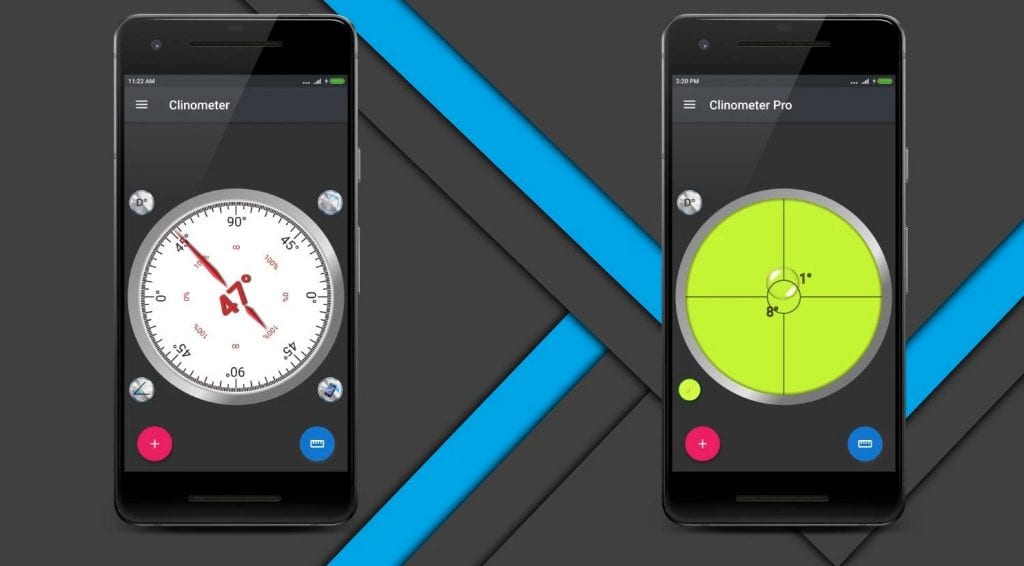 Downloads: 100000 +
Customers rating:

(4.8 / 5)

Bubble Level, Spirit Level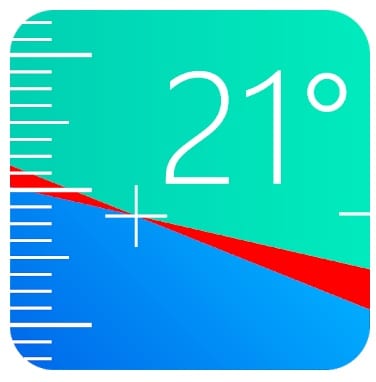 The app is simple and multifunctional. It uses simple graphics without any frills, but this doesn't prevent it from being used for its intended purpose.
The measurement is carried out in three modes. Other functions include a ruler and a tape measure.
The mobile level is perfect for renovation and finishing work, as well as for other domestic situations where you need an accurate measurement of surfaces and angles.
Advantages of the application:
Simple interface;
Multiple measurement modes;
Easy calibration;
Angle measurement;
Additional features.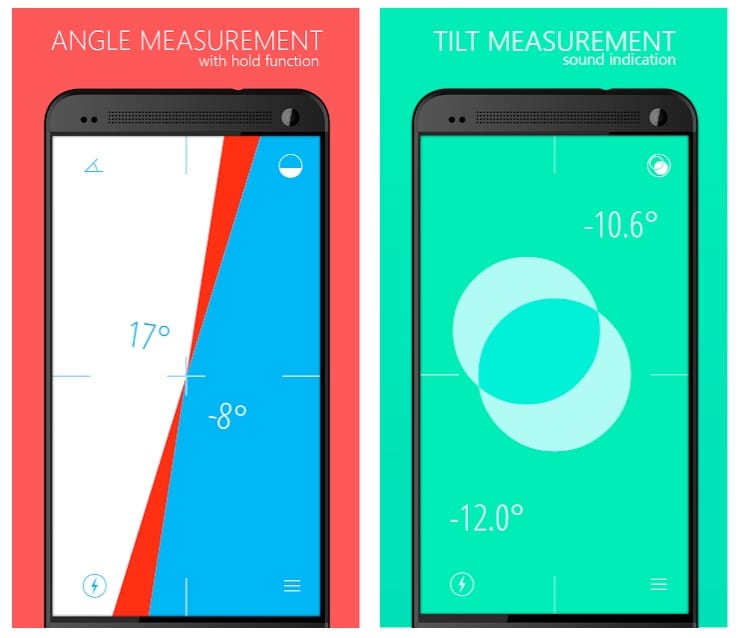 Downloads: 1000000 +
Customers rating:

(4.6 / 5)

Laser Level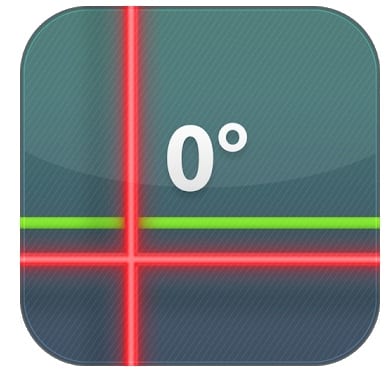 Laser Level has a bright and pleasing design that simulates the handling of a real building tool. The app functions similarly to a professional bubble level, measuring surfaces at different angles. The app has a built-in precision clinometer that determines vertical angles and slope angles.
The app provides data in different units. The Laser level is equipped with digital and analog indicators, which makes working with the level even more convenient.
The app captures both near and far objects. The Laser Level detects the angle of roofs, buildings, mountains, and just the TV hanging on the wall. Thus, the app is suitable for construction and finishing work as a digital and laser measuring device.
Advantages of the program:
Bright design;
Easy calibration;
Laser and digital meter;
Different units of measurements;
High fixation accuracy;
Many additional features.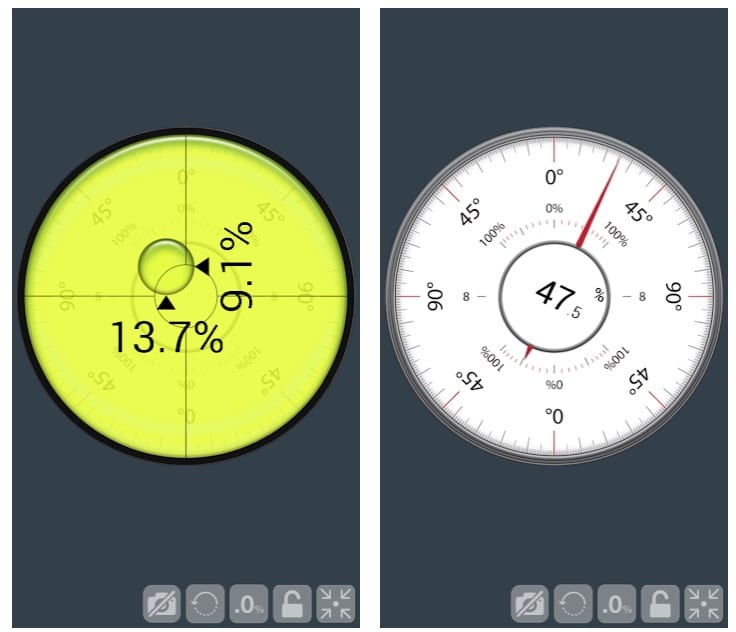 Downloads: 5000000 +
Customers rating:

(4.3 / 5)

Bubble Level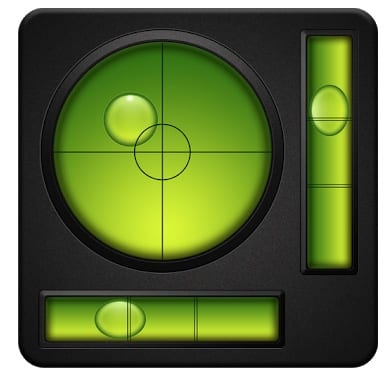 The app presents a simulation of the classic bubble level. The realistic design of the app replicates a professional tool. The smartphone screen shows a curved glass tube, in which a special bulb filled with liquid is installed. The position of an air bubble floating in the liquid determines the slope of the measured surface in relation to the horizontal.
The software fixes the surface in the horizontal and vertical planes, and determines the degree of deviation from the X and Y axis. Bubble level is easy to set up, has many additional options and is easy to operate.
Advantages of the application:
Realistic graphics that simulate a real tool;
Easy surface measurement;
Quick and easy calibration;
Multifunctionality;
Measurement of the circular level indicator.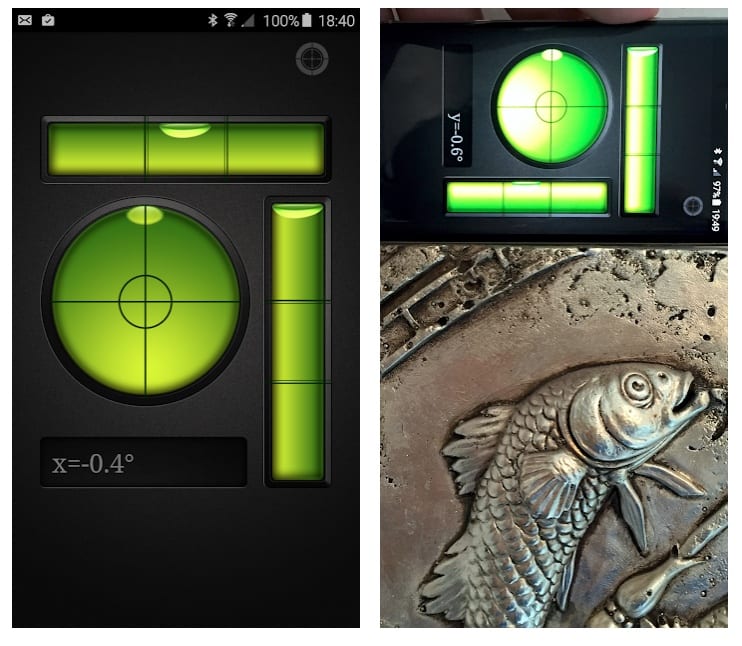 Downloads: 10000000 +
Customers rating:

(4.7 / 5)

Clinometer by PixelProse SARL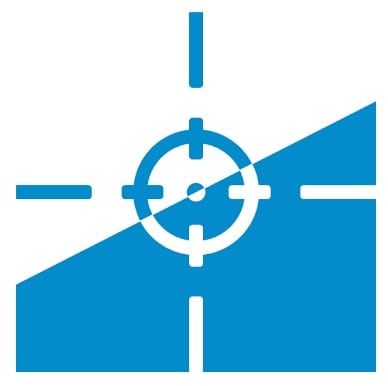 The Clinometer from the developers of PixelProse SARL is an app for Android that will save you money on a special appliance. Indeed, why waste it at all when you always have your phone handy and it has a clinometer? Why overpay twice?
Features of the application:
The app is free;
Fast program operation;
Use your phone lens;
Positions along either side of your device;
Easy to use menu navigation;
Userfriendly interface;
High measurement accuracy.
The software will turn your phone into a simple clinometer, with which you can check the tilt level without the need for additional tools.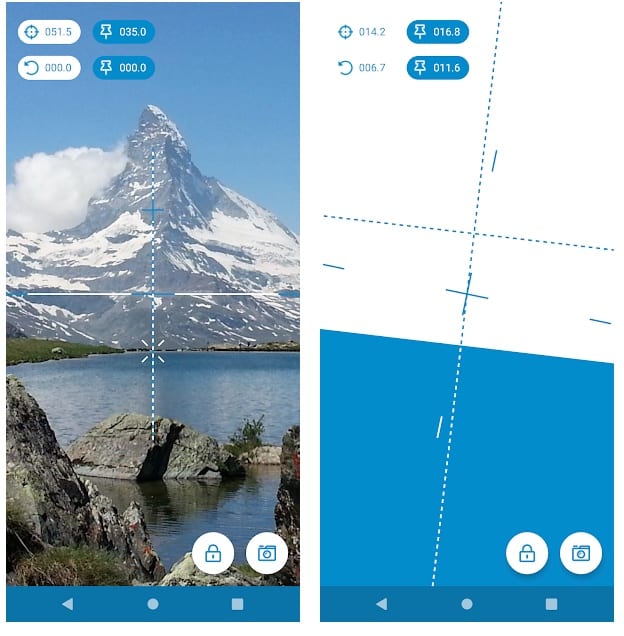 Downloads: 10000 +
Customers rating:

(4.7 / 5)

You may also like: 11 Best Invoice Maker Apps for Android in 2021
Best Level (Bubble & Laser)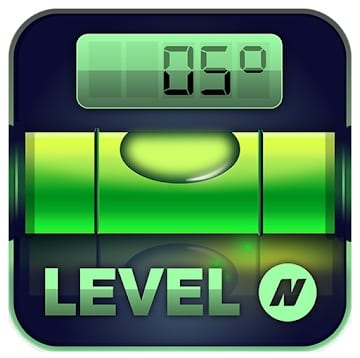 You can use the software to measure angles and find out if there are any irregularities on the surface.
Laser Level uses the gyroscope and accelerometer as well as your smartphone camera. There are several modes that are useful in almost any situation. For example, when doing construction work or installing a washing machine.
Well, it's very handy, it is quite a precise tool in your pocket. A competent working application. You can buy the full version without advertising.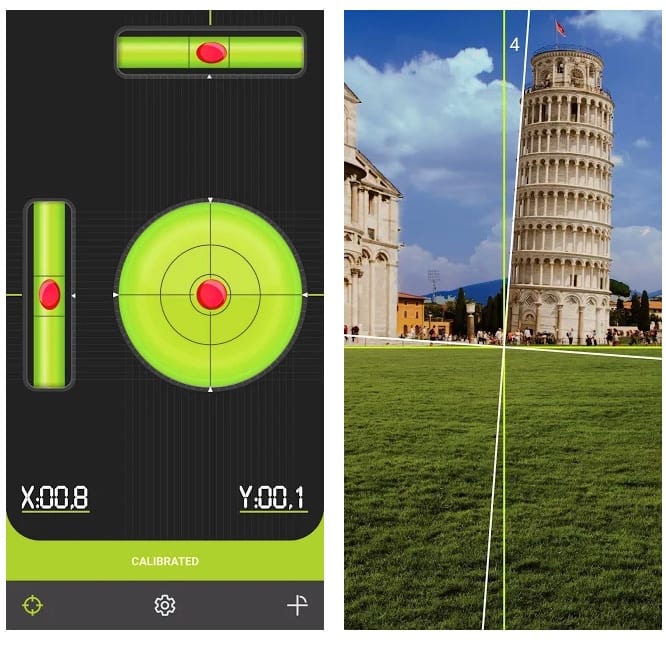 Downloads: 1000000 +
Customers rating:

(4.5 / 5)

The clinometer on your smartphone is a handy and useful app that comes in handy in many areas of life, including house building, renovation work, setting up a camera tripod and so on. Not everyone has a professional tool, but a mobile device is always at hand.