Deplike mobile guitar rig app enables you to connect your guitar to your phone or tablet. This way, you can use a variety of effects pedals and amp simulations from your phone. 
Musicians will also appreciate the music notation apps.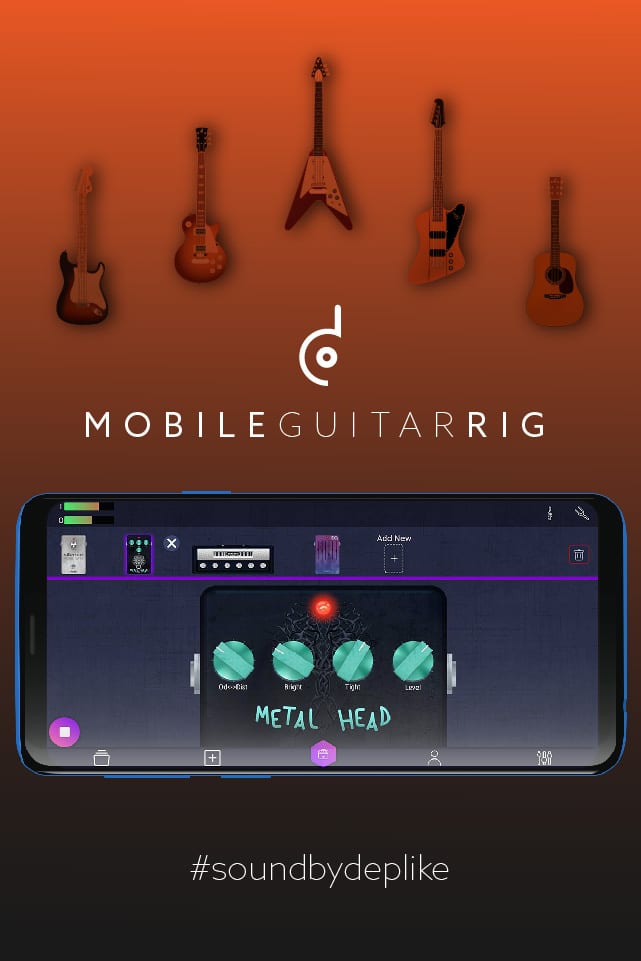 You don't have to mess with mic positions or pay individually for amps and pedals. It is free to download. No bundles or packs. All items are unlocked for a reasonable lump-sum price with a lifetime subscription or periodical (annual/monthly) subscription except for a stock amp, a delay, and a loop pedal which are free. You can use the Deplike app from your iPhone, iPad, Android phone, and tablet.
Deplike offers 20 fx pedals and 15 amp and cabinet models. You can be assured of the versatility this app can offer. These pedals, amps, and cabinets are modeled from the popular original analog hardware counterparts that are used by many guitarists. 
Preset System
Deplike provides a hub of user presets, generated by users. These presets are available for the use of everyone who wants to dial in ready-made guitar processor chains. Presets are classified by users with tags that represent style, genre, artist/song names, and other details that they prefer.
You can basically type Metallica in the search bar and you will be presented with hundreds of Metallica guitar tones made by the community of users. You can save them to your profile to use at your convenience.
Search option for bands, genres, and songs is available for users who want to save the effort of making their own presets.
You can create your rig according to your taste. You can even match a power amplifier with a cabinet of a different type/model.
How to use
You can connect your mobile device to your guitar using either a USB or analog interface. iRigs, Behringer UCG 102, TC Helicon Go Guitars, Apogee Jam, Bandlab Analog/Digital Links are favorable to be used with Deplike.
List of items
Amps:
Tangerine Rocker 100 

SLO 100 

Dual Recto

JCM800 

P-5550 

JTM45 

SVT Bass

Wapi 

BassBoy 

Fox AC30 

Acoustic Amp

Deluxe (free)

ANRG 

Crafter

DST (free) 
20 Guitar Effects Pedals
Classic Overdrive guitar effects pedal

OD 808 guitar effects pedal

MetalHead Distortion guitar effects pedal

Dr.Muff Fuzz guitar effects pedal
1176 Compressor fx pedal

Noise Gate fx pedal

Sustainer fx pedal
Tremolo fx pedal

Chorus fx pedal

AutoWah fx pedal

Flanger fx pedal

Phaser fx pedal
Pitch Shifter fx pedal

Octaver guitar fx pedal
Delay fx pedal

Tape Delay fx pedal
Reverb fx pedal

Roads Reverb fx pedal

5 band Equalizer EQ fx pedal

Looper fx pedal
Pros
Compatible with iOS and Android.

Includes bass amps

No latency – It is able to work around Android's inherent issues with audio latency and quality – Prices are affordable. For monthly, annual, and lifetime subscription plans.

Sound quality is outstanding

Easy to use, no advanced knowledge required. Knobs and faders are straightforward. It saves you the effort of building a chain with the right order and cables. It automatically adds items to the chain in the proper order.

Option to use presets made by other users.

Covers all of the basic needs of a guitar player upon subscribing (overdrive, distortion, fuzz, eq, delay effects and

amps + cabinets)

Has more to offer than the basic effects, e.g. chorus, flanger, tape delay, pitch shifter, octave shifter, etc.

Offers a number of clean and crunchy amp types.

Offers versatility without frustrating the user by dictating an unmanageable number of instructions or steps required.

Has a simple yet elegant UI. No eye candy for useless items.

Can be integrated into Garageband and Audiobus on iOS devices.

Has IAA (Inter-App Audio) support on iOS.

Doesn't burn the CPU.
For those who want to make their own music we can reccomend these apps.