The main principle of all diets is to consume fewer calories than you spend. To do this, you need to calculate your daily energy consumption and keep track of every piece of food that comes into your mouth.
Weigh the portion of the food yourself, the rest will be calculated for you by special applications. Here we have collected for you the best diet diary apps.
Lifesum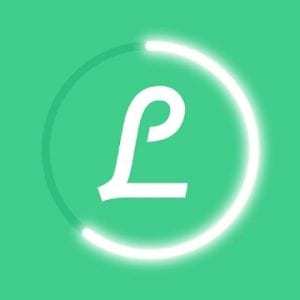 The application has standard functionality, which is not superfluous. It has the tracking of calorie consumption and the balance of nutrients.
Physical loads can be selected from a list, downloaded from "friendly" applications, or add your own.
You can also control water consumption in Lifesum.
Before using the application, you need to register and specify your own data. Target (lose, maintain, or gain weight), gender, age, height, current, and target weight. Lifesum will offer you a recommended weekly target. You can change it yourself.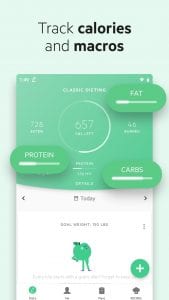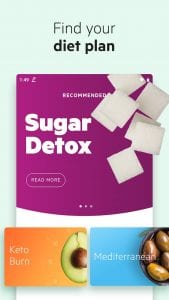 To add a product to your diary, you can scan its barcode or find it in the application by description or brand. You should also note the pleasant design of the application with cute and funny icons.
Downloads: 10 000 000+
Customers rating:

(4.4 / 5)

You may also like: Lifesum app review
FatSecret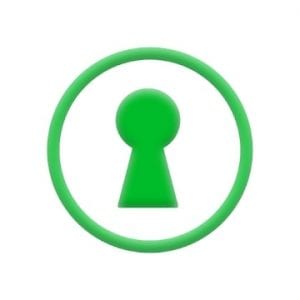 The diary records the products and dishes that you eat for breakfast, lunch, dinner, and snacks.
The app monitors the calorie intake and generates a diagram of proteins, fats, and carbohydrates.
You can create your own nutrition plan or choose one of the diets in the selection of the application.
FatSecret will offer a selection of products and a menu for the selected diet. This app also has a large collection of recipes, from which dishes can be automatically added to your diary.
Before you start using it, you should answer standard questions: "What is your goal?" (increase, save or lose weight) and "What is your activity level? (sedentary, inactive, active, or very active). You also need to specify gender, current weight, height, and age.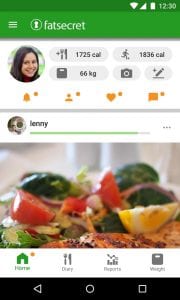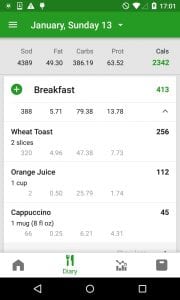 The application recognizes food by photo using algorithms. You can take a picture of the dish, and FatSecret will offer different options for its caloric value. You can also quickly add products to your diary by scanning the barcode on the package.
Downloads: 10 000 000+
Customers rating:

(4.7 / 5)

HealthifyMe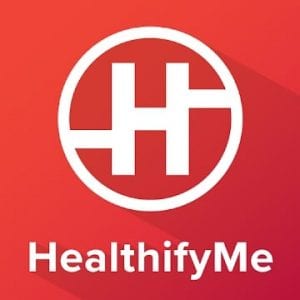 Whether you are a fitness fan or someone who is desperate to lose extra pounds to get better and stronger, HealthifyMe can be a good choice for you.
What makes this calorie counter so convenient is the ability to simplify two basic things.
Food planning and tracking eating habits. This way, based on your purpose, you can plan your meal and track the calories you consume.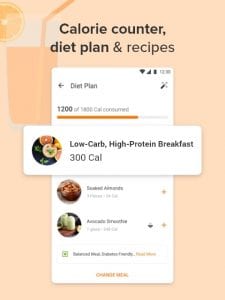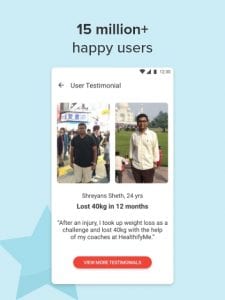 Besides, the application also offers useful expert advice. This way, you can stay focused and easily find areas that need more attention.
Downloads: 10 000 000+
Customers rating:

(4.5 / 5)

My Diet Coach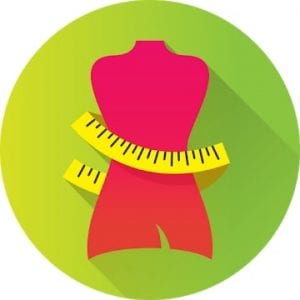 Looking for a personal diet coach who will go with you throughout your weight loss journey? If so, My Diet Coach can be the right answer to your goal.
Probably the best part of this app is flexibility. This allows you to create an individual plan based on how quickly you want to lose all the extra pounds.
Once your individual plan is ready, it will help you maintain your motivation to achieve this desired goal.
With much-needed insight, helpful tips, and inspiring quotes, it keeps your adrenaline high.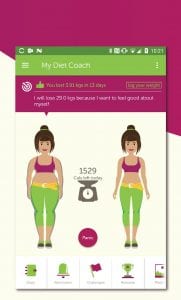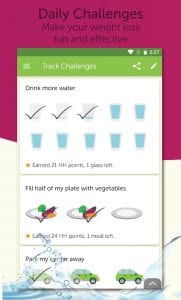 Thanks to the handy panic button, it allows you to control your craving for food. Besides, My Diet Coach also offers a lot of awards so that you can always feel at the top of your game.
Downloads: 10 000 000+
Customers rating:

(4.5 / 5)

HiKi Soft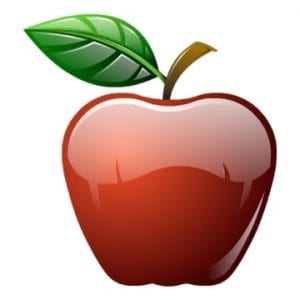 It is a simple and convenient application with extensive functionality.
It is enough to download and enter the parameters of the body for calculating the caloric value of the daily diet.
The paid version greatly expands the possibilities.
Drawing up the menu for several days ahead, statistics for all time, creating your own recipes, and maintaining several profiles on a single gadget.
But even without payment, HiKi is able to calculate many parameters. Such as calories, proteins, fats, carbohydrates, percentage of fat, useful elements, and so on.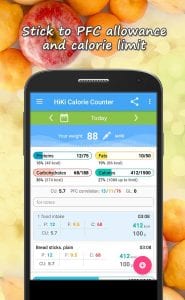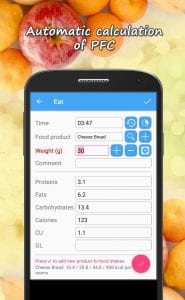 Besides, the application considers the glycemic index, glycemic load, and "bread units". This makes it ideal for diabetics who must take these parameters into account when eating.
Downloads: 1 000 000+
Customers rating:

(4.8 / 5)

Noom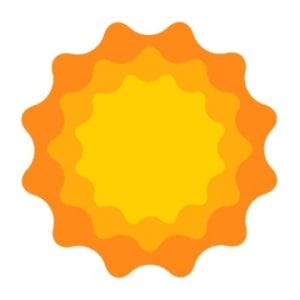 If we talk about the accuracy of the received data, the winner can be considered to be not too functional, but a very objective application.
Noom does not show users the level of the obtained trace elements. You will not know how much calcium, iron, or vitamin C you ate today.
The number of carbohydrates, proteins, and fats in the food will also remain a mystery. But the calorie counts in it are quite accurate.
The app Noom differs from others in its focus on health, not on exhausting diets.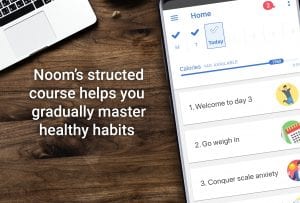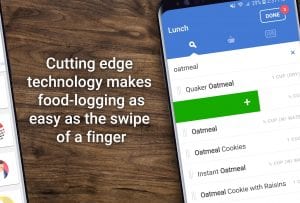 The app provides users with "coaches" who motivate them to achieve their nutritional goals.
Downloads: 10 000 000+
Customers rating:

(4.4 / 5)

MyNetDiary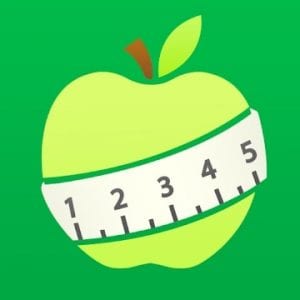 MyNetDiary takes data about the food you eat and then tracks calorie consumption accordingly.
When you further enter data such as age, gender, height, current weight, and target weight, the application creates a "calorie budget".
There is the number of calories that you must consume every day to achieve your desired goal.
MyNetDiary also allows you to track your exercise and then gives you a calorie analysis and weight chart respectively.
You can add your pictures before and after in the application to help you with motivation.
Besides, you can link your Google Fit account to allow the sharing of suitable data between the two applications.
Downloads: 1 000 000+
Customers rating:

(4.6 / 5)

Dine4Fit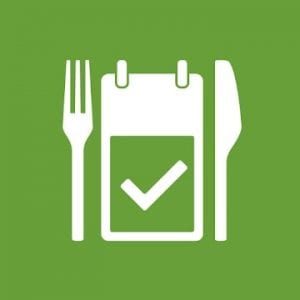 It is a functional tool suitable for tracking your health status.
The app allows you to learn not only the proteins, fats, carbohydrates, and calories of the product but also the amount of salt, calcium, glycemic index, and cholesterol levels.
This is very useful for people who need to check these indicators, especially diabetics.
There are also ready-made training, which the application takes into account in the daily nutrition plan.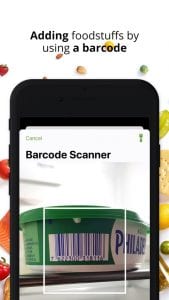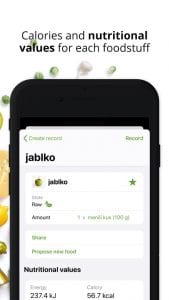 There are also recipes for proper nutrition, counting of drunk water, and the plan of dishes. By the way, physical activity is divided into categories, and Dine4Fit keeps statistics of this or that type of activity.
Downloads: 1 000 000+
Customers rating:

(4.2 / 5)

Calorie counter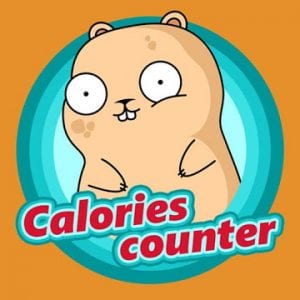 This is a simple counter with a cute hamster that will help you keep track of calories. Something like an old Tamagotchi toy.
Depending on the amount eaten it will lose weight or get fat. Besides, the hamster is a great motivation: it tells you when to eat, and when it is enough.
By the way, he can change his appearance: for example, instead of a hamster, he can plant a squirrel.
It is convenient that the food is not divided into breakfast/lunch/dinner. You can eat at least ten times a day. It is enough just to bring eaten products.
Also, the list of products is not too extensive – there are only common options for eating.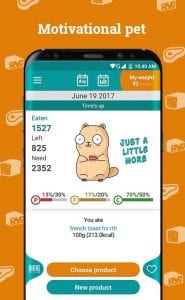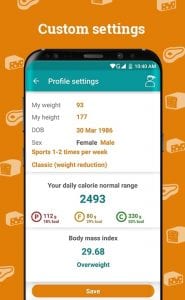 There are several diet programs in the application, which you can use. You can also set the number of calories and time of meal (with notification).
Downloads: 500 000+
Customers rating:

(4.5 / 5)

Joy Health Tracker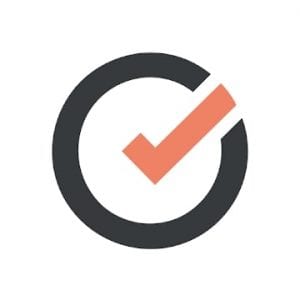 To use the application, enter the data, such as age, weight, height, and so on.
Once you do this, you will be ready to use the application.
Unlike other applications in this list, Joy Health Tracker does not get the target.
Rather, you should enter it manually. You can do this by clicking on the target.
One of the biggest advantages of this is that you can create a target for each day individually by creating different "Templates".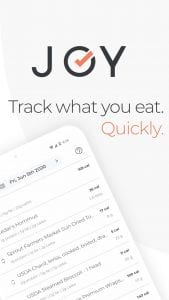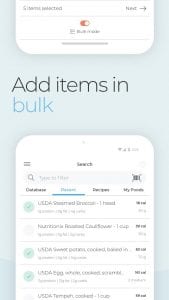 On the Reports tab, you can view graphical statistics for your calories and weights.
Downloads: 1 000+
Customers rating:

(4.5 / 5)

Simple Diet Diary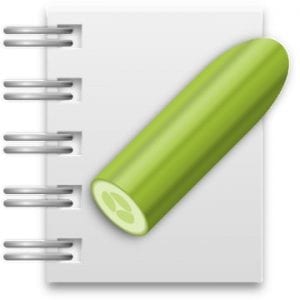 Simple Diet Diary is one of the few calorie counting applications that does not need an account in the application.
This means that you can start using it right after installation. You can add a product that you eat by searching within the application or manually.
If you choose to search, you will also need to install an add-on on your device. This will automatically fill in the calorie and nutrient information.
Although you cannot set your calorie target level, you can view the calorie intake for each day. You can also view the statistics and graphs respectively.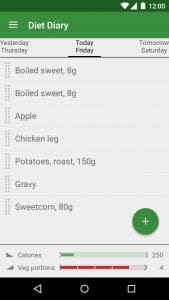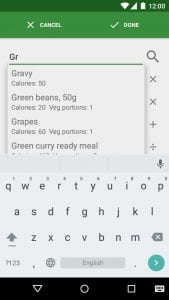 This is a simple application, but it works great as a calorie counting and dietary diary application.
Downloads: 100 000+
Customers rating:

(4.3 / 5)

You may also like: 11 Cool restaurant finder apps for Android
Calorie Counter +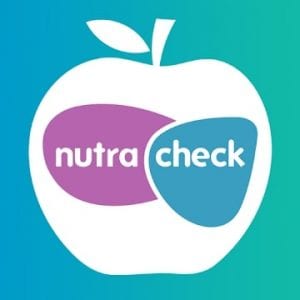 For a simplified calorie count, Calorie Counter + is one of the best options.
The biggest highlight of this application is the huge product database, which makes it quite easy to register products.
With its built-in barcode scanner, it provides an easy calorie count.
Another notable feature is the ability to set a daily target for things like water, fruits, and vegetables to help you stay informed about your fitness goals.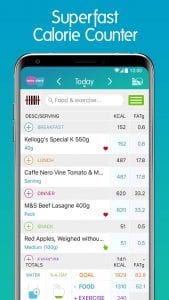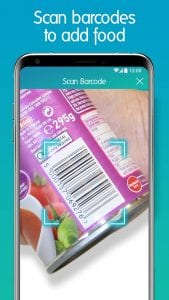 Besides, Calorie Counter + also provides preset guides for nutrients. This way, you can pay more attention to your basic nutrients.
Downloads: 500 000+
Customers rating:

(4.7 / 5)