A signature is a unique set of handwritten symbols used to identify a person. Without it, neither bank cards nor all kinds of applications, orders, and contracts will be valid.
To sign documents at a distance, you need to use a scanner, printer, paper, and pen, which takes a lot of time. Save your personal time by using these best digital signature apps.
DocuSign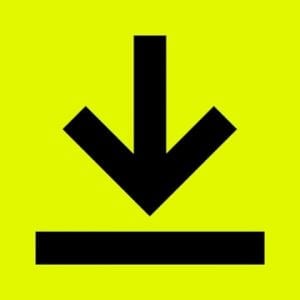 DocuSign is a universal tool for signing and editing documents. It is one of the most popular and popular apps in the Google Play store. It is used by over 50 million people.
The best part of this app is that it allows an unlimited number of signatures and scans of documents in high quality.
It has an excellent design and intuitive user interface.
When it comes to features, there are many features that will help you create your first digital signature and sign it on various documents.
You can also use a powerful text editor to change some things.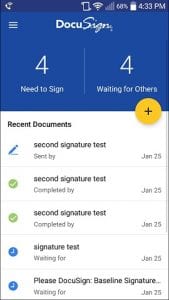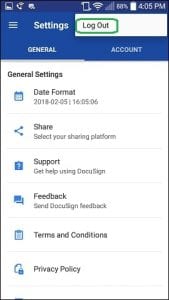 In general, if you are looking for a good document signing application.
Downloads: 5 000 000+
Customers rating:

(4.6 / 5)

You may also like: 10 Free PDF editor apps for Android
Digital Signature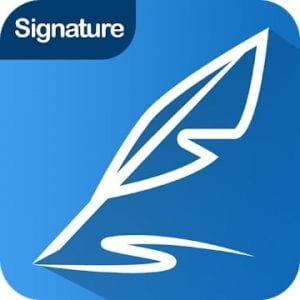 Another great way to sign your documents digitally. Then, share them with colleagues or friends is to use the Digital Signature application.
It is available free for Android devices in the Google Play store. It has a very rich area of drawings, so you can create your first digital signature.
You can use different colors and even different types of brushes and thickness. Choose what is best for your stylus or finger.
Once you create a digital signature, you can easily add it to any document or PDF file you want.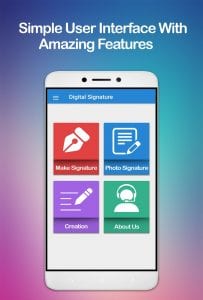 The app also has various other features, such as the ability to add a photo signature to your documents.
Downloads: 100 000+
Customers rating:

(4.4 / 5)

SignNow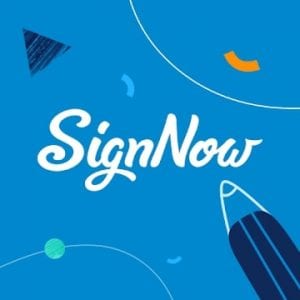 SignNow is a powerful and reliable application for signing documents. You can immediately use it on your Android device.
It has an easy to use user interface and many features. They will help you when signing documents, as well as when editing them.
There are several templates that you can use if you want to use this application to create documents.
As in other apps, you can quickly create your own digital signature on your smartphone or tablet. You can do this with your finger or stylus to achieve a much better result.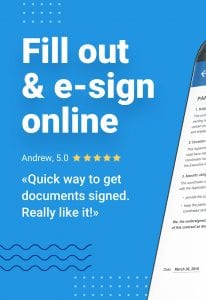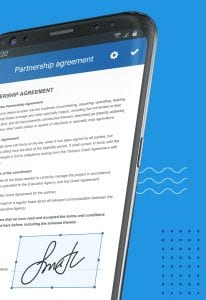 The application has many extra features and is for use on a subscription basis. But, if you end up paying for this application, it will not disappoint you.
Downloads: 1 000 000+
Customers rating:

(4.3 / 5)

EvoSign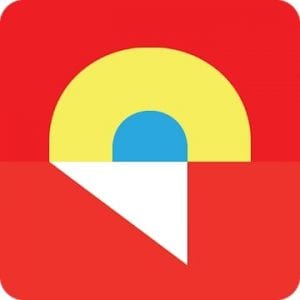 Obviously, in the vast majority of cases, you need a person's signature immediately. It is for this reason that the developers of Evosign decided to save users from having to register.
You will not have to authorize with social network accounts either. You can use the features of the application immediately after its launch.
The interface of the program is extremely simple. There are only two buttons against the background of the signed document.
Clicking the first button allows you to select an image from the gallery or cloud storage. The second button starts the camera.
Regardless of the selected method, you will get to the window of work with the document. At this point, the blue plus button in the bottom right corner of the screen will definitely draw your attention.
After clicking this button, Evosign will ask you what to do with the document. Possible options include signing, printing, and adding text.
Fortunately, you don't have to scan the sample to create your signature. You will have to sign right on your smartphone screen. It is noteworthy that you can choose both the color and transparency level of the signature.
Printing is no more complicated. By default, the application has 17 print templates, but you can add your own if you want. The developers recommend uploading a transparent image in png format.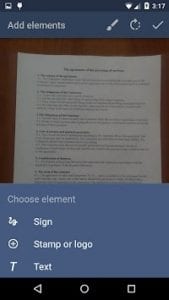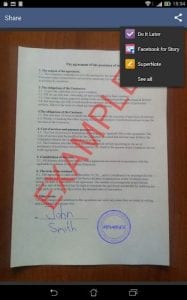 After adding the necessary element, you can save and send the file. You can do it by all existing methods. From sending via Bluetooth to adding it to cloud storage.
Downloads: 10 000+
Customers rating:

(4.2 / 5)

BSign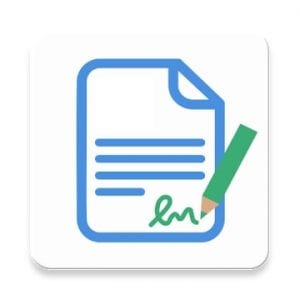 The BSign app allows you to remotely get an electronic signature certificate to sign documents in a secure environment.
With BSign, you can sign documents to start a business and a bank account.
An enhanced qualified electronic signature is generated directly from your mobile device.
BSign is an electronic signature tool for mobile signing. It has a qualified electronic document signature.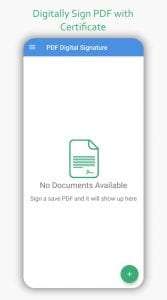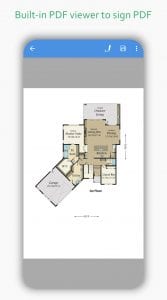 Including confidential documents that need protection. The app complies with the legislation in the field of electronic signature and meets security requirements.
Downloads: 5 000+
Customers rating:

(4.2 / 5)

Easy Signature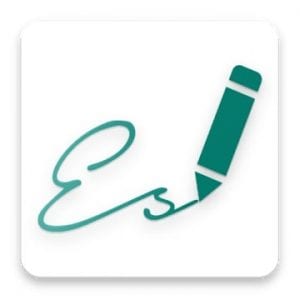 The next on this list is Easy Signature. This is another great application that allows you to digitally sign documents.
You can do it directly from your smartphone or tablet.
This signature application is one of the best. It allows you to create and customize your signature the way you want it to be.
It even supports stylus enabled devices to really play the real signature.
It is a service for signing electronic documents online. It has integration with cloud services. What's more, most formats are supported here.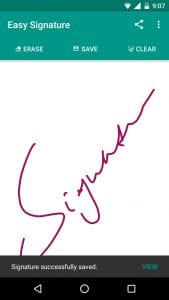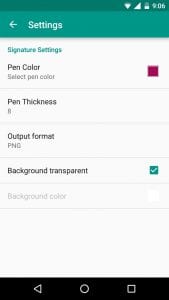 In Easy Signature, you can also create drafts of documents and work as a team.
Downloads: 100 000+
Customers rating:

(4.1 / 5)

PDFelement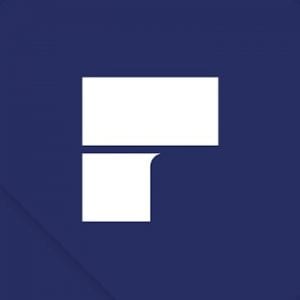 The first application on our list is a PDF element. With this application, you can sign, edit, and even exchange documents.
Do it directly from your Android device in any place and at any time. The application is created and distributed by Wondershare.
It is a very respected brand when it comes to office software and applications for Android devices.
The application has a very clean and minimalist user interface, to which everyone can get used to.
You can use annotations and markup functions in your PDF files to highlight something important. As for signatures, you can store and use the same digital signature for each document. Do this instead of signing it every time.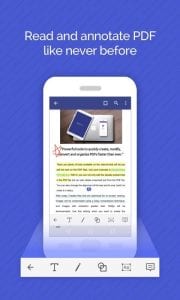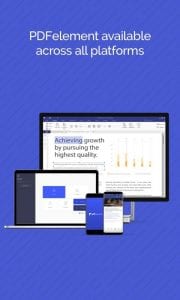 PDFelement is not only a document signing the application. It is also a very reliable document editor and file manager for PDF files. So, if you need a better document management application, we highly recommend it.
Downloads: 500 000+
Customers rating:

(3.9 / 5)

PandaDoc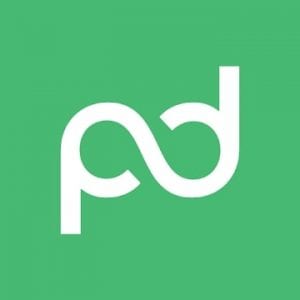 The next in our list of the best document signing applications for Android is PandaDoc.
The main reason why we recommend this app for signing documents is its beautiful design.
If you try to use PandaDoc, the first thing you will love about the app is a well-designed user interface and convenience.
The application corresponds to the user interface of Google Material Design. It is very easy to use. Besides, you'll love all the features it has to offer as a separate app for signing and sharing documents.
This application works as a drag and drop. So you can directly interact with the elements on the screen, which are usually placed in the layout of the map.
Besides the document signing function, PandaDoc also offers many other application integrations. They help to further improve your productivity and save you time in general.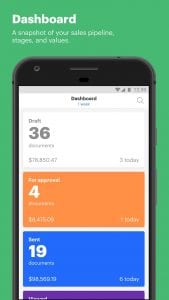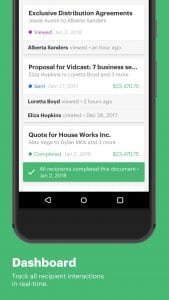 The professional plan starts at $20 per month for one user. But, you can take advantage of the trial version, which lasts 14 days if it helps you make a decision.
Downloads: 10 000+
Customers rating:

(3.7 / 5)

You may also like: 11 Best Email apps for Android Smartphones
Fill and Sign PDF Forms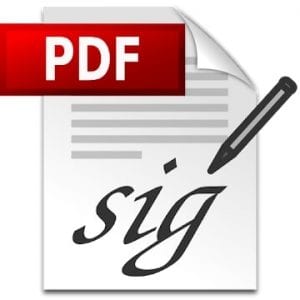 The next application on our list is a very simple application to sign your documents.
It is a software package that can work both as a standalone application for your smartphone and as an add-on for the mobile banking application.
You can use it to put electronic signatures on any digital channel, including CNP operations.
This application pays a lot of attention to security when performing operations.
Thus, the electronic signature is tied to the user's mobile device. This excludes the most common fraud attacks. The internal storage of the application is isolated.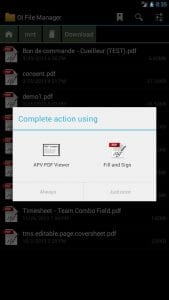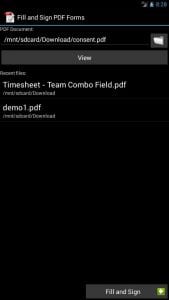 The keys are generated in the smartphone and stored in an encrypted form. To activate the app, two independent channels of communication are used at the same time.
Downloads: 1 000 000+
Customers rating:

(3.2 / 5)