Where else do you find so much action, as in shooters? From the first or third person – it does not matter, the main thing – the hot shootings, explosions, and chaos. Here are the best HD shooters for Android.
Ramboat 2 – Soldier Shooting Game
Downloading Ramboat 2: Soldier Shooting Game for Android OS, the startup screen saver appears. Clicking on it, the first location is turned on. This is an ordinary road covered with grass, and on the background, there are ancient stone buildings. After a couple of seconds, the main character with a red band on the head and a submachine gun descends to the location from the parachute. The prompt system turns on. It is available only at the initial stage and is intended for beginners. With its help, the user will be able to quickly learn everything about management, basic tasks. The first level is a tutorial. After passing it, the main game process is activated.
Throughout the time, you will control the main character and kill enemies using the machine. Most often these are ordinary people, but periodically you have to blow up cars, military equipment. You will get coins for killed enemies. Then, you can buy new weapons with improved characteristics. However, if the character's life scale reaches zero, you will lose. In each level, the user is given three additional tasks. To get the maximum score and reward, you need to earn three stars. Developers added four locations. They differ not only in appearance but in structure.
The management of the game Ramboat 2: Soldier Shooting is very easy. The mechanics are simple but unaccustomed. It will take a little time to adapt to it. The gameplay is fun and dynamic. Fans of shooters and action games will highly appreciate this game process. The visual component deserves a good assessment because the developers have added a lot of colorful effects in HD quality. The general picture perfectly complements the chosen style and gameplay. So, install the free game Ramboat 2: Soldier Shooting Game for Android OS, kill enemies, improve weapons, open new locations.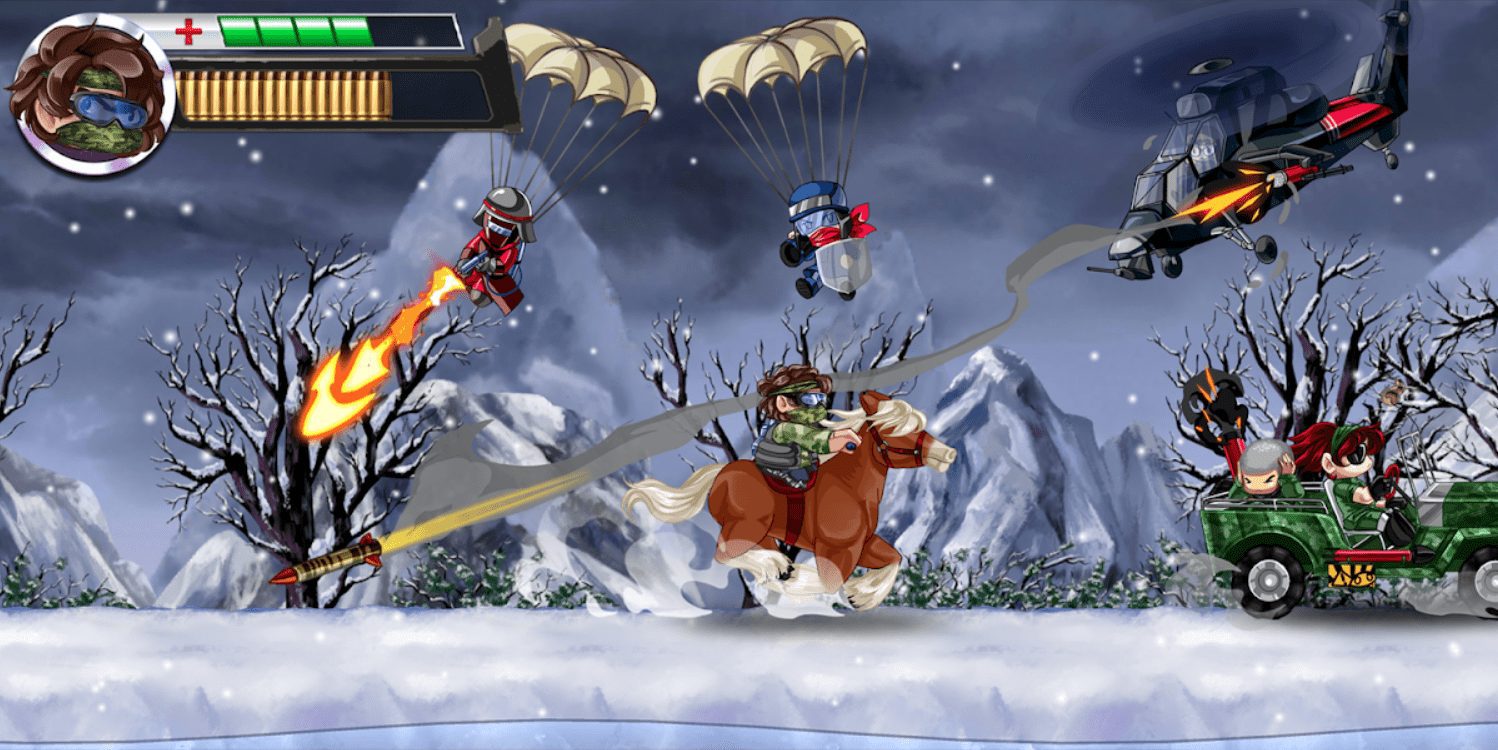 Downloads: 1000000 +
Customers rating:  (4.8 / 5)
You can also check: 21 Free Offline Action Games for Android
Gun Rules: Warrior Battlegrounds Fire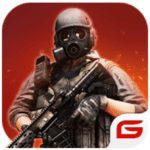 If you like dynamic action projects, in which you can run with the gun at the ready, and shoot at the crowds of hungry walking dead, then the Android project called Gun Rules: Warrior Battlegrounds Fire is for you. The protagonist of the game Gun Rules: Warrior Battlegrounds Fire, by order of the command is sent to a small town, for killing the walking dead. Where did these creatures come from is unknown, but one thing is clear, if they are not destroyed, then they will deliver a lot of problems miraculously surviving people.
Management in this arcade novelty is realized, as in many other classic shooters, with the help of a standard virtual gamepad, and a pair of keys for performing active operations (changing the current weapon, plus shooting). If you want to hit the walker on the spot with a single shot, shoot at the head, and if you immobilize, then at the legs. The more dead you can shoot in the course of the battle, and the less ammunition is required, the more rewarding you will get for completing the current mission. If you wish, you can spend it in the game store.
The free Android novelty Gun Rules: Warrior Battlegrounds Fire is quite interesting to play.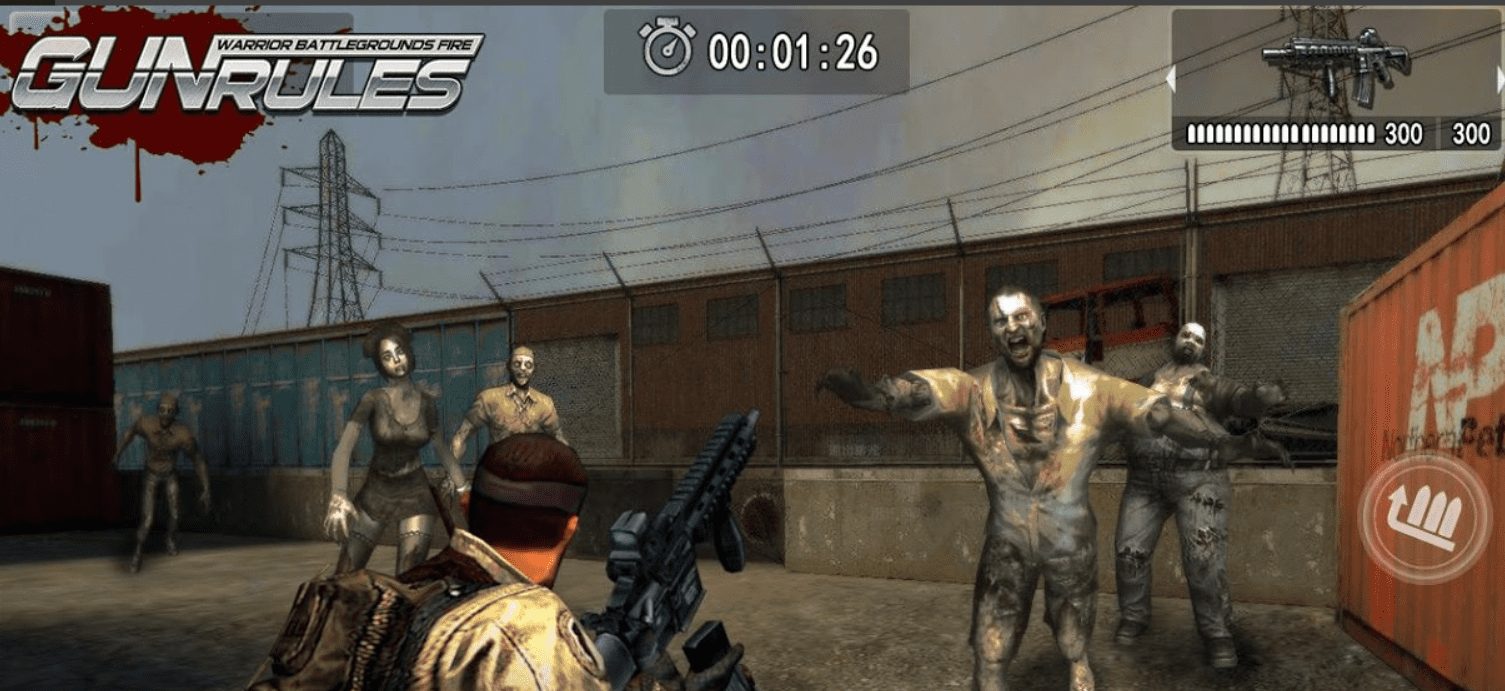 Downloads: 1000000 +
Customers rating:  (4.1 / 5)

Zombie Call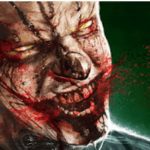 Rules and control. 1945, the Second World War comes to a logical end, the bloody confrontations are practically stopped, the sounds of firing come only from remote front areas. The main character of the game Zombie Call: Trigger Shooter, which tells about the alternative history of the cruelest event of the Earth, is sent with a diplomatic mission to a secret military base. But when he gets to the point indicated on the map, serious problems began …
Levels and purchases. In Zombie Call: Trigger Shooter, soldiers killed in the war rebelled. The goal is to destroy the defenses of the dead and save the scientists who remained in captivity. At first glance – the classic task of killing sluggish and incredibly embittered opponents, but because of the increased level of complexity, it is hard to win.
Shooting and rewards. Dozens of types of weapons and supplies, the ability to interact with environmental objects, colorful graphics and realistic physics of damage – download Zombie Call: Trigger Shooter on Android and you will never regret.
Downloads: 10000000 +
Customers rating:  (4.2 / 5)

Death Shooter: contract killer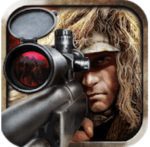 We recommend downloading a new application for Android Death Shooter: contract killer for everyone who loves shooters. The game is a pretty good HD shooter with a traditional story, where good guys are fighting terrorists. Good graphics and convenient controls make the story natural.
The goal of the game is to destroy enemy (terrorist) bases and, of course, terrorists themselves. To do this, you have a good selection of weapons, represented by more than twenty kinds. Of course, there is a rifle, shotgun and sniper rifle, well, of course, much more. For passage in Death Shooter: contract killer there are a dozen missions. So, it will be possible to play as a sniper, and an infantryman, a medic and an officer, a grenade launcher and even a radio operator.All missions have their own unique features and each one is complex and at the same time interesting.
In addition, the developers provided some surprises, such as the ability to quickly detect the enemy (tool "finder"), the ability to slow the enemy ("Slow-Mo"), mass destruction of the enemy ("Grenade") and increase the range of flight and level. There will be no time to be bored, as long as there is time to destroy the enemy!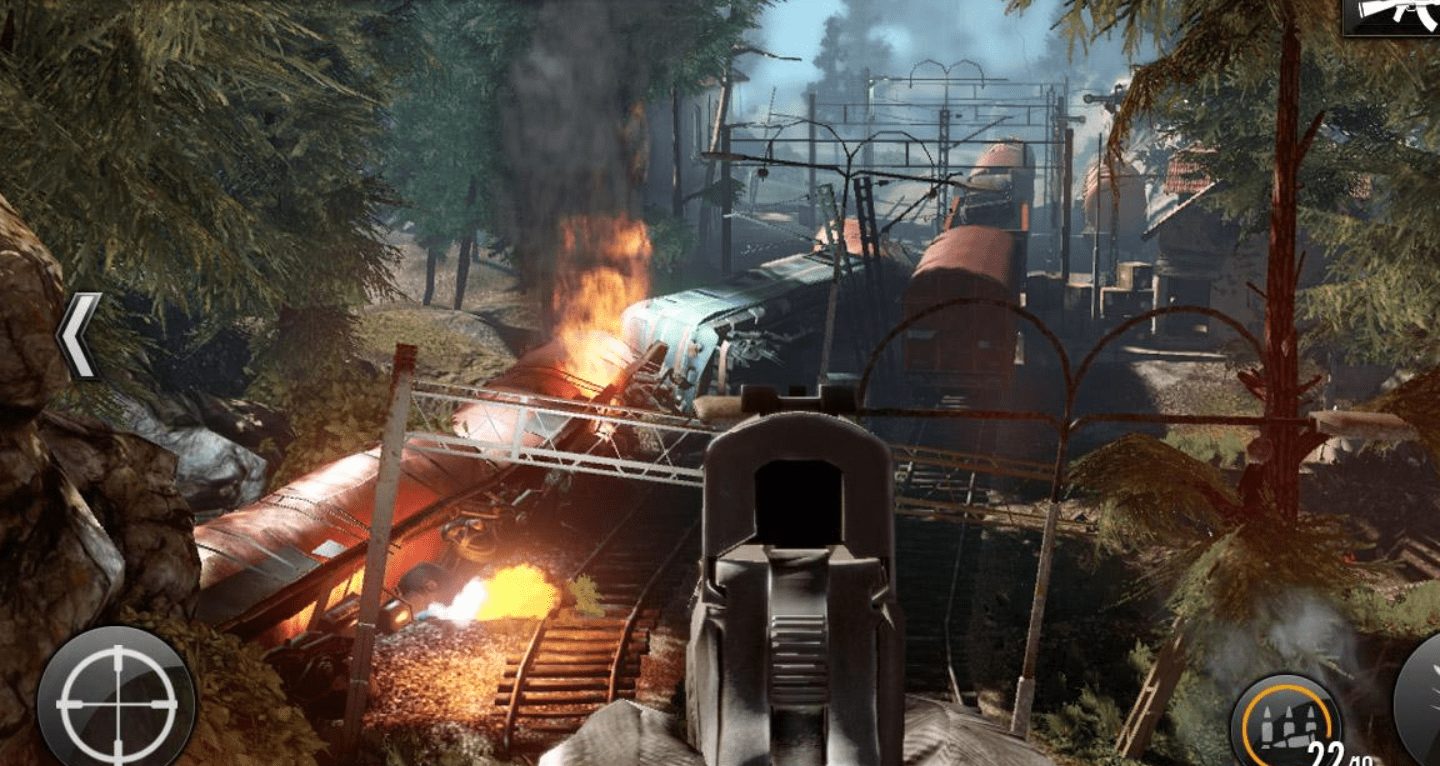 Downloads: 10000000 +
Customers rating:  (4.3 / 5)
Sniper Gun 3D – Hitman Shooter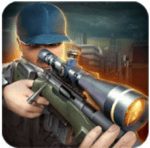 Sniper Gun 3D: Hitman Shooter is a solid HD sniper shooter, created by Play365 for devices running on the Android platform. The user will act as a regular sniper of one secret organization. We will take orders to eliminate this or that undesirable element. And for this, you will receive a good monetary reward.
The gameplay. After installing the application for the first time, we can immediately start the game process. Before each task, we will meet with the intermediary and receive information about the goal. For example, the first mission will be the elimination of the former sniper, who will be invited to stop the public transport. This task will be a test, as well as the second, where it will be necessary to liquidate the lawyer. Only after fulfilling these two tasks will we be recruited, after which we will perform dirty work from time to time, and be generously rewarded. The money received for work is spent on the purchase of new small arms. You are to decide which weapon to choose for this or that order. An interesting feature of the project is small bonus missions appearing from time to time.
Graphics. Locations are drawn pretty well and colorfully. When hit in the head, this is visually demonstrated from a short distance in slow motion. Musical accompaniment is absent, there are only sounds of shots. The control is simple and comfortable.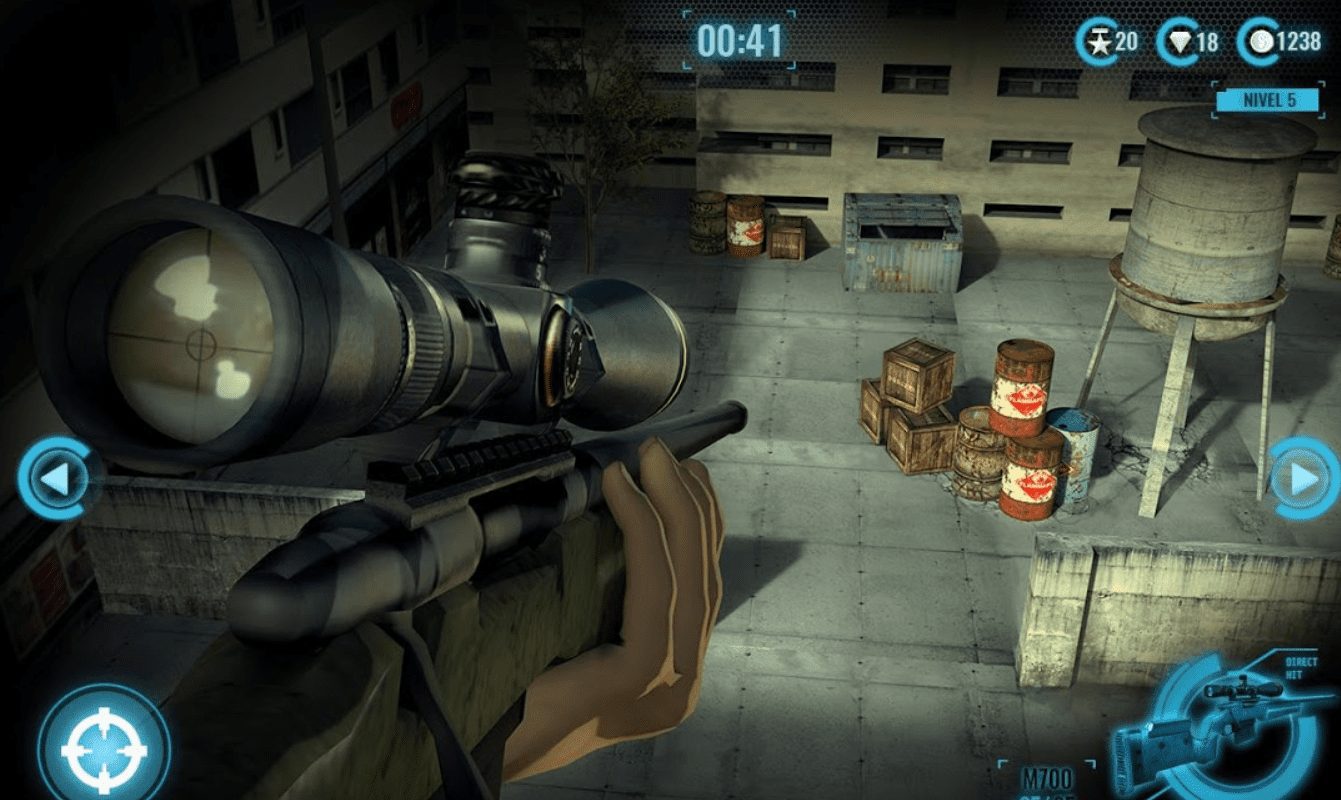 Downloads: 1000000 +
Customers rating:  (4.3 / 5)
Shooting Hunter Special Strike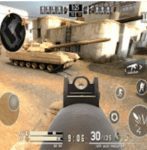 If you are an ardent fan of first-class shooters, in which there is an opportunity not only to fire on the enemy from one single point but also to navigate through spacious locations, then you can download Shooting Hunter Special Strike.
You will be asked to choose one of four suggested maps for battles (Middle-East, Private-Manor, Hot-Desert, Wild-Desert). There are few maps, but each of them contains over one and a half thousand missions.
If desired, you can set as the complexity of the intellect of virtual opponents (from a stupid salabon, to an elite marine), and the number of fighters with whom it is necessary to meet in battle (this parameter is virated from two to two and a half hundred). Also, there is the possibility of acquiring additional weapons, which is represented by a huge number, ranging from pistols and machine guns, ending with sniper rifles.
In general, if you adore playing cool Android shooters, then be sure to download the HD game Shooting Hunter Special Strike, capable of capturing gamers for long hours.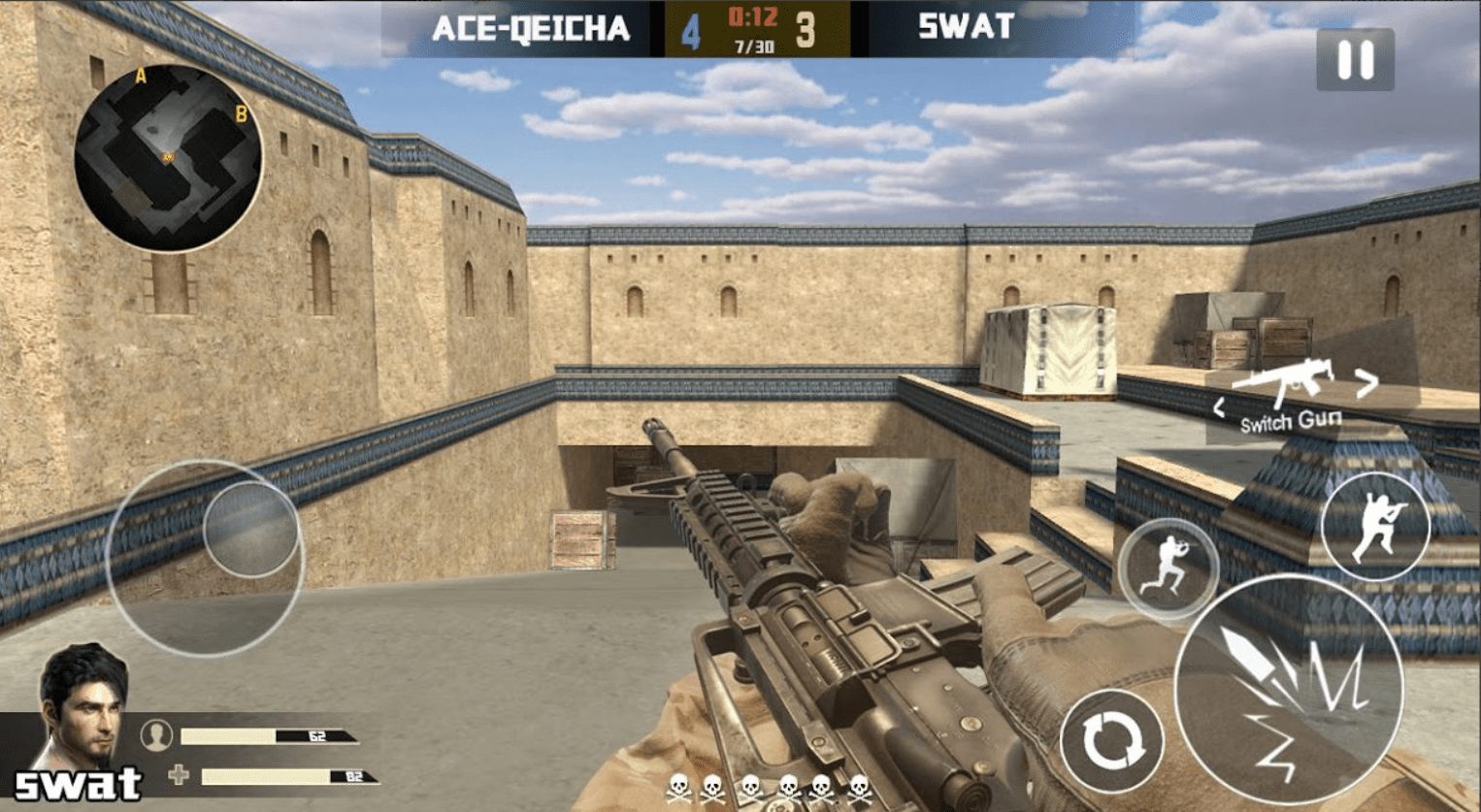 Downloads: 1000000 +
Customers rating:  (4.2 / 5)
War Machines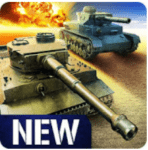 War Machines Tank Shooter Game is an experimental tank simulator, dedicated to the dynamic battles of several combat units on spectacular, dilapidated maps. You can only win if you have correctly chosen the strategy and fully pumped equipment. In addition, you should not hesitate in choosing a goal and making decisions – any mishap will lead to a rapid loss of orientation and a reduction in the chances of timely shooting at the enemy.
Settings and control. In the War Machines Tank Shooter Game for Android fights, unfortunately, do not seem too fast – tanks, even the lightest, move lazily, slowly shoot. It would seem that the specifics of military equipment are kept perfectly, but because of low mobility and insufficient combat effectiveness, the battles are quickly getting a rather boring ending.
However, the game has a good three-dimensional graphics, a good animation with special effects and quite a decent sound. Management is very simple. All battles in War Machines are conducted in real time with the real players. Click to download War Machines Tank and defeat all enemies!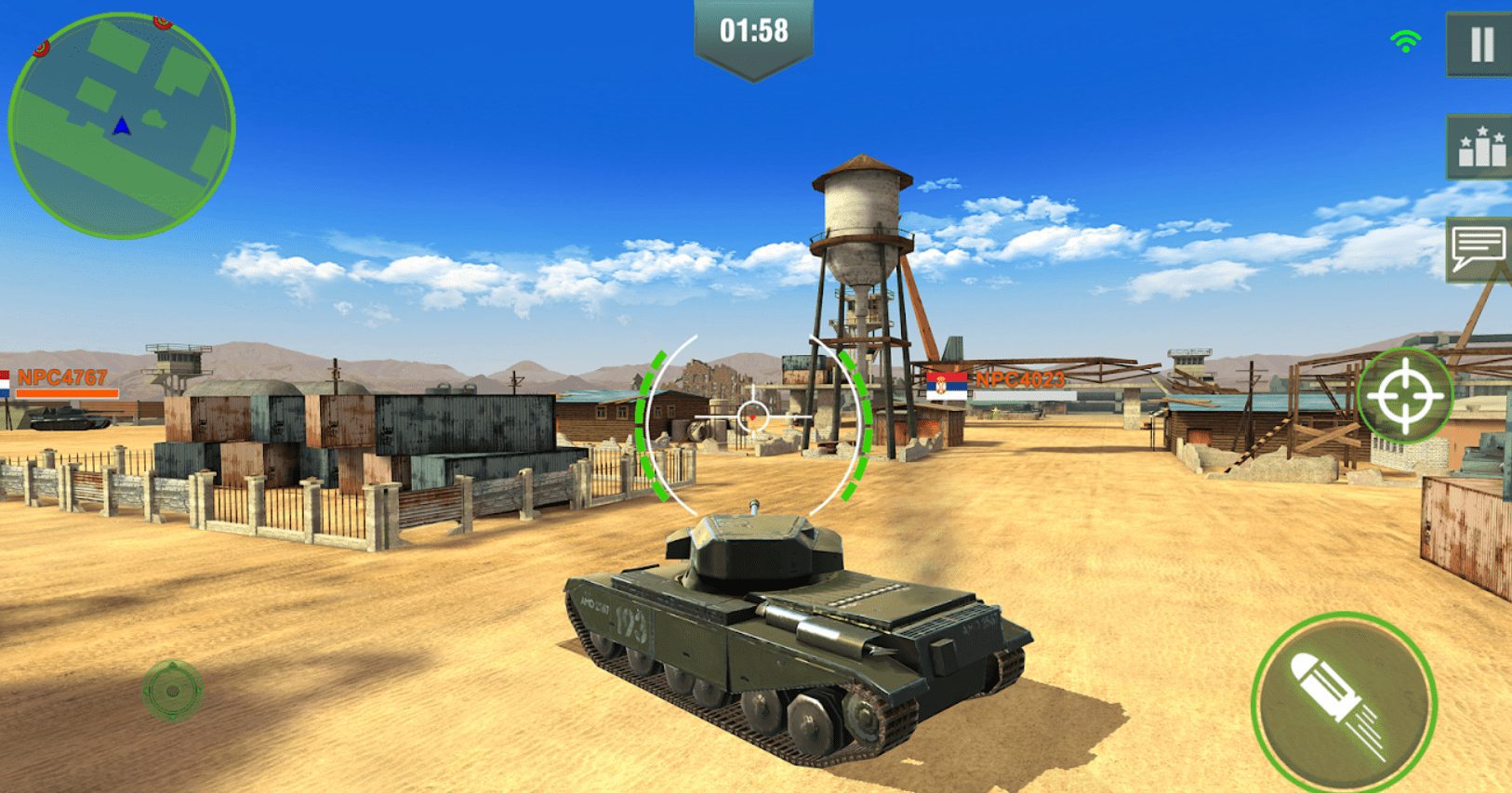 Downloads: 50000000 +
Customers rating:  (4.6 / 5)
Air Force Shooter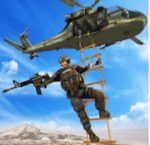 Air Force Shooter is an entertaining game, where you will experience yourself as a shooter on a military helicopter. You will perform various combat missions and missions to destroy terrorists. It's time to clean the earth of scum!
Your task is to guide the target fire from the onboard machine gun. You will have to destroy not only the enemies but also destroy the warehouses with ammunition, fuel or destroy the enemy's military equipment. As you progress through the levels and successful performance of the secondary tasks, you will receive experience points and money. Experience can be spent on developing additional skills, and you can spend money on the purchase of a new type of weapon. You definitely will not get bored playing Air Force Shooter.
Features:
– Qualitative music and sounds in the game will immerse you in the atmosphere of real fighting.
– Completely free application with the ability to make in-game purchases
– You will need good skills in shooting 
– Each level has a unique elaborate terrain
– Fully three-dimensional space and HD graphics
– Realistic movement of the helicopter in the air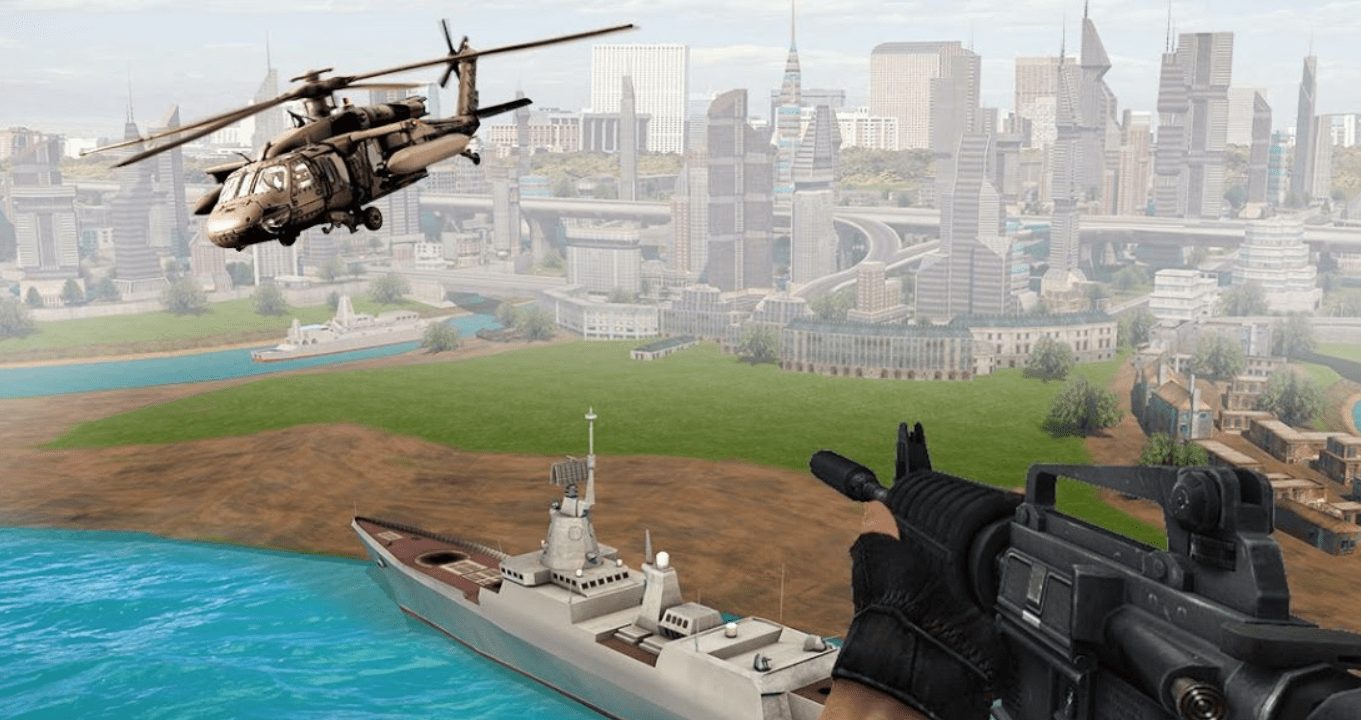 Downloads: 5000000 +
Customers rating:  (4.4 / 5)
CIA Agent Shooting School Game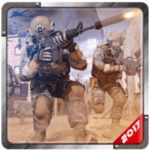 CIA Agent Shooting School Game is a full-scale first-person tactical fighter dedicated to resolving military conflicts that violate peace agreements and diplomatic alliances. The main goal is to crush opponents, conduct almost silent operations with minimal losses, and win the reputation of an invincible team. Before the start of the career of a professional soldier, you will have to spend several days training at a military training base, where the newcomers will be taught how to shoot without a single miss, quickly mark and find goals.
After defeating the artificial targets – there will be a fast increase in the complexity of tasks: you will shoot at a parachute with fuel tanks, run through the desert, give orders and even take exams for the speed of solving operational problems. Exhaustive training will take at least half an hour. For the specified period of time, users will necessarily look through five blocks with advertising, learn to shoot from the hip, fail up to ten tasks, and even curse everything in the world because of the next pop-up window "Game Over".
Outside of fierce battles, several interesting sections await. Firstly, they allow you to go through a whole list of various tests, where you get medals for your patience and demonstrated accuracy (you'll have to finish assignments quickly and with the maximum percentage of hits-it will be difficult!). Secondly, you can look into an excellent store where sniper rifles of different sizes with unique characteristics are available – it will be possible to accurately shoot at targets located several kilometers from the main character. In short, the free action CIA Agent Shooting School Game on Android will make you sweat and offer a bunch of various problems!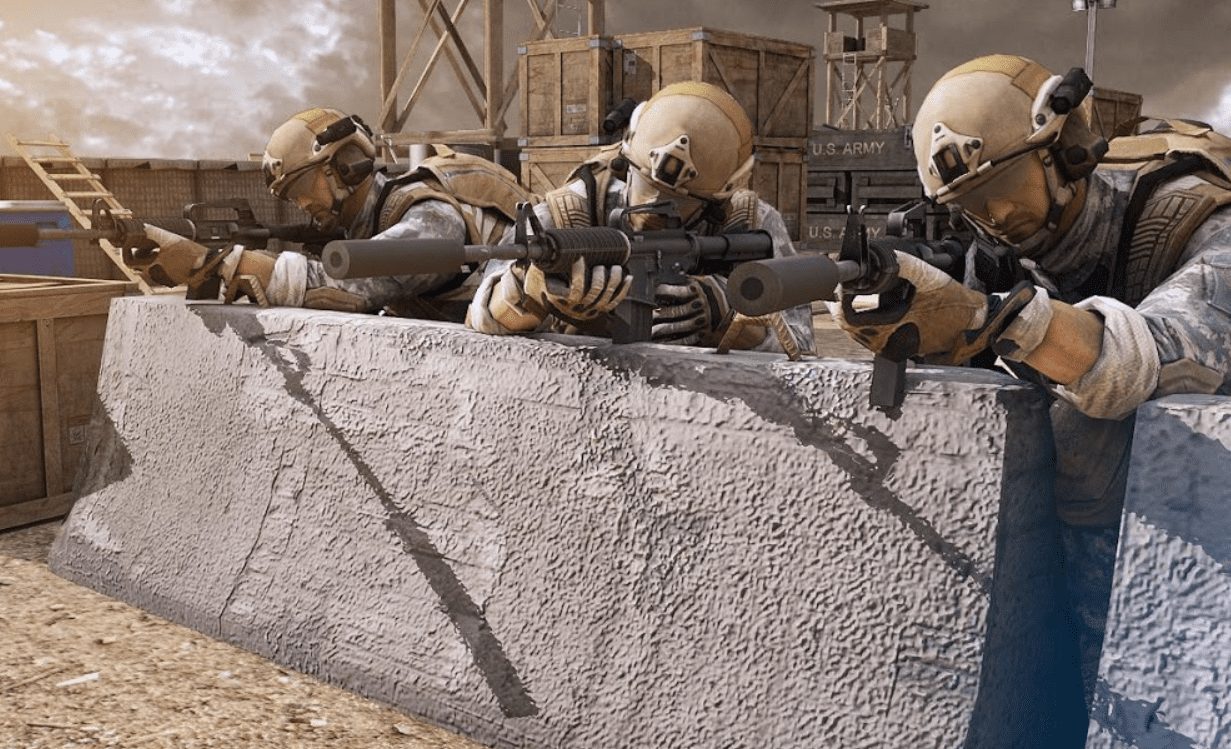 Downloads: 1000 +
Customers rating:  (4.1 / 5)
Dead Earth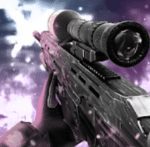 In the distant future, various problems related to the lack of resources and overpopulation will still arise, but the worst will be connected with the war between people and intelligent machines. The automatic helpers, who protect the population of the planet Earth, have turned into desperate hunters for all living things. So, prepare to help people in this desperate future war in a new version of Dead Earth: Sci-fi FPS Shooter for Android.
Human cities in the action game Dead Earth: Sci-fi FPS Shooter are completely unrecognizable – flying cars, high-rise buildings, shining signboards and robots freely moving around the streets. Futuristic beauty will amaze players and force them to act quickly, aggressively and profitably for people. Robots, the main enemy of mankind, should be stopped and for this purpose, we must start a bloody battle. Grab the various guns, go into the street and start a dangerous firefight. The enemies will move in groups, attack from different sides and act secretly. Shoot only for defeat, use different types of attacks and always watch the level of health and armor. Try to download Dead Earth: Sci-fi FPS Shooter on Android and learn the secrets of the distant future!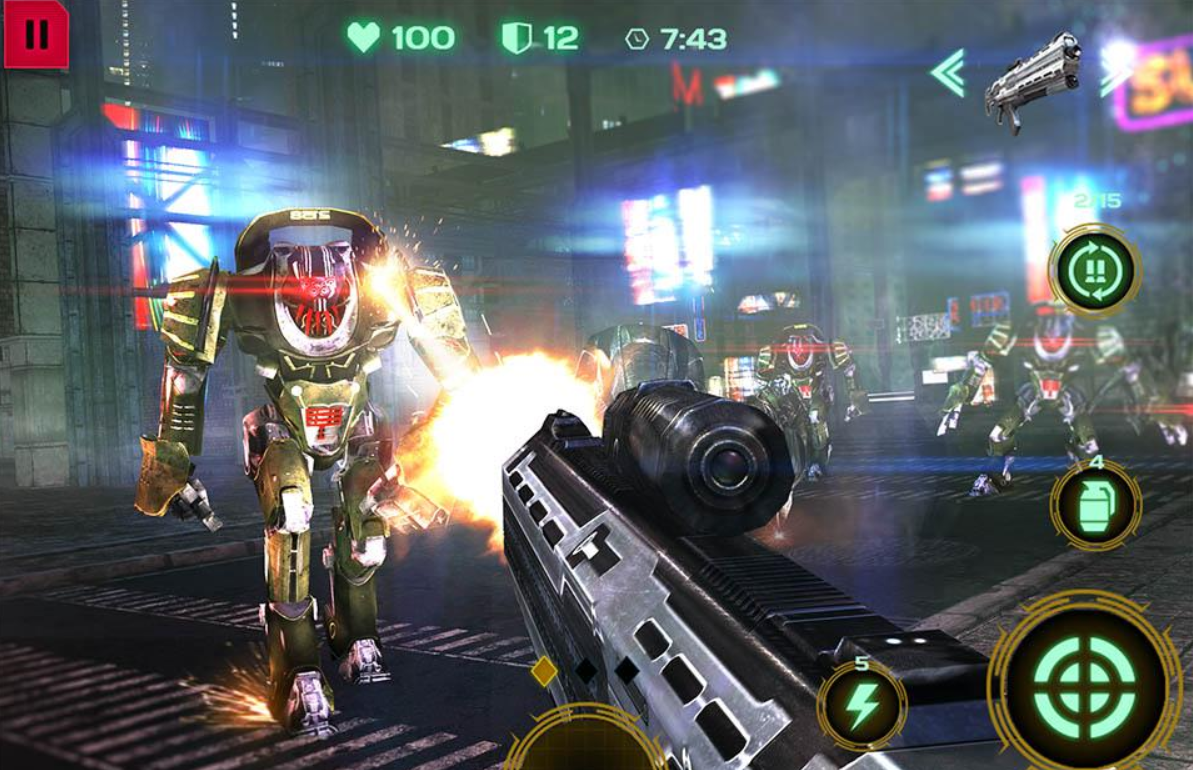 Downloads: 1000 +
Customers rating:  (3.8 / 5)
Duty Army Sniper
Duty Army Sniper is another real sniper simulator. You have to manage a fighter of a special unit of the US Armed Forces, who graduated sniper training, and has been participating in battles for years, where it's always hot and constantly shooting, where even the air is saturated with death.
You will have to act in different places and on different maps. Your enemies are unpredictable and dangerous, but you are even more dangerous. Use clever tricks, do the most complex operations, and perform even impossible tasks. Let your enemies fear you, and eventually, when you come for them – they will be happy with a quick death, instead of the torments of fear and uncertainty.
You are offered a large assortment of weapons and improvements to it, perform missions and get your reward, and for the money you get – buy the best weapons, and kill even more and faster.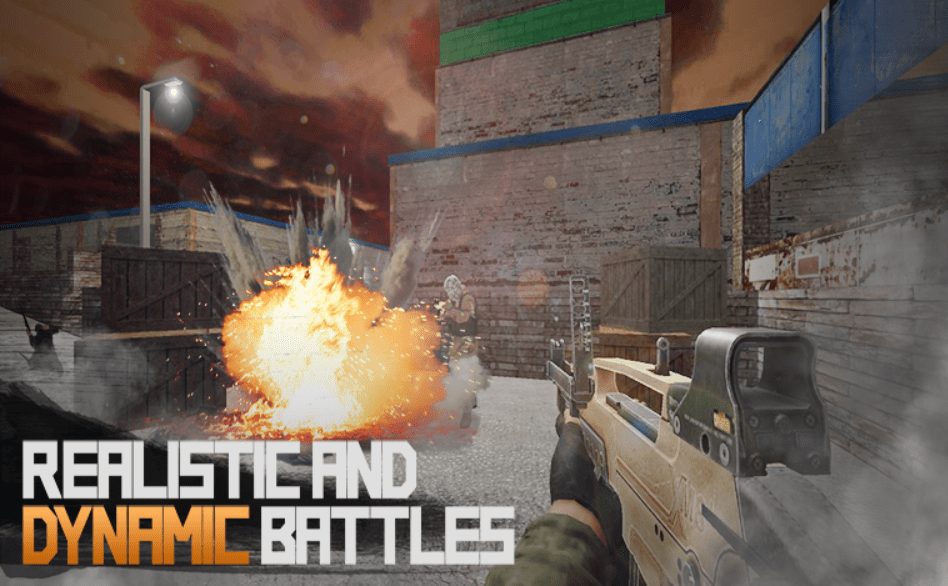 Downloads: 5000 +
Customers rating:  (3.6 / 5)
Best Sniper: Shooting Hunter 3D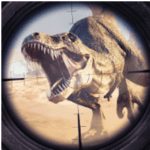 If you are an ardent fan of all sorts of arcade simulators on the topic of hunting, then download Best Sniper: Shooting Hunter 3D, where you are offered to hunt for prehistoric dinosaurs. By the way, because of incredibly realistic graphics, the scenes with murders look more than believable.
The plot and gameplay. In the near future, a certain powerful corporation decided to return to life the prehistoric lizards with the help of cloning. For this, they have collected samples for many years, and now they have finally started testing. They managed to revive almost all the extinct species, but scientists didn't stop, and they decided to cross the genes of a dinosaur with a man. That's where it all started. The creature turned out to be completely out of control, and even more, thanks to its intelligence, it freed the dinosaurs from the enclosures and arranged a real hunt for people. If you don't stop this mess, then soon the dinosaurs will wander around the whole planet, and mankind will come to an end.
The main hero of this hit is an elite sniper, who was thrown into the thick of the action by his command, namely on the same ill-fated island, where fierce dinosaurs escaped from the enclosures to freedom. His main task is to try to cleanse the territory from the raging lizards as soon as possible.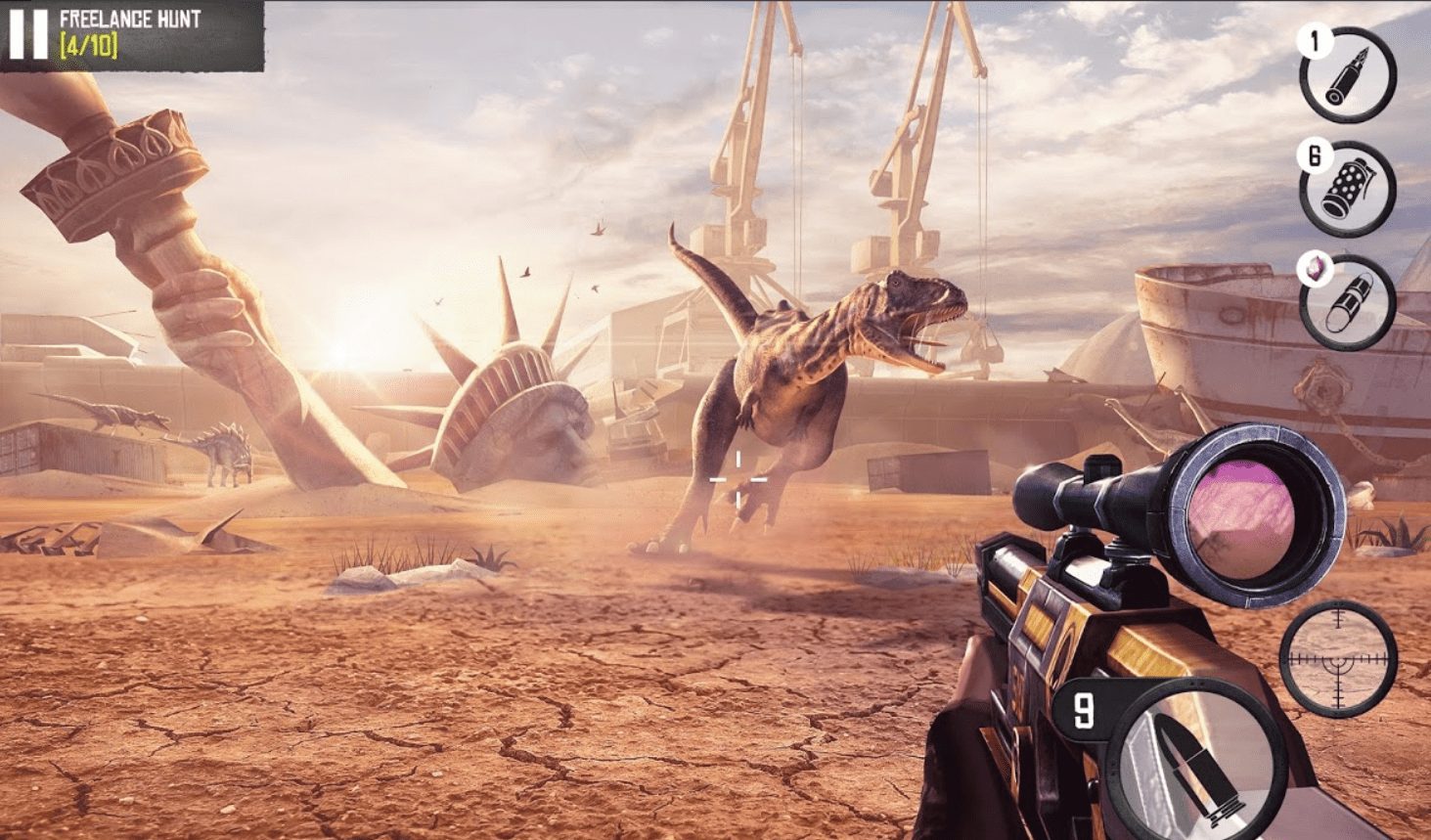 Downloads: 1000 +
Customers rating:  (4.6 / 5)
BF Combat Black Ops 2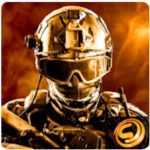 Plot and levels. Battlefield Combat Black Ops 2 is an HD interactive shooting game: an epochal story plot, several large corporations have drawn into a conflict, serious battles with realistic graphics.
Combat system. It is interesting to shoot in this game – the enemies realistically react to shots, jumping off, writhing at wounds.
Rewards and difficulty. Complexity is average – there aren't completely impassable levels, but difficulties are encountered, especially if it is impossible to kill an enemy who is stuck in the wall. Download Battlefield Combat is better really for fans of the genre…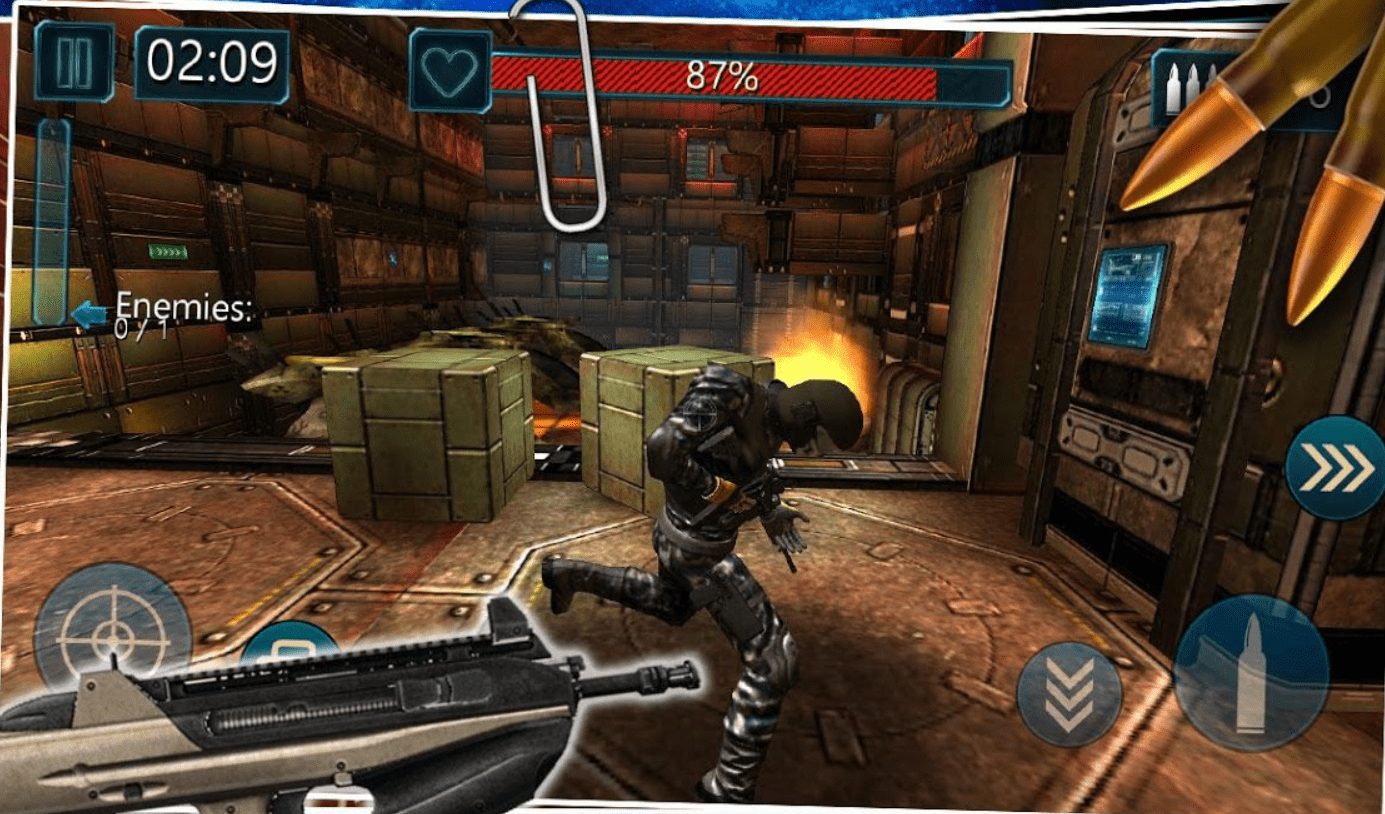 Downloads: 10000 +
Customers rating:  (4.0 / 5)
War Shooter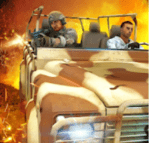 Based on the brief history of War Shooter, we learn that the main character, an elite marine, was sent to the Middle East by order of the command to help his colleagues in capturing another city under the control of terrorists. So, for such operations, a considerable superiority of forces over the enemy is required. However, you will find yourself in the first wave of attackers, what means that you either die very quickly or survive.
After installing the app, gamers will see the main character sitting in the passenger seat of a military jeep, and preparing his submachine gun for the battle. Yes, the task is far from simple, as you will have to shoot on the go. Also take into account the fact that the driver will now and then drastically maneuver, saving the car from the enemy's fire.
For the successful performance of current dangerous tasks, gamers are awarded cash, which should be spent either on improving existing firearms or on acquiring a completely new one that has improved characteristics. By the way, let's tell you a secret how much money you do not invest in pumping old machines, they will still be worse than new ones, so it's better to forget about the upgrade and to save money for new weapons.
Features of this game:
– AttractiveHD graphics without frills;
–  Simple ergonomic management ;
–  Presence of advertising.
In general, if you have a desire to fight a little in urban conditions, then download War Shooter game.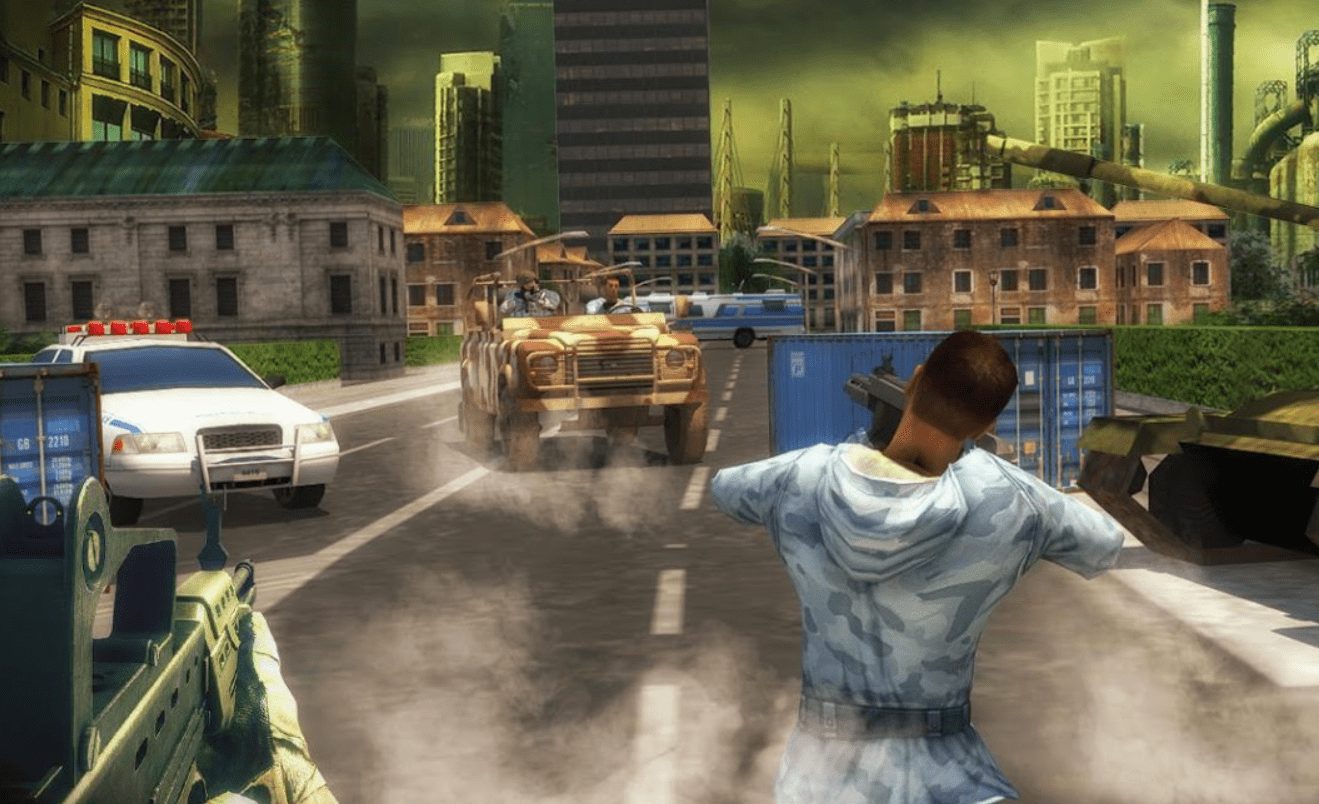 Downloads: 100 +
Customers rating:  (4.1 / 5)
Aim 2 Kill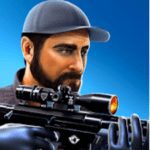 Aim 2 Kill: Sniper Shooter is nothing more than one of the best representatives of such a gaming genre as shooters. Do you know why? Yes, because only such games allow you to fully experience what it means to be a real sniper.
Plot and gameplay. The main character opposes the crime in a virtual town. Naturally, it will be necessary to act outside the law, therefore it is impossible to make mistakes. Before starting the passage of the game, it is recommended to undergo the training.
For each killed enemy you will receive a reward that must be spent on purchasing of powerful, modern rifles (there are more than two dozen), or for improvement already available at you arsenal. It is also possible to invest money in the development of the main character, pumping his skills.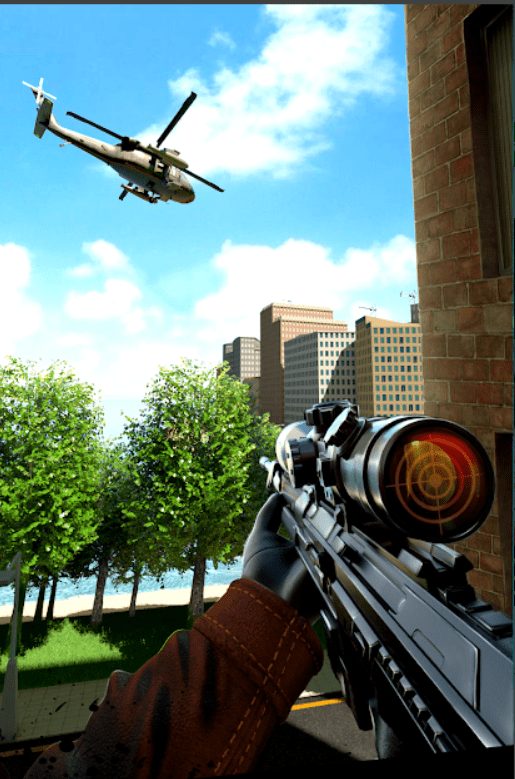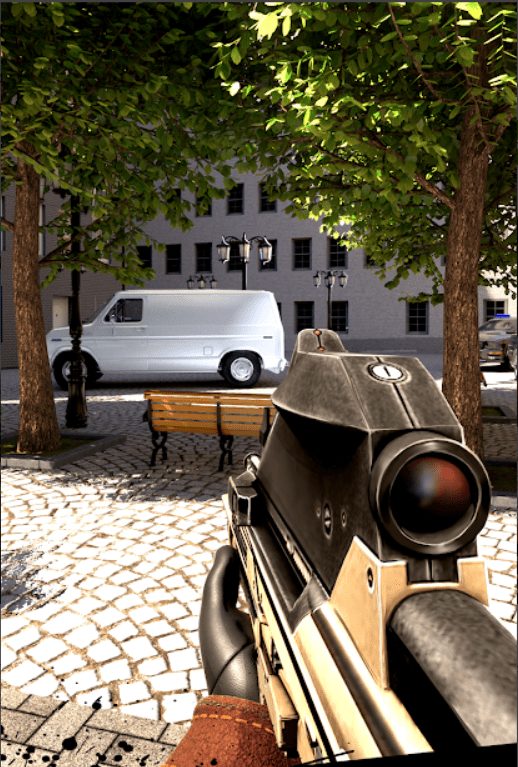 Downloads: 10 +
Customers rating:  (4.3 / 5)