A mail client is one of the most important applications on a smartphone for a modern person. A person can have several email addresses and collect mail from them in one client. In this article, we will describe the best third-party email clients:
TypeApp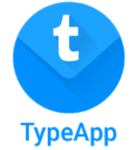 Email TypeApp is an application for using e-mail. Now you can manage all accounts with the help of one program!
The developers proposed a single folder for incoming mail. The utility supports IMAP and POP3 protocols, automatically configures web services from your name, synchronizes received e-mails that you can view from one application.
Now it will be much easier and faster to communicate with people. Switch to TypeApp, receive messages and VIP notifications. With the program, it is very simple to create a group mailing. Here you can create a shared group with corporate personal contacts. All members of the created groups will be able to view the letters and use the group to send e-mails.
Integration of mail servers became possible by integrating smart clusters into one slot. Due to this, the application has the ability to put different notifications for different e-mails. Clusters allow you to manage received messages, edit them, delete them or mark them as spam.
Receive instant Push notifications, set a quiet clock, choose alerts in the form of vibration, sound signals, and light indicators in the settings. Customize the text styles and add a personal logo to the letters. You can even synchronize your calendar and contacts. Quickly type the text and save the options for each day. Choose the themes of the application and set the color coding to know from which account the mail was received.
The application is beautifully designed. It is distinguished by easily recognizable icons, complete security, and confidentiality. You can set the lock screen in time, use SMS checking.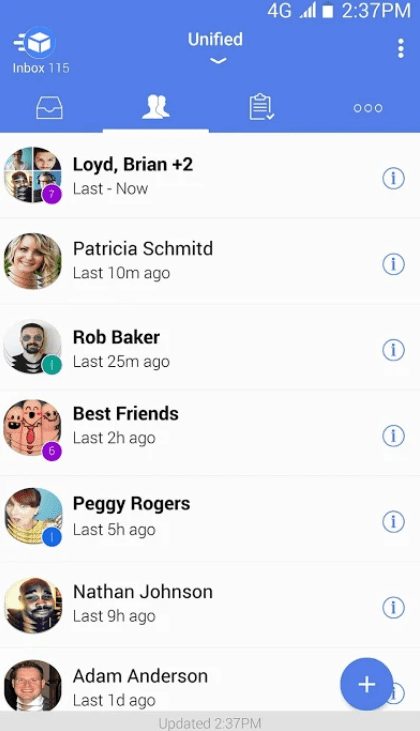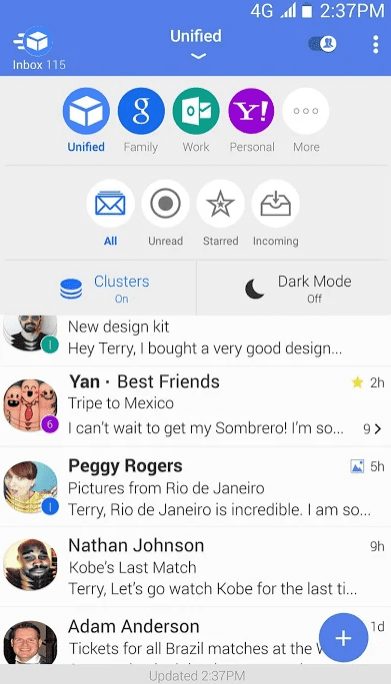 Downloads: 1000000 +
Customers rating:  (4.6 / 5)

You can also check: 21 Best wifi texting apps for Android
Aqua Mail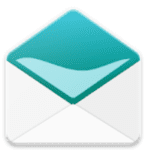 Aqua Mail is a free application for working with a personal and corporate e-mail from a mobile device on Android.
Aqua Mail is an easy-to-use and very flexible email program for mobile devices. In it, you can work with the mail as you used to. You don't adapt to it, but it fully adapts to your habits and needs.
Aqua Mail will combine all your mailboxes and allow you to manage each of them individually. It works with all popular e-mail protocols.
You can configure synchronization of drafts, saved and sent messages between boxes, you can configure access to folders from third-party web services and other mail programs.
The application can use not only the list of your contacts saved on the servers of electronic boxes but also be synchronized with the Contacts of your device and use the boxes there for writing letters. You can also enable and disable the grouping of messages on the history of correspondence.
Aqua Mail adapts to the Internet connection, so you can individually adjust the behavior of the program when working with a Wi-Fi network and mobile Internet.
The program can create a widget on the desktop so you don't miss any important letters. In addition, you can configure push notifications for important incoming emails.
You can also save all application settings to any cloud storage or just a file on your device so that you do not need to configure the mail program again if necessary.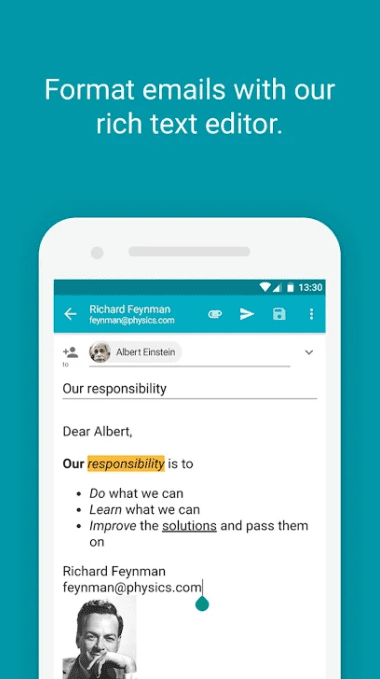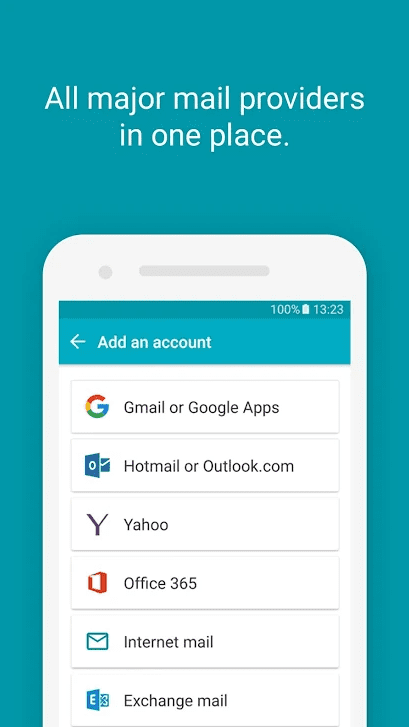 Downloads: 5000000 +
Customers rating:  (4.5 / 5)

myMail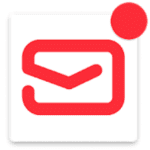 myMail (Email for Hotmail, Gmail and Outlook Mail) is a free email application that will allow you to collect all your existing electronic mailboxes.
The program myMail is an email client for mobile devices. After installation, you can attach all your e-mail boxes to your application: Mail, Yandex, Rambler, Gmail, Outlook, iCloud, Hotmail, Yahoo, Meta.ua, AOL and any other mail service that uses IMAP or POP3 protocols. If you want, you can also get a free new box with a beautiful domain name My.com.
The program has a nice unobtrusive interface and a wide range of settings for all connected boxes. Using each of them, you will get access to the contacts stored on the server, and the program will prompt the address of the recipient by the first characters of the name or box. Also for each box, you can configure a separate display of mail: somewhere to show only unread, somewhere only important or only with attachments.
About new events, the program can instantly notify the user with the help of push-notifications. What kind of alerts you need, and which ones to refuse, you decide on your own in the settings. Also, you can set privacy filters and set the time of receipt.
The program myMail guarantees the convenience and security of all your correspondence and personal data.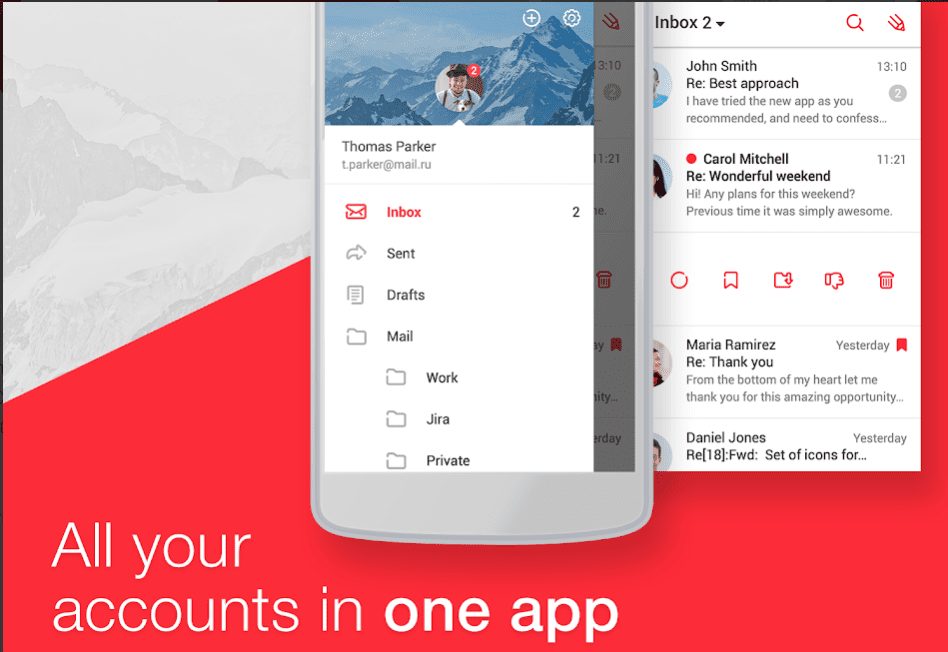 Downloads: 10000000 +
Customers rating:  (4.5 / 5)

ASUS Email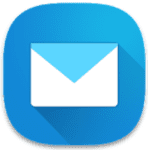 ASUS Email is a convenient application for working with e-mail on mobile devices. ASUS Email program will help to unite all your mailboxes, manage them, read letters and respond to them.
The application is integrated into the ASUS ZenUI operating system and synchronizes its work with other system tools.
The ASUS Email client allows you to customize the appearance and display of incoming correspondence for each of the attached boxes, receive notifications of new messages and events.
Thanks to this program all your personal and business correspondence will be concentrated in one window, you can switch between boxes, redirect letters, attach files and documents.
The application will please you with a nice interface and a lot of settings that will help not to be distracted by secondary messages and at the same time not to miss anything important. You can configure the filter allowing notifications only from selected contacts. Also, the program can mark all correspondents listed in your contact list on the phone with the VIP status, because ASUS Email synchronizes with the system Contacts application.
And thanks to the integration of the mail client with the calendar in ZenUI, you can add selected messages to your to-do lists, and also quickly create and send invitations on scheduled events.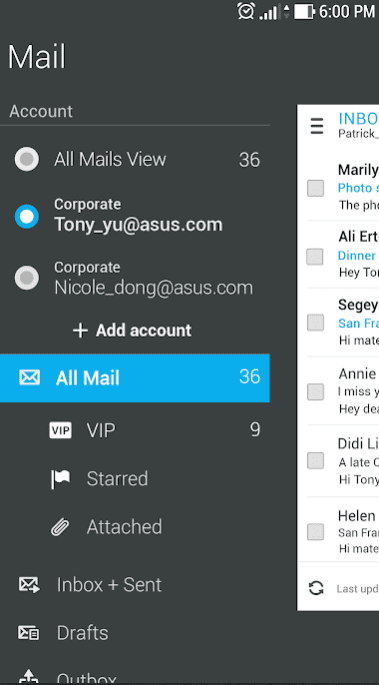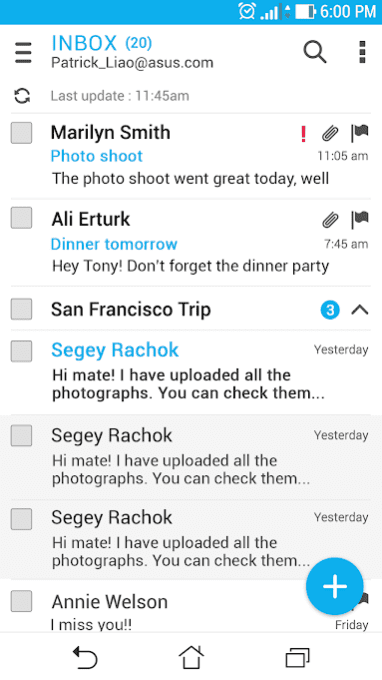 Downloads: 10000 +
Customers rating:  (4.6 / 5)

Gmail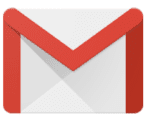 Gmail is a simple, reliable and free program that will allow you to work with e-mail on your mobile device. Mail service Gmail will allow you to quickly receive all your email, sort it and answer letters as needed.
The program allows you to collect all mail accounts in one place and connect social networks. Automatic sorting will distribute incoming messages to the folders, which will help to separate the working correspondence from the personal, and the business one from the advertising one. By setting up alerts for different folders, you can no longer be distracted by secondary correspondence and will never miss a single important letter.
Gmail quietly added a new useful feature, popular in Slack, Telegram, and many other applications. This is the mention of contacts using the @ symbol. When you write a message to someone, just insert the @ symbol and start writing the first letters of the company name or name, and Gmail will offer you options for inserting. When the recipient clicks on the link with the name typed so, a window to create a message to that contact will be opened. The person who is mentioned in the letter automatically receives a copy of the message on his mail.
In the mail, there is a mode of confidentiality which allows appointing to the sent message the period through which it will disappear (both at the sender, and at the addressee).
Also in the program, there are built-in algorithms for protection against spam so that obsessive advertising doesn't threaten you.
Each Gmail user has 15 GB of storage, so you do not have to delete the necessary correspondence to save space.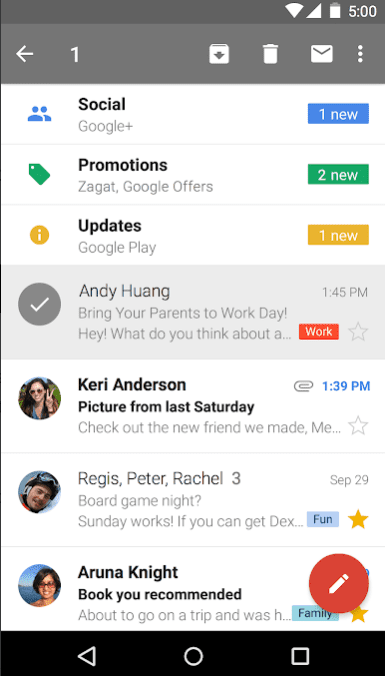 Downloads: 5000000000 +
Customers rating:  (4.3 / 5)

K-9 Mail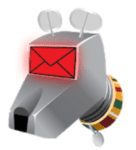 K-9 Mail is quite useful and multifunctional application for working with mail. One of the main characteristics of the program is the stability of its work. And the number of different settings will fit the needs of even the most demanding users. The application perfectly works with any mail servers using SMTP, pop3, IMAP.
A very useful and convenient feature is the ability to sort by a huge number of different criteria. For example, letters can be ordered by size, name, date, etc. To quickly find the required letter, the convenient search function is implemented.
The developers have equipped K-9 Mail with multilingual support and well-designed interface. Among other features, we note the ability to store offline messages on the device, the option to configure several boxes at once, encrypt data and restrict access to them, the ability to automatically check emails, as well as the presence of very flexible settings. By the way, right after the completion of the configuration procedure, the user will be able to see the lists of messages received and stored on the special server.
Summing up, it can be noted that K-9 Mail is one of the most high-quality and serious tools for working with e-mail. Among the shortcomings of the application, you can note the relatively long loading of large or several letters at once, but almost all such programs have the same problem.
One can not help saying that it may take more than an hour to fully adjust, although even beginners will not need to go deep into it since the program works fine on standard settings. All the rest can be studied as needed.
Downloads: 5000000 +
Customers rating:  (4.2 / 5)

Nine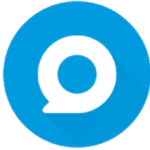 Nine is a modern email client for Android that will allow you to communicate with family members and organize a work with colleagues more conveniently.
Nine Mail is characterized by the following features:
Direct connection to the server, so all data is stored on the mobile phone.
Supports multiple user accounts at once.
Ease of use and an amazing interface for work.
Selective synchronization of e-mail folders and the presence of a favorite folder.
This application is completely based on Direct Push technology and allows you to synchronize with storage servers from Microsoft. The application was specially developed for employees of companies and private entrepreneurs who want to communicate more effectively and conveniently with colleagues, family members and friends wherever and whenever. Perhaps you already have some experience with electronic mobile mail. However, with this application, you can go to a new level of the email client, which includes the convenient use of e-mail, contacts books, calendar events, notes and other functions.
The application has a beautiful graphical interface, which even a beginner will understand. The application also supports multiple accounts, it has a built-in RTF document editor, a Favorites folder, the ability to synchronize folders in e-mail, automatic configuration of various popular servers such as Office 365, Exchange Online, Hotmail, Live.com, Outlook, MSN or Google Apps, supports HTML formatting, works on a secure SSL protocol, has a built-in chat and many other interesting functions. For greater convenience, the application supports the Android clock.
In general, this full-featured phone application will allow you to process e-mails as quickly and conveniently as possible, create notes and use the calendar.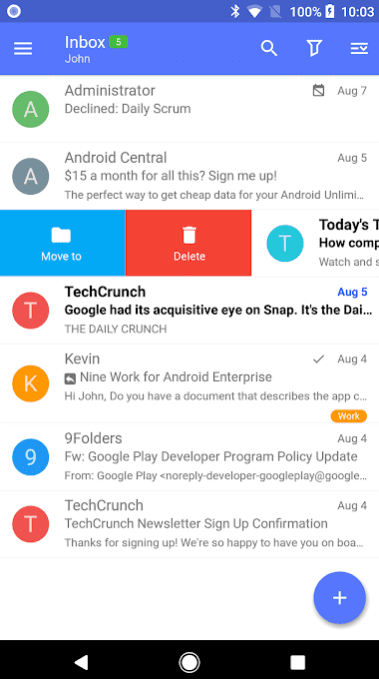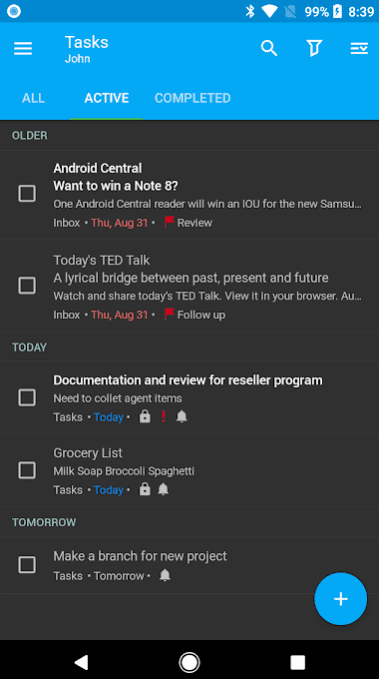 Downloads: 1000000 +
Customers rating:  (4.5 / 5)

Blue Mail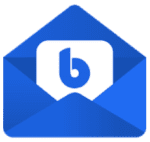 Blue Mail is a universal application for working with mail. Through it, you can work with any number of accounts of different mail providers. Just worth noting that the application is freely available for download on the Google Play Market and doesn't have additional paid features and extensions.
The application allows you to quickly change accounts, work with a variety of mail services, set up smart notifications about new emails and much more. This mail agent is the best replacement for the standard application on your device, providing unification of different boxes and a convenient interface.
The application allows you to work with accounts of any services. The application also supports IMAP, Exchange (ActiveSync, EWS) and POP3 protocols, customizable notifications for new messages (for example, you can set different signals for new emails), stylish dark main menu design, the ability to flexibly customize fonts, send messages to the printer, support Android clocks and much more.
Standard functions for working with mail are also implemented here: postponing letters "for later", sorting and the ability to mark the specified letters, various filters and display the sender's photo. Also, you can use the screen lock function after a specified period of time thanks to a customizable timer. When sending messages using modern encryption protocols – be sure that your letter doesn't fall into the hands of intruders.
It is worth noting that the application will be useful to those who often and a lot of work with e-mails. The presence of a large number of functions, filters for letters and a nice interface will make working with mail clients on the smartphone convenient and more productive.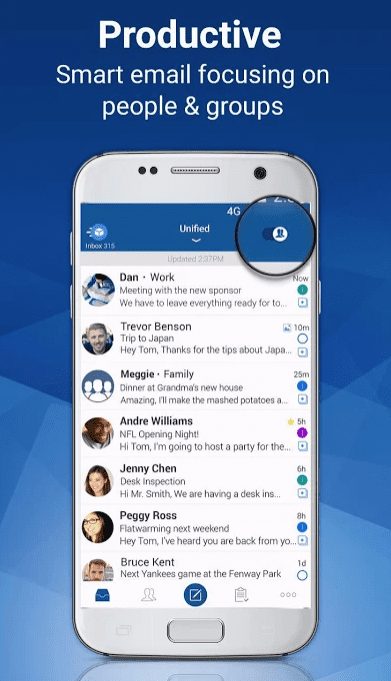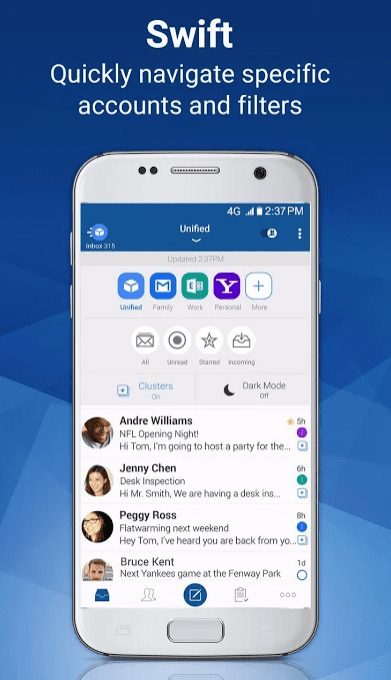 Downloads: 5000000 +
Customers rating:  (4.6 / 5)

Email Mail Box Fast Mail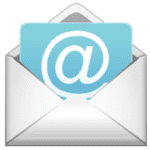 Email Mail Box Fast Mail – with this application you will be able to log in to all your email accounts and track many boxes through one convenient interface.
The main feature of the application is the finding of the server in automatic mode, which allows receiving emails without delay. Among the supported services of the application are Gmail, Yahoo, Outlook, Mail, Rambler, and dozens of others. Thanks to customizable notifications, you can set the application to notify you when new messages appear from the specified recipient or on the specified mailbox. Each message is accompanied by digital signatures, the sender's name, his phone number, and other useful information. Also, you can always manually adjust the display style of the text and add your own logos to the interlocutor.
In a separate menu item, you can create mail conversations and communicate through them with friends or colleagues. The application is synchronized daily with all your accounts with an Internet connection. All email functions are also present here, so you can send messages from different email addresses through one interface.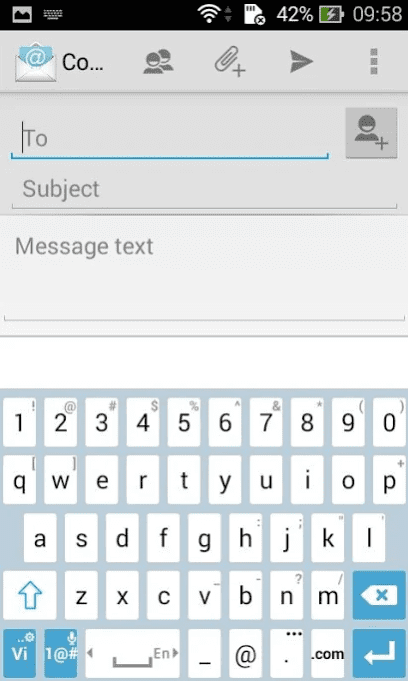 Downloads: 1000 +
Customers rating:  (4.4 / 5)

Newton Mail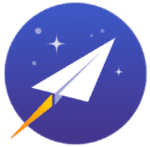 As a matter of fact, Newton can combine all the mail accounts available to the user, thus eliminating the need to switch between different mail accounts. The service will notify about any new email by push notification on any mobile device.
Newton Mail combines one common feature for all mobile devices – this email client is very minimalistic, it lacks most of the benefits of other popular applications. But this is due not to the lack of imagination of the developers, but the desire to make just a convenient application. Instead, Newton Mail offers several other things that for someone will be much more useful than half a dozen gestures for sorting and dozens of other options with reminders of received emails.
By combining all mail accounts within the same service, Newton also provides the user with a number of useful functions, thanks to which work with e-mail becomes much easier and much more efficient. For example, in Newton, the user can easily see if the recipient has read the message or not: just like in WhatsApp, if the message is read, the message will be marked with two blue checkmarks.
In addition, you can set the time for sending a letter, return an email sent by mistake, get the most detailed information about the sender of a letter, including his location, workplace, links to profiles in LinkedIn, Twitter, Facebook and much more.
For many, it will be very useful to synchronize with Newton such popular applications as Evernote, Pocket, Todoist, SalesForce, Zendesk, etc. The application is very fast. Do you think that this can be said about any modern email client? Then try adding more than five accounts with active correspondence, when the message chains reach fifty, and there is a constant exchange of heavy attachments.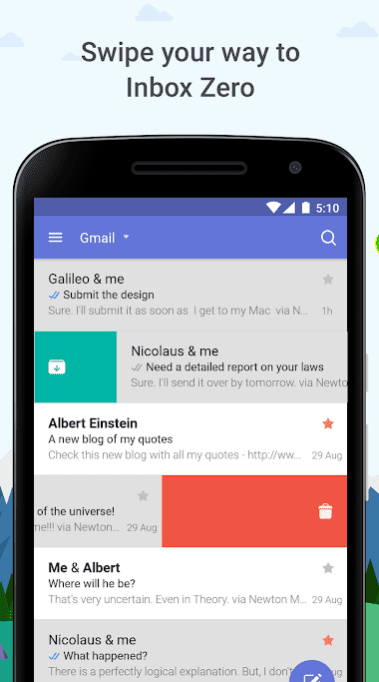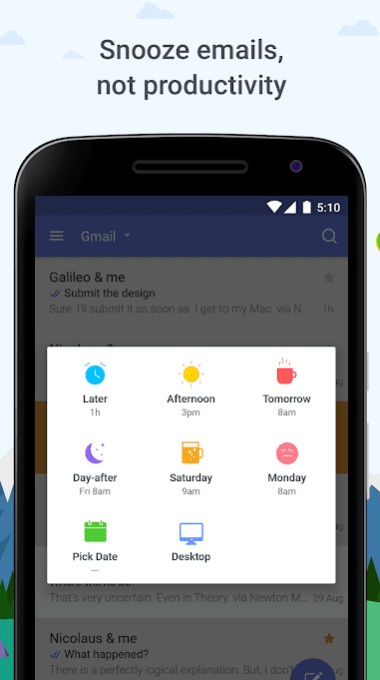 Downloads: 10000 +
Customers rating:  (4.0 / 5)
Inbox by Gmail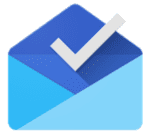 The Inbox application from the Gmail command is not only an email client, but also a truly powerful, feature-rich and handy mobile tool for creating reminders, setting tasks, and actively maintaining a postal lifestyle. This is also the problem of Inbox – so complex in a sense, the application is not suitable for all users. Rather, the application is mainly aimed at the business segment, since the average user is unlikely to need all of these heaped functions.
The first thing that immediately catches your eye when you first open Inbox by Gmail is the displaying the main content of your emails.
A convenient thing is a system for filtering e-mails by category. Yes, you can find the same functionality in the Gmail application, but in Inbox, its implementation is more extensive. A new mail client from Google automatically sorts letters into categories. The standard list of grouped incoming emails is as follows: Travels, Purchases, Finance, Social Networks, Notifications, Forums, and Promotions. Accordingly, letters on various themes will be sorted by topic – you do not need to do anything, and it's cool.
The third convenient feature is the support for gesture control: if you "swipe" the letter to the right, it will be marked read, and if to the left – postponed for an indefinite time, which you can later customize. Important letters, to which you wished to return later, can be marked. Thus, they will be located in a separate folder and not confuse the user. However, the function of archiving letters, which is in Gmail is missing. The user can either delete the message or mark it as read. Among other useful innovations, it is worth mentioning the connecting of a reminder about a letter and geolocation data. For example, if you come to work, then Inbox at the same time will provide the letters you need.
The new application, in addition to the standard functionality of the mail client, is also a versatile task manager. Inbox combines the functions of Google Now, Google Keep and Gmail – three in one. Is not that what you need?
The user interface also pleases, which is made according to all standards of the new and modern design language of Google, called Material Design.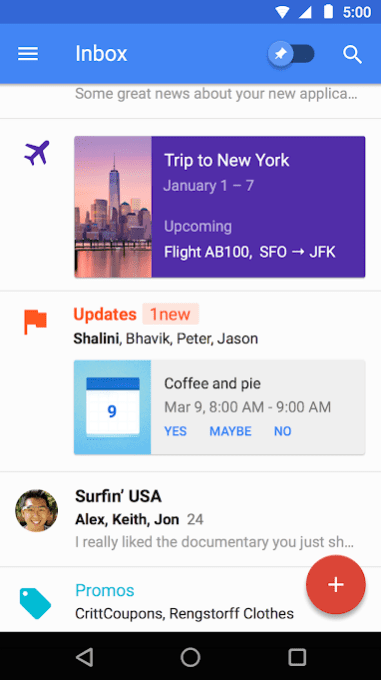 Downloads: 100000 +
Customers rating:  (4.2 / 5)