Playing games with friends is much more interesting than playing alone, especially if you get together.
You can arrange entertainment or competition in a cheerful company of like-minded people with your Android devices – for this, there is nothing better than games with local multiplayer. They allow you to organize a real match – and it's not so important who will win.
The main thing is the time spent with friends – fun and rewarding.
Mini Militia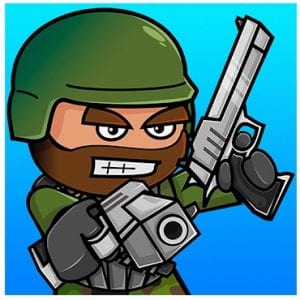 Mini Militia – Doodle Army 2 – two-dimensional shooter with platformer elements and dynamic multiplayer battles. It will interest even those who have never played shooters. Its graphics are liked by children and teenagers. In Mini Militia a large number of skins, clothes, weapons, and so on.
There are several modes in the game: single-player and multiplayer. In single-player mode you will have to pass the game step by step, completing mission after mission.
In multiplayer mode you will be able to fight with real players, who won't be thoughtlessly flying, but aiming and shooting straight at your head, causing deadly damage. In real battle mode, your enemies will act more deliberately, hide behind cover, throw grenades at you, and more. So, choose your battle tactics and win every battle.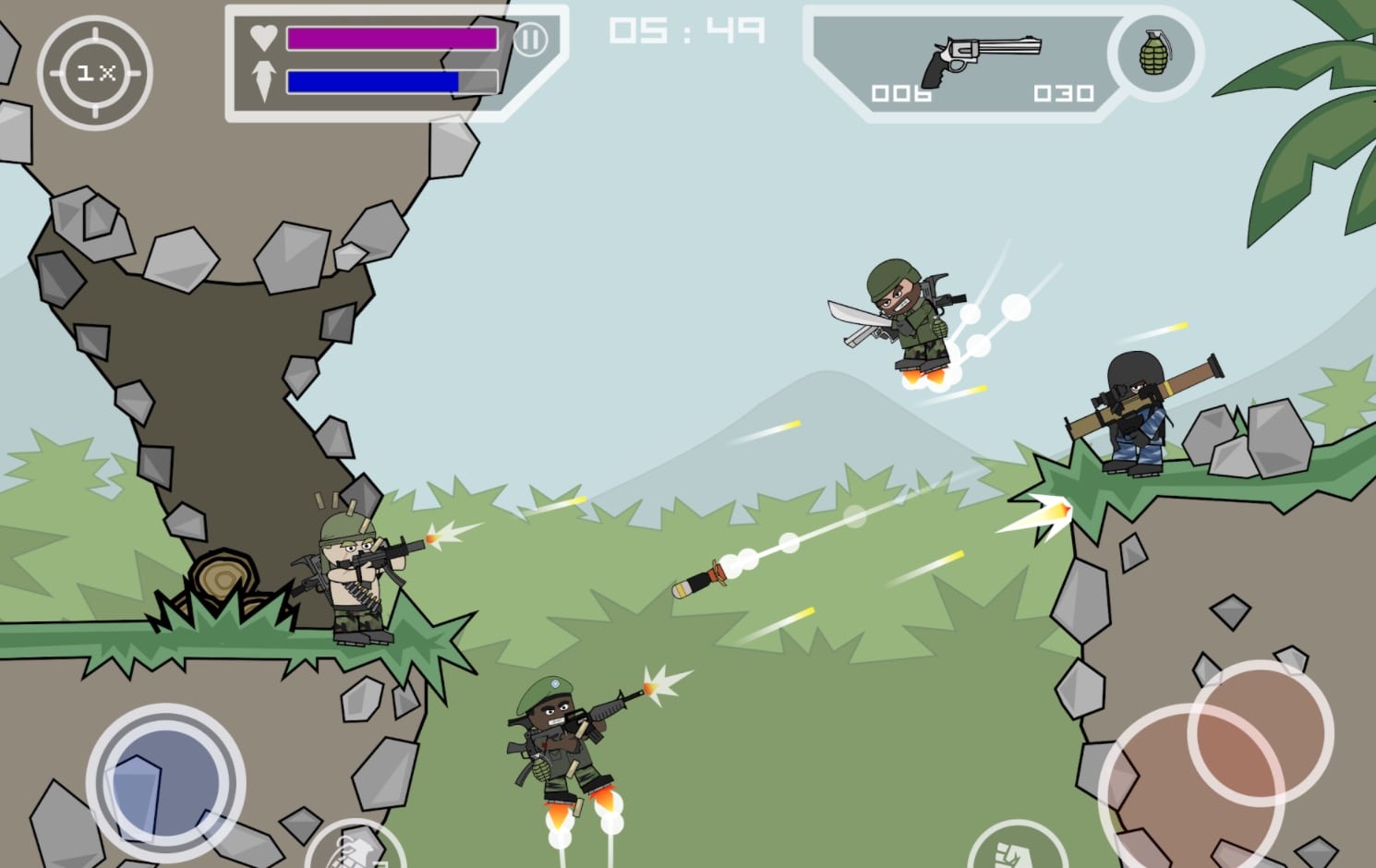 You can play with friends over the local access point. It can be played with friends from two to twelve players depends on the maximum number of connected users to Wi-Fi.
The game itself is cool, you can have fun. Mini Militia has many variations of customization of your character. As the pluses should also be noted convenient controls, graphics, and the ability to play offline (with bots).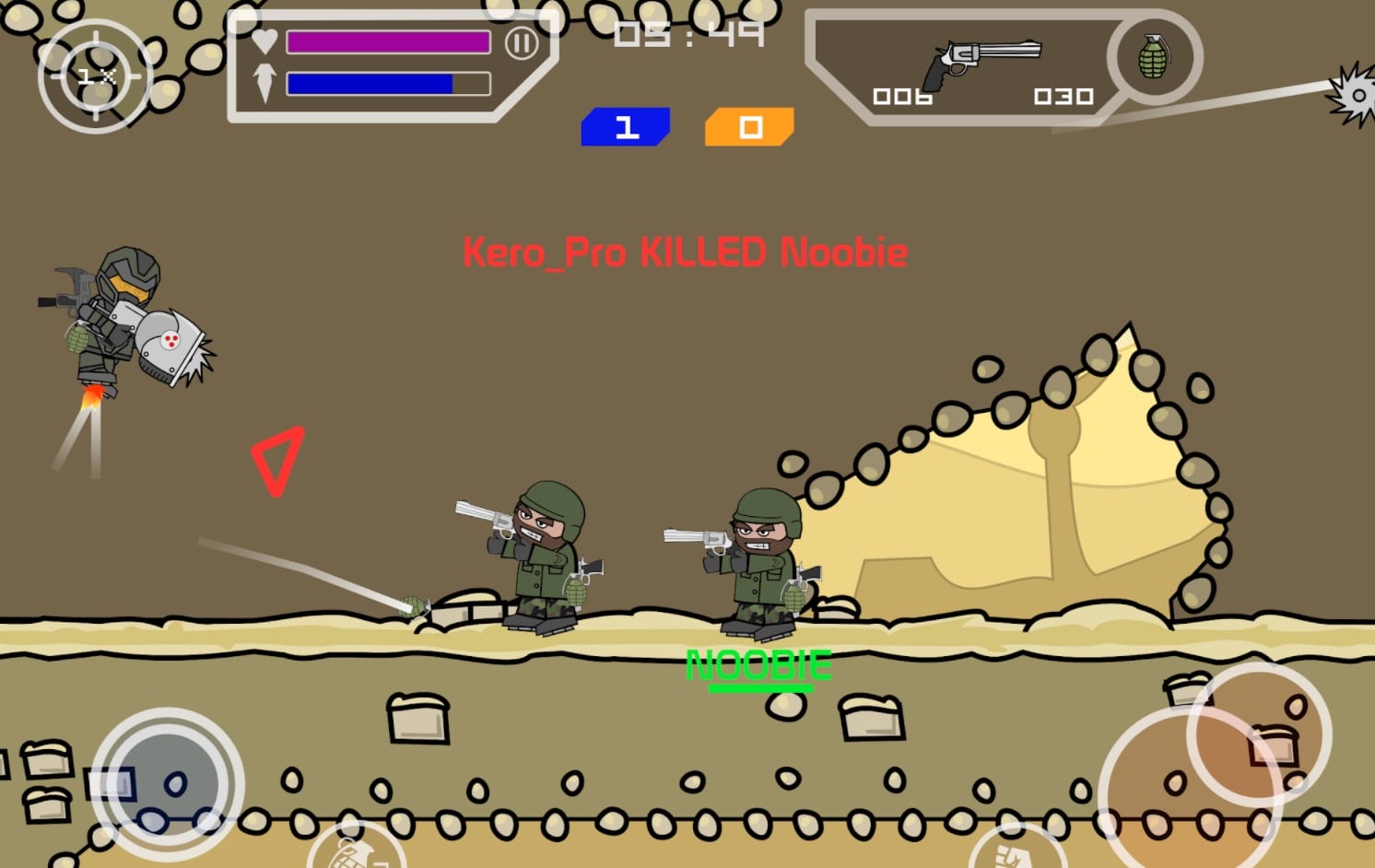 Downloads: 100000000 +
Customers rating:

(4.1 / 5)

You may also like: 41 Best Multiplayer Games for Android
Pixel Gun 3D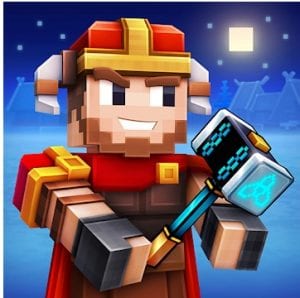 Pixel Gun 3D is an FPS game with juicy pixel graphics that offers a huge amount of content and guarantees hundreds of hours of addictive gameplay.
This game will not let you get bored at home or on the road, whether you are connected to the Internet or not.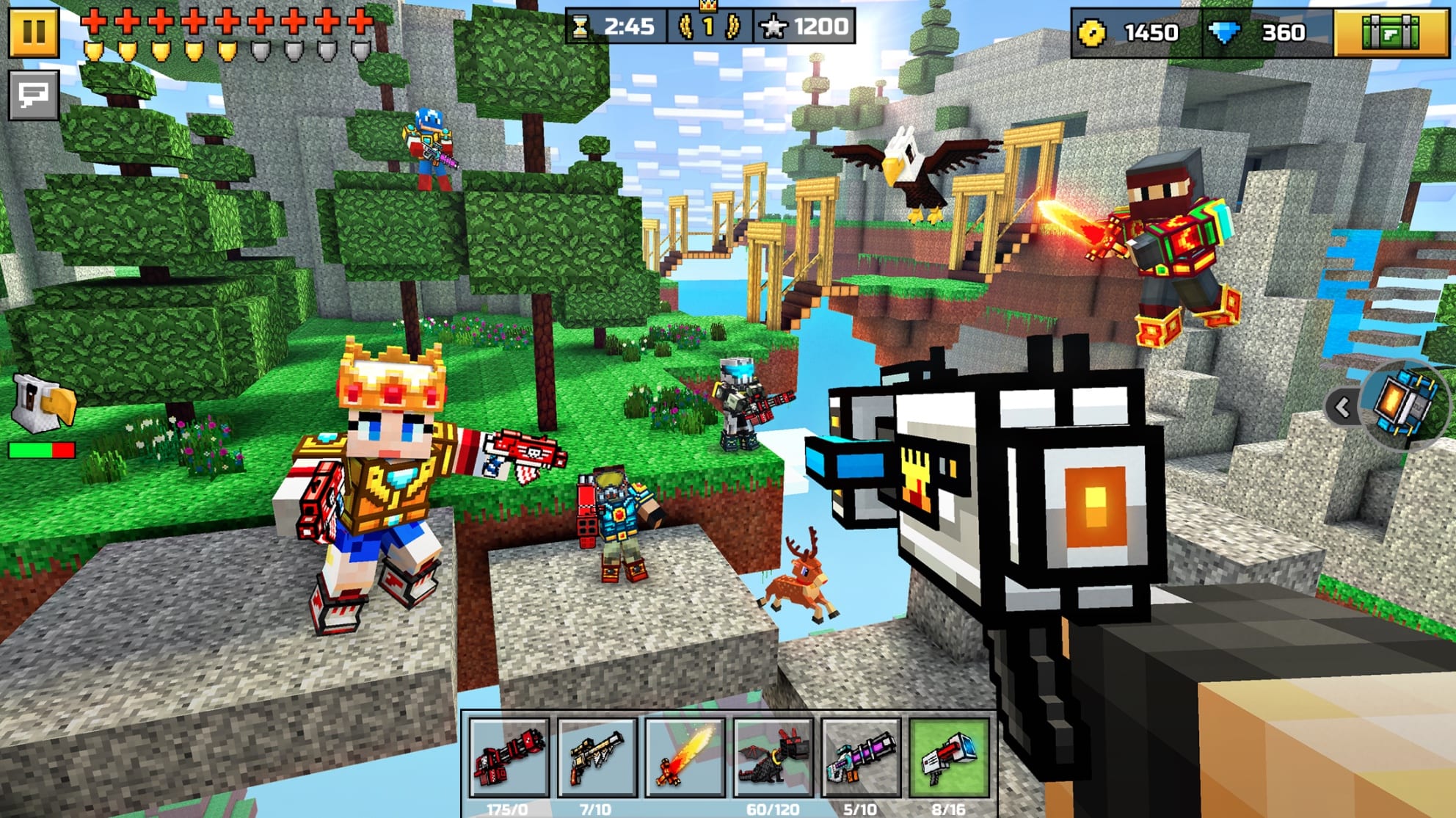 Game Features:
Play online or offline;
Different game modes (royal battle, team-up, one-on-one, capture the flag, etc.);
Communication with other players within the game;
Crafting equipment and other items;
More than 30 arenas;
Hundreds of different types of weapons, from pistols to missiles;
Various auxiliary gadgets;
Free skins;
Pets that help in combat.
You can team up with your friends, take your clan to the top divisions and get valuable rewards. Build your unique Fort, repel attacks from ferocious monsters and players from other clans. Upgrade your Siege Tank and attack enemy bases with your friends.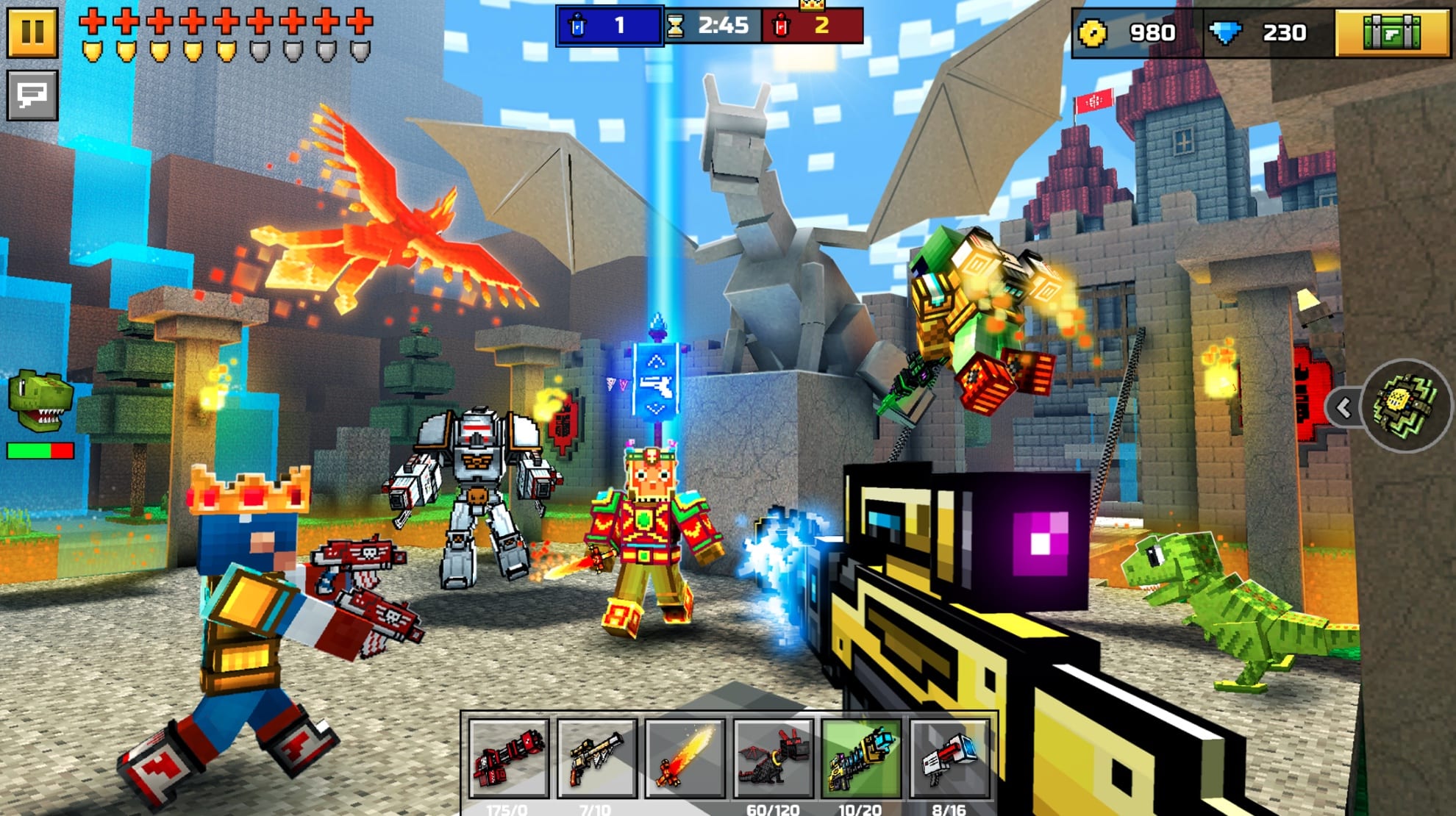 Downloads: 100000000 +
Customers rating:

(4.2 / 5)

Asphalt 8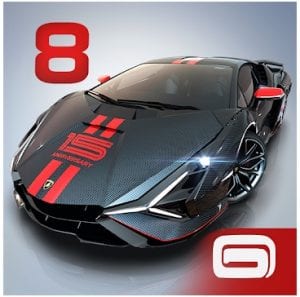 Asphalt 8 is the new game of the famous arcade racing series for Android devices. The game features modern graphics and incredible high-speed tricks, such as jumping on trampolines, flipping cars around their axis, 360 degree turns, and many others.
Fans of extreme racing will get real pleasure from crazy stunts and high-speed tracks, each of which takes place in a beautiful corner of the planet.
In the new game, there are trampolines for performing stunts in flight. The participant of the races can optimize the control, increase the speed performance of the machine.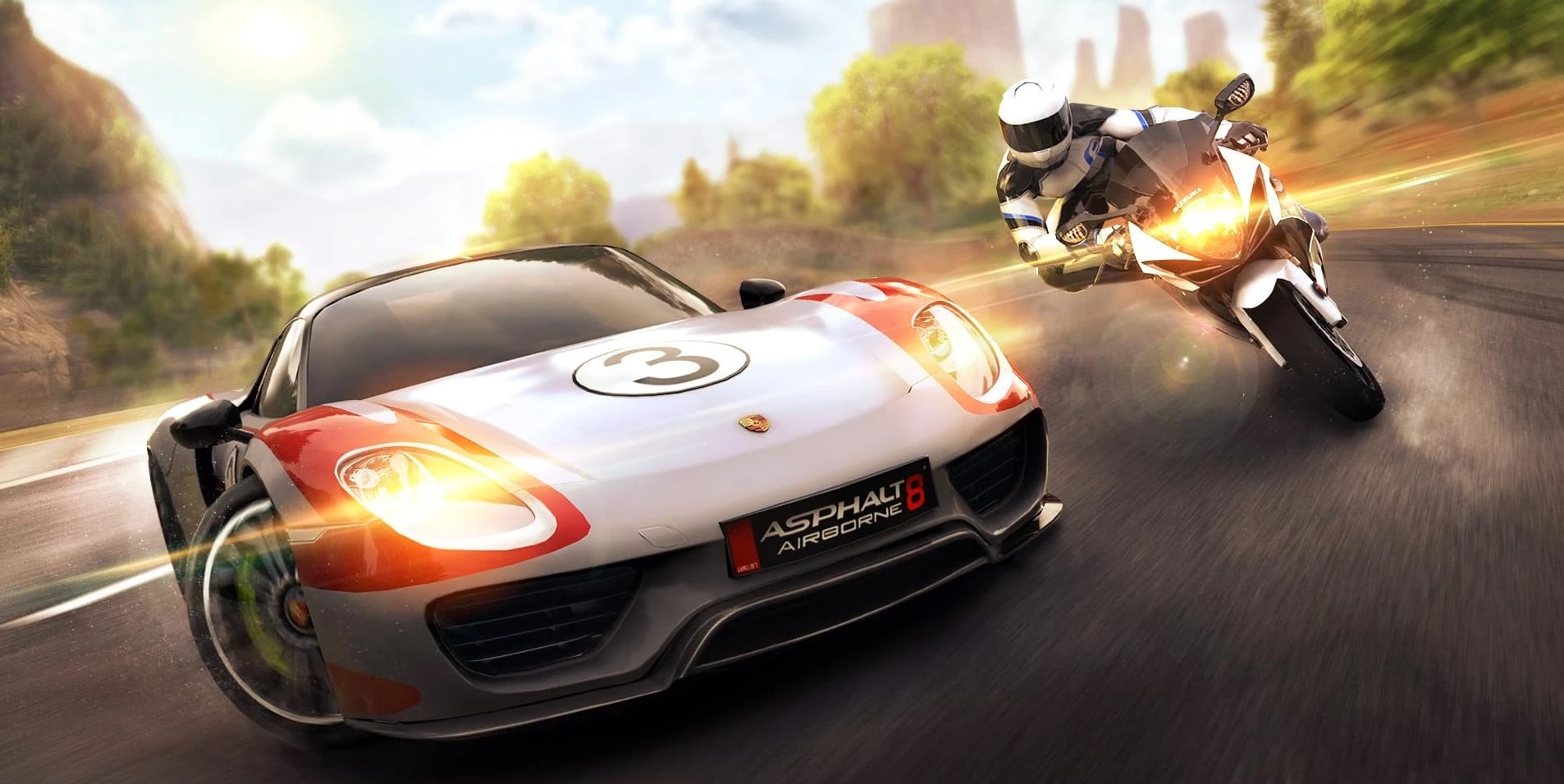 In the arsenal of the application collected the most common brands of racing cars. Thanks to modern graphics, each car looks realistic to the smallest detail.
Developers from Gameloft have paid more attention to "flying". The pilot of the racing car will have to feel the state of free flight in dizzying stunts. And this is not the only feature of the game. Participants in the race are available:
Cars from popular manufacturers, including McLaren, Bugatti, Ferrari.
More than 2300 details for tuning and upgrading cars, thanks to which the appearance and capabilities of the car are improved.
Five game modes in which participants are given more than 1000 chances to test their own skills.
Blitz events, participation in which will allow participants to receive prizes.
A list of tracks in 9 countries scattered around the world, such as Italy, Iceland, France, America, and others.
Multiplayer, thanks to which the races became available in real time for eight players simultaneously.
Musical accompaniment, including licensed tracks.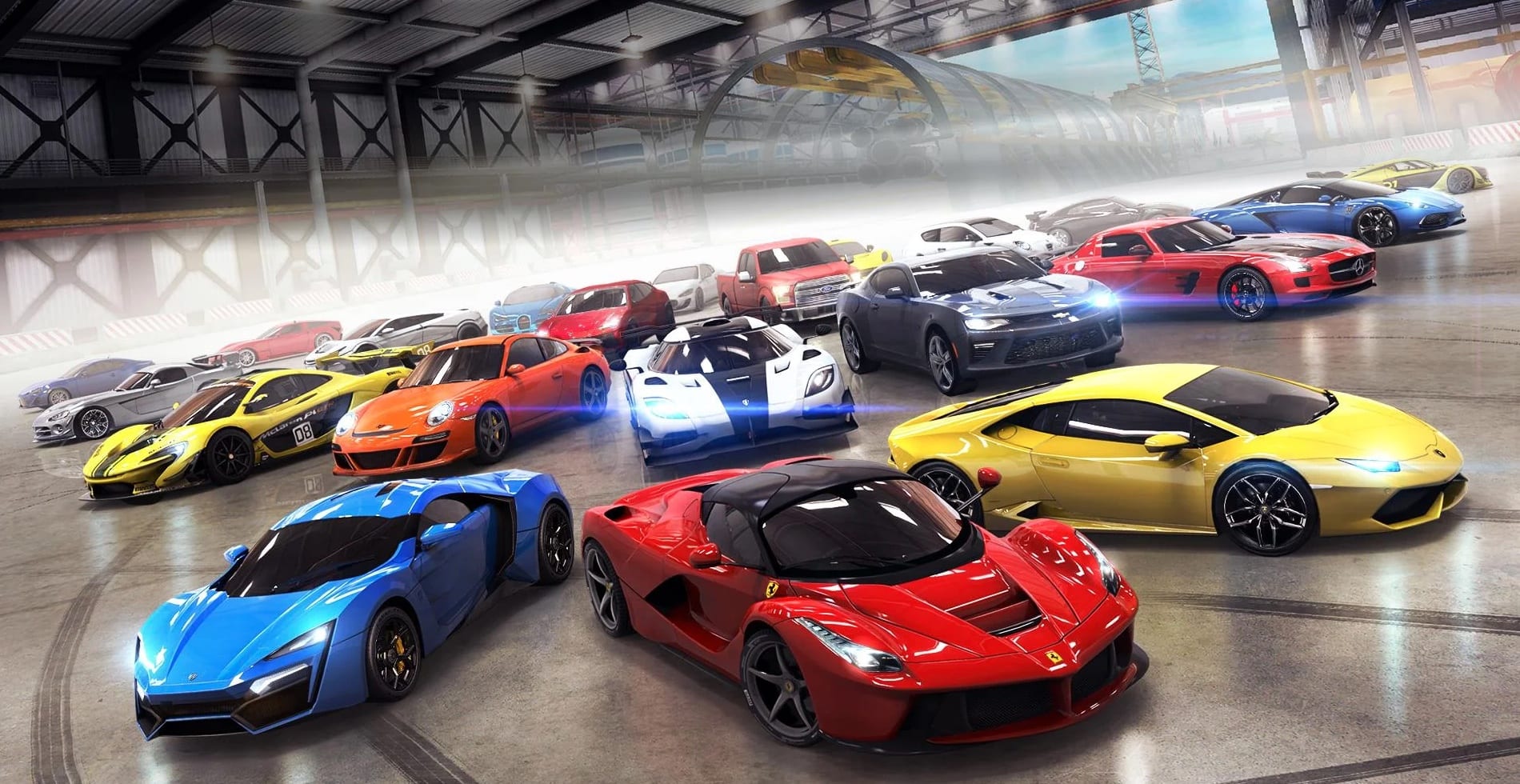 Downloads: 100000000 +
Customers rating:

(4.3 / 5)

Spaceteam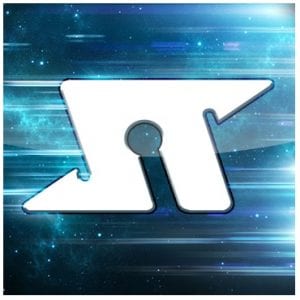 Spaceteam – you will stand at the helm of a star cruiser!
The Spaceteam crew welcomes a new recruit to their deck! Arm yourself with thermo-reversible flatbed blasters and get ready to smash spaceships! Preferably your own!
Get a taste of the unusual app to play with a group of friends of 2 to 4 people. You and your partners will have to shout technological nonsense to each other until the explosion blows the ship apart. Each player is required to run the app from their device.
You'll have a randomly composed control panel with levers, keys, controllers, and monitors at your disposal. You have to give the ship commands in time according to the instructions. The instructions themselves will be received not by you, but by your partners, so you have to play together. Hurry up, because the ship is going down, and the star nearby is about to explode!
Prove that you and your friends as a team are as good as the Millennium Falcon or the Enterprise!
Have a soft landing!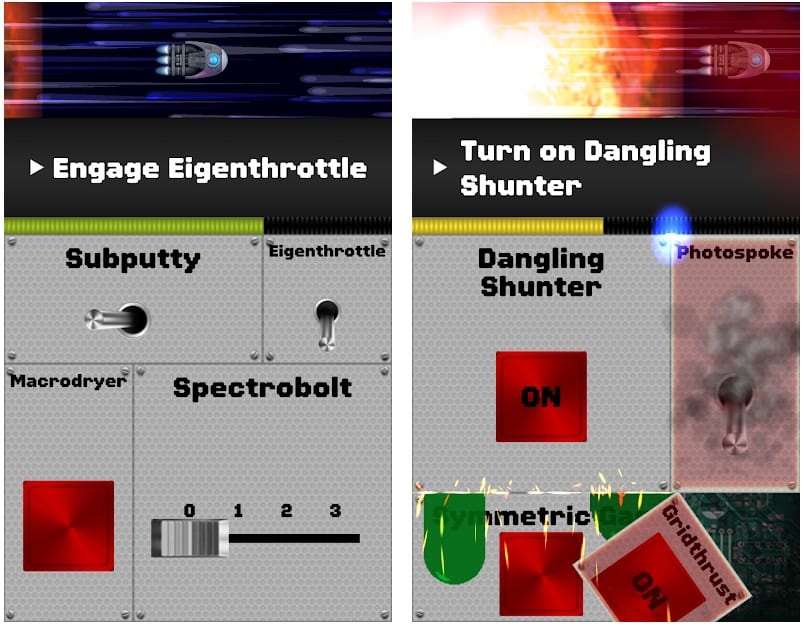 Downloads: 1000000 +
Customers rating:

(4.5 / 5)

Ludo King™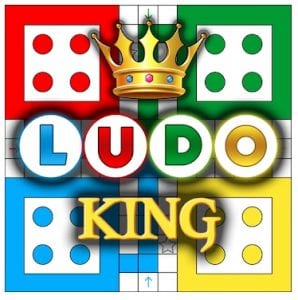 Ludo King is a great way to enjoy the good old Parcheesi (ludo) game on your Android device. You can play with your friends on the same device by just passing it to each other, and you can also play against the computer.
In the game settings, you can specify the number of players: two, three, or four. You can even choose who will play what color.
Rules of the game Ludo King should be familiar to anyone who has played the classic board game. But just in case, in this application, you will find a small section where you can read all the rules of the game.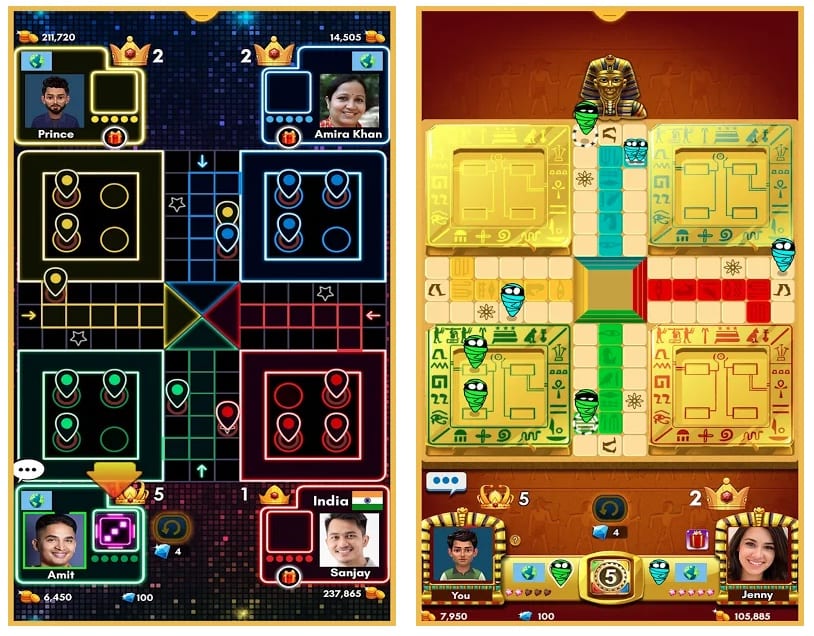 The essence of the game is this: take your four chips to your color base before your opponent has time to do it with his chips. And if you bring down the opponent's item on the way, it's even better.
Ludo King is a very addictive game, which is not surprising because all Parcheesi games are very entertaining. It's an excellent digital adaptation of one of the world's most popular board games, and so it's sure to keep you engrossed for many, many hours.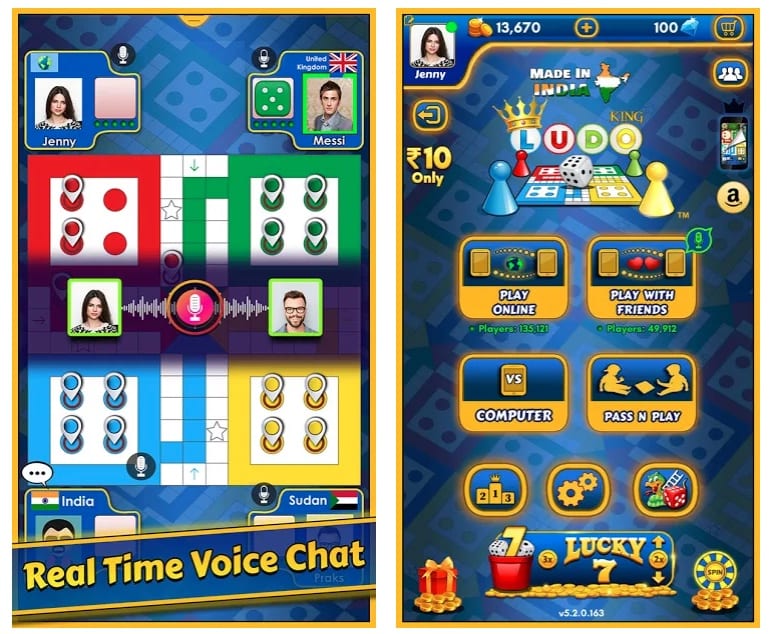 Downloads: 500000000 +
Customers rating:

(4.3 / 5)

Chess Free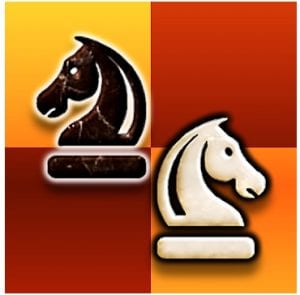 Chess Free is a chess game for Android mobile devices that allows you to play your favorite game on the screen of your phone or tablet.
Chess Free allows you to play against the computer at twelve different levels of difficulty. At the first few levels, it will not be difficult to beat artificial intelligence, if you more or less know how to play chess, but at the highest levels, it seems almost impossible.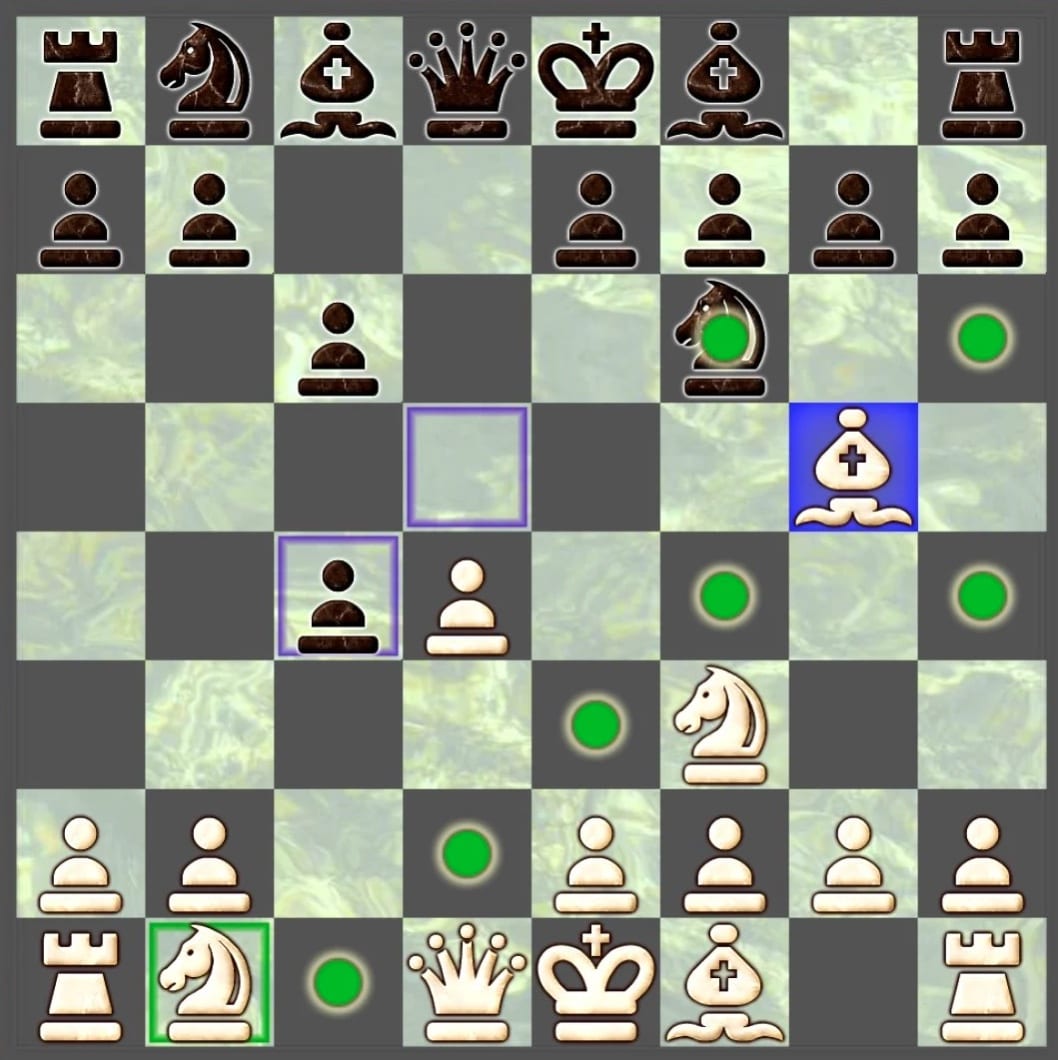 In addition to playing with the computer, you will be able to fight with real opponents using the same device. To do this, you just need to sit next to each other and pass the device to each other when it's time to make a move.
Chess Free also includes eight different boards and five different sets of pieces. So, you can diversify the game a bit.
Chess Free is an excellent app for playing chess on your Android mobile device. As the name suggests, the game is completely free, but that doesn't mean that it differs significantly from the paid versions. In fact, on the contrary, it provides a lot of opportunities to play.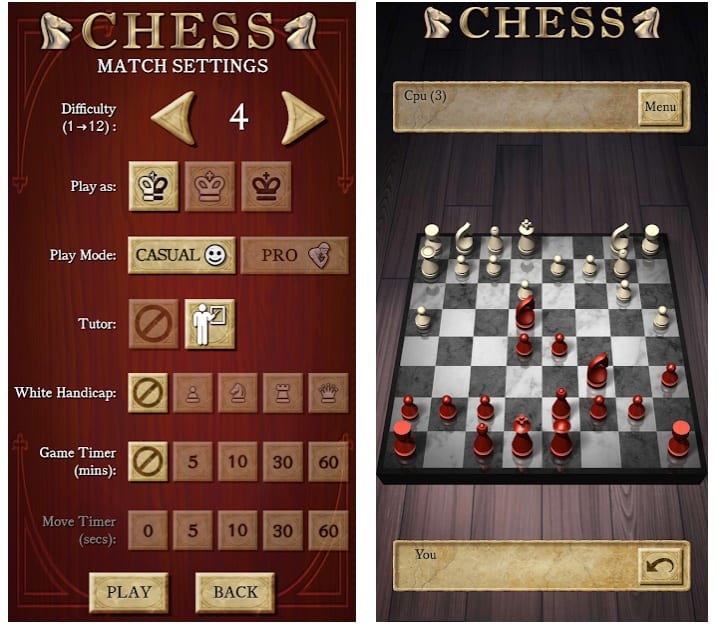 Downloads: 50000000 +
Customers rating:

(4.5 / 5)

Gunstar Heroes Classic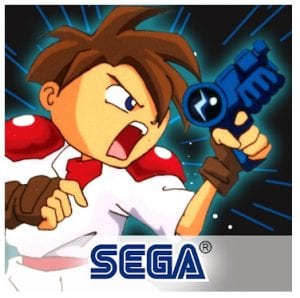 Gunstar Heroes Classic – free action will once again plunge into a world of chaos and madness. Help the main character to overcome all the enemies in his path, destroying them with various weapons and mechanisms.
Each level is filled with incredible challenges, crowds of enemies wanting to stop the character without getting to the main boss. Go to the Ark and help the brothers to stop the mad warlord, destroying his plans.
Thanks to superweapons, the opponents want to seize world domination in order to rule everything on their own. But the red and blue characters decided to fight back by arming themselves with a variety of weapons. Android game includes a large arsenal and various locations that will not allow the user to get bored.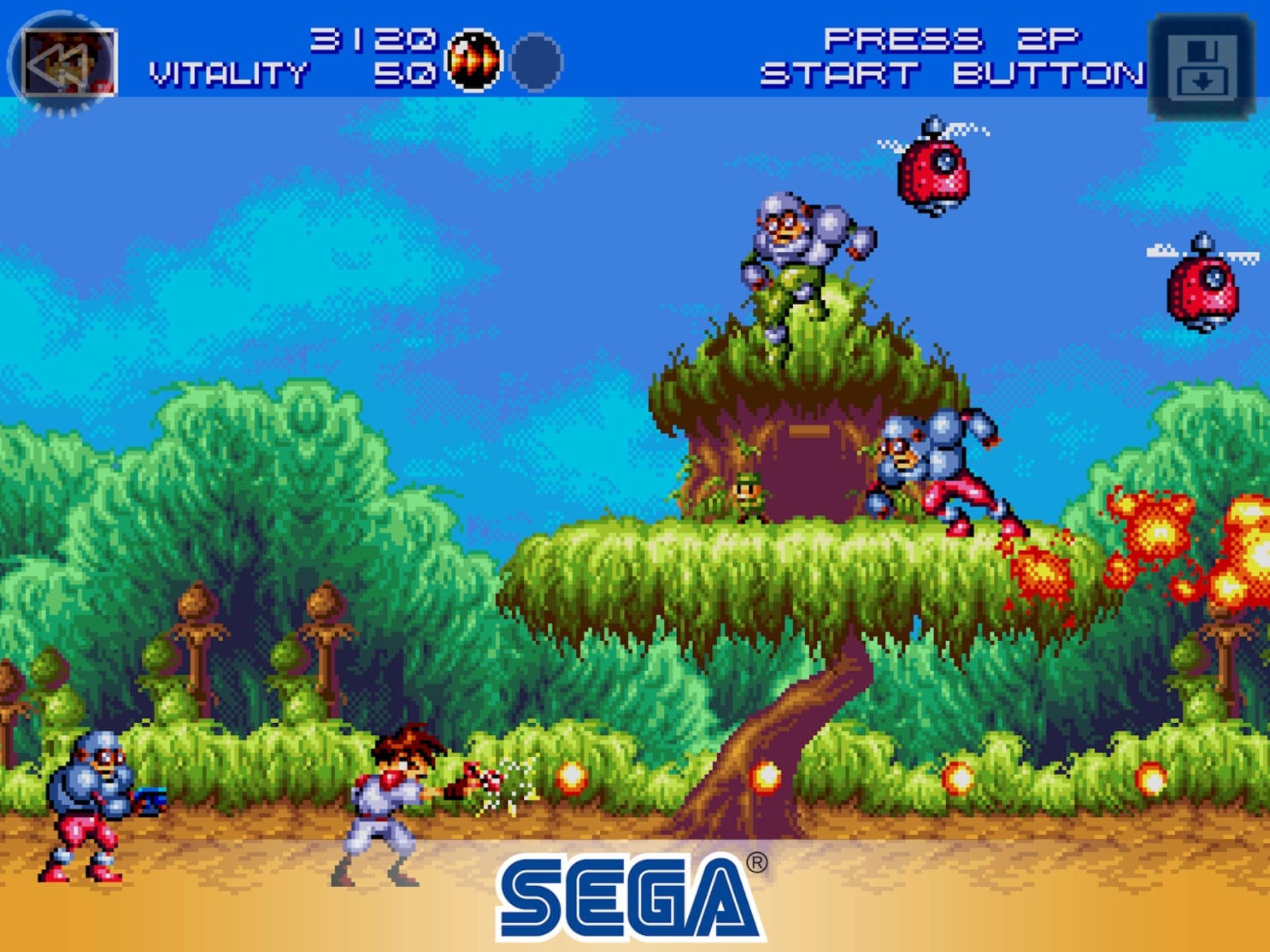 Thanks to the chic combinations and the ability to choose equipment, it's possible to adjust to the situation as effectively as possible, quickly clearing the way to the goal. The app will also allow you to participate in cooperative mode, playing with friends over a Wi-Fi network.
Excellent special effects, a large number of monsters, and enemies will give you the opportunity to immerse yourself and your friends in dynamic battles.
Features of the game:
More than 10 weapon combinations;
Global scoreboard;
Classic gameplay;
Cooperative mode;
Nice artwork;
Two types of characters;
Convenient control;
Dynamic plot.
Gunstar Heroes Classic is a chic action game, which will completely transfer gamers to the times of action on consoles, forcing to overcome the evil warlord and save the earth.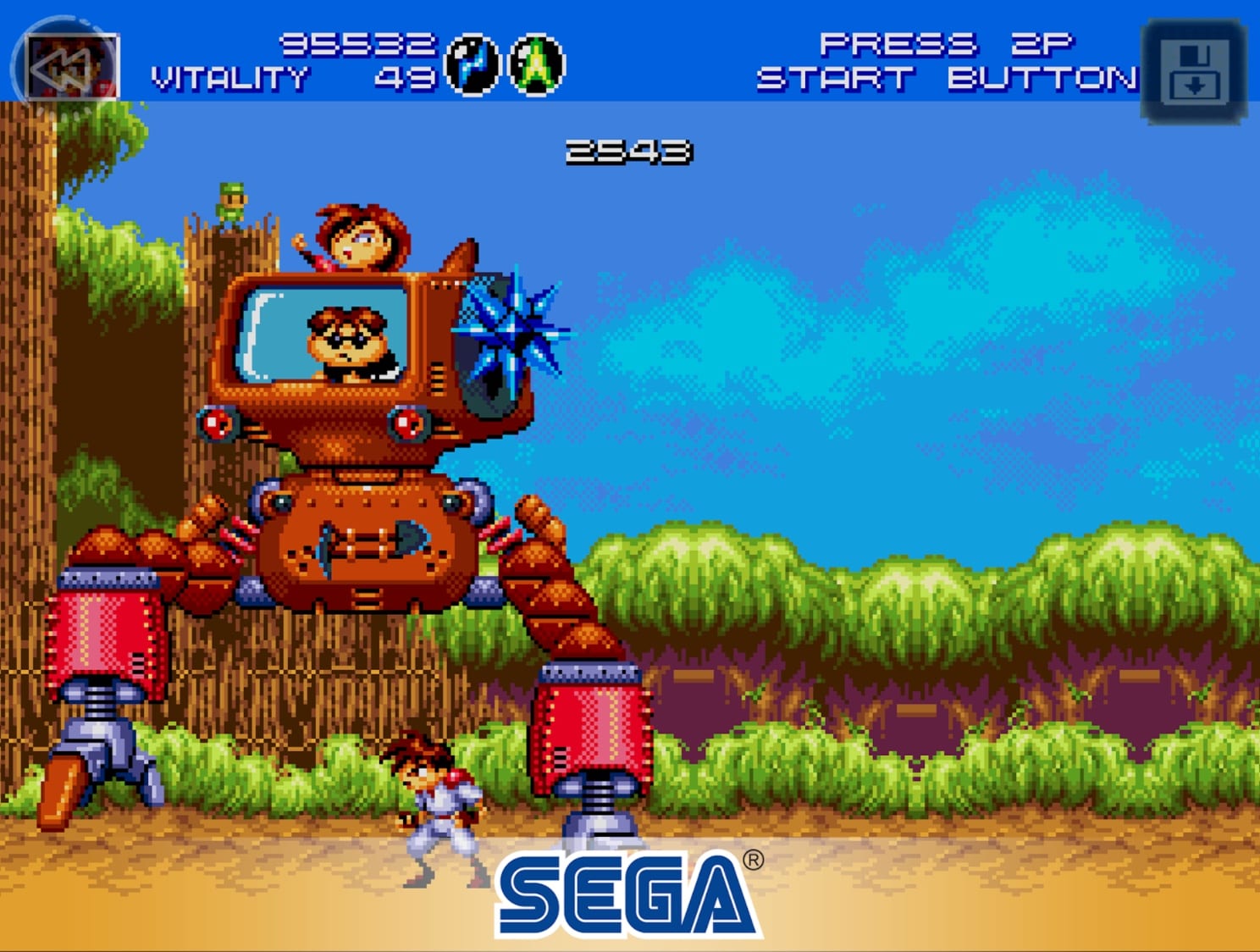 Downloads: 100000 +
Customers rating:

(4.1 / 5)

Critical Strike CS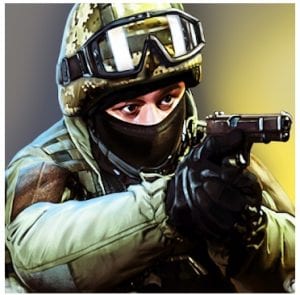 Critical Strike CS is a cool mobile shooter about special forces soldiers and terrorists. You should have enough spirit to get involved in the fight against criminals together with the squad.
All modes of this shooter take place online, where everyone is trying to show their skills and prove that they are the best military. Join this global team and try to achieve the best result. Very cool graphics, simple controls adapted for mobile phones.
There are several combat locations. Shoot with your machine gun, use silencers for your pistol or aim your rifle at your enemies. Critical Strike is a first-person shooter that was heavily influenced by the classic Counter-Strike game, and it has a similar visual style and gameplay, though I wish this game had more variety of game modes.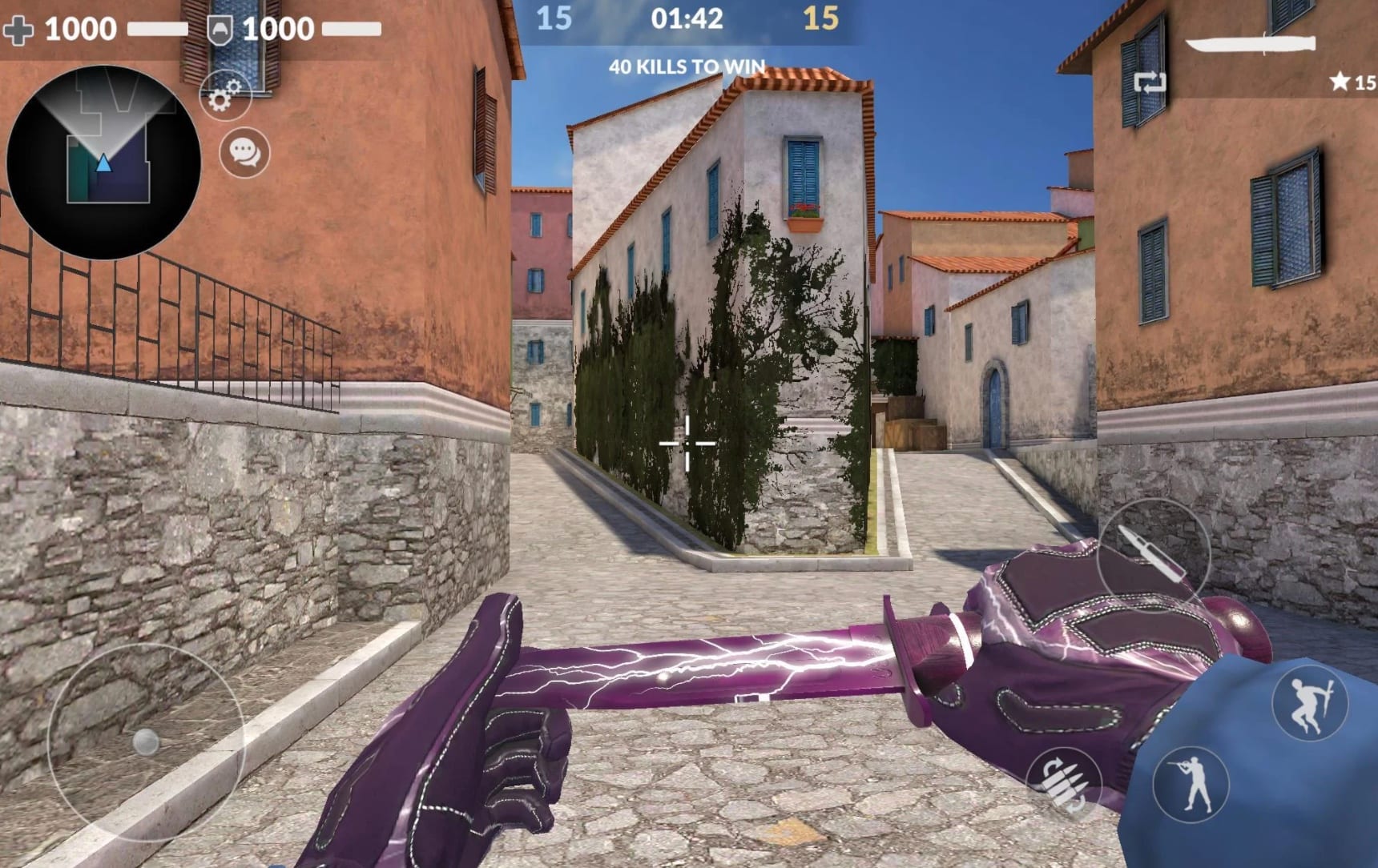 In the Critical Strike game, you play the role of the member of the anti-terrorist squad that needs to kill all the terrorists around you. To accomplish this task you have a wide range of weapons at your disposal, which you can expand and upgrade with money you get if you win. In addition, a number of options are also available to improve the physical characteristics of your character.
The paucity of game mode choices is more than compensated for by maps that will remind you of the golden age of LAN gaming.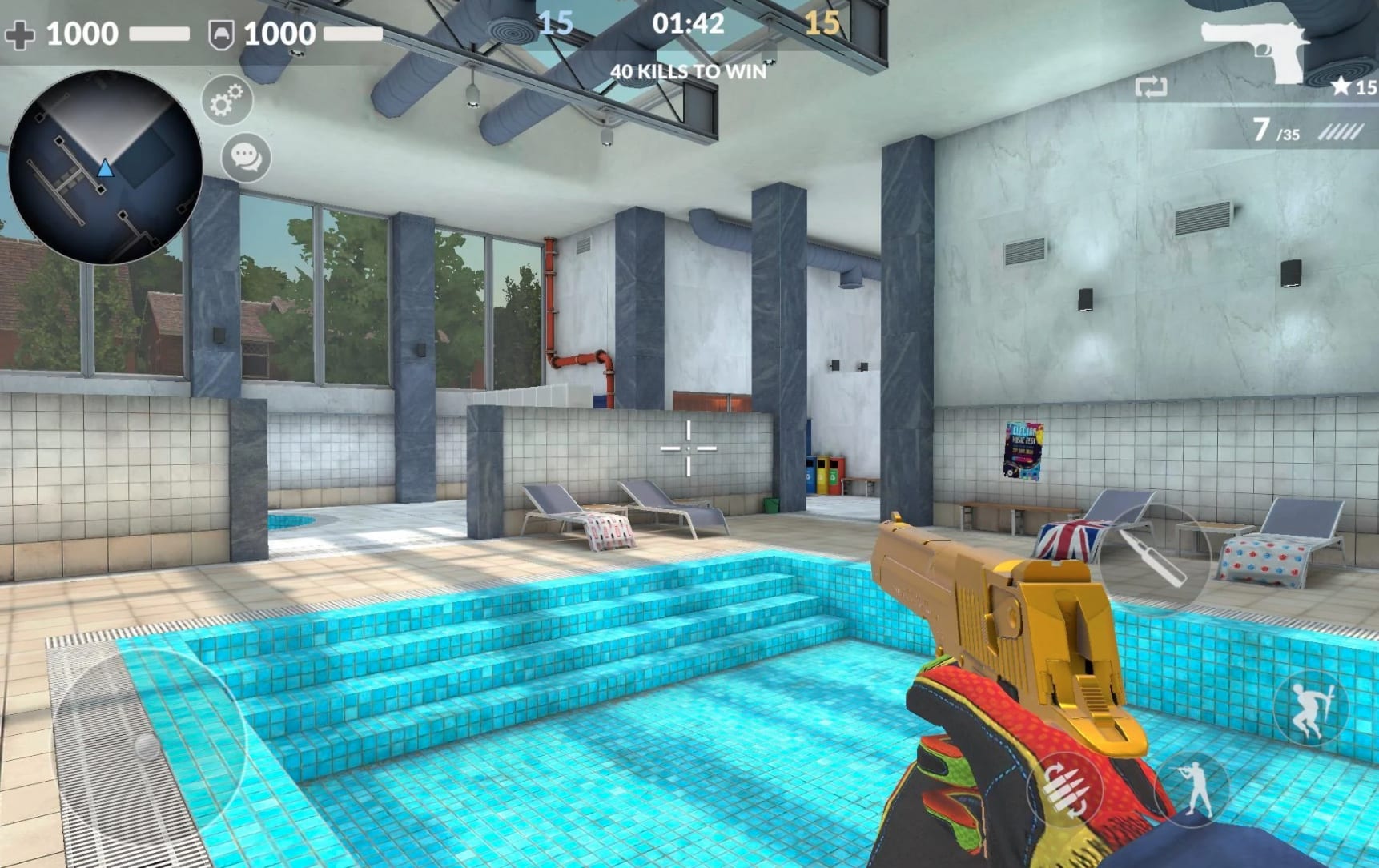 Downloads: 10000000 +
Customers rating:

(4.2 / 5)

Among Us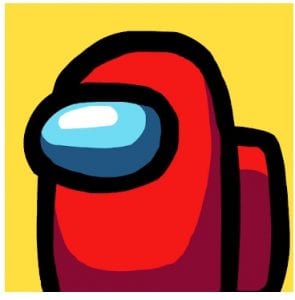 Among Us is a fascinating multiplayer game in which you will find yourself on a spaceship. Depending on the team you find yourself in, your task will be either to destroy the crew or the ship or to complete missions and identify traitors.
In many ways, this game is reminiscent of Mafia. A company game in which one player tries to sneak kill civilians and those, in turn, catch the culprit, by voting.
The main difference Among Us will be the space theme. You, as part of a small group of up to 10 people, found yourself on a spaceship. At the beginning of each round, users are divided into two teams: the crew and the traitors. The task of the first is to complete missions or calculate the intruders, and the task of the second is to destroy the ship or kill the entire crew.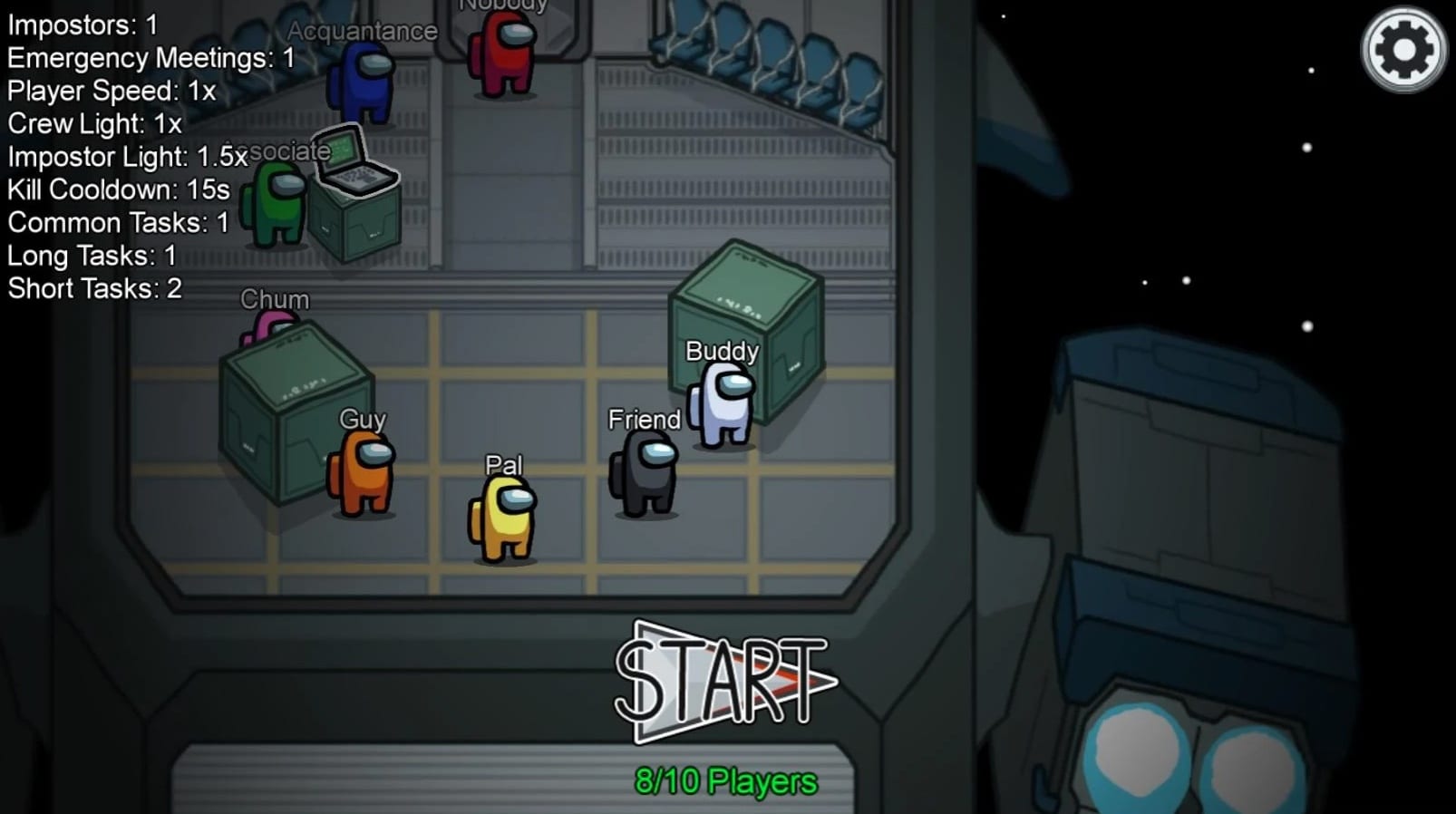 Game features:
Ability to play online, or in local mode by connecting with friends to the local Wi-Fi network.
The game is designed for groups of 4-10 players.
Several game locations.
Easy puzzles.
Addictive gameplay.
Simple, but pleasant graphics.
Easy controls.
Looking for a way to have fun with your friends? Then download Among Us for Android. It's free, doesn't require registration or sending any SMS.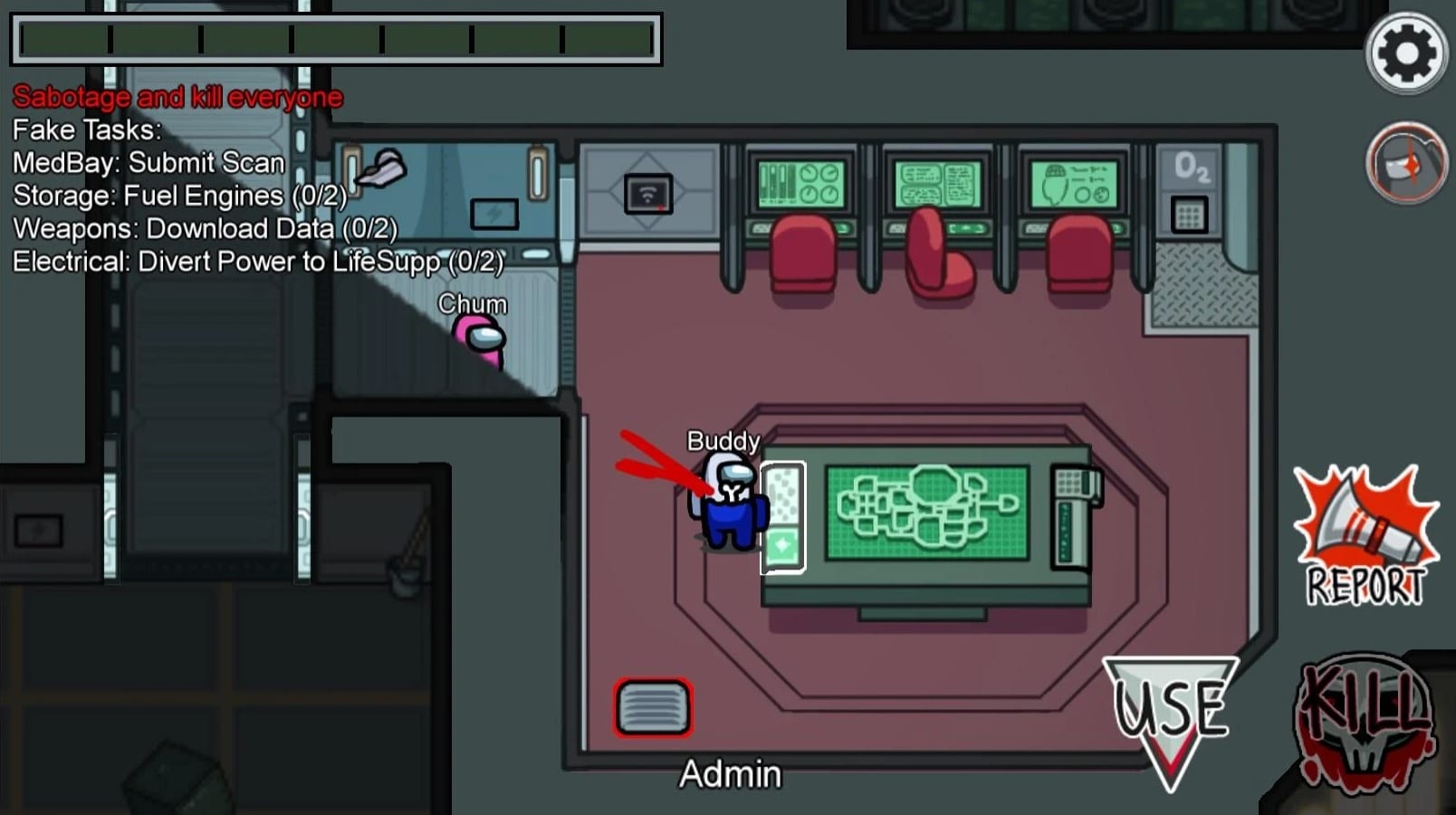 Downloads: 100000000 +
Customers rating:

(4.4 / 5)

SUP Multiplayer Racing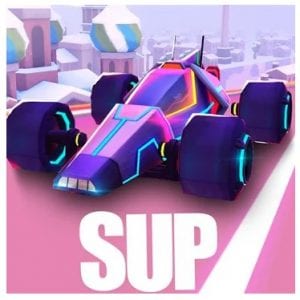 SUP Multiplayer Racing is a race in which you will compete against other players from around the world. During the races, you will be able to slide, jump over your opponents, push them, use acceleration, and much more.
Controlling your car in SUP Multiplayer Racing is very simple: on the left side of the screen will be the lane change button and on the right side the acceleration button. If you press the lane change button while in the air, you will be able to do a somersault.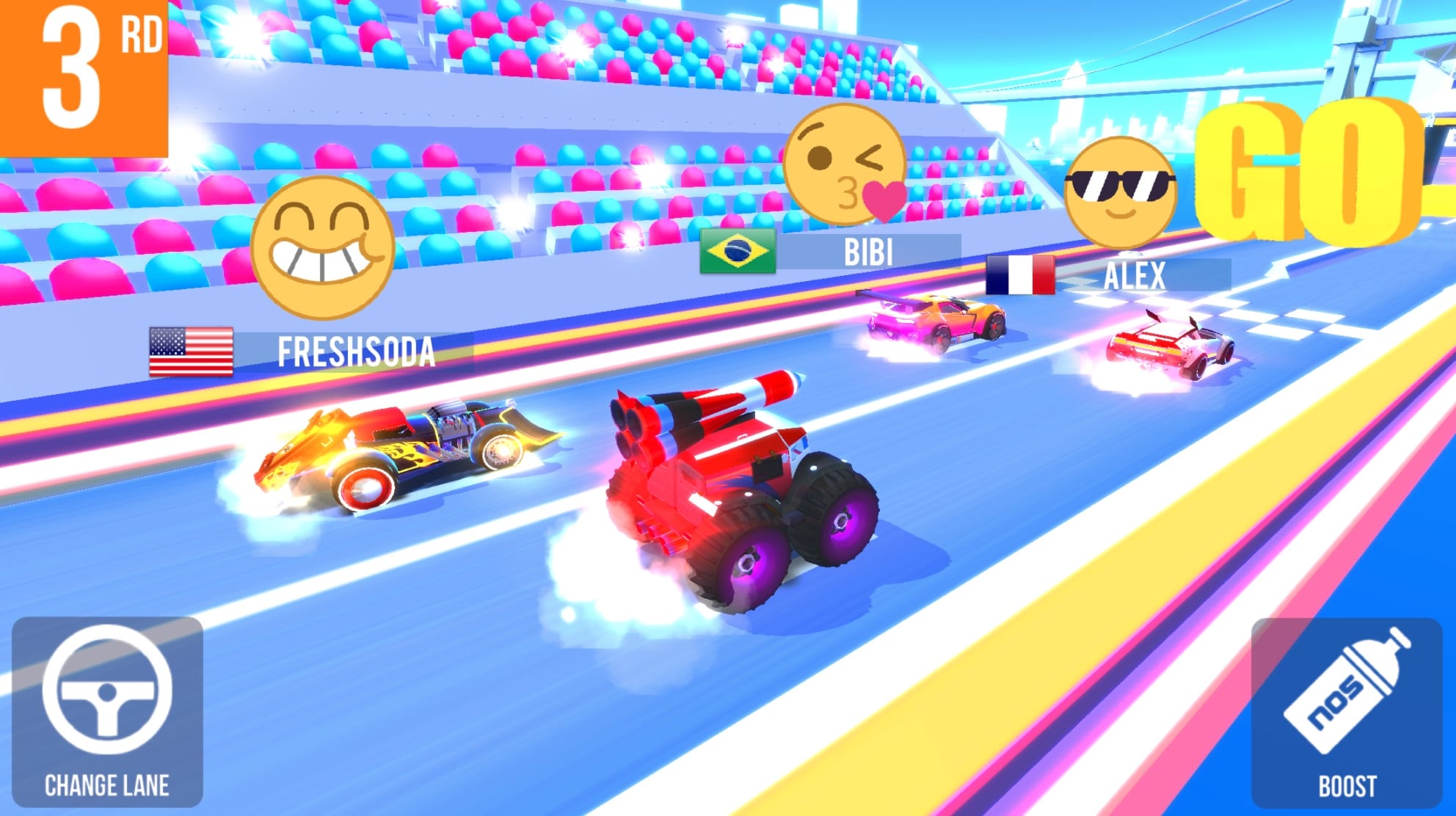 Between races, you can buy new vehicles and improve the ones in your garage. You will be able to improve your acceleration, top speed, and vehicle weight. You will also be able to do different paint jobs for each vehicle from your garage.
SUP Multiplayer Racing is an excellent racing game in which you will be able to participate in fast races, competing both with your friends and with players from all over the world. In addition to all this, the game has amazing graphics.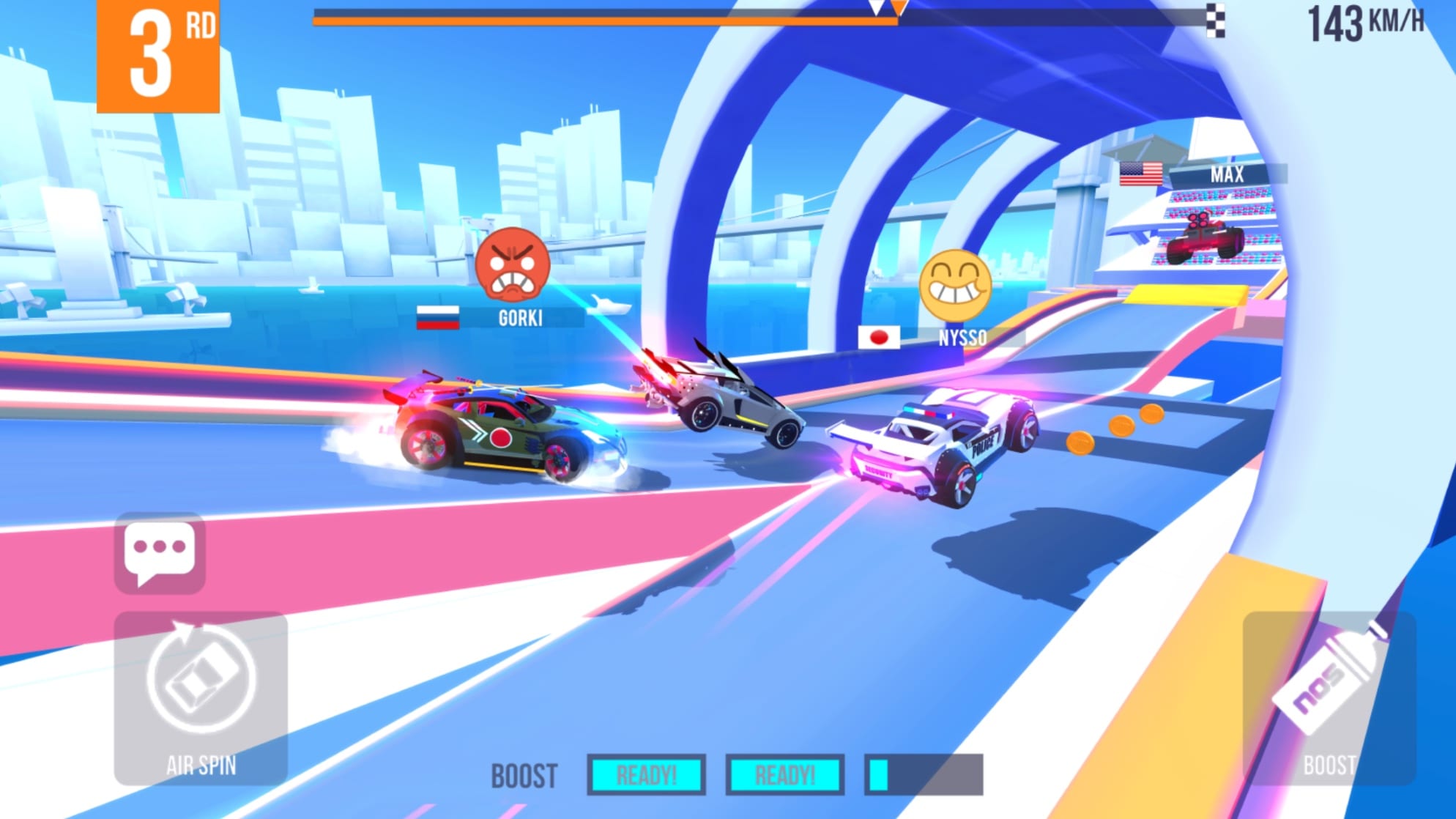 Downloads: 10000000 +
Customers rating:

(4.2 / 5)

Badminton League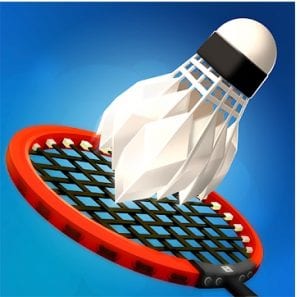 Win the world badminton championship in the 2D game Badminton League! Become a champion by winning championships and, of course, improve your skills.
The Badminton League is an intuitive game: use the arrows on the left of the screen to move forward and backward, and the buttons on the right of the screen to move the racket in all three directions. Use these controls and hone your reflexes to win tournaments!
Gain experience and earn coins by winning tournaments. You can use the experience you earn to improve your player's skills, such as his speed and striking power, and with the coins, you earn you can buy a variety of accessories: pants, shoes, shirts, hairstyles, rackets, and much more.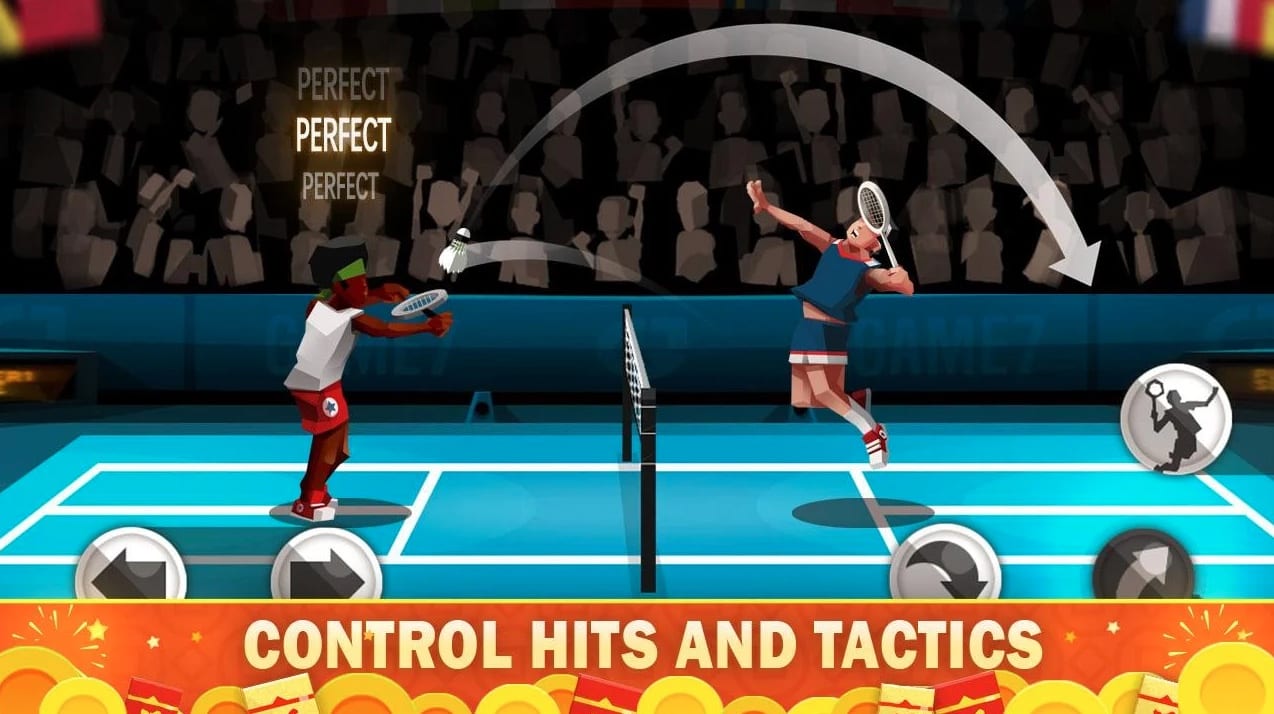 Compete against human or AI-controlled players online in the superb Badminton League sports game. Try it and see if you can become a champion.
The game has a lot of different modes, among which matches, tournaments, and local competitions with bots. You understand that the main and most fun part of the gameplay is playing with real-life opponents, right? Try to take the process as seriously as possible and maybe you'll get to the top of the league table.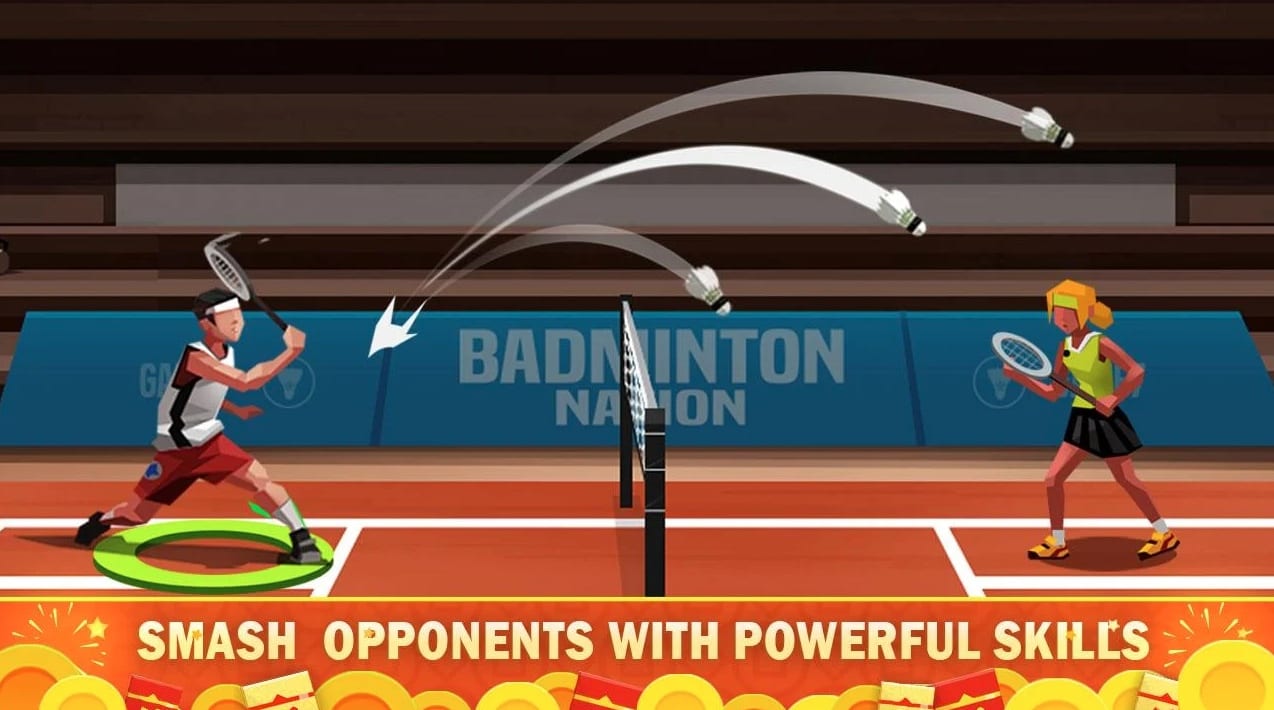 Downloads: 50000000 +
Customers rating:

(4 / 5)

Crossy Road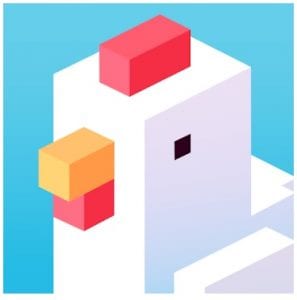 Crossy Road is a fun arcade game for Android, in which the user will have to escort various animals across the road in the wrong place. On the way, animals will meet roads with heavy traffic, railroad tracks with trains, rivers with logs, and other obstacles in every way hindering the passage.
The key task of the player in Crossy Road is to wait for the best moment to pass the dangerous section of the road. As soon as the road is empty of obstacles, you must click on the screen, which will make the hare, bear, or another animal jump forward.
In addition, sideswipes are available to help you bypass an object in the location or pick up a coin.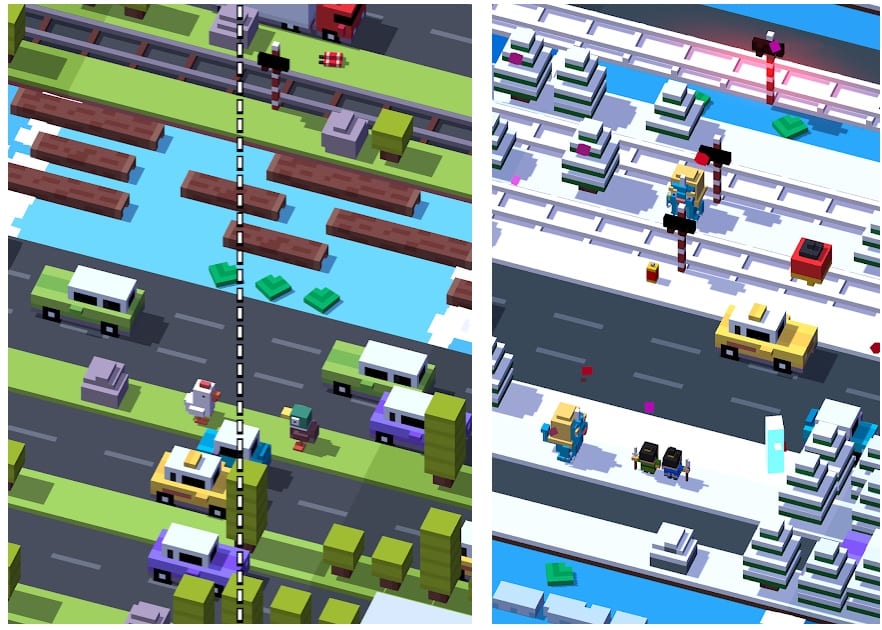 The game ends at the moment when the character dies. This can be due to a collision with cars or other dangerous objects of the location. In the end, the final score and the coins earned are shown. The game currency is intended to get new animals, of which there are several dozen. In general, they all differ only in appearance and are capable of the same actions.
At the same time, Crossy Road is made in funny cube graphics in the manner of Minecraft with the use of bright colors. The unusual atmosphere is complemented by a fun soundtrack.
The gameplay, though infinite, is great for killing time. Moreover, the arcade is completely free.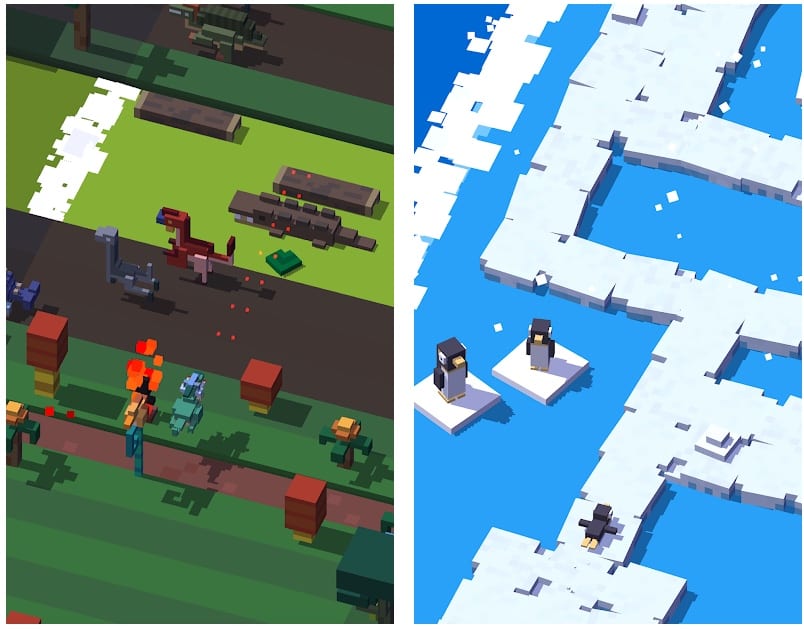 Downloads: 100000000 +
Customers rating:

(4.5 / 5)

Blockman Go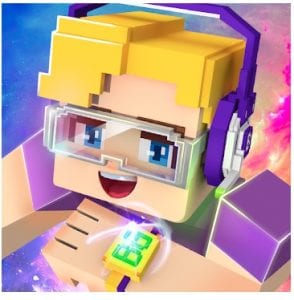 Blockman Go – you will find a variety of network mini-games that you can play together with your friends or other players from around the world, completely free.
Features of Blockman Go game:
Many different modes with their own rules;
Ability to play together with friends and other players from around the world;
Function to add users to your friends' list to play together;
Nice textures;
A choice of character gender;
Many skins for characters of both sexes;
Built-in chat.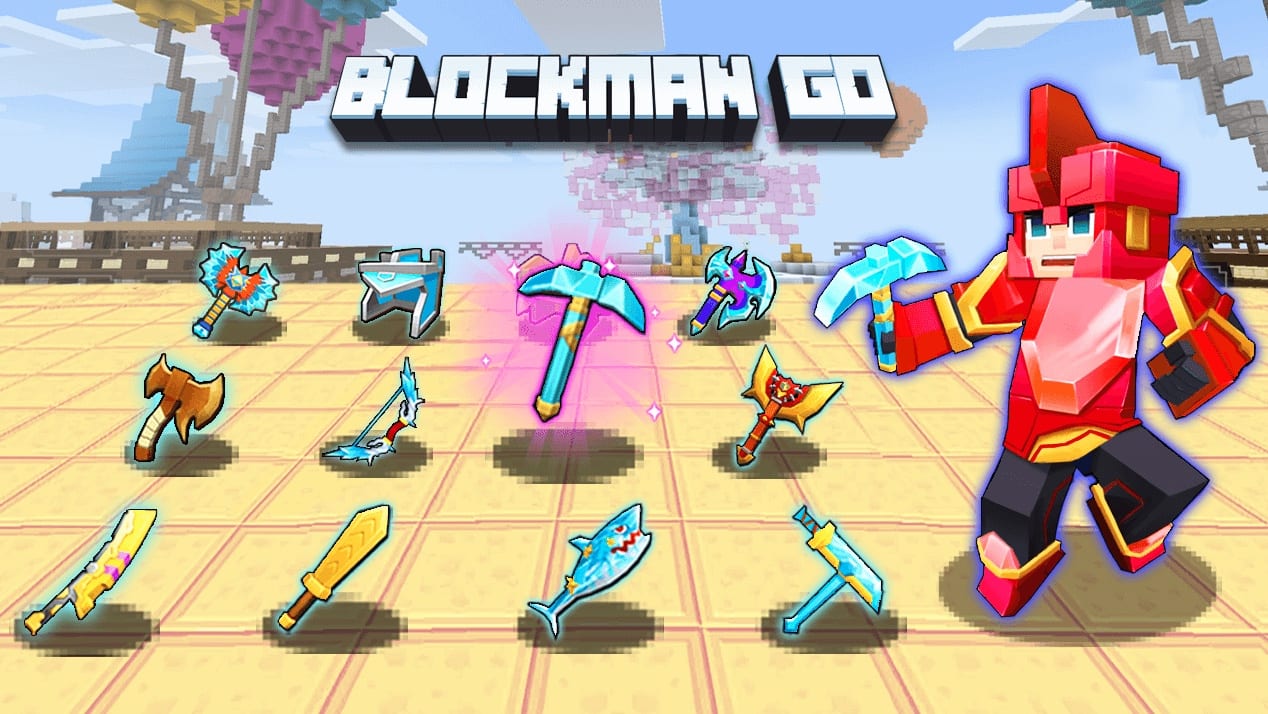 To help you choose a game, Blockman Go has recommendations based on which modes and servers you like to play most often. Each minigame has its own description (instructions and gameplay summary) with screenshots, a number of likes, and players online.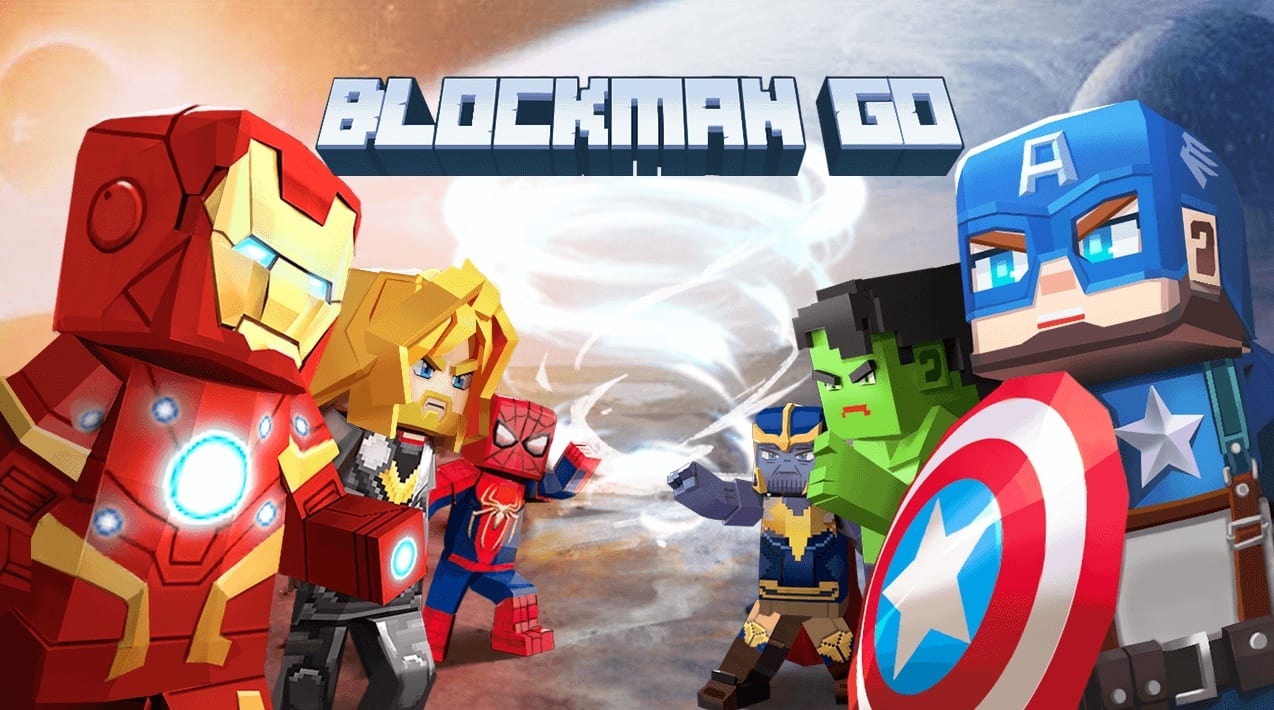 Downloads: 50000000 +
Customers rating:

(4.4 / 5)

Bomber Friends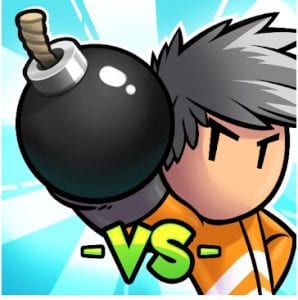 Bomber Friends for Android is a fun arcade game with bombs and maze walls.
The main character has to go through a dangerous place, where fire ghosts and cruel orcs roam. Use bombs to kill all enemies and pass each level by finding your way to the next stage.
The gameplay is identical to the hit of the twentieth century, Bomberman. Only in this case, in the role of the Bomber is just a normal kid, the control is much more responsive and markedly more bonuses. In addition to the single mission is a battle with other players and your friends, appearing on opposite sides of a small room.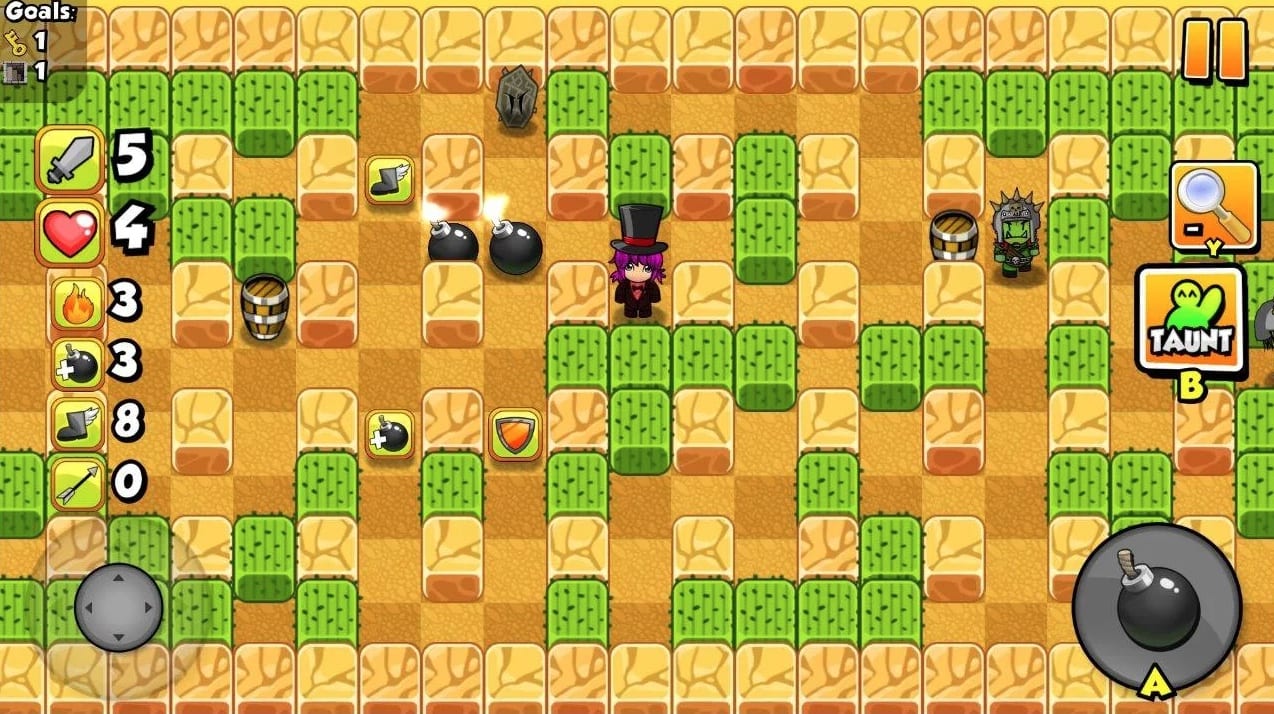 Collect power-ups and get more powerful bombs! Use exploding bombs and throw your friends off the map with a powerful blast!
Don't worry if you get blown up, the game is just beginning for you! Dead bombers can hunt down players who are still alive and make life difficult for them with a spell
Bomber Friends does a wonderful job as a fun entertaining arcade game. Thanks to the obedient controls and simple gameplay, absolutely all missions are filled with funny situations.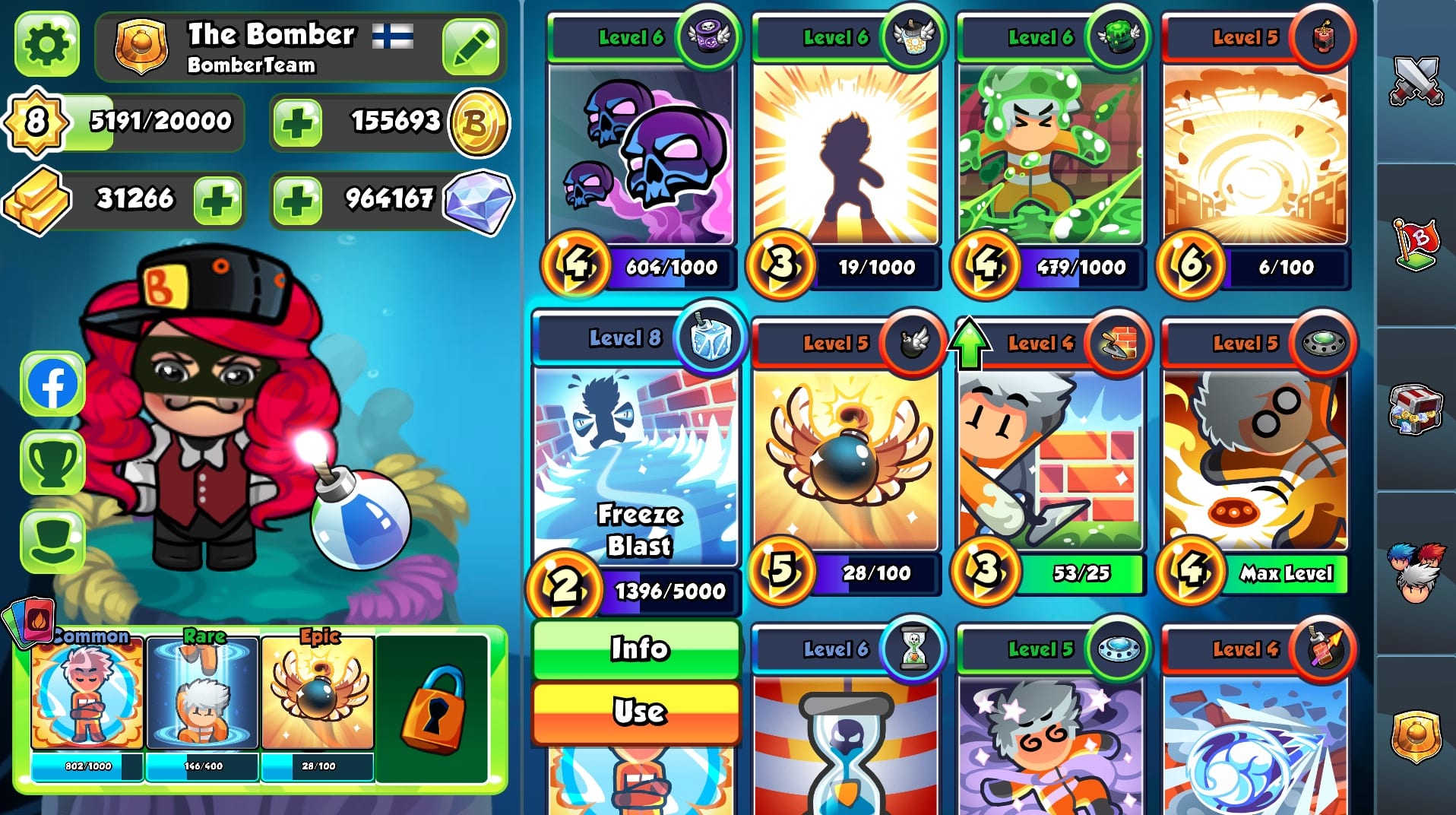 Downloads: 50000000 +
Customers rating:

(4.3 / 5)

You may also like: 9 Best Multiplayer Puzzle Games for Android
BombSquad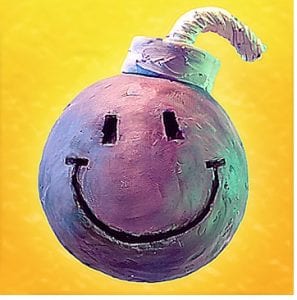 BombSquad is a fun multiplayer game in which your goal will be to destroy all the opponents, using bombs, fists, and your wit. You will have to participate in exciting races, vicious battles, or classic survival games.
There are three modes in this game for up to eight players: cooperative play, team play, or deathmatch mode. All three modes include the same minigames, but the gameplay is slightly different.
In the first game mode, you'll have to do everything you can with your friends to beat the computer. You will earn points and gifts to unlock improvements, upgrades, and new tournaments.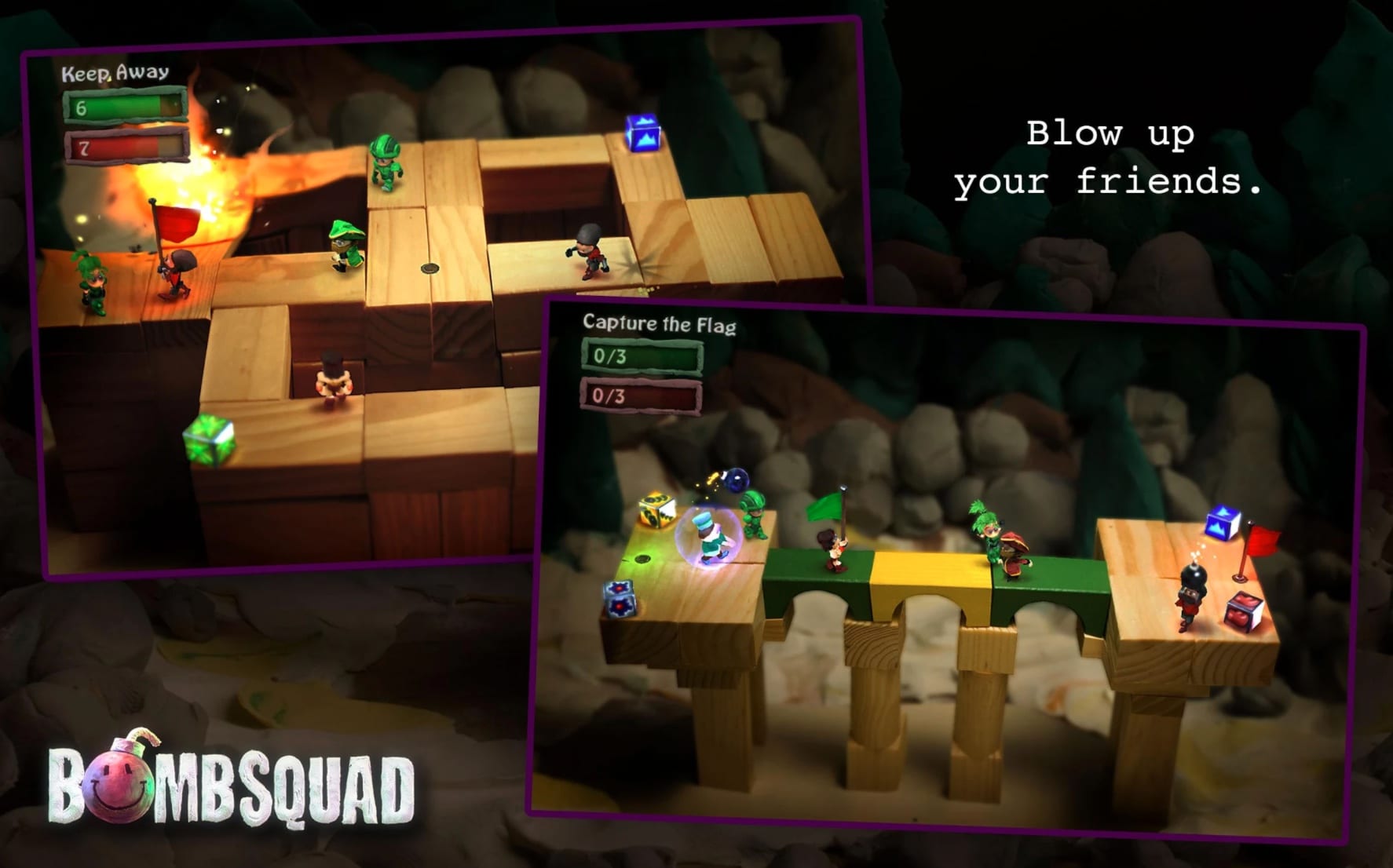 In team mode, all players are divided into two teams and compete in a series of six-fight tournaments where you must capture a flag or certain positions. You can also create your own tournaments by choosing different actions in the game as you like.
In the third game mode, everyone will have to fight for themselves to decide which of the eight players is the strongest. To win in this game mode, you'll need to eliminate the other players from the playing field. To do this you will have mines and boxing gloves at your disposal.
Enjoy fun multiplayer and really crazy competition with your friends thanks to BombSquad.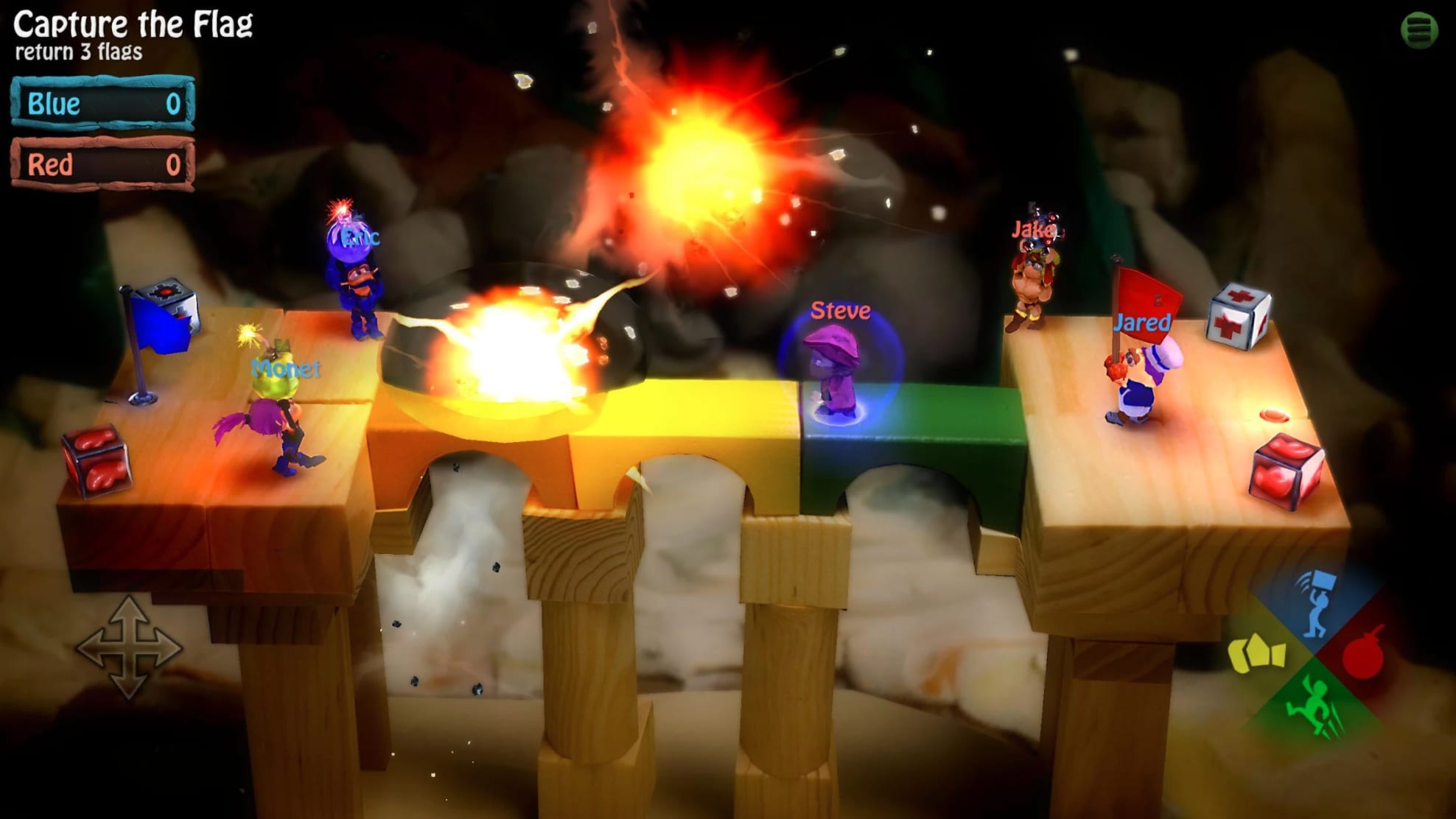 Downloads: 10000000 +
Customers rating:

(4.4 / 5)