Changing faces in photos can be one of the most fun entertainment on smartphones. 12 Face swap apps for Android described below will allow you to use the front camera, change faces or replace your face with something funny, and sometimes even frightening. Sometimes you can take a photo for two, the result can be doubly funnier. Download any of the described applications and experiment yourself!
Face Swap by Axhunter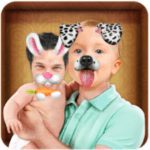 This entertainment application of the Axhunter studio surprises from the first seconds. The hot new Face Swap, swap the faces of two people in the picture. Have you imagined such an exchange between a father and a three-year-old son and want to have a couple of experiments? Remember those funny pictures, on which all stand with the same faces? With Face Swap, you can easily achieve the same effect. Well, plus there is a part of the functions of a regular photo editor.Try to download Face Swap to Android and lift the mood to yourself and friends in the most unusual application!
At startup, the user enters the menu. Here you can select the file to edit. You can choose a photo from your gallery, use a camera and social networks – Twitter, Facebook or Instagram. The easiest way to try Face Swap is by downloading a collage or a joint photo. The program will automatically determine the number of persons in the photo and their position.
To "change" people's faces, users do not need special knowledge, additional programs or complex settings – the new Face Swap for Android works by the simplest algorithm, and the result is given in automatic mode! The intuition and simplicity of the process are connected with the system of instant face recognition – adding a photo to the program, users can immediately start to create! Change faces in places, rotate, scale and achieve the desired result. Do not forget to show the application to friends, and add photos to social networks – let the whole world smile! Did you fail to "change" faces in certain pictures? Try to take a picture again!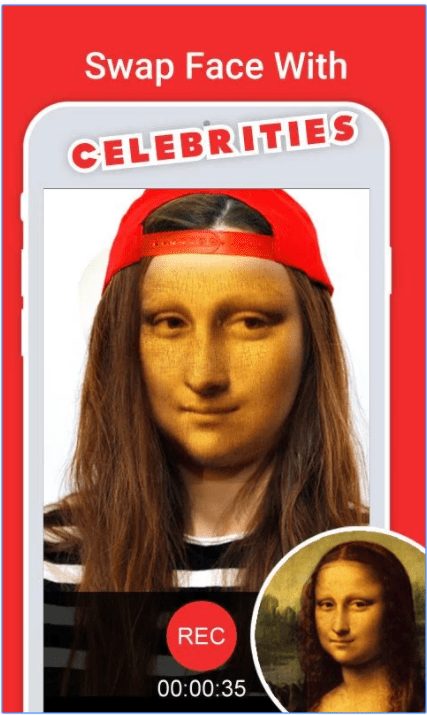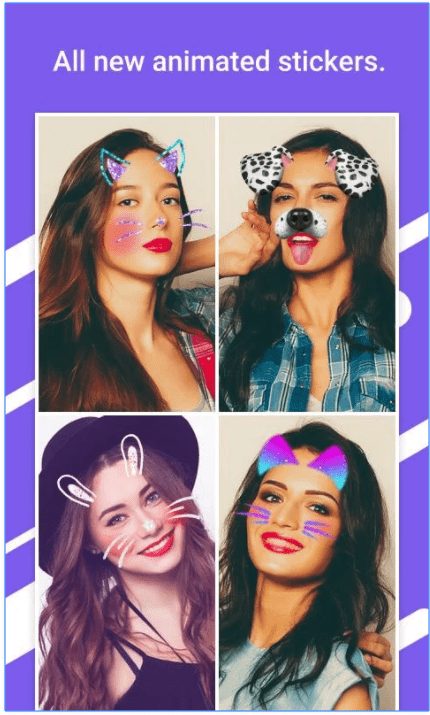 Downloads: 10000000 +
Customers rating: (3.9 / 5)

You can also check: 15 Best photo sharing apps for Android
Face Swap Live Beta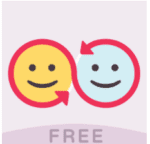 Face Swap Live Beta is a fun program for those who like to be photographed and entertained with the help of their Android-gadget.
The program Face Swap allows you to use both existing photos and pictures from the device's gallery, and create new ones using the camera of your gadget. You can also record videos or photos of yourself swapping faces with a celeb or any fun picture from the internet. Next, it automatically detects faces in the images and allows you to replace them. In addition, the program allows you to change the faces in the photos and adjust their size before changing places.
Finished images created in Face Swap for Android can be saved to your gadget's memory card or sent to friends via Facebook, Twitter, Google+ or other services.
Download the application Face Swap Live Beta for Android and get the opportunity to create hilarious joint pictures with friends and loved ones, changing faces in the photos.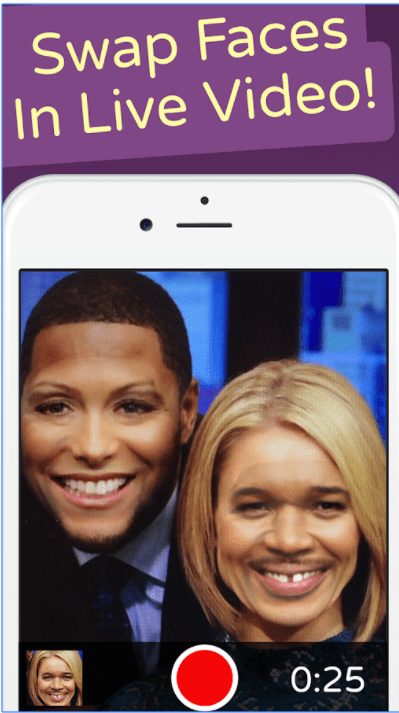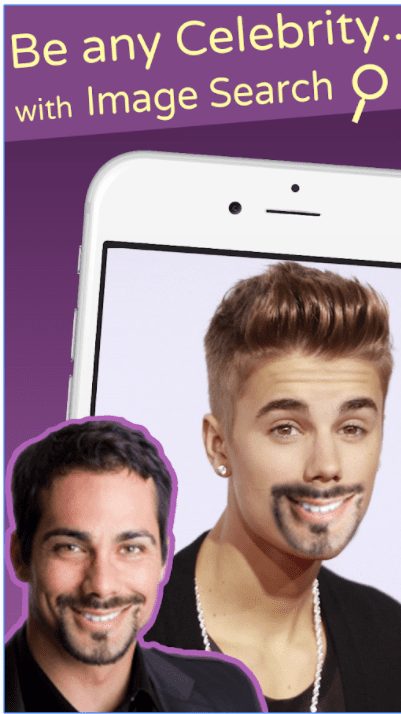 Downloads: 1000 +
Customers rating: (4.1 / 5)

Face Swap by Microsoft
Face Swap is a functional program which uses its own powerful engine. It makes the effect of replacing faces even more realistic. The program automatically chooses the skin tones, lighting. In addition, it will automatically detect faces in photos and you will only have to touch the screen of your gadget a few times to edit the image.
With the help of this tool, you can change the faces of people even in group photos, put your face to photos of other people, celebrities, animals or various objects, including monuments. You can try on a new image, style, hairstyle, or just have fun. You can use images from your phone's gallery or from the Internet. The app also has a built-in gallery and you can use its images too.
With the help of Face Swap, you can create the perfect selfie. To do this, use a special tool and follow the clear instructions and tips that appear on the gadget screen. Then, the created image can be used to transfer your face to any other photos.
Also, the program has a number of useful and enjoyable functions that will make the photos even more realistic or funnier. At the same time, their number is constantly increasing.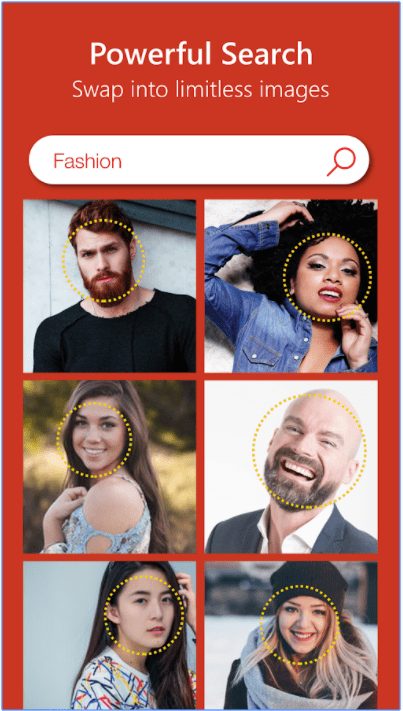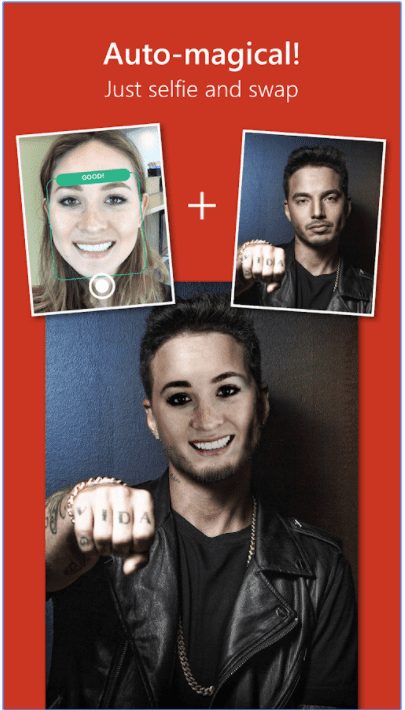 Downloads: 10000 +
Customers rating: (4.2 / 5)

Face Swap by Wombatica Gold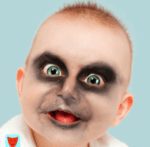 It's intelligent filters that work in real time, turning everyday pictures into stunning works. You can change faces by pointing the camera lens in the desired area so that two faces get into the viewfinder, and then as if by magic, the faces will move! And maybe you want to become a superhero, a villain, an animal, a zombie … there is nothing easier because there are many living masks for this!
Using amazing effects and templates, you can become anyone you want, managing the situation and algorithms. Change your faces in a moment, become different people, put your face in the body of a monkey or be a sweet tiger. No skills and third-party programs are required, and all necessary actions can be made in a matter of seconds, saving the structure and contours of the face.
To work you will need a camera and the program itself. After the start, you will see a lot of filters/templates. After selecting the desired option, aim the lens, trying to insert the face into the viewfinder as accurately as possible. The result will be visible in real time, and to save the result, you need to press a single button. A couple of moments and you do not recognize yourself and will be able to immediately post a photo in Instagram, share with friends, etc.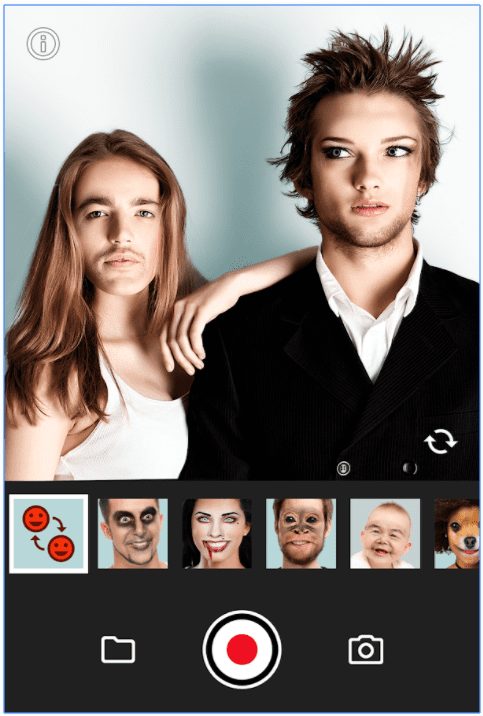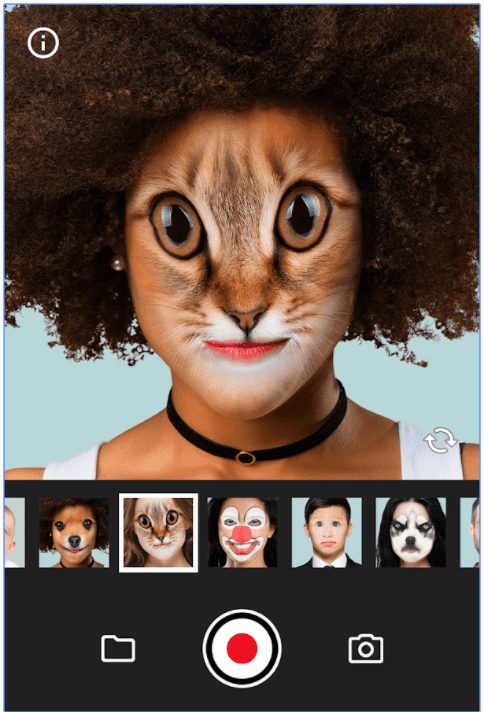 Downloads: 10000000 +
Customers rating: (4.0 / 5)

Face Swap Booth – Face Changer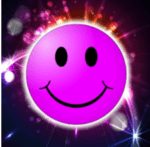 This is a good free chance to experiment with static images, changing and mixing faces. An accessible interface, some quite powerful editing functions, as well as convenient options like saving the face (to later be used in other photos), plus a pre-installed celebrity photobank. Imagine your face with the face of a superstar or some celebrity, singer, actor, blogger, TV presenter. Face Swap Booth will give you such opportunity!
You will be able to figure out how to upload a snapshot, how to change faces in places and make some minor corrections from the first minute. Reviews say that this application is already loved by thousands of people. The developers took a kind of banal idea. But sometimes simple applications earn great popularity. If you want to have a good laugh and look at your favorite photos, so to say, "in a different light", then safely install this utility.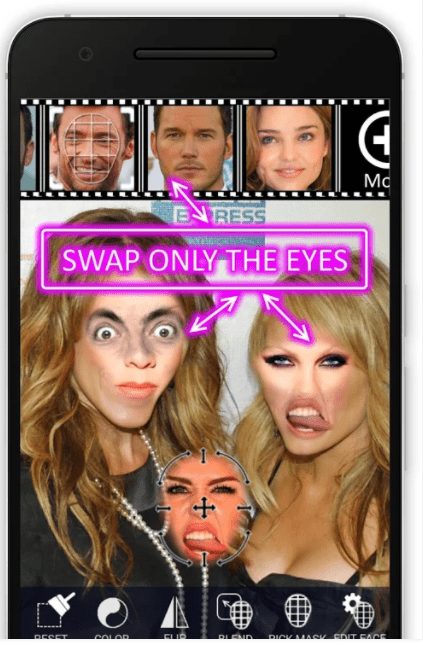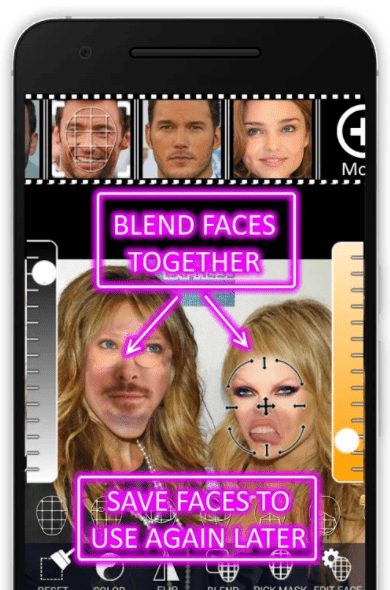 Downloads: 100000 +
Customers rating: (4.0 / 5)

Face Swap – Live Face Sticker Camera &Photo Editor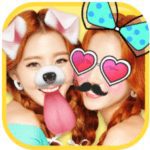 Face Swap is a cool application on Android that helps you to put various elements on your face. Use an extensive collection of special effects to make a photo stylish and funny. The photo editing application will help you to try on various images and save them.
Advantages of Face Swap on Android:
Try on a lot of new faces;
set of stickers and effects;
put the ears and the nose of the animal on your face;
photo swap has powerful functions of Photo Editor;
a lot of filters and effects;
user-friendly interface;
takes up little space.
Face Swap quickly gained popularity and has thousands of fans around the world. The Face Swap application can be considered as a kind of entertainment than a photo editor, but thanks to a powerful library of stickers, animal faces, masks, thematic styles, it can be named an editor. Editing Selfi or any other image is not difficult, the interface is simple and it's nice to use.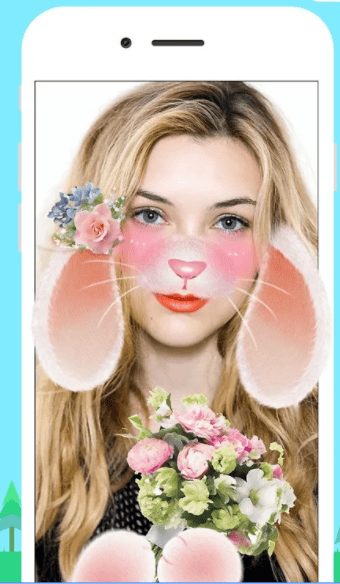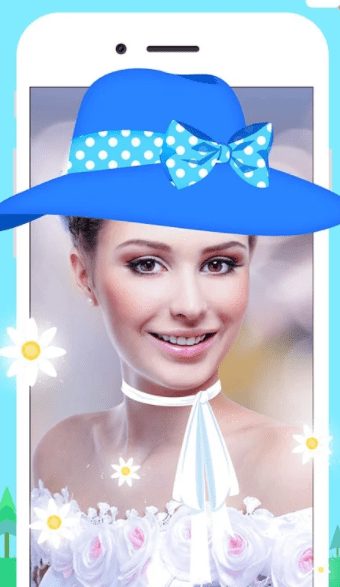 Downloads: 1000000 +
Customers rating: (4.3 / 5)

Face Swap: Snappy Photo Filters Stickers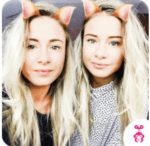 Face Swap Photo Filters Stickers is a pretty fun application. It has a large number of functions and tools, with which you can edit photos. Do not give up the pleasure of appearing on Selfie as a cute mouse or mischievous little dog. Graphic addition in the form of animal faces and ears will lift the mood and cheer.
A wide range of stickers and filters will suit your preferences and will help to create a real masterpiece with your original imagination. On ready-made photos you can insert stickers with faces of little animals, add effects, emotions, smiles, animation inserts, funny eyes and many other additions that make the image brighter, more fun and informative. Do not let the creative nature of your soul get bored and suppress yourself, experiment and have fun, entertaining not only yourself but others.
At the output, you will get high-quality photos in high resolution, which you can publish on social networks and boast a sense of humor or share your state of mind. A simple interface, a concise context menu and an assortment of possibilities will not let you get bored by a rainy lonely evening, entertaining you with all kinds of variations of Selfie.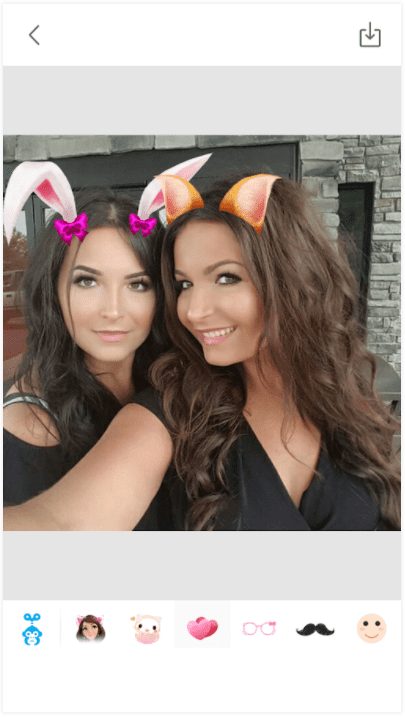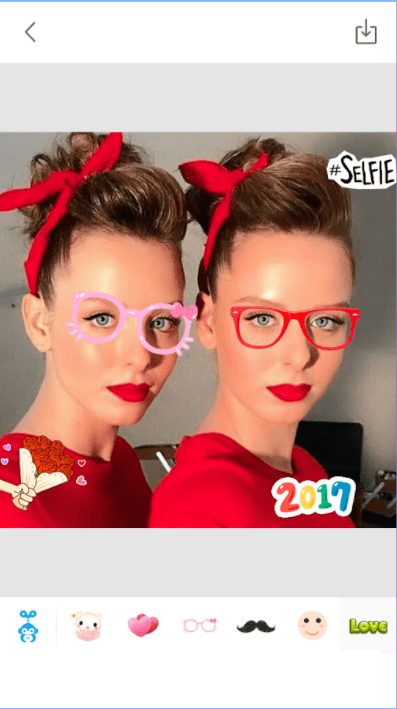 Downloads: 100000 +
Customers rating: (4.4 / 5)

Photo Face Swap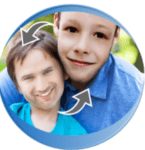 Want to fool friends and have fun? Then this application is just for you! Photo Face Swap was developed specifically to replace faces in the pictures. Remember those funny pictures, where all the people in the photo are standing with the same faces? This effect is just achieved through this amazing program. Among other things, the program is equipped with a standard photo editor.
Once you install the application, you will immediately find its main menu. Here, you can select the files to be edited. The image can be taken from the gallery, directly from the camera or from popular social networks. The application automatically warns that it is not recommended to use photos with half-face. All objects should be located in full face if possible. Otherwise, it may not be what you want.
Try all the features of this application by downloading a suitable joint photo or collage. It automatically determines the number of persons in the picture and where they are located. After that, you can move the sketches the way you like. Thus, the user himself indicates which objects should be replaced. If one person is much larger than the others, it is very easy to fix by scaling. When you edit the photo, the detected faces will be displayed on the right.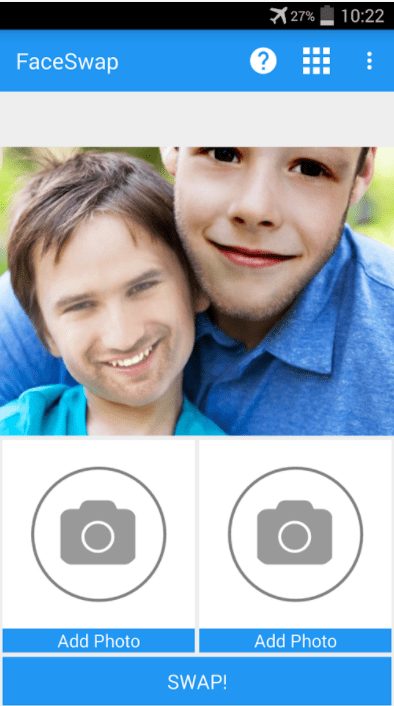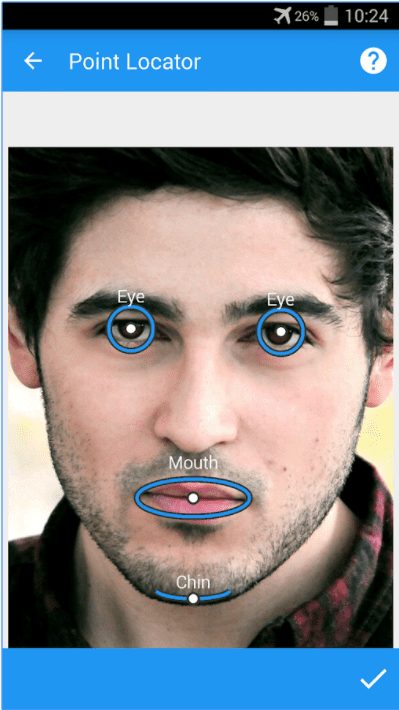 Downloads: 10000000 +
Customers rating: (3.9 / 5)

MSQRD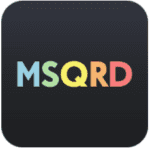 MSQRD is a powerful application that can create realistic 3D masks for self-photo and even video. It can also be used as a simple face swap. MSQRD will completely reverse your idea of self-mask for Selfie. The program will analyze your face and based on this information will create a virtual 3D model, which will be the basis for all masks. Thanks to the complex preparatory work of the program, you will not even notice where your own face ends and the mask begins.
The MSQRD application for Android looks very simple – the settings panel with the listed functionality, a thin strip with accessible images, a button for recording video or taking a picture. And it's fine – it takes a few moments to get the desired result!
Try on the face of movie heroes, stars or villains, become a tiger, a polar bear or an orangutan. Add to your image tears, bows, bulging eyes or giant glasses. And when recording video, the masks and filters will move after your face, as well as repeat your facial expressions, if this is provided by the mask.
You can communicate in this form via Skype or post a video on the Instagram. You can send the resulting cool photo to all your friends by email, put it on Facebook or save it to the memory of your device. The program is completely free and, despite such powerful algorithms, it is not too demanding to the device.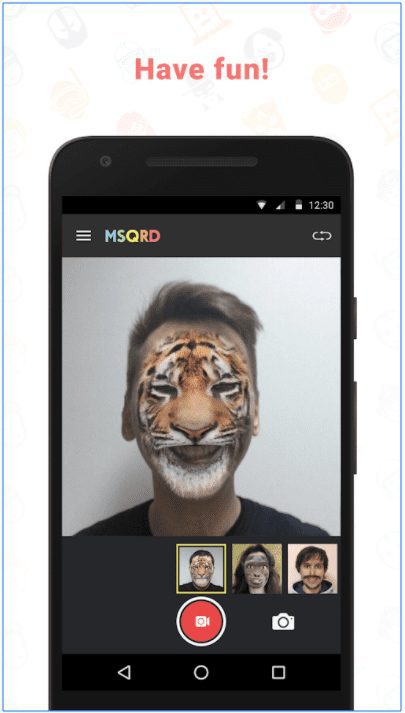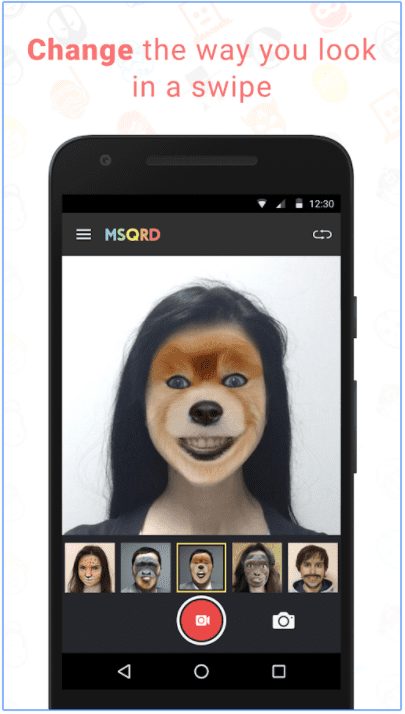 Downloads: 1000000 +
Customers rating: (4.3 / 5)

MixBooth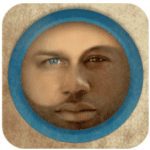 MixBooth is another interesting creation from the PiVi & Co studio that has earned a good reputation in creating such interesting works as AgingBooth, FatBooth, and other applications that are based on changing the face format on the image. MixBooth itself was not a rare exception, and the idea of the application is to combine two types of different persons in one image.
You can laugh at your comrades by changing their facial features. Know that the end result will surprise anyone. To start, you need to create a snapshot of the face using the camera, select the mouth, eyelids, and beard in the editor, then find the second version of the face and click on the MIX button. If you like the result, you can publish it on Twitter or Facebook without leaving the application.
MixBooth is a fun photo application that provides excellent results. And creating your own funny composition takes only about one minute.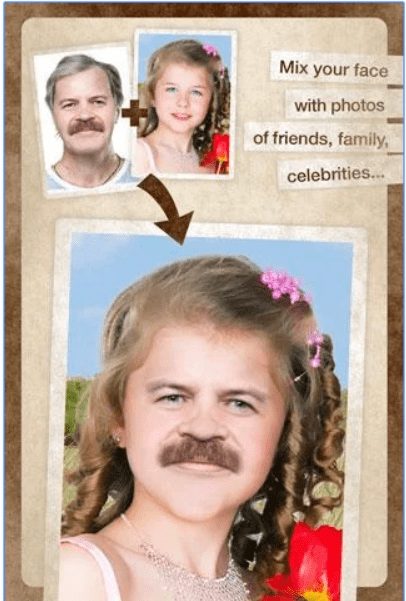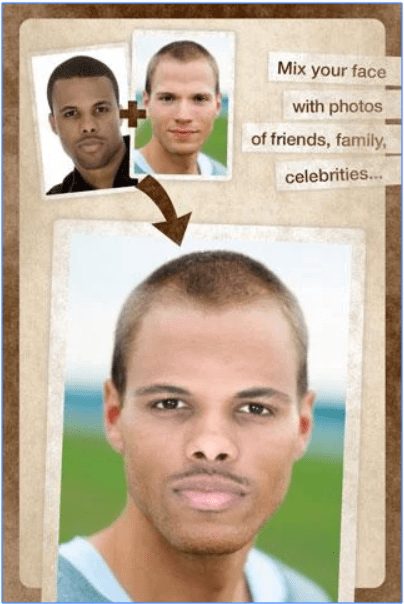 Downloads: 5000000 +
Customers rating: (4.0 / 5)

Face Swap – P123 Photo Editor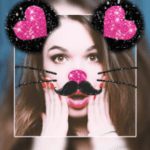 Face Swap – P123 Photo Editor is a fun application available on Android. Do you want to add cute dog filters to your selfie? Or maybe you want to use cat ears and turn your photo into a funny image. Download the application and you can have fun!
With this fun program, you can create fantastic selfies with unique stickers. Get a huge collection of stickers with images of animals, filters, effects, hairstyles, glasses, and hats.
This photo editor contains all kinds of funny stickers, in the form of dog and cat ears, hearts, extravagant hats, wigs, sunglasses and much more. The application has a simple user interface. Here you can easily crop photos, select effects, use stickers and share created images with friends on social networks.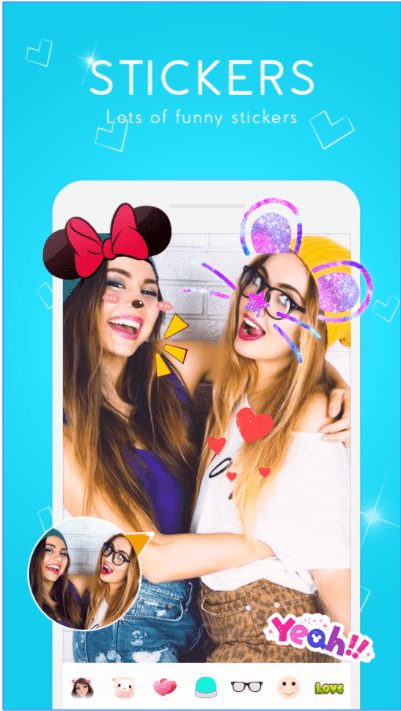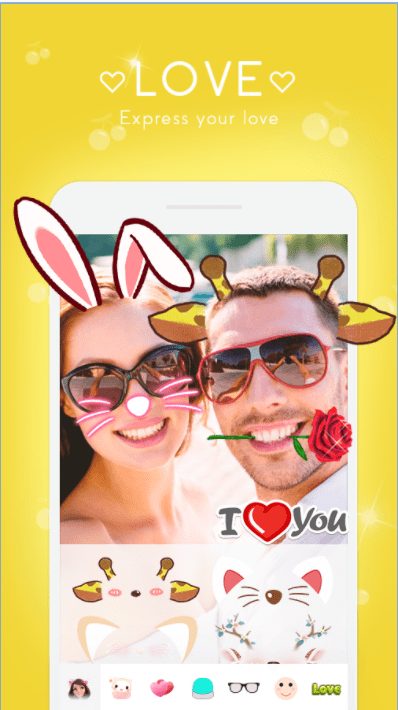 Downloads: 10000000 +
Customers rating: (4.6 / 5)

Face Swap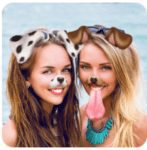 Face Swap allows you change faces with friends or celebrities! Download the editor with fascinating functions and create your new image right now! The application allows you to use stickers, animal themes, cartoon characters and movie characters. Do you want to become a funny clown or a cute kitten? Your dreams will now come true faster. Add to your image fluffy dog ears, cute cat noses and much more.
In the application, there are many preinstalled templates, with which you can customize your face. In combination with filters and wonderful stickers, including Christmas stickers, your photos will become real masterpieces.
The utility is equipped with the function of face recognition. So, you just need to take a picture, the application will make the rest. It is distinguished by the powerful functions of the photo editor with the adjustment of texts, frames, and numerous filters. You can retouch photos, create classic collages, use filters and share created works of art with friends on social networks.
Face Swap quickly became one of the most popular applications-photo editors! Thanks to an extensive collection of various special effects, which is constantly updated, now it is easy to process your photo. You will have a good time, creating funny pictures and posting them on the web.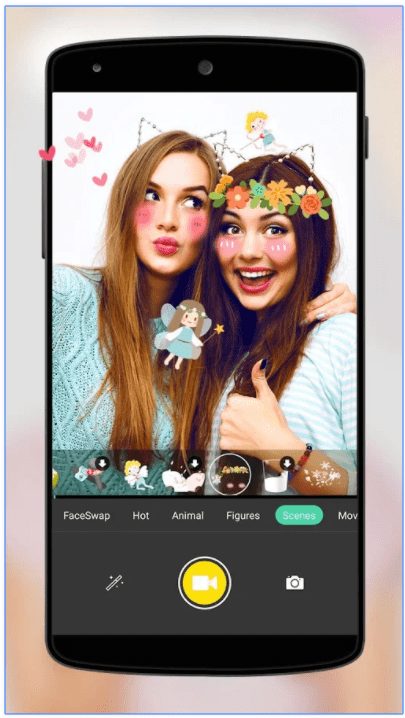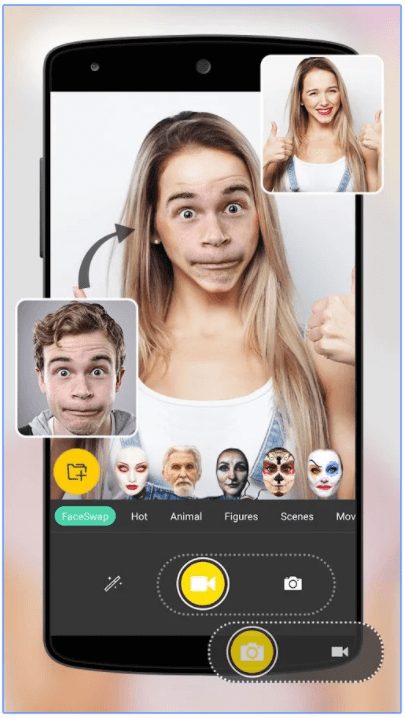 Downloads: 10000 +
Customers rating: (4.3 / 5)
Currently, normal selfies are a thing of the past. Today, no one is surprised by a simple snapshot taken with the front of the smartphone. Especially modern people are sophisticated users, as every year, if not a month, there is a large number of different applications that allow you to improve and diversify the images created with the help of smartphones and even videos. Face swap apps are among them. So, have fun using one of the above applications!