Today, games about farms are extremely popular. These simple and unobtrusive games teach assiduity, tune in a positive way, and just perfectly entertain! It is because of such uncomplicated gameplay that these games are so popular. Especially such projects are in the course of girls and younger children. For some reason, they like virtual farms with beautiful design.
By the way, if you also like farms, we bring to your attention a selection of 21 Cool farm game apps for Android, which should be to your liking.
You may also like:
Best train game apps for Android
Best logic game apps for Android
Farm Frenzy Inc.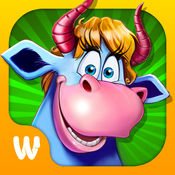 Farm Frenzy Inc is a cheerful tablet farm, which offers a plunge with a head into new adventures, with familiar gameplay. We are waiting for dozens of funny animals, each of which is unusual in its own way.
Running such an application at least once, it will be very difficult to stop. In the game, you will find an infinite number of levels, on each of which you are waiting for some task, for example, to grow a dozen pigs, earn the specified amount of money on the sale of products or fry some meat cutlets.
Sometimes all these tasks will need to be performed simultaneously, and sometimes small story tasks will be added to them, as a rule, they do not have much influence on the gameplay, at the end of the level you are given some useful object.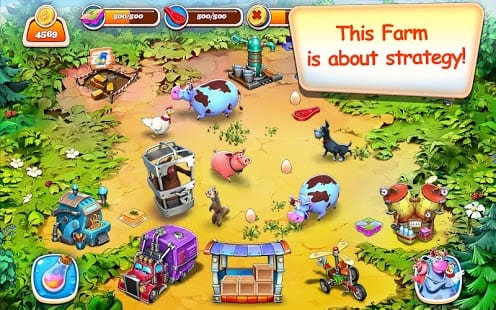 The gameplay is that you have to buy and feed different animals, and they will give you different products for this, chickens – eggs, pigs – meat and so on. With the products you receive, you can do two things: first, you can just sell them from the warehouse, which you have to do regularly because the warehouse is not rubber and will be filled periodically.
Secondly, the products can be recycled, examples of eggs can be made with egg flour, and from it in turn macaroni or lasagna, but for this, you must first buy special plants that will snugly settle at the edges of the clearing and will quietly and peacefully carry out their business.
Over time, you will have various boosters and helpers, for example, the dog will help you protect your animals and products from attacks by wild animals. To feed your entire farm is a common grass, it is enough just to water the land, and you have to buy water for irrigation, make sure that you always have money for water, otherwise, animals can die of hunger.
Drawing graphics – traditional for games of this genre. Here it is executed amazingly: the qualitative study of the location, objects, and animals is impressive. It's nice to watch such a farm from the outside.
After downloading the game Farm Frenzy Inc., you wake up the opportunity to fight with players from different corners of the planet on your android device and prove who has the most developed farm, besides the farm is completely free.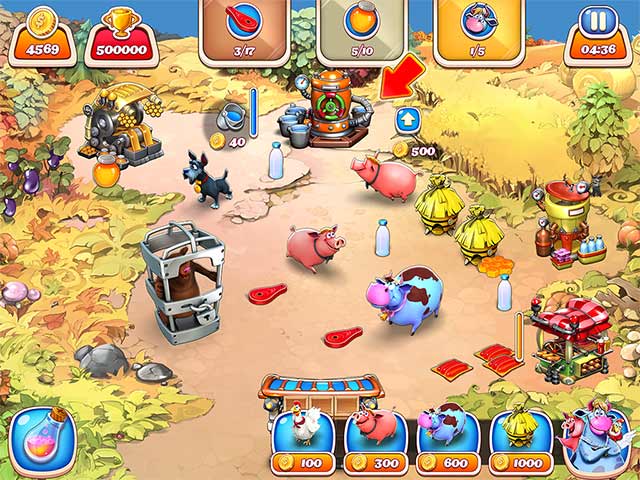 Downloads: +1 000 000
Costumers rating: (4 / 5)

FarmVille 2: Country Escape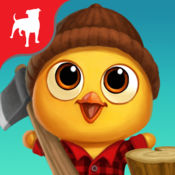 FarmVille 2: Country Escape is a farmer's simulator for Android, where the main character is a young girl who inherited land from her parents. She goes to see her possessions and is horrified by what she saw, as the site has long been abandoned and all the buildings on it are practically destroyed. After a little thought, the heroine decides to stay in her possessions and create a paradise with her own hands.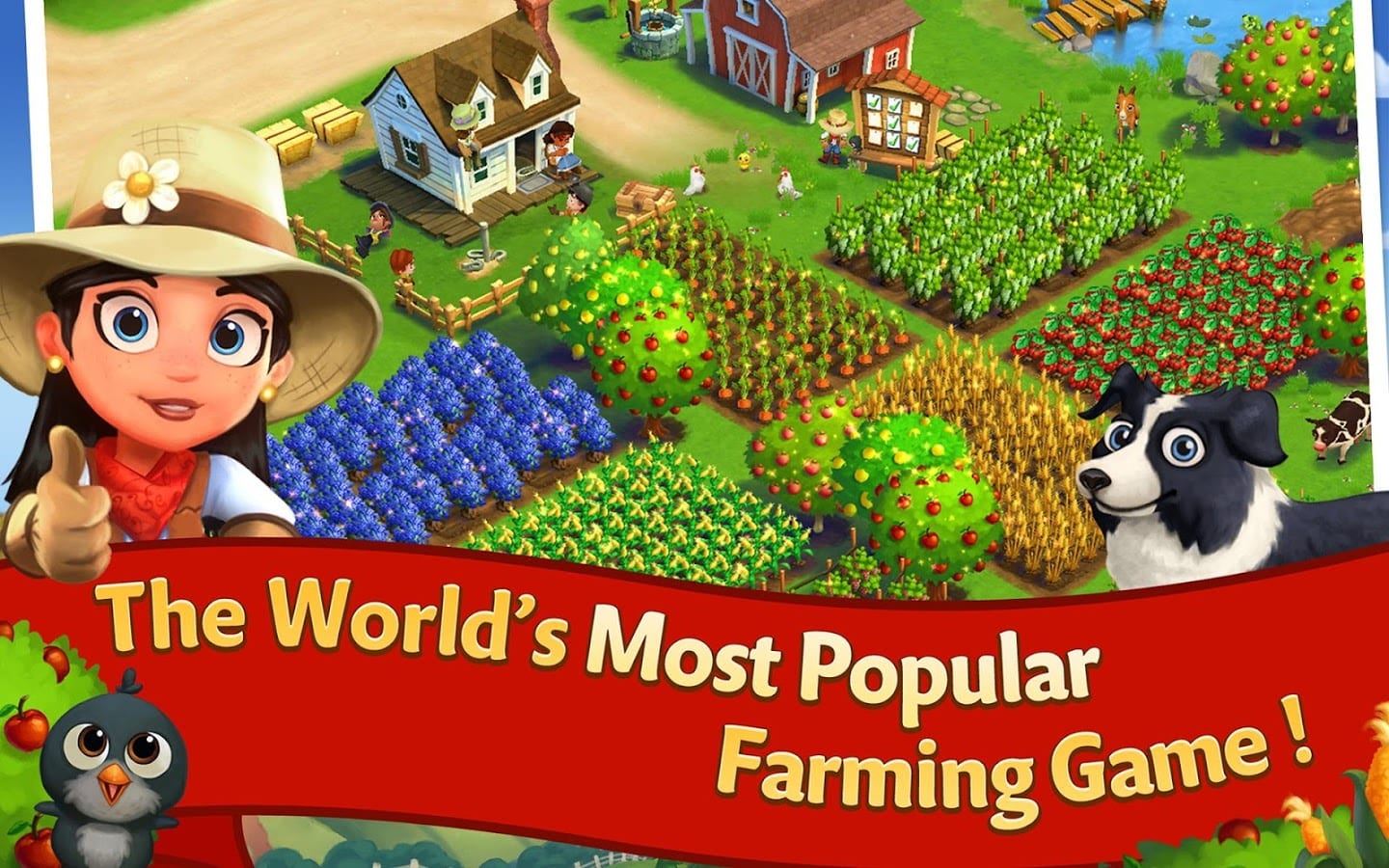 The first thing that catches your eye right after entering the game is beautiful graphics, which are much better and more beautiful here than in the previous version. A detailed environment, objects of construction, fields, plants, animals, and much more. Immediately it becomes clear that the developer has laid out to the full, to surprise the fans. Every day more than a few million players visit the game, who spend a lot of time in the game, thanks to well-implemented social opportunities.
In the gameplay, there is nothing unusual, since everything happens in accordance with the trends of this genre of games. Therefore, at the beginning of the game, we are waiting for training, in which each action will be shown and entered into the course of affairs, after which the first task will appear and a free game will begin. At the disposal of the heroine are many seeds of plants that can be planted, then used for their own purposes or sold.
The game currency is the most important detail, since no building of a building is possible without it, so always try to send surplus products for sale, so that there are no moments when you have all the resources to build but there is no money.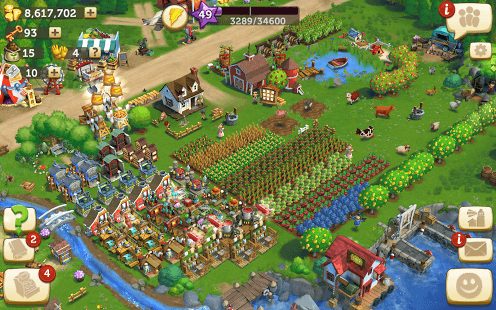 The developers of the application constantly add new buildings and plants, as well as animals and much more. Therefore, the game is designed for a long time, and when you seem to do nothing, there will be something new and you will definitely continue the game. The game is available for free but with a small donat that helps speed up the construction or maturation of plant seeds. FarmVille 2: Country Escape on Android will appeal to all fans of the farm simulator.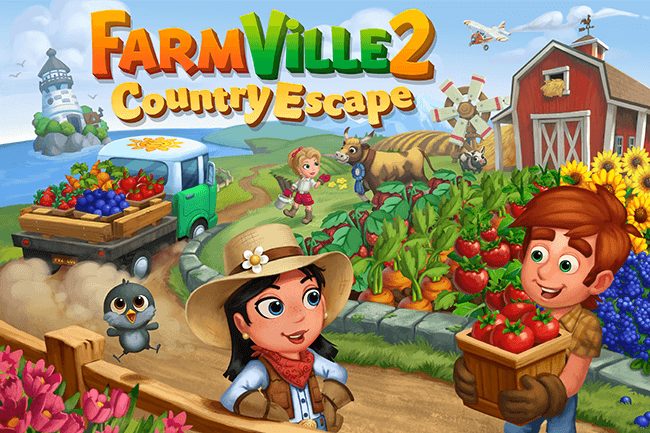 Downloads: +50 000 000
Costumers rating: (4.3 / 5)
FarmVille: Tropic Escape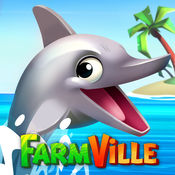 The players have the opportunity to go on an exciting vacation, which will be filled with various adventures, riddles, and additional quests – all this is available in a colorful game FarmVille: Tropic Escape.
The user will build a personal hotel with workshops, decorate everything around with tropical plants and beautiful animals. In order for the tourists to pay attention to the new institution, it is necessary to grow exotic fruits such as mango, coconuts, pineapples, and others.
Also important are the dishes with cocktails: well-seasoned sea fish, pina colada, and everywhere hung garlands with flowers. Download FarmVille: Tropic Escape on Android and enjoy the beautiful scenery right now.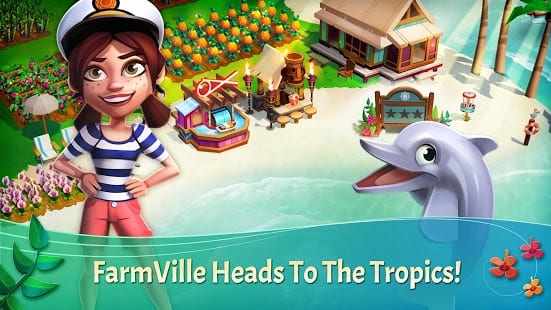 Players will fish with the fun dolphin Capri and explore the area with the monkey Odney. Taste can be given to animals so that they agree to be photographed with the guests of the hotel. The plot tasks will allow you to discover new areas and learn interesting facts about the island, as well as to find rare things and unique goods.
Distinctive features of the game:
It is necessary to open all available tropical plants, new species of animals.
It is necessary to grow new crops, from which it is possible to create tasty dishes and drinks.
Additional quests will open new characters.
Missions can be conducted based on the advice of archaeologists and surfers.
To rebuild a personal paradise, you can redo the workshops.
The secret room allows you to use unique products, and throughout the island, you can find treasures.
The tourists are not bored, it is possible to offer them a guide who will gladly show beautiful places for rest and entertainment.
Creating photo sets with animals, you can open rewards.
To trade with other players, you can use the boat and sail to their islands, but first, you should download FarmVille: Tropic Escape on Android.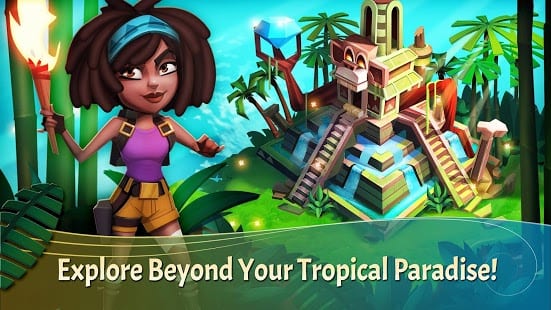 Downloads: +10 000 000
Costumers rating: (4.5 / 5)
Family Farm Seaside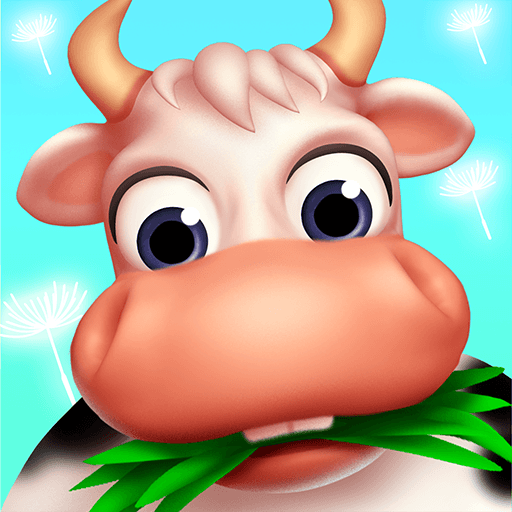 The game Family Farm Seaside is considered one of the most popular in the world. Farm games have long become very popular among users but thanks to the quality design, fascinating plot, and ease of management, the Family Farm has quickly gained a leading position.
The game is completely free and does not require downloading additional paid content. Now the number of users who play in the Family Farm has more than 50 million.
In the game, you will find a lot of pets, a roomy storage barn for the production, and a huge selection of plants. They never fade but with skillful cultivation will bring you profit. In addition, you can build a whole two farms: one on the seashore, and the second – on the island. The main thing is to succeed at the initial levels and collect enough money and experience to continue the game.
As you progress and gain game experience, you will be able to grow more and more new plants, build useful production buildings and regularly receive achievements for which you will be awarded bonuses. The game is global, so you can easily compete with players from around the world in online mode.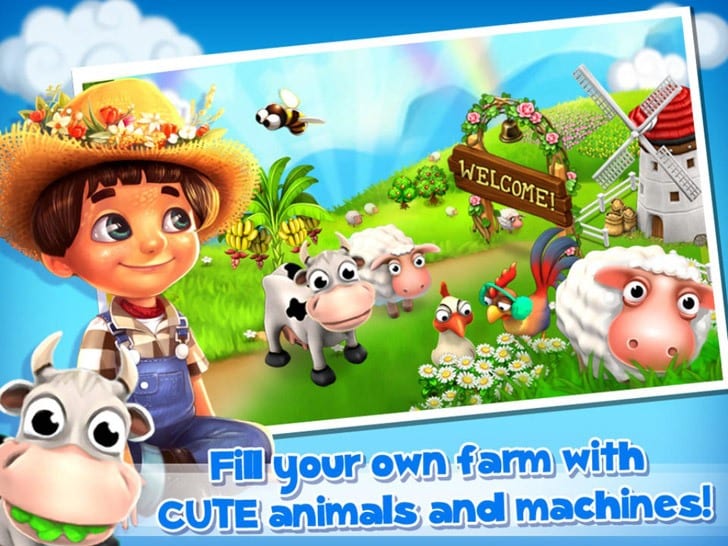 Downloads: +50 000 000
Costumers rating: (4.3 / 5)
Farm Paradise: Hay Island Bay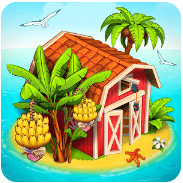 Have you longed for a small tropical island at your disposal? Then create it as it should be. The game Farm Paradise: Hay Island Bay will help in the implementation of the conceived. The hot sun, sandy beach, and exotic plants are waiting for you.
On your own island in the vast ocean, you first need to build a farm. Cultivate the crop to support livelihoods. You can have a variety of pets to brighten up your loneliness. And even build a zoo and fill it with exotic species of fauna.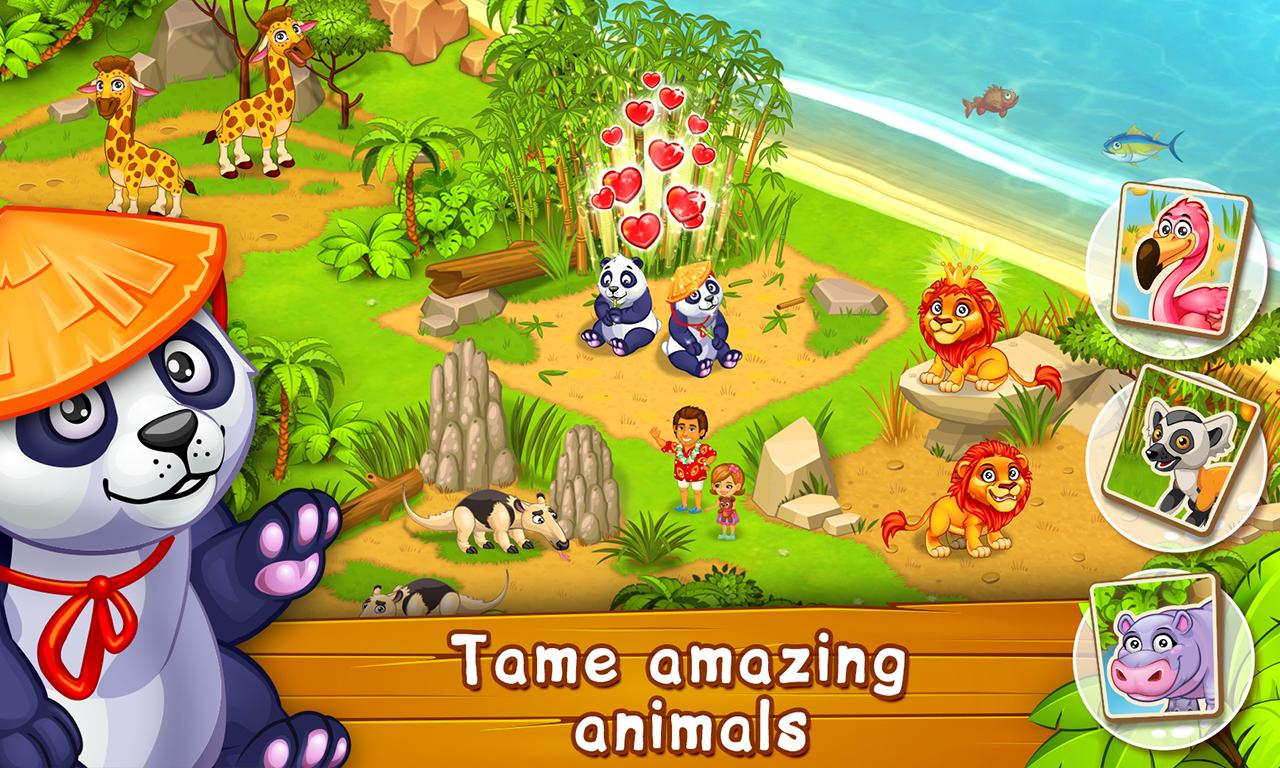 You will not be bored, there is still so much work ahead. Improve your skills, go through challenging tasks, and discover new opportunities. You can build a hotel, an airport, shops, coffee, and other buildings. Go on an expedition to mysterious buildings and find valuable resources and ancient artifacts. Entertain yourself under banana and coconut palms with your friends, help them carry out assignments on their islands, and share their own achievements.
Have you already felt in the role of the owner of the whole island? Then download Farm Paradise: Hay Island Bay to your gadget and embark on an exciting journey.
Downloads: +10 000 000
Costumers rating: (4.4 / 5)
Top Farm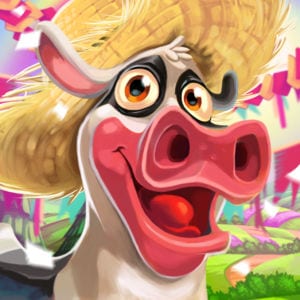 Have you ever had a desire to create your own farm, which will be filled with both living, existing beasts, and fictional characters? Well, you are given such an opportunity in the exciting strategy of Top Farm for Android.
In this game, you can begin to grow vegetables and engage in the craft you want. On the farm, you can sell your goods and trade with other players. Your economic situation in the game is completely under your control. This allows you to make your business as simple as possible.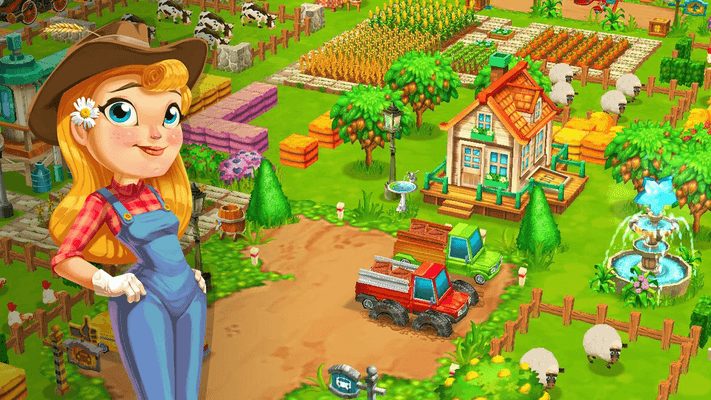 After installing the game, the farm will begin to grow from the first minute. You will be asked to pick up the location and put the first building object. This will be your house, then you can start the garden and everything else. This game runs on almost all versions of Android, which allows you to play it from any tablet and smartphone.
The memory will require about one gigabyte since the game provides a lot of locations, which with the level of your building start to grow. Also, a lot of characters and other elements, without which it would be impossible to create a detailed farm.
A key feature of this game can be considered its offline mode, for the game the Internet connection is not necessary. It's enough just to go into the game once using the Internet connection and that is all, the game will be available offline.
The key features of Top Farm for Android are:
More than 10 interesting characters.
Use in the game only elements of nature, which is a kind of appeal in the fight against ecology.
The ability to unlock new maps, as the old locations are built up.
Clear detailed graphics and brightness of color shades.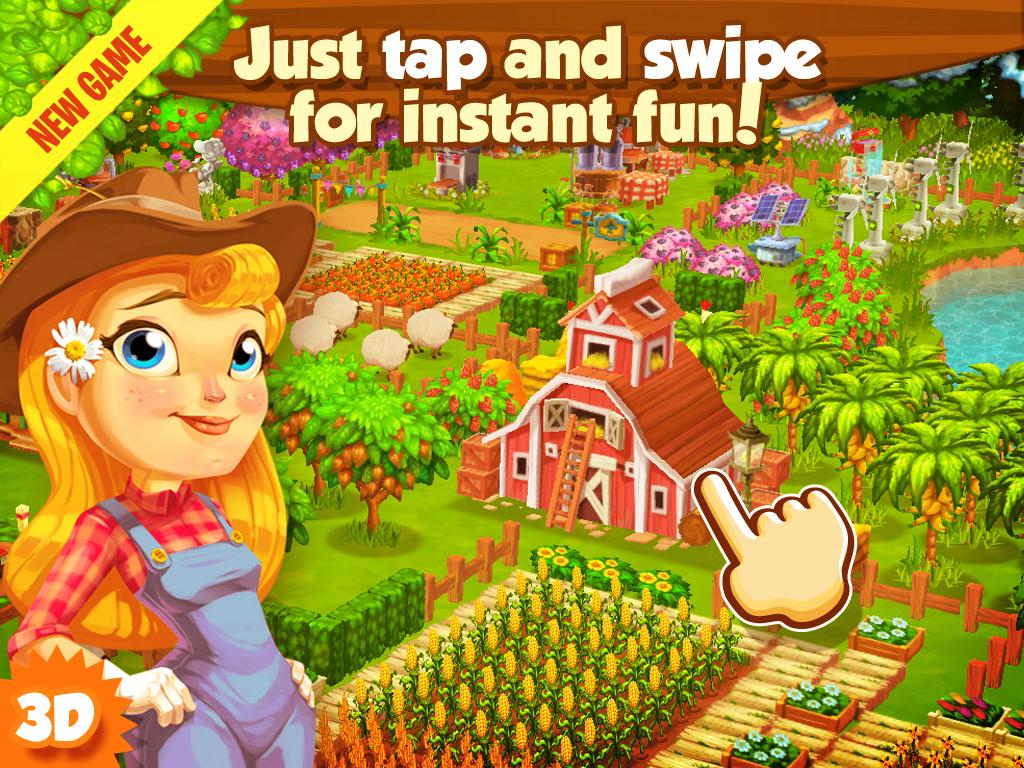 Create your own garden, which you could only dream of. Plant it with a variety of vegetables, trees, shrubs, and other things, doing all the work "with your own hands." In the game, you can invite other users to your game session. You have a chance to invite a friend to visit you, and also go to look at his building or help with the task.
Choose the most exciting assignments, earn game points with your friend, helping each other. You can meet a lot of interesting characters, beautiful locations, and refuel your equipment with ecological fuel. Here everything is like in real life. Simulator draws you into the gameplay with the head from which it is very difficult to tear yourself away.
If you liked this game and you decided to thank developers, the game provides such an opportunity. It is worth going to the main menu of the game and below you will see the inscription Donate. You can send real money or send your earned points.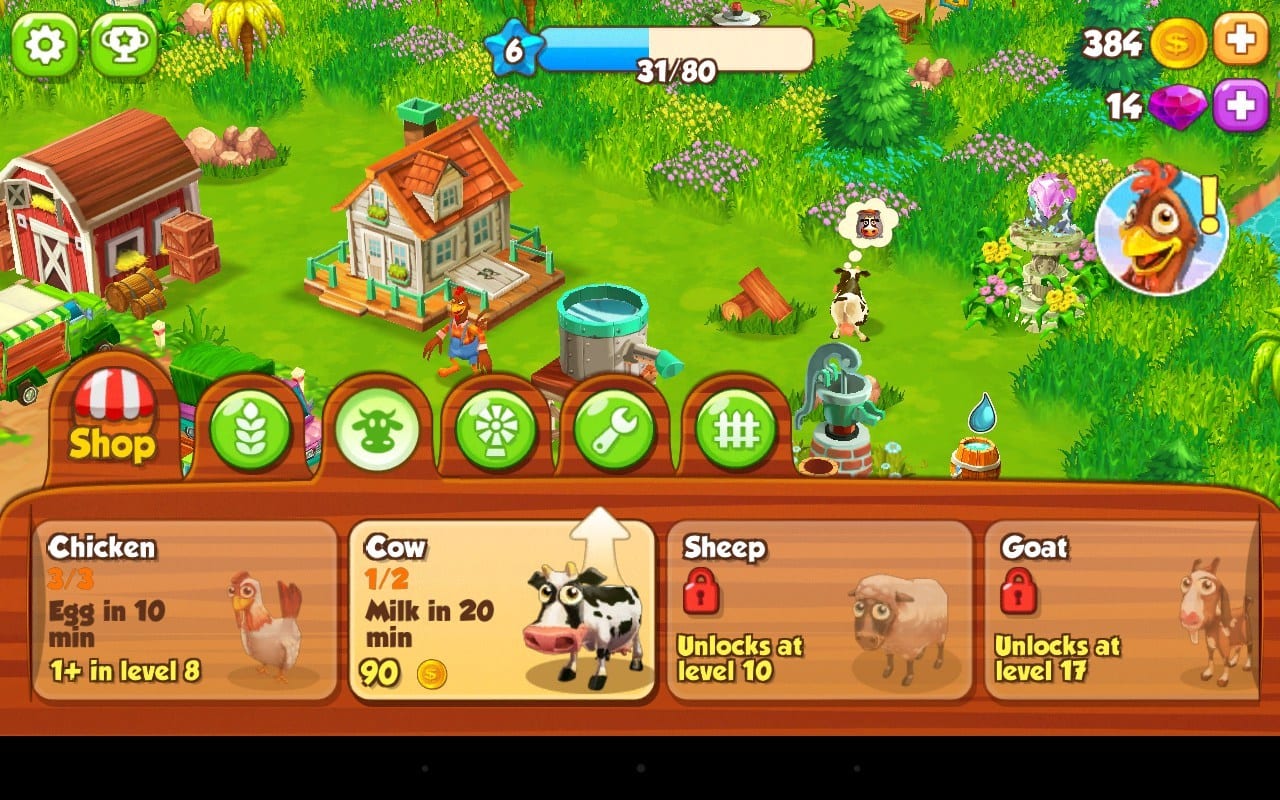 Downloads: +5 000 000
Costumers rating: (4.2 / 5)

Hay Day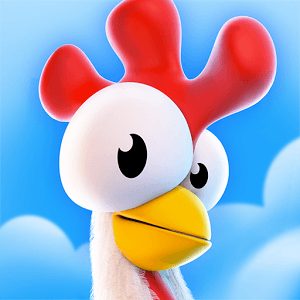 Hay Day is a new farm simulation game for Android. In it, you have to take control not only care for pets but also learn how to produce various products, as well as build buildings and engage in trade with other players.
The story of Hay Day begins with the fact that your uncle, because of his age, can no longer cope with all the economy and business, so he urgently needs your help. But the trouble is that you live in the city and you have work in the office. But without a long thought, your hero throws everything and goes to the village to your beloved uncle and stays there to clean up the farm and make it even more prosperous!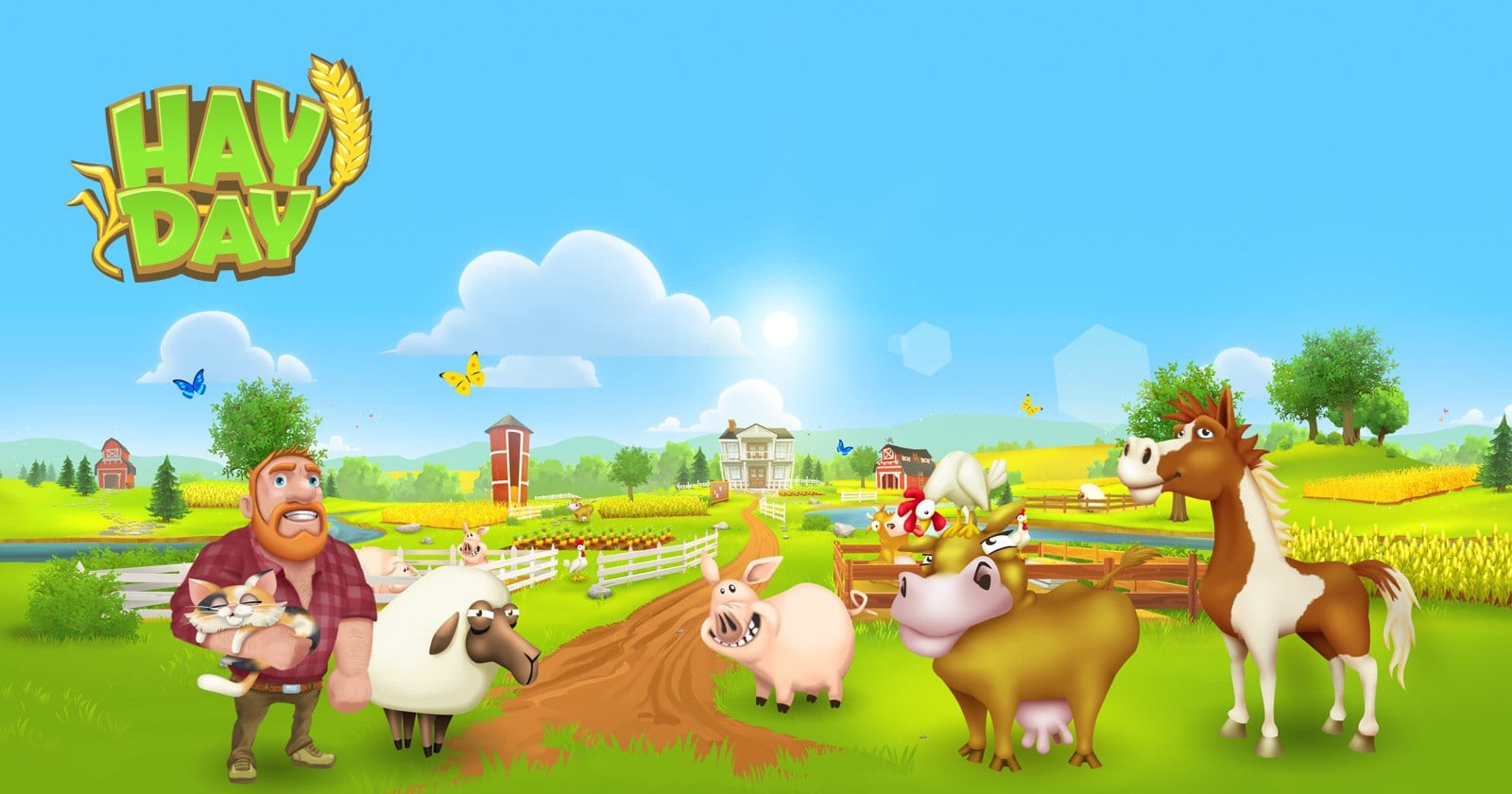 You will start on a small farm. To move forward, you will need to work hard and think carefully about the development strategy of the farm. You need to grow different crops to feed animals, which in turn will give you different products (eggs, milk, etc.), combining which you can produce all kinds of goods or sell the excess. The more you sell, the more money you have to spend on building new buildings and buying new animals.
Features of the game Hay Day:
Full freedom of action and a unique opportunity to trade.
The convenient control system, for example: to feed cattle, you just need to slide your finger across the screen in the right direction and the job will be done.
You can play Hay Day on Android online with your friends and trade with them.
For real money, you can buy additional items that will help to develop the farm faster and achieve dizzying results. If you drop all the possibilities and charms of the game aside, you can not help noticing the excellent graphics and soundtrack. They give the game originality and pleasing to the eye with bright colors, great effects.
Each object is beautifully drawn, and every movement of a finger makes this fabulous world come alive before your eyes! This world lives its own life, something is constantly happening here, and its well-being depends only on your actions and wishes.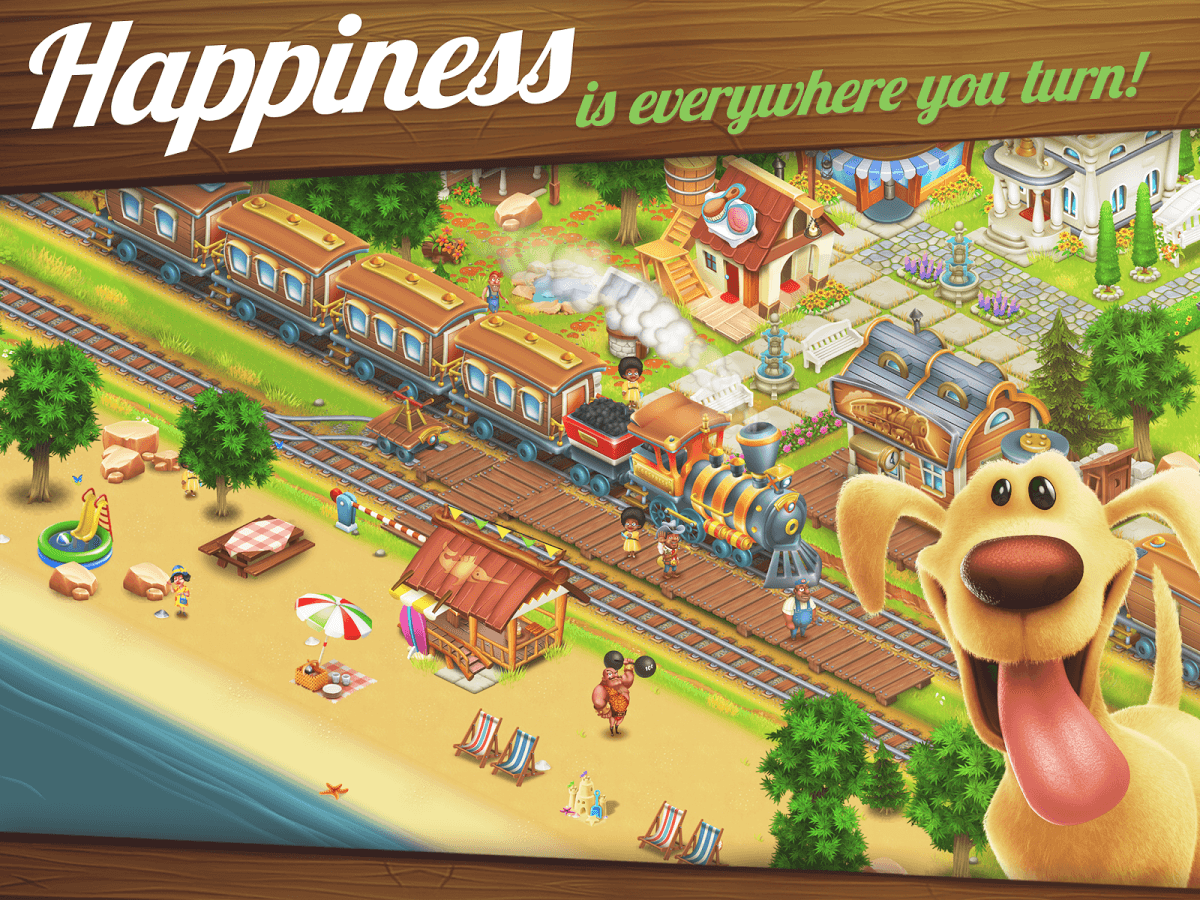 Downloads: +100 000 000
Costumers rating: (4.5 / 5)
Farming Simulator 14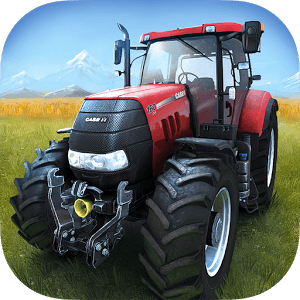 Farming Simulator 14 sends players to the field, where they have to work hard. The series of this application is constantly expanding, and soon something new will appear.
Rural themes, recently, attracts new users quite well. Who would have thought that harvesters, tractors, plows, and mowers could attract millions of people? The strategy is a direct prototype of the computer version. It's clear that there is a difference but it is seen only in the graph.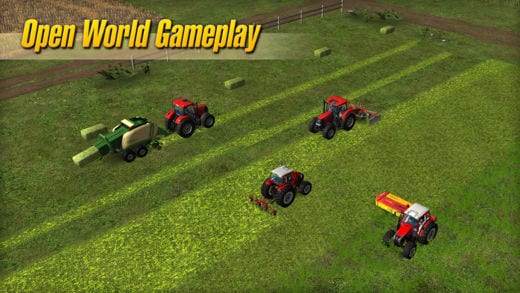 At the disposal of each gamer comes huge locations. At first, you will be given a small plot, and eventually, you will be able to develop it and buy yourself other equipment. First of all, the player needs to plow the land and plant the seeds in order to get the harvest in time. You do not have to wait much but then the plot begins to drag out. After receiving the harvest, each of us starts to think about what to do with it. There is an opportunity to sell, or send it to warehouses until other times. With the money that you earned, you acquire machinery and new seeds.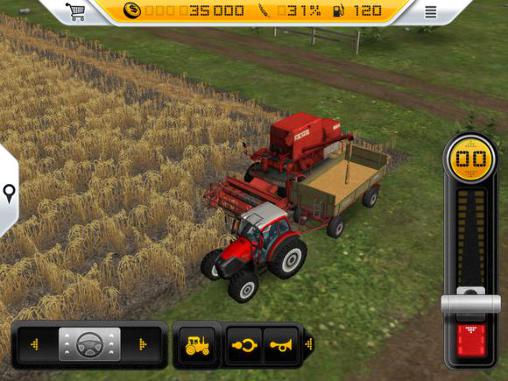 Farming Simulator 14 has prepared convenient management. Ride on tractors or combines can be done with an accelerometer or virtual buttons located on the screen from different sides. We advise you to pay attention to the fuel tank, so that it does not emptied because at some point you can stay in the middle of the field, then no one can help you.
The uniqueness of the application is that you can play on the Internet or Bluetooth with friends. There is a huge range of agricultural machinery and other supplements. The graphics are drawn well so there is nothing to complain about. There is an opportunity to hire assistants to work.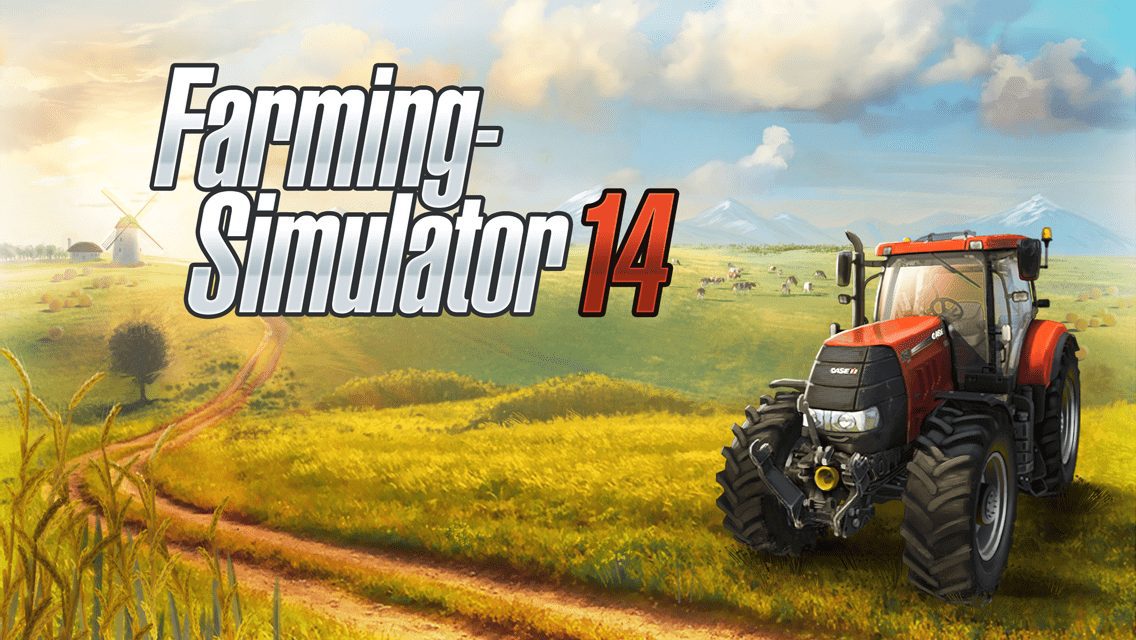 Downloads: +50 000 000
Costumers rating: (4.5 / 5)
Green Farm 3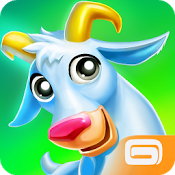 Green Farm 3 – the next part of the excellent simulator of the farmer on mobile devices.
Beds, beds, and once again beds
Such games are not new to anyone, and they are enjoyed by enviable popularity. After all, the gameplay does not bother, and the fun is just the sea. In addition, the user is given a lot of freedom in action. In this application, the player inherited the site, his task – to develop it as far as possible.
To do this, it is necessary to sow fields, acquire livestock, and also engage in landscaping. Gradually, the user's farm will grow, it concerns duties. With each level, new items and utensils, animals, and machinery are added. In addition, the tasks themselves, which make up the bulk of profit and experience, become more complicated.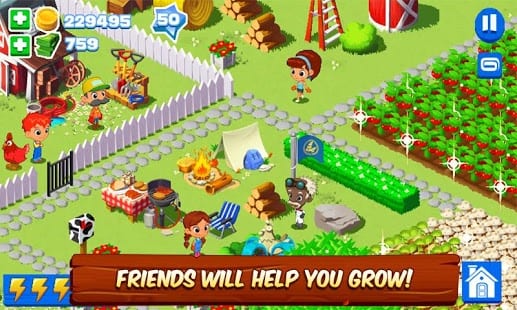 Without donation in any way
Projects Gameloft are highly donated, and unfortunately, this game was no exception. Even creating one serving for a cow takes a few minutes, it's hard to imagine what awaits the user in the future.
What is the Green Farm 3 application?
Restore the old estate that your uncle left to you as a legacy.
Become the most famous farmer in the county.
Get support from trusted friends or friendly neighbors.
Make once deserted land again to be blooming.
The atmosphere in the game Green Farm 3 is fascinating.
Management is elementary and understandable, even intuitively.
The plot is thought out, as well as bright characters.
Farming is fun and exciting.
All this and more meet in the game Green Farm 3.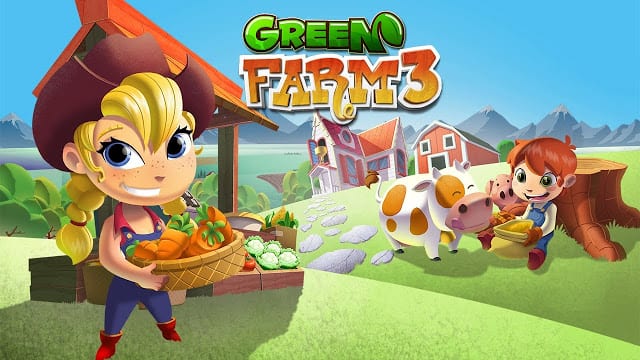 Downloads: +10 000 000
Costumers rating: (4.2 / 5)

Let's Farm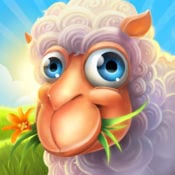 We all remember old good farm-like games, such as "Merry Farm", "Merry Hacienda" – but it was so long ago … Do you think that the time of such games is over and it is better not to remember them? If yes, then you are mistaken because the developers of PlayDay Games released their new creation, and it's called Let's Farm for Android – a farm simulator where we will be engaged in various horticultural matters!
In this game, we now and then how we will be engaged in feeding chickens, milking cows, we will plow the land, and equip our farm – quite interesting, is not it? The creators of the game Let's Farm for Android give us the opportunity to feel like an agricultural master and learn how to do useful things for Mother Nature, and of course, for yourself loved one.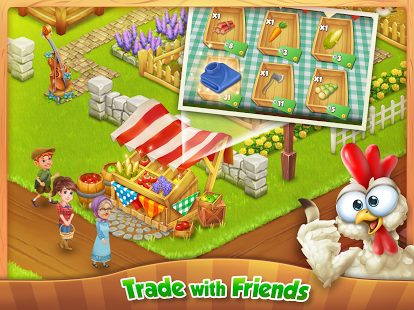 Gameplay. As for the gameplay itself, here it is very simple and understandable because it does not differ from similar analogs at all. First at your disposal will go a kind of scarecrow by name… (but it is not clear what is his name) that will tell you what to do in the game, where to click, and of course where to start — a kind of initial training, nothing more.
In the beginning, we will need to deal with fairly standard cases – planting beds, milking a cow, collecting eggs from chickens, constructing an initial building, for example, a barn, etc. In general, in the beginning, the game is not very interesting, it is very similar to those akin to it, and you can even say it is boring because even the child will cope with the initial tasks.
As soon as you spend a lot of time in the game but will be idle – the game will send you a notification, in which it will subtly hint that's enough to sit in one place, go to work and not be lazy! And if you want an excellent large farm, and that your friends even envied, you will need to obey the game process, and spend a lot of time developing your farm.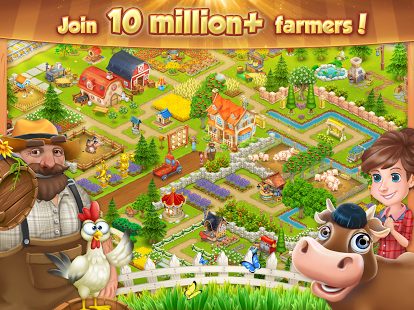 To buy something, build different buildings, and spend money on improvements – you need to earn them. Donat – you will think. But the developers of this game took care of us and made it so that money could be earned in the normal way directly in the game. To earn this very money, we will sell different products to villagers, for example, vegetables or meat.
The process of selling products is very easy, for this, there is a special bulletin board on which residents will put their orders, and you, if you have enough products, will be able to fulfill them and earn money!
The game is competitive with other similar ones. It rightly deserves the status of "Reminding people that there are very high-quality games in farm style", and it's true if you forget that there are such games, or simply think that they are no longer interesting and long overdue, this game will make you understand that you are mistaken – download Let's Farm for Android and see for yourself.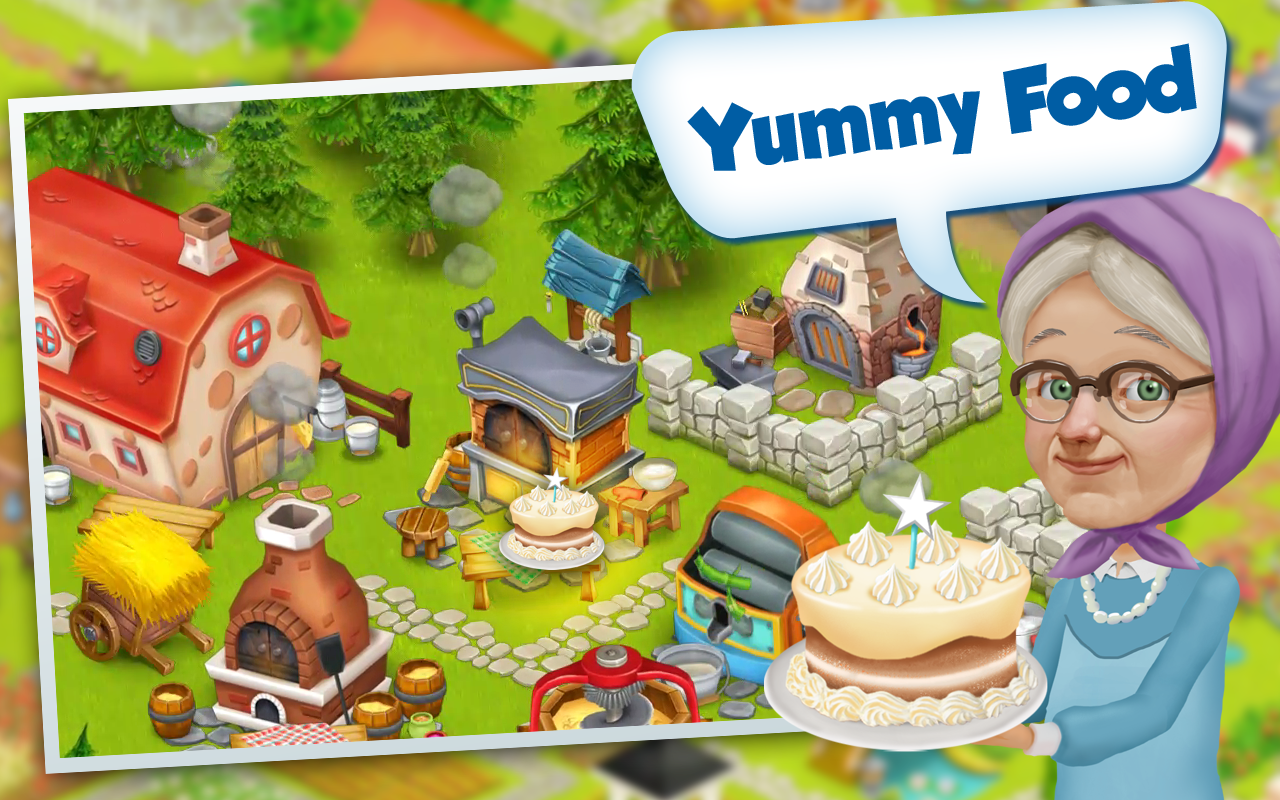 Downloads: +10 000 000
Costumers rating: (4.2 / 5)

Fairy Farm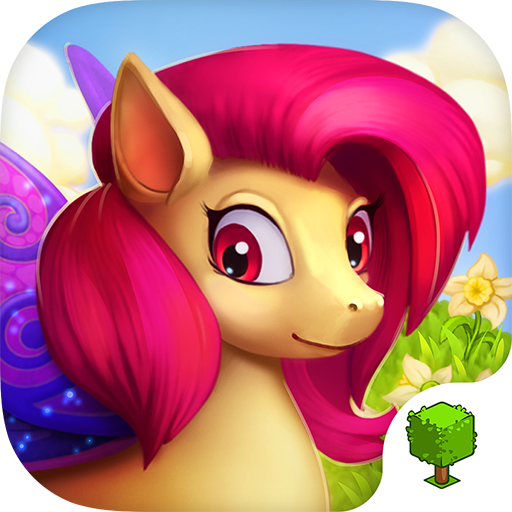 In the game, there is the world full of all kinds of flowers, trees, and animals. In short, a standard farm. We have to work a fairy, which creates the garden of your dreams. The fairy will carry out various wizarding tricks to sprout faster. Only this will not help the process – it will last a long time. The game has a good store, in which you can find a lot of interesting seedlings and just seeds.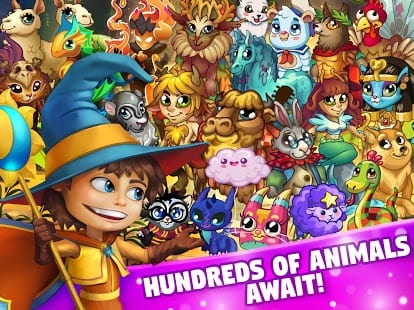 The game sets us up to the fact that we have to tame animals. Only here there is the trouble … the developers have made this process very complex, requiring the waste of a large number of crystals. So either does a vegetable garden or catch animals. Of course, if you are willing to pay … in fact, the developers are counting on it, it will be very comfortable for you to play.
Look, to catch an owl alone, you'll have to give away all the crystals that you have. They disperse unrealistically quickly but it's not so easy to get them. You want to buy a cow – collect a month. It sounds like a mockery but it's the truth of life. Well, if you are ready to invest in Fairy Farm for Android, the developers will happily fill your pocket with a huge pile of crystals that you will have to buy more than once …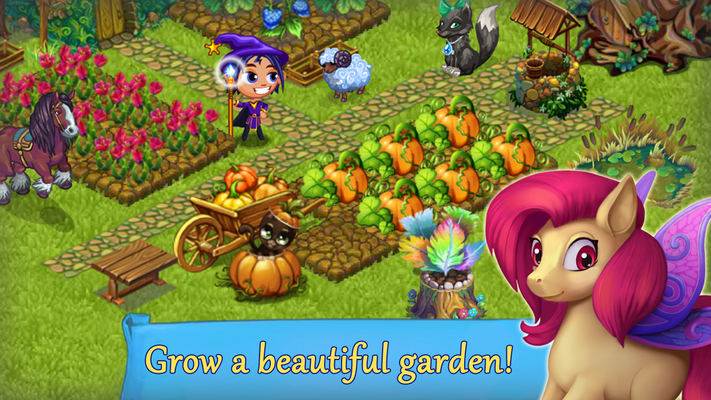 The tasks given to us will be not difficult: harvest a strawberry crop or plant a certain number of pumpkin seeds. The economic component in Fairy Farm for Android is missing. Those who often spend time in farms know that the grown harvest must be collected and sold in order to make a profit. Everything is much simpler: they have harvested the crop, it disappears, and we immediately have money on the account.
Each update suggests getting more and more unique animals and interesting items. You will learn horticulture and become a master in the cultivation of more than thirty sorcery trees and plants. You will also have the opportunity to try your hand at magic animal breeding. Increase your skills by growing unicorns, peacocks, dragons and other creatures. You will also be able to understand the secrets of potions. So the game will be insanely interesting.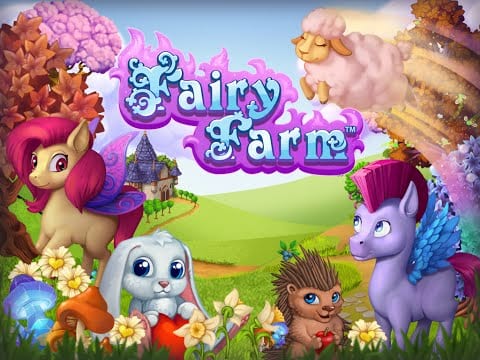 Downloads: +5 000 000
Costumers rating: (4.3 / 5)

Farm Story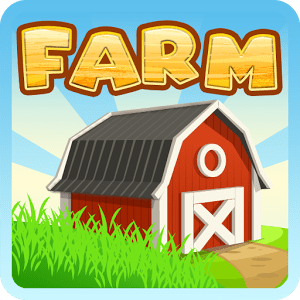 Farm Story is a game that everyone will like without exception and will make you feel like a real farmer! Install this application on your mobile device and build a farm, which in the future will bring you considerable profit. Handle the land, sow and grow cereals, fruits, and vegetables, make supplies for the winter, and sell the rest of the crop to buy the money and the necessary equipment.
Be engaged in the construction of various structures – from homes for members of their families and ending with farm buildings. At your disposal will be a lot of various objects, with the help of which you can realize all the game fantasies!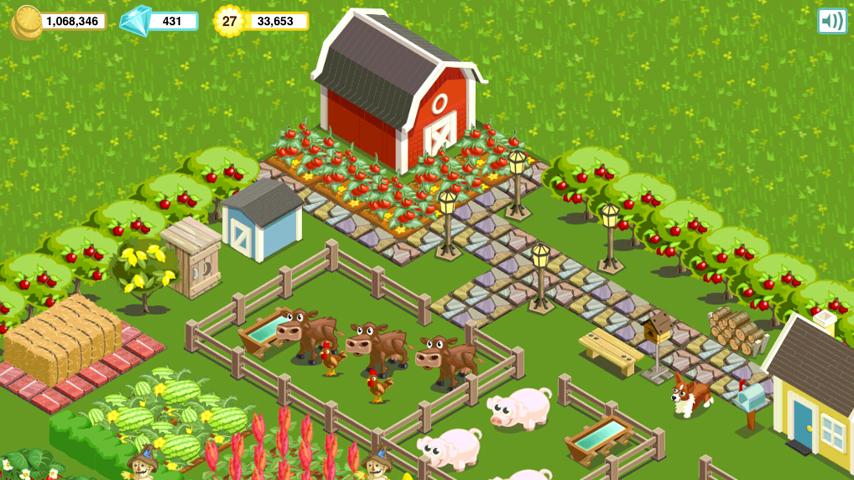 Note – for the game you need to connect to the Internet, without it, you can not play. But the network game allows you to travel to other users' sites, help them with caring for the garden and get bonus items. By choosing the right kit, you will receive a special decoration. Add your favorite participants to your friends and help each other in agricultural affairs.
Farm Story is made in the best traditions of good farmer simulators but it has several individual features that we simply cannot ignore. Firstly, in no other game of this genre, you will find such a rich choice of possibilities. Secondly, other gamers can see the garden, so try not to strike in dirt and show everyone how good you are. Thirdly, you can enjoy the exciting gameplay online!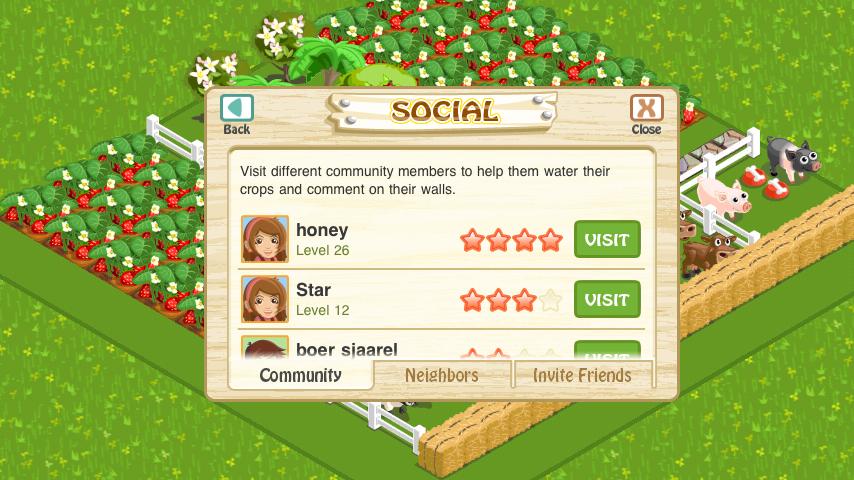 Before starting the game, please note that it requires daily participation. Some types of crops grow all day, and if you plant something today, and tomorrow forget to harvest, the harvest will be lost.
Game Features:
150 varieties of fruits and vegetables.
The ability to create a farm from zero and equip it to your liking.
You can walk around the neighbors and learn from them a useful experience.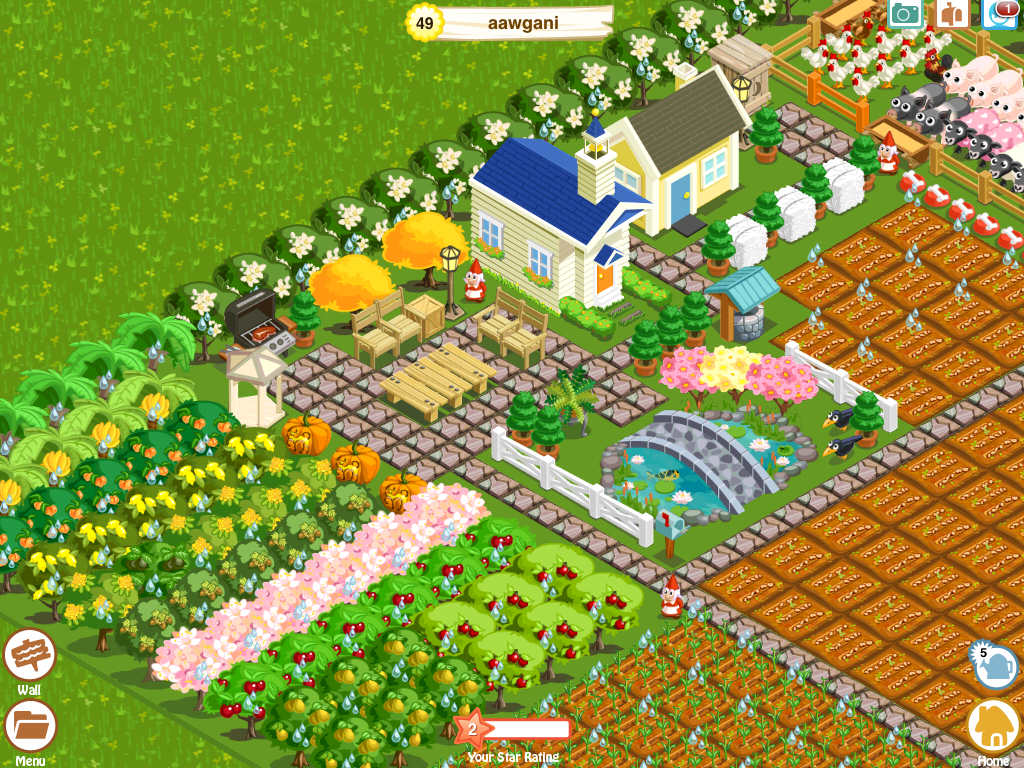 Downloads: +10 000 000
Costumers rating: (4.2 / 5)
Bud Farm: Grass Roots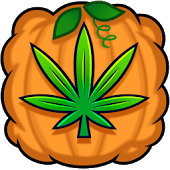 The idea of the project. The original group of developers from the association East Side Games Studio transformed the genre of "Farm" beyond recognition – no more annoying vegetables, impatient buyers, and competition, go to a quality product, grow marijuana!
Start a business with one single plant, bringing a minimum profit, and even preparing to wither in a few minutes. Gradually, players will explore new varieties, sort out fertilizers and buyers, and get profit!
Genre and quests. The main part of the game time in the new Bud Farm – Grass Roots occurs indoors, where flowerpots, watering machines, and other mechanisms that promote the rapid growth of marijuana fruit are installed. The initial profit will suffice only for the purchase of new varieties of plants, and for minimal improvements that help plants to increase their native characteristics.
Design and the world. The bright graphics of the novelty Pot Farm – Grass Roots for Android catches at a glance – detailed objects, colorful plants, and environmental objects. Developers have thought out even the appearance of customers, possible improvements, and plant varieties. Pot Farm: Grass Roots is a great solution for those who like the farm simulator genre but are tired of monotonous gardens.
Features:
A lot of equipment: water pumps, special apparatus-generator for airing bushes, devices for lighting hydroponics, etc.
Searches for clients in social networks.
Stars and bonuses.
Derivation of new varieties.
Downloads: +10 000 000
Costumers rating: (4.5 / 5)
Township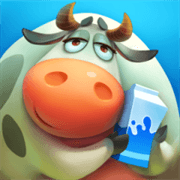 It's hard to admit but even adults like farms. One likes to play in the open, while others try to play in a way that no one knows or condemns. If you look carefully, you can easily find Township for Android, an excellent simulator, in which urban planning and farming have joined together.
So, in the game, we are waiting for a variety of activities, which we will have to engage in combination. The most pleasant thing is that all our actions depend on other actions.
The goal of the game is to develop your city. You can do this primarily at your own expense: cultivation, processing, and subsequent sale of the crop. The profit should be invested in the construction of all kinds of restaurants, cinemas, and other development centers. It turns out that the game world does not live without you.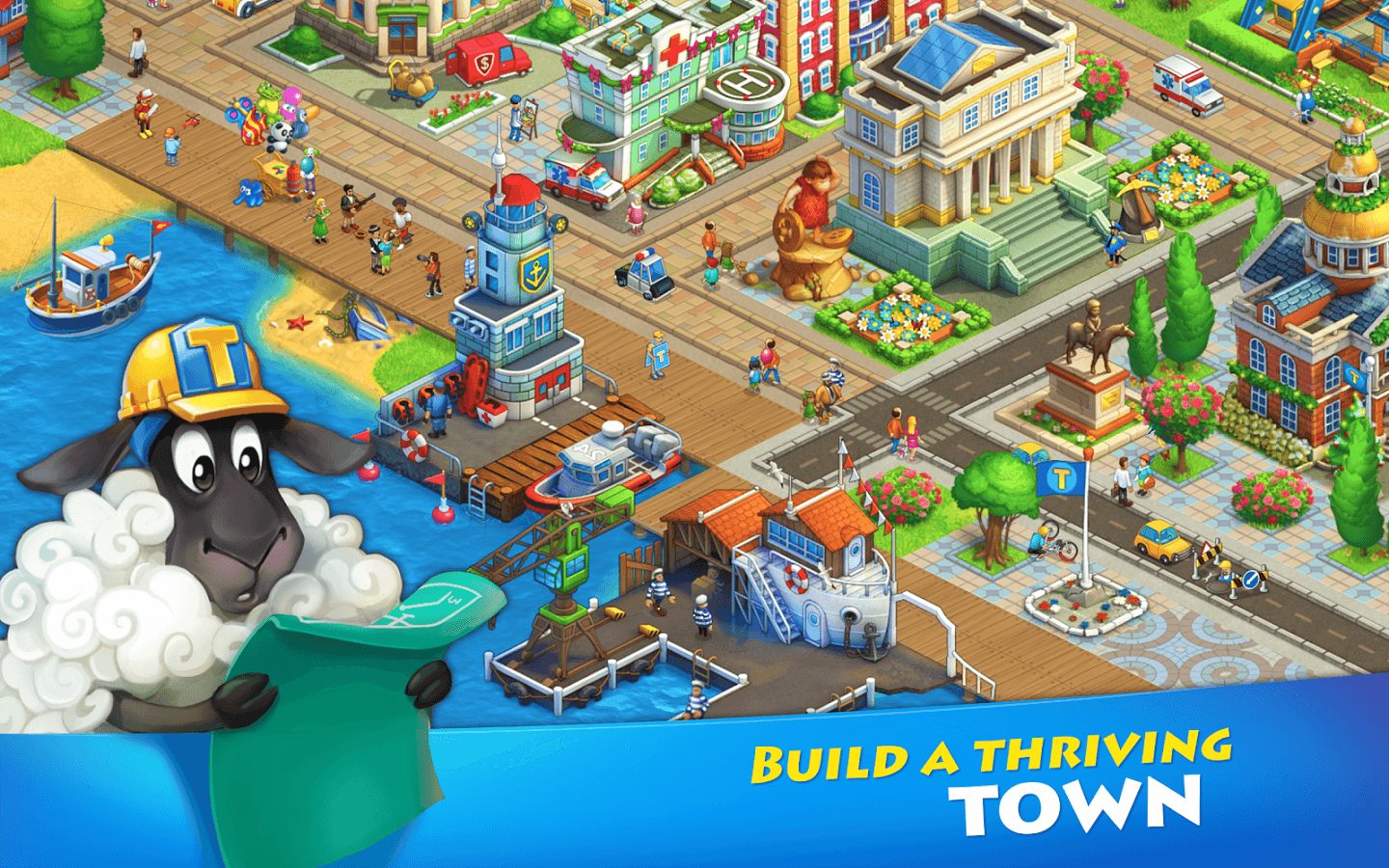 There are many similar games but why is this one better? Remember how you start any other game… Of course with a clean slate. This is not always pleasing.
In Township for Android, we start playing when there are some buildings in the city, namely the mayor's office, the plant, the station, and a lot of residential buildings that have already been built. It becomes more interesting to play because you do not need to think about how to build it all. Now we need to improve the existing ones.
As usual, at first, there will be a little training. It's even good that we will be shown how to properly harvest or construct a building using new technologies to save money. All products to the city are delivered by helicopter.
On the delivery of goods, you can make good money and invest in the development of the city. You will have to follow everything, even trade, in the literal sense of the word. Immediately send the received profit for construction. Mostly it is necessary to build factories and apartment houses. New plants – more profits, new homes – more residents and workers for future plants. A closed cycle is obtained.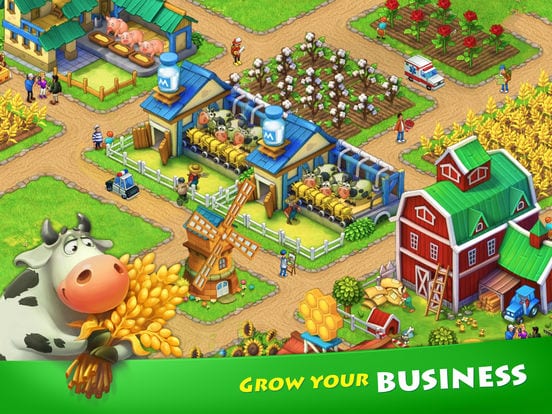 Also, there is a game currency: coins and banknotes. If there are no problems with coins and they are easy to earn, then with banknotes there are difficulties. When you move to a new level you will be given a little but this is a very meager number. So be prepared to invest real money in the game if you want to actively develop and play further or download a hack.
Of course, the developers are trying to make money for us, but they are not forced because the game tests showed that you do not need to invest money if you do not want to get everything right away. A little patience and you will succeed.
The graphics in the game are perfect. The objects do not seem small, the colors are bright. Tooltips are very informative. If you are a fan of farms, you simply have to try this interesting game on your gadget!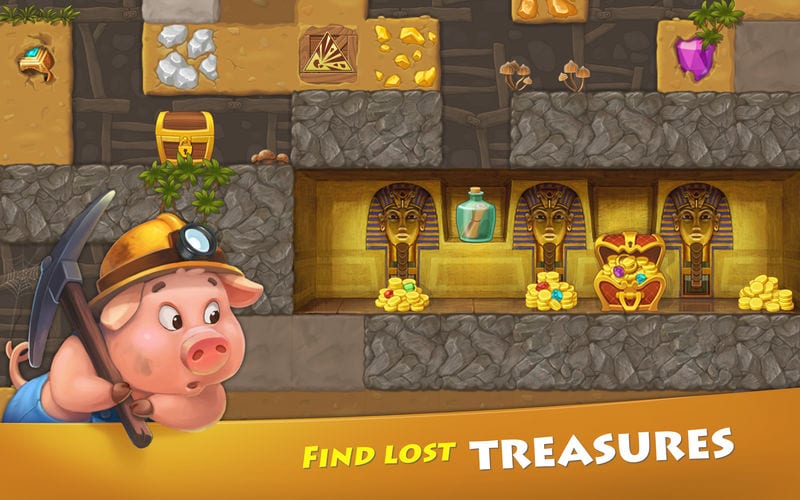 Downloads: +100 000 000
Costumers rating: (4.6 / 5)
Jolly Days Farm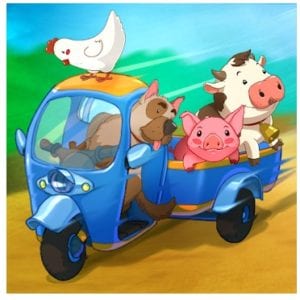 Imagine the picture: early in the morning, even before sunrise, a rooster had already sung somewhere, a grey cat woke up, the piglets were grunting in the barn, and the cow was running. Something has to be done. The developers of the game Jolly Days Farm offer you to manage this funny farm.
First, you need to buy a couple more chickens. Increase the number of pigs and a herd of cows. And what about the farm without the right dog? Who's going to guard the farm? And the developers assure you that on this nice farm called "Funny Days" all the animals are kind, and so even the cat and dog are friends here.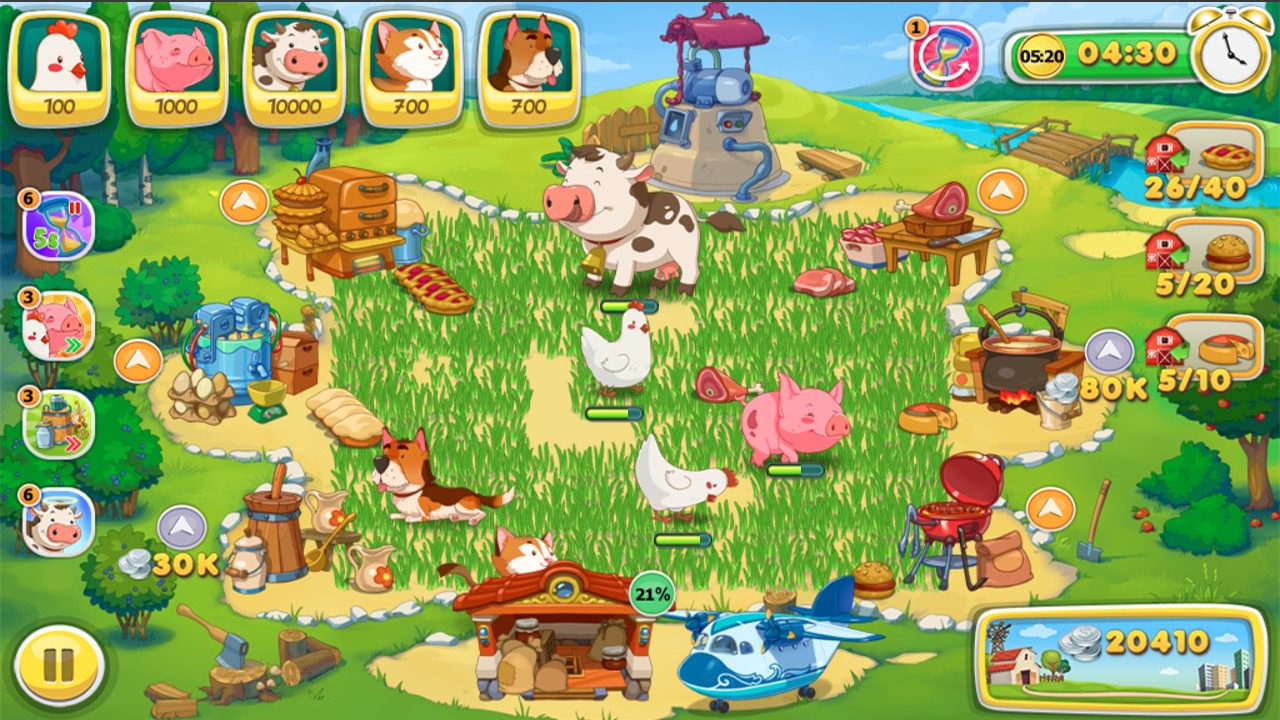 Expand your farm. You can now not only buy your own pets but also make a decent profit. For example, a cow gives milk that can be used to make cheese and then sell it.
And although at first glance, it seems that everything here is very simple, going from one level to another, you will realize that it is not quite so. Sometimes you have to solve serious farm problems and choose what is more profitable to buy or make at the moment. Become a rich farmer who is happy to work on his own farm!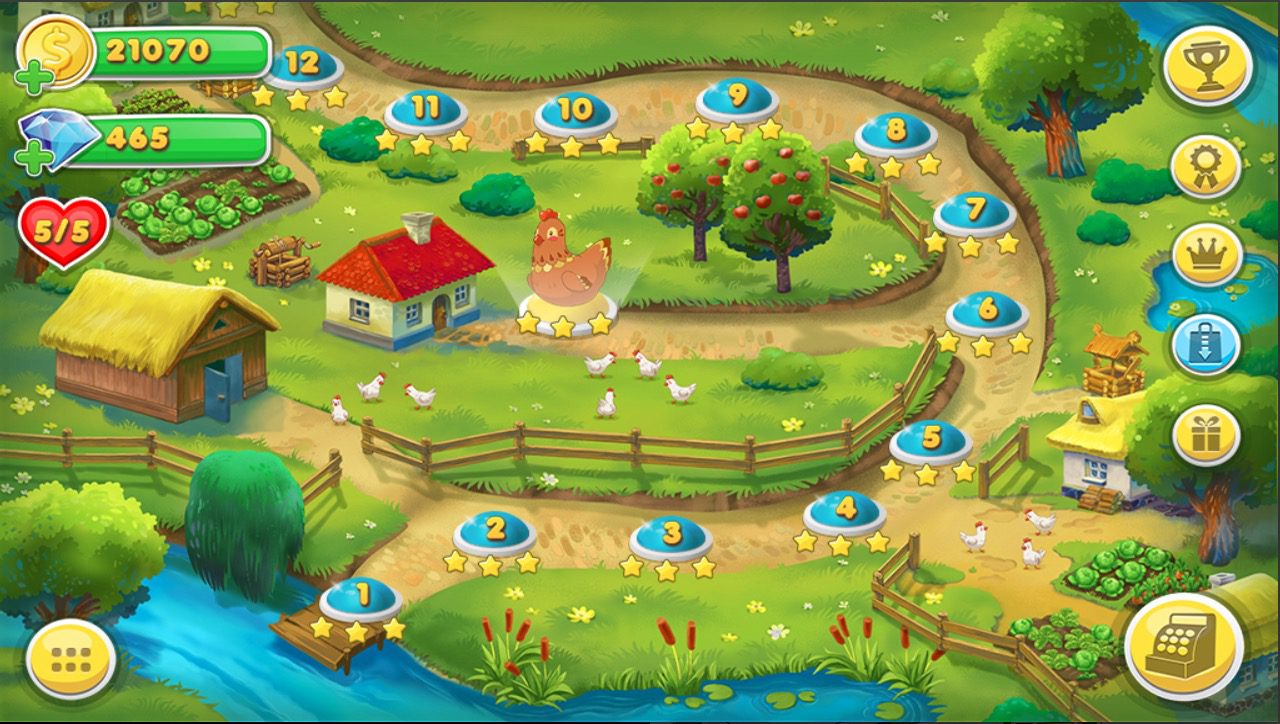 Downloads: +1 000 000
Costumers rating: (4.3 / 5)
Dairy Farm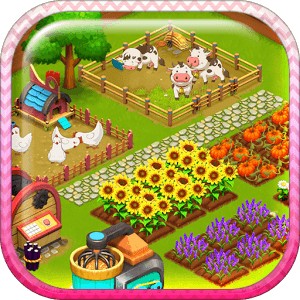 Dairy Farm – an exciting game that simulates the life of the farm. Bright graphics, addictive gameplay, realistic soundtrack, and a simple control mechanism will give you a lot of fun from the gameplay.
Start with the construction of pens for your animals and planting plants. Breed the chickens, pigs, cows, and other animals. Learn to care for them. Do not forget to feed in time, to harvest, eggs, and milk. Build processing plants and produce ready-made foods. For each action, you are charged a certain amount of money.
They can be spent on improving buildings and structures, buying new varieties of plants and animal species. Gain experience and you will discover new opportunities in the game. Go through different tasks, improve your farming skills, and get nice bonuses. Do your farm even more attractive and cozy with the help of various decorations and additions. Help your neighbors to harvest, and share the results and achievements with your friends.
Do you want to feel like a real farmer? Then install Dairy Farm on your mobile device and start developing your agricultural talents.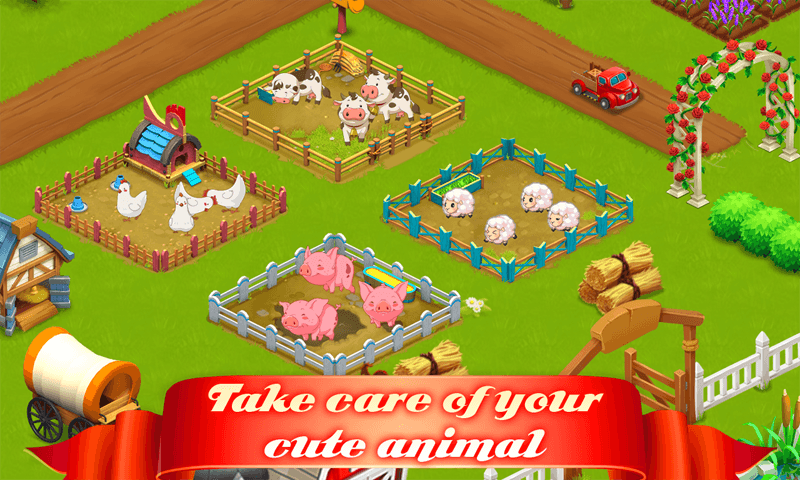 Downloads: +10 000 000
Costumers rating: (4 / 5)
Farmdale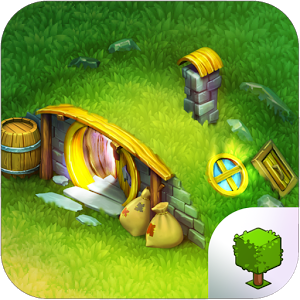 If you like fairy-tale games, and you have not played any fairy-tale heroes for a long time, you should like the new game for mobile phones – Farmdale for Android.
This game tells about the inhabitants of one fabulous country, they are very small and defenseless, they need your help. You have to grow a lot of different plants that will benefit small fairy-tale heroes. You can breed a whole farm of interesting animals and arrange your home, in this way, as you wish.
Also, do not forget about your neighbors, which in this game you will have plenty. It is always necessary to come to the aid of your neighbor because he can help you at the fair, sell, or buy a product you need. You can arrange your home. A fairy farm will like to your child, so do you.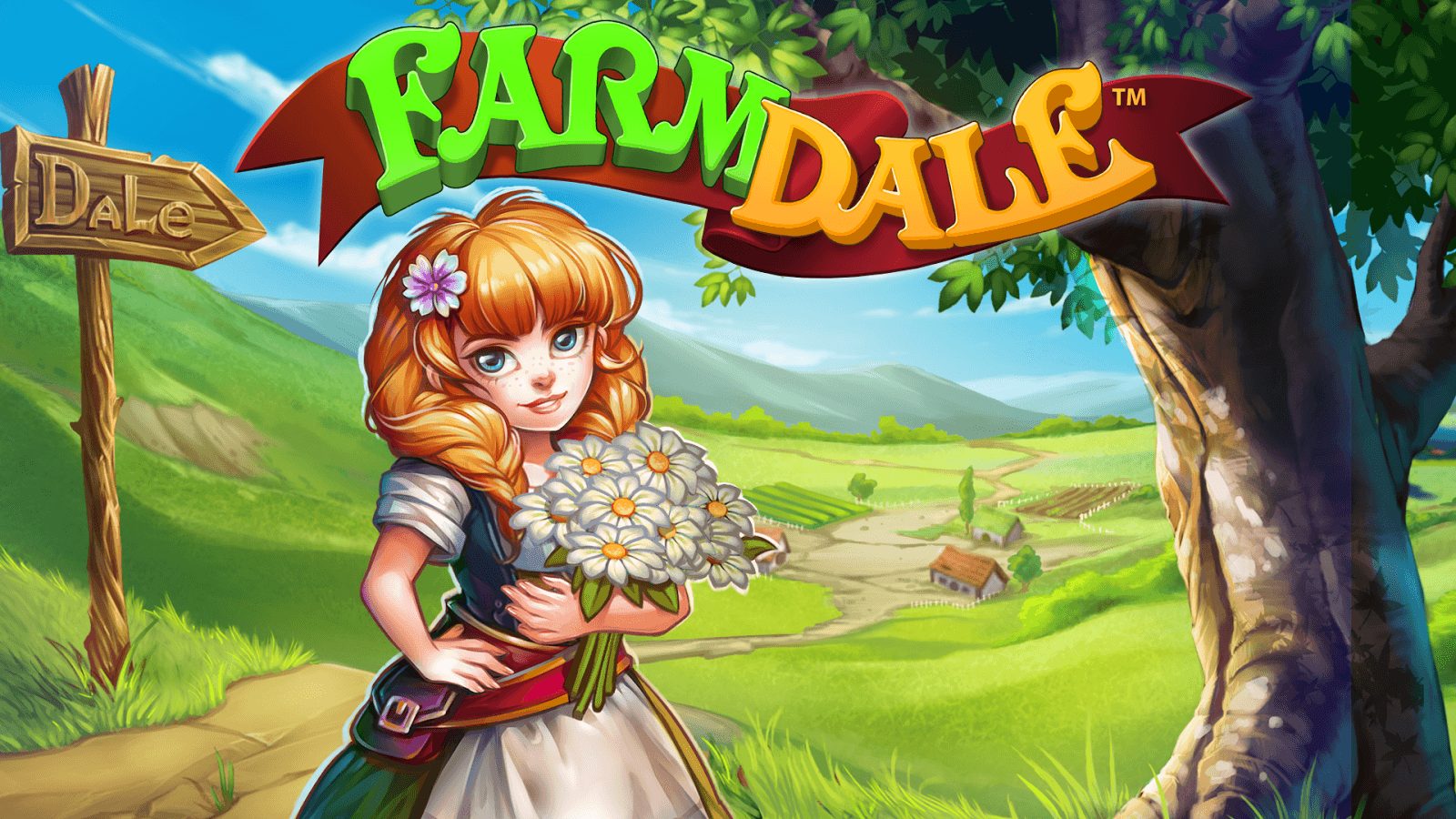 The main features of this game are beautiful graphics, a well-thought-out game story, great voice acting of the main characters. Like many similar games, Farmdale for Android will be able to remind you of a story about Peter Pen, where fairies, talking grasshoppers will fly or a chatty rhinoceros will stroll peacefully.
All the inhabitants of the fairy village are very funny, they want to play and have fun but they also need help in gardening and harvesting. In the Farmdale, you can grow rare kinds of vegetables, different colors, cereals, and much more. At first glance, you will not see any sense or game idea in this farm. But in fact, this is far from the case.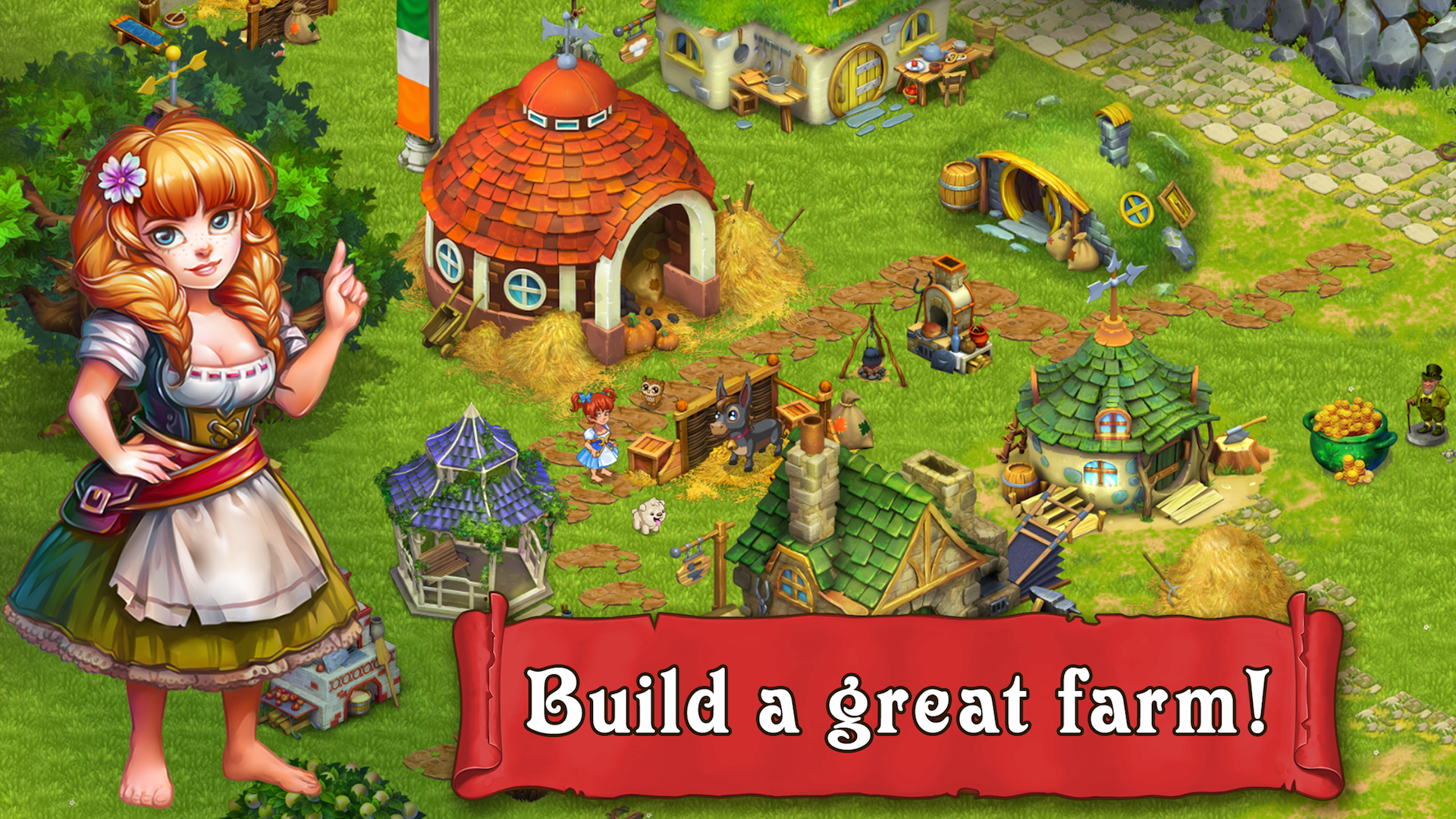 The game assumes the factor that you will develop your imagination and the talent of the farmer, coming up with the right crop planting policy or how best to grow a certain kind of plant. The game has a lot of interesting characters that you want to explore and see all their possibilities. Each of the characters wants to tell you his fairy tale story.
Also, you will be expected just a huge selection of different plants that can be grown both alone and using the help of a friend. The plot of the game is very funny, the game should not bother you in a short time, you can completely immerse yourself in the gameplay, forgetting everything in the world.
Among the highlights of the game, it is fashionable to note a book of crafts and secret paths, going on which you can open many chests with gifts. So it's time to go to grow your farm!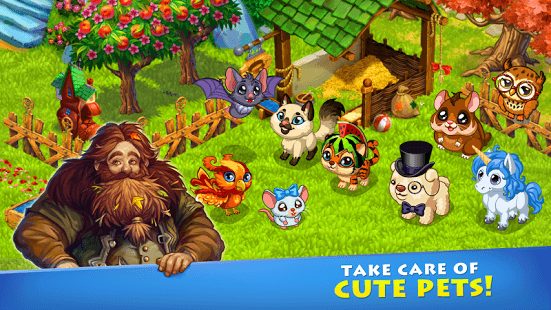 Downloads: +5 000 000
Costumers rating: (4.3 / 5)
Farm Up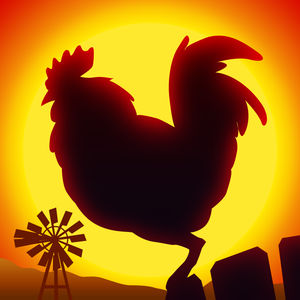 Usually, all games with the word "farm" in the title are similar as two drops of water and there is no particular difference in which one to play. Unfortunately, this genre does not really shine in a variety but this cannot be said about the game Farm Up, which has its own personality. In many respects, this is manifested through the original appearance of the game.
Farm Up is made in a very realistic form and more like sims on Android than another game about the garden. Most of the farms on the Android look too bright and catchy – the game about Jane is more like a serious project, as the graphics in this game are made with a claim to realism.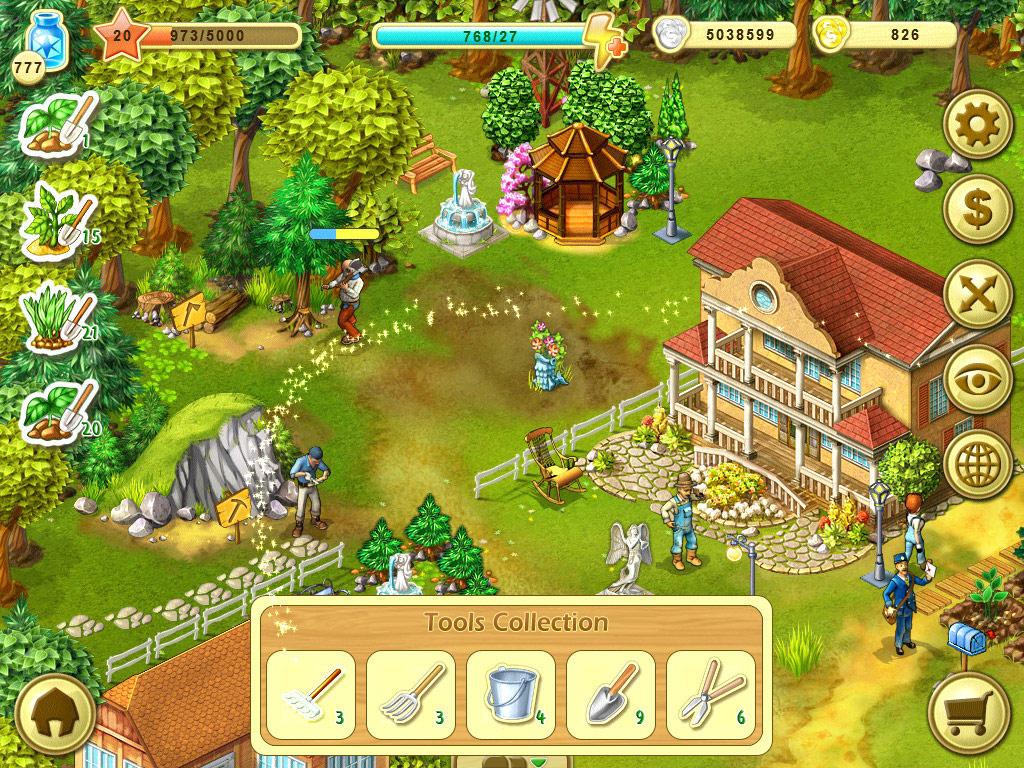 The game begins with the fact that a young girl named Jane inherits a seedy farm somewhere on the outskirts of the country. Any other girl would sell it for a pittance and go on vacation but you do not know Jane if you think she will let herself surrender. Roll up your sleeves and get to work, because Jane cannot cope without your help! At the very beginning of the game, you need to plant some culture and start growing it to get some profit and get back on its feet.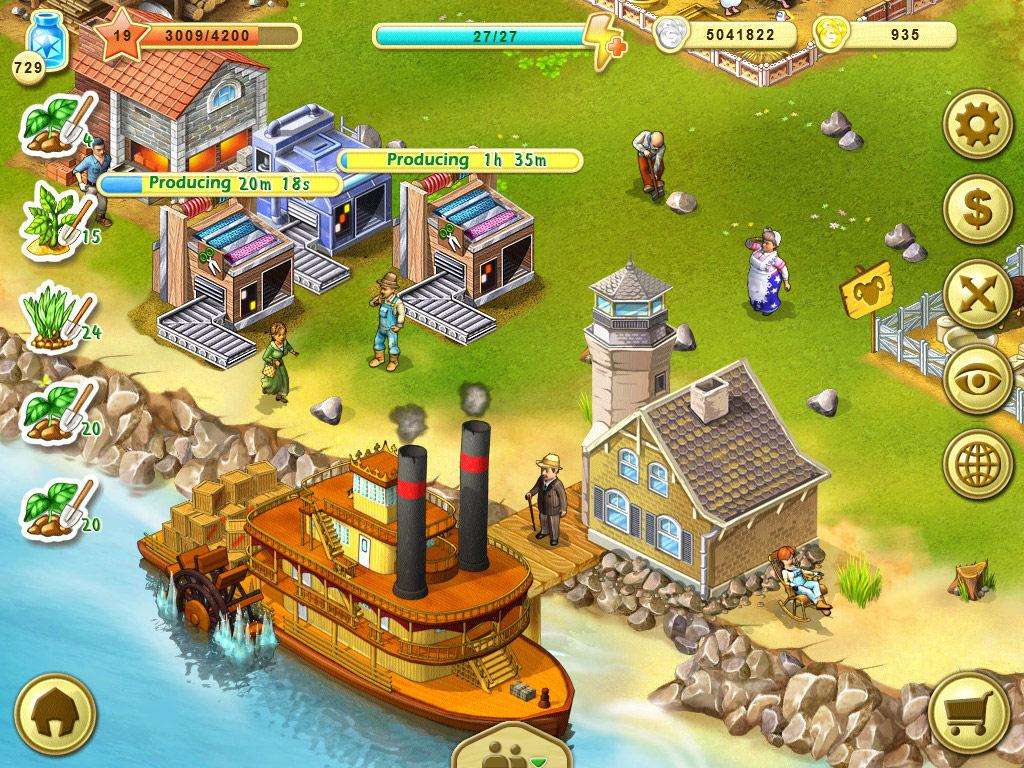 Thanks to the small quests, you can quickly get comfortable in the complex world of the game. As you progress through the game, you will be able to build extensive production and turn this region into blooming lands, build a river port and road to send products to the foreign market, and even get married! The husband will help you with the garden and speed up the construction of buildings. Over time, you can bring your family to the farm and teach it to different sciences, so that they also help you in harvesting and creating products.
This strategy will appeal to lovers of the melodic gameplay. In this game, gamers will be able to build a farm of their dreams, without being distracted by anything!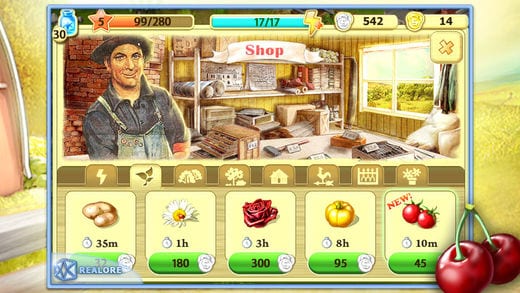 Downloads: +1 000 000
Costumers rating: (4.2 / 5)
Village and Farm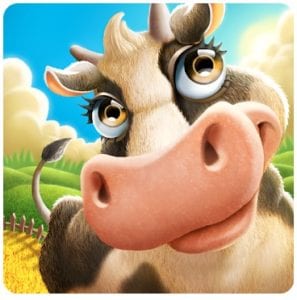 For all fans of casual games of the farm genre, the developers have created a cool application Village and Farm, where you will be interested and fun. And the fact is that you can immerse yourself in the atmosphere of farming of the Middle Ages. You need to do everything you can to make your farm the best, and your ancestors will be proud of you.
So, in the application Village and Farm is quite simple management. You just need to move your finger on the screen of your mobile device. Your responsibilities will include cooking delicious food, growing crops, feeding and raising animals, and, of course, creating the best farm in the world.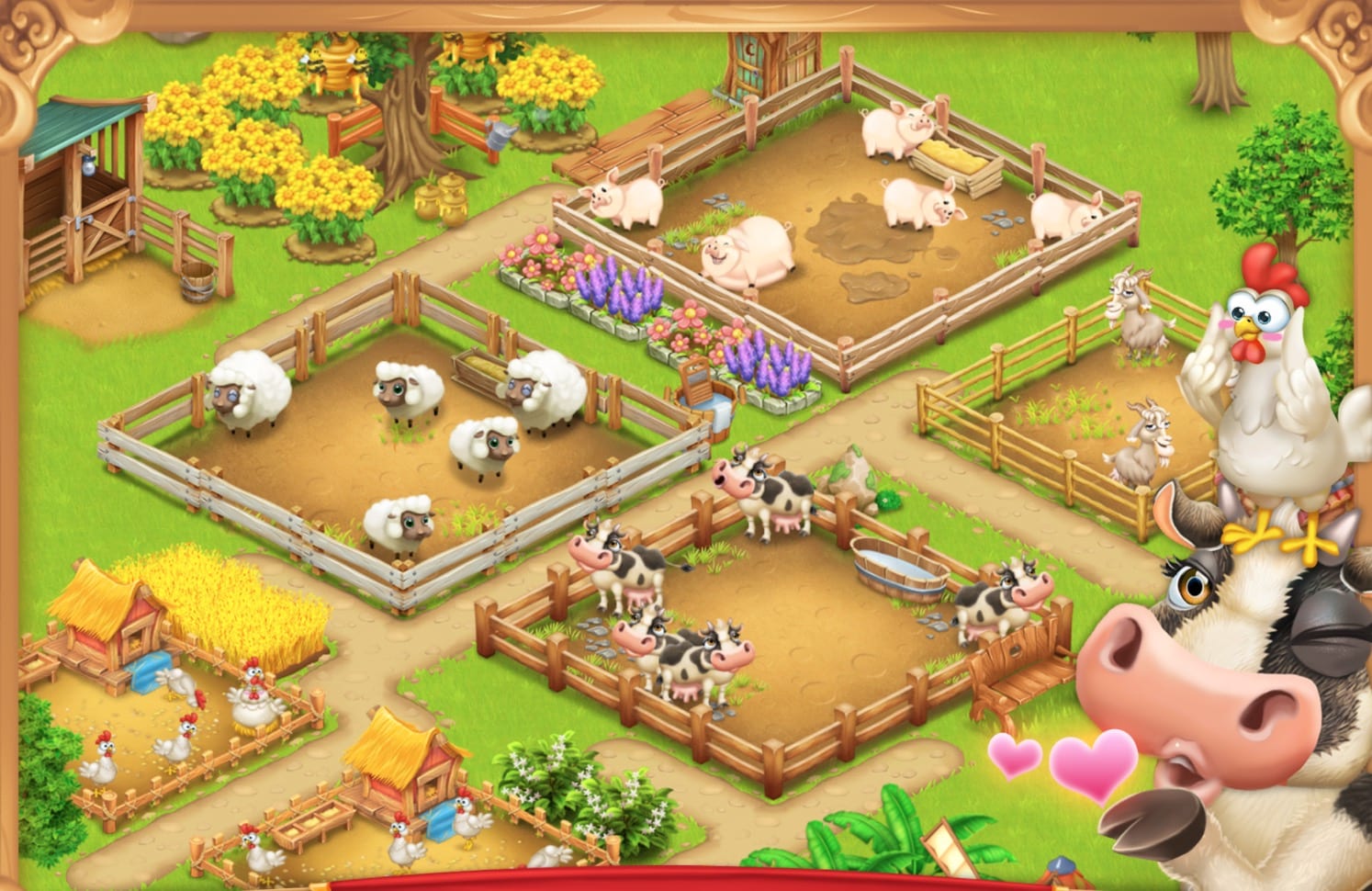 In addition, you will be able to trade products from your farm with players from all over the world. Also, be friends with your neighbors and everything will be fine! You can't do without challenging tasks, but you'll be sure to cope with them!
The Village and Farm application please you with all the features, themes, bright graphics, and music. But some items you will have to buy for real money. You can basically give them up and play for free. So download the game Village and Farm and develop your unique farm in the village!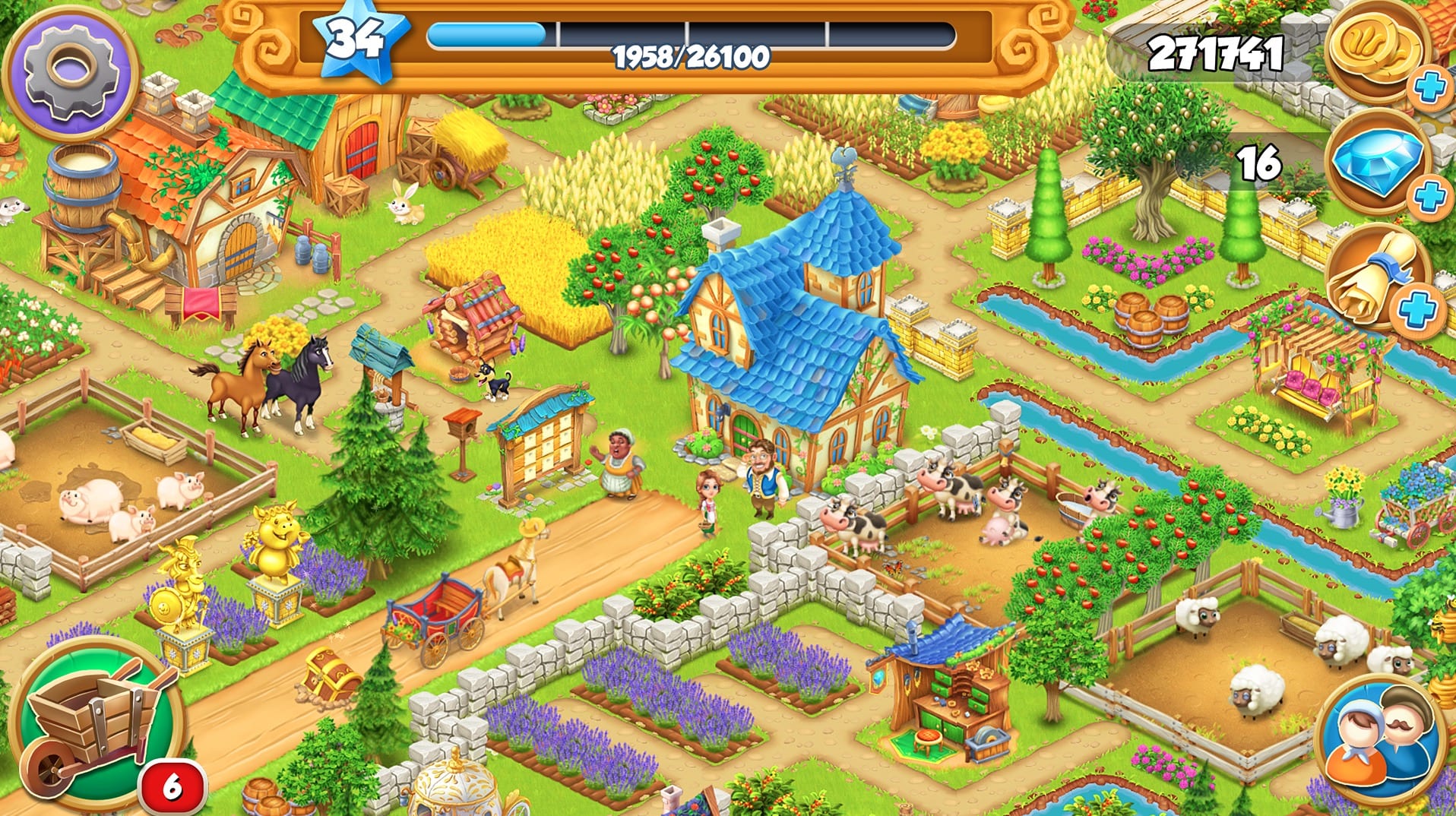 Downloads: +10 000 000
Costumers rating: (4.4 / 5)
Harvest Land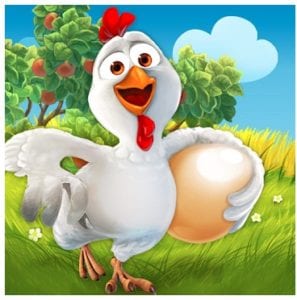 Harvest Land is an addictive game with colorful graphics and realistic gameplay.
You are entrusted with a responsible mission. Go on a voyage by sea, find a lost island, and turn it into a successful and prosperous one! Grow an abundant crop of fruits and vegetables on fertile soil and breed pets. Try your hand as a builder – lay the foundation for new homes, factories, shops, and other buildings. Open cafes and restaurants. Collect all kinds of resources and valuable artifacts and develop your island.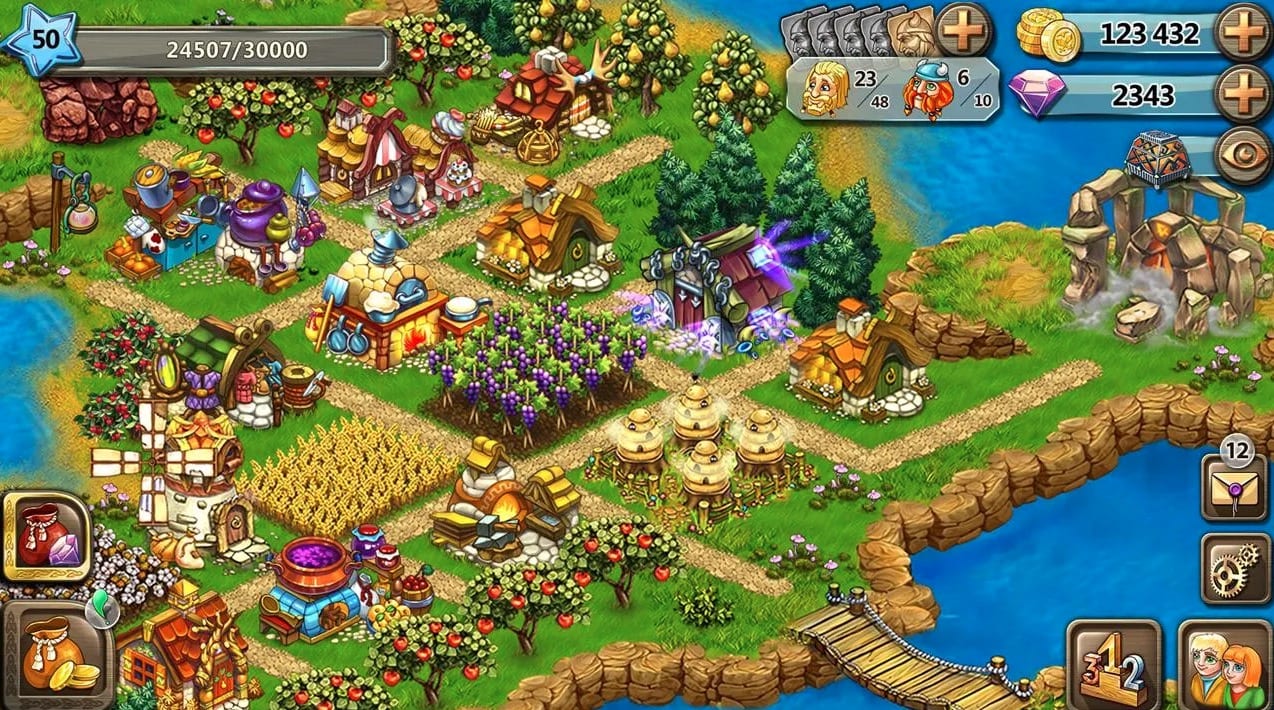 Organize an expedition to other countries and continents, establish trade connections, and purchase exotic goods. Build a casino, get the chips, and test your luck on vending machines and other mini-games. Make the necessary guns. You always have to be on your guard. Pests and other enemies aren't sleeping!
Share your achievements and resources with friends through social networks.
Are you anxious to find a mysterious island and become the ancestor of a new nation? Then download Harvest Land on your mobile device.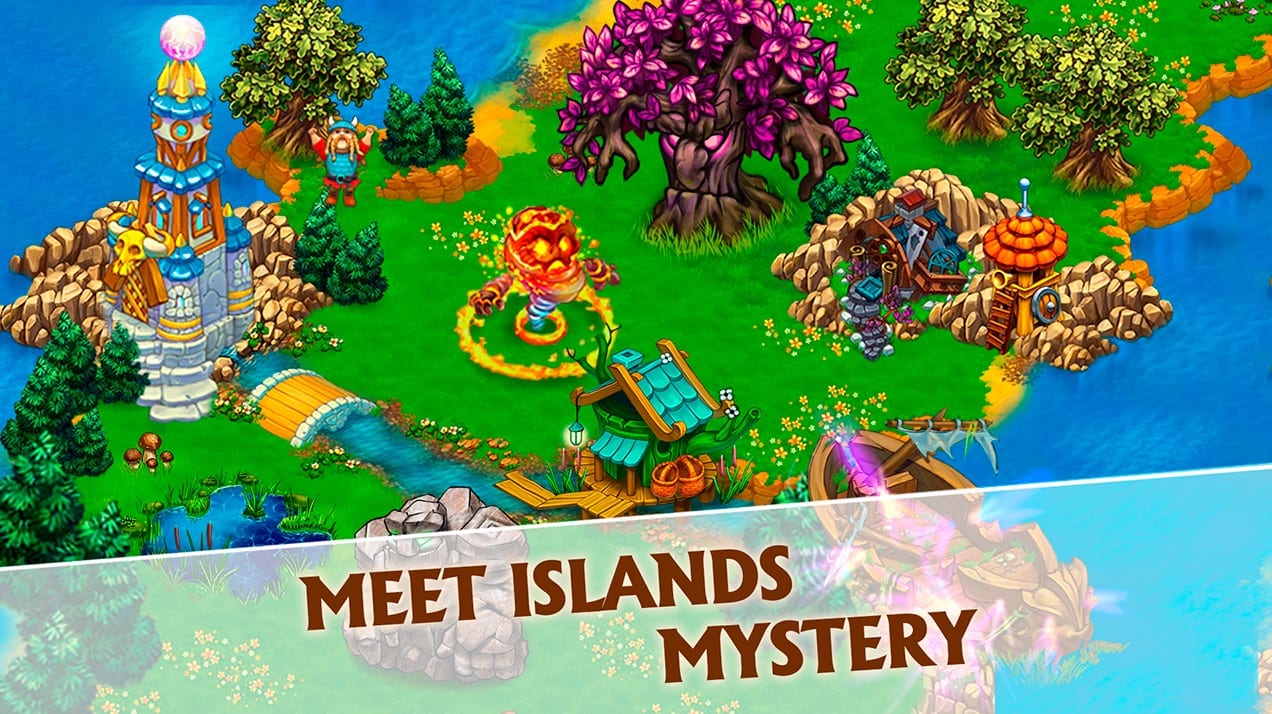 Downloads: +10 000 000
Costumers rating: (4.3 / 5)
You may also like: 19 Best Crafting and Building Games for Android
Family Island™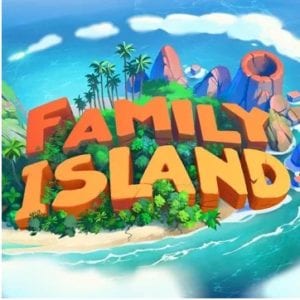 Family Island™ – Farm game adventure is a fascinating strategy for Android from Melsoft Games studio, where we will try to help a family of savages to settle on the island. The game has the original design of locations, nice graphic design in a cartoon version, excellent animation, and good sound.
Family Island™ gameplay. A friendly family finds themselves on an abandoned island, but the heroes aren't used to being discouraged, so they begin to beautify the territory and refine the land. It is you who will be engaged in the construction of various structures, their improvement, and location on the island.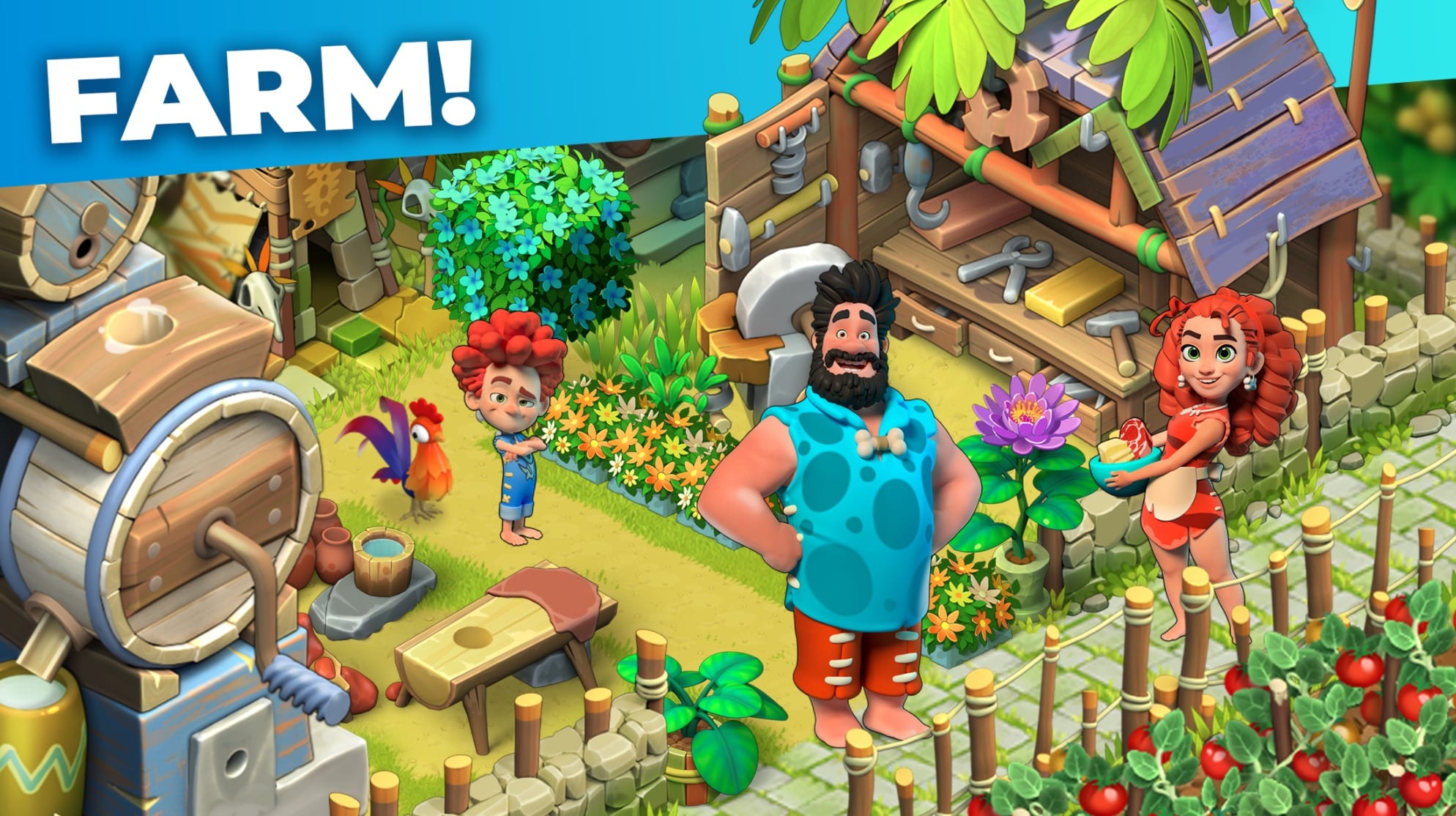 Start cultivating the land to plant vegetables and fruits, don't forget to water them and after harvesting. Raise cattle, make a variety of items from raw materials, and sell them to natives to earn money and spend it on buying new buildings or improvements. Perform quests, raise the island, and find lost treasure.
Features of Family Island™ – Farm game adventure:
It's fascinating gameplay;
Original design;
Pleasant graphics;
Funny animation;
Easy operation.
From time to time there are all kinds of gifts on the island. More often explore the nearest bushes and find there energy, resources, and experience, the level of which depends on access to certain technologies.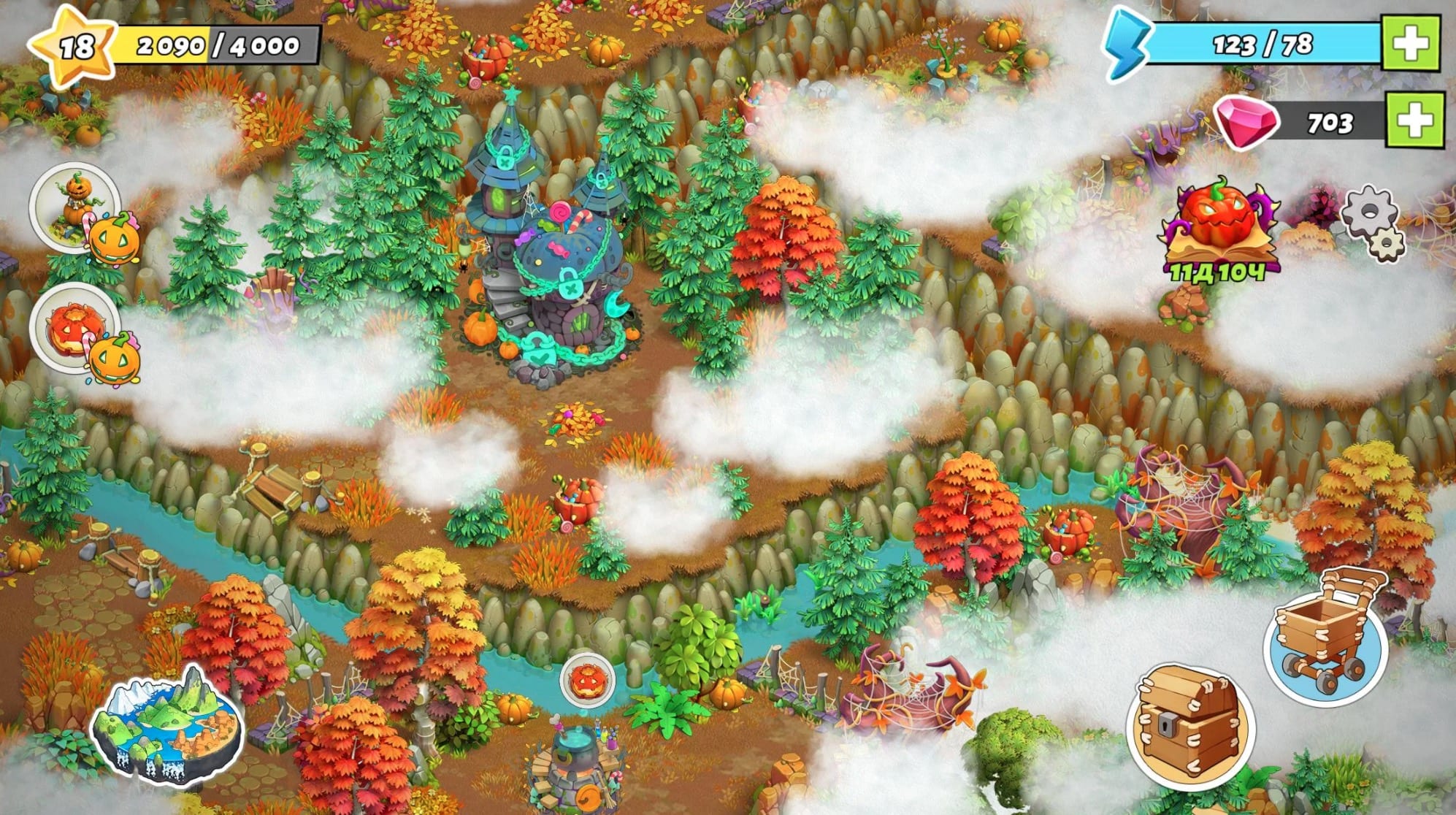 Downloads: +10 000 000
Costumers rating: (4.4 / 5)
Farm on your Android – the game is interesting and exciting. Read our description and select the game that you like best.