We've all been there: the night starts off innocently enough, with a few drinks and some good company. But before you know it, you are four tequila shots deep, and your fingers are moving faster than your sober brain can keep up with.
You wake up the next morning with a pounding head and a sinking feeling in your stomach, frantically checking your device for any texts you might have sent. Luckily, we've picked the best Android apps to prevent drunk texting disasters.
These apps will lock your phone or apps to save you from unwanted embarrassment. With these apps, you can still have fun and enjoy your night out without worrying about the morning regret of sending that cringy text to your ex. Let's take a look at our top picks!
Bacco
This app is here to make sure you won't make any embarrassing mistakes after a few drinks. If you're tired of waking up and regretting all the text you've sent the night before, this app is a must-have. It's a game-changer for your social life.
With this app, you won't have to worry about drunk-dialing your ex or sending inappropriate texts to your crush. All you need is to block all the "dangerous" apps and even specific words from being texted while you're under the influence. It's the ultimate wingman!
But what really sets this app apart is the fact that it won't just turn off at the click of a button. Instead, you'll need to pass a series of tests to prove that you're sober enough to disable it. This ensures that you won't accidentally turn off the app early on in the night before you're actually sober enough to make rational decisions.
And don't worry, these tests aren't the boring old sobriety ones you've seen in cop movies. Instead, they're designed to be fun, challenging, and engaging. You'll need to concentrate, react quickly, and stay balanced in order to pass. And once you do, you'll be free to use your phone like normal again.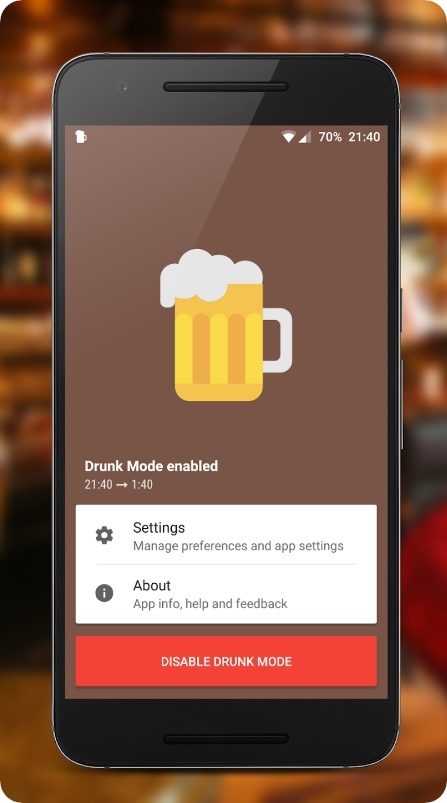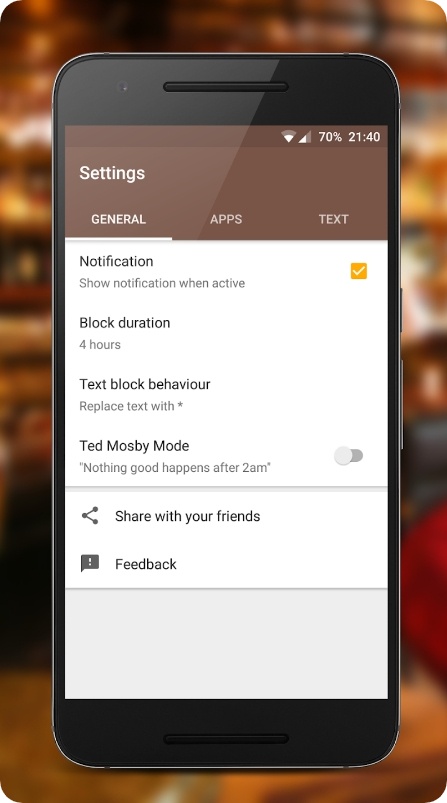 Downloads: 10K+
Customers rating:

(3.2 / 5)

You may also like: 11 Best SMS Blocking Apps
AppBlock
This app will transform the way you use your phone. Not only it will help you stay productive and focused, but it's also an excellent tool for preventing those regrettable drunk texts. Now, this app wasn't specifically designed for preventing drunk texting, but it does the job perfectly.
With the app blocker, you can lock any apps or sites that may lead you down a regrettable path (yes, we mean IG and other messengers you tend to use). And if you're worried about pesky emails, don't be! You can block those too.
You can even keep your reminders and alerts off, so you won't be constantly bombarded with distractions. But that's not all. The app also has a screen time lock that lets you set limits during off-time and organize your quality time. It is incredible for helping me strike a balance between work and play.
You can use the tracker to ensure you're not mindlessly scrolling through your phone all day. And if you really want to kick it up a notch, activate a strict mode to lock your profile and improve your self-control.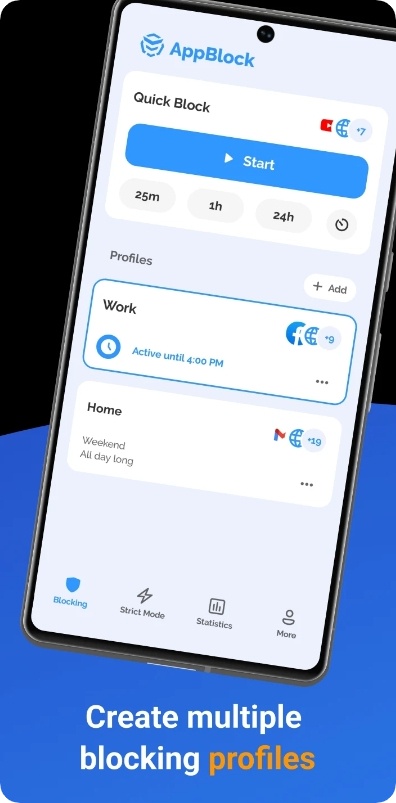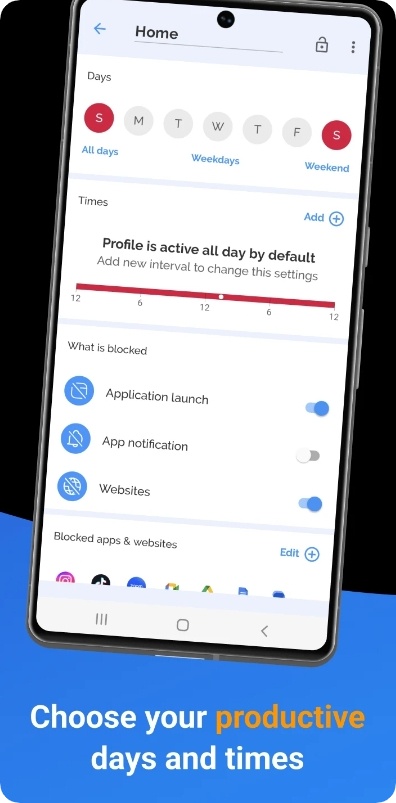 Downloads: 1M+
Customers rating:

(4.6 / 5)

Lock Me Out
This app is a lifesaver for anyone who has ever regretted drunk texting their ex. Not only can it block apps and websites, but it even has the option to trigger lockouts automatically based on your app usage. Genius!
One of the coolest tools of this one is the ability to schedule lockouts at specific locations. So, if you know you're gonna go out to some bar or get a few drinks over at your friend's house, just set a lockout for these locations and tailor the lock to a specific time.
Privacy is also a top priority with the app, too. It hides notifications from locked apps and even blocks pop-up views and picture-in-picture mode. Plus, it offers PIN protection for entry, uninstall, and tampering, just in case your sneaky friend tries to disable it.
And have no fear, if you ever need temporary emergency access to a blocked app, the app has your back here. Plus, it provides usage statistics and warning notifications to keep you on track. And the best part? No pesky ads to distract you.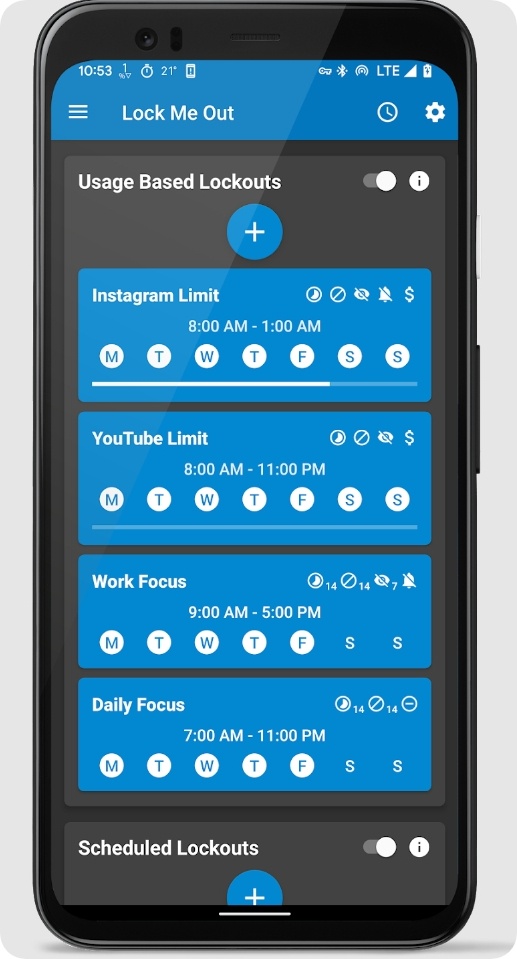 Downloads: 500K+
Customers rating:

(4.1 / 5)

Check also: 9 Best Apps to Hide Apps
Keep Me Out
Tired of waking up to regrettable texts and calls after a wild night out? This app is here to save the day! Although it has not been specifically made to prevent drunk texting, it sure does a great job of doing it.
You can easily select a time frame to restrict access to your device.. And don't worry, you can still make an emergency list to reach out to your trusted mates and fam in case of trouble.
In addition to its basic instruments, the app also provides a schedule lock tool that can be incredibly helpful if you're planning a night out. It lets you easily plan out lock times in a seven-day cycle. Furthermore, it offers you complete control over your digital consumption, keeps you on top of your schedules, and allows you to optimize your productivity.
The app also offers an overview of your phone use patterns, helping you stay aware of any potential time-wasting habits. What if you need to use certain apps during lock time? No problem, just pick the apps that you really need to be excluded from locking.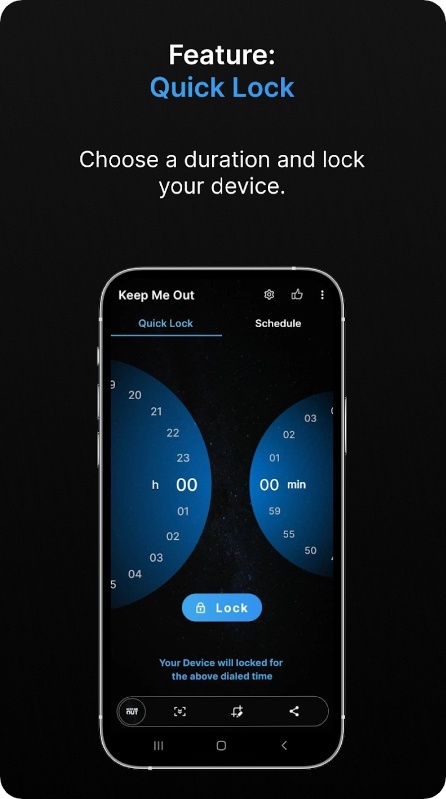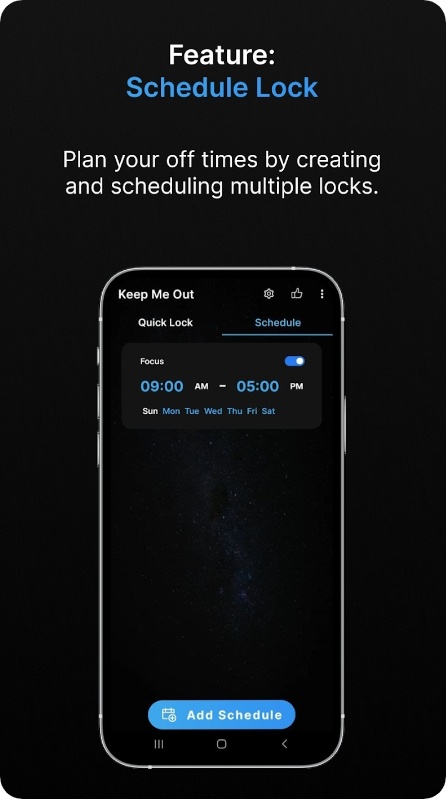 Downloads: 500K+
Customers rating:

(4.7 / 5)

Block Apps & Sites
It's an app to help you monitor your phone usage and limit time spent on certain apps or websites. It does a great job preventing drunk texting too, but the usage possibilities are practically endless. This app is not just your average run-of-the-mill app blocker, it is so much more!
If you're someone who struggles with drunk texting, this app can also help prevent that. By locking certain apps and sites at specific times during the week, you can avoid the temptation of messaging someone you shouldn't when you've had a few too many drinks.
And if you're looking to be even more productive, the strict blocking feature can be enabled to give you an extra push to stay concentrated and on-task. You can easily set specific times during the week to block annoying apps and sites that are ruining your productivity.
You can also view your phone usage and take control of your time. The weekly reports help to keep tabs on your digital well-being and view patterns. This tool is particularly helpful for those who have a tendency to get lost and need to be reminded of how much time they spend on their device.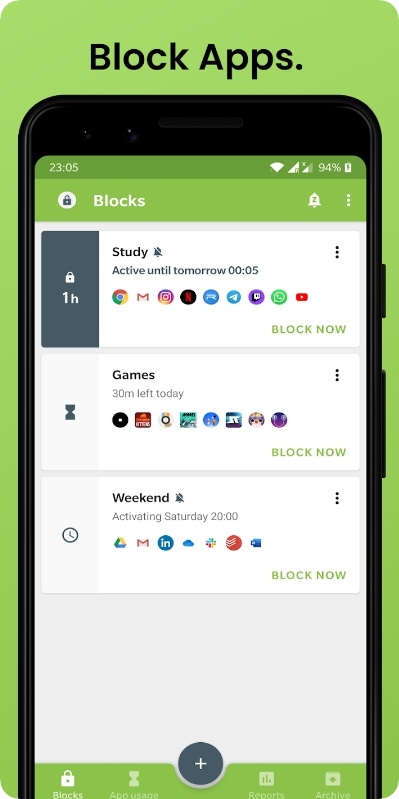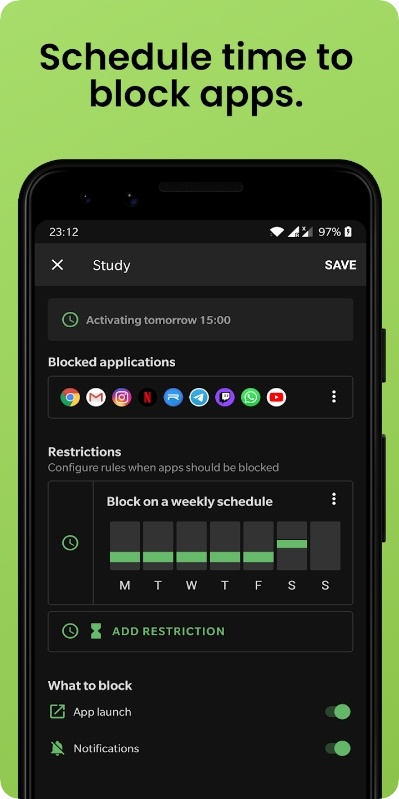 Downloads: 500K+
Customers rating:

(4.2 / 5)

You may also check: 9 Best Auto-Redial Apps
AppLock
To wrap up, we have an app that is a godsend for anyone who's ever accidentally sent a drunk text they regretted. It's here to guard your social life and stop you from making embarrassing mistakes. Not only does it provide standard app locking with a pin code, but it also has the added bonus of fingerprint and face recognition technology.
But it gets even better, the app can take a pic of anyone who tries to get into your device without your consent, catching any malicious intruders. Talk about a ninja-level move! And for ultimate stealth mode, it can even disguise the locked app as a fake error text, fooling anyone who tries to snoop around.
And for those of us who hate constantly seeing annoying notifications, the app has got you covered. It will block all notification messages for the locked apps in the top notification bar, giving you some well-deserved peace of mind.
Plus, with the screen lock and smart lock features, you can customize specific times or locations when certain apps are locked or unlocked. It's like having your own personal bodyguard for your apps!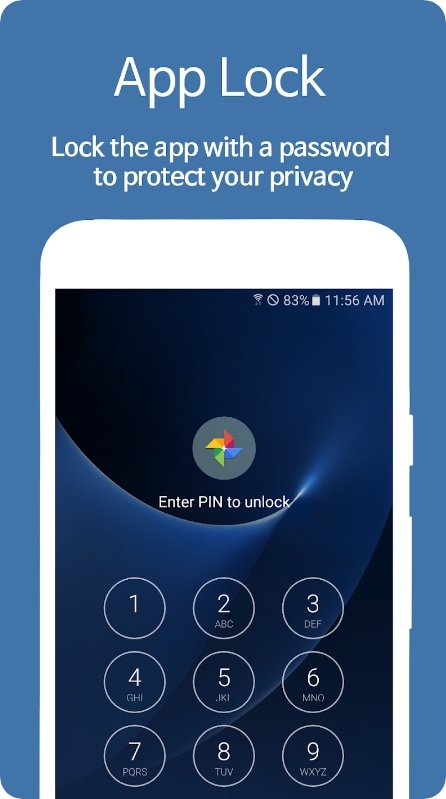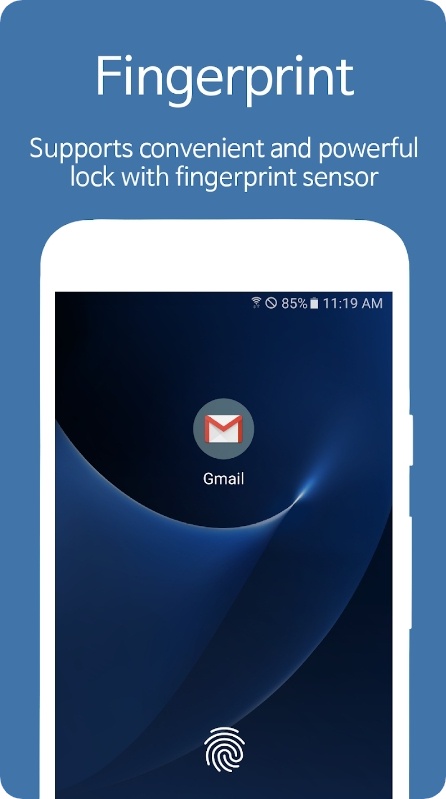 Downloads: 50M+
Customers rating:

(4.1 / 5)