Do you use Snapchat and still have photos with captions or filters from this social network? Do you want to delete them? Let's look at some good apps that will help you do this.
And before you start, check also our cool article about the best apps to fake Instagram direct messages.
1. Quick Object Eraser
To remove a filter or mask from a photo, you can use Quick Object Eraser. This application is great for editing photos and removing unnecessary objects from them at your discretion.
The creators of the application claim that it will help you improve your photo in a way that no other application can.
What does Quick Object Eraser offer us?
The first and most important function of it is the removal of unnecessary objects from the photo. It will help you get rid of, for example, dog ears and stars in Snapchat filters.
Next, the application allows us to get rid of the watermark in the photo. This will help you remove the Snapchat logo from the photo and make the photo more unique or realistic.
Quick Object Eraser also removes the date from the photo. If your smartphone puts the date and time of the taken picture on the photo by default, this application will help you remove this stamp without losing the clarity of the photo.
Also, the application supports video processing, which is a unique distinguishing feature.
Using Quick Object Eraser, you get access to 7 amazing features:
1. deleting objects
2. highlighted light correction
3. tone and color corrector
4. the function of transferring objects to the photo
5. texture correction
6. magic crop
Use this app and no one will know that you have used filters!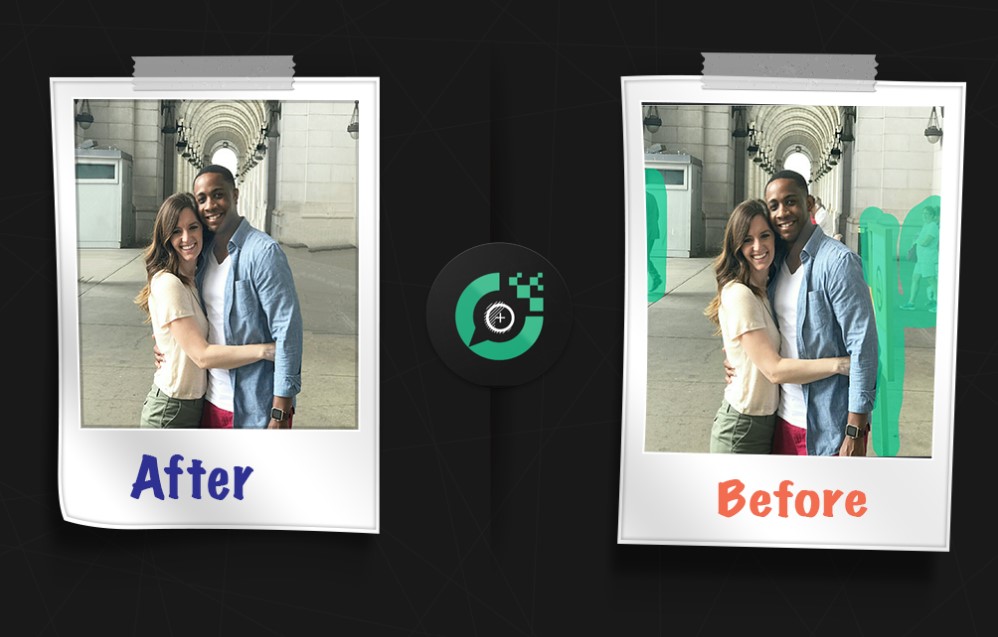 Downloads: 1000000+
Customer rating:

(4.7 / 5)

You may also like: 5 Best Secret Messaging Apps That Look Like Games on Android
2. Caption Remover for Snapchat
All Snapchat users have screenshots of photos from this application. If you are an advanced user of this snap-sharing app, you probably know how to remove the caption from the photo in the app itself when the photo has not been saved yet.
However, many are wondering how to do this when the photo has already been saved and the Snapchat application will no longer help.
Here the Caption Remover for Snapchat app comes to your aid. It is built in such a way that you can use it on already saved photos or screenshots from Snapchat.
The big advantage of this application is that it does not use any cloud storage without your permission, that is, your processed photos are not uploaded anywhere.
The main and only function of this application is to remove strips from photos from Snapchat, and this application successfully copes with it, so it is worth your attention if you encounter this problem. Available on Google Play.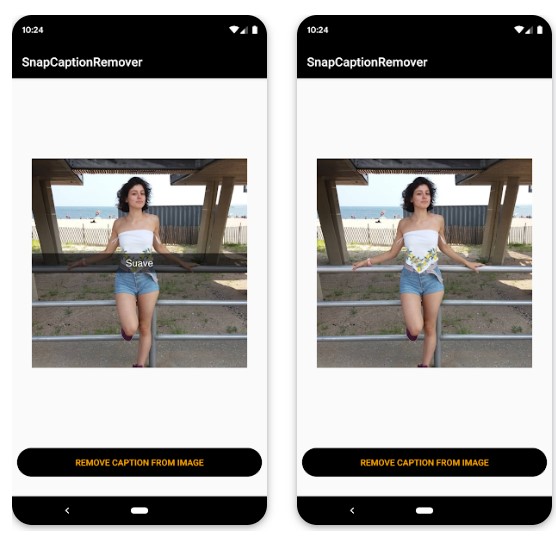 Downloads: 10000+
Customer rating:

(1.6 / 5)

3. Adobe photoshop fix
To remove Snapchat filters from photos, you can use more extensive and professional applications.
Photoshop Fix is another Adobe application that will make life easier for fans of high-quality processing of mobile photos.
Unlike Photoshop Express, this editor has no filters and requires certain skills in retouching: at a minimum, you need to know how to work with layers, what different sliders are used for, and how to organically change the color with a regular blend brush.
However, if you wish, you can learn all these thanks to pop-up prompts – the functionality of the application is focused exclusively on retouching photos on the iPhone and is not as extensive as that of desktop Photoshop, so it is possible to master it from scratch in a few days.
The Adobe Photoshop Fix program allows deep retouching and restoration of images directly on the iPad or iPhone.
Perform restoration, smoothing, plastering, lighting, and other operations to bring the image in line with your requirements.
You can quickly remove unnecessary things from the photo — stray strands of hair, skin defects, inappropriate product labels, and much more – with the Adobe Photoshop Fix application.
In the end, the images can be sent directly to Photoshop CC on the computer for further work and improvement. Fix will convert all edits into layers and save the image in a PSD file.
Log in to Adobe Creative Cloud and get access to edited photos from other Adobe mobile and desktop applications, which will allow you to continue working on them or use them in other creative projects – all thanks to the capabilities of Adobe CreativeSync.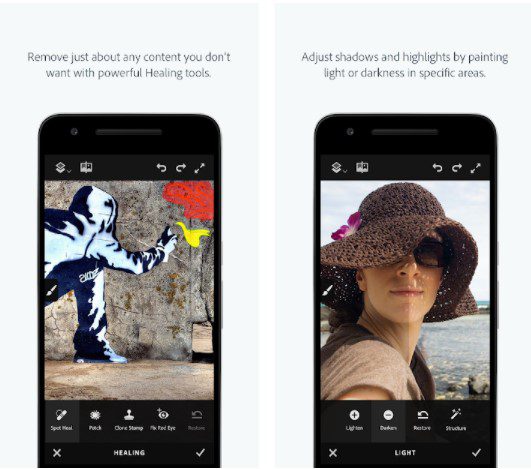 Downloads: 10000000+
Customer rating:

(3.7 / 5)

4. TouchRetouch
TouchRetouch is a photo editor for iOS and Android. His only task is to remove everything that got into the frame without your desire: animals, garbage, wires, and even people. Thanks to this, you can make the photos even a little prettier.
Almost every popular photo editor has a similar function, but the maximum they can do is to make a face smoother or delete some pimples. TouchRetouch will easily cope with more serious tasks. It is perfect for "hiding" a filter or a mask from Snapchat.
All the features of Touch Retouch are hidden behind four tools: "Objects", "Quick Edits", "Lines" and "Cloning".
Use the Objects tool when you need to precisely circle one or a group of objects in the image: a few people in the pool, birds, garbage. Adjust the thickness of the line to achieve maximum accuracy and not to remove excess. After highlighting, click "Go".
The more uniform the background around the object, the less accurately you can trace it. If artifacts appear after deletion, simply cancel the action and circle the object more carefully.
"Quick edits" work well when there is no time to bother with an accurate stroke, and the background around the object is uniform.
High-voltage wires are one of the most common causes of damage to beautiful camera angles, so TouchRetouch has made a separate tool for them.
Cloning. When cloning, the unwanted object is replaced with another part of the image, which you pre-set with a "sight". In fact, you choose some part of the image as a brush, and then you draw it.
If you want to do serious retouching, then this app is for you. The app is available on iOS and Android. Both versions cost $1.99.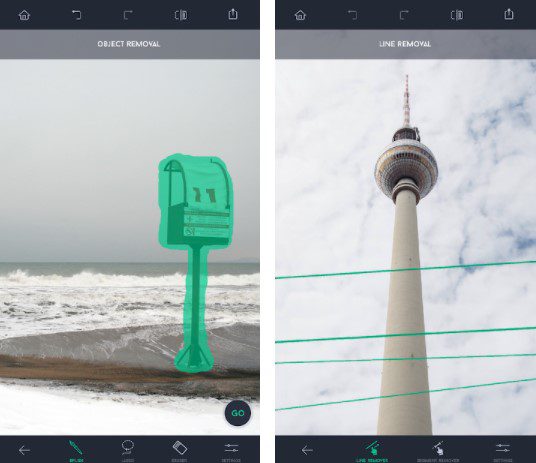 Downloads: 1000000+
Customer rating:

(4.6 / 5)

5. Snapseed
One of the most powerful, multifunctional, popular, and interesting photo processing applications. Snapseed is the name of an advanced photo editor, which Google Corporation is responsible for supporting.
It makes it quite easy to process uploaded images and your own pictures, remove various flaws, add effects, apply filters, and much more.
This application will perfectly cope with even the most difficult photos, including, it can help you to take Snapchat filters from your photo.
According to its capabilities, the application is comparable to all the well-known Photoshop.
This photo editor is notable for the fact that it combines extensive functionality with a friendly interface. The app itself will work smoothly even on older devices. This was achieved thanks to excellent optimization because the development is carried out by Google programmers.
Users of the Snapseed program highlight the following advantages:
Free distribution option. In addition, there are no ads in the app at all.
Ease of use and ease of learning. You can understand the basic functions in a few hours.
A convenient layer system is similar to Photoshop.
A rich selection of tools for all kinds of operations on the image. Their number at the moment is 28 units.
Reading files in RAW format.
Integration with various applications and social networks. The edited image can be published immediately.
A rich library of filters.
But the disadvantages of Snapseed are also present. Here are the main ones:
The absence of the function of selecting objects in the photo.
The inability to save the edited image as a separate project in order to continue working with it later.
It is not always convenient to perform certain actions on a small screen.
Lack of official support for Windows and Mac OS.
According to the list, you can understand that there are no significant disadvantages of the program. Of course, it will not be possible to completely replace Photoshop through it. But the main operations on photos in this photo editor will work. The main thing is to master the basics of its use.
You can download Snapseed for free for smartphones and tablets with iOS or Android. But the developers bypassed the Windows Background and BlackBerry OS platforms. The situation is similar with the computer and laptop versions.
But the ability to run the application on a Mac or Windows is still there.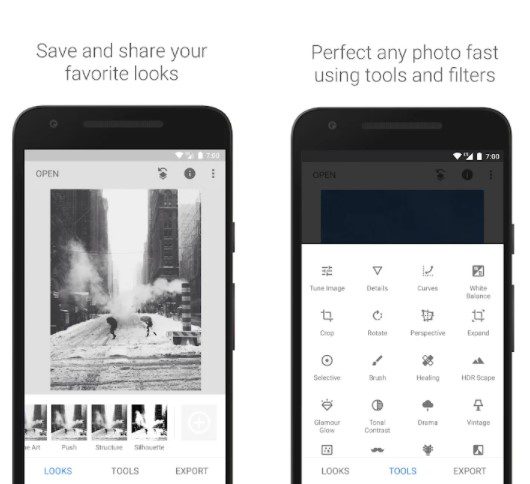 Downloads: 100000000+
Customer rating:

(4.4 / 5)

6. Photo Retouch
Another application that allows you to remove unwanted objects in the photo. This application will be a good help in the fight against Snapchat filters.
With just one touch, you can remove wires from the streets, unwanted people from photos of attractions or holidays, watermarks from photos from other programs, as well as completely change or remove the background from your photos. This program with artificial intelligence – Photo Retouch will help you with all this.
The main leading functions of Photo Retouch are:
-removal of unwanted objects from the photo
-face editing and photo retouching, removal of pimples, wrinkles, and spots on the skin
-cloning – draw with the texture, background, or object selected in the photo
-simple tutorials – quick training in retouching and editing photos as a professional
-mosaic, bluer, and censorship – use these tools to close what you want to hide from prying eyes, but not to remove it from the photo
-interaction with social networks – immediately after editing a photo, post it on social networks and get a lot of likes from friends
All this is available in the Photo Retouch app and is worth your attention.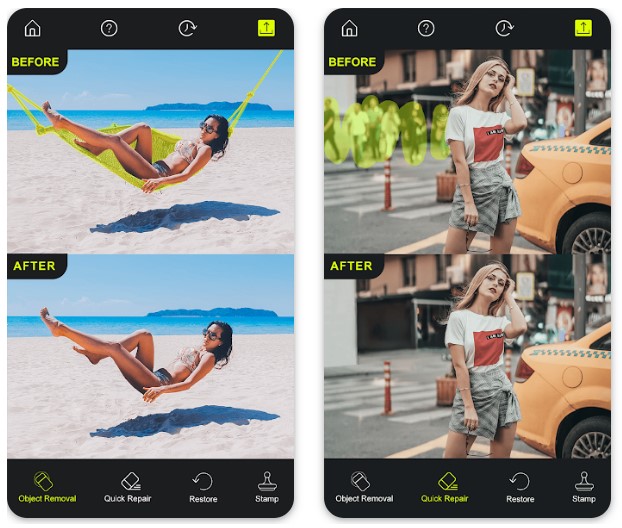 Downloads: 5000000+
Customer rating:

(4.4 / 5)

7. "Remove Unwanted Object"
There is a free "Remove Unwanted Object" application on Google Play. Obviously, the program is used to remove unnecessary elements from the photo. There is also a function to delete text from the image.
The application includes several useful functions, but in order to remove the Snapchat filter from the photo, we have to worry about the main thing – removing an unnecessary object from the photo.
How do I do this in the "Remove unwanted object" application?
The algorithm of actions is simple:
Launch the app and add a photo. To do this, use the Gallery tool at the bottom of the interface. You can take a new photo through the camera or upload several pictures.
Select the Brush tool. Swipe your finger over the object to be removed from the photo — it will stand out in red.
Click the "Process" button.
That's it, the extra element has been successfully removed from the photo.
The application does not provide other functions, following from the name, but it performs its main function successfully. It will suit you well if you need an application to remove filters from Snapchat from a photo without unnecessary functions.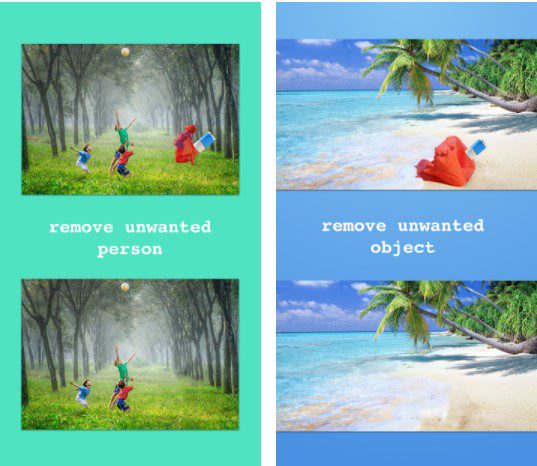 Downloads: 10000000+
Customer rating:

(4.4 / 5)

8. Retouch – remove objects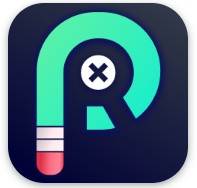 Retouch – remove objects – remove unwanted objects and backgrounds from photos with a single touch!
Surely each of us has at least once found himself in a situation where the photo came out wonderful, but there is an extra object on it. It can be a person accidentally caught in the frame, an ugly object, an inscription or a logo.
The Retouch – remove objects app will help you solve a similar problem. In this photo editor, you can remove any unwanted object from a photo with just one tap of your finger.
Photo Editor Functions:
Removing an object from a photo
Removing or replacing the background on the photo
Clone the image
Face retouching. Remove skin irregularities, pimples, wrinkles and other imperfections.
Edit photos. There is a wide selection of photo editing tools at your disposal (filters, photo plastic, level adjustment and much more)
Downloads: 10 000+
Customers rating:

(4.8 / 5)

You may also like: 6 Best Instagram Private Profile Viewer Apps for Android
9. SnapEdit: Remove Objects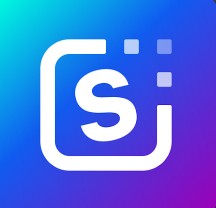 SnapEdit: Remove Objects – Edit photos and remove unwanted objects from photos in a few clicks.
Did you get the perfect photo, but you don't like the objects or the background? A stranger accidentally got into the frame? Don't be in a hurry to get upset SnapEdit: Remove Objects will solve a similar problem quickly and easily.
This photo editor will help you get rid of any imperfections in the photo, no matter whether it is an object accidentally caught in the frame, a logo or an inscription.
The app has two main functions – "brush" and "object removal". The "brush" function paints over an unnecessary object or an area of your choice. The "delete object" function completely removes the object you selected from the photo.
The app can also improve the quality of your photo if it came out a little blurry or was taken on a device with low photo quality.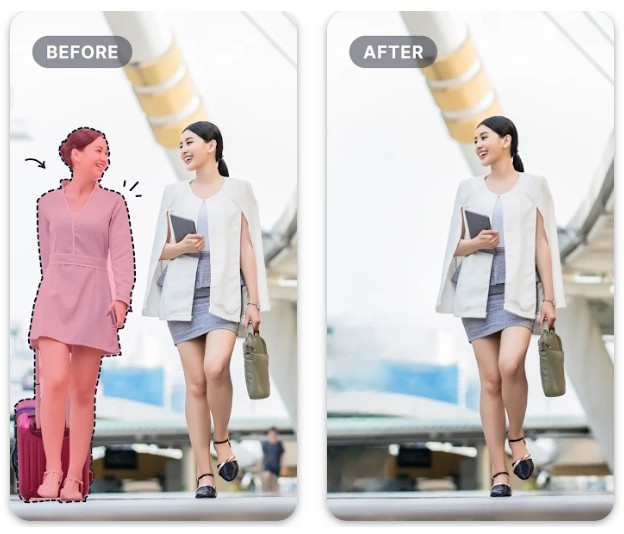 Downloads: 5 000 000+
Customers rating:

(4.4 / 5)