Sexting (or the exchange of messages with racy content) is becoming an increasingly popular pastime for adult users. You can ignore this type of pastime, but then don't be surprised to find out that your significant other is sexting with one of her virtual or real friends.
Spice things up in your relationship by starting a naughty correspondence with your girlfriend or boyfriend. Take your romance to virtual reality and you'll see how much fun and refreshing it is!
However, it's hard to sexting using only smiley faces with hearts, kisses, and smiles, or you risk ending your conversation with another unread message. Dirty emojis apps for Android will let you express all your dirty ideas!
And sometimes you just want to diversify your standard sticker collection. Do you want to know a free way to do this? Click here!
Romantic Stickers & Adult – dirty emojis
Do you want to liven up your conversations with your friends and family? Then this app is for you because you'll find a lot of interesting emoticons with which you can not only diversify boring chats but also seduce your soulmate!
You'll find all kinds of smiley faces and adult emoticons to send to your friends, acquaintances, and even your sweethearts.
Although the app is free to install, you'll need to pay a fee to unlock the Premium smiley pack with spicy emojis.
Pros:
Creative emoticons of good quality;
Compatible with popular messengers;
Well-organized and easily accessible content.
Cons:
The functionality of the free version is somewhat limited.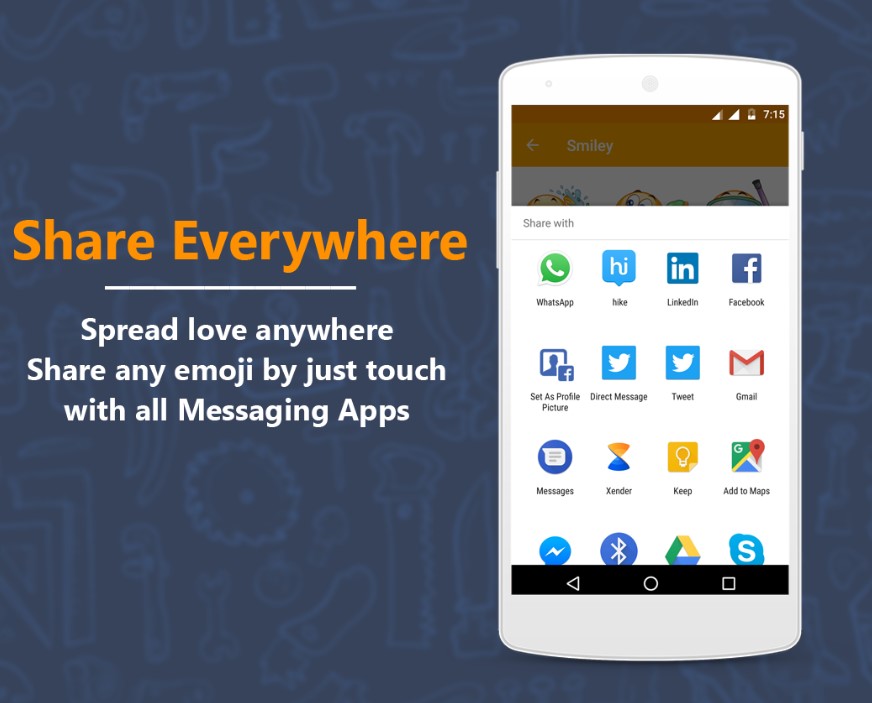 Downloads: 100000 +
Customers rating:

(3.4 / 5)

You may also like: 9 Best Instant Messaging Apps
Adult Stickers and Gifs
If you're bored of the banal chat emoticons then you can download this wonderful selection of spicy emojis. The developers promise to delight you with an amazing collection of adult communication stickers.
You can use these stickers on WhatsApp as well as in other messengers. Try to diversify your relationships by adding some spice with dirty emojis.
Pros:
A great variety of emojis and gifs;
Free sticker collections;
Multiple categories to help you choose what works for you.
Cons:
A lot of advertising;
Some users complain that stickers cannot be attached.
Although the app offers some really spicy stickers, they are difficult to use. In order to take the selected dirty stickers, you have to watch a bunch of ads.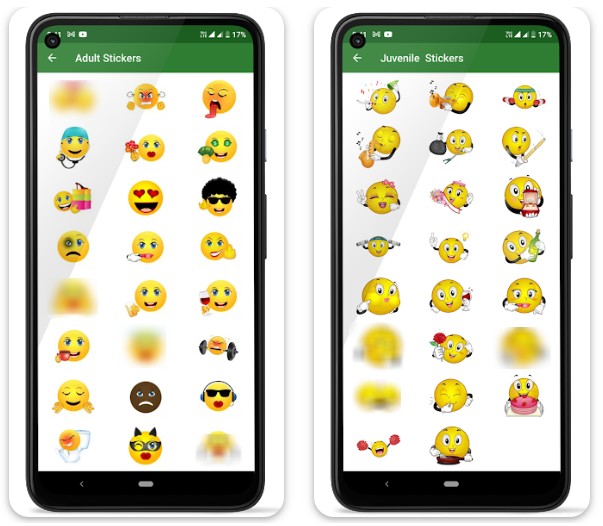 Downloads: 100000 +
Customers rating:

(3.1 / 5)

Emojidom emoticons for texting
An app with such a good rating on the app marketplace should be on our list. Although lately, as we've noticed, the reviews have been quite contradictory.
Let's start with the good stuff. The app contains a large library of different emojis including dirty ones. What's cool is that the developers promise a weekly update of the collections. Really it offers emoticons on absolutely every subject! They're compatible with most messengers and social networks.
It's also cool that the stickers are unique as they are drawn specifically for this application. That is, you will not find the same in other applications
The paid content, of course. But there are also options. You can get free coins every hour and download new emojis from the sticker shop.
Pros:
Lots of free stickers;
Original emojis not available anywhere else;
Updated every week.
Cons:
Some users complain that it's hard to use emojis.
This can cause problems if you don't know how to use the app. So here are some tips on how to do it correctly.
In the Emojidom settings, you can set the Emojidom icon inside WhatsApp and send emojis without leaving WhatsApp. Or in WhatsApp, tap on the staple, then long-press on Gallery, select Emojidom and tap on any emoji.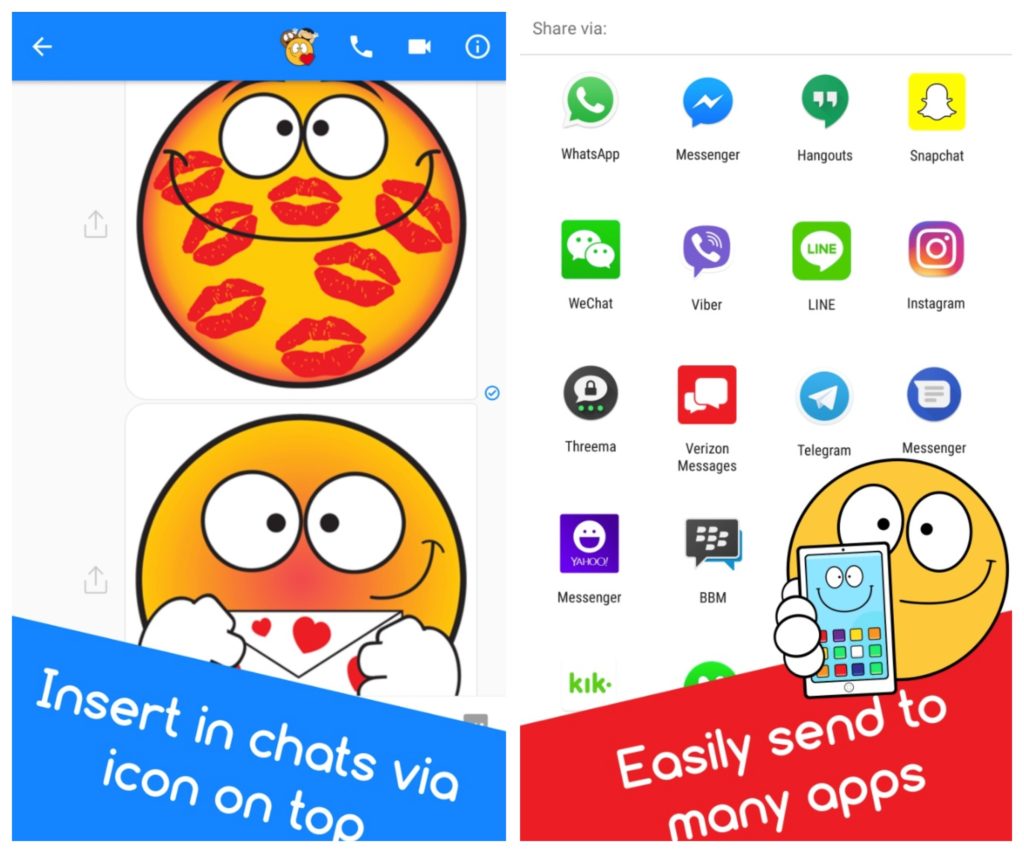 Downloads: 10000000 +
Customers rating:

(4.4 / 5)

Flirty Emoji Sticker Keyboard
Flirty Emoji Sticker Keyboard is an app that really works. Suitable for flirting if you want to surprise your partner with something special.
Expressing emotions and desires through emojis has become so popular. And when you become the owner of such a unique collection it becomes even more original. Your partner will be pleasantly surprised.
Collections of romantic and dirty stickers. You are sure to find something suitable for your couple.
Of course, there are more cute and romantic than dirty and spicy stickers. But you can download them anyway. There's plenty to choose from.
Pros:
A great variety of love couple sticker;
Good for flirting and romance;
There are no ads;
Easy to use.
Cons:
There are dirty stickers but the collection is limited;
It's worth looking further if you want more spicy and dirtier themes.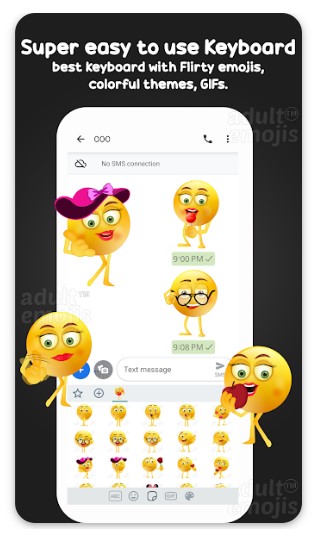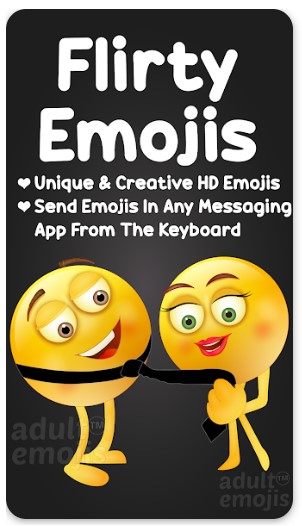 Downloads: 10000 +
Customers rating:

(3.7 / 5)

Love Emoticons & Adult Emojis
Love Emoticons & Adult Emojis is an app with an average rating on Google Play. What makes it so good that it made our list?
Love Emoticons & Adult Emojis offers a huge variety of adult stickers. Dirty stickers for bold couples, flirty emojis for girls, romantic emojis for lovers and many more categories. You're sure to find something for your interest.
Emojis can be sent as images in your messenger right from the app.
Pros:
Plenty of emojis in different categories;
Cool graphics;
A lot of free romantic emojis.
Cons:
Paid content;
Dirty emojis aren't free;
To send an emoticon, you have to enter the app each time;
Only one emoji without text is sent at a time.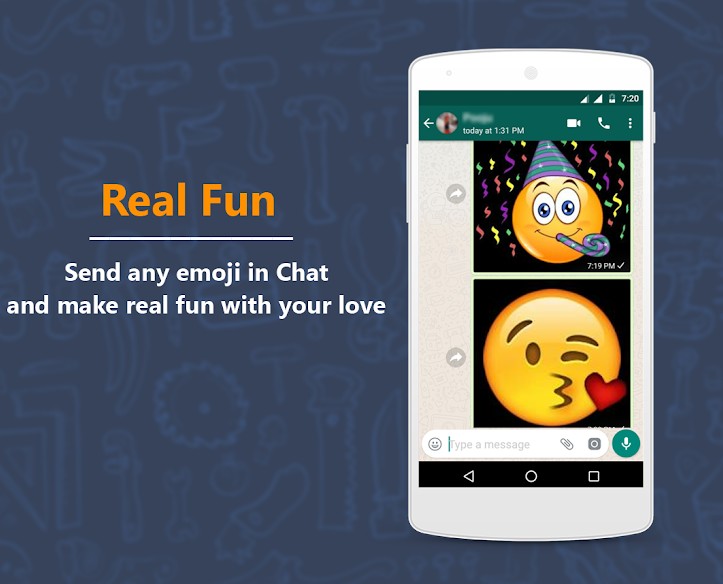 Downloads: 100000 +
Customers rating:

(3.6 / 5)

You may also like: 7 Best Fake Text Conversation Apps
Adult Emoji – Dirty Edition
The 18+ collection will take everyday conversations between two people to the next level! Over 30 categories with hundreds of adult emojis will be available to you here.
Every couple will find something unique. Now, it's easy to share romantic, flirty or even dirty stickers in your chats.
If you can't express your fiery feelings with the standard emoji keyboard on your phone then download Adult Emoji – Dirty Edition. Satisfy your sexting needs!
Pros:
Great stuff with plenty of categories;
Thousands of emojis;
Spicy collections with adult stickers for free.
Cons: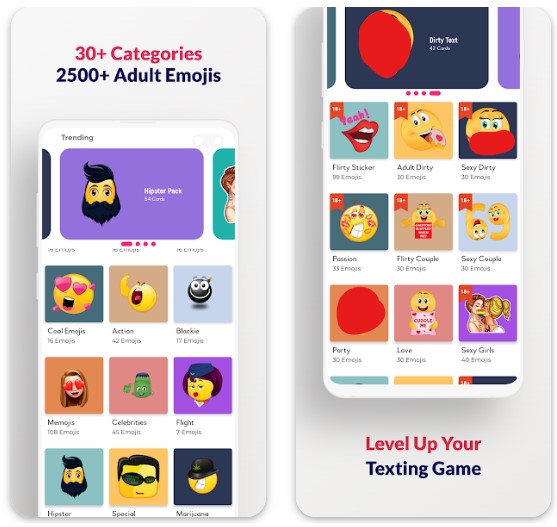 Downloads: 50000 +
Customers rating:

(2.6 / 5)

Flirty emoji, Adult stickers & Dirty emoji
Flirty emoji, Adult stickers & Dirty emoji will please you with its variety. Here you will find hundreds of original adult stickers. Your flirting will go to the next level and the new emojis will spice up your relationship.
Everyone who likes flirting and romance without standard templates can download this app. It will help keep things interesting between your meetings with your partner. There is a premium package for even more variety.
Pros:
Hundreds of flirty and spicy stickers;
Send emoji in your favorite chats;
Lots of free content.
Cons:
There are plenty of stickers but using them in chat causes problems.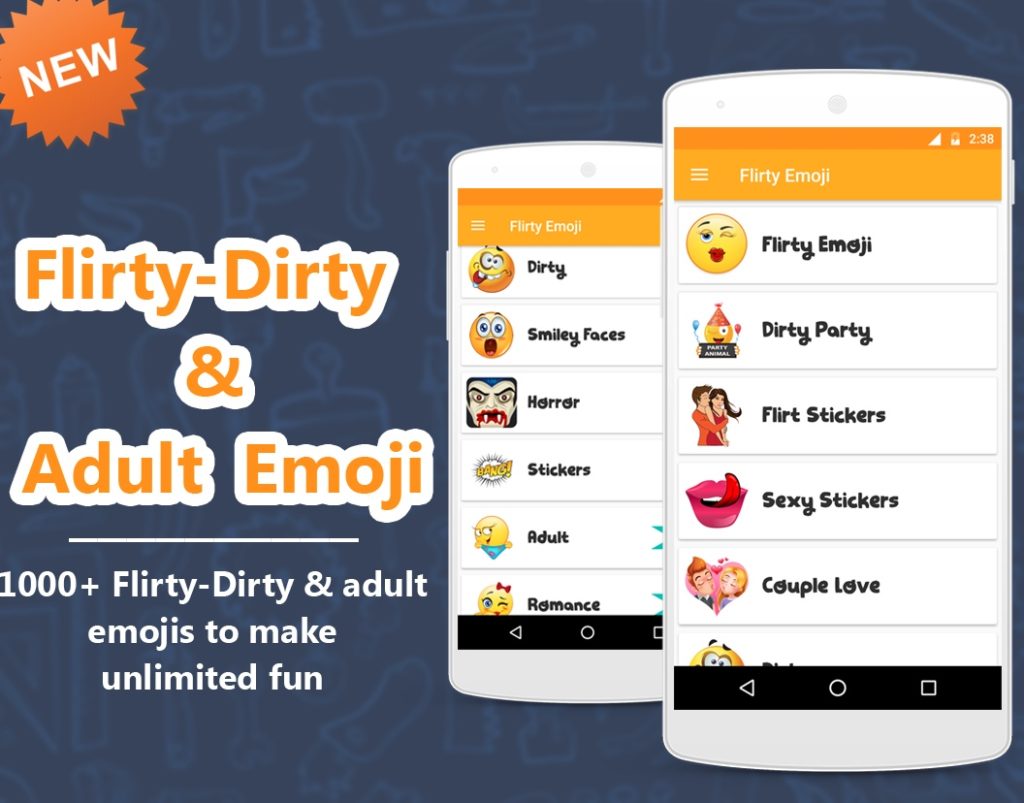 Downloads: 100000 +
Customers rating:

(2.5 / 5)

Adult Emoji Sticker Keyboard for Lovers
The app's description actively declares its focus. And by downloading the app we expect to see adult dirty stickers. But sadly, you won't see them in the free version. You are offered only standard pretty stickers and emoticons.
To get something really spicy you have to pay. We didn't try that one, we just tested the free version. But some users say bugs happen and even paid stickers sometimes disappear.
Pros:
The app is free to download;
There are no ads;
Funny stickers.
Cons:
Most of the worth content is paid;
There is practically nothing to choose from among the free emojis (only standard stickers);
There are no stated adult stickers in the free packages.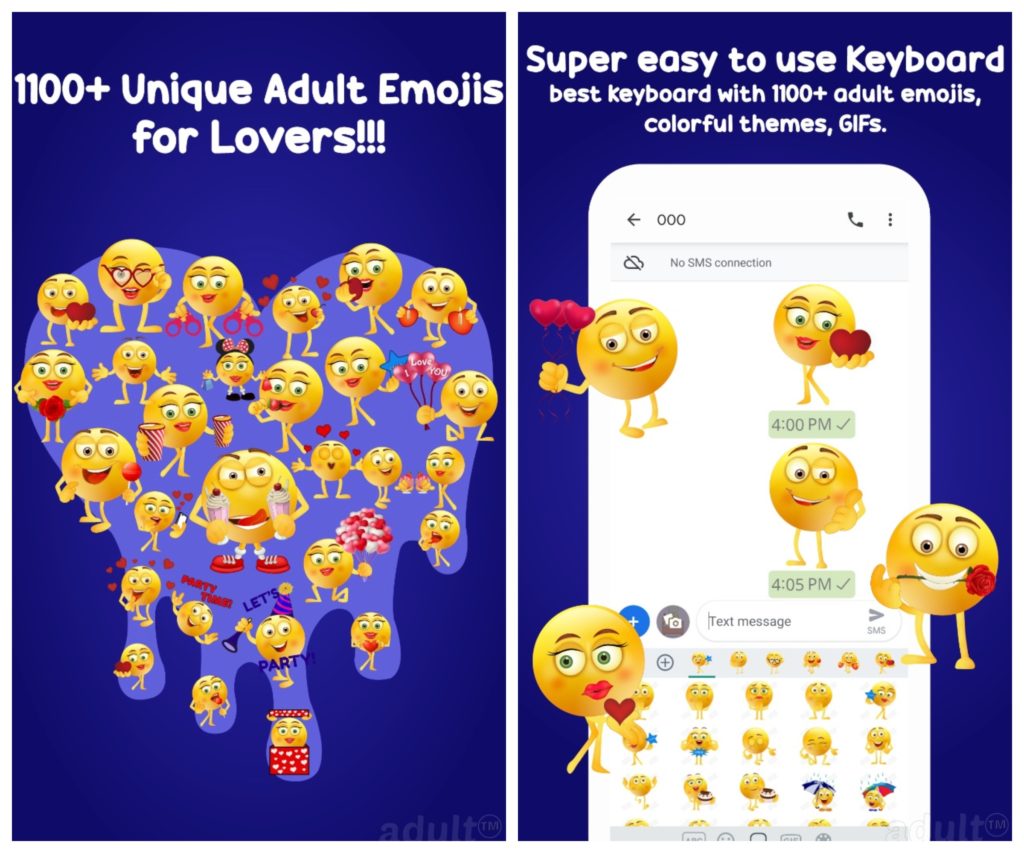 Downloads: 100000 +
Customers rating:

(3.7 / 5)

You may also like: 5 Best Secret Messaging Apps That Look Like Games
Adult Emoticons
A good application for an adult audience. Adult Emoticons is an app to help you diversify your chatting experience. It's suitable not only for WhatsApp but also for other popular messengers.
Find the right emoticons for your style and express your feelings and emotions openly. Thousands of stickers in over 30 categories. Imagine how you can surprise your partner!
Pros:
Free to download and use;
Works in offline;
Lots of stickers in hot categories;
Regular updates.
Cons:
Sometimes there are difficulties in sending emojis.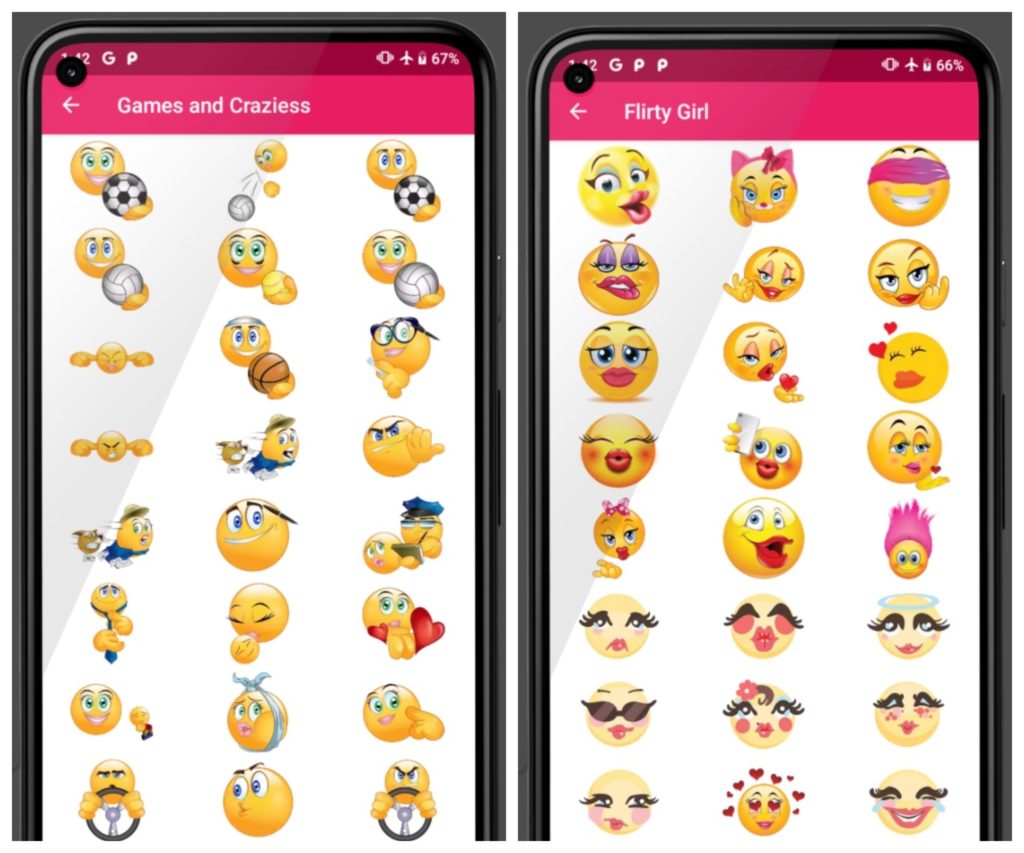 Downloads: 50000 +
Customers rating:

(2.8 / 5)

Want to be the bad guy or the bad girl sometimes? So, let an adult dirty emojis app allow us to do so in a safe way! It will help you convey even the sexiest and explicit situations in a fun way.