In this article, we will consider interesting applications to add text to photo. Among them, there are both simple utilities and powerful ones that allow you to fully edit photos. But now we are only interested in the possibility of writing a text:
Fontmania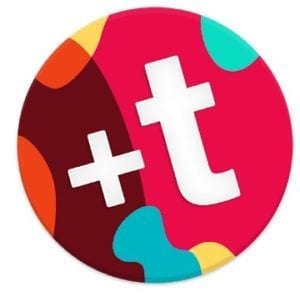 A great application that will turn your photos and pictures into inspirational images, greeting cards or love messages.
Express yourself: write on pictures so that everyone will find out how you spent your weekend and vacation; send a unique and sincere message to your loved one. The application contains a collection of original art graphics and specially selected fonts, as well as a variety of creative options for editing them.
Features:
There are various frames and stickers;
You can crop the photo to the desired size;
Over 35 unique fonts;
Adjust the brightness, contrast, and saturation of the picture;
Convenient and simple interface.
How to use:
Choose a photo or take a new one. Zoom in or crop it. Apply filters.
Add text: feel free to experiment with fonts or select art graphics from the collection.
Select a color, use the options Transparency and Shadow.
Manually adjust the size, position, tilt, and position of the text and graphics.
Save the image or immediately share it with your friends on Instagram, Facebook, Pinterest or other social networks and instant messengers.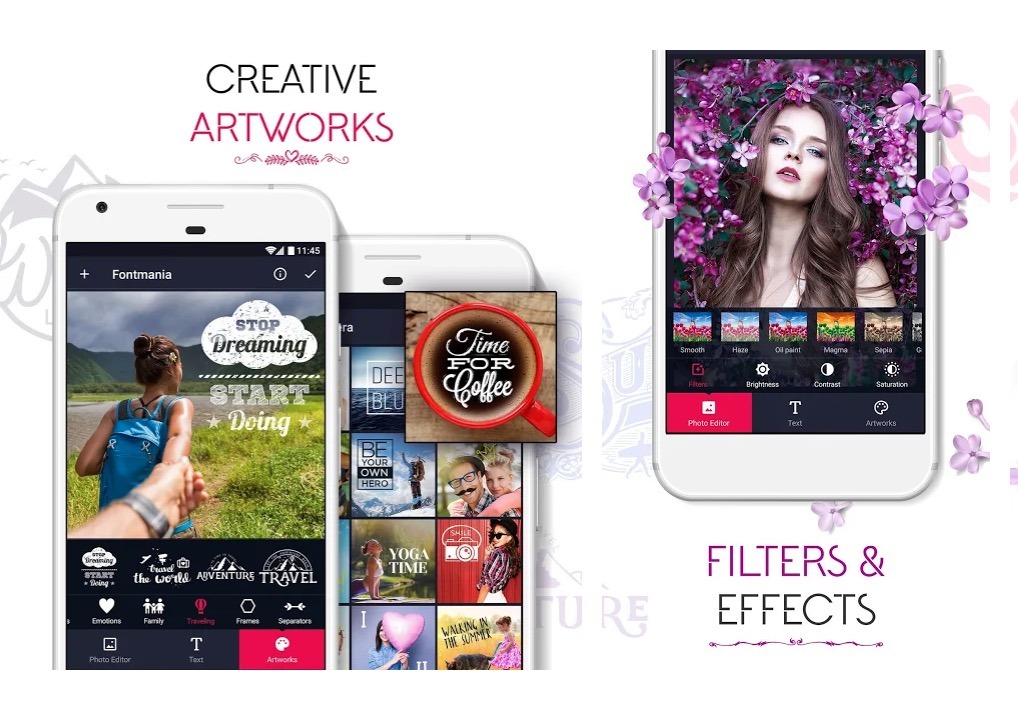 Downloads: 1 000 000 +
Customers rating: 

(4.6 / 5)

You may also like: 9 Best Android Apps for Watermarking Photos
Texty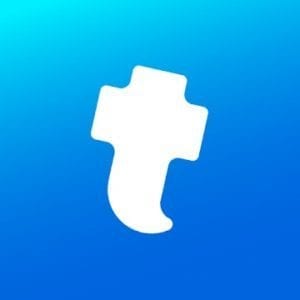 This is a fairly simple but effective photo editor that comes in handy to add text to any of your images in seconds. The designing will be really fun with the great collection of fonts and typographic customize tools.
The main features of the application:
Custom size to fit all social networks;
Edit a pic: crop, rotate, scale, horizontal or vertical mirror;
Choose from more than 750 fonts;
Change color palette, erase parts of a text, adjust brightness, contrast, and more;
Make beautiful collages.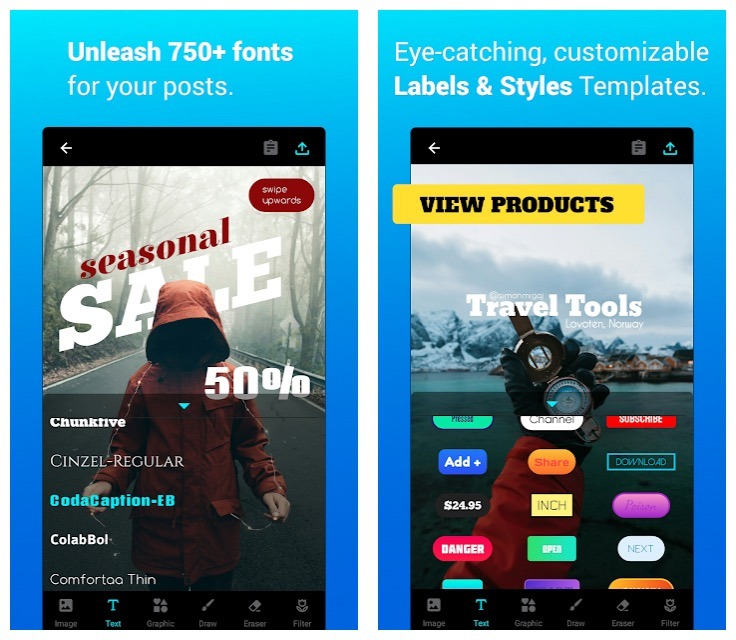 Downloads: 1 000 000 +
Customers rating: 

(4.8 / 5)

Add Text on Photo: Design Text Style w/ 800+ Fonts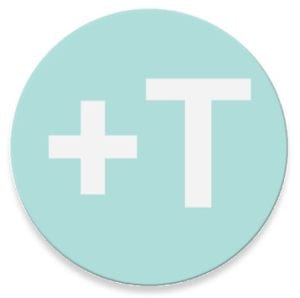 A very simple photo editing tool that allows you to apply the text to any image on your Android device. The application doesn't offer a lot of options, but still gives a lot of opportunities if you need to add text on any photo.
The main features of the application:
More than 800 fonts to choose from;
3D text tools included: 3D rotate, depth and perspective;
You can add multiple texts on the photo and edit each one separately;
Use editing tools to make your picture unique (change color, transparency, add stickers and emojis);
For text, you can specify the size, style, thickness, color, and position on the photo.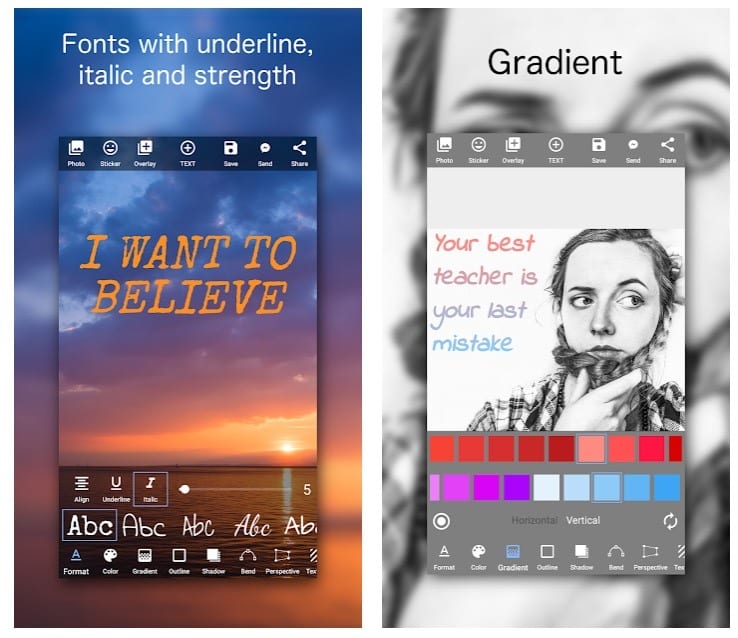 Downloads: 5 000 000 +
Customers rating: 

(4.7 / 5)

TextO Pro
An easy and fast application for those who often need to add captions to photos, but don't want to install a multifunctional editor.
TextO Pro offers preset templates with beautiful backgrounds and fonts. Or you can create your own templates. You can use your own photos and add marvelous text effects.
This simple photo editor will be a perfect tool if you want to create impressive quotes on photos, captivating messages for social media posts, personalize your photos by creating nice watermarks, create meme's or add your own comments on pictures.
It's immediately obvious that the application was created purely for functional use because it looks simple and no-frills. But not a bit lags and doesn't slow down, which is a big plus. It copes with its task superbly.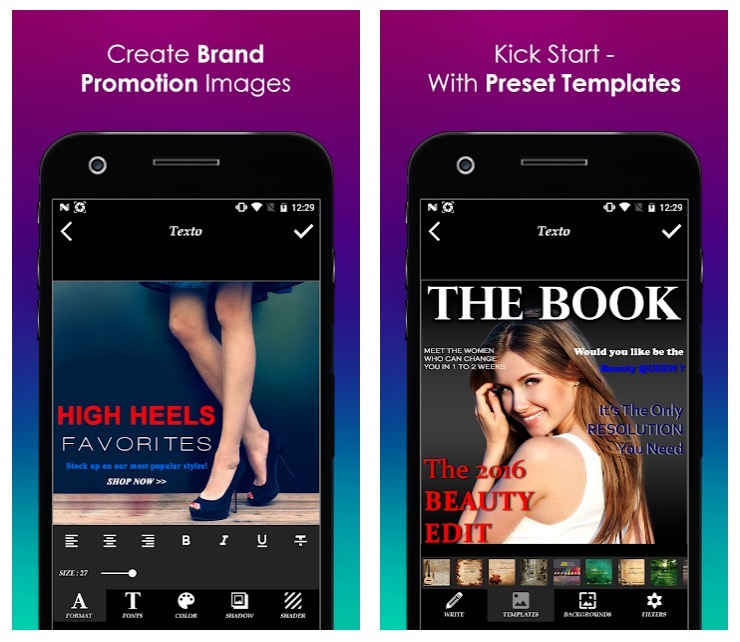 Downloads: 1 000 000 +
Customers rating: 

(4.7 / 5)

Phonto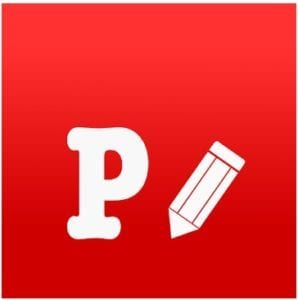 Phonto – Text on Photos is a popular software designed to create high-quality captions on photos and any images.
Create masterpieces from ordinary photos or just make a signature for memory. Use one or more fonts. There are about two hundred in the database. You can even create your own font and use it. Use the function of changing the size of the text to highlight important phrases or words, to emphasize their significance for you.
Vary the colors of words to express your mood and preferences. To create an extraordinary picture, rotate the text in any direction. Thanks to the simplicity of the interface, you can easily create an individual photo by changing the line spacing or the distance between words or letters.
Don't forget that it's recommended to upload photos of small sizes or use the "medium" or "small" size function. Otherwise, the correct operation of the platform is not guaranteed.
The number of editing tools in Phonto is quite limited, but the program has one additional option that gives some freedom of action – you can download and install original fonts, adding to the standard collection of 200 available.
The platform contains ads, so if users want to remove it, you must use the AdFree option, which is activated in the settings of Phonto.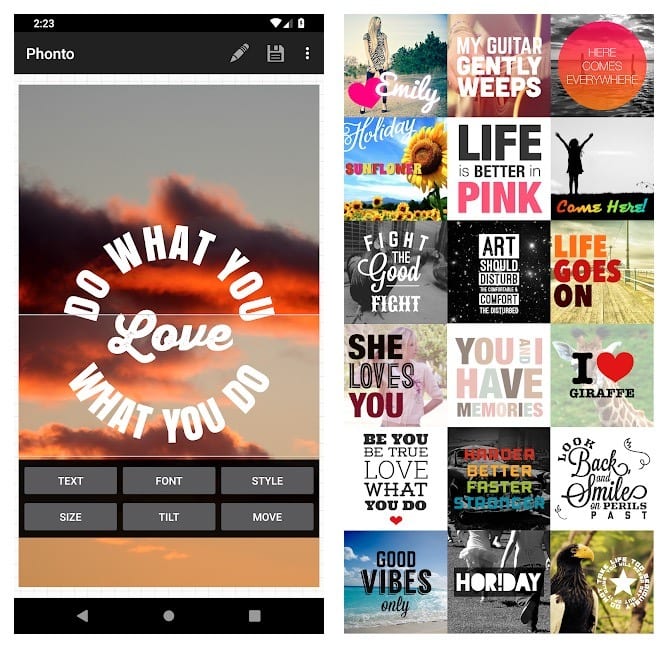 Downloads: 10 000 000 +
Customers rating: 

(4.2 / 5)

A standard gallery on your phone does not please you with its functionality? Fortunately, the Google Play store has many handy and free photo gallery apps for Android devices: 15 Best photo gallery apps for Android
PixelLab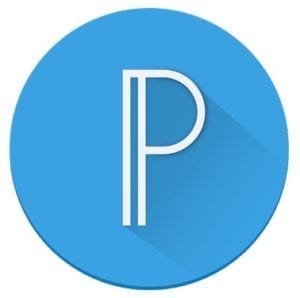 PixelLab – Text on Pictures – add stylish text, 3D letters, stickers and drawings to photos. Сhoose from 100+, hand-picked fonts. Or use your own fonts! Create stunning graphics and amaze your friends.
The features of the application include adding text and setting up a large amount of text content. Create three-dimensional texts and overlay them on top of your images. Write what you think is necessary, give the inscription an artistic background, change the texture, font, stickers, emoticons and much more.
A simple and intuitive interface allows you to choose the size of the pen, the color of the text. Then you will see what is written in a special form, in which you can change the size of the text, rotate it and add shadows. Create memes, use special presets and post them in just a few seconds!
Using this application, you can maximize your creativity, as you can create simply amazing graphics that will certainly surprise your friends and acquaintances.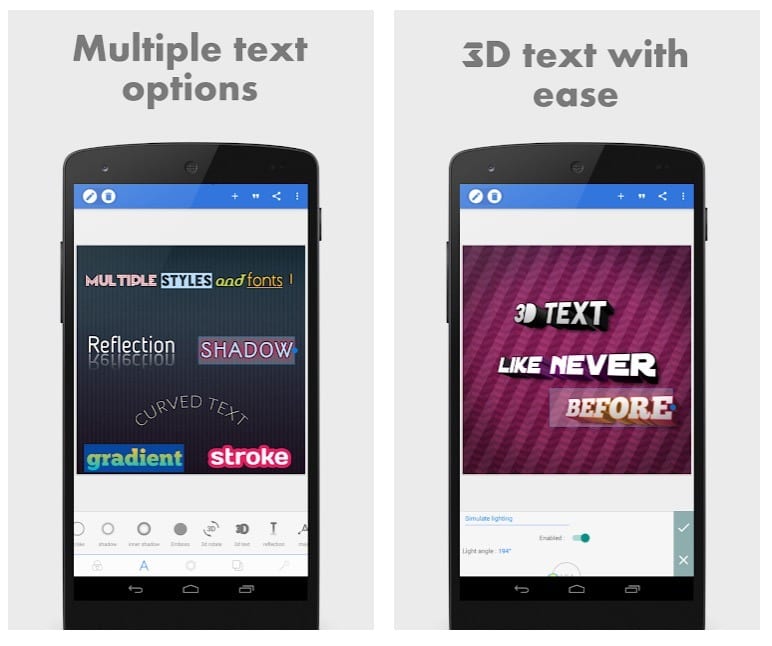 Downloads: 10 000 000 +
Customers rating: 

(4.5 / 5)

PhotoGrid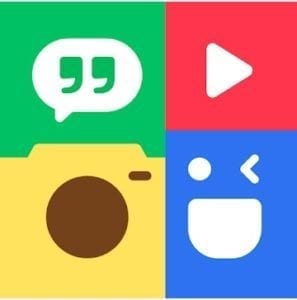 The PhotoGrid application has over 8 million downloads on Google Play, which says about its versatility. It's intended more for creating collages, and not for writing texts. But what interests us right now is its textual capabilities.
Initially, the application has 700+ fonts to choose., but you can also add them yourself by clicking on the "Add Fonts" button on the add text screen.
Text can be fully adjusted, you can change color and transparency.
Typically, PhotoGrid automatically crops the pictures to a 1: 1 aspect ratio, which allows you to upload them to Instagram without additional processing. Yes, I know that it's possible to load non-square images there, but is it beautiful? Try uploading a wide panorama to Instagram and see how disgusting it looks.
You can save images in various resolutions and formats.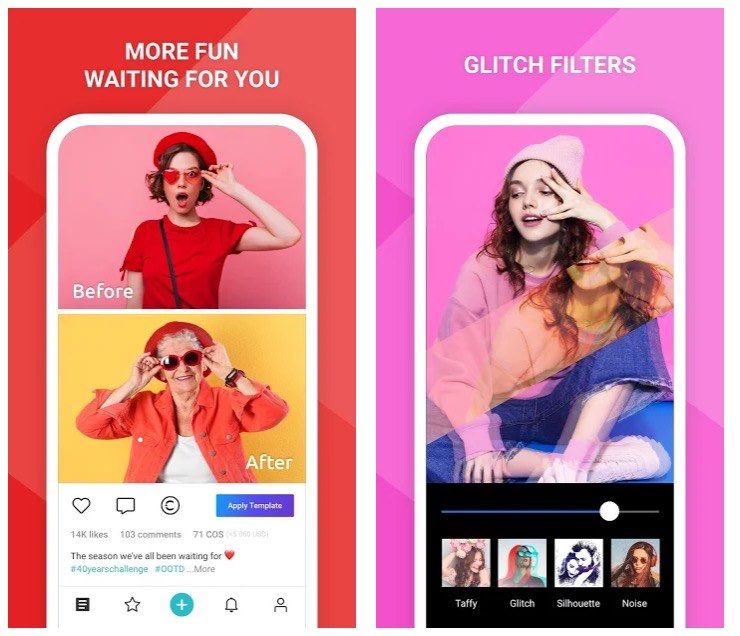 Downloads: 10 000 000 +
Customers rating: 

(4.7 / 5)

Text on pictures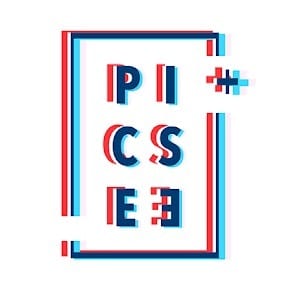 A very simple application for adding your own captions to the image. The utility has one purpose, which is indicated in the name, namely, adding custom texts to pictures. The interface is simple and easy to use, there are no problems with it.
Add beautiful and cool texts, captions, and stickers to your photo. Then immediately share them on Instagram, Facebook, Twitter, etc.
There are 60+ hand-picked text fonts with editable colors and finely selected stickers. Change color, text effects, scale and rotate the text.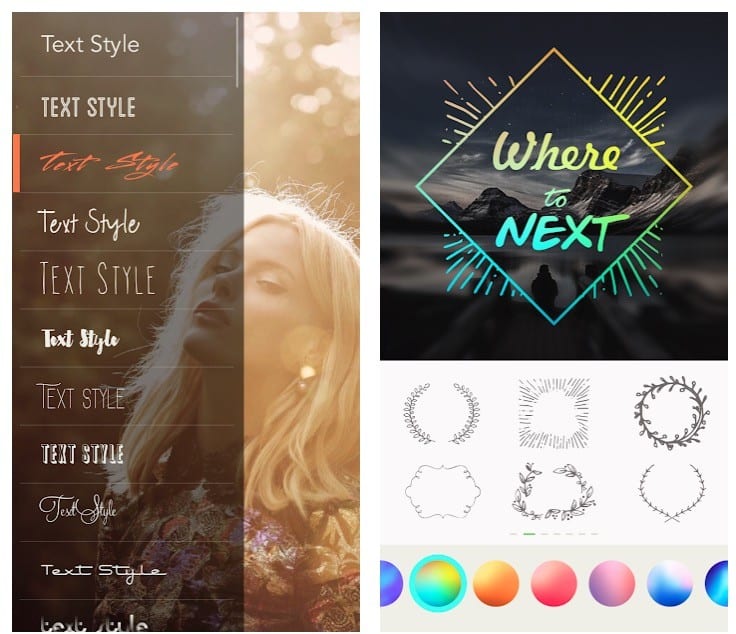 Downloads: 1 000 000 +
Customers rating: 

(4.4 / 5)

Text Over Photo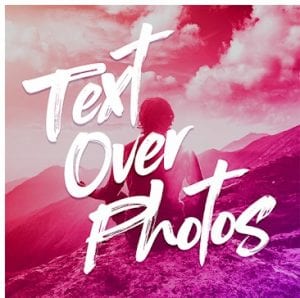 If you want to nicely decorate a photo and add a little personality to it, then be sure to take a look at this application. Text Over Photo application cannot be called an absolutely perfect editor, but the functionality that it has is implemented very, very well.
The main features of the application:
Various fonts to choose from;
Create Curvy text with your finger;
50 Emojis are included to add text over them;
Change the text color, transparency, size, move, rotate, mirror.
Text Over Photo is a functional and easy-to-use editor that definitely deserves attention.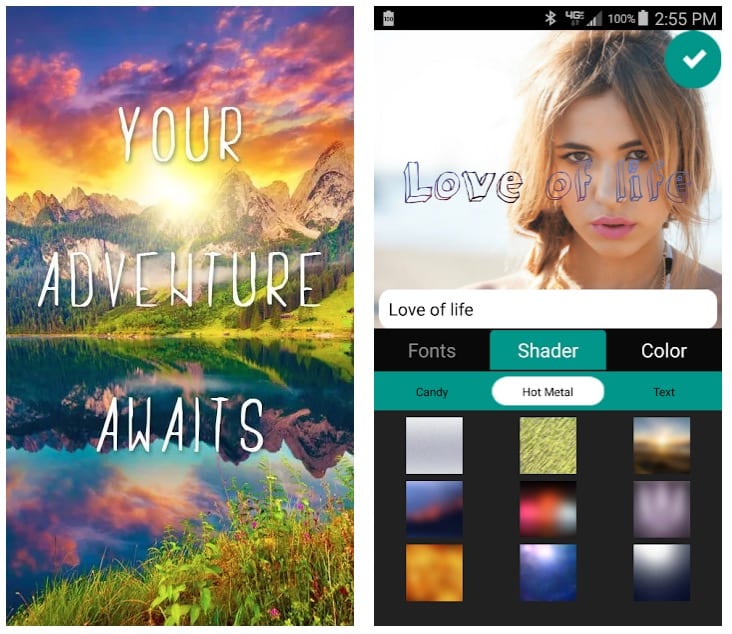 Downloads: 1 000 000 +
Customers rating: 

(4.2 / 5)

PicLab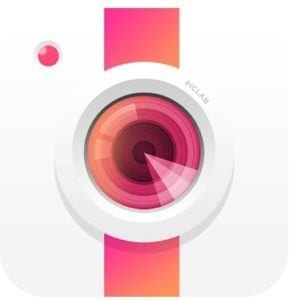 PicLab for Android is the simplest graphical editor inspired by Instagram ideas, with various options for adding labels, textures, and filters. With the text, things are easiest – more than twenty fonts are available, customizable color, size, and degree of transparency.
Next, you should pay attention to the frames, lighting effects, patterns, and various textures – all with adjustable intensity, so always use the special scale for the desired result. There are all your favorite filters, as well as brightness, contrast and saturation settings.
Adjusting the size, position, transparency of the text and other settings is very easy. Also, you are not limited in the number of layers with text. This allows you to create several captions of different fonts, sizes, etc. Thanks to this, you can achieve remarkable results.
The developers tried to make an easy-to-use and at the same time effective application, using which people get only pleasure. The program is simple, has great features and a minimum of drawbacks.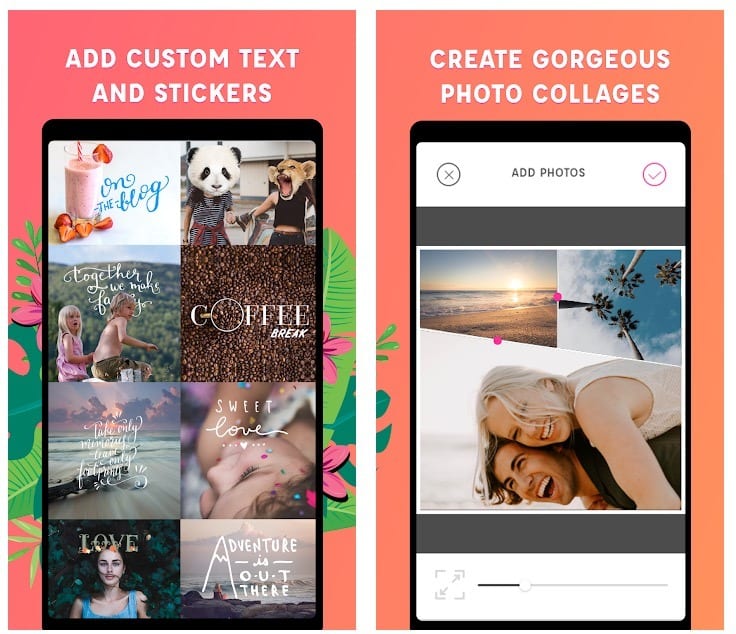 Downloads: 10 000 000 +
Customers rating: 

(4.6 / 5)

You may also like: 15 Best photo sharing apps for Android
Font Rush
Font Rush is an easy to use application that allows you to add text to images using amazing fonts and stickers. The application offers multiple fonts and beautiful background pictures.
You can use it to create your own unique quotes, add quotes to photos, make social media banners, create calligraphy, and so on.
The main features of the application: 
200+ fonts and 250+ backgrounds are available;
1000+ stickers;
Apply amazing effects;
Change color, rotation, size, opacity, alignment, and many other parameters.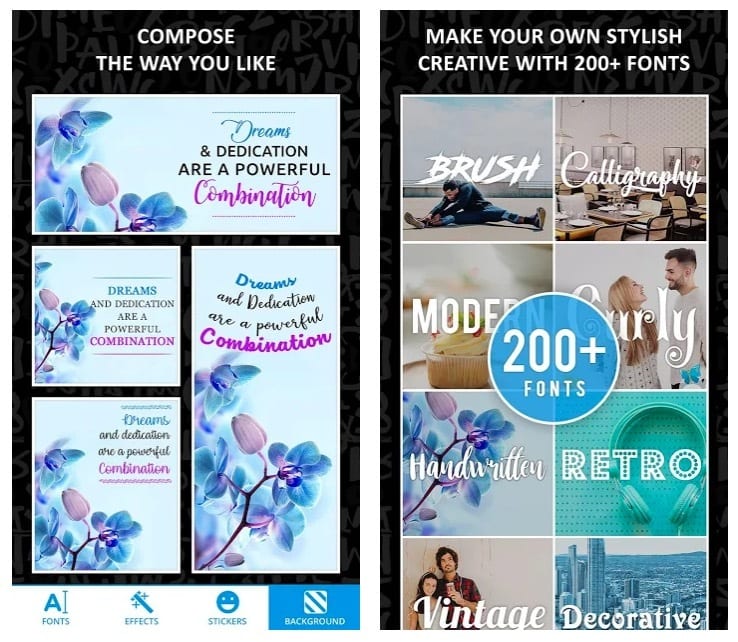 Downloads: 500 000 +
Customers rating: 

(4.8 / 5)